This post may contain affiliate links, please see our privacy policy for details.
Nothing says love quite like snuggling up in cozy, comfortable sleepwear. This Valentine's Day, why not find the perfect pair of pajamas to cuddle up with your sweetheart? Whether it's a simple set of PJs or a luxurious nightgown, there are plenty of styles to choose from! Here are our top picks for 13 Valentine's Day pajamas for a snuggly night in.
Cold winter mornings got you dreading the thought of having to get out of bed? Let us make it easier for ya with these sweet Fuzzy Fleece Leopard Long Sleeve Pajama Set! Perfectly designed for ultimate coziness, these two-piece jammies are made from skin-friendly and breathable fabric that'll keep ladies warm all day. And thanks to its adjustable drawstring design, they're easy on no matter your body type - so go ahead and indulge in a delicious breakfast while staying cozy during chilly days!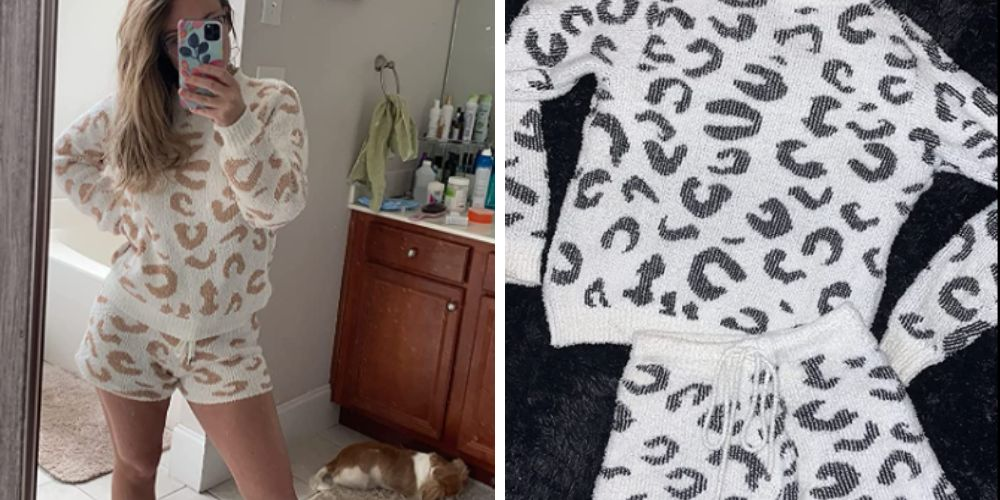 5-Star Review: "The quality is really nice, shipping was fast and it fits really nicely. The fit is really flattering and it's really soft. For reference I am 5'7", 135lbs, and curvier in the hips and thighs, and got a size small. The shorts fit really well (not loose but not too tight) and the sweater is a more oversized casual fit. 10/10 purchase worth the price." - Tiana C
You and your family (or significant other) can be matchy-matchy in sweet style! This Couples Matching Pajama Set is made of premium velvet fabric that's both lightweight, warm, and oh-so-soft. With a classic V-neck top with one chest pocket plus long pants featuring two side pockets and an elastic waist that fits any body size - women everywhere agree it's the perfect nightwear set for relaxation. So grab yours now to show off how much you love matching!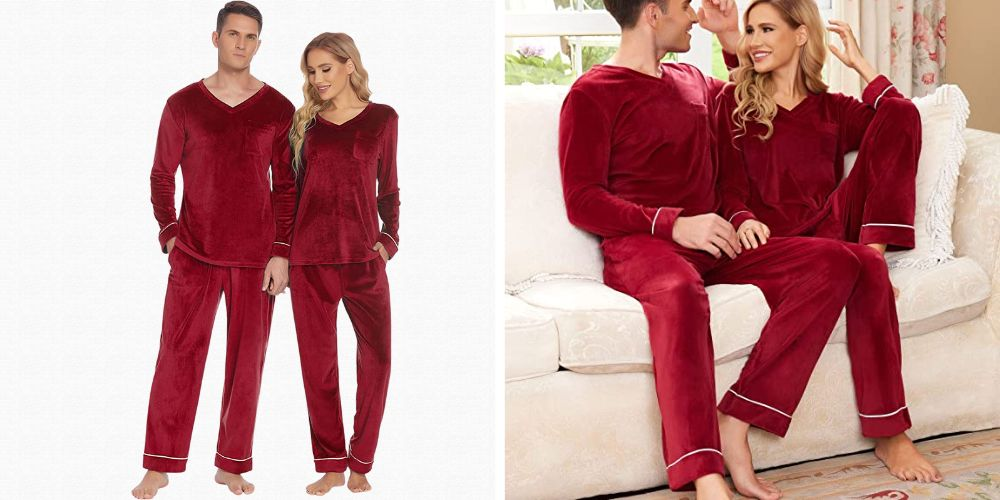 5-Star Review: "These lounge sets are very comfy and keep you warm. They are quite classy, too!" - Nicole
Ready to get extra cozy this V-Day? Skip the sticky candy hearts and sweetheart deals - snag our Short Sleeve Pjs Set instead! Perfect for pajama parties, and lounging in your house or dorm room; you'll love these heart print pull-on shorts featuring a round neckline, relaxed fit, and lightweight fabric. And with an elastic waistband that ensures a snug fit each time - romantic vibes await when you make this holiday season even more special by adding some comfy cuteness into the mix!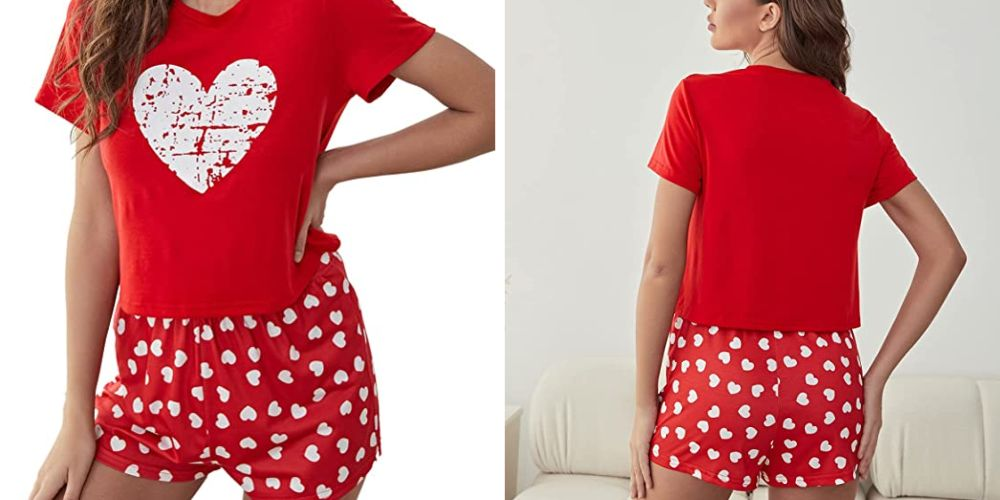 5-Star Review: "I liked everything about these cute pjs." - Amazon Customer
Gather the family for a hug and snuggling with these Hearts Matching Family Pajamas! Each set features a cute heart print and is made from 100% preshrunk ultra-cozy cotton. You and your family will be snug as a bug in these soft sleepwear sets that are perfect for creating unforgettable memories of cuddles and holiday photos. We guarantee tons of cuddles, goofy holiday pics, and memories that will last a lifetime - so why wait any longer to get ready for family bonding time?!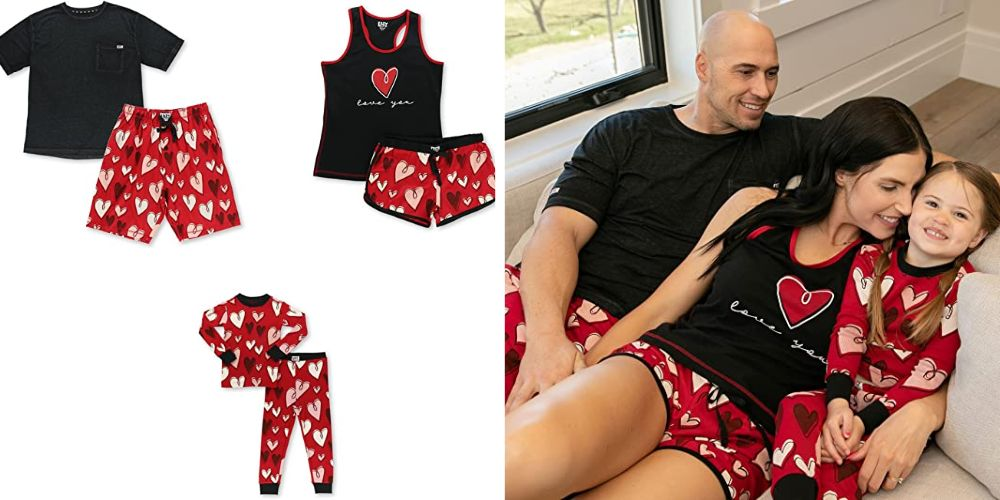 5-Star Review: "This is my 3rd pair of lazy one pajamas and the product is consistently comfy. I prefer to buy the men's set for extra coziness. Absolutely would recommend this brand." - Amazon Customer
Make this Valentine's Day one to remember by cozying up in Sweetheart Onesie Footie Pajamas! These snuggly pjs are made of 100% marshmallow soft fleece, so you'll feel like a warm hug all night long. Temperature regulation is no problem either - with anti-skid soles and zip-off feet for that extra bit of control over your comfort levels. Plus the hooded design looks chic AF, even if it does come complete with kangaroo pockets and some sneaky thumb holes...all at an unbeatable price tag too? Dreamy nights await ya bb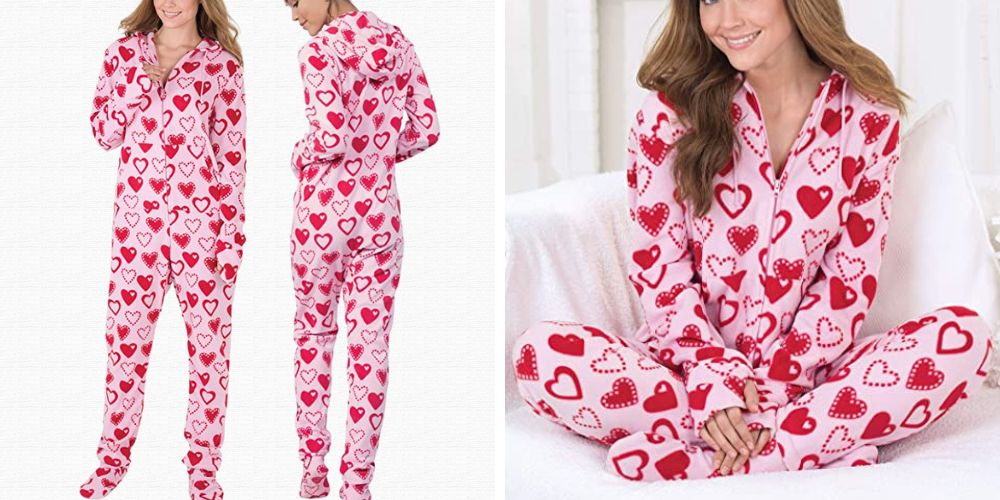 5-Star Review: "Bought this as gift for wife. She likes them. They get very warm" - DubV1986
Get ready for a cuddly Valentine's night in with the full of Hearts Loosey Goosey Women's Pajama Set! This vibrant red top and matching heart-filled patterned pants will make your family swoon with joy. Made from a signature blend fabric (95% viscose from bamboo & 5% spandex) that'll leave you feeling comfy, cozy, AND colorful - these pjs are too cute to miss out on this V-Day season! Perfect for sensitive skin plus they're tag-free, stretchy... and an absolute steal right now!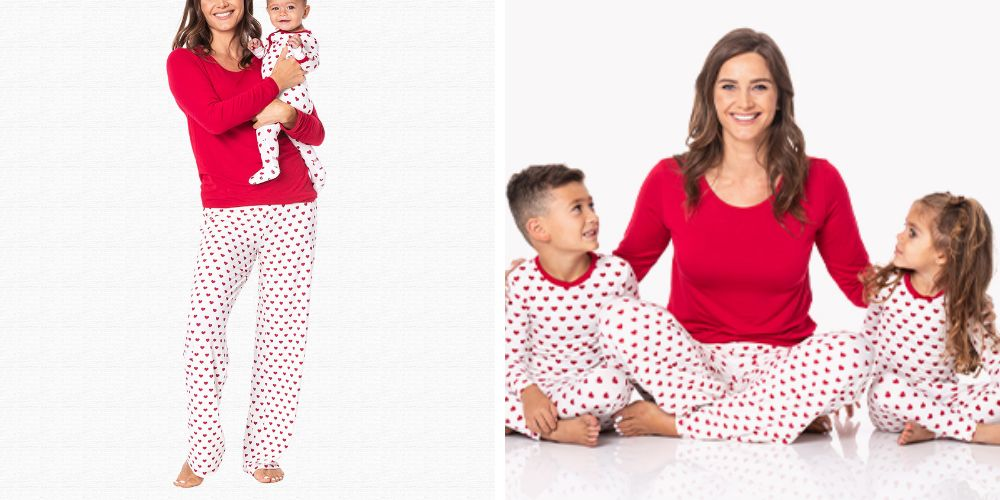 This Valentine's Day, keep it comfy and colorful with these Family Matching Pajamas Full of Hearts! Not only are they 100% cotton for cozy comfort, but the set comes with one top and pants for each person - complete with a non-slip crew neck shirt AND an elastic waistband. Who could ask for more? Get ready to snuggle up together in style this February 14th; you'll have everything needed on hand (literally) to make your V-Day celebration extra special!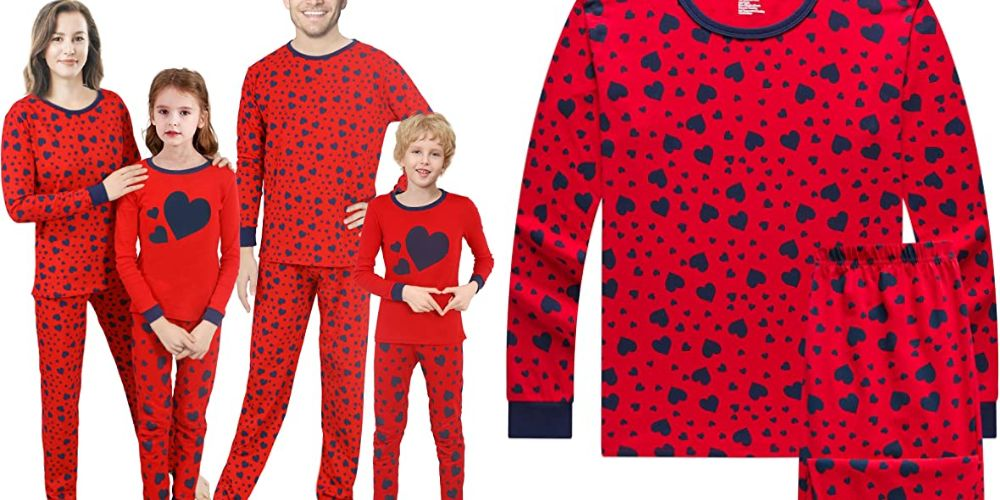 5-Star Review: "These are comfy, soft, and fit to size, if you don't like the "snug fit" then just go up a size. The color doesn't fade and the design doesn't come off after washing it several times. Can't tell you how many I've bought pjs that are no good after the 1st wash." - JC Usrey
Looking for the perfect way to make this Valentine's Day extra snuggly? Look no further than the Cozy Fleece Pajama Set - it's been a best seller and totally irresistible! Not only is this set warm, comfy, and stylish AF thanks to its contrasting satin trim on the jacket and two pockets in each pair of pants, but it also comes in an array of colorful options so you can match your partner perfectly. Take advantage now; don't miss out on all that coziness!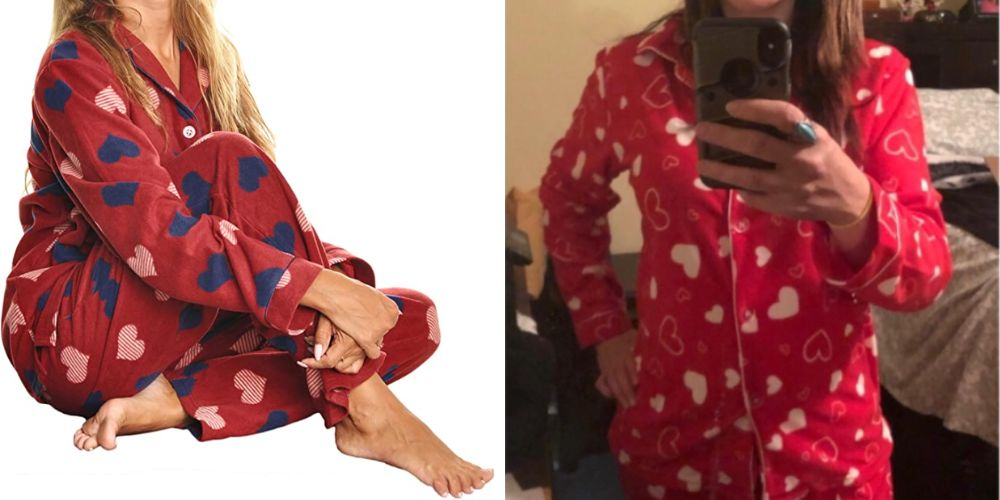 5-Star Review:"These jams are great. Soft, and comfortable, love the pockets. Fit is good too. Would recommend a pair to any gal who wants comfort and warmth." - Julie D
Take the night by storm with this show-stopping V Neck Long Sleeve Jumpsuit Sleepwear. This drop-dead gorgeous jumpsuit is made to hug your curves perfectly, so you can be sure you'll have all eyes on 'ya! From its sexy V neckline to hot kisses print design - it's an ultra-comfy sleepwear piece that will make Valentine's Day extra special (and stylish). Get ready for some serious snuggles in this must-have ensemble.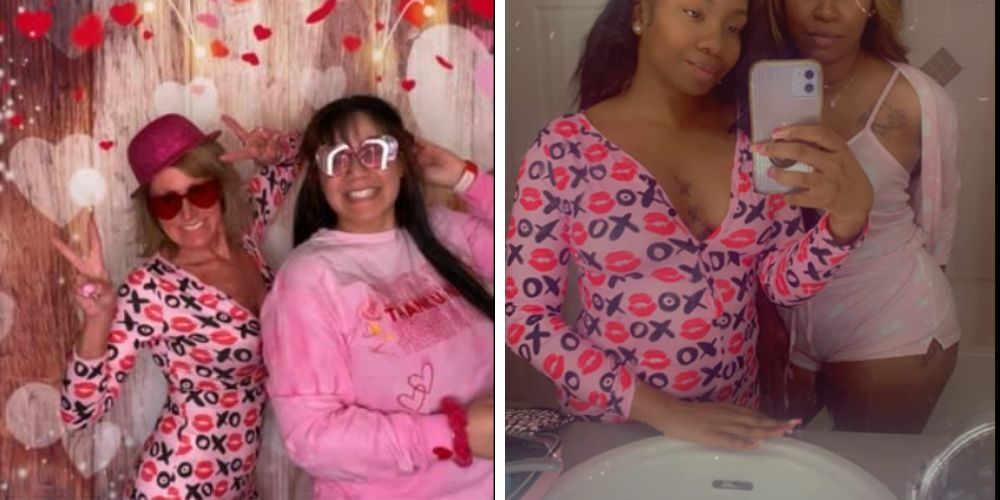 5-Star Review: "It is so comfortable would recommend people to buy it because it is just cute" - Patricia
Need to Netflix and chill in style this Valentine's Day? Then you need Wild Heart Fleece PJs, the ultra-soft microfleece set that'll have your S.O weak at the knees! Enjoy superior snuggles with maximum warmth wrapped up like a present thanks to its v-notch long-sleeve top, jogger pants, and dreamy fleece lining - all topped off by an oh-so-stylish design for chilly nights out together! Make sure these lovebirds stay close forever...get them into some Wild Hearts Pajamas stat!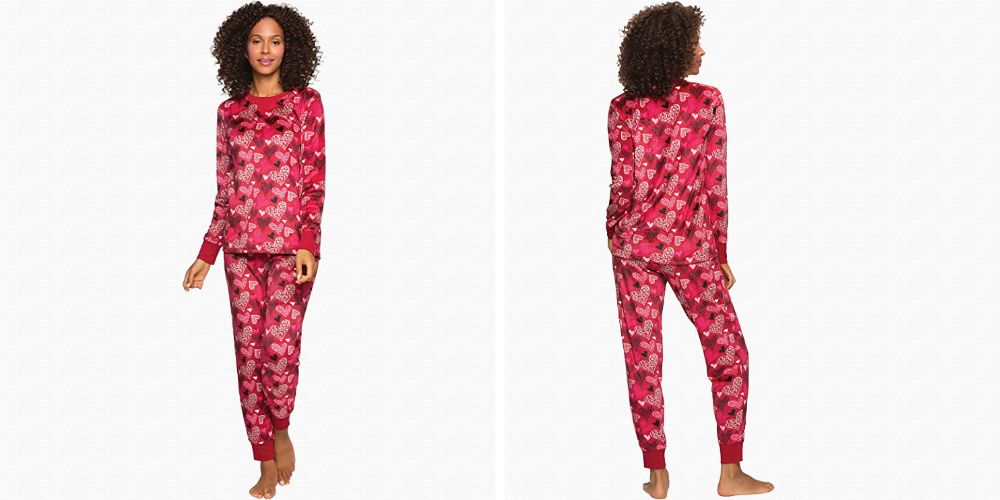 5-Star Review: "Mom said they are very soft and now her favorite pajamas!" - Kindle Customer
Don't let your snuggly night in be lacking any style - get the Satin Silky Pajama Set With Red Heart Print! This two-piece set is the perfect balance of comfort and chicness. Featuring a lightweight, cozy pullover tee top with a classic crewneck design and chest pocket combined with relaxed fit pants made out of soft satin silky fabric for adjustable wear complete with pockets for storage, you'll be ready to lounge in pure luxury on Valentine's Day!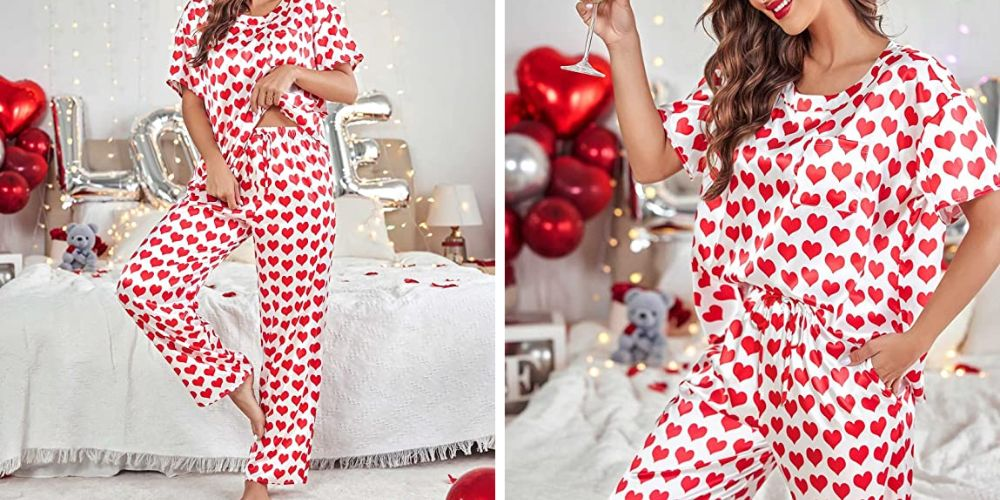 5-Star Review: "These are so soft and silky! I'm in love. Getting them in other colors." - J.Chin
Need a snuggly plan for V-Day? We've got the goods! With its plush and soft material, heart patterns, hoodie detail, and zip-up closure - this Heart Onesie is guaranteed to keep you warm on those cold winter days. Whether worn over other clothing or jackets - it's sure to spread plenty of love with everyone around. Get ready for some cozy lovin' in your new Valentine's Day getup!
5-Star Review: "I love this pajama jumpsuit, the hoodie is fun and warming. I like the comfort on the ankles and that it isn't a onesie so my feet can breathe. The lip design is feminine and fun. I especially liked the zippered pockets built-in on either side. Fit perfectly and looked great." - Michelle Hodnett
Get ready for a cozy Valentine's Day snuggles with the Navy Hearts 2 Piece Pajama Set! Perfect for the whole family, this super soft 100% cotton set with a tagless label to protect your sensitive skin – plus an elastic waistband bottom guarantees ultimate comfort. Even better? You can coordinate and dress up your baby in their own miniature version of these navy hearts. Sleep tight and sweet dreams, everyone!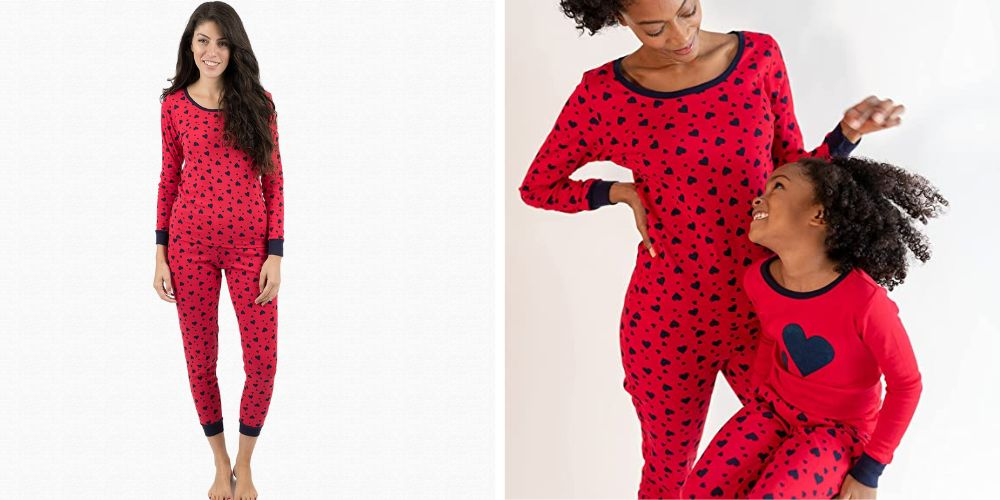 5-Star Review: "I purchased these for the grandchildren for Valentine's Day and they were a big hit! Everyone really loved wearing them for the holiday. We purchased larger sizes than normal---and we were glad we had. The material was comfortable and soft." - am
We hope this blog post gave you plenty of ideas for how to stay snug and stylish on Valentine's Day! Whether it's a cozy night in with your special someone or just lounging around the house, there are so many options available that will keep you warm and looking great. From sexy V-neck jumpsuits to plush onesies with hoodie details - these pajama sets have all been designed with love in mind. So don't let cold winter nights get in the way of some serious snuggles; choose one (or more!) from our list above and enjoy a romantic evening perfectly tailored to your style! Happy Valentine's Day!!
Reviews in this blog post have been edited for clarity and/or length.
Comments