This post may contain affiliate links, please see our privacy policy for details.
Are you tired of searching and rummaging through unorganized bathroom drawers? Are you looking for a way to make your bathroom upkeep easier and less stressful? Look no further! Organizing your drawers is the perfect solution for creating a harmonious and stress-free environment in your home. From saving time to promoting healthier habits, here are just some of the benefits of organizing your drawer.
Tips for Creating an Ideal Organized Bathroom Drawer Setup
Designate Drawer Purposes: Before getting started with setting up your bathroom drawers, it's important to determine what items should go into each one. This will help prevent overstuffing and allow for easy access when you need something quickly. Try to sort each drawer for a specific item like towels, bath products, cleaning supplies, beauty supplies, or any other stuff so you know where everything belongs.
Contain Your Supplies: To ensure everything stays neat and tidy in your drawers, use containers to store small items such as cotton balls, hair ties, nail clippers, or makeup brushes. Not only will this help keep the clutter contained, but it also makes organizing the drawers easier. If possible invest in containers with labels so you can easily find what you need without requiring you to dig around.
Utilize Drawer Dividers: Once all the items have been sorted into their designated drawers, separate them further with drawer dividers, trays, and bins so they remain in their own little sections and don't get mixed up again! This is especially helpful when it comes to organizing beauty products - no more searching through piles of mascara and eyeliner trying to find that elusive lip gloss!
How to Choose the Bathroom Drawer Organization Products
Keeping your bathroom drawers organized is no easy task, and the right organization of products can make all the difference in maintaining orderliness. If you're looking for ways to stay organized, here are a few tips on how to choose the perfect bathroom drawer organization products for you.
Measure Your Drawers: Before getting started, it's important to measure your drawers so you know what type of organization system will work best for you. This includes measuring both the depth and width of each drawer as well as any potential obstacles such as sink pipes or walls that might get in the way. Knowing these measurements beforehand will help prevent purchasing items that don't fit into your space.
Utilize Clear Containers: When organizing small items like hair ties, cotton balls or beauty supplies pick clear containers instead of opaque ones. This allows you to easily see what is inside without having to search through each container one at a time, saving time and energy in the long run!
Choose Multipurpose Solutions: Maximizing storage can be tough when dealing with small bathrooms – try opting for multipurpose solutions that have additional compartments within them which allow you to store multiple things in one area! For example, a 3-tiered organizer or stackable baskets could be used to fit all sorts of items while remaining on the smaller side.
Invest in Quality/Durability: When shopping for bathroom drawer organizers, check the details to ensure quality and durability. Look for materials like metal or plastic which are strong enough to withstand daily use without breaking down over time. It's important not to skimp out on quality, as a product that doesn't last defeats the purpose of buying an organizational product in the first place!
Our Favorite Bathroom Drawer Organization Products to Try
To help you on your organization journey, we've rounded up some of our favorite bathroom drawer organization products that you should try. Check them out below and get ready to say goodbye to cluttered drawers!
Plastic Organizers
Plastic drawer organizers are perfect for organizing your bathroom items, from makeup and toiletries to cleaning supplies. Not only are they fun and easy to use, but they can also be customized for any size drawer or shelf.
Best Non-Slip Clear Organzier
This 25-piece clear plastic drawer organizer features 4 different sizes of trays, you can store toiletries, makeup, and jewelry in your bathroom or kitchen utensils and office supplies anywhere else. The clear design allows for easy visibility so you know exactly where each item is located, while the sturdy plastic material ensures these organizers will last a long time.
Plus - this durable product promises to hold up for a long time so you'll never have an issue storing items again! Perfect for keeping areas neat and tidy - never worry about disorganization ever again with this amazing product!
Best Bins with Non-slip Rubber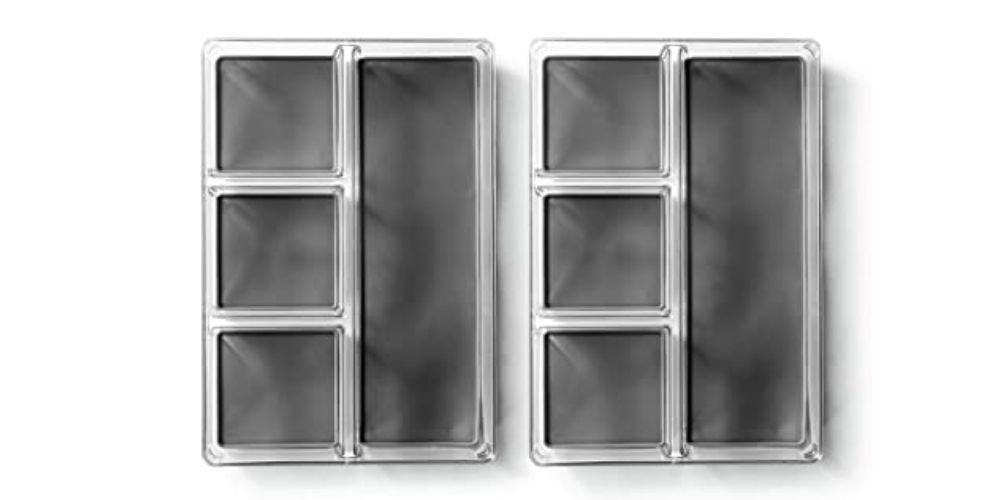 If you are tired of messy drawers you should try these organizer bins. This two-pack set features multi-purpose compartments and has soft grip lining plus non-slip rubber feet that keep everything secure.
Not only is it stylishly grey, but thanks to its durability and is BPA free - you can trust this drawer organizer will make your bathroom a neat place for years to come!
Best Multifunctional Translucent Organizer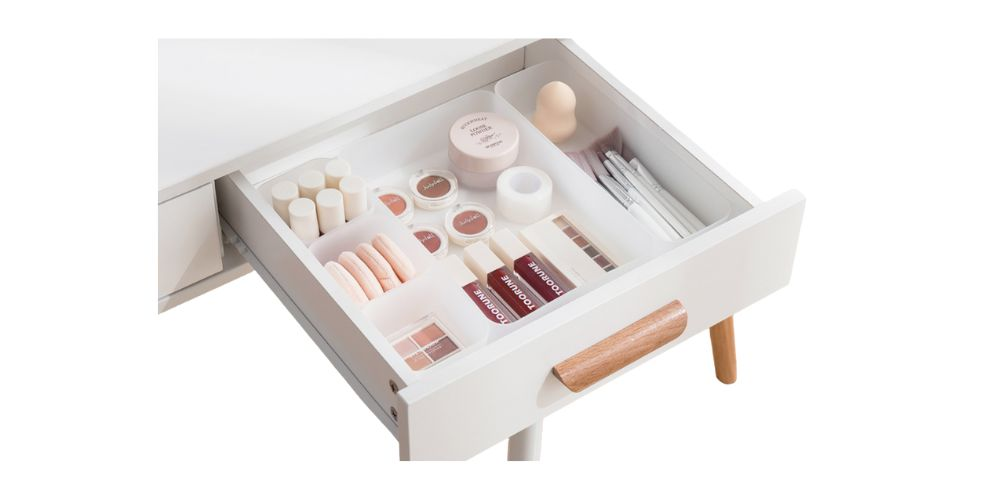 This set of 5 trays offers a lot of combinations to fit in different drawers, allowing for convenient and versatile storage of miscellaneous objects.
Made from durable BPA-free plastic that's unbreakable and easy to care for with rounded corners that make cleaning effortless. The translucent design also makes it easy to find each item quickly. Get organized today with the Poeland 5 Pcs Drawer Organizer Tray!
Best Organizer with Interlocking Feature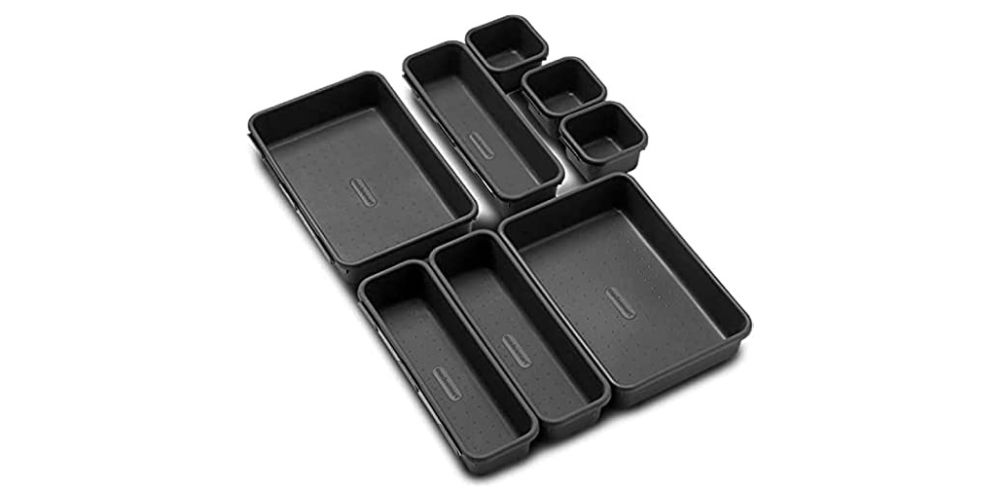 This 8-Piece interlocking bin pack has a sophisticated, granite design and customizable options for multi-purpose storage - plus it's BPA-free and easy to clean. With this bin pack, you'll have all the extra space you need in no time at all!
Best Expandable Separators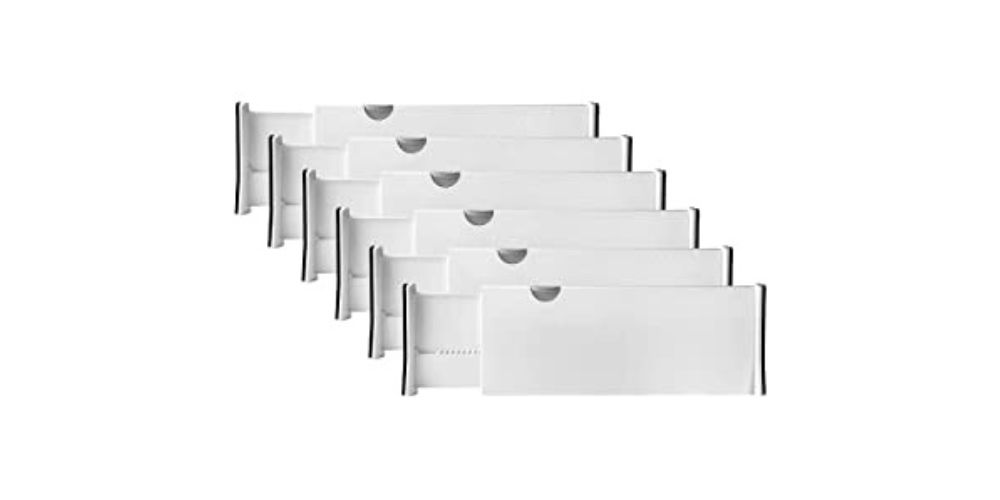 With the adjustable dividers from these drawer organizers, you'll be able to create a neat and orderly environment in any room - from dresser drawers to office shelves. These white underwear drawer organizers are crafted from heavy-duty plastic and durable Eva foam, making them strong enough to last for years of use. So don't wait for another second, get organized now with these amazing storage solutions!
Best Tray with Soft-grip Lining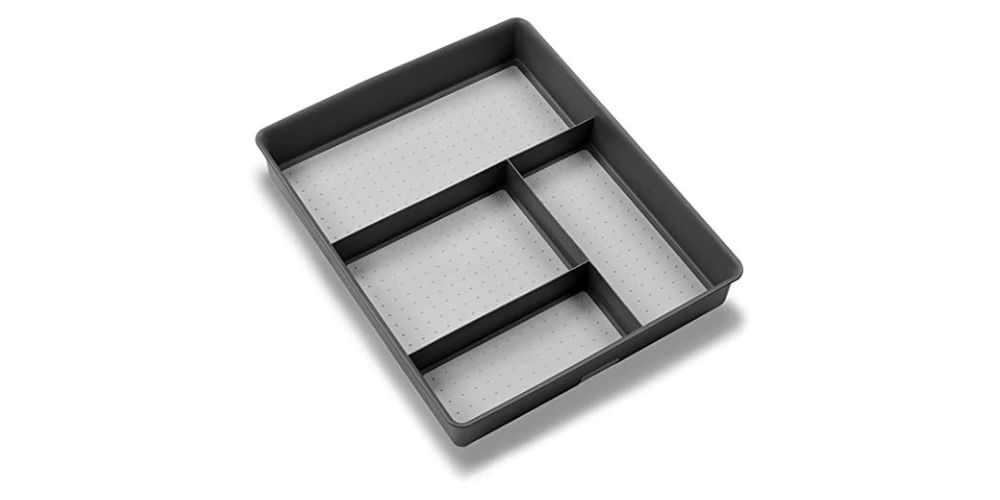 This tray offers a modern granite palette with four compartments perfect for storage. With its soft grip and non-slip design, this multi-purpose drawer organizer is ideal for brushes and hair accessories - making it easy to stay organized!
Best Customizable Compartments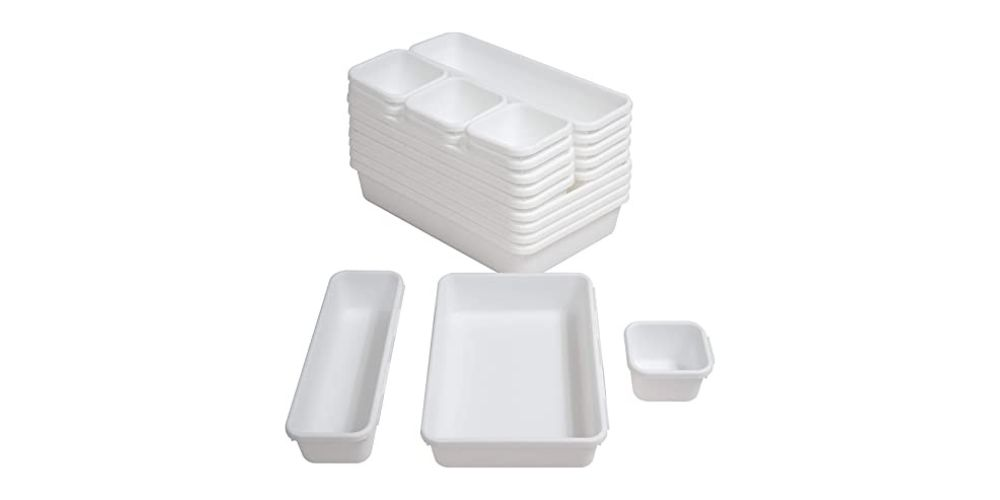 This interlocking bin set lets you organize any space with ease, providing a total of eighteen stylish white dividers that can be tailored to fit your needs. With nine large compartments, six medium ones, and three small ones - plus its chic look - it's the ideal way for all neat freaks out there to add orderliness into their lives!
Wooden Organizers
Wooden organizers are the perfect addition to any bathroom, offering a stylish and practical way to keep your bathroom tidy and organized. With a range of designs to choose from, including white or stained wood organizers, you can easily find one that fits your space perfectly.
Best Bamboo Expandable Divider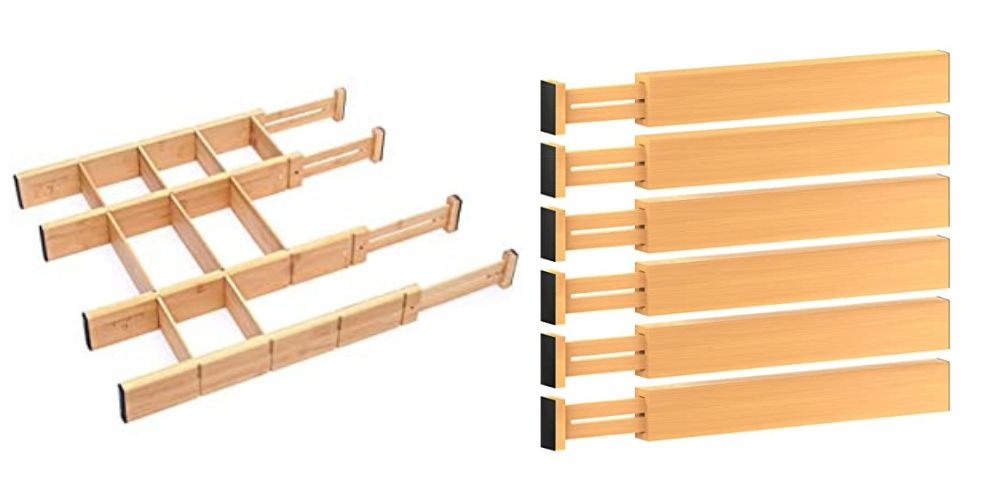 Finally, you can get your drawers looking fabulous with this amazing 6-pack set of expandable bamboo divider organizers. From 17.5" to 22", these organizer sets will fit any size drawer, making it the perfect addition to any bathroom. Their sleek look will match any style or décor – you'll finally have the perfect spot for all of your makeup, toiletries, hair accessories & nail polishes...and no more worrying about messy clutter ever again!
Best Portable Eco-friendly Bamboo Organizer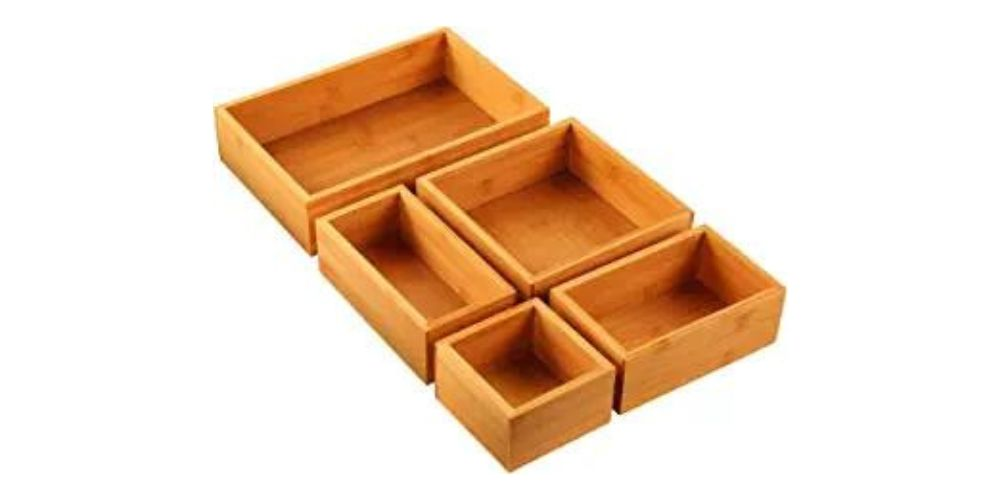 Crafted out of natural bamboo, this set of multi-use storage boxes comes in different sizes and can be used anywhere - whether it's in your kitchen or even your bathroom. Keep all your odds & ends safe and secure so you don't have to worry about things getting misplaced. Say hello to an organized life – no more jumbled-up drawers for you!
Best Multi-Use Bamboo Organizer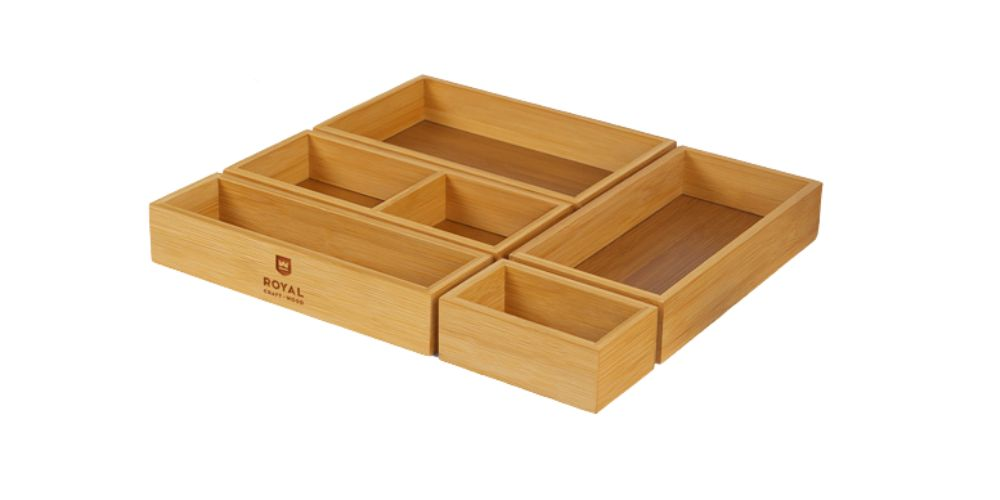 This set of six stackable bins makes tidying up a breeze - from the kitchen to the bathroom, office desk to the makeup vanity, and beyond. Durably crafted for a long-lasting organization that'll fit in almost any drawer size – say goodbye clutter and hello sleekness with this amazing storage box today!
Best Bambo Tray with Built-in Dividers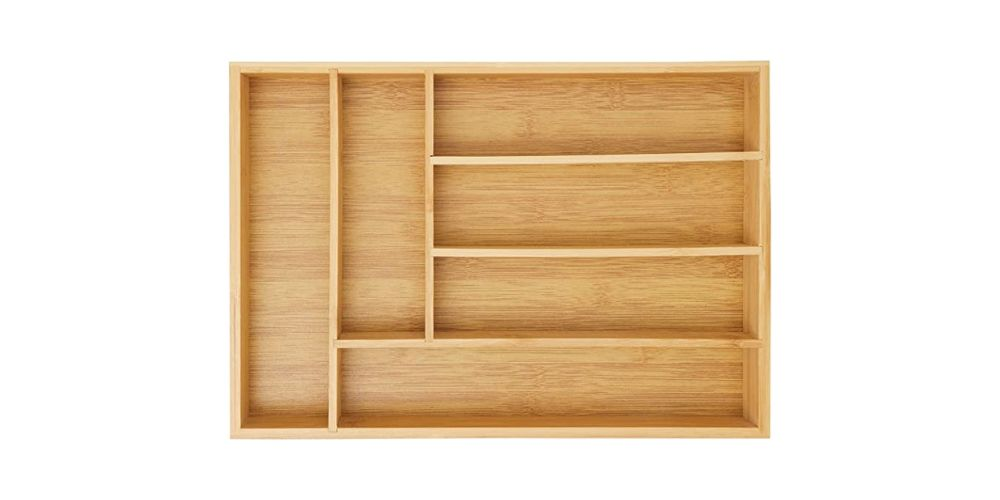 Perfectly sized to fit almost any drawer, this Drawer Organizer comes with six compartments which are equipped with built-in dividers so you can easily store each piece of cutlery in its own spot. Lightweight yet durable enough that you can easily wipe it down when cleaning time comes around- what a dream come true!
Metal Organizers
Metal organizers are an ideal way to add extra storage to your bathroom without taking up extra space. With their modern, sleek designs, metal organizers can offer a functional yet stylish look to your bathroom. From slim profile units with adjustable shelves to larger drawer solutions, these storage solutions come in a range of sizes and colors, making it easy to find one that fits your space perfectly. With the ability to store everything from towels and toiletries to hairdryers and cosmetics, metal organizers are the perfect choice for any bathroom!
Best Metal Mesh Organizer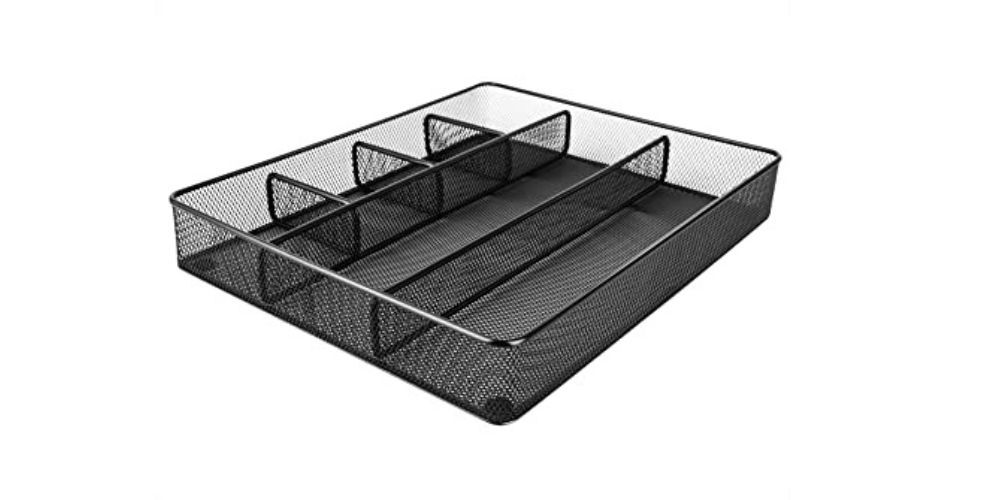 This all-black metal mesh organizer is the perfect storage solution for any bathroom. Its six compartments provide plenty of room to separate and organize your makeup, toiletries, and more. The stylish look complements any décor while the nonslip rubber feet on the bottom ensure a secure fit. Fully assembled and ready to use, this organizer is both sturdy and practical - a must-have addition to any space!
Best Expandable Metal Organizer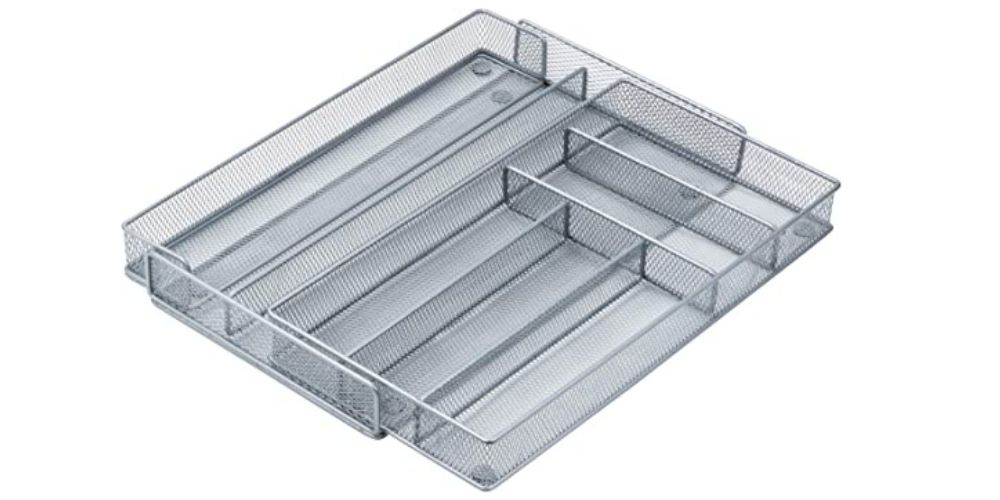 This chic organizer will make any space look modern yet organized. With adjustable compartments, you'll have plenty of room to store all those hard-to-find knickknacks that tend to clutter up our spaces – plus it's a breeze for anyone who likes their things just so. Keep all your items neat and tidy with this sleek steel mesh tool designed especially for effortless organization.
Bathroom Drawer Organization FAQs
What features should I look for when choosing the best drawer organizer?
When choosing the best drawer organizer for your needs, it is important to consider factors such as material, design, shapes and style, and functionality. You may also want to look for features like easy-to-clean surfaces or adjustable compartments.
How can I keep my drawers organized over time?
It is important to designate certain spots for specific items in order to keep your drawers organized over time. Consider designating sections within each drawer if needed, and store like items together in the same way. Utilizing partitions or cubbies can also help a lot with organization.
What materials are recommended for use in drawer organizers?
The most popular material used for drawer organizers is wood due to its strength and durability as well as its attractive appearance. Plastic is also commonly used due to its affordability and easy-to-clean feature. Metal mesh trays are another option if you prefer more open storage space.
Is it easy to install a bathroom drawer organizer?
Installing a bathroom drawer organizer is relatively easy, as they come with instructions to follow and can generally be installed within minutes. Some organizers simply slide into the drawer while others require a few screws. However, if you run into any issues during installation, most stores will have staff on hand to answer your questions and help out.
Final Thoughts
In conclusion, using drawer organizers in your bathroom can be a great way to keep everything organized and accessible. There are many different types of organizers available, so you can find the right one that fits your needs and style. It is also important to consider the material, design, and functionality of your organizer when making a purchase. With a little bit of planning and organization, you can easily turn your bathroom into an orderly and inviting space!
Comments