This post may contain affiliate links, please see our privacy policy for details.
As the weather begins to cool and those cozy vibes start settling in, we begin to crave heartier, comfort foods. One appliance that can make mealtime a breeze (pun intended) is the crock pot.
Crock pots have come a long way since their humble beginnings and there are now many available on the market catering to various needs.
If you're asking what's the best crock pot, you've come to the right place! We've scoured the market for what we think are the top models out there and compiled them into one convenient list. Read on for our guide on how to choose the best crock pot for your needs!
How We Choose
Crock pots are an excellent addition to any kitchen because they make mealtime quick and easy while still delivering delicious, home-cooked meals. So whether you're looking for a basic model or one with all the bells and whistles, here's everything you need to know about how to choose the perfect crock pot for you.
Size
One of the most important factors to consider when choosing a crock pot is size. The size you need will depend on how many people you typically cook for. If you frequently entertain large groups or want leftovers for meal prep, you'll want to opt for a larger size.
However, if you live alone or have a small family, a smaller size should suffice. The good news is that crock pots come in a range of sizes so you're sure to find one that meets your needs.
Features
Basic crock pots will have just one or two temperature settings and no timers. More advanced models will have multiple temperature settings, as well as timers that allow you to set cooking times ranging from 30 minutes to 20 hours. Some even have "warm" settings that automatically kick in once your food is done cooking, keeping it at a consistent temperature until you're ready to eat.
If you frequently cook large meals or entertain often, opt for a model with more features. But if you only use your crock pot occasionally, a basic model should suffice. In our opinion, the best slow cookers and crock pots are the ones that have multiple heat settings, a timer, and a warm setting.
These features allow you to tailor the cooking experience to your needs and ensure that your food is cooked perfectly.  A good rule of thumb is to select a crock pot with only as many features as you'll actually use – no need to pay extra for something that will just collect dust!
Price
Of course, price is always going to be a factor when making any purchase. Fortunately, crock pots are relatively affordable so you don't have to break the bank to get one that suits your needs.
That being said, it's important not to sacrifice quality for the price. Be sure to read reviews before making your purchase to ensure that you're getting a well-made product that will last.
And remember, when it comes to food preparation – you get what you pay for!
Best Crock Pot Under $50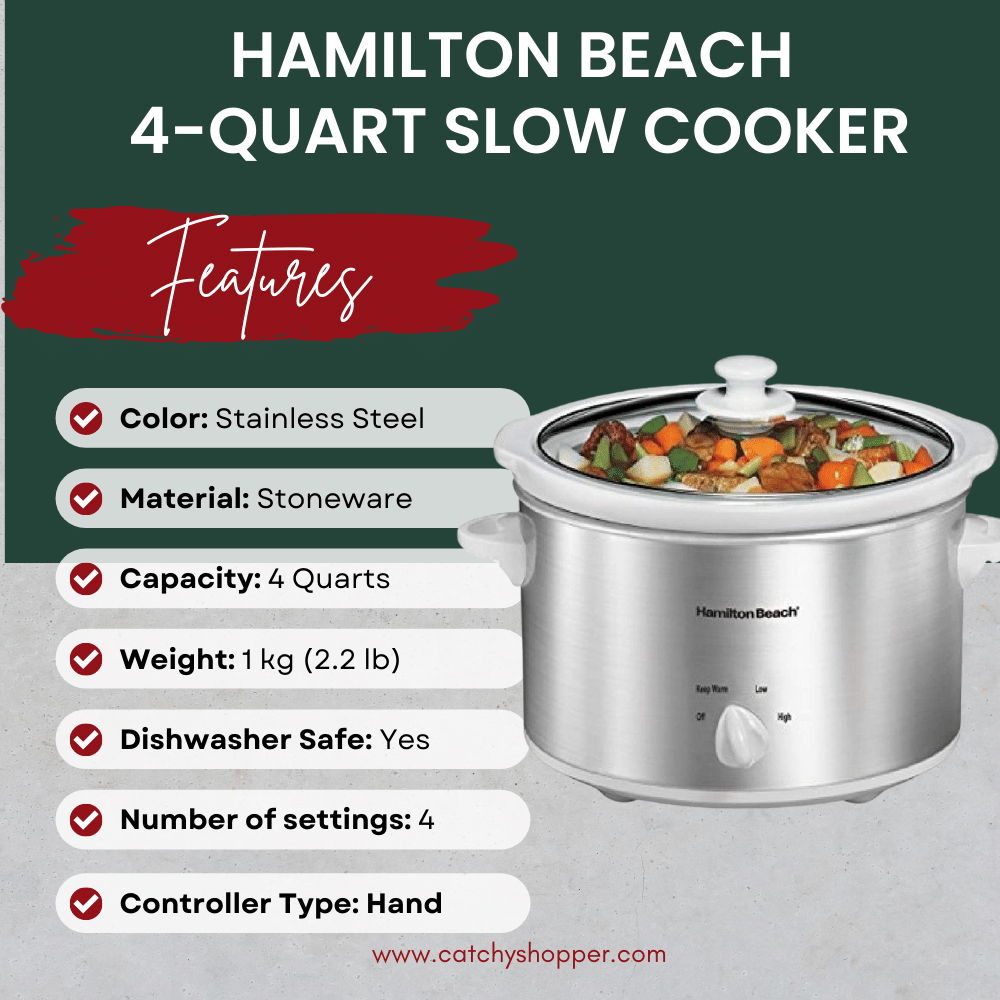 Why We Love It
If you're looking for a bargain, there are plenty of great options under $50.
For example, the Hamilton Beach 4-Quart Slow Cooker with Dishwasher-Safe Stoneware Crock & Lid is a great choice for anyone looking for a small, easy-to-use slow cooker.
This unit is perfect for making individual servings or smaller side dishes. The stoneware crock and lid are both dishwasher safe, making cleanup a breeze.
What You Should Know
This versatile appliance can handle everything from a 4 lb chicken to two 2 lb roasts and features four heat settings (off, low, high, and warm) to ensure your food is cooked just the way you want it.
Plus, the dishwasher-safe stoneware crock makes cleanup a breeze, and can even be used for tabletop serving or refrigerator storage. Whether you're preparing a family meal or entertaining guests, the Hamilton Beach 4-Quart Slow Cooker is up to the task.
Best Crock Pot Under $100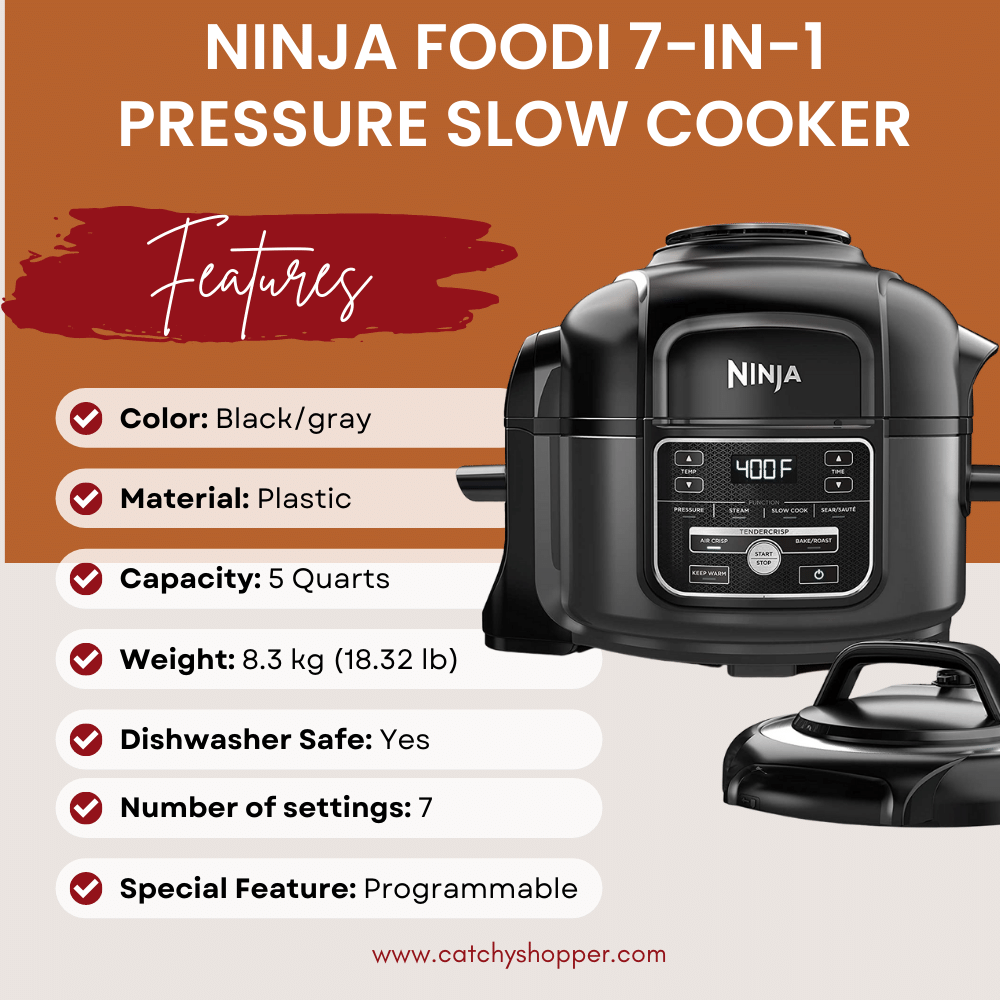 Why We Love It
The Ninja Foodi is the perfect kitchen appliance for those who want it all. It pressure cooks, slow cooks, air fries, and has a host of other features.
With a 5-quart capacity, it can accommodate large groups or families. The 15 recipe book inspiration guide provides ideas and tips for using the Ninja Foodi to its fullest potential. Plus, the high gloss finish gives it a sleek and modern look.
What You Should Know
The Ninja Foodi is the perfect kitchen appliance for those who want to make quick, delicious, and healthy meals. The pressure cooker function speeds up cooking time by 70 percent, while the air fryer function gives your meals a crispy, golden finish with 75 percent less fat.
The 5-quart ceramic-coated pot is nonstick and PTFE/PFOA free, making it easy to clean. The 3-quart cook & crisp basket is also ceramic coated and nonstick, making it perfect for cooking chicken, fish, or vegetables.
The 7 functions include pressure cook, air fry/air crisp, steam, bake/roast, slow cook, yogurt, and sear/saute.
Best High-End Crock Pot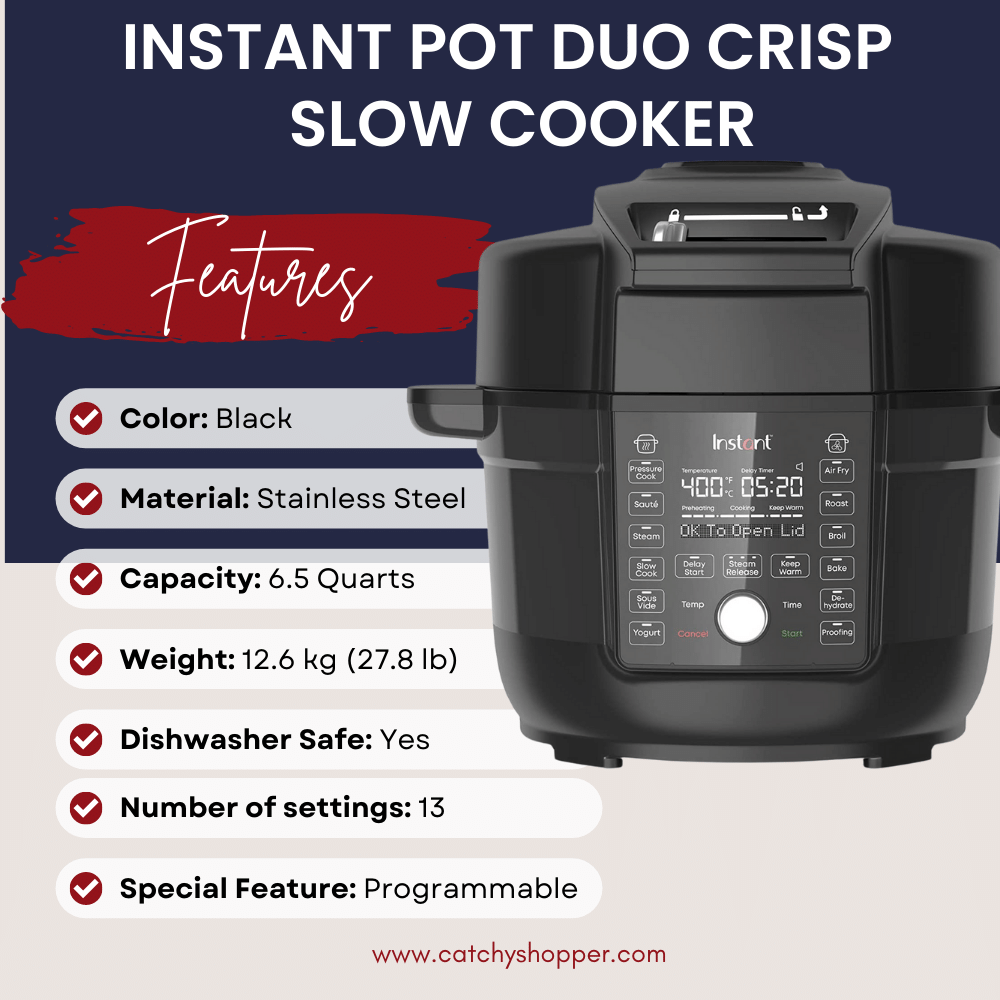 Why We Love It
The Instant Pot Duo Crisp is the perfect kitchen appliance for those who want the best of both worlds. This 13-in-1 air fryer and pressure cooker combo can do it all, from sautéing and slow cooking to baking, steaming, and even dehydrating.
With over 800 recipes available through the accompanying app, there's something for everyone to enjoy. Plus, the 6.5-quart size is perfect for large families or entertaining guests.
What You Should Know
The Instant Pot Duo Crisp Ultimate Lid is the perfect addition to your kitchen, whether you're a beginner or a pro! With over 111 safety features and dishwasher-safe accessories, it's easy to see why this is one of the most popular pressure cookers on the market.
The stainless steel air fryer cover is a great way to keep your food safe and protected while cooking, and the whisper-quiet steam release technology makes it one of the quietest cookers around. Plus, the large LCD panel and steam release button make it easy to use, even for beginners.
Whether you're looking for an all-in-one cooker or just a great pressure cooker, the Instant Pot Duo Crisp Ultimate Lid is a great choice for any kitchen.
Best Overall Pot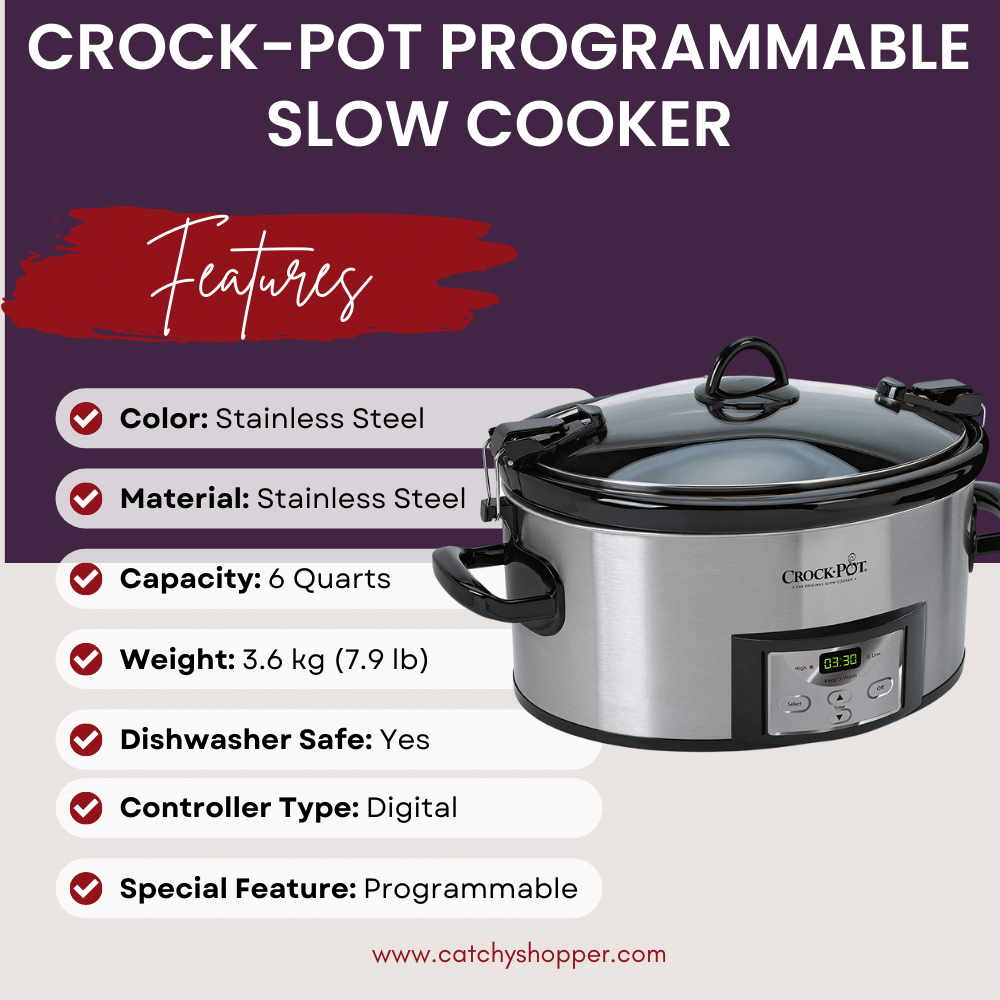 Why We Love It
This is the perfect size for cooking for a large group or family. With space for seven or more people, this slow cooker is perfect for potlucks, family gatherings, or anytime you need to cook for a crowd.  
With programmable cooking times, you can set it and forget it, knowing your food will be cooked to perfection. The stainless steel construction ensures durability, while the digital timer keeps track of cooking time for ease of use.
What You Should Know
The digital countdown control lets you program cook times anywhere from 30 minutes up to 20 hours, and the shift to Warm setting automatically once the cooking time completes. The easy-to-use locking lid featuring a lid gasket provides an extra seal for less mess on the go.
Plus, all Crock Pot Slow Cooker removable stone inserts (without lid) may be used safely in the microwave and the oven set up to 400 degrees F. So whether you're cooking for a large group or just want the convenience of keeping delicious food warm, at the touch of a button, this crock pot is your perfect solution.
Best Splurge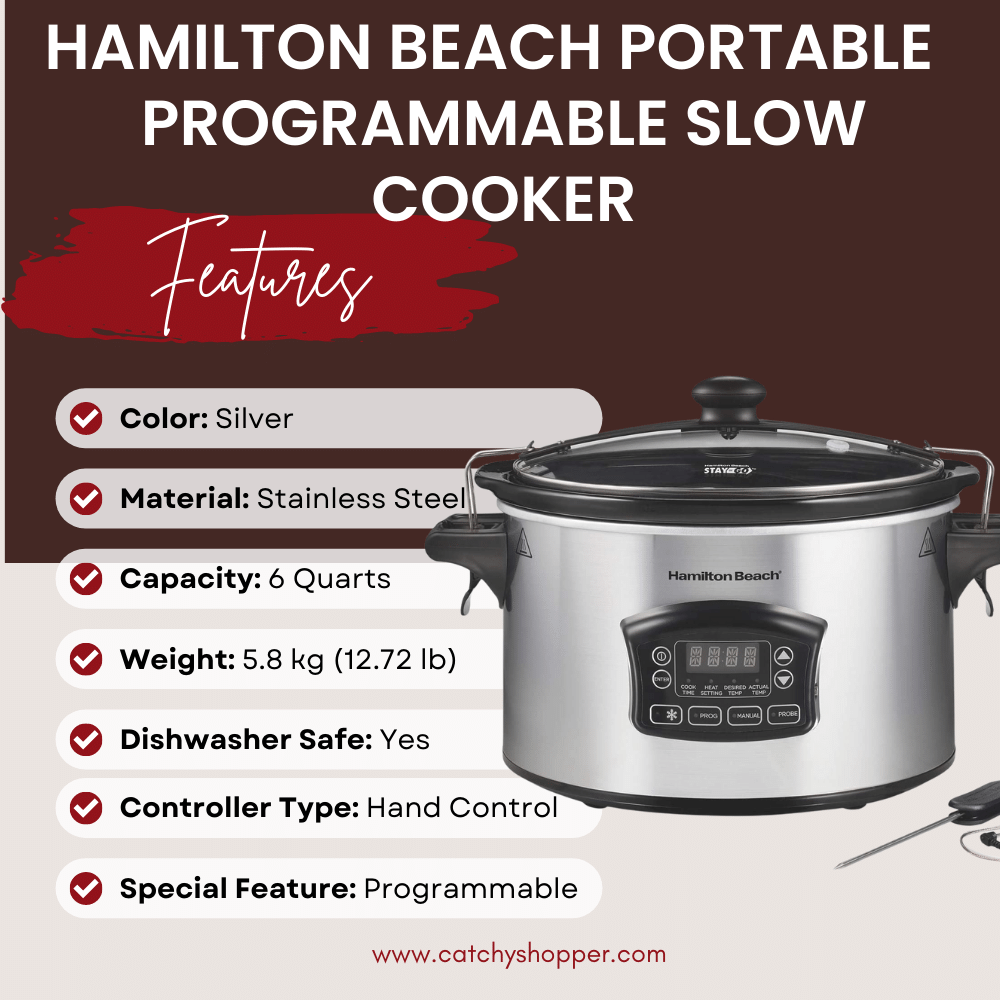 Why We Love It
If you're looking to splurge on a crock pot, the Hamilton Beach Set 'n Forget Programmable Slow Cooker With Probe is worth the investment. This amazing slow cooker has so many features that make it a must-have for any kitchen.
The 6-quart size is perfect for large families or entertaining, and the digital programmable setting makes it easy to set and forget. The lid lock feature keeps food hot and fresh, while the defrost setting ensures that your food is cooked evenly.
What You Should Know
The temperature probe ensures that your food is cooked to perfection without having to guess at the internal temperature, and the silver finish looks great on any countertop.
The digital countdown control makes it easy to program cook times, while the warm setting keeps food at the perfect temperature until you're ready to serve. Plus, the easy-to-use locking lid with a gasket provides extra seal and protection during transport.
The Best Crock Pots FAQ
What can I make in a crock pot?
In most slow cookers and crock pots, you can make just about anything! Meats, stews, soups, chili, oatmeal, mac and cheese, desserts...the list goes on and on.
Do I need to brown the meat before adding it to the crock pot?
Nope! Just throw it in there raw. The crock pot will do all the work for you.
Should I use frozen or fresh vegetables?
Frozen vegetables are actually better because they cook evenly and don't turn to mush. Just make sure to add them in the last hour or so of cooking so they don't get too done.
Can I leave my crock pot on all day?
Yes, you can! But if you're going to be gone for more than 8 hours, it's best to set it on the "low" setting so your food doesn't overcook.
What is the difference between slow cookers and crock pots?
Absolutely nothing! They are one and the same. So if you have a recipe that calls for a slow cooker, don't worry--your trusty old crock pot will do just fine.
Should I buy a digital or a manual slow cooker?
A digital slow cooker is a good choice if you want to be able to program it to start the cooking process at a certain time. A manual slow cooker is a better choice if you want more flexibility in terms of cooking time and temperature - for example: if you want to cook something for eight hours on low heat instead of the four-hour setting on a digital slow cooker.
How do a slow cooker and crock pot work?
A slow cooker is a countertop electrical cooking appliance that uses low heat to cook food over a long period of time. Food is placed in a cooking vessel (or pot/crock), which sits inside the slow cooker. The pot is then surrounded by the heating element, which cooks the food slowly over a period of several hours.
The advantage of using a slow cooker is that you can put the food in early in the morning and have it ready to eat by dinner time. This is because the low heat gently cooks the food, rather than quickly boiling or frying it. Crock pots are very popular in the United States, where they are often used to cook stew, chili, and soup.
How do I choose the right crock pot for my needs?
There are a few things you'll want to keep in mind when choosing a crock pot. First, think about the size of your family or your usual gathering. A small crock pot is perfect for 2-3 people, while a larger one is better for 4-6 people. If you often entertain large groups or want to be able to make big-batch recipes, look for an extra-large crock pot that can hold 6-8 quarts of food.
Next, think about how frequently you'll use your crock pot. If you only plan on using it a few times a year, you might be able to get away with a cheaper model. But if you're planning on using it several times a week, it's worth it to invest in a higher-quality crock pot that will last longer and cook more evenly.
What are some common mistakes people make when using a crock pot?
One of the most common mistakes people make when using a crock pot is adding too much liquid. Remember, unlike stovetop cooking where evaporation can help concentrate flavors, nothing is going to evaporate off when you're slow cooking. So if you're finding that your food is coming out too watery, try reducing the amount of liquid called for in the recipe by half.
Another common mistake is not browning meat before adding it to the crock pot. This step may seem like extra work, but trust us, it's worth it! Browning meat adds both flavor and texture to dishes, so skipping this step will leave you with bland, mushy results.
Finally, resist the temptation to open the lid and peek inside while your food is cooking! Every time you remove the lid, heat escapes and extends the cooking time. So unless something smells burning or looks like it's not cooking evenly, leave well enough alone and let your food continue cooking undisturbed.
The Best Slow Cooker & Crock Pot For You
What's the secret to whipping up a delicious meal without spending hours slaving away in the kitchen? The answer is simple – let a crock pot do all the hard work for you! Our top picks for the best crockpots will help make your wildest dinner dreams come true.
Whether you're on a shoestring budget or you love cooking with all of the bells and whistles, our list of must-have crock pots is sure to impress. Kickstart your cooking journey today and watch as saving time and money becomes easier than ever before. Plus, coming up with new recipes just might become your favorite hobby. Enjoy!
Comments