This post may contain affiliate links, please see our privacy policy for details.
Nothing quite compares to the irresistible aroma and taste of a perfectly cooked homemade pizza. From the crispy crust to the gooey, melted cheese and your favorite toppings, a delicious pizza can bring people together and create cherished memories. This is where the magic of outdoor pizza ovens comes in. These fantastic appliances allow you to replicate the taste and texture of authentic, wood-fired pizzas in the comfort of your own backyard.
Owning an outdoor pizza oven not only takes your pizza-making skills to the next level, but it also offers a myriad of benefits. For instance, you can cook at higher temperatures, resulting in faster and tastier outcomes. Moreover, an outdoor pizza oven can transform into the centerpiece of your gatherings and parties, offering a delightful cooking experience and a world of culinary adventures.
In this blog post, we're thrilled to be your trusty guide, helping you choose the ideal outdoor pizza oven to match your needs and desires. We'll delve into the top 9 best outdoor pizza ovens for creating mouthwatering pizzas at home, discussing their features, customer ratings, and reviews. Plus, we'll tackle some frequently asked questions to ensure you maximize your outdoor pizza oven escapades. So, come on—let's embark on this exciting journey together and uncover the secret to crafting pizzeria-quality pies in the comfort of your own backyard!
How to Choose the Perfect Outdoor Pizza Oven
Pizza is the perfect comfort food and what better way to enjoy it than to cook it outdoors in a pizza oven? Not only do outdoor pizza ovens add a touch of charm to your outdoor living space, but they also produce pizzas that are cooked to perfection. With so many outdoor pizza ovens available today, it's easy to get overwhelmed. No need to worry, we've put together a guide to help you choose the perfect outdoor pizza oven.
Fuel Type
When it comes to outdoor pizza ovens, there are three main types of fuel sources to choose from:
Wood-Fired: These ovens use wood as their primary fuel source, adding a smoky flavor to your pizzas. Wood-fired ovens are ideal for those who prioritize authenticity and flavor. However, they do require a bit more attention and cleaning.
Gas: These ovens use gas as their primary fuel source, and they provide convenience and quickness. Gas ovens are also cleaner and easier to use, but they don't offer the smoky flavor that wood-fired ovens provide.
Multi-fuel: These ovens provide the best of both worlds by being able to use both wood and gas as fuel. Multi-fuel ovens also give you the option to switch between fuels, depending on your preference.
Size and Portability
When choosing an outdoor pizza oven, consider whether you want a large, permanent installation or something more portable. Larger, built-in ovens can be impressive features in your outdoor living space, but they're less versatile and less portable. Portable ovens are perfect for those who love an outdoor adventure and want to travel with their pizza oven.
Temperature Range and Heat Retention
The temperature range of an outdoor pizza oven is a crucial factor in producing perfect pizzas. Look for an oven that can reach around 700°F or higher, as this temperature range allows for a crispy and golden crust. Heat retention is also vital as it determines how long the pizza oven will hold its heat. Brick or stone ovens tend to retain heat the best.
Price and Budget Considerations
The cost of outdoor pizza ovens varies depending on the type of oven you choose. Wood-fired ovens tend to be the most expensive, while gas ovens are the most affordable. But remember, investing in a high-quality outdoor pizza oven pays off with many years of delicious pizzas. Keep in mind additional costs such as installation, fuel, and maintenance.
Choosing the perfect outdoor pizza oven comes down to considering fuel type, size and portability, temperature range and heat retention, and price and budget considerations. Consider what features are most important to you and weigh the costs versus the benefits. Before you know it, you'll be enjoying many homemade pizzas cooked to perfection in your very own outdoor pizza oven.
Wood-Fired Pizza Ovens
Experience the rustic charm and authentic flavors of traditional Italian pizzerias with wood-fired pizza ovens. These ovens utilize wood as their primary fuel source, imbuing your pizzas with that unmistakable smoky taste and aroma. Wood-fired ovens boast incredible heat retention, ensuring a perfectly cooked pizza with a crispy crust and evenly melted cheese. Ideal for pizza enthusiasts who appreciate the genuine wood-fired experience, these ovens bring old-world charm to your backyard.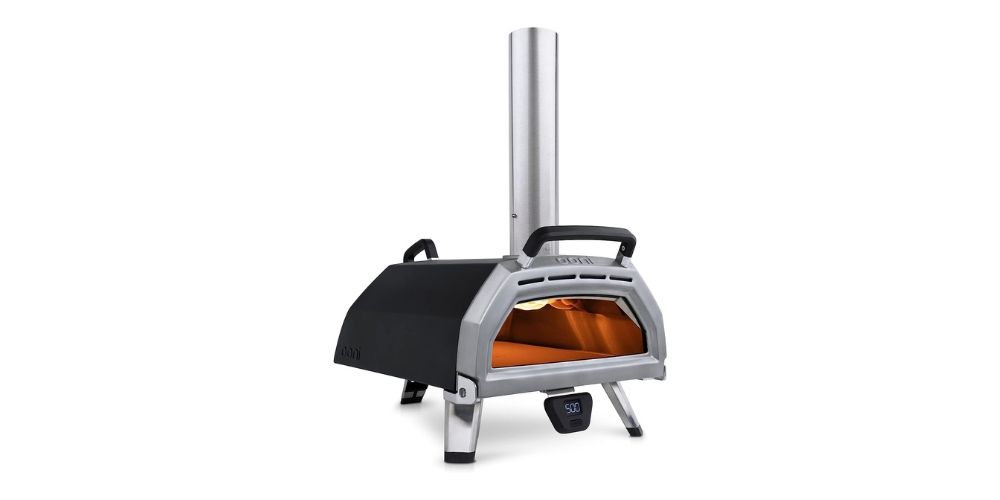 Attention all pizza lovers! Meet the Ooni Karu 16 Pizza Oven, the ultimate game-changer for your homemade pizzas. You won't have to settle for smaller pies anymore because this wood-fired oven is 16 inches wide, perfect for larger pizzas.
Plus, it's not just your ordinary stationary oven because it's portable and easy to assemble, making it perfect for outdoor pizza parties. That's not all - with a temperature range of up to 932°F, this oven can bake a pizza to perfection in just 60 seconds!
And with a 4.5 star average with one satisfied customer saying: 'I have already made homemade pizza and garlic bread and it was amazing. The oven gets up to 800 F and live cooking in it. I also cooked a ribeye steak in a cast iron pan in the oven in 90 seconds which was the best steak I have eaten. I never go back eating from a pizza joint again.'
With its state-of-the-art technology and ability to reach 950°F / 500°C in just 15 minutes, the Ooni Karu 16 Pizza Oven is the perfect addition to any pizza lover's arsenal. Trust us, you won't be disappointed.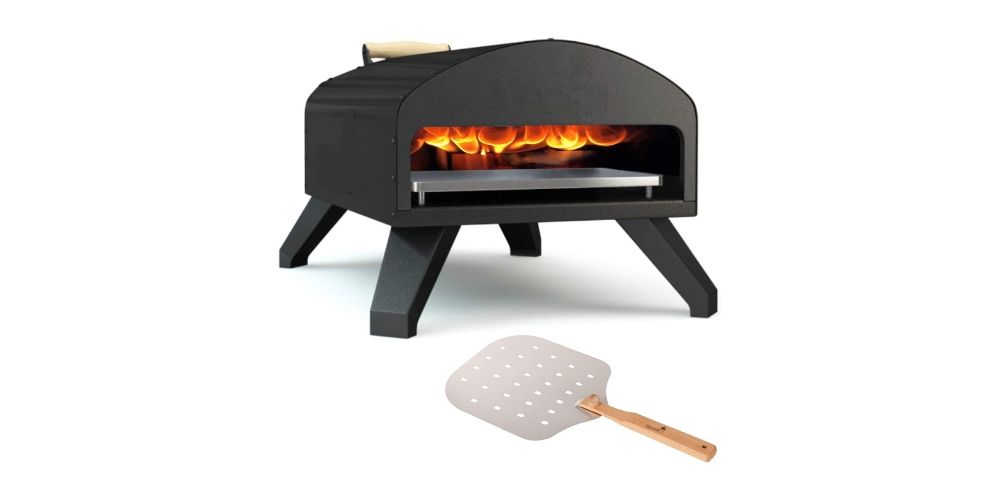 This wood-fired pizza oven is super versatile and can be used with a wood pellet or charcoal, making it suitable for any outdoor setting. Plus, it's also super portable, so you can bring it wherever you need to cook pizza.
With a temperature range that can go from 450°F to a sizzling 950°F, you can cook your pizzas to perfection in just 2 minutes! Don't believe us? Just ask one super satisfied customer: 'INCREDIBLE!!!!!! I wish I could give 100 stars. If you are considering buying this then you absolutely must. It is small and super lightweight, heats up quickly if you have the propane adapter (highly recommend you get that too), and OMG the pizza!!!!!! It is night and day from regular oven pizza. The crust tastes like it's straight out of Italy. So delicious. Only takes 2 minutes to cook!! I can't recommend this enough. You won't regret it.'
And with a 4.3-star average rating, you know this portable outdoor pizza oven is a crowd favorite. Don't settle for boring take-out pizzas anymore, cook pizzas like a pro with the Bertello Outdoor Pizza Oven.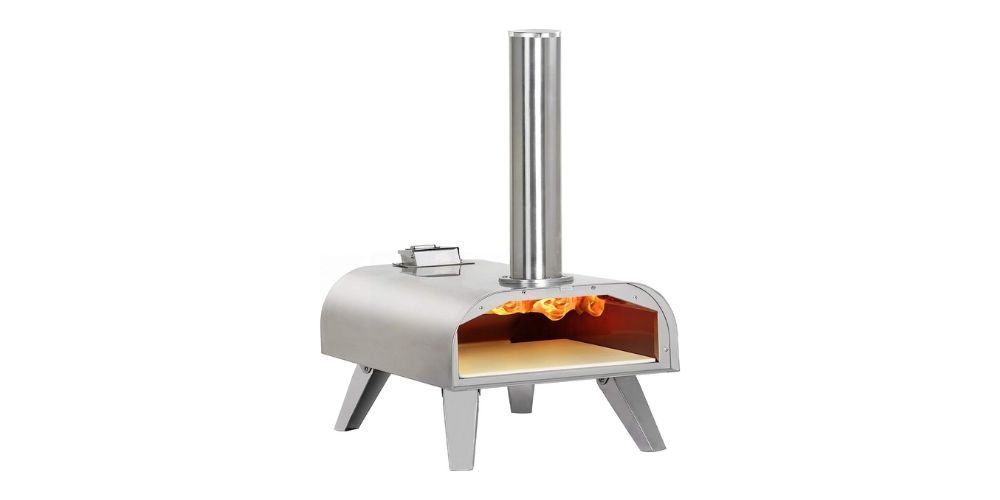 Who's ready to take their outdoor cooking game to the next level? Say hello to the BIG HORN OUTDOORS Portable Outdoor Pizza Oven! With over 900 five-star ratings and a 4.3-star average, this wood-fired pizza oven is a fan favorite. Why settle for ordinary BBQ when you can cook up delicious pizza and so much more with this compact and durable oven.
Equipped with a removable fuel tray, ashtray, and poker, this oven is safe for cooking all types of foods, from pizza to steaks, lamp chops, fish, burgers, salmon, and vegetable dishes. And get this, it keeps the oven hot up to 860°F (460°C), cooking your delicious pizza in just 90 seconds!
Don't just take our word for it, one happy customer raves: "We use it for wings and pizza. Absolutely one of my best finds and purchases. The whole family loves it when we make pizzas. It takes practice and no pizza is ever the same, which makes it so unique." So what are you waiting for? Time to make your outdoor cooking dreams a reality with the BIG HORN OUTDOORS Portable Outdoor Pizza Oven.
Gas Pizza Ovens
For those seeking convenience without compromising on taste, gas pizza ovens are a fantastic choice. Powered by propane or natural gas, these ovens offer quick heat-up times and precise temperature control for consistent results. Gas pizza ovens eliminate the need for wood, making them easier to maintain and operate. They're perfect for busy families and individuals who want to enjoy delicious homemade pizzas without the fuss of managing wood supplies.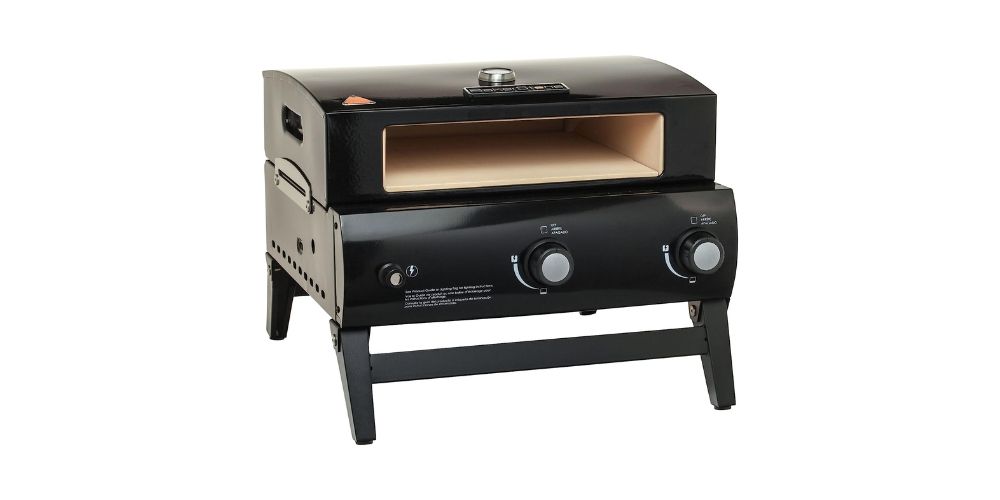 With a 25,000 BTU burner system and temperature range up to 800˚F, this portable pizza oven can bake pizzas in under 2 minutes! It's also removable for easy cleaning and transport and offers optional accessories such as full griddles or grill grates to expand functionality. But don't just take our word for it, one satisfied customer exclaims: "By far the best bang for the buck.The single greatest purchase we have ever made!!! Consistently reaches 850 degrees on all sides. Cook any pizza in 2 minutes and 30 seconds. Friends of mine have considerably more expensive pizza ovens and this one cooks as well as any of them."
And if you thought this pizza oven was only good for pizza, think again! One happy customer says: "Makes delicious pizzas! I love the ease of using a propane tank. We also use ours to make pitas & focaccia." So what are you waiting for? Bring the pizzeria to your home with the BakerStone Pizza Oven.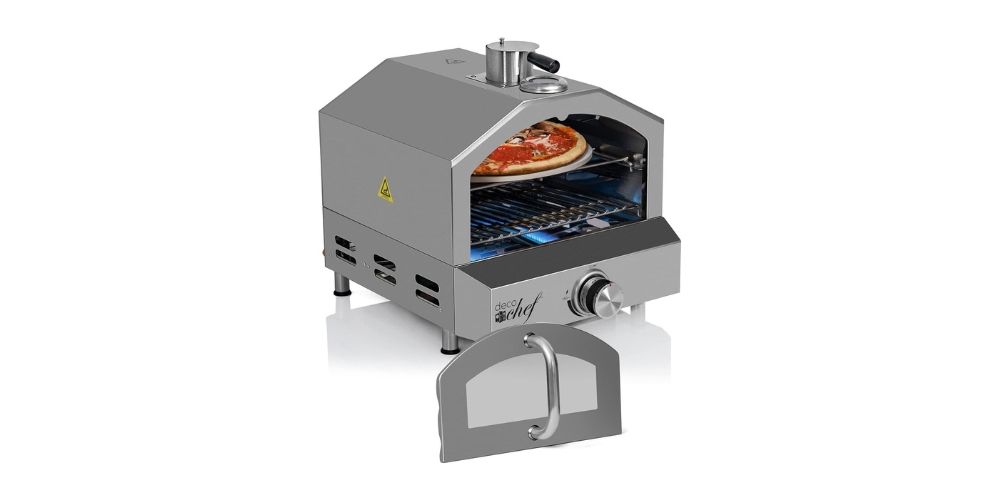 This gas oven has it all, from an easy-to-use temperature dial to a built-in thermometer and grill rack. Plus, with temperatures reaching up to 842°F and the ability to bake pizzas in under 2 minutes, the Deco Chef Outdoor Pizza Oven is a pizza lover's dream come true! With a portable design and an oven that's removable for easy cleaning and transport, this oven is perfect for the on-the-go pizza chef.
With a 4.6-star rating on Amazon and reviews like "Wonderful pizza oven and grill. Exceeded all expectations" and "This oven is very user friendly. Pizza cooks in minutes and is very evenly cooked unlike the wood pallet ovens," it's clear that the Deco Chef Outdoor Pizza Oven is a fan favorite. Don't wait to take your pizza game to the next level - add the Deco Chef Outdoor Pizza Oven to your outdoor cooking repertoire today!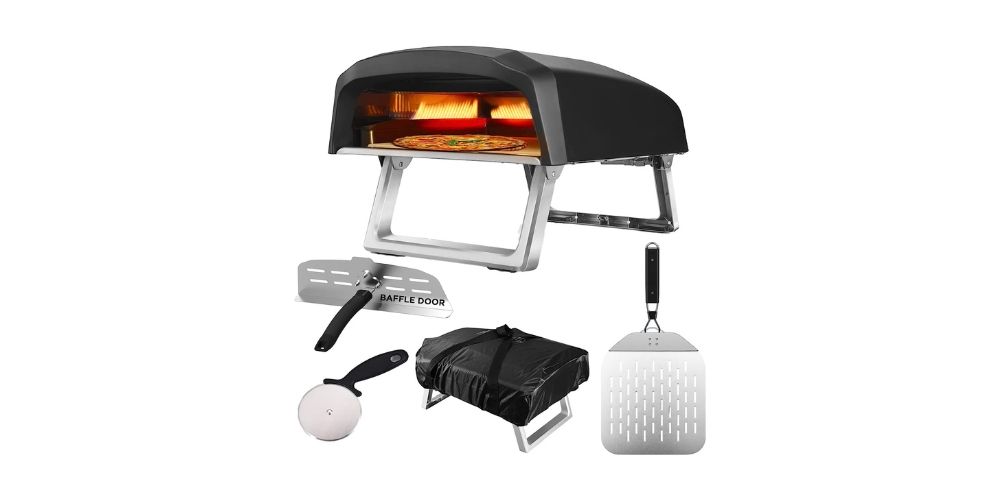 With a 4.4-star average rating and excellent build quality, this little machine is a game-changer. The dual-burner system creates a perfect cooking environment, while the included accessories, like a baffle door, foldable perforated pizza peel, stainless steel pizza cutter wheel, and water-resistant carry cover, will enhance your overall pizza experience. And the best part? In just 15 minutes, you'll have a piping hot, crispy, Neapolitan-style pizza, ready to eat! Plus, it has a temperature range of up to 932 °F and the pizza stone comfortably fits and cooks 12" Pies.
Don't just take it from us, here's what one happy customer had to say: "Wonderful pizza oven and grill. Exceeded all expectations" and another mentioned "I liked the quality of the machine."
Multi-Fuel Pizza Ovens
Versatility meets deliciousness in multi-fuel pizza ovens. These innovative appliances allow you to switch between different fuel sources such as wood, charcoal, and gas, providing you with the flexibility to experiment with various cooking styles and flavors. With a multi-fuel pizza oven, you can enjoy the traditional wood-fired taste one day and the convenience of gas the next. Perfect for adventurous home chefs, these ovens let you customize your pizza-making experience to suit your mood and preferences.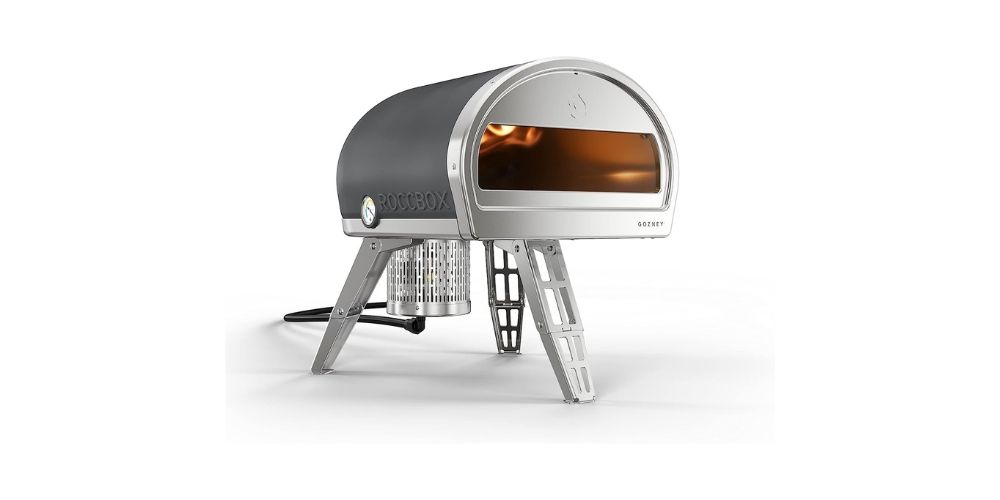 This versatile oven can reach an impressive 950°F with wood, charcoal, or gas, making it easy to cook authentic, stone-baked pizza with ease. Plus, with retractable legs and detachable dual-fuel burners, the Roccbox is easy to transport and set up - just click a switch and start cooking! With a 4.8-star average on Amazon, it's clear that this oven is worth the investment.
Plus, customers like this reviewer agree: "Best on the market hands down. Overly built stone and maintains heat while making pizza after pizza. The quality is far superior than the other guys." Another reviewer explained that "The Roccbox is easy to use and was able to make great pizzas the first time using. Definitely need to get a turning peel to help turn the pizzas." Don't just take our word for it - invest in the Gozney Roccbox Dual Fuel Oven and make your pizza dreams a delicious reality!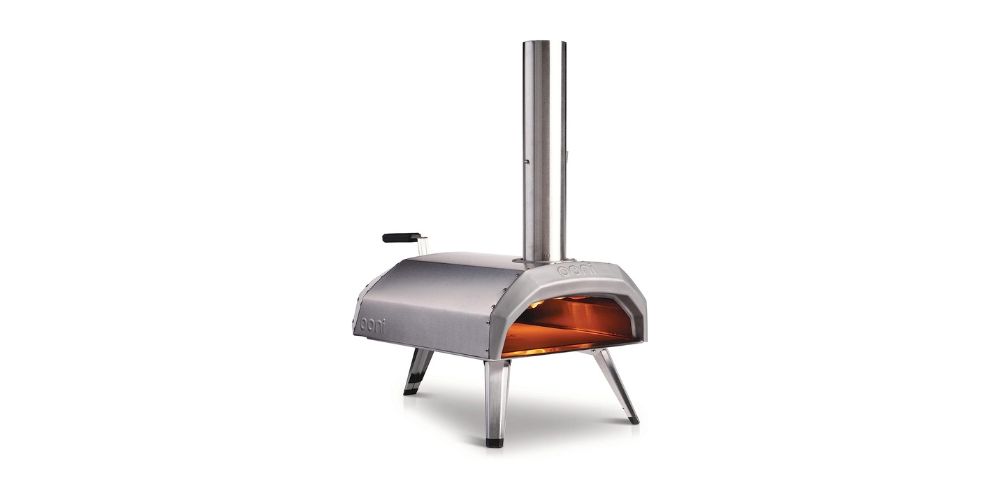 The Ooni Karu 12 Multi-Fuel Pizza Oven is Amazon's choice for a reason, and with a 4.7-star rating, it's clear that it is one of the best pizza ovens in the market! This oven can reach a blistering 932°F with wood pellets, wood, or charcoal, making traditional stone-baked pizza in as little as 60 seconds!
Don't just take our word for it, here's what one Amazon reviewer had to say: "It literally makes pizza in 2 minutes or less! Got it for my girlfriend's birthday! Super easy to use, we used post oak and the Ooni didn't disappoint! Made 5 pizzas in less than 15 minutes. Kinda wish I would have bought the larger one.."
Start cooking pizzas for your family and friends with this multi-fuel pizza oven from Ooni!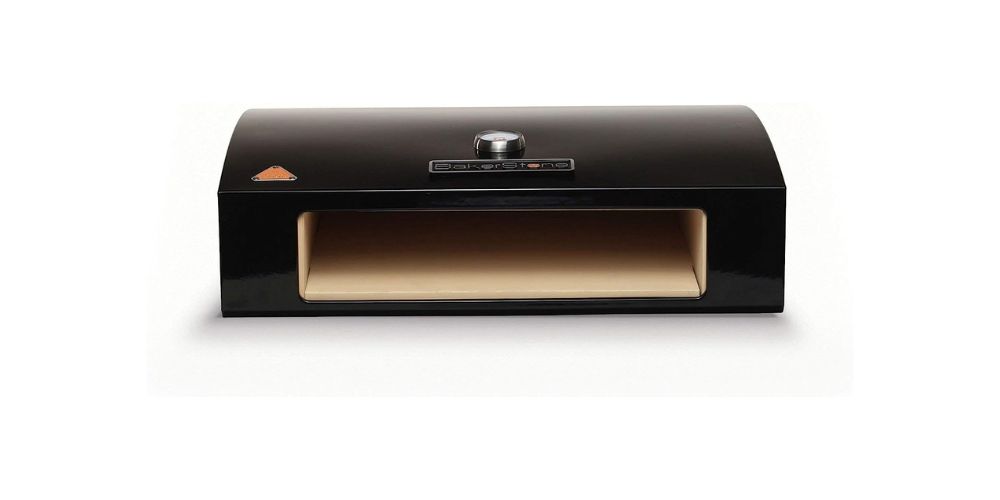 Designed to work on gas grills, charcoal grills, and any outdoor heat source, this multi-fuel pizza oven is the ultimate game-changer for your outdoor cooking adventures.
Whether you're hosting a party, enjoying a family barbecue, or even taking it along on a camping trip, this outdoor oven is the perfect companion. Its portability and temperature range of up to 800°F ensures you can cook a scrumptious, professional-quality pizza in just 2-4 minutes.
Keep track of the oven's temperature with the built-in thermometer, guaranteeing perfectly cooked pizza every time. With an impressive 4-star average rating, it's clear that this pizza oven is a crowd favorite.
A satisfied customer shares their experience: "My family loves this, I don't think we will ever go out for pizza again. Once you figure out your best recipe for dough, this is an awesome way to make your pizza 'just the way you like it'! Just put it on your BBQ, heat it up, and it's ready for an evening of fun."
Outdoor Pizza Oven FAQs
What types of pizzas can be cooked in an outdoor pizza oven
Most outdoor pizza ovens are designed to cook a variety of different pizza styles, but one style that stands out as a popular choice is a Neapolitan pizza. This style of pizza is typically cooked at a high temperature of around 800-900°F and features a thin crust with a slightly chewy texture. Because of the high heat and even cooking that most outdoor pizza ovens offer, they are well-suited for making Neapolitan-style pizza.
In addition to Neapolitan-style pizza, other popular types of pizza can also be cooked in an outdoor pizza oven. These include classic styles like New York-style pizza, Chicago-style pizza, and Margherita pizza as well as more experimental styles like BBQ chicken pizza, pesto and sun-dried tomato pizza, and goat cheese and fig pizza.
One of the key benefits of cooking pizza in an outdoor pizza oven is that the high heat and even cooking create a perfectly cooked crust every time. The even cooking is due to the design of most outdoor pizza ovens, which often feature a rotating stone or another mechanism that helps to evenly distribute heat throughout the cooking process. This means that your pizza will be cooked to perfection with a crispy, evenly cooked crust every time.
Can I cook other foods in an outdoor pizza oven?
Most pizza ovens are designed specifically for cooking pizzas, but they can also be used to cook other foods. However, it's important to keep in mind that since these ovens are designed for high heat and quick cooking, some foods may not be cooked evenly.
That being said, many outdoor pizza ovens are capable of cooking other dishes such as sandwiches, chicken, vegetables, and even desserts. By experimenting with different ingredients and cooking times, it's possible to achieve delicious and evenly cooked results. However, it's always recommended to consult the manufacturer's instructions and recommendations before attempting to cook anything other than pizza in your outdoor pizza oven.
How do I maintain and clean my outdoor pizza oven?
Maintaining and cleaning your outdoor pizza oven is essential to ensure its optimal performance and longevity. Here are some tips on how to keep your oven in good condition:
Clean the cooking surface: Use a stiff-bristled brush to clean the cooking surface inside the oven. Any leftover debris can affect the taste of your pizza and create hot spots in the oven.
Clean the pizza stones: If your outdoor pizza oven has pizza stones, it's important to clean them regularly. Avoid using soap or water as it can create a damp environment that can cause the stones to crack. Instead, use a scraper to remove any debris and ash.
Remove ash: After each use, remove any ash from the bottom of the oven to prevent it from building up and affecting the temperature regulation.
Cover when not in use: If your oven is not in use for a long period, cover it to protect it from the weather and keep it clean.
By following these tips, you can ensure that your outdoor pizza oven remains in good condition and continues to produce delicious pizzas for years to come.
What safety measures should I consider when using an outdoor pizza oven?
When using outdoor pizza ovens, it's essential to take certain safety measures to protect yourself, your guests, and your property. Here are some tips to consider:
Consider the location: Ensure that your outdoor ovens is placed on a flat surface that can handle the weight and heat. Keep it away from flammable materials such as trees, shrubs, and buildings.
Use protective gear: When operating an outdoor oven, it's important to use protective gear such as heat-resistant gloves and long sleeves to avoid burns.
Watch the temperature: Keep an eye on the temperature of your oven with an infrared thermometer, as it enables you to check the temperature without opening the door.
Use a stainless steel exterior: To avoid accidental burns, consider purchasing an oven with a stainless steel exterior. They are cooler to the touch and can prevent accidents.
Monitor constantly: Never leave an outdoor oven unattended while it's in use. Keep a close eye on it, and don't let children or pets get too close to the oven.
Can I use my outdoor pizza oven all year round?
Yes, you can use your outdoor pizza oven all year round, provided that you take necessary steps to protect it from inclement weather. A good pizza oven is designed for outdoor use and are made with weather-resistant materials. However, to get the most out of your outdoor pizza oven and ensure that it lasts for years to come, it's important to take certain precautions, such as keeping it covered when not in use.
During winter months, it's important to avoid sudden temperature changes, so be sure to let your oven warm up gradually rather than exposing it to extreme temperatures. You can also consider using an outdoor-rated heater or insulation blanket to keep the heat inside the oven.
When it comes to pizza cooking, using an outdoor pizza oven can be the best way to achieve crispy pizzas. The high temperatures and quick cooking times help create that perfectly-cooked, crispy crust that is often impossible to achieve in a conventional oven, and it also adds a smoky flavor that many people find irresistible.
So, using your outdoor pizza oven all year round is certainly possible, and can be a great way to create a delicious, homemade pizza that is sure to please everyone.
Conclusion
To recap, choosing portable outdoor pizza ovens can make a huge difference in the quality of pizzas you'll be making for your pizza night. From construction quality to temperature range, from fuel type to accessories, there are several factors to consider when you're making a decision on which pizza oven to invest in.
But trust us, investing in a good outdoor pizza oven is totally worth it. Not only can you make mouthwatering pizzas and delicious pies in the comfort of your home, but you can also impress your guests with your cooking skills.
So why not consider investing in an outdoor pizza oven and up your pizza game? Share your personal experiences with us and let us know which of these outdoor pizza ovens you think is the best!
Comments