This post may contain affiliate links, please see our privacy policy for details.
Have you noticed the recent boom in portable washing machines? It seems like more and more travelers and folks living in tight spaces are turning to these compact washing machines as a solution for their laundry needs. And why not? These little guys are affordable, easy to use, energy-efficient, and can be stored away when not in use.
If you're in the market for a portable washing machine, we've got you covered with our top 11 picks. We've scoured the market to find the best of the best based on size, weight, durability, ease of use, and affordability. Whether you're a frequent traveler or just looking for a space-saving option for your home, our list has got you covered. So go ahead and check it out - we're confident you'll find the perfect portable washing machine to meet your unique needs!
Benefits of Owning a Portable Washing Machine
Do you ever feel like your laundry pile is never-ending? It's a struggle to keep up with the demands of traditional washing machines that are expensive, time-consuming, and not the most eco-friendly. But fear not! Portable washing machines are here to save the day. These compact and cost-effective alternatives offer many benefits that make them an excellent investment for any household.
Cost-effective and eco-friendly
Firstly, owning a portable washing machine is a smart financial decision. They consume less water and electricity than traditional washers, which means you'll save money on your bills. Plus, they require a minimal detergent, reducing your household waste and expenses. And let's not forget about the laundromat fees - with a portable clothes washer, you can avoid those altogether!
Saves time and energy
But it's not just about saving money; these machines also save time and energy. You don't have to wait for a massive load before running a cycle - do small loads more frequently instead. With quick wash cycles, you can get your laundry done in no time while doing other things like working or watching TV.
Convenience
And let's talk about convenience! A portable washing machine is perfect for those living in small spaces or apartments as they are compact, lightweight, and easy to store when not in use. You can even take them on camping trips or vacations.
Overall, owning a portable washing machine is a smart and convenient option for anyone looking to save money, time, and energy. They're eco-friendly, cost-effective, easy to use - what more could you ask for? Say goodbye to laundromat fees and waiting in line at busy hours – hello clean clothes at your convenience!
How to Choose a Portable Washing Machine
Choosing a portable washing machine can be quite perplexing and overwhelming due to the burst of options available in the market. These mini laundry machines have gained immense popularity in recent years as they are compact, affordable, and convenient. They offer a fantastic alternative to traditional washing machines, particularly for people who live in small spaces or travel frequently. However, before you jump on the bandwagon of buying a portable washing machine, there are some essential factors that you must keep in mind.
Capacity and Size
One of the most crucial considerations is the capacity and size of the washing machine. Portable washing machines come in various sizes ranging from 5 lbs. to 12 lbs., depending on your needs, household size, and laundry frequency; you must choose accordingly. Additionally, ensure that you select an appropriate size that fits your space and is easy to move around.
Power Source
Another critical aspect is the power source of your portable washing machine. While most portable washing machines work with electricity and require an outlet, some models are manual and do not need any electricity or water hookups. If you plan to use an electric portable washing machine, make sure that your space has an available power outlet. In case you wish to travel with it, consider purchasing a battery-powered model or one with a car adapter.
Noise Level
The noise level of a portable washing machine is another important factor to consider before making your purchase decision. These machines can be quite noisy during their spin cycle which may cause disturbance if you live in a small space or share walls with neighbors. Therefore it's essential to look for models with low noise levels or those equipped with noise reduction features.
Type of Washing Machine
Lastly, it's crucial to consider the type of portable washing machine that suits your needs best - top-loading or front-loading? Top-loading machines are easier to load and unload but use more water than front-loading ones. Front-loading machines are more energy-efficient but may be challenging when loading and unloading clothes.
In summary, choosing the right portable washing machine involves considering its capacity and size, power source availability, noise level reduction features (if any), and type (top-loading vs. front-loading). With these factors in mind, you can confidently make an informed decision while enjoying clean clothes at your convenience!
Our Favorite Portable Washing Machines for Travelers
Check out our favorite portable washing machines down below that are designed specifically for travelers, RVers, and those living in small spaces, these compact and lightweight machines offer an easy alternative to traditional washing machines. Plus, they save you time, money, and hassle by eliminating the need for laundromats or handwashing. Browse our selection now to enjoy clean clothes without any hassle!
Best Portable Machines within the $25 Price Range
The machines that are listed here are perfect for those who want a cost-effective alternative to traditional washing machines without compromising on quality. Despite their small size and budget-friendly prices, these machines can effectively clean your clothes, making them an excellent choice for travelers, campers, and small apartment dwellers alike.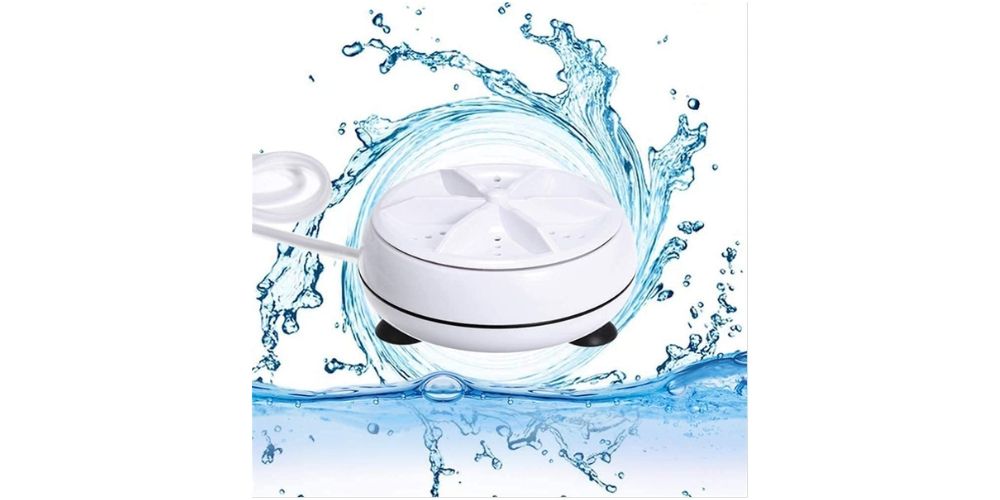 This portable washer is made of PP and TPR materials that are eco-friendly, durable, and easy to clean. The forward and reverse cleaning technology plus the 4-level adjustment feature ensures that every nook and cranny gets cleaned when you wash clothes. With a low noise design and USB power supply, you can use it anywhere, anytime.
Pros:
USB powered
Low noise design
Can be attached to a kitchen or bathroom sink or water bucket
Cons:
Not enough power for washing
Only works in small load
Best Portable Washing Machine Within the $50 - $100 Price Range
These machines are built to last, with increased durability and larger capacity that can handle frequent use - so you won't have to worry about constantly replacing them. But that's not all - they also offer more washing options, giving you greater control over your laundry routine and ensuring your clothes come out looking their best. These mid-range portable washing machines strike the perfect balance between affordability and quality, making them an ideal choice for those who want a reliable machine without breaking the bank.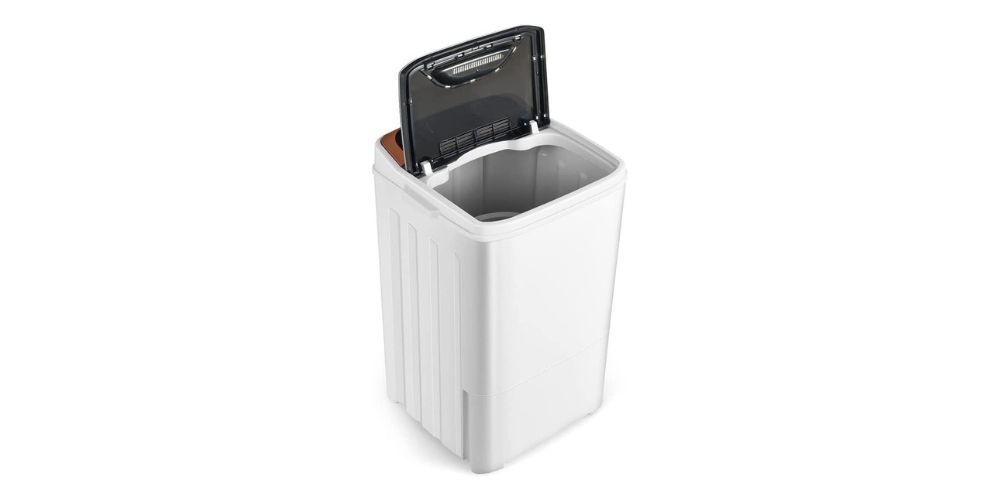 The Mini Single Tub Washing Machine from Tiktun features a top-loading washing machine and spin cycles and is the perfect solution for anyone who needs a compact and efficient laundry system. Its compact size makes it perfect for small apartments or dorm rooms, and it easily fits into tight spaces. Despite its small size, the machine has an impressive capacity, which means you can wash and dry your clothes quickly and easily.
Pros
2-in-1 function (Washing machine and dryer)
Compact design
Cons
Ideal for washing smaller loads
Manual stop for water filling
Creates noise and shakes when in use
Best Portable Washing Machines Within the $100 - $200 Price Range
This selection includes top-notch portable washing machines! These babies are packed with advanced features and functions that will make your head spin. Not only do they clean like nobody's business, but they can handle massive loads too! Perfect for busy individuals or families who need a portable washing machine for everyday use and want the best washing options available. Trust us, you won't find anything else like them.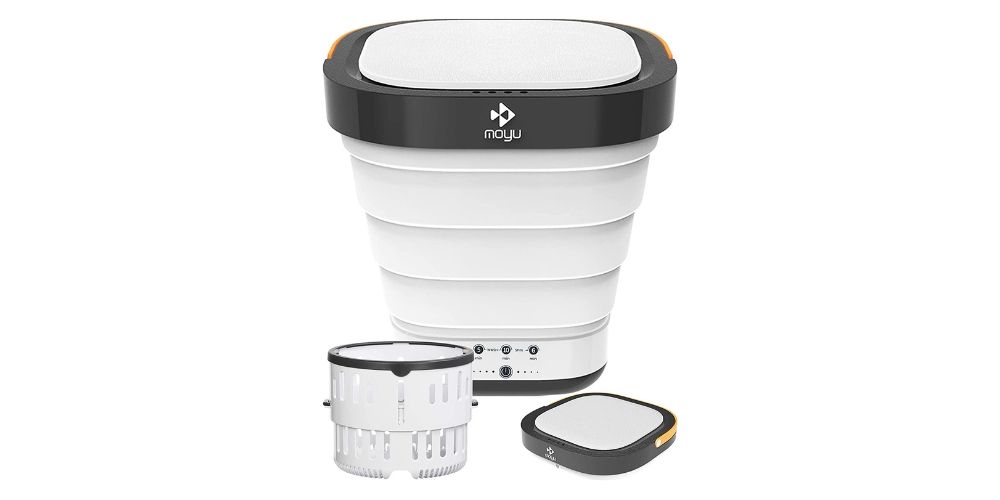 This top load washer is made with TPE material, making it durable and long-lasting. One of the most outstanding features of this washer is its ability to save water and electricity, with only 0.005 kWh of electricity consumed for 10 minutes of washing, it is an energy-efficient option. Another great feature of this washer is its foldable design. It is very easy to fold and store when not in use, making it perfect for small apartments or anyone who is short on space. The compact design also makes it very easy to transport, so it is ideal for use while camping or traveling.
Pros
Expandable design
2 drainage ways: Top hole and Bottom Pipe
Cons
Only for small items, large products damage the washing machine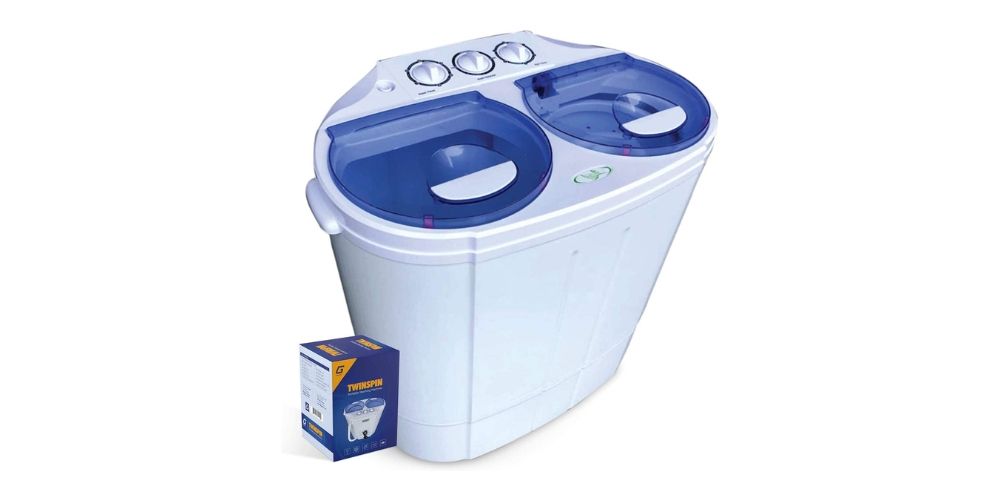 The Garatic Portable Washing Machine is the ultimate solution for those who want a compact and efficient washing machine that can keep up with their on-the-go lifestyle. With its twin-tub design, you can wash and dry your clothes separately - a feature that will make your life so much easier. No more waiting around for one cycle to finish before starting another! And with the gravity drain and drainage hose, emptying the machine after use is an absolute breeze. This makes it a perfect choice for anyone without access to plumbing systems or looking to save time.
But don't let its small size fool you! This machine may be compact, but it packs a punch with its 13 lbs capacity, which is perfect for small to medium-sized loads. You'll love how easy it is to use with two standard cycles that provide effective cleaning for all your laundry needs. Plus, its portability and lightweight design make it a breeze to move around and store when not in use - no bulky machines taking up valuable space!
Pros
Twin tub design
Wash and Dry
13 lbs capacity
Cons
Not suitable for large families
No lint trap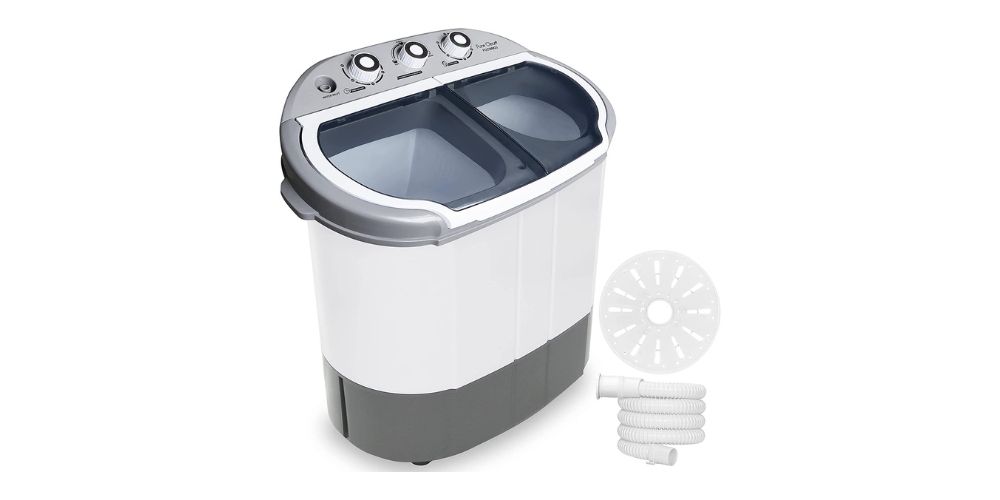 This compact washing machine features a washer dryer combo and a top-loading system with 3 wash cycle options. It contains a 250-watt motor and 7.7lbs capacity (for washing) and 120 watt motor with a 3.3-lb capacity (for drying), you can also monitor the process with the use of its translucent tub window. Unlike other electrical models, this features rotary controls for wash program and settings and you can easily use it since it requires no installation!
Pros
Washing machine and dryer combo
Hassle free operation
Cons
Ideal for smaller loads of laundry
Best Portable Washing Machines Within the $200 - $500 Price Range
These washers are not your average run-of-the-mill machines - they're jam-packed with advanced features that will revolutionize your laundry routine. With exceptional build quality and a larger capacity, you'll be able to tackle even the biggest loads effortlessly. But that's not all - the top-of-the-line cleaning performance is guaranteed to leave your clothes feeling fresher than ever before. And the cherry on top? These machines are built to last longer than any other portable washer out there, ensuring that you get the most bang for your buck. If you value durability and want a high-end machine that will make your life easier, then these washers are an absolute must-have for you! Don't settle for mediocrity when you can have excellence at your fingertips!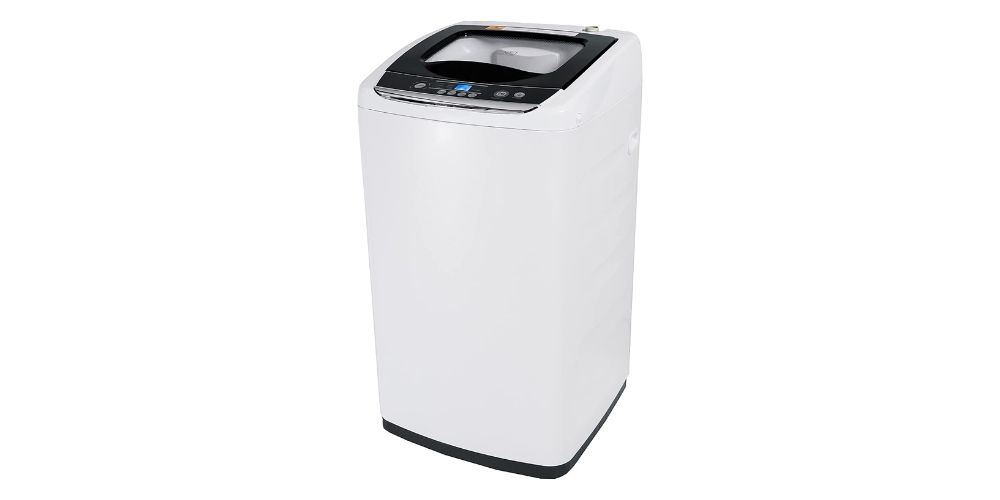 This washing machine offers 5 washing cycle selections which make it very versatile and able to handle a variety of different laundry needs. One of the standout features is its ability to select cold water settings for energy efficient operation, which is not common among many portable washers.
With its stainless steel tub, which is not only durable but also very easy to clean. The 0.9 cu ft capacity makes it durable for large washing capacity and the LED display is bright and easy to read, making it simple to select the desired cycle and settings. Additionally, this portable washer is easy to install just connect the hose to your kitchen skin and you are good to go!
Pros
Delay start function up to 24 hours
Auto shut off safety features and child lock protection
Cons
Can only take a few pieces of laundry at a time
Manual shut off for water
Heavy noise when in use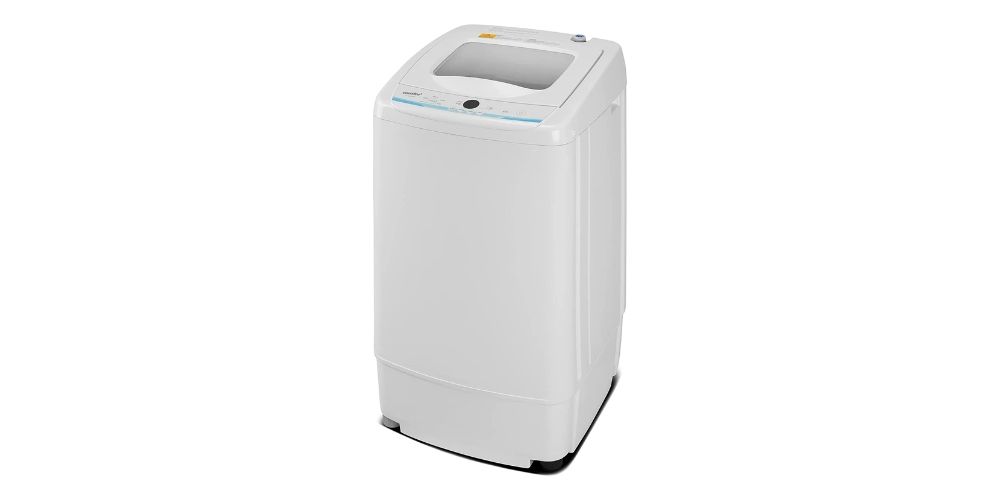 This top-loading wonder that's perfect for small apartments and anyone looking to take their laundry game to the next level. With a 0.9 cu. ft capacity and a powerful motor that can spin up to 840 RPM, this machine has enough space for a week's worth of laundry for any single person out there.
But wait, there's more! This beauty also comes equipped with an LED display that's so easy to read and navigate, you'll wonder how you ever lived without it. With five different washing programs to choose from, you'll be able to tackle any kind of laundry load with ease. Plus, the transparent lid design and stainless steel inner tub are not only durable but also easy to clean - ensuring that this washer will last for years to come.
Pros
Easy removal of lint and other debris with its Built-in filter
Easy maneuvering with handles and wheels
Full automatic washing machine
Cons
Large and bulky that may not fit in small spaces
No drying function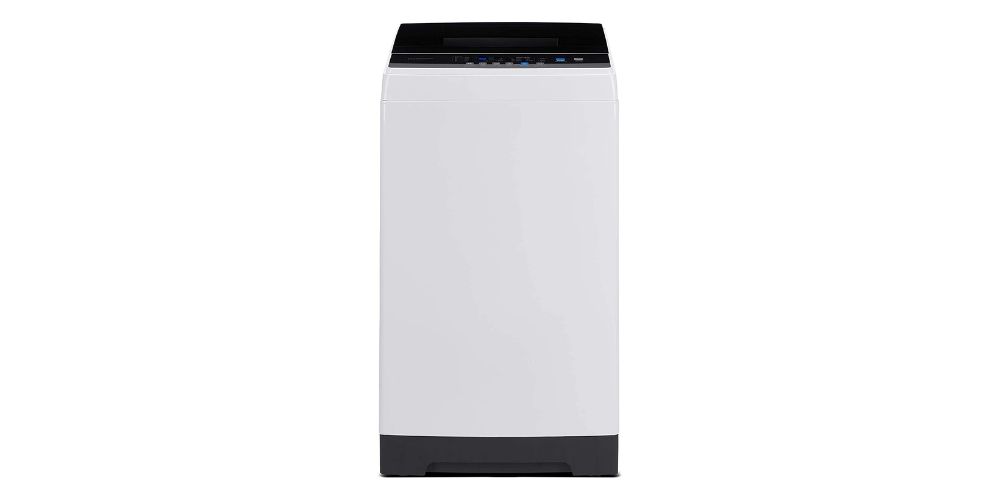 The Helohome Portable Washing Machine offers a full automatic wash and dryer compared to another portable standard washing machine. It has a 1.6 cu. ft capacity, this washer can hold up to 11 lbs of clothes, perfect for large washing capacity. With its six wash cycles and 3 temperature settings for water, you will not have to worry about damaging your clothes. The LED display and see-through lid make it easy to monitor the washing process and the eco-friendly design ensures that this washer is energy-efficient.
The stainless steel drum is also very durable and easy to clean, and the detergent dispenser is a nice added feature that makes adding detergent simple and mess-free.
Pros
Child lock feature
Delayed start
Eco-friendly
Portable Washer and dryer
Cons
May be pricier compared to other brands
The water hose included is too short for some
KUMIO Portable Washing Machine has the same features as other portable machines but what set it apart is its 8 wash settings and 10 water levels that ensures it will keep your clothes clean. Additionally, the LED display makes it easy to navigate the control panel.
Another feature is the child-lock function, which ensures that my young children cannot accidentally start or stop the machine. This adds an extra layer of safety and peace of mind. The stainless steel tub inner material is not only durable but also easy to clean, which is important in any washing machine.
Pros
Large load capacity
10 water levels
Adjustable feet and 2 handles for easy moving
Cons
Makes a lot of noise even with a small load of laundry
Bigger dimensions may take up a lot of space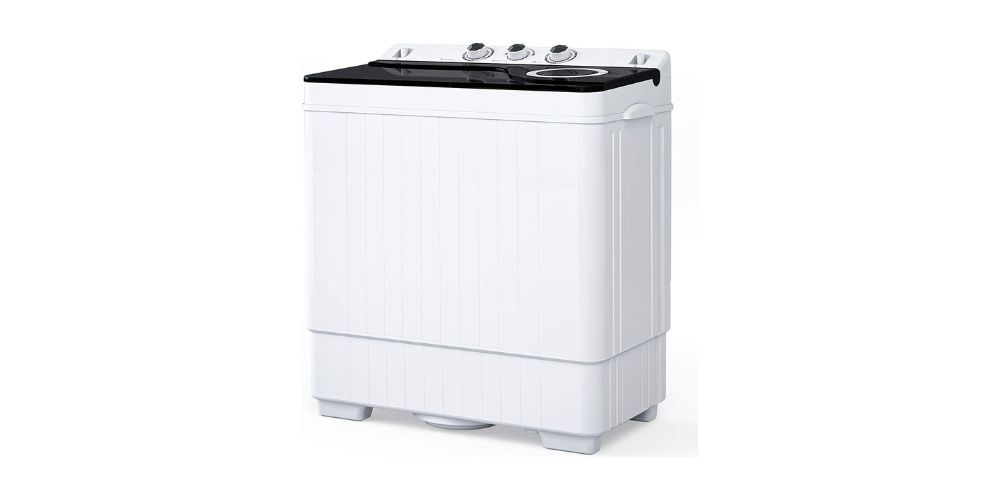 This twin tub portable washing machine is perfect for those who want to do separate washing and drying, it boasts a total capacity of 26 lbs and functions the same as full sized models in the market. It has a built-in drain pump and a separate control panel for washing and drying. Equipped with a powerful motor and spin speed of 1300 RPM you can ensure that you can get clean and dry clothes in no time!
Pros
Twin-tub design
Works great for small families and individuals with limited space in their household
Cons
Faulty drainage system
Higher sound level when operating
Best Portable Washing Machine Within the $500 - $1000 Price Range
These washers are not only the most expensive and top-of-the-line on the market, but they're also loaded with an array of features that will take your breath away. With WiFi connectivity, automatic water level sensors, and multiple wash cycle options that will leave you spoiled for choice - these machines are a dream come true for anyone who craves the latest technology and demands nothing but the best cleaning performance available.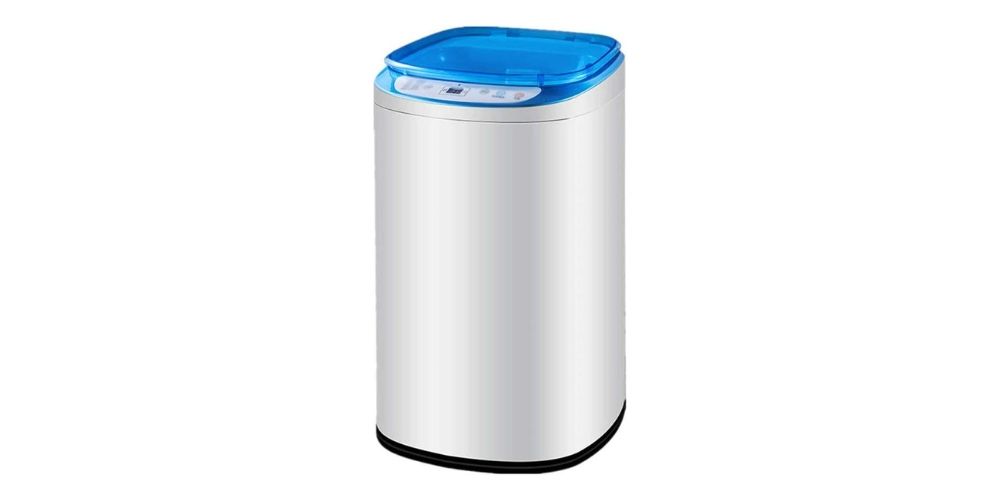 Zzmop Fully Automatic Portable Compact Washer is the ultimate solution for all your laundry needs! With advanced features like bionic hand washing and silver ion injection pulsator technology, this machine is perfect for anyone who needs to do laundry on the go. Its compact size and 8 different washing procedures make it ideal for small spaces like dorms, apartments, and camping trips. Plus, with a transparent window and removable filter box, you'll always know exactly what's happening during your wash cycle.
Pros:
The compact design makes it suitable for small spaces and perfect for camping, caravans, dorms, and apartments.
8 different washing procedures make laundry day easier.
The bionic hand washing ensures deep cleaning of clothes, and the silver ion injection pulsator gives your clothes an extra clean touch.
The stainless steel inner barrel design makes it durable and rust-proof.
Cons:
The 2KG washing capacity may not be suitable for larger families.
Portable Washing Machines FAQs
If you're living in a small space or always on the go, a portable washing machine might just be the solution for your laundry needs. But with so many questions surrounding these compact machines, we've put together some frequently asked questions to help you make an informed decision.
How do portable washing machines work?
Portable washing machines work similarly to regular washing machines, but they are smaller and more efficient. They use a spin cycle to clean clothes with a small amount of water and detergent.
What's the capacity of a portable washing machine?
The capacity varies depending on the model, so it's important to check before purchasing. Some can handle up to 10 pounds of laundry while others only a few.
Can portable washing machines clean large items?
It depends on the size of the machine. Some models can handle large items like comforters but check with the manufacturer first.
Are portable washing machines energy-efficient?
Yes! Portable washing machines use less water and detergent than regular machines, making them more energy-efficient overall.
Are portable washing machines easy to install?
Most models come with step-by-step instructions for installation. Some require no installation at all!
Do portable washing machines require maintenance?
Minimal maintenance is required - just remember to clean the lint filter regularly and remove debris after each use.
Are portable washing machines noisy?
Some models are quieter than others and even have noise-reducing features. Check reviews before purchasing.
Can you use fabric softener with a portable washing machine?
Yes, but read the manufacturer's instructions first as some machines aren't designed for fabric softeners. Test it out on a small load before adding it to a full load.
Conclusion
If you're always on the go or living in a small space, a portable washing machine might be just what you need. These machines offer convenience, versatility, and compactness that make them ideal for anyone who needs to do laundry while on-the-go.
But with so many options available on the market, choosing the right one can be overwhelming. Consider factors such as capacity, features, and price when making your decision. With the right research, you'll find a portable washing machine that meets your unique needs and budget.
We hope this blog post has been helpful in guiding you toward finding the best portable washer for your lifestyle. If you have any experiences with these machines that you'd like to share or questions to ask, feel free to leave them below. We love hearing from our readers!


Comments