This post may contain affiliate links, please see our privacy policy for details.
There's nothing worse than having chilly feet in the winter. You can try to tough it out, but eventually, you'll give in and put on a pair of socks or slippers. But why suffer when there are so many cute and practical winter boots available? From trendy ankle booties to warm and fuzzy Uggs, there's a winter boot for everyone. So say goodbye to your cold feet and pick up a pair of these best winter boots. Your toes will thank you!
Tips for Choosing the Best Winter Boots
Winter is a great time of year to enjoy the outdoors, but you need the right gear if you want to stay safe and comfortable. One of the most important pieces of winter gear that you can invest in are winter boots—but with so many choices out there, how do you choose the best one for your needs? Here's what you should consider before making a purchase.
Insulation and Waterproofing
The first thing that you should look for in any winter boot is insulation and waterproofing. Look for boots made from materials like leather or nylon that have been treated with a waterproof coating to keep your feet dry and warm.
If possible, test them out by standing in water to make sure they live up to their claims. You should also look for insulation features like fur lining or wool which will help keep your feet warm even on the coldest days.
Traction and Comfort
Traction is another key feature to consider when choosing winter boots. Look for soles made from rubber or other non-slip materials that will give you a better grip on icy surfaces.
Also, take into account how comfortable the boots feel when walking—you don't want something too tight or stiff; instead, opt for something with extra cushioning and arch support if possible.
Style and Price
Finally, consider style and price when selecting winter boots. While practicality should be your top priority, it's nice to have a pair of boots that look good as well!
Once you've narrowed down your choices based on features like insulation, traction, and comfort, then you can start looking at style options within your budget range.
Tips For Keeping Feet Warm in Winter
In the winter, keeping your feet cozy and warm can be no small feat! Luckily, there are a few easy tricks you can put in place to keep your tootsies toasty all season long.
To start with, make sure that you're wearing the right socks. Nobody wants cold toes, so pick up some comfortable thermal boot socks made of materials like wool that trap both heat and moisture.
When out in the cold weather, wear two pairs if needed - it might look funny, but it will work wonders!
Another clever tip is to use hand warmers; just stick them in your pocket or put them inside your shoes with a thin lining sock - instant foot-heater!
Finally, don't forget about layering: Make sure you have plenty of other layers on top to keep your body temperature regulated and insulated from cooler temps outside - then those warm feet will have something extra special to come home to!
With these handy tricks at your disposal, fighting off chilly toes this winter will be a breeze. ​​​​​​
Best Winter Boots
Check out our top picks from Amazon. From stylish ankle boots to cozy snow boots, we've got you covered. So whether you're hitting the slopes or just shoveling the driveway, make sure you do it in style with our favorite winter boots!
Best Boots For Keeping Feet Toasty & Warm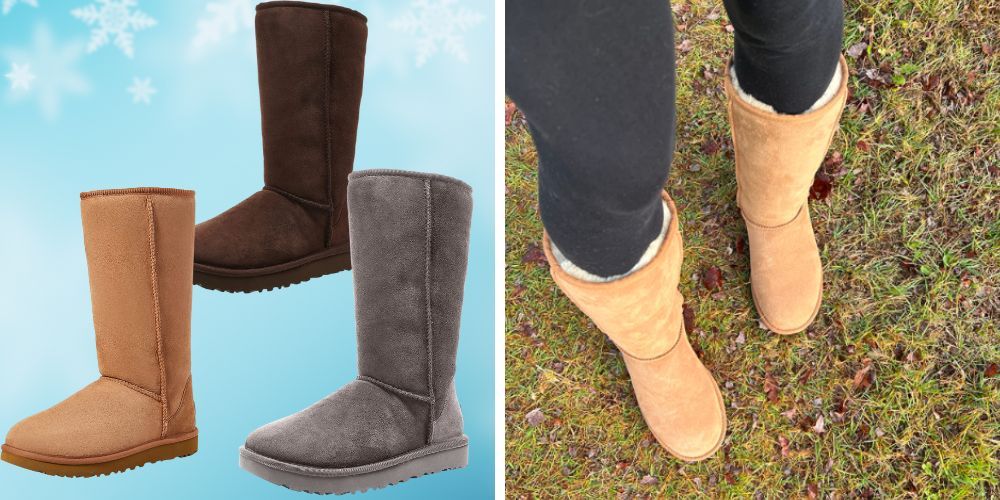 Winter can be an incredibly challenging season for explorers and winter hikers alike. Fortunately, UGG Women's Classic Tall Boot is here to make winter more comfortable and stylish than ever.
This stylish winter boot promises extreme warmth, thanks to its sheepskin upper with added insulation and its cushioning foam insole. It also offers superior traction on snow and ice, making navigating deep winter snow a breeze. And the best part?
You don't have to sacrifice fashion for function – these winter boots are perfect for pairing with your cold-weather wardrobe pieces! So gear up this winter with UGG Women's Classic Tall Boot – perfect for tackling winter hikes or simply strutting around town!
Best Waterproof Winter Boots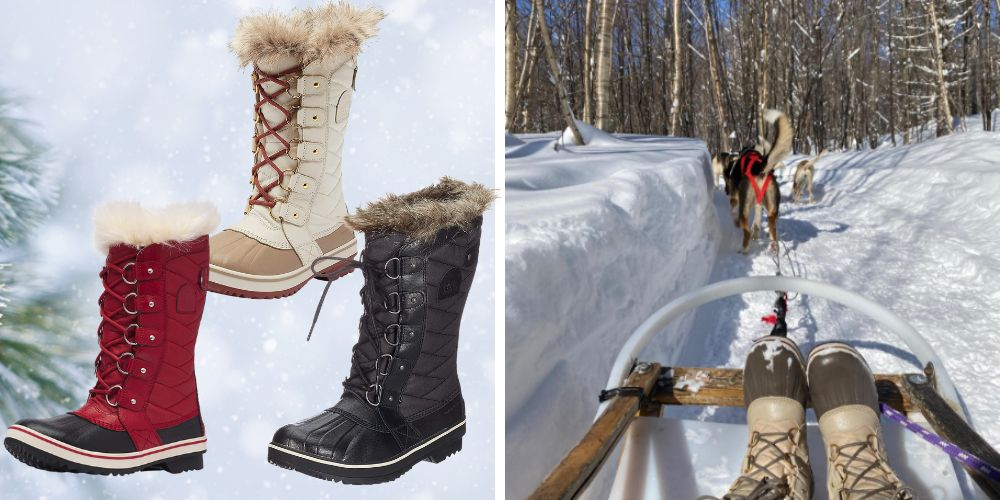 Looking for the perfect winter boot? The Sorel Women's Tofino Boot is here to keep your feet warm and dry this season, no matter what Mother Nature throws at you.
Featuring a waterproof membrane and a molded rubber outsole unit, constructed with an impressive blend of natural and synthetic materials, this boot keeps moisture out while allowing your feet to stay comfortable.
Plus, it has an on-trend canvas upper and faux fur trim to add style to your winter wardrobe. Whether you're facing snowflakes or sleet, these Sorel boots are ready to keep you feeling cozy--while still looking chic!
Take the plunge and invest in a pair today; they'll help you tackle the elements all season long!
Best For Comfort & Durability
For winter enthusiasts, the Columbia Women's Minx Mid II winter boot is a must-have. Not only does it have all the features needed in winter boots, from waterproof protection to an omni-heat insulation system, but these winter hiking boots are also designed for comfort and durability.
With a PU-coated leather and textile upper, the boot easily navigates the winter terrain and deep snow. The supple Techlite midsole provides cushioning and long-term energy return for hours of use, while the rubber outsole grips ice and withstands frigid winter temperatures with no problem.
Finally, the Omni-heat reflective lining adds that extra level of warmth so you'll never sacrifice performance over comfort.
Whether you're trekking through snowdrifts or sledding with friends--the Columbia Women's Minx Mid II winter boot will keep your feet content through even the most extreme winter activities.
Best Stylish Winter Boots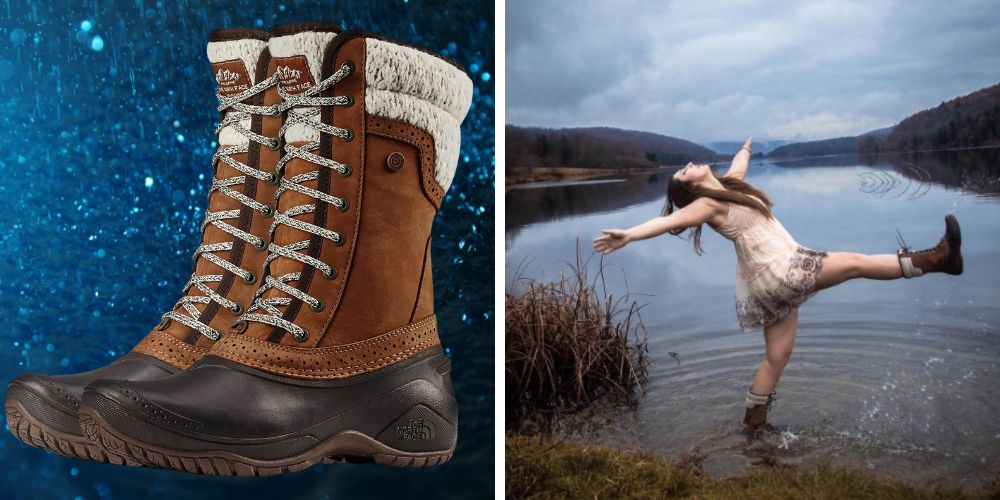 Trek through any winter with ease in the North Face Women's Shellista II Mid Boot! Constructed with a combination of rubber sole and leather and nubuck upper materials, this winter hiking boot offers exceptional support and protection to your foot.
The upper part is equipped with breathable mesh lining and moisture-wicking EVA sock liner to keep the foot dry and comfortable, while 200 g PrimaLoft® insulation ensures that your feet remain warm even in the harshest conditions. And let's not forget about the beautiful styling - this boot combines both sleek sophistication and rugged durability, making it ideal for any style-savvy adventurer.
From walking trails to woodland meadows, you'll be well-prepared for just about any journey with The North Face Women's Shellista II Mid Boot. So lace up your boots and explore the great outdoors - these dependable winter hikers will never let you down!
Best For Unbeatable Warmth & Weather Protection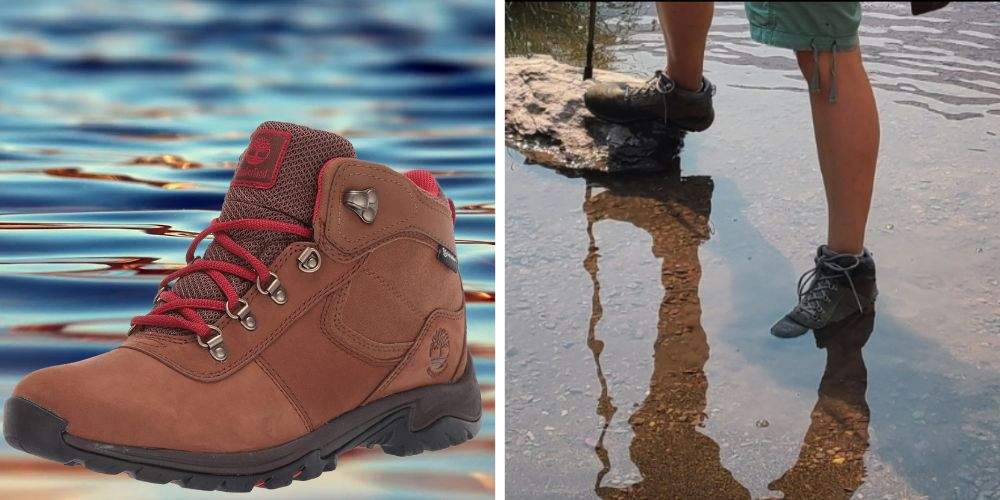 Hiking is always an adventure, but you'll get even more enjoyment out of it with a pair of Timberland Women's Earthkeepers Mt. Maddsen Waterproof Hiking Boots!
These women's winter boots provide total protection from the elements, crafted from 100% leather and sealed with a waterproof membrane to ensure maximum dryness. With its breathable mesh lining and rust-proof hardware, these winter boots for women can stand up to anything your outdoor expeditions throw at them.
Plus, the EVA footbed supplies extra support for aggressive trails and outdoor sports. So if you're looking for women's snow boots that keep your feet warm, dry, and comfortable in harsh conditions, then the Timberland Earthkeepers Mt Maddden Waterproof Hiking Boots are perfect for you! You won't be disappointed!
Best Winter Hiking Boots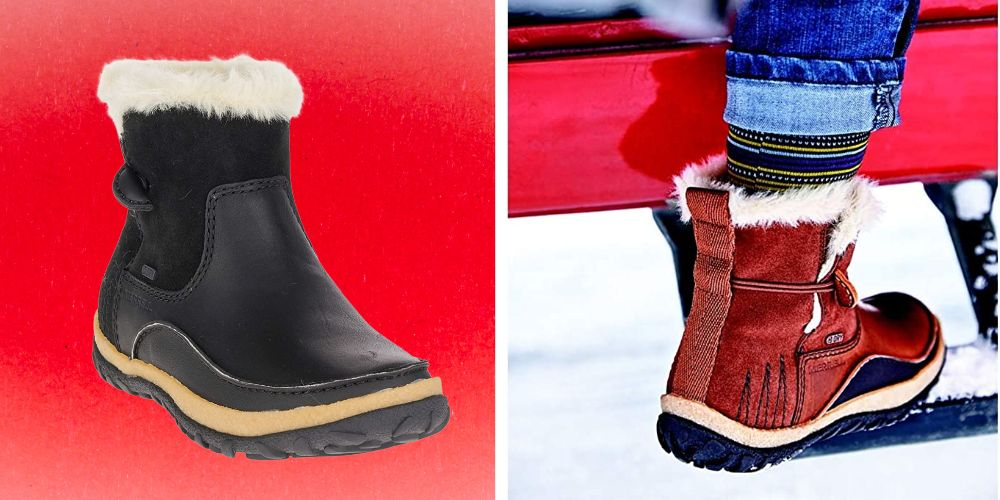 A tried and tested insulated boot, the Merrell Women's Tremblant Pull on Polar WTPF Snow Boot strikes the perfect balance between fashion and function. With 100% Leather construction and EVA Foam Cushioning, it is designed to keep your toes warm in even the coldest climates.
The faux fur lining collar adds a touch of style that won't look out of place on city streets or ski resorts. And with advanced arch support and a breathable insulated membrane too, you can be sure that these leather boots will quickly become your go-to choice no matter what activities you take on.
No matter where winter takes you, you'll know that you're prepared with this reliable insulated boot. Invest in one today to ensure that your feet are always ready for adventure!
Best for Conquering Any Winter Weather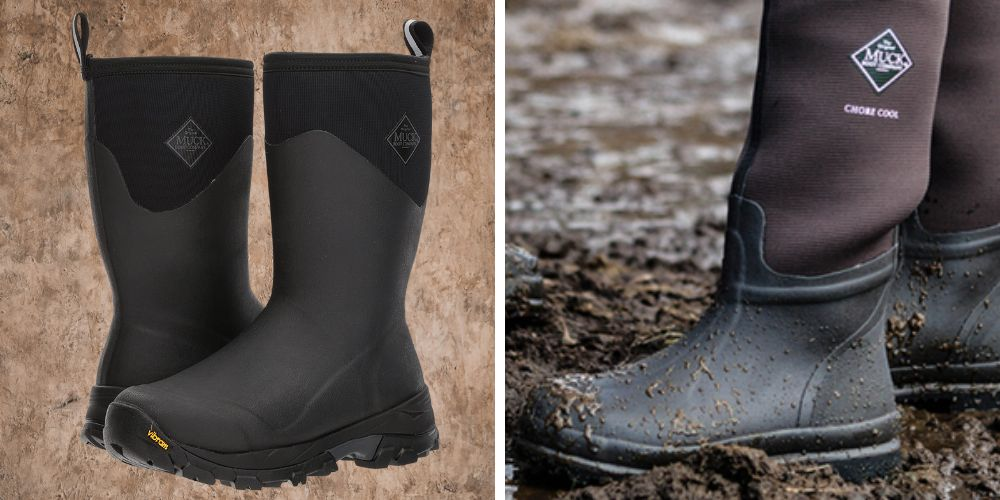 For extremely cold weather conditions, you need an extreme winter boot - and that's where the Muck Boots comes in. Crafted from waterproof rubber and neoprene with a breathable mesh lining, this men's snow boot is designed to keep your feet warm and dry throughout even the toughest conditions.
Plus, the specially designed Arctic Grip sole provides a superior grip on wet and icy surfaces to help you navigate slippery terrain with ease. And when the storm clears, these versatile boots transition easily from outdoor use to everyday wear - so you can stay comfortable no matter where life takes you!
Invest in a pair of Muck Boot Arctic Ice rain boots today and experience total winter protection.​
Best for Making Feet Stay Snug and Comfy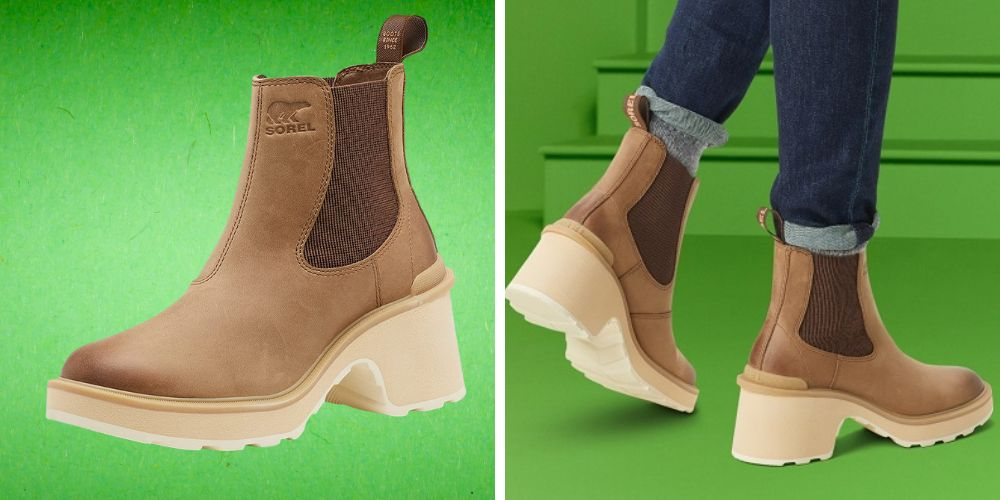 Achieve an effortlessly stylish look with the Sorel Women's Hi-Line Heel Chelsea Boot. Its waterproof leather upper and sealed seams keep your feet dry, while the removable felt-lined insole provides warmth and support.
The durable rubber sole offers superior traction on wet surfaces, making it perfect for cold weather conditions. Whether you are heading out for a casual brunch or hitting the streets for an evening out, our Hi-Line Heel Chelsea Boot will keep your feet warm and comfortable all day long.
With its sleek silhouette and timeless style, this boot easily transitions from winter to spring - so you can always be fashion-forward no matter the temperature!
No matter what type of winter activities you take on, the Chelsea Boots will have your feet covered. Invest in a pair and get ready to face the cold in style!
Best Winter Boots FAQ
Shopping for winter boots can be a daunting task. What type of boot is best? What features should I look for? How do I ensure they will keep my feet warm and dry? Don't worry—we've got you covered! In this blog post, we'll answer some of the most frequently asked questions about winter boots so that you can find the perfect pair.
What Type of Boot Should I Choose?
When it comes to finding the right winter boot, there are several factors to consider. First and foremost, think about your lifestyle and where you plan on wearing your boots.
If you often go out in cold and wet weather then a waterproof boot is essential. If you typically stay indoors or have milder winters then a lighter shoe with insulation might be better suited for your needs.
What Are the Different Types of Winter Boots?
The most common type of winter boot is a mid-calf style boot with insulation and waterproofing features. However, there are several other types available including ankle-height boots, snow boots, and hiking boots.
If you plan on spending long periods of time outside in cold weather or going off-roading in snowy conditions then consider investing in snow or hiking boots that are designed specifically for these activities.
Do I Need Both Snow Boots and Rain Boots?
No, you don't need both snow and rain boots unless you plan on being out in both wet and snowy conditions often. If that is the case then having two pairs would be ideal since they offer different levels of protection from the elements.
Rain boots are designed specifically to protect against water while snow boots should offer insulation as well as waterproofing properties to ensure that your feet stay warm even when standing in freezing temperatures outside.
How Do I Ensure My Feet Will Stay Warm and Dry?
Look for boots with waterproof uppers as well as thermal insulation that keeps your feet warm without making them sweat. Also, look for moisture-wicking liners in order to keep your feet from getting too hot and sweaty while still providing warmth. Lastly, ensure that the sole has good traction so that you can walk safely on icy surfaces without slipping or sliding around.
What Other Features Should I Look For?
You'll want to consider any extra features that might improve the comfort and performance of your boot.
Some popular options include padded collars and tongues, reinforced toe boxes, cushioned insoles, reflective materials for visibility at night, and rubber outsoles for added grip on slippery surfaces.
Additionally, make sure that the laces are secure enough to hold up against snow or ice buildup but not too tight as this can cause discomfort when walking or standing in one spot for long periods of time.
Best Winter Boots For You
So, you're in the market for a good winter boot. Lucky for you, we've got your covered – pun intended. This comprehensive guide will help steer you in the right direction when it comes to finding the perfect pair of boots to keep your feet warm and dry all season long.
We'll start with arguably the most popular option: UGG Women's Classic Tall Boots. If sheepskin is your thing, these are definitely worth checking out.
Coming in at number two on our list is Sorel Women's Tofino Boot – an excellent choice if you need something a little more heavy-duty than the average winter boot.
Columbia Women's Minx Mid II Omni-Heat Winter Boots also deserve a mention; not only do they provide superior warmth and comfort, but they come in some really fun colors as well.
If a style is important to you, The North Face Women's Shellista II Mid Boot should be at the top of your list.
And finally, Timberland Women's Earthkeepers Mt. Maddsen Waterproof Hiking Boot rounds out our top six picks – perfect for those who want something that can handle both cold weather and wet conditions with ease.
Muck Boots, Chelsea Boots, and Merrell Waterproof Snow Boots are also great options for those who need serious winter protection. No matter what type of weather you're facing this season, be sure you're prepared with these quality winter boots.
So, now that you know all of the best options on the market, it's time to make a decision and invest in a pair of winter boots that will keep your feet warm and protected all season long!
Happy shopping!
Comments