This post may contain affiliate links, please see our privacy policy for details.
In recent years, these timeless bottoms have made a triumphant return to the forefront of fashion. With their flattering fit and versatility, high-waisted jeans have become an absolute favorite among trendsetters and style aficionados alike.
Today, we dive into the enchanting allure of high-waisted jeans, exploring why they've captured our hearts and showcasing how you can effortlessly incorporate them into your wardrobe. Get ready for a fashion adventure that will leave you feeling confident, chic, and oh-so-stylish!
How to Wear High-Waisted Jeans
Emphasize the waist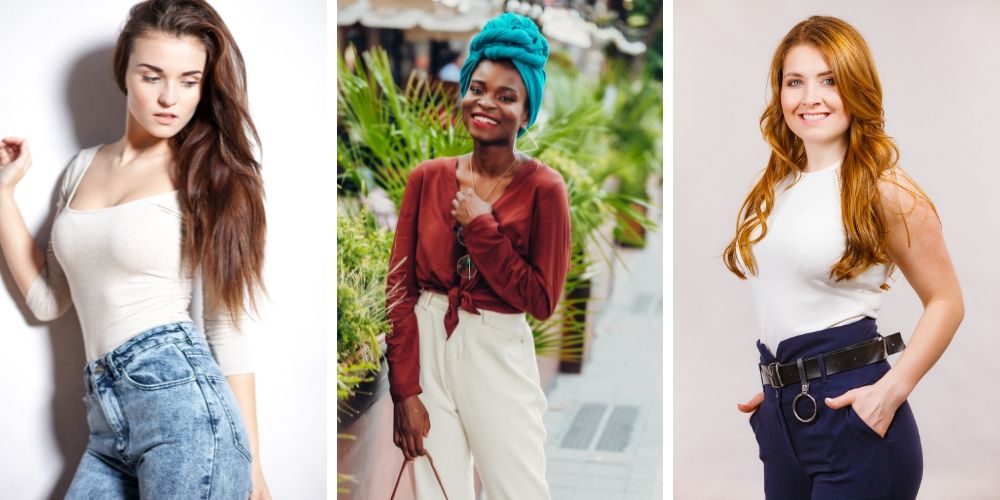 High-waisted jeans are extremely flattering, as they highlight your waistline and create a defined silhouette. Tuck in a fitted top or blouse, and add a statement belt to accentuate your curves. This simple styling trick enhances your figure, resulting in an hourglass shape that is both stylish and confident.
Crop it up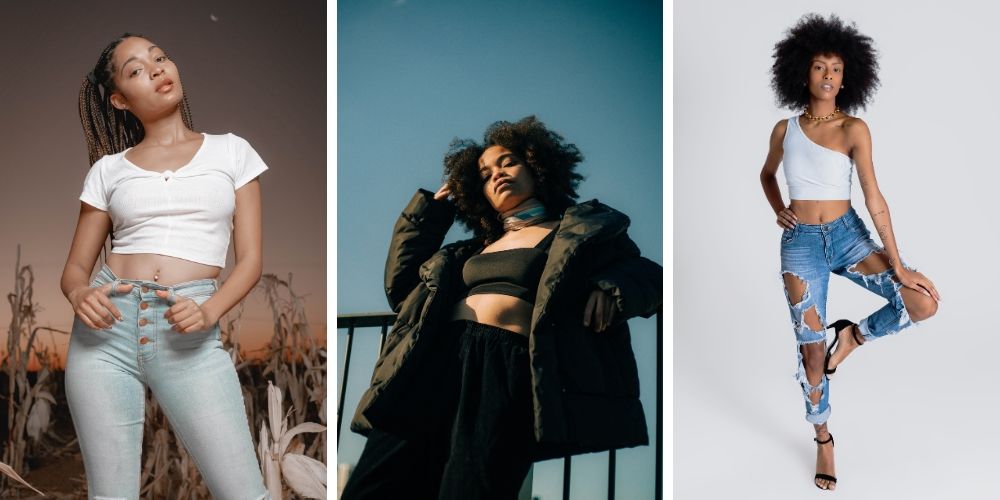 A high waisted jean provide the perfect opportunity to showcase your favorite crop tops and give a nod to the retro-inspired fashion trend. Pair your jeans with a trendy cropped t-shirt or a flowy crop blouse for a casual and chic look. If you prefer a more modest approach, layer your crop top with a lightweight cardigan or a denim jacket to balance the proportions. This combination effortlessly blends style and comfort.
Play with proportions
High-waisted jeans are incredibly versatile, allowing you to play with proportions and create fashion-forward ensembles. For a balanced look, pair your jeans with a loose-fitting, flowy top or a boxy shirt. This combination offers a relaxed and effortless vibe while maintaining a stylish silhouette. Alternatively, you can opt for a fitted or tucked-in top to create a more defined and polished look.
Layer it up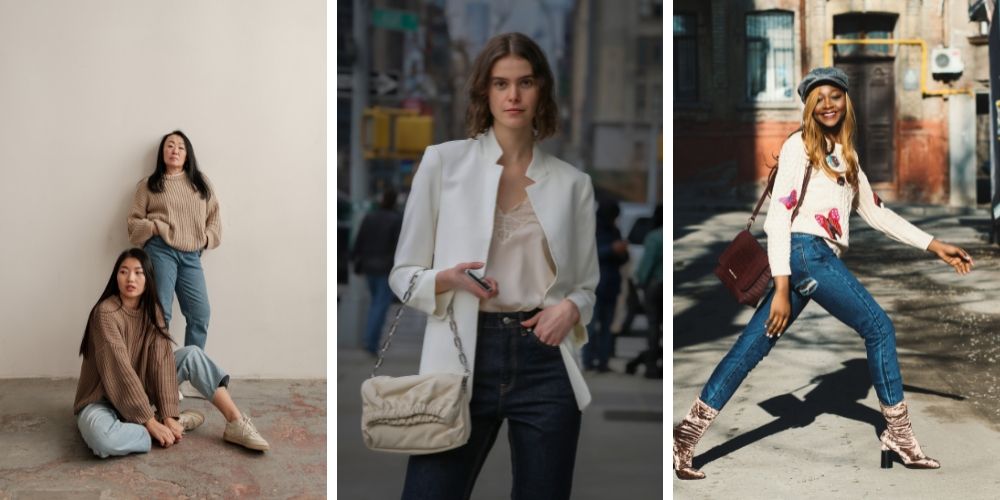 Layering is a fantastic way to add depth and dimension to your high-waisted jeans outfit. Try layering a lightweight, oversized sweater over a crisp button-down shirt for a sophisticated yet cozy ensemble. Finish the look with heeled boots and a statement necklace to add an extra touch of personality. Layering not only provides warmth during transitional seasons but also adds visual interest to your overall style.
How to Style High-Waisted Jeans
High-waisted jeans are a versatile wardrobe staple that can be dressed up or down for any occasion. Whether you're going for a casual chic look, embracing your inner beach babe, or attending a wedding, high-waisted jeans offer endless possibilities. Let's explore some stylish outfit ideas to elevate your fashion game and make the most of your high-waisted jeans.
Casual Chic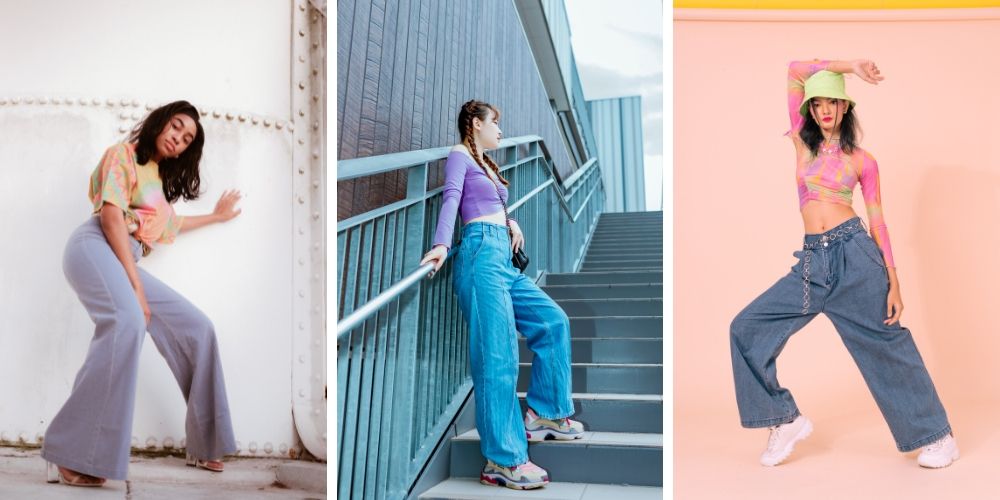 For a relaxed yet fashionable vibe, pair high-waisted flare jeans with a classic striped t-shirt. Layer on a denim jacket for added flair and complete the look with ankle boots. This ensemble is perfect for a weekend brunch or a casual day out with friends.
Beach Babe
Embrace your beachy side by styling high-waisted white jeans with a breezy off-shoulder blouse. Slip on some comfortable sandals and accessorize with a straw hat to complete the relaxed and summery look. This outfit is perfect for a seaside getaway or a beachside lunch.
Wedding Wonder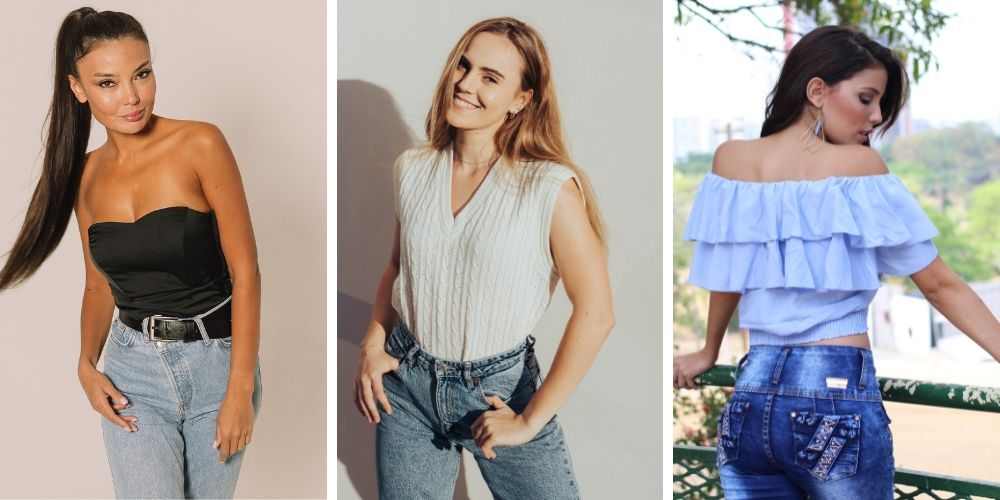 Create a sophisticated and elegant look by pairing high-waisted bootcut jeans with a lace blouse. Elevate the outfit with a pair of heels, statement earrings, and a clutch. This ensemble strikes the perfect balance between comfort and style, making it a unique choice for a stylish wedding guest.
When wearing jeans, remember that these outfit ideas are just the beginning. Mix and match different tops, shoes, and accessories to create unique looks that suit your personal style. Don't be afraid to experiment and let your creativity shine through. High-waisted jeans are a versatile choice that flatters different body types and is available in a wide size range. Embrace your fashion individuality and rock your own stylish combinations with confidence.
What to Wear with High-Waisted Jeans
High-waisted jeans are a fashion staple that can be easily elevated with the right footwear and accessories. Let's explore some options to complement your high-waisted jeans and complete your stylish ensemble.
Footwear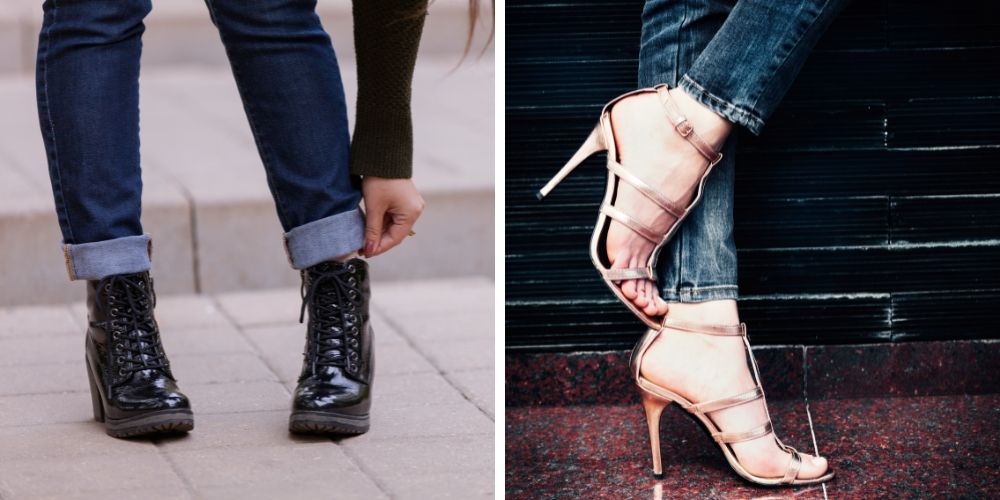 Versatile ankle boots: Ankle boots are a perfect match for high-waisted jeans. Opt for classic leather boots for a timeless look, or go for edgy combat styles to add a touch of attitude. Whether you prefer heeled or flat options, ankle boots effortlessly elevate your outfit and add a stylish edge.
Strappy sandals: For a feminine and summery touch, pair your high-waisted jeans with strappy sandals. Choose delicate designs with thin straps for a more elegant look, or opt for chunkier sandals to create a trendy and casual vibe. These sandals are perfect for warm-weather days or when you want to add a touch of elegance to your ensemble.
Accessories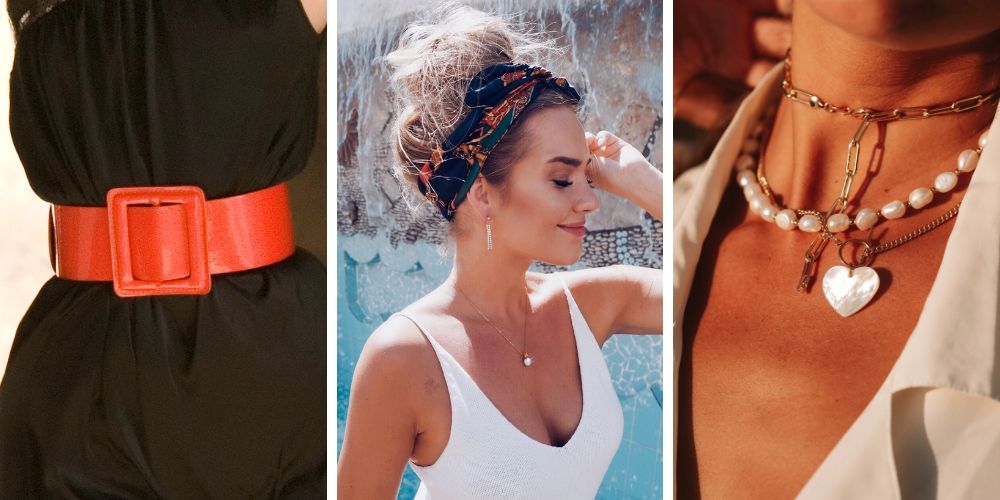 Statement belts: A statement belt is a must-have accessory to cinch the waist and add a touch of personality to your high-waisted jeans. Opt for wide belts with unique buckles or bold colors to make a statement. Whether you choose a sleek leather belt or a metallic option, it will accentuate your waistline and complete your look with a stylish touch.
Trendy hair accessories: Don't forget to adorn your locks with playful hair accessories. Scrunchies, hair clips, and headbands can add a fun and stylish element to your outfit. Opt for patterns, colors, or embellishments that complement your personal style and add a touch of flair to your overall look.
Eye-catching jewelry: Enhance your high-waisted jeans ensemble with eye-catching jewelry. Layered necklaces create a trendy and chic look, while hoop earrings can add a touch of sophistication. Mix and match different pieces to create a unique combination that reflects your personal style. Don't be afraid to experiment with different materials, lengths, and textures to create a statement with your accessories.
With just the right amount of footwear and accessories, your high-waisted jeans outfits will be elevated to new levels of style and flair. So go ahead and accessorize with trendy pieces. Embrace your fashion creativity and create unique looks that make you feel confident and fabulous.
High-Waisted Jeans Outfit Ideas
In today's sartorial expedition, we'll be diving deep into the realm of high-waisted jeans – a staple that has held a special place in wardrobes across the decades. Whether you're a denim devotee or just a casual observer, these versatile pants offer countless outfit possibilities that adapt to any style or occasion. With so many ways to rock them, it's no wonder they've become an enduring favorite. So, let's buckle up, embrace the denim allure, and explore the best high-waisted jeans outfit ideas!
High-Waisted Flare Jeans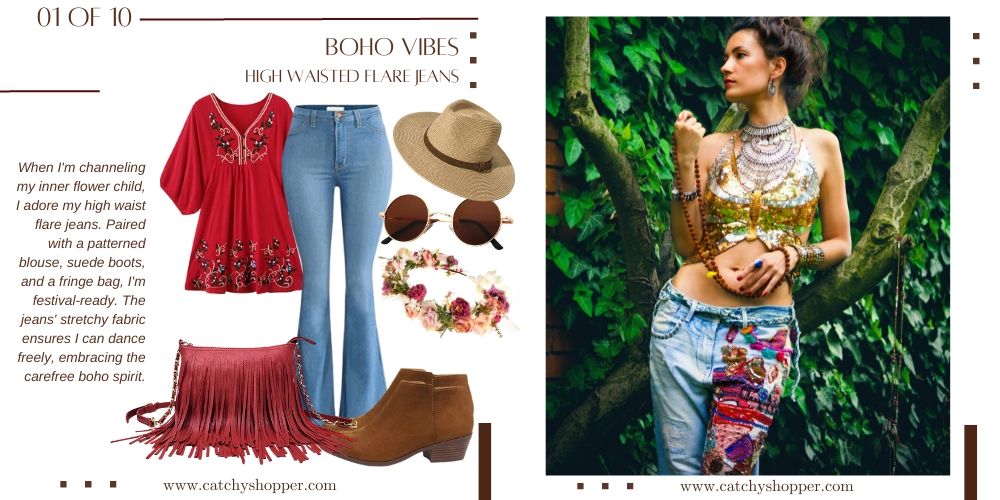 For a boho-inspired music festival, pair your high waist flare jeans with a flowy, patterned blouse. The flared silhouette of the jeans will fit perfectly with the free-spirited theme. Opt for a pair of suede ankle boots to add a touch of bohemian flair to your outfit.
Complete the look with a fringe crossbody bag and round sunglasses to enhance the festival vibes. For an extra whimsical touch, don a wide-brimmed hat or a floral crown. The stretchy denim of the jeans ensures a comfortable and perfect fit, allowing you to dance and enjoy the music without any restrictions.
High Waisted Wide Leg Jeans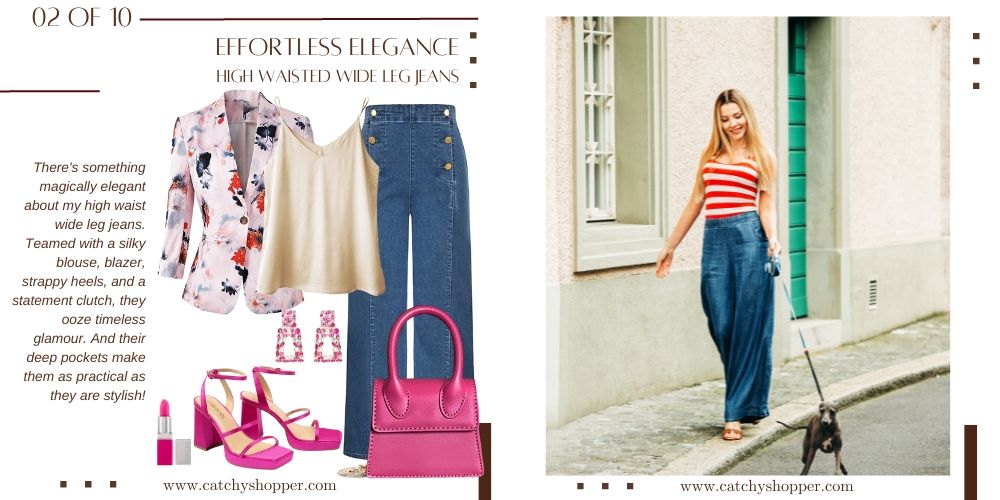 For an evening of elegance, choose high waist wide-leg jeans that exude timeless glamour. Pair them with a silky blouse for a luxurious touch. To add refinement, layer a tailored blazer over the blouse. Elevate the look with strappy heels, a statement clutch, and statement earrings for added sophistication.
Complete the ensemble with a bold lip color and sleek hair to enhance the polished aesthetic. These wide leg style jeans are not only stylish but also practical with their deep pockets for your convenience. The stretch denim ensures a comfortable fit, allowing you to move with ease and confidence.
High Waisted White Jeans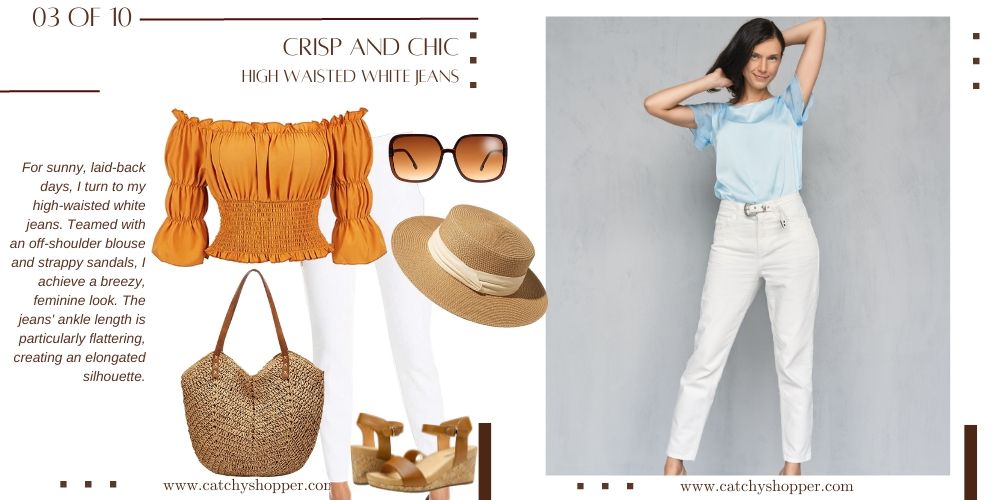 For a feminine touch, pair these ankle-length skinny jeans with a breezy off-shoulder blouse and strappy sandals. Complete the look with accessories such as a wide-brimmed straw hat, oversized sunglasses, and a woven tote bag to enhance the summery vibe.
Keep your beauty look fresh and natural with minimal makeup and loose, beachy waves in your hair. These ankle-length white jeans are particularly flattering for petite women, as they create a visually elongated silhouette.
High Waisted Black Jeans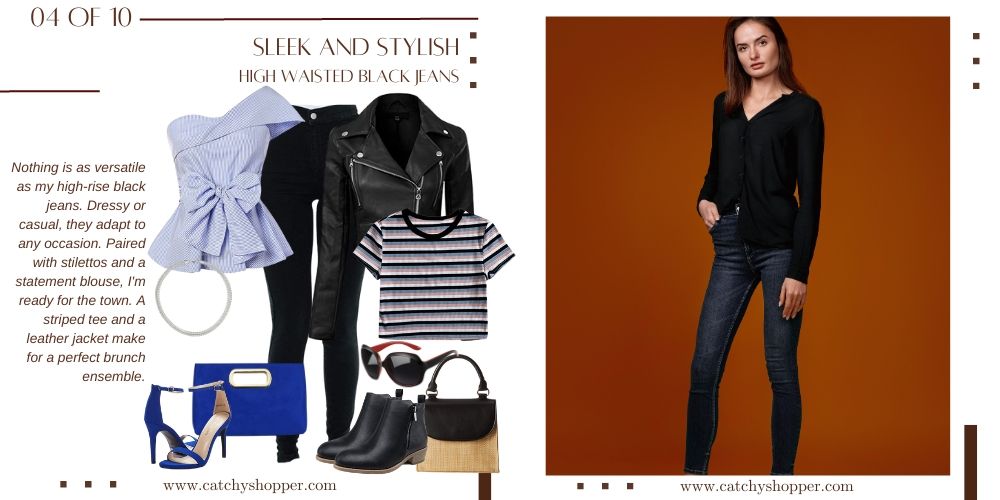 For a sleek and stylish look, opt for high-rise black jeans that offer both style and versatility. Dress them up for a night out on the town by pairing them with a statement blouse, stiletto heels, and a clutch. Amp up the glamour with bold statement jewelry and a smokey eye makeup look.
On the other hand, dress them down for a trendy brunch by pairing them with a striped tee, a leather jacket, and ankle boots. Complete the look with a crossbody bag and oversized sunglasses for an effortlessly chic ensemble. These high-rise black jeans provide enough stretch to ensure a comfortable fit.
High Waisted Bootcut Jeans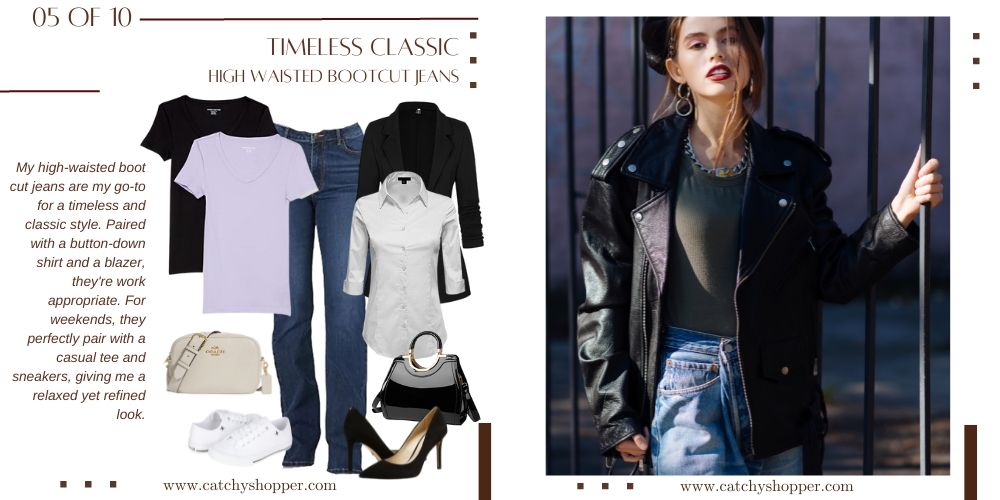 Effortlessly exude a timeless and classic style with high waisted boot cut jeans. For a casual Friday at the office, pair them with a crisp button-down shirt and a tailored blazer. Finish the look with pointed-toe pumps and a structured tote bag.
On weekends, dress them down with a casual tee, sneakers, and a crossbody bag for a shopping trip or lunch with friends. Embrace the versatility of these bootcut jeans that effortlessly take you from work to play.
High Waist Straight Leg Jeans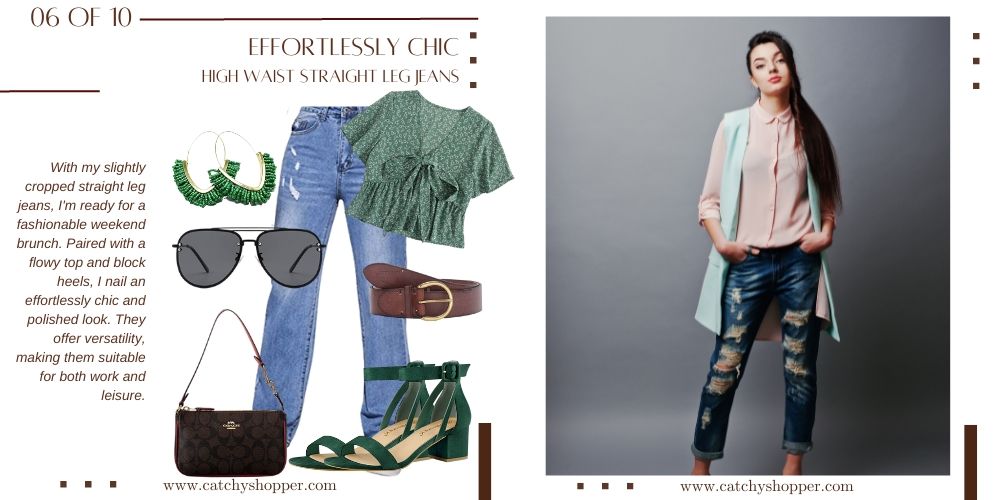 Achieve an effortlessly chic and polished look with slightly cropped straight leg high-waisted jeans. For a fashionable weekend brunch, style them with a flowy top and slip on block heels for a comfortable yet stylish option.
Add a touch of glam to your ensemble with oversized sunglasses, statement earrings, a cute purse, and a statement belt. Whether you're in a professional setting or going for a weekend outing, these straight jeans will keep you looking effortlessly chic and put-together.
High Waisted Skinny Jeans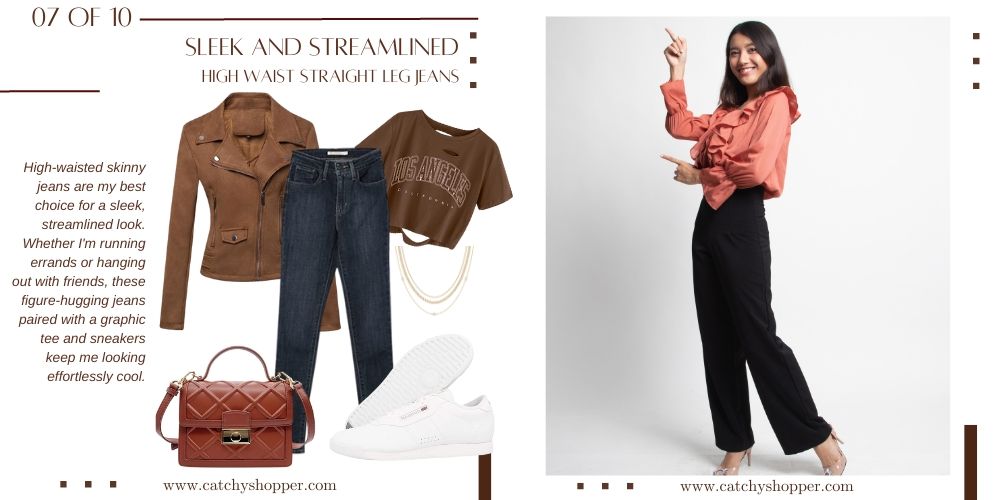 Embrace the sleek and streamlined style with high-waisted skinny jeans that offer a versatile option for everyday wear. Whether you're running errands or meeting up with friends for a casual hangout, these slim-fit jeans are your go-to choice. Pair them with a graphic tee and sneakers for a laid-back vibe.
Add a stylish jacket for an extra layer of style and complete the look with a crossbody bag and layered necklace. With their figure-hugging fit, these high-rise straight jeans will keep you looking effortlessly cool and stylish wherever your day takes you.
High Waisted Baggy Jeans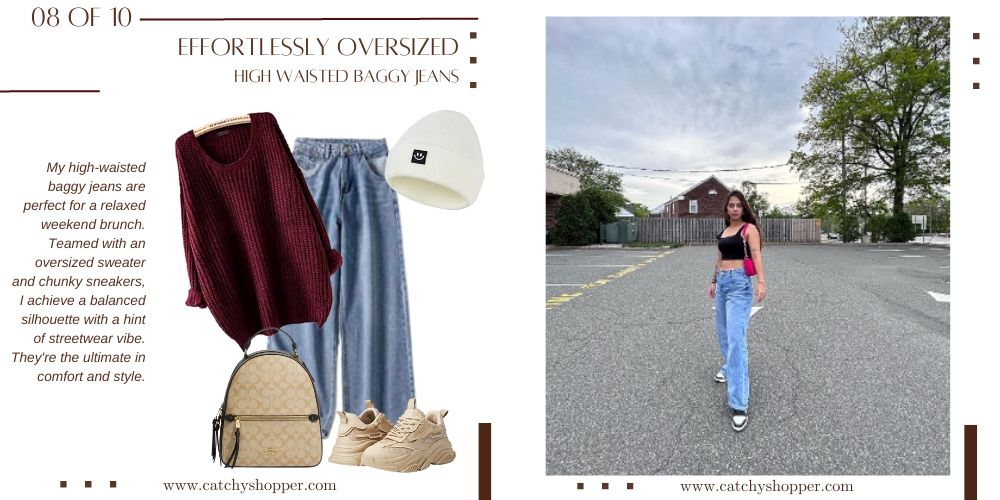 Make a fashion statement with high-waisted baggy jeans, also known as boyfriend jeans with a cropped wide leg, that exude a relaxed yet stylish vibe. For a relaxed weekend brunch, pair them with an oversized sweater to create a balanced silhouette.
Complete the look with chunky sneakers for a touch of edge and add a beanie for a trendy streetwear-inspired look. Carry a backpack for a practical and stylish accessory that complements the relaxed vibe of these jeans.
High Waisted Ripped Jeans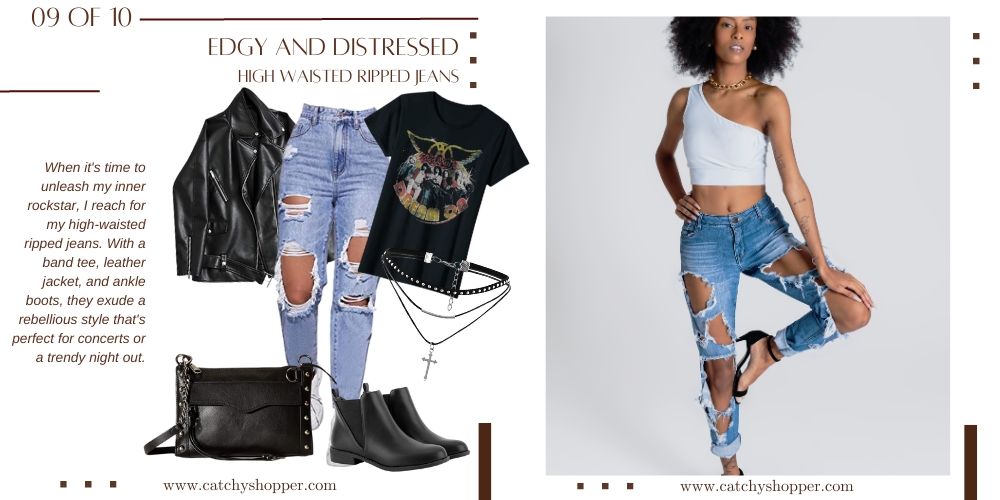 Channel your inner rocker with high waisted ripped jeans that exude an edgy and rebellious style. Whether you're heading to a rock concert or a night out with friends in a trendy bar, these jeans will make a statement. Pair them with a band tee with a leather jacket for a rock-inspired look.
Complete the outfit with a pair of ankle boots for added attitude. Accessorize with studded jewelry, a crossbody bag with metal accents, and a bold smokey eye for a touch of drama. Let your edgy side shine through as you embrace the raw and rebellious style of these ripped jeans.
High Waisted Butt Lifting Jeans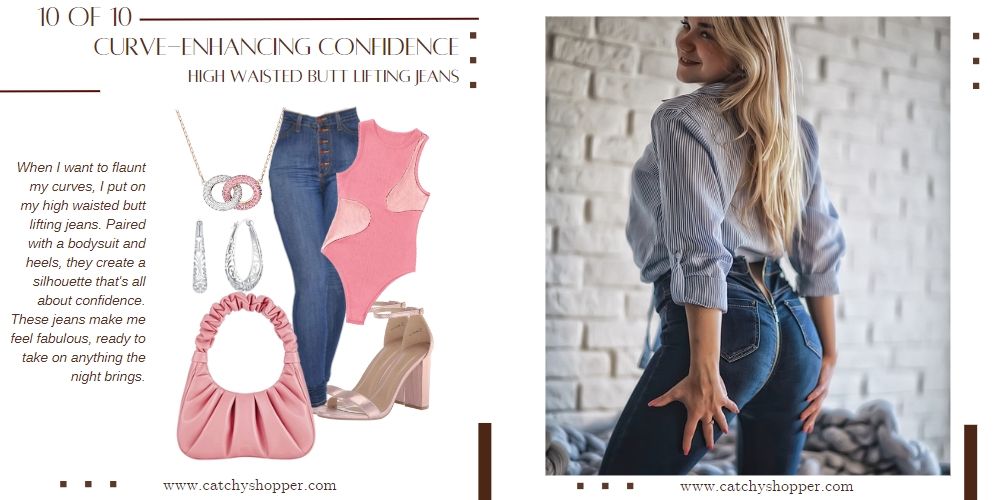 Embrace your curves with high waisted butt lifting jeans that enhance your confidence and style. Whether you're heading to a night of dancing or a special occasion where you want to flaunt your figure, these jeans will be your best friend.
Pair them with a bodysuit to accentuate your curves. Choose high heels to elongate your legs and further enhance your silhouette. Accessorize with a statement necklace, hoop earrings, and a clutch bag for a touch of glamour.
💡
Dive Into Fashion Outfits
Explore our exclusive articles featuring
Boho Outfit Ideas
,
Vacation Outfits
,
Festival Outfits
,
and
Summer Outfits with Hats
.
Delve into our
Denim Shorts Outfits
,
Black and White Outfits
, Bodysuits Outfits,
and
Pink Outfit Ideas
. Experience the charm of our
Tube Top Outfits
, Crop Top Outfits,
Sundress Outfit Ideas
,
Resort Wear
,
and
Beach Wear
.
Start your style journey now!
Best High Waisted Jeans FAQ
What's the difference between high rise and high-waisted jeans?
High rise and high-waisted jeans differ in where the waistband sits. High rise hits above the natural waistline, typically around the belly button. In contrast, high-waisted jeans sit at or above the natural waistline, accentuating the waist for a defined silhouette. The terms refer to the height of the waistband and how it flatters the figure.
What to wear with high waisted jeans?
When styling high waisted denim, there are several options to create fashionable outfits. Here are some ideas:
Tucked-in Tops: Pair your high-waisted jeans with fitted t-shirts, blouses, or button-down shirts, and tuck them in to highlight the high waistline.
Crop Tops: Opt for crop tops that hit just above the waistband of the jeans to showcase the high-waisted style.
Flowy Blouses: For a relaxed and feminine look, pair your jeans with flowy blouses in lightweight fabrics.
Layering: Add jackets, cardigans, or sweaters to your outfit for a stylish layered look, especially in a lighter wash.
Belts: Accentuate the high-waisted style by accessorizing with belts that complement your jeans.
Footwear Choices: Depending on the occasion, choose heels, ankle boots, sneakers, or sandals to complete your outfit.
Remember to experiment and find combinations that suit your body type and personal style. High-waisted jeans offer a flattering and versatile foundation for various outfit choices.
What body shape is best for high waisted jeans?
High-waisted jeans can flatter various body types, including the hourglass figure, pear shape, apple shape, rectangle shape, and petite frame. They accentuate the waist, create balance, and enhance curvy body. For an individualized fit, it's important to try on different styles and silhouettes to find the most flattering high-waisted jeans that make you feel confident.
How to wear high waisted jeans with a tummy?
To wear high-waisted jeans with a tummy, choose super stretchy jeans with a contoured waistband. These features offer comfort and support while accommodating your midsection. Opt for loose-fitting tops that drape over the tummy or layer with a long cardigan or structured blazer for a balanced look. By selecting the right jeans and styling choices, you can confidently wear high-waisted jeans while flattering your figure.
How to measure high waist jeans?
To measure high-waisted jeans, follow these steps:
Find a flexible measuring tape and stand straight in front of a mirror.
Measure your waist by wrapping the tape around the narrowest part of your torso, usually above your belly button.
Note down the waist measurement.
Measure your hips by wrapping the tape around the fullest part of your hips, a few inches below your waist.
Note down the hip measurement.
Calculate your waist-to-hip ratio by dividing your waist measurement by your hip measurement.
Use your measurements and waist-to-hip ratio to find the right size of high-waisted jeans, referring to the brand's size chart for guidance.
By following these steps, you can accurately measure for high-waisted jeans and find the best fit for your body shape.
Final Thoughts
High-waisted jeans are truly the best jeans when it comes to effortlessly looking slimmer and stylish. We've explored a variety of outfit ideas and styling tips that showcase the versatility and figure-flattering qualities of these jeans. From pairing them with flowy blouses and ankle boots for a boho-inspired music festival look to dressing them up with silky blouses and tailored blazers for an evening of elegance, high-waisted jeans offer endless possibilities.
Remember, don't be afraid to embrace your personal style and experiment with different looks. Mix and match tops, shoes, and accessories to create your perfect pair. The key is to find the right pair of high-waisted jeans that fit perfectly and provide the right amount of stretch and support.
So, why wait? Start rocking high-waisted jeans with confidence and elevate your fashion game to new heights. Embrace your curves, showcase your style, and enjoy the slimming effects of the perfect pair of high-waisted jeans. Your fashion journey begins now!
Comments