This post may contain affiliate links, please see our privacy policy for details.
Finding the perfect pair of jeans can be difficult, especially with the wide range of options available: wide-leg jeans, slightly cropped straight-leg, stretchy denim, high-waisted jean, and mom jeans.
Wearing jeans has become a trend since it can be for semi-formal attires or casual wear wherein you just need to pair it with heeled boots.
But there is a style that not only looks stylish and modern but also gives you an instantly slimmer look - high waisted jeans.
High-waisted jeans are a timeless clothing staple that can be found in nearly every wardrobe.
With their modernized fit, these jeans provide a more flattering silhouette and look great on any body type and size range.
With their higher rise, high waisted jeans are now more popular than ever as they provide the ultimate slimming effect.
In this article, we will explore why high waisted jeans are the perfect choice for creating a slim silhouette and reveal our top picks for the best high waisted jeans on the market.
How We Choose
We know that finding the perfect pair of jeans can be a challenge.
With so many different styles and fits on the market, it can be hard to know where to start.
That's why we've made it our mission to help you find the best high-waisted jeans for your unique body type.
We believe that there is a perfect pair of jeans out there for everyone, and we're here to help you find them.
To find the best high-waisted jeans, we start by considering your body type.
We take into account your height, weight, and proportions to find a pair of jeans that will flatter your figure.
From there, we look at different styles and fits to find the ones that will suit your personal taste and lifestyle.
We try on hundreds of pairs of jeans ourselves to get a feel for the fit and fabrics, and we only recommend the ones that we absolutely love.
We understand that everyone has their own unique style, and we want to help you find the best high-waisted jeans that reflect your personality.
Whether you're looking for a classic straight-leg pair or something more trendy, we'll help you find the perfect denim for you.
We put together this guide to share our findings so that you can easily find the ideal high-waisted jeans for your wardrobe.
Best Skinny High-Waisted Jeans
Why We Love It
Strong and durable, this superior blend of 73% Cotton, 19% Polyester, 7% Modal, and 1% Elastane is designed to keep you comfortable throughout the day.
This fashionable piece features an imported zipper closure for convenience and ease of use.
Its lightweight fabric provides breathability while its flexible elastane allows unrestricted movement with no compromise on comfort.
Not only that, but its unique fabric blend offers enhanced durability so you can rest assured your wardrobe will stay stylish for longer.
What You Should Know
Crafted in a comfortable and breathable fabric, these Skinny Jeans feature a zipper closure that sits above the waist, giving you an effortless fit.
To ensure your new investment stays looking fresh and new, we recommend washing inside out with like colors with liquid detergent.
Get ready to take on the world in supreme confidence and style every time you step out!
Best High Waisted Tapered Jeans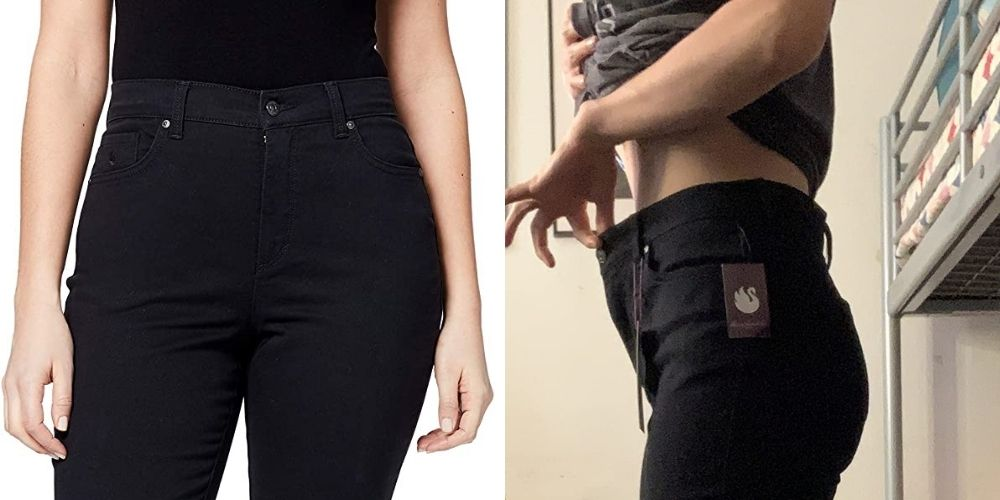 Why We Love It
This stylish and versatile product is perfect for the fashion-forward individual who desires a timeless, classic look with modern comfort.
Crafted from a unique blend of 71% cotton, 27% polyester, and 2% spandex, this fabric offers an ideal combination of soft comfort and durability.
The zipper closure makes this garment easy to put on and remove, while the machine-washable material ensures convenience without sacrificing quality.
What You Should Know
This timeless design sits at a natural waist for ultimate comfort and features functional pockets, an easy zipper fly, and belt loops for a perfect fit.
Its classic look is versatile enough to be dressed up with fashionable tops or toned down with basic t-shirts, while its slim fit pairs beautifully with boots or sneakers to complete any outfit.
Best High Waisted Butt Lifting Jeans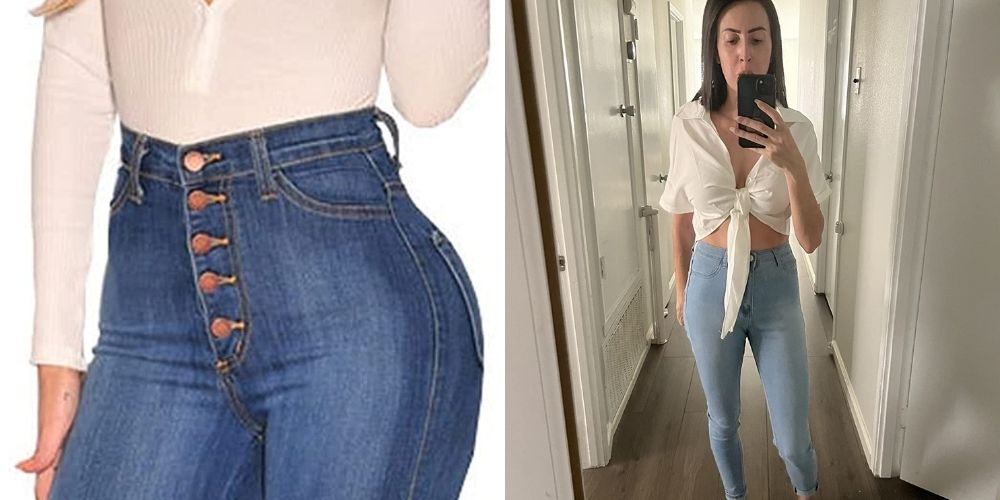 Why We Love It
These super stretchy and soft pants provide superior comfort with a classic 5 pocket design.
Featuring an ultra-high rise, skinny leg fit, and 1 button closure, you can look stylish while also feeling comfortable.
With a slim fit throughout the legs, these long pants are perfect for any occasion – from casual days to nights out on the town.
Whether it's keeping items secure or accentuating your silhouette, these bottoms will surely be the perfect addition to your wardrobe!
What You Should Know
For fashionistas and trendsetters, this stylish stretchy material made from 80% Cotton, 15% Polyester, and 5% Spandex Imported Button closure is a must-have.
Combining comfort with modern elegance, this fabric offers superior strength and durability while maintaining its softness and shape.
Its wrinkle-free properties make it easy to maintain on the go.
The integrated button closure ensures that clothes lay flat without sagging or bunching up.
Best Super Stretch High Waisted Jeans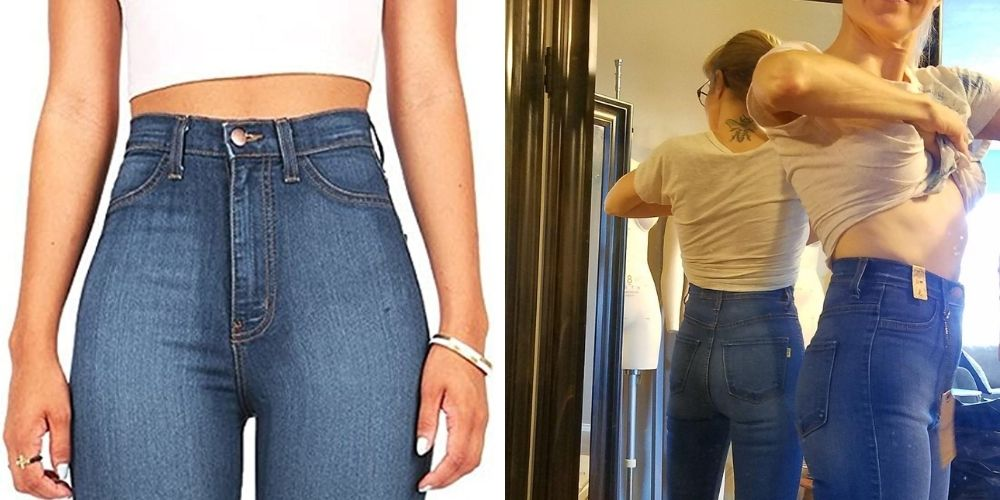 Why We Love It
Be bold and stylish with Vibrant Women's Denim Skinny Jeans!
These jeans offer unbeatable comfort with their super-soft denim fabric while giving a flattering fit that shows off your unique shape.
The classic light wash of the denim ensures you look put together, no matter where you go.
You'll love the convenient zip fly closure and five-pocket design, making these jeans your new everyday essential.
What You Should Know
You won't have to sacrifice style for comfort with these fashionable, slim-fit jeans.
Made from ultra-soft and stretchy fabric, you'll be able to move freely while looking great.
The high waistline gives you added coverage and the classic casual design will ensure your look stays timeless.
Whether running errands or going out on the town, these jeans are sure to turn heads!
Best Ripped High Waisted Jeans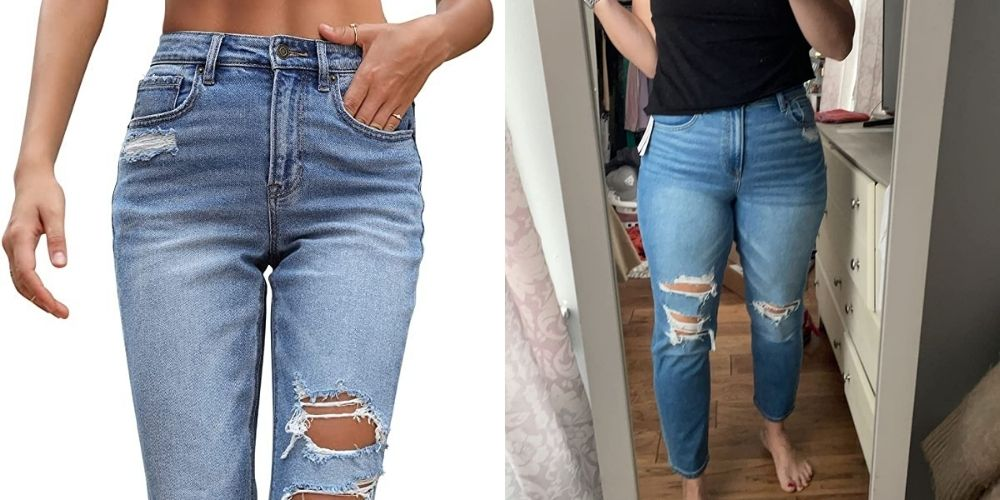 Why We Love It
This wearable fashion statement is the perfect blend of comfort and style.
The 80% cotton, 10% modal, 9% polyester and 1% elastane combination provides a plush softness that will keep you cozy in all kinds of weather.
The button closure ensures that your style stays put no matter how active you are.
Plus, this material retains its shape over time so you can wear it again without worrying about any stretching or sagging.
What You Should Know
It's time to get on trend with our stylish mom-fit, high-rise jeans.
With a sophisticated light indigo wash and frayed hem, these jeans will have heads turning wherever you go.
Not only that but they're specifically designed for low maintenance and energy-saving care — meaning you can wash cold, wash less frequently and never have to use the dryer!
Enjoy a relaxed fit through the thigh and calf with a slight taper at the ankle for an effortless look.
Best High-Waisted Jeans FAQ
Which high-waist jeans are best?
It depends on what you are looking for in a pair of jeans.
If you want a flattering fit, then Levi's Wedgie Fit Jeans are a great option.
They have a high waist and slim fit that is designed to hug your curves.
For something more relaxed, try the Wrangler Retro Relaxed Fit High Waist Jeans.
They offer an easy fit with plenty of room to move around in.
Are high-waisted jeans good for a tummy?
Yes, high-waisted jeans are a great option for those with a tummy.
They provide extra coverage and can help to create the illusion of a slimmer waistline.
Additionally, they often have stretchy fabric that helps to ensure a comfortable fit.
Are high-rise jeans still in style?
Yes, high-rise jeans are still in style.
They have become increasingly popular over the last few years and are a staple of many wardrobes.
High-rise jeans look great with crop tops, blouses, and tucked-in shirts for a stylish, modern look.
What's the difference between high-rise and high-waisted jeans?
High-rise jeans sit higher on the waist than regular waist jeans, usually up to the belly button.
High-waisted jeans are even higher, typically sitting at or just below the natural waistline.
The higher waist of high-rise and high-waisted jeans helps to create a longer, leaner look.
Both styles also offer more coverage and support than regular waist jeans.
Are high-waisted skinny jeans good for petite women?
Yes, high-waisted skinny jeans are a great option for petite women.
They create the illusion of longer legs and can be easily paired with any top or shoe.
High-waisted jeans also provide extra coverage around the waist, which is a plus for petite women.
I want to look slimmer. Should I focus on skinny jeans or high waisted jeans?
It depends on your body type and personal preference.
Skinny jeans are more fitted, which can be flattering for some body types.
High waisted jeans can provide better coverage and a more relaxed fit.
Ultimately, it's up to you to decide what style you feel most comfortable in.
Try on different styles and see what looks best on you!
What body type looks best in high-waisted jeans?
High-waisted jeans look best on people with an hourglass or pear body type.
They help to accentuate curves and create the illusion of an even more defined waist.
People with a rectangle body type can also make high-waisted jeans work by wearing a belt to add definition to their waistline.
Who should wear high-waisted jeans?
High-waisted jeans can be worn by anyone, regardless of size or body shape.
The high waistline helps to slim the figure and create an elongated silhouette.
They are particularly flattering on those with a longer torso, as they help to create a balanced look.
Additionally, they are often considered a more fashionable option than regular jeans.
Best High Waisted Jeans For You
High waisted jeans are an essential item for any fashionista's wardrobe.
They are flattering, versatile and easy to style with a variety of tops.
High waisted jeans will never go out of style and they can be dressed up or down depending on the occasion.
Whether you prefer skinny (Levi's Women's 721 High Rise Skinny Jeans), tapered (Gloria Vanderbilt Women's Amanda Classic Tapered Jean), butt lifting (KUNMI Womens Skinny Colombian Jeans), stretched (Vibrant Women's Denim Skinny Jeans), or ripped (OFLUCK WomenRipped High Waisted Jeans) styles, you can find them in a variety of colors and textures to fit your style.
Make sure to invest in quality denim that will last for years to come!
Other Posts You May Like:
The Best Tactical Pants For Women
The Pros and Cons of Tactical Pants: Are They Right for You?
Making Tactical Pants Stylish: Tips And Tricks
The Best Work Socks for Men and Women: From The Boardroom to The Job Site

Comments