This post may contain affiliate links, please see our privacy policy for details.
Are you ready for an adventure that will take your camping and cooking experience to the next level? With these 20 campfire cooking essentials, you can become a master chef in the great outdoors! Imagine being able to cook like a pro while soaking in the breathtaking views that come with camping. Whether it's gourmet meals or classic campfire recipes, these cooking kits have everything you need to turn your ordinary camping trip into an unforgettable master chef experience!
Our Picks for Campfire Cooking Kits
What is a Campfire Cooking Kit?
Campfire cooking kits are sets of cookware and utensils that are specially designed to help you cook food. They typically consist of pots, pans, griddles, and spatulas made from materials such as stainless steel or cast iron. With these kits, you can easily prepare delicious meals without having to bring a ton of bulky cookware.
The key to successful campfire cooking is controlling your heat source — either a grate over the fire or coals spread around the bottom of a larger pan. Once the fire is ready, simply place the cookware on top and adjust the temperature as needed by adding more fuel or moving it closer or farther away from the main heat source. The pieces are designed to fit neatly together so you don't have to worry about juggling multiple items at once!
How to Choose the Right Campfire Cooking Kit
Choosing the right campfire cooking kit is an important decision for anyone looking to make the most of their outdoor cooking experience. Here are some tips for choosing the perfect campfire cooking kit:
Consider your needs
Look at what type of meals you plan on making over the fire and decide which types of pots and pans will work best for you. Do you need a large pot or just a few small ones? Will you be up for complicated dishes or just quick and easy meal options?
Budget
Decide how much you can spend on campfire cooking equipment without breaking the bank. Camping cookware can range in price significantly, so take into account the number of items you need to buy as well as their quality and durability before making a purchase.
Personal style
Figure out what kind of atmosphere you want around your campfire kitchen – lightweight aluminum or heavier cast iron? Would any extras like Dutch ovens add to your experience? Do some research on different materials as they all offer unique advantages that could make camping more enjoyable for you.
Weight
Portability is key when it comes to picking out a camping stove, so make sure to pay attention to weight when shopping around for one that fits all your criteria!
Ease of use
Make sure your chosen campfire cooking kit is easy enough for anyone in your group to use with little effort, even if they're not used to working with similar equipment at home!
Versatility
Choose a set-up that allows maximum flexibility while still delivering great meals, such as multi-use tools like griddles and adjustable trays – these can expand your recipe options significantly!
With these tips in mind, choosing the right campfire cooking kit should become much easier!
Tips and Tricks for Campfire Cooking
Campfire cooking can be fun, but it's also important to make sure that you know how to cook with all the safety protocols in mind. Here are some helpful tips and tricks for when you're using campfire cooking kits:
Prepare Ahead: Before heading out camping, make sure you have prepared meals or snacks ahead of time that is easy to cook over a campfire. This will make your life much easier when it's time to start cooking in the wilderness!
Choose Your Fuel Wisely: When picking fuel for your fire, choose ones that burn hot and fast like hardwood logs and charcoal briquettes. This will help ensure consistent heat levels while cooking your food.
Monitor Heat Levels: Get familiar with the different levels of heat produced by your fire so you can monitor them and adjust as necessary while preparing meals. Make sure to keep the fire burning hot enough so that it doesn't go out while you're trying to cook something.
Our Favorite Campfire Cooking Kits to Try
Camping is a wonderful way to reconnect with nature, unplug from the daily grind, and create memories with loved ones. One of the highlights of any wilderness getaway is the food, but cooking in the great outdoors can be a challenge. That's why having the right quality campfire cooking kit is essential. We'll share our favorite best campfire cooking kit to help you prepare delicious meals in the wilderness. From lightweight stoves and compact cookware to versatile utensils and clever gadgets, we've got you covered. So whether you're a seasoned camper or a first-timer, read on to discover our top picks for the ultimate camping cooking experience.
Best Budget Campfire Cooking Kit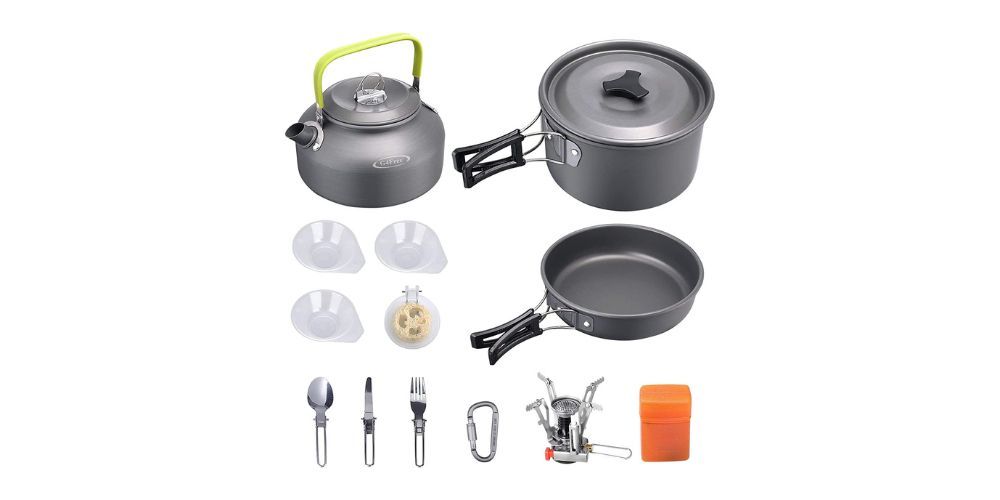 This awesome set comes with everything you need for cooking up a storm in the great outdoors! You've got your durable stainless steel and lightweight aluminum components, including a mini stove, pot pan bowl, cup, and a knife and spoon set. And there's even more where that came from!
But the best part? These pieces are designed with YOU in mind. The folding handle makes it a breeze to transport, while the heat-resistant handle keeps you from burning yourself while cooking up a storm. And don't worry about slipping and sliding, because this set has a non-slip feature for a comfortable and easy grip.
What's more, these cooking pots are made from the highest quality food-grade aluminum alloy, so you know you're getting safe and healthy cooking gear for your adventures in the wild.
Best Campfire Cooking Kit for 4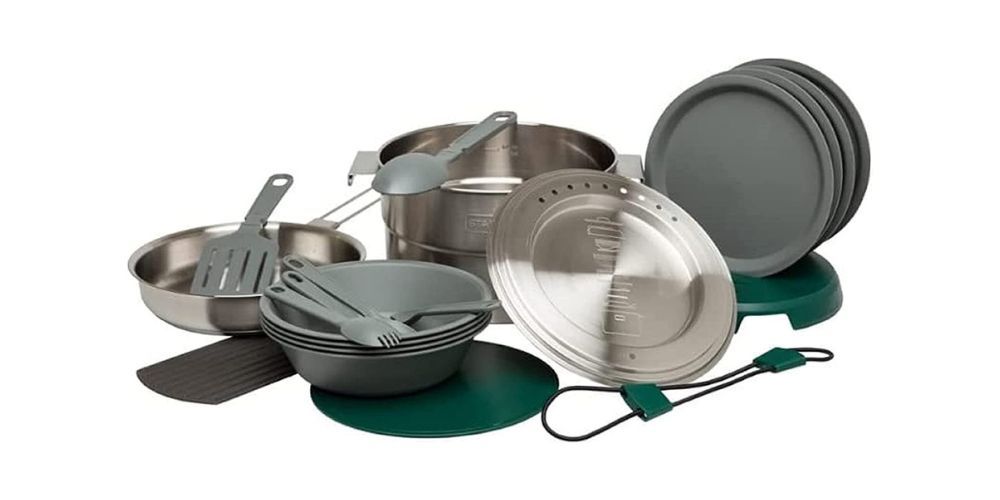 This 21-piece cookware set is perfect for your next camping or backpacking adventure, or even for creating an outdoor dining experience in your own backyard.
Made from super strong, rust-proof stainless steel that's BPA-free, this set includes everything you need to whip up a delicious meal for four. You've got a 4.7L pot with lid, cutting board, serving spoon, plates, spoons, forks, bowls, and dish rack - all in one neat, nesting package. And when it's time to pack up and head home, everything stacks together inside the pot, taking up minimal storage space.
But what really makes the Stanley Base Camp Cookset For 4 stand out from the crowd is its ingenious design. The compact nesting feature means you can bring all the essentials without weighing down your pack. And when you get back home, just toss everything in the dishwasher for a quick and easy cleanup. No more endless scrubbing - just more time to plan your next outdoor adventure!
Best Cast Steel Campfire Cooking Kit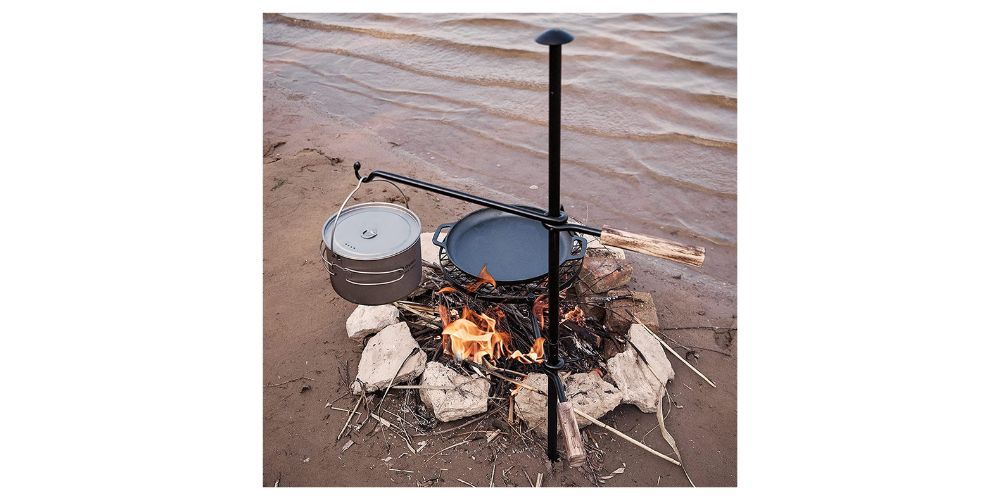 Made of high-hardness cast steel, this grill is tough as nails and can endure even the most rugged terrain. No more worrying about your grill given up on you in the middle of a cookout.
This circular metal grill has a diameter of 13.4 inches, making it perfect for grilling all sorts of food. And if that's not enough, the U-shaped bracket allows you to hang a kettle or pot for boiling water or cooking soup. Who said you can't have gourmet meals while camping?
And the best part? The metal rods can rotate 360°, so you can switch between grilling and cooking with ease. Talk about versatility!
This grill is compatible with wood, charcoal, propane, or even high-temperature turkey burners - it can handle it all! Assembling it is a breeze too; no bolts or tools required. With just four simple steps, you'll have it up and running in less than two minutes.
The HZGAMER Over Fire Camping Grill is designed to hold up to 18 pounds of weight. The deeper you insert the main pole into the soil (at least 11 inches), the more stable it becomes.
Best Cast Iron Dutch Oven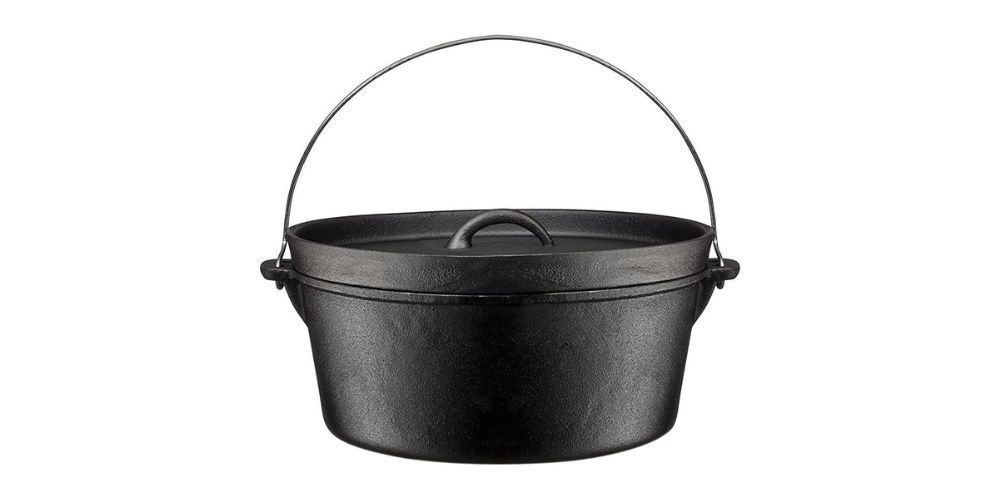 Crafted from 100% cast iron, this Dutch oven is built to last a lifetime with proper care. And guess what? It only gets better with every use! So put your trust in this bad boy and watch as it becomes your go-to kitchen companion.
Now, let's get into the nitty-gritty of why this Dutch cast iron cookware is so amazing. The legless feature adds greater surface for heat contact which means that you'll have an even cook every time. Say goodbye to those pesky hot spots that ruin your meals!
And if you're planning a getaway, don't forget to bring this Dutch oven along. Take it camping or on any outdoor adventure for the perfect way to sear, roast, or fry your meal. You won't regret it!
But wait, there's more! This Dutch oven is easy to clean and resistant to chipping and warping - what more could you ask for? And the lid? Oh, just a little something called moisture locking technology that ensures tender results every single time.
And if all of that wasn't enough, the lid can also be used as a standalone skillet/griddle. That's right folks - two products in one! Use it for pancakes in the morning and then switch over to stew at night.
Best High-Quality Campfire Cooking Kit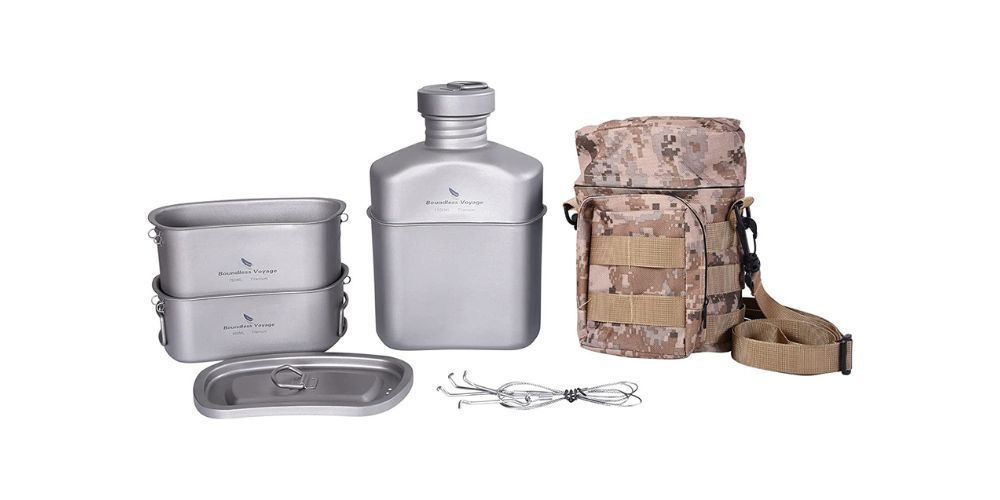 The Boundless Voyage's Titanium Canteen Kit with Camouflage Bag is the ultimate cookware set for your next outdoor adventure. With a large capacity kidney-shaped pot, a pan, and lid, plus a hanging chain for easy handling, this complete kit has everything you need to cook up a storm in the great outdoors.
What's more, this kit has a history - it was once used by past military forces, so you can trust its quality and durability. Made from lightweight and robust titanium, this kit is designed to last season after season, making it the perfect companion for those long treks and extended stays in nature.
Compared to stainless steel and ceramic, titanium is stronger, more durable, and resistant to corrosion, which means you can rely on it for a long time. And with the included camouflage bag, you can keep your cookware protected and easily transportable. So why settle for mediocre cookware on your next camping or hiking trip when you can have the Titanium Canteen Kit with Camouflage Bag?
Best Lightweight Campfire Cooking Kit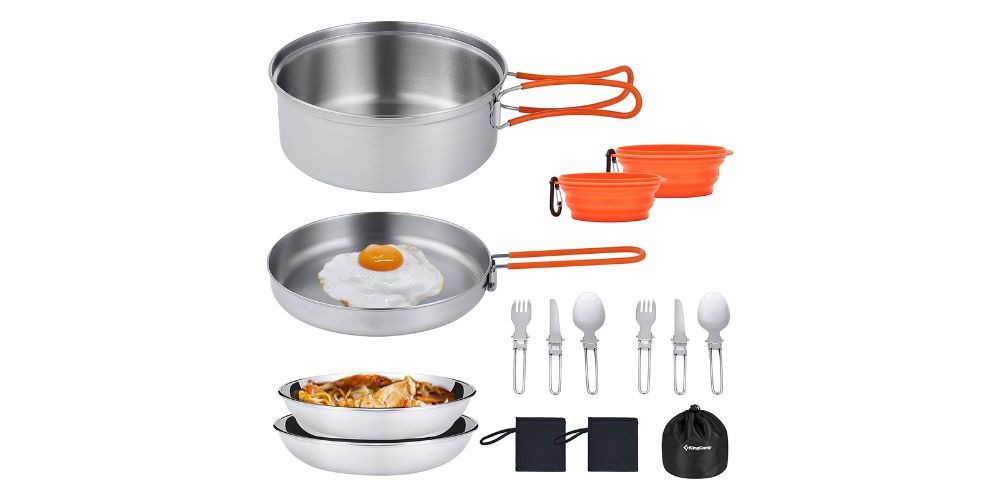 This all-in-one cooking set has everything you need to whip up delicious meals in the great outdoors, from pots and pans to a handy folding knife and fork. Crafted from sturdy stainless steel, this kit is built to last and withstands the rigors of outdoor adventures. And best of all, it's lightweight and compact, making it the perfect choice for hikers and mountaineers looking to pack light.
The handles of each pan are made of PVC, ensuring that they won't burn or melt even over an open flame. Plus, with two collapsible silicone bowls included, you can enjoy your meals without the hassle of bulky dishes taking up valuable space in your pack. And with the added bonus of being BPA-free, you can rest easy knowing that you're cooking and eating safely.
Best Cast Iron Campfire Cooking Kit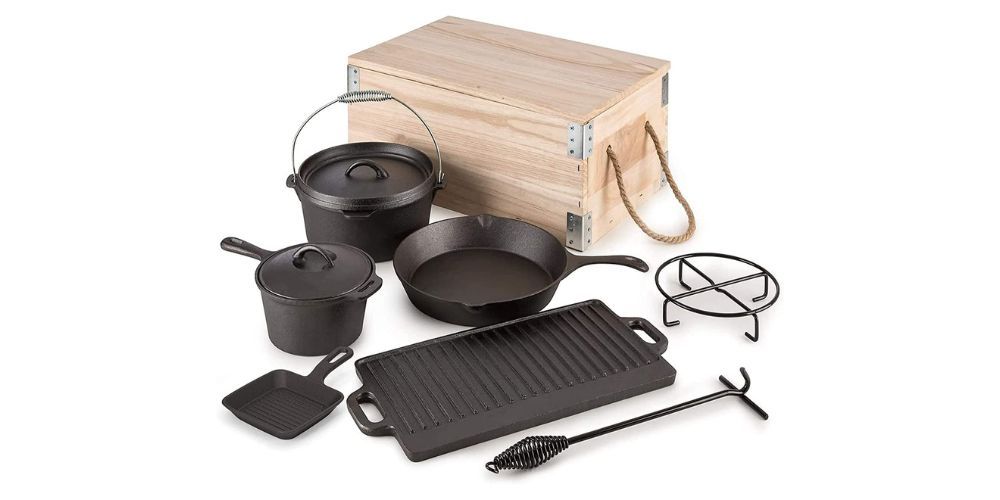 Made of high-quality cast iron, this 8 Piece Pre-Seasoned Dutch Oven Cooking Set is virtually indestructible and built to last a lifetime. It includes a 4.5qt dutch oven pot, a 2.1qt saucepot, a cast iron griddle pan with heat grooves and raised edge, a lid and pot lifter, a dutch oven stand, pan, frying pan, and even a wooden carrying storage box. The highlight of the set is the 4.5-quart casserole pot - perfect for feeding up to 7 people!
Equipped with an extra-high brim lid that allows holding coals on top for firing from above, this outdoor camping dutch oven pot can better collect heat and accelerate cooking effectively. Plus, the spiral stainless steel wire handle effectively prevents heat transfer so you don't have to worry about burning your hands.
Whether you're an outdoor enthusiast or just looking for durable cookware for home cooking, this set is perfect for stewing, simmering, roasting, frying, and braising over an open fire or campfire with burning ash.
Best Traditional Design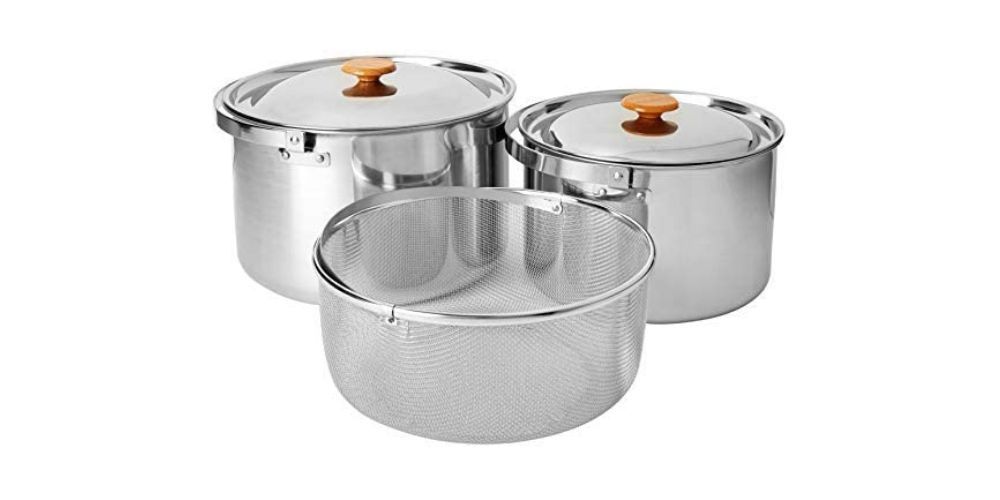 This cleverly named cookware set is designed to help you cook up a storm for large gatherings, whether you're cooking over a stove or an open flame. But this cookware set isn't just a one-trick pony. It's built to last, with two pots, two lids, and a mesh strainer that will survive even the most rugged outdoor conditions. Plus, it's made from stainless steel, making it the perfect travel companion for all of your camping, hiking, and backpacking trips.
But let's be real, it's not just about the practicality of the Al Dente Cook Set. It's also about the outdoor dining bliss that comes with cooking up a delicious meal in the great outdoors. And with its minimalist and elegant design, this cookware set is sure to elevate any outdoor dining experience.
And let's not forget the brand behind the Al Dente Cook Set: Snow Peak. With a historic manufacturing process that ensures quality and durability, you can trust that this cookware set will be a long-lasting addition to your outdoor gear collection.
So whether you're cooking for a crowd or just need a reliable cookware set for your next camping trip, the Snow Peak Al Dente Cook Set has got you covered. Get ready to cook up some seriously tasty outdoor meals!
Best Durable Campfire Cooking Kit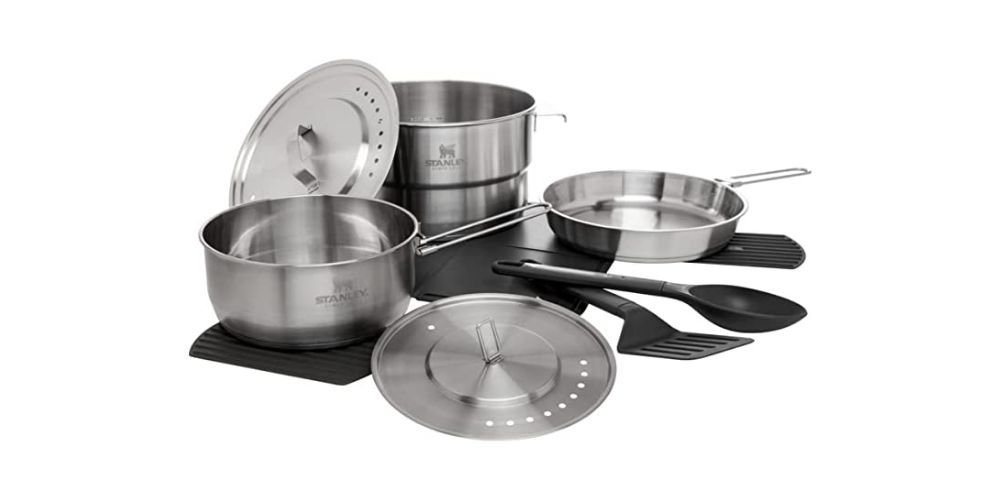 This 11-piece set is like having your own portable kitchen, ready to handle even the toughest of outdoor adventures. The even-heat design of this cook set is a game-changer. With its unique multi-layer bottom, your meals will be cooked evenly no matter what heat source you're using - be it a campfire, stovetop, or grill. And let's not forget about the heat-resistant plastic grips and cozy carrying handle that will keep your hands from getting burned.
This set is tough as nails, too. Made from 18/8 stainless steel, it can handle anything the great outdoors throws its way. And when it's time to clean up, just toss it in the dishwasher and it's good as new.
But the best part? This cook set is ultra-compact and perfect for on-the-go. The whole set nests together to save precious space in your pack, and it even comes with a collapsible cutting board, spatula, spoon, two trivets, and a locking bungee for added convenience.
And if you're looking for the perfect gift for the outdoorsman in your life, look no further than the Stanley Even-Heat Camp Pro Cookset. Whether it's for a special occasion or just because, this set is sure to impress even the pickiest of nature lovers.
Best Compact Campfire Cooking Set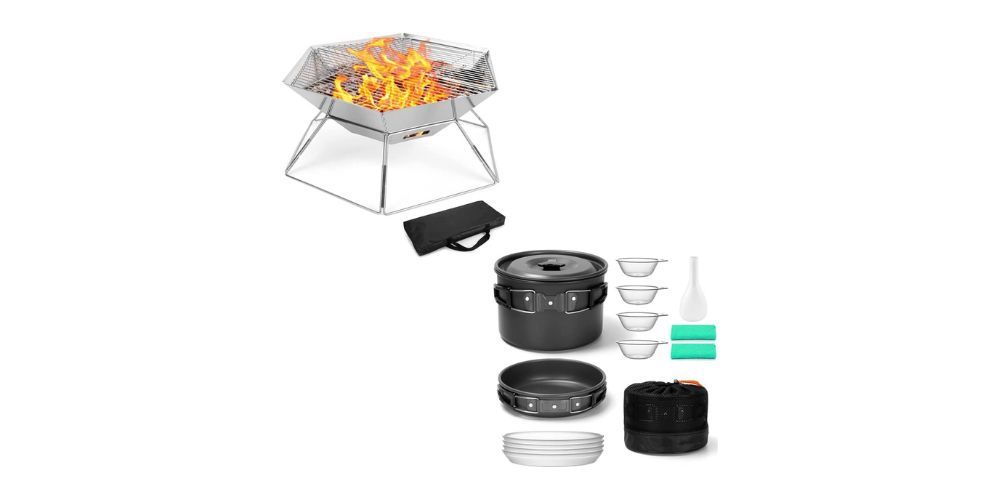 This two-piece bundle is a total game-changer, consisting of a folding campfire grill grate and camping fire pit, both made of premium 304 stainless steel for even heat distribution. But hold on to your hats because there's more! The bundle also includes a 14-piece camping cookware mess kit, which means you can whip up gourmet meals in the great outdoors without compromising on utensils. This kit has everything you need, including a pot, fry pan, food-graded PP plates and bowls, cleaning sponges, cooking ladle, and a carrying bag.
But what really sets this bundle apart is its multi-usage collapsible grill. It can be used as a campfire grill gate or a camping fire pit, making it incredibly versatile. Take it with you on an adventure into the great outdoors or use it for open-fire cooking. It's perfect for any occasion and makes a welcomed addition to your hiking accessories, camping cookware, bushcraft gear, or emergency survival kits.
And it's not just versatile, it's also incredibly easy to use. With only five parts, you can set it up or tear it down in under a minute. Plus, it measures 19.7"x19.7"x8.45" (LxWxH) when unfolded and 24.4"x10.6"x2" (LxWxH) when folded, making it easy to store and carry in the included carrying bag.
And let's not forget about the easy cleanup! The high-quality non-toxic anodized aluminum pot and pan are coated with a non-stick surface, making them easy to clean. Plus, they're built to last for a long time, so you won't have to worry about replacing them anytime soon. Each set has collapsible and insulated handles, so you won't have to deal with burnt hands while cooking.
Best Cooking Utensil Set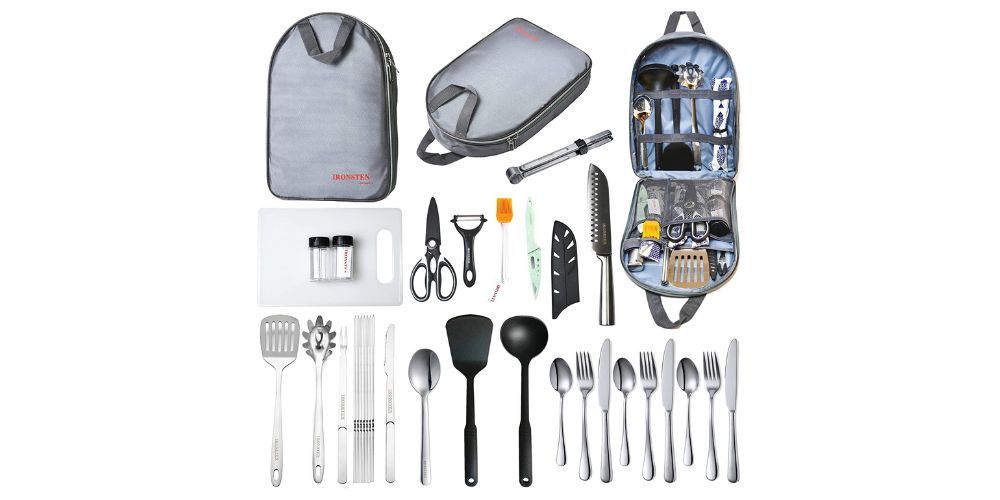 This incredible kitchen equipment set has everything you need to cook up a storm while camping, picnicking, or BBQ-ing. And the best part? It all comes in a handy portable picnic cookware kit bag that you can take with you anywhere.
But that's not even the most impressive part. Every single utensil in this set has been meticulously tested and improved to ensure that it's top-quality and easy to use. And when we say every utensil, we mean it! From stainless steel to nylon and silicone, every material used is food-grade and high-quality.
The convenience factor of this kit is off the charts. You won't have to worry about forgetting any essential utensils because this kit has it all. And according to one ecstatic reviewer, "This has come in very handy for camping. We don't have to worry about packing individual utensils, everything we need is right here. Better quality than expected!"
Trust us, this kitchen equipment set will be a game-changer for any camping, picnicking, or BBQ-ing adventure you have planned. Get ready to be wowed by the convenience, quality, and versatility of this amazing set!
Best Versatile Campfire Cooking Kit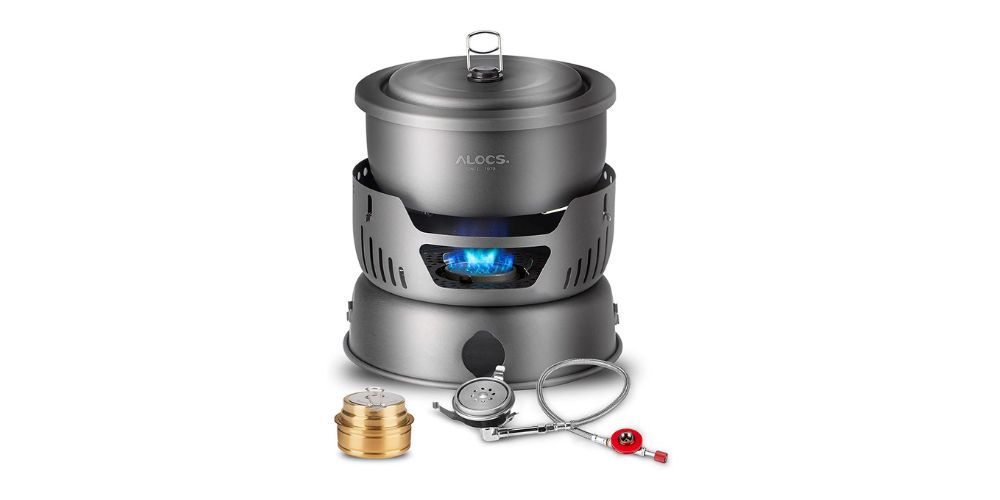 The Alocs Camping Campfire Cooking Equipment is a must-have for any adventurer out there. Whether you're trekking through the mountains or simply enjoying a picnic in the park, this set has got you covered.
Made from durable hard-anodized aluminum, stainless steel, and copper, this camping cookware set is designed to withstand the toughest outdoor conditions. Not only is it safe and healthy for cooking, but it's also scratch-resistant, highly heat-resistant, and oxidation-proof. And the best part? It heats up much faster than titanium, so you can get cooking in no time.
But that's not all. This set also includes an alcohol burner and gas stove accessories, making it a versatile cooking solution for any situation. And with a stable and secure plinth and a windshield that keeps wind interference at bay, you can cook your meals with ease and confidence.
Best Barrel Camp Stove Kit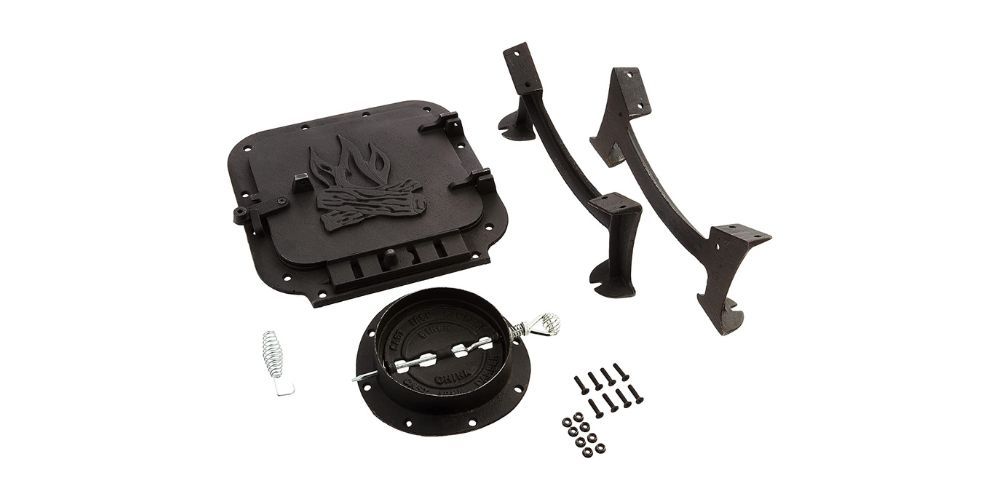 The ultimate camp stove kit that has everything you need to turn a 36 or 55 Gallon steel drum into a functional stove. The package comes with all the essential components, including legs, a door, a flue collar with a damper, and all necessary mounting hardware, making it the perfect solution for outdoor enthusiasts who love camping, hunting, or fishing.
It's important to keep in mind that while the package does include a 6-inch flue, installation materials like a floor protector, chimney connector, thimble, radiation shield, and flue are not included. So you'll need to gather those separately.
The BSK1000 is constructed of heavy-duty cast iron, yet it's lightweight and portable. And if you need a larger cooking surface, the camp stove is compatible with the BKAD500 double barrel adapter kit that can double the stove's size. Putting it together is a breeze, and you'll be ready to cook up a storm in no time.
Best Golf BBQ Tool Set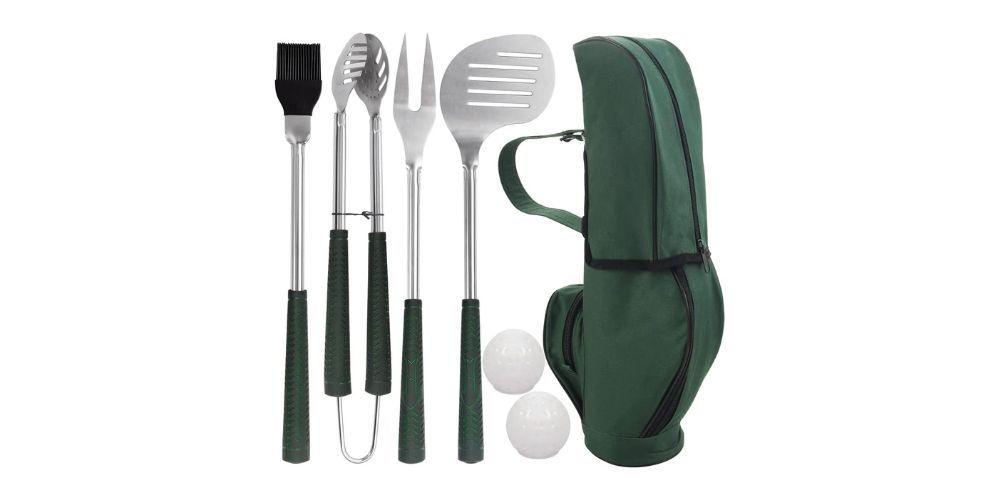 This amazing set includes not one, not two, but SEVEN top-of-the-line stainless steel grilling tools that are designed to withstand even the most intense grilling sessions. But that's not all, folks! These tools also come equipped with comfortable rubber handles to ensure a firm and comfortable grip while you grill.
Plus, they all fit neatly into a super convenient carrying bag that you can take with you on all your outdoor adventures, whether it be camping trips, picnicking, or a fun day at the beach! Impress your friends and family with this complete set of grilling utensils and be the talk of your next BBQ!
Best Collapsible Cutting Board and Knife Set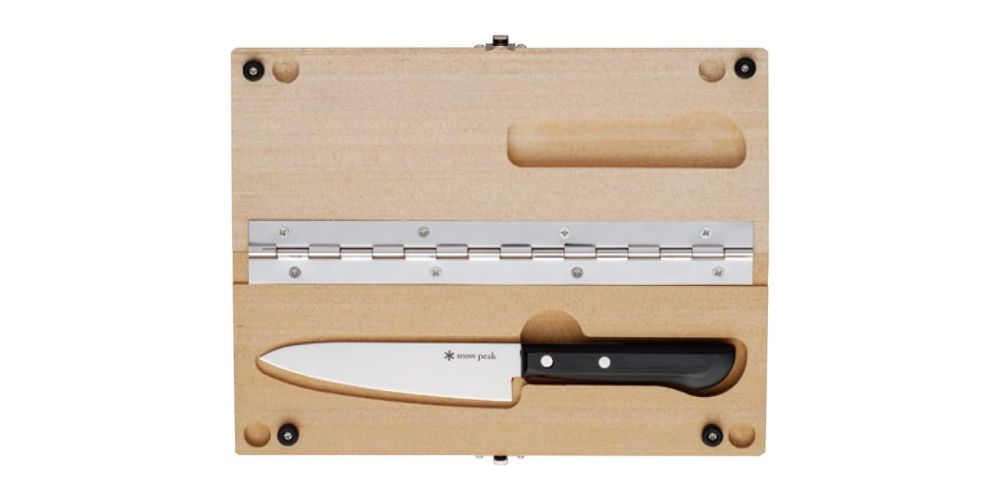 The set is incredibly lightweight and its foldable design allows for minimal space usage in your backpack. The cutting board is built with tough polypropylene, ensuring that it will last through multiple camping trips. The knife boasts a stainless steel blade that is sturdy enough to slice through any ingredient with ease. Whether you're preparing food at the campsite or cleaning up afterward, this set is a must-have for any outdoor chef.
Best Compact Stacking Design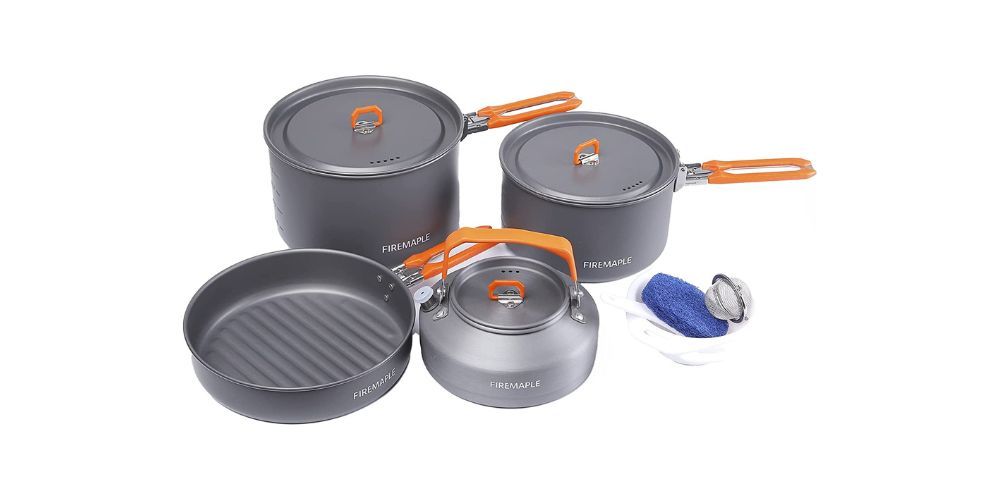 With 8 pieces included, this set can whip up delicious meals for up to 4 people. The hard anodized aluminum and stainless steel construction make it both lightweight and durable, perfect for any camping adventure. Plus, the non-stick surface makes cleaning up a breeze.
What really sets this set apart is its space-saving design. All pots and pans feature foldable locking handles, making them easy to store in the included mesh bag with drawstring closure. It only weighs 1014g, so it's ideal for backpacking trips or any adventure where space is at a premium.
Despite its compact size, this versatile set can handle all your cooking needs - from boiling water to making hearty soups. It's a must-have for anyone who loves spending time outdoors. So grab some friends (and maybe some marshmallows) and get ready to enjoy some delicious campfire meals with the Fire-Maple Camping Cookware Set!
Best Campfire Cooking Kit for 2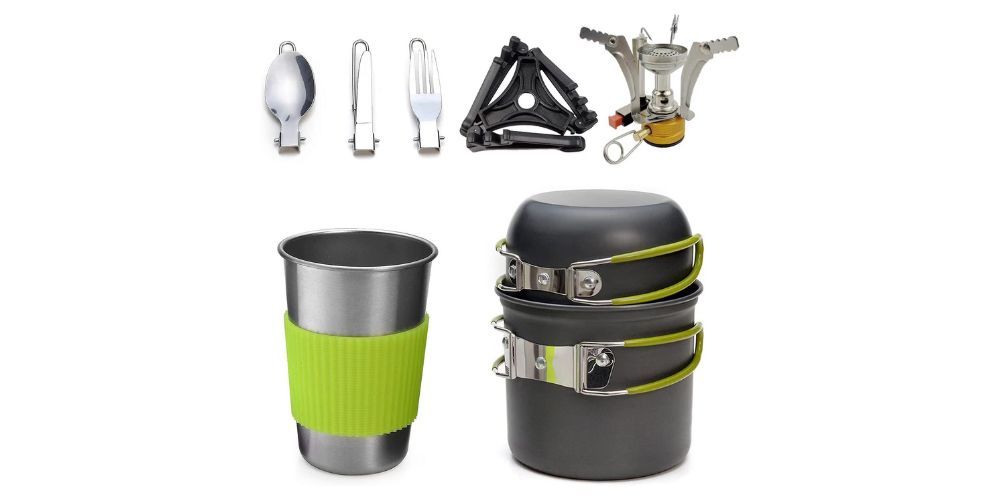 This kit is perfect for 1-2 people and makes boiling water and cooking outdoors a breeze. It comes with everything you need to whip up some delicious outdoor meals, including a mini stove, pots, pans, cups, spoons, knives, and forks.
The pot is made from durable metal aluminum that can withstand high temperatures and wear, thanks to its oxidation treatment. It also has a convenient plastic handle that is slip-resistant and prevents burns. The set includes a small and large pot, a stainless steel cup, a serving spoon, a fork, a knife, a mini stove, and a tank bracket, all packaged in a compact and portable design.
Best Campfire Cooking Kit for 3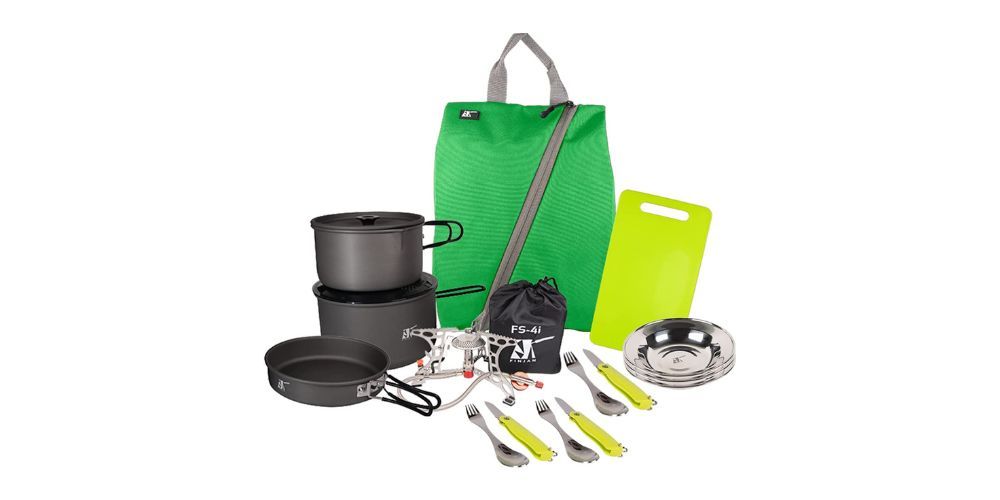 This comprehensive kit comes complete with a stove, pots, pan, knife, cutlery, plates, and even a soft case to store it all in. It's designed to be compact and easy to pack, so you won't have to sacrifice valuable backpack space for your cooking essentials.
Plus, the folding storage design makes it a breeze to transport from one adventure to the next. Whether you're setting out on a weekend camping trip or embarking on a long-term backpacking journey, the FINJAN Backpack Cooking Kit is the perfect solution for your needs.
Best Innovative Campfire Cooking Kit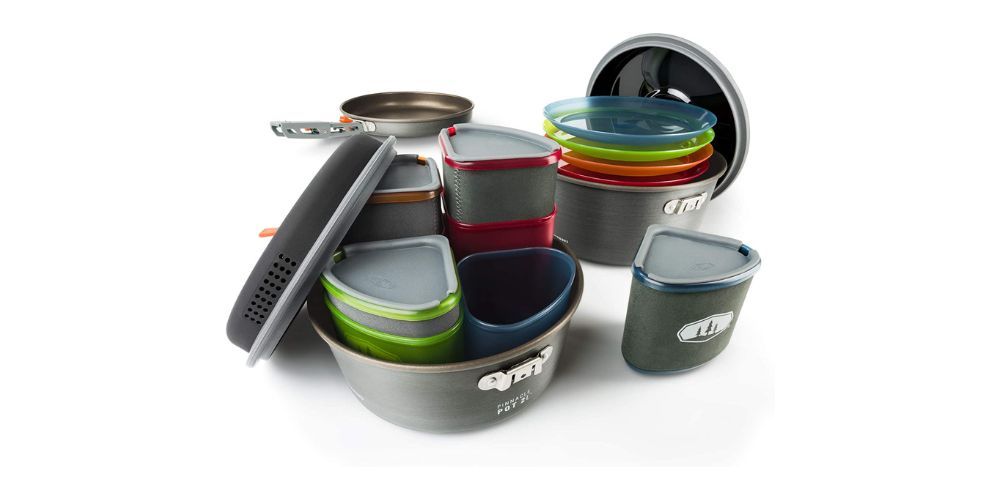 The GSI Outdoors Pinnacle Camper Cooking Set is an all-in-one solution that's perfect for your outdoor cooking needs. This versatile set comes with all the essentials you need to prepare delicious meals for 2-4 people, including a frying pan, two pots with lids, four insulated mugs, four bowls, four plates, and four sip-through lids.
The pots and pans have a Teflon coating that makes cleaning a breeze and ensures even heat distribution, while the mugs and bowls are made of lightweight and sturdy polypropylene. Plus, the entire set nests together for easy packing, making it a great option for car camping or backpacking.
No matter where your adventures take you, the GSI Outdoors Pinnacle Camper Cooking Set is the perfect addition to your gear collection, ensuring you can enjoy delicious and satisfying meals in the great outdoors.
Best Portable Camping Utensil Set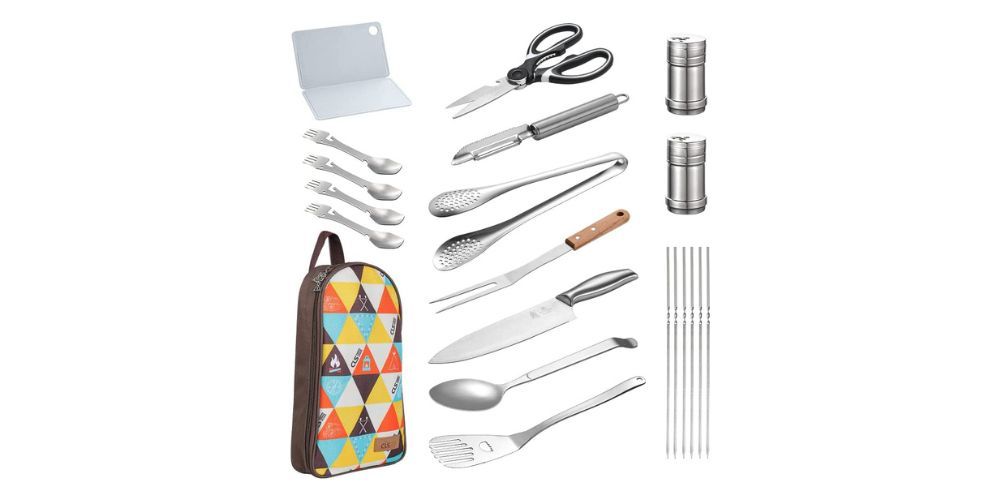 This camping utensil set is a real game-changer for all outdoor enthusiasts! With 21 pieces of high-quality and durable stainless steel utensils, you'll have everything you need to cook up a storm in the wilderness. Plus, the included carrying bag makes it easy to keep everything organized and ready to go for your next adventure.
Whether you're camping, backpacking, or RVing, this set is the ultimate solution for preparing delicious meals on the go. With its sturdy handles and reliable construction, you can trust that your cooking tools will withstand even the most rugged outdoor conditions.
Campfire Cooking Kits FAQ
What items are typically included in a campfire cooking kit?
Most campfire cooking kits include pots, pans, utensils, skewers, plates, bowls, and mugs. Some may also include other items such as matches and storage bags.
How should I store my campfire cooking kit?
To ensure that your camping gear stays clean and safe from dirt and other debris, it is best to store it in a dry place with a storage bag at room temperature. You can either store the items separately – such as in individual compartments of a bag or box – or keep them all together in one container.
What is the best type of fuel to use with my camping cookware?
The best type of fuel depends on the type of camping cookware that you have. For instance, some camping cooks prefer charcoal for their open-flame cooking needs, while others might opt for wood chips or even propane tanks. Be sure to read the instruction manual before using any fuel with your camping cookware.
Is the Campfire Cooking Kit safe to use?
Yes! All components are designed with safety in mind and made from premium quality materials that are durable and built to last. You'll find helpful instructions included with each kit so you can be sure that you're using all components correctly and safely.
Final Thoughts
Campfire cooking kits are essential for any outdoor chef. They provide you with everything you need to get the job done, from a durable pot to utensils and even adjustable grills. With one of the 20 best campfire cooking kits suggested in this article, you'll be able to cook anything from breakfast eggs to juicy steaks. So grab yourself a campfire cookware kit and start exploring your outdoor culinary skills! Don't forget to share your favorite campfire recipes or leave us a comment on how you enjoyed this article. Happy cooking!
Reviews in this blog post have been edited for clarity and/or length.
Comments