This post may contain affiliate links, please see our privacy policy for details.
Dive into the ultimate guide to swimming accessories and elevate your aquatic experience like never before! Whether you're a novice swimmer or an experienced competitor joining a competitive swimming, our comprehensive list of 21 must-have items will help you make a splash in style. From cutting-edge waterproof MP3 players that let you groove underwater to top-rated swim goggles for crystal-clear vision, we've got you covered. Say goodbye to uncomfortable swim gear and hello to a whole new world of innovative outdoor and indoor swimming accessories designed for maximum comfort, performance, and enjoyment. So, dive in and discover how these essential items can transform your time in the water!
Swim Goggles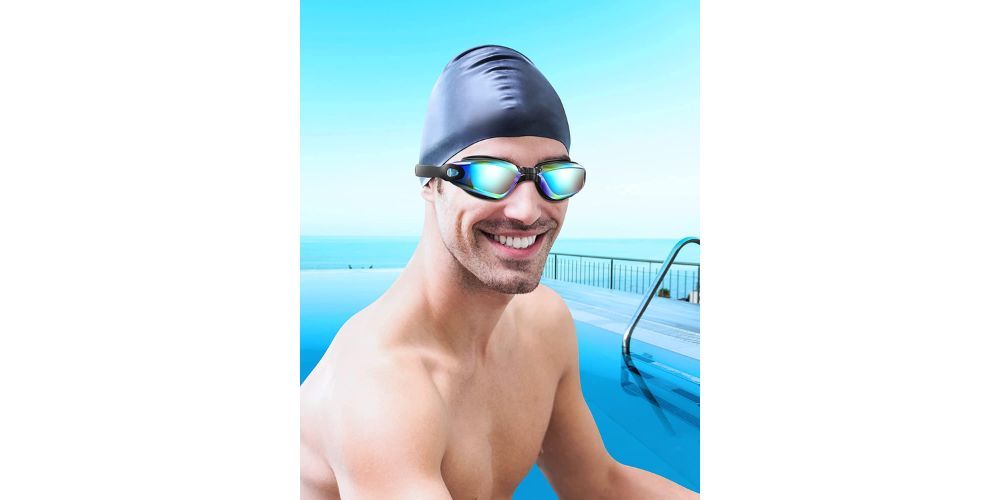 These Aegend swim goggles are designed to fit comfortably and prevent any leaking, making them an ideal choice for swimmers of all levels. With 180-degree visibility and an anti-fog coating, these goggles ensure that your vision remains clear and uninterrupted, allowing you to focus on your performance. They also come equipped with UV protection, making them the perfect choice for outdoor swims.
With over 42,000 verified five-star ratings and a 4.5-star average, the Aegend swimming goggles are an excellent choice for anyone looking to enhance their swimming experience. One satisfied customer even said that these goggles are "Great price, no leak, very comfortable."
Swim Caps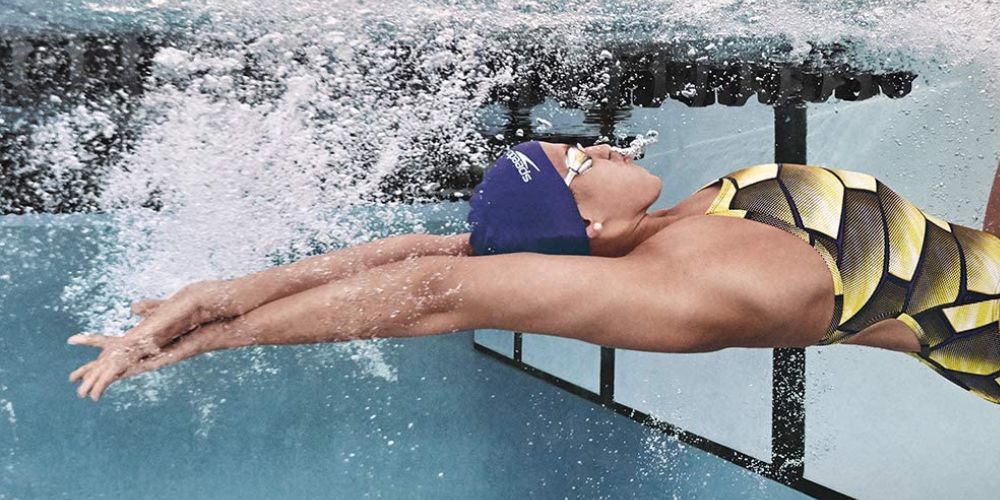 Made from high-quality silicone, this silicone swim cap is designed to provide a snug, comfortable fit for swimmers of all ages and skill levels. With its streamlined design and hair-protecting properties, this cap is perfect for regular swim sessions. Don't just take our word for it - with over 15,000 verified five-star ratings and a 4.3-star average, it's clear that the Speedo silicone swim cap is a highly popular choice among swimmers.
Swimming Nose Clips and Ear Plugs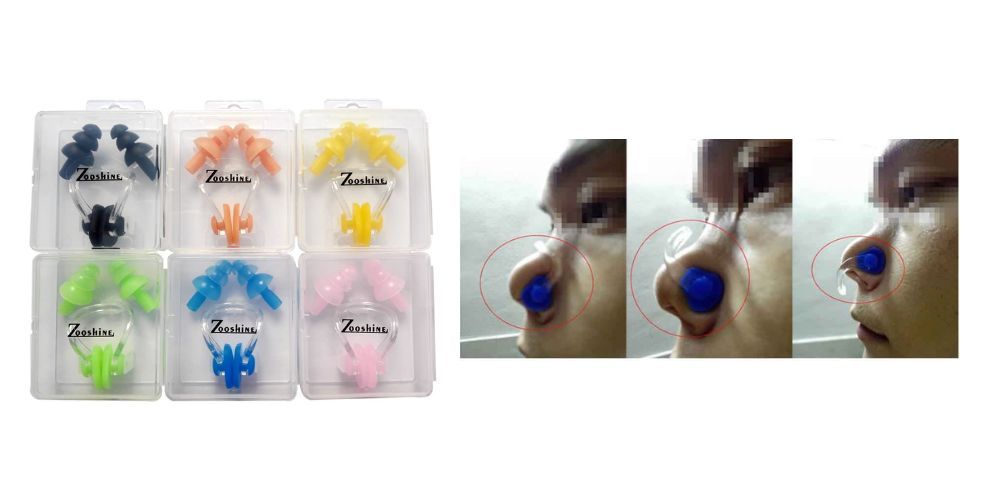 Stay comfortable and protected in the water with the swimming nose clip and ear plug set. These high-quality accessories are designed to provide a secure and comfortable fit, ensuring that water doesn't enter your ears or nostrils while swimming. The soft silicone material ensures a gentle yet firm seal, allowing you to concentrate on your swim without any distractions. With a 4.3-star average rating, swimmers appreciate the reliability and effectiveness of this swimming set. Customers are raving about the ' extreme value ' this clip has.
Waterproof MP3 Players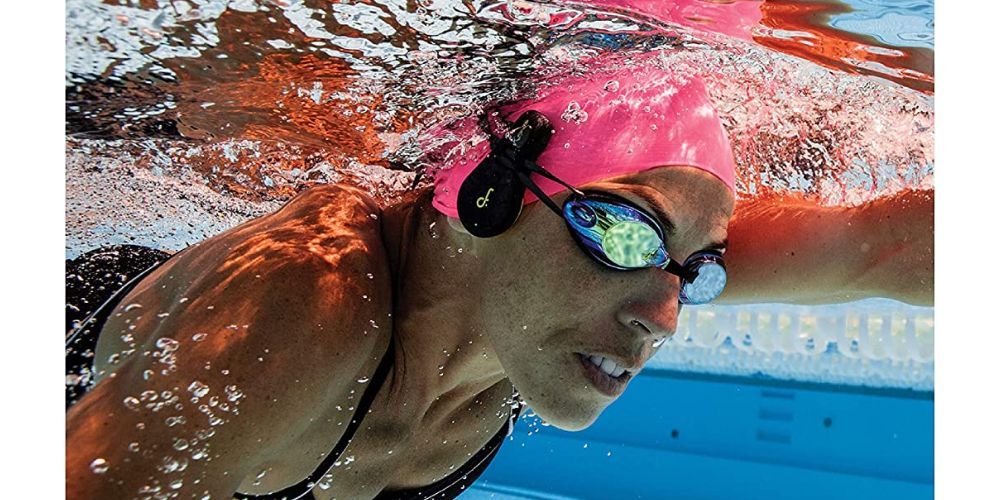 This innovative device uses bone conduction technology to deliver crystal clear audio without the need for traditional earbuds, making it the perfect companion for swimmers who love music. With its user-friendly interface and impressive 7-hour battery life, the Finis Duo is a must-have for aquatic music enthusiasts. One thrilled customer even raves, " Good rock music sound while swimming with silicone earplugs ".
Kickboards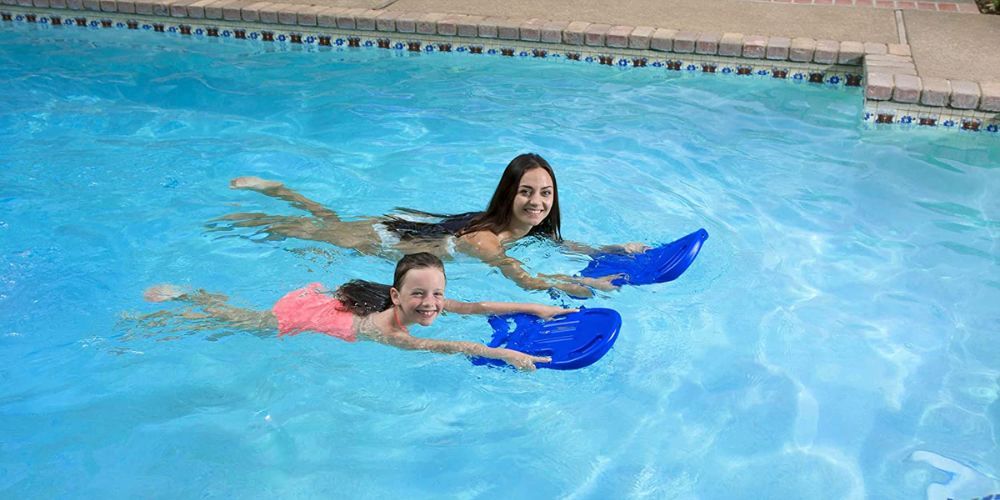 Master your kicking technique with the Poolmaster kickboard. This innovative kickboard not only helps you build lower body strength but also offers ergonomic hand placement for better body positioning. As one of the best swimming training equipment pieces available, swimmers of all skill levels can enjoy this top-notch swimming tool for beginners and experienced athletes alike.
Pull Buoys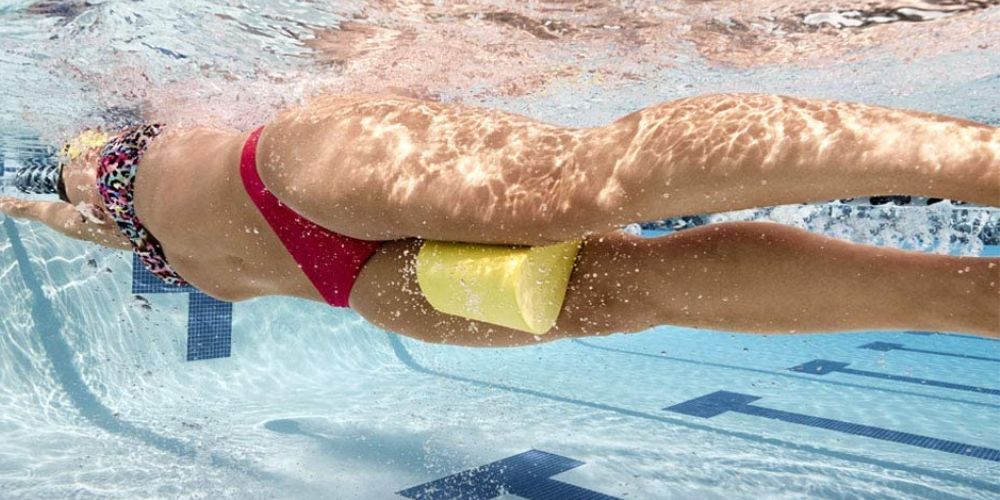 This versatile accessory is designed to help you improve your upper body strength and stroke technique by immobilizing your legs and encouraging proper body positioning. With over 5,300 verified five-star ratings and an impressive 4.7-star average, this Speedo pull buoy is the real deal as customers are saying that it works as advertised. Whether you're a beginner or a seasoned pro, you won't want to miss out on this top-rated swimming essential.
Swim Fins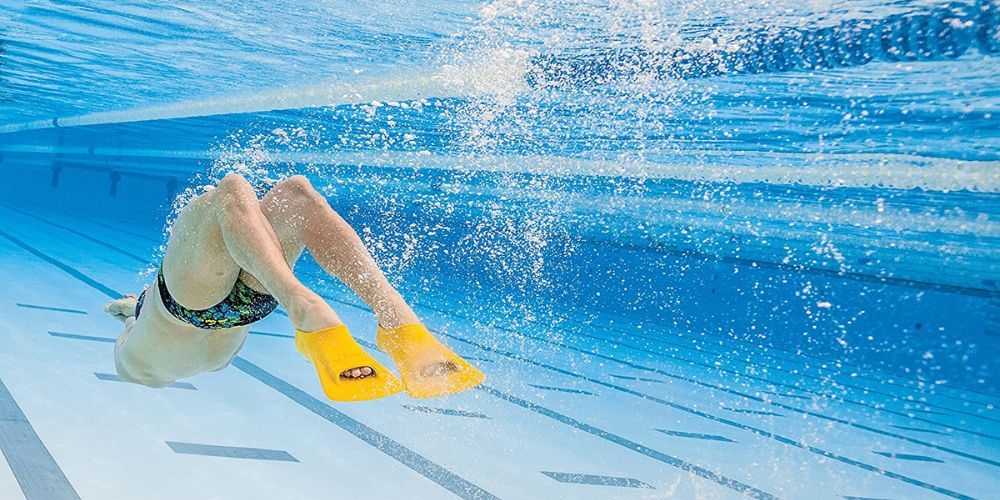 Transform your swimming sessions with the FINIS swim fins. Designed to boost leg strength and flexibility, these swim fins are perfect for both casual and competitive swimmers. With a 4.5-star average and over 2,100 verified five-star ratings, these swimming gears are adored by swimming enthusiasts. Ideal for swim training or lap swimming, the FINIS swimming fins prove that the best swimming gear can make all the difference in your performance.
Hand Paddles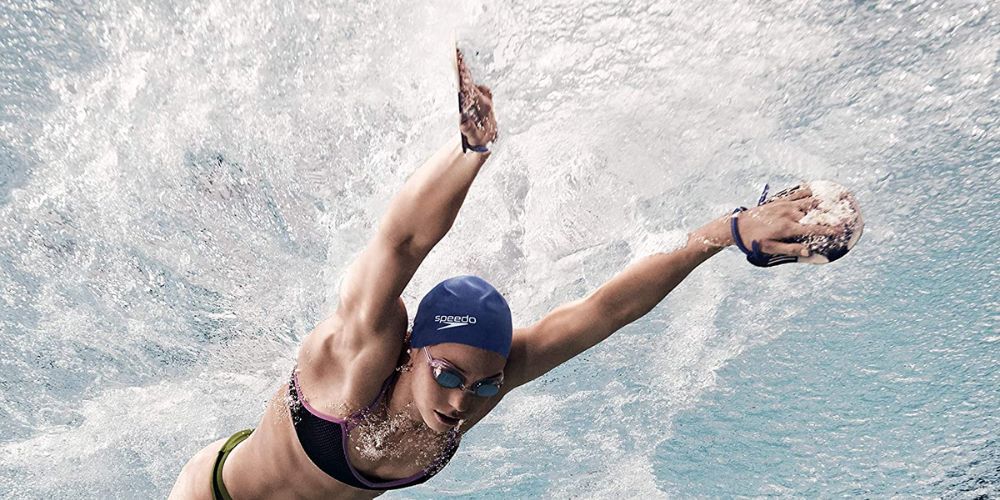 This innovative Speedo hand paddle is a must-have for any serious swimmer, helping to improve arm and shoulder strength while also enhancing stroke technique. With its unique contoured design and unbeatable water resistance, this top-of-the-line swimming training gear has earned a 4.6-star average rating and over 2,000 five-star reviews from verified users. Customers are also in love with how it ' helps with power and stroke development '.
Swim Snorkels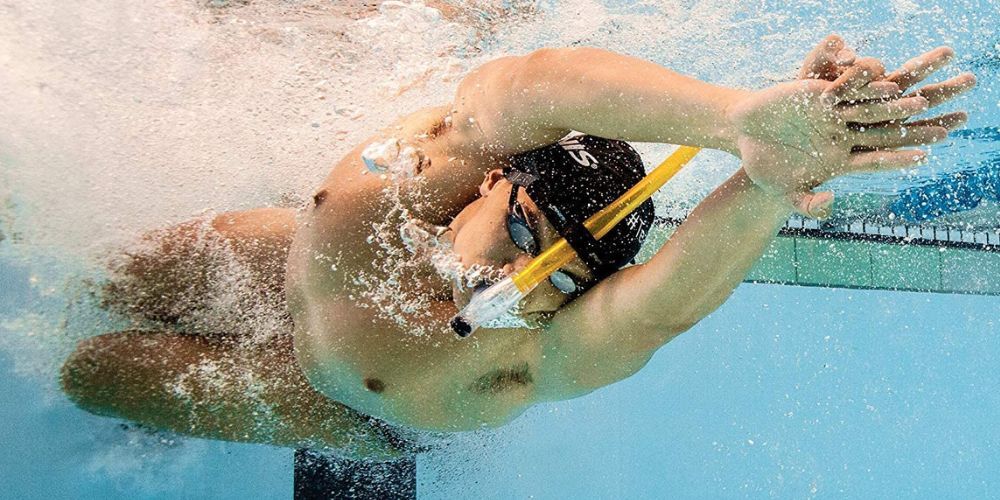 Breathe easier in the water with the FINIS swim snorkel, a top-rated swimming gadget that allows you to focus on your stroke technique without the need to turn your head to breathe. With its hydrodynamic design and comfortable head bracket, this swimming training tool is perfect for swimmers of all levels. Boasting a 4.5-star average and over 2,500 verified five-star ratings, the FINIS snorkel is a must-have swimming accessory for any aquatic athlete for their swimming laps.
Mesh Swim Bags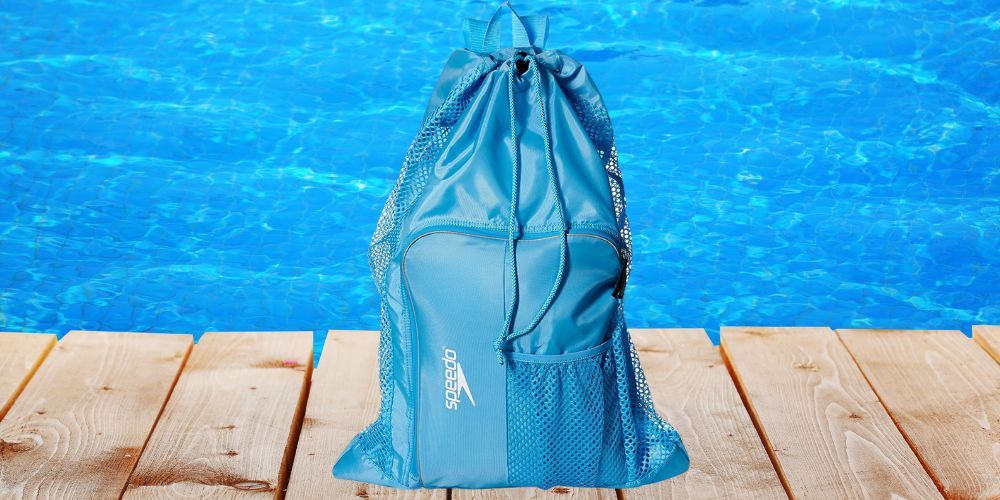 Say goodbye to soggy and smelly gear with this spacious and durable mesh swim bag. It features multiple compartments and ventilated material to ensure your gear stays fresh and ready for your next swim session. With over 6,800 verified five-star ratings and a 4.7-star average, the Speedo Deluxe Ventilator Mesh Bag is the top choice for both casual and competitive swimmers. Don't settle for anything less than the best swim gear for your aquatic adventures. One customerwrote "This bag is great and fits everything my teenager needs for swim practice! Glad I made this purchase. Fantastic find."
Waterproof Watches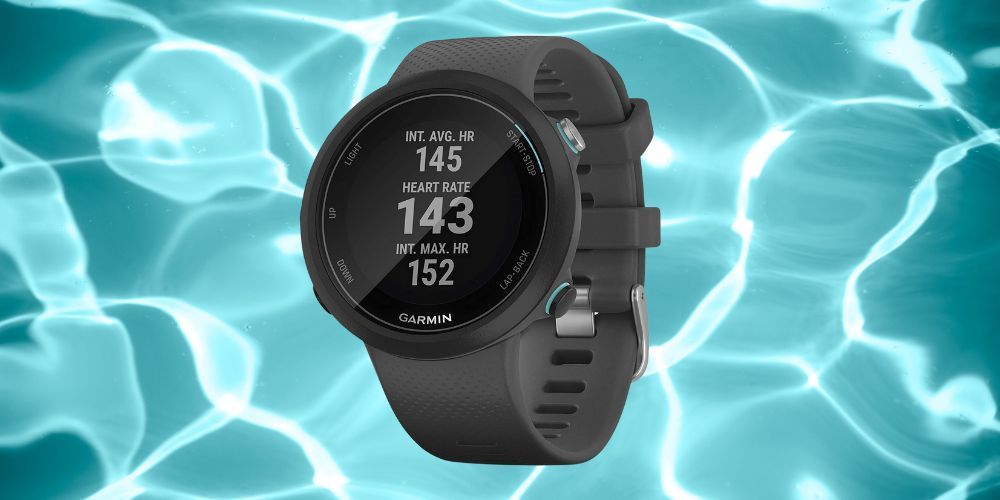 This cutting-edge piece of swimmers wear tech will help you monitor your progress in the pool like never before, keeping track of your distance, pace, stroke count, and much more. Whether you're a serious swimmer looking to improve your performance or simply want to keep tabs on your swimming goals, the Garmin Swim 2 has got you covered. Waterproof, durable, and packed with features, it's the perfect choice for both pool swimming accessories and open-water adventures. One customer also said " I swim three days a week and it accurately records the data!! "
Pool Floats and Inflatables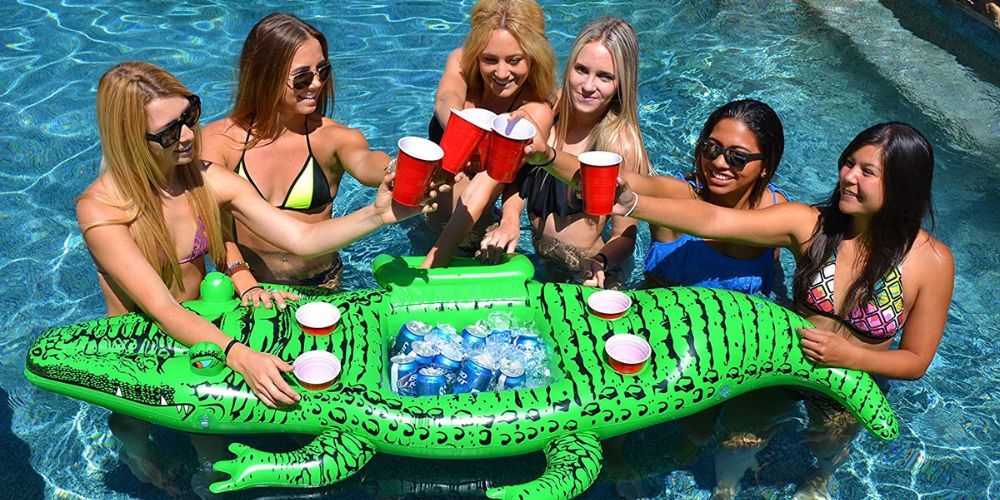 This alligator float is over 6 feet long and features multiple cup holders and a built-in cooler to keep your drinks chilled while you soak up the sun. With its stable design, this floating alligator is perfect for relaxing and socializing in the water, making it the perfect accessory for any pool. With a 4.2-star average rating, it's no wonder swimmers everywhere are making the Party Gator their top pick for cool pool gadgets. Dive into fun and order yours today!
Swim Training Aids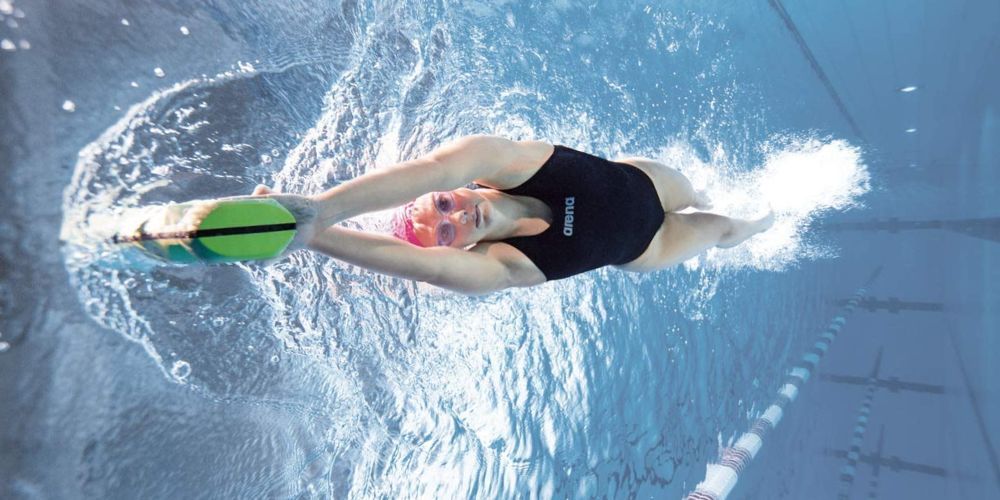 Master your swim stroke technique and enhance your swimming workouts with the Arena swim keel training aid, a versatile swimming training tool that can be used as a kickboard, pull buoy, or stability trainer. Perfect for swimmers of all levels, this innovative piece of swim training equipment helps improve body alignment, core strength, and stroke technique. With a 4.5-star average rating, the Arena swim keel is one of the best swimming training tools available. Don't just take our word for it, one customer said that this is a "pool tool like no other ".
Swimming Towels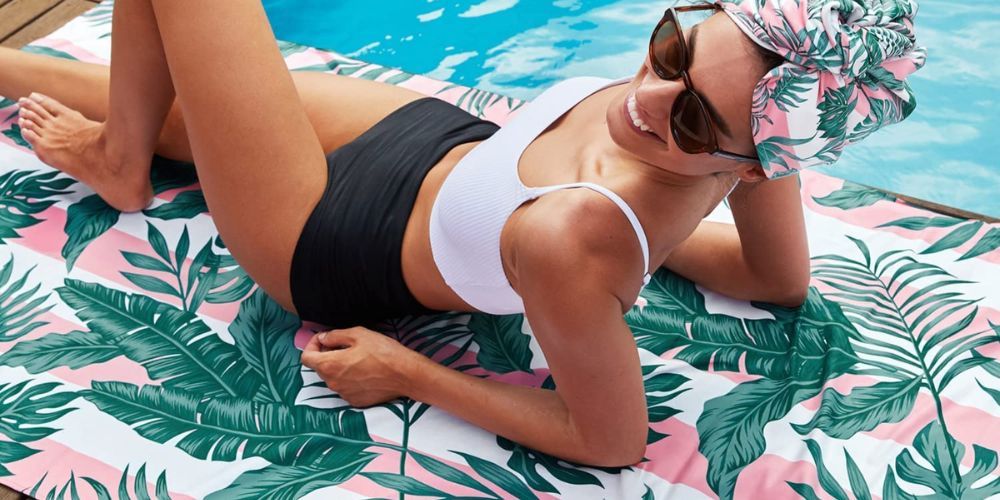 Made from 100% recycled materials and featuring a beautiful botanical design, this Dock and Bay towel is not only eco-friendly but stylish too. With an extra-large size of 200x90cm, you'll have plenty of room to dry off after your swim. And the best part? Its sand-free design means you can leave the beach at the beach! With over 2,800 verified five-star reviews, the Dock & Bay towel is a must-have accessory for any swimmer. Pack it in the included bag and take it with you wherever you go.
Swim Diapers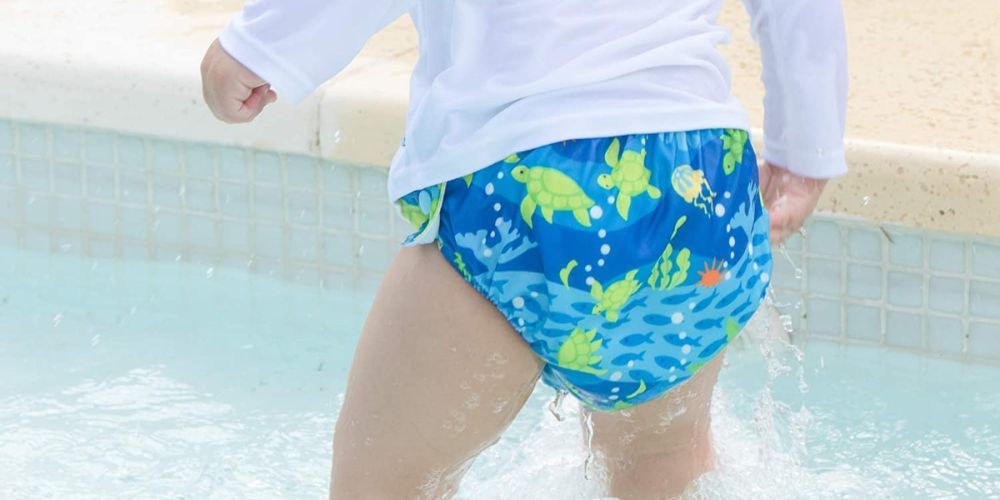 Are you planning a family beach day or taking your little ones to the pool? Keep them comfortable and protected in the water with a reusable swim diaper! Made from a soft, waterproof outer layer and an absorbent inner layer, this swim diaper is perfect for infants and toddlers. It's not only comfortable and easy to use, but also eco-friendly and budget-friendly since it's reusable! One customer is in love and even gushed "Great quality and product arrived quickly. Fits perfectly."
Life Vests and Floaties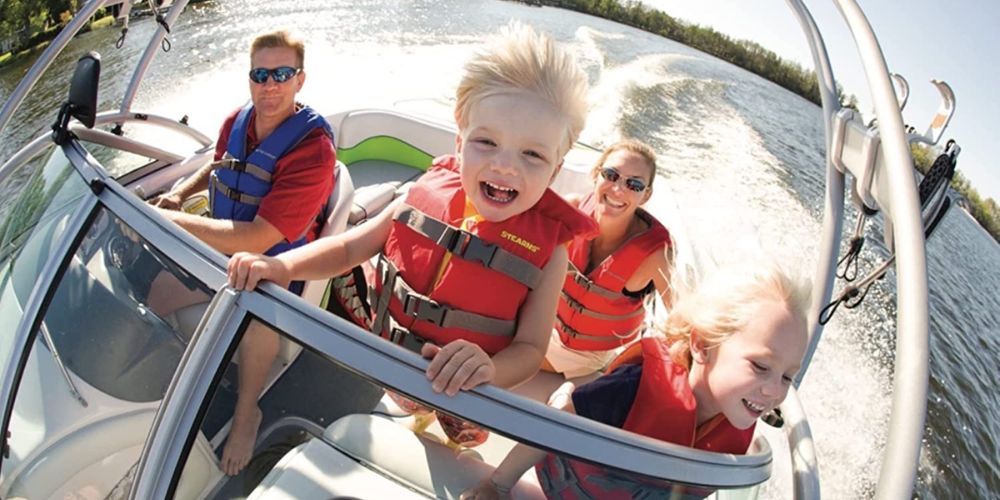 This US Coast Guard-approved life vest is perfect for adults who want to swim or participate in water sports with peace of mind. With its durable nylon shell, adjustable straps, and secure buckle closure, this life vest is designed to provide both comfort and security. And with over 6,200 verified five-star ratings and an impressive 4.6-star average, you can trust that Stearns life vest is a top-rated choice among swimmers.
Underwater Cameras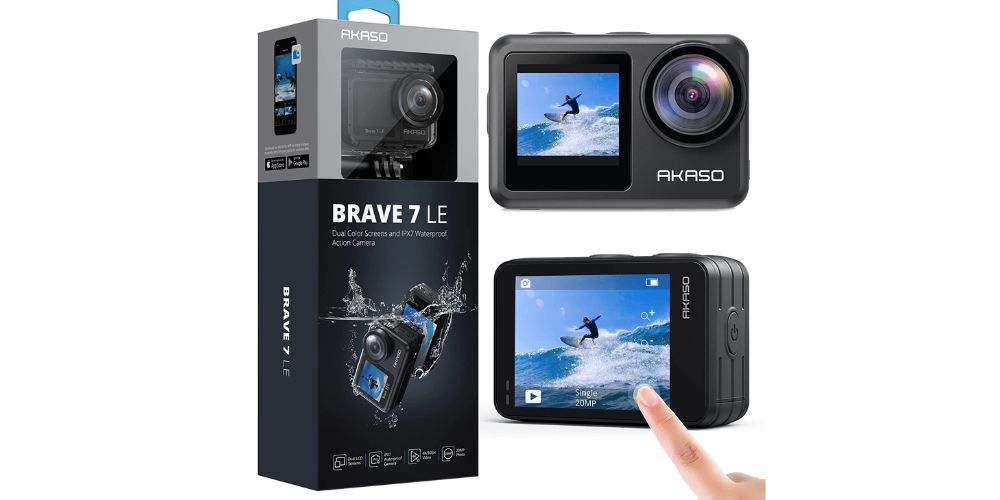 With its stunning 4K30FPS video quality and 20MP image capture, AKASO action camera delivers crystal-clear footage and stunning stills every time. And with a waterproof design that can withstand depths of up to 131 feet, you can take it with you on any water-based activity - from snorkeling and swimming to surfing and diving. Plus, with built-in Wi-Fi, you can easily share your memories with friends and family. Don't just take our word for it - one five-star reviewer is saying " Super value on a high-quality action camera "
Pool Games and Toys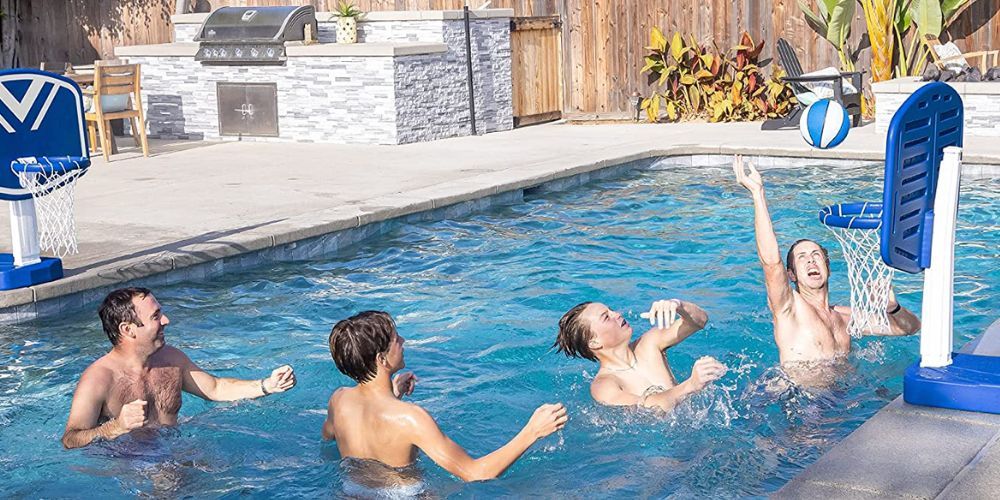 Looking for a fun and exciting way to take your outdoor swimming parties to the next level? Look no further than a water volleyball set! Perfect for all ages, this complete set comes with everything you need for hours of entertainment in the sun. With a floating net, sturdy posts, and a top-of-the-line volleyball, this set is sure to be a hit with your family and friends. And with a stellar 4.8-star average rating, it's no wonder that so many people are raving about it.
Swim Robes and Cover-ups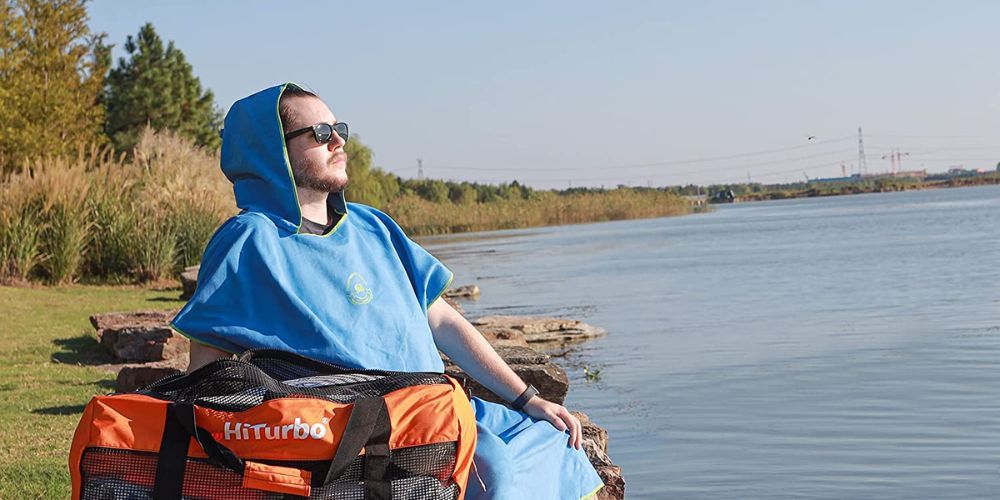 Stay warm and stylish before and after your swim sessions with the microfiber bathrobe, a versatile swim robe, and a cover-up designed for swimmers of all ages. Made from microfiber fabric, this swim robe is the perfect solution for those chilly days at the pool or beach. It provides ample warmth and coverage when you need it most, so you can focus on enjoying your swim. And with a 4.6-star average rating, it's clear that this swimming towel poncho is a beloved swimming accessory that offers both comfort and function.
Swim Safety Equipment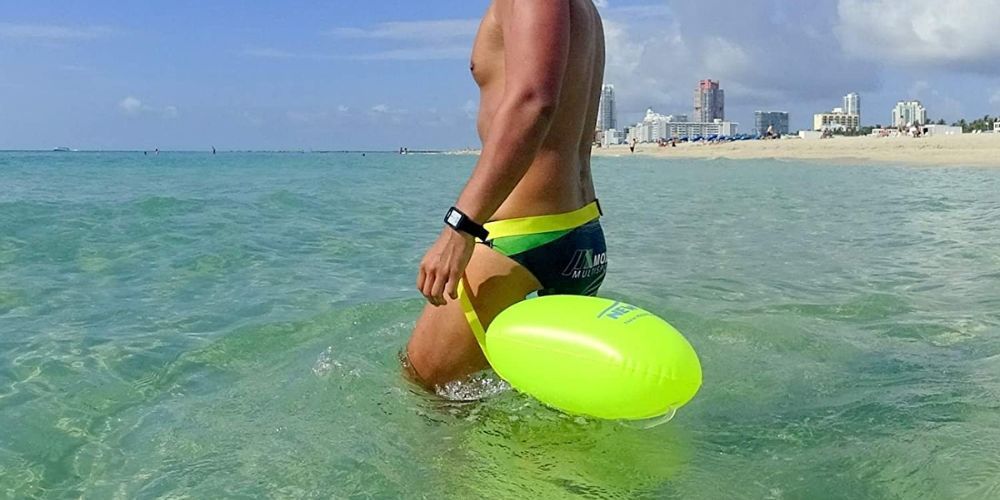 This brightly colored, inflatable swim buoy is a game-changer for swimmers who want to stay safe while enjoying their aquatic adventures. The New Wave swim bubble is lightweight and easy to use, making it the perfect accessory for all levels of swimmers. With over 1,000 verified five-star ratings and a 4.7-star average, this buoy is a fan favorite among safety-conscious swimmers. Don't take any risks when it comes to your safety in the water.
Sunscreen and Skincare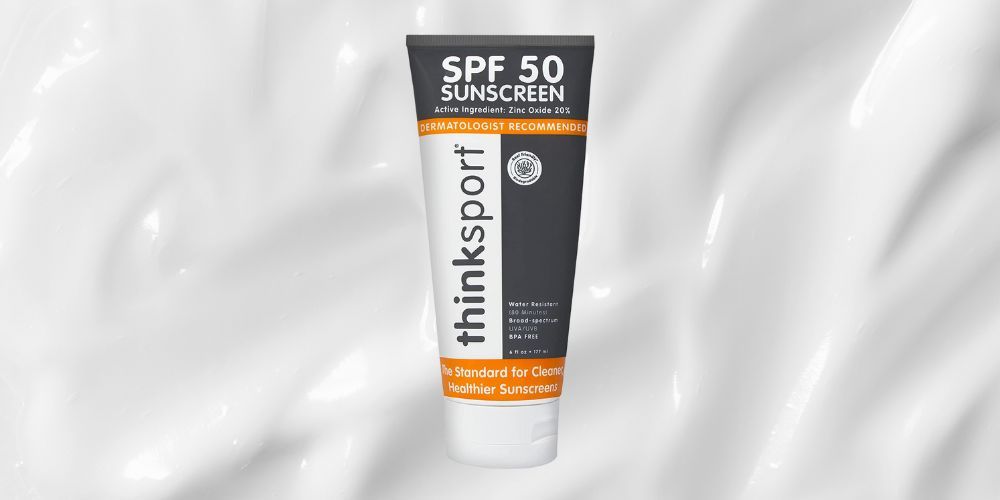 Finally, safeguard your skin and stay protected under the sun with Thinksport SPF 50+ Mineral Sunscreen. This broad-spectrum, water-resistant sunscreen is formulated specifically for athletes, ensuring long-lasting protection during your swim sessions. Made with non-toxic, reef-safe ingredients, Thinksport sunscreen not only protects you but also cares for the environment. With 4,700 verified five-star ratings, this sunscreen is a top pick for swimmers who prioritize both skin health and environmental responsibility.
Swimming Accessories FAQ
What is swim gear?
Swim gear refers to any equipment or clothing items that are specifically designed for use in swimming or water-related activities. This can include things like swimsuits, swim caps, goggles, swim fins, snorkels, earplugs, nose clips, swim paddles, and kickboards, among others.
Each type of swim gear is designed to serve a specific purpose, such as improving buoyancy, increasing speed or endurance, reducing drag, or providing protection against the elements. Swim gear can be used by swimmers of all levels, from beginners to olympic swimmers, and is an essential component of any successful swimming experience.
Where to buy swim gear?
There are many places where you can buy swim gear, both in-person and online. Here are a few options to consider:
Sporting goods stores - Many sporting goods stores, such as Dick's Sporting Goods, REI, and Academy Sports + Outdoors, carry a wide selection of swim gear.
Swim specialty stores - There are many stores that specialize in swim gear, such as SwimOutlet, SwimLabs, and Swim 'n Sport. These stores often have a larger selection of swim gear and knowledgeable staff who can help you find the right products for your needs.
Department stores - Many department stores, such as Macy's, Nordstrom, and Target, carry a selection of swim gear during the summer months.
Online retailers - There are many online retailers that specialize in swim gear, such as SwimOutlet, Swimwear365. Online shopping like Amazon.com can be a convenient way to shop for swim gear, as you can browse and compare products from the comfort of your own home.
No matter where you choose to buy your swim gear, be sure to read product reviews and check the return policy before making a purchase. This can help ensure that you are happy with your purchase and can return it if necessary.
What is the basic equipment in swimming?
The basic equipment needed for swimming includes:
a. Swimsuit - This is the most important piece of equipment for swimming. A good swimsuit should fit well and allow for freedom of movement.
b. Goggles - Goggles protect your eyes from chlorine and help you see underwater. There are many different types of goggles available, so be sure to choose a pair that fits well and is comfortable.
c. Swim cap - A swim cap helps keep your hair out of your face and protects it from chlorine. It also helps reduce drag in the water, which can improve your speed.
d. Towel - A towel is used to dry off after swimming. Choose a towel that is absorbent and large enough to wrap around your body.
e. Flip-flops or sandals - These are useful for walking around the pool deck and shower areas.
f. Optional equipment - Depending on your needs and preferences, you may also want to consider additional equipment such as swim fins, kickboards, snorkels, or earplugs.
These are the basic pieces of equipment needed for swimming. As you become more advanced, you may want to invest in additional equipment to improve your performance and enhance your swimming experience.
What are good swimming tools for beginners?
For beginners, there are several swimming tools that can be very helpful in learning how to swim and improving your technique. Here are some good swimming tools for beginners:
Kickboard - A kickboard is a foam board that you hold onto while kicking with your legs. It can help you improve your leg strength and technique.
Pull buoy - A pull buoy is a foam device that you place between your legs to help you focus on your upper body technique while swimming.
Swim fins - Swim fins can help improve your leg strength, speed, and body position in the water. They can also be used for different types of drills and exercises.
Hand paddles - Hand paddles are small plastic or foam devices that you wear on your hands while swimming. They can help improve your arm strength and technique.
Snorkel - A snorkel is a device that allows you to breathe while your face is in the water. It can help you focus on your swimming technique without worrying about breathing.
Pool noodle - A pool noodle is a foam floatation device that can be used for support and balance while swimming.
These swimming tools can be used by beginners to improve their technique and build strength and endurance in the water. However, it is always important to consult with a swimming instructor or coach to determine which tools are best for your specific needs and goals.
What brands are popular for swimming?
There are many brands that are popular for swimming, and the choice often depends on personal preference and the type of swimming you're planning to do. Here are some of the most popular swimming brands:
Speedo: Speedo is one of the most popular swimming brands, known for its quality swimsuits, swim caps, and goggles.
TYR: TYR is a popular brand that specializes in competitive swimwear, such as racing suits and triathlon gear.
Arena: Arena is a popular brand that offers a wide range of swimsuits and accessories for both competitive and recreational swimmers.
Adidas: Adidas is a popular sports brand that offers a range of swimsuits, swimwear, and accessories.
Nike: Nike is another popular sports brand that offers a range of swimsuits and swimwear, as well as swimming accessories.
Zoggs: Zoggs is a popular brand that offers a range of swimsuits and swimming accessories, especially for recreational swimmers.
Dolfin: Dolfin is a popular brand that specializes in competitive swimwear, including racing suits and training gear.
Ultimately, the choice of the brand will depend on your personal preferences, budget, and the specific needs of your swimming activity.
Final Thoughts
Whether you're a beginner or an experienced swimmer, having the right swim equipment can enhance your aquatic experience and help you perform at your best. From swim caps to snorkels, there are many essential accessories that can improve your comfort, safety, and performance in the water. By investing in the must-have swimming accessories mentioned in this guide, you can be well-prepared for any aquatic adventure and make the most out of your time in the water.
Reviews in this blog post have been edited for clarity and/or length.
Comments