This post may contain affiliate links, please see our privacy policy for details.
Are you tired of rummaging through your closet in search of that perfect purse for your outfit? Or perhaps, you've accidentally squashed a bag or two in your quest for the organization? Worry no more! We've got the ultimate guide to help you achieve a clutter-free closet and showcase your fabulous purse collection in all its glory. Purse organization is not only essential for easy access to your bags but also helps maintain their shape and longevity. By maximizing your closet space, you can transform it into a haven for your precious purses, making it a breeze to locate the right one for any occasion.
How to Organize Purses in Your Closet: 5 Transformative Approaches
Looking for ways to tidy up your closet and put an end to the frustration of searching for a matching purse? Look no further than our ultimate guide to purse storage ideas! With five transformative approaches, you'll discover how to keep your purse collection organized and visually appealing. Say goodbye to the cluttered chaos of your closet and hello to a harmonious space where your purses can truly shine. Follow our expert tips and transform your purse storage game today!
Categorize by Size, Color, and Usage
The first step in organizing your purses is categorizing them by size, color, and usage. Arrange your purses from small clutches to large tote bags, and group them by color to make them easily accessible. Additionally, separating your everyday purses from those used for special occasions can save you time when choosing the right purse for an event.
Utilize Clear Storage Bins and Display Shelves
Incorporating clear storage bins and display shelves into your closet is a game-changer. Clear bins allow you to see the contents easily, while shelves provide a dedicated space for each purse. By keeping your purses in a designated spot, you'll avoid damage, dust, and clutter, ensuring your collection remains in top-notch condition.
Employ Hanging Organizers and Purse Hangers
Maximize your vertical closet space with hanging organizers and purse hangers, ensuring that there is enough space to maintain the shape of your purses. To keep them upright on shelves, fill purses with tissue paper, dust bags, and/or t-shirts. These storage solutions help to keep your purses off the floor and easily accessible, while also preventing them from losing their shape. Choose from a variety of options such as over-the-door organizers, hanging pocket organizers, or specialized purse hangers that can be attached to your closet rod.
Create Custom DIY Solutions
For those who love a little DIY project, creating custom purse storage solutions can be a fun and rewarding process. Experiment with repurposing items like magazine holders, pegboards, or tension rods to design a unique and functional space for your purses. Customizing your storage allows you to tailor it to your specific needs, making your closet organization even more efficient.
Adopt a Minimalist Mindset
Finally, adopting a minimalist mindset can do wonders for maintaining an organized purse collection. Periodically declutter and evaluate your purses, keeping only those that you truly love and use. By letting go of excess, you'll create a visually appealing and clutter-free closet that makes selecting the perfect purse a breeze.
Our Favorite Closet Purse Organization Ideas
Embark on a journey with us as we unveil 14 brilliant ideas designed to effortlessly organize your purses, catering to a diverse array of needs and tastes. Without further ado, let's transform your closet chaos into a meticulously organized haven!
Over-the-Rod Hanging Organizers
Over-the-rod hanging organizers are designed to slide effortlessly onto your closet rod, offering an excellent solution for purse storage without taking up valuable floor space. These organizers come in various styles and materials, providing ample space for your purses while keeping them within easy reach.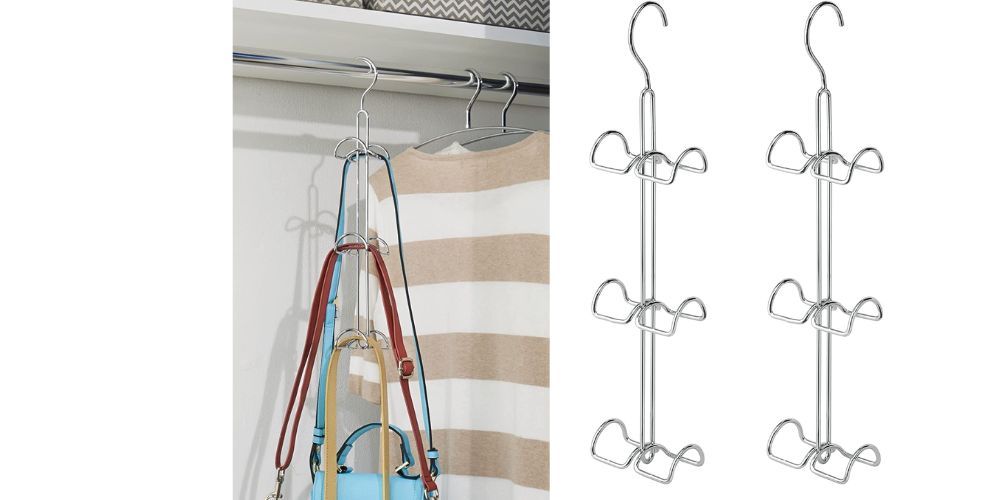 Do you have a purse addiction that's taking over your closet space? Don't worry, we've got you covered! Introducing the mDesign organizer, the ultimate solution for storing and organizing your purses, backpacks, satchels, crossovers, and handbags. With its 18 sturdy hooks, this metal wire organizer rack can easily slide over your closet rod, providing ample storage without taking up any precious floor space. With a 4.6-star average and 4,100+ reviews, customers are raving, " I like the sturdiness and quality of this product! I am very satisfied with my purchase "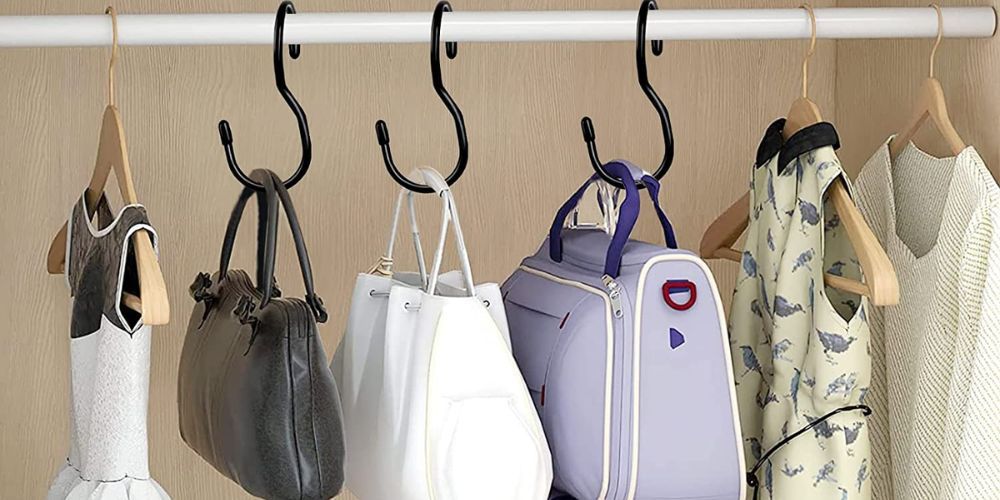 These stylish and functional hooks are a must-have for any fashionista looking to keep their purses, belts, scarves, hats, clothes, and even pans, and pots in check. With a unique twist design and a sleek black finish, they add a touch of elegance to any closet. Whether you're a collector or just looking for a better way to organize your accessories, these purse hangers are the perfect solution. One satisfied customer even said that this hanger is 'life-changing. '
Over-the-Door Organizers
If you're working with limited closet space, over-the-door organizers are a lifesaver. These space-saving solutions typically feature multiple pockets or hooks that can hold your purses while hanging conveniently over any standard door. Say goodbye to cluttered floors and hello to organized bliss!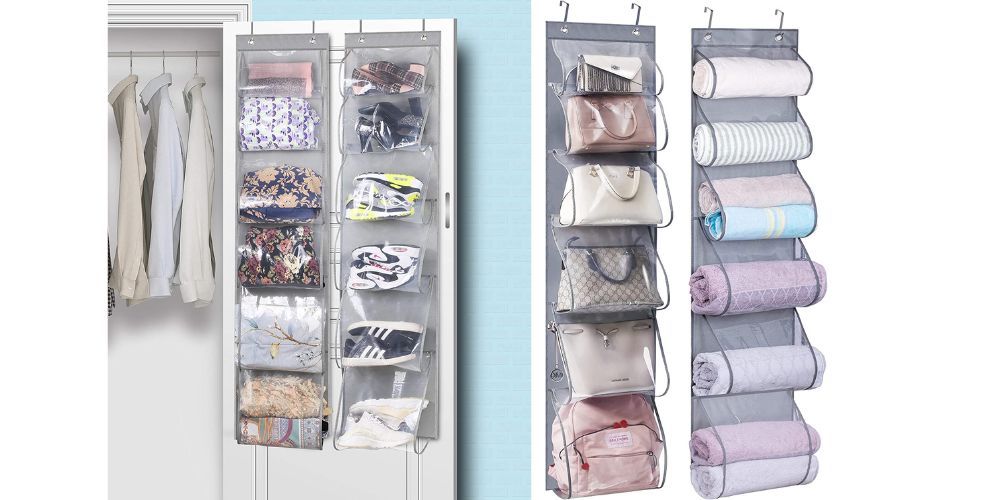 This purse hanger is a game-changer for those with limited closet space. With 6 easy-access deep pockets, you can easily identify and grab your favorite purse in a snap. And the best part? It simply hangs over your closet door for quick installation and removal. No more digging through piles of purses to find the one you want. Get organized and add some flair to your closet with this stylish gray purse hanger. One five-star comment said that their first impression of this organizer for closet is the 'perfect solution, '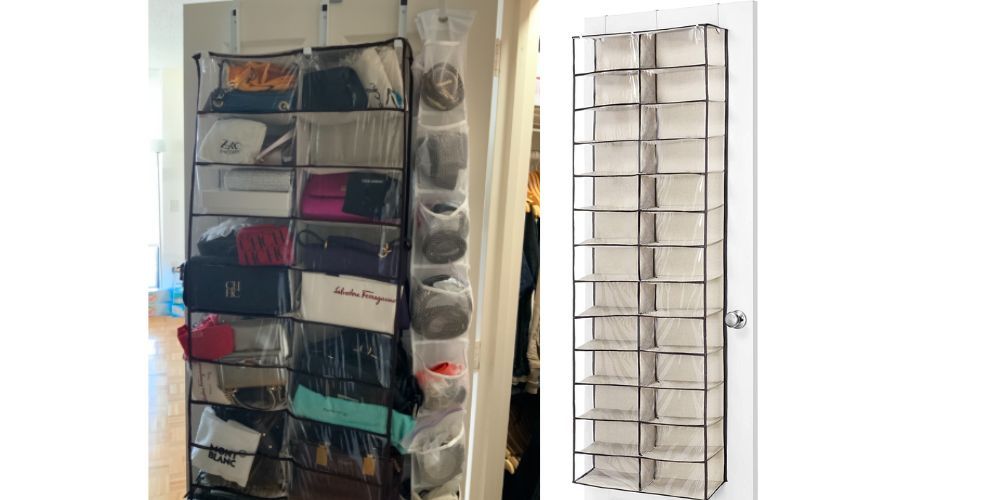 Not just for shoes, this nifty hanger can also help you tidy up your purse collection in a jiffy! Featuring 24 spacious pockets with clear front panels, you can now store and display your purses in one convenient spot. In addition, you can repurpose shoe boxes to further enhance organization within the pockets. Shoe boxes can provide additional support and structure to the pockets, ensuring your purses remain in perfect shape. Hang it over your bedroom closet door, sit back, and let this organizer, along with the clever use of shoe boxes, work its magic - maximizing space and making your purses easily accessible.
Swivel Hook Organizers
Swivel hook organizers are perfect for those who want quick and easy access to their purses. These organizers feature adjustable straps or hooks, often with a 360° swivel mechanism, allowing you to browse and select your purses from any angle effortlessly.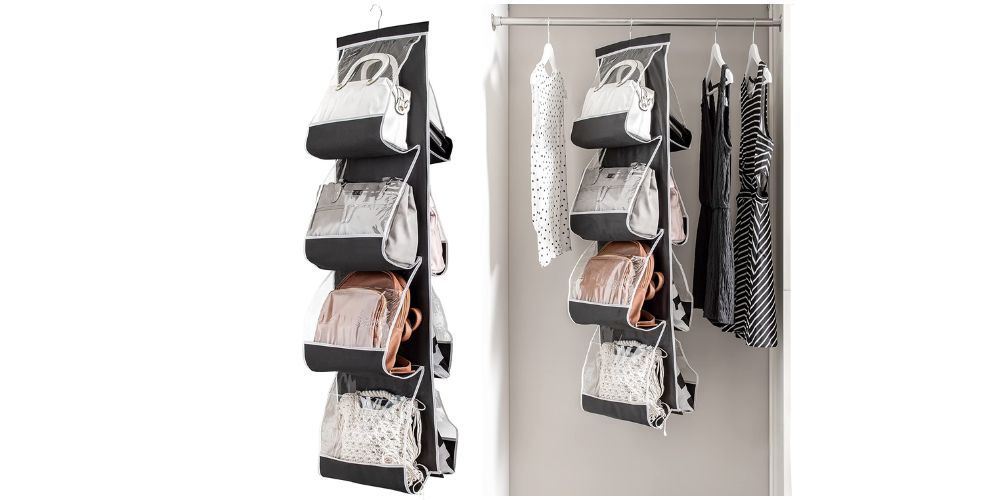 This must-have handbag hanging closet organizer boasts eight clear vinyl pockets, allowing you to easily see and select your favorite handbags. And with its 360-degree swivel hook, you'll have no trouble finding the perfect bag to match any outfit. Plus, with its sleek black design and generous 48" x 13.8" dimensions, this organizer is sure to add a touch of sophistication to any closet. Don't believe us? One customer gushed " Works great in my closet to store purses, etc. "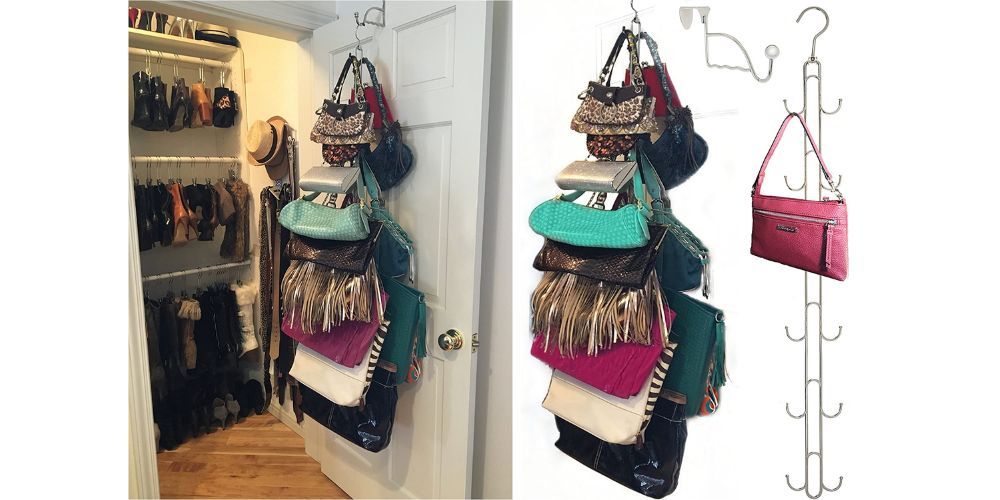 This hanging purse organizer boasts 6 hooks on each side total of 12 hooks and can store and hang up to 50 pounds of weight. Made of high-quality metal, it includes a 360° swivel hook for easy access and visibility. With its sleek and durable design, this organizer is perfect for the fashionista who wants to keep their accessories in tip-top shape. One satisfied customer expressed that this organizer is just what they needed!
Modular Cube Organizers
For a more structured and customizable storage solution, modular cube organizers are the way to go. These organizers consist of individual cubes that can be tailored to suit your needs, creating designated spaces for your purses while maintaining their shape.
The mDesign park-a-purse organizer is here to revolutionize your closet organization game. With 5 spacious cubbies, this heavy-duty plastic organizer keeps your purses, hanging bags, zipper handbags, totes, and more in tip-top shape. The best part? It's a breeze to assemble without any tools needed! Keep your closet clutter-free and your purses at the ready with the Lumiere Collection 4 pack. Don't just take our word for it - one customer even called this the ' best organizer. '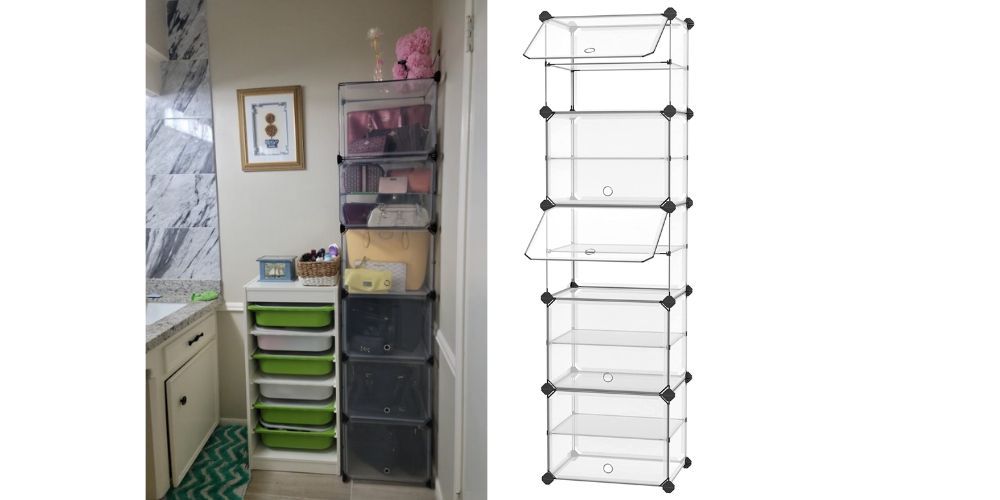 This cube storage organizer is the ultimate solution to your organization woes. This organizer offers customizable storage with 10 individual cubes. Made from eco-friendly materials, this modular solution is perfect for organizing purses, shoes, and other accessories in a manner that best suits your needs. Plus, it's made from eco-friendly materials, so you can feel good about decluttering in a sustainable way. One customer who used this as a bag organizer said that they ' this product very much ' and that this product is highly recommended!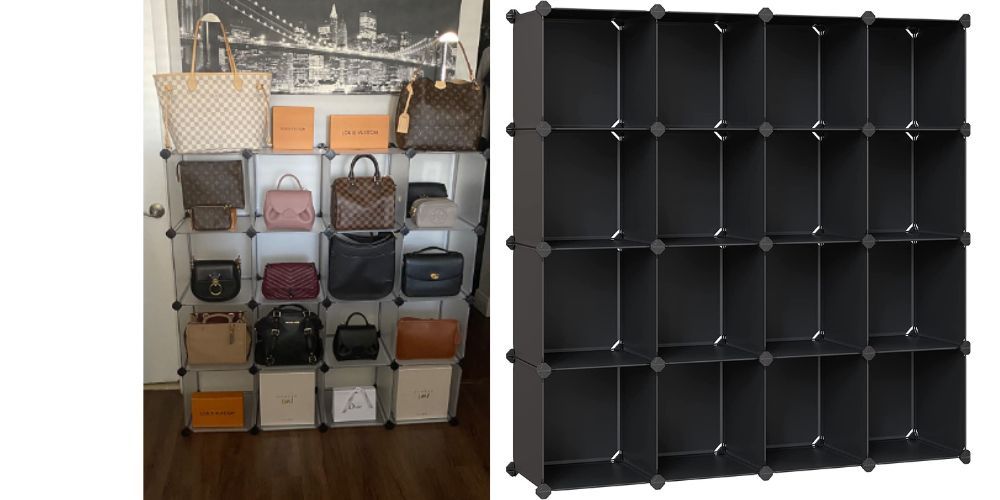 Featuring 16 spacious cubes, this cube closet organizer is perfect for storing everything from your beloved designer purses to your go-to pair of shoes. Its sleek black design adds a touch of sophistication to any room and with the included rubber mallet, assembly is a breeze. Whether you're decluttering your closet or creating a modular bookcase, this organizer is a must-have. And the best part? You can store your purses and shoes in their dust bag to keep them looking their best!
Stackable Shelves
Stackable shelves are a versatile and innovative way to store your purses. Originally designed for other purposes, such as canned goods or shoe storage, these shelves can be repurposed to hold and display your purse collection in an organized and accessible manner.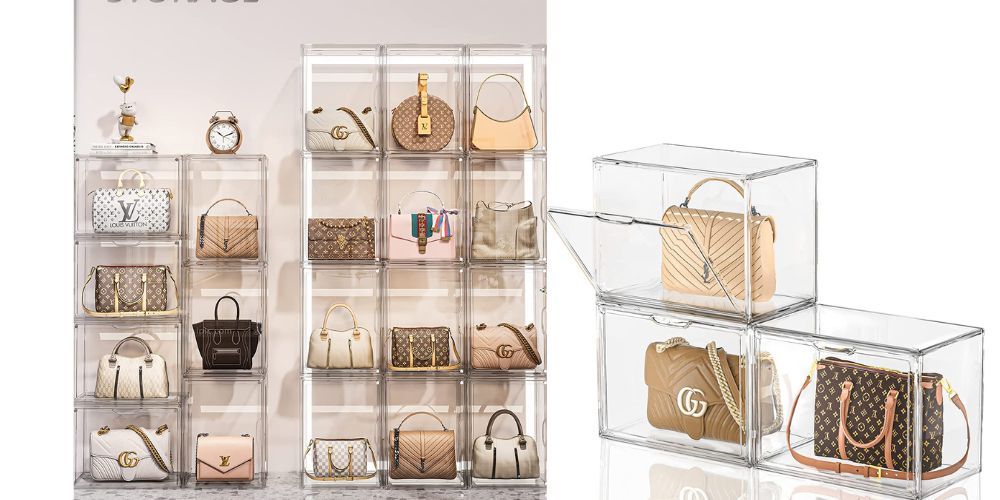 Made from crystal-clear acrylic, this closet purse organizer is not only practical but also adds a touch of glam to your wardrobe. With a magnetic door and sturdy construction, your prized possessions will be safe and secure. One customerlove how they don't have to worry about protecting their purses because of how safe this organizer is making it worth the price!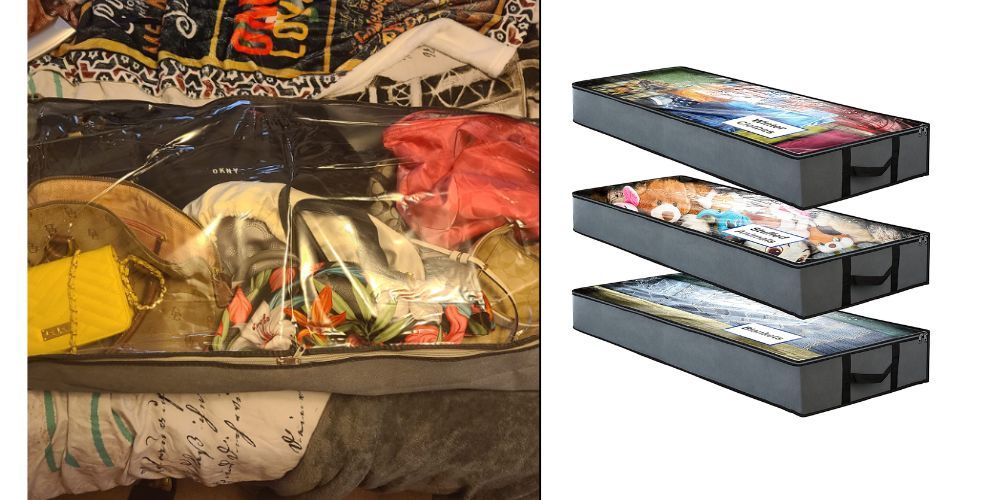 The ultimate solution to your purse storage woes! With three large under-the-bed storage bins, reinforced handles, and a foldable design, these storage bags are the perfect way to keep your purses organized and out of sight. Say goodbye to clutter and hello to efficient, space-saving storage! Whether you have limited closet space or a growing purse collection, these storage bags are a must-have.
Multipurpose Pocket Organizers
Multipurpose pocket organizers provide a practical and space-saving way to store your purses. These organizers typically feature transparent pockets that make it easy to identify and access your bags. They can be hung on a closet rod or over a door, providing versatile storage options.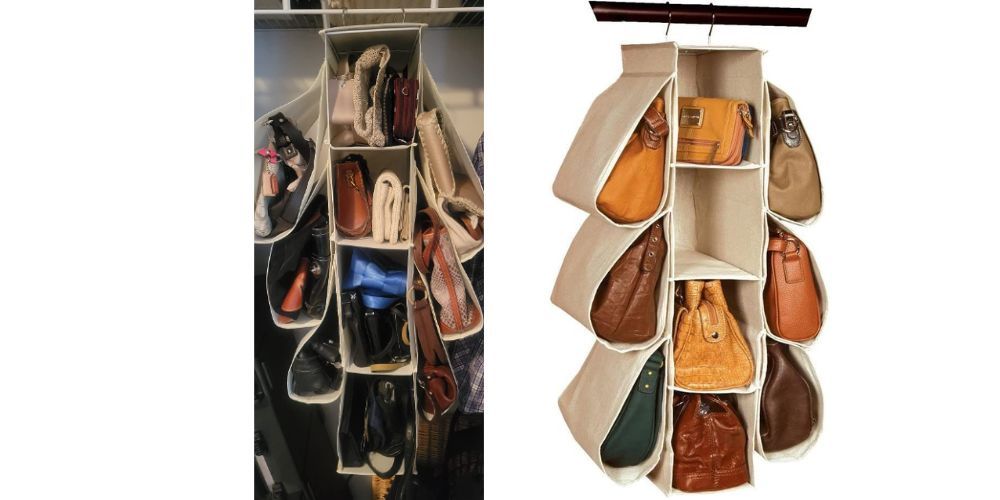 Maximize your closet's vertical space and keep your purses in pristine condition with this ultimate purse organizer! Its ten spacious pockets and nonwoven, breathable fabric make it the perfect solution for storing your beloved bags. Say goodbye to the frustration of rummaging through your closet and hello to easy visibility and accessibility with this organizer. Upgrade your morning routine with this stylish and stress-free solution to purse storage. One happy customereven said that this is a 'lifesaver.' Get your hands on one of these purse organizers today and experience the convenience for yourself!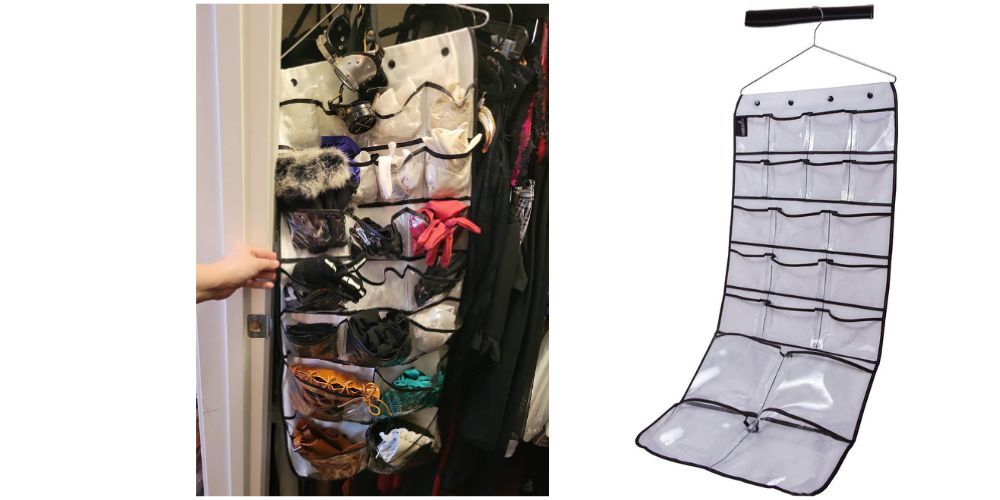 The Misslo Hanging Closet Dual-Sided Organizers are the ultimate life-saver for fashionistas everywhere. With a whopping 42 pockets and measuring at 38.5 by 17.75 inches, this double-sided organizer is perfect for holding not only your beloved bling but also those small purses and clutches that always seem to disappear.
The clear pockets make it a breeze to find your treasures in an instant, while the space-saving design is a game-changer for your closet organization. Plus, the space-saving design is a game-changer for closet organization - simply hang it on a top shelf and enjoy the extra space it creates.
Entryway Organizers
For those who want to display their purses as decorative items, entryway organizers are a fantastic option. These wall-mounted solutions often feature hooks and shelves, allowing you to showcase your purses while keeping them organized and easily accessible.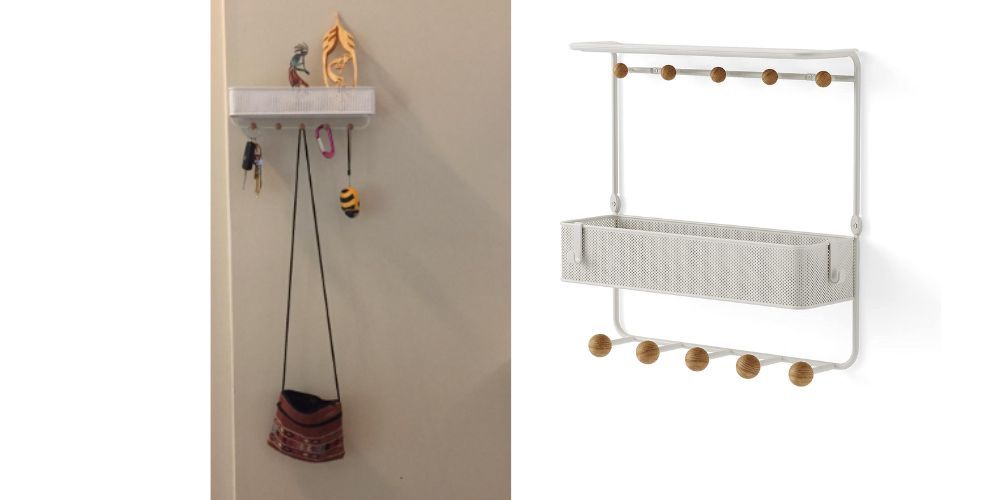 This sleek and stylish organizer features 10 hooks and a metal shelf, making it the perfect solution for any closet or entryway. Plus, with its elegant white design, it'll add a touch of sophistication to any room. With over 4.6-star average and 4,900+ reviews, customer raves, " We purchased this for our toddler's closet. We hung it to the wall and it's been great for storing/organizing bags, hats, and coats. Overall, very pleased with the look and durability. "
Tips for Maintaining an Organized Closet
Regularly declutter and donate unused purses
To maintain an organized closet, periodically review your purse collection and declutter by donating or repurposing those that no longer serve your needs. This practice ensures that your storage solutions remain effective and your closet stays tidy.
Store purses by size, color, or frequency of use
Organize your purses according to a system that works for you, whether that be by size, color, or how often you use them. This approach will make it easier to locate the purse you need and maintain a visually appealing closet.
Protect your purses by maintaining cleanliness and proper storage
To keep your purses in top condition, ensure they are stored properly and kept clean. Use dust bags, if available, and avoid overstuffing or crushing them. Regularly clean and condition your purses according to the manufacturer's recommendations to extend their lifespan and maintain their appearance.
Final Thoughts
With a range of smart closet purse organization ideas at your fingertips, it's time to transform your closet and maximize your space. From hanging organizers to wall-mounted solutions, there is a storage option to suit every need and preference. By implementing these ideas and following the tips for maintaining an organized closet, you can enjoy a more functional and visually appealing space that showcases your beautiful purse collection.
Reviews in this blog post have been edited for clarity and/or length.
Comments