This post may contain affiliate links, please see our privacy policy for details.
Are you tired of using pre-ground coffee that lacks flavor and freshness? Or maybe you're frustrated with having to use two separate appliances for grinding and brewing your coffee. If so, then a coffee maker with a built-in grinder might just be the game-changer you need.
In this article, we'll provide you with a list of 12 coffee makers and grinder duos that will take your coffee game to the next level. These coffee makers offer a range of features, including multiple grind settings, programmable features, and carafe size options, so you can find the perfect one for your needs.
Say goodbye to stale, lackluster coffee and hello to freshly ground, rich, and flavorful coffee at the touch of a button. It's time to discover the world of coffee makers with grinders and the many benefits they offer.
Benefits of Using a Coffee Maker with a Built-in Grinder
There are several benefits to using a coffee maker with a built-in grinder, including:
Fresher coffee
When you grind your beans just before brewing, you ensure that your coffee is as fresh as possible, which can significantly improve its flavor.
Consistency
With a built-in grinder, you can be sure that your coffee is ground consistently every time, which can help ensure a consistent flavor and aroma.
Convenience
Having a built-in grinder means you don't have to buy a separate grinder and then measure and transfer the coffee grounds to your coffee maker. This saves time and effort, making the brewing process more convenient.
Cost-effective
Investing in a coffee maker with a built-in grinder can be more cost-effective in the long run, as you won't have to spend money on a separate grinder, which can be a significant expense.
Space-saving
If you have a small kitchen, a coffee maker with a built-in grinder can help save space on your countertop, as you won't need to have a separate grinder taking up additional space.
Overall, using a coffee maker with a built-in grinder can be a convenient and cost-effective way to ensure you always have freshly ground coffee available for brewing.
Types of Coffee Makers with Grinders
There are several types of coffee makers with grinders, each with its own pros and cons. Here are the three most common types:
Drip coffee makers with grinders
These are the most popular type of coffee makers with grinders. Drip coffee makers are ideal for serving a crowd or sipping your way through a full carafe – they'll even keep your coffee warm for you. They work by grinding the beans and then dripping hot water through them to make coffee. Pros include the ability to make a large amount of coffee at once, the convenience of having a built-in grinder, and the ability to program the coffee maker to start brewing at a specific time. Cons include the potential for uneven grinds, the need for regular cleaning, and the fact that they can be quite bulky.
Single-serve coffee makers with grinders
These are smaller machines that use pre-portioned pods or cups of coffee grounds. The grinder is built-in and grinds the coffee beans as needed for each individual serving. Pros include the convenience of single-serve brewing, the ability to customize each serving, and the ease of use. Cons include the cost of the pods or cups, the environmental impact of single-use products, and the potential for limited options in terms of coffee varieties.
Espresso machines with grinders
These machines grind the coffee beans and then use high pressure to extract the coffee into a small cup. Pros include the ability to make a variety of espresso-based drinks, the ability to customize the strength and flavor of the coffee, and the fact that they can be quite compact. Cons include the need for more skill and knowledge to use, the higher cost compared to other types of coffee makers, and the potential for more maintenance and cleaning.
Overall, each type of coffee maker with a grinder has its own set of advantages and disadvantages. The choice depends on personal preferences, brewing needs, and budget.
How to Choose the Best Coffee Maker and Grinder
If you want to make great home-brewed drinks, here are some tips from experts on how to choose the best one:
Type of Coffee Maker
There are several types of coffee makers, including drip, pour-over, French press, and espresso. Consider which type of coffee maker you prefer and make sure the grinder is compatible with that type of machine.
Grind Settings
Look for a grinder with multiple grind settings, so you can adjust the grind size to match your brewing method. For example, a coarser grind is best for a French press, while a finer grind is ideal for espresso.
Capacity
Consider how much coffee you typically make at once, and choose a grinder and coffee maker with a suitable capacity. If you often brew large batches of coffee, you'll want a grinder and coffee maker that can accommodate that.
Consistency
Look for a grinder that produces a consistent grind size, which is important for getting the best flavor from your coffee.
Ease of Use
Make sure the coffee maker and grinder are easy to use and clean. A complicated setup can be frustrating and time-consuming, while a simple and intuitive design will make brewing coffee a breeze.
Price
Finally, consider your budget. A high-end coffee maker and grinder duo can be a significant investment, but it may be worth it if you're a coffee lover who wants the best possible flavor and convenience.
Overall, when choosing the best coffee maker and grinder duo, you want to find a combination of features that meets your needs and preferences, while also fitting within your budget. Do your research, read reviews, and compare different options before making your final decision.
Our Favorite Coffee Makers with Grinder
For a lot of folks, coffee is an irreplaceable part of their daily routine. The kind of coffee maker and grinder you have on hand can significantly impact the taste and richness of your drink. The perfect combination of a top-notch coffee maker and grinder not only offers the comforts of convenience but also takes your coffee game up to a whole other level. But let's be real - there are so many options on the market that picking the right one can prove to be a perplexing and erratic experience. Fret not though, as in this article, we've got you covered with our personal recommendations for the best coffee makers paired with grinders. Exposing their pros, cons, and features, we're here to help you choose the ideal one that matches all your brewing desires.
Best Overall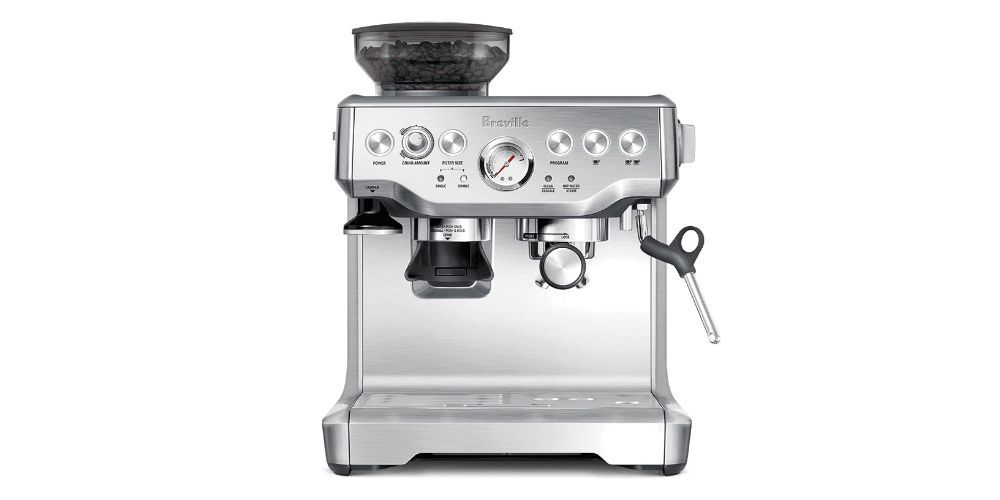 The Breville Barista Express Espresso Machine is here to take your latte game to the next level. With its built-in conical burr grinder, you'll be grinding your beans fresh every time you brew, ensuring the most flavorful cup possible. Plus, the digital temperature control ensures that your espresso is always brewed at the perfect temperature for maximum flavor.
But wait, there's more! The Barista Express also features a steam wand for frothing milk, so you can make cappuccinos, lattes, and more just like a pro barista. And with a 67 fl. oz. water tank and a 1/2 lb bean hopper, you'll be able to brew up plenty of delicious drinks for you and your friends.
Sure, this bad boy is a bit pricey, but let's be real: can you really put a price on the perfect latte? And yeah, it does require a bit of skill to operate, but that just means you'll feel like a total boss once you've mastered it.
Don't just take our word for it, though. Customers on Amazon have rated the Barista Express 4.6 out of 5 stars, with one reviewer even saying " Pulling a double espresso on it and adding 8oz (before steaming) of steamed milk makes a latte that is a little bit stronger than a Starbucks triple grande latte. Just the way I like it. Starbucks tastes weak to me now. " So why settle for subpar coffee when you can have a café-quality brew in the comfort of your own home? Upgrade to the Breville Barista Express Espresso Machine today and never look back.
Best Value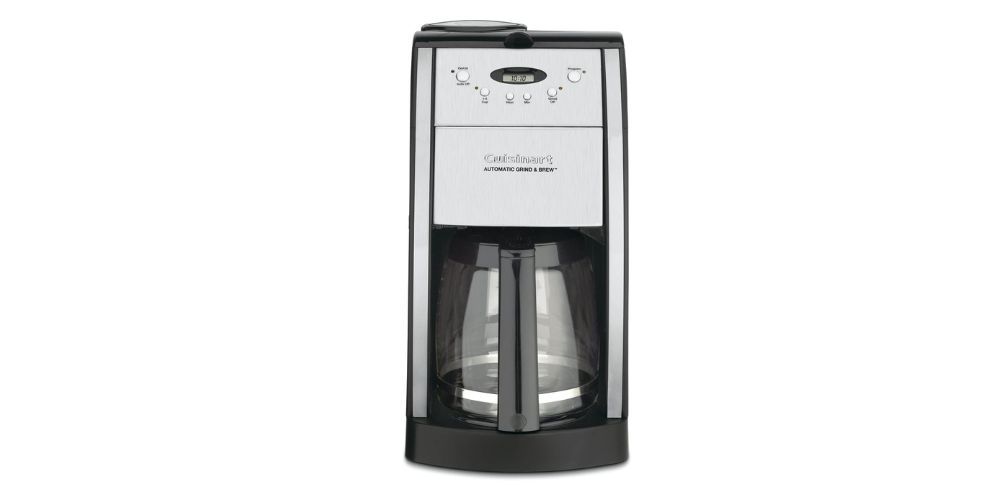 This little black beauty has got it all - a built-in burr grinder for freshly ground beans, 24-hour programmability so you can wake up to the smell of brewing coffee, and a 12-cup carafe to keep you caffeinated all day long.
But wait, there's more! The brew-pause feature means you can sneak a cup before the entire pot is done, and the charcoal water filter ensures your coffee is as pure as your heart (or not, we won't judge).
Now, we won't lie to you - this bad boy isn't perfect. The grinder can sound like a jet engine taking off (so maybe don't use it while your partner is sleeping), and cleaning can be a bit of a hassle. But hey, you gotta take the good with the bad, right?
With 4.2 ratings and 13,000+ reviews - check out this comment from one satisfied customer: "I love this coffeemaker. I have had so many different brands but nothing compares to this one. It makes the best coffee I think the filter is a plus with this one I wanted a carafe that kept my coffee hot for a while at least. I'm very satisfied."
Best Splurge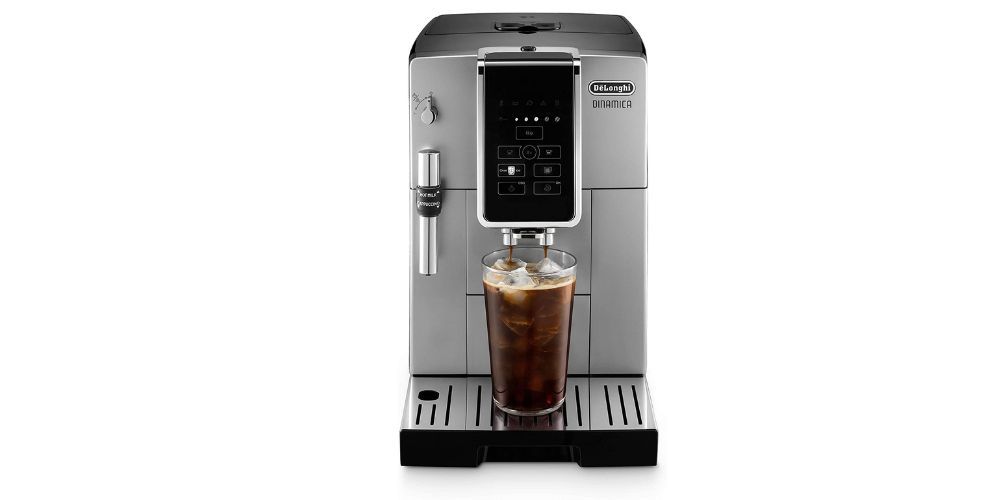 "Is this the world's best coffee maker? We put the De'Longhi Dinamica Fully Automatic Coffee and Espresso Machine with premium adjustable frother to the test and the results will shock you! First off, let's talk about the built-in conical burr grinder. It grinds your beans to perfection, ensuring you get the freshest, most delicious cup of coffee every single time. And with programmable settings, you can have your coffee exactly how you like it - no more mediocre barista-made coffee for you!
But wait, there's more! The milk frother is a game changer. You can make your own lattes, cappuccinos, and flat whites at home with ease. And the best part? You don't have to pay $5 a pop at your local coffee shop anymore!
Now, let's address the elephant in the room. Yes, the De'Longhi Dinamica is a bit on the pricey side. But think about all the money you'll save in the long run by not buying expensive coffee drinks every day. It's an investment, really. And sure, it can be a bit loud. But who cares when you're getting the perfect cup of coffee every time? Plus, it's a small price to pay for the convenience and quality you're getting.
Don't just take our word for it - customers on Amazon have given it 4.3 out of 5 stars! And with an easy-to-follow instruction manual, even a coffee-making novice can use it with ease. Of course, with every product, there are cons. As one satisfied customer pointed out, regular maintenance like cleaning the infuser and descaling is necessary. But trust us, it's worth it for the perfect cup of joe.
Best Programmable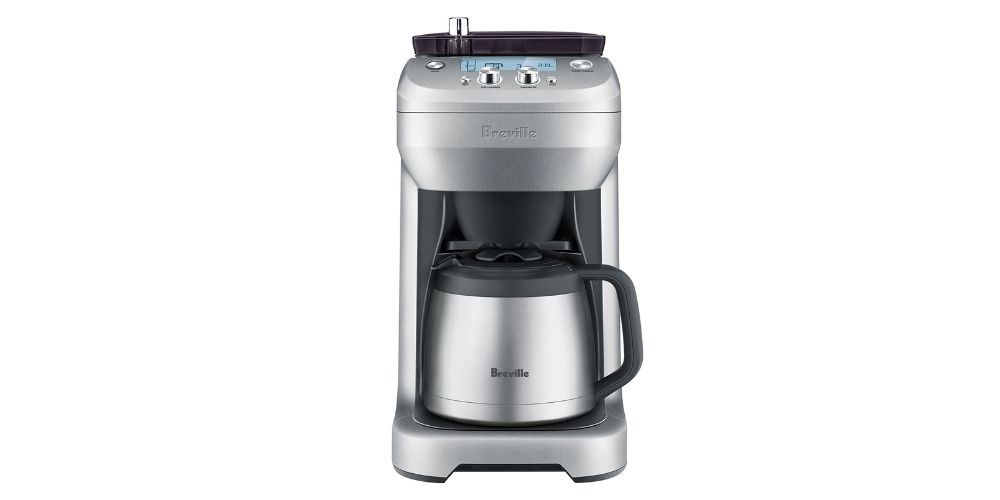 This coffee grinder has more features than a Swiss Army Knife! Stainless steel burr grinder, 8 strength settings, and automatic programming that you can tweak down to the tiniest detail so it's just the way you like it. Did I mention the removable drip tray and roomy 12-cup carafe? Cleaning up has never been easier.
Ok, so it might burn a hole in your wallet and sound a bit like a parade is marching through your kitchen, but who cares? Your taste buds will thank you as you sip on coffee that's as nice as anything you'd get at your favorite cafe. That's why this baddie has got 4.1 out of 5 stars on Amazon. Not too shabby.
And if you're a little paranoid about keeping this beauty clean, don't sweat it. A happy customer says, "This will be our second one. We purchased our first one at the beginning of 2018. It went out on us (sort of) this February of 2023. No issues ever with grinding beans, clogs, or honestly anything for that matter." So, not only will you have delicious coffee, but you'll also have a clean machine.
Best for Customization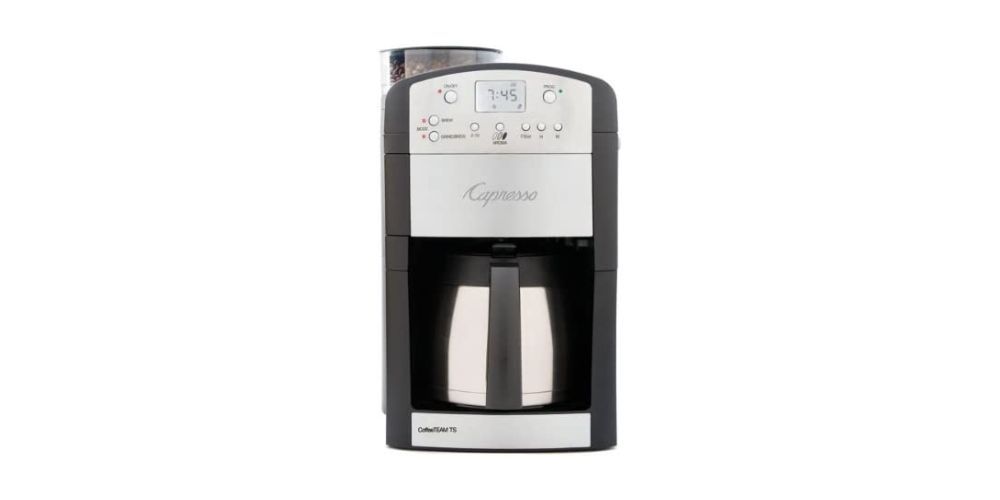 This nifty little gadget will transform you from a coffee novice to a coffee expert in no time. The programming settings make it so simple to use that you'll feel like a pro in minutes. Plus, the 10-cup thermal carafe will keep your drink hot for hours. And the best part? You can even grind your own beans to achieve the perfect level of fineness! Just make sure you program your preferences, so your coffee is just how you like it.
The Capresso 465 CoffeeTeam TS 10-Cup Digital Coffeemaker is also extremely easy to clean thanks to its removable water tank and filter basket. You won't have to deal with frustrating grinds either, thanks to the off-center grinder design. Rest easy knowing the minimal noise from grinding the beans will be worth the heavenly aroma of freshly brewed coffee in the air.
Overall, the Capresso 465 CoffeeTeam TS is a coffee game-changer. We've had ours for over a year now, and it still performs phenomenally. The convenience and taste are unbeatable, and the joy of waking up to the smell of fresh coffee is priceless. Trust us, it's worth the investment.
Best for Durability
This Gevi Grind and Brew Automatic Coffee Maker will revolutionize your mornings with its programmable timer mode that wakes you up to the irresistible aroma of freshly brewed coffee. And with its 1.5L large capacity water tank, you can make up to 10 cups of delicious, piping-hot coffee to share with friends or to fuel your own caffeine addiction (we won't judge).
This coffee maker is equipped with a built-in burr grinder that allows you to choose from 8 coffee grind control grades and 3 strength control settings. You can finally say goodbye to bland coffee and hello to a customized brew that perfectly fits your taste buds.
Don't worry about complicated instructions, because this coffee maker is incredibly easy to use, even for coffee novices. Although, we can't guarantee that you won't feel like a barista once you start grinding your own beans. However, just like any other product, this coffee maker has its cons. It can be a little loud, but who needs peace and quiet when you have a steaming cup of coffee in your hand? And while the grinder can be a little difficult to clean, it comes with a brush to help, so problem solved!
Overall, customers on Amazon have given this coffee maker a solid 4.1 out of 5 stars, and we agree that it's worth the investment.
Best for Large Families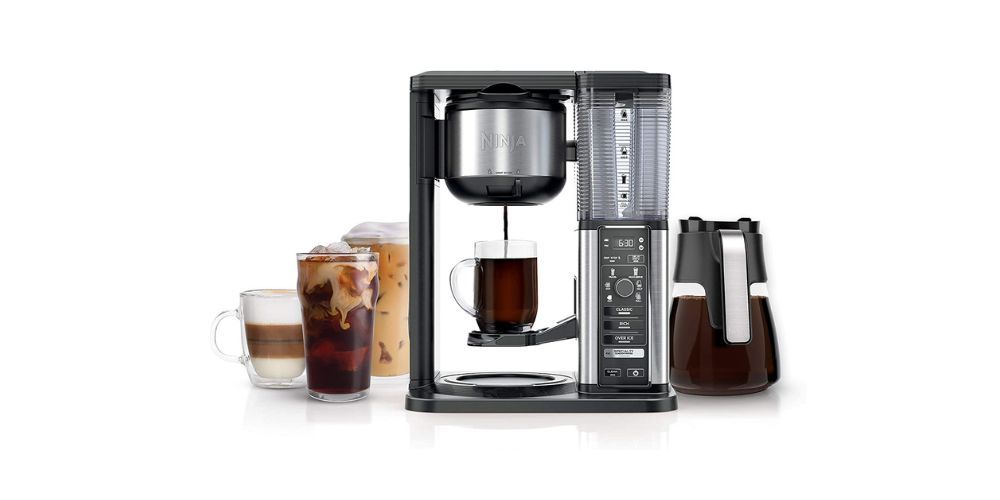 This drip coffee maker is a coffee lover's dream, with 4 brew styles for ground coffee, a built-in water reservoir, and a fold-away frother for all your latte and cappuccino needs. And that's not even the best part - this baby has a BUILT-IN BURR GRINDER! Say goodbye to stale pre-ground coffee forever.
This coffee maker also has 5 different grind settings and a programmable auto-start feature, so you can wake up to the smell of freshly ground and brewed coffee every morning. And if you're worried about not being able to keep track of time without your trusty phone, fear not - the digital screen has a clock.
Of course, no product is perfect. Some customers have reported that the grinder can be a little loud, but come on - it's grinding coffee beans! And the carafe doesn't keep coffee hot for as long as some would like, but let's be real, who actually needs their coffee to stay hot for hours on end? Drink it while it's hot, people!
One happy customer raved, "I love this coffee maker. It makes a lovely, rich coffee with a lot of flavors. I like the 'specialty brew' that makes a nice approximation of espresso, cappuccino or latte. And I really appreciate being able to dial in the amount I want to brew, from a full pot to a small cup. The instructions are easy to follow and the coffee scoop that's included has the recommended amounts for each size of brew stamped on the handle, which is a really nice and helpful touch."
Best for Small Spaces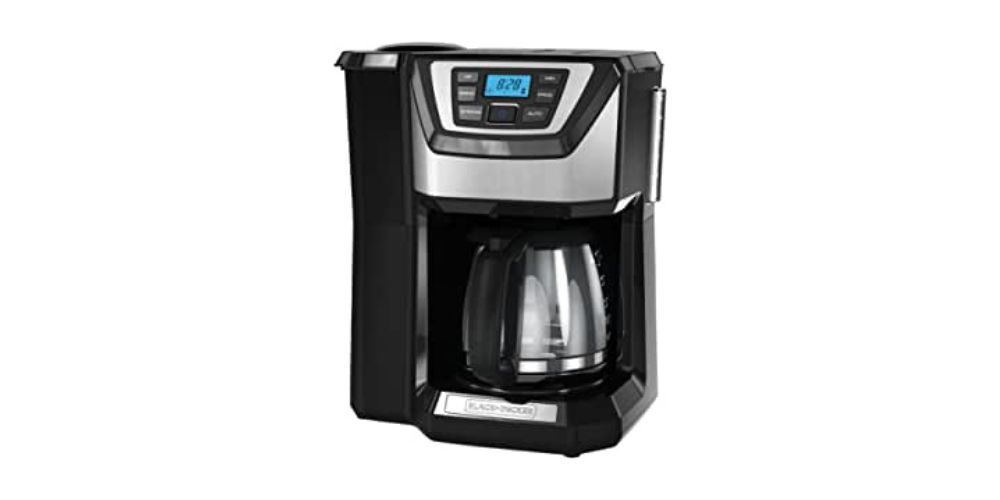 First of all, let's talk about the built-in grinder. This thing is a beast - it grinds your coffee beans with precision and quietness, even if you're brewing at the crack of dawn. And don't even get us started on the 24-hour programmability. Set it and forget it, baby!
But wait, there's more! This bad boy also has a brew strength selector, so you can customize your coffee to your liking. Plus, EVERY part is removable for easy cleaning. We're talking about a coffee maker that practically cleans itself. Now, we're not going to sugarcoat it - the carafe can be a bit tricky to pour. But that's a small price to pay for high-quality coffee that won't make you want to claw your taste buds out.
And let's not forget about the price - this coffee maker is affordable AF. Don't waste your money on some no-name grinder coffee maker that'll break after a week. BLACK+DECKER has been around for ages for a reason, people.
So if you want delicious coffee that'll make you feel like you're sipping on a cup of liquid gold, you need to get your hands on the BLACK+DECKER 12-Cup Mill and Brew Coffee maker.
Best for Espresso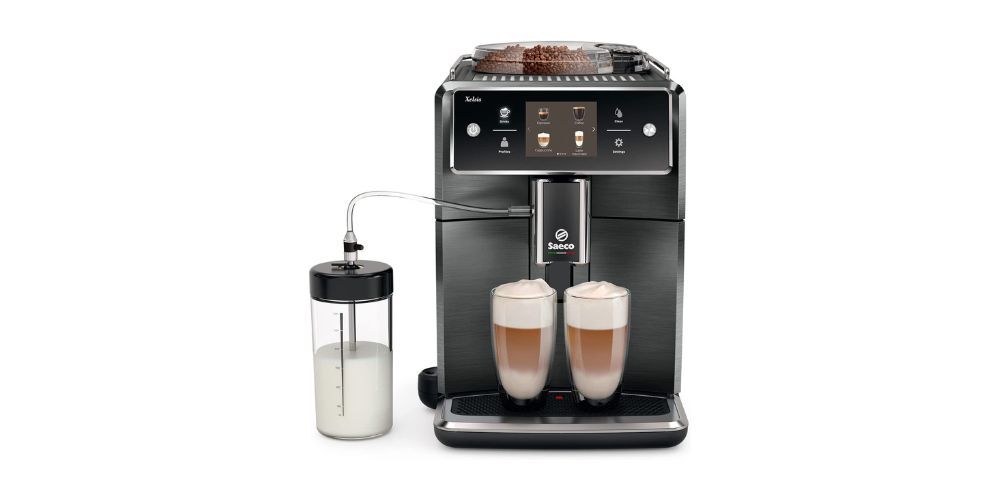 With its built-in ceramic grinder, 12 coffee varieties, and milk frother, this machine is a game-changer for coffee enthusiasts. And let's not forget the removable water tank and digital screen for easy cleaning and navigation. Sure, it may come with a hefty price tag and require regular cleaning, but think about the long-term savings. Say goodbye to spending $5 a day on coffee and hello to owning your very own coffee shop at home!
But wait, there's more! This machine is so user-friendly that even your kids can whip up a fancy hot chocolate drink with frothed milk while you indulge in a perfectly made, delicious cappuccino. Customers have given it 4.0 out of 5 stars on Amazon, and one happy customer said, "One of the best purchases I've made in a while."
Say goodbye to mediocre coffee and hello to barista-quality espresso drinks with the Saeco Xelsis Super Automatic Espresso Machine. Your taste buds (and wallet) will thank you.
Best Budget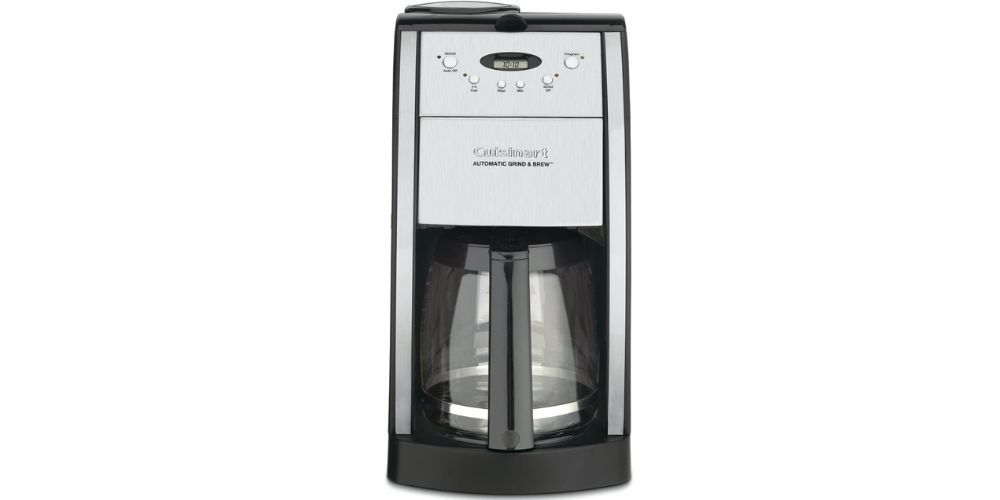 This sleek and stylish machine is like having your very own personal barista at home, grinding your beans, and brewing your coffee to perfection every time. The thermal carafe is a game-changer, keeping your coffee hot for hours without sacrificing taste or quality. And let's talk about that built-in burr grinder - it's fully programmable, which means you can customize your grind to suit your tastes. It's like having a secret weapon in your kitchen arsenal!
Now, we won't sugarcoat it - there are a few things to keep in mind when using this coffee maker. The water meter lines are just a general reference, so you'll need to find your sweet spot when it comes to adding or subtracting water. And while the cons are minor - taller filters work best, and unbleached filters are tasteless - we know that every coffee lover wants their cup to be perfect.
But here's the real kicker: some people have complained about the machine not coming with a gold filter or being able to clean the grinder. Well, guess what? Those people clearly didn't read the instructions! The grinder is self-cleaning, and the water flushes through it automatically. It's foolproof! So don't be like those dum-dums who can't follow simple directions. Get yourself a Cuisinart DGB-850 and experience coffee nirvana. Trust us, your taste buds (and your mornings) will thank you!
Best Elegant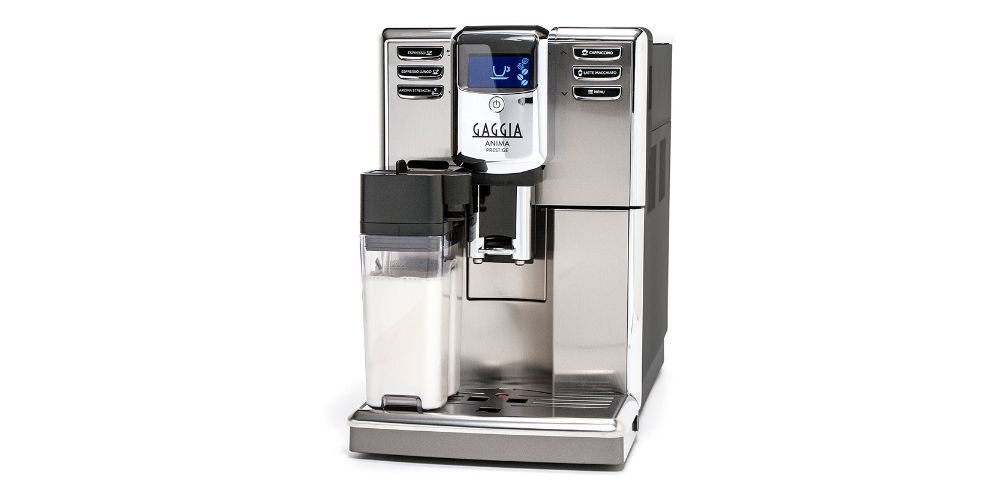 Behold, the Gaggia Anima Prestige Automatic Coffee Machine, a creation that is the quintessence of coffee-making excellence. This machine has managed to pack in all the necessary features: a state-of-the-art ceramic burr grinder, programmed settings to match your desires, and a remarkably user-friendly milk frother that a cat could use (provided they had nimble fingers). Oh, and let's not forget about the oh-so-sophisticated digital screen, which will make any coffee enthusiast feel like a virtuoso.
If you happen to have a highly developed coffee palate (no judgments here), then the Gaggia is the answer to your prayers. Get ready to encounter the ultimate in espresso-making that'll keep you salivating for more, with its engaging aroma and beguiling crema. And the cherry on top? It's easier to clean than an ex's dreadful apartment. All you need to do is extract the heart of the machine and wash it down.
With a 4.3 rating on the charts, this coffee-making gem is certainly not to be overlooked. One customer has bestowed upon it a 5-star rating, calling it the"best fully auto espresso machine" and said that this is "an excellent choice for anyone who loves espresso drinks and wants to make them at home with ease". So you know it's the real deal. Need we say more? This coffee machine is as genuine as it gets.
Best Single Server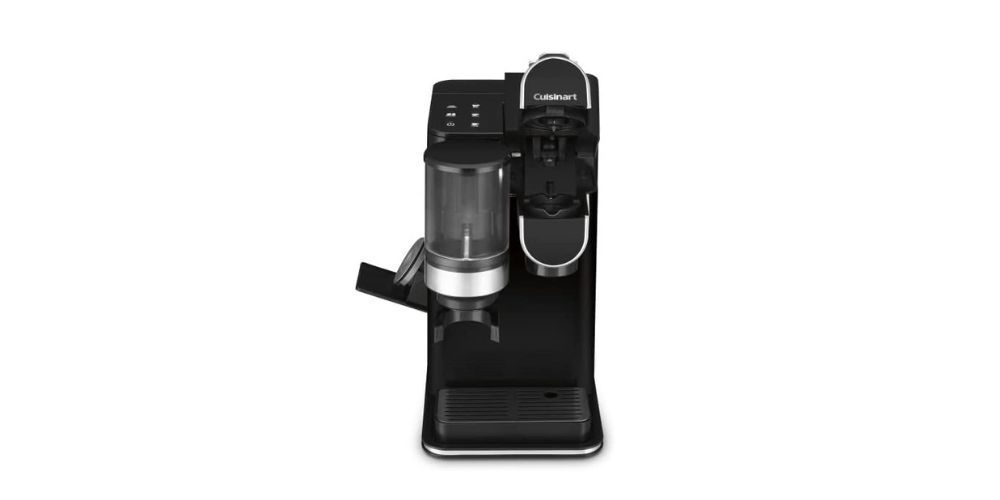 Stop settling for mediocre coffee that tastes like dirt water! Upgrade to the Cuisinart Single Serve Coffee Maker + Coffee Grinder, and experience the freshest and most flavorful cup of joe you've ever had.
With its sleek black design, this coffee maker is a showstopper on any countertop. But it's not just a pretty face - it's also incredibly versatile and compact. No more bulky coffee makers taking up precious counter space!
The best part? This baby offers a convenient single-serve option, so you can have a freshly brewed cup of coffee in just minutes. And the built-in grinder ensures that your beans are ground to perfection for optimal freshness and flavor. Who needs a barista when you've got the Cuisinart Single Serve Coffee Maker + Coffee Grinder on your side?
But wait, there's more! The 48-ounce removable reservoir makes cleaning and refilling a breeze. Plus, with a rating of 4.2 out of 5 stars on Amazon, you know you're getting a quality product.
Coffee Maker with Grinder FAQ
If you're considering buying a coffee maker with a grinder, you likely have questions about how they work, what types of grinders are used, and how to clean them. Here are some of the answer to frequently asked questions about coffee makers with grinders, so you can make an informed decision and enjoy delicious, freshly brewed coffee from the comfort of your own home.
Can you use pre-ground coffee with a coffee maker with a grinder?
Yes, most coffee makers with grinders also have the option to use pre-ground coffee if you prefer.
Are coffee makers with grinders more expensive than regular coffee makers?
Yes, coffee makers with grinders tend to be more expensive than regular coffee makers and a separate coffee grinder. However, they offer the convenience and freshness of grinding your own coffee beans, which can be worth the investment for coffee enthusiasts.
What types of grinders are used in coffee makers?
Coffee makers with grinders typically use burr grinders or blade grinders. Burr grinders are more precise and produce a more consistent grind size, while blade grinders are more affordable and easier to clean.
Final Thoughts
If you're in the market for a new coffee maker and grinder duo, we encourage you to try one of the 12 options on our list. With different features, price points, and styles, there's something for every coffee lover.
Don't forget to share this article with your friends and family who might also be interested in finding the perfect coffee maker with a grinder. And if you have a favorite coffee maker and grinder duo that we didn't include on the list, leave a comment and let us know!
Reviews in this blog post have been edited for clarity and/or length.
Comments