This post may contain affiliate links, please see our privacy policy for details.
Are you ready to upgrade your kitchen with some stylish and functional products? Look no further than the Drew Barrymore Kitchen Collection. The collection is designed with a keen eye for style, featuring sage green, cornflower blue, and white icing shades that perfectly complement leafy greens and citrus hues. We've curated a list of 20 beautiful items from this collection available ensuring you find the perfect set to suit your needs and preferences. So, let's dive in and see what makes this collection so unique.
Available in dreamy white, enchanting sage green, whimsical cornflower blue, and a palette of other captivating hues, this toaster is the perfect blend of fashion and function. Equipped with cool touch handles, you'll be the master of your toasty domain.
Boasting seven browning settings, defrost, reheat, and cancel functions, this toaster is a toast lover's paradise. But don't just take our word for it – the 4.1-star rating on Walmart's page speaks for itself. As one smitten customer gushed, "Absolutely love this toaster. Works great and looks beautiful. I did paint the gold accents matte black to match my kitchen better, but I love everything else about this purchase."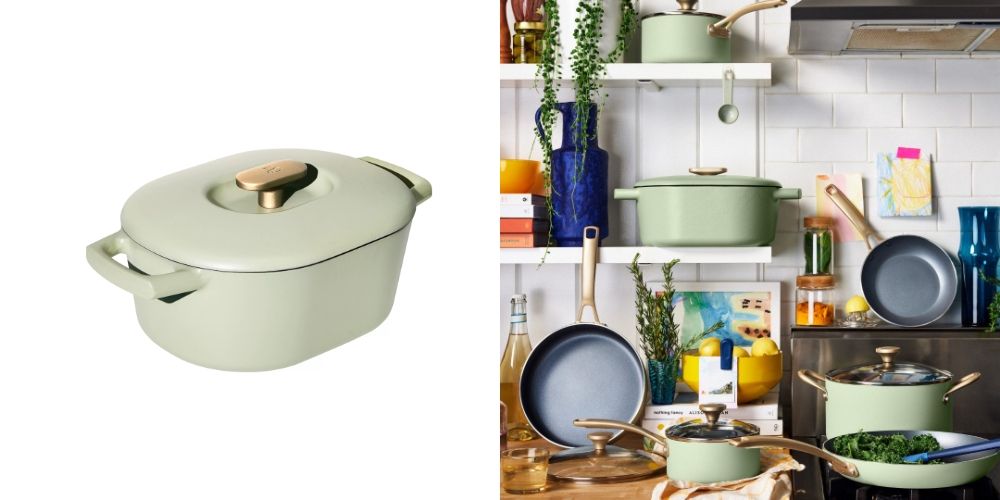 This medium-sized Dutch oven is destined to become the magical centerpiece of your kitchen. Awash in a mesmerizing sage green hue, this enchanting vessel is perfect for slow-cooking your cherished culinary creations.
Customers have fallen under its spell, bestowing upon it a 4.5-star rating. They can't get enough of the Dutch oven's even heat distribution and the bewitching ease of cleaning its enamel coating. One fan declared, "This Dutch oven is a beast! I absolutely love the style and definitely the even cooking. It holds the heat in and allows your meat to cook to perfection ♥️."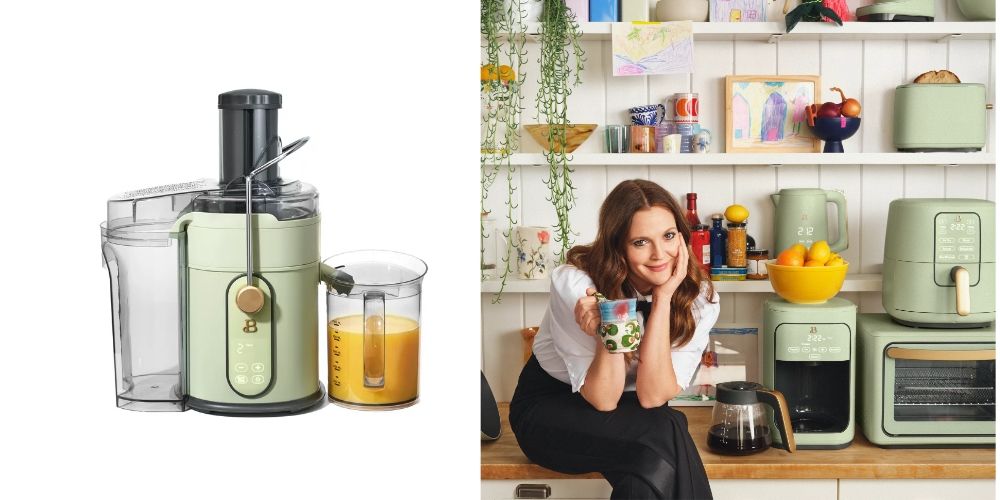 This Gorgeous 5-Speed Juice Virtuoso deftly juggles a variety of produce, boasting five unique settings for soft citrus, medium leafy greens, and hard vegetables. Its extra-wide 3" feed chute serenades you with convenience, accommodating most of your favorite fruits and veggies without the need for pre-chopping. Clean-up becomes a harmonious waltz thanks to dishwasher-safe removable parts and the ingenious anti-drip spout that prevents leaks while juicing.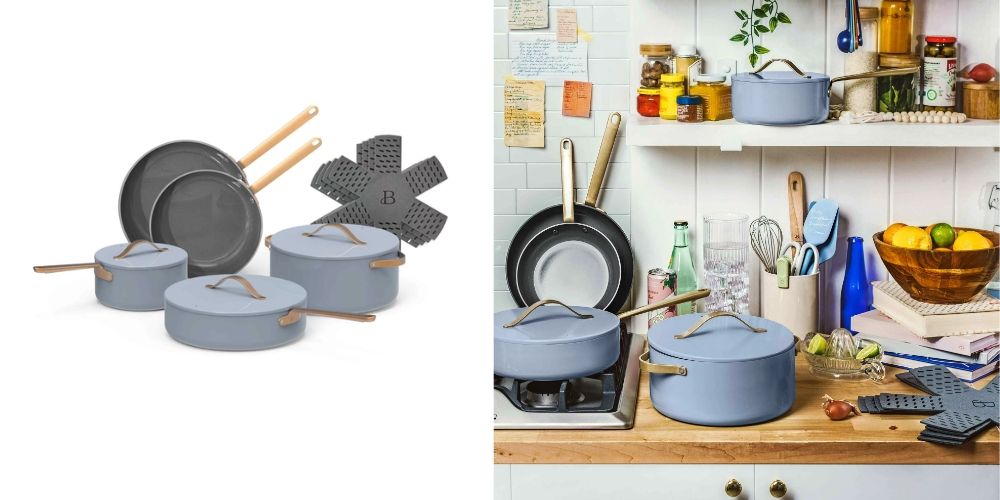 The Beautiful 12-Piece Ceramic Non-Stick Cookware Set is a conscious choice for your health and the environment. Free from forever chemicals, the set features a non-toxic, healthy ceramic non-stick coating that is PTFE, PFOA, and PFOS-free. Designed by Drew Barrymore herself, the set's impeccable craftsmanship shines through in its sleek design and compatibility with all stovetops.
Experience rapid, even heating and the ability to withstand oven temperatures up to 500°F, including the die-cast lids. Cool touch handles ensure that your culinary exploits remain accident-free, allowing you to handle your cookware with confidence and ease. This stunning 12-piece cookware set will transform your kitchen into an elegant and sophisticated haven.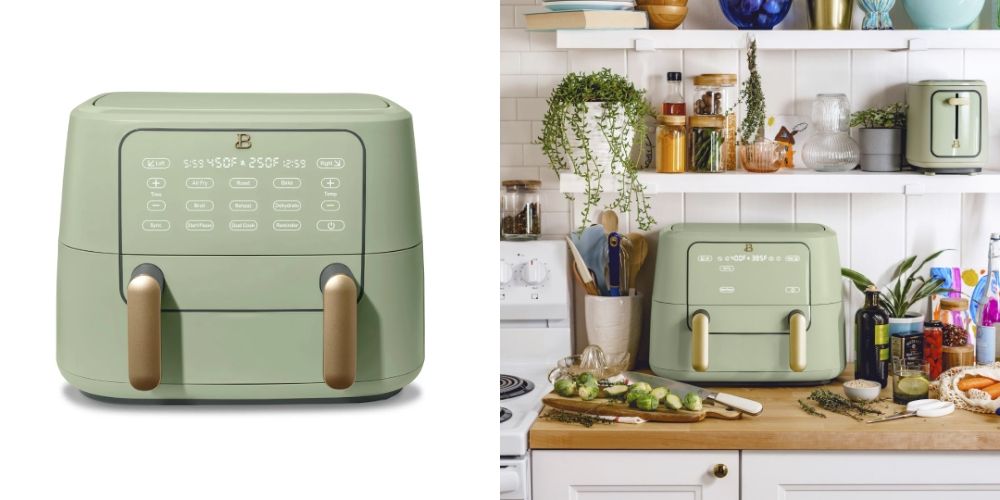 This versatile kitchen marvel is the epitome of culinary diversity, allowing you to cook two different dishes in two distinct ways simultaneously using separate baskets. Or, create one larger meal using the full basket by simply removing the center divider. Ingeniously designed to accommodate foods with varying cooking times, this air fryer ensures your meals finish cooking in perfect harmony.
This air fryer with the touch-activated display is a fusion of elegance, contemporary colors, and modern silhouettes. Not only does it excel in high-performance cooking, but it also serves as a chic statement piece on your kitchen counter. Air fry, roast, reheat, dehydrate, bake, or broil your favorite dishes with unparalleled ease and style.
Customers are smitten with this air fryer, with one delighted user exclaiming, "Beautiful and functional—gets the job done! WoW… Absolutely love Drew's Beautiful Air Fryer. The basket is very easy to open and close, touch screen is bright and simple to use, and I love the tri-cooking feature. I made frozen shrimp with seasoning, cooked at 400 degrees for 15 minutes—done perfectly. The only negative for me is the size of the air fryer, but if you have the space, this is a 10. Highly recommend!"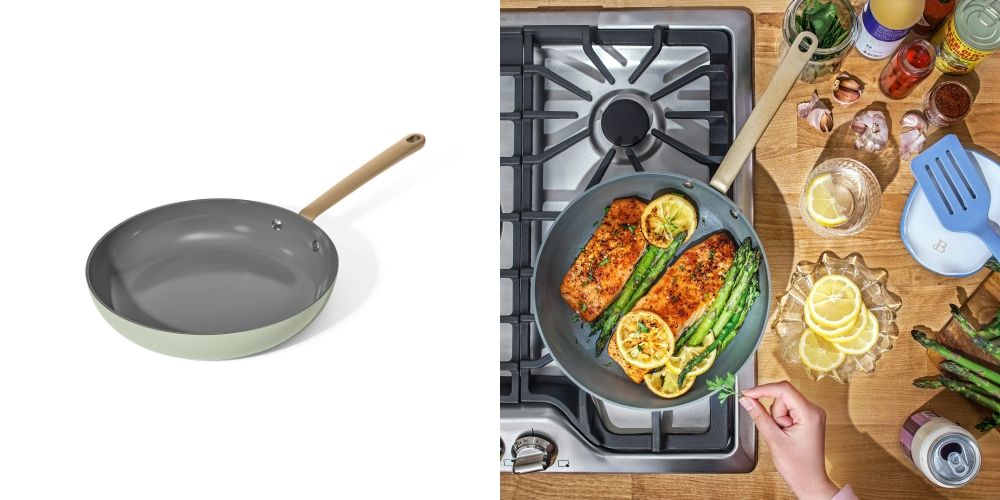 This delightful pan is not only a visual treat, but also a responsible choice, free from Forever Chemicals and featuring a non-toxic, healthy ceramic non-stick coating that is PTFE, PFOA, and PFOS-free.
Meticulously crafted with a sleek design, this stunning cookware is compatible with all stovetops, heats up rapidly, and cooks evenly. It's also oven-safe up to 500°F, making it the perfect companion for your culinary adventures. Designed to make a statement in your kitchen, the Beautiful cookware collection promotes a healthy lifestyle while remaining effortlessly chic.
The Enchanting Emerald Skillet has captured the hearts of reviewers, earning a 4.3-star rating. One smitten user shared, "Light as a feather but feels like great quality! My husband got to use this before I did (I wasn't gonna fight him wanting to make dinner!). I bought the white, and it cleaned up really well."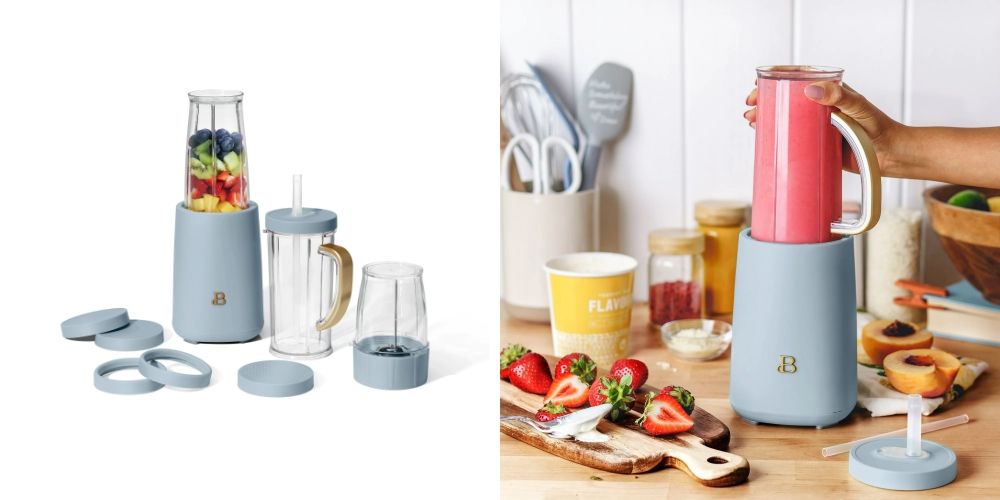 This enchanting little gadget will quickly become your go-to kitchen companion for smoothies, sauces, salsas, and more. With the simplicity of press and twist, unleash your inner mixologist and let the magic begin.
The Beautiful 12-Piece Personal Blender comes with a 16oz To-Go Travel Cup, complete with a handle, Drew's signature No Drippy Sippy flexible straw, and a twist-off lid, ensuring you can take your concoctions wherever you roam. Equipped with a durable stainless steel blending blade, grinding blade, and a powerful 285 peak-watt motor, this versatile blender can even grind up coffee beans and spices with ease.
Cleaning is a breeze with dishwasher-safe parts, making this charming personal blender an irresistible addition to your countertop. Drew Barrymore's Beautiful Kitchenware blends elegant design, contemporary colors, and modern silhouettes to create high-performance appliances that look stunning on your kitchen counter.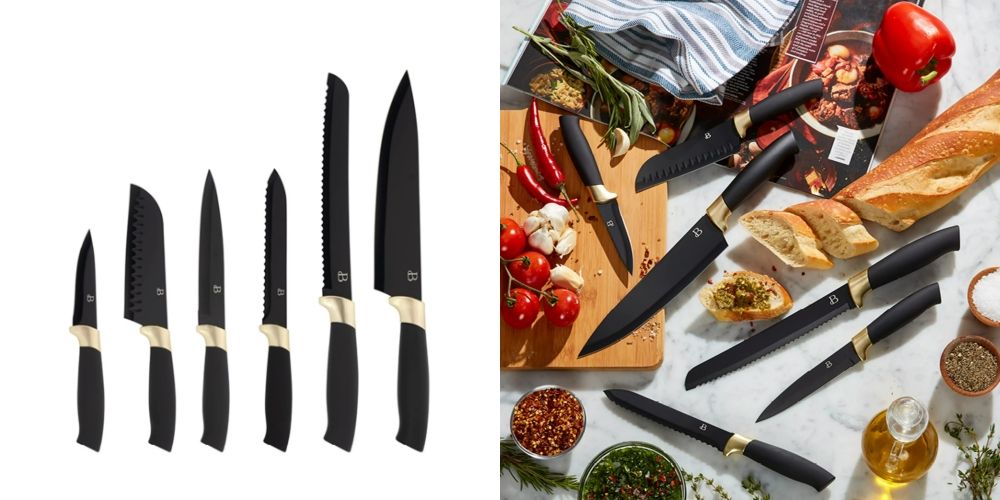 Each knife in this stunning collection boasts a high-carbon stainless steel blade, designed to retain its ultra-sharp edge for effortless food prep.  The sleek ergonomic handles, adorned with soft grips, ensure ultimate comfort and control as you wield these culinary instruments with grace and precision. The set includes an 8-inch chef knife, an 8-inch bread knife, a 5.5-inch serrated utility knife, a 5.5-inch fine-edge utility knife, a 5-inch Santoku knife, and a 3.5-inch paring knife.
With a dazzling 4.4-star average, reviewers have fallen head over heels for the style and performance of this knife set. One smitten user shared, "Not only do I love the look, but it also cuts very well. I've used this for 2 weeks now to give it a good test, and I'm not disappointed at all."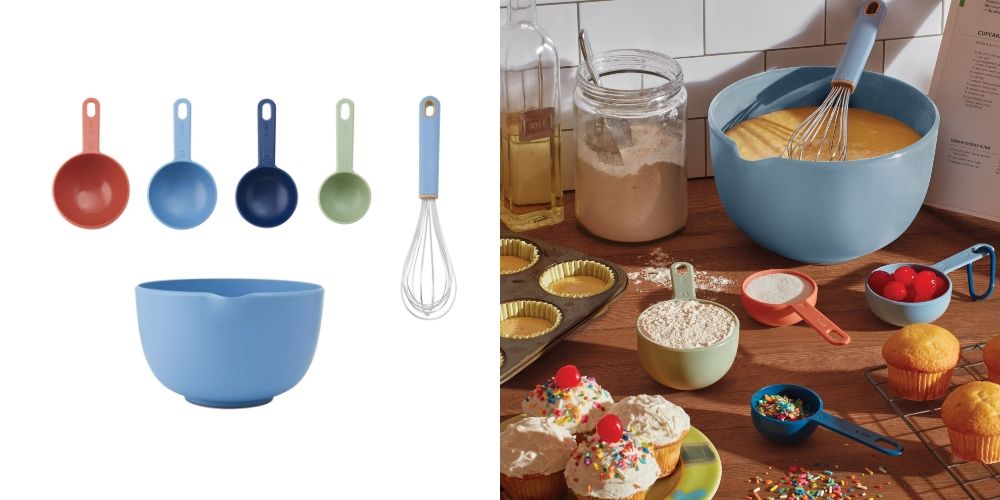 The Essential Baking Set is a delightful ensemble of a Mixing Bowl, Whisk, and 4 Measuring Cups (1/4 cup, 1/3 cup, 1/2 cup, and 1 cup) that will have you crafting scrumptious home-baked treats with effortless flair.
The whisk, a quintessential kitchen companion, features durable stainless steel tines designed to withstand everyday use, making it perfect for stirring up savory sauces, blending batters, or whisking up delectable delights like homemade meringues or whipped cream. The mixing bowl boasts a spout for seamless, mess-free pouring and a soft, non-slip base that keeps it securely in place during use. The entire set is dishwasher-safe, making clean-up a breeze.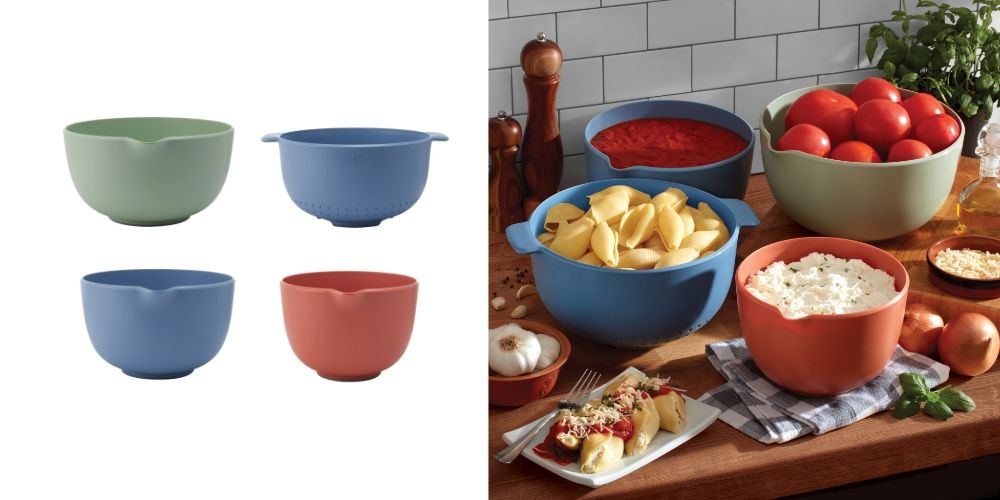 This delightful set features three mixing bowls and a 5-quart colander, ready to whisk you away on a culinary adventure. The mixing bowls boast a clever spout, ensuring you can effortlessly pour your batter onto a griddle or into a baking pan without a drop of mess.
The non-slip base of the mixing bowls lends extra stability while you mix and mingle your ingredients, creating culinary masterpieces with ease. When it's time to clean up, simply place the mixing bowls and colander on the top rack of your dishwasher, and let them sparkle once more. Rated 4.9 stars on Walmart, customers love the non-slip bottoms and easy-to-clean design.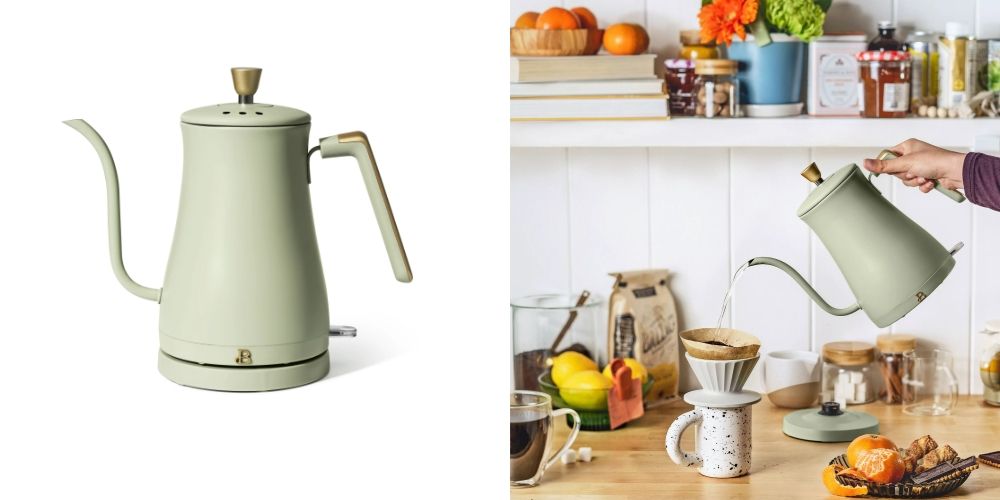 This captivating sage green tea kettle is your ticket to brewing the perfect cup of tea or indulging in a pour-over coffee. The Gooseneck Kettle is designed for precision pouring, with its angle-cut spout ensuring a spill-free experience while controlling the speed and flow of your delightful drink.
Graceful and elegant on your countertop, this tea kettle also boasts practical features such as a one-touch boil feature with an indicator light, cordless power base, and ergonomic handle, making it a must-have treasure in your kitchen.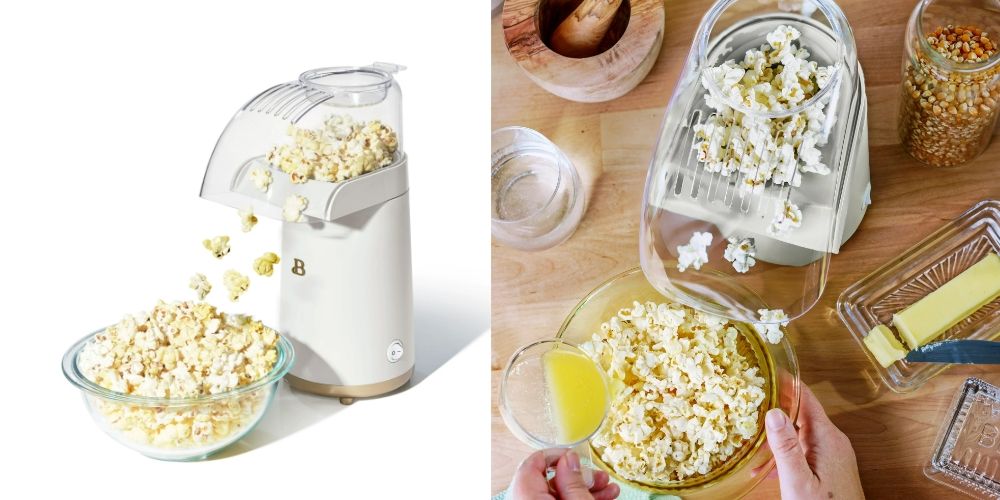 Elevate your home movie marathons with the Beautiful Hot Air Popcorn Maker, a delectable delight that brings the taste of the theater right into your living room. Utilizing cyclonic airflow technology, this popcorn maker effortlessly pops up to 16 cups of fresh, oil-free popcorn in mere minutes, creating healthy and delicious snacks everyone will adore!
Featuring a simple one-touch design and a unique popping chute that guides your popcorn directly into the bowl, this stylish appliance is both functional and fashionable. The included measuring cup doubles as a butter-melting tray, while a convenient cord wrap at the base keeps things tidy. Boasting a 4.7-star rating, customers can't get enough of its elegant design and sturdy construction.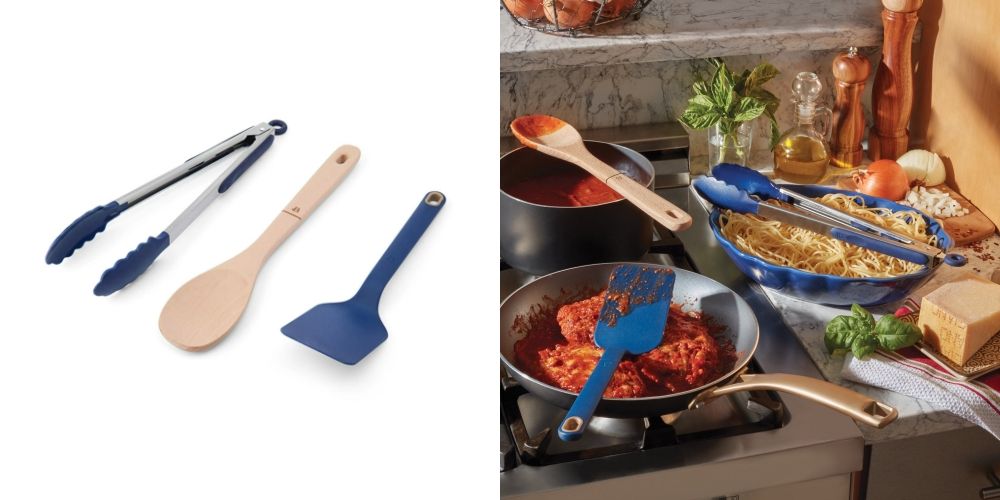 The Beautiful Boxed Cooking Set, a splendid ensemble of a Short Turner, Wooden Basting Spoon, and Tongs, is poised to enhance your home-cooked meal preparations with grace and ease.
The Short Turner boasts a compact handle, offering you unparalleled control while cooking up a storm. Stir, serve, and showcase a medley of dishes with the versatile Basting Spoon. Meanwhile, the Tongs impress with their scalloped silicone tips, expertly grasping a variety of foods without causing punctures, breakage, or bruising.
Crafted from wood and heat-resistant nylon, these tools promise to treat your bowls, pots, and pans with the utmost care, and safe for use with all cookware, including nonstick surfaces. Rated 4.7 stars on Walmart, customers adore the heat-resistant, dishwasher-safe design.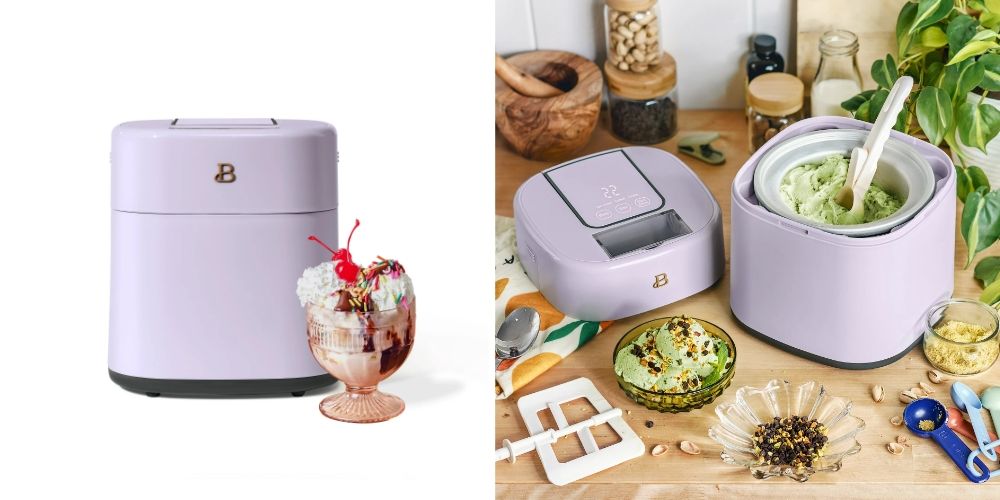 With the Beautiful 1.5qt Ice Cream Maker, you'll be savoring tailor-made frozen treats in a mere 20 minutes. This whimsical wonder is outfitted with a touchscreen display, three preset functions, and a digital countdown timer, making the creation process as breezy as a summer day.
Fear, not the mess, for the flip-up lid, enables you to effortlessly add ingredients without splattering. And, to sweeten the deal, an ice cream scoop is included. Crafted by Drew Barrymore, the Beautiful collection unites an elegant design, contemporary colors, and modern silhouettes to deliver high-performance appliances that sparkle on your kitchen counter.
Boasting a 4.8-star rating on Walmart, customers cherish its spacious design and easy-to-clean surface.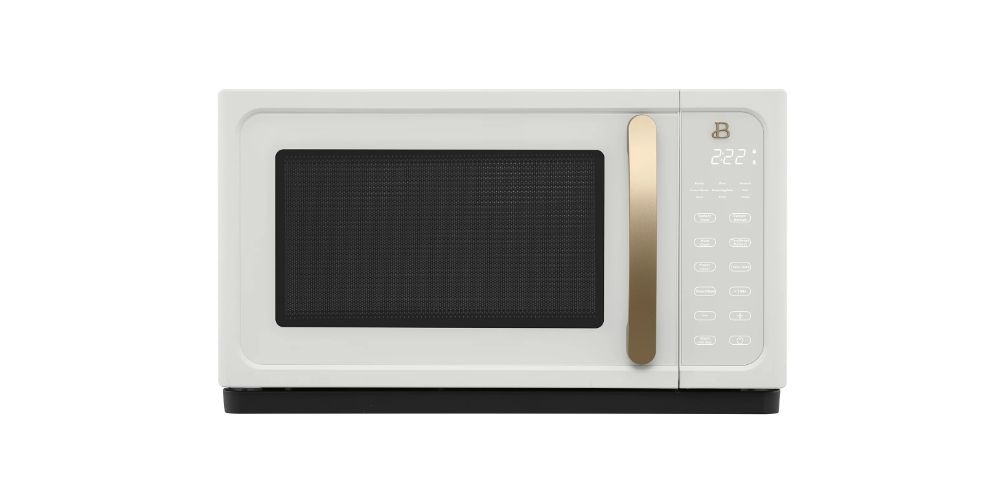 This graceful kitchen marvel is crafted from durable metal housing with a soft matte premium finish, seamlessly complementing any kitchen style. The thoughtfully designed Touch-Activated display, along with 15 convenient pre-set functions, ensures mealtime is a breeze.
Bid farewell to guesswork, as the sensor cook and sensor reheat, functions automatically detect when your culinary creations are perfectly prepared. With a spacious 12.4-inch glass turntable, this microwave accommodates a variety of dishes, effortlessly meeting your every need.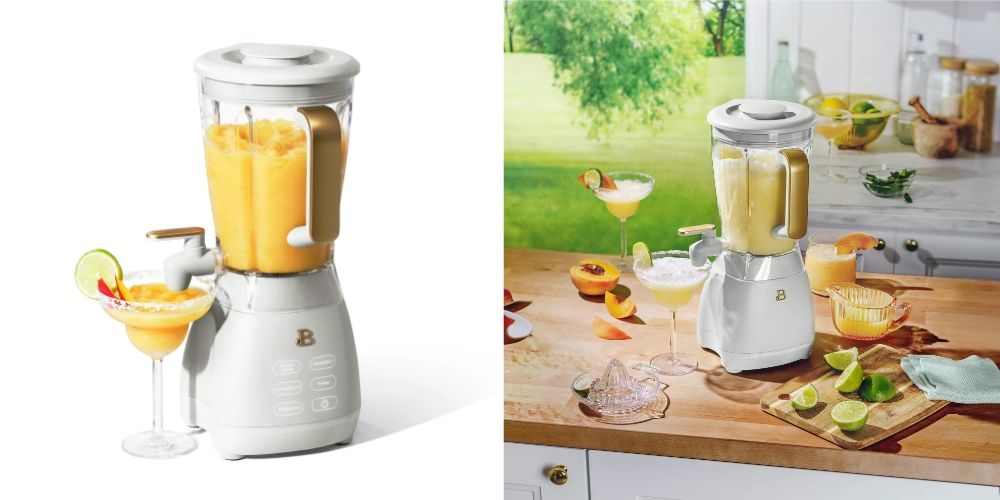 Created by Drew Barrymore, this sleek appliance boasts extra details like a no-drip spout and an indent for cups. With dishwasher-safe parts, the Beautiful SlushCrush Frozen Drink Maker is destined to become a cherished kitchen staple.
Designed with an intuitive sensor-activated blade system that ensures optimal drink consistency with a simple touch. In a mere 60 seconds, blend up to 10 dazzling, restaurant-quality frozen drinks from smoothies to snow cones, and more.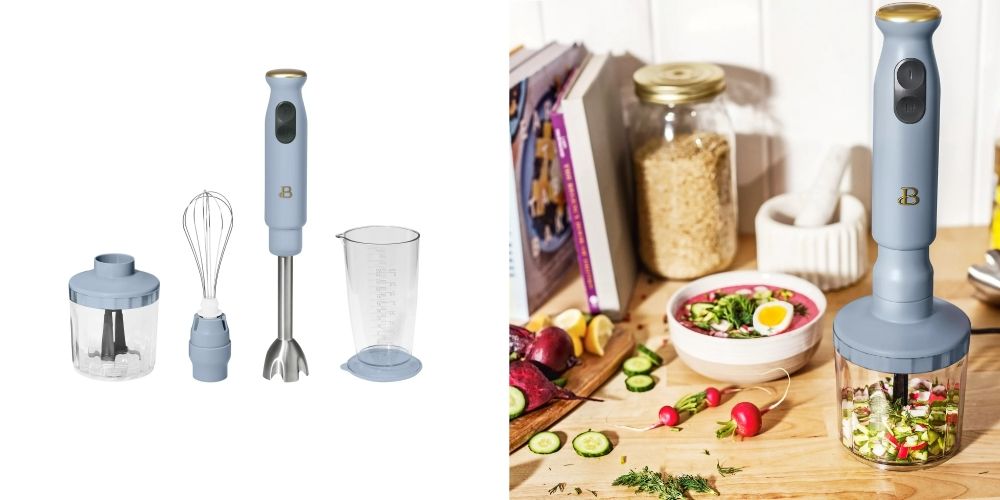 This 2-speed hand blender comes fully loaded with all the essential accessories for blending, chopping, whisking, and more.  The extra-long 5-foot cord provides ample room to waltz around your workstation, making cooking a graceful experience.
Garnering 4.4 stars on Walmart, customers are captivated by the airtight seals and the blender's stylish design. One delighted reviewer gushed, "I love the color. It's very sturdy and of great quality. Perfect for smoothies and purees. I'm excited about the chopper attachment but haven't used it yet."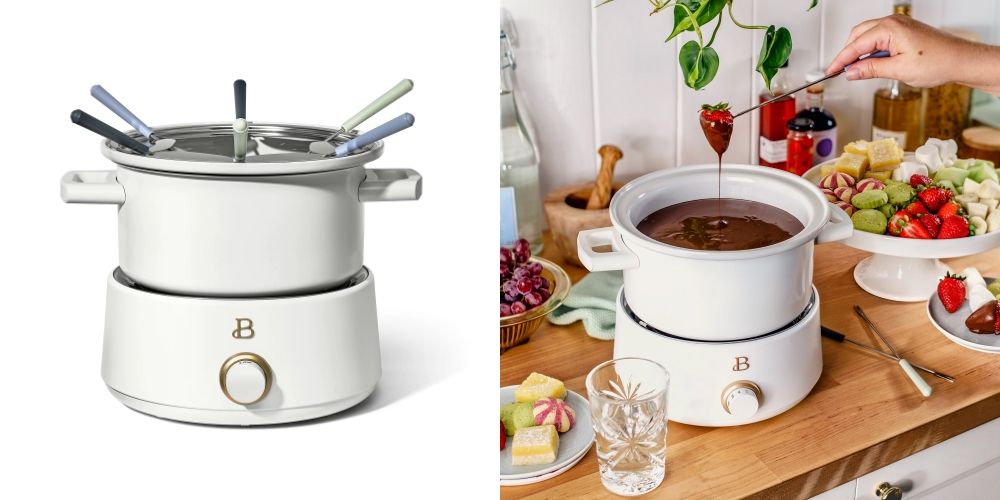 The 3qt Electric Fondue Set is designed to elevate your culinary experiences with family and friends. Designed for sharing, this set includes six color-coded fondue forks to keep track of your own, all held neatly in place by a sleek stainless steel fork ring. Perfectly melt cheese, chocolate, broth, or oil for fondue with an assortment of scrumptious accompaniments.
Master the art of temperature control with the user-friendly adjustable dial, allowing you to achieve the perfect consistency. Boasting a 4.9-star rating on Walmart, customers adore the non-slip design and easy-to-clean surface that make indulging in fondue a true pleasure.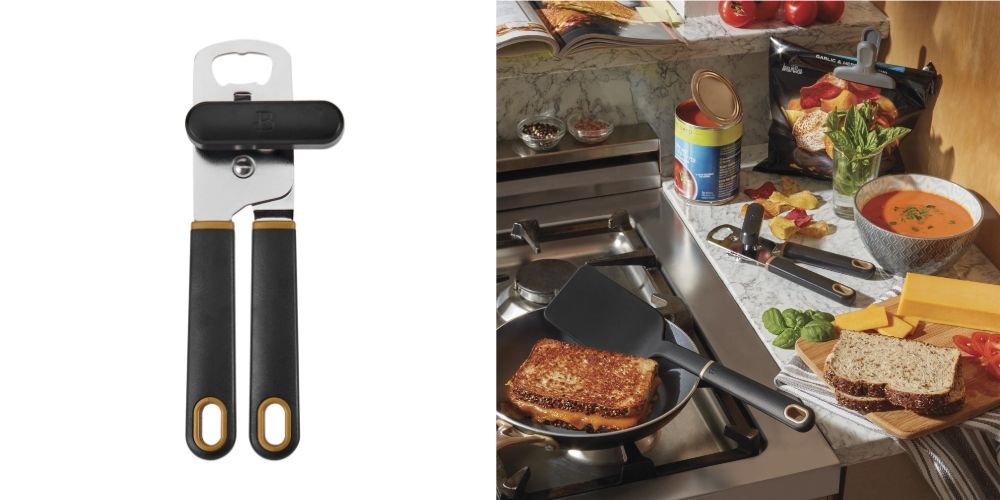 Unleash your culinary creativity with the versatile Can Opener, designed to simplify your home-cooking adventures. Effortlessly access canned goods such as vegetables, soups, and beans, as the razor-sharp high-carbon stainless steel blade glides seamlessly over can tops.
This clever contraption doubles as a trusty bottle opener, combining two indispensable tools into one handy gadget. Elevate your kitchen experience and keep the fun flowing. For optimal performance, give it a gentle hand wash after use, and it's ready for your next delectable masterpiece.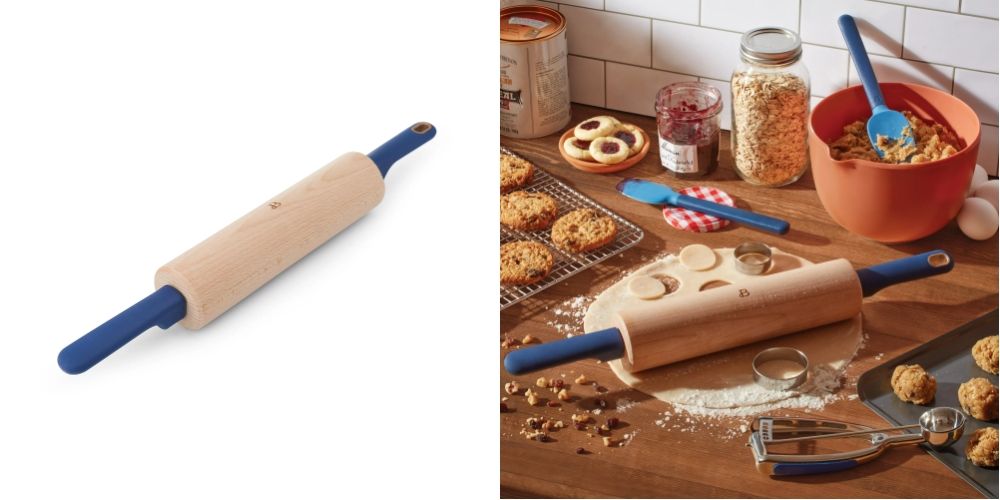 Designed to seamlessly roll out pie crusts, pastry shells, pizza dough, and so much more, this stylish Rolling Pin will put your culinary creativity to work, crushing graham crackers for luscious pies or whipping up delectable homemade breadcrumbs. Crafted from durable rubberwood, the barrel is built to endure frequent use and provide consistently fantastic results.
Boasting a 4.9-star rating on Walmart, customers rave about the excellent grip and eye-catching design. As one delighted reviewer shared, "This rolling pin is not only a beautiful kitchen addition with its blue handles but also highly functional. It rolls effortlessly, has a fantastic grip, and is a perfect size. Plus, the convenient hole at the end of the handle allows for easy storage by hanging it on a hook. I received this rolling pin as a gift and am thrilled to provide an honest review."
Final Thoughts
With these 20 gorgeous items from the Drew Barrymore Kitchen Collection, you'll be well-equipped to create delicious meals and entertain guests in style. Make sure to check out the Walmart and Amazon pages for the best deals and promotions. Remember to sign up for Drew Barrymore's email newsletter to stay updated on new products, promotions, and exclusive information. Bring some color and joy into your kitchen with the Drew Barrymore Kitchen Collection and make every day a beautiful culinary adventure!
Comments