This post may contain affiliate links, please see our privacy policy for details.
Easter is a special time of year when we celebrate new beginnings and the arrival of spring. It's a time for family gatherings, colorful egg hunts, and of course, decorating our homes to create a festive atmosphere. If you're looking for inspiration to spruce up your home this Easter, look no further! We've curated a list of 25 Easter decorations that will make you want to celebrate Easter every day.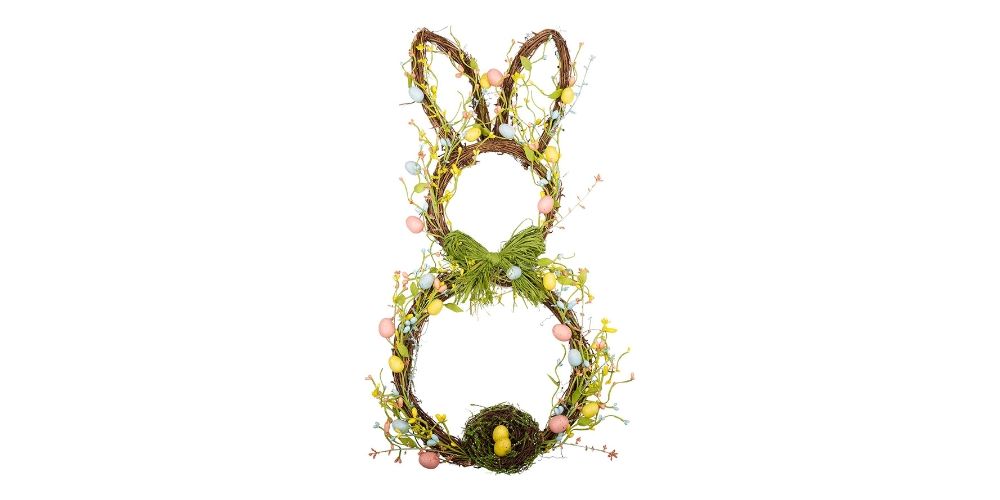 A colorful and cute bunny wreath will make a great addition to your front door. This handmade wreath boasts a colorful rattan bunny surrounded by foam eggs, wildflowers, branches, and a raffia bow. It's not too big or too small (27 inches x 12 inches) so it can be displayed above your doors, walls, and windows all season long. But don't just take our word for it - satisfied customers rave about the Bunny Wreath! As one happy customer exclaimed, "Everybody who sees it loves it!"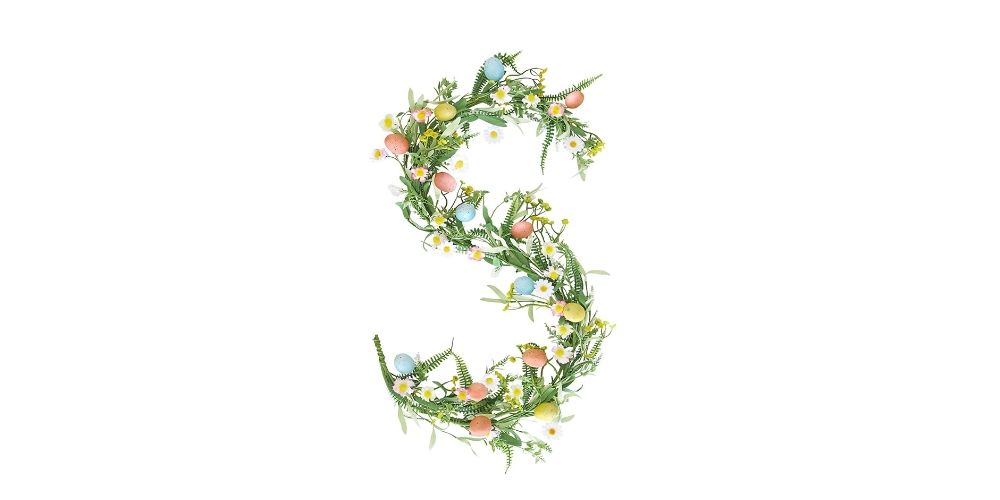 Bring the warmth and radiance of spring into your home with this stunning 5-foot-long Easter Egg Garland. Each delicate colored pastel egg is a work of art. Whether you choose to drape it along your mantel, weave it through your bookshelves, or wrap it around your favorite potted plant, this garland is versatile enough to suit all your decorating needs. It comes with a convenient loop for easy hanging on a hook. This garland is as low-maintenance as they come, allowing you more time to enjoy the beauty when guests enter your home.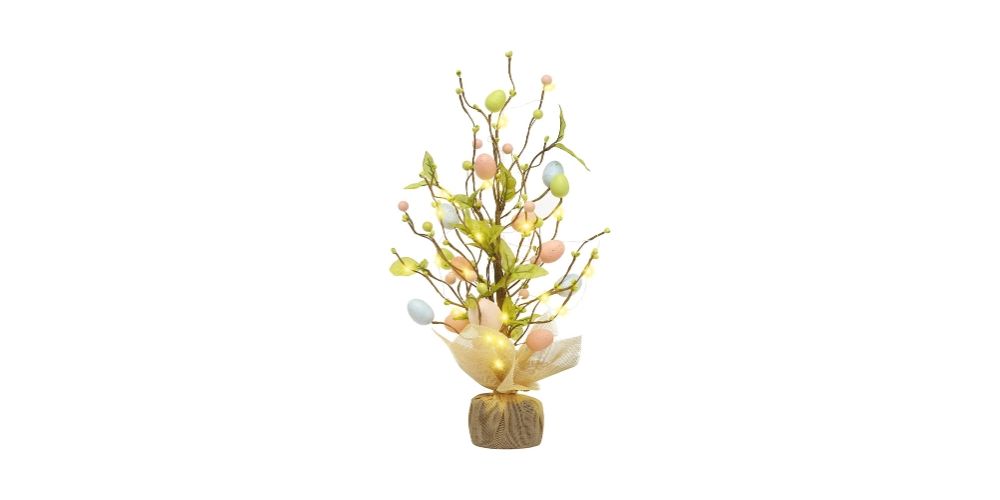 Spring has finally arrived, and what better way to embrace the season than with an Easter Egg Tree? This charming little beauty is the perfect addition to any home decor, bringing a burst of color and whimsy that will leave you feeling absolutely delighted. Despite its modest size (only 18 inches tall!), it's bursting with personality.
The delicate LED light string creates a warm and inviting atmosphere in any room, while the intricate ornaments - artificial eggs, flowers, and green leaves - are so lifelike that they'll leave you feeling amazed by their detail. But here's where it gets even better: the tree's trunk is bendable, allowing you to shape it however you like! So why not add some joy and charm into your life this spring with an Easter Egg Tree? Trust us, it'll be the best decision you make all season long!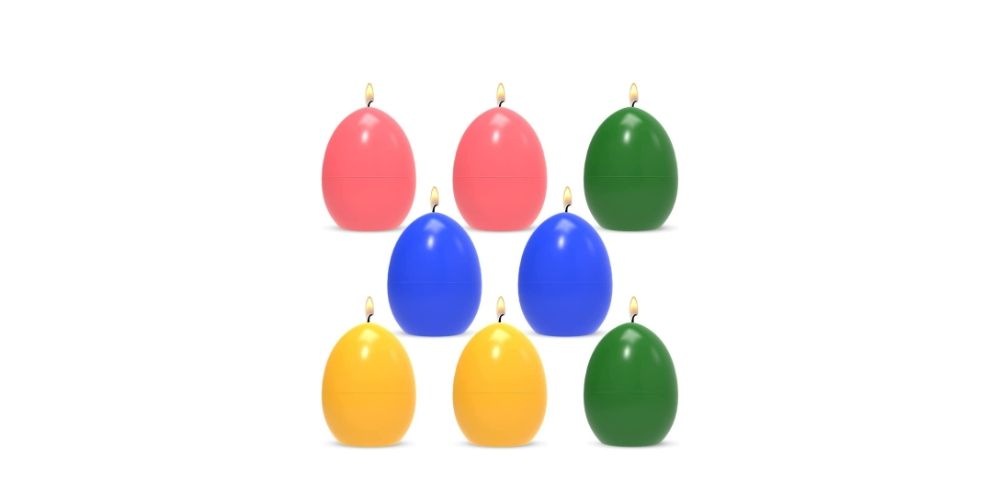 Are you feeling a little bit bored with your spring decorations? Well, we have just the thing to add some egg-citement! You absolutely need to get your hands on these adorably cute egg-shaped candles. Not only are they super cute, but they also create a warm and cozy atmosphere that will make you want to snuggle up and never leave the house.
Each candle is perfectly sized and makes them perfect for holding or displaying on any candle holder. These hand-poured candles burn evenly and cleanly thanks to their wax material and high-quality cotton wicks. They're cute, clean-burning, and can be used year-round or as part of an Easter-themed display with their variety of colors!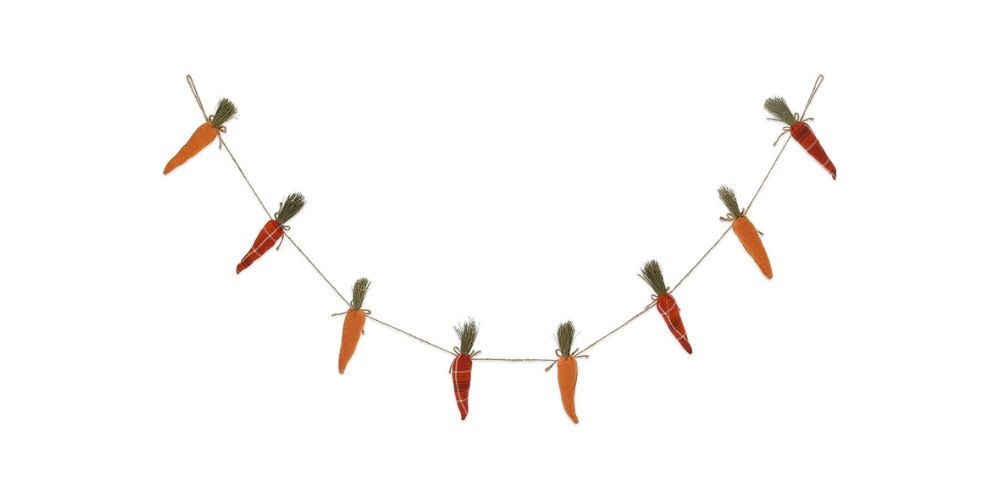 Not only will this adorable garland bring a burst of orange color to your festivities, but its high-quality construction means it's built to last for years to come - without any fading or unpleasant odors. What's more, is that it is incredibly versatile, making it the perfect addition to any Easter celebration. With its generous length of 72 inches, you can drape it over your mantel, hang it from walls, or string it up along windows and doorways. And with eight charming carrots on a jute string, it's sure to put a smile on anyone's face who sees it!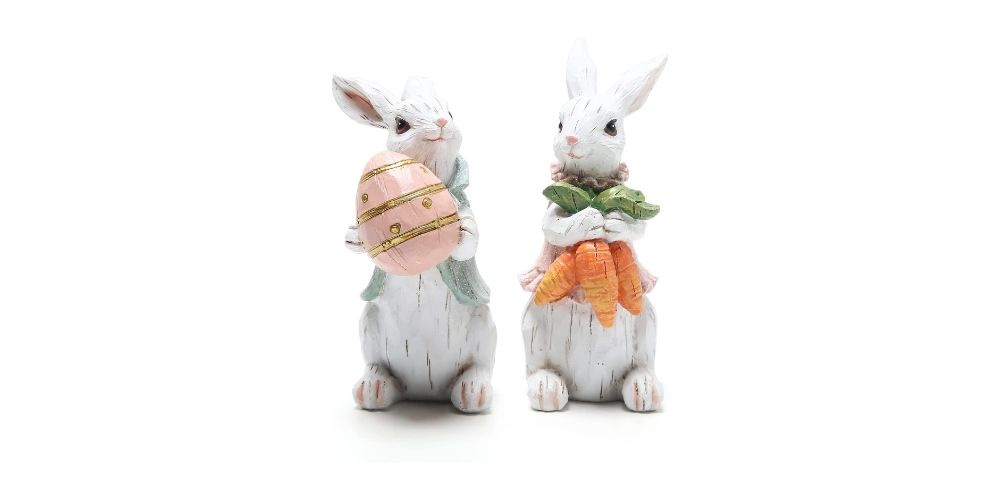 Shop now and add some Easter charm to your home with these eco-friendly bunny figurines! These adorable bunnies are not just playful and whimsical, but also one-of-a-kind, making your Easter decor unique. Crafted with meticulous attention to detail, they're made to last for years to come and can withstand even the most curious little hands. One happy customer rave about these bunny figurines, calling them the perfect size for accentuating any room and radiating a delightful theme that spreads joy throughout the year.
And let's not forget about the exceptional quality of this item - every single figurine is expertly crafted with meticulous attention to detail, ensuring that they'll last for years to come. Plus, they're durable enough to withstand even the most curious little hands, bringing joy to children and adults alike. Whether you're an experienced decorator looking for new Easter decorations or simply want to spread happiness in your family's life throughout the year, these lovable bunnies are guaranteed to put a smile on everyone's face.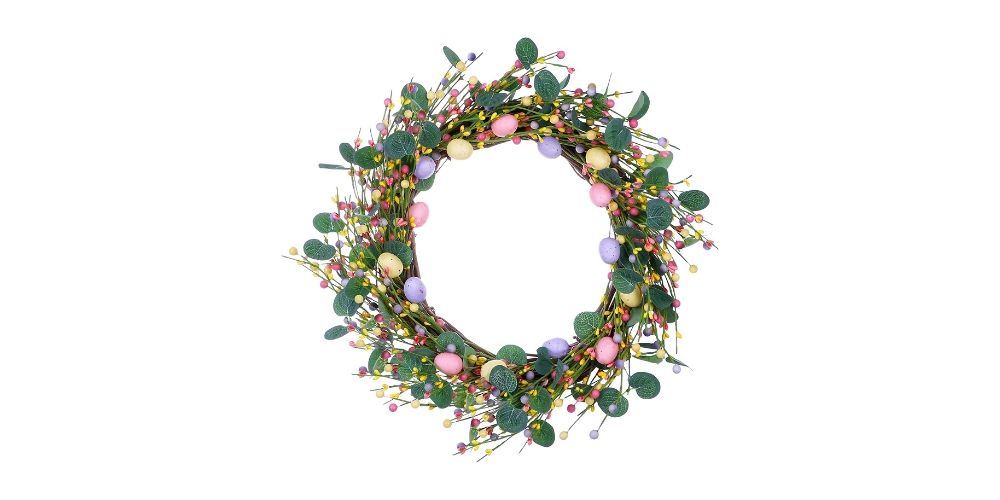 Get ready to celebrate Easter in style with an Easter egg wreath that's bursting with color and creativity! Handcrafted with care, this gorgeous wreath features a natural grapevine base adorned with a stunning array of colorful eggs, berries, and lush green eucalyptus leaves. But it's the Easter eggs that steal the show here.
With their vibrant hues and playful designs, they bring much-needed whimsy and joy to your home during this special season. And thanks to its high-quality construction and attention to detail, this wreath is built to last for many Easters to come - making it a truly worthwhile investment. Don't settle for plain old eggs - elevate your Easter decor game and order this stunning wreath!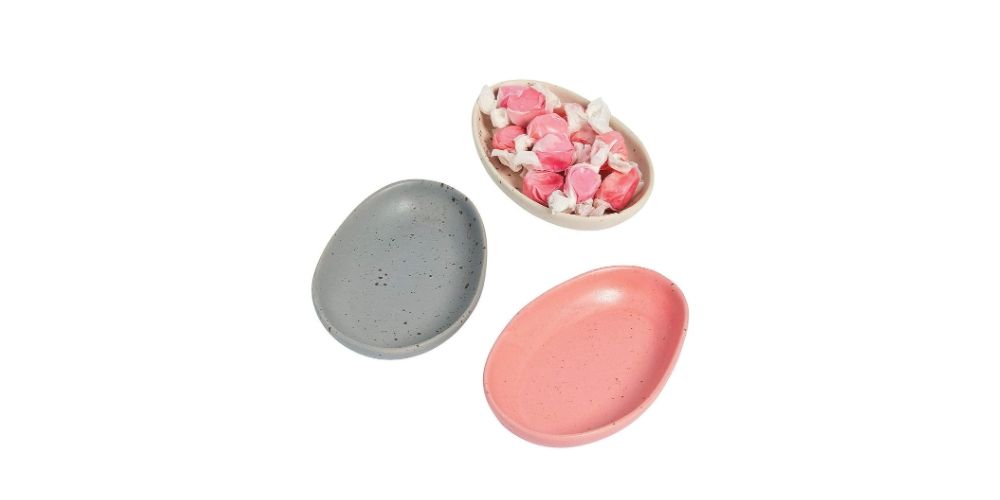 Are you ready to take your Easter decor to the next level? Look no further than the egg-shaped candy dish set - these adorable dishes are shaped and speckled like real eggs, making them a perfect way to store your favorite Easter treats. But these candy dishes aren't just cute - they're practical too with their ideal size (4"W x 6"L x 1"D) perfect for holding everything from jelly beans to chocolate eggs. And thanks to their high-quality ceramic construction, you can count on them lasting for many Easters to come!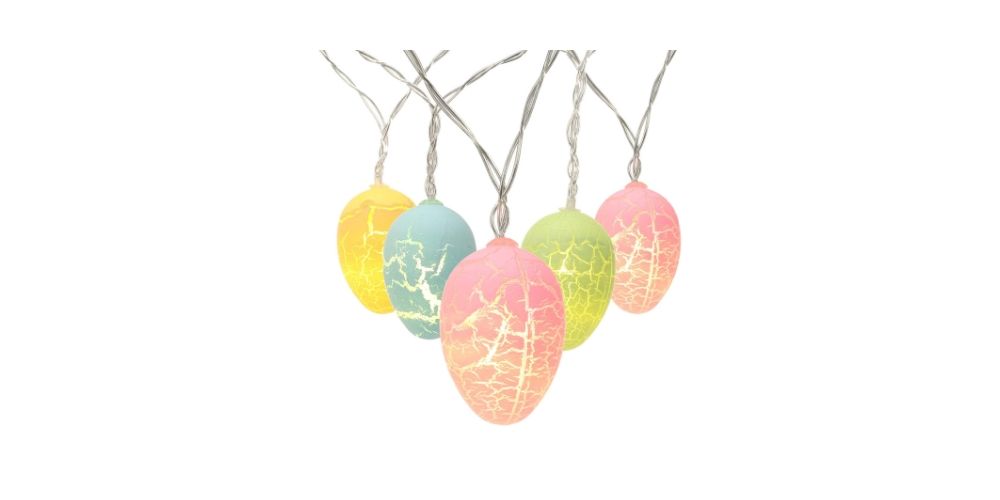 Transform your Easter dinner into a magical experience with these egg-shaped lights that will elevate your table decor to the next level. Our happy customers can't stop raving about them, with one exclaiming, "The lights were so festive and added a wonderful ambiance to my Easter dinner table. I highly recommend them!"
Just imagine the enchanting touch these lights will bring to your dining experience as you indulge in scrumptious Easter treats surrounded by delicate pastel hues. These lights are not only beautiful but also sturdy, making them a cherished part of your Easter traditions for years to come.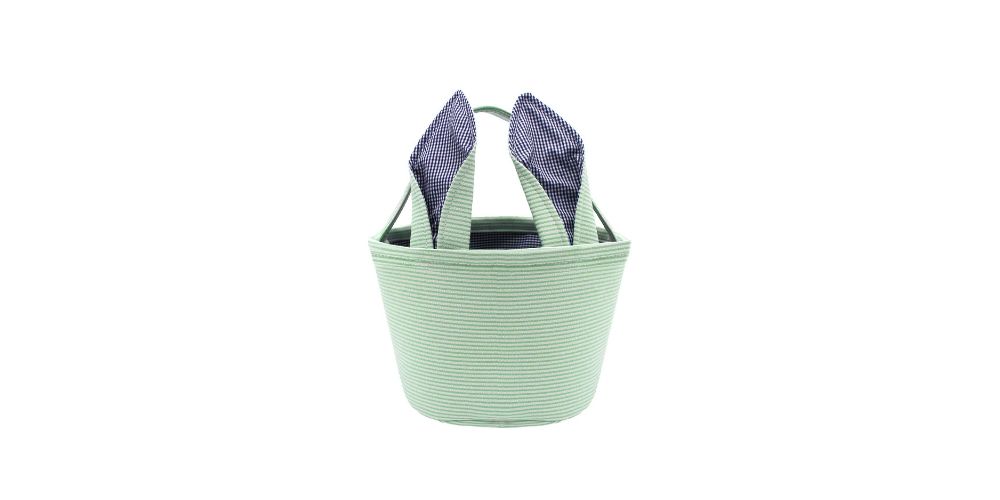 With its 100% cotton seersucker exterior and polyester lining, this basket is not only sturdy but also eco-friendly. But that's not all - this basket has a whopping capacity of up to 20 to 30 pounds, making it perfect for holding a variety of Easter goodies. And when you're done with the festivities, it collapses for easy and compact storage.
Whether you're filling it with candy for the kids or adult-sized treats for the grown-ups, this basket is perfect for all your Easter needs. And don't just take our word for it - one satisfied customer raves, "Perfect for our Easter treats! Great product for the money. Will transition well from egg hunt to bunny goodies. I also love that they will collapse for compact storage." So hop on over and add this Easter Egg Basket to your cart today!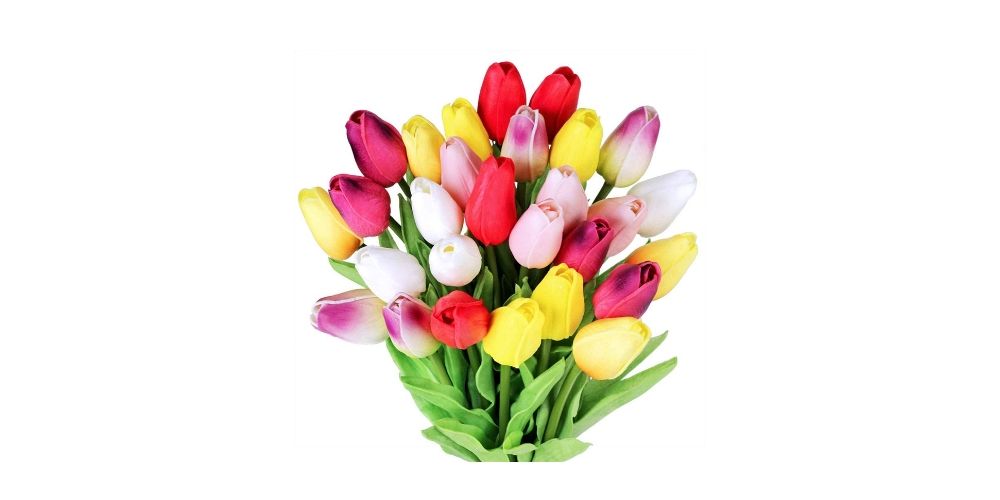 This stunning tulip bouquet is perfect for Easter and spring decorations throughout. With multiple hues to choose from, you can match your mood or message perfectly. Tulips are a classic springtime flower that brightens up any space and brings nature indoors.
But these tulips aren't just pretty - they're also practical. Made of high-quality PU material with a real texture and sturdier feel than typical silk flowers, they look and feel more realistic than ever before. Arranged in a beautiful, natural-looking way, these multicolor tulips will instantly make any space brighter and more cheerful. And because they're artificial flowers, you can enjoy their beauty for weeks on end or stock them for a future date!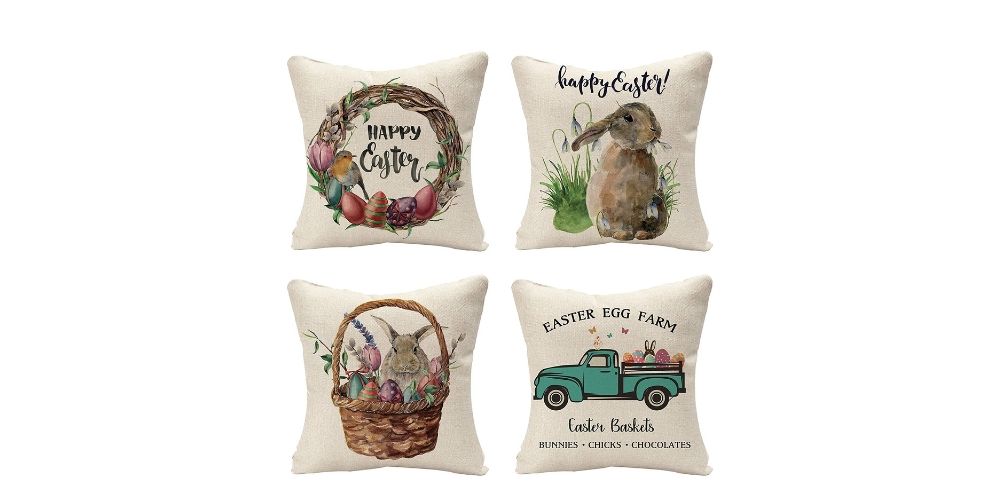 Hey there, cuddly critter lovers! If you're looking to add some Easter magic and cozy charm to your home decor, this bunny decor is the perfect addition. Shaped like a fluffy bunny, this pillow is cute, cozy, and guaranteed to make you want to snuggle up and take a nap because it's made of a high-quality cotton linen that's both durable and breathable, you can enjoy it for years to come.
It's the perfect size for adding a touch of Easter Bunny charm wherever you need it most: your couch, bed, or favorite reading chair. And because its simple yet elegant design adds a subtle touch of whimsy without being too cutesy or over-the-top, it'll fit seamlessly into any room in your home.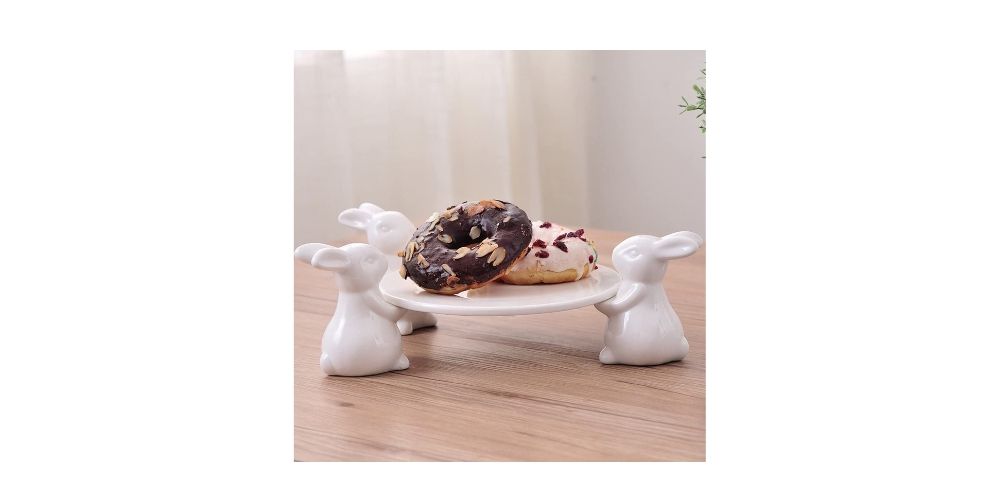 Shaped like a giant Easter egg, this ceramic platter is colorful and fun, guaranteed to put a smile on your guests' faces. And because each piece has been handmade with care and attention to detail, you know you're getting something truly unique and special that is worth the price. Measuring 8 inches in diameter, it's the perfect size for serving all of your favorite Easter treats cupcakes, fine chocolate bonbons, Easter eggs, or anything else that tickles your fancy.
And because it's made of sturdy ceramic material, you won't have to worry about it cracking or breaking halfway through your party! Don't settle for boring old serving dishes this Easter and add some festive flair to your table setting with this platter and watch as your guests "egg-spress" their delight!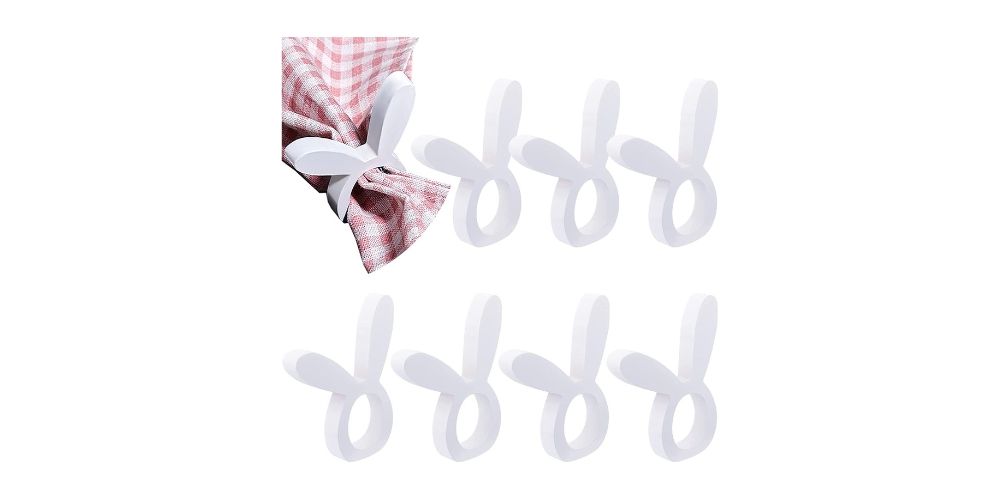 These bunny decor napkin rings are a must-have for any festive dinner party or holiday gathering. One satisfied customer raved, "Really nice quality. I can't wait to use them on my Easter table." And it's easy to see why. These napkin rings are not only adorable but also made of sturdy wood, ensuring they'll serve you well for years to come. And because they're reusable, you'll be doing your part to save the planet while adding a touch of whimsy to your table setting.
The bunny ears are designed to hold your napkins securely in place, so you won't have to worry about them falling off your lap or making a mess on your plate. Plus, their playful and charming design makes them a hit with guests of all ages, without looking too cutesy or over-the-top. So why settle for boring old napkin rings when you can add some personality and fun to your dining experience? Order these delightful bunny-shaped napkin rings today and watch as your guests hop with joy!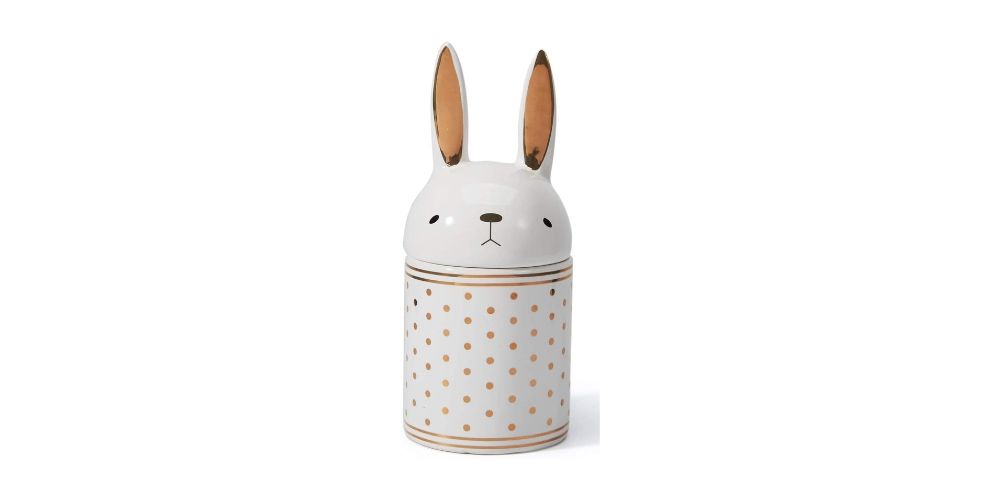 Are you tired of stale Easter treats that taste like they've been sitting in your pantry for months? Well, my fellow sweet tooths, have no fear because this egg-shaped cookie jar is here to keep your goodies fresh and looking as cute as a button.
This cookie jar is made from the finest ceramic, so you know it's high quality. And the best part? It's 100% lead-free and environmentally friendly. That means you can indulge in your treats without any worry of harmful chemicals seeping into your food. But let's be honest, the real star of the show here is the adorable rabbit jar with its lively and charming expression. And those gold ears? Talk about top-grade cuteness! The lines and dots on the body give it an elegant and sophisticated look, making it a stylish addition to any kitchen counter or dining table. And who doesn't love a good cookie jar? It's a kitchen staple that adds a touch of nostalgia to any home.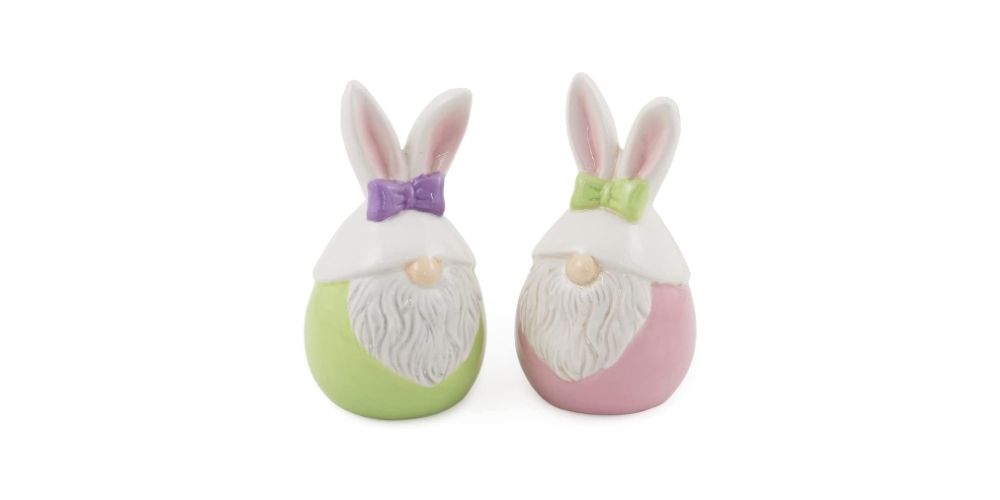 These egg-shaped shakers are here to add a pop of color and a dash of humor to your meals. Each shaker measures 2 x 4 inches, making them just the right size to fit in your hand and sprinkle some savory goodness onto your dishes. And when it comes to cleaning up, these shakers are dishwasher safe – just remember to remove the plastic plugs before washing.
But let's get to the real star of the show – the Easter Bunny Gnomes! These bearded gnomes in pink and green with bunny ears are the perfect bunny decor to your Easter table setting. They're so adorable that you might even forget they're meant for seasoning (but please don't - nobody likes bland food).
And if you really want to impress your guests, check out the rest of the seller - Boston International's Bunny Gnome collection. Your guests will be hopping with excitement at the sight of these charming pieces.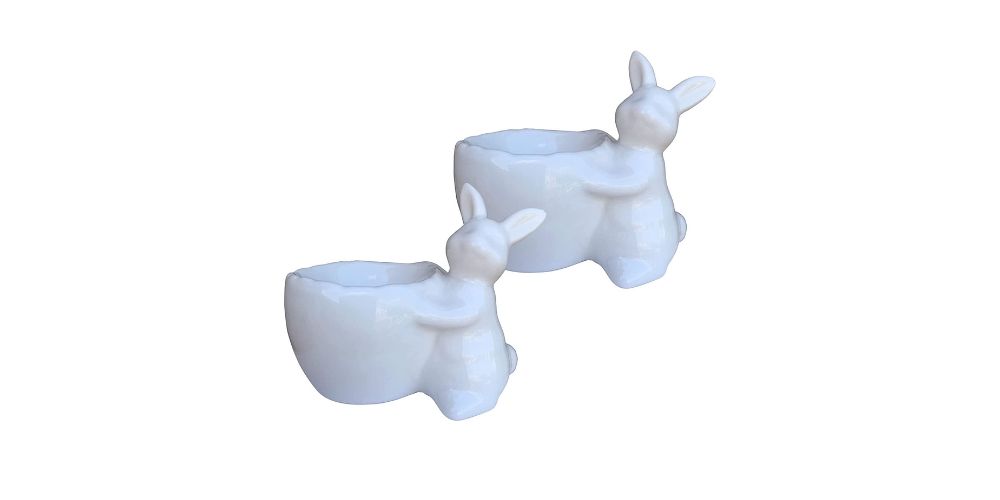 These candle holders are more than just ordinary decor, they're crafted from high-quality porcelain and designed with adorable rabbit-shaped details that will steal your heart away. And with a variety of colorful options to choose from, you'll be spoilt for choice when it comes to matching your decor. Perfect for creating a warm and inviting atmosphere, they'll add charm and beauty to any dining occasion this Easter. So why settle for ordinary decor when you can have these delightful rabbit-shaped candle holders and egg cups? Add some playful charm to your home this Easter with these stunning pieces today!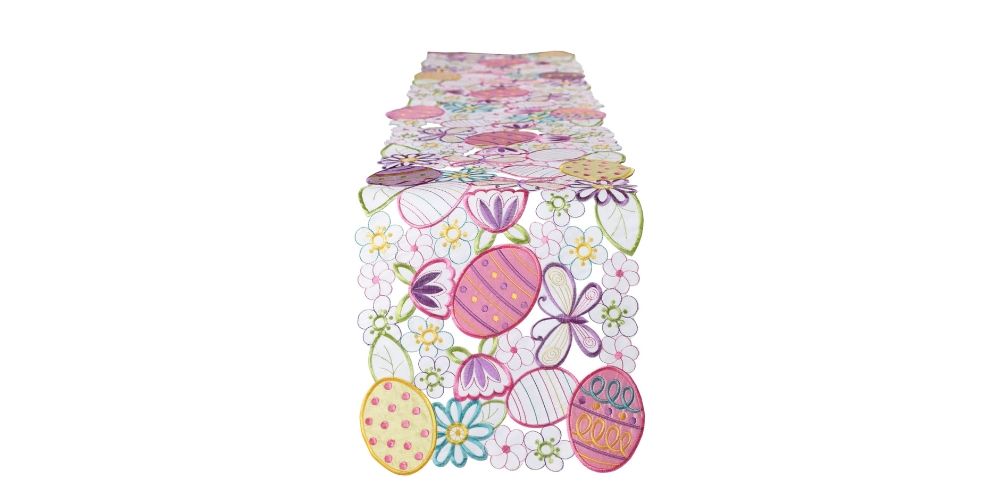 This table runner is more than just a pretty decoration, it's a work of art embroidered with stunning colors and long-lasting dyestuffs that will stay as bright and vibrant as the day you bought it. And those adorable little bunnies hopping along the fabric? They're simply irresistible. But don't let its charming design fool you – this bunny table runner is made of 100% polyester satin fabric with high-quality embroidery and sturdy sewing, making it both durable and practical. It'll protect your table from hot pans, scratches, and spills, so you can enjoy your holiday without worrying about damaging your furniture.
Crafted from lightweight paper mache, each ornament features a cloth loop for easy hanging. With 10-12 different colors and patterns available, there's something for everyone in this collection.  These eco-friendly ornaments aren't just limited to Easter decorations - you can use them as charming additions to a baby's nursery or as fun accents at a spring-themed party. Their sturdy yet lightweight construction makes them easy to handle and hang wherever you need them.
One customer even noted, "The Easter eggs are lightweight and have a cloth loop to hang them on a tree."  Don't settle for boring decor when you can bring some colorful charm and whimsy into your life with these lovely paper mache egg-shaped ornaments today! Sort through the available colors and patterns on our page and find the perfect fit for your home or event.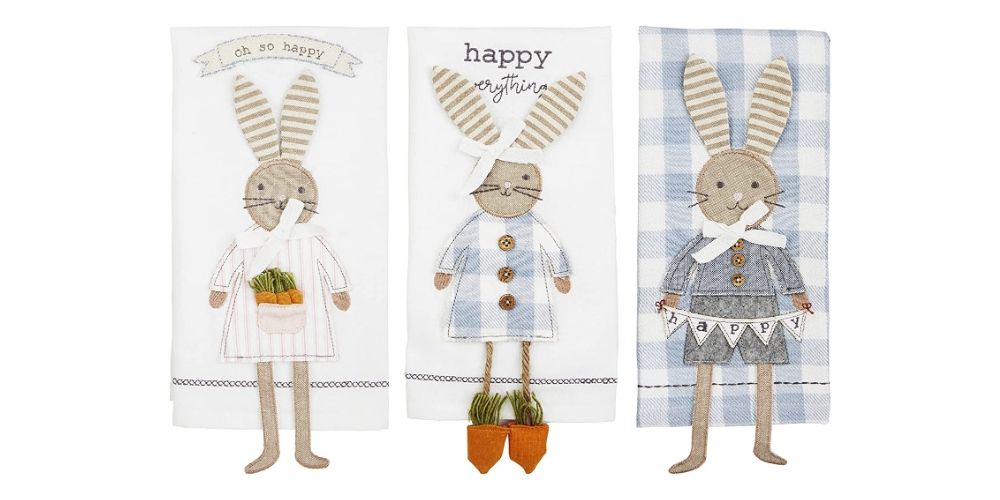 Upgrade your kitchen decor with these 100% cotton Bunny Kitchen Towels by Mud Pie! Soft, absorbent, and durable, they'll handle all your kitchen mishaps with ease. And the dangle leg bunny appliqué adds a playful touch to an otherwise ordinary towel. Mud Pie offers both boy and girl bunny designs, so you can choose the one that fits your personal style.
While the bunny legs may make drying hands awkward, it's part of the charm. These towels are meant to be a fun and whimsical addition to your home and kitchen decor. Don't let page errors keep you from adding personality to your home - stock up on these well-made and adorable Bunny Kitchen Towels today!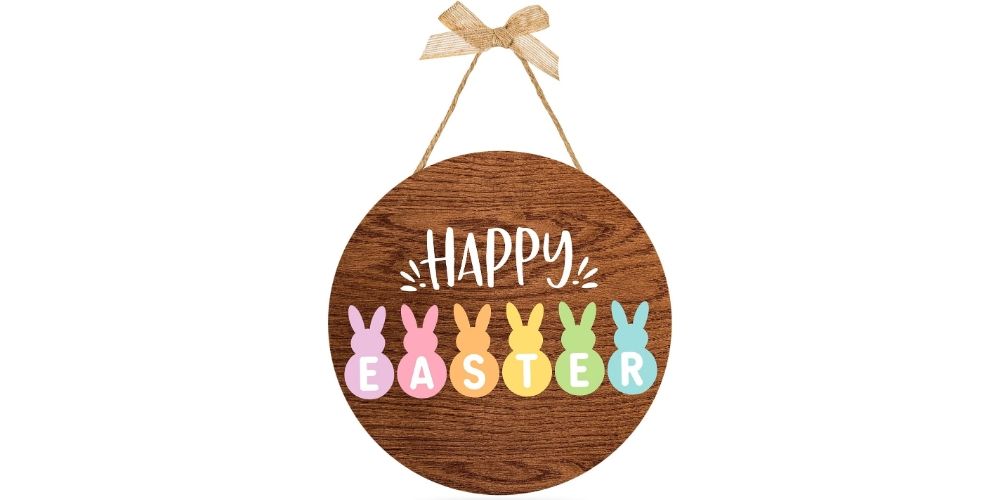 This sign features a charming rustic design with rainbow bunnies on a dark wood grain background, and it's printed with "Happy Easter" to spread holiday cheer. The hemp rope makes it easy to hang up anywhere, adding a touch of charm to any space.
At 29 x 29cm, this sign is just the right size for your front door, window, wall or any spot you'd like to add some Easter vibes. Made of durable wood, it's close to nature, safe and odorless - so you can enjoy it for years to come. Its good texture and smooth touch make it look even more exquisite.
But be warned: you might become so enamored with this cute sign that you'll leave it up long after the date of Easter has passed. No judgment here - we've all been guilty of leaving holiday decorations up too long!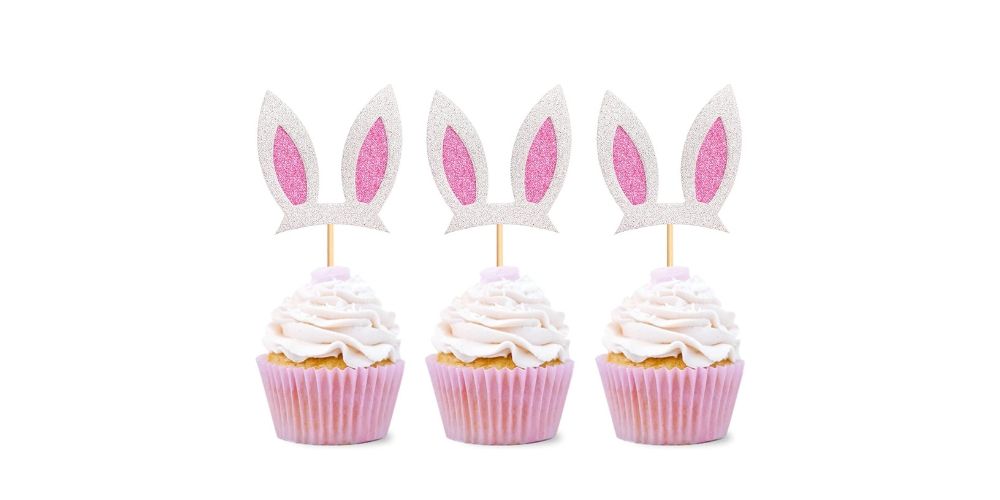 These adorable bunny cake toppers are sure to make your treats even more irresistible! One satisfied customer exclaimed, "Super cute! They were perfect cupcake toppers!" And we couldn't agree more. This set of 30 paper bunny ears designed cupcake toppers is an unbeatable deal that you won't want to miss out on.
Not only are they budget-friendly, but they're also made of high-quality cardstock that can withstand even the most enthusiastic little hands. Each bunny has perky ears, a sweet little nose, and delicate whiskers that are guaranteed to make your heart melt. With endless possibilities, these little bunnies are sure to bring joy and cheer wherever they go, making them the perfect addition to your Easter celebration.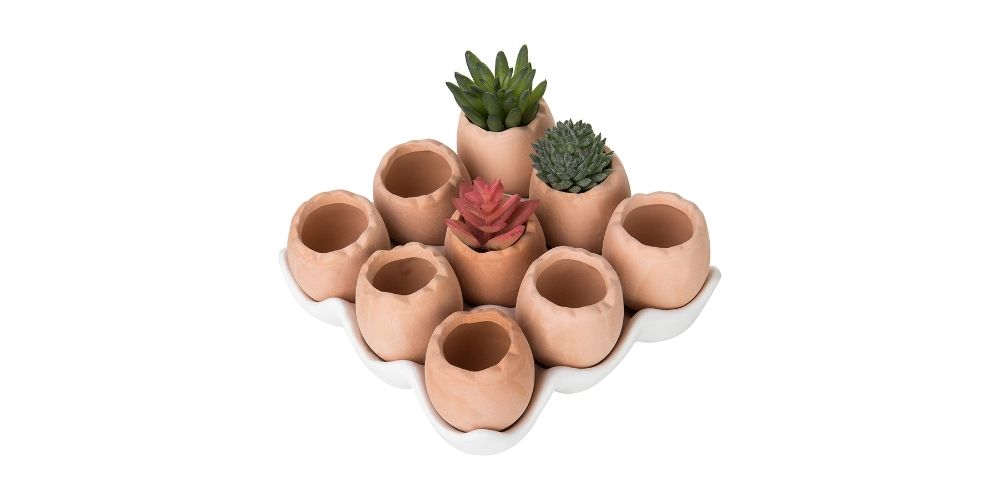 With nine small, terracotta pots on a sleek white ceramic tray, these planters are the perfect addition to your spring decorations. Their quirky egg-shaped design and pastel colors will bring a smile to your face and add some springtime charm to any room. Not only are these planters functional for your favorite small plants or seedlings, but their petite size allows you to place them anywhere in your home without taking up too much space.
And with their adorable design, they're sure to be a conversation starter among guests. Don't miss out on these must-have Easter egg planters! Mar your orders today and receive an email confirmation once they're shipped. They'll make the perfect addition to your Easter decor and create a festive and colorful atmosphere in your home that will last all season long.
Final Thoughts
In conclusion, these 23 Easter decorations will make your home a festive and colorful place to celebrate the holiday. From wreaths to table runners, and from bunny figurines to egg-shaped candle holders, there's something for everyone on this list. Add your personal touch and create a unique and welcoming Easter atmosphere that will make you want to celebrate every day!

Comments