This post may contain affiliate links, please see our privacy policy for details.
Are you ready to elevate your skincare game and achieve that glowing, radiant complexion you've been dreaming of? Look no further than skin care tools! With a vast array of options available - from DIY gadgets to professional-grade treatments - there's something for everyone. But with so many skin care devices on the market, it can be overwhelming to know where to begin. Fear not, because we've got you covered with our ultimate guide to 31 top-rated facial tools. We've included everything you need to know, including detailed descriptions, features, pros, and cons, so that you can make an informed decision and take your skincare routine to the next level. Don't settle for lackluster skin - start exploring our list today and unlock your best complexion yet!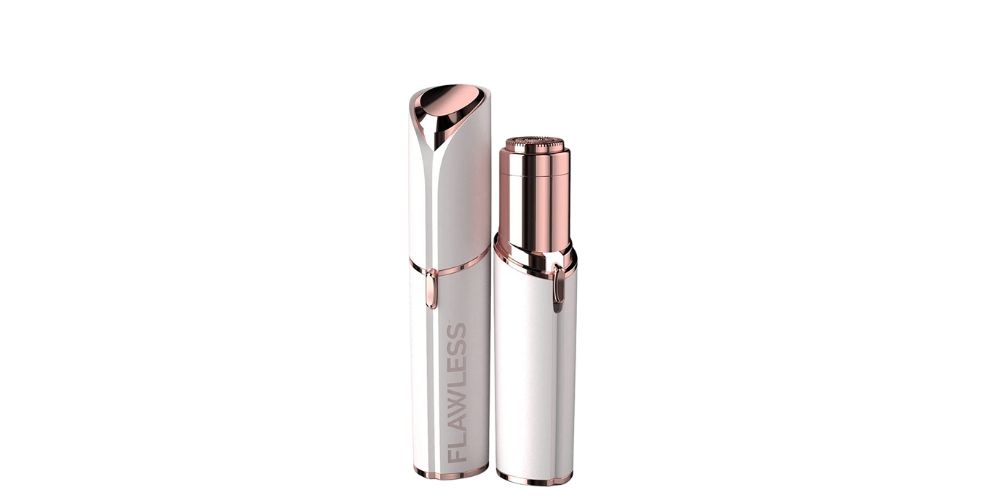 This Facial Hair Remover is a small electric razor that looks like lipstick and can be used discreetly for hair removal anywhere on your face.
This facial hair trimmer comes with 18 karat gold plating and a stainless steel blade, making it both stylish and effective. Additionally, it has a built-in LED light that helps you achieve precise hair removal without missing any strands.
Are you concerned about sensitive skin or allergies? No worries! The electric face razor is hypoallergenic and recommended by dermatologists, making it painless even for those with delicate skin. To use it, simply press it against your face and make small circular motions to remove peach fuzz and other unwanted hair from your lips, chin, neck, and cheeks, or even as an eyebrow shaper to maintain flawless brows.
If you're worried about experiencing pain or irritation during traditional hair removal methods, rest assured that the Flawless facial hair removal device is gentle enough to use every day. It leaves your skin smooth and hair-free without any nicks, bumps, or razor burns.
With over 88,000 five-star ratings from satisfied customers, this facial hair remover is a must-have for anyone looking to achieve flawless skin without breaking the bank. So why wait for regrowth? Keep charged batteries in the unit and enjoy velvety-smooth skin every day!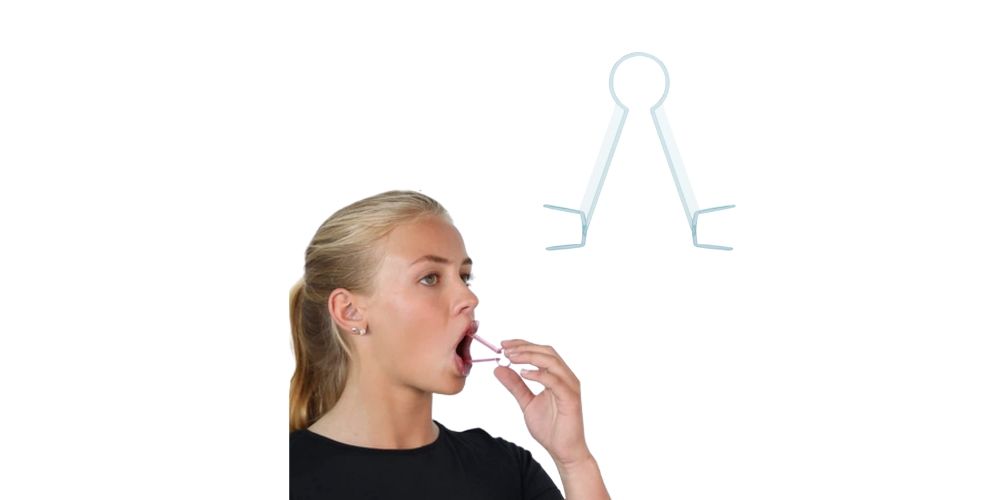 BLAfit is an innovative gadget that helps create firmer skin, plumper lips, and a defined jawline through natural exercises. You may be thinking, "I'll believe it when I see it." But get ready to be blown away because this plumper delivers fast results. Yes, you read that right - you can see noticeable improvement after just one set of exercises. Say goodbye to waiting weeks for filler injections to take effect.
So how does BLAfit work its magic? It strengthens and adds muscle to your face and lips through repetition, ultimately adding volume and contour to the areas you appreciate most. And it's not just limited to your lips - you can also work on your jawline for a more defined look.
But don't just take our word for it - the kit comes with a 5-minute consultation with Dr. Maryam, a BLA Fit Exerciser, a storage case, and an informational guide. Plus, it's made with patented technology in the USA, BPA-free, and tested and created by a Doctor of Orthodontics. So rest easy knowing that you're using a safe and reliable product.
In short, if you're looking for a non-invasive and natural way to achieve perfect pouty lips or a chiseled jawline in the comfort of your own home without any pain or discomfort involved then BLAfit is certainly worth trying out!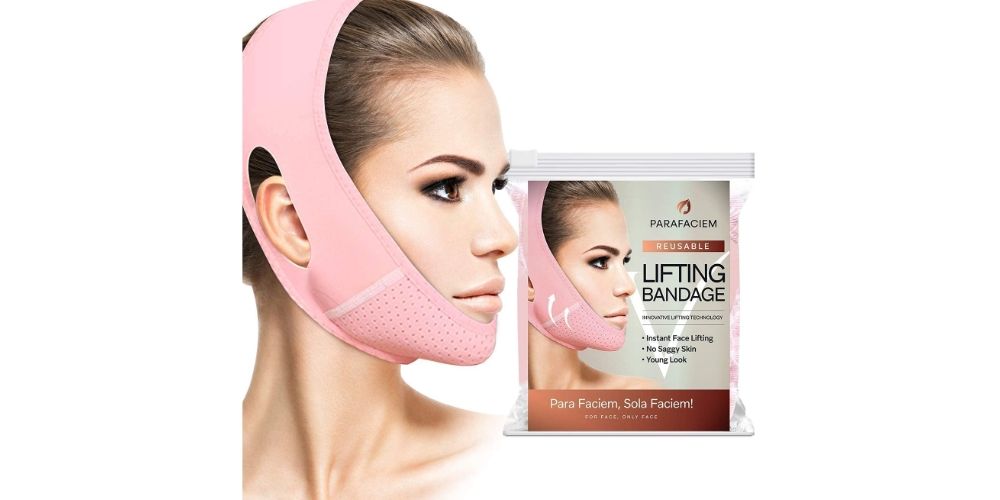 This Facial Slimming Strap is the ultimate solution to all your facial slimming needs. With over 15,600 five-star reviews, it's evident that this product is a game-changer in the world of beauty.
And who doesn't want to be lazy and pretty at the same time?
This strap is not just for women but also works wonders for men. So guys, don't hesitate to try it out and get that chiseled jawline you've always wanted.
The breathable and elastic fabric ensures comfort while wearing, and the sticky and adjustable bandage allows for a customized fit. No more struggling to keep your slimming strap in place or worrying about uneven pressure.
But remember, consistency is key. To see the best results, we recommend using the ParaFaciem lifting bandage daily for one hour every day for four weeks. And let's be real - who wouldn't want an excuse to relax while watching their favorite show with a slimming strap on their face?
So say goodbye to your double chin and hello to a defined jawline with the ParaFaciem Reusable V Line Lifting Mask Facial Slimming Strap. Your selfies will thank you later!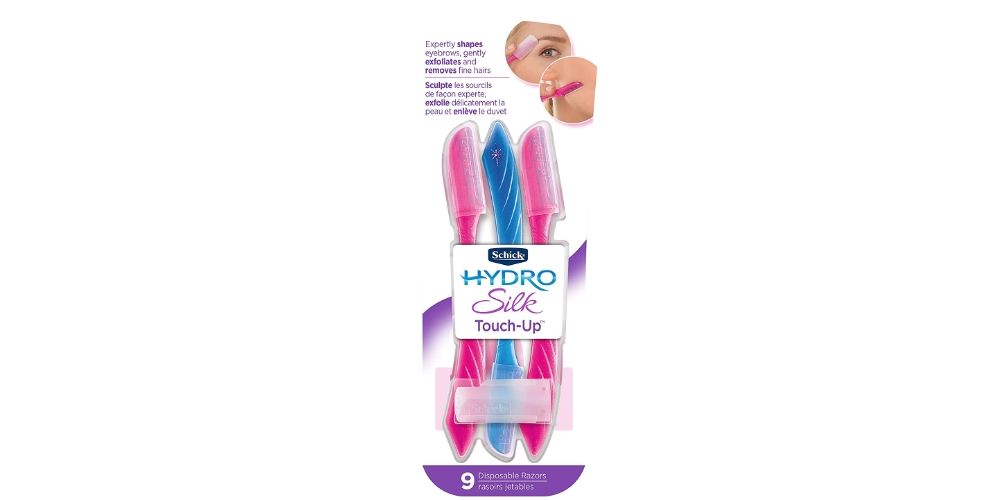 Join the ranks of over 123,000 satisfied customers who have discovered the game-changing Exfoliating Dermaplaning Tool. This incredible tool features a sharp blade that gently removes dead skin cells and peach fuzz from your face, revealing smooth, bright skin that you'll love showing off.
But that's not all - this tool also comes with a precision cover for eyebrow shaping and high-quality micro-guard blades for a clean and safe exfoliation experience. And its slim, portable size means you can take it with you wherever you go for any last-minute touch-ups.
And the best part? When you're done using it, simply recycle it using Schick's mail back program. Not only will you be looking fabulous but also doing your part in saving the planet. It's a win-win situation!
So say goodbye to rough, uneven skin and hello to a radiant glow with the Exfoliating Dermaplaning Tool. It's the beauty secret you didn't know you needed but won't be able to live without! Get ready to feel confident in your own skin like never before.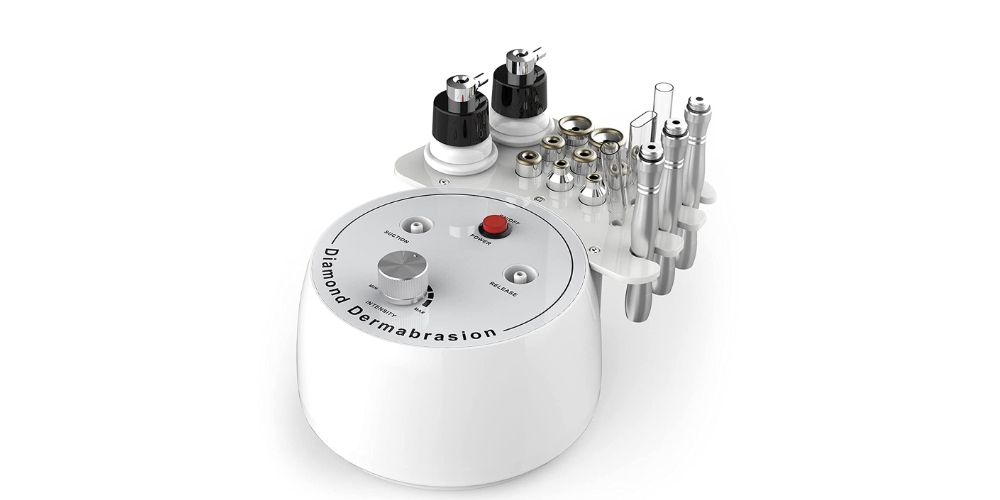 This powerful machine boasts impressive suction pressure that will suck up all those pesky skin debris, oil, dead skin cells, and blackheads from your face. In just one use, you'll see visible results that will leave your skin feeling soft and smooth like a baby's bottom.
The machine comes with three simple steps to clean your face: first, use the diamond microdermabrasion tips to exfoliate and clean away debris; then use the glass tubes to remove stubborn blackheads; finally, hydrate your face with the spray bottle for a refreshing finish that won't leave your skin dry. This machine is safe to use on all skin types.
But that's not all! The Unoisetion diamond microdermabrasion machine also comes with 9 replacement diamond heads so you can use it on every part of your face, cheeks, and even nasal area. And remember to clean those diamond heads with soap and water after each use and replace them every 3 months for optimal results.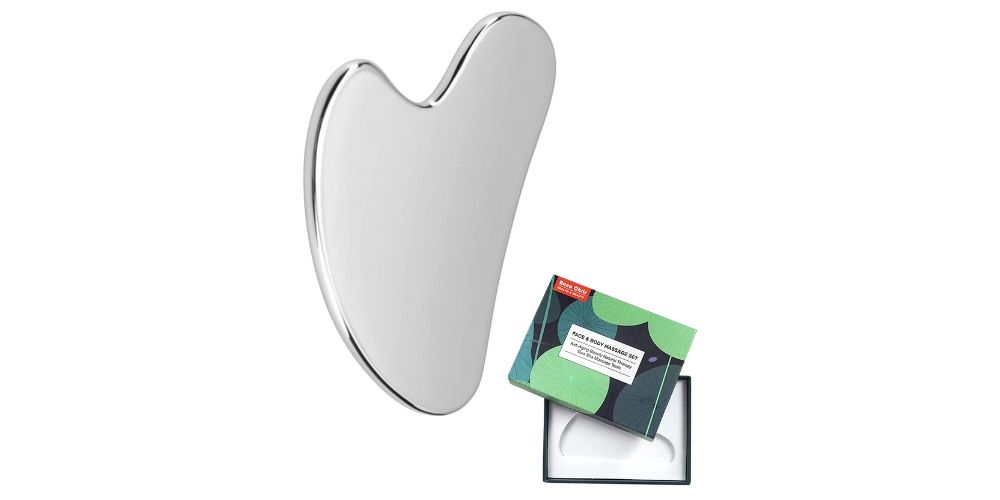 Designed to make you feel less stressed, more focused, and overall healthier, this metal gua sha tool is made of 100% premium stainless steel that's both beneficial to your skin's beauty and your body's health. Not only is it long-lasting and easy to care for, but it's also static-free for an even smoother experience. And while it may be popular for its facial massage benefits, it can also be used on other areas of the body to ease tension and promote relaxation.
Of course, mastering the technique takes a bit of practice - but with over 20,300 verified five-star ratings and an impressive 4.6-star average, it's clear that reviewers are loving the results. One fan even raved about achieving a "perfect face lift every time"! So why not give this tool a try and see how it can improve your overall well-being?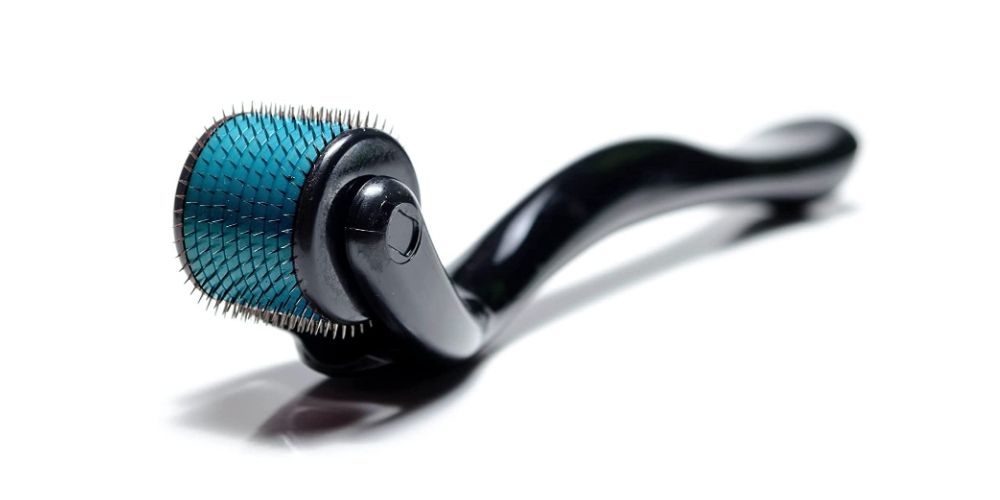 This derma roller kit is featuring tiny needles that are rolled over your skin, this tool stimulates collagen production and helps improve skin tone and the appearance of fine lines and wrinkles. Not only is it safe and painless to use on your face, but it can also be used on your scalp or beard to stimulate hair growth. And with over 7,900 Amazon shoppers giving it an impressive 4.3-star rating, it's clear that this beauty roller is a fan favorite for reducing the appearance of crow's feet, forehead wrinkles, and cheek wrinkles.
One reviewer even raved about seeing results after just one month of use! Plus, the roller helps maximize the benefits of your skincare products by improving their absorption into your skin. Of course, using the derma roller can be painful and may cause redness or irritation - but with its easy-to-use design and included storage case, it's definitely worth giving a try.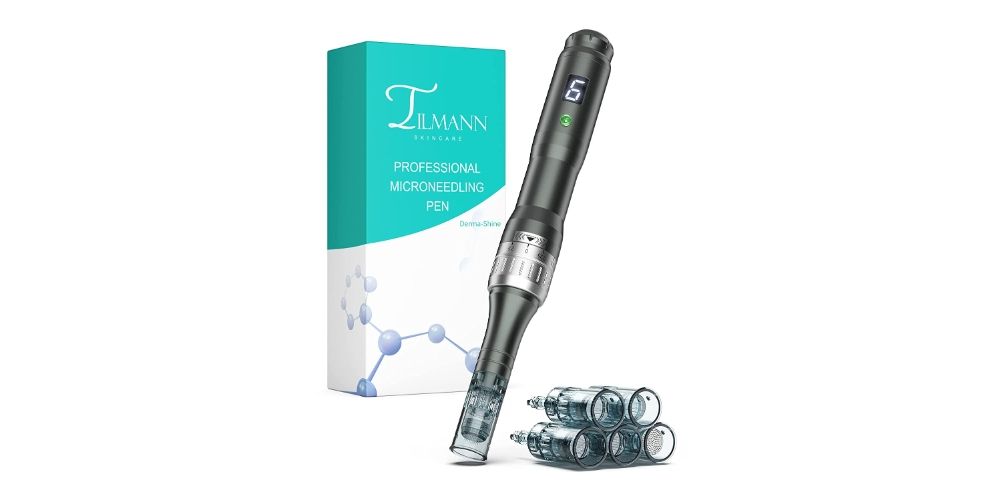 This handy tool is perfect for achieving salon-level results in the comfort of your own home. With its adjustable microneedle wand, this pen can tackle a wide variety of skin concerns and conditions. Simply turn the rotary dial to select the needle length that best suits your needs - whether you're dealing with fine lines, wrinkles, acne scars, or uneven skin texture.
Tilmann has also upgraded this pen's motor power and optimized its six working speed settings from weak to strong. That means you can customize your treatment based on what your skin needs most. And because this pen automatically goes in and out on your skin, it's super effective and practical - no need to worry about complicated instructions or difficult techniques.
And let's not forget about convenience - this micro needling pen is both wireless and rechargeable, so you can use it at home or on the go without any hassle. Plus, with an ultra-long standby time, you'll never have to worry about running out of battery mid-treatment. So why not give the Tilmann Microneedling Pen a try today and see how it can transform your skin care routine?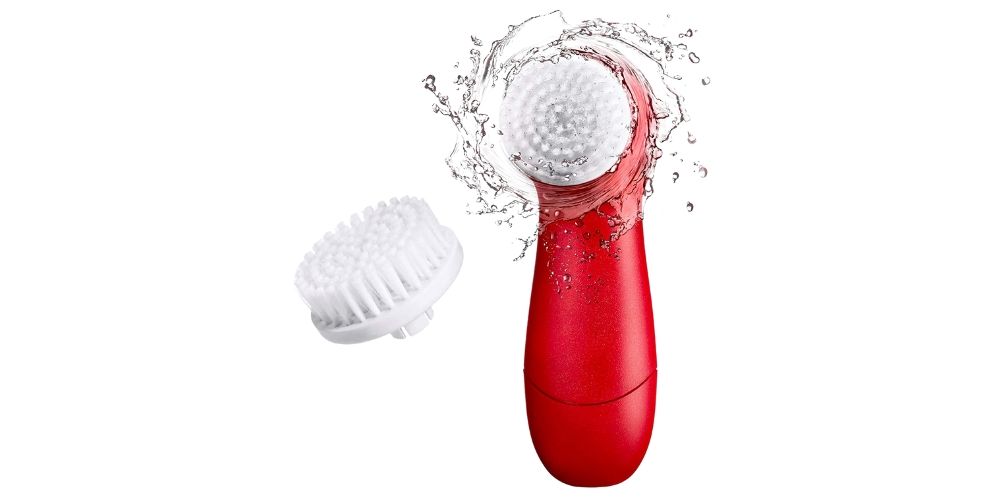 If you're feeling perplexed about which skin care tool to add to your routine, the Facial Cleansing Brush may be worth considering. Bursting with electronic power, this device is designed to delicately exfoliate and cleanse the skin, leaving it feeling soft and smooth. Though like anything in life, it has its pros and cons.
One standout feature of this brush is that it's compatible with any cleanser - meaning you don't need a specific one for it to work its magic. It's also ideal for those who wear makeup regularly, as it works wonders at removing even the toughest of products.
Another pro is that the brush comes equipped with two speeds so that you can customize your cleansing routine based on your individual skin needs. Plus, since dermatologists designed it, you can trust that it's both safe and effective for your skin.
However, there are some potential cons to keep in mind too. Unfortunately, this tool may not be suitable for those with sensitive skin as the bristles could cause irritation or redness. So if you decide to give this tool a try, start slowly and gently.
With over 16k Amazon reviews and an impressive 4.5-star rating, this facial brush seems to have won over many users already. One reviewer even raved about how supple and beautiful their skin looked after using it!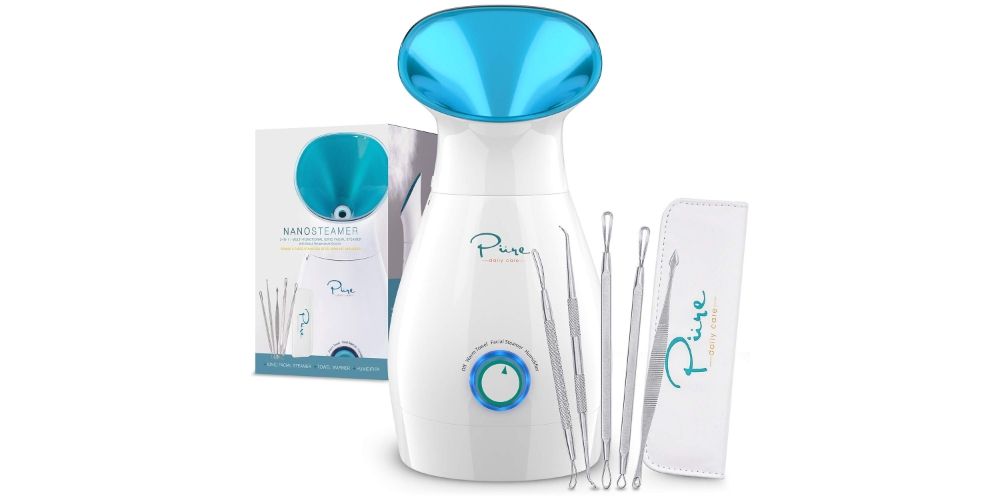 The Nano-Ionic Facial Steamer & Humidifier has garnered a massive following, and it's no surprise why. With over 27,500 Amazon shoppers giving it a 4.5-star rating and naming it a No. 1 bestseller in facial steamers, this device is the real deal. Reviewers rave about how well it does what it says it does, with one happy customer stating "I absolutely love this product."
This reviewer purchased the steamer while experiencing congestion and was blown away by its effectiveness. "It definitely helped with my congestion and opened up my pores too," they wrote. The included skin tool kit also received high praise, working wonders on blackheads and blemishes.
And let's not forget about the added bonus features! This device truly is a jack-of-all-trades when it comes to beauty and wellness tools. One reviewer even gushed about how much they loved being able to use the humidifier and towel warmer settings.
Overall, this device is an absolute game changer for those looking to indulge in an at-home spa experience. If you're seeking a reliable facial steamer that can do so much more than just steam your face, then look no further than the Nano-Ionic Facial Steamer & Humidifier – just ask its thousands of satisfied customers!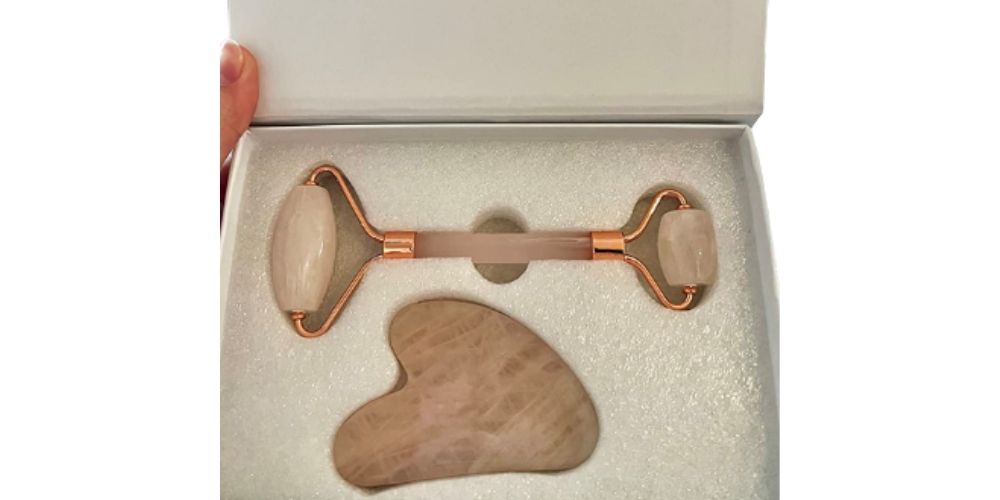 This trendy tool not only reduces puffiness and promotes lymphatic drainage, but they also provide muscle tension relief and leave your skin looking fresh, firm, and lifted. Made of sturdy rose quartz, the smooth rollers provide a cooling and energizing effect that's both soothing and relaxing.
Plus, keeping them in the fridge can help reduce morning puffiness for an even more refreshing experience. While they may be fragile and prone to breakage if dropped, their affordable price point makes them an accessible option for anyone looking to enhance their skincare routine. With over 38,000 verified five-star customer ratings, it's clear that these tools are a fan favorite - one reviewer even raved about feeling relief in their sinuses!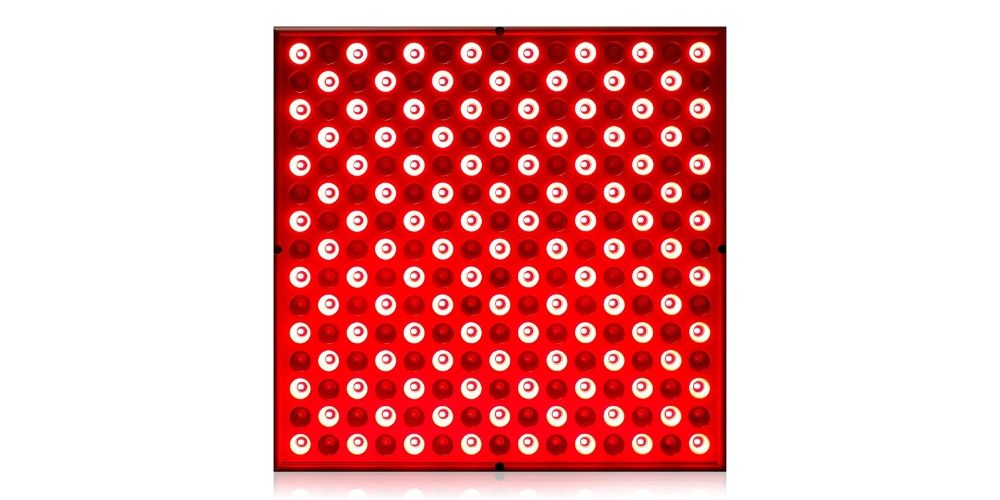 This powerful device uses a combination of 660nm deep red and 850nm near-infrared wavelengths, which work together to rejuvenate your skin, diminish wrinkles, and treat acne scars.
One of the most exciting things about this device is its versatility. Not only can it be used at home for everyday skincare, but it can also help alleviate pain and discomfort. The deep red light stimulates cell repair, promoting overall skin health, while the near-infrared light penetrates deeply into your skin to eliminate wrinkles and other signs of aging.
The device itself is easy to use, with the option to hang or place the red treatment panel independently. You can even use it while reading in bed or playing computer games – talk about multitasking! Plus, it makes an excellent gift for anyone who values their skin's health, from fitness enthusiasts to busy office workers.
However, keep in mind that using this device may take some time and effort. It can be a bit messy and time-consuming, but trust us when we say that the results are worth it! After using this device, you'll feel like you just stepped out of a luxurious spa.
Overall, if you're searching for a safe and effective way to enhance your skin's appearance, then definitely give the Red Light Therapy Device a try. Your future self will thank you!
The roller itself is super easy to use—just pop it in the freezer for a few hours, then roll it over your face whenever you need a little pick-me-up. The coolness of the roller helps to close pores while promoting blood circulation, which can reduce puffiness and wrinkles, and restore radiance to your skin.
One of the best things about the LATME Ice Roller is how versatile it is. You can use it with your favorite face cream to help absorb nutrients and ingredients, or you can use it on its own to revitalize tired, dull skin. And it's not just for your face—rolling it over your neck and chest can help reduce puffiness and alleviate redness and fever for menopausal women.
But the real magic of the LATME Ice Roller is in its cold therapy. If you suffer from migraines, muscle pain, or tension, this roller can provide quick, soothing relief. It's also great for cooling down sunburns, insect bites, and hot flashes. Plus, with a 4.7-star rating from over 9,500 Amazon shoppers, you know this roller is the real deal.
Get ready to witness some serious skin-clearing magic with this blackhead extraction tool! Not only will it leave your skin feeling refreshed and looking amazing, but you'll also get a front-row seat to the action.
Equipped with three adjustable levels and powered by vacuum technology, this tool sucks out blackheads, oil, and whiteheads with ease. Plus, its high-capacity battery means you can keep your skin clean and clear for up to a month on just one charge.
Using the Pore Vacuum is simple – just follow a few easy steps. Start by relaxing your pores with a hot towel, then download the accompanying app and connect your device to WiFi. From there, turn on the device and start cleaning those pores! And if you want to capture the process in all its glory, the app even lets you take photos and videos.
In addition to the Pore Vacuum itself, you'll also receive six replaceable heads and six stainless steel blackhead remover tools. Plus, there's a USB charging cable and product manual included to ensure that you get the most out of your device.
But beware – once you start using this tool, it's hard not to become obsessed with watching every pore-clearing moment in HD. So if you're ready for an effective way to keep your skin looking its best (and don't mind spending some quality time in the bathroom), then give the Pore Vacuum a try!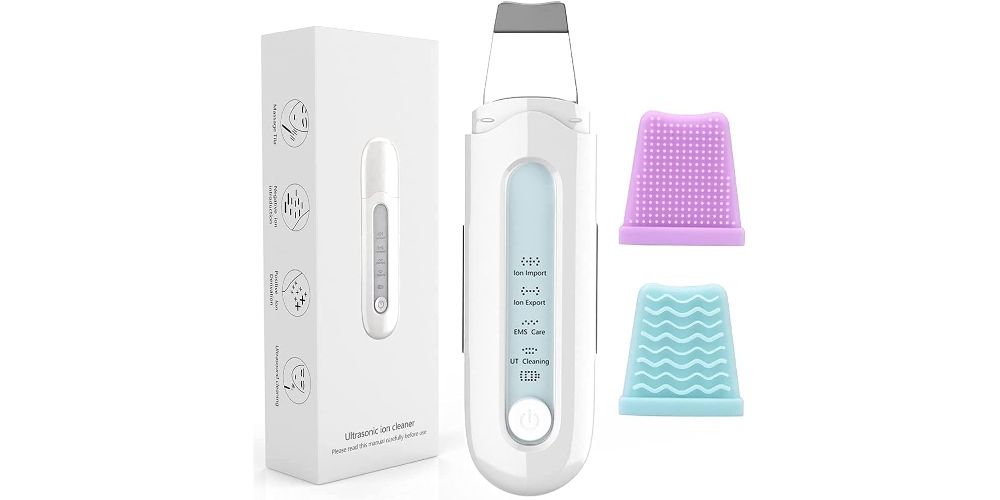 The Skin Scrubber Skin Spatula is not only effective, but also versatile with adjustable modes such as ut cleaning, EMS care, ion export, and ion import. Each mode caters to your skin's unique needs and can even help you achieve that natural radiance you seek. Plus, it's waterproof, allowing for use in a variety of settings including the shower!
Constructed with 304 stainless steel and a rounded r-angle design, it is gentle on even the most delicate areas of your face such as your nose. Additionally, weighing only 185g makes it easy to transport wherever life takes you.
But wait- there's more! You need not worry about constantly replacing batteries as this nifty gadget can be easily charged via USB cable. So why settle for a mediocre facial cleanse when you can experience the transformative power of the Skin Scrubber Skin Spatula? Give it a go today and witness firsthand how it elevates your skincare routine!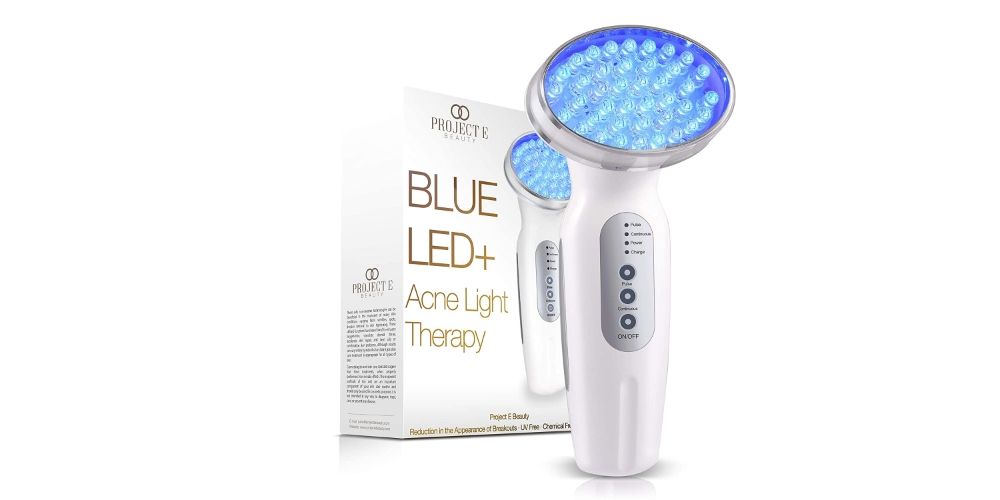 The secret behind  Blue LED+ Acne Light Therapy device power is blue light energy. This potent wavelength works deep within your skin to regulate oil production and prevent new pimples from forming. It's like having your own personal oil control specialist on speed dial.
This blue light therapy device also targets clogging that causes inflammation, essentially clearing the way for other acne-fighting products to work even better. Rest assured, this device is totally safe and non-invasive. It uses 40 UV-free, non-heating LED bulbs to deliver light energy effectively without any risk of burns or damage to your skin. Moreover, it has a built-in safety timer feature that turns off after 10 minutes of use to prevent overexposure.
But what truly sets this blue light therapy device apart are its two operating modes. For beginners, there's the pulsating mode which delivers quick bursts of light energy. As you get used to it, you can switch to continuous mode for longer exposure- like a choose-your-own-adventure experience for your skincare routine!
The facial cupping set includes small silicone cups that can be used to massage the face and promote lymphatic drainage. And let's be honest here, who doesn't love good lymphatic drainage? Plus, this set is perfect for those of us who want to keep our collagen production on point. Cupping for the face increases blood flow and circulation, which improves collagen production for tighter-looking skin and reduces the appearance of wrinkles.
These facial suction cups are made with safe medical-grade silicone that's soft and flexible, unlike glass facial cupping sets. This means that it's gentle on your skin while still being effective. The Jojoba oil that comes with the set is 100% pure and natural, paraben-free, and cruelty-free - making it the perfect addition to your skincare routine.
And if you're worried about affordability - don't be! With nearly 4,000 verified five-star ratings from shoppers who appreciate the affordable price, quality of the product, and impressive results - it's clear that this tool is loved by thousands. It's a more affordable alternative to traditional facial cupping and can even be used on various parts of your body!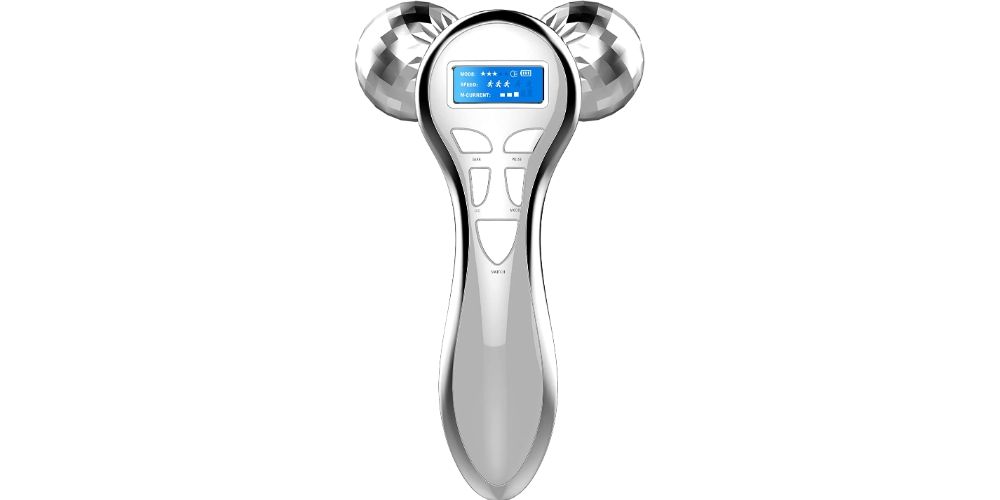 This innovative device combines multiple technologies to give you the ultimate at-home beauty experience. One of the standout features of this face roller is the different intensity choices. With five different intensities of microcurrent, you can customize the treatment to your liking. No need to worry about one size fitting all!
Another great feature is the multi-modes. With the "VM" and "MODE" buttons, you can adjust the massage times and speed to create the perfect experience for you. And if you're not feeling a particular mode, no worries - you can simply turn it off and stick with the normal mode.
But the real beauty of the 4D Microcurrent Face Roller is in the daily beauty care it provides. By using this roller every day, you'll see a noticeable improvement in your face and skin. And if you pair it with your favorite skin care products, you'll promote even better absorption.
Plus, with the 4D design, you can use it on any part of your body from any angle you like. So go ahead and get creative with your beauty routine! Say goodbye to expensive salon treatments and hello to the 4D Microcurrent Face Roller.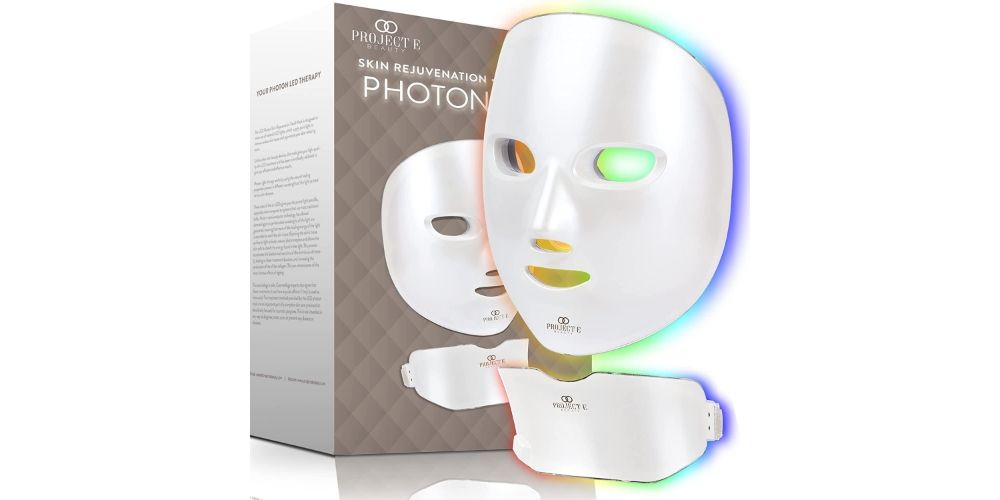 This mask is wireless, safe, comfortable, and simple to use. You don't need to be a tech genius to work it out. Just pop it on your face and let the LED lights do their thing. And it's 50% lighter than the previous version, so you won't feel like you're carrying around a ton of bricks on your face.
With 102 + 40 LED lights, this mask covers your entire face and neck, providing optimal wavelengths to treat a range of skin issues. The 5 levels of intensity allow you to customize your treatment to suit your preferences. And with seven different colors to choose from, you'll never get bored.
The red light increases blood flow and stimulate collagen production - perfect for reducing fine lines and wrinkle, and microcurrent tones facial muscles. Blue light calms tighten the skin and fights acne-causing bacteria. Green light improves pigmentation, fine lines, and aging while yellow light smooths the skin and reduces redness. Purple light is relaxing and improves lymph metabolism while light blue light is soothing and can help with allergies. And we can't forget about the newest addition to the color spectrum - white light! It accelerates tissue metabolism for even better results.
Overall, this LED Light Therapy Mask is a game-changer in the skincare world. It's affordable, easy to use, and provides spa-quality treatments in the comfort of your own home. And with all the different color options, you're sure to find the perfect treatment for your skin concerns. So what are you waiting for? Time to light up your life (and your face)!
Final Thoughts
No matter your skin type, there's a facial tool that can help you achieve the perfect complexion. From professional-grade treatments to affordable DIY gadgets, our list of 18 top-rated tools has something for everyone. With detailed descriptions and features, so you can make an informed decision, this guide is sure to provide everything needed to take your skincare routine from lackluster to luxurious in no time! Don't let another day go by without exploring the best skin care tools - unlock glowing, radiant skin today with these must-have products!
Comments