This post may contain affiliate links, please see our privacy policy for details.
Looking for the ideal gift for mom? Mother's Day jewelry is a timeless and heartfelt way to express your love and appreciation for all the important maternal figures in your life. From dazzling diamonds to lustrous pearls, our carefully curated list presents the best Mother's Day jewelry options to celebrate your mom, not just on this special day, but all year long.
For the minimalist mom, chic and sculpted hoop earrings will provide a subtle touch of elegance to her daily look. If she's fashion-forward and loves staying on top of the latest trends, contemporary rings, necklaces, and more from renowned designers will make a delightful addition to her jewelry collection. For the mom with a romantic flair, a modern take on classic pearl designs is sure to make her heart flutter. Rest assured, we've got the perfect jewelry options for every mom's unique personality and style.
So, whether you're honoring your mother, grandmother, wife, or another cherished maternal figure, explore our handpicked guide featuring a diverse selection of Mother's Day jewelry items she's bound to adore.
Mother's Day Necklaces
A beautiful necklace can really make a statement. In this category, we've included a variety of designs, from simple pendants to intricate lockets, that your mom can wear close to her heart.
Nameplate Necklace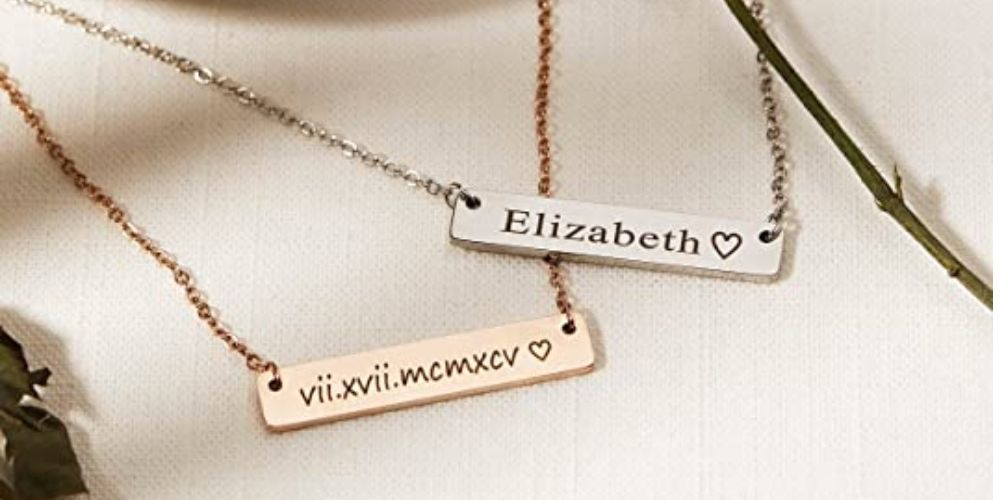 Crafted with high-quality materials, this necklace is available in gold, silver, and rose gold finishes, ensuring that you can find the perfect color to suit your mother's style. Whether she's a minimalist who loves delicate jewelry or a fashion-forward mom who likes to make a statement, this necklace is sure to complement her personal taste.
Initial Pendant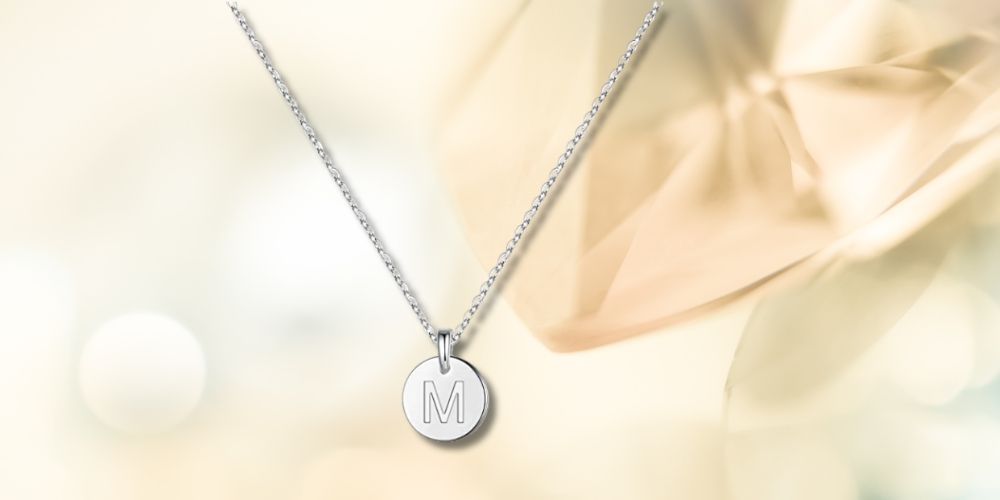 Crafted with top-quality sterling silver, this necklace is the definition of timeless elegance, making it a versatile add-on to any wardrobe. The initial pendant, available in all letters of the alphabet, adds a subtle yet sophisticated touch to the piece. The 16-inch chain drapes perfectly on the collarbone, making it the perfect accessory that can be worn with anything, anytime.
Birthstone Pendant
This necklace is made from top-notch sterling silver and flaunts a mesmerizing birthstone charm that's bound to stun. With a range of vivacious colors, every birth month is represented, making it an excellent choice to show your love and gratitude to your mother or someone special. Measuring 8mm in diameter, the pendant hangs on an 18-inch chain, which can be adjusted to suit your mother's unique style.
Custom Engraved Pendant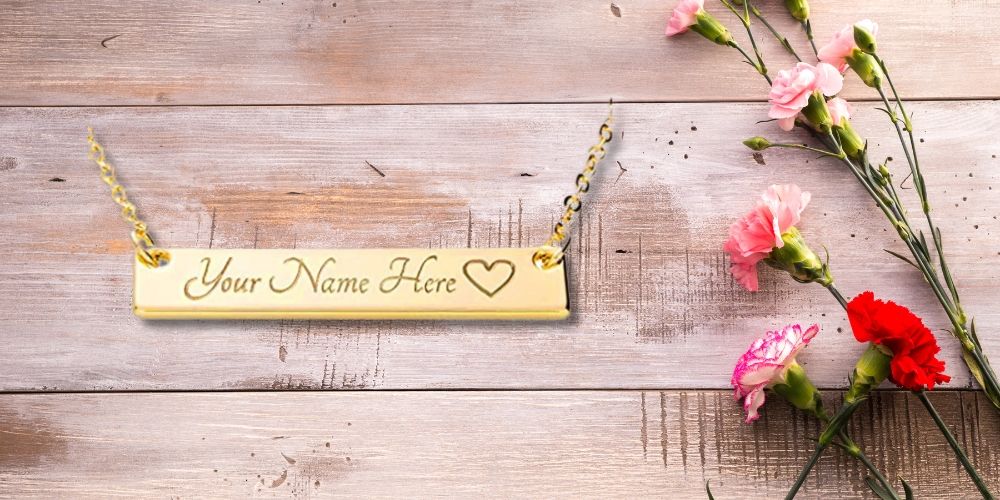 Crafted from premium materials, this personalized bar necklace is both chic and robust, making it a must-have for any occasion. With a sleek bar pendant that can be customized with a name, date, or special message, this necklace is an intimate way to express your love and gratitude.
Photo Locket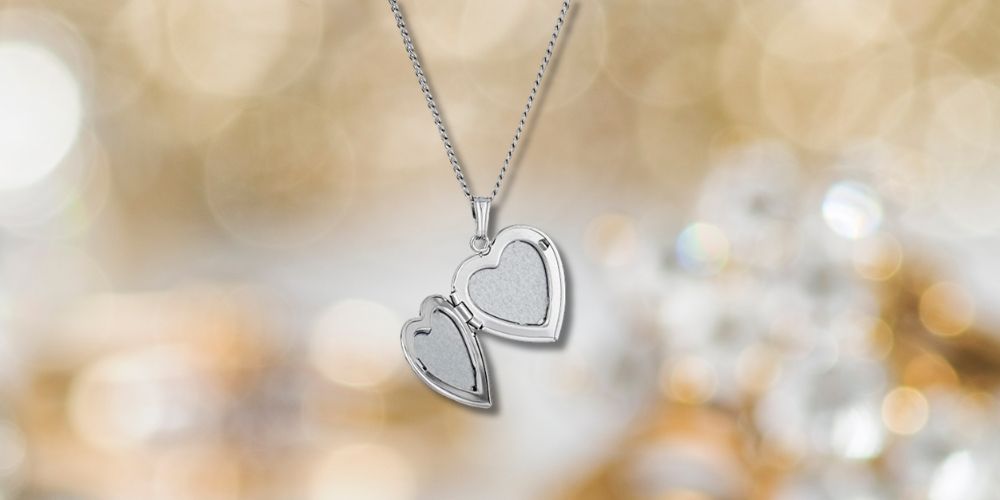 Crafted from premium sterling silver, this necklace boasts an irresistible heart-shaped locket that can hold two precious photos, a meaningful and sentimental feature that your mom will treasure. And with its stylish and timeless design, this versatile accessory is a must-have that will add a touch of elegance to your mom's everyday look.
Mother-Child Pendant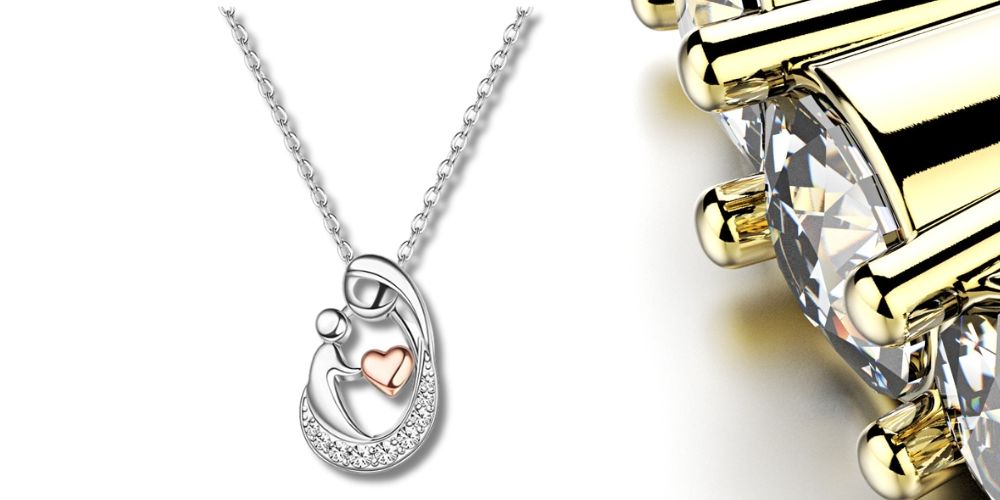 This exquisite heart-shaped pendant, crafted with high-quality 925 sterling silver and featuring an interlinking design embracing a mother and child, allows for versatile styling and makes a thoughtful addition to Mom's jewelry collection, symbolizing their lives forever entwined.
Mother's Day Charm Bracelets
Charm bracelets are all about personalization. These bracelets come with a selection of meaningful charms that represent your mom's unique journey, making them heartfelt and customizable gift.
Customized Charm Bracelet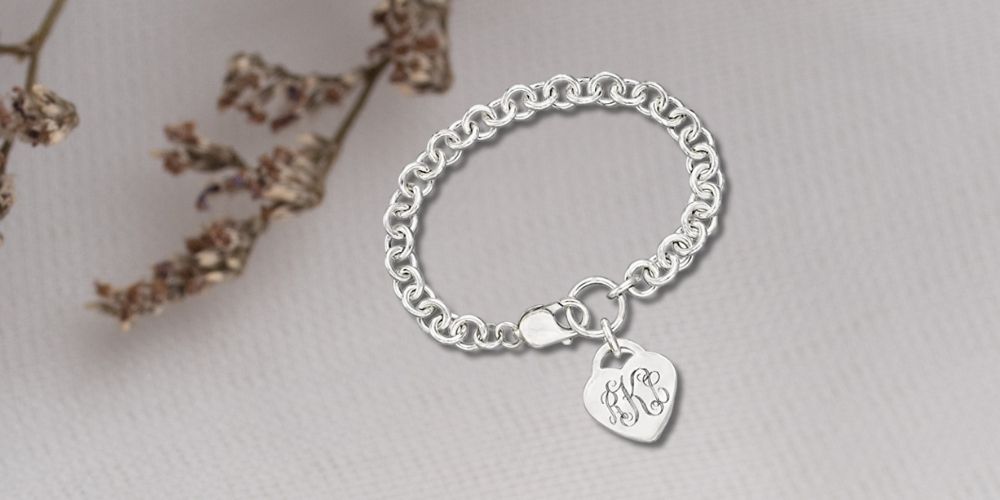 This heart charm bracelet is a versatile and stylish piece of jewelry. Made with high-quality sterling silver, this bracelet is durable and timeless, ensuring that it can be enjoyed for years to come. The personalized initial charm adds a sentimental touch and can be paired with other bracelets for a stacked look, making it the perfect gift for any occasion.
Pandora-style Charm Bracelets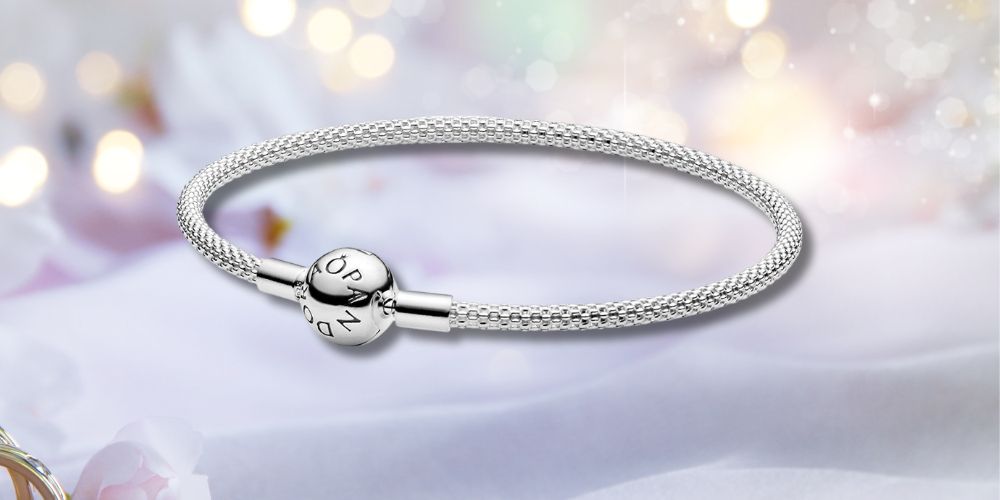 The Pandora-style charm bracelet is a must-have for anyone who loves expressing their personal style through jewelry. The woven metal mesh adds a playful touch to any outfit, while the option to add or remove charms makes it endlessly customizable. Made with high-quality sterling silver, this durable bracelet will be a beloved gift that can be enjoyed for years to come.
Expandable Bangle Bracelet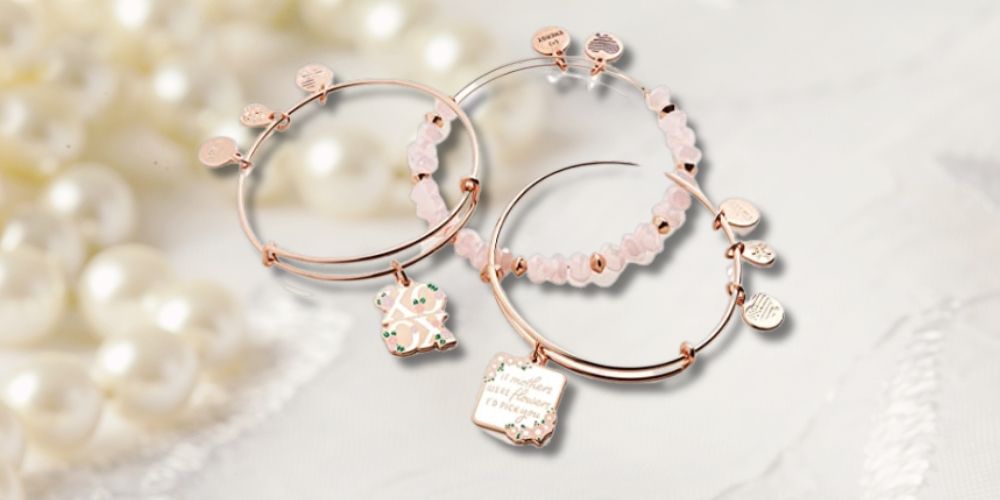 Crafted with high-quality materials and featuring an expandable design, the Alex and Ani charm bracelet is a stylish and convenient accessory for any mom. Its meaningful charms, including birthstones, zodiac signs, and symbols of love and family, make it a thoughtful gift that will bring positivity and joy. Made with recycled materials, this eco-friendly bracelet is adjustable for a comfortable and customized fit on any wrist.
Birthstone Charm Bracelet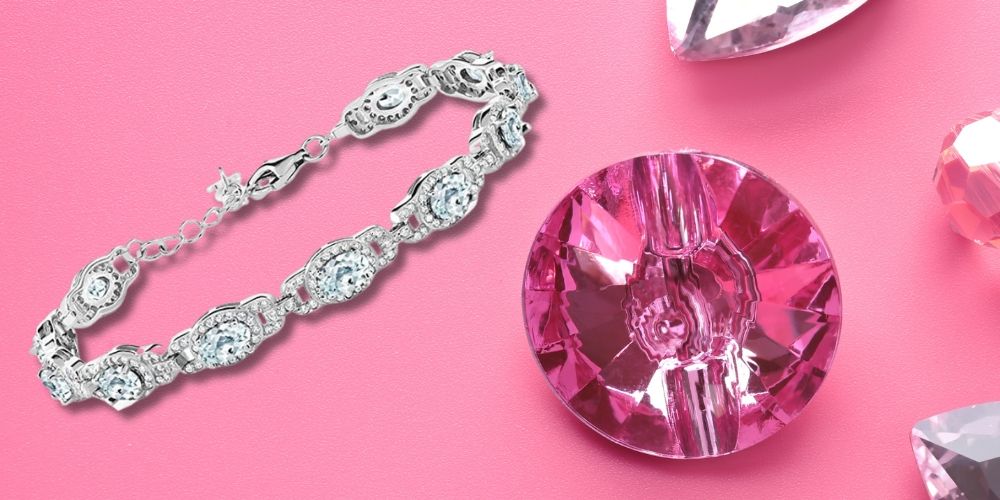 Crafted with high-quality sterling silver and adorned with a variety of birthstone charms, the birthstone charm Bbacelet by Gem Stone King is a stunning piece that is both meaningful and stylish. Its adjustable design and hypoallergenic material ensure a comfortable and safe fit for any wrist size. Whether worn alone or layered with other bracelets, this piece adds a personal touch that will evoke cherished memories with each wear.
Mother's Day Rings
Show your mom she's one in a million with a stunning ring. From birthstone rings to engraved bands, these pieces will add a touch of elegance to her everyday wardrobe.
Stackable Birthstone Ring
Surprise your mom with the sterling silver stackable ring, a wonderful addition to the timeless sparkle golden gifts this Mother's day, crafted with high-quality sterling silver that is durable and hypoallergenic, allowing it to be worn alone or stacked with other rings for a bohemian vibe, making it a versatile golden gift.
Engraved Ring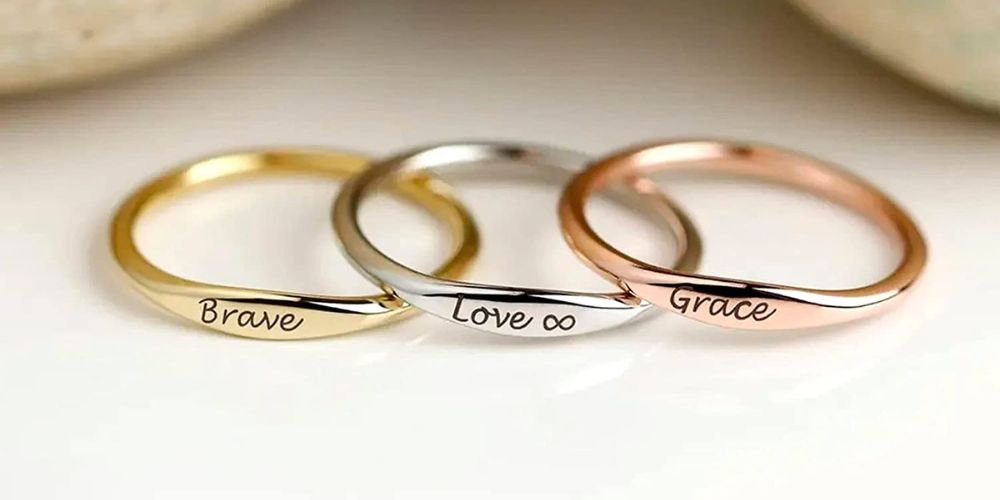 This stacking name ring is a true standout piece that combines style and sentimentality. Made with high-quality materials, this ring can be customized with up to three names, making it the ultimate personalized gift. Available in sterling silver, gold, or rose gold, it is hypoallergenic and safe for all skin types. An ideal addition to any mom's jewelry rotation, this ring is perfect for any occasion and is sure to become a treasured keepsake.
Mother-Child Rings
Crafted with high-quality materials and adorned with sparkling cubic zirconia stones, this ring is a true statement piece that is sure to turn heads. The intricate entwined design symbolizes the unbreakable bond between a mother and child, making it a meaningful and heartfelt gift. With its luxurious feel and timeless appeal, the PANDORA Entwined Cubic Zirconia Ring is the perfect way to show your appreciation for everything mom has done.
Eternity Bands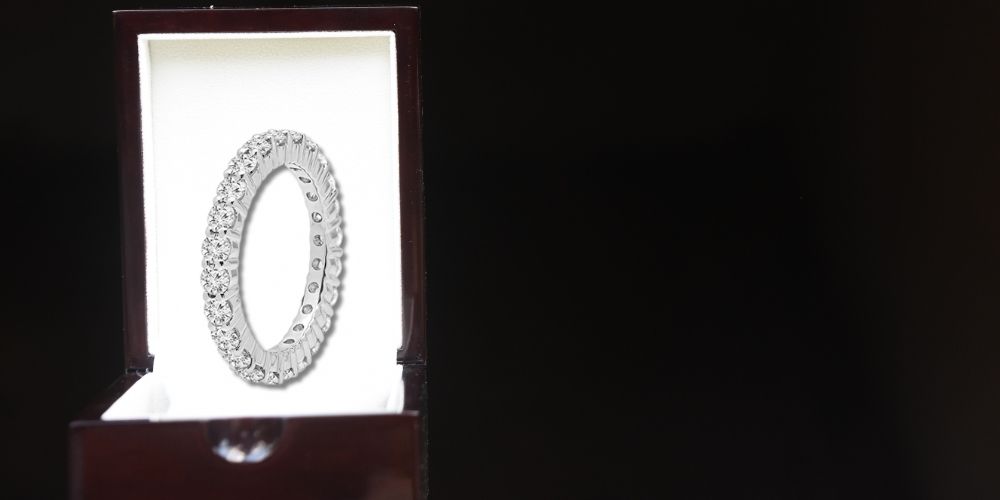 Treat your mom to the timeless elegance of the round diamond eternity band, natural wonders gifts that boasts carefully selected diamonds set in 14K white gold for a secure and comfortable fit that will last a lifetime, and symbolize your everlasting love and commitment to her.
Mother's Day Earrings
Earrings are a versatile gift for any mom. Our selection includes classic studs, elegant drop earrings, and even playful hoops, so you're sure to find a pair that perfectly suits her style.
Birthstone Stud Earrings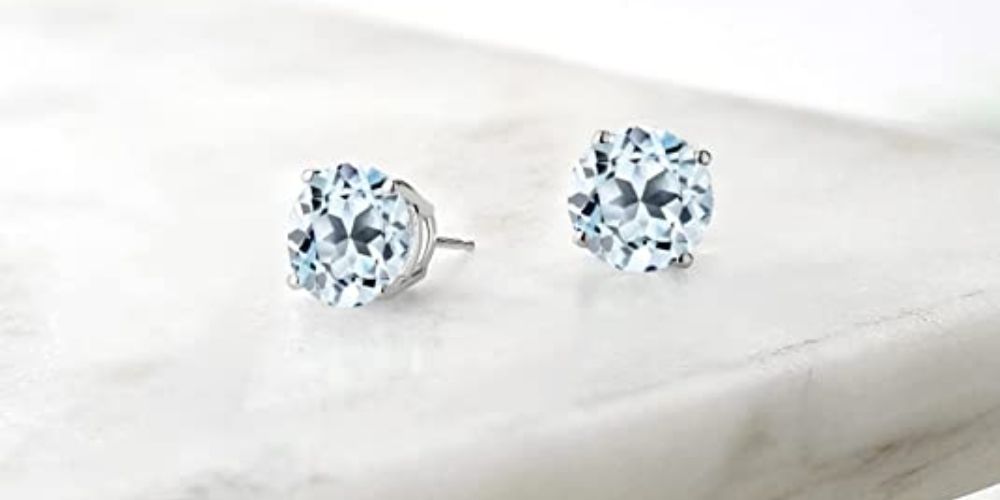 A timeless and elegant addition to your mother's jewelry collection with round stud earrings. These earrings boast sparkling round-cut gemstones set in sterling silver, exuding sophistication, and charm.
Custom Engraved Earrings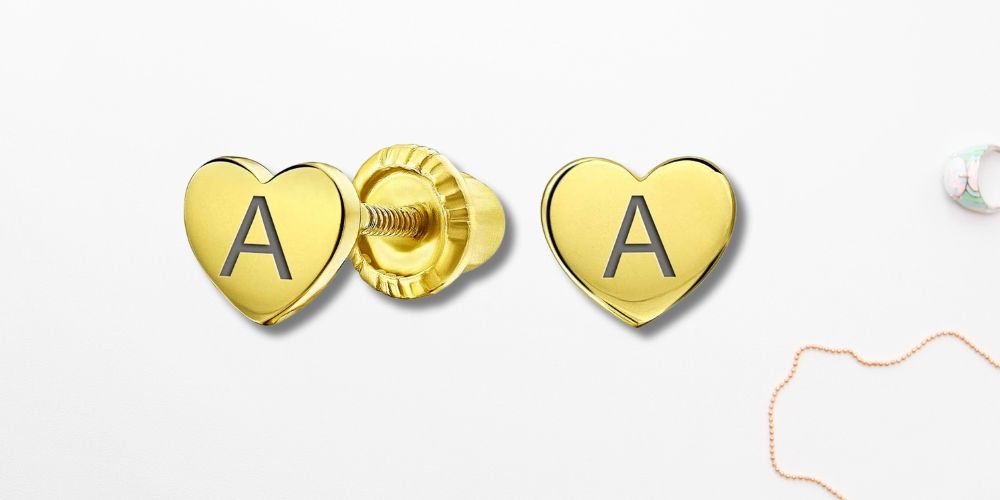 These exquisite gold heart-shaped stud earrings feature a heart-shaped design with her initial in a sleek and elegant font, making them a thoughtful and unique addition to her jewelry collection.
Pearl Earrings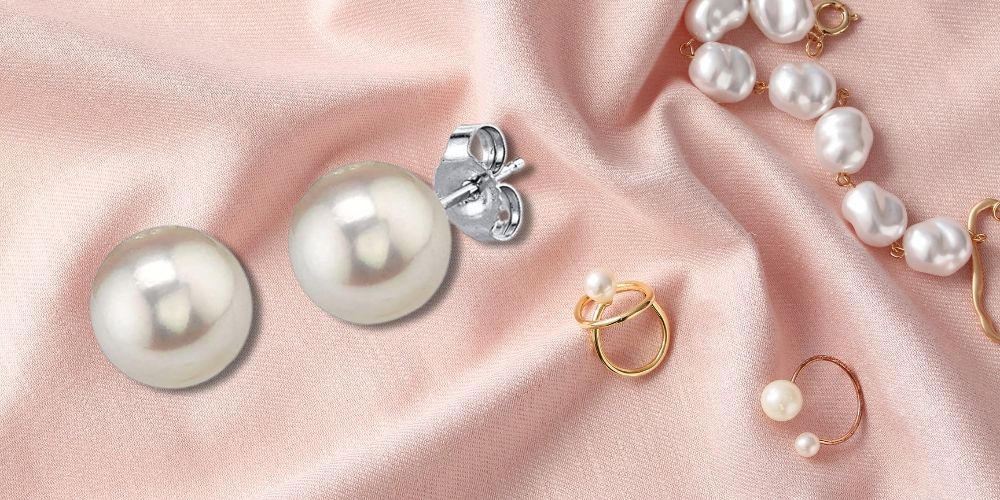 Give your mother a gift she'll cherish forever with real pearl earrings, featuring genuine freshwater pearls in a classic and elegant design that exudes sophistication and charm, making them one of our five-star favorites.
Diamond Earrings
These diamond stud earrings are crafted from high-quality materials and feature sparkling round-cut diamonds set in white gold, giving them a timeless and elegant appeal. Lightweight and comfortable to wear, these earrings are a versatile choice for any occasion.
Mother's Day Bracelets
Bracelets are a timeless gift that can complement any outfit. From delicate bangles to chunky cuffs, we've handpicked a variety of bracelets for every mom's taste.
Diamond Tennis Bracelet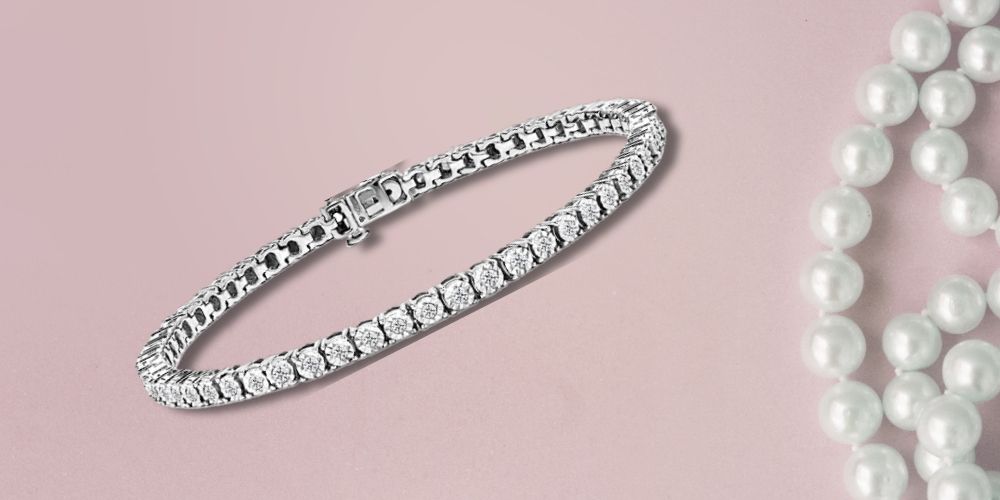 Elevate your mother's jewelry collection with this signature diamond tennis bracelet, featuring high-quality rose-cut diamonds set in sterling silver and an adjustable design for all-day comfort, making it the perfect addition to any outfit and a gift that she will cherish with her signature diamonds forever.
Personalized Cuff Bracelet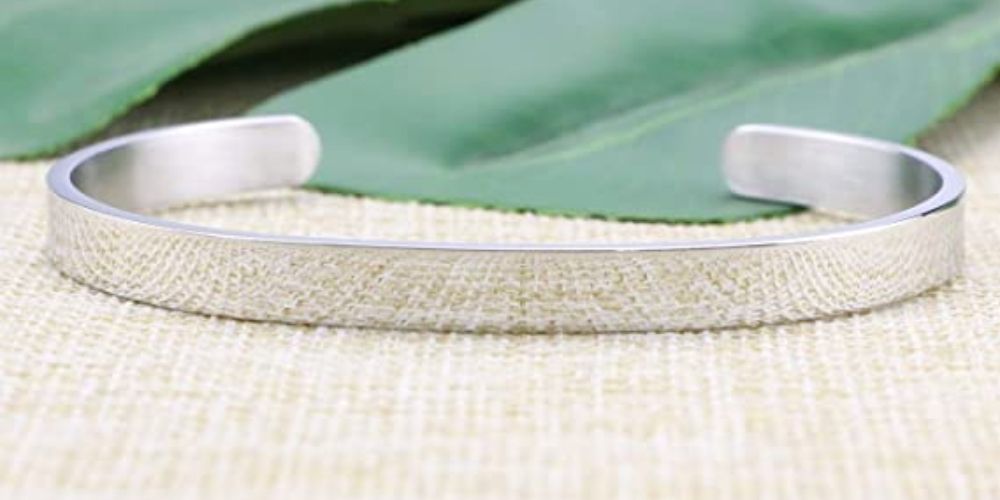 Surprise your mom with a versatile and stylish addition to her jewelry collection with a personalized cuff bracelet! Made with high-quality materials, this bracelet can be dressed up or down for any occasion. Choose to personalize it with your mom's name, initials or a special message, and give her a unique and unforgettable gift for Mother's Day, birthdays or just to show your love.
Pearl Bracelet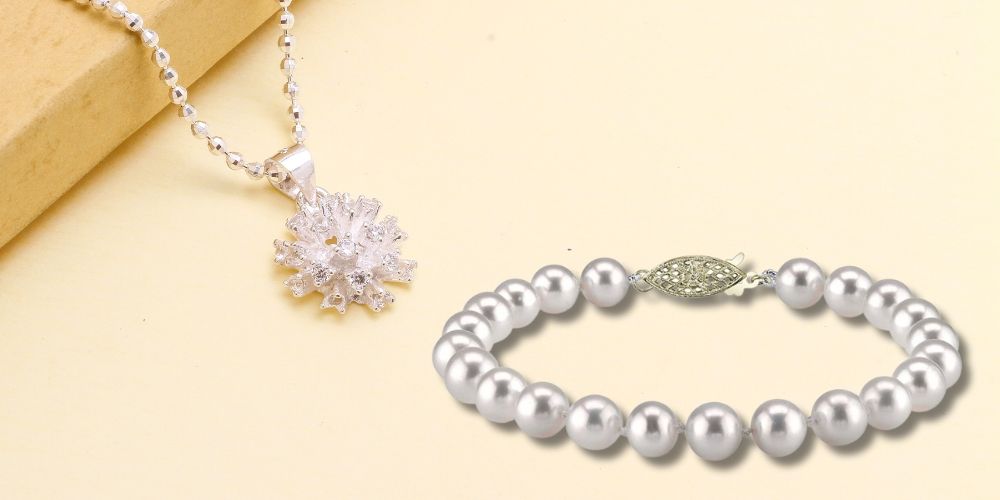 Continuously catch your mom's eye with the freshwater pearl bracelet, a sophisticated and timeless gift. Hand-selected for their flawless quality and lustrous shine, each pearl is strung together to create a stunning bracelet perfect for any occasion. Its simple yet elegant design exudes understated luxury, ensuring it continuously catches her eye and makes her feel special.
Diamond Bracelet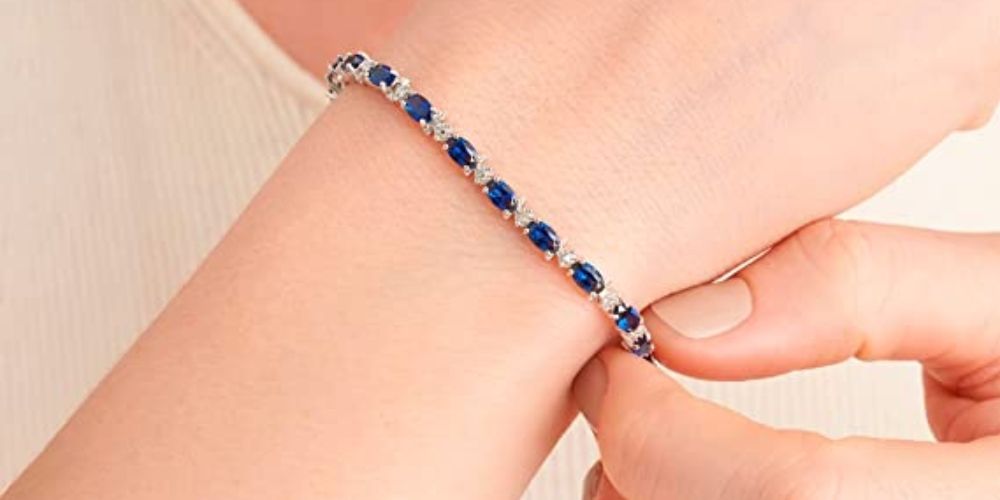 Spoil your mom with the unstoppable love diamonds of the blue sapphire and diamond tennis bracelet, featuring a gorgeous combination of precious gemstones and brilliant diamonds set in a classic yet modern design that's perfect for any occasion.
Mother's Day Watches
A watch is more than just a timepiece; it's a statement piece that shows your mom you appreciate her every second. Choose from a range of styles, from classic to modern, to find the perfect watch for her.
Classic Timepieces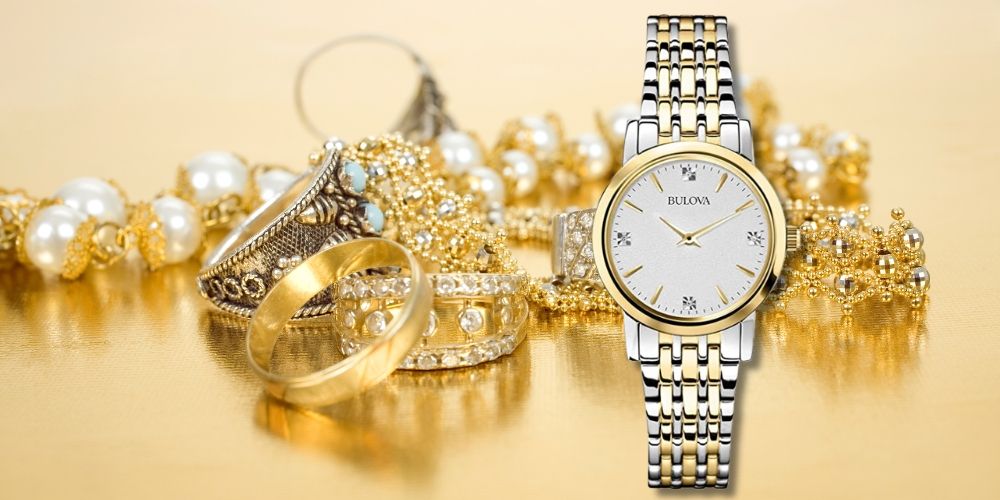 Crafted with durable stainless steel and diamond accents, this watch is both stylish and glamorous. Plus, its classic quartz movement ensures accurate timekeeping. Whether your mom is dressing up for a night out or just running errands, the Bulova classic diamond stainless steel ladies quartz watch is a versatile and chic accessory that she'll love this Mothers Day.
Engraved Watches
The custom photo watch is anything but ordinary, with its customizable "menu image icon" feature that allows you to add a personal touch by choosing a photo that represents your special bond with your mom.
Birthstone-Accented Watches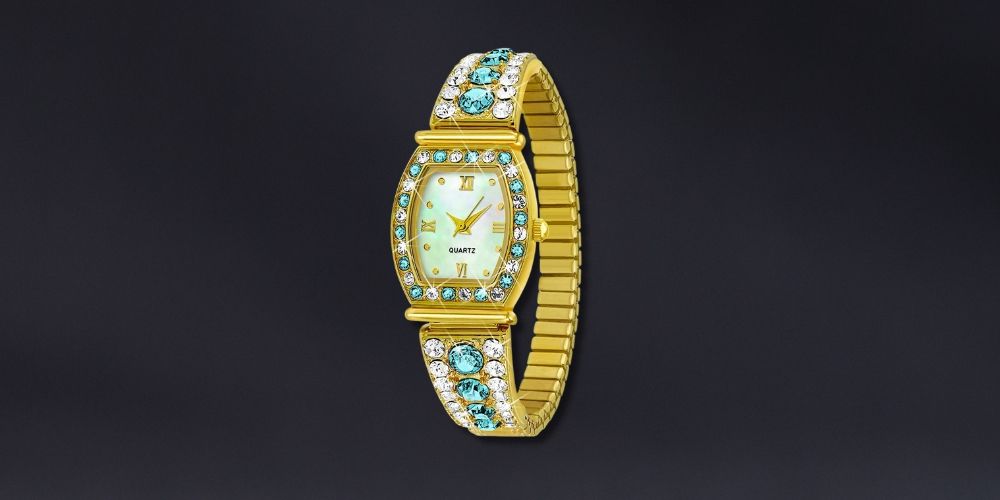 This watch is the perfect accessory for moms who appreciate fine jewelry, combining elegance, beauty, and functionality. Featuring Swarovski birthstone crystals that offer a rainbow of colors for the perfect finishing touch, it's functional chic at its finest.
Mother's Day Brooches
Brooches are making a comeback, and these stylish accessories can add a touch of sophistication to any outfit. In this category, you'll find a selection of eye-catching designs to help mom make a statement.
Family Tree Brooches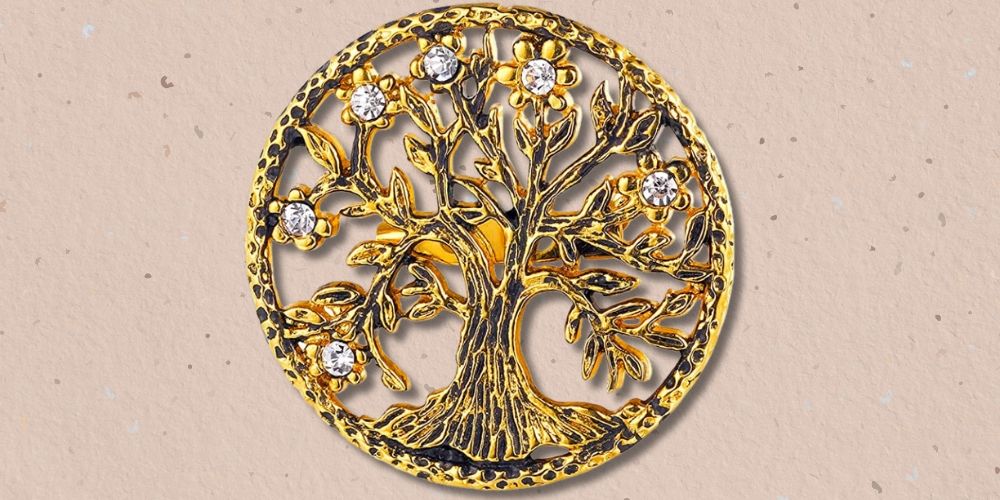 Crafted from high-quality materials, this intricate brooch features a beautiful tree design with delicate branches and leaves, symbolizing the importance of family and the connections that bind us together.
Motherhood-Themed Pins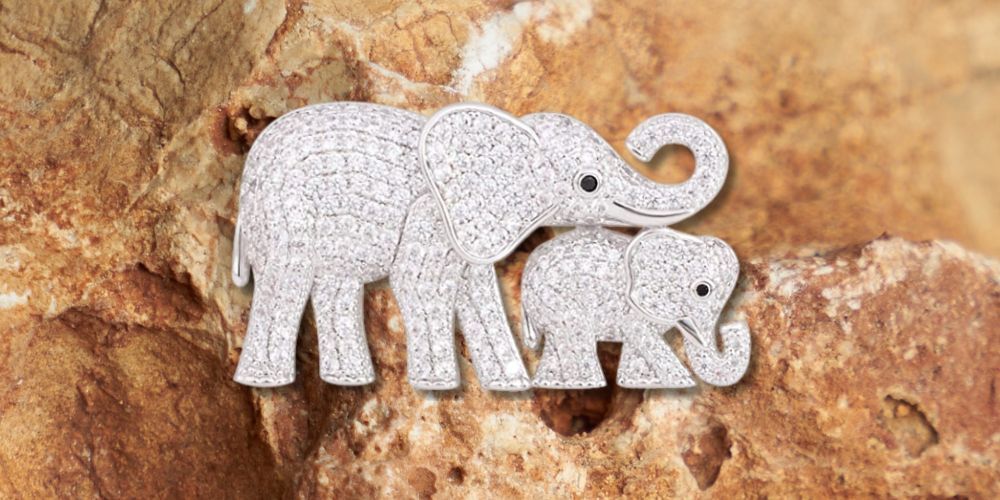 This adorable brooch features two intricately crafted elephants, one large and one small, symbolizing the unbreakable connection between a mother figure and her child. Crafted from high-quality materials, this brooch is not only a beautiful piece of jewelry but also a meaningful keepsake that will be treasured for years to come. Don't miss out on shop deals and get a meaningful keepsake that will be treasured for years to come.
Mother's Day Anklets
Anklets are a fun and playful way to show your mom some love. These dainty pieces are perfect for moms who enjoy a touch of whimsy in their accessories.
Personalized Anklets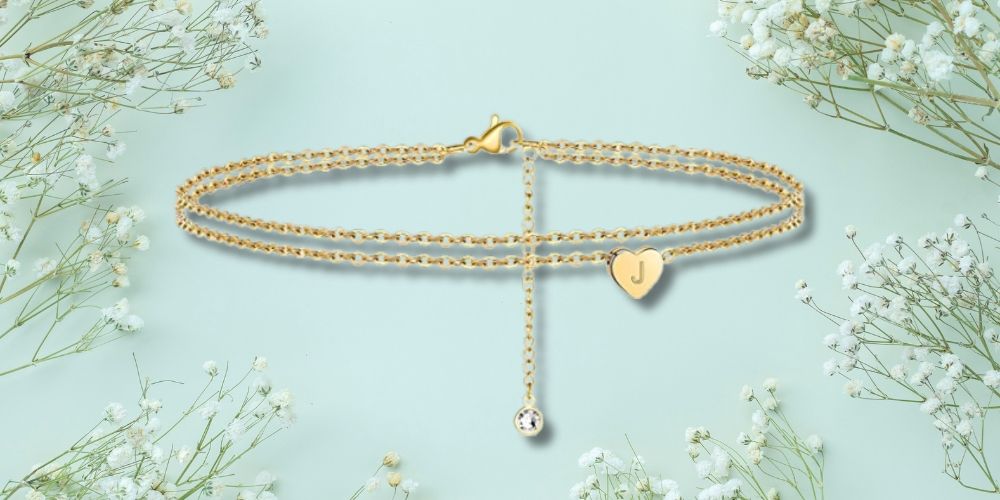 Surprise your mom with the ankle bracelet with initial, a natural wonder gift that is sure to delight! Featuring a personalized heart-shaped initial charm and crafted with high-quality materials in a 14K gold high polish finish, this adjustable ankle bracelet is perfect for any occasion, worn alone or layered with other pieces.
Birthstone Anklets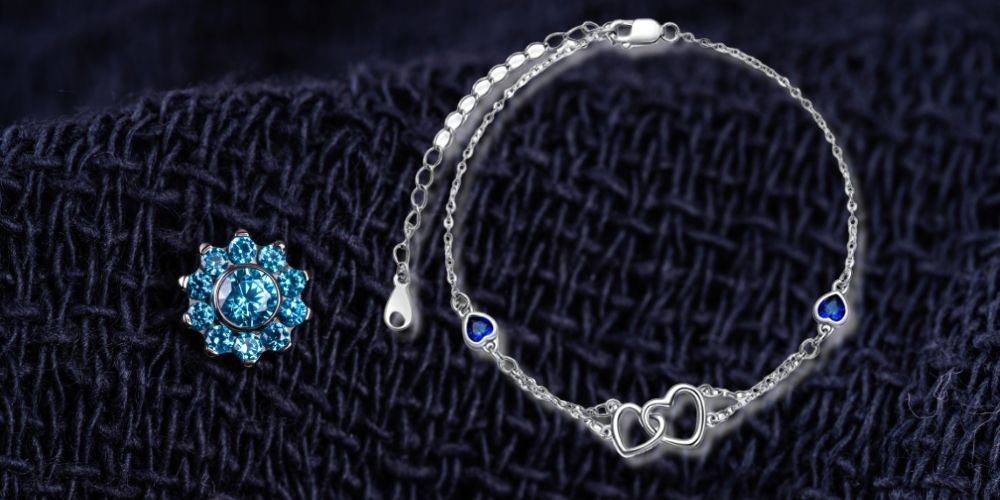 This double heart anklet is the perfect gift for your elegant mom. Crafted from real sterling silver, this anklet features a delicate double heart design, adorned with red cubic zirconia birthstones available in a range of colors that your mom simply loves.
Mother's Day Jewelry Sets
Why choose just one piece when you can give your mom a coordinated set? We've curated a collection of matching jewelry sets that will make her feel like a queen on her special day.
Matching Necklace and Earring Set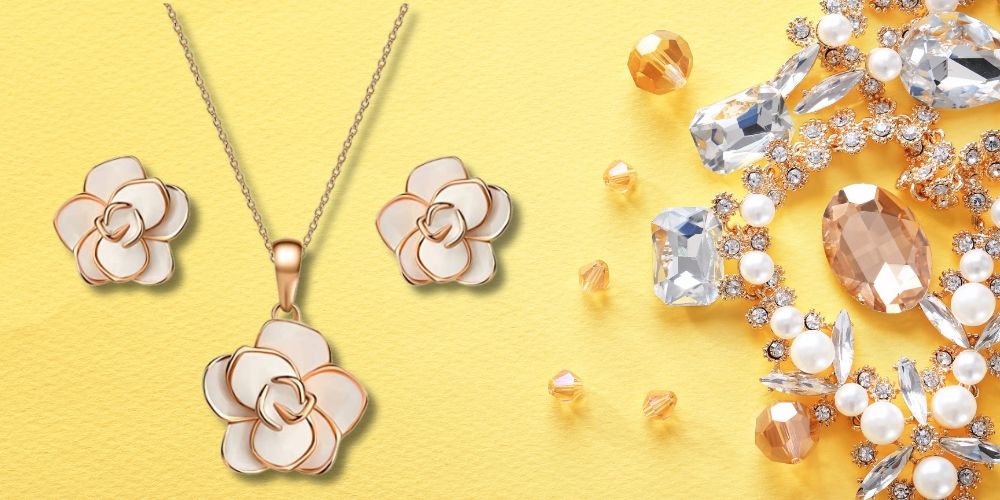 A stunning collection featuring a lifelike rose flower design on both the necklace and earrings. Crafted from high-grade environmental materials and finished with delicate 18K Rose/White Gold plating, this set adds a touch of elegance to any outfit.
Matching Necklace, Earring, and Bracelet Set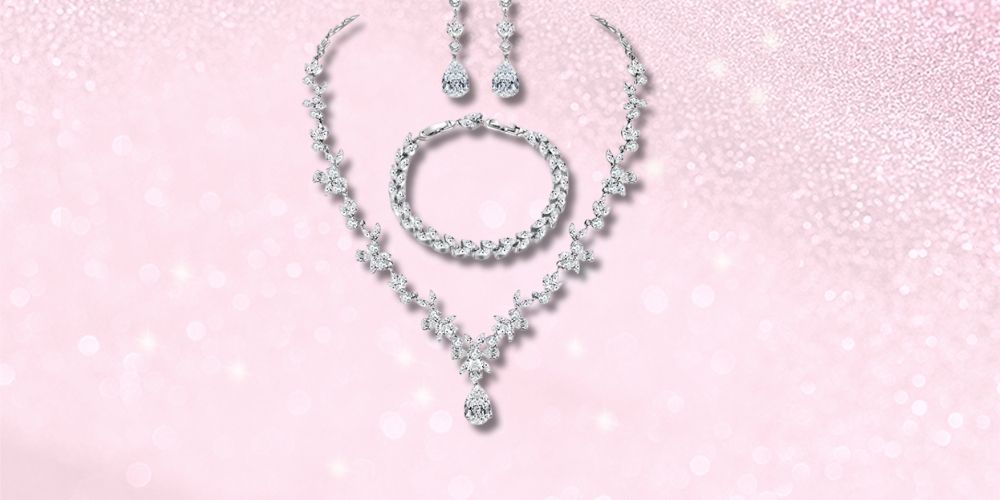 Treat your mother to the matching jewelry set, a stunning collection featuring a necklace, bracelet, and matching earrings. Made from 18K white gold plated & clear cubic zirconia that adds a touch of elegance and sophistication to any outfit. Lightweight and versatile, this set is perfect for any occasion, making it a must-have addition to her jewelry collection.
Final Thoughts
There are various types of handpicked gifts priced for every budget that is perfect for Mother's Day. Jewelry is a classic and meaningful option that can cater to any mom's taste. From elegant and delicate pieces to bold and statement ones from top collections, the options are endless. Whether it's a simple necklace or a more intricate bracelet, giving a gift of jewelry is sure to make any mother feel special and loved on this special day. So, take the time to select a thoughtful piece and make this Mother's Day one to remember.
Comments