This post may contain affiliate links, please see our privacy policy for details.
Washing dishes can be a tedious task, especially if you live in a small apartment or travel frequently. However, portable dishwashers offer a convenient solution for those who want to wash dishes anywhere without having to sacrifice space or functionality. In this blog post, we will outline the top 9 portable dishwashers that offer great performance, energy efficiency, and portability as well as how they work and how to choose the best portable dishwasher. Whether you live in a tiny apartment, a van, or a boat, these portable dishwashers will help you save time, water, and energy while keeping your dishes sparkling clean.
We will provide a brief overview of each portable dishwasher's features and benefits to help you make an informed decision when choosing the right portable dishwasher for your needs.
How to Choose the Best Portable Dishwasher
Dishwashers are a lifesaver for busy individuals and families. They save you time and effort by washing your dishes quickly and efficiently. Read on to know how to choose the best portable dishwasher for your needs.
Size and Capacity
Portable dishwashers come in different sizes and can hold a range of dishes. Ensure you choose a dishwasher with a capacity that will suit your household's needs.
Noise Level
Some dishwashers can be noisy and disruptive, so it's important to choose one that operates quietly. Consider the noise level of the dishwasher and choose one that will not disturb your household.
Energy Efficiency
Portable dishwashers can use a lot of energy, so it's important to choose an energy-efficient model. Look for dishwashers with the ENERGY STAR rating, as they are designed to conserve energy and water.
Type of Portable Dishwasher
There are two types of portable dishwashers: Countertop and Rolling. Countertop dishwashers are designed to sit on a countertop and require less space while rolling dishwashers have wheels and can be moved around easily.
Price
Portable dishwashers can range from affordable to expensive. Choose a model that fits your budget without sacrificing the quality and features you need.
Consider your household's needs, available space, and budget to find a dishwasher that will make your life easier. With these considerations in mind, you'll be able to find the perfect portable dishwasher for your household.
Best Overall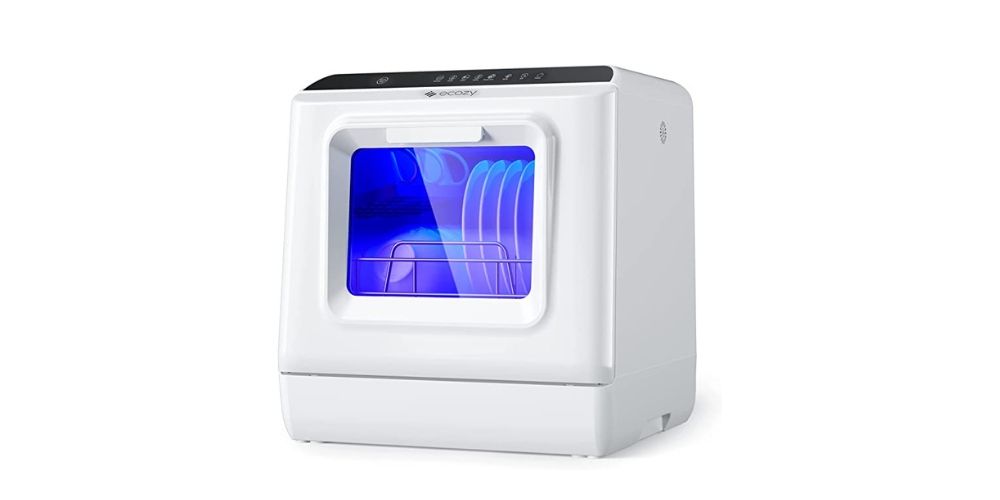 The Ecozy Portable Dishwasher is a great choice for families looking for a hassle-free cleaning solution. With its extra-drying function, this dishwasher offers superior washing and drying results to ensure optimum cleanliness. Its five pre-programmed cleaning settings also give you the flexibility to choose the optimal settings depending on your load.
In addition, this portable model's noise level of 48 dB is incredibly low, making it practically inaudible. This means that you don't have to worry about disturbing your family while running it! With its ultra-compact design, 360° range cleaning, and adjustable rack, this portable dishwasher is a great solution for anyone looking to save space in their kitchen.
Plus, it uses only 1/3 of the water compared to handwashing, making it an eco-friendly option. Overall, the Ecozy Portable Dishwasher is an excellent choice for anyone looking for a reliable and easy-to-use dishwasher that delivers superior cleaning results.
Best Slim & Compact Design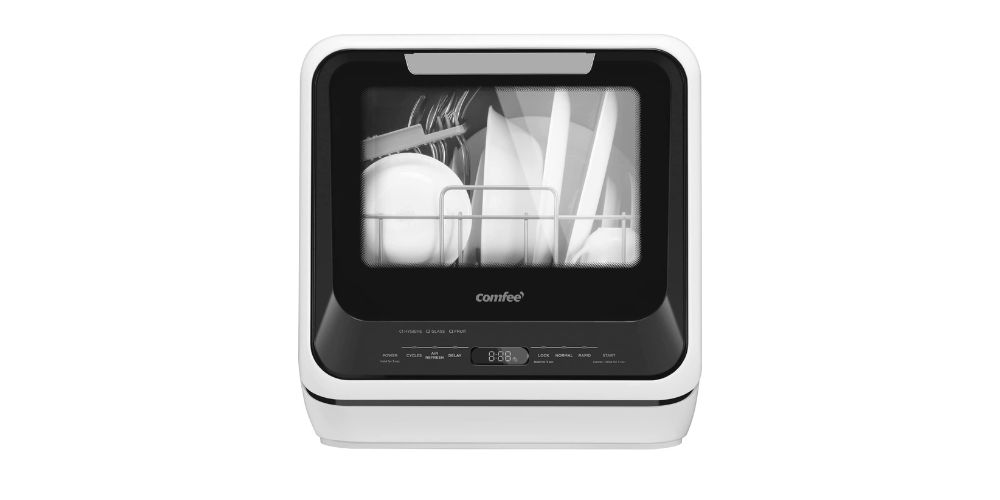 The COMFEE Countertop Portable Dishwasher has an ultra-compact design and a 5L built-in water tank, it can fit snugly into smaller spaces while still providing powerful cleaning performance. Designed with convenience in mind, this dishwasher offers a 360° Dual Spray technology that can reach hard-to-clean areas such as corners and angles.
Plus, it only uses around 1/3 of the water compared to handwashing - making it an environmentally friendly choice! The adjustable rack allows you to customize the size and placement of items to suit your needs and save extra counter space while still keeping everything tidy.
Best Speed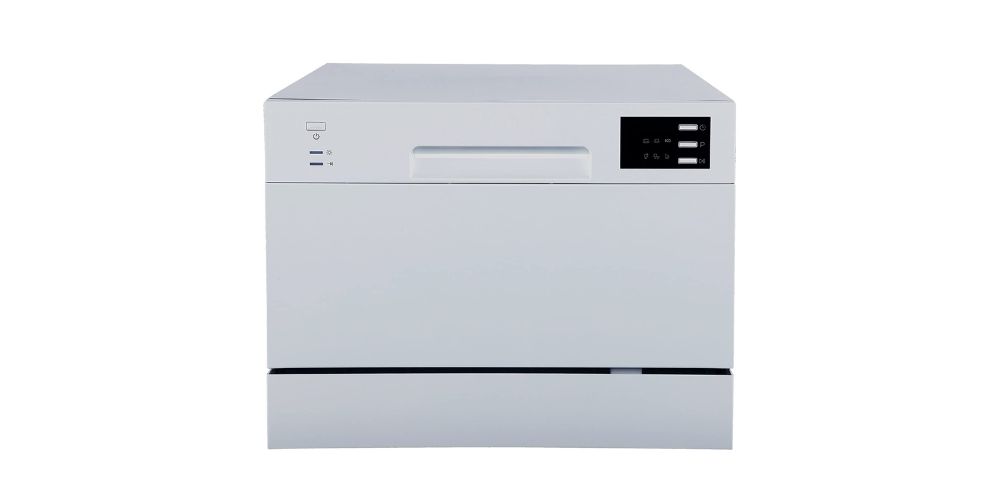 This countertop model is an ideal choice for those looking for the convenience of a regular dishwasher in a compact form factor. It features a stainless steel interior and six wash cycles, so you can choose whichever setting best suits your load. Its unique universal faucet adapter makes it easy to hook up to almost any type of sink, making installation a breeze!
What's more, this countertop dishwasher has an innovative delay start feature that allows you to postpone the start time so it fits in with your schedule. There is also an option to finish the wash cycle in under 1 hour for lightly soiled loads. The electronic controls with LED display make operation simple, and the lightweight design makes it easy to move around when needed.
Best Budget Portable Dish Washer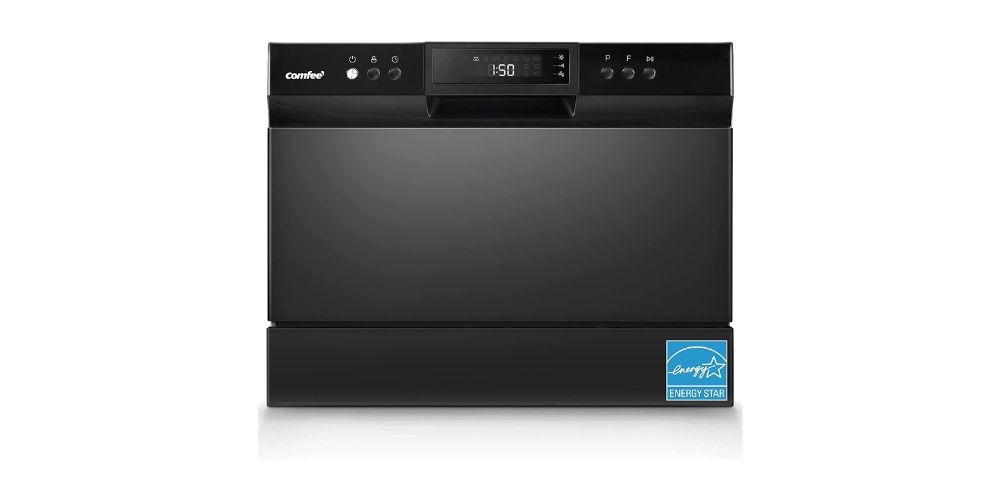 This Energy Star-certified portable dishwasher is the ideal solution for those who need a powerful cleaning device but don't have space for a traditional dishwasher. This model can fit up to 70 pieces of tableware and can be connected directly to your kitchen faucet, allowing you to save both time and money on installation costs.
Along with its eight washing cycles, this dishwasher also features a high-temperature wash option that's perfect for taking care of messier items like baby bottles and heavily soiled dishes. It's also equipped with 12 washing nozzles that provide 360° spiral spray action for superior results every time. Plus, with the extra-drying function, your dishes will come out sparkling clean and dry.
Best for Basic Functions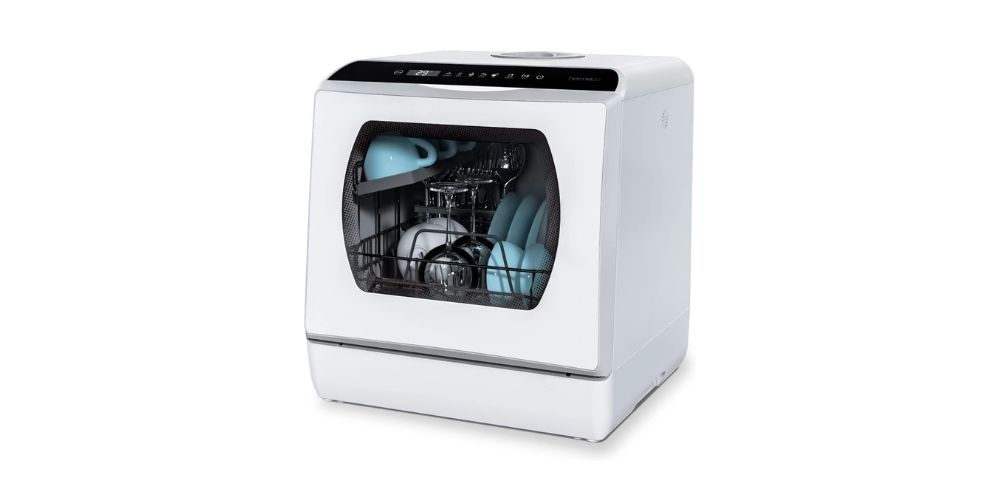 The Hermitlux Countertop Dishwasher is an ideal choice for those looking for powerful and sleek cleaning portable models. This model supports two water supply modes, so you can choose whichever suits your needs. In addition, it comes with a unique glass door that allows you to see the dishes being washed inside.
With five washing programs and high-temperature rinse settings, this dishwasher has all of the features you need to get dishes sparkling clean every time. The dual high water pressure spraying arms reach around 11" dishes loaded at an angle, making sure that nothing is overlooked. What's more, this countertop dishwasher also includes a hot air drying performance perfect for baby bottles and oily tablewares.
Best For Baby Bottles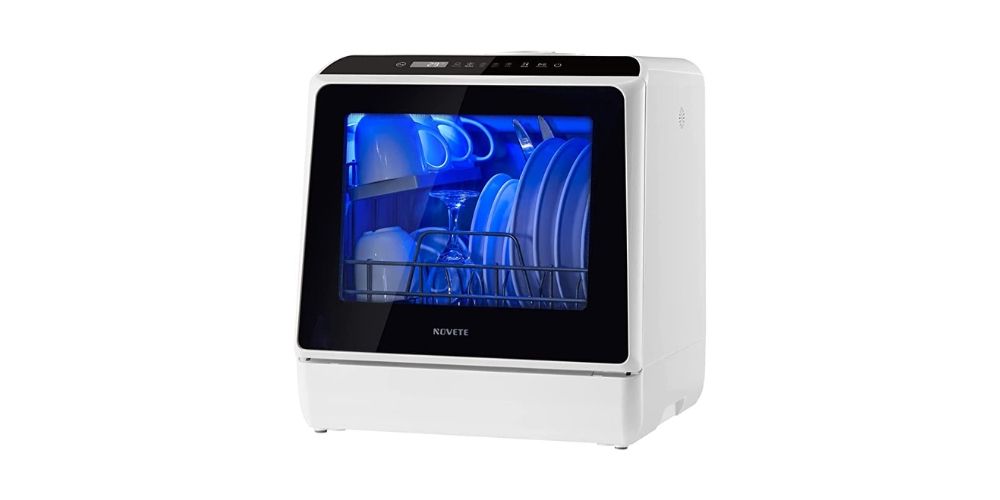 The Novette Portable Dishwasher is an ideal solution for those who want the convenience of a dishwasher without compromising on power or performance. This model offers five washing cycles and one air-dry mode to give you all the cleaning options you need.
What's more, this portable dishwasher comes with two water supply modes so that you can customize your cleaning needs, you may fill its built-in 5L water tank or directly plug your inlet hose into the dishwasher. The baby care/heavy mode boasts a 167 °F washing temperature and a heated dry option for deep cleaning, ensuring that even tougher messes are taken care of easily. Furthermore, it's equipped with the features of a dishwasher, dryer, and cabinet - making it an all-in-one appliance!
Best Energy Efficient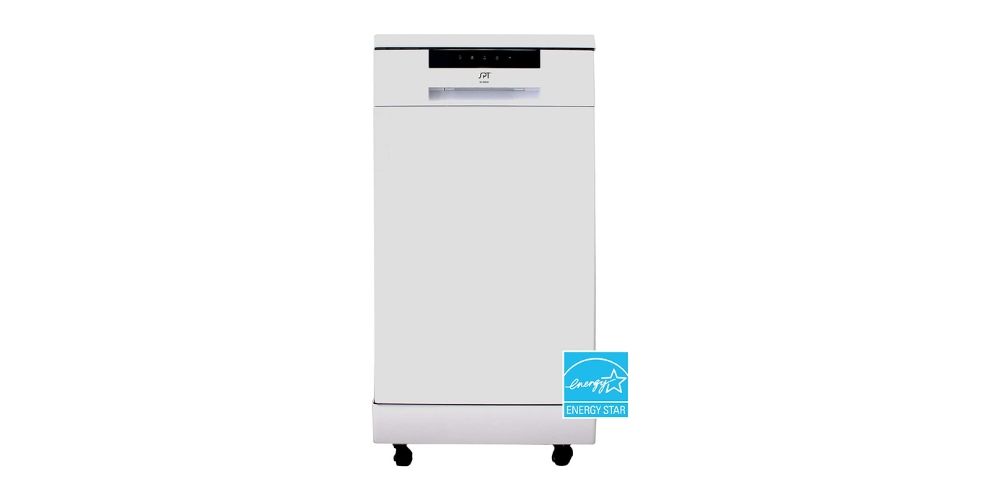 This portable freestanding dishwasher is the perfect solution for those who need a powerful and efficient cleaning unit but don't have a lot of floor space. This model provides eight place settings, so you can easily fit your dishes all at once. It also has six wash programs to choose from, ensuring that you get the best clean possible every time.
The rinse aid warning indicator is great for reminding you when it's time to replace the rinse aid in the detergent dispenser. Plus, this dishwasher is made with a durable stainless steel interior which not only looks great but also ensures long-lasting use.
Best Practical Design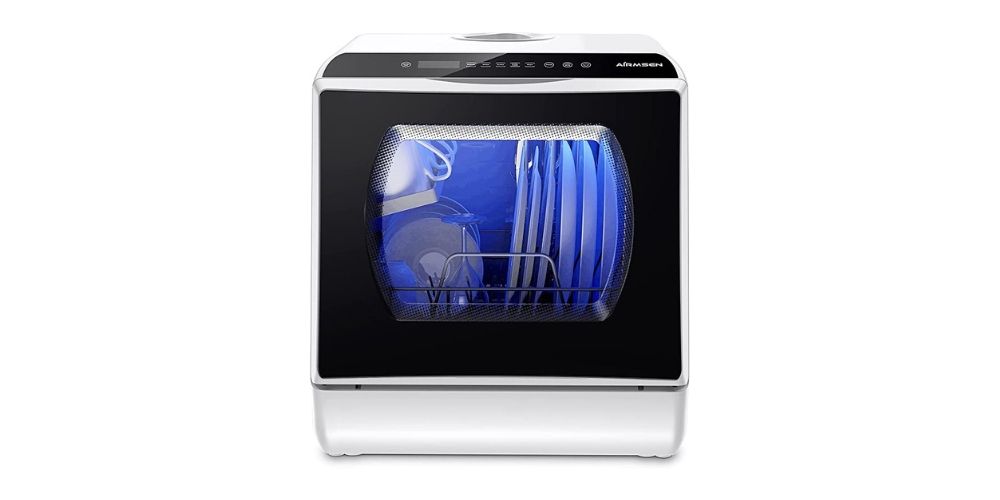 The AIRMSEN Mini Dishwasher is a must-have for anyone who needs a powerful and efficient cleaning machine that won't take up too much space. This model fits perfectly underneath most kitchen sinks, freeing up counter space and allowing you to use the faucets you already have. It also features five washing cycles, steam cleaning, self-cleaning, and an extra-drying function to maximize efficiency and get your dishes cleaned quickly and effectively.
What's more, it has a wide range of water temperature settings ranging from 122℉-167℉ so that you can customize the cycle depending on what kind of dishware you are washing. The light wash setting is perfect for lightly soiled dishes while the heavy wash setting is great for tougher messes.
Best Top-Load Portable Dishwasher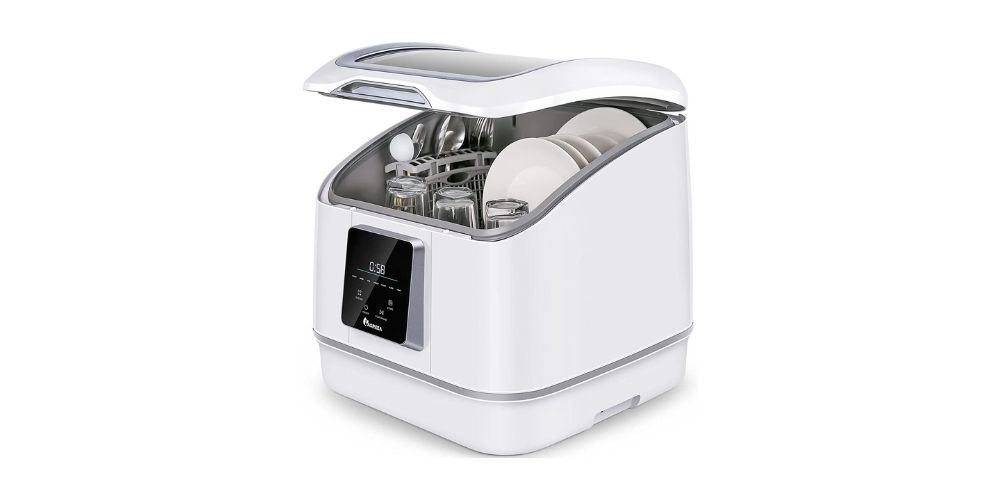 This model features a top load feature, making loading and unloading dishes a breeze. It also supports three methods of installation, so you don't have to worry about it not fitting your kitchen. Plus, it's suitable for most faucets - no need to invest in special connectors!
This dishwasher has an anti-leakage system which helps keep your floors clean and dry, plus a rinse aid dispenser that helps eliminate spots from dishes. There are also 7 wash cycle options available to choose from, depending on what type of dishes you're washing. With its heated dry cycle, no need to air-dry dishes, and get sparkling clean results every time.
Portable Dish Washer FAQs
How Portable Dishwashers Work?
Portable dishwashers are a great solution for anyone looking to save time and effort in the kitchen. These handy appliances offer the convenience of a traditional dishwasher, but with the added benefit of being portable and easy to move around. In this post, we'll take a closer look at how portable dishwashers work and what makes them an essential addition to any home.
The first thing to note is that portable dishwashers are designed to be connected to your kitchen sink. This is done using a special hose that is included with the machine. The hose attaches to the faucet, allowing water to flow into the dishwasher. Once connected, you can load up the machine with dirty dishes and let it take care of the rest.
The cleaning process of a portable dishwasher is similar to that of a traditional dishwasher. The machine fills up with water, which is heated to a high temperature. The high temperature helps to remove stubborn stains and kill any bacteria or germs on your dishes. Next, the machine sprays a mixture of water and detergent onto your dishes. The sprayers inside the machine ensure that every dish is thoroughly cleaned, including hard-to-reach spots like the inside of cups and bowls.
Once the dishes are clean, the machine rinses them with clean water to remove any remaining detergent and debris. Finally, the machine dries the dishes using hot air. Some portable dishwashers may come with a built-in heater to speed up the drying process.
What Are the Advantages of Portable Dishwashers?
Dishwashing is a chore that most of us would like to avoid. Hand washing dishes is time-consuming and often a messy task, while traditional dishwashers can be expensive to install and operate. Fortunately, portable dishwashers offer a great solution to these problems. In this blog post, we'll explore the advantages of using a portable dishwasher in your home.
Portability
The most significant advantage of a portable dishwasher is its portability. Unlike built in dishwashers that are fixed in one location, portable dishwashers are designed to be easily moved around. You can place them anywhere you have access to a water source and a power outlet. This makes them a great option for places where space is limited.
Easy to Install
There is no need to modify your kitchen or hire a professional for installation. All you need to do is connect the machine to your kitchen sink using a hose that comes with the appliance. This is a simple process that can be done in just a few minutes.
Time-Saving
Hand washing dishes can take up a lot of time and effort, but with a portable dishwasher, you can load up all your dirty dishes and let the machine do the work. This frees up your time to focus on other tasks or simply relax and enjoy your downtime.
Energy Efficient
They use less water and electricity compared to hand washing dishes or traditional dishwashers. This means you can save on your utility bills while doing your bit for the environment.
Cost-Effective
Compared to traditional dishwashers, portable dishwashers are generally more affordable. This makes them an attractive option for those on a budget. They are also a great solution for renters who are not allowed to make any permanent changes to their living space.
Customizable
Many portable dishwashers come with adjustable racks and piranha hard food disposer, which means you can customize the interior to fit your dishes and prevents jamming of particles before washing. This makes it easier to rinse more dishes of different shapes and sizes, including pots and pans.
In conclusion, portable dishwashers offer a range of advantages for those looking to simplify their dishwashing routine. They are easy to install, energy-efficient, and cost-effective, making them a great investment for any home.
How to Maintain and Care for Portable Dishwashers?
Portable dishwashers are a convenient and practical solution for any home. However, like any other household appliance, they also require maintenance and care to keep them running smoothly. In this blog post, we'll provide an overview of common issues that can arise with portable dishwashers and how to fix them.
Clogged Filters
Clogged filters are a common issue with portable dishwashers. Over time, food particles, soap, and other debris can accumulate in the filters, preventing water from flowing through properly. To fix this issue, you should remove the filters and clean them thoroughly using warm, soapy water. Make sure to rinse the filters well before replacing them.
Leaking
This can be caused by a variety of factors, including a damaged hose, a loose connection, or a faulty gasket. To fix this, you should inspect the dishwasher for any visible damage and tighten any loose connections. If the problem persists, you may need to replace the gasket or hose.
Inadequate Cleaning
If your portable dishwasher is not cleaning your dishes properly, it could be due to a clogged spray arm or insufficient water pressure. You can fix this by removing the spray arm and cleaning it thoroughly. You may also need to check the water pressure to ensure that it's sufficient for the machine to function correctly.
Foul Odors
Foul odors can develop in a portable dishwasher due to the accumulation of food particles and grease. To fix this issue, you should clean the dishwasher thoroughly, paying special attention to the interior and spray arm. You can also use a dishwasher cleaner to remove any stubborn stains and eliminate odors.
Rust
Rust is a common issue with portable dishwashers, especially if the machine is exposed to moisture for an extended period. To solve this problem, remove any visible rust using a rust remover or sandpaper. You should also inspect the machine regularly and repair any visible damage to prevent rust from forming.
By following the tips and suggestions in this blog post, you can ensure that your portable dishwasher is always in top condition, providing you with the convenience and efficiency you need in your daily life.
Conclusion
If you're tired of hand-washing your dishes or don't have the space for a traditional dishwasher, a portable dishwasher may be the perfect solution for you. In this blog post, we've highlighted 9 of the best portable dishwashers available on the market, ranging from compact such as Ecozy, SPT, and affordable models like Hermitlux to larger and more advanced options from COMFEE. Each of these portable dishwashers offers unique features and benefits that can make your life easier and more convenient. Whether you're living in a small apartment or simply looking for a more efficient way to clean your dishes, a portable dishwasher is a fantastic investment.
So why not try out some of the featured portable dishwashers and see for yourself how much easier they can make your life? With the help of a new portable dishwasher, you can say goodbye to the tedious task of hand-washing dishes and enjoy more time for the things you love.
Comments