This post may contain affiliate links, please see our privacy policy for details.
Looking for ways to organize your refrigerator and get rid of fridge clutter? Look no further! This blog post offers 17 genius fridge organization ideas for the inside of your own fridge. From adding extra refrigerator shelves and risers, to clever storage containers and space-saving solutions, this blog has it all. With these tips, you can easily create a neat, organized space in your fridge that will help make meal prepping easier and faster. Transform the way you store food with these must-try organization ideas!
Say goodbye to fridge chaos with the Fridge Drawer Organizer! This gadget maximizes space and keeps your fridge organized, making it easy to access everything from dairy products to drinks, fruits, and vegetables. It's perfect for fridges with shelves under 0.6 inches and can hold all kinds of items - from cans to small produce. Get yours today and take the first step towards a more organized life!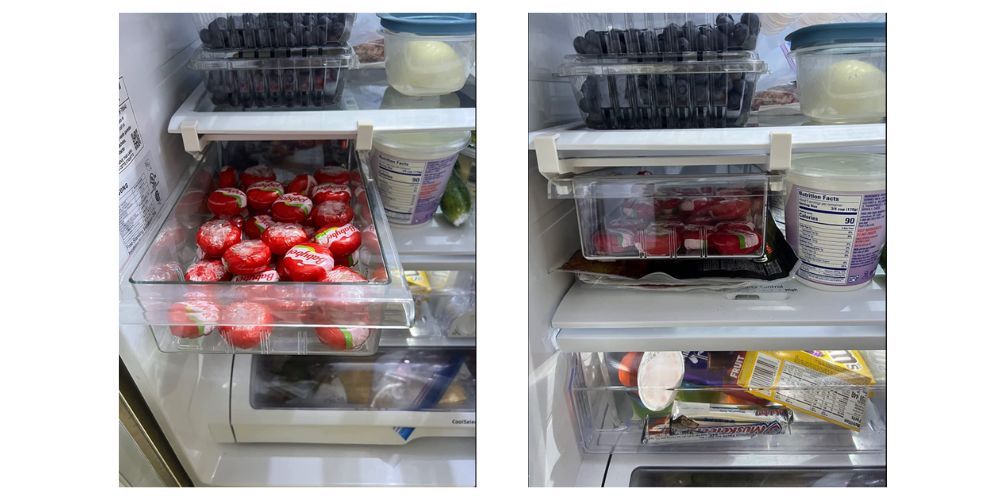 Join thousands of satisfied customers and transform your fridge organization with this top-rated fridge drawer organizer! With over 2,200 verified five-star ratings on Amazon, it's no wonder this gadget comes highly recommended. One happy customer even shared their experience, saying "I love it!!" They bought a 2-pack for their RV fridge but ended up using it in their kitchen to keep small cheeses contained. The slide-out feature is smooth and easy to use, making it simple to remove and wash.
Transform your kitchen with the ClearSpace Plastic Pantry Organization and Food Storage Bin- a set of 8 sleek, transparent storage bins for your pantry and fridge. Say goodbye to cluttered cupboards and fridges, as these bins store everything from canned goods to fruits and vegetables. Not only do they help you find what you need quickly, but they also reduce waste. Made from durable, BPA-free plastic, this investment in your kitchen organization will last for years to come.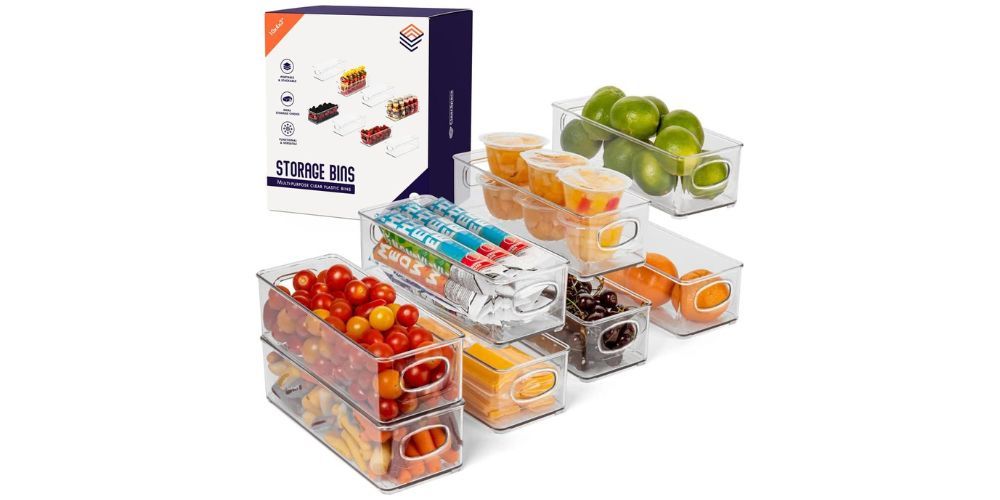 With over 1,500 verified five-star ratings, it's clear that this set of 8 sleek and transparent storage bins is a game changer. One happy shopper even said, "perfect size for refrigerator organization."
Designed to fit a range of Frigidaire, Kenmore, Crosley, and White Westinghouse models, this Fridge's Crisper Drawers Replacement is the perfect solution for anyone who wants to improve their kitchen. The high-quality materials and sturdy construction ensure long-lasting durability while the improved design provides better storage and organization for your fruits and vegetables. Say goodbye to wilted produce and hello to fresh, crisp veggies that stay fresher for longer in our upgraded crisper drawers.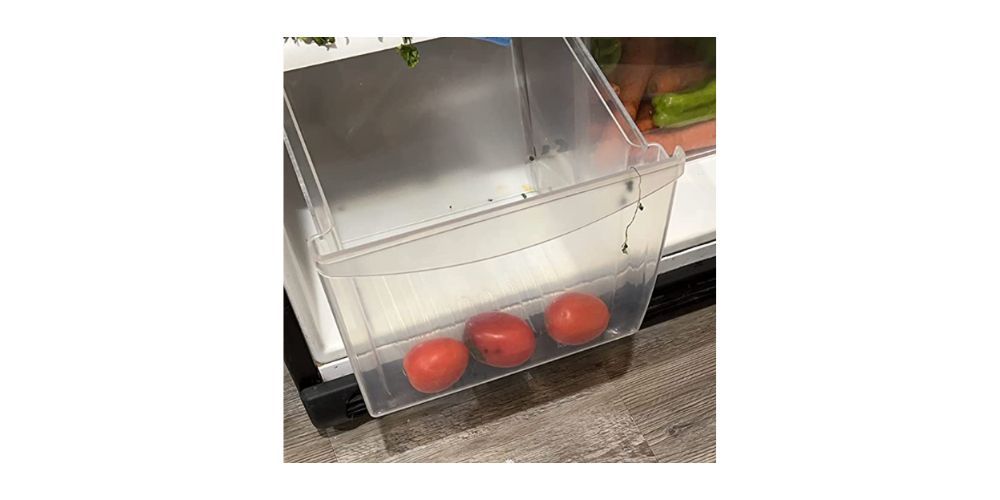 One verified five-star reviewer said "a perfect replacement to my original crisper drawers. I recommend." Another reviewer called it "Fits perfectly. Good value compared to others I'd found searching the Internet. Arrived super fast and packed nicely." With rave reviews like these, it's clear that our Fridge's Crisper Drawers Replacement is a must-have for any organized kitchen.
This 8-piece Set of Clear Plastic Bins is the perfect solution to cluttered and disorganized spaces. With ample storage space for all your favorite foods and beverages, these bins will help you reduce clutter and increase accessibility in a snap. Plus, each bin is made from safe and healthy BPA-free materials, ensuring that your food stays fresh and free from harmful chemicals. Whether you're looking to streamline your fridge, freezer, or cabinets, our versatile design fits perfectly in any space.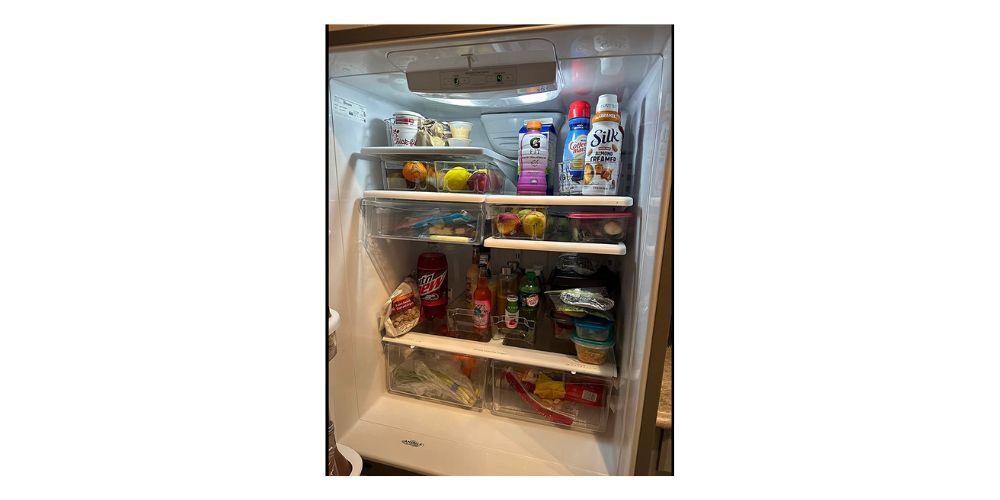 With over 20,400 five-star ratings and an average rating of 4.7 stars, it's clear that these bins are a fan favorite. And it's no wonder - just listen to what one reviewer had to say: "These HOOJO Refrigerator Organizer Bins are awesome! It's like having extra drawers, but so much easier! We love that they are clear plastic making it extremely easy to search. I'm contemplating getting a set for canned goods in my pantry. Love, love, love them!" Imagine having extra drawers at your disposal without any hassle - that's the power of HOOJO Refrigerator Organizer Bins. Plus, their clear plastic design makes finding what you need a breeze.
This 14-egg Container is a game-changer, featuring a convenient lid and handles for easy transport and storage. And let's talk style - the clear design adds a touch of sleek sophistication to your fridge while also allowing you to easily see how many eggs you have left. But that's not all - each pack includes two containers, meaning you can store up to 28 eggs at once and keep them fresh and protected from damage. Whether you're an avid baker looking for seamless egg access or just tired of dealing with messy egg cartons, the Utopia Home Egg Container For Refrigerator is here to revolutionize your kitchen routine!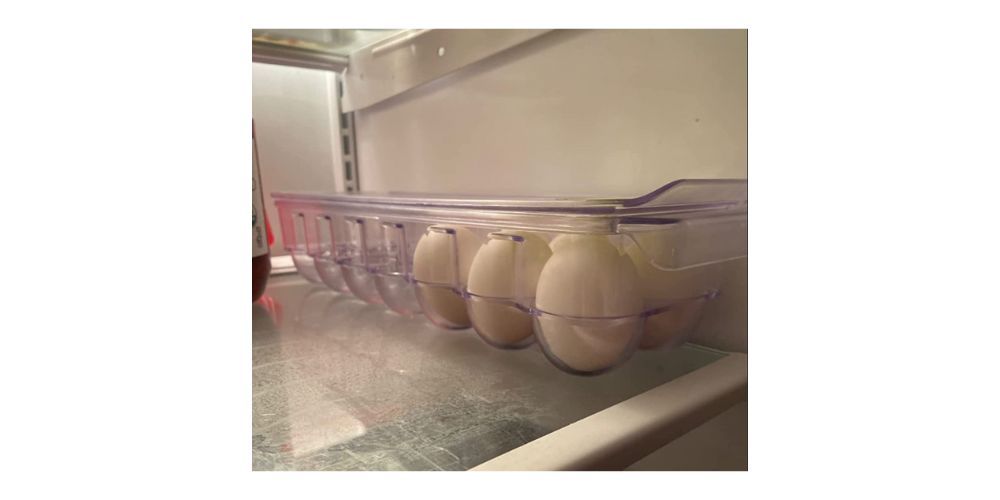 With a 4.7-star average and over 2,000 verified five-star ratings, it's clear that reviewers are absolutely raving about it. And let's hear from one satisfied customer: "[..] These containers are sturdy, easy to clean, and fit extra-large eggs with room to spare. You just have to remember that the lids sit on top, they don't snap on." So if you are tired of dealing with messy egg cartons or struggling to make room for your precious eggs in the fridge then this amazing egg container - it'll change your life! We suggest your eggs on the lower or middle shelf.
These Fruit Containers come with a leakproof construction and a removable colander that will make your life so much easier and will help keeping food fresh and delicious. And if you're worried about cleaning or reheating, don't be! They're dishwasher and microwave safe, so you can enjoy your favorite foods without any hassle. Trust us, once you try these amazing containers, you'll never go back to your old plastic containers again.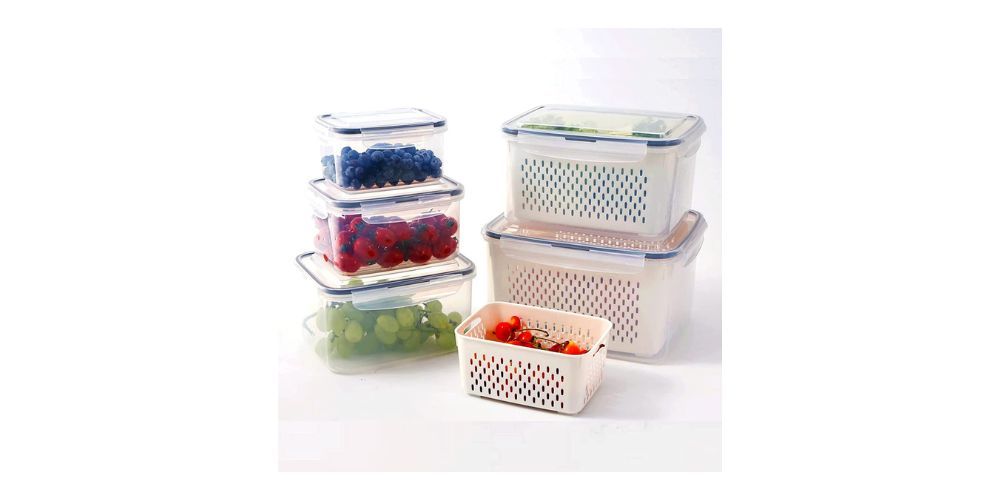 These containers are not just any ordinary storage solution - they're a game changer. One satisfied reviewer couldn't stop raving about how these containers kept their fruits and veggies fresh for days longer than usual. And that's not all - another ecstatic reviewer shared their experience of using these containers to keep lettuce fresh, and they even used a paper towel for extra freshness! Can you imagine how much money and food waste you'll save by using these amazing containers? Trust us, once you try them out, you'll wonder how you ever lived without them.
This sleek and Stylish Organizer will revolutionize the way you store your bottles. Whether it's water bottles, wine, or any other beverage, this versatile organizer can be used in virtually any space - kitchen, pantry, cabinet, fridge or freezer. And let's not forget about its modern design and elegant white color that will add a touch of sophistication to any room.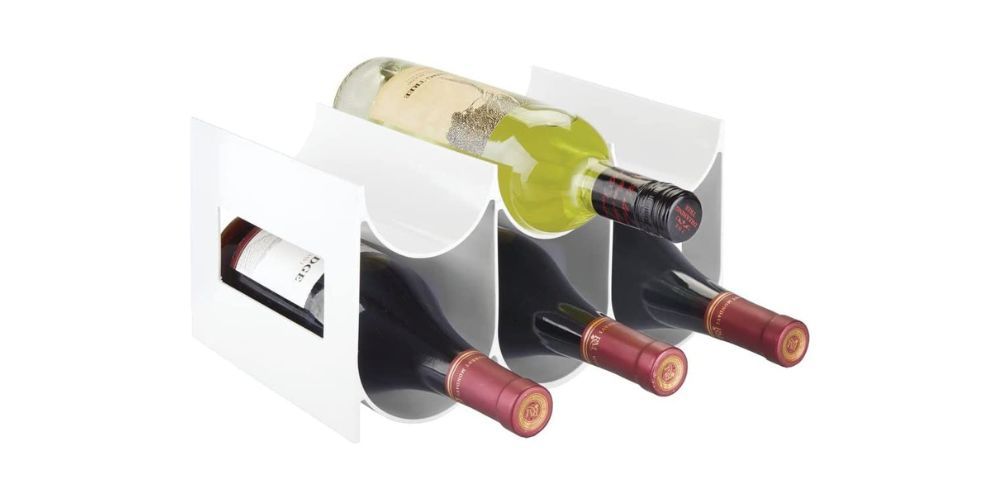 One ecstatic reviewer hailed this wine organizer as an "Excellent Product for Storing Wine in the Refrigerator," and we couldn't agree more. But wait, there's more! Another thrilled customer shared their experience of using these wine racks to turn their garage fridge into a wine haven. They even removed the crispers to make room for more bottles! Can you imagine how much easier it'll be to keep your precious wine collection organized and accessible with these incredible racks? Don't settle for mediocre wine storage - upgrade your game with this amazing product.
These Clear Plastic Storage Bins will change your life. Not only are they perfect for keeping your items organized in the fridge, freezer, kitchen cabinets, and pantry, but their stackable design is a game-changer - especially if you have a small fridge! The lids not only keep your food fresh but also make it easy to access everything without disrupting the neat arrangement. And let's not forget about their versatility - these BPA-free bins can store anything from drinks to fruits and vegetables.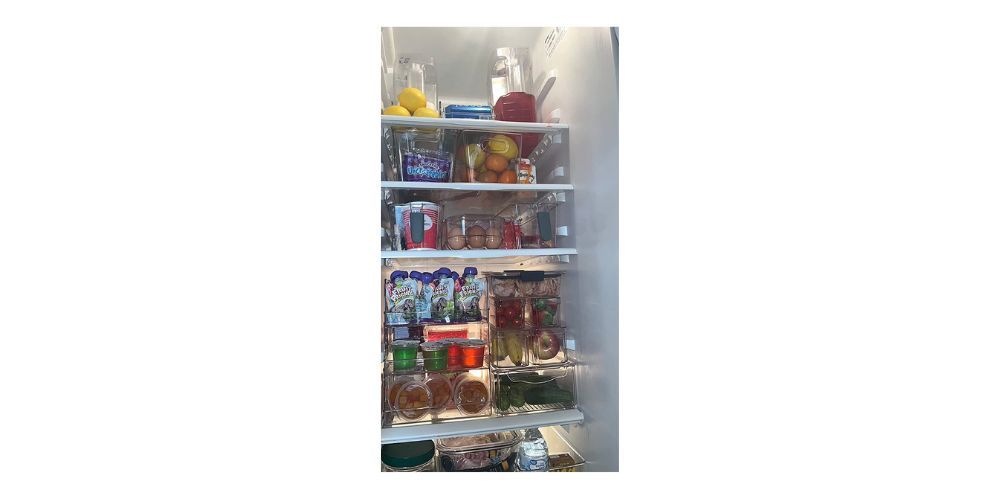 This Clear Plastic Storage Bin has 1,000+ five-star ratings and a 4.4-star average. One reviewer raved about its quality, while another used it to organize their fridge - keeping shelves clean and everything easy to find. Plus, it's versatile in size and can be used anywhere! No wonder people are going crazy over it!
These Clear Bins are about to revolutionize the way you organize your kitchen. You won't believe how easy it is to neatly store juice boxes, snacks, fruits, yogurts, and squeeze pouches thanks to these babies. And get this - the built-in handles make it a breeze to pull out the bin and access your goodies without any hassle. But wait, there's more! These versatile bins can be used in any space - whether it's your pantry, cabinets, top shelf of refrigerator or freezer shelves. No more messy storage spaces or cluttered kitchens - with mDesign bins, you'll have an organized and tidy kitchen in no time!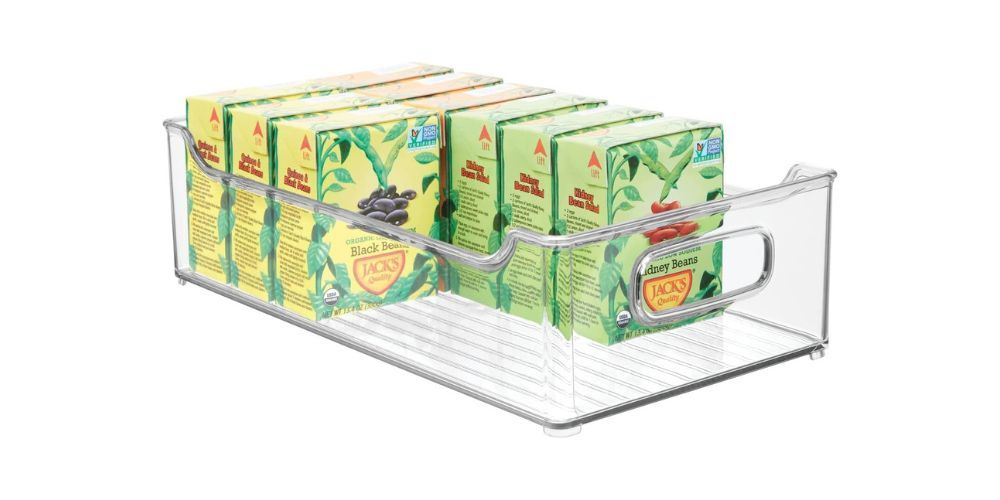 Reviewers are going absolutely bonkers over this 4.8-star-rated bin. One reviewer even confessed their love, saying "I am in love with the mDesign pantry bins!" And it's no wonder why - these bad boys are sturdy and come in a variety of sizes, making them perfect for corralling all your food items in a neat and visually appealing way. If you're looking to reorganize your pantry, you better make some room for these bins - they're a game-changer!
These Stackable Plastic Clear Containers are about to change the game when it comes to fridge organization. You won't believe how easy it is to maximize your fridge space and keep everything in its place with these babies. With six separate drawers, you can store everything from fruits and veggies to condiments and beverages - talk about versatile! And get this - the clear design allows you to easily see what's inside each bin without having to dig around. No more mystery items or forgotten leftovers lurking in the back of your fridge. But wait, there's more! These bins are built to last thanks to their durable construction. Whether you have a small or large fridge, this set is the perfect solution for keeping your fridge clean, organized, and clutter-free.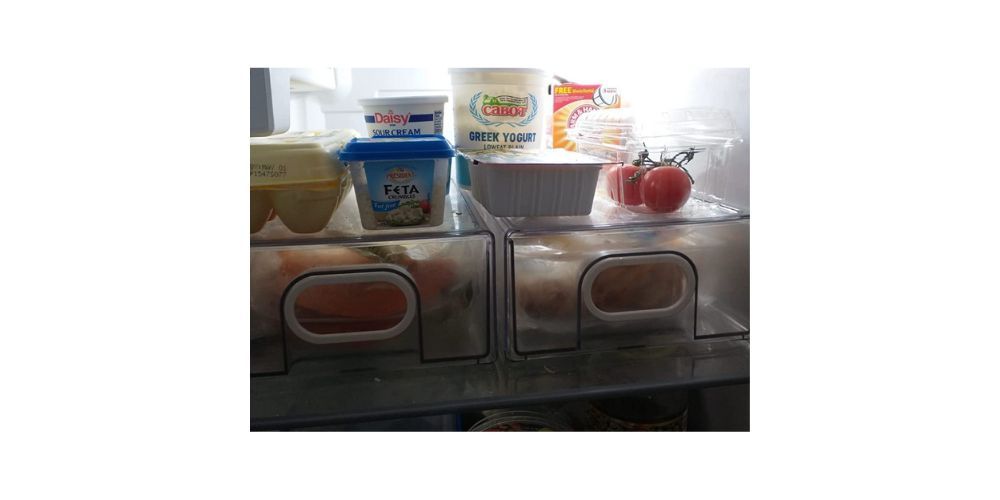 Well, these shelves make organizing your refrigerator a breeze. One reviewer was so impressed they just had to share their experience: "I rarely write reviews but these shelves are excellent!" They had just bought a brand new GE fridge that unfortunately didn't come with a deli tray - but fear not! They purchased two of these shelves and stacked them on top of each other, and voila - problem solved! The reviewer was thrilled with how seamlessly the shelves fit in with their fridge and how well they worked. If you're looking for an easy solution to keep your fridge organized and looking sharp, look no further than these game-changing shelves.
This 2-pack of 11-inch Lazy Susan Rack is about to change the game when it comes to maximizing storage capacity while utilizing that pesky corner space you never know what to do with. With a quick spin of the turntable, you'll have easy access to all your spices, condiments and other cooking essentials without having to clutter up your counter or dig through a sea of jars and bottles. It's like magic! So if you're ready to take control of your kitchen and get organized once and for all, grab one of these convenient kitchen gadgets today. Trust us, you won't regret it!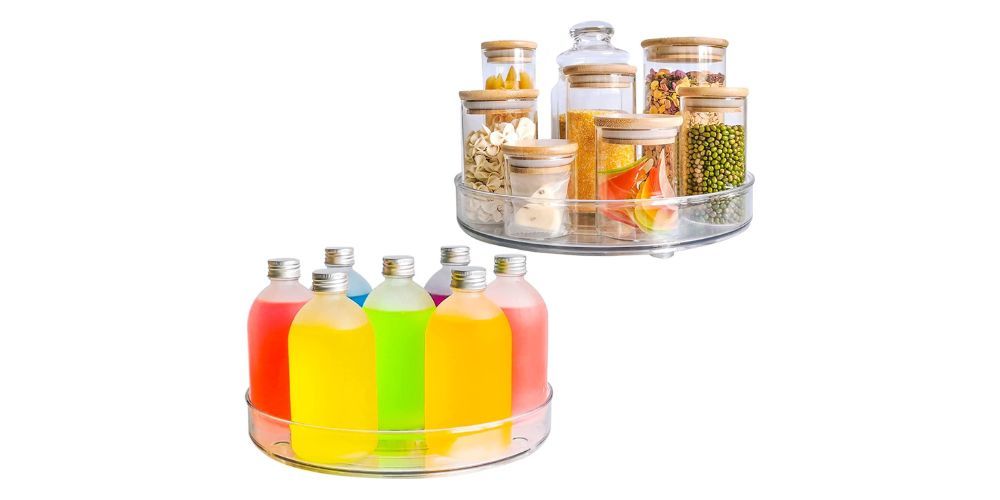 With an impressive 4.7-star rating, it's no wonder people are raving about this lazy susan. And what's all the fuss about, you ask? Well, apparently it's a game-changer when it comes to organizing sauces in your fridge. But don't just take our word for it - one reviewer had some pretty strong feelings about this little gadget: "I hate that French door fridges don't seem to have the storage space for bottles and jars that a side by side does so these were perfect for storing those items." They went on to say that they hold a surprising amount of stuff and they're already planning on buying more for their other fridge. If you're tired of constantly rearranging your fridge just to fit in all your condiments and sauces, give this lazy susan a try - you might just be pleasantly surprised!
These stackable bins are adjustable and designed to make your life easier in so many ways. Whether you're trying to store large or small items, these Bins have got you covered. With customizable compartments thanks to the adjustable dividers, you can keep everything from snacks to canned goods neatly organized and easy to find. And let's not forget about the clear design - no more digging through stacks of bins just to find what you need! Plus, with handles on each bin, grabbing that bag of chips or can of soup is a breeze.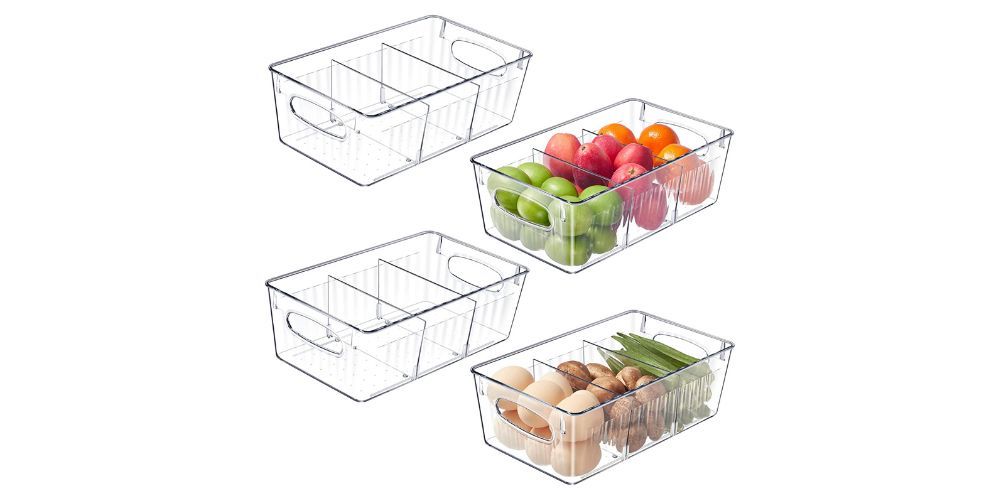 One reviewer couldn't contain their excitement, calling them "Excellent organizers!" And it's not hard to see why - with these bins, you can finally say goodbye to a cluttered fridge and hello to easy-to-find healthy snacks.
Introducing the sleek and stylish organizer that can handle all your kitchen needs - from countertops and cabinets to pantry and fridge. This BPA-free Plastic Can Bin can fit up to nine standard size cans with its front-facing design for easy access. The included 4-pack lets you organize multiple beverage types or keep a stash of drinks ready for your next gathering. With a smoke gray color that adds a modern touch to any space and food-safe construction, you can store your drinks in a safe and hygienic manner while impressing your guests with your impeccable organization skills!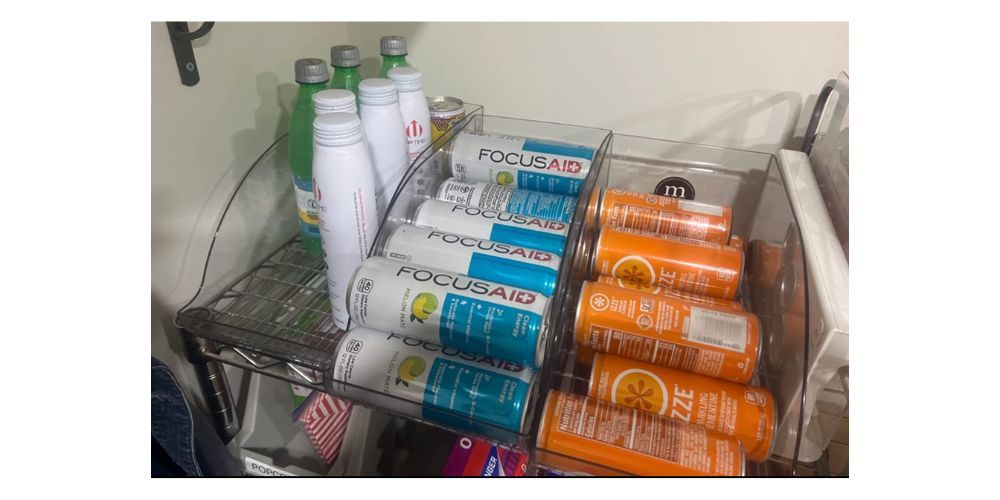 Acording to a satisfied customer, this organizer is a game-changer for those slim can energy drinks. With various flavors in the mix, this product has made their fridge much neater and more accessible. The clear design makes loading up with cans super easy too - no more struggling to find the right drink!
These specially designed Refrigerator Organizer Bins are the perfect fit for those pesky door shelves and refrigerator door, you'll have ample room for all your favorite foods - from canned goods to frozen meals, fruits, and veggies to condiments. And with their durable plastic construction, these organizers will keep everything neat, tidy, and easily accessible. Plus, they're BPA free - so you can feel good about keeping your family's food stored safely. You'll love how hassle-free it is to clean up any spills and extend the shelf life of your groceries.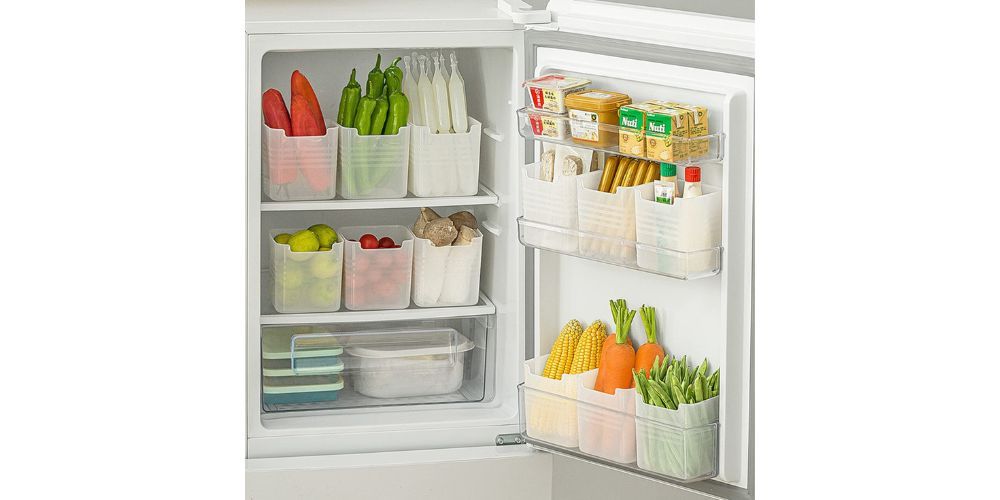 As one reviewer raves, these Refrigerator Organizer Bins may be small, but they're top-quality and perfectly designed to keep your food storage under control. With each container fitting 1-2 items and three containers sitting neatly on each shelf, you'll love how easy it is to avoid overbuying and wasting food.
With its 9" width, this RollOut Fridge Caddy is perfect for larger bottles and containers, so you can store all your favorites without any hassle. The clear plastic construction makes it easy to see what's inside at a glance, saving you time and stress. And with its convenient roll-out design, you'll never have to worry about wasting valuable counter or cabinet space again. Transform your kitchen experience with this essential organization tool - try the YouCopia RollOut Fridge Caddy today!!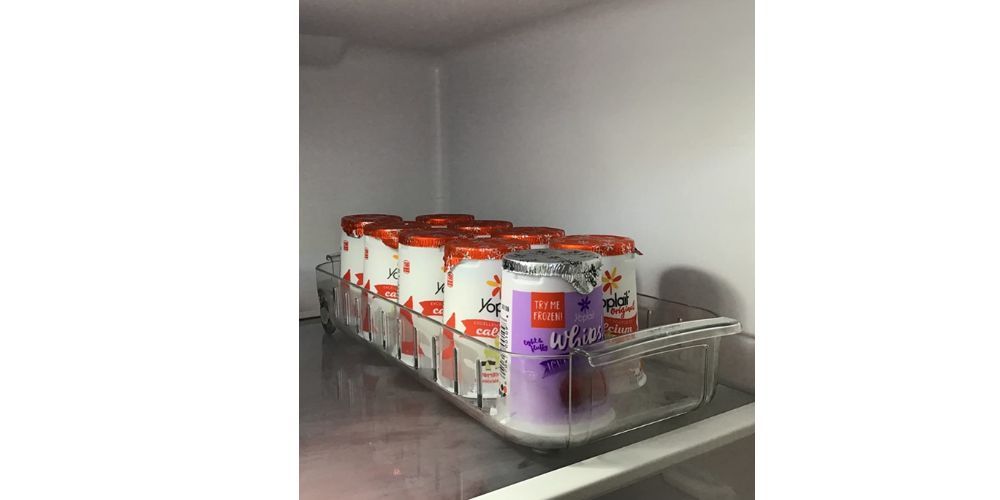 With over 1,300 five-star ratings and a glowing 4.7-star average, it's no surprise that reviewers can't get enough of this bin. As one satisfied customer raves, "I love it!" And it's easy to see why - with its innovative design and convenient "wheels," this bin makes it a breeze to access everything in your fridge quickly and easily. Say goodbye to digging through cluttered shelves and hello to a more efficient, stress-free kitchen experience. Trust us - you won't be disappointed when you try this must-have fridge accessory for yourself!
These storage Holder Fridge Bins are the ultimate solution for vertical space organization! With their sturdy handles, you can easily transport them from pantry to countertop or fridge door, even freezer to cupboard. And with their crystal-clear design, you'll never have to play hide-and-seek with your favorite snacks and sauces again. But that's not all - with a convenient 2-pack, you'll have plenty of room to store all of your refrigerator essentials in one place.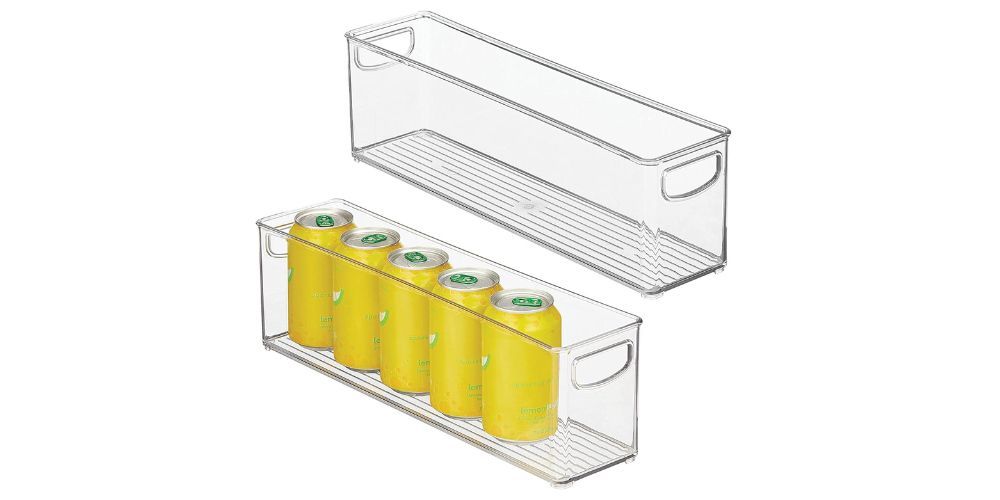 With over 2,000 five-star ratings and a glowing 4.8-star average, it's clear that reviewers can't get enough of these fridge bins. One satisfied customer raves that they brought "much-needed organization to a small, overcrowded freezer," and praises the accurate and reliable product description. It's no wonder why this is quickly becoming everyone's go-to company for kitchen organizing - they consistently deliver top-quality products that exceed expectations.
These Lunch Containers are not only leak-proof and BPA-free, but they're also perfect for keeping your food fresh and neatly organized. With 14 different container sizes at your disposal, you'll have endless options for storing everything from leftovers to snacks. And don't worry about freezer burn - these containers will keep your food perfectly preserved while maximizing space efficiency. Take it one step further by labeling your leftovers and prepared foods with expiration dates to ensure nothing goes to waste. But here's the best part - these containers are easy to stack and store, taking up minimal space in your pantry or fridge. Whether you're a busy parent or a meal prep enthusiast, the Fullstar 14-Piece Food Storage Containers Set is an absolute game-changer that will revolutionize the way you organize and prepare meals at home!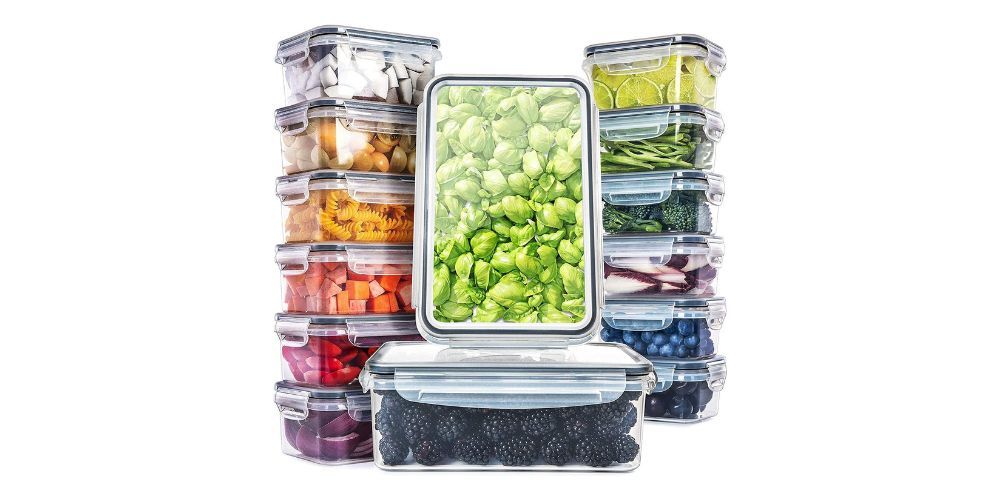 With an astonishing 32,300+ five-star ratings and a glowing 4.6-star average, it's clear that reviewers are head over heels for these top-quality containers. One ecstatic customer raves that they're simply "great" - and it's easy to see why! The lids fit and lock perfectly, ensuring that your food stays fresher for longer. And while they may not stack perfectly for storage, they nest together beautifully in the fridge when in use - making meal prep an absolute breeze.
Final Thoughts
With the right storage solutions and a bit of creativity, you can say goodbye to fridge clutter and transform the inside of your refrigerator into a neat and organized fridge. The 17 genius refrigerator organization ideas in this blog post provide a great starting point for creating an easy-to-manage food storage setup that will simplify meal prepping and make it faster than ever before. Use these tips to get started on creating a clutter-free fridge today!
Reviews in this blog post have been edited for clarity and/or length.
Comments