This post may contain affiliate links, please see our privacy policy for details.
Get ready, sun-seekers and adventure-lovers! Your ultimate vacation is just around the corner, and it's time to give your wardrobe the glow-up it deserves. Say goodbye to the same old outfits and embrace the vibrant world of resort wear! We've curated a fabulous list of 25 stylish and chic resort wear ideas that will have you turning heads and feeling fabulous, no matter your destination. We're talking luxury, beach vibes, casual strolls, and everything in between. With our expert guidance, you'll strike the perfect balance between style and affordability, ensuring you look like a million bucks without breaking the bank. So, buckle up and join us on this fashionable journey as we explore the best resort wear options that will have you vacation-ready in no time!
Luxury Resort Wear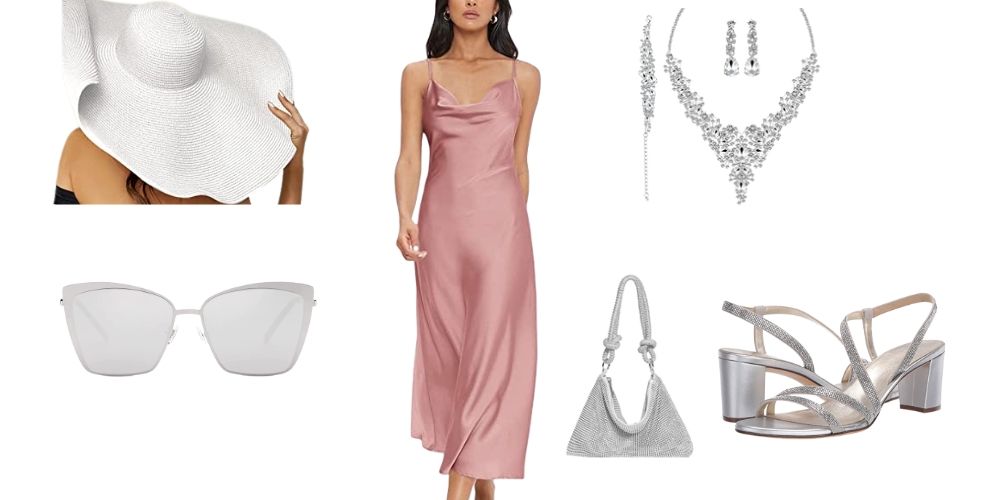 Discover the epitome of luxury wear with this breathtaking silk maxi dress that's guaranteed to make you the talk of the town. This showstopper features adjustable straps and a figure-flattering silhouette that will leave you feeling like a goddess. Glide through the resort, oozing confidence and poise, as you pair this stunning dress with metallic strappy sandals, a giant sunhat, and statement jewelry.
Elevate your ensemble further with a sleek clutch and a pair of oversized sunglasses to complete your oh-so-luxurious vacation look. Indulge in the glamour and sophistication of this silk maxi dress, and turn your dream vacation into a runway-worthy experience.
RELATED ARTICLE: If you're on the hunt for the perfect white dress to make you feel radiant and stunning on your next vacation, then head on over to our full article where we've handpicked the most stylish recommendations just for you. Don't miss out on these fabulous finds – happy reading and happy vacationing!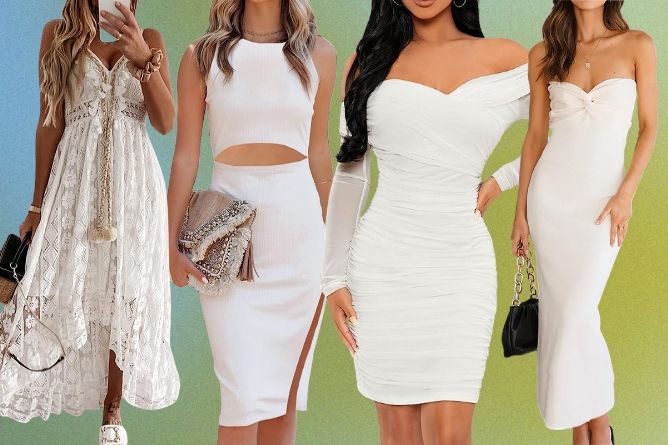 Beach Resort Wear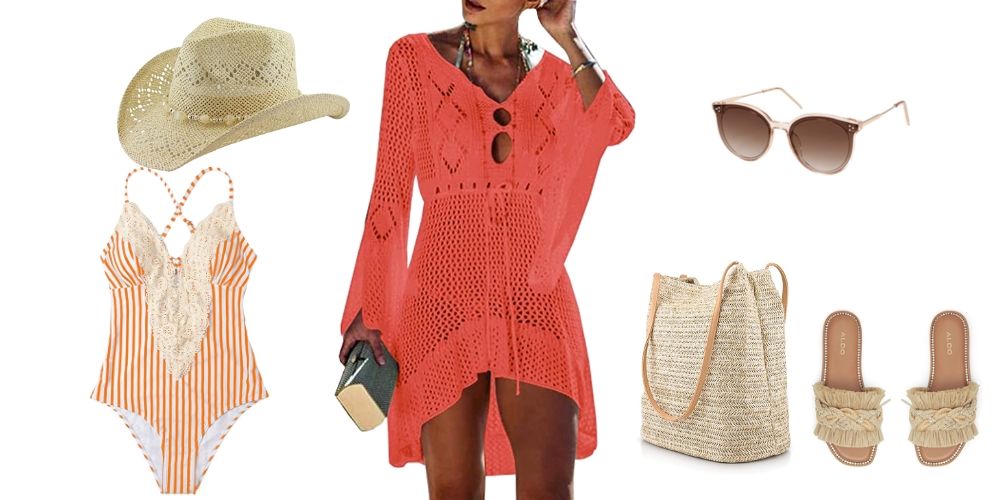 Get ready to embrace your inner beach babe with this effortlessly chic and loose-fitting cover-up that's just perfect for a day filled with sun, sand, and sea. Crafted from soft, breathable fabric, this comfy gem will become your go-to addition to your beach resort outfit collection. When you're all set to hit the shore, just slip it on over your favorite swimsuit and admire how it drapes gracefully over your sun-kissed skin.
To create the ultimate picture-perfect beach ensemble, accessorize with a straw hat, a vibrant beach tote, and some fun flip-flops. Oh, and don't forget a pair of stylish sunglasses to protect your eyes while you soak up all that glorious sunshine. With this beach-ready look, you're all set to make a splash and create unforgettable memories!
RELATED ARTICLE: We know how important it is to stay stylish while protecting your eyes from those bright rays. That's why we've put together a list of our top picks for trendy sunglasses that'll not only have you looking fabulous but also keep that annoying squinting at bay. So go ahead and check out our fabulous finds, and get ready to rock those sunny days with confidence and style!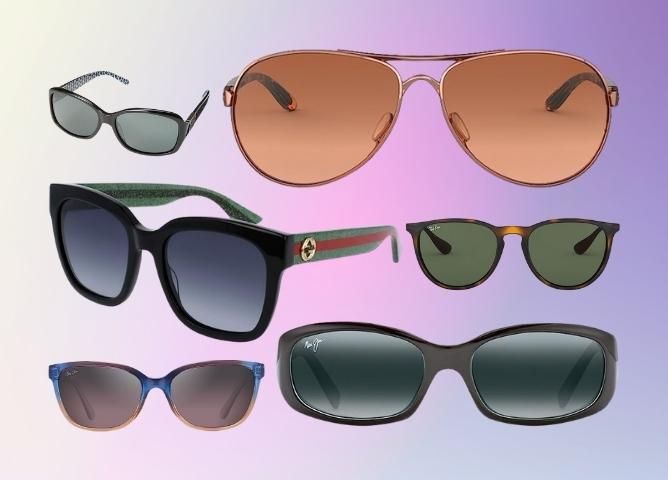 Casual Resort Wear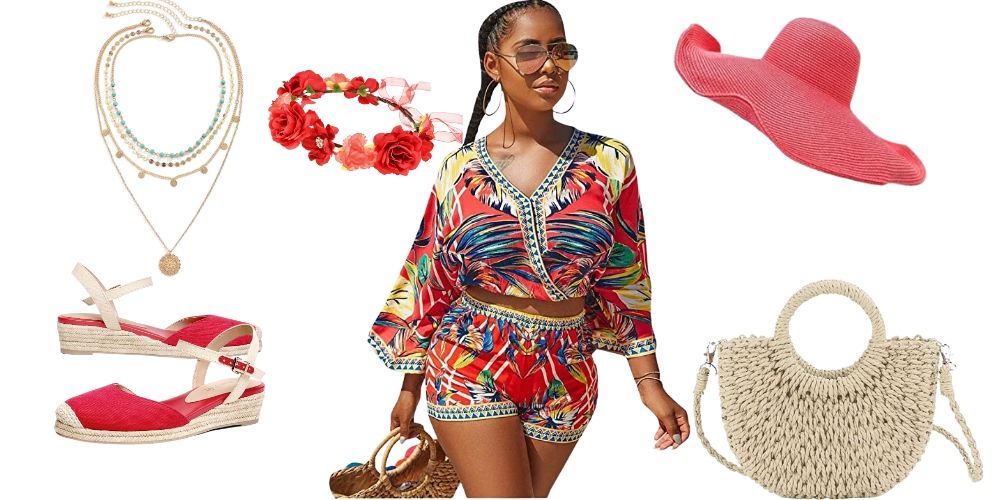 Prepare to elevate your casual resort wear game with this oh-so-cool bohemian print two-piece set. Featuring a trendy crop top and matching shorts, this ensemble is perfect for daytime adventures or just chilling by the pool in style. To enhance this breezy look, try adding some layered necklaces, a pair of fashionable espadrille sandals, and a cute crossbody bag for all your essentials.
Top it all off with a stylish headband or a wide-brimmed hat for that extra touch of flair. Trust me, with this fun and relaxed outfit, you'll be turning heads while keeping it casual and comfy. So, go on and rock this bohemian print two-piece set, and get ready to be the envy of every resort-goer!
Evening Resort Wear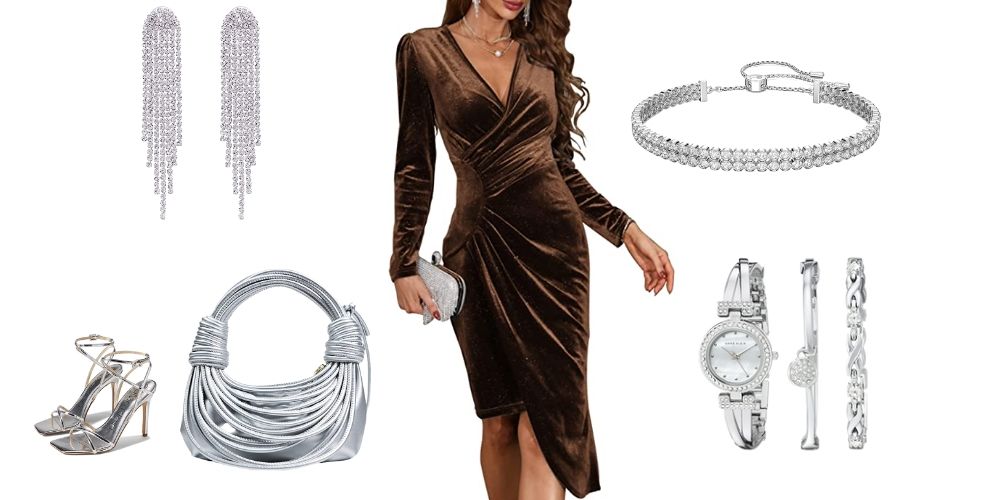 Add a touch of elegance to your evening look with this ultra-flattering and luxurious velvet dress, the perfect addition to your women's resort wear collection. This elegant evening number features a flattering wrap design and long sleeves, effortlessly elevating your nighttime style.
To accessorize this chic look, pair the dress with some statement earrings, a sparkly clutch, and strappy heels that add a touch of glamour. For an extra dash of sophistication, sweep your hair up into an elegant updo and wear a delicate bracelet or watch. Trust me, with this exquisite velvet dress, you'll become the epitome of elegance, turning heads and making a lasting impression at any resort event.
Affordable Resort Wear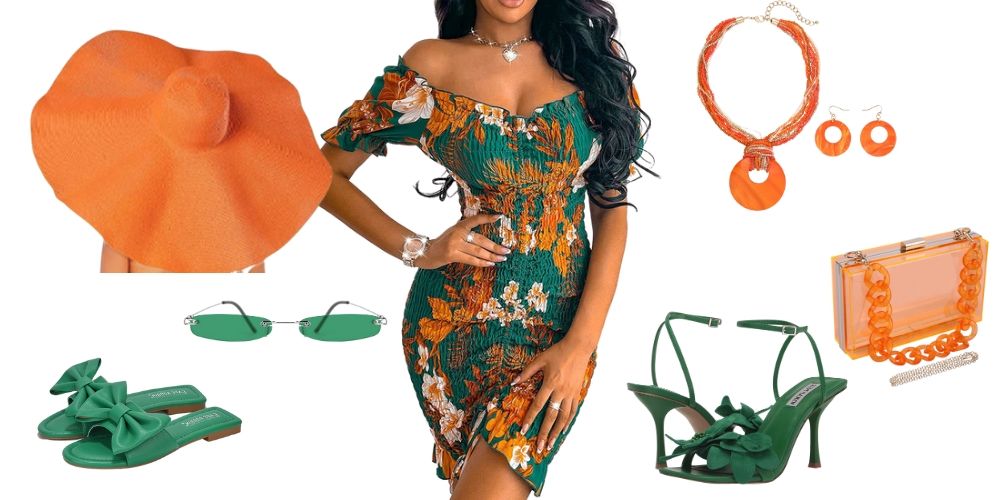 This versatile off-the-shoulder ruffle mini dress is perfect for both daytime beach strolls and evening escapades, making it a must-have addition to your wardrobe. To create a fabulous day look, accessorize with a pair of cute sandals, a wide-brimmed hat, and some chic sunglasses. As the sun sets, switch it up and transform it into a nighttime sensation by pairing the dress with statement heels, a sleek clutch, and some eye-catching jewelry.
You'll be amazed at how effortlessly this off-shoulder ruffle dress takes you from day to night, making you the style envy of every vacationer. So, go ahead and indulge in this on-trend gem that's both fashionable and affordable!
RELATED ARTICLE: If you're searching for eye-catching long skirts that'll make you the star of every party, we've got just the thing for you. Swing by our article featuring our top 14 stunning picks that are guaranteed to turn heads and make a lasting impression. Don't miss out on these fabulous finds – happy shopping and party on!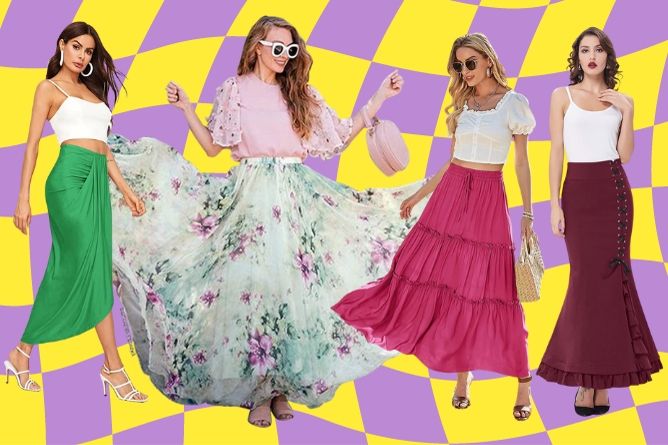 Resort Wear Maxi Dress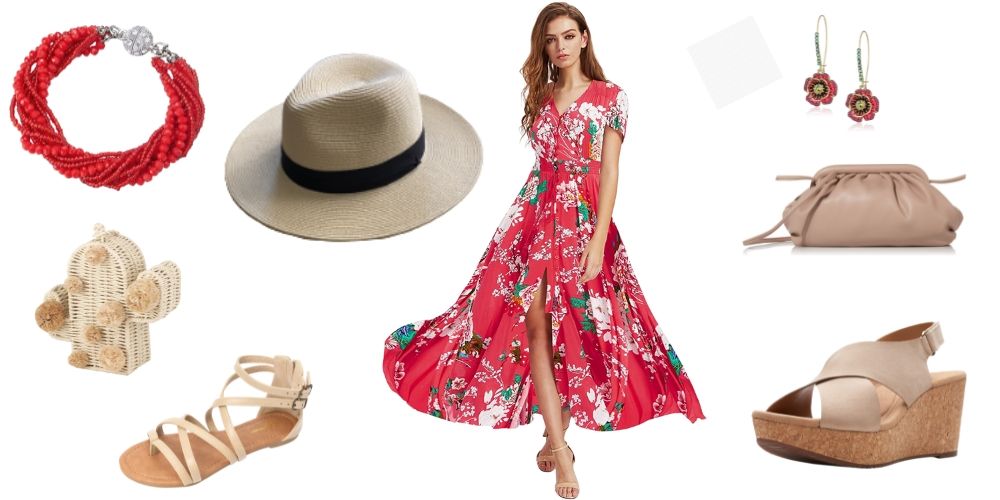 This gorgeous floral print resort-wear maxi dress is an absolute stunner for your tropical getaway! This dreamy v-neck casual summer dress features a captivating boho floral print that's perfect for making a statement on your vacation. To style this enchanting piece, accessorize with layered necklaces, strappy sandals, a crossbody straw bag, and a wide-brimmed hat for a chic daytime look.
As the sun sets, add a touch of elegance with some delicate drop earrings, a sleek clutch, and a pair of stylish wedges. Trust us, with this swoon-worthy maxi dress, you'll be the epitome of resort-chic, turning heads as you soak up the sun in paradise.
Tropical Resort Wear
These crochet beach pants perfectly capture the essence of tropical resort wear! With their relaxed fit and drawstring waist, these stylish beach pants promise comfort and flair, making them the ultimate addition to your holiday wardrobe. To create a laid-back yet chic beach look, pair them with a crochet tank top, a classic straw hat, and green flat sandals, and don't forget to add some playful jewelry like a multilayer bracelet or statement earrings. Complete your ensemble with a roomy beach tote to carry all your essentials.
You'll be effortlessly stylish as you stroll the sandy shores, sipping on a refreshing cocktail, and soaking up that island vibe. So, what are you waiting for? Embrace the tropical spirit and let your style shine in these irresistible crochet beach pants.
Resort Wear Dress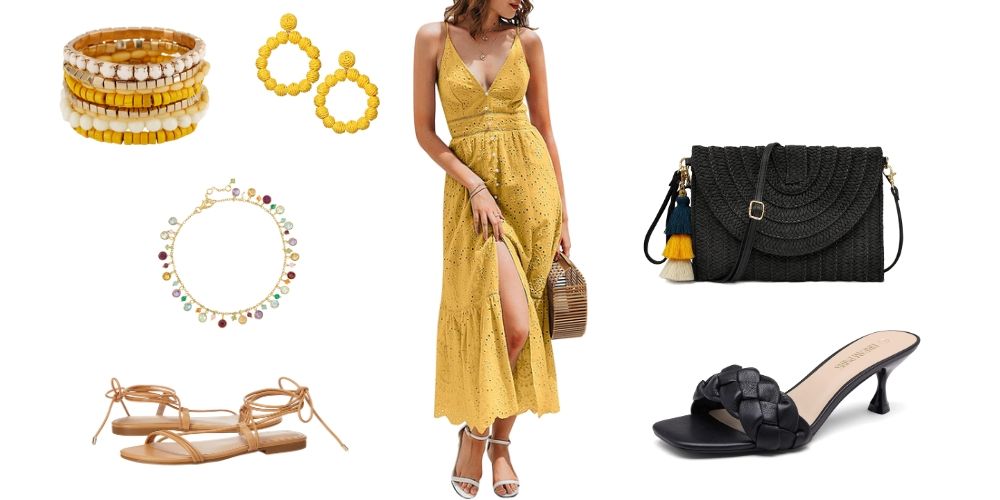 This embroidery dress features a sexy V-neck, spaghetti straps, button closure, and a unique lace-up back, all coming together to create an undeniably flirty look. Whether you're lounging poolside or enjoying a romantic dinner under the stars, this eye-catching maxi dress is bound to leave an impression.
Style it with strappy sandals, a stack of bangles, and a delicate anklet for a daytime vibe. When the sun goes down, elevate the ensemble with statement earrings, open-toe low heels, and a chic clutch or crossbody purse to carry your essentials. With this irresistible resort-wear dress and the perfect accessories, you'll be the belle of the beach, effortlessly exuding charm and confidence.
RELATED ARTICLE: Are you on the hunt for cute spring purses that'll effortlessly complement any vacay outfit? We've got your back! Pop over to our article showcasing the adorable purse picks that'll add the perfect finishing touch to your springtime ensembles. Trust us, you'll fall head over heels for these versatile and stylish bags. Don't miss out on these fabulous additions to your accessory collection – happy browsing!
Resort Wear Jumpsuit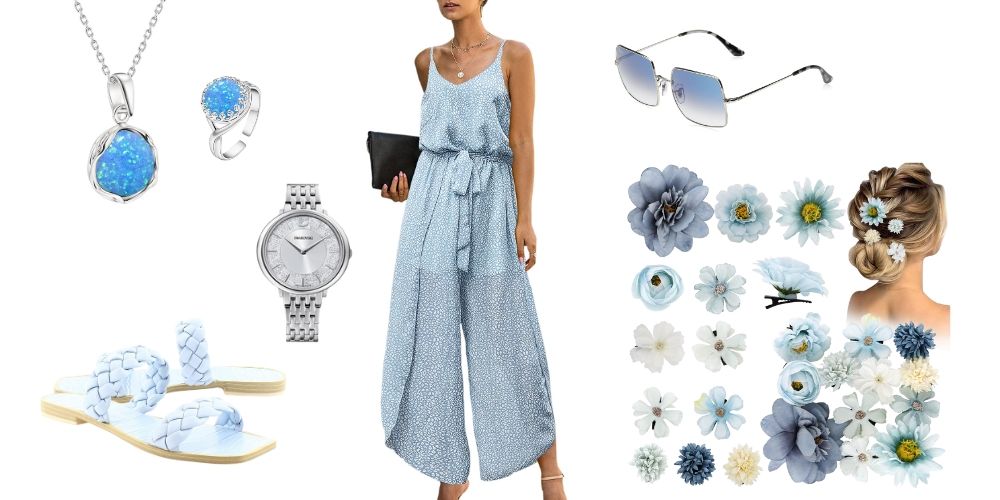 This ultra-trendy spaghetti strap wide-leg jumpsuit is a must-have piece for any fashion-savvy jet setter. This chic resort wear jumpsuit showcases a flattering spaghetti strap design and a stylish wide-leg silhouette, making it perfect for both daytime escapades and evening soirees.
For a fabulous daytime look, accessorize with a statement necklace, and wedge sandals, while adding a touch of glamour with a chic purse, a timeless watch, and some fabulous sunglasses. Don't forget to adorn your fingers with a statement ring and give your hair that extra oomph with some cute hair accessories. With this alluring resort-wear jumpsuit and the right combination of accessories, you'll be strutting your stuff with confidence, turning heads wherever your travels take you.
Resort Wear Pants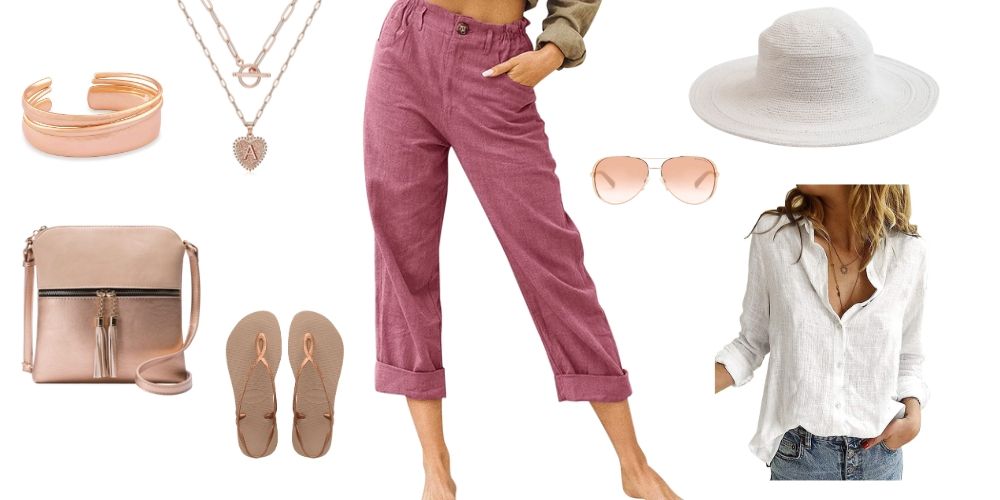 Get ready to make a style statement on your dream vacation with these versatile summer capri pants that are perfect for both exploring and lounging by the pool. For a chic yet practical outfit that'll have you looking fabulous while discovering the hidden gems of your destination, pair these comfy capris with a white linen blouse, comfortable Havaianas sandals, and a crochet hat to keep the sun at bay.
To further elevate this look for a day out on the town, accessorize with a rose gold layered necklace, a stack of bracelets, and a chic crossbody bag to carry your essentials. And let's not forget a pair of trendy Michael Kors rose gold sunglasses to protect your eyes while you take in the sights! With this effortlessly fashionable ensemble, you'll be ready to conquer your vacation adventures in style.
Two-Piece Resort Wear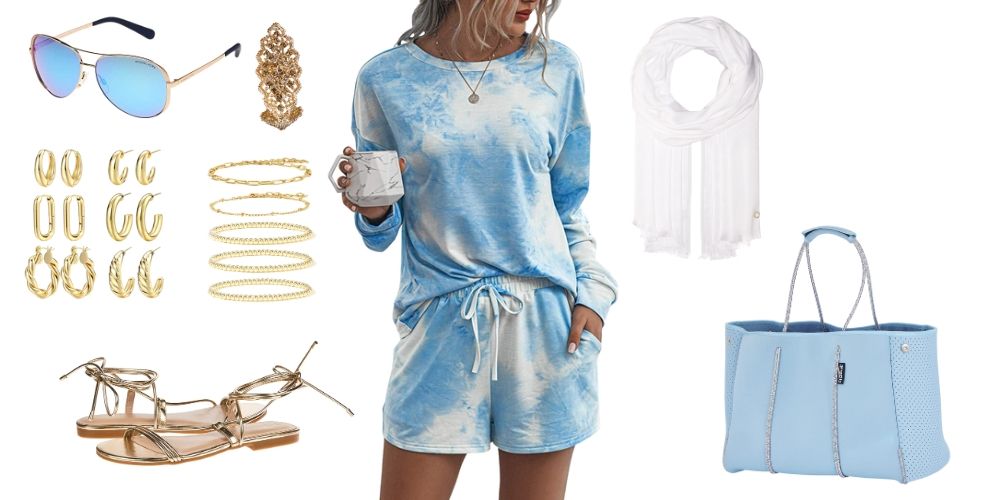 Unwind in style during your vacation with this tie-dye lounge set, perfect for achieving that laid-back, resort-ready vibe. Featuring a stunning blue tie-dye print crop top and matching shorts with an elastic waistband, this set is not only comfortable but also incredibly fashionable. To create a playful ensemble ideal for lounging around the resort, accessorize with Michael Kors Chelsea sunglasses, a pair of mini gold hoop earrings, and gold lace-up sandals.
For a pop of color, add a gold beaded bracelet, a cocktail ring, and a white scarf that can double as a beach wrap. Complete your look with a blue tote bag to carry your essentials, like sunscreen and a good book. With this fabulous resort wear set and the perfect accessories, you'll be ready to soak up the sun in style and make the most of your well-deserved downtime.
Chic Resort Wear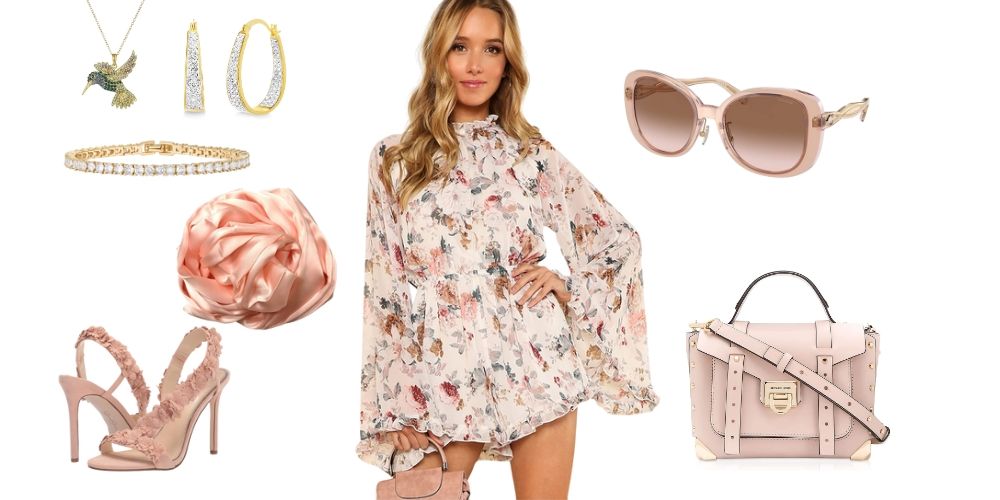 This chic resort wear wardrobe idea combines fashion-forward pieces with timeless elegance. For a sophisticated yet playful look, choose a sleek jumpsuit in a neutral color, featuring a flattering waist tie and loose sleeve silhouette. This versatile outfit will take you seamlessly from a leisurely brunch to an enchanting evening under the stars.
To accessorize this stunning ensemble, opt for a pair of strappy, heeled sandals that'll add a touch of glamour to your look. Complement the outfit with minimalist gold or silver jewelry, such as a delicate pendant necklace, crystal hoop earrings, and a stack of dainty bracelets. Incorporate a pop of color with a bold, pink silk scarf that can be tied around your neck, or wrist, or even used as a chic headband. Complete your look with a structured, top-handle bag in a coordinating shade to carry your essentials, and don't forget a pair of stylish sunglasses to protect your eyes from the sun. With this chic resort wear wardrobe idea and well-curated accessories, you'll be the epitome of effortless sophistication on your next getaway.
Cruise Wear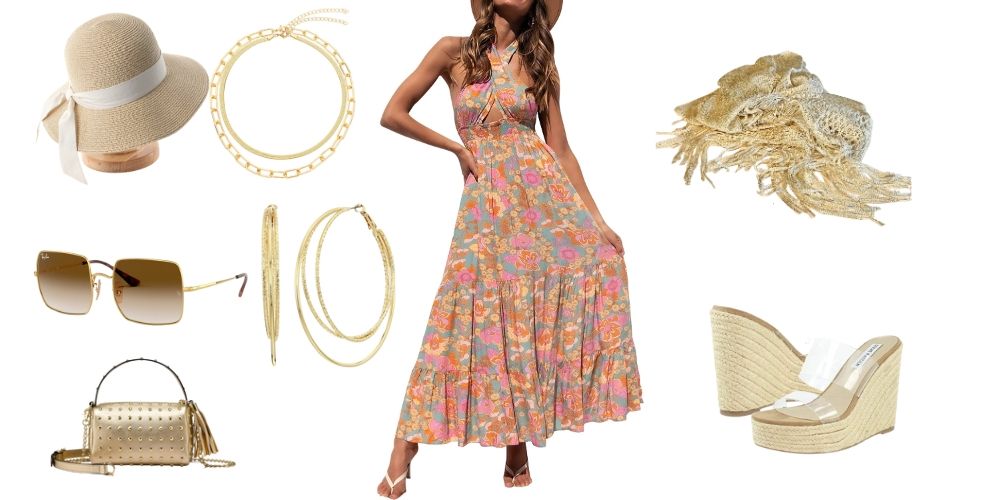 Get ready to set sail in style with this effortlessly chic cruise wear wardrobe idea that'll have you feeling comfortable and fashionable throughout your entire voyage. For a versatile outfit that's perfect for both daytime activities and evening events, opt for a flowy midi dress in a bold, tropical print. Accessorize with a pair of comfortable yet stylish wedge sandals, a statement-making wide-brimmed sun hat, and a pair of oversized sunglasses to protect yourself from the sun.
Layer on some delicate gold jewelry, such as layered necklaces and wire hoop earrings, to elevate your ensemble. Add a pop of color with a gold crossbody bag or clutch to carry your essentials. Lastly, don't forget a lightweight scarf or shawl in a coordinating color to drape over your shoulders for those breezy nights on the deck. With this fabulous cruise wear wardrobe idea and the perfect accessories, you'll be all set to make waves and create unforgettable memories on your dream vacation.
RELATED ARTICLE: Come and check out our article showcasing 15 amazing midi dresses that are sure to make you feel like a fashionista on your resort vacation getaway. We know you'll fall in love with these dresses that perfectly blend chic design and seasonal charm. Don't let these irresistible finds slip by – happy browsing and enjoy the spring vibes!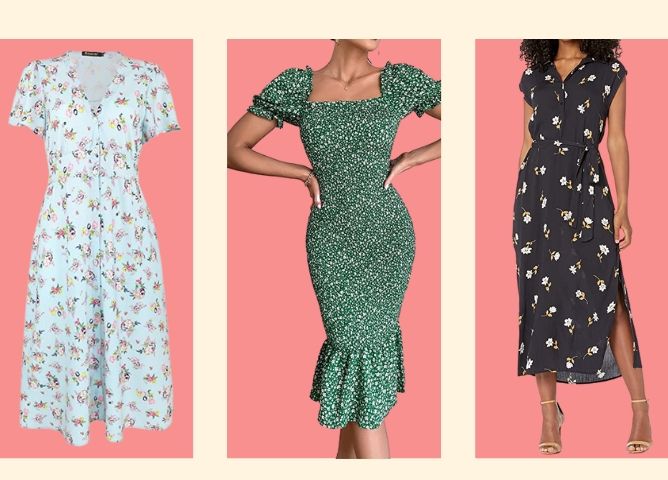 Elegant Resort Wear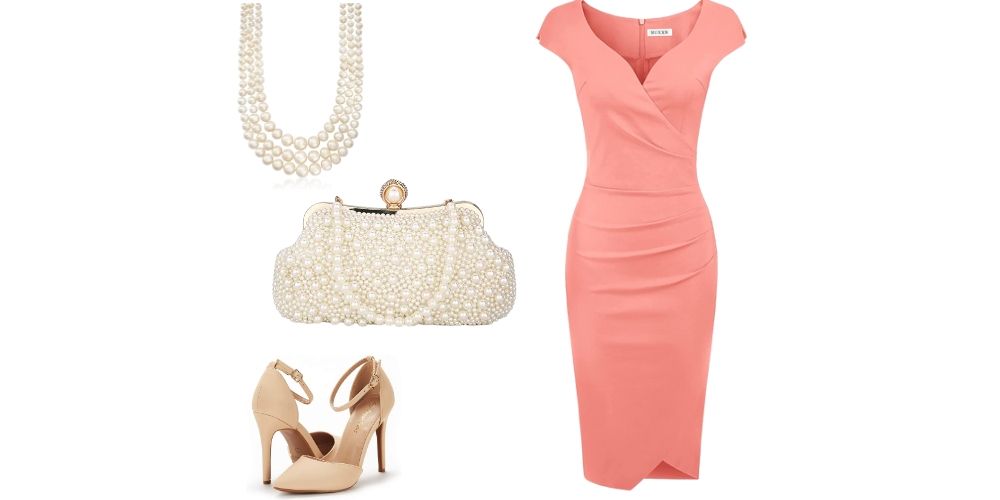 Embrace your inner starlet and channel that old Hollywood glamour with this exquisite peach cocktail dress, perfect for elevating your elegant resort wear collection. Whether you're attending a fancy dinner, a sophisticated evening event, or simply need a stylish cover-up for a poolside soirée, this stunning dress will have you looking and feeling like a million bucks.
To complete this show-stopping look, slip into a pair of classic nude pumps and adorn your neck with a timeless pearl necklace. Add a touch of class with a sleek, structured clutch in a coordinating blush hue to carry your essentials. Embody the vibrant hues that define the ultimate vacation wardrobe, and with this head-turning ensemble, you'll effortlessly captivate the room and leave a lasting impression as you enjoy your unforgettable vacation nights.
Final Thoughts
As you embark on your next sun-soaked adventure, remember that the key to a stylish and unforgettable vacation lies in curating the perfect resort wear for women. From breezy resort dresses and chic cover-ups to versatile jumpsuits and elegant evening wear, these wardrobe ideas have got you covered for every occasion. Don't forget to accessorize with fashionable sun hats, statement jewelry, and on-trend sunglasses to complete your looks. Now that you're equipped with these fabulous resort wear ideas, you can confidently pack your suitcase, knowing that you'll be turning heads and making a splash, whether you're lounging poolside or exploring a tropical paradise. Happy travels, and may your vacation be as fabulous as your wardrobe!
Comments