This post may contain affiliate links, please see our privacy policy for details.
If you're a footwear fanatic, you know how crucial it is to keep your shoe collection in check. Not only will having a designated storage space for your shoes help keep your space tidy, but also make it easier to find the perfect pair to complete every outfit! But why compromise between style and function when you can have both? We've rounded up 12 stylish shoe storage cabinets that offer maximum organization potential with an extra touch of sophistication - so you can organize your shoe collection without having to sacrifice style.
Benefits of Shoe Storage Cabinets
We all know that shoes can quickly accumulate if you don't have a proper place to store them. From boots to sandals, it is easier than ever to find yourself with footwear cluttering up your hallway or bedroom-- but with the right shoe storage system in place, it doesn't need to be this way. Here are some of the benefits you'll enjoy when you opt for an organized shoe storage system:
Neat & Tidy Organization
Shoe storage systems provide an organized and neat space for all of your footwear, allowing you to have easy access when selecting which pair to wear each morning. This makes it much simpler and quicker than having to hunt through piles of shoes on the floor every time you're getting ready for a night out.
Space-Saving Solutions
The great thing about most shoe storage systems is that they often take very little space. You can find shelves that hang on the wall or slide in between doors, making them ideal solutions for small or cramped hallways or bedrooms. Some models are even stackable, so if you're short on floor space, these are great options too.
Keep Dirt Off Your Floors
Depending on where your shoes have been before coming into your home, there's a chance that dirt may come inside with them. With a shoe storage system in place, this dirt will instead stay inside the containers-- ensuring that no mess is caused along carpets and floors!
Protect Your Shoes
Having all your shoes thrown into one big pile can not only be messy and cluttered; it's also damaging for the items themselves! When stored properly in boxes or shelving units, they will remain dust free and protected from any damage (such as scratches).
At the end of the day, investing in a good shoe storage system is essential if we want our homes to stay tidy and well-organized. Whether it's hanging shelves, stackable boxes, or any other type of organizer –shoes should never be left scattered around anymore!
Factors to Consider when Choosing Shoe Storage Cabinets
When it comes to choosing the right shoe storage cabinet, there are several factors to consider. From size and capacity to style and design, here are some important things to keep in mind before making a purchase.
Size and Capacity
Before buying a shoe storage cabinet, make sure that it is large enough to comfortably store all of your shoes. You don't want to buy something too small that won't fit your collection!
Style and design
Shoe storage cabinets come in a variety of styles and designs so that you can find one that complements your existing decor and personal taste. From traditional wooden cabinets to modern metal designs, there's an option for everyone out there.
Material and durability
The material of the shoe storage cabinet should be strong and durable enough to withstand daily use. Some popular materials include wood, metal, and plastic-- each with their own unique benefits.
Ease of use and accessibility
The shoe storage cabinet should also be easy-to-use and accessible, with plenty of space for you to easily store and retrieve shoes when needed. Look for adjustable shelves or sliding drawers for easier organization.
Affordability
Finally, you need to consider the price of the shoe storage cabinet so you know if it fits within your budget or not. While higher-quality cabinets tend to cost more, there are still plenty of affordable options available on the market today!
By considering these factors, you can choose the right shoe storage cabinet for your needs and ensure that your shoe collection is always organized and easy to access.
Our Favorite Shoe Storage Cabinets to Try
Are you looking for a way to store your shoes in style? Look no further. We've compiled a list of our favorite shoe storage cabinets that are both functional and stylish. From sleek, modern designs to classic, rustic looks - there's something here for everyone. Whether you need a few shelves or ample space to organize all your footwear, these cabinets will help you find the perfect shoe storage solution for your home. So take a look at our top picks and start organizing today!
Shoe Storage Bench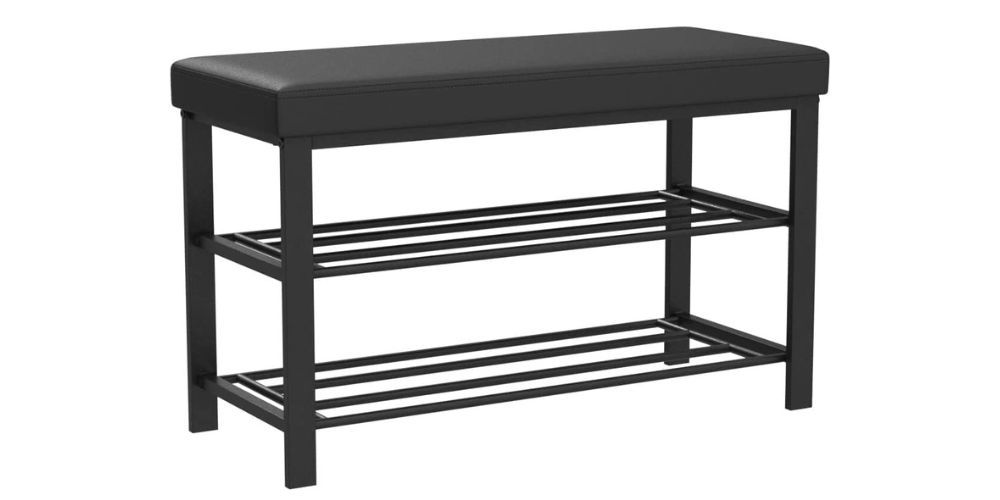 Crafted with a low-profile black metal frame and rust and scratch-proof racks, this multi-functional rack is the ideal height for sitting on while you change your shoes. Plus, its 2 shelves offer plenty of space for all your footwear without taking up too much room.
Not to mention, the plastic pads on the bottom of the legs protect your floors while the cushioned faux leather top is both comfortable and easy to clean. Get organized in style - this shoe rack looks darn good while doing it!
Shoe Cabinet with Doors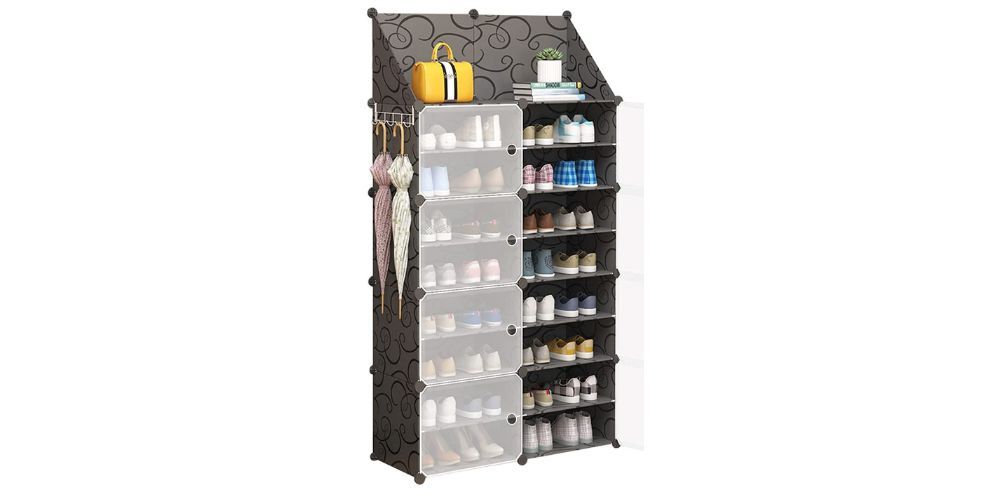 This shoe rack is made from thick plastic that's not only flexible and durable but also waterproof and dustproof. With its creative design and black color scheme, it will make a stylish addition to your closet, entryway or garage. It can hold anywhere from 32 to 64 pairs of shoes depending on the number of cubes you use and each cube supports up to 22 pounds, so it's strong enough to withstand all your shoes and boots.
Plus, if you need help with assembly, the company offers 24-hour customer service. Get organized in style - this shoe rack adds a beautiful touch of elegance to any space!
Shoe Cubby Organizer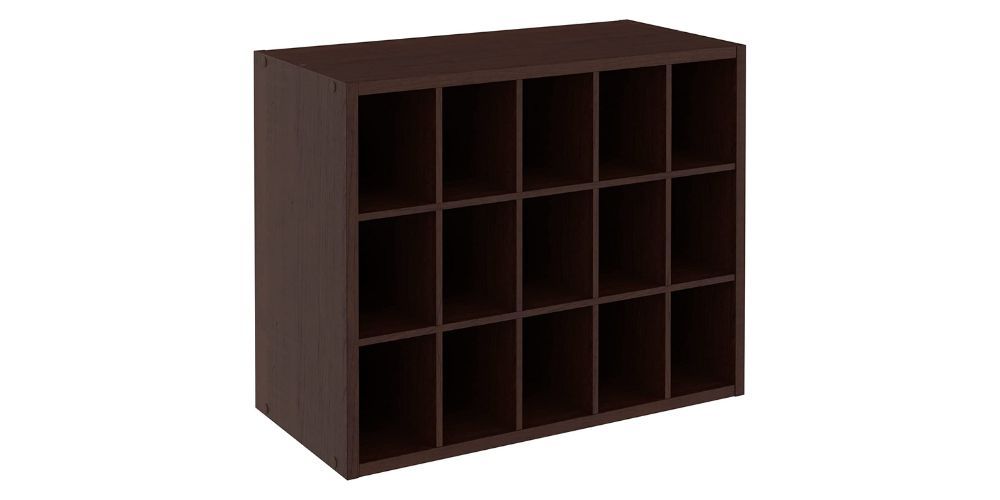 This versatile storage solution is perfect for any room, from your closet to your entryway and even your game room. Its size makes it ideal for any space, measuring 19-38 inches in height, 24.13 inches in width, and 11.63 inches in depth when fully assembled.
This product comes with an array of features that make organizing small items a breeze. With its easy installation process and timeless style, this storage organizer will quickly become your go-to for all of your organizational needs!
Shoe Rack with Cover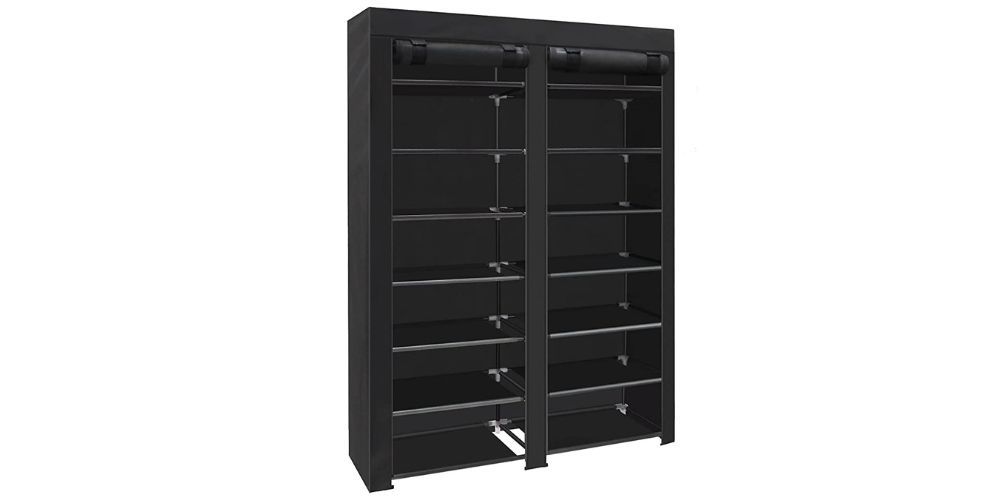 This shoe rack storage organizer has a small footprint, so it can be filled with shoes to reduce clutter and provide more storage space. Plus, it comes with a zipper cloth cover to effectively isolate dust and keep your shoes clean.
Another great feature of this shoe rack is its DIY design. The shoe tower bench can meet users' storage needs for different kinds of shoes. You can remove one or two layers to fit high heels, high boots, or other larger accessories. This makes it a versatile storage solution that can be customized to fit your specific needs.
And last but not least, the ERONE Shoe Rack Storage Organizer is incredibly easy to assemble. It adopts a buckle design, so no tools are needed. You can simply assemble the unit by hand with the provided parts, making it a hassle-free storage solution.
Stackable Shoe Organizer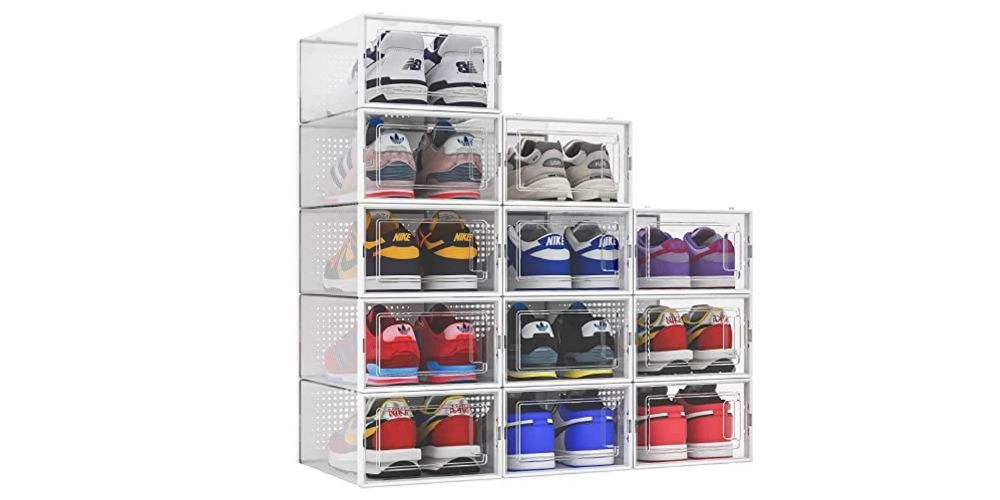 These clear plastic stackable shoe organizer bins are the answer to all your footwear organization woes. The drawer-type front opening allows for easy access to your shoes, so you don't have to spend precious minutes digging through a pile to find what you need. Plus, the clear design allows you to see all your shoes at a glance, making it easier than ever to find the perfect pair for any occasion.
But the SESENO shoe storage boxes aren't just convenient, they're also durable and practical. Made of high quality, strong plastic material, these bins are built to last. The rear ventilation holes ensure air circulation and prevent unpleasant odors from building up, keeping your shoes fresh and ready to wear at all times.
But as with any product, there are a few downsides to consider. For one, the size of the bins might not work for everyone's shoe collection. If you have particularly large or bulky shoes, you may struggle to fit them comfortably in the boxes. Additionally, some users have reported that the boxes can be difficult to open and close, especially if they are stacked on top of each other.
Underbed Shoe Storage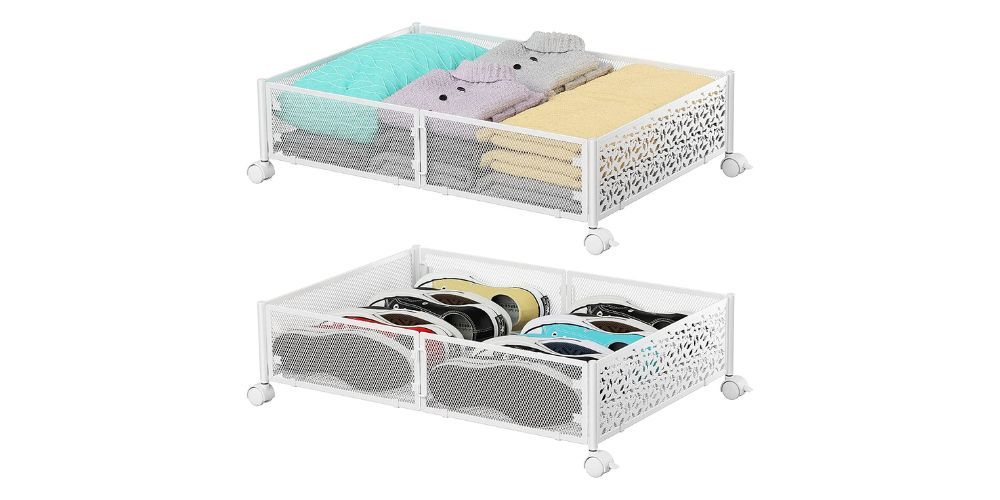 The under bed storage containers with wheels are made of quality metal, with a smaller mesh size that allows for a larger load-bearing capacity. And the best part? The whole frame is welded into a solid unit that will never fall apart on you. No more worrying about your storage bins collapsing under the weight of your belongings!
But these under-bed storage containers don't just offer durability - they're also incredibly convenient. The 360° rotating wheels make it easy to pull the containers out from under your bed, and two of the four wheels can be locked in place to keep the container securely in position. The elevated design also protects your stored items from dust and dirt, and the unique carved floral pattern allows you to easily identify the contents of each container.
Over-the-Door Shoe Storage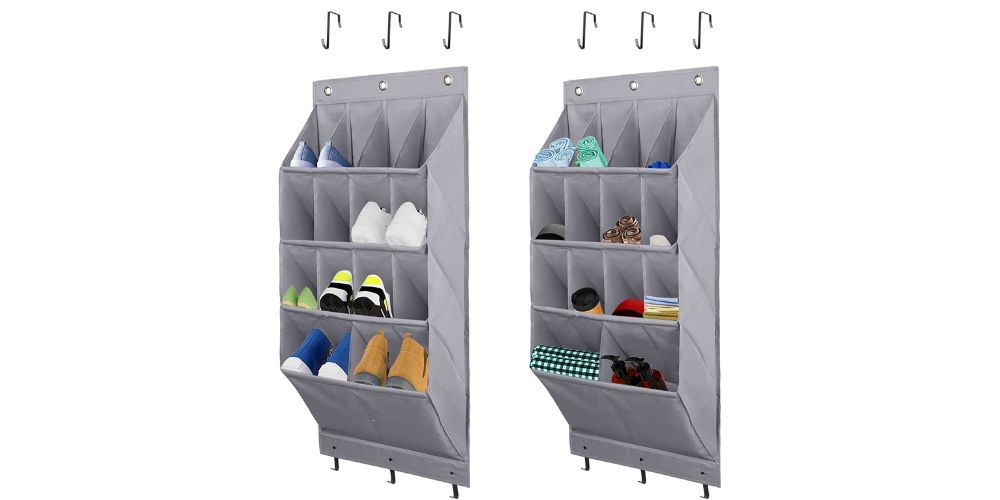 This 2-pack hanging shoe organizer is the perfect solution for all your storage needs! Its spacious and sturdy pockets are designed to be easily accessible and with a durable, thickened polyester canvas construction – it won't sag or tear with use. But that's not all - this versatile shoe organizer can do more than just store shoes.
It can neatly keep crafting supplies, pantry items, beauty items, and household cleaning products organized in any closet space you have – making it ideal for bedrooms, laundry rooms, bathrooms, playrooms, college dorm rooms, and even kids' rooms. Bring order to the chaos of your home with this convenient hanging shoe organizer.
Shoe Shelf Tower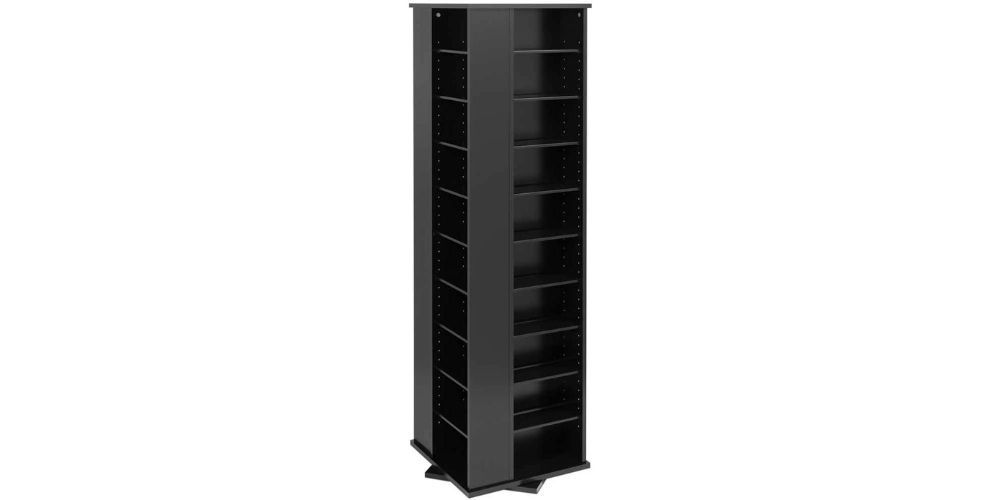 This tower storage cabinet is the ultimate way to store all your treasures in style. With a high-end black finish and pre-assembled construction, you won't have to worry about putting it together yourself - you can start filling it up with your trinkets right away!
Not only that but this product is crafted with high-quality materials like melamine laminate and composite wood for maximum durability. So not only will this storage cabinet look amazing in your living room, but it'll also be strong enough to stand the test of time. Make an impression on your friends when they walk into your home by getting yours today!
Rolling Shoe Cart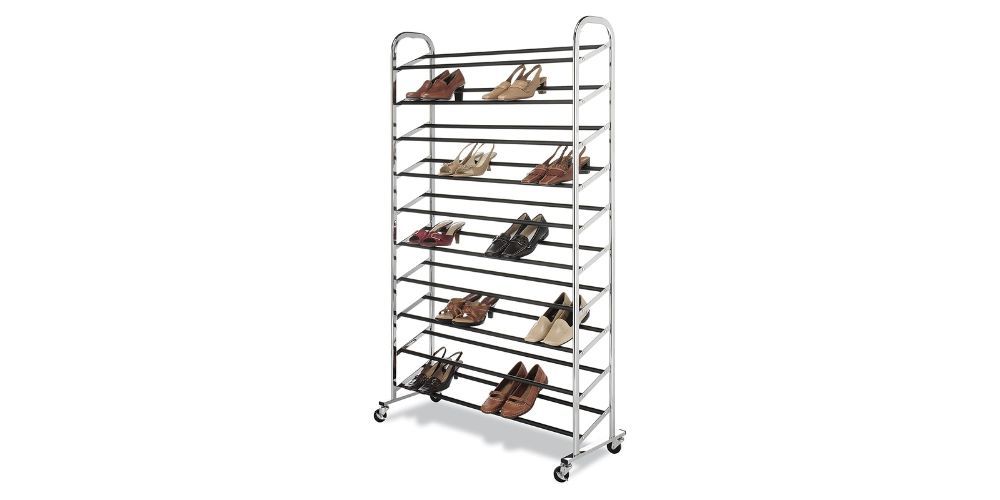 This shoe cart is the ultimate solution for anyone who's tired of tripping over piles of shoes or losing their favorite pair in a sea of sneakers. Unlike other shoe racks, it comes on wheels so you can easily roll it around to any room in the house and keep it in place with locking wheels when you're done.
The heavy-duty metal construction combined with the sleek chrome finish ensures that this rack will last - no matter how many shoes you need to store. And don't worry: even if you're not a DIY expert, it's simple to set up with only a Phillips screwdriver. Get ready to say goodbye to chaos and bring order back into your home!
Shoe Storage Ottoman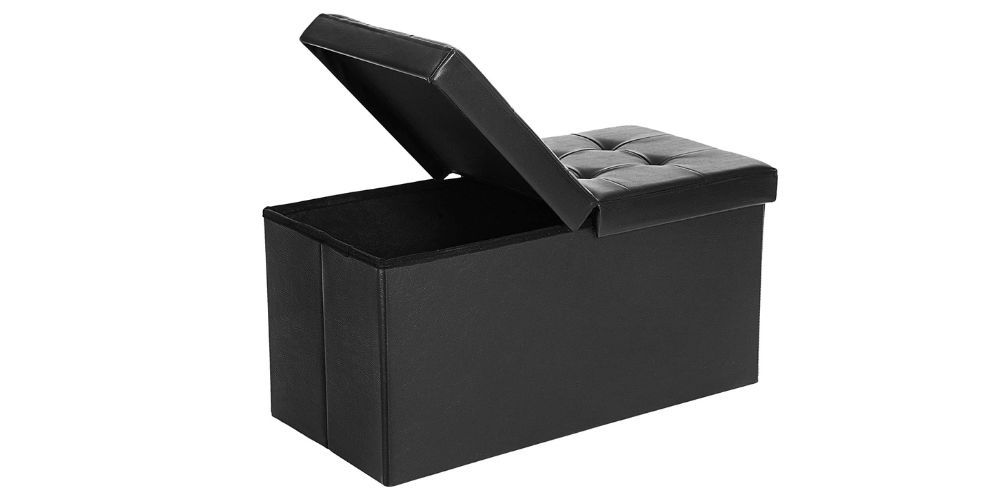 This storage chest footstool boasts a stylish design and a host of impressive features that make it a must-have for any household. Let's dive into the pros and cons of this product. First up, the flip lid & collapsible feature is a game-changer. No more struggling to remove the entire lid to access your stored items - this ottoman bench allows you to easily open and fold the lid from both sides. Plus, when not in use, the bench can be collapsed to save space, making it ideal for small apartments or dorm rooms.
Another pro worth mentioning is the sturdy & durable construction. The bench is crafted from high-quality MDF, which ensures great stability and makes it a practical home furniture piece. It can serve as a shoe bench, footstool, or even a console table, making it a versatile addition to your home.
Shoe Storage Trunk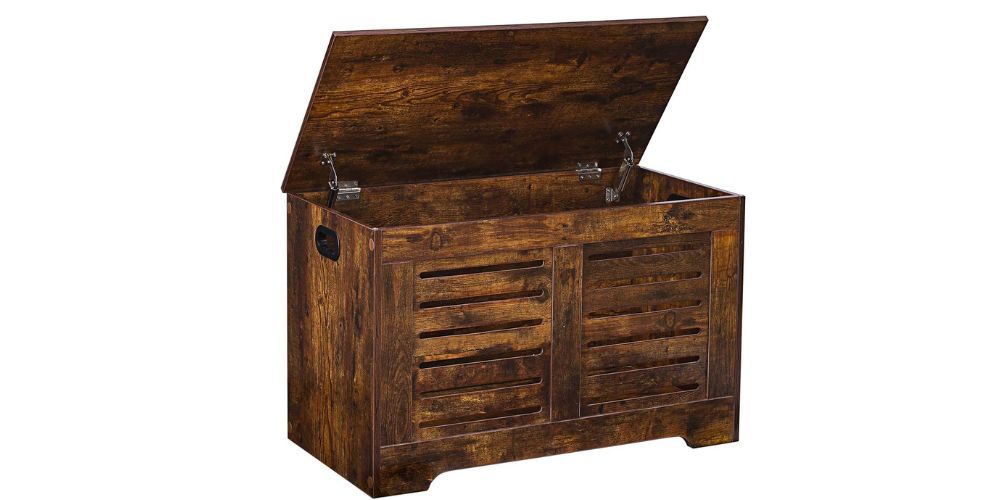 This retro-style entryway shoe bench is a must-have for anyone who wants to add a touch of elegance and functionality to their home décor. It features a flip-top lid with two safety hinges that hold the lid open and close slowly and smoothly without pinching your fingers. Plus, the two cut-out handles make it easy to move around, which is always a plus in my book.
Moving on to storage – this trunk has ample space to accommodate clothes, shoes, pillows, blankets, books, and more. And the compact size means it can fit into those tiny spaces that you thought were unusable. Say goodbye to clutter and hello to a tidy and organized room.
Now, let's talk about durability. The storage bench is made of safe engineered wood and superior craftsmanship, which means it's sturdy and durable. You won't have to worry about chemical reactions between the rubber staffs and the wood chest surface. Plus, it's easy to wipe clean and upkeep. Talk about a cost-effective choice!
Wall-Mounted Shoe Rack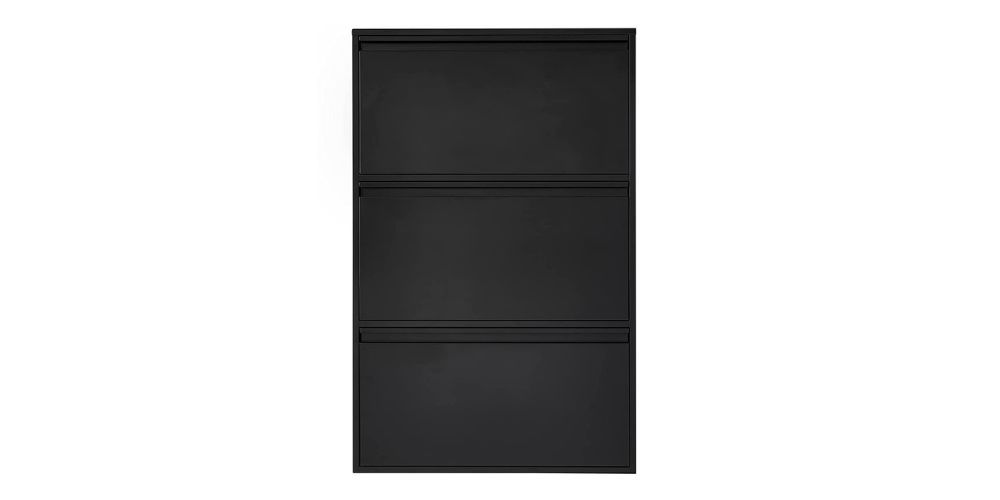 This modern minimalist shoe rack is perfect for those with limited space but in need of some serious organization. The soft-forming side panels and sturdy structure with a sleek black finish give it a lasting good look that will complement any decor.
But the best part? No need to deal with annoying assembly steps! The cabinet comes with anchor devices and is designed to be wall-mounted, so all you need is a screwdriver and a hammer. And with magnetic locks, accessing your footwear has never been easier.
Of course, no product is perfect. One potential drawback is that the cabinet may not be suitable for larger shoe sizes or styles with bulkier soles. Additionally, while the cabinet is designed to be wall-mounted, you'll need to make sure you have enough wall space available to properly install it.
Final Thoughts
We hope you've enjoyed our choices for shoe storage cabinets - this is a practical and stylish way to keep your home organized, neat, and looking great. With storage options ranging from wall-mounted shoe cabinets to standalone units with multiple drawers, you can find the perfect solution for your needs. Not only will it make your life easier but it also protects and preserves your footwear for years to come so you can enjoy them in their best condition. So don't forget - invest in a shoe storage cabinet today and make sure that your collection of shoes remains tidy and perfectly preserved!
Reviews in this blog post have been edited for clarity and/or length.
Comments