This post may contain affiliate links, please see our privacy policy for details.
Valentine's Day is the perfect occasion to spice up your bedroom life and make it special.
Whether you're single or in a relationship, romantic lingerie can make the night memorable. Revealing the right lingerie set on Valentine's Day can be an empowering experience and also bring out your inner beauty.
From silky babydolls and lace teddies to naughty sets, there are plenty of options to choose from when it comes to revealing romantic lingerie for a night to remember.
No need to spend hours looking in your browser and different site account as we decided to get the best of the best valentines lingerie on the market.
Whether you're dressing up as a couple or going all out in a steamy bedroom scene, these pieces will make your Valentine's Day celebration unforgettable!
How to Choose the V-Day Lingerie for Your Body Type
Shopping for lingerie can be an intimidating task, especially when Valentine's Day is right around the corner. But choosing the right lingerie set to flatter your body type should not be a stressful experience - it can even be fun! We've put together some tips to help you find lingerie that will bring out your inner goddess and make any night memorable this Valentine's Day.
If you have an hourglass figure, choose sets that draw attention to your curves. Look for pieces with cinched waistlines or built-in shapewear that hugs your silhouette like a glove. A full-coverage balcony bra with sheer details and silk panties are also great options for making your hourglass figure look its best.
For those with a pear shape, look for light-colored bras in demi styles that provide enough support while still allowing you to highlight the top section of your body. Try bras with adjustable straps and contour cups which create a beautiful silhouette. Go for panties in bold colors and fabrics such as lace or mesh to balance out the top half of your outfit.
Petite frames look great in cuts that emphasize their delicate shapes such as babydolls or gowns with short hemlines and ruffles along the bust line or hemline. To enhance even more your petite curves you can go for matching panties decorated with ribbons, bows, or other add-ons from front to back.
Finally, if you have a fuller figure opt for lingerie sets in supportive fabrics like satin, cotton, or microfiber that provide comfort all night long and won't cut into your skin. Not only these materials are soft against the skin but they also provide enough stretch to accentuate every curve in sensual sexiness!
So don't let lingerie shopping intimidate you this year – remember it is possible to find the perfect romantic set no matter what size or shape you are!
Best Babydoll Lingerie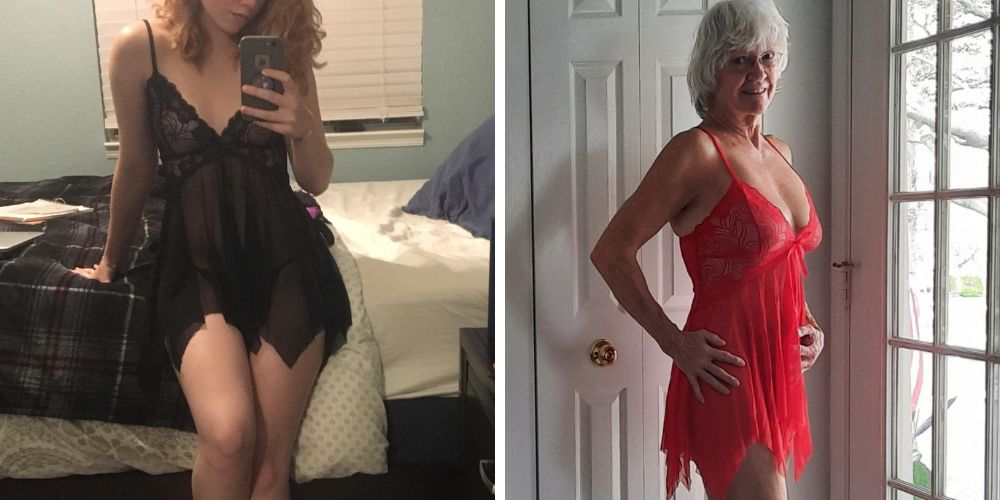 Babydoll lingerie is the perfect choice for Valentine's Day! Whether you're looking to add some spice to your romantic night or just need something comfortable to sleep in, these lingerie pieces are sure to please. With a variety of sizes and styles available, there is something for everyone.
This lingerie is made from elastic lace mesh material, so you don't have to worry about any uncomfortable fabric rubbing against your skin. The flexible material also means that it can easily be adjusted and tailored to flatter different body types. This line also features floral lace cups with cute bow decor, adjustable shoulder straps, flowing asymmetrical hem, and matching sheer G-string – all designed with comfort and sexiness in mind!
When it comes time for washing, the lingerie can be machine-washed or hand washed with care in a lingerie bag at a temperature no higher than 40 degrees Celsius. Be sure to hang it up to dry and iron it with a press cloth if needed for a professional-looking finish.
Show your loved one just how much you care with this elegant line of romantic lingerie pieces this February 14th.
Best Bodysuit Lingerie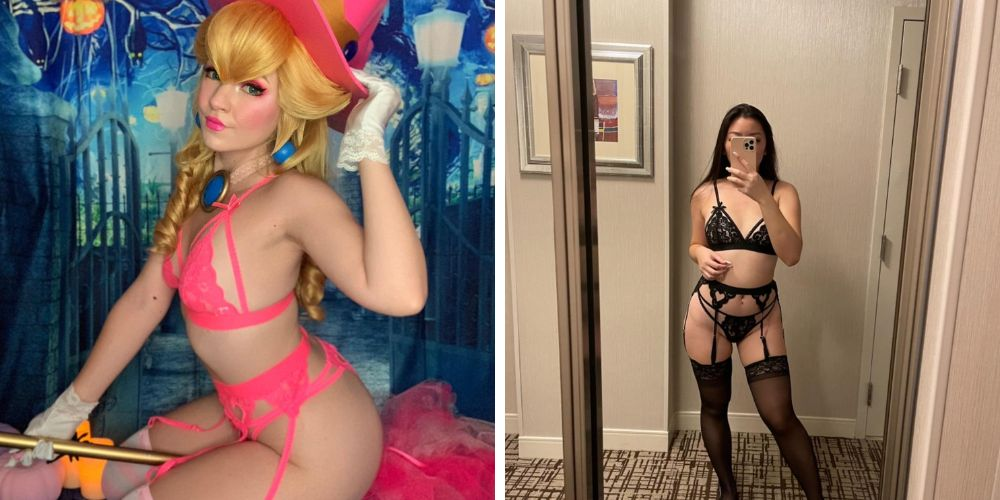 This Valentine's Day, why not give your partner the gift of lingerie that will make them feel special and desired?
This 3-piece lace teddy babydoll bodysuit set is sure to turn heads. With sizes ranging from XS to XL, everyone can find something that fits perfectly.
The soft sheer lace adorns the supportive bustier, while satin bow accents playfully accentuate the female form. These sets are ideal for a romantic evening out or when you simply want to feel sexy and beautiful.
This bodysuit is made of high-quality materials and will last long. We recommend hand-washing them in cold water and mild detergent, then air drying or using the dryer on low heat for best results.
Enjoy your sexy lingerie fresh and clean this Valentine's Day!
Best Chemise Nightie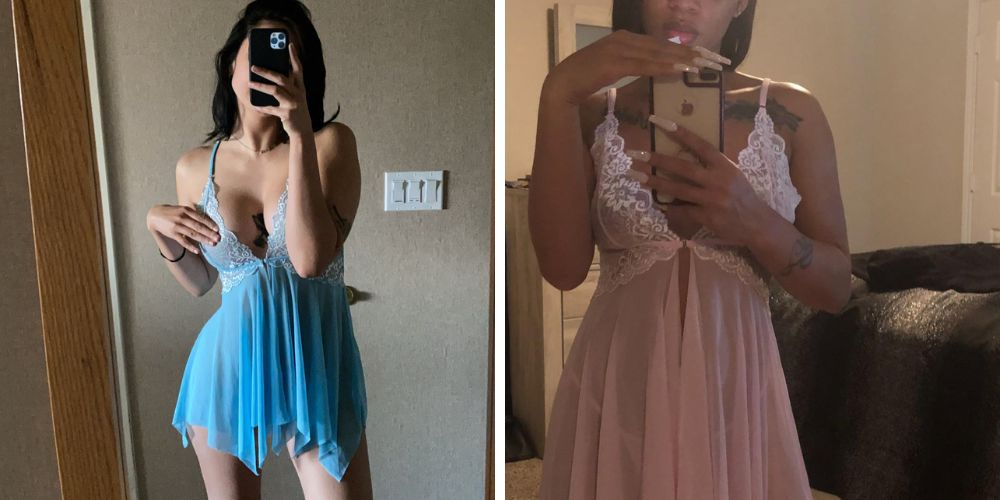 This chemise nightie is the perfect lingerie for Valentine's Day! With a variety of lacy lingerie styles and colors (from black to pink), there is something unique and luxurious for everyone.
This lace chemise nightie features a v-neckline with a front closure and is made from soft and stretchy fabrics that flatter your body type. The asymmetrical hem elongates your line, while adjustable spaghetti straps ensure a perfect fit. And the delicate fabrics and stunning designs make these pieces truly special.
The front closure styling won't bind your belly, making these bras comfortable enough to wear all day long. Plus, they come in sizes ranging from small to extra-large, making them perfect for pregnant women as well.
Dazzle your partner this Valentine's Day with this stunning lace lingerie! This piece is sure to draw his attention – and make for an unforgettable night!
Best Lace Cami with Removable Choker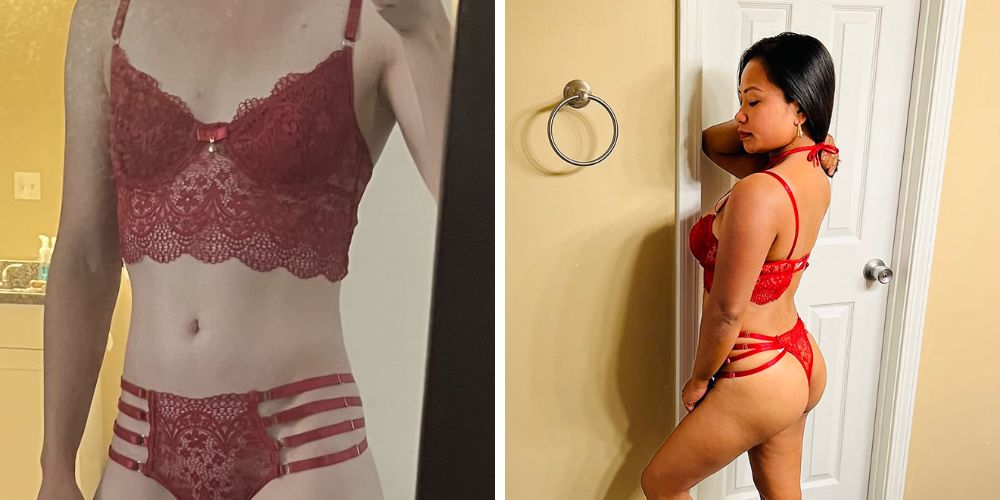 This floral lace cami and removable choker set is sure to be a hit with its high-waisted lace thong bottom, go-to pieces for any occasion, and luxurious design.
Available in black, red, green, blue, and white colors, you can pick the perfect color to fit your Valentine's Day mood. This floral lace cami top is made of high-quality fabric that makes it comfortable to wear while still providing maximum style.
The underwire design will show off your curves while the self-tie choker adds a sultry touch. You can pair it with any clothes to create an elegant look or wear it alone. This lingerie set is perfect for Valentine's day and everyday use.
Made of high quality material with lightweight materials for maximum breathability, comfort, and soft touch feeling - you'll love wearing this sexy valentine's day lingerie set over and over again! Get ready to make your Valentine's night memorable with this floral lace cami piece lingerie set!
Best Velvet Crop Top and Shorts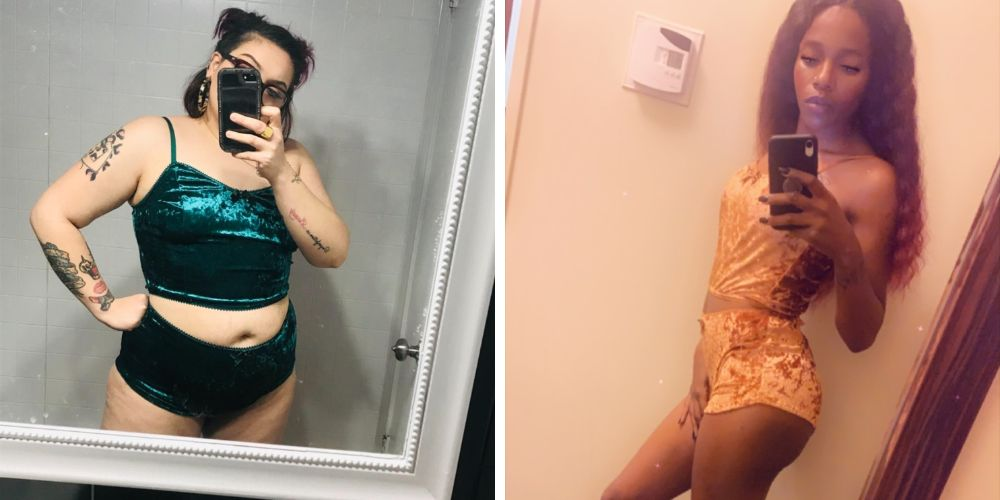 We love this velvet 2 piece outfit for Valentines Day! The spaghetti strap sleeveless crop top and shorts set is stylish and comfortable, made from soft and delicate fabrics that are perfect for a romantic evening.
This camisole crop top and short lounge set to come in several colors and styles so you can find the perfect piece to fit your personality. These pajamas are sure to make you feel loved while still making a sexy statement.
Made from stretchy material, it's comfortable enough to wear all night long. And the cute bowknot decoration on the front makes them even more special.
Simply hand washes these lingerie items - never iron or it could ruin their beautiful material! Whether you're looking for something sultry or something more demure this velvet outfit got you covered!
Best Valentine's Day Lingerie FAQ
What is lingerie?
Lingerie is the perfect way to show off your style and express yourself. It can range from delicate and romantic pieces of lace to sultry and sexy bodysuits. Whether you're looking for something special to wear underneath your clothing or something to show off on its own, lingerie is sure to make you feel confident and beautiful.
Made with high-quality materials such as cotton, silk, lace, and polyester, lingerie is designed to be comfortable while still looking amazing. You can choose from a variety of different items including bras, panties, thongs, corsets, teddies, and bodysuits - all designed for maximum style and comfort!
Whether you want something daring for date night or something playful for everyday use, there's lingerie out there to suit your every mood. Show off your curves in the best way possible this Valentine's Day with some beautiful lingerie pieces!
What type of lingerie is best for Valentine's Day?
The best lingerie for Valentine's Day should be romantic, sultry and seductive. Look for styles such as babydolls and chemises in luxurious fabrics like lace and satin to really make an impact.
What color should I choose for my Valentine's Day lingerie?
When it comes to Valentine's Day lingerie, classic colors such as red, pink, white and black are always popular choices. You could also opt for bolder colors like lavender or teal to make a statement!
What sizes are available in Valentine's Day lingerie?
Most retailers offer sizes from extra small through to plus size in their lingerie collections so you can easily find the perfect fit for your special someone.
Is there any special care instructions I need to consider when buying Valentine's Day lingerie?
Yes! Always check the care instructions on the label before purchasing any item of lingerie and follow these instructions closely when cleaning and caring for them.
Is lingerie expensive?
The price of lingerie can range from affordable to quite expensive, depending on the type and quality of the fabric used. On the lower end of the spectrum, you can find basic cotton and polyester bras and panties for a reasonable price. As you go up in quality, lingerie made from luxury fabrics such as silk, lace, or satin can become more expensive.
However, many stores have sales and deals that make luxe lingerie more accessible to all budgets. Whether you're looking to invest in a few special pieces or simply want something comfortable and sexy for everyday use, there is lingerie out there that fits your budget!
Final Thoughts
Valentines lingerie is a unique and special way to show your loved ones just how much you care, especially on v day. This collection of lingerie includes romantic, sultry, and seductive designs that are sure to get anyone's heart racing and forget about problems.
The luxurious fabrics and intricate details are sure to leave your loved one feeling pampered and sexy. It will improve your romance and make you and your partner feeling hot and steamy all night.
With our choices of lingerie, you can feel confident and look your best. Not only are these pieces incredibly comfortable to wear, but they also come with a touch of romance and seduction that will make you and your partner feel closer than ever - you can't go wrong with these choices!
So go ahead and show some love this Valentine's day with our choices of lingerie - you won't regret it!
Other Posts You May Like:
The Little Black Dress: A Guide for Every Shape
17 Pieces of Clothing To Help You Nail The Model-Off-Duty Look
5 Different Ways To Wear A Black Dress
15 Unique Pieces Of Clothing That Provide Comfort During Relaxation

Comments