It's that time of year again, when the weather starts to get cold and you have to start thinking about what coats and jackets you will wear to keep yourself warm. But don't worry, we've got you covered with a list of 23 pieces of clothing that will actually keep you warm this winter. From parkas to puffer jackets, there's something for everyone on this list. So bundle up and stay warm!
1.This puffer coat will keep you warm all winter long. It's lightweight and water-resistant, making it perfect for any weather condition. The hood is removable, so you can customize your look. Plus, it's available in plus size, so you can find the perfect fit.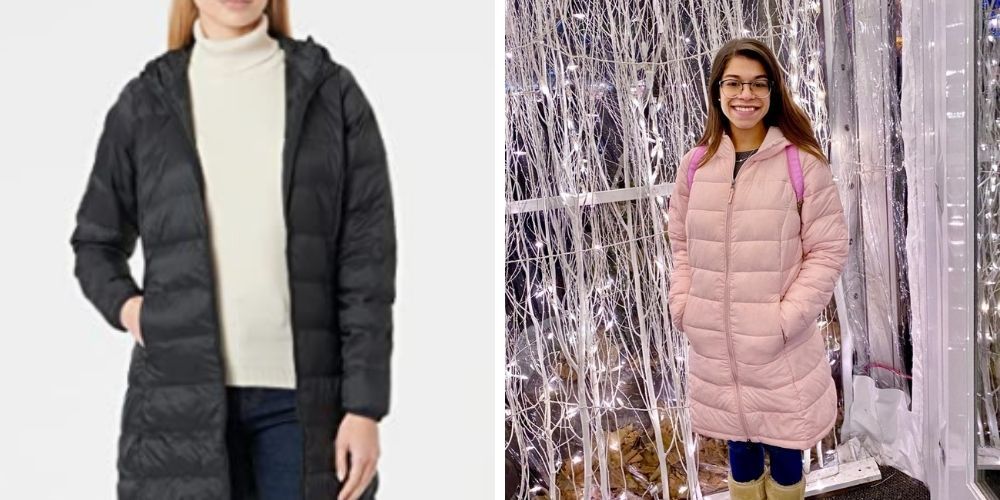 5-Star Review: "This coat is comfortable and lightweight. I was afraid it might not keep me warm in the 10F-20F degree weather because it is thin. This past weekend the coat surprised me by keeping the cold wind from getting at me. I did not realize it would be such a good "windbreaker". When the below freezing weather hits, I may still have to get the warmer coat out of my closet, but for now this one is perfect. I am short and fat so the bigger size is nice for keeping my legs warm as well." – Cathie B
2. This jacket is the perfect addition to any woman's wardrobe. It is lightweight and water-resistant, making it perfect for any weather condition. The long-sleeve design keeps you warm, while the zippered pockets provide convenient storage for your essentials.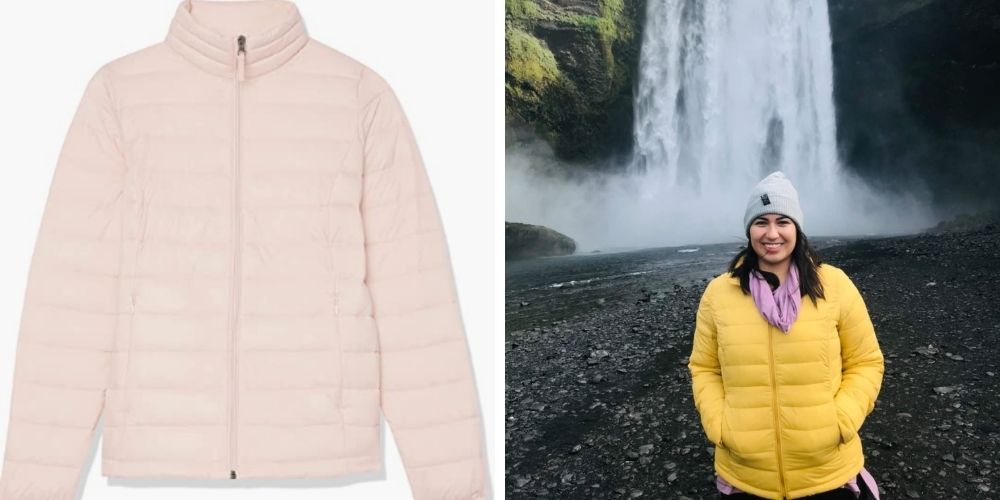 5-Star Review: "Amazon essentially puffy jacket- love all the colors they offer. I bought the cream color. Bought size X-small. This has enough room for a sweater. This is not a down jacket it's polyester filled, but it's warm, fits great, and is very stylish." -lwork4docs
3. If you're looking for a cozy, warm jacket to get you through the cold winter months, look no further than the Orolay Women's Jacket. This jacket is made with high-quality down and materials, so you can be sure it will keep you warm all season long. Plus, the stylish design means you'll look good while feeling comfortable.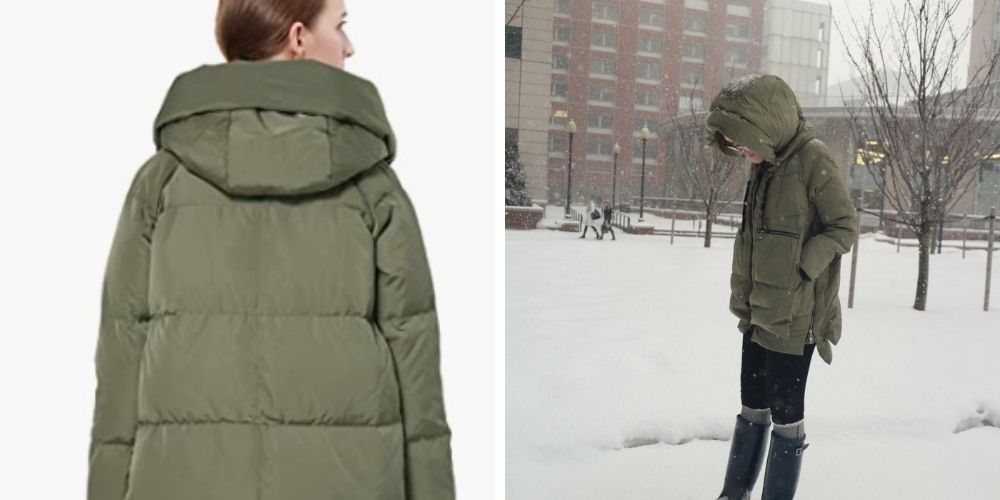 5-Star Review: "I am plus size. Wanted a jacket that covered my bottom but wouldn't tighten up when I was driving or bending over. This coat is perfect. It's so cozy and warm. The hood doesn't flop over my face. The side zippers are amazing when I wear bulkier sweaters. Also, the main coat zipper is wonderful. I haven't had a single issue zipping it up and it hasn't gotten caught on the material. When I pull the hood up, it's instantly warm. By far the best winter coat I have ever had." – J.Malcom
4. Introducing the EFAN Jacket! This Oversized Sweatshirt is perfect for casual wear, with a drawstring closure and zip-up design. The Y2K Hoodie also features a pocket for added functionality. Made from a soft and comfortable material, this jacket will keep you warm all season long.
5-Star Review: "I'm extremely picky when it comes to buying clothes anywhere; especially on Amazon. Initially, I was so skeptical bc I don't recognize the brand and reviews (some) had me teetering between not getting one till I read one that mentioned these are baggy fit wise so no need to size up. I'm a lil chubby but I like a baggy jacket look that can zip up if needed. Well, this jacket not only fits, zips, and keeps me warm in different environments it's so comfy. Cold restaurant? Bring this. Chilly weather? Wear this. Freezing? Long sleeve and wear this. I'm emotionally attached to this jacket now." – Paloma G
5. This shacket is perfect for adding a touch of style to any outfit. The cropped design is flattering and the button down front makes it easy to wear. The corduroy fabric is soft and comfortable, making this jacket a great choice for casual or dressy occasions.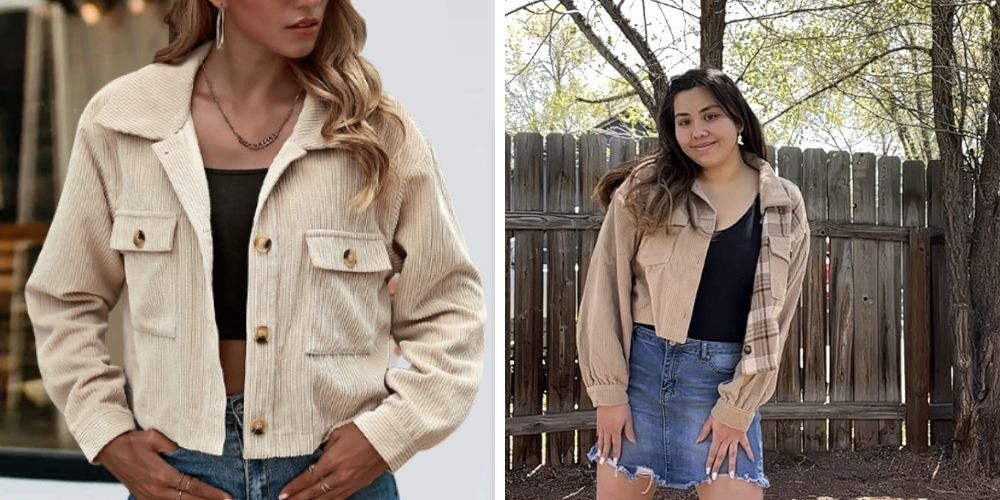 5-Star Review: "Absolutely worth buying this jacket! I wanted a light corduroy jacket that I could where on fall days when the sun is up and a heavy corduroy would be too hot. Also wanted something on the cheaper side. The quality is thin but not cheap and it looks great! Exactly what I wanted. I ordered a small and it fits perfect. I'm 5'5" 143lbs and usually wear a small-medium depending on fit and style." – Christina
6. This fluffy and cute bunny ear hoodie is perfect for any woman who wants to add a touch of fun and style to her wardrobe. The long sleeve design keeps you warm, while the fuzzy fabric feels soft and cozy.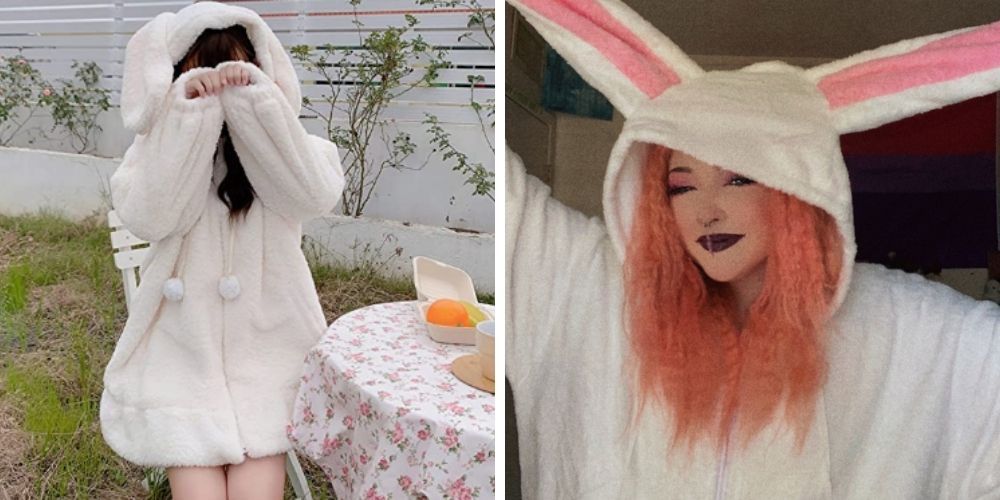 5-Star Review: "The color was brighter than the picture advertised. It was closer to a bubblegum pink, but that was a plus because my 11 year old absolutely LOVES it. It is very soft, no odd smell or anything like that. It's cozy enough to wear in autumn temps. Not for very cold weather, but my daughter loves it, and for the price it's very well made. The ears are adorable and exaggerated, which is why she picked out this hoodie. Very cute!" – Amazon Customer
7. Introducing PRETTYGARDEN's Women's Winter Coat! This coat is perfect for staying warm in style this winter. The lapel zip up design is both stylish and practical, and the faux shearling shaggy material will keep you cozy all season long. The oversized fit means you can layer up underneath, making it the perfect piece for chilly days.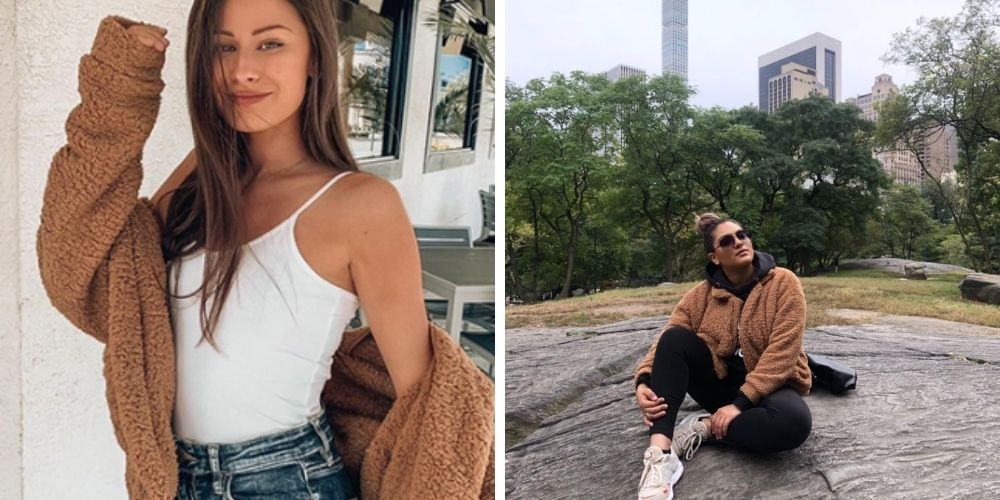 5-Star Review: "This jacket is warmer than expected, with a high collar. The only things I don't like are that there is no button at the collar and the pockets are on the sides instead of closer to the front like other jackets, which make me search near the back for them. Still, it's a great buy and fits perfectly. A+" – Connie Smith
8. This Yeokou Coat Tops is perfect for a chilly day. The flannel fabric is soft and cozy, and the color block design is stylish and unique. The jacket has a button-down closure, two pockets, and a relaxed fit. It's also machine-washable, making it easy to care for.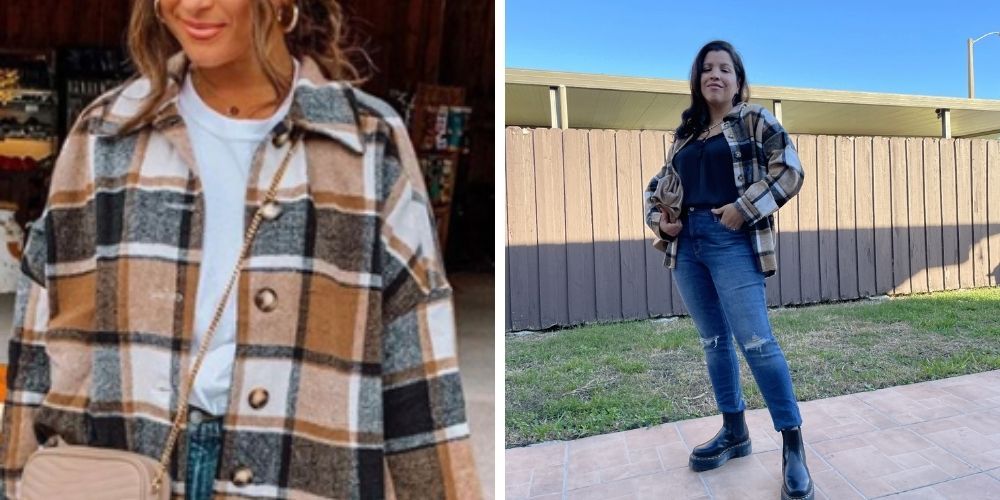 5-Star Review: "Got this for my daughter and she really loves it. Runs a little small, so buy up a size to account for that. She wears it all the time and she looks great in it. Quality is good and the price is fair. I am very happy with this purchase." – Troy Smith
9. If you're looking for a timeless piece that will never go out of style, and will keep you warm all winter long, look no further than the Levi's Women's Trucker Jacket. This jacket comes in both standard and plus sizes, so there's something for everyone. The sherpa lining is cozy and comfortable, making this the perfect jacket for cold weather.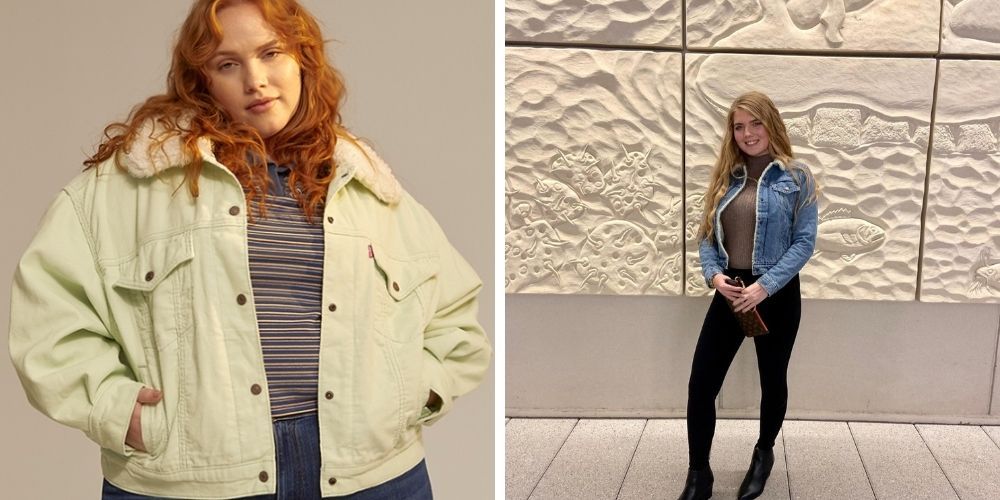 5-Star Review: "I absolutely lover this jacket and I am happy I decided on this. A bit more money than others, but it is a LEVI brand and so well made, I got the large to accommodate layering. The shearling is very nice and the sleeves are slightly padded. Snaps make it very perfect. I live in UTAH and it is very cold in the winter and I wanted one of these jackets and I am happy that I did. It is actually a jacket that can easily used in the fall and spring as well." – SC
10. This women's utility jacket is perfect for layering on those chilly days. The lightweight material is great for year-round wear, and the military-inspired details give it a stylish edge. The anorak style is flattering and comfortable, and the junior fit ensures a perfect fit.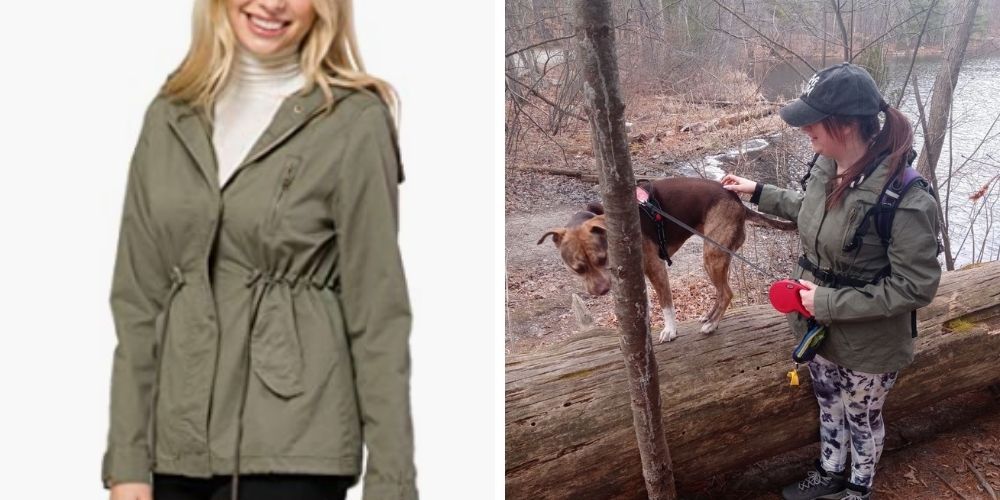 5-Star Review: "Love LOVE! This jacket it's great for everyday wear and also hold up well for everyday use and throughout washes. The first one I ordered the bottom button has fell off but the seller actually took care of the minor issue and issued a replacement for me and it arrived fast as well and since I've had the replacement I haven't had any problems or issues and it's actually my new favorite jacket out of all my others this is my new favorite! Will definitely order more and would highly recommend to a friend!" – Uhleeshuh
11. Introducing the perfect fall and winter piece - the SweatyRocks Button Down Blouse Top. This cozy and stylish top will keep you warm all season long, whether you're running errands or out on a date. The best part? It's machine washable, so you can wear it over and over again without any hassle.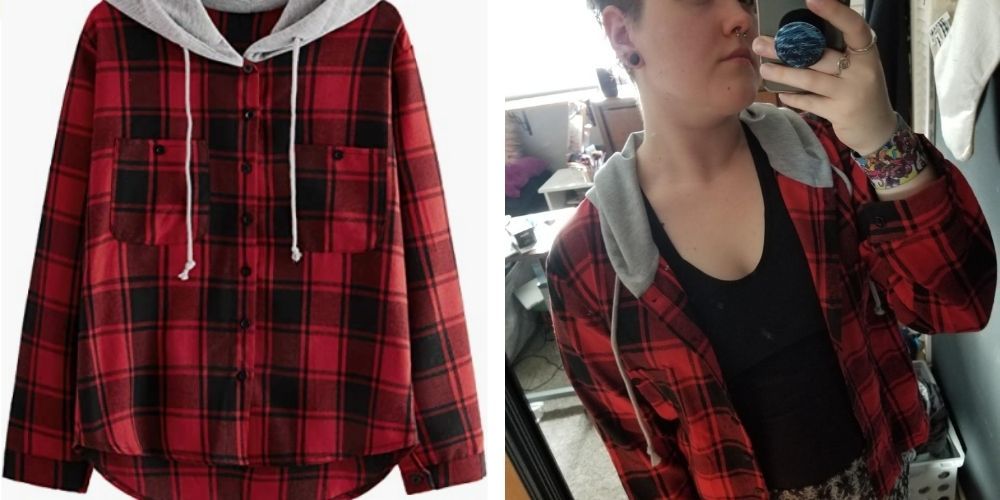 5-Star Review: "The shirt itself is amazing until you wash it. I ordered the first one and it never came and then it was sold out when I tried to order again. I ordered a black and white one in a large and was so excited when it got here after waiting forever. First wear was awesome, looked cute, can dress up or down, but after 2 washes it started getting the little fabric beads all over. Cheap material so don't put it in the dryer." – Tatum Miller
12. This is the perfect blazer for the modern woman. It's stylish and professional, but still casual enough for everyday wear. The open front design is both flattering and comfortable, and the long sleeves make it appropriate for work or other formal occasions. This jacket is versatile and easy to care for, making it a great choice for busy women who want to look their best.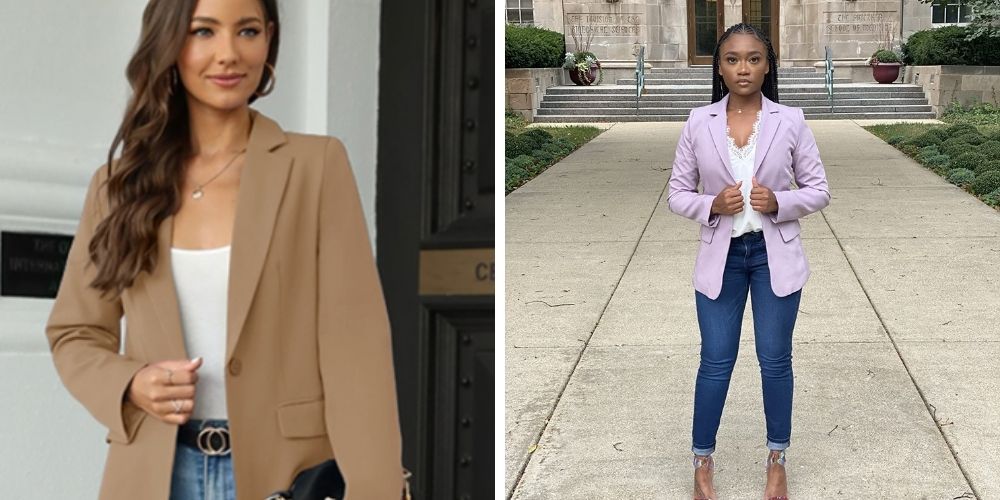 5-Star Review: "I have 2 of these blazers and love them both! They have a little stretch and a tiny bit of padding in the shoulders. The blazer is a little longer, like boyfriend style but not too long. I rolled up the sleeves to wear in warmer weather. My go to blazer!" – Cherie Smith
13. What's hot this season? This Devil Wings Pullover Tops! This fashionable and comfortable sweatshirt is perfect for showing your unique style. The long sleeves and hooded design will keep you warm all day long, while the striking red color and devil wings will make you stand out from the crowd.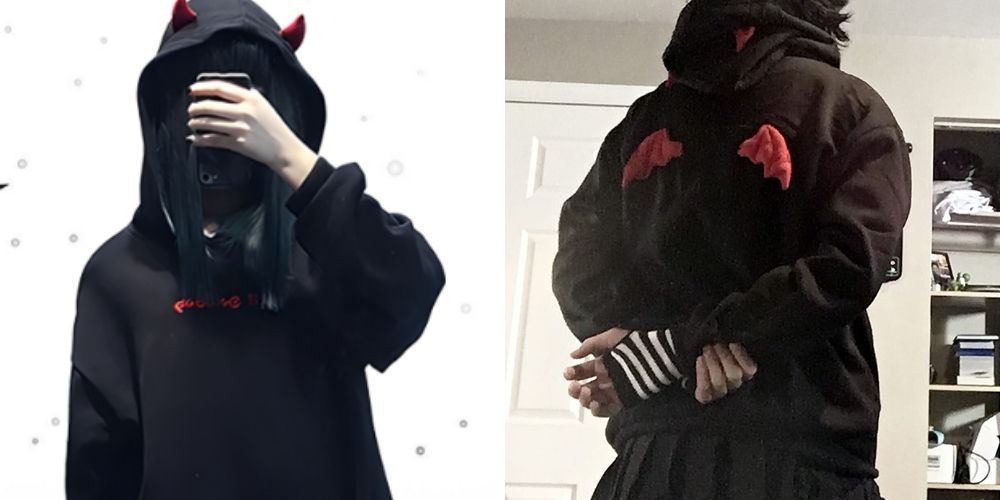 5-Star Review: "Loved this hoodie but it definitely runs small. I ordered a large bc that's what I usually get in hoodies. My shirt size is between a small or medium. This large fit like a medium. I would have gotten an extra large to have a more comfortable looser fit. If you want form fitting get 1 size bigger than your usual size. If you want that chill comfy , slightly baggy look then get 2 sizes bigger. Overall, it's one of my favorite hoodies" – Elizabeth Taylor
14. Is your little girl always asking for a cape? Well, now she can be a superhero (or super villain) in style with this Aza Boutique Hooded Cape. Made of a soft cotton blend, this cape is perfect for dressing up or everyday play. It features adorable rabbit ears on the hood, and a Velcro closure at the neck for easy on and off.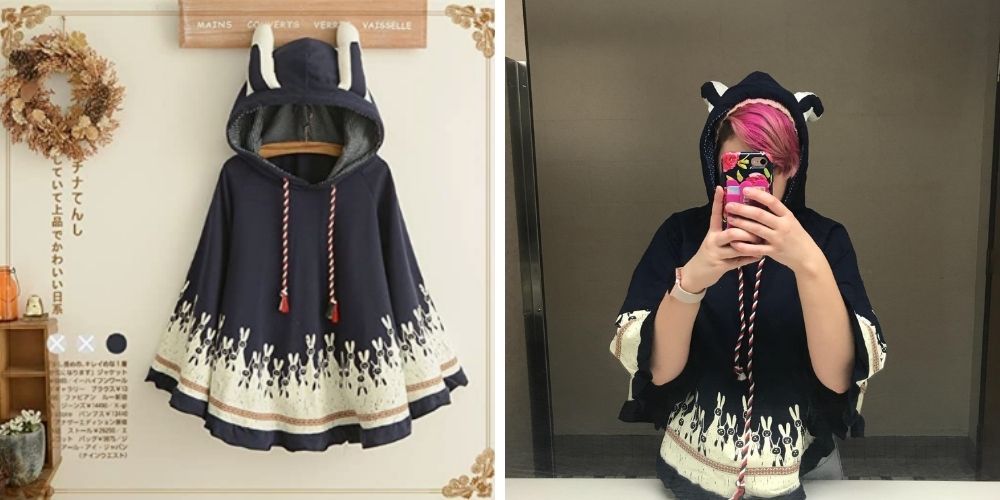 5-Star Review: "Super cute! My daughter loves it (8 years old). We plan on sewing some Sherpa fabric on the inside to increase the warmth and softness." – Amanda Kelly
15. This Shiba Inu Dog Hoodie Sweatshirt is perfect for anyone who wants to show their love for dogs in a stylish and unique way. The sweatshirt features a cute design with 3D dog ears and a dog tail, and is made from coral velvet material that is soft to the touch. It's ideal for wearing at home, and will keep you warm and comfortable all day long.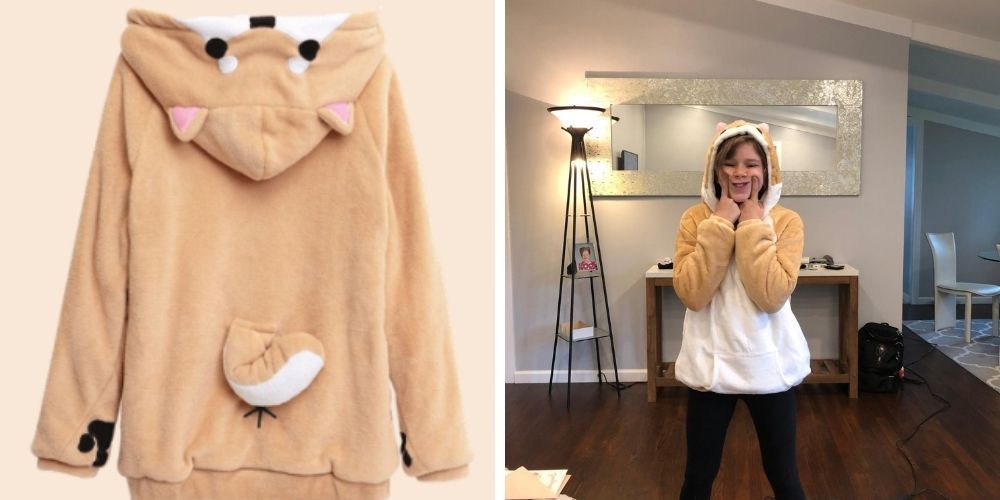 5-Star Review: "My 8 year old daughter loves this sweater! It fits a little big as expected but big sweaters are in and she'll eventually grow into it anyway. Very soft and thick. Perfect for fall and the beginning of winter weather." – Amazon Customer
16. This cardigan sweater is perfect for Mori Girl style, and it's also great for school cosplay. It's made of a soft knit fabric, and it has an adorable rabbit design on the front. The fit is flattering and comfortable, and it's sure to keep you warm all day long.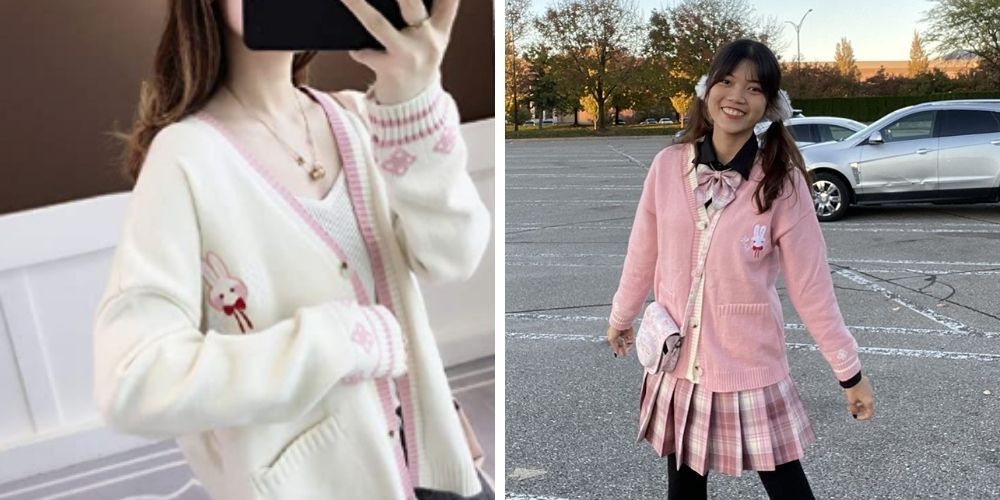 5-Star Review: "Cute cardigan to layer on top of a tank .'3 The pockets are functional but I think they were sewn shut like how the button holes on jeans from YesStyle are uncut - Super cute but I would size up" – Liindsey Huynh
17. Introducing the Fronage Hooded Sweatshirt! This trendy and stylish hoodie is perfect for any teen girl who wants to look her best. The Fronage Hooded Sweatshirt comes in a variety of colors and styles, so you can find the perfect one to match your personality. The long sleeve design is both fashionable and practical, keeping you warm all winter long.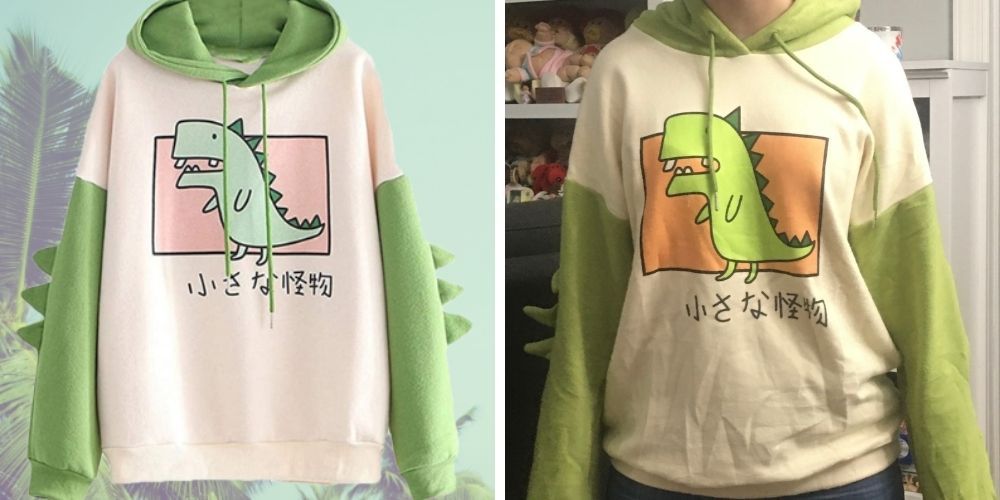 5-Star Review: "My daughter loves this hoodie (black cat hoodie with cat ears)! She is 100 lb and almost 5 feet tall and small was the perfect size. I ordered medium first based on reviews that hoodie "runs small" but medium was HUGE, even for me (and I am 5'6" and 135 lb). Small was the perfect size, with room for her to grow further and still be able to wear it." – Thomas C. Jorgensen
18. This sweatshirt is sure to turn heads and start conversations. The Frog Hoodie is a unique and stylish piece that will keep you warm and comfortable all day long. The zipper mouth design is both fun and practical, and the hooded style will keep you protected from the elements.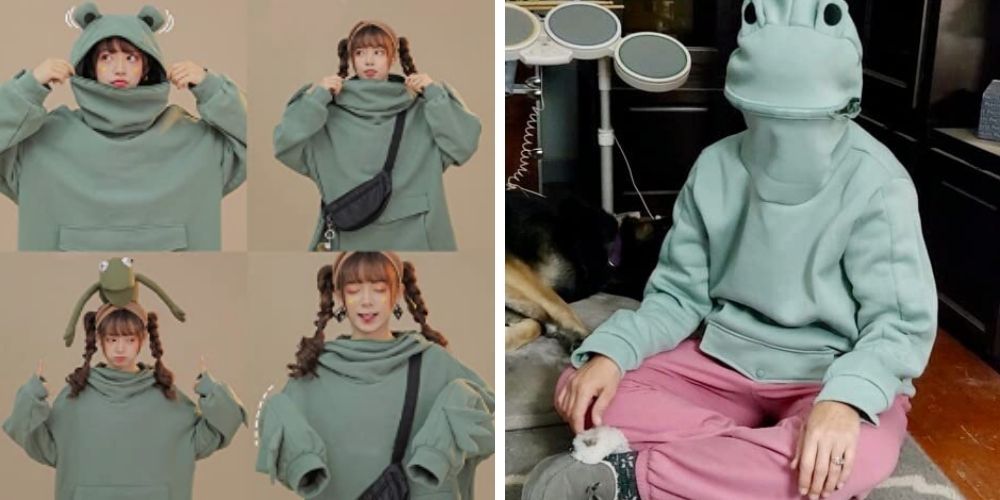 5-Star Review: "I love this so much. I was debating on even getting this hoodie bc of the bad reviews I saw but I am so so glad I did! This thing is so freaking soft. I usually wear a medium-large depending on the shirt fit, and I bought an XXL bc I wanted it to be baggy. PERFECT." – Meg
19. This cute hoodie is perfect for teenage girls who want to stay warm and stylish. The long sleeve and hooded design will keep you cozy, while the colorful print and kangaroo pocket add a touch of fun. Made from soft, high-quality fabric, this sweatshirt is sure to become a favorite in your wardrobe.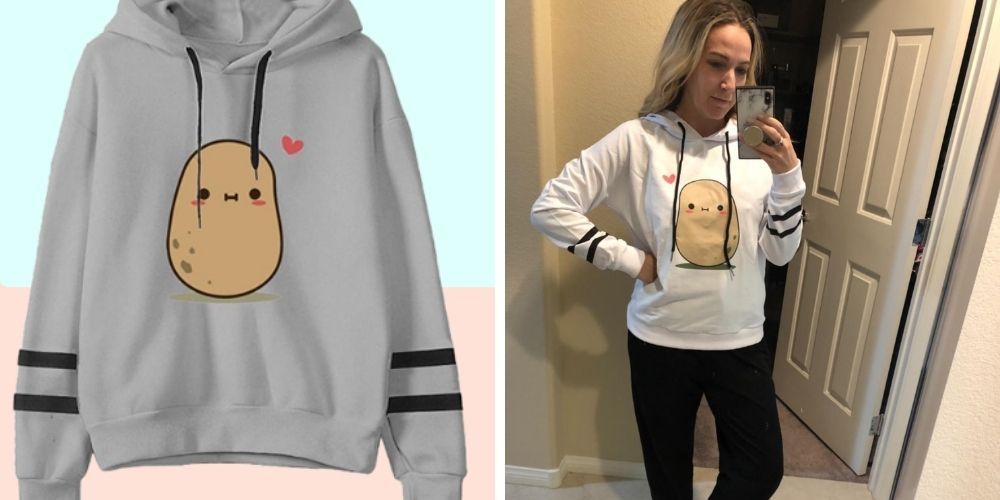 5-Star Review: "My daughter loves this hoodie. I purchased an XL which fits more like a large. If you like your hoodie loose make sure to size up. Overall great purchase and would recommend." – Jennifer S.
20. This is the perfect sweater for stripe lovers! It's cute, stylish, and comfortable. The candy stripe design is eye-catching and unique. The best part is that it helps show your support for dog rescue organizations.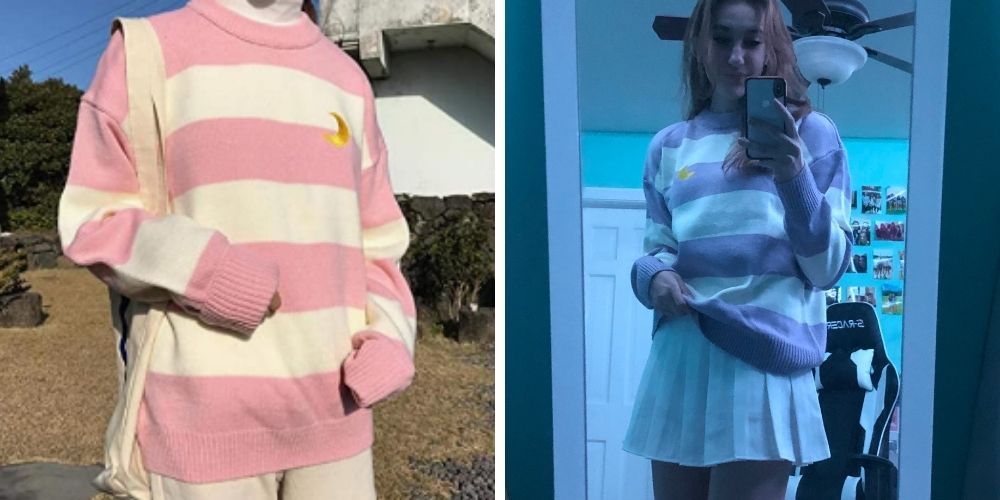 5-Star Review: "Great quality, durable, washed a few times already and it is still in great condition! Very well made and sizing fits a variety of different body types. Considering ordering in ALL THE COLORS" – Maria G.
21. SweatyRocks Sweatshirt Tops are the perfect way to stay comfortable and stylish at the same time. The floral print is eye-catching and unique, and the long sleeve design will keep you warm all day long.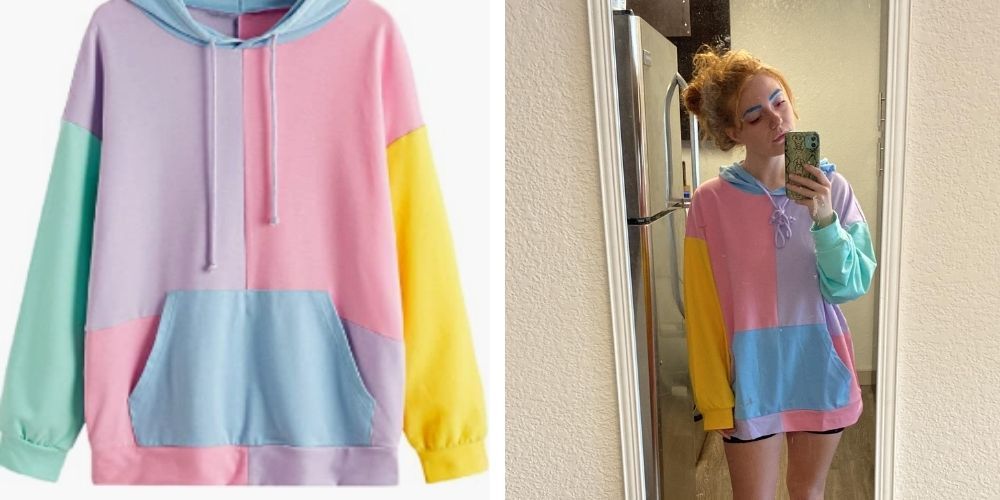 5-Star Review: "Vibrant color. Fit perfectly. Arrived quickly. Purchased as a present for a friends birthday. She LOVED IT. I would purchase from this seller again." – Deanna
22. The SweatyRocks Hoodie Crop Top is perfect for cooler weather and can be dressed up or down. The cat print is unique and fun, and the sweatshirt is made of high-quality materials that will keep you comfortable all day long.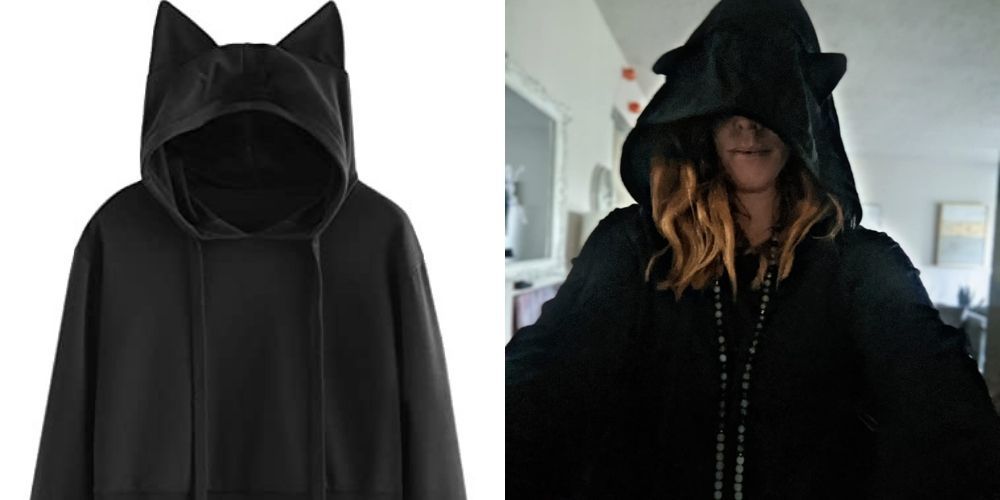 5-Star Review: "This is just the purrrfect hoodie to put a spring in my step. The design is fun and whimsical while the hoodie is comfortable and versatile. I can wear it with a skirt, slacks, or jeans." – iReview65
23. Made from a warm and durable material, this coat will keep you cozy all winter long. It features a stylish peter pan collar, double breasted design, and comes in a variety of colors to suit your style.
5-Star Review: "The coat is adorable and fits perfectly. If you plan to use the pockets, you might not like the coat. They are farther to the back of the jacket at the side seam than they are to the front. It's a reach and doesn't feel like a natural place for the pockets so I just don't use them but love the coat." – kvdgb
These 23 pieces of clothing will actually keep you warm this winter. They are stylish and practical, and will help you weather the cold in comfort and style. So don't wait any longer, bundle up in one of these cozy clothing and enjoy the season.
Other Posts You May Like:
19 Pieces Of Clothing That Will Keep You Cozy All Season Long
10 Tips for Choosing a Cold-Weather Wardrobe
13 Pieces Of Clothing Will Up Your Fall Fashion Game
Comments