This post may contain affiliate links, please see our privacy policy for details.
Winter is here, and with it comes the need for a heavy-duty coat to keep you warm. But why should you have to sacrifice style for comfort? With all the fashionable and functional winter coats out there, you don't have to! Here are some of our favorite and warmest winter coats that will keep you looking hot while keeping the cold out.
The Long Puffer Coat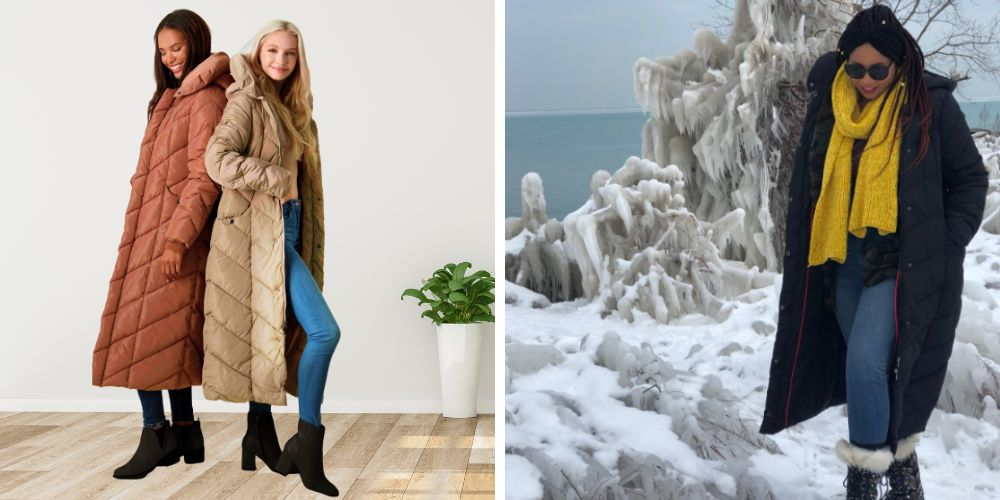 This Steve Madden Long Puffer Coat is a great way to stay warm and fashionable during the colder winter months. Its classic chevron quilting, snap closure, machine washability, and fleece lining make it warm enough for even the most frigid of temperatures.
It also features a removable hood and a concealed zip-and-snap placket as well as top-entry front pockets; perfect for carrying all your warm-weather accessories like mittens and scarves. With this warm winter coat, you'll face the coldest days with style and grace.
The Parka Puffer Coat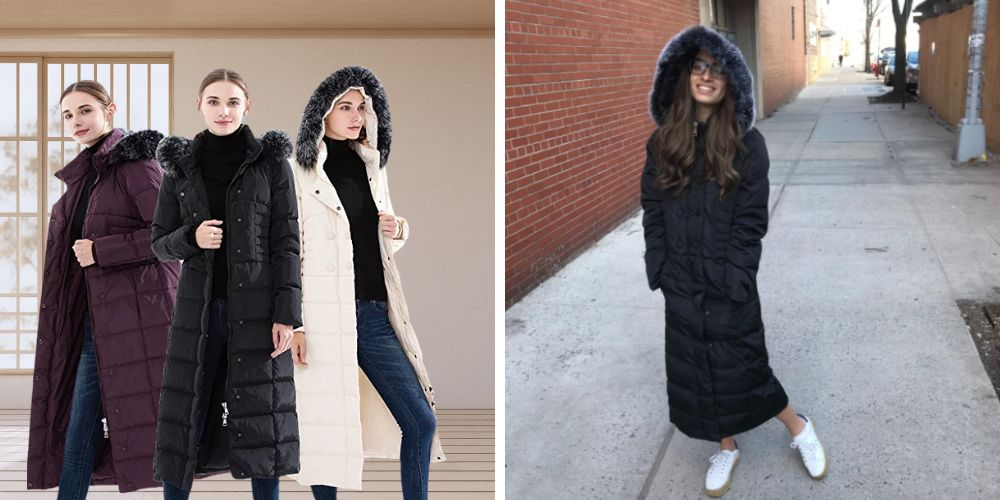 This parka puffer coat is the perfect addition to your winter wardrobe. With a faux fur trimmed hood, and faux leather accents, this coat oozes style and sophistication. It also offers excellent windproof and warm-keeping quality, as it is made of 100% polyester with a density 60% higher than common materials used in warm winter coats.
The long design ensures that you'll stay warm and toasty no matter the weather. It also has thickened down filling (90% white duck down/ 10% feather) and two pockets with zipper closures for extra convenience. Whether you're running errands in town or taking an extended trip outdoors, this coat will keep you looking stylish while keeping you warm on cold days.
The Vegan Down Long Parka Jacket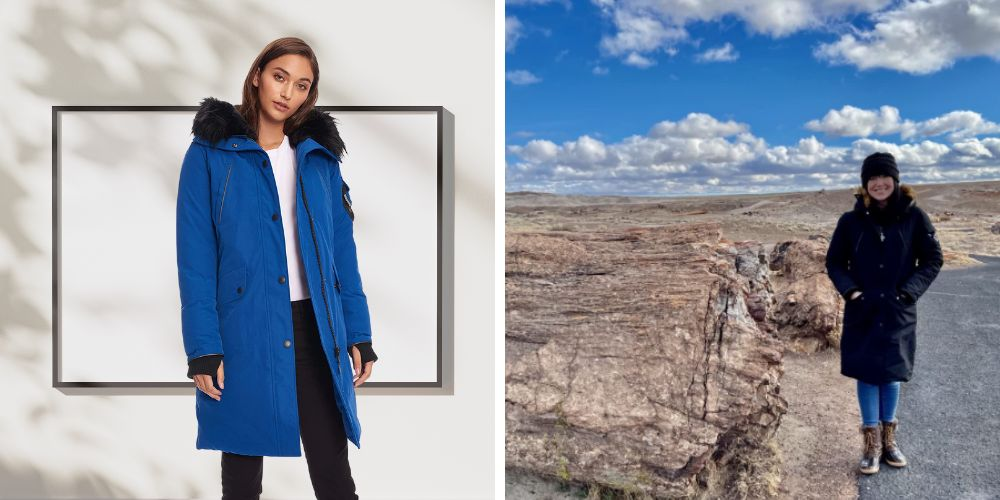 Whether you're dealing with freezing temperatures or windy storms, staying warm in winter is always a challenge. Fortunately, the Women's Navy Vegan Down Long Parka jacket is the perfect solution to combat these elements.
It features faux fur trim for extra luxury and warmth, as well as being water-repellent and windproof. 85% recycled polyester and 15% cotton make up the material of this parka coat so that you are sure to get through even the toughest snow days. With an insulation rating down to -30°C / -22°F, it's no wonder this winter coat has earned its title of heavyweight champion.
So if you're looking for the perfect end to any cold winter day, the Women's Navy Vegan Down Long Parka Jacket is here to save the day!
The Wool Blend Coat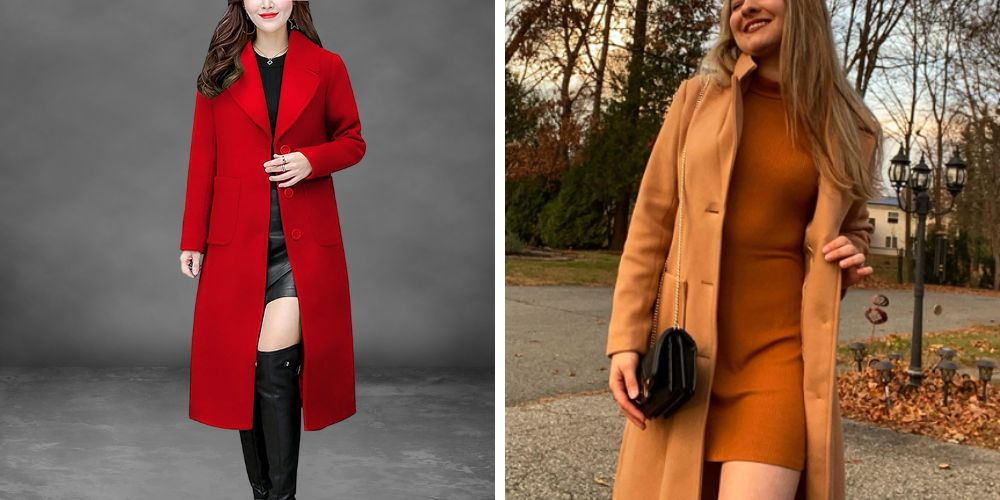 Plaid coats are always in style and this coat combines style with practicality making it the perfect item for cold weather days. Its classic notched lapel and front button-up closure adds an extra layer of sophistication, while the stand collar provides stylish coverage against chilly winds.
Crafted from 80% polyester to make a mid-length wool blend, this jacket has a timeless design that can easily be matched with the 12 colors it comes in. Finally, two handy pockets at the waist side round out this stylish jacket perfectly - making it a must-have for any fashionista's wardrobe!
The Hooded Fleece Line Coat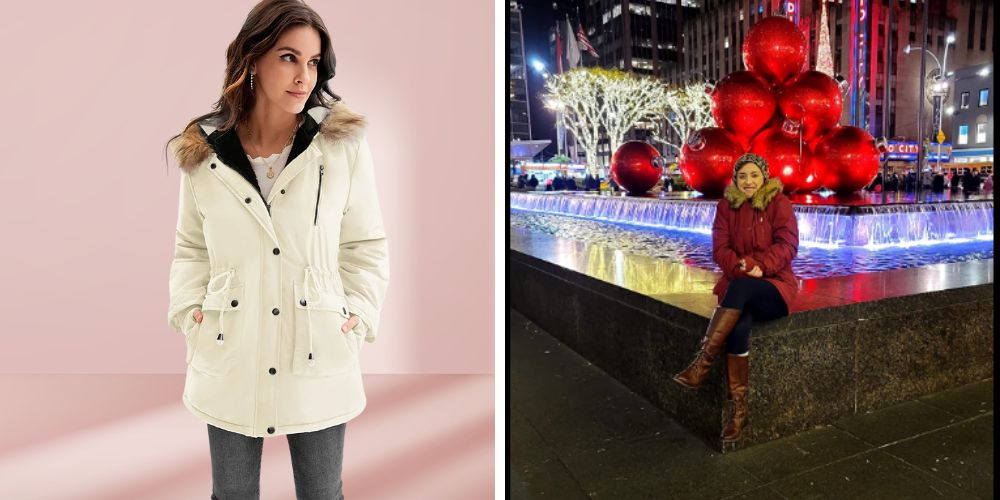 This coat is a winter essential for those seeking both warmth and style. Crafted with fleece-lined material, this coat offers a super soft, comfortable experience that also helps to protect against wind. The big deep hood is lined with faux fur trim, adding an elegant touch without impacting the item's lightweight design.
Wearers can choose to fasten the zipper and button closure for additional warmth and security or draw in the adjustable drawstring waist belt to create a flattering fit. Those looking to stay warm and look great during the winter should consider this fleece-lined hood option from Grace Karin.
The Faux Fur Jacket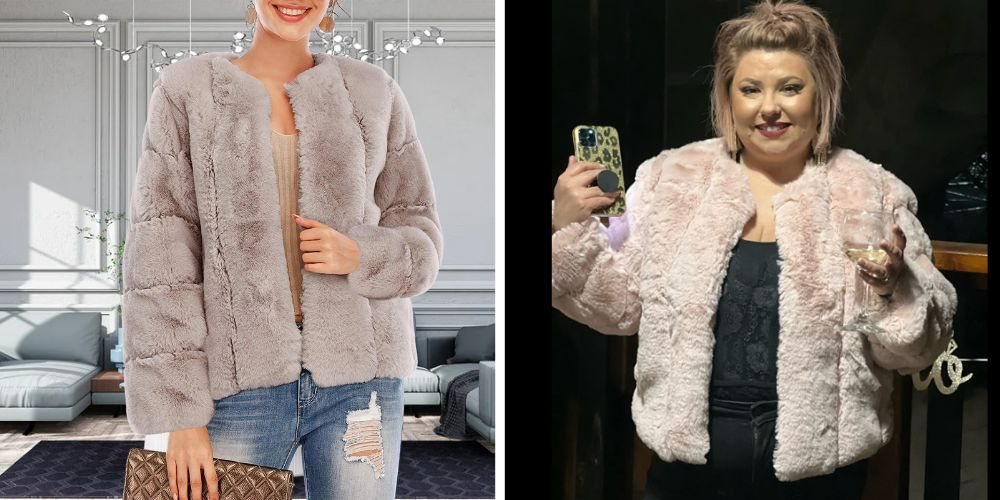 Searching for a new women's winter coat? Add a fuzzy faux fur coat to stay warm and cozy. This stunning winter coat provides extra warmth so that the cold won't have a chance of getting through, while its fitted shape gives it extra panache. Not only is this faux fur coat incredibly soft and luxurious, but it also looks like real fur; everyone who sees you wearing it will be amazed! Don't let the cold get you down this winter – turn heads and bundle up with BerryGo's faux fur jacket!
Wrap yourself in style and warmth this winter season with the BerryGo Women's Long Sleeve Open Front Fuzzy Faux Fur Coat. Designed to look like real fur, but without the cruelty of animal fur, this coat makes a luxurious statement. Not only is it fleece-lined for added comfort and protection against the elements, but its cropped cut and fitted shape will keep you looking fashionable all season long. Ideal for those who want warm and sophisticated winter coats, this fleece-lined hooded faux fur coat checks all the boxes.z
The Puffer Jacket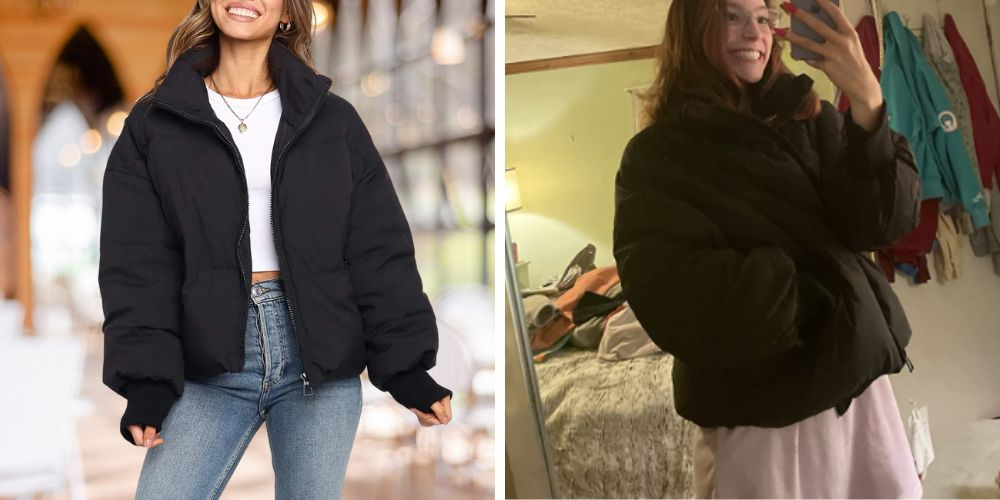 This puffer jacket is designed for unbeatable warmth and stylish style. Featuring knit cuffs, full zipper, side zipper pockets for essential storage, and a stand-up collar, it's the must-have winter coat outwear for wintry days.
Keep warm and protected in this windproof puffer coat lined with soft and warm padding that offers an oversized style to the cropped length design. Perfectly suited for any outdoor activities like skiing, snowboarding, exercise, or even shopping on chilly days. With an upscale look but also practical functions, this provides maximum protection with minimum fuss!
The Thick Wool Trench Coat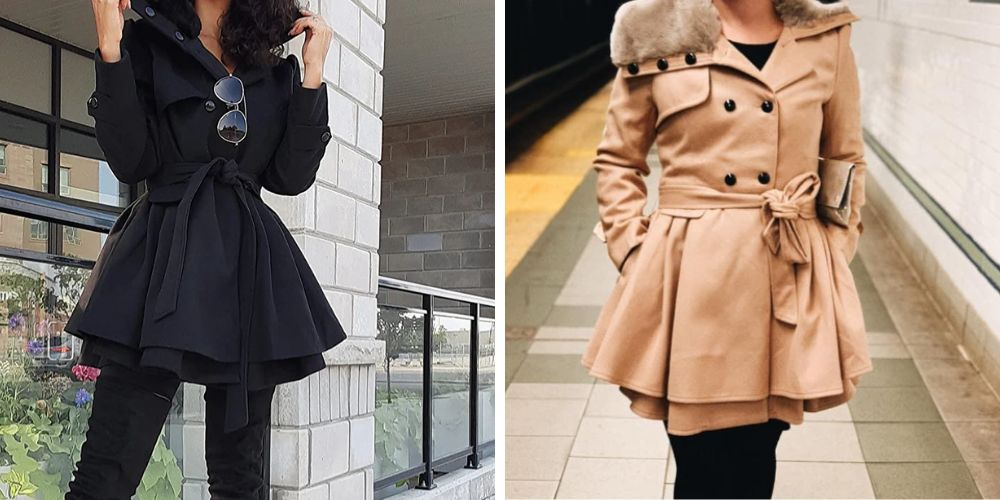 This trench coat jacket is designed with a high-quality fur collar and warm layers, sure to keep you cozy during all of your winter activities. The unique design features include a fitted horn shape, type A skirt, lapel, double-breasted, and adjustable waistband - creating stunning curves when put on.
The fur collar gives an additional layer of protection while looking stylish and fashion-forward; making it the perfect choice for winter accessories. Crafted in thick wool with a machine-washable finish, this coat is as durable as it is fashionable. Make an impression and stay warm in this thick wool trench coat.
Final Thoughts
No matter your seasonal style, there is something for everyone when it comes to women's winter coats. From long and puffy to short and sparkly, you can stay warm while also embracing your sense of style. Whether you are looking to make a statement with a bright coat or keep it classic with neutral colors, these great options will take any women's winter wardrobe to the next level of fun! With so many stunning options available, now is the time to find the perfect women's winter coat that radiates your personal sense of fashion.
Comments