This post may contain affiliate links, please see our privacy policy for details.
Your birthday - it's a celebration of you. And what better way to echo this sentiment than with the perfect birthday outfit? It's not just about looking good but feeling extraordinary too. From chic maxi dresses for summer celebrations to glamorous sequin numbers for an evening event, the variety in birthday outfits is truly endless.
Each season brings a fresh, exciting collection that reflects the joy and thrill of the shopping experience. So, whether you're planning an intimate gathering or a grand celebration, this guide will provide you with the best birthday dress ideas to make sure you steal the spotlight on your big day. Let's start this stylish journey together!
How to Dress for a Birthday Party
When it comes to dressing for a birthday party, a dash of self-awareness and a sprinkle of style sense can transform the entire process into an exciting fashion adventure. The first crucial step involves understanding the mood of the event. Is it a daytime garden party or an evening soiree? Maybe it's a themed birthday bash that calls for a certain kind of attire. The theme and venue largely dictate your outfit choice. Remember, your attire should complement the atmosphere of the party without compromising your personal style.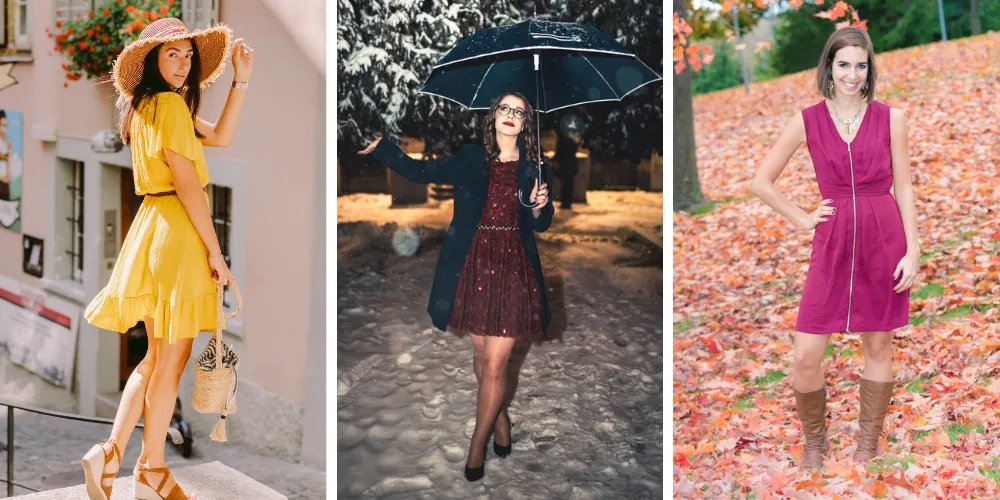 Next, consider the time of the year. Just as seasons transform nature, they also bring about shifts in fashion trends. Summer may call for lighter fabrics and vibrant prints, while winter might invite plush velvets and darker hues into your wardrobe. The trick lies in harmonizing the seasonal styles with your birthday outfit, ensuring you make a fashion statement that's relevant to the year's trends.
And finally, let's address an indispensable aspect of dressing up - confidence. You could be wearing the most exquisite designer piece, but without self-assurance, even the grandest of outfits may fall flat. Remember, your birthday is a celebration of you, of your life, and of the love that surrounds you. So embrace your body, love your curves, and choose an outfit that makes you feel fabulous. After all, confidence is the best outfit anyone can wear. Carry it with grace, wear it with pride, and you'll find yourself being the life of any party.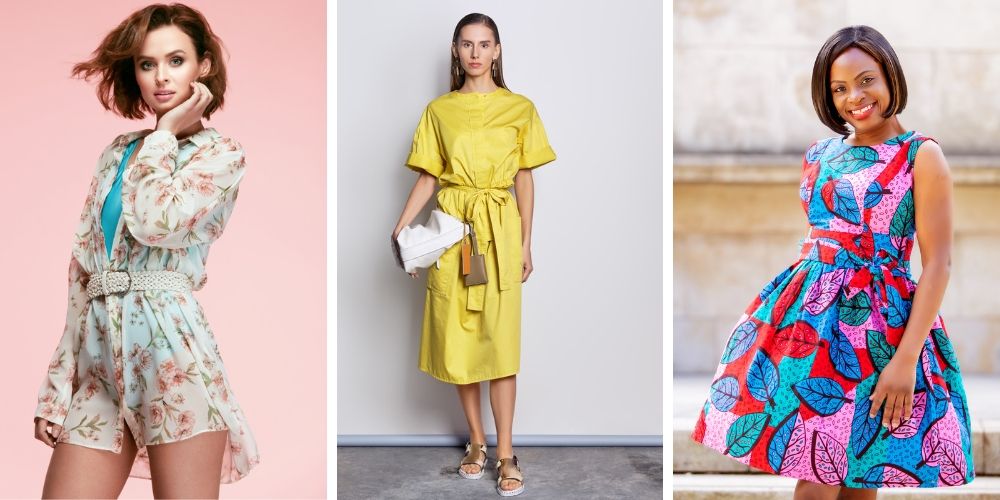 Dressing for a birthday party is not just about the clothes - it's about celebrating your unique style. So, here's to you and your fashion journey!
Are you dreaming of celebrating your birthday in captivating locales like Hawaii, Mexico, Italy, or Vegas? To help you pack your suitcase, we've curated a collection of fashion-forward outfit inspirations specially tailored for these distinctive destinations.
17 Best Birthday Dress Ideas
Stepping into the limelight on your birthday calls for the perfect dress. Whether it's the versatility of a maxi dress or the bold statement of a sequined piece, we've curated a collection of 17 stunning birthday dress ideas for every style and personality. These cute birthday dresses are all about details - the unique cuts, the striking colors, the intricate patterns - each designed to make you stand out. Dive into this selection and discover the perfect ensemble to celebrate your big day in style.
Black Birthday Dress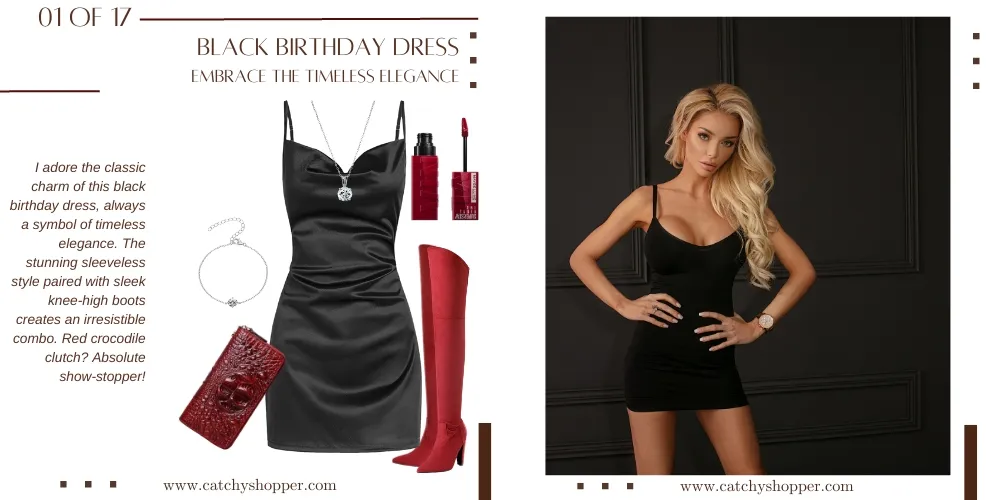 Charm your guests in a chic black birthday dress that effortlessly combines style and sophistication. Opt for a sleeveless black mini dress made from luxurious satin material. Accentuate your outfit with knee-high boots in suede and a trendy crocodile leather clutch in a bold red color. Add a personal touch with a dainty silver pendant necklace and matching bracelet. Complete the look with a bold red lip, a guaranteed way to stand out at any birthday venue, be it a casual dinner or an upscale wine festival.
Pink Birthday Dress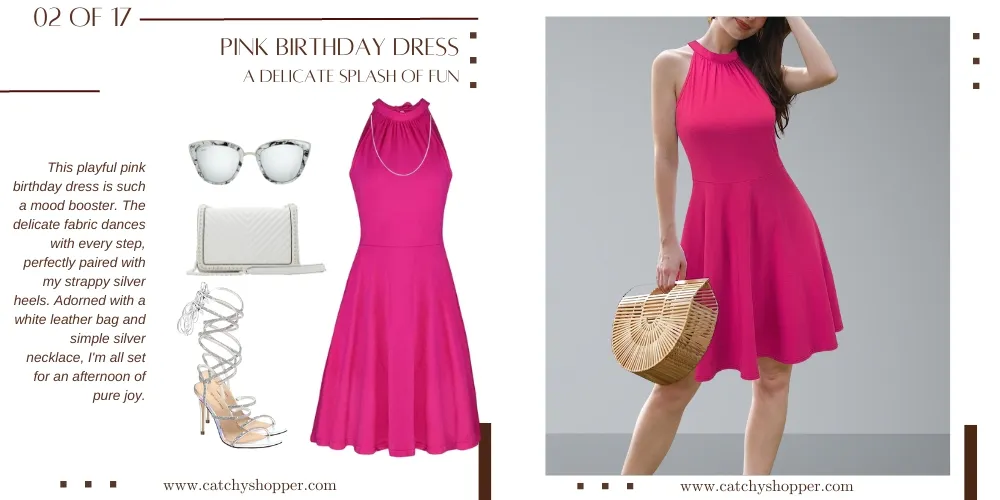 Embrace the joy of your special day in a hot pink A-line birthday dress. Opt for a dress made from a light, flowy fabric that moves with you. Elevate your look with strappy silver heels and a white leather handbag featuring delicate lace details. Complement your dress with oversized cat-eye sunglasses and a simple silver chain necklace for a touch of sophistication. This ensemble is perfect for an afternoon soiree at a sunny garden or park.
White Birthday Dress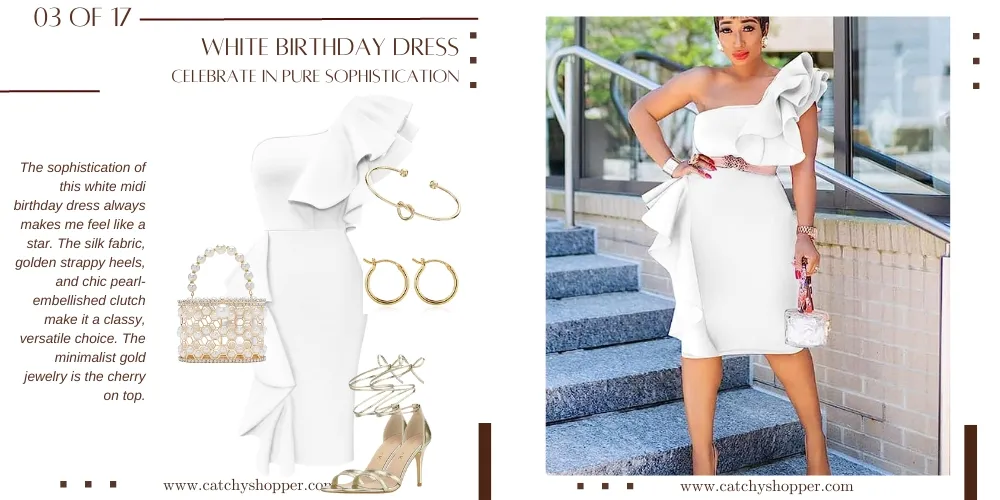 Create an atmosphere of pure elegance in a white midi birthday dress. Choose a full midi dress, made from silk or chiffon for a luxurious feel. Pair this with gold strappy heels and a matching chic clutch embellished with subtle pearls. Opt for minimalist gold hoop earrings and a matching delicate bracelet to complete your look. This ensemble is not just stylish, but versatile enough to be worn at a sophisticated concert or even on jury duty.
Gold Birthday Dress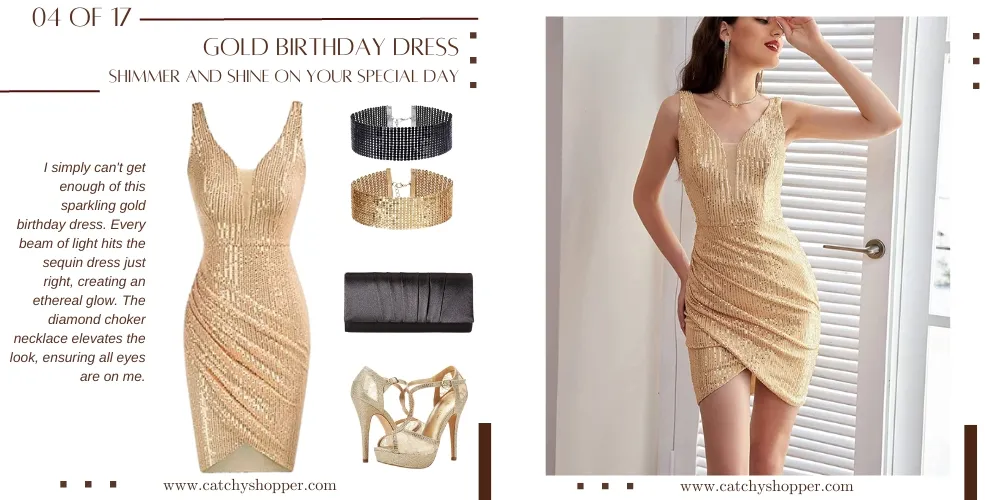 Sparkle on your special day in a glittering gold birthday dress. Choose a body-hugging sequin dress that reflects every ray of light. Enhance the metallic sheen of the dress with gold strappy heels adorned with rhinestones. Pair this with a stylish black satin clutch and a striking diamond choker necklace. This look is sure to make you the center of attention at any birthday venue.
Red Birthday Dress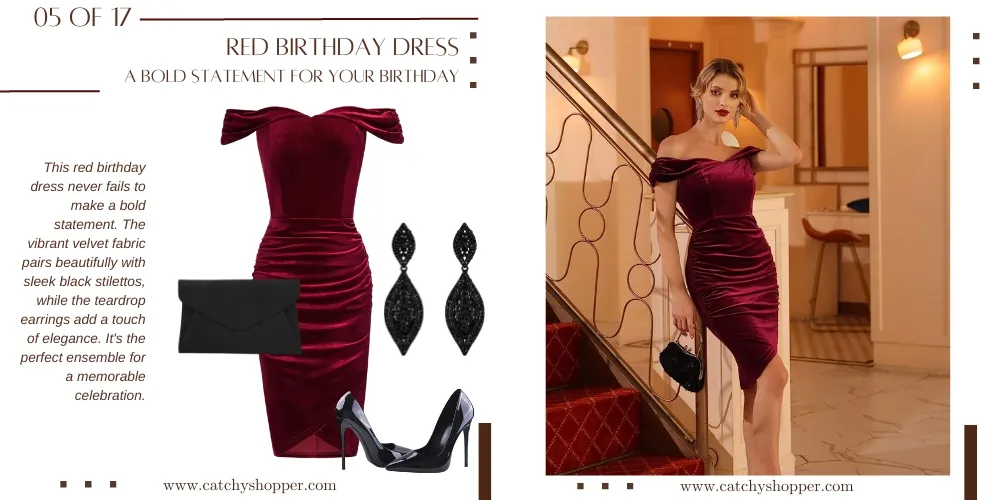 Turn heads in a stunning red birthday dress. Choose a form-fitting sheath dress made from a lush velvet fabric that emphasizes your curves. Contrast the vibrant red with sleek black stiletto heels and a matching envelope clutch. Complete your look with statement teardrop earrings encrusted with black crystals. This look is perfect for an evening of celebration and will surely make a memorable impact.
Silver Birthday Dress
Stand out in a silver birthday dress that showcases your glamorous side. Choose a shimmery midi dress made of sequins and pair it with glossy silver stiletto heels. Cinch your waist with a black velvet belt for a striking contrast. Accessorize with a silver statement choker and a compact mirror-like silver clutch. Opt for vibrant lipstick and bold smokey eyes to complete your look, guaranteeing you're the center of attention at any party.
Blue Birthday Dress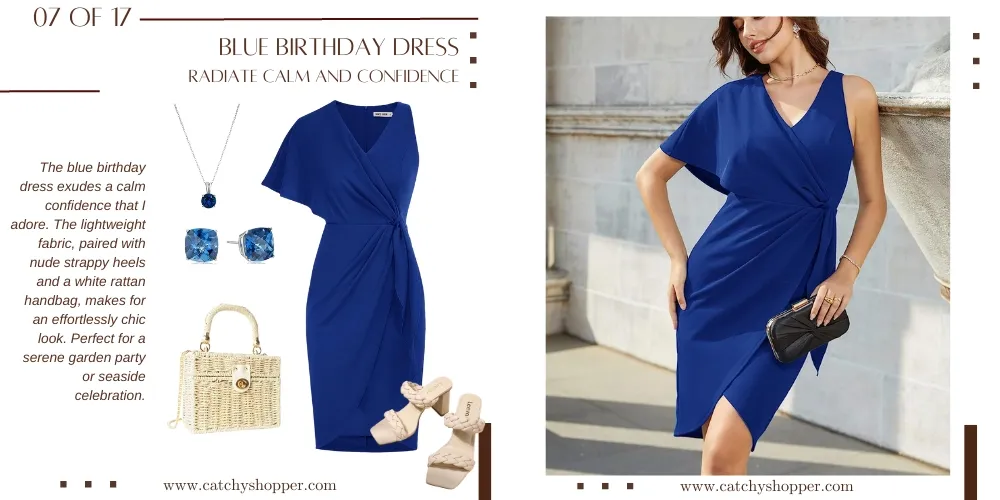 Grace your special day with a serene blue wrap birthday dress. Opt for a dress made from lightweight fabric for an effortless flow. Pair this with nude strappy heels and a white rattan handbag for a chic beachy look. Add an elegant touch with a simple silver pendant necklace and delicate stud earrings. This outfit is perfect for a garden party or a seaside celebration, ensuring you celebrate your birthday in style.
Green Birthday Dress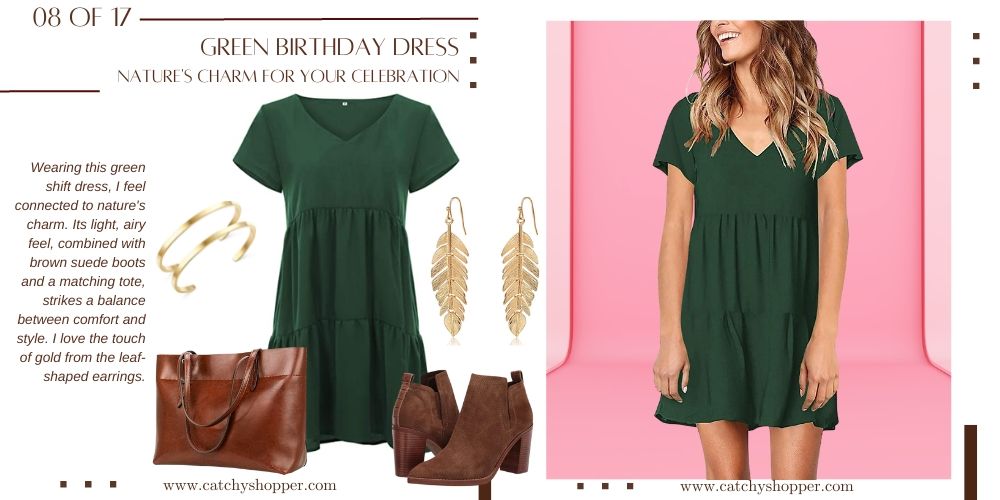 Wear the color of life and renewal on your birthday with a charming green shift dress. Choose a dress made from cotton or linen for a light and airy feel. Pair this earthy tone with brown suede ankle boots and a matching leather tote bag for a relaxed yet fashionable look. Accentuate with gold leaf-shaped earrings and a stylish open-cuff bracelet to highlight the connection to nature. Perfect for an outdoor celebration or garden party.
Purple Birthday Dress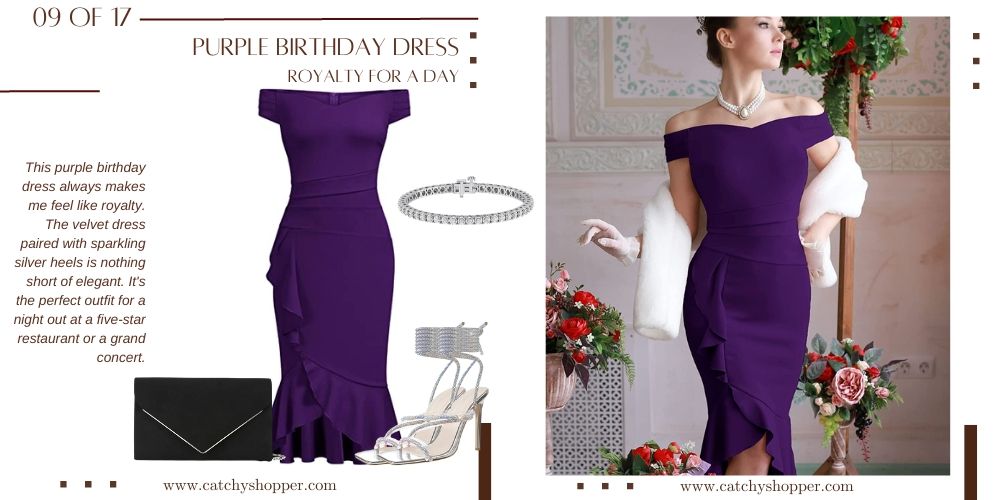 Celebrate your special day like royalty in a regal purple off-the-shoulder birthday dress. Opt for a velvet dress for a luxurious feel and match it with sparkling silver strappy heels. Complement your outfit with a sleek black envelope clutch and a shimmering diamond tennis bracelet for added elegance. This ensemble will ensure all eyes are on you, whether you're dining at a five-star restaurant or attending a grand concert.
Orange Birthday Dress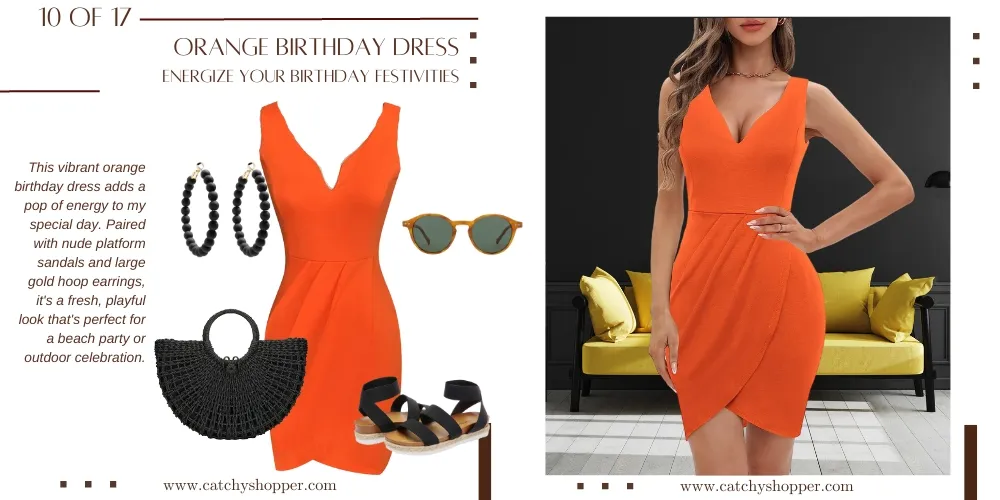 Make a statement with a bright orange wrap birthday dress. Opt for a ruched dress for an elegant drape and complement it with black platform sandals and a matching woven crossbody bag for a trendy and relaxed look. Add a pair of large hoop earrings and stylish oversized sunglasses to complete your ensemble. Ideal for a beach party or a casual outdoor celebration.
Rhinestone Birthday Dress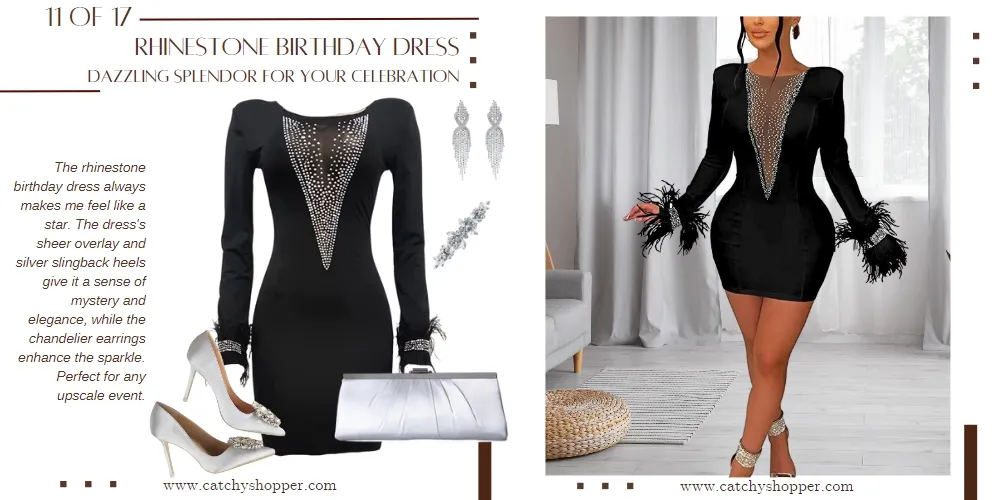 Embrace the spotlight in a rhinestone-encrusted birthday dress that sparkles with every move. Choose a dress with a sheer overlay for a hint of mystery. Pair this with silver slingback heels and a sleek satin clutch for an elevated look. Add a pair of chandelier earrings and a chic rhinestone hairpin to enhance the sparkle. This outfit is perfect for an upscale party or a chic wine-tasting event, ensuring you celebrate your birthday in style.
Nude Birthday Dress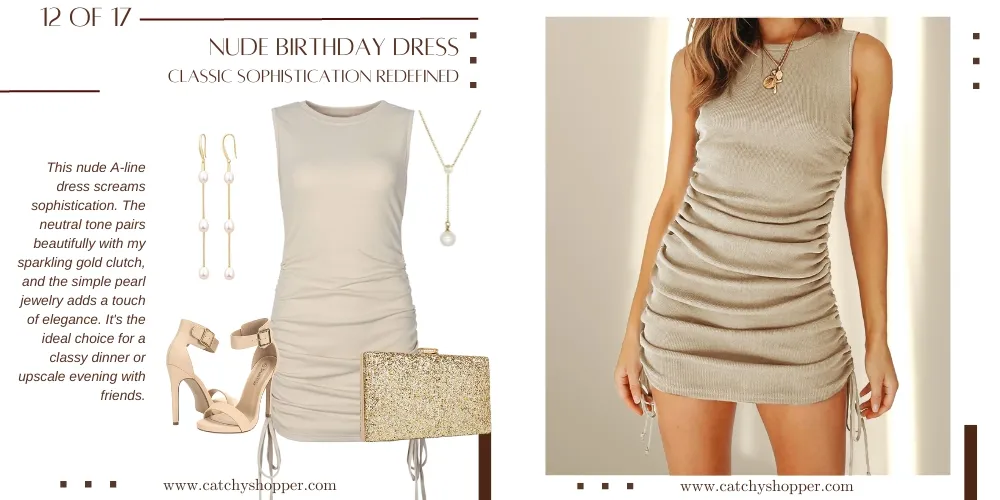 Celebrate your birthday in a nude A-line dress that screams sophistication. The neutral tone of the dress serves as a beautiful canvas to highlight your accessories. Pair it with nude ankle strap heels and a sparkling gold clutch for a touch of glam. Opt for simple pearl jewelry like a pearl drop necklace and matching earrings to maintain an air of refined elegance. Perfect for a chic dinner or an upscale evening with friends.
Brown Birthday Dress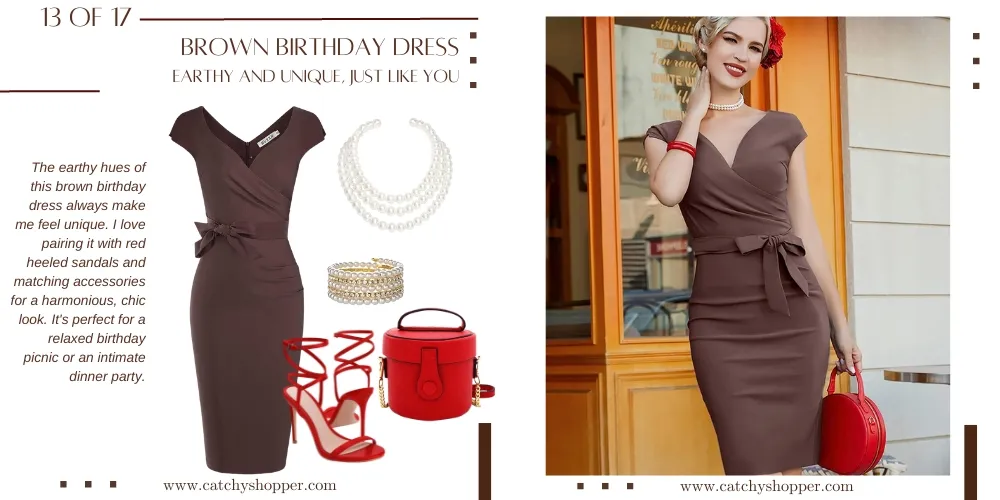 Choose a unique brown midi dress for your birthday. This color, reminiscent of earth's natural hues, pairs wonderfully with red sandals and a coordinating clutch, bringing a sense of harmony to the look. Add accessories, such as a pearl necklace and layered bracelets to add a touch of brightness. Ideal for a relaxed birthday picnic or an intimate dinner party.
Sequins Birthday Dress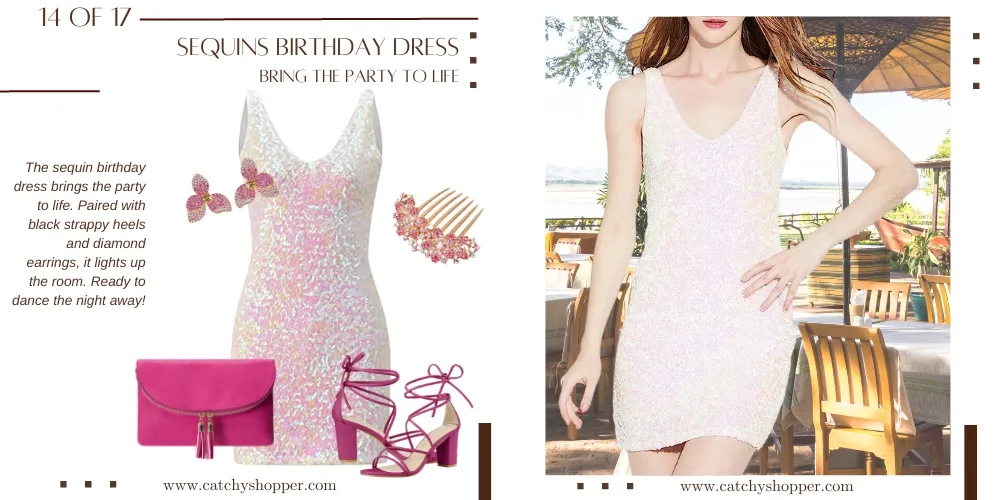 Light up the room in a sequin birthday dress. This sparkling ensemble pairs perfectly with pink strappy heels and a sleek black clutch. For a little extra shine, add a glittery hair accessory and some simple diamond earrings. You'll be ready to dance the night away, whether you're celebrating at a club, a concert, or a party.
Lavender Birthday Dress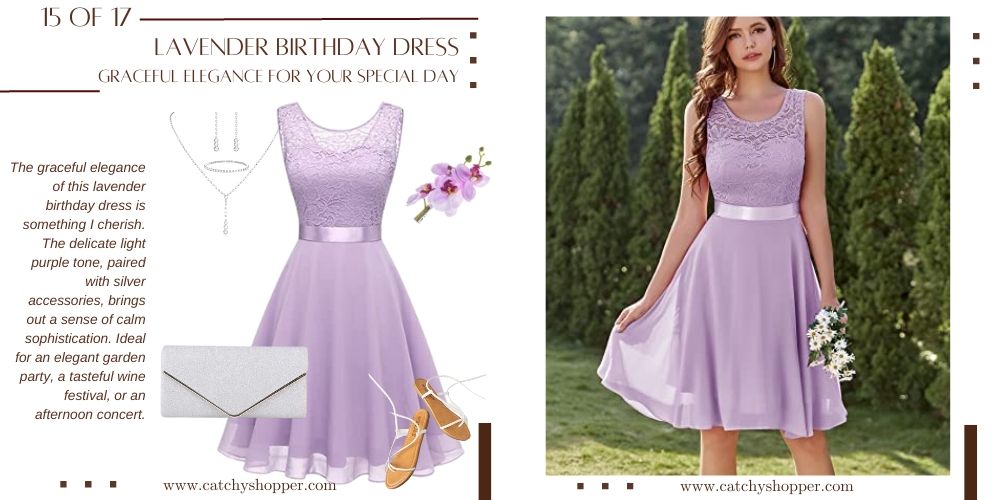 Bask in the soothing hues of a lavender chiffon maxi dress on your birthday. This light purple tone pairs beautifully with white strappy sandals and a silver envelope clutch. Add a lavender hair clip and delicate silver jewelry to enhance the ensemble's cohesion. Ideal for an elegant garden party, a tasteful wine festival, or an afternoon concert.
Diamond Birthday Dress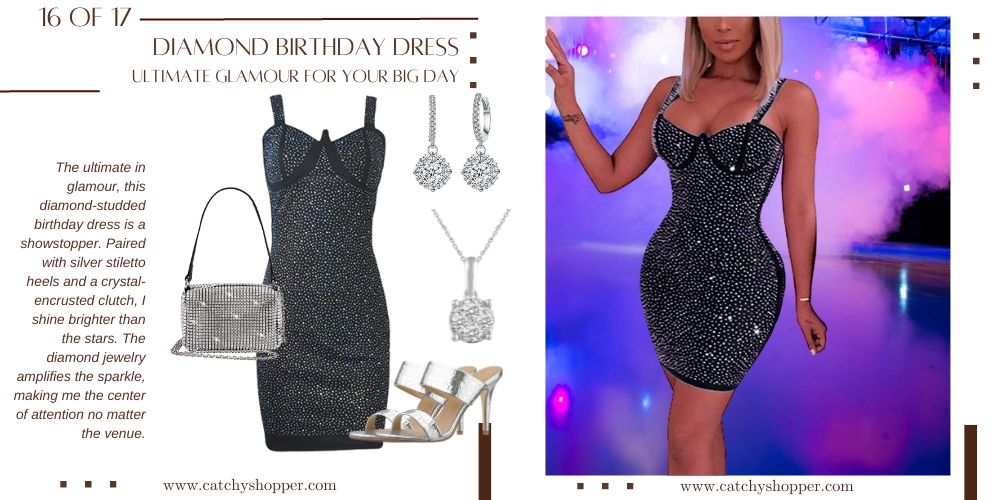 Illuminate your birthday in a diamond-studded mini-birthday dress that sparkles as you move. This dazzling ensemble pairs well with silver stiletto heels and a crystal-encrusted clutch. Complete your look with a diamond necklace and matching earrings to further amplify the sparkle. This luxurious outfit guarantees all eyes on you, irrespective of the venue.
Glitter Birthday Dress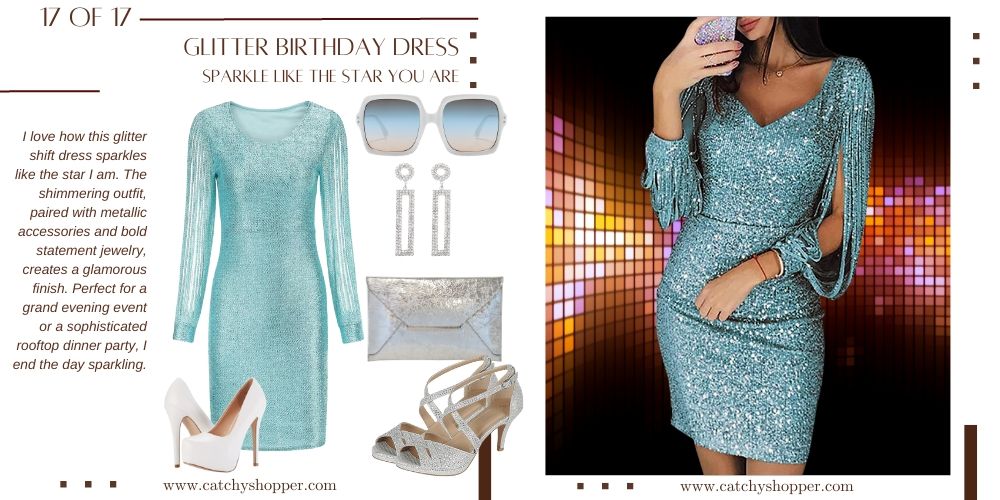 Be the star of your birthday in a glitter shift dress that catches the light with every step. Pair this shimmering outfit with silver peep-toe heels or white pumps for a striking contrast. Accessorize with a chic metallic clutch, oversized sunglasses, and bold, statement jewelry for a glamorous finish. Perfect for a grand evening event or a sophisticated rooftop dinner party, ensuring your day ends in sparkle.
Birthday Accessories to Wear
The right accessories can elevate your birthday outfit from good to great, transforming your look in an instant. When choosing your adornments, consider the style of your outfit and the mood of your celebration. A glamorous dress may pair well with sparkling diamond jewelry, while a casual birthday brunch may call for subtle gold accents. Always aim for balance - if your outfit is loud and lively, opt for subdued accessories, and vice versa.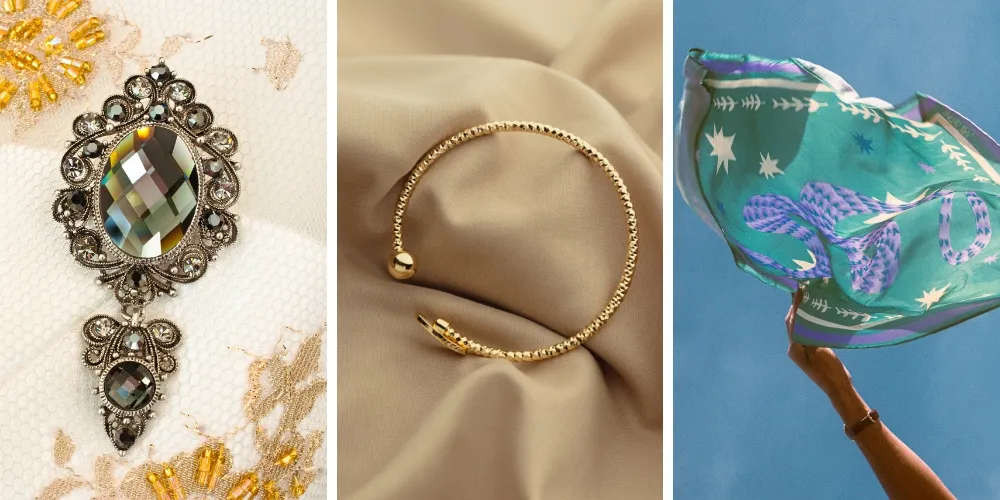 Dive into our selection of accessory ideas where you can find everything from the ever-elegant pearl necklace to the edgy statement clutch. Whether you love a classic look or prefer to follow the latest trends, our selection has something for everyone. Pay attention to the details - the delicate craftsmanship of a vintage brooch, the glint of a gold cuff bracelet, the vibrancy of a silk scarf. Remember, accessories aren't just an addition to your outfit; they're an extension of your personal style.
Birthday Hair Accessories
But let's not forget one of the most exciting aspects of birthday styling - hair accessories! Enter a world where chic hairbands, stunning hair clips, and sparkly tiaras reign supreme. Whether you're in love with the timeless elegance of a pearl-encrusted hairpin or the modern charm of a velvet headband, getting ready for your birthday party becomes a whole lot more fun with these stylish additions.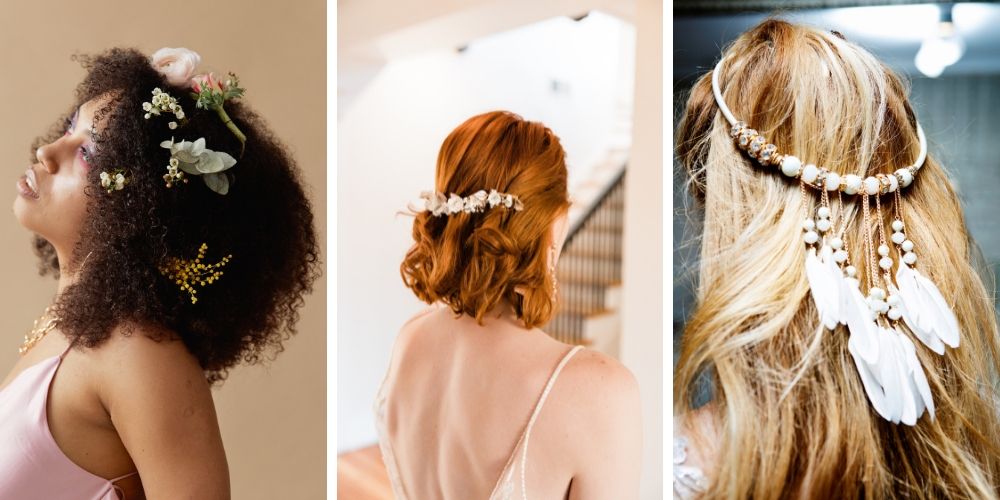 So go ahead, explore, mix and match, and above all, have fun with your accessory choices. After all, your birthday is the perfect excuse to express your style in its fullest glory!
Birthday Shoes and Bags
Your birthday outfit wouldn't be complete without the perfect pair of shoes and a chic bag to match. The right pair of shoes can transform your birthday look, adding an extra layer of sophistication and style. Whether you're leaning towards the classic elegance of a pair of strappy heels, the edgy charm of knee-high boots, or the comfort and chicness of stylish flats, your birthday shoes should be as unique as you are.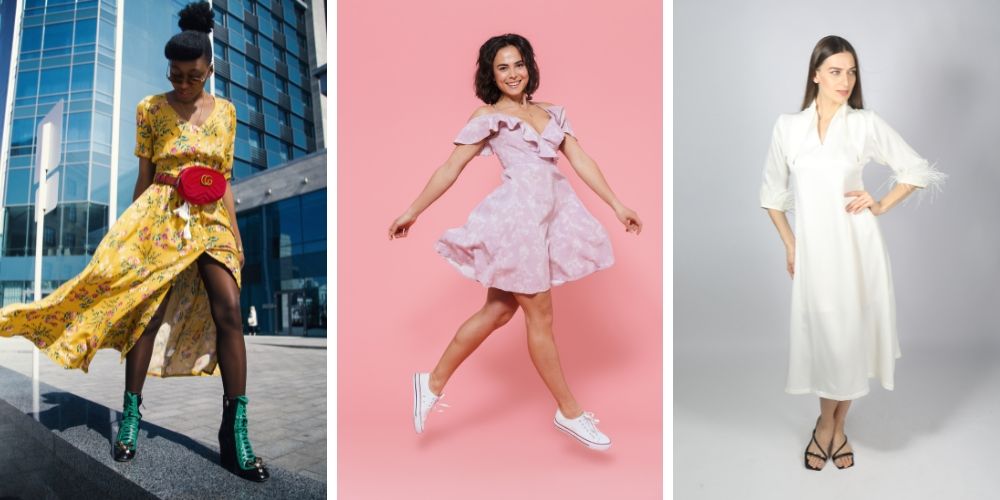 Moving on to birthday bags, this practical accessory should never be an afterthought. Your birthday bag not only carries your essentials but also plays a significant role in accentuating your overall look. Choose from a range of options, be it a classic black clutch, a colorful crossbody, or a trendy bucket bag. Remember, the bag you choose should complement your outfit without overshadowing it.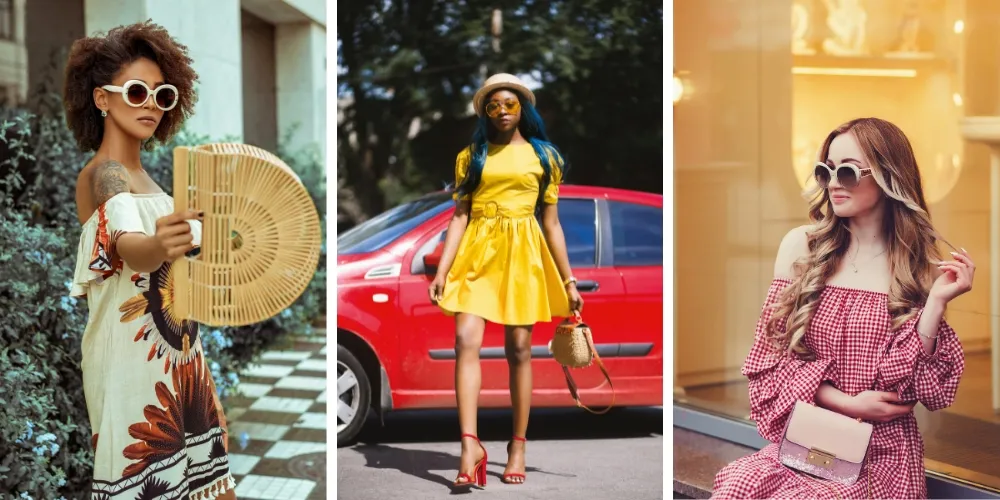 Matching your shoes and bag can be an old-school style rule, but when done right, it can bring a cohesive look to your outfit. However, feel free to mix and match if that reflects your personal style better.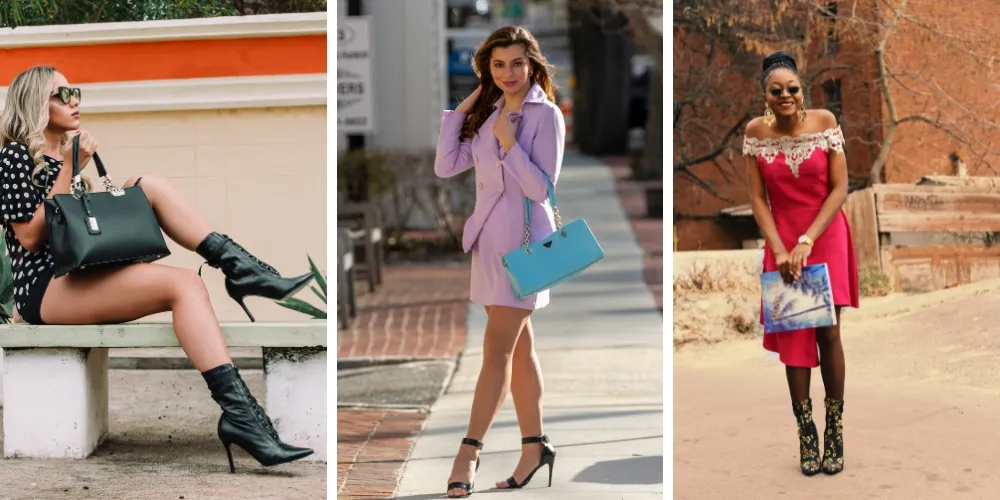 In the end, choosing your birthday shoes and bag should be an enjoyable part of your special day's preparations. They are the final touch, the last piece of the puzzle that pulls your whole look together. So step into your best birthday shoes, grab your chic bag, and stride into your celebrations with confidence and style!
💡
Explore Our Exclusive Posts Featuring
Boho Outfit Ideas, Vacation Outfits, Festival Outfits, and
Summer Outfits with Hats. Delve into our Denim Shorts Outfits, Black and White Outfits,
Bodysuits Outfits
,
Black Dress Outfits
,
and Pink Outfit Ideas. Experience the charm of our Tube Top Outfits,
Crop Top Outfits
, Sundress Outfit Ideas, Resort Wear, Beach Wear, Pool Outfits, and
Jury Duty Outfits
.
Birthday Dress FAQs
How to dress for a birthday party?
Dressing for a birthday party is all about embracing the occasion and expressing your personal style. Understand the mood of the event - is it casual or formal? Consider the venue and season as well. Pair your chosen dress with complementary accessories and shoes, and remember, confidence is your best accessory. Lastly, opt for comfort to ensure you enjoy your celebration to the fullest.
Which dress is best for a birthday?
The best dress for a birthday is one that makes you feel confident and beautiful. It should resonate with your personal style and suit the nature of the event. From elegant maxi dresses for a sophisticated soirée to flirty mini dresses for a night out, the options are endless. It's your special day - choose a dress that makes you feel special.
What dress to wear for a birthday party?
The dress you wear to a birthday party depends on the nature of the event. If it's a casual backyard gathering, a breezy sundress or a chic jumpsuit would be perfect. For a formal evening event, opt for a cocktail dress or a sleek gown. Don't forget to accessorize appropriately and wear comfortable shoes. Remember, your outfit should not only be stylish but also suitable for the occasion.
Where to shop for birthday dresses?
There are countless places to shop for birthday dresses, both online and offline. Online platforms like ASOS, Revolve, and Zara offer a wide range of styles and sizes. If you prefer trying on outfits before buying, department stores like Macy's or Nordstrom might be your best bet. Don't forget to check out local boutiques too - you might just find a unique piece that's perfect for your special day.
Final Thoughts
Your birthday is a time to celebrate you, and the perfect birthday outfit can help make it a day to remember. Through this journey, we've explored an exciting collection of styles and dresses, perfect for every type of birthday party. From the timeless elegance of a black mini dress to the sparkle of a glitter shift dress, the options are endless.
Remember, it's not just about the outfit itself, but about how you wear it. The right accessories, shoes, and bags can elevate your look and express your personal style. The joy of shopping for your birthday dress is in the anticipation and the early access to an assortment of styles for the upcoming season. It's all about finding the dress that makes you feel fabulous, confident, and ready to steal the spotlight.
Above all, remember that the best outfit you can wear is your confidence. This birthday, love your style, embrace your individuality, and shine bright. After all, it's your day to take center stage. Happy birthday!
Other Posts You May Like
Immerse yourself in our exclusive style guides and explore a world of fashion possibilities! Our posts are brimming with chic and on-trend outfit inspirations!
Comments