This post may contain affiliate links, please see our privacy policy for details.
The best part of Thanksgiving, other than the food, is getting the family together. This year, make your feast even more special with a beautiful new Thanksgiving tablecloth. Whether you want something traditional or modern, there's sure to be a style here that will suit your taste. And who knows, maybe one of these tablecloths will become a new family tradition. Read on to see our top 10 picks for Thanksgiving tablecloths.
How We Choose
The right tablecloth can really tie the whole room together and set the tone for your holiday celebration. But with so many options out there, how do you choose the perfect one? Here are a few things to keep in mind as you shop for a Thanksgiving tablecloth this year.
Functionality Matters
First and foremost, you want to make sure that your tablecloth is going to actually do its job—which is to protect your table! A lot of holiday celebrations involve food (what's Thanksgiving without turkey and stuffing?), which means there's a good chance something is going to spill. You'll want to choose a tablecloth that's easily wipeable in case of any accidents. Bonus points if it's machine washable, too!
Think About Your Table's Shape
Not all tables are created equal—and that includes their shape! Believe it or not, the shape of your table can actually dictate what kind of tablecloth will look best. For example, a round table looks beautiful with a similarly shaped runner down the center, whereas a rectangular table can handle just about any size or shape of tablecloth. Keep the shape of your table in mind as you shop so you can narrow down your options.
Don't Be Afraid to Break Tradition
There's no rule that says your Thanksgiving table has to be covered in traditional fall colors like orange, red, and brown. If you want your feast to have a more modern feel, opt for a geometric print or even something black and white. The sky (or rather, the Internet) is the limit when it comes to style—so don't be afraid to get creative!
You'll also want to think about style when choosing your Thanksgiving tablecloth. Do you want something solid or patterned? What color scheme do you want? There are so many choices when it comes to style that it's easy to get overwhelmed. But if you keep your theme in mind, it will be much easier to narrow down your options.
Best Cotton Tablecloth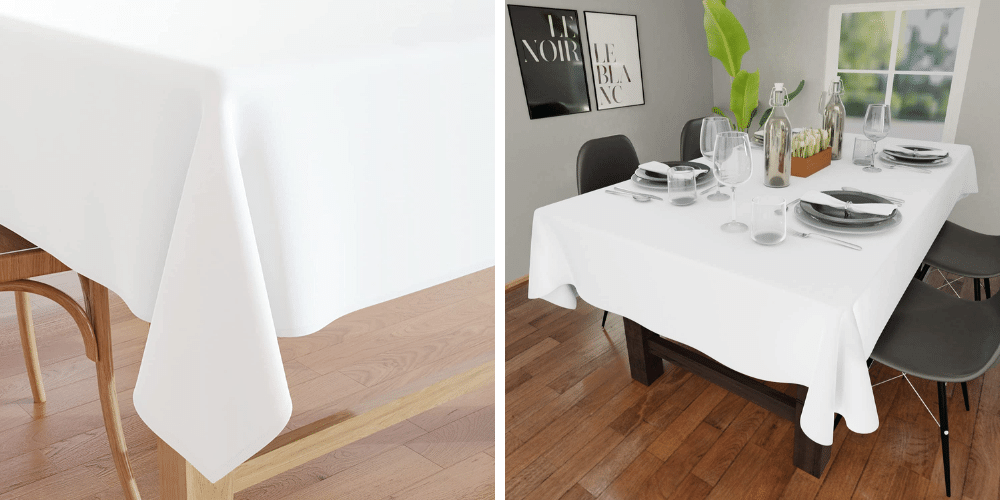 If you're looking for something classic and timeless, this 100% cotton tablecloth is a perfect choice. The crisp white color will go with any style of decor, and it can be easily dressed up or down. Plus, it's machine-washable, so you won't have to worry about spills. Pair these simple solid colors easily with different types of crockery, tablecloths, linen, and decor accessories. Our canvas weave cotton fabric is strong and will last long. Machine washed with cold water and tumble dry to easily remove any stains. Whether you're setting the table for a casual family meal or an elegant dinner party, our tablecloth will help you create the perfect look.
Best Vintage Floral Tablecloth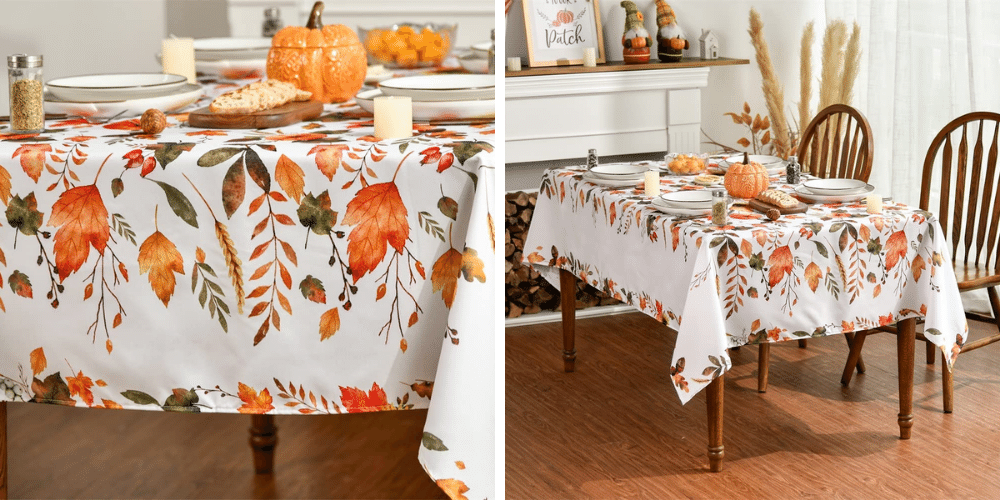 Adding a pop of color to your home decor can brighten up any room, and this vintage floral tablecloth does just that! The vibrant flowers are perfect for a kitchen dining table, and the 100% spun polyester is soft, durable, and easy to clean. Plus, the tablecloth is machine-washable and will stay the same after every wash. So if you're looking for a colorful addition to your home decor, look no further than this Vintage Floral Tablecloth!
Best Printed Fabric Tablecloth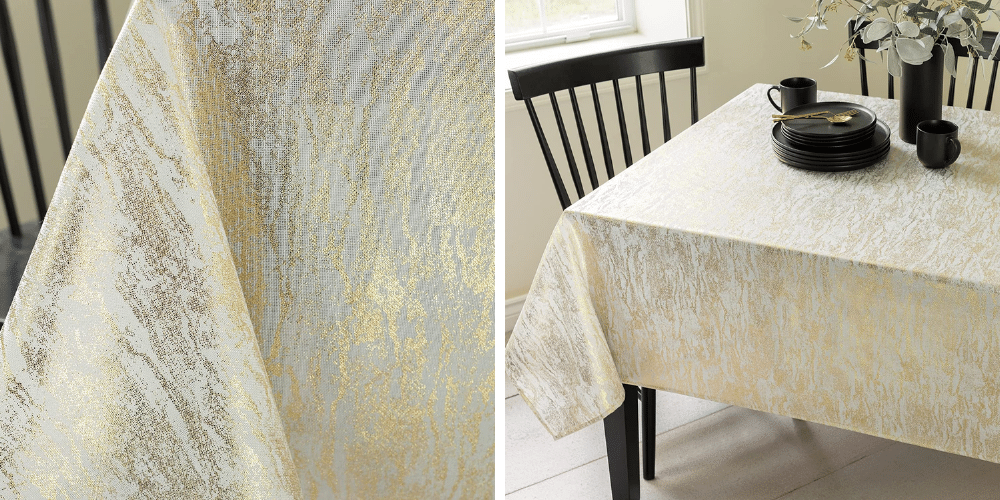 Change up your look this fall with a metallic foil printed fabric tablecloth. The ivory-gold neutral tones are perfect for the season or everyday use. Made of 92% polyester and 8% metallic plain woven, this tablecloth is durable and stylish, and easy to wipe clean in case of spills. It's also easy to care for - just spot clean or hand wash in cold water, then line dry. Give your home a fresh, new look with this tablecloth.
Best Metallic Lace Tablecloth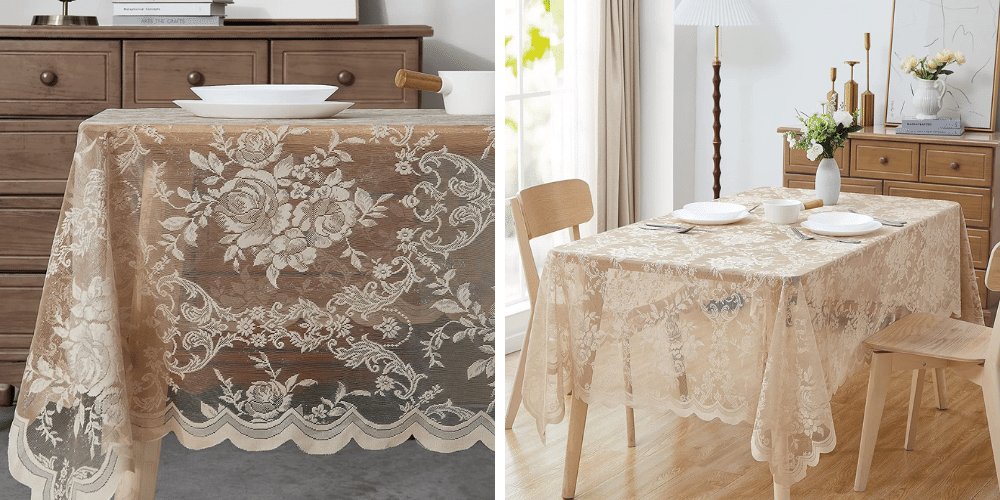 This gold lace overlay is simply stunning, and the polyester fabric is wrinkle-resistant and easy to care for. Whether you're hosting a holiday party or just want to dress up your dining room table, this tablecloth is the perfect choice. And when the holidays are over, you can simply fold it up and store it away until next year. So go ahead and add a little luxury to your life - this tablecloth is sure to make your holiday season bright.
Best Buffalo Check Tablecloth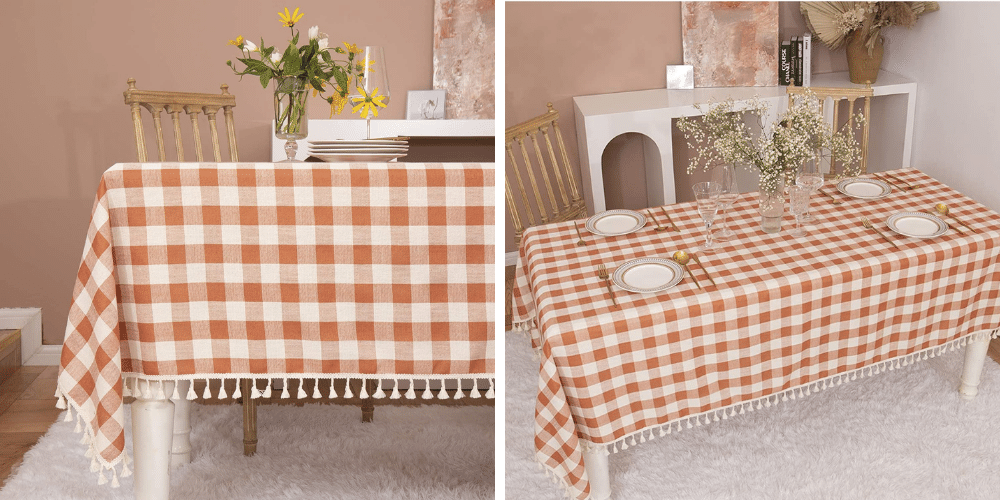 The best way to set the mood for a cozy night in is with this  Rustic Plaid Tassel Tablecloth buffalo check tablecloth. Not only does it feature the classic buffalo check pattern, but it also has jaunty tassels for a refined finish. The orange and white colors are perfect for creating a farmhouse look, and the rustic appearance is perfect for any rustic or modern decor. The cotton fabric is soft and luxurious, and the tablecloth is easy to wash. Whether you're hosting a dinner party or just eating at home, this tablecloth will instantly lift the mood of anyone who comes to eat with you.
Best Velvet Tablecloth Runner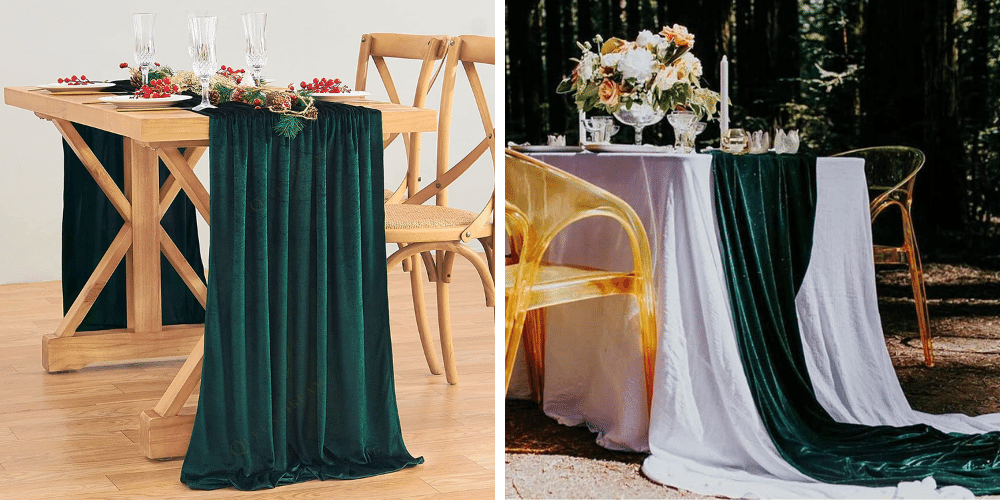 This Velvet Tablecloth runner is the perfect way to add a touch of luxury to your next meal. The rich green color is perfect for the fall season and special occasions, and the velvet fabric adds a touch of sophistication to any setting. Plus, it's wrinkle-resistant and can be machine-washed for easy care. Whether you're hosting a holiday dinner or simply want to add a bit of elegance to your everyday table, this tablecloth runner is sure to impress.
Best Christmas Tree Print Tablecloth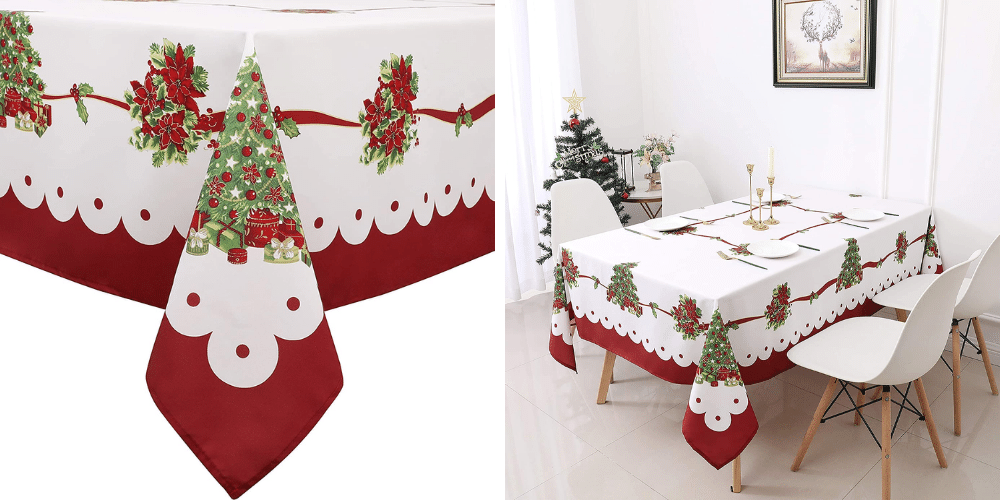 Looking for a way to add some holiday cheer to your decor? This Christmas Tree Print Tablecloth is perfect. The festive design is sure to put everyone in the holiday spirit, and the polyester fabric is wrinkle-resistant and easy to care for. Plus, it's available in multiple sizes to fit any table, and you can even purchase matching napkins to complete the look. So go ahead and deck the halls this holiday season with this tablecloth. Your guests will be impressed.
Best Harvest Print Tablecloth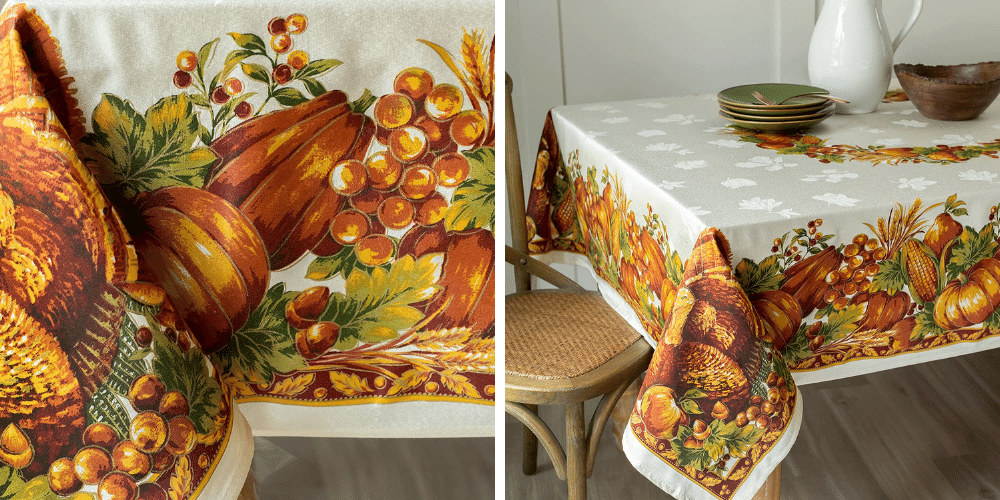 This Harvest Print Tablecloth is perfect for adding a touch of autumnal charm to your decor. The Cotton Blended fabric is durable and machine-washable, and the orange and yellow pumpkin print is perfect for fall gatherings. Whether you're hosting a Thanksgiving feast or just gathering around the table for a family dinner, this tablecloth will add a touch of autumnal charm to your decor. Best of all, it's available in a variety of special patterns and designs, so you can find the perfect one for your holiday table. So ditch the boring old tablecloth and make every meal a festive occasion with this Harvest Print Tablecloth.
Best Turkey Print Tablecloth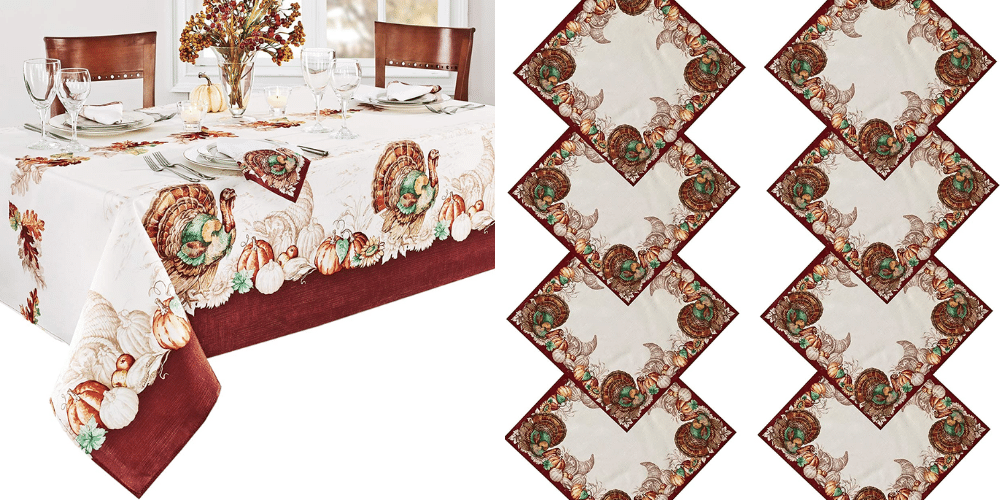 This beautiful tablecloth features a bold, large-scale Turkey print with a tableau of pumpkins, sunflowers and a toile taupe on a beige farmyard scene. The deep rust border adds a touch of elegance, while the 100% polyester construction is easy to care for and machine washable. Don't forget to purchase the matching cloth napkins to complete the look. So gather round, it's time to give thanks!
Final Thoughts
No matter what your taste, there's sure to be a tablecloth here that will make your Thanksgiving dinner extra special! So take a look at our top 10 picks for Thanksgiving tablecloths and get ready to host the best meal ever!
Other Posts You May Like:
Best Crock Pots for Every Budget
Most Gorgeous Thanksgiving Table Decor Ideas
Hosting Thanksgiving? 10 Tips to Make it a Breeze!
From Frozen to Fabulous: The Best Turkey-Cooking Tools for a Stress-Free Thanksgiving
Comments