This post may contain affiliate links, please see our privacy policy for details.
Are you tired of feeling uninspired and bored with your workouts? Do you find yourself dreading the gym day after day? Look no further, because we've got the solution for you! Introducing 20 workout accessories that will make you want to hit the gym every day.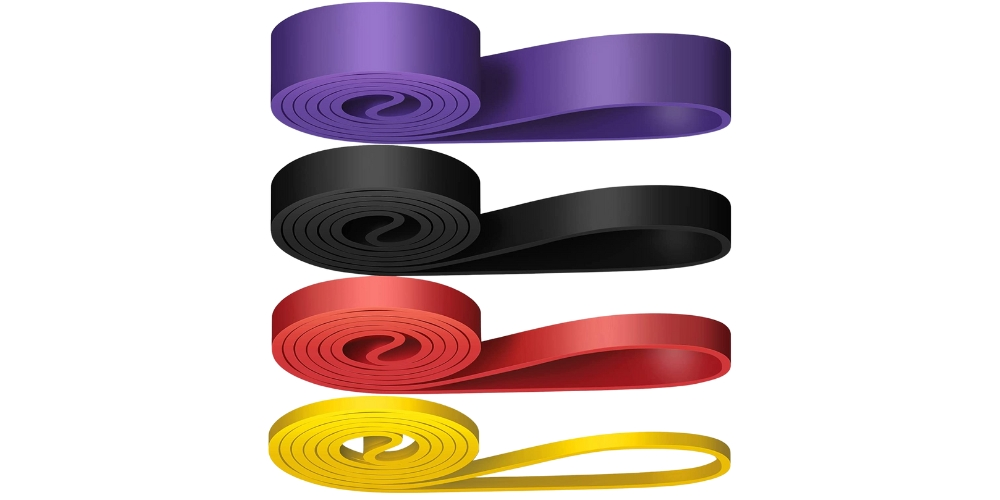 These versatile bands are great for toning and strengthening your muscles, and they're easy to pack in your gym bag. Made from 100% high-grade natural rubber, these bands are designed to withstand even the most intense workouts without snapping or losing their elasticity.
This set includes four different bands in yellow (5-10 lbs), red (15-30 lbs), black (30-60 lbs), and purple (60-100 lbs), allowing you to gradually increase the challenge as you get stronger. And with 81 inches in length, you can use these bands alone or combine them for even more variety.
But the versatility doesn't stop there. These resistance bands are suitable for a wide range of exercises, from calorie-burning cardio to muscle-building and fat-shredding workouts. Target your arms, shoulders, chest, glutes, legs, and more for a full-body workout that can be done anywhere.
And when we say anywhere, we mean it. These bands are lightweight and come with a waterproof bag, making it easy to take your workout with you on the go. Whether you're traveling, at home, or at the gym, you can continue to build and tone your muscles.
But the best part? This resistance band set makes a great gift for anyone looking to expand their home gym, start a fitness regimen, or even incorporate physical therapy into their routine. Whether you're a beginner or a seasoned fitness enthusiast, this set is sure to meet all of your workout needs.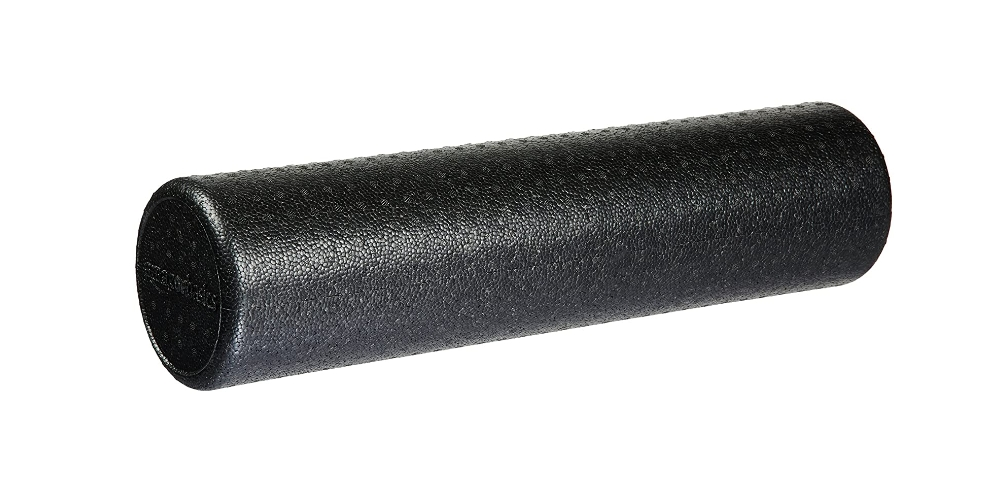 Sore muscles are no match for a foam roller. Not only does it help with recovery, but it also improves flexibility and range of motion.
This foam roller is made from high-density polypropylene with molded edges, providing the firmness you need for deep tissue massage and myofascial release. Say goodbye to knots and tension and hello to pain-free movement.
But the benefits don't stop there. The foam roller can also be used for balance and strengthening exercises, making it a versatile addition to your workout routine. Whether you're a runner, weightlifter, or just looking to improve your overall fitness, the foam roller can help.
And the best part? The foam roller is lightweight, easy to clean, and comes in a compact size (approximately 12 x 6 x 6 inches) so you can take it with you wherever you go. Say goodbye to the bulky foam rollers of the past and hello to a portable, convenient solution for all your muscle recovery needs.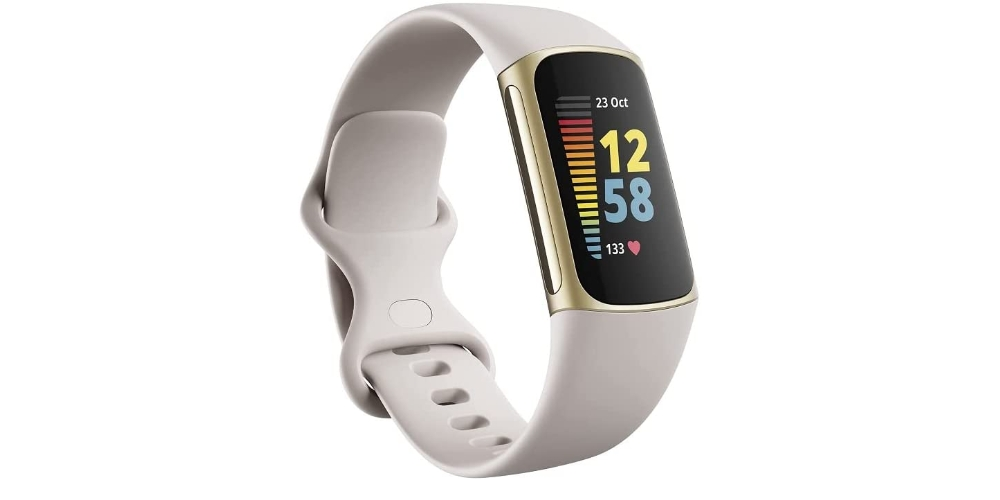 The Fitbit Charge 5 is a highly advanced fitness and health tracker that offers a range of features to help you optimize your workout routine and monitor your overall health. It features a Daily Readiness Score that uses data from your activity and heart rate to determine if you should focus on exercise or recovery and a Stress Management Score that uses an on-wrist EDA sensor to measure your body's response to stress. The Health Metrics dashboard tracks important health metrics such as SpO2 and heart rate variability, while the built-in GPS allows you to track your pace and distance during outdoor activities without the need for your phone.
The Charge 5 also includes a new color touchscreen display that's two times brighter than the Charge 4, making it easy to view your stats even in daylight. With up to 7 days of battery life, you can go a full week without having to worry about recharging. The device also tracks your sleep, giving you a daily Sleep Score and detailed graphs of your time in light, deep, and REM sleep, allowing you to see how you can improve your sleep and wake up feeling refreshed and energized.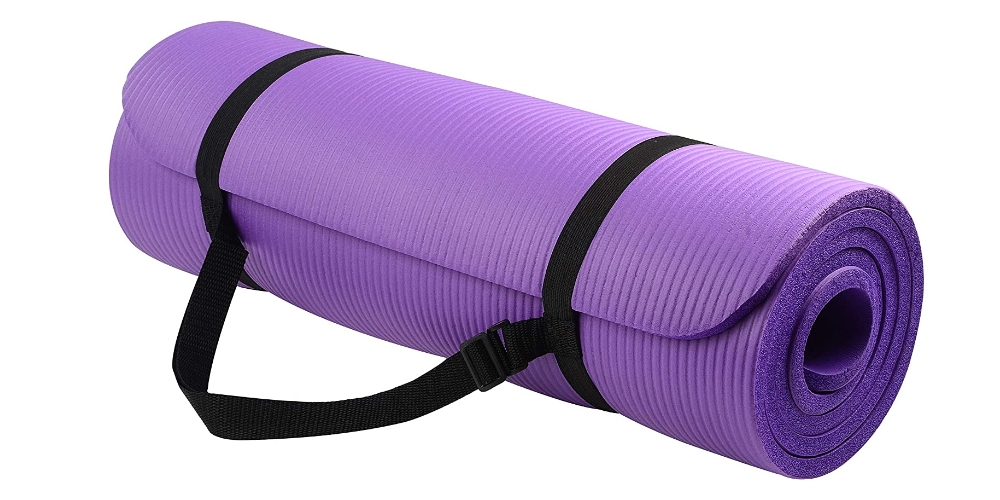 BalanceFrom yoga mat is essential for any yoga practice. It provides a non-slip surface for your feet and hands, and it also adds comfort to your practice. With a size of 71" long and 24" wide, this mat is designed to accommodate people of all shapes and sizes, making it perfect for yoga enthusiasts of all levels. The mat is also 1/2'' thick, with a high-density foam material that will comfortably cushion your spine, hips, knees, and elbows on hard floors, providing maximum comfort during your practice.
Another great feature of this yoga mat is its moisture-resistant technology. This makes it easy to clean with soap and water, ensuring that your mat stays hygienic and free from bacteria and germs. The mat also comes with a convenient carrying strap, making it easy to transport to and from your yoga studio or home practice space. The included yoga blocks will provide additional support and stability during your practice, making it easier to perform a wide range of poses.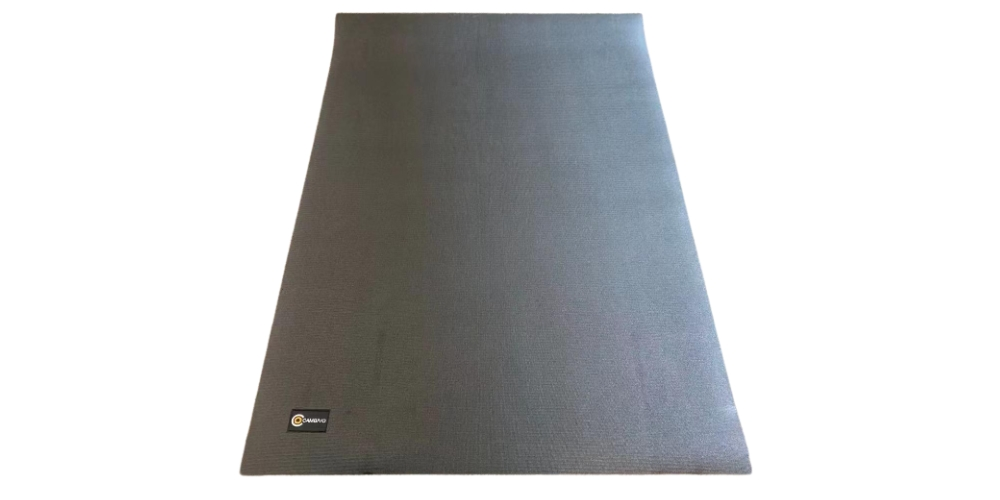 A workout mat is an essential piece of workout equipment for any home gym. Not only does it provide a comfortable and non-slip surface for your feet and hands, but it also protects your floors from damage.
With a size that covers 24 square feet, twice as much as a standard yoga mat, this gym mat is suitable for all high-intensity exercises, including HIIT, weightlifting, and Zumba. The upgraded high-density foam technology provides extra cushion and support, making it an excellent choice for high-intensity training.
Not only is this workout mat comfortable, it's also safe and eco-friendly. Made of high-quality materials, the CAMBIVO cardio mat is free of latex, phthalates, and silicone. It's durable, tear-resistant, and wear-resistant, making it perfect for home workouts.
The double anti-slip layers provide unmatched grip and comfort, ensuring that you have more friction and less slip while holding poses. The unique dot pattern at the bottom offers superior traction, keeping the gym floor mat in place on hard or soft floors. The shoe-friendly surface allows you to work out with or without shoes, making it a versatile choice for your home gym.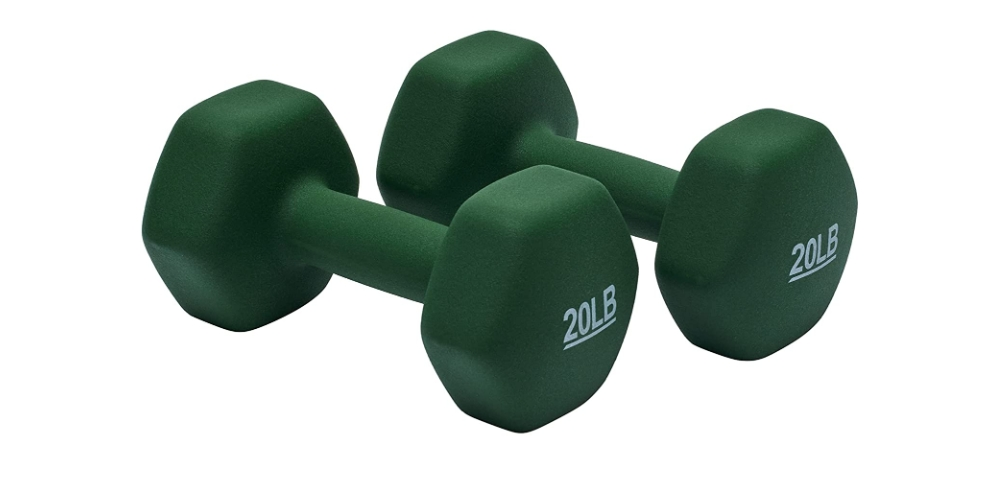 Whether you're lifting weights or doing bodyweight exercises, dumbbells are a great way to add resistance to your workout. With 12 weight choices ranging from 1 lb to 60 lbs, you can find the right weight for your desired workout. The neoprene coating on these dumbbells provides a secure, non-slip grip, even during the toughest of workouts. This means you can focus on your exercises and not worry about the dumbbells slipping out of your hands.
The printed weight number on each end cap makes it easy for you to quickly identify which weight you're using. This is especially helpful if you're using multiple weights during a workout, as it saves you time and ensures you're using the correct weight for each exercise. The hexagonal shape of the dumbbells also prevents them from rolling away, making it easier to store them between workouts.
Whether you're a beginner or a seasoned fitness enthusiast, these neoprene workout dumbbells are the perfect tool for building strength, toning muscles, and improving your overall fitness. With 11 color choices to choose from, you can also add a pop of color to your workout routine.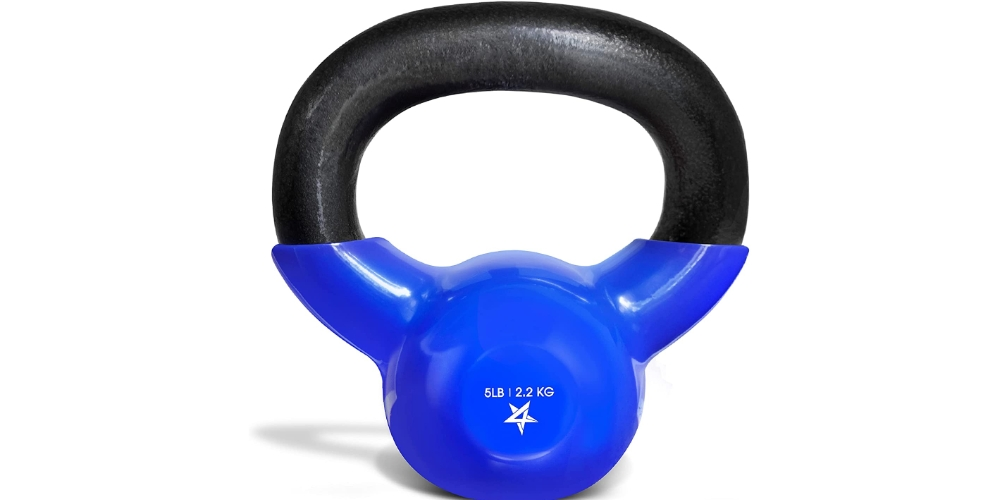 Kettlebells are versatile pieces of equipment that can be used for strength training, cardio, and even yoga. They are the perfect addition to any home gym equipment. These kettlebells are made of high-quality cast iron, which ensures long-lasting durability and reliability. The kettlebells have a vinyl coating that not only adds to their appearance but also prevents corrosion, reduces noise, and protects flooring.
The slightly textured handle provides a comfortable and secure grip, even for high-rep workouts. The textured handle is also smooth and eliminates the need for chalk, making it a convenient and low-maintenance option. The flat bottom of the kettlebells makes them ideal for exercises that require stability, such as renegade rows, handstands, mounted pistol squats, and more.
The wide range of weights available makes these kettlebells suitable for anyone looking to improve their fitness. Whether you're a seasoned fitness enthusiast or just starting out, these kettlebells are ideal for anyone and any age or gender.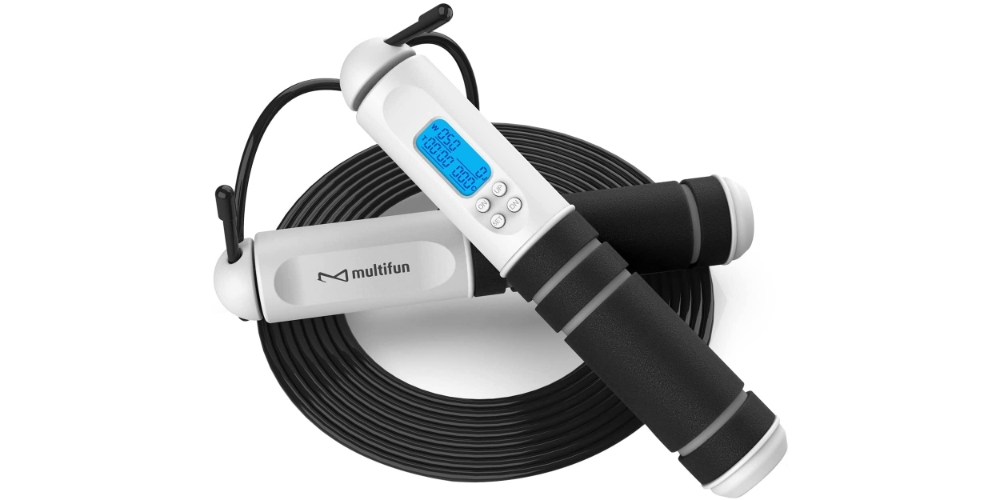 This classic piece of equipment is an effective form of cardio and a fun way to get your heart rate up. With its HD LED display, you can set your weight, track the time you spend jumping, and see the number of circles you've completed and the calories you've burned. This makes it easy to see your progress and set new goals for yourself.
This innovative jump rope is also built to last, with a durable steel rope that's protected by a PVC sheathing to prevent cracking and breaking. The rope is also adjustable, so you can quickly set it to the right length for your height. This rope also features smooth and fast rotation, thanks to its built-in high-quality ball bearings. This makes it easy to jump at a fast pace and get a great workout, no matter what your fitness level is.
In addition to its performance features, the rope is also designed for maximum comfort. The ergonomic, non-slip handles are easy to hold and comfortable to use, so you can keep jumping for longer and get a better workout.
Overall, if you're looking for a jump rope that will help you get the most out of your fitness routine, the Multifun Jump Rope is a great choice.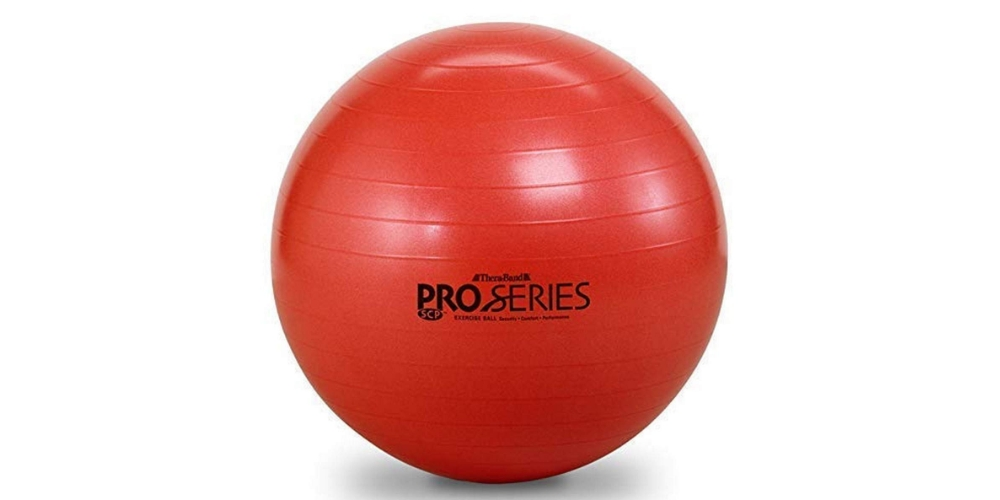 Whether you're looking to improve your posture, balance, and core stability or want to prevent back and spine pain, this stability ball is the perfect addition to your workout or rehab routine. Measuring 55cm in diameter, this ball is designed for individuals ranging from 5'1" to 5'6" tall. Both men and women can use it to stretch the limits of their physical fitness by integrating stability exercises into their routines. With regular use, you'll develop strong core muscles that can help prevent falls.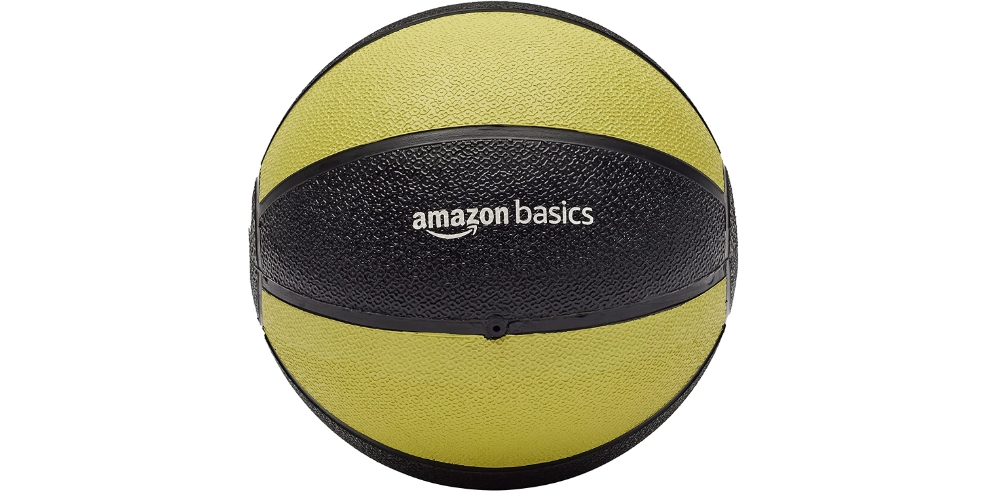 This medicine ball is constructed with sturdy, firm rubber that can withstand repeated tosses, slams, and other intense movements. The lightly textured surface of the ball provides a superior grip, making it easy to hold and control during your exercises.
This medicine ball is designed for classic medicine balls workouts such as ball tosses, weighted twists, squats, sit-ups, and more. The ball's weight and size make it ideal for developing core strength, balance, and coordination. With a diameter of 7.6 inches and a 6 lbs weight, this ball is just the right size for both men and women to use for upper, lower, and full-body exercises.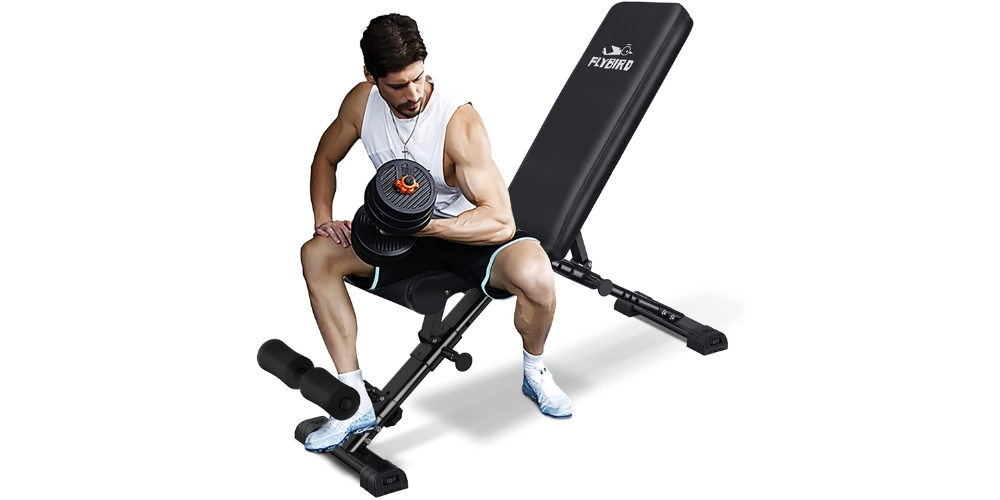 An adjustable weight bench is a must-have for any home gym. It's versatile and can be used for a variety of exercises. This bench is made of commercial-grade steel that has passed thousands of weight tests, so you can be sure it's safe to use for all of your exercises. With a weight capacity of 800 pounds, this bench is designed to last for years to come.
One of the best things about this weight bench is its ease of adjustment. You can quickly and easily change the angle of the backrest and seat with the fast bolt mechanism, so you can find the perfect position for your workout. The bench has seven back positions and three seat positions, making it ideal for full-body exercises.
Comfort is key when it comes to a weight bench, and the FLYBIRD Weight Bench delivers. The 10.6-inch backrest and seat are both made of durable PU leather and filled with a 2-inch layer of soft foam padding. This will allow you to exercise for longer periods of time without discomfort.
When your workout is finished, the FLYBIRD Weight Bench can be easily folded and stored away, whether you want to put it in the corner of your room or under your bed, this bench is designed to be both portable and space-saving.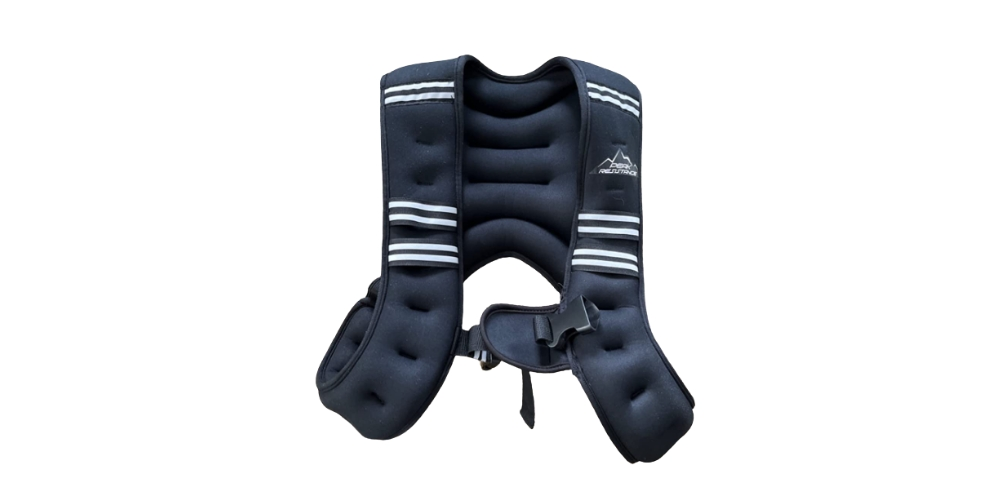 A weighted vest adds extra resistance to your bodyweight exercises, making them even more challenging and effective. This weighted vest is designed with comfort in mind, featuring an adjustable front belt and soft neoprene material that fits comfortably against your skin. This vest also won't slip or slide during any activity, so you can focus on your workout without distractions.
In addition to its comfort and stability, this vest also offers versatility. The mesh pocket on the back allows you to add extra-weight pockets, so you can customize the vest to your specific fitness needs.
Whether you're looking to build strength, improve balance, or enhance your athletic performance, the Aduro Sport Weighted Vest is the perfect exercise equipment to help you achieve your fitness goals.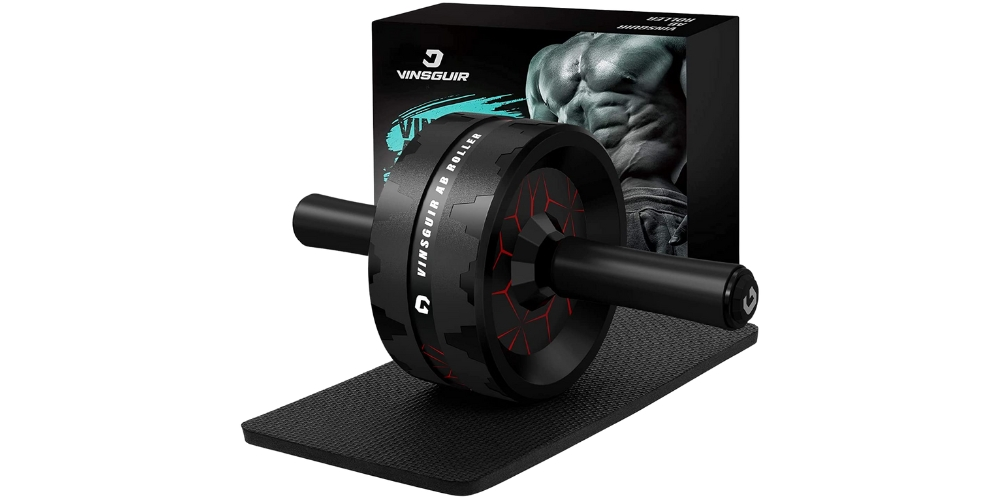 This dual-wheel ab roller is a game-changer in the world of core workouts. With its extra stability and support compared to traditional single-ab wheels, you'll be able to take your workout routines to the next level. The included knee pad is also a great touch, making sure you can exercise in comfort without sacrificing results.
The ab roller is designed to target your abdominals, hip flexors, and back muscles. With consistent use, you'll be amazed at how much faster you'll see results while also reducing your risk of injury. And the best part? You don't need a bulky gym machine or heavy equipment to get the job done. The compact size of this ab roller makes it easy to take it with you wherever you go, whether it's to the gym, office, or just your living room.
Not only is this ab roller easy to use and portable, but it's also built to last. The high-strength stainless steel shaft can hold a maximum weight of 500 pounds, ensuring that you can exercise safely and with confidence. The ultra-wide 3.2-inch roller also provides excellent balance and stability, so you won't have to worry about deviating sideways during your workout. The EVA rubber cotton handles are non-slip and comfortable to grip, making every exercise a breeze.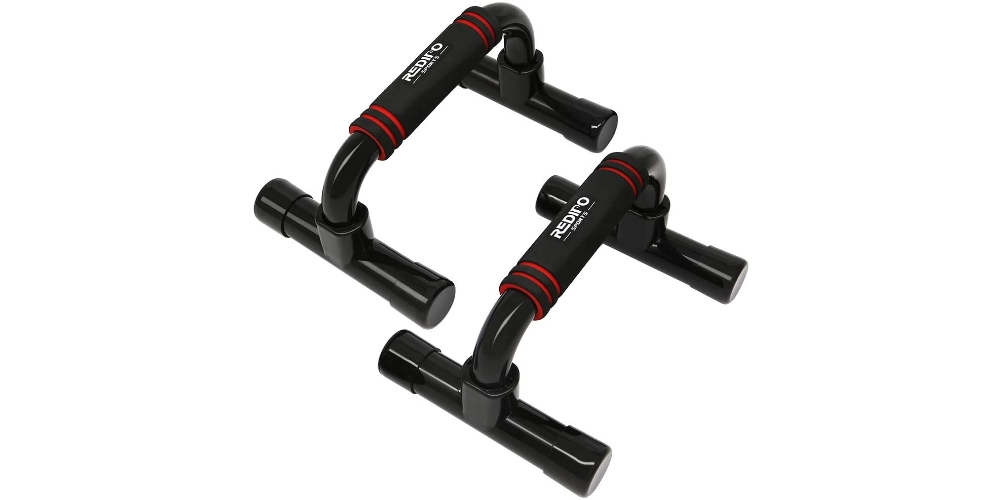 Push-up bars are an essential piece of equipment for any fitness enthusiasts looking to take their workout to the next level. Whether you're just starting out or have been lifting weights for years, these bars are designed to engage more muscles and provide a more effective workout experience. The ergonomic design of the bars ensures that you get the most out of every rep, while the smooth rotation and sturdy construction make them built to last.
One of the most notable features of these push-up bars is the way they engage more muscles. Unlike traditional push-ups, where the focus is primarily on your chest and triceps, push-up bars allow you to engage a wider range of muscles, including your shoulders, back, and core. This not only makes your workout more efficient but also helps to reduce the risk of injury, as you're able to distribute the weight more evenly across your body.
The ergonomic design of these bars is another key feature that sets them apart from other exercise equipment. The bars are designed to fit comfortably in your hands, with a strong and comfortable grip that ensures you can focus on your workout without worrying about slipping or losing your grip. Additionally, the smooth rotation of the bars allows you to move more freely, giving you a full range of motion that helps to engage even more muscles.
In terms of construction, these push-up bars are built to last. They're made with durable and sturdy materials, so you can be confident that they'll hold up even with heavy use. And with their compact size and lightweight design, they're easy to store and transport, making them an excellent option for people who like to work out at home or on the go.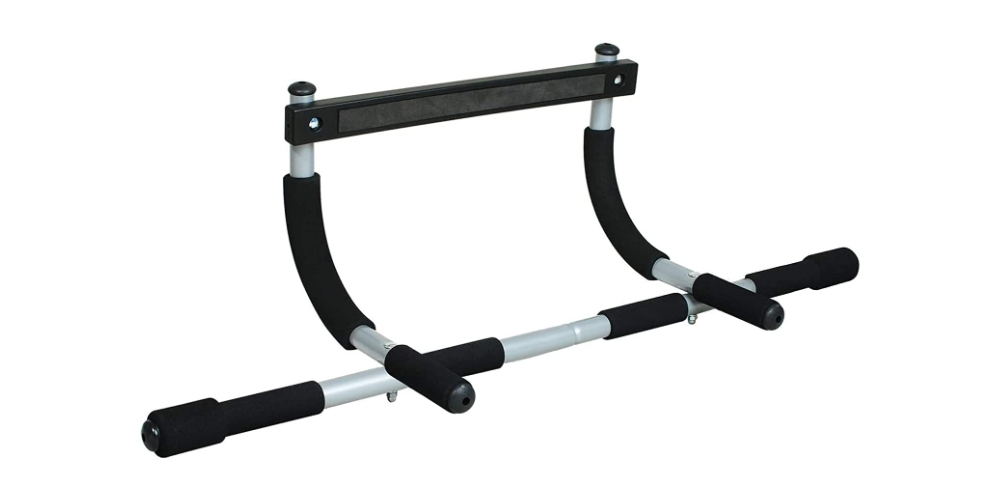 The Iron Gym Pull-Up Bar is the perfect tool for anyone looking to build a powerful upper body. Whether you're a seasoned athlete or just starting out, this bar offers a range of exercises that can help you achieve your fitness goals. With three grip positions - narrow, wide, and neutral - you can target different muscles and get a full-body workout.
One of the standout features of this pull-up bar is its heavy-duty construction. Made from steel, it's built to last and offers the sturdiness and reliability you need for your upper body exercises. The bar handgrip is also designed for comfort, with professional-grade foam that ensures you can work out for longer without experiencing any discomfort or pain.
Another great feature of the Iron Gym Pull-Up Bar is that it fits most doorways. Measuring 20x3.25x8 inches, it's designed to fit into door frames up to 35.4 inches wide. This makes it perfect for indoor workouts, especially if you're short on space.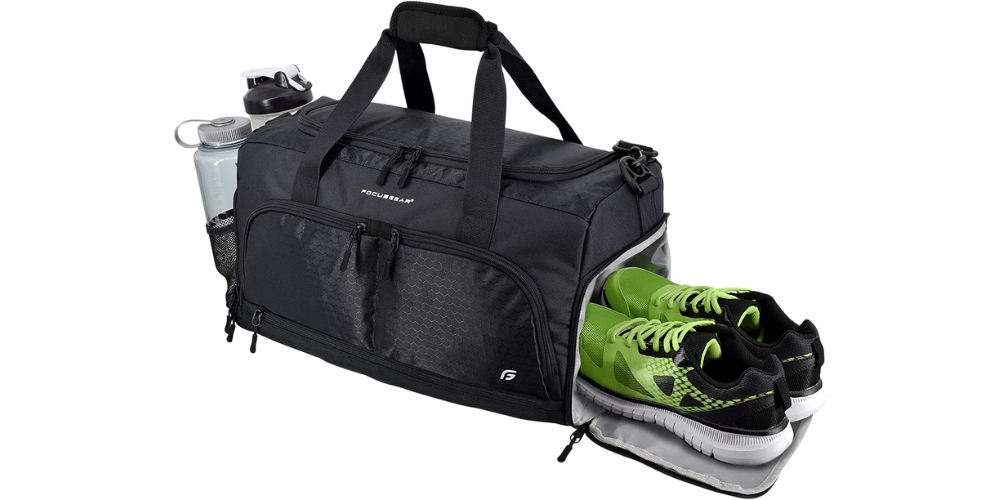 The Focus Gear Gym Bag is the ultimate solution for anyone looking to stay organized and prepared for their workouts. With 10 compartments in total, this bag makes it easy to keep all your gear in one place and easily accessible.
One of the standout features of this bag is its large internal phone pocket and key loop. You'll never have to dig through your bag to find your phone or keys again. The two external zippered pockets are perfect for storing other small items like your wallet, headphones, or keys. The velcroed back pocket is also a great feature, giving you quick access to items you need to grab on the go.
Another great feature of this gym bag is the dedicated compartment for separating your dirty shoes from the rest of your gear. This is especially useful for those who participate in activities like swimming practice or just want to keep their shoes separate from their clean clothes. This compartment is designed to fit up to a men's size 14 shoe.
In addition to the shoe compartment, this bag also includes two external mesh pouches designed to fit a 32oz water bottle and standard-size protein shaker. This is perfect for those who need to stay hydrated during their workouts and want easy access to their water bottle.
The water-resistant bottom panel of this bag helps to keep it dry and maintain its structure, while the reinforced stitching on key stress points ensures that this bag is built to last. Whether you're hitting the gym, going for a swim, or just need a durable and organized bag to carry your gear, the Focus Gear Gym Bag is a perfect choice.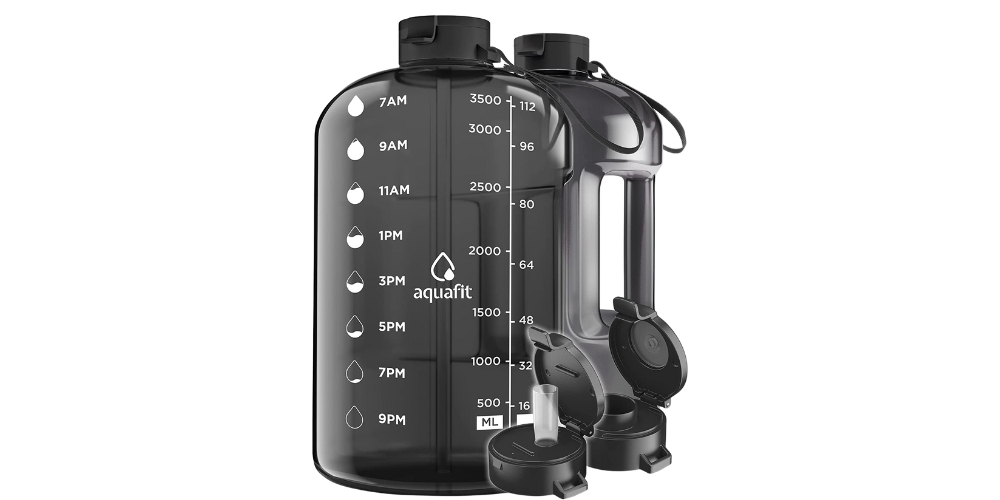 This BPA-Free Water Bottle is the perfect solution for anyone looking to stay hydrated and meet their health and fitness goals. This one-gallon water bottle comes with time markers on the side, allowing you to easily track your daily water intake and make sure you're getting enough fluids throughout the day.
One of the standout features of this water bottle is its large 1-gallon capacity. You won't have to constantly refill your bottle throughout the day, as this large water bottle is perfect for an on-the-go lifestyle. It's also durable, lightweight, and portable, making it the perfect choice for anyone who wants a convenient and easy-to-use water bottle.
Another great feature of this water bottle is that it comes with two different lids, one with a silicone straw and one without. This gives you the flexibility to switch up your drinking style based on your preferences, activity, and more. The included handling strap is also a great bonus, making it easy to carry this water bottle wherever you go.
This bottle is also designed with user-friendliness in mind. The wide mouth makes it easy to fill and clean, and the big handle makes it easy to grab and carry. The water bottle is also made of 100% BPA-free plastic, ensuring that your water is safe and healthy to drink.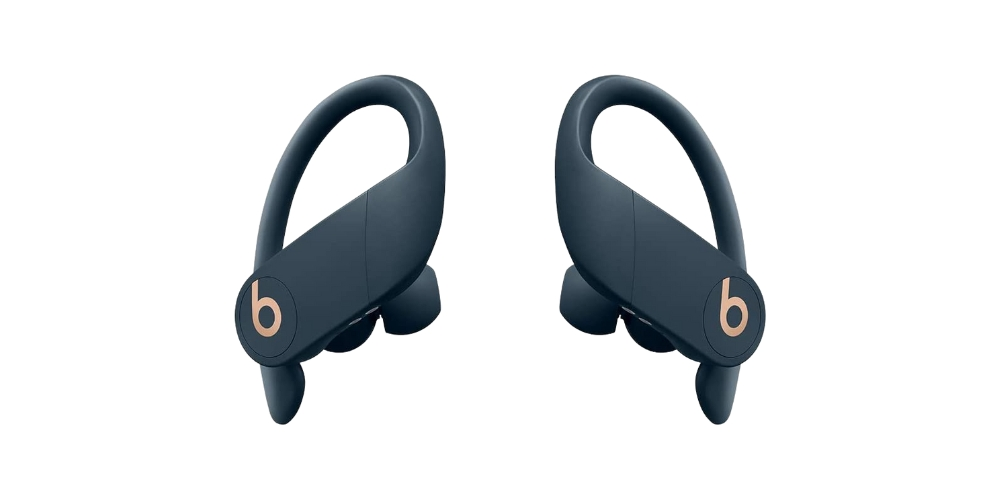 The Powerbeats Pro Wireless Earphones are the perfect choice for anyone who wants to take their listening experience during workouts to the next level. With features like volume and track controls on each earbud, voice-capable microphones, and auto play/pause, these earphones make it easy to stay in control of your music and calls.
What sets the Powerbeats Pro apart is the Apple H1 Headphone Chip and Class 1 Bluetooth technology, which provide extended range and fewer dropouts. This means you can enjoy your music and take calls without any interruptions or disruptions. Additionally, these earphones are compatible with both iOS and Android devices, making them a great choice for anyone.
Another key feature of the Powerbeats Pro is the enhanced phone call performance and call handling. With the ability to take calls from either earbud, you can stay connected without having to reach for your phone. And if you're ever in a rush, the fast Fuel technology allows you to get 1.5 hours of playback with just a 5-minute charge when the battery is low.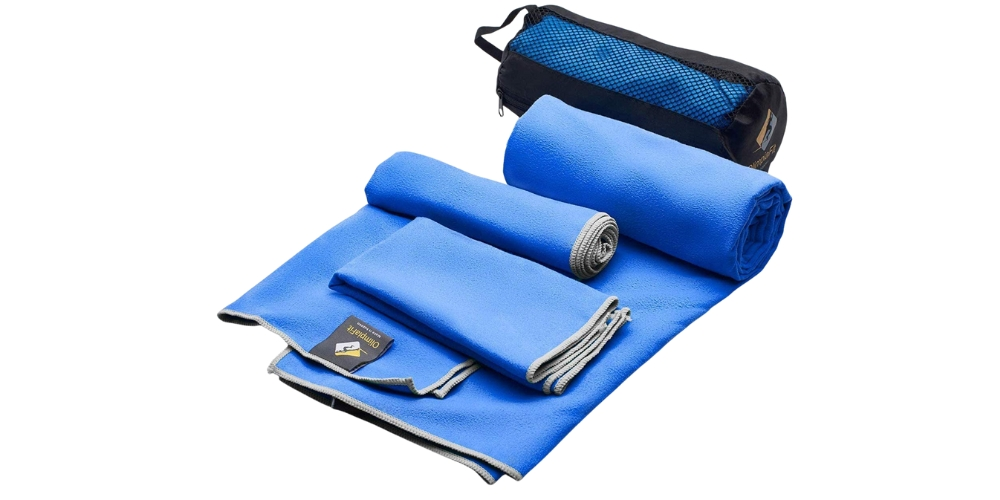 This sports towel set is designed with your active lifestyle in mind and will quickly become your new best friend for the gym, beach, or any other outdoor adventure. With its 4x smaller packable size, you can take them with you anywhere without sacrificing space in your bag.
These quick-drying towels are made with fibers that are much thinner than standard microfiber towels, making them absorbent and drying up to 3x faster. The set includes three towels in different sizes - 50"x30", 30"x15", and 15"x15" - so you can choose the right size for any occasion. Whether you use them as swim towels, gym towels, or small beach towels, you'll love their versatility.
The premium material is silky smooth, super absorbent, and odor-resistant. Unlike other towels that can get musty after drying, these microfiber travel towels will stay fresh and clean. The slip-resistant surface and extra plush microfiber make them gentle on your face, body, and skin, making them perfect for use after a shower or swim.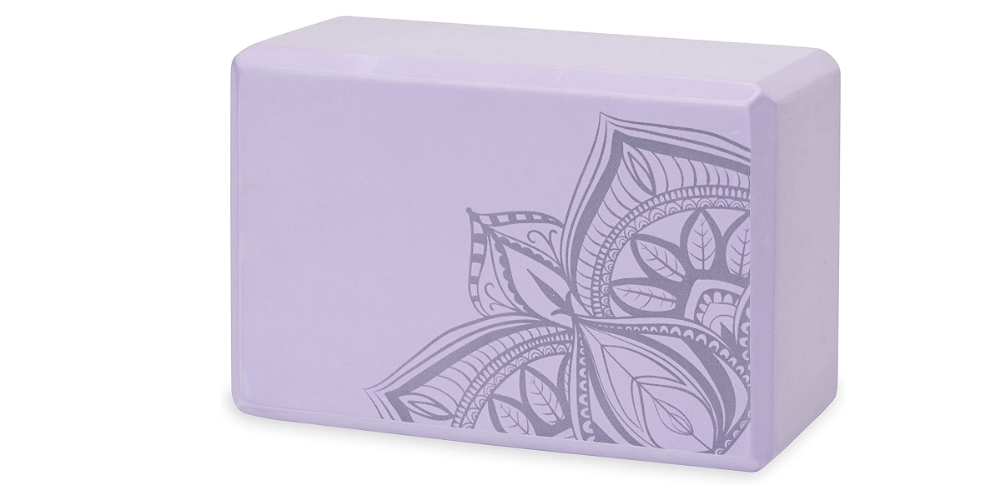 The Gaiam Yoga Block is another essential tool for your fitness journey. Designed with high-density foam that is both durable and comfortable to use, making it the perfect tool for both beginners and experienced yogis alike. The foam is lightweight and easy to handle, providing the stability you need to achieve deeper poses and improve your strength.
But that's not all! The surface of the yoga block is nonslip, ensuring that you won't have to worry about losing your grip during a pose. Whether you're practicing hot yoga or just need extra support during your downward dog, this block has got you covered.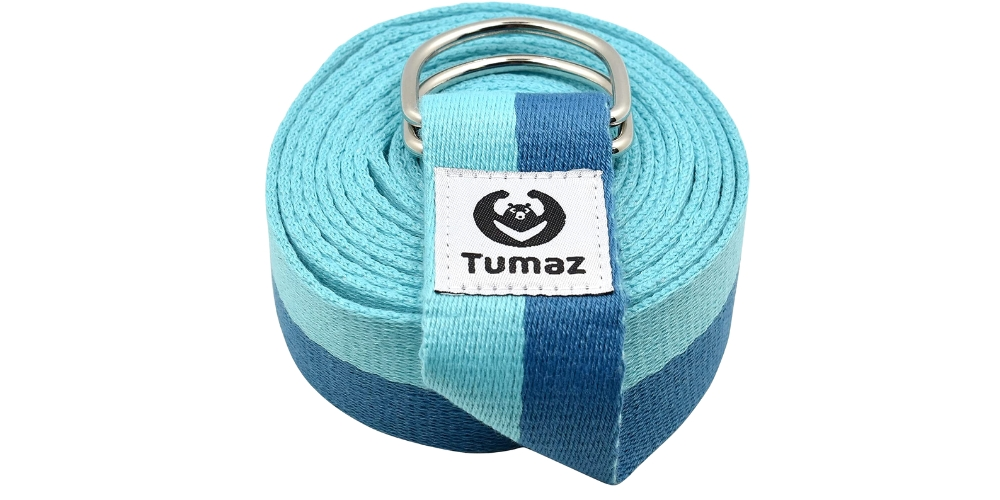 The yoga strap is a must-have for anyone looking to deepen their stretches and holds poses for longer periods of time during workout classes. This top-of-the-line yoga strap boasts a delicate texture and eco-friendly dyeing, making it not only functional but also stylish. The special tight-knit technique and extra thickness (2.5mm) ensure that the strap is comfortable to use and won't slip during even the most intense poses.
One of the standout features of this yoga strap is the strong welded D-ring buckle (4mm), which provides unmatched stability and security. With a maximum load capacity of 2,379 lbs, this yoga strap is safe enough for stretching, yoga, therapy, and all types of workouts.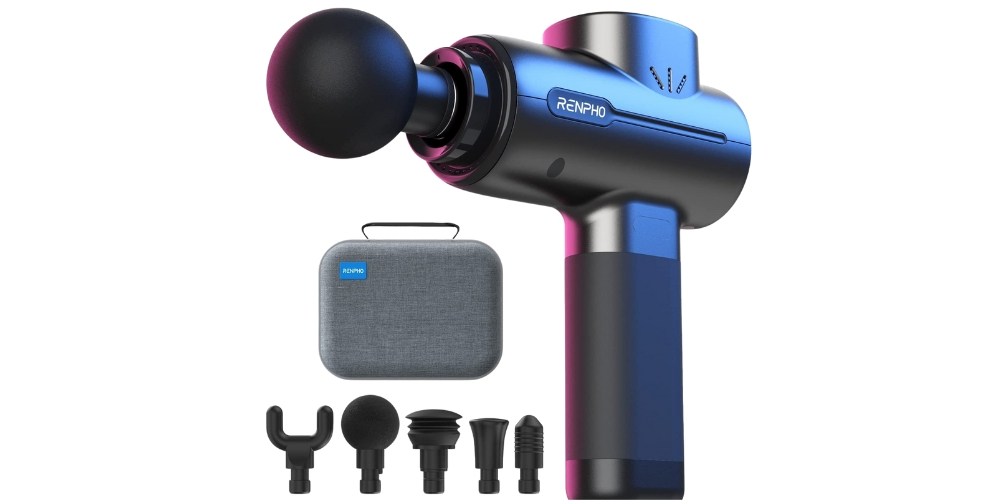 This massage gun will help soothe muscle soreness and improve muscle recovery time. This massage gun is designed with 5 different speeds and can reach up to 3200rpm, providing deep tissue massage and releasing muscle knots like a pro. And with 5 different massage heads included, you can customize your massage experience to meet your specific needs, whether you're targeting your quads, hamstrings, or neck and shoulder.
But the best part? This massage gun is easy to take with you, wherever you go. The compact design, including a silicone grip, weighs only 1.5 lbs and comes with a carrying case, making it a breeze to bring to the gym, office, school, or wherever your day takes you.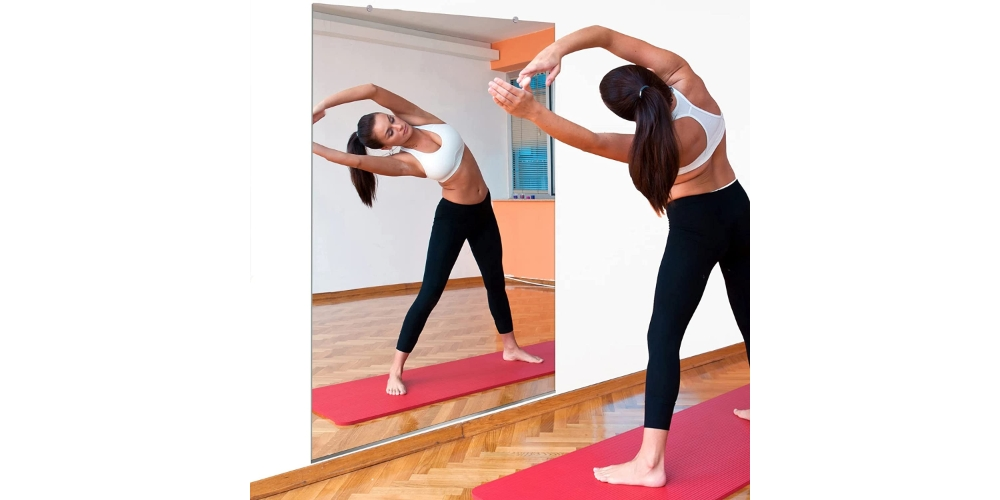 Whether you're a seasoned athlete or just starting your fitness journey, this versatile wall-mounted home gym mirror is the perfect addition to your workout space. With its large size of 48" x 32", you'll have a clear and expansive view of your entire body during your exercise routine. This makes it easier for you to focus on your form and technique, ensuring that you get the most out of your workout.
This mirror is made from a high-quality 5mm silver mirror plate with a 3-layer coating, making it durable and long-lasting. No more worrying about your mirror breaking or cracking from the impact of heavy weights or intense workouts.
But the best part about this gym mirror? It's incredibly easy to install! The mirrors come with a cap, screw, and J-bar for DIY installation, so you can set it up in no time. And if you need to cover a larger area, you can even join several pieces together.
Final Thoughts
Whether you're an experienced athlete or just starting out on your fitness journey, the right tools are essential for reaching your goals. By incorporating these 23 workout accessories into your routine, you'll never dread the gym again. They'll make your workouts more effective, comfortable, and enjoyable. With these items in hand, combined with a few of the top-rated fitness apps available today, there's no limit to what you can achieve! So don't wait another minute - start creating that perfect home gym setup now and take control of your health and wellness!
Comments