This post may contain affiliate links, please see our privacy policy for details.
Are you interested in incorporating yoga straps into your practice? If so, you have come to the right place! Today's blog post will cover all you need to know about buying a yoga strap, including the different types that are available, tips on choosing the right yoga strap for your needs, and where to buy one that suits your budget and preferences best! Let's dive in!
Our Top Picks for the Yoga Straps
What is a Yoga Strap?
The yoga strap is a multifunctional and essential tool that should be part of every yogi's practice. Constructed of multi-stitch reinforced fabric, the straps come with loops or rings to make them easier to grip. Most straps are adjustable in length and have a quick-release buckle so you can shorten or lengthen the belt in seconds. These features make it ideal for all levels, from beginners to experienced yogis, as they can adapt their poses with ease. Whether you're learning a new pose or bringing your body into deeper expression, the yoga strap will help you reach a stretch more effectively and safely.
Benefits of Using a Yoga Strap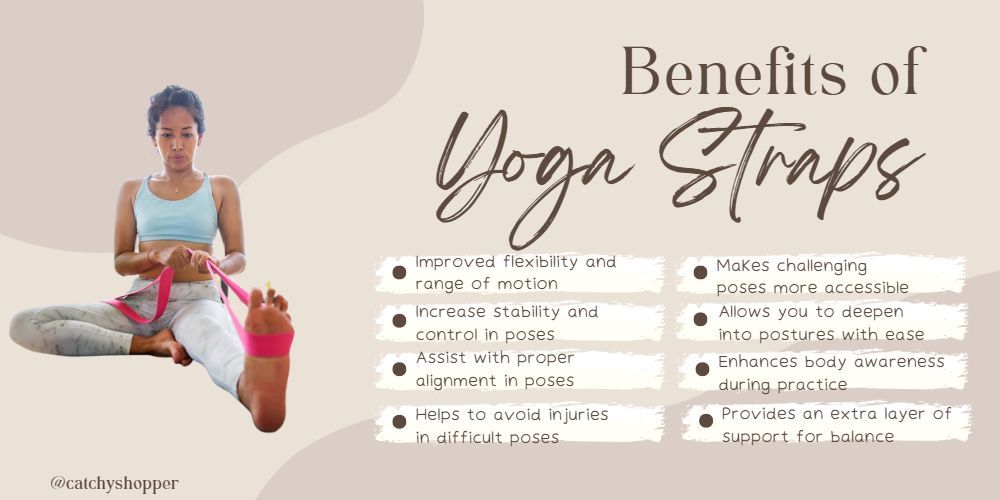 One key benefit of using a yoga strap is improved flexibility and range of motion – due to its ability to give you an extended reach through certain postures that may be too far out of reach without using the strap! It can also assist with better alignment by helping keep particular limbs in place through different postures – allowing for deeper stretches without pain or discomfort associated with improper form or overexertion during difficult poses!
Additionally, using a yoga strap helps reduce the risk of injuries associated with challenging poses as it provides an extra layer of protection when necessary – allowing for more safety within your movements! Furthermore, it makes challenging poses more accessible by giving the user additional leverage and support throughout the duration - which can be especially beneficial for those who are new to the practice!
Lastly, having a tool like this allows us an opportunity to deepen our exploration into each posture while also increasing body awareness – making us aware enough to back off when needed if something feels uncomfortable or too strenuous at any point in time!
Our Favorite Yoga Straps
Here's our in-depth review of 8 of the best yoga straps available. We've compared material, design, and features to help you decide which one is right for you. From eco-friendly materials to adjustable lengths and strength ratings, we've scoured the market to find straps that help any level of yogi get more out of their practice. Read on and find the perfect yoga strap for you!
Best Extra Long Strap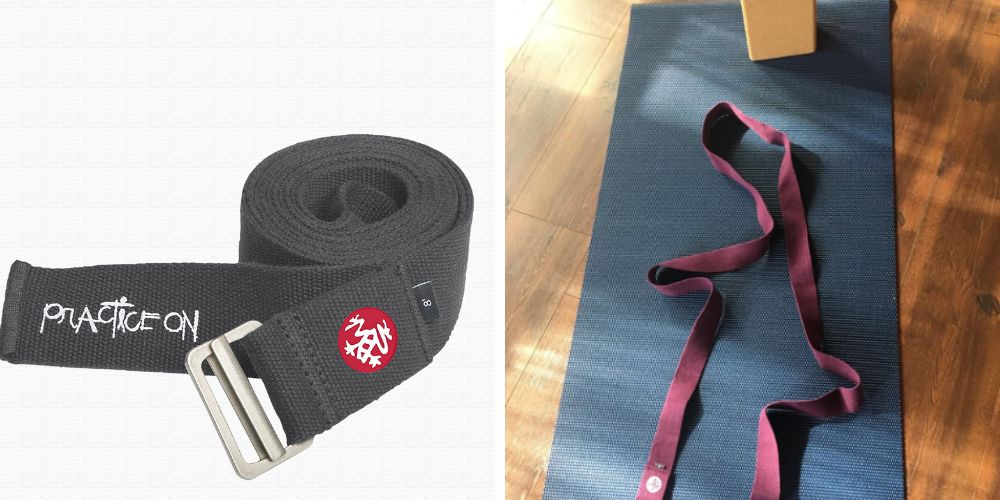 Craving a little extra support in your yoga practice? Look no further than the Manduka Align Pro Yoga Strap! These eco-friendly straps are made from 100% unbleached cotton, crafted with AZO-, lead, and heavy metal-free dyes. Plus this secure strap is up for any challenge--available as 1.75 inch wide 8 or 10 feet long options - perfect to take you even deeper into that stretch without worries of slipping out of position!
This yoga strap allows practitioners to gently pull on certain areas of their bodies to help achieve proper alignment and stability in difficult postures. In addition to yoga, this strap is great for pilates, stretching, therapy, and fitness. Anyone who wants to add safety and stability during their practice should definitely consider using a Manduka Align PRO YogaStrap!
Best D-Ring Buckle Loop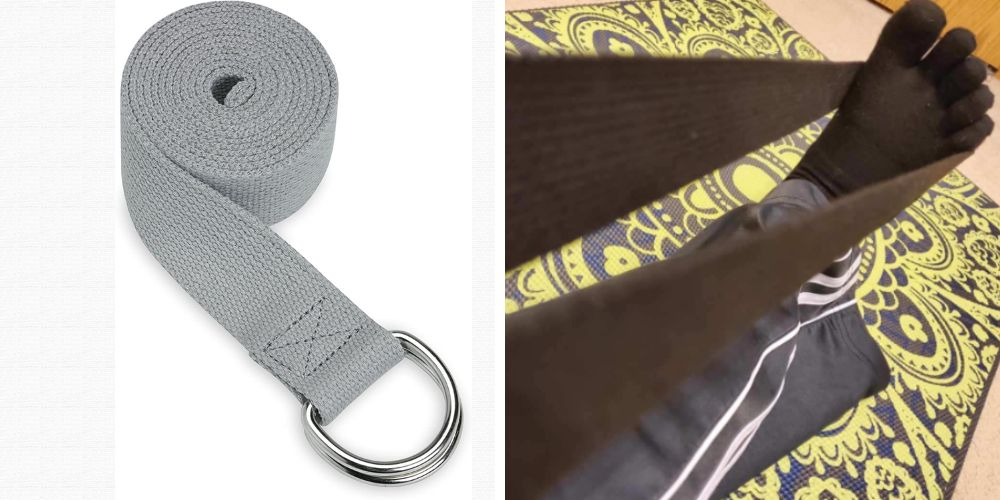 The Gaiam Yoga Strap is an excellent choice for yogis of all levels. Featuring an easy-release double-ring metal cinch buckle, the strap can be shortened and secured in place without slipping - allowing you to focus on your stretch.
Made from a durable high-quality fabric blend of polyester that won't fray or break, the Gaiam Yoga Strap comes in 1.5"W x 6'L and 1.5"W x 8'L options to accommodate every level of flexibility. Whether you're a beginner learning poses or an advanced yogi looking to increase flexibility, the adjustable belt design ensures you get the perfect fit and secure positioning every time.
Best Gripping Loops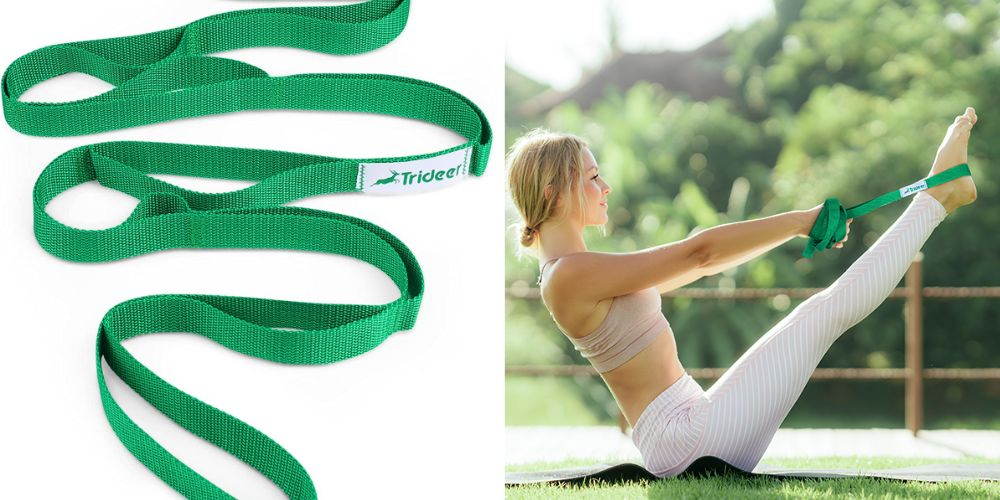 The Trideer Stretching Strap Yoga Strap is a great tool for yogis of all levels, from beginner to advanced. With its 75 in length and 1 in width making 10 loops, it can easily accommodate practitioners of any age, including seniors. Used for muscle contraction, relaxation, and deep stretching, the strap also makes great physical therapy equipment and postoperative recovery aid.
What's more, you get an exercise guide showing you how to use stretch bands in poses such as a shoulder stretch or a dancer pose to get the most benefit. No matter your level or abilities, the Trideer Stretching Strap Yoga Strap is a must-have for your practice.
Best with Quiet Cinch-Style Buckle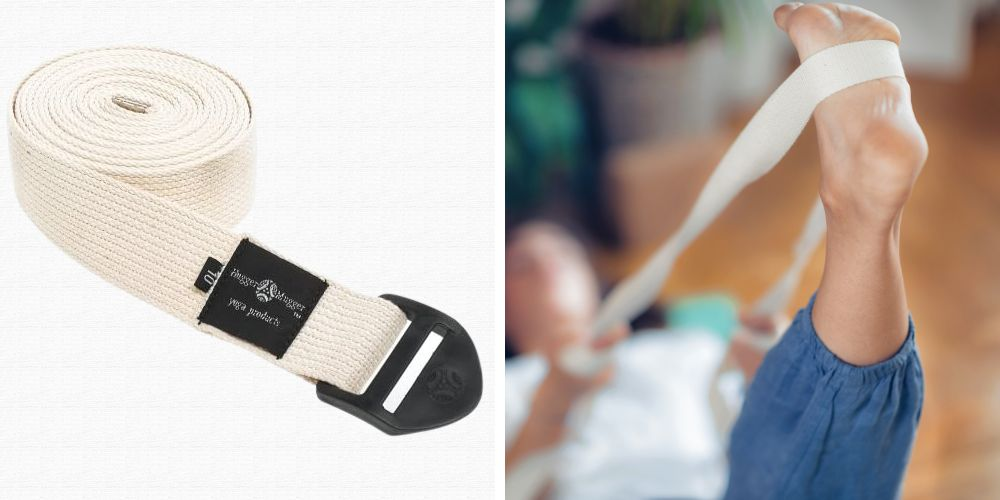 The Hugger Mugger Cinch Cotton Yoga Strap is the perfect choice if you are looking to take your practice to the next level. Its cinch-style buckle makes it easy to adjust, and its lightweight materials make it a breeze to store or carry with you in your yoga bag when on the go.
The 10-foot length of this strap is great for tall people and partner poses, while its cotton webbing is rated up to 500 lbs tensile strength means that your strap will last for many years and be able to support even the most advanced poses. Whether you are an experienced yogi or just beginning, the Hugger Mugger Cinch Cotton Yoga Strap provides strength, stability, and flexibility - everything you need to improve your practice.
Best Stylish Strap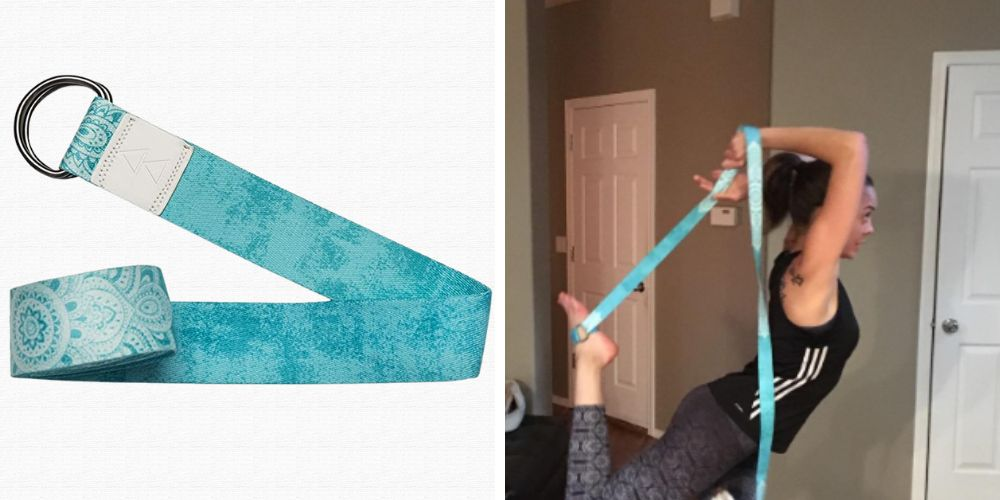 The Yoga Design Lab Yoga Strap is the perfect companion for any yogi. Featuring an innovative double-ring closure and eco-friendly, non-fade, colorful pattern webbing made from natural, water-based materials, this extra-long 8-foot strap is great for mastering challenging poses and increasing flexibility, balance, and deeper stretching. Slip-resistant and nonslip it's also recyclable, nontoxic and lightweight making it travel-friendly. It packs up super compact making it great for beginners right through to advanced practitioners of any age, gender, or size. Plus it's super easy to clean with zero odors or nasty toxic smells like those of the cheap yoga straps on the market.
Best Versatile Strap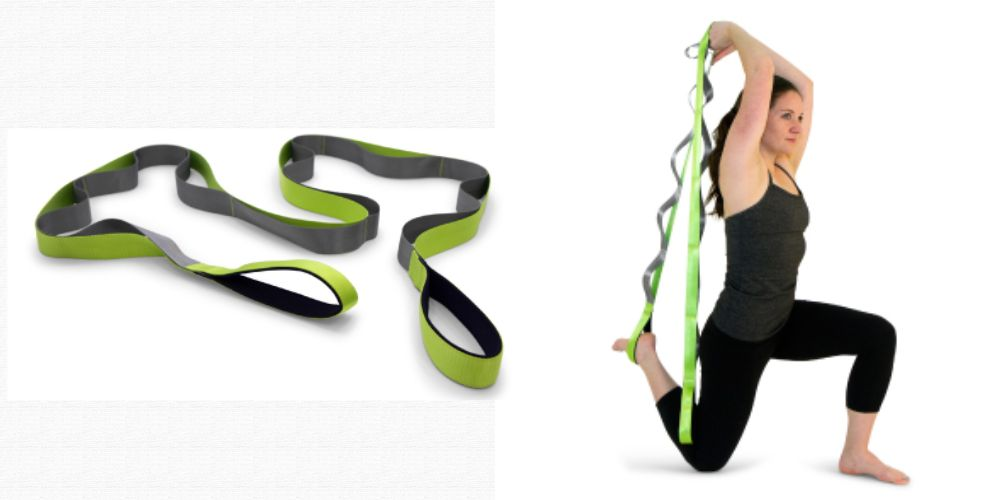 The Gradient Fitness Stretching Strap is the perfect tool for athletes and yogis of all kinds. It's 8 feet long and 1.5 inches wide with 12 independent stretching loops, and ultra-soft neoprene padded handles that are proven to be durable and long-lasting, making it ideal for exercise, yoga, strap work, hamstring stretching, increased range of motion, and more.
With a physical therapist-designed poster to guide users through the exercises, this non-elastic non-latex stretching strap is made from 100% premium quality nylon webbing and comes with a convenient nylon storage bag so you can take it everywhere. Enjoy the ultimate comfort for all your exercises with the Gradient Fitness Stretch Stra!
Best to Deepen Stretches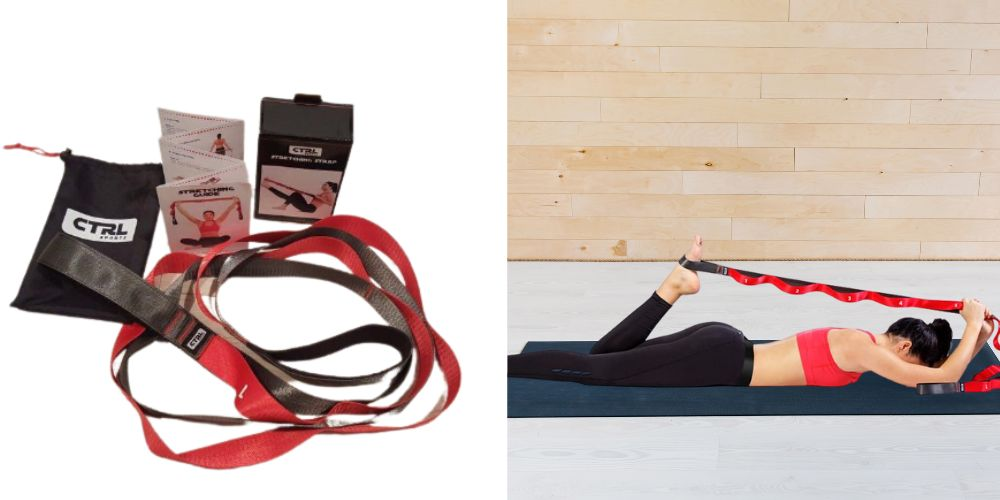 The Stretching Strap with Loops is perfect to make sure your yoga practice or stretching routine is done right. With its nonelastic stretch band, you can adjust the belt to any length up to shoulder width for a secure fit. It comes in two sizes - with 10 loops (78 in long and 1.5 in wide) and 12 loops (96 in long and 1.5 in wide) - perfect for all body types. Plus, a special carry bag was designed so you can take it with you anywhere and a Free Stretching Guide is included! Make sure you use a yoga strap that's adjustable for maximum comfort.
Best Overall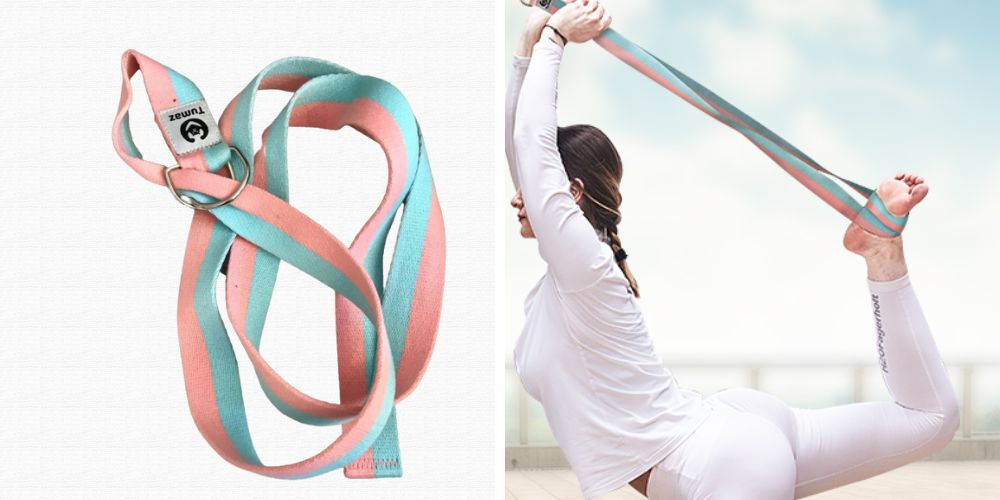 The Tumaz Yoga Strap is the perfect yoga accessory for practitioners of all levels. With eco-friendly dyeing and a special tight-knit technique, this strap offers extra thickness ( 2.5mm) and a strong welded D-ring buckle (4mm) for optimal support. It's also adjustable in length to fit any body type or size - easily adjust the width up to shoulder level for comfortable practice.
Plus, each order includes an e-book with color illustrations of different poses, so you can learn how to use your strap properly with guidance from a professional yoga teacher! Make sure you get the most out of your yoga practice with the Tumaz Yoga Strap.
RELATED ARTICLE: Are you feeling a bit stagnant in your practice? Fear not! Our Yoga Series is here to add some serious flavor to your routine. We're talking everything from sleek  Yoga Accessories to comfy Yoga Pants that will make your warrior pose look even more fierce. Need to get a grip? We've got Yoga Socks, and  Yoga Straps that will keep you from slipping and sliding. And for all you yogi trailblazers out there, we've even got Yoga Swings and Yoga Wheels to switch things up. Plus, for all the sweaty yogis out there, our Hot Yoga Pants, and Yoga Towels will keep you cool and composed. So, no matter your level, our Yoga Series has got your back (and your front too, with our yoga tops). Let's get ready to yoga-rumble!
Best Yoga Straps FAQ
Our Best Yoga Straps FAQ guides users toward finding the perfect yoga strap for their practice - from cinch-style buckles, lightweight materials, and extra-long lengths, to eco-friendly non-toxic options and slip-resistant gripping technology. We cover all your questions about the style, sizing, and durability of yoga straps so that you can make an informed purchase decision and get the best value for money. Keep reading this FAQ to find out more about what makes a great yoga strap.
What Are the Best Types of Yoga Straps Available?
When it comes to choosing the right yoga strap for your needs, there are several different materials available as well as varying lengths that suit most yogis' needs depending on their practice level and requirements while also supporting a certain range of body sizes/limitations when it comes to flexibility level or even injury prevention/care considerations.
For example, cotton webbing is often chosen because it is lightweight and soft against the skin; however, if you need something stronger such as rope or metal buckle straps then those should be considered too depending on what type of poses you plan to use them for regularly during class (especially if they involve more dynamic movement).
Additionally, there are adjustable varieties that offer greater flexibility when it comes to different heights/body sizes as well as accommodating particular limitations due to illness or injury recovery period etc.
How to Choose the Right Yoga Strap?
Choosing the right strap for your practice needs depends mainly upon two factors - comfort preference and durability requirements - both of which need to be taken into account before you make any final decision between various products currently available on the market today.
Additionally, budget constraints may also influence this decision-making process; thankfully though there are many affordable options out there regardless so don't worry if the price is an issue - just do some research first before investing any money into any particular piece!
Finally, consider what kind/type of poses you plan on using this strap for regularly (i.e deep backbends vs forward bends) –this will help guide you toward selecting specific features like strength ratings etc.
What Is a Yoga Strap Used For?
A yoga strap is a great tool for yogis of all levels and can be used in various ways. It can help improve balance and posture, stretch muscles and joints, increase flexibility, deepen stretches, and maintain proper alignment in challenging poses.
The strap also provides support and stability when paired with specific postures or techniques such as standing poses, backbends, twists, or forward bends with difficult entry points. Using a yoga strap helps ensure that the body is properly aligned and balanced in each pose so practitioners can get the most out of their practice.
Where to Buy a Yoga Strap?
Once you've decided on which material/length works best for the purpose of your practice then it's time to start searching through various retailers who will offer up quality pieces at competitive prices - check out popular online stores like Amazon, eBay, or even department stores such as Target/Walmart – search around until you find something that meets all criteria above within reasonable limits set by yourself & budget. Don't forget too about local specialty vendors either – sometimes being able to get advice from experts in-store can be incredibly helpful when making complex decisions such as these ones involving fabric types
What Are the Top Yoga Poses for Beginners and Advance Yogis?
There are endless possibilities with yoga strap poses, this tool is incredibly useful for yogis of all levels. Beginners can benefit from poses like the boat pose, knee pose, or big toe pose which involve using the strap to keep your legs bent. The seated forward bend is also a great beginner yoga strap pose that helps increase flexibility and improve posture.
For more advanced yogis, the king pigeon pose and the dancer's pose are two popular poses that use the strap to assist with stretching muscles further and maintaining proper alignment. Cow face pose is another advanced yoga strap pose that has many benefits including increased mobility and hip flexor strength. With all these poses, the yoga strap not only provides support but can help you perform the posture to its fullest expression.
Final Thoughts
No matter what level of yoga you're at or how experienced you are, having the right strap is essential for your practice. The straps we have highlighted in this blog all offer unique benefits that can help take your yoga to the next level.
Whether it's length and strength like with Hugger Mugger, color pattern webbing from natural materials as seen in YDL, or non-slip features such as those offered by Gradient Fitness – there is a perfect strap out there for everyone! So don't hesitate any longer and get started on finding yours today!
Other Posts You May Like: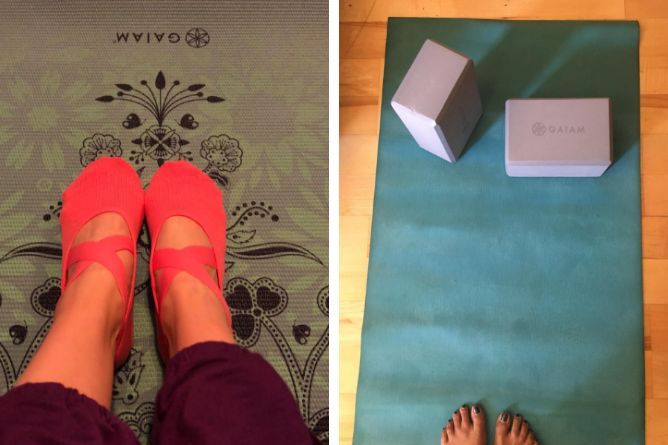 Comments