If you're looking for the perfect gift for the dog parent in your life, look no further!
We've got 15 great gift ideas that any dog lover is sure to appreciate.
From personalized items to must-have products for pampering their pup, we've got you covered.
So take a look and find the perfect present for that special someone who loves their furry friend just as much as they do.
1.The Original Doggy Bag is the perfect travel companion for your furry friend. This dog travel kit comes with everything you need to keep your pup happy and healthy on the go, including two BPA-free travel dog bowls, two dog food travel containers, and a waste bag dispenser. It's also airline approved, so you can take it with you wherever you go.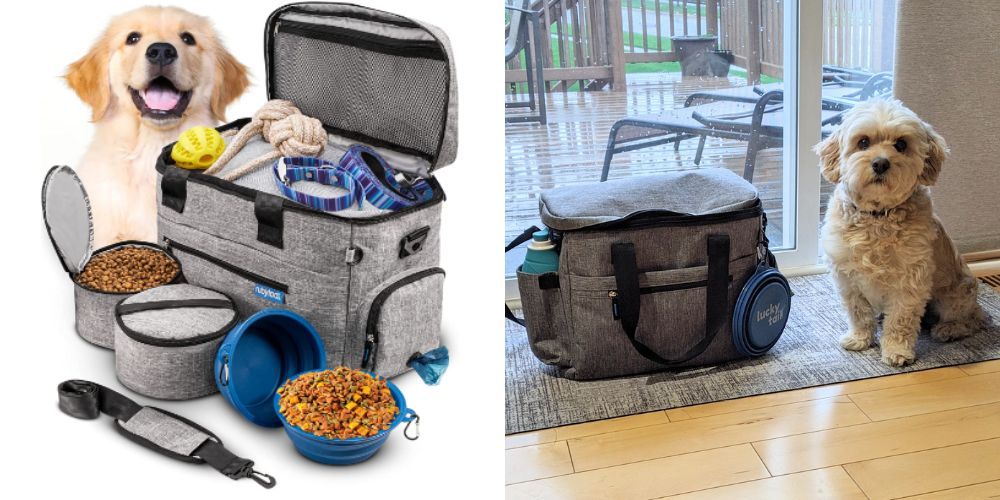 5-Star Review: "This is a great versatile bag! It's perfect for traveling with all the pockets and has a large food storage capacity. However, I primarily bought it for dog agility competitions. I can pack all the necessities: treats, food, water, towels, kennel covers, etc. The lined food containers work great to keep people or pet food cold and fresh, this replaced an additional cooler that I used to pack for lunches. All the pockets and storage are well thought out including the poop bag holder compartment. This one bag replaced 3 I was using." – Bobbie C.
2. Most accurate dog DNA test on the market! Test 350 different dog breeds with this easy to use kit. Get results in as little as 2 weeks and find out exactly which breeds make up your pup. With the Embark Breed Identification Kit, you'll also receive ancestry and family tree information for your dog.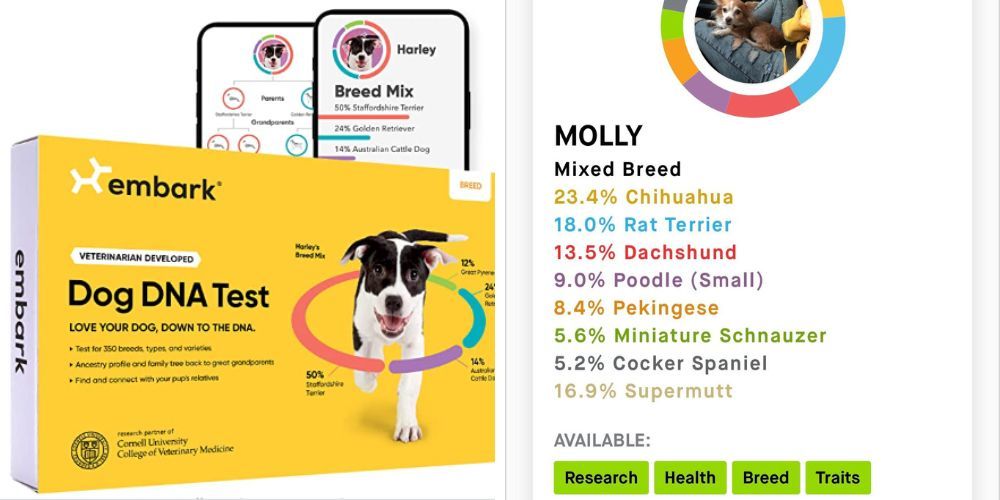 5-Star Review: "I thought my rescue mutt was for sure beagle and corgi. Nope! Beagle and Bischon Frise with a little bit of Pug and Silky Terrier. I sent the swab in the same day it arrived. I had my results back within a couple of weeks. It's nice to know what he is, but changes nothing about how loved he is. The test also allows you to see genetic relatives. Brody had two very close relatives in other states. Makes me curious about his past and how he came to be in my city. He was a stray found in the southern part of my state, and the other two dogs are literally across the country!" – CEF
3. The URPOWER Dog Seat Cover is the perfect solution for keeping your car clean and safe while traveling with your furry friend. This heavy duty seat cover is made from durable 600D fabric and features a nonslip design to keep your pet secure. The soft, comfortable material will keep your dog happy on long trips.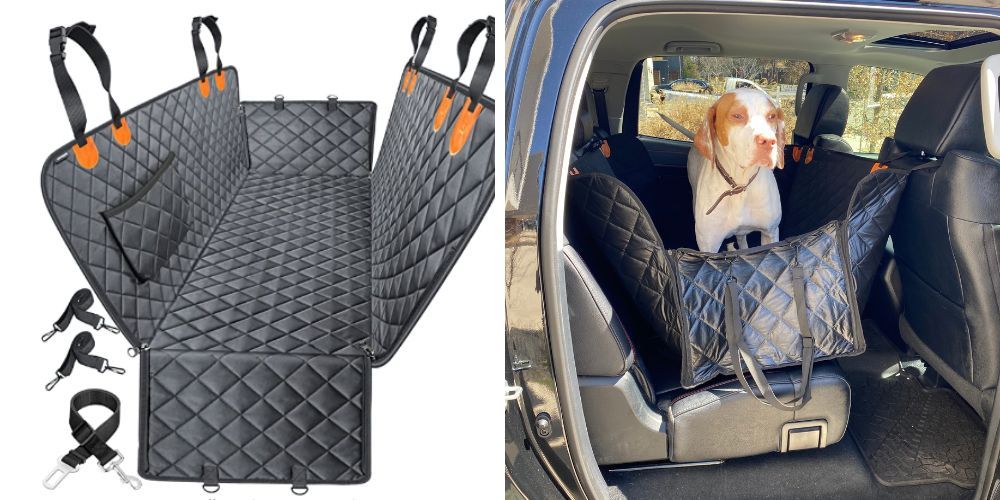 5-Star Review: "Love this product! So easy to install and I leave it in the back seat. Keeps the windows from puppy kisses, and prevents my puppy from trying to get in the front seat. It also has openings to attach separately purchased straps to hook to a harness to keep your dog safe in sudden braking situations, and from racing out of the car when you open the door. Very highly recommend." – Lynn Krembs
4. Who doesn't love a good pair of socks? But not just any socks, Jeasona's Fun Socks are the perfect gift for that special someone who loves to have a little bit of fun. Made with only the finest quality cotton, these socks are sure to bring a smile to anyone's face. Plus, they make a great conversation starter!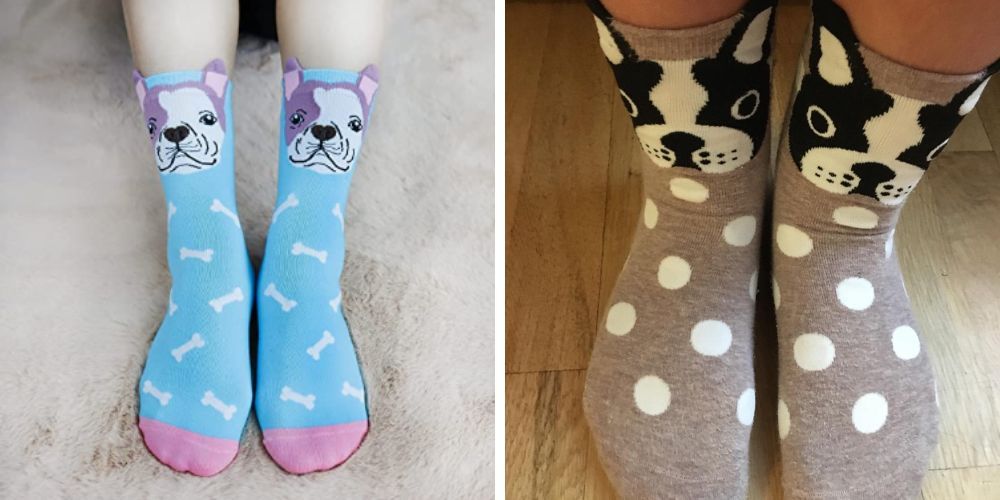 5-Star Review: "For Dachshund lovers and if you like cute socks these are perfect. These are well made and would be such a good gift." – addie
5. The wind chime is the perfect way to remember your lost loved one. It is beautiful and unique, and will help keep your pet's memory alive. Each time you hear it ring in the wind, you'll know that your furry friend is still with you.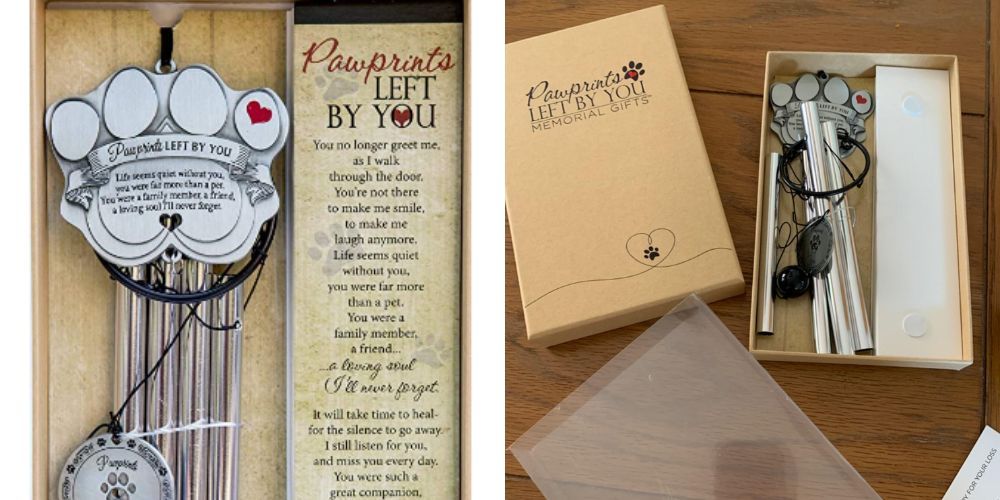 5-Star Review: "I made a memorial for my dog and used this to hang on an orange tree I purchased just for this occasion. When it chimes it reminds me of him being in the yard with me watching out and listening for me." – loved
6. If you're looking for the perfect gift for any dog parent, look no further than the Waldeal Embroidered Hat. This stylish and chic hat is both practical and fashionable, making it a must-have for any dog mom. The best part? The adjustable strap ensures a snug and comfortable fit, while the embroidered details add a touch of personality to your look. So whether you're shopping for a birthday, Mother's Day, or Christmas, the Waldeal Embroidered Hat is sure to put a smile on any dog mom's face.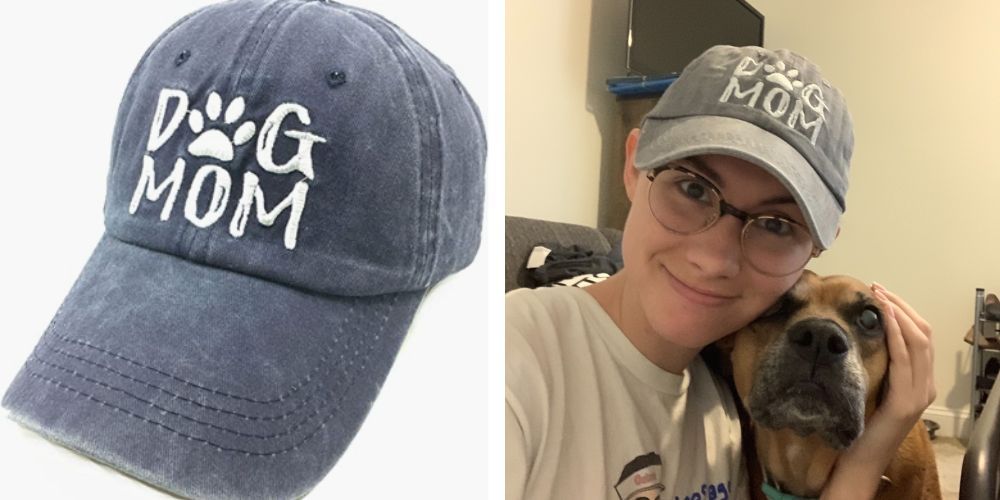 5-Star Review: "I just think this hat is so cute! We just moved to a condo and I have to walk my sweet dog, Bear, when I am not always ready to see the world so I am glad to find a cute, comfortable hat to hide bad hair!!! I am going to get more in different colors. Usually hats are uncomfortable for me, I really find this one to be extremely good fitting for me. I think its so cute I'd wear it even if it hurt!" – Life with Bear
7. The Furbo Dog Camera is the perfect way to stay connected with your furry friend while you're away from home. With treat tossing, full HD wifi, and 2-way audio, this camera is designed specifically for dogs and their owners. You can even use it with Alexa for a hands-free experience.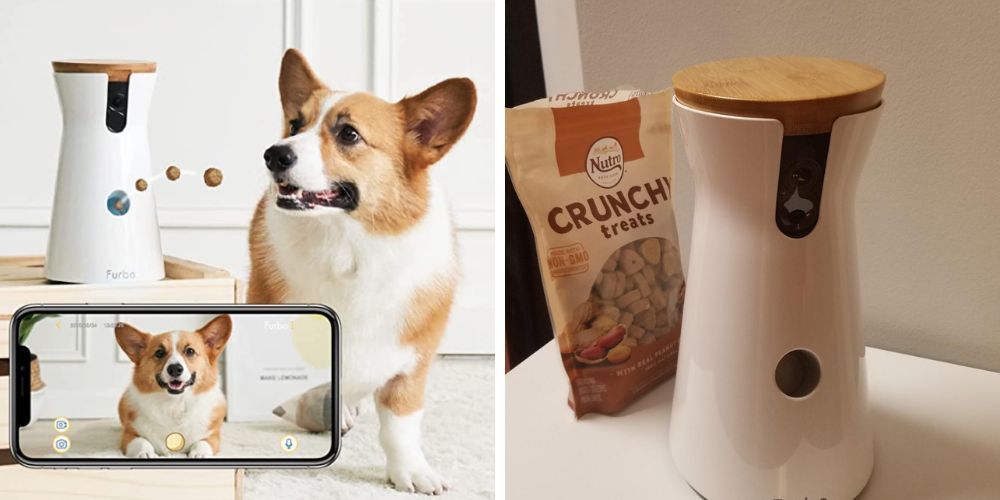 5-Star Review: "So happy I got this for my pup! The fact that I can watch him, throw him treats and talk to him all in one makes me much more comfortable leaving him alone. Best purchase I've made for my pooch and I! 10/10 recommend!" – Ericka
8. This eye-catching and humorous T-shirt is the perfect way for any man to show his love for his furry best friend! The "Best Dog Dad Ever" graphic is printed in a bright and bold font, guaranteed to get laughs from anyone who sees it. Made from 100% soft and comfortable cotton, this t-shirt is perfect for lounging around the house or going out on casual walks with your pup.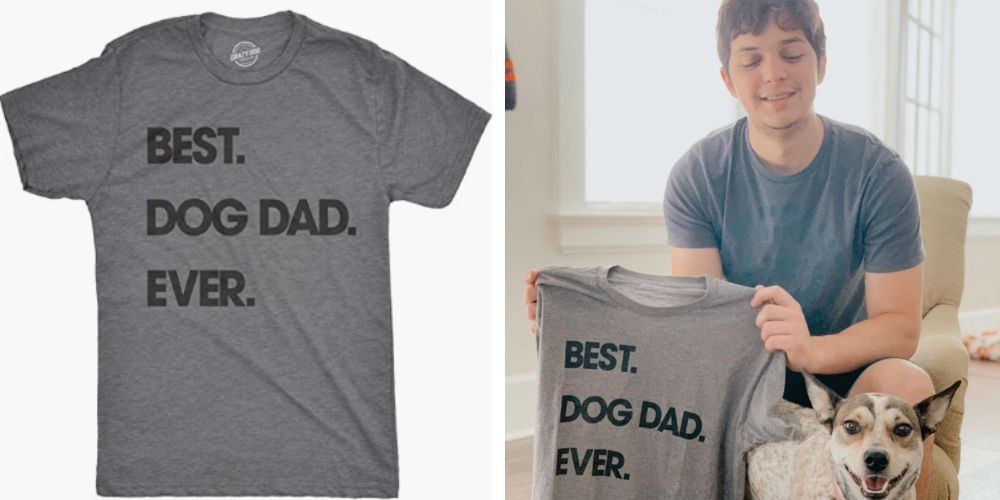 5-Star Review: "This shirt was a Father's Day gift and he wore it to breakfast that day where he immediately got a compliment on it. It is very soft, almost vintage like softness, fits well and the lettering is perfect. He is 5'9" 190lbs and has XL for reference." – jodi
9. These Pup Claw Dog Toys are sure to get a rise out of your four-legged friend! Not only are they cute and plush, but they also come complete with a squeaker. For extra fun, try playing a game of tug-of-war with your pup. They're also great for cuddling up to at night.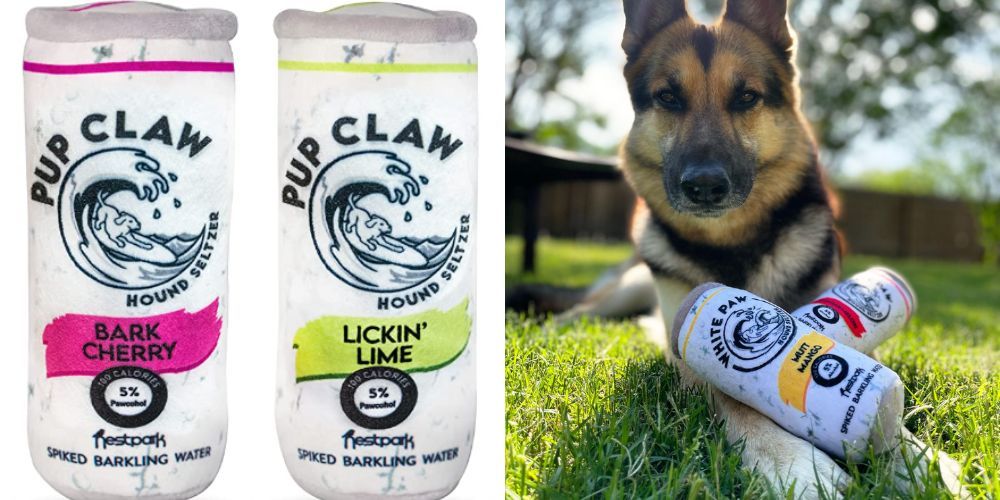 5-Star Review: "My dog Duke is a large dog and loves these little toys! He can get his mouth wrapped around it perfectly without any worry of choking. I just feel very lucky that he knows that these Stuffies are not for tearing apart because they wouldn't have lasted a day! If I were to give any negative point; I did expect the squeaker to be much bigger than what they are. It seems as if they have fit the smallest squeaker in there when there is plenty of room to fit a very large squeaker, especially for the price." – Vallerie
10. Dogs and cats love the taste of salmon, and you'll love knowing that they're getting all of the Omega 3s they need for a healthy coat, skin, immune system, and joints. Pure Wild Alaskan Salmon Oil is a natural liquid supplement that provides all of the benefits of EPA and DHA fatty acids, without any of the fillers or artificial ingredients.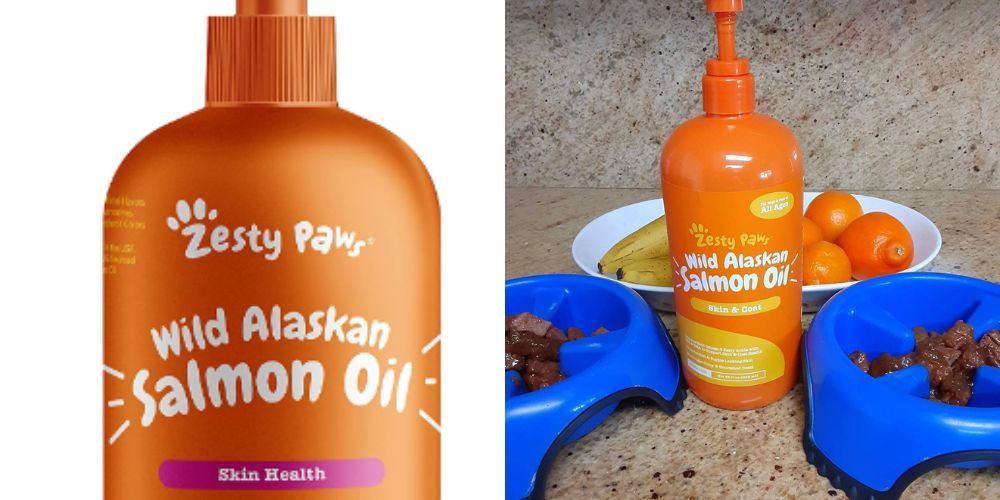 5-Star Review: "Very easy to dispense- I use a measuring spoon (half teaspoon) and mix it right into wet food once a day and noticed a very nice improvement in my long haired cat's fur! Silky and soft. I have older kitties so I wanted to help their dry skin and prevent mats. They love the taste and are very excited at meal time! A little goes a long way but if you have big dogs or multiple cats (I give 1/2 tsp to 5 cats once daily) then getting the 32oz is definitely worth it. One bottle lasted me a little over 3 months." – Sara J
11. This 2-in-1 pet food container and water bowl is perfect for dog parents on the go. The portable, collapsible design is easy to carry and store, making it ideal for travel. The bowls are made of durable, food grade material and are perfect for walking, camping, or hiking with your furry friend.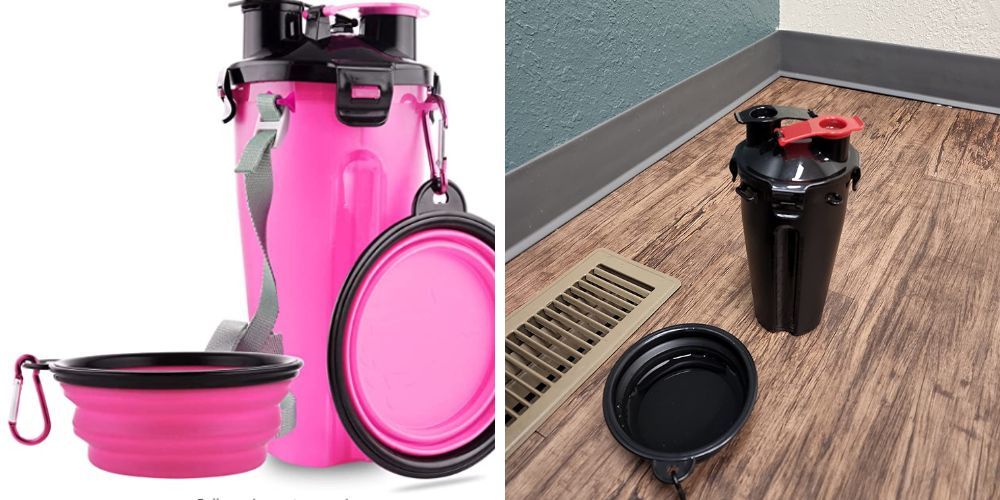 5-Star Review: "I have a small dog and this is perfect for traveling. It came with two bowls that fold flat and can be attached to the bottle. It's leak proof and the water side and food side are very well separated. I'm glad I bought this one." – Melissa Hammersley
12. This lighthearted figurine is a sweet way to show your love for your furry friend. Sculpted and hand-painted with intricate detail, the figure is a wonderful addition to any home. The soft colors and graceful lines of the figurine are sure to bring a smile to your face, and the uplifting message is a reminder that your dog brings joy to your life.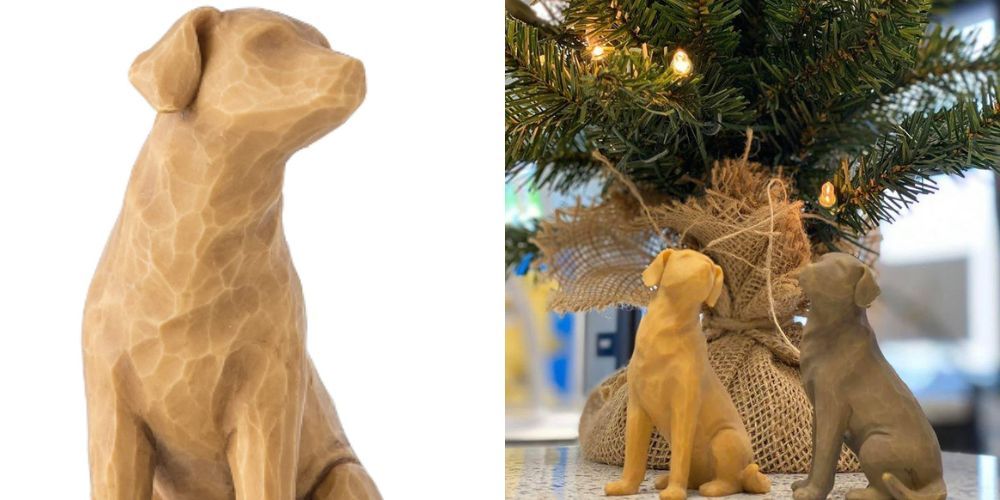 5-Star Review: "I got this in memory of my fur baby that has recently crossed over the rainbow bridge and it couldn't be a more perfect fit. It's bittersweet really because as much as I love it I wish I didn't need it. But it's a lovely way to have a reminder of her in her favorite room, her room." – Rachel
13. Pawtect Blanket is the perfect way to keep your furry friend warm and dry. Made from waterproof material, this blanket is ideal for protecting your pet from the elements. Whether you have a large or small dog, this blanket is sure to fit them snugly. Plus, the cute paw print design will make your pet look even more adorable!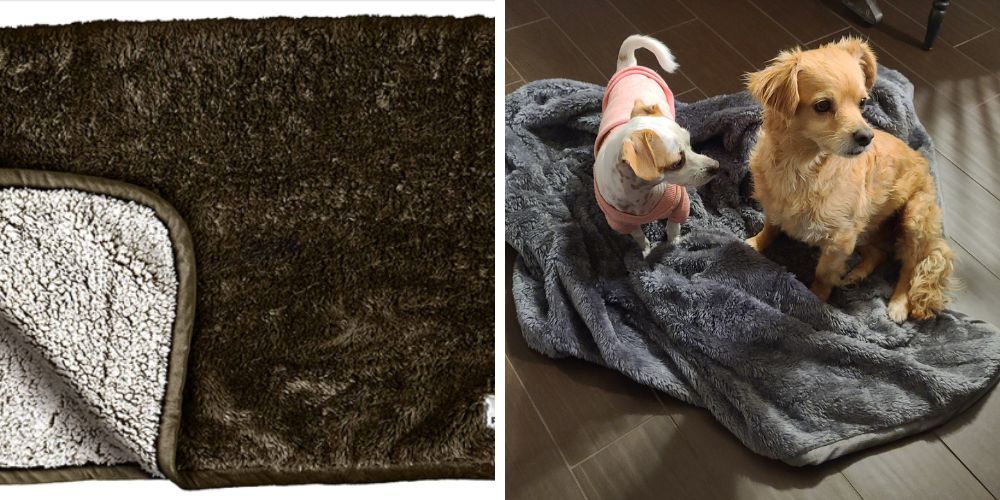 5-Star Review: "We have an old dog who is constantly cold and increasingly incontinent. She loves cozy blankets but we needed something that would protect her bed or the couch too. This is perfect for that. The blanket is really soft and you would never know it was waterproof. It keeps her very warm and everything safe and is very easy to clean and dry!" -KL
14. If you're sick of finding pet hair everywhere you turn, ChomChom Pet Hair Remover is the solution for you. This reusable lint roller and fur removal tool quickly and easily removes hair from furniture, couch, carpet, car seats and bedding. It's portable and easy to use on multiple surfaces, making it a must-have for any pet owner. Plus, it's much more affordable than buying disposable lint rollers.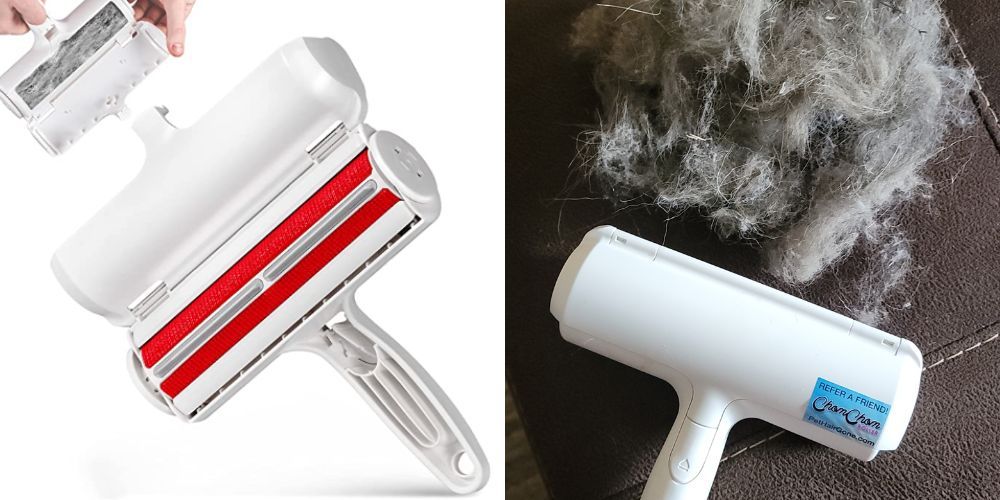 5-Star Review: "I've shared my home with dogs for over 30 years, so hair cleanup is a constant chore. Nothing can be more difficult and frustrating than removing the short hairs from my Boxer/Beagle mix from blankets and clothing...until now. This ChomChom tool is magic! I couldn't believe how easily it took the hair off my dog's favorite blanket. It is much faster than my usual method of using roller tape and significantly less hassle. All the hair gets collected in a bin that can be dumped directly into the waste can without generating any additional trash, as is the case with roller tape. Definitely a must have tool if you share living space with furry friends." – Ed Blackard
15. If you're one of those people who like to go all out for your four-legged friend, this holiday season consider the Benebone Chew Toy. It's specifically designed for aggressive chewers, and it's made of durable materials that can withstand even the most determined chomping. Plus, it's flavored with real beef or chicken to keep your dog's attention. And it's made in the USA so you can be sure of its quality. So go ahead and treat your dog to something special this Christmas. They deserve it.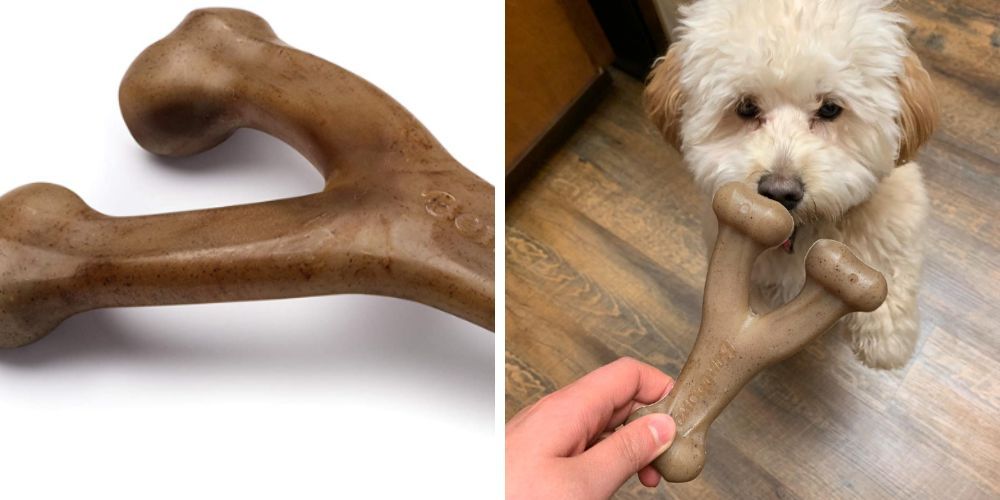 5-Star Review: "My girl, Indy, loves these! Amazon delivered one by mistake instead of another item, and I was like, "well this is a happy accident!" Took her a couple months to destroy the first smaller one, so I ordered her the big one. She literally chews this thing ALL freaking day. She is an aggressive chewer and this gives her the fix she needs. She's so happy." – Elizabeth
These 15 gifts are paw-fect for any dog parent. Whether you are looking for something practical, like a new leash or collar, or something to make your dog feel special, like a custom pet portrait, there is something on this list for every type of dog parent. So go ahead and treat yourself (and your pup) to one of these great gifts!
Other Posts You May Like:
The Best Dog Toothpaste for a Healthy Smile
The Best Puppy Shampoos – and Why They're Worth the Splurge
The Hottest Toys This Season—Get Them Before They Sell Out!
Comments