This post may contain affiliate links, please see our privacy policy for details.
Got a beer lover in your life? Whether it's a family member, friend, or significant other, beer enthusiasts can often be hard to shop for. Sure, they like beer—but what else do they need? Fear not! We've put together this handy guide of some of our favorite gifts to help you find the perfect present for the craft beer connoisseur in your life.
For those who are serious about their craft beer consumption, a growler set is an essential. Growlers are large containers designed to keep beers fresh and carbonated for days at a time. They're perfect for sharing beers with friends or taking them on picnics or camping trips. Get your favorite beer drinker a good quality growler set with two or four glasses so they can enjoy their brews in style.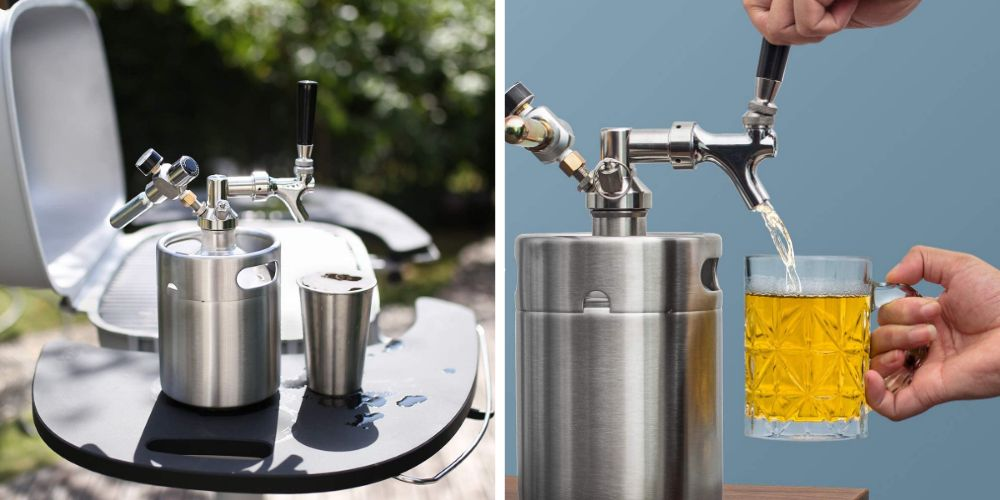 For the real beer fan, there's nothing quite like a freshly-poured pint from a keg. But lugging around a full-size keg is impractical, and buying beer by the bottle just doesn't have the same appeal. That's where the pressurized mini keg growler comes in. This portable keg kit system allows you to enjoy real draft beer at home, on the go, or anywhere in between.
The updated CO2 regulator keeps your beer fresh and carbonated for days, and the stainless steel construction ensures that your beer will always taste great. Whether you're a craft beer aficionado or a casual drinker, the pressurized mini keg growler is a must-have for any beer lover.
Know someone who loves beer so much that they want to make it themselves? Homebrew kits are great fun and make fantastic presents. Not only will your recipient get all the supplies they need to create their own unique beers (including malt extract, yeast, hops, and more), but they'll also get access to instructional videos and recipe books full of ideas to help them get started. Who knows—maybe you'll end up sampling some of their creations one day!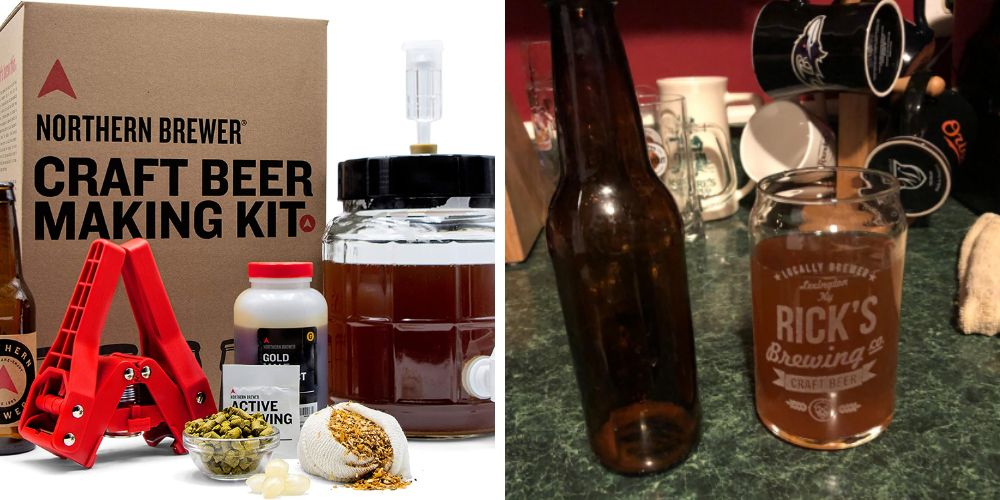 So you want to join the craft beer club, but you're not sure where to start. Have no fear, the Siphonless 1 Gallon Craft Beer Making Kit is here! This kit includes everything you need to get started on your beer-making journey, including a siphon-less glass little big mouth bubbler, simple step-by-step instructions, bottle capper and caps, personalizable beer bottle labels, and an Irish Red Recipe Kit.
Plus, with its sleek design, the Siphonless 1 Gallon Craft Beer Making Kit is perfect for any beer lover's home.
For a truly unique gift, why not get them a novelty drinking helmet? This adjustable hat is designed to hold cans and beer bottles, so they can keep their hands free while still enjoying their favorite beverages. And, with its fun design, it's sure to be the talk of any party—it's a great way to let your special someone show off their love of beer in style.
Looking for a way to keep your cold beer close at hand? Look no further than this drinking hat! This handy hat is made of high-quality hard plastic, with two sturdy click-in drink holders alongside the helmet. Perfect for cans, it's a must-have for any beer fan.
And because the straws are made of BPA-free plastic, you can enjoy your favorite beer without worry. So grab a cold one and enjoy!
For the beer lover who loves to experiment, a recipe book for the at-home brewmaster is a great gift. You can find books that focus on specific styles or recipes from around the world, as well as instructional guides on brewing basics and ideas for special ingredients. It's an inexpensive way to give your beer enthusiast the tools they need to create their own unique brews at home.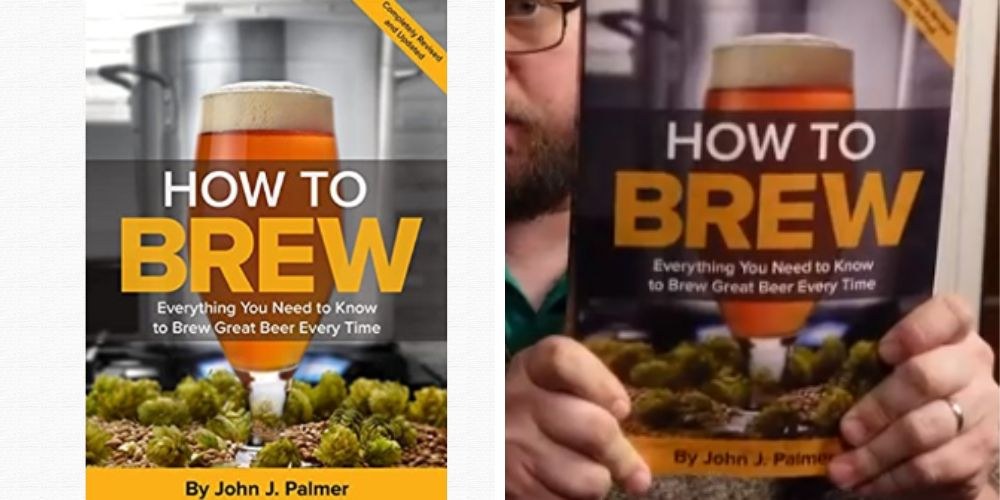 How to Brew is the perfect book for anyone who has ever wanted to make their own beer. Written by John J. Palmer, a leading expert on brewing, this book covers everything you need to know to brew great beer every time.
From choosing the right ingredients to understanding the brewing process, How to Brew gives you all the information you need to create your own favorite beer. So whether you're a beginner or a seasoned brewer, this book is essential reading for anyone who wants to make their own beer.
For something a little more lighthearted, you can always pick up some novelty games based on popular beer-themed board games. There's "Drunkopoly" and "Brew-Opoly"—perfect for adding some fun to any gathering. Or, for an even bigger statement, check out a giant inflatable beer pong game!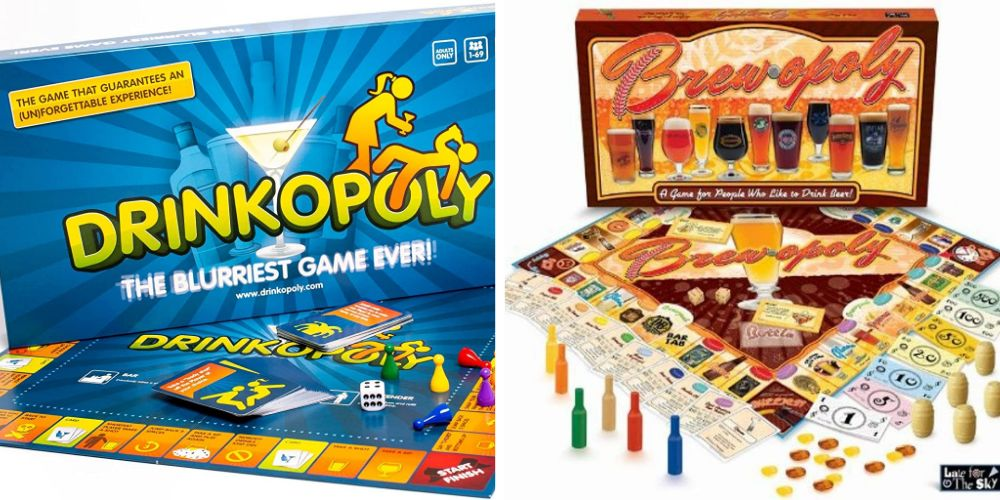 The best gifts for beer lovers are those that combine their love of the game with their love of beer. The Drinkopoly Party Game or Brew-Opoly game is the perfect way to do just that. This game is a take on the classic board game, except players have to collect different types of beer instead of properties.
The game can be played with two to six players, and there are even rules for an "alternative facts" version of the game. So whether your beer lover is a competitive type or just likes to drink with friends, this game is sure to be a hit. Cheers!
For a more luxurious present, you can get them something like a pint glass or beer tasting set, complete with snacks and samples of popular brews from all around the world. These make great gifts for beer lovers, and they're sure to be appreciated by even the most discerning of craft beer connoisseurs.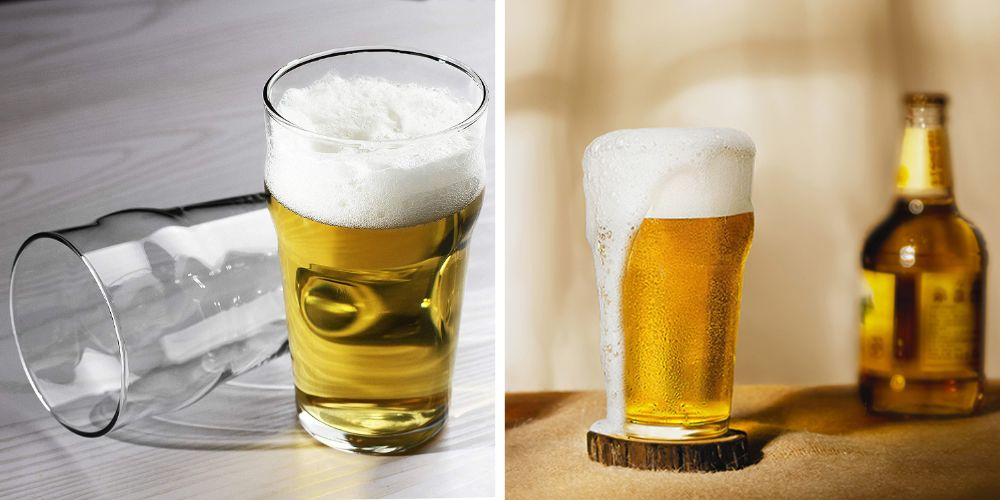 Pub pint glasses are the perfect way to enjoy your favorite beer. With their elegant look and contemporary design, they add a touch of class to any table. But these beer glasses are more than just attractive; they also improve the overall drinking experience.
The wide bowl gives the beer plenty of room to breathe, enhancing its flavor. And the tapered sides help to maintain the head, giving you a better taste of the hops and malt. Whether you're enjoying a pint at your local pub or hosting a beer tasting at home, pub pint glasses are the perfect way to savor your brew.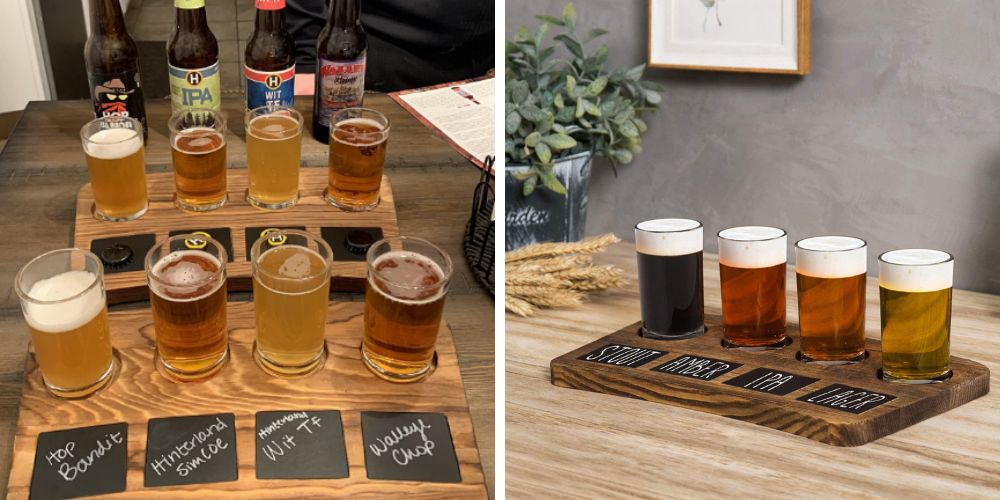 Finding the best gifts for beer lovers can be tough. But with this rustic dark brown wood beer flight tasting set, you can't go wrong. The set comes with eight glasses, serving boards, and erasable chalkboard labels. Plus, the glasses can hold approximately six ounces of liquid.
So, your beer-loving friends will be able to drink their fill. And when they're done, they can use the chalkboard labels to write down their tasting notes. This set is sure to please any beer lover on your list. Cheers!
For the ultimate poolside companion, get them a set of NPW Pool Float Drinking Buddies! These inflatable buddies come with built-in cupholders so they can sip their beer while relaxing in the water. Plus, these floats are extra durable and feature unique designs to show off some personality.
This stylish pool float is made from sturdy rubber and inflates to 2.7 x 2.4 feet, making it perfect for relaxing in any pool or hot tub. But what sets this pool float apart from the rest is its built-in muscly arms, which are perfect for keeping you cool as you relax in the water.
So whether you're soaking up the sun or cooling off in the pool, the fabulous floating pool hunk is sure to keep you comfortable all summer long.
For something fun and practical, why not get your loved one a pair of beer and BBQ socks? These cozy socks feature designs inspired by various craft beers and barbecue dishes. Plus, they're made of soft and breathable material, so they'll keep their feet comfortable while they're drinking or grilling up some delicious food.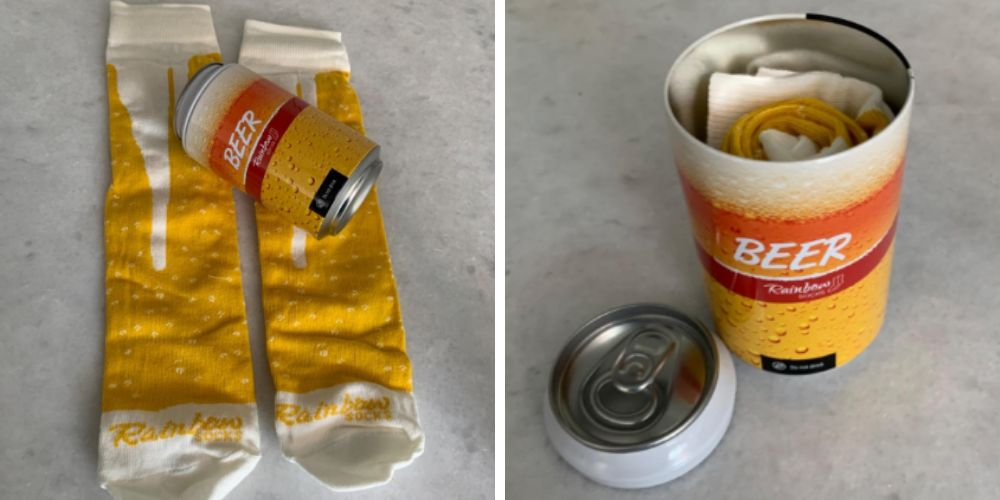 Refreshing, bubbling, with dijon beer cream sauce-like color. The perfect pair for your next beer adventure! Made with high-quality materials and construction, these socks will keep your feet comfortable all day long. Machine washable and dryer safe. 65% polyester, 33% cotton, 2% spandex.
If you're looking for a gift that's both practical and fun, then why not get them an insulated beverage jacket? These colorful can covers keep drinks cold while they're on the go—so they'll stay hydrated even in hot or humid weather. Plus, they feature unique designs inspired by craft beers, so your beer enthusiast will be sure to love them.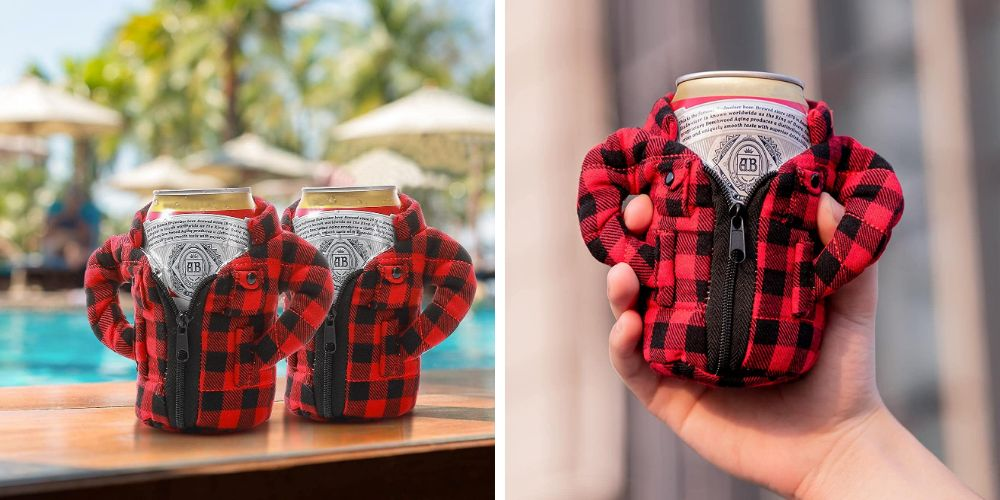 We've all been there before- warm beer and sticky hands. But with the Beverage Jacket, you'll never have to suffer through warm beer again! This ingenious product is made of high-quality cotton and has two layers of insulation to ensure that your last bite is as cold as the first bite.
The Beverage Jacket also has a built-in bottle opener, so you can enjoy your cold beer anywhere, anytime. And because it's suitable for almost all standard 12-ounce (355 ml) beverage cans, the Beverage Jacket is the perfect way to keep your favorite drinks cold all day long. So next time you're reaching for a cold one, make sure you're reaching for the Beverage Jacket.
for their next picnic If your special someone loves to drink beer outdoors, then why not get them a personalized beer caddy? This handy piece of equipment comes complete with space for cans and bottles, plus a pocket for holding keys or other small items. It's perfect for taking along on picnics or camping trips—and it even has an insulated inner lining to keep the drinks cold.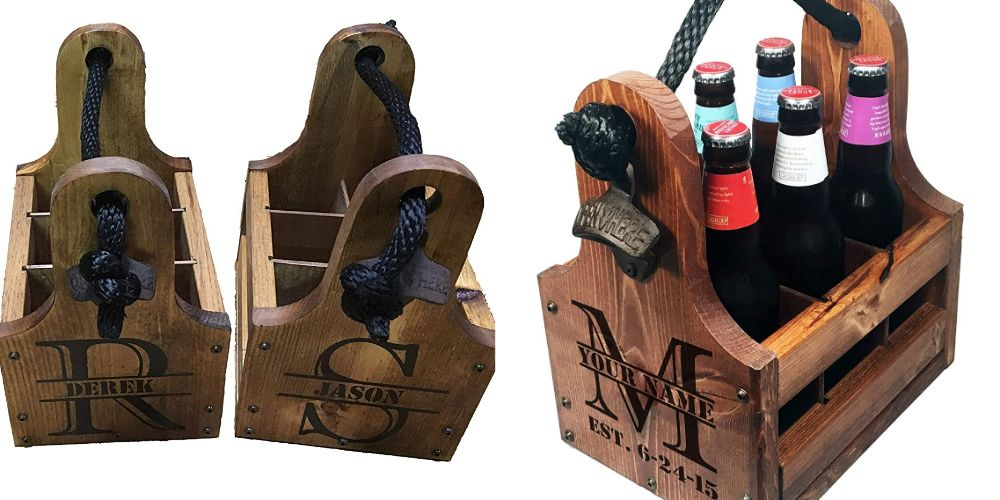 This beer caddy is the perfect way to transport your beer in style! It's made of wood, so it's sturdy and looks rustic, and it has a bottle opener and magnetic bottle cap catcher. Plus, it can be personalized with your initials and the date of your choice.
So whether you're going to a party or just having a few friends over, this beer caddy will make sure you get there with your beer intact - and that you look good doing it!
If your beer enthusiast loves to travel, then they'll love this unique gift idea. It's a bottle-cap state map—a fun way to collect and display the caps from all their favorite craft beers. Each state is made up of individual bottle caps in an array of colors, so it's sure to be a delightful addition to any wall.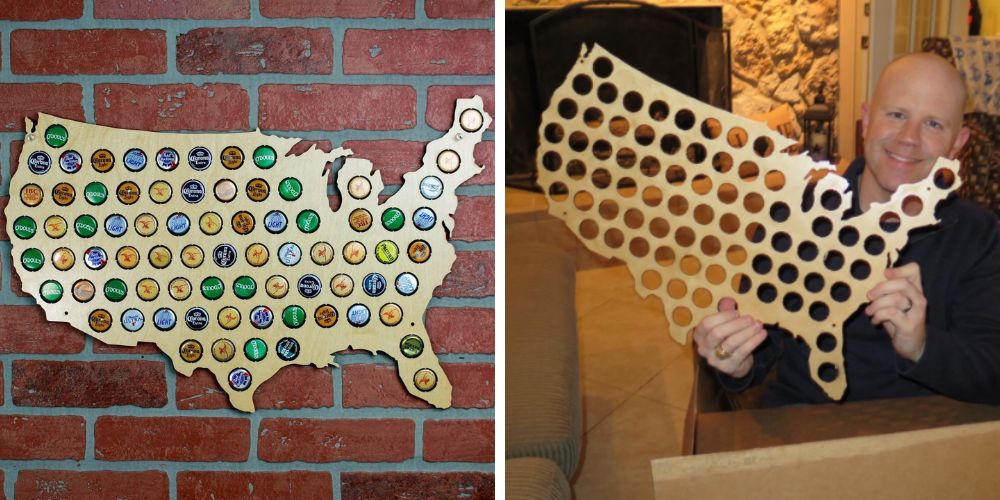 The Beer Cap Map is the perfect way to show off your diverse taste in beer (or soda, no judgment here). Whether you're a fan of imported labels or craft brews, this map can hold up to 77 bottle caps. And if you ever get tired of the current look, simply remove and replace the caps to give the map a new look. So go ahead and crack open a cold one, and raise a toast to your next piece of wall art. Salud!
No beer lover's home bar is complete without a reliable beer cooler. There are a variety of models available, from miniature fridges for single cans and bottles to larger chests that can store dozens of beers. With a good quality cooler, your loved one will be able to keep their brews chilled so they can enjoy them at the perfect temperature.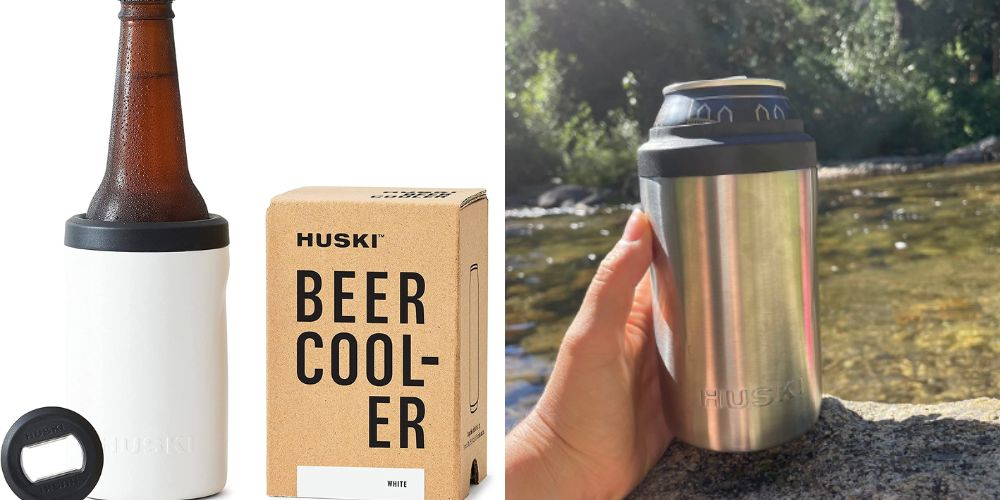 This bad boy is made out of superior marine grade 316 stainless steel, so it's built to last. It's also triple insulated for maximum thermal performance, so you can rest assured that your beer will stay ice cold. The double-walled, vacuum-insulated design also means that this cooler won't sweat, so you can enjoy your beer without worry.
And if that wasn't enough, it comes with a detachable 3-in-1 opener that can pop the top on any type of bottle. So go ahead and crack open a cold one - the Huski Beer Cooler has got you covered.
For a simple yet useful gift, you can't go wrong with this funny beer bottle opener. It features a humorous design and comes with an easy-to-use pop-top lid remover, so they can easily open their favorite beers. Plus, it also doubles as a keychain—so they'll never have to worry about having to find an opener again.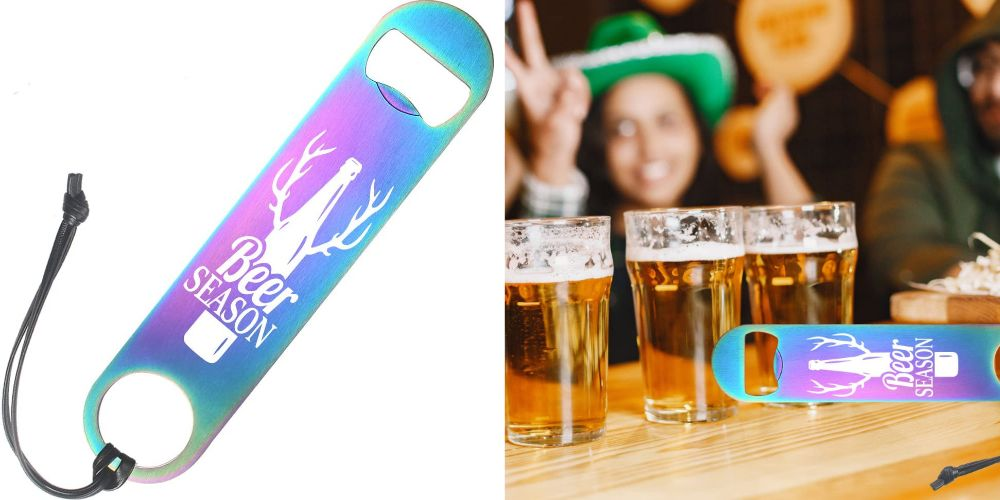 This heavy-duty stainless steel opener is just the thing for real beer fans. The flat paddle design is easy to use, and the extra-long handle provides plenty of leverage for easy opening.
So whether you're enjoying a refreshing beer by the pool or tailgating at your favorite team's game, this opener is sure to come in handy. Let's raise a glass to summer! Cheers!
No gift guide for beer lovers would be complete without mentioning beer candy. From gummy worms and other fun shapes to honey-infused chocolate truffles and salted caramel brittle, there's something for everyone here. It's the perfect way to add a touch of sweetness to any craft beer fan's day.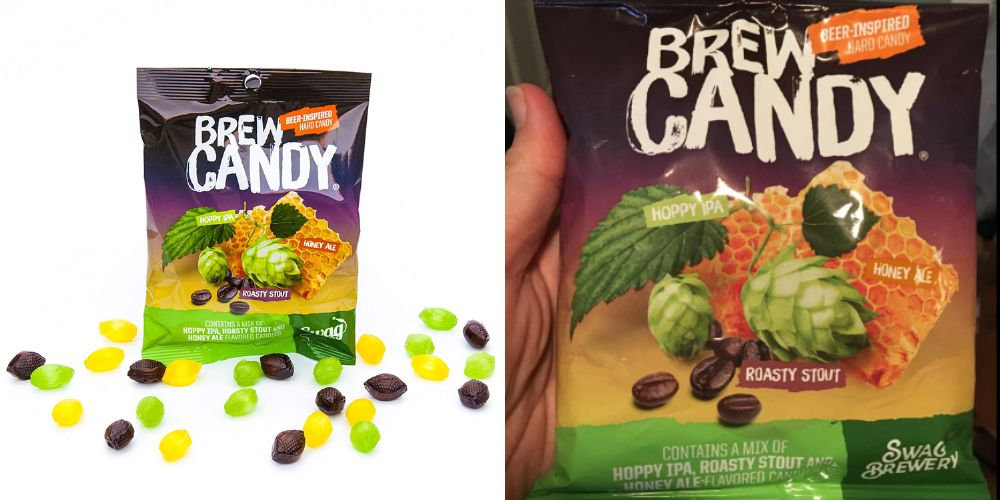 Brew Candy is the perfect fun gift for beer geeks, candy lovers, foodies, homebrewers, chefs, caterers, men, women, and everyone with good taste! Inspired by popular craft beer flavors, Brew Candy is a unique and delicious treat that is sure to please.
Whether you are looking for a unique gift for the beer lover in your life, or simply want to try something new and exciting, Brew Candy is the perfect option. With a wide variety of flavors to choose from, there is sure to be a Brew Candy that is perfect for you.  
If the beer lover in your life is also a coffee drinker, why not surprise them with this fun "Probably Beer" enamel coffee mug? It's perfect for those times when their love of beer gets the better of them and they need to switch to coffee instead!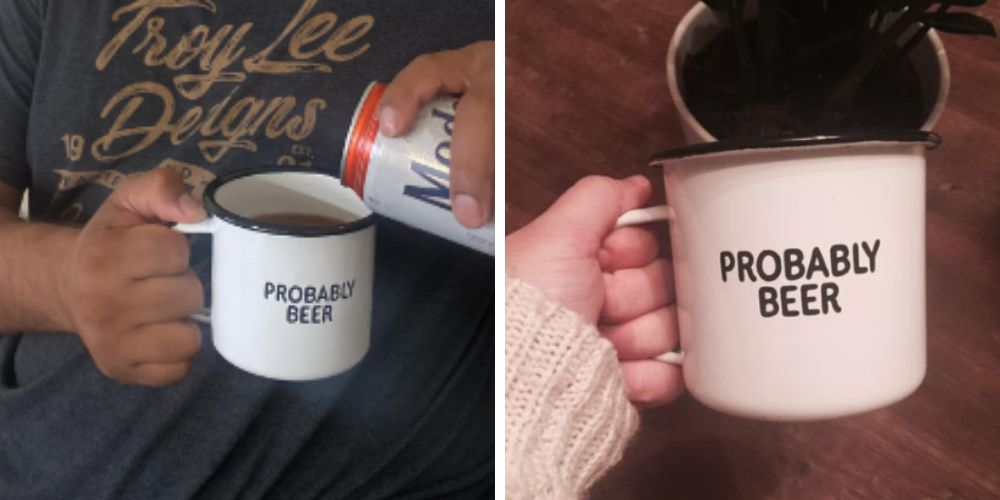 If you're the type of person who likes to start their day with a big cup of coffee and a hearty chuckle, then this "Probably Beer" enamel coffee mug is just for you. Featuring a witty pun printed in bold letters, this mug is sure to get a laugh out of your breakfast companions. But it's not just all fun and games - this mug is also practical, made of lightweight yet durable enamel that can withstand years of regular use. Whether you're sipping your morning coffee or enjoying a post-dinner brew, this mug will bring a smile to your face. So go ahead and raise a toast to good times and great coffee - with the "Probably Beer" mug.
Final Thoughts
These are just a few of the great beer gifts ideas out there for beer lovers. So go ahead and get creative—with so many options available, you're sure to find something perfect for your craft beer enthusiast! And they'll be sure to appreciate the thoughtfulness behind it.
Cheers!
Other Posts You May Like: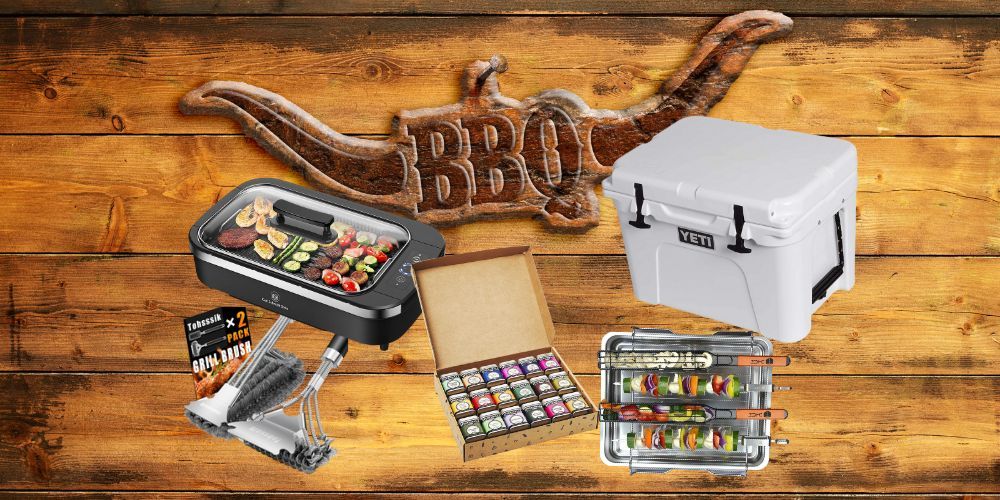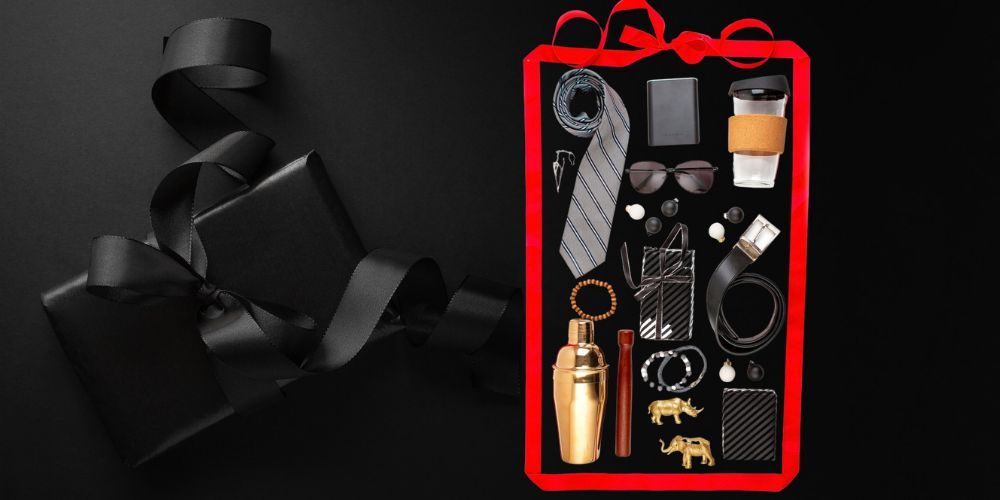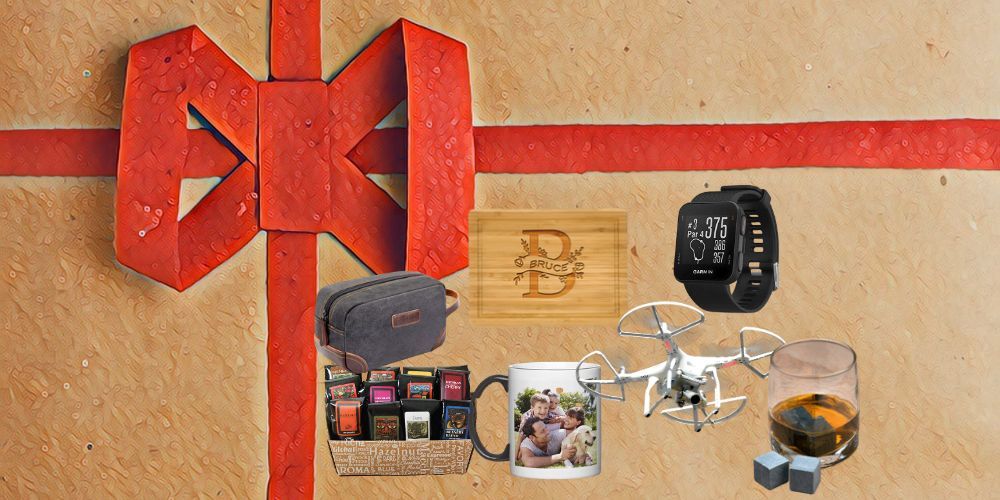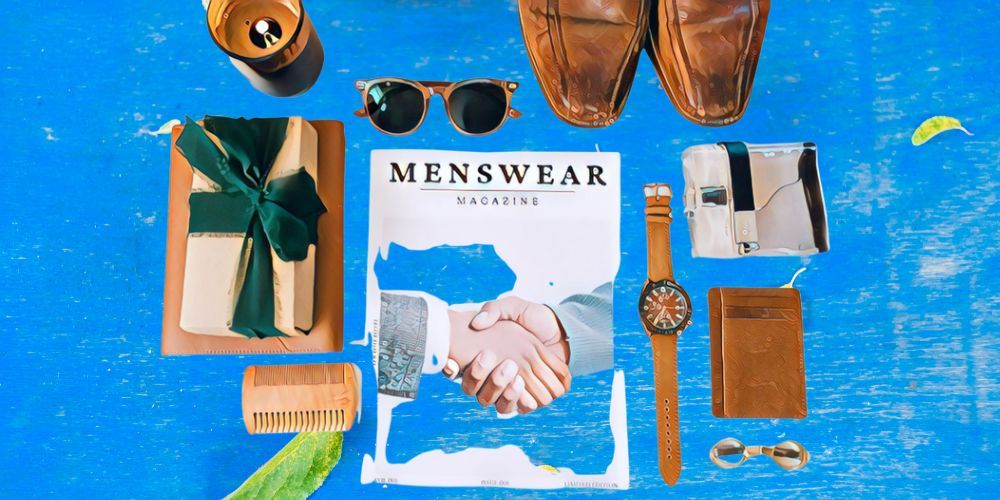 Comments