This post may contain affiliate links, please see our privacy policy for details.
Welcome to the mesmerizing world of manual coffee makers, where the simple act of brewing transforms into an engaging and sensory-rich experience. These artisanal tools not only offer you unparalleled control over every aspect of the brewing process but also serve as a canvas for your creativity and personal expression in pursuit of the perfect cup.
As you explore the fascinating realm of manual coffee makers, you'll discover a diverse array of options, each with its unique features, techniques, and charm. From the sleek elegance of a Chemex pour-over to the robust intensity of a Moka pot, our guide will introduce you to 11 exceptional manual coffee maker options that cater to a wide range of tastes, preferences, and lifestyles.
So, embark on this captivating journey with us, and let the allure of manual coffee brewing awaken your inner barista and elevate your coffee experience to new heights.
How to Choose Your Manual Coffee Maker Based on Lifestyle
Choosing the right manual coffee maker can feel a bit like matchmaking, but don't worry, we're here to help! Start by thinking about your coffee preferences. Are you a lover of bold, full-bodied brews, or do you prefer your coffee light and delicate? Different coffee makers can bring out different flavors, so it's essential to know what you like.
Next, consider your lifestyle. If you're always on the go, you might want to look for a coffee maker that's quick to brew and easy to clean. But if you enjoy taking your time to craft the perfect cup, a method that allows for more control could be the one for you.
Space is also a key consideration. If you're a minimalist or frequently on the move, a compact and portable coffee maker could be your perfect companion. However, if you've got plenty of counter space and love to display your coffee gear, feel free to consider larger options.
Lastly, don't forget to think about your budget and the long-term value. While some coffee makers may be more of an upfront investment, their durability and the quality of coffee they produce can offer great value over time.
Remember, the best coffee maker is the one that suits your lifestyle and brings you joy with every brew. Happy coffee hunting!
Dive into the World of Coffee
Discover more coffee bliss with our enticing Coffee Series: Coffee Maker with Grinder, Iced Coffee Makers, Mushroom Coffees, Low Acid Coffees, Green Coffees
Our Favorite Manual Coffee Makers for the Perfect Cup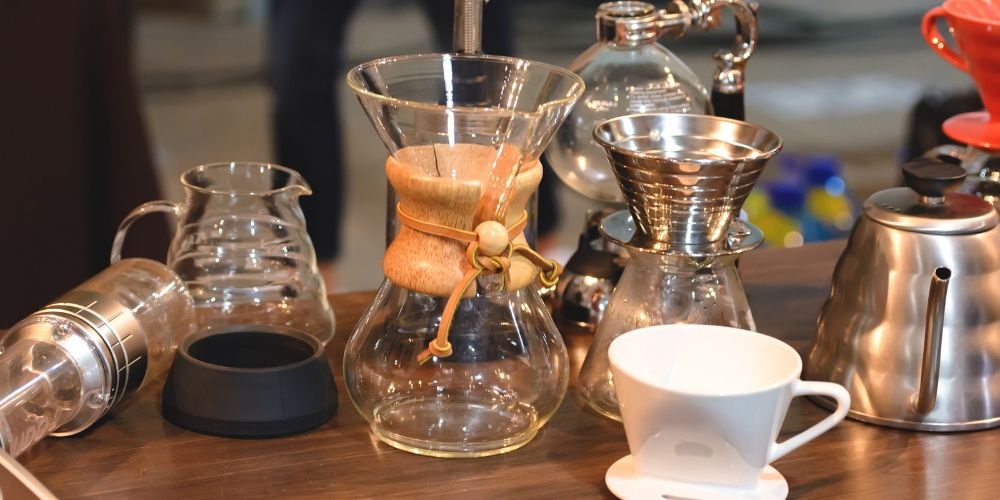 French Press
The Bodum Chambord French Press Coffee Maker is a beautiful and functional addition to any kitchen. The sleek and elegant design includes a cylindrical borosilicate glass container encased in a sturdy frame, making it visually appealing and practical.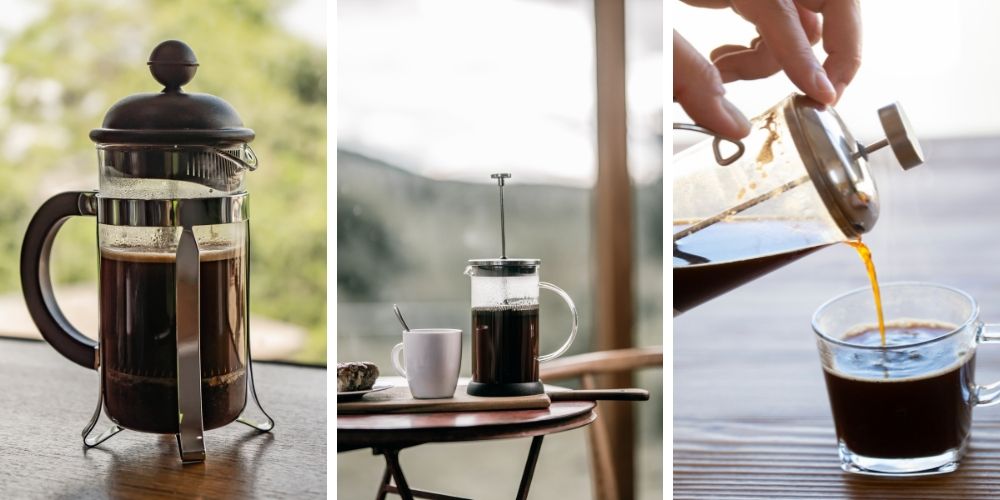 This coffee machine showcases remarkable features, including its stainless steel plunger and three-part mesh filter, which ensure that coffee grounds are effectively separated from the water, delivering a smooth and consistent brew. With a generous capacity, this French press can easily serve multiple cups of coffee, making it perfect for daily coffee lovers or for hosting guests.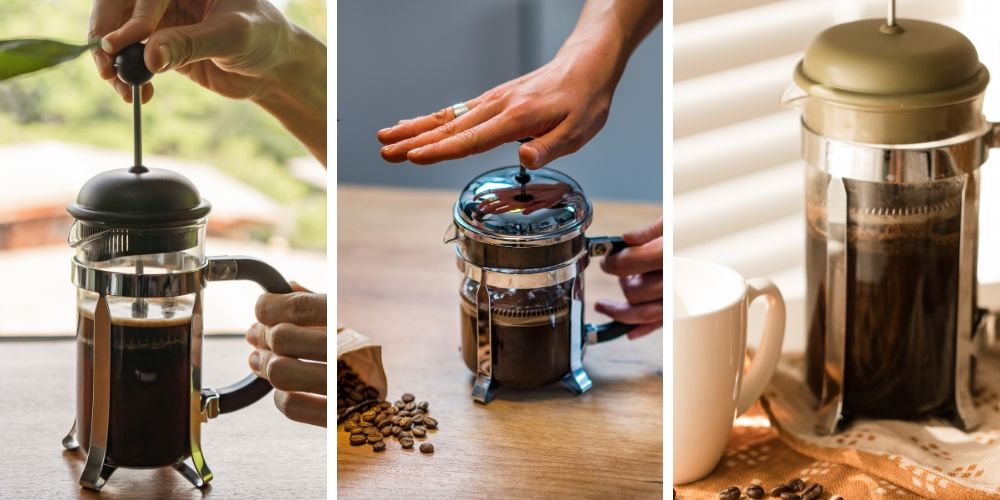 The glass, plunger, and filter are dishwasher-safe, making cleaning a breeze, while the frame and lid of the coffee press can be quickly wiped clean without ruining its stunning finish. Whether you're a coffee aficionado or someone who loves aesthetics and functionality, the Bodum Chambord French Press Coffee Maker is a must-have in your collection and promises to deliver an unforgettable coffee experience like no other.
AeroPress
The AeroPress coffee maker texture is smooth to the touch, and its matte black color gives it a sophisticated, modern look. The plunger, chamber, and filters are made of high-quality materials that are free of BPA and phthalates, ensuring your coffee is not contaminated by any harmful substances.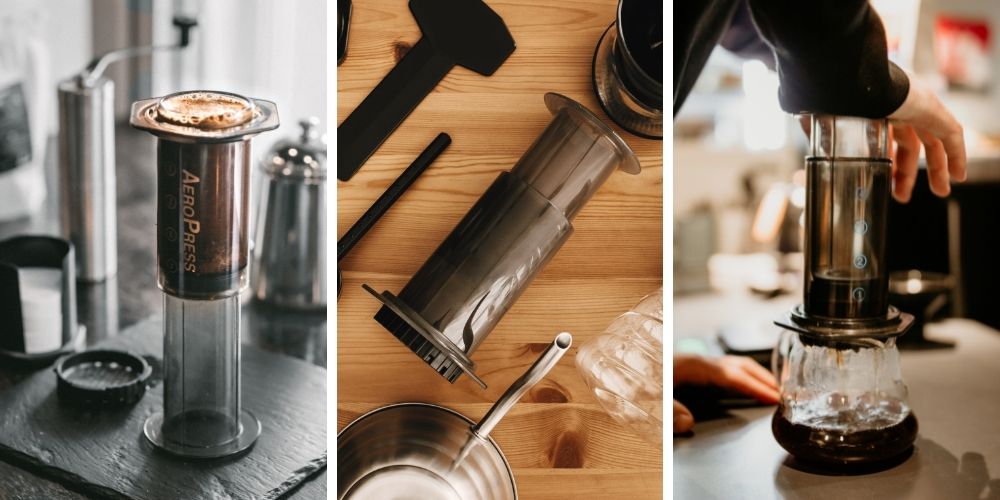 What sets it apart from other manual espresso makers is its innovative coffee-making process. Instead of the traditional French press method that can leave coffee grounds in your coffee mug, the AeroPress uses a rapid, total immersion brewing process that ensures maximum flavor without any bitterness or acidity. The micro-filters also prevent any grit or sediment from getting into your cup, leaving you with a clean and smooth cup of coffee every time.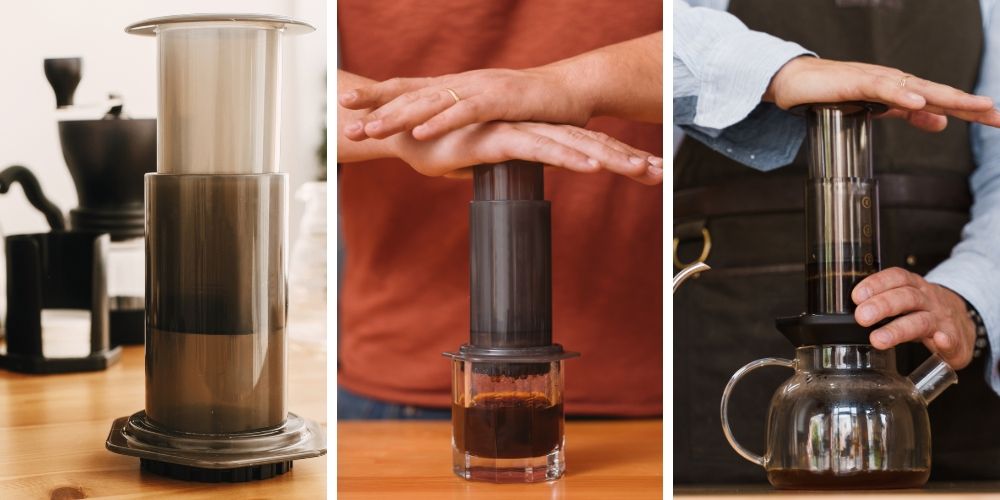 Using the AeroPress Original is a breeze. Simply add your ground coffee and hot water, stir, and press. The process takes about a minute to make 10oz (295ml) of regular coffee or 1 to 3 espresso-style shots for use in lattes, cappuccinos, and other espresso-based drinks. Plus, with the included scoop and stirrer, you can customize your coffee to your liking. The AeroPress can even make a cold brew in just two minutes!
Aside from its functional benefits, the Aero Press makes it perfect for travel or outdoor activities. Its compact size and lightweight design make it easy to pack in your backpack or luggage, so you can enjoy a great cup of coffee anywhere. It is an excellent choice for travelers and espresso lovers who value both form and function.
Siphon Coffee Maker
If you're a coffee lover looking for a new way to elevate your morning routine, the Siphon Coffee Maker is a must-have. With its stunning design, this coffee maker is sure to impress anyone who loves not only the taste of coffee but also the beauty of its preparation.
The Siphon Coffee Maker is made of premium, handcrafted, and hand-blown Borosilicate Glass, which is non-porous, meaning it doesn't absorb any odors or chemicals, ensuring each brew is as fresh and pure as intended. The glass carafe adds a touch of elegance to the brewing process, and the vacuum technology ensures that the aroma and flavors are fully extracted, giving you a rich, smooth and full-bodied cup of coffee.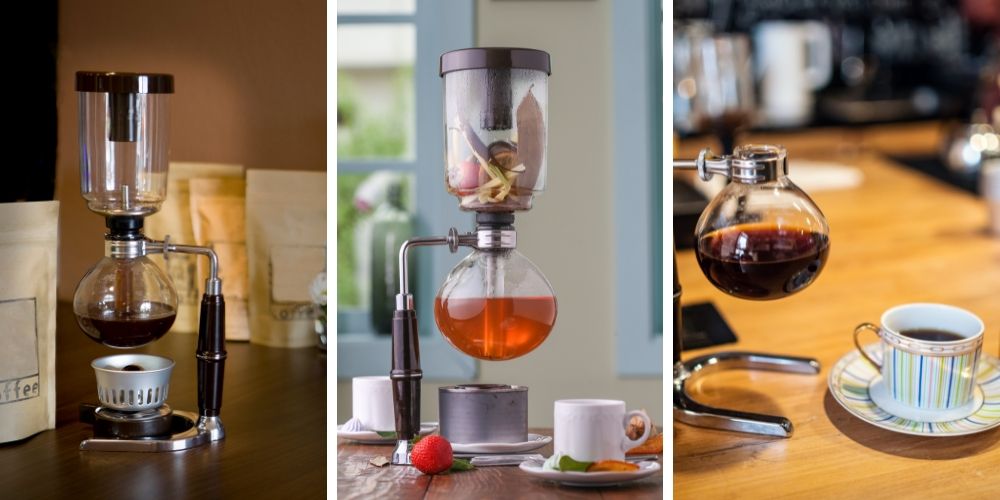 The siphon stand design is not only stylish but also offers safe and easy tabletop brewing. The included alcohol burner heats the water to the perfect temperature, and the reusable cloth filters provide a clean and sustainable option to traditional paper filters. The lid doubles as a siphon stand for post-brewing, and the entire set is easy to clean and maintain.
This non electric drip coffee maker is also versatile, allowing you to make hot or cold drip coffee, making it an ideal choice for coffee enthusiasts looking to experiment with different brewing methods. Additionally, it's perfect for those coffee enthusiasts who appreciate the art of brewing and want to showcase their love for coffee in a stunning and functional way. It's also an excellent option for science lovers looking to experiment with different brewing methods, and for those who appreciate the art and science of coffee making.
RELATED ARTICLE: Looking to pair your manual coffee maker with a little extra oomph? We've got you covered with our post on 10 Protein-Iced Coffee Recipes for a Delicious Energy Boost. It's a delightful blend of strength and flavor, perfectly designed to complement your fresh brew.
Moka Pot
This Italian-made coffee maker is not only practical but also stylish and elegant, making it a great addition to your kitchen. The Moka Pot features a unique design that is both sleek and classic, with an ergonomic handle that fits comfortably in your hand. Its distinctive octagonal shape and silver finish give it a modern yet timeless look. Made of high-quality materials, this high-quality coffee maker is built to last.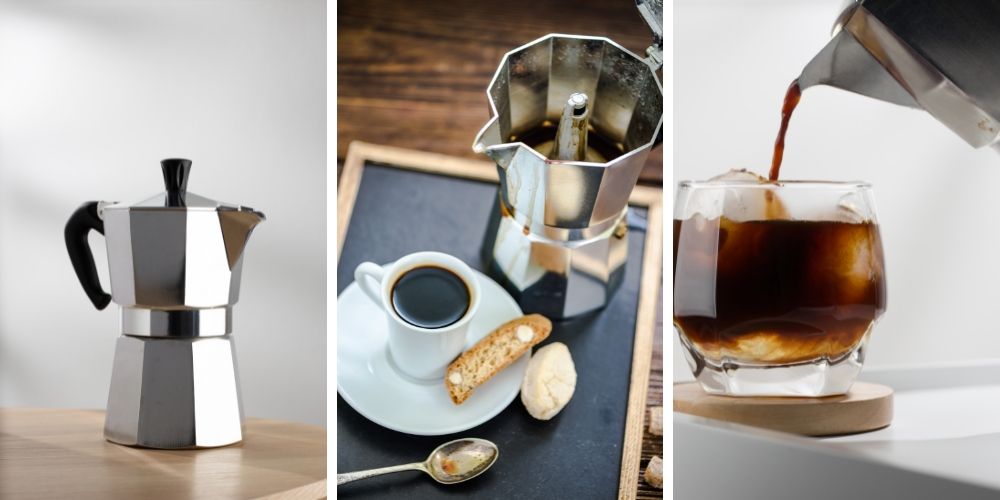 The Moka Pot is available in a variety of sizes, from 1-cup to 12-cup, making it suitable for both personal use and entertaining guests. The process of brewing coffee with the Moka Pot is simple and straightforward. Just fill the boiler up to the safety valve, fill the filter up with ground coffee, and place it on the stovetop. As soon as it starts to gurgle, turn off the heat and your coffee will be ready.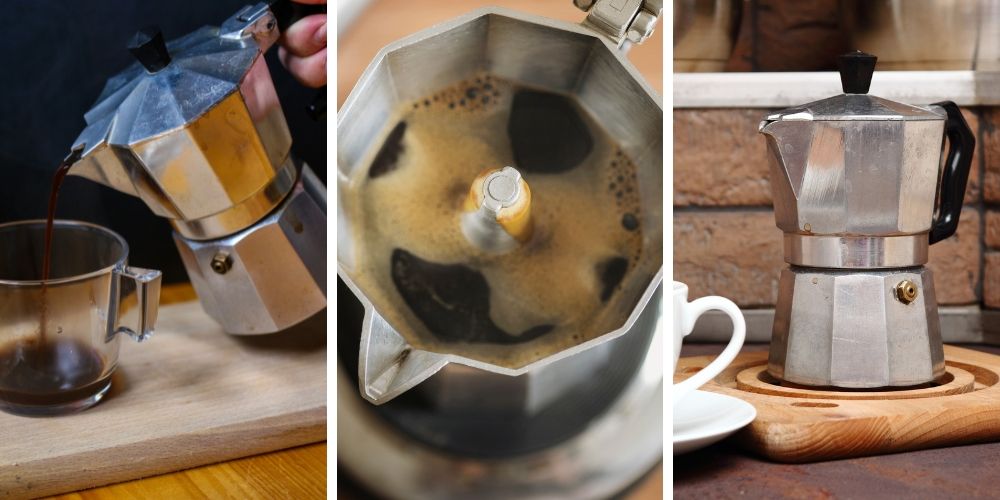 One of the benefits of using the Moka Pot is that it is environmentally friendly, producing no waste and requiring only a simple rinse with water for cleaning. Additionally, its patented safety valve makes cleaning even easier.
The Moka Pot is perfect for strong coffee lovers who appreciate the taste of freshly brewed coffee but want a quick and easy method to achieve it. It is also a great option for those stovetop users who want a sustainable and eco-friendly coffee maker that is built to last.
Manual Espresso Machine
This elegant and innovative manual flair espresso maker is perfect for those who appreciate the art of coffee brewing and want to enjoy delicious coffee without the need for electricity or coffee pods.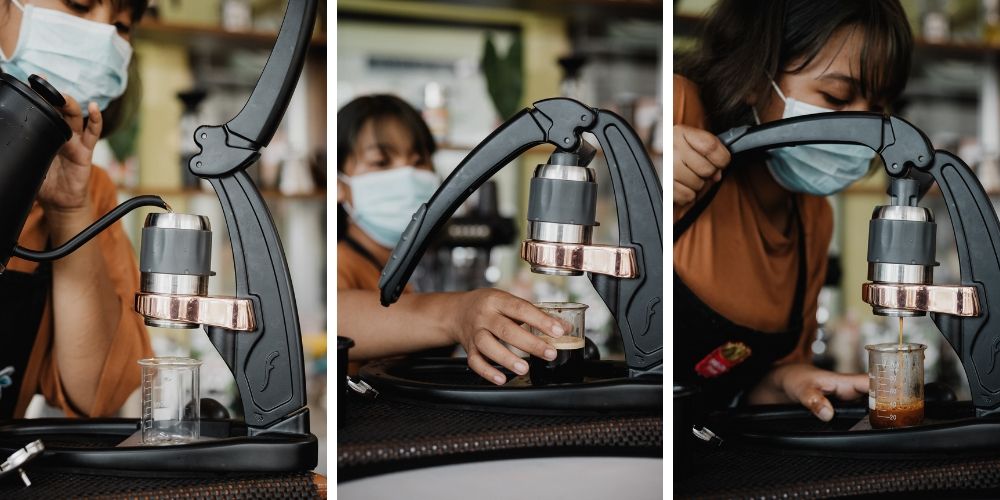 One of the standout features of the NEO is its beautiful hand lever press, which adds a touch of old-world charm to your home brewing experience. But don't let its vintage appearance fool you: this manual espresso maker is packed with modern features, including a flow-control portafilter. This clever device restricts the flow of water through your coffee grounds to ensure consistently good extractions and crema in every cup suitable for every espresso purist.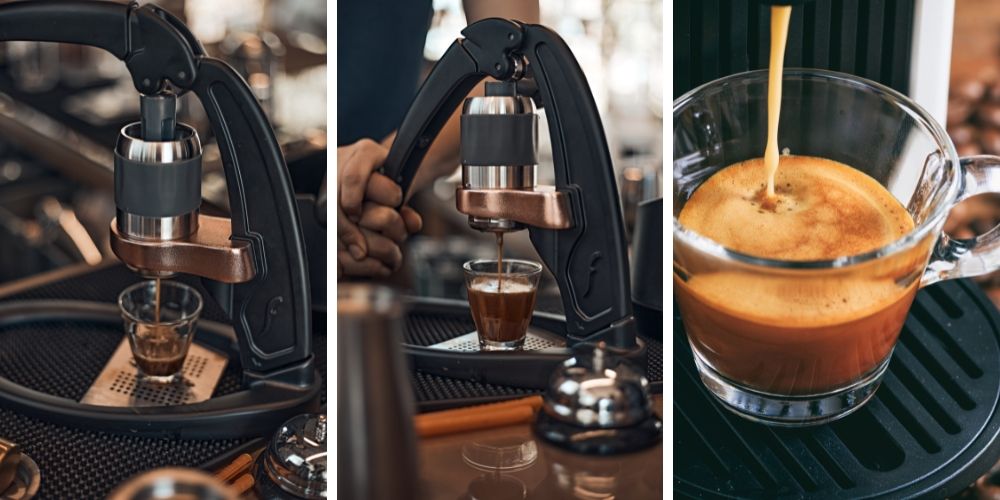 Brewing espresso with the NEO is a simple four-step process. Add your freshly ground beans to the portafilter, preheat your brewing cylinder, prep your brew head by adding boiling water, and then lower the lever. You don't need to worry about dialing in your grinder or buying expensive equipment, as the NEO does the work for you.
Cleaning the NEO is easy, thanks to its completely detachable brewing head. Simply remove the brewing head, separate the parts, and rinse under cool water to clean. It's perfect for hands-on coffee enthusiasts who appreciate the art of coffee brewing and want to enjoy hot, delicious coffee without the need for electricity or coffee pods.
Chemex
Chemex is a stunning pour-over coffee maker that boasts an elegant and timeless design. The transparent, non-porous Borosilicate glass material used to create the Chemex ensures that no odors or chemical residues are absorbed, meaning you can enjoy pure and flavorful coffee with each cup.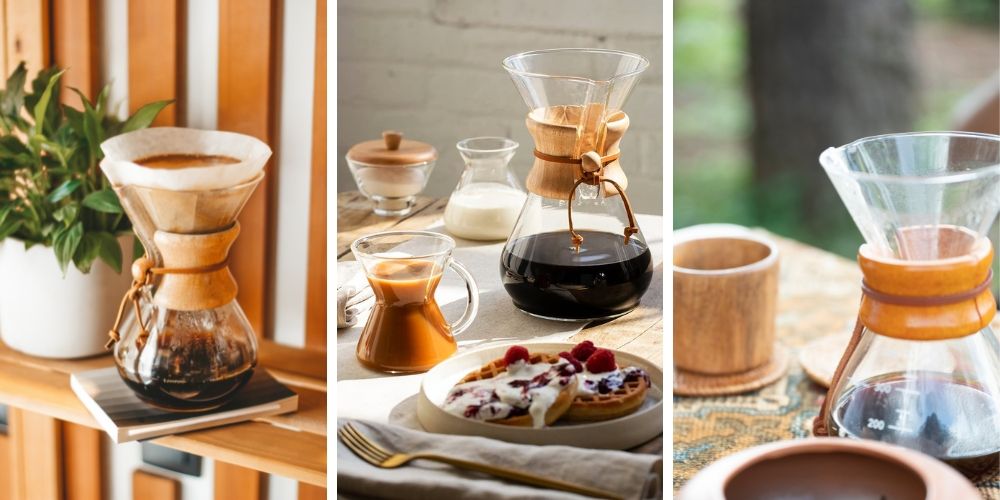 What sets Chemex apart from other coffee makers is its patented pour-over design, which allows coffee to be covered and refrigerated for reheating without any loss of flavor. This means you can make a big batch of coffee at once and enjoy it hot or iced coffee throughout the day, depending on your preference.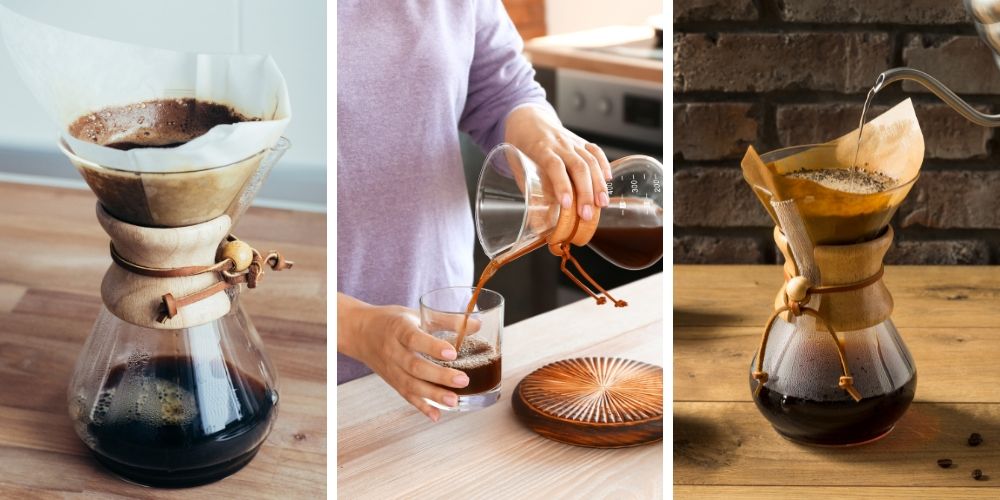 Each Chemex Coffeemaker is measured using 5 oz. as 1 cup, making it easy to use and measuring the perfect amount of coffee. One of the biggest advantages of Chemex is its simplicity and ease of use. It's perfect for coffee aficionados who prefer a more hands-on approach to their morning cup of coffee, as the Chemex relies on the user to pour hot water over the coffee grounds to brew a rich and flavorful cup. This coffee maker is also an excellent choice for those design-conscious users who value a sleek and minimalistic design and would like a coffee maker that doubles as a beautiful piece of kitchen décor.
RELATED ARTICLE: Looking to dive deeper into the refreshing realm of iced coffee? Our latest post, What is Iced Coffee: A Journey Through Global Varieties and Brewing Techniques, serves as your perfect companion, packed with intriguing insights and exciting explorations. It's a caffeinated adventure you wouldn't want to miss!
Cold Brew Coffee Maker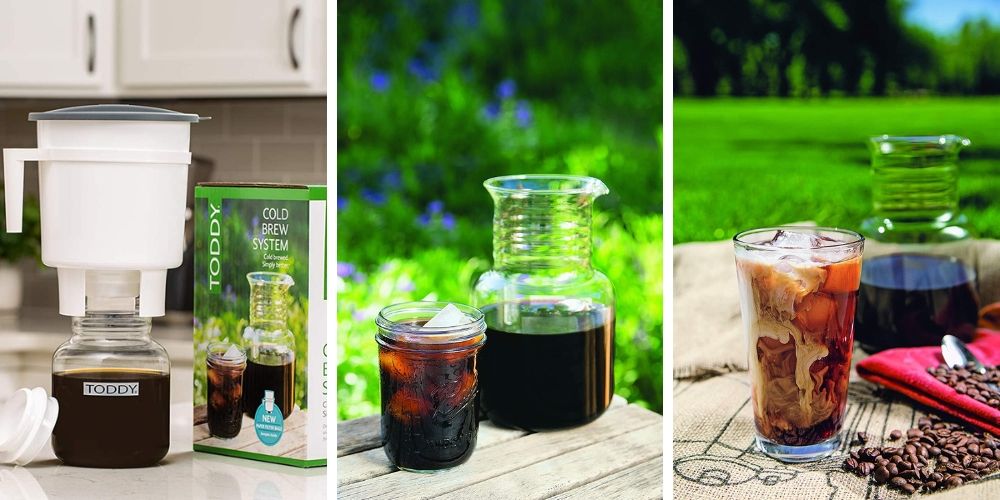 If you're a coffee lover looking for a new way to enjoy your favorite beverage, you might want to try the Toddy Cold Brew System. This cold brew maker is a game-changer, producing a smooth, rich liquid concentrate that is unparalleled in taste and quality.
The Toddy Cold Brew System is a non-electrical coffee maker that utilizes a unique cold water filtration process to extract the delicious flavor from coffee beans. This process allows time to replace heat, leaving behind much of the undesirable acidity that is often present in traditional coffee brewing methods. The result is a rich and flavorful concentrate that can be used to make iced and blended frozen drinks or served hot.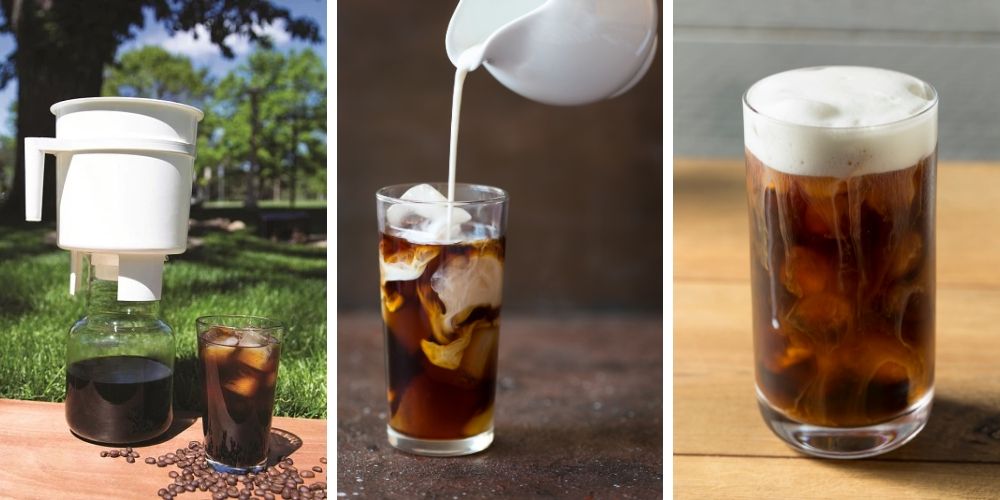 One of the standout features of the Toddy Cold Brew System is its design. The brewing container with handle, glass decanter with lid, and silicone stopper are all made from high-quality materials that give the product a premium feel. The system also comes with two reusable filters, making it an environmentally friendly choice.
The Toddy Cold Brew System is perfect for cold brew fans who enjoy the convenience of having a concentrate on hand that stays fresh for up to 2 weeks with no change to the flavor. It is also ideal for those summer coffee drinkers who prefer a less acidic, smoother cup of coffee. The cold drip coffee maker can be used to cold brew artisanal tea as well, adding to its versatility. With its unique cold water filtration process and sleek design, it is a standout product in the world of cold brew makers.
Percolator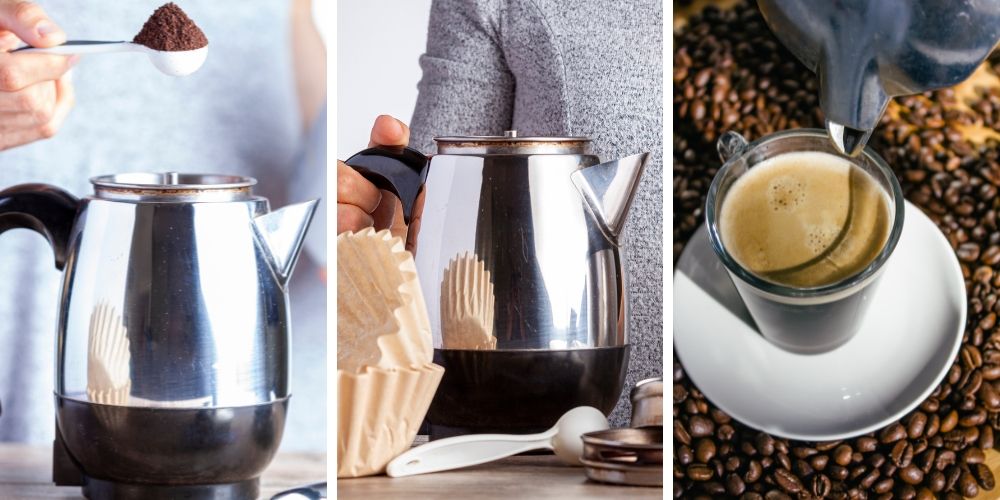 The Stovetop Coffee Percolator is a classic coffee maker that will make your mornings and evenings more enjoyable. This coffee maker has a unique and stylish design, featuring a polished stainless steel exterior that is durable and convenient. The sturdy, clear glass knob on the top of the percolator lets you know when percolating begins, creating a perfect cup of hot coffee.
The Farberware Percolator is easy to use with coarse-ground coffee and a coffee grinder. The permanent filter basket ensures that you never have to deal with messy coffee filters again, making it a great choice for those who want an easy-to-use coffee maker that provides consistent results. The percolator is also fully immersible and dishwasher safe, making cleanup a breeze.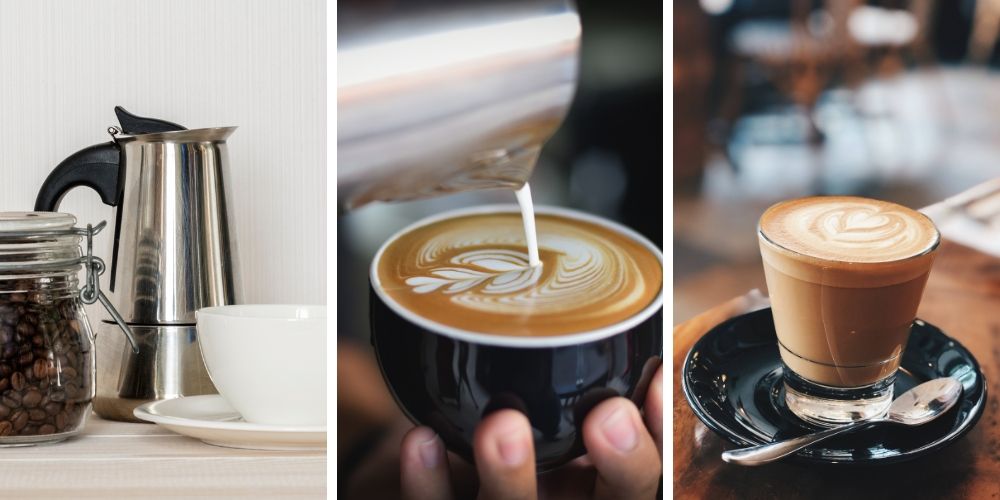 Whether you're a traditional coffee drinker or large-volume coffee drinkers,  Stovetop Coffee Percolator is an excellent choice. This percolator produces hot coffee that will stay hot, making it perfect for those who prefer their coffee hot throughout the day. With its classic design and easy-to-use features, the Farberware Percolator is ideal for anyone who wants to enjoy a great cup of coffee without any hassle.
Turkish Coffee Pot (Cezve)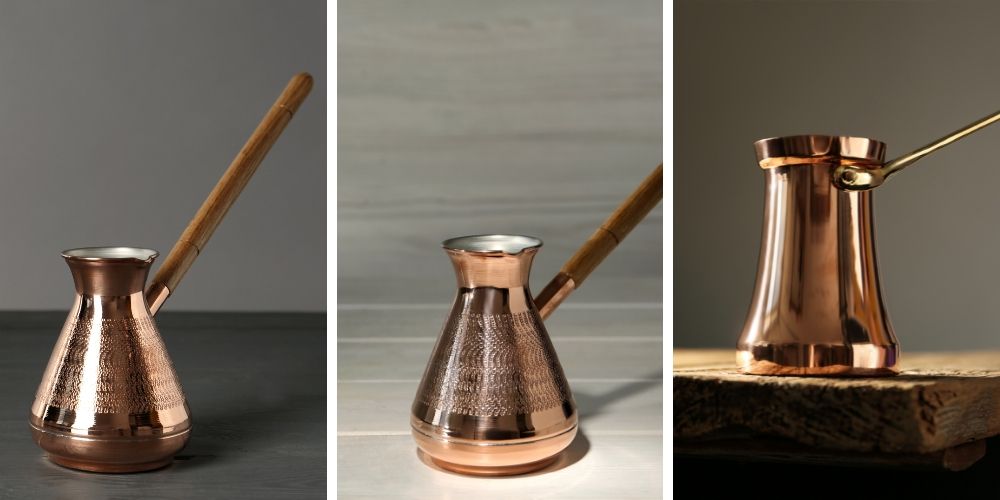 The Turkish Coffee Pot is a unique and stunning piece that adds character and charm to any coffee enthusiast's kitchen. This hand-made pot from Turkey is made of the thickest hammered copper, which gives it a beautiful texture and color that is unmatched by other imitations. The pot's tin lining and wooden handle not only add to its aesthetic appeal but also make it a durable and long-lasting addition to your coffee-making kit.
The 2mm thick copper construction ensures that heat is evenly distributed throughout the pot, allowing for a perfectly brewed and rich coffee every time. This pot can hold up to 5-6 demitasse cups, making it ideal for small gatherings or intimate coffee sessions with loved ones.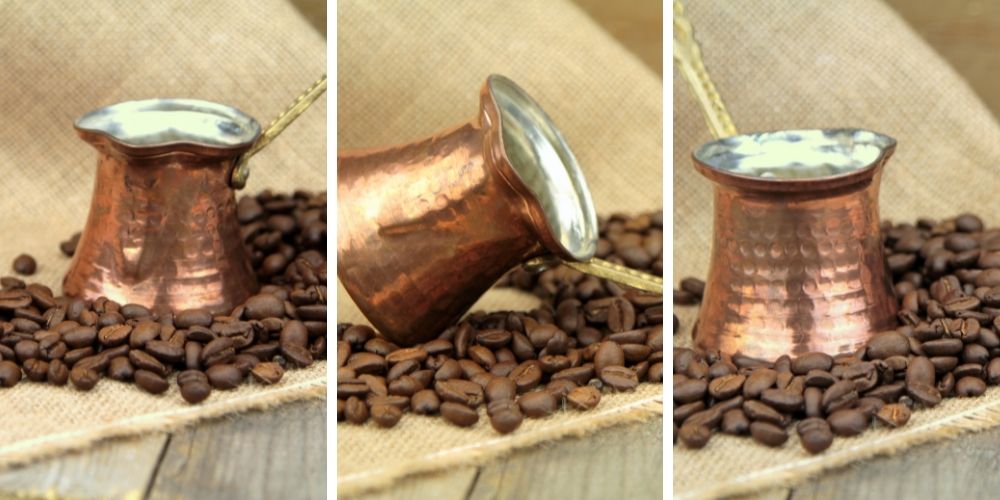 The Turkish Coffee Pot is perfect for strong coffee lovers and cultural experience seekers who appreciate a very finely ground coffee that is rich in flavor and aroma. Unlike other drip coffee makers, the Turkish Coffee Pot allows you to control the brewing process, resulting in a cup of coffee that is uniquely your own.
Vacuum Pot (Vac Pot)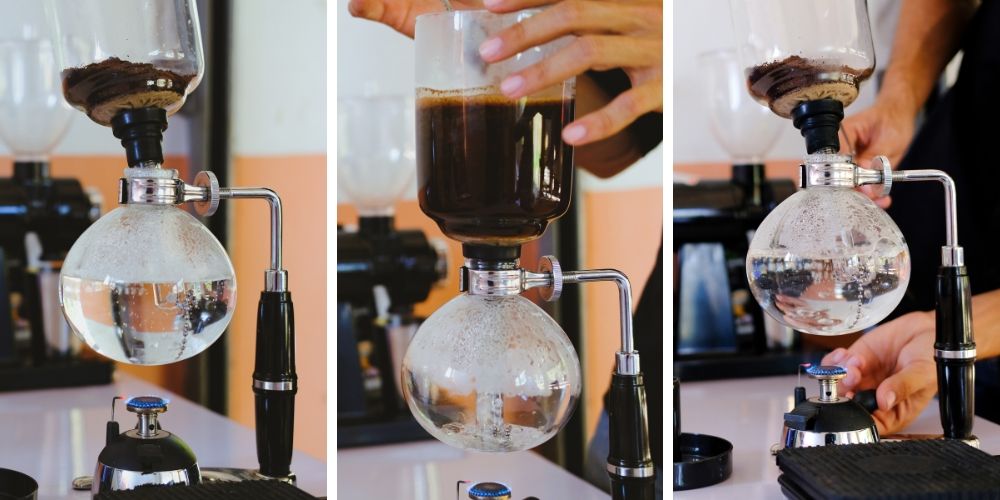 The Vacuum Pot or Vac Pot is the perfect coffee maker for those who are looking for a manual brewing experience. Imported from Japan, this coffee maker is built to last with its high-quality borosilicate glass and stainless steel construction. The unique design of the Vac Pot is sure to make it stand out in any kitchen with its sleek, modern look.
The upper and lower bowls, as well as the burner, are all made of the best heat-resistant borosilicate glass from Hario, which ensures that the coffee stays hot for a longer period of time. The stainless steel stand, burner cover, and filter add to the overall aesthetic and functionality of this coffee maker. The fasteners are made of brass and the windbreak is made of aluminum, making the Vac Pot a durable and long-lasting investment.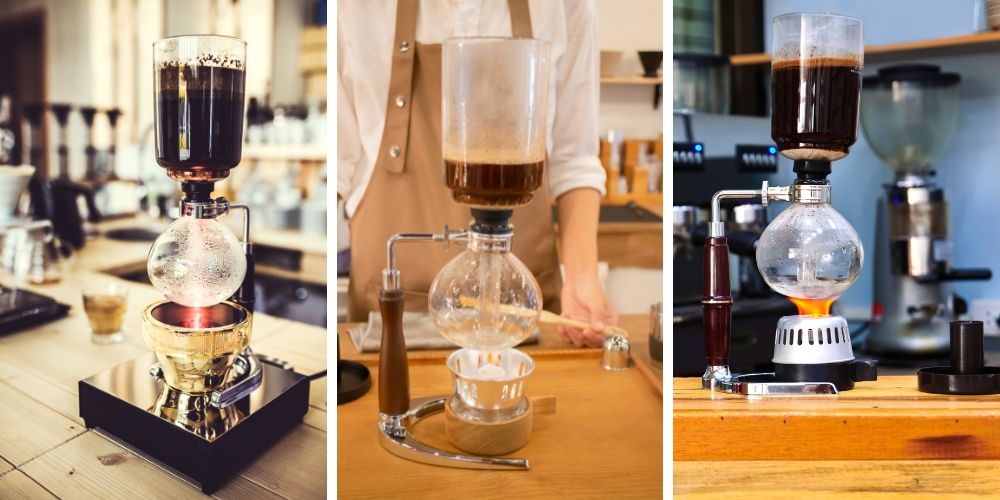 Hario cold brew coffee maker has a 5-cup capacity and is 14 inches in height, 6.2 inches in width, and 4.3 inches in length. This makes it the perfect size for any home or office. With its unique brewing process, the Vac Pot is able to extract the full flavor and aroma of your coffee beans, resulting in a rich and flavorful cup of coffee every time.
This coffee maker is suitable for coffee experimenters who is looking for a perfect coffee maker that offers a unique brewing experience. Whether you're a unique brewing methods enthusiast or just looking for a great cup of coffee, the Vac Pot is definitely worth considering. It's also a great option for those who want a manual espresso maker, but don't want to invest in an expensive machine. The Vac Pot is easy to use and produces a great cup of coffee every time, making it a must-have for any coffee lover.
Pour-Over Dripper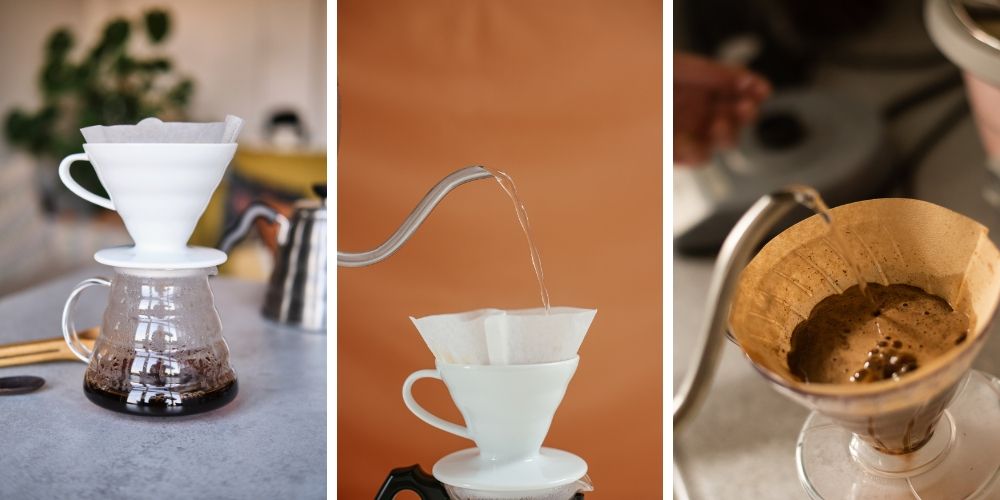 As a coffee enthusiast, I am always on the lookout for brewing tools that promise both exceptional taste and eye-catching design. The Hario V60 Ceramic Coffee Dripper delivers on both fronts, making it an indispensable addition to my coffee brewing arsenal.
The V60 dripper's elegant white ceramic body boasts smooth, rounded edges, and a conical shape that commands attention on any countertop. The spiral ribs adorning the interior walls not only create a visually striking pattern but also serve a crucial purpose in allowing for optimal coffee extraction. The V60's texture feels premium to the touch, and its overall design exudes a sense of refinement and sophistication.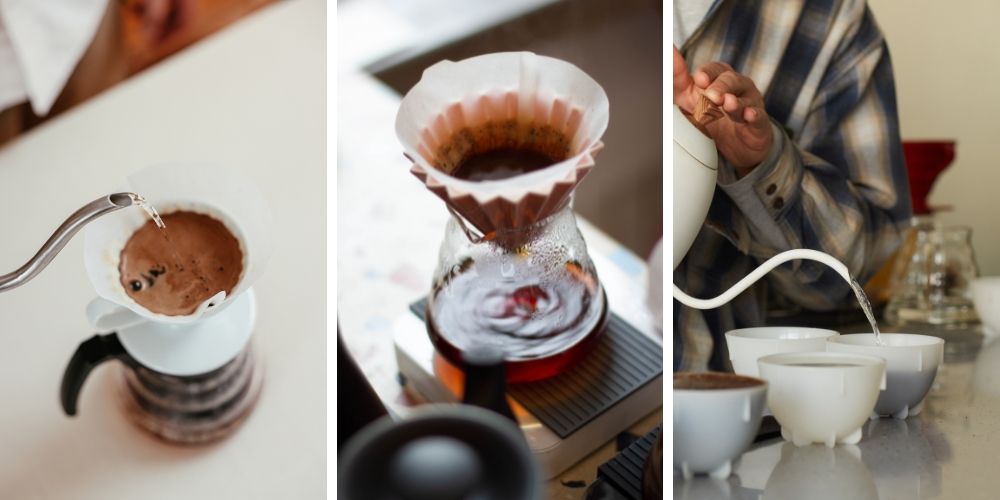 The Hario V60 Kit ensures a professional pour-over experience right in the comfort of your own home or workspace. It includes everything you need: the V60 Coffee dripper, a matching heatproof borosilicate glass server with a BPA-free handle and lid, a handy Hario coffee scoop, and 100 disposable V60 paper filters. This all-inclusive kit makes it a breeze to whip up a barista-level cup of coffee every time you brew.
The V60's size 02 capacity is just right for brewing 1-4 cups, so it's perfect for enjoying a quiet moment alone or sharing a delightful coffee experience with friends and family. Made in Japan, the V60 dripper showcases Hario's dedication to quality and innovation.
With its one-of-a-kind design and features, the V60 Ceramic Coffee Dripper is a must-have for coffee lovers everywhere. It's ideal for those who delight in the finer details of the brewing process and are eager to dive into the world of pour-over coffee. No matter if you're a seasoned coffee connoisseur or a newbie looking to step up your coffee game, the Hario V60 Ceramic Coffee Dripper is an investment that's sure to bring you joy.
RELATED ARTICLE: Craving a refreshing coffee treat? Take a plunge into our delicious guide, How to Make Iced Coffee: 9 Delectable Recipes, and unlock a world of summer bliss. It's a caffeinated joyride guaranteed to keep you cool and energized all season long.
How to Use a Manual Coffee Maker?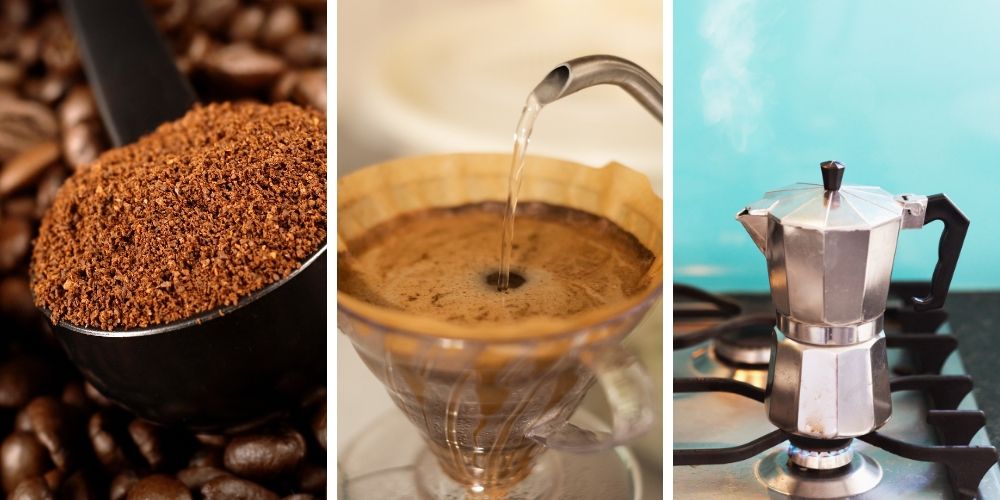 The art of brewing coffee with a manual coffee maker is not only a journey of discovery but also a delightful dance between the senses. As you master the nuances of your chosen brewing method, you'll unlock a world of tantalizing flavors and aromas that transform your daily caffeine fix into a ritual of sheer pleasure.
From the satisfying hiss of a Moka pot to the hypnotic swirl of water as it cascades over freshly ground beans in a pour-over, manual coffee brewing becomes an enchanting, immersive experience. As you hone your skills, experimenting with grind size, water temperature, and brewing time, you'll uncover the elusive perfect cup that caters to your unique tastes.
So, indulge your curiosity and embark on a coffee adventure that will entertain your taste buds, educate your senses, and elevate your appreciation for the humble coffee bean.
Manual Coffee Makers FAQ
What grind size should I use for each manual coffee maker?
When it comes to manual coffee makers, selecting the correct grind size is essential for a good cup of coffee. In general, the grind size should be adjusted based on the type of manual coffee maker and the type of coffee being brewed.
One important thing to note is that manual coffee makers usually require a consistent grind size, which can be difficult to achieve with a blade grinder. Investing in a good quality burr grinder can make a significant difference in the quality of your coffee.
What grind size for Aeropress?
The Aeropress uses a paper filter and requires a fine to medium grind size, similar to table salt. This grind size helps to prevent clogging while still allowing for full extraction, resulting in a clean and smooth cup of coffee.
What grind size for French press?
The French press uses a metal filter and requires a coarse grind size, similar to rough sea salt. This allows for a longer extraction time and results in a fuller-bodied cup with a richer flavor.
What grind size for moka pot?
The ideal grind size for a Moka pot is a medium-fine grind. It's coarser than espresso but finer than what you would use for a drip coffee maker.
What size grind for pour over coffee?
For pour-over coffee, a medium grind size is generally ideal. It's comparable to the consistency of sea salt.
How do I clean and maintain my manual coffee maker?
Manual coffee makers can produce excellent coffee, but they require regular cleaning and maintenance to keep them working properly. Here are some steps you can take to clean and maintain your manual coffee maker:
Clean after every use: After each use, rinse your coffee maker thoroughly with hot water to remove any leftover coffee grounds or oils. If your coffee maker has a removable filter, remove it and rinse it separately.
Deep clean weekly: Once a week, you should give your coffee maker a deeper clean. Dissolve a coffee machine cleaning tablet or powder in hot water, and then pour the solution into the coffee maker. Let it sit for the recommended amount of time (usually 15-30 minutes), and then rinse thoroughly with hot water. This will help remove any buildup of oils or mineral deposits.
Clean the grinder: If you use a coffee grinder, it also needs to be cleaned regularly. Empty any remaining coffee beans from the hopper, and then wipe it clean with a dry cloth. Use a small brush to remove any coffee grounds from the grinder blades, and then wipe them down with a damp cloth.
Use the right cleaning tools: Use a soft cloth or sponge to clean the exterior of your coffee maker, and avoid using abrasive cleaners or scrubbers that can damage the finish. If your coffee maker has hard-to-reach areas, use a small brush or toothbrush to clean them.
Store properly: When you're not using your coffee maker, store it in a cool, dry place to prevent moisture buildup. If you're going to be storing it for an extended period of time, make sure it's completely dry and empty.
By following these tips, you can keep your manual coffee maker in good condition and ensure that you're always brewing a great cup of coffee. Remember, a clean coffee maker and grinder, fresh beans, and a good quality paper filter are key to making a consistently good cup of coffee.
How do I achieve the ideal brewing temperature with a manual coffee maker?
The ideal brewing temperature for coffee is between 195-205°F (90-96°C). If you don't have a thermometer, you can boil water and let it sit for 30 seconds to 1 minute, which should bring the temperature down to the desired range.
To achieve the ideal brewing temperature with a manual coffee maker, including a French press, pour-over, AeroPress, or even an automatic drip coffee maker, it is essential to use water at the right temperature. Water that is too hot can over-extract the coffee, resulting in a bitter and unpleasant taste, while water that is too cold may not extract enough flavor from the coffee. Therefore, ensuring that the water temperature is optimal for your specific manual coffee maker is critical in achieving a perfect and satisfying cup of coffee.
When using a manual coffee maker, one effective way to ensure the water is at the right temperature is to pour boiling water into the brewer and let it sit for a few seconds before adding the coffee. This will allow the temperature to drop slightly and reach the optimal range for brewing.
It's also essential to preheat your coffee maker before brewing. For instance, when using a French press or pour-over, pour hot water into the carafe or filter to preheat it. Discard the water and add your coffee and fresh hot water. This will help maintain the ideal brewing temperature throughout the brewing process.
Can I use pre-ground coffee with a manual coffee maker?
While using freshly ground coffee is always preferable when it comes to manual coffee makers, it is still possible to use pre-ground coffee. However, it is important to keep in mind that the quality of the coffee will be affected by the freshness of the pre-ground coffee, and the resulting flavor may not be as rich or nuanced.
If you do choose to use pre-ground coffee, it is important to select a grind size that is appropriate for your manual coffee maker. Different manual coffee makers require different grind sizes, so it is important to consult the manufacturer's instructions or do some research to determine the ideal grind size for your particular coffee maker.
Using a reliable coffee grinder is also important, as it will help you achieve a consistent grind size. Pre-ground coffee that is inconsistent in size can lead to an uneven extraction, resulting in a cup of coffee that is under-extracted or over-extracted. This can lead to a sour or bitter taste.
When using pre-ground coffee, it is important to store it properly to maintain its freshness. Coffee should be stored in an airtight container in a cool, dark place away from heat and moisture. It is also important to use the pre-ground coffee within a week of opening the package to ensure maximum freshness.
How long does it take to brew coffee with a manual coffee maker?
The length of time it takes to brew coffee with a manual coffee maker depends on the specific type of coffee maker being used and the desired strength of the coffee. In general, manual coffee makers tend to take a bit longer to brew coffee than automatic coffee makers. However, the benefit of a manual coffee maker is that it allows for greater control over the brewing process and the ability to customize the coffee to individual preferences.
Final Thoughts
The world of manual coffee makers is vast and varied, with options to suit every lifestyle and coffee preference. From the best manual coffee makers like the classic French press to the high-tech AeroPress, there is a manual coffee maker out there that is perfect for you.
Take the time to research and find the best manual coffee maker that fits your lifestyle and brew style, and don't forget to experiment with the coffee to water ratio to find your perfect cup. The joy of brewing your own perfect cup of coffee is unparalleled, and investing in a quality manual coffee maker is a decision you won't regret. So why not take the plunge and start your journey towards a better cup of coffee today?
Comments