This post may contain affiliate links, please see our privacy policy for details.
If you're anything like me, you love to decorate for Christmas but dread the thought of taking everything down and storing it away until next year. But with a few simple tricks, you can make the process a lot easier on yourself! In this blog post, I'll share some clever ways to simplify your Christmas decoration storage so that you can enjoy the holiday season stress-free. Read on for some tips and ideas!
Invest in a Good Storage System - This Will Make Your Life Much Easier in the Long Run.
Investing in a good Christmas storage system is a brilliant way to simplify life and keep things organized. Not only will it reduce clutter, but it will also help save time when looking for items as they will always have their designated spot. A well-thought-out storage system can offer peace of mind, knowing that everything has its place and you no longer have to worry about constantly searching for something at the last minute. In the long run, investing in a reliable, practical storage solution can be one of the best decisions you make for yourself - certainly more convenient than digging through an unorganized closet or cupboard!
Label Everything Clearly so You Know Where it Goes.
Taking the time to label every item in your home may be tedious, but it pays off in the long run. By properly labeling everything from DVDs to art supplies, you can save yourself a lot of time and energy spent trying to remember where each item belongs. Labeling keeps items in an organized system that is easy for anyone living in the home to access.
Taking a minute or two to smudge your handwriting on a piece of masking tape and stick it onto furniture is well worth it! Not only does it make life easier for you, but also for any visitors stopping by who might also need help finding things like flashlight batteries or spare blankets. Designating a place for all of your possessions ensures that your house remains clutter-free while also allowing quick access when needed.
Use Clear Plastic Containers to Store Your Christmas Decorations.
Christmas decorations are a great way to get into the festive season, but it can be a bit of a hassle when it's time to put them away after the holidays have finished. To help make this seasonal task faster and easier, why not try storing your decorations in clear plastic containers? As you can see through the plastic, you'll know exactly what is inside the container without having to rummage around trying to find a particular item. This will help save precious time when packing up all your holiday cheer until next year! Plus, you'll also save some extra space if needed as clear plastic containers typically don't take up much room in storage.
Wrap Your Christmas Lights Around a Piece of Cardboard to Prevent Them From Getting Tangled
Christmas can be a busy time of year and it's often hard to find the right places to store decorations until the following year. One great way to keep Christmas lights from getting jumbled up – whether you have fairy lights, icicles, or mini-lights – is to simply wrap them around a piece of flat cardboard. Not only will it make them easier to store, but when next Christmas rolls around, they'll be untangled and ready for putting up without any fuss. Plus, with the cardboard keeping its shape, they'll look just like new when taken out of storage! So why not save yourself the hassle of untangling those pesky lights each year by investing in something as simple as a spare piece of cardboard?
Put all Your Fragile Ornaments in a Box Filled With Tissue Paper to Keep Them Safe.
The holiday season is here and that means it's time to start decorating! One of the most important parts of the process is making sure you don't break any precious ornaments. To ensure your memorabilia stays intact, it's a good idea to grab a box and fill it up with some tissue paper. This way you can lay each ornament down safely and make sure they don't get hit, bumped, or otherwise damaged while they are being stored away waiting for the festive season!
Christmas Decoration Storage Solution
This holiday season, make sure your decorations are safely and properly stored so that they can be enjoyed year after year! Finding the right storage solutions for all of your festive decor can be a challenge. In this article, we'll provide you with some clever Christmas decoration storage ideas to help keep your holiday trimmings safe and organized. Whether you're looking to store ornaments, lights, garlands, or stockings, these tips will provide you with the perfect solution.
Christmas Tree Storage
As the holidays come to a close and decorations need to be stored away for the year, many individuals find themselves in search of a creative and effective storage solution for their Christmas tree. Whether you have an artificial tree or a real one, finding adequate storage can be an overwhelming task. With the right strategy and organization, however, it is possible to store your tree safely and efficiently until the next holiday season.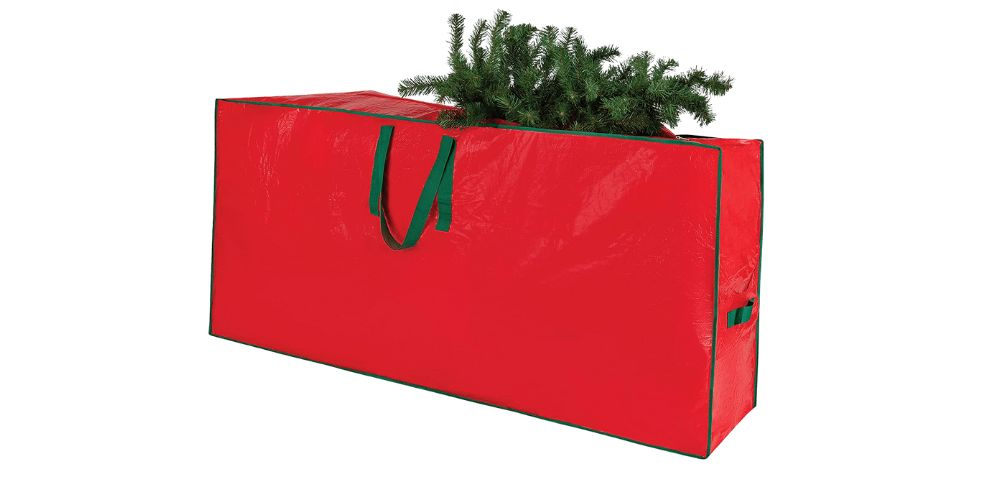 When it comes to holiday decorations, a sturdy Handy Laundry Holiday Tree Storage Tote is a must-have. Perfect for storing away any artificial Christmas tree, this tote measures 65 inches long by 15 inches wide by 30 inches high and is designed to be sturdy and tear-resistant.
The tarp material also protects the evergreen against dust, insects, and moisture so that it can last through many more holidays spent with family and friends. Equipped with two sturdy reinforced handles on either side for carrying and another loop for pulling, the Handy Laundry Holiday Tree Storage Tote even has extra room for garland, ornaments, or lights!
Make your holiday season truly special with this versatile storage solution from Handy Laundry!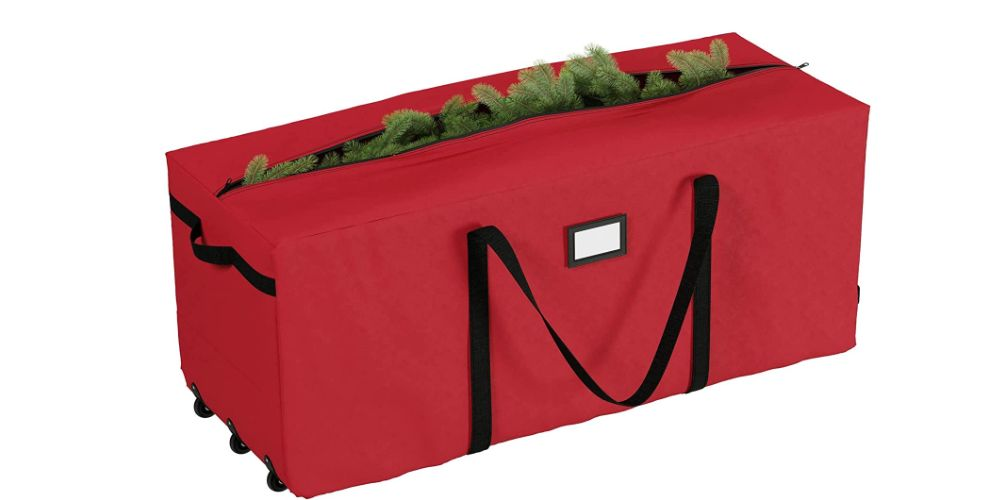 This is the perfect solution for storing and transporting artificial trees. With durable fabric and reinforced handles, it will keep your decorations safe while they're tucked away in the off-season.
The bright red exterior will also add a festive touch! And with its built-in wheels, this bag makes life easy—heavy ornaments won't be a problem when you don't have to carry them around—just roll it into place and get ready for Christmas without straining your back. Your decorations will stay safe, and secure, and look great for years to come!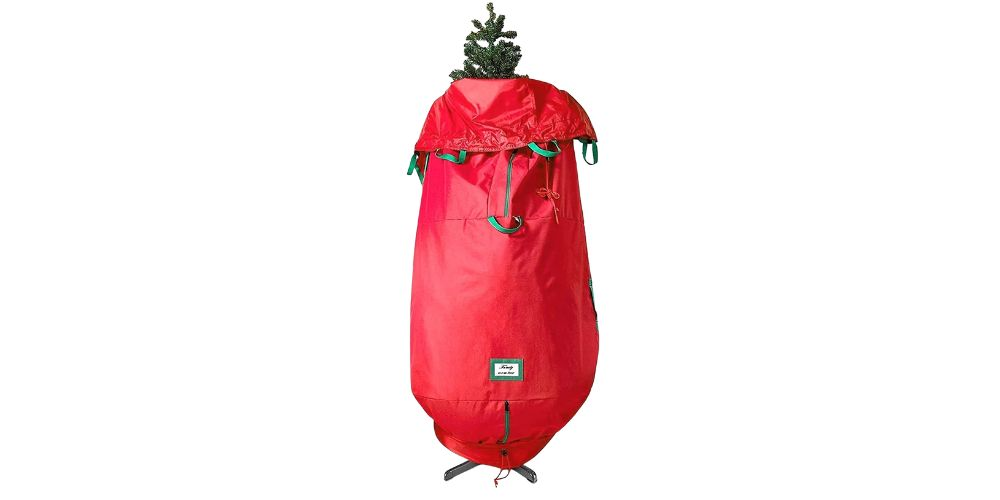 Keeping your Christmas tree in tip-top shape during off-season storage is easy and hassle-free with this heavy-duty upright tree storage bag. This jumbo-sized bag is perfect for a nine-foot-tall, pre-assembled tree and comes equipped with convenient carrying handles.
Constructed from thick 600D material on the exterior and inside PVC for added protection, the bag not only ensures your tree's safe storage but also keeps its stand The dense material is torn-resistant and will keep any potential dirt or pests away from your beloved tree.
Reuse this durable quality bag season after season to keep your tree in tip-top shape!
Christmas Ornament Storage Boxes
The Christmas season is almost here! With the hustle and bustle of the holidays quickly approaching, it's easy to get overwhelmed with all the decorations, especially ornaments. Many homes are overflowing with these festive items, and it can be difficult to find an effective way to store them. Fortunately, there are many creative solutions for organizing your Christmas ornaments while ensuring they remain in perfect condition throughout the year.
If you're looking for the perfect way to organize and store away your delicate holiday ornaments after the celebrations have come to an end, then this ornament storage box from Zober is the ideal solution.
It offers a secure, safe place to keep all of your special ornaments this holiday season. Along with convenient slots designed to hold up to 128 3-inch ornament decorations, it's also made using a tough, nonwoven tear-proof material that not only keeps decorations safe but also ensures easy access when needed for events or celebrations in the future.
So for those who want a long-term organizing solution that often stores their holiday decorations, this ornament storage container from Zober is the perfect option!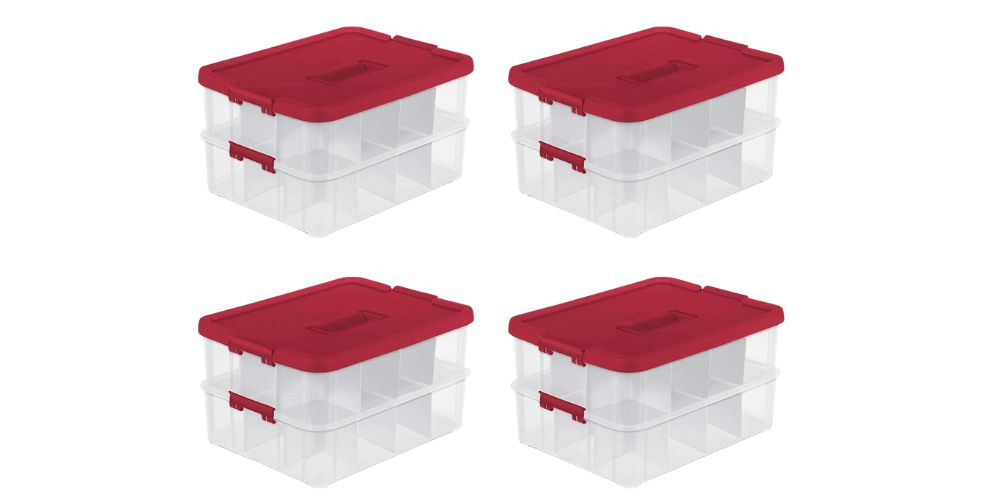 This storage container with a handle is the perfect solution for storing ornaments! Each container is designed with dual layers, which can store up to 24 ornaments. Even better, these adjustable dividers create individual compartments for varying-sized items, so you can make sure all of your items fit securely.
The latched layers provide extra security, and the clear design makes it easy to find each ornament in a jiffy. The handle on top adds convenience when carrying the containers, and the stackable design allows you to save space if storing multiple units.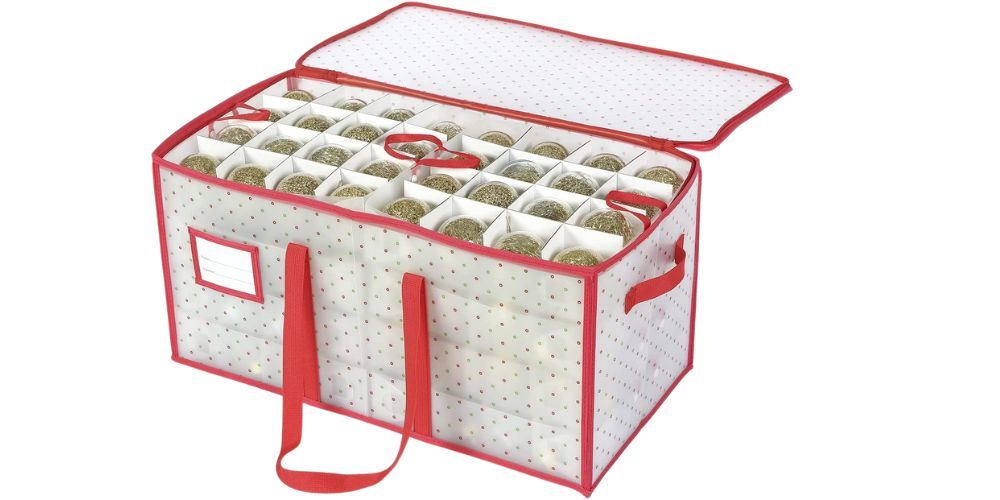 The Sattiyrch Ornament Storage Box will make your ornament storage a breeze this Christmas season. Its dual zipper closure keeps all of your delicate ornaments securely in place, with some adjustable compartments so you can balance the size and amount of each ornament that fits. Included are cardboard dividers to help make sure ornaments are separated as evenly as possible.
With 128 3-inch ornament slots, you're able to host the most ornament-filled Christmas tree without having to worry about searching for missing objects afterward! Make this holiday season effortless by investing in an ornament storage box – there simply is no better way to store your ornaments.
Christmas Light Storage
With the holidays quickly approaching, now is the best time to start thinking about storage solutions for all of those holiday decorations you'll be bringing out again. If you're one of many who struggle with tangled Christmas lights each year, there's a great storage solution that can make your life easier.
A special Christmas light storage container keeps cords organized and makes it simpler to quickly set-up and take down decorations with minimal headaches. No more digging through boxes of tangled cords trying to find what goes where. These containers are an economical way to stay organized and keep your holiday chaos to a minimum.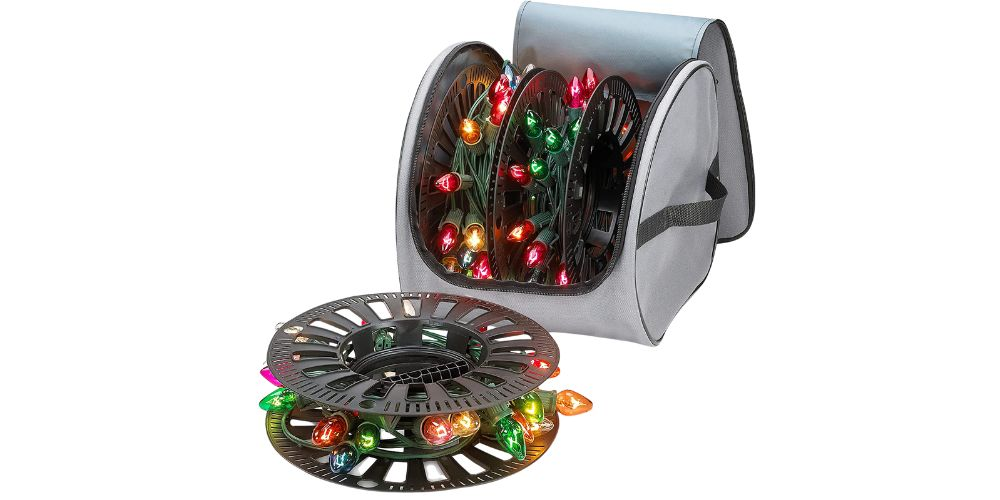 If you have an expansive range of Christmas lights and cords that need to be safely stored during the off-season, then this heavy-duty light storage bag is exactly what you've been looking for.
Made of tear-proof 600D fabric and reinforced on the inside with PVC material, the bag will provide secure protection for up to 375 feet of mini Christmas tree lights and extension cords. The two reinforced handles make it easy to lift and transport when loaded, providing convenience in addition to top-notch protection.
The Light Storage Bag is bound to be a great asset for any Christmas lighting enthusiast who wants hassle-free storage between use seasons!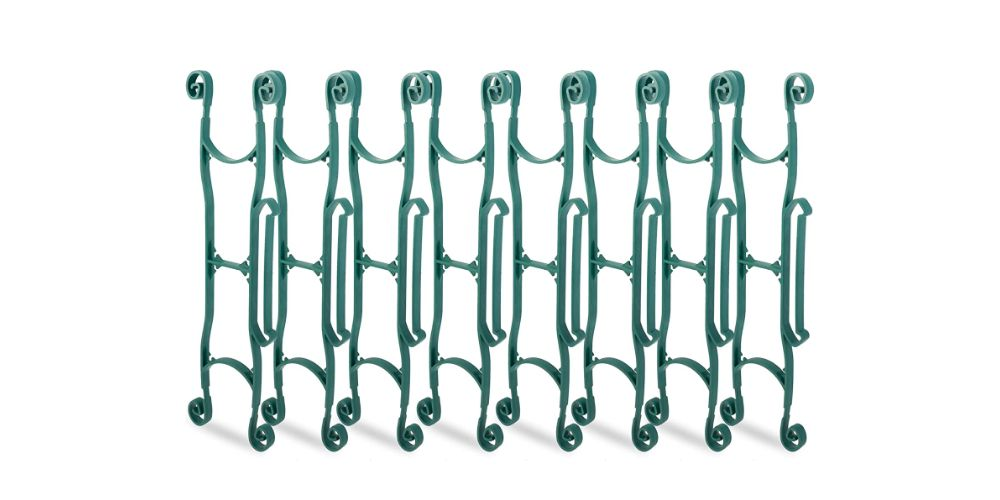 This innovative light storage holder is definitely a time-saver this holiday season! This storage holder makes it easier to wind up string lights, ropes, and electric cords. Plus, the green color gives it an extra wintery feel of the holidays.
And because of its convenience and portability, you can re-do your decorating without worrying about tangled messes. Not only that, but your home will be much cleaner and more organized when using this light cord wind-up solution!
The Zober Christmas light storage box is the perfect solution to your Christmas light storage needs with its strong non-woven fabric and 4 cardboard light storage wraps. This convenient and durable zipper pouch can store up to 800 Christmas holiday light bulbs easily and quickly, making Christmas decorating a breeze.
Its reinforced stitched handles ensure you don't have to worry about your Christmas lights getting damaged or tangled during transport or storage. Forget those days of struggling with Christmas lights, and invest in the Zober Christmas light storage box!
Final Thoughts
There are a variety of products available to help you store away your holiday decorations, from tree storage bags and boxes to light keepers and string lights with timers. Whatever your needs, there's sure to be a product that can help make your post-holiday life a little easier. Do you have any favorite holiday storage products? Share them in the comments below!
Comments