This post may contain affiliate links, please see our privacy policy for details.
Hey there, fashion lovers! I've got to tell you, one item in my wardrobe that I just can't live without is the classic pencil skirt. This silhouette serves me well, from boardroom debates to candlelit rendezvous, and from lazy brunch catch-ups to energetic weekend soirées.
They're my go-to for all kinds of events -you name an event, and I've probably worn my pencil skirt there!
Why the infatuation, you ask?  The answer is simple.  The pencil skirt's blend of meticulous tailoring and sleek lines provides a canvas to create ensembles that are anything but ordinary. This wardrobe gem accentuates every figure with elegance, maintaining a sublime balance of femininity and sophistication.
Here's the best part - the pencil skirt is impressively versatile and can easily adapt to your style. Whether you're going for a vibrant, laid-back look with a floral pencil skirt, a dazzling evening out in a sequin pencil skirt, embracing a classic, powerful business vibe with a plaid pencil skirt, or channeling a daring, edgy aesthetic in a leather pencil skirt, this piece is up for the task!
Ready for an adventure? Well, tighten those style laces because we're set to embark on a thrilling exploration of the endless narratives a simple pencil skirt can weave. Let's take this leap into the fashion kaleidoscope, shall we?
What is a Pencil Skirt
What's a pencil skirt, you wonder? Picture this – a chic, slim-fitting skirt with a straight, narrow cut. Generally, it falls to, or just below, the knee and it's tailored for a close fit. Its name? Quite aptly derived from its pencil-straight silhouette!
Making its grand entry into the fashion scene way back in the 1950s thanks to Christian Dior's "H-line" collection, this classic piece has been making waves ever since. The pencil skirt was originally designed as a statement of rebellion, defying the norms of loose and frilly clothing to a more defined and daring silhouette.
Over the years, the pencil skirt has come a long way, transforming from a symbol of power and autonomy to a versatile staple that transcends seasons and occasions. Today, the pencil skirt continues to reign supreme in wardrobes worldwide - with exciting new variations like high-waisted fits, diverse fabrics, and vibrant patterns, it's the go-to choice for the modern, fashion-forward woman!
How to Wear a Pencil Skirt
So, you're wondering how to perfectly rock that pencil skirt, aren't you? Let's get started. First things first - it's all about the fit and length. The pencil skirt should sit comfortably at your waist, skimming your curves with grace, and ideally fall just at or below the knee. Remember, a well-fitted pencil skirt can be your best friend, accentuating your figure in all the right places!
Next up, let's talk footwear. The beauty of the pencil skirt is its versatility, allowing it to pair seamlessly with a variety of shoe styles. From classic pumps for that power look in the boardroom to cute sneakers for a casual, off-duty vibe, and even strappy sandals for a glamorous night out - your shoe choice can completely transform your look!
Finally, no outfit is complete without the right accessories. A sleek belt can accentuate your waist, statement jewelry can add a pop of personality, and a matching handbag can tie the whole ensemble together. But remember, less is more when it comes to accessorizing – let your pencil skirt be the star of the show. Now that you're armed with these tips, get ready to strut your stuff and make that pencil skirt work for you!
Pencil Skirt Outfit Ideas
Alright fashion enthusiasts, let's chat about a garment that has scribbled its way into everyone's closet - the classic, versatile, and occasionally underestimated pencil skirt. Some might deem it too corporate or too traditional, but we're about to break those stereotypes, aren't we? We're prepared to dive deep into the fashion ocean and reel in some ensembles that'll turn your pencil skirt into the centerpiece of your attire! Are you thrilled? Let's plunge in!
Pencil Skirt and Crop Top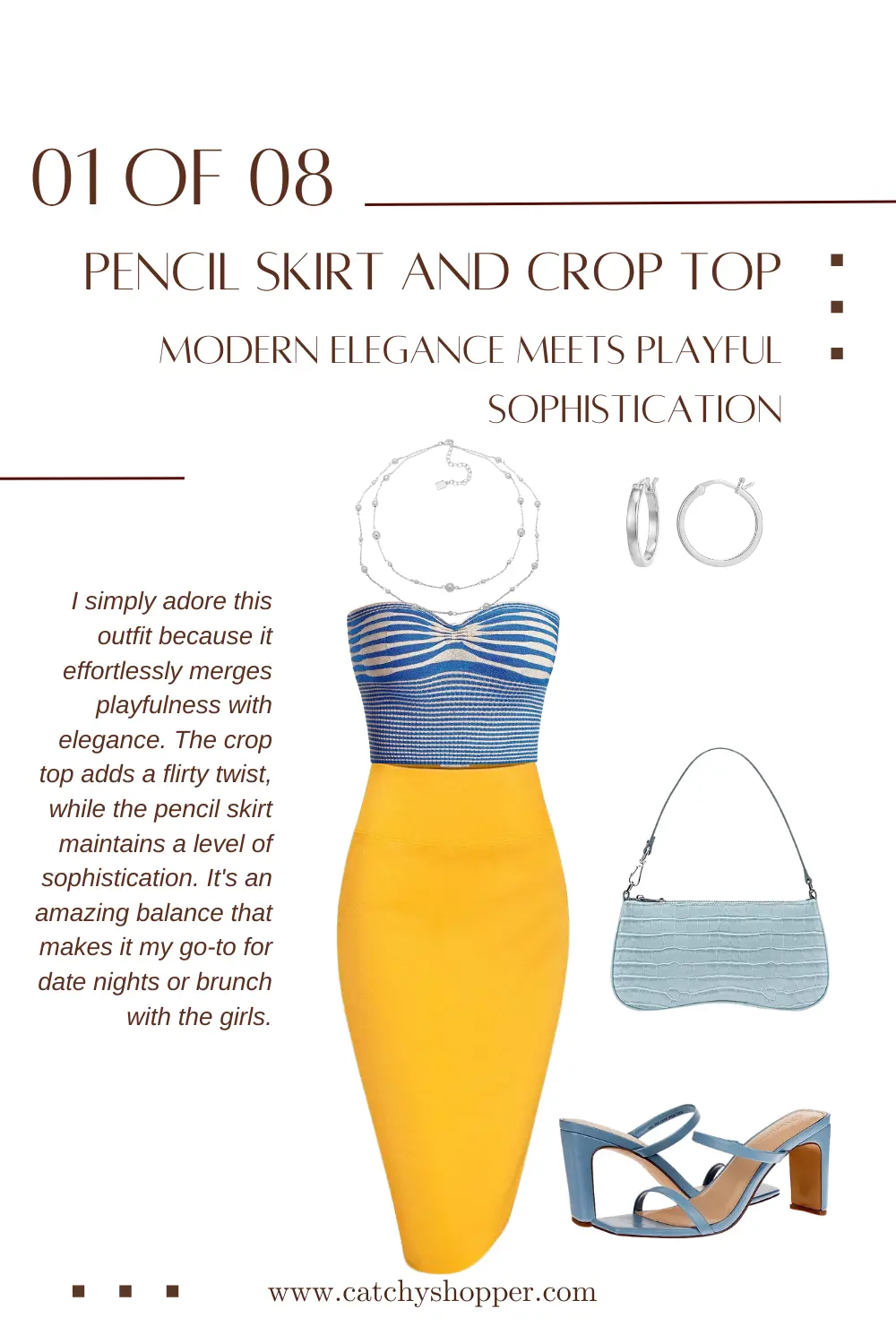 Elevate your pencil skirt by pairing it with a chic crop top. This edgy combo can be perfect for a summer brunch or a casual evening out. Picture a high-waisted pencil skirt teamed with a floral crop top. Add a pair of strappy sandals and a compact crossbody bag to complete the look. Accessorize with some delicate layered necklaces for a feminine touch. For a variety of adorable crop top options, check out our blog post: 18 Cute Crop Tops You Can't Afford to Miss
Pencil Skirt and Sneakers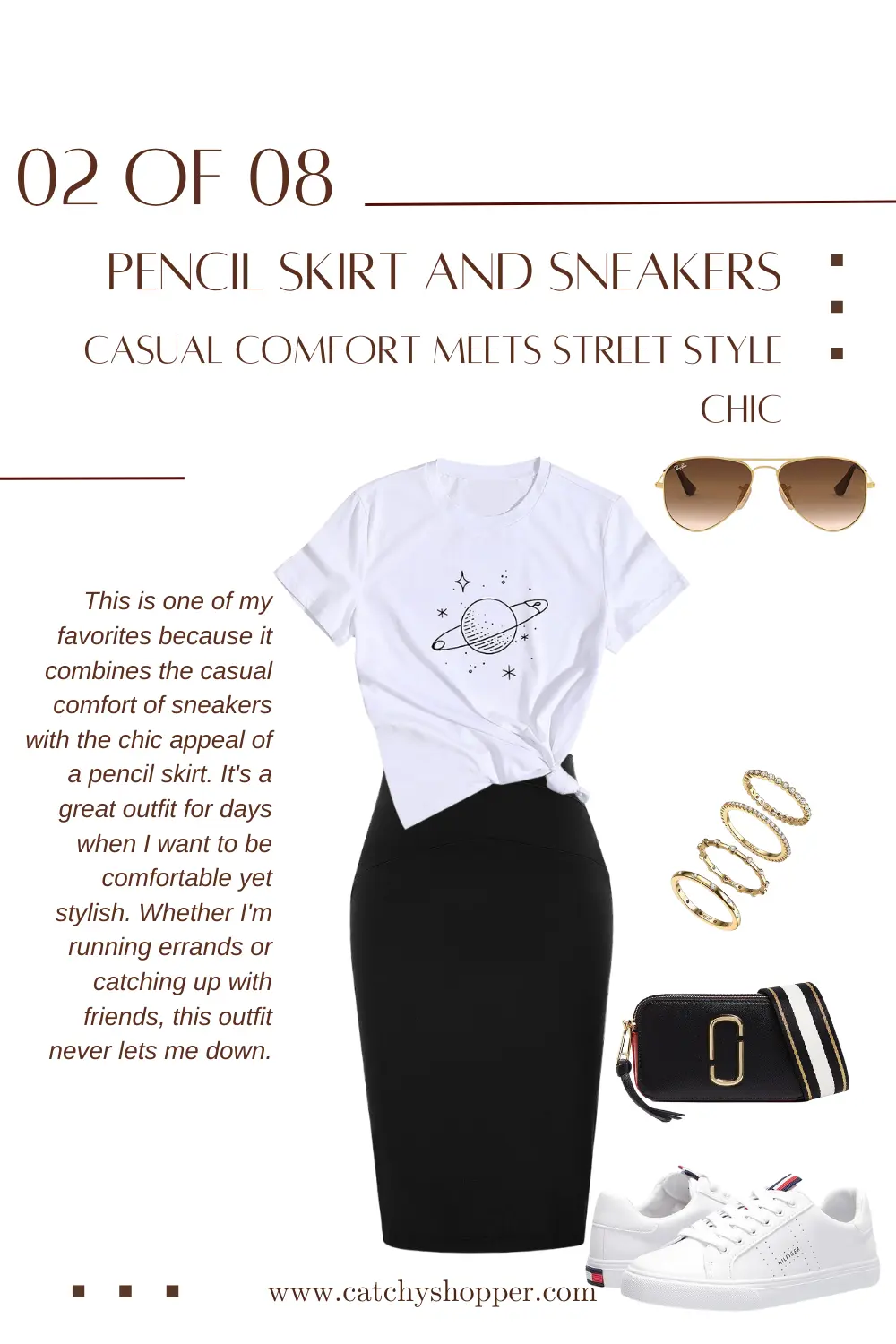 Unleash the street-style star within you with this cool, casual combo! Pair your black pencil skirt with a relaxed graphic tee and fresh white sneakers for an effortlessly stylish look. A crossbody bag, some minimalistic jewelry, and stylish sunglasses could serve as the perfect finishing touches. For the most stylish sneakers this season, check out our blog post: 22 Cute Spring Shoes You'll Want To Wear All Season Long
Pencil Skirt and T-Shirt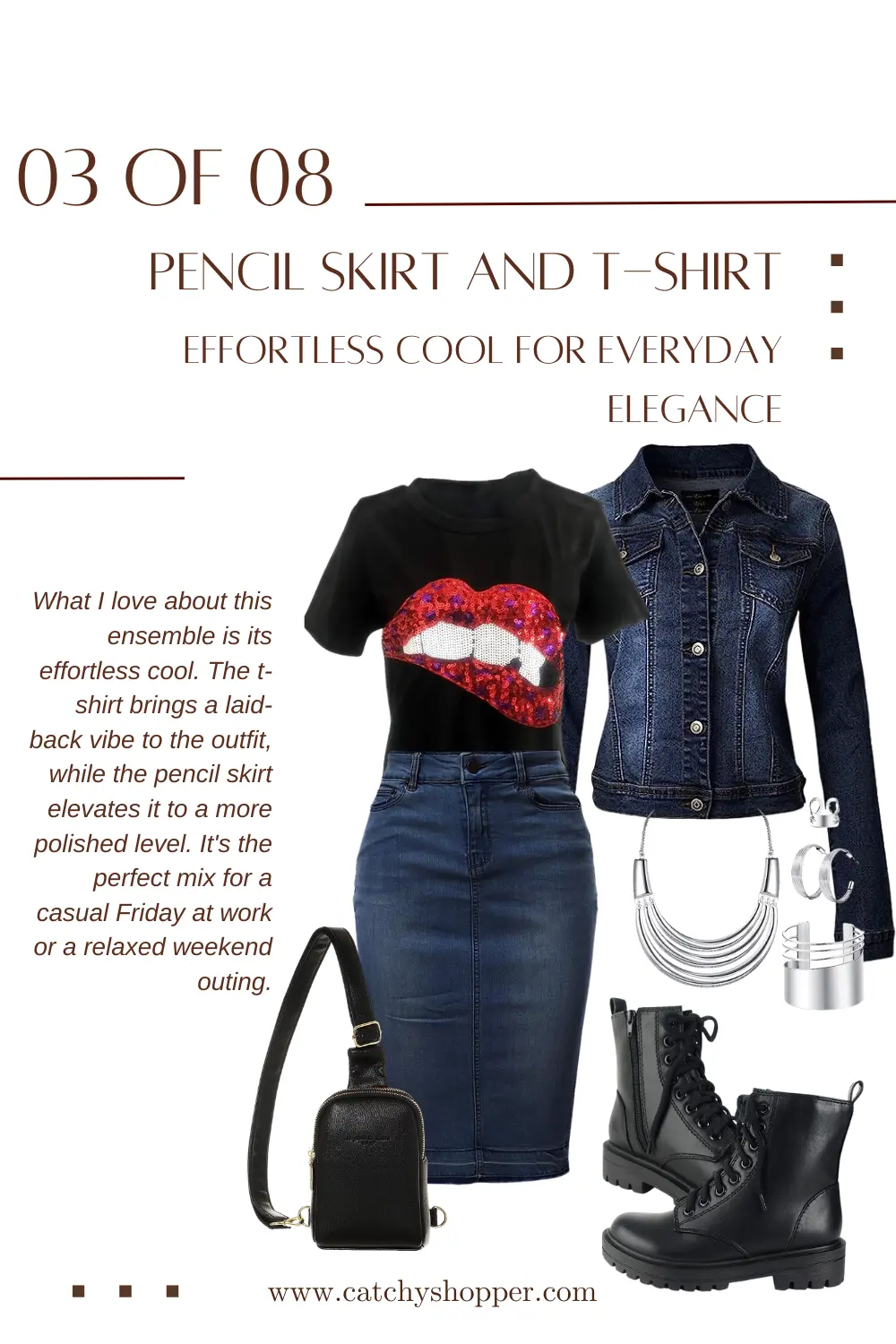 Keep it laid-back yet polished by pairing your denim pencil skirt with a simple t-shirt. Choose a soft, drapey tee in a neutral color and tuck it into your skirt. Layer with a denim jacket, slide into your favorite ankle or knee-high boots and don't forget your trusty bag for a timeless look. Add some personality with fun statement jewelry pieces. For a range of trendy t-shirts, see our blog post: 19 Casual Shirts That'll Keep You Stylish with Zero Effort!
Pencil Skirt and Blazer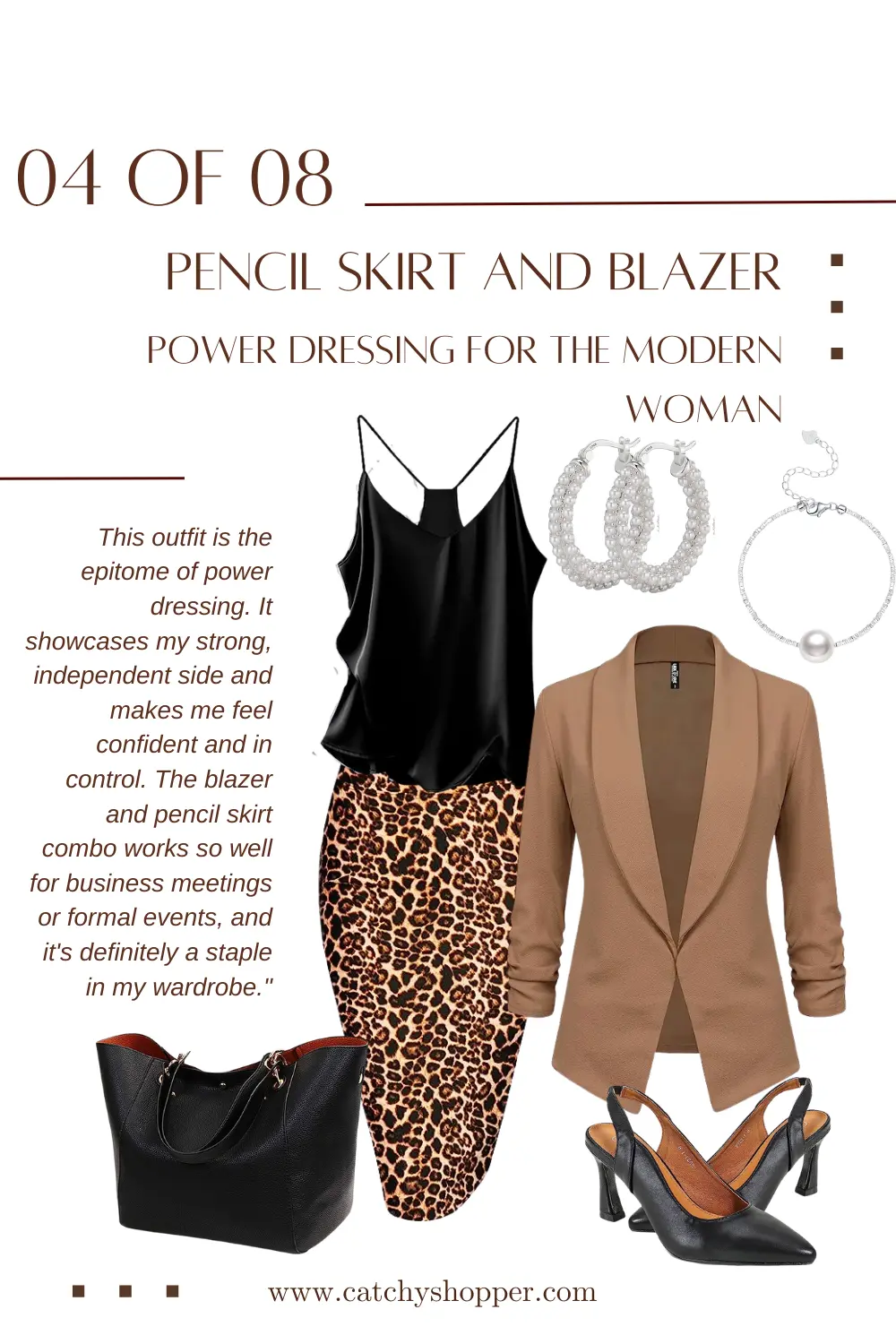 Inject some power-dressing vibes into your ensemble with a smart blazer. Wear your body-hugging pencil skirt with a sleek blouse and top it off with a structured blazer. Complement this boss-lady look with pointed-toe pumps, a sophisticated tote, and a chic wristwatch. Don't forget those elegant stud earrings for a touch of glamour.
Pencil Skirt and Blouse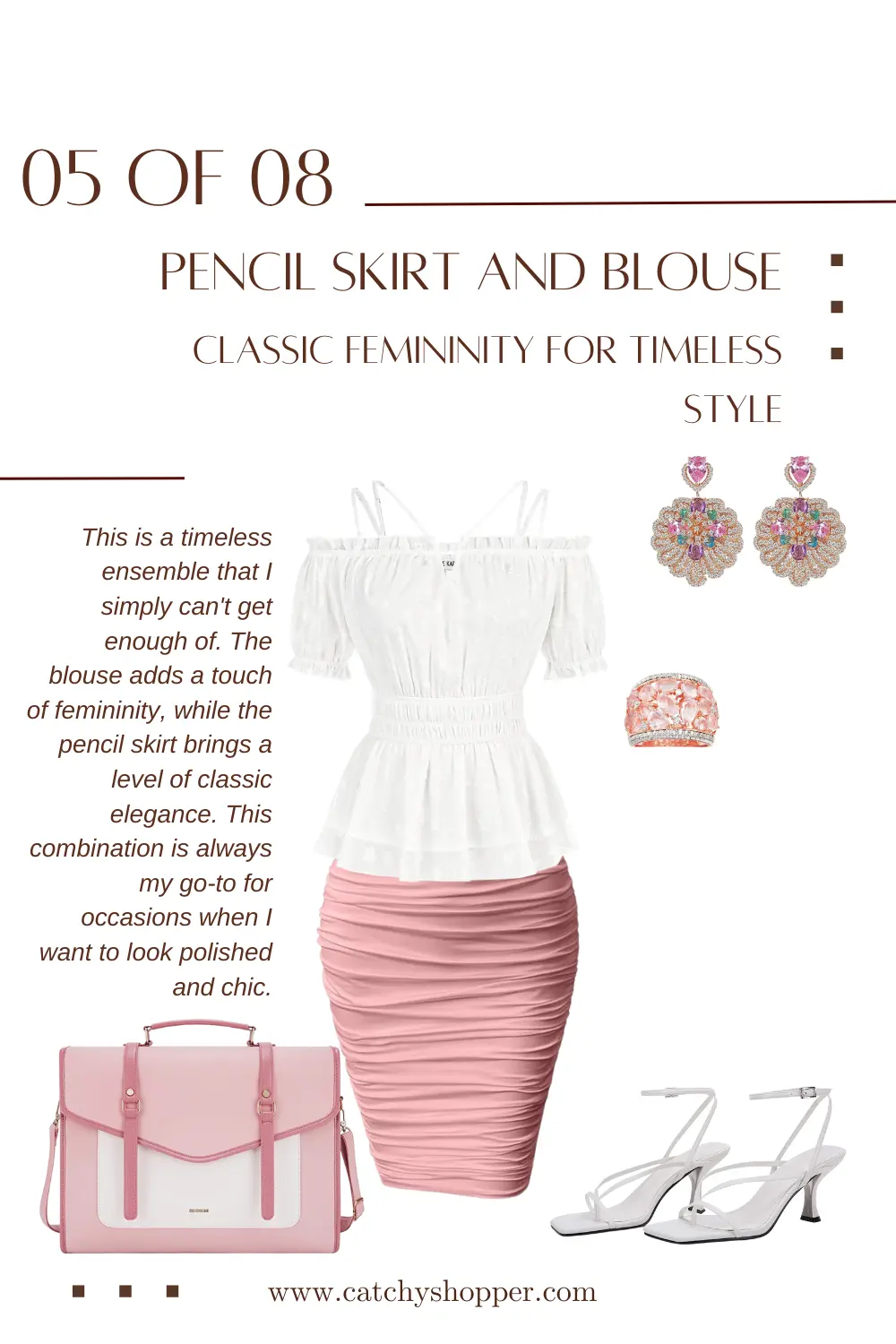 Channel timeless elegance by teaming your pencil skirt with a charming blouse. Opt for a blouse with unique details like ruffles or lace for added interest. Pair it with kitten heels, a classic leather satchel, and a string of pearls for a vintage-inspired look.
Pencil Skirt and Bodysuit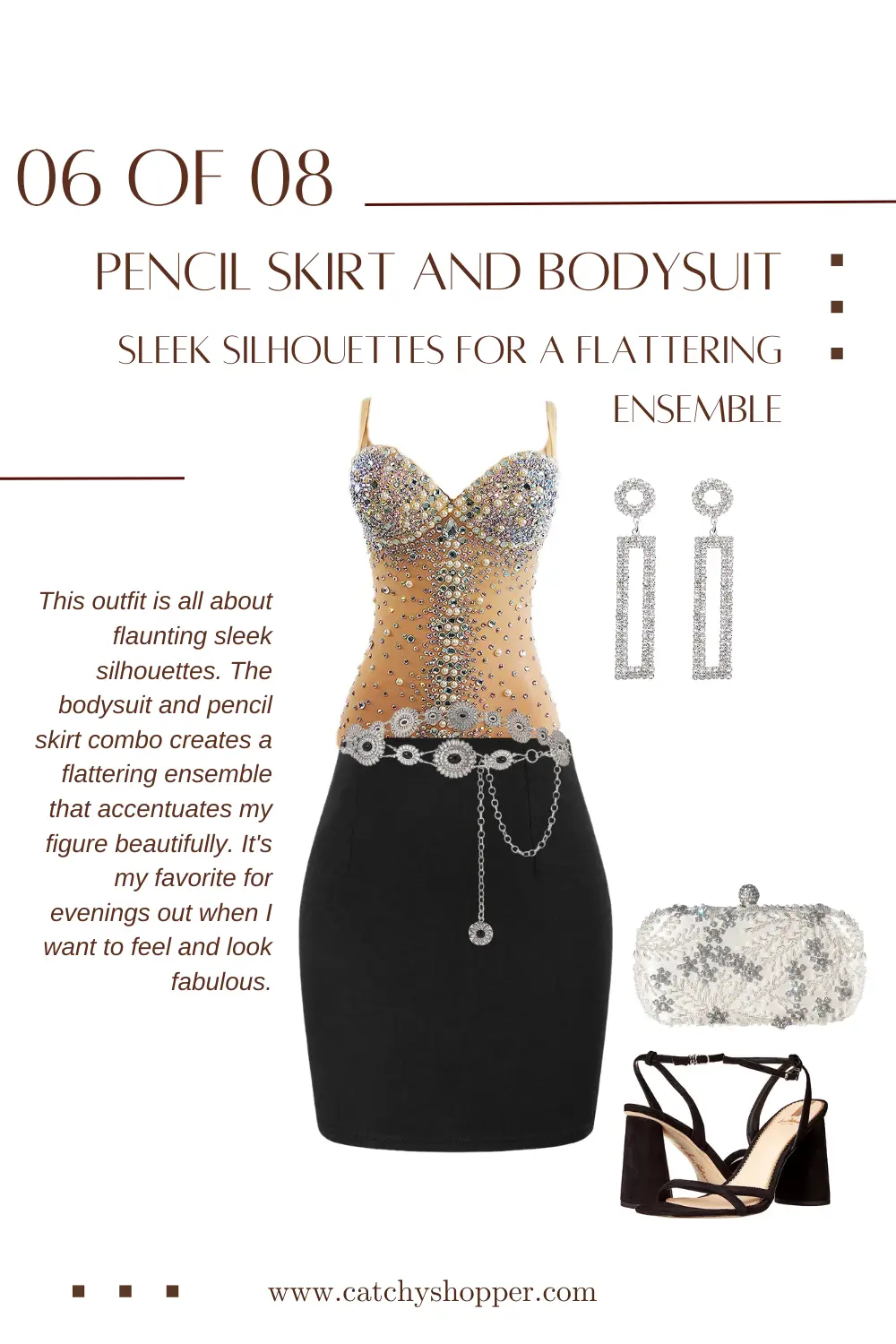 For a sleek, streamlined silhouette, try pairing your black pencil skirt with a stylish bodysuit. This duo is perfect for creating a smooth, unbroken line that flatters any figure. Finish the look with block-heeled sandals, a statement belt, and a trendy clutch. Dangle earrings can add a touch of sparkle. Discover ways to style bodysuits in our blog post: How to Wear a Bodysuit: 10 Fresh Outfit Ideas for Every Modern Woman!
Pencil Skirt and Cover-Up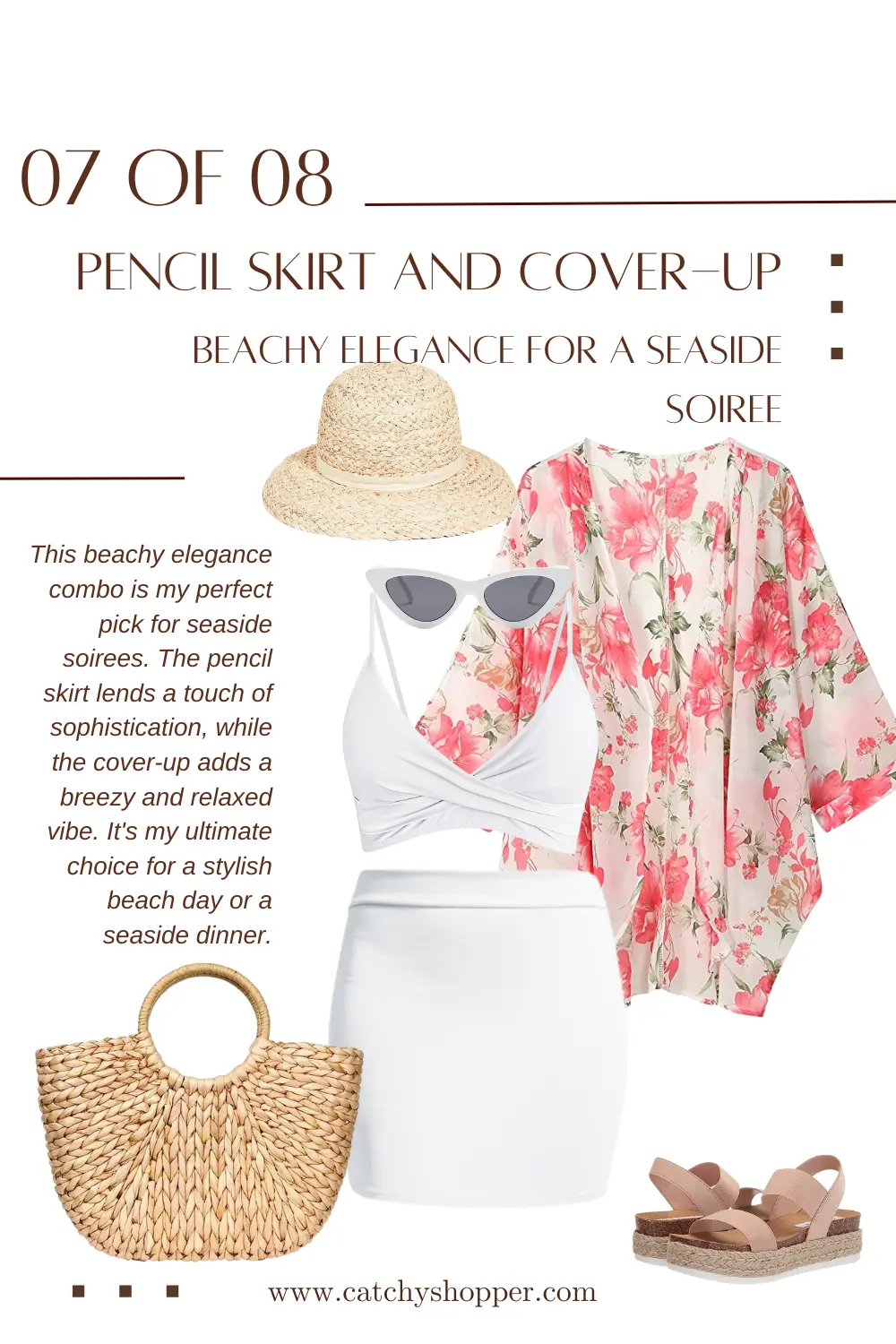 For a beachy, relaxed vibe, throw a breezy cover-up over your pencil skirt and bikini. Perfect for a seaside brunch or vacation, complete this outfit with espadrille sandals, a straw tote, and a sunhat. Add some beaded jewelry to keep things fun and summery. For more cover-up ideas, see our blog post: 39 Delightful Swimsuit Cover-Ups for Your Next Seaside Escape
Pencil Skirt and Crocs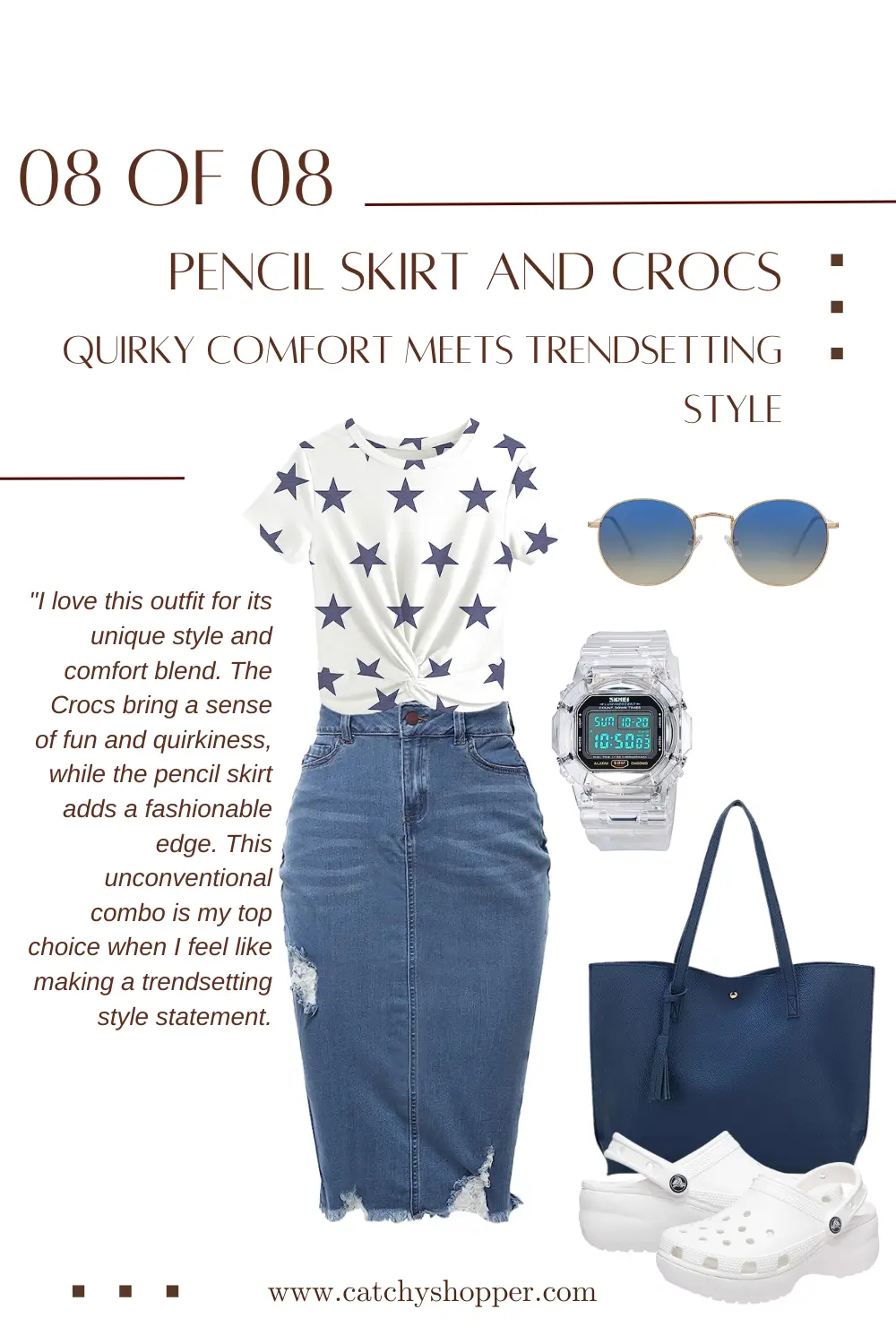 Yes, you read that right! Crocs and pencil skirts can work together for a quirky, yet comfortable look. Pair your denim long pencil skirt with a bright, fun pair of Crocs. Keep the rest of the outfit simple with a basic tee and a casual tote bag. Finish off with a sporty watch and funky sunglasses. Get inspired with more ways to wear Crocs in our blog post: 10 Crocs Outfit Ideas to Elevate Your Everyday Fashion
Final Thoughts
The pencil skirt proves time and time again that it is not merely a garment, but a co-author to every chapter of our personal style chronicles.  My own affair with this sartorial legend has painted a vibrant tapestry of experiences, a ceaseless exploration of hue, design, and feel. But the real enchantment, the fairy dust of fashion, is scattered when you dare to venture into the uncharted territories of your wardrobe, interchanging and fusing elements to let your individualism gleam radiantly.
I extend an invitation to each of you to embark on your own fashion expedition with the ensemble ideas we've shared today. Whether it's a daring dance with a trendy crop top pairing, a laid-back liaison with a cozy tee, or an authoritative alliance with a commanding blazer, never hesitate to plunge headfirst into unexplored territories. Remember, fashion is all about strutting with confidence, and there is nothing quite as confidence-boosting as a pencil skirt styled with your unique flair.
I eagerly await tales of your style escapades with the pencil skirt. How do you add your own signature spin to this quintessential wardrobe staple? Do you have a beloved signature look, or do you thrive on the thrill of change? Share your insights, your brainwaves, and your fashion highs and lows in the comments below. Let's continue our sartorial voyage, hand in hand, one pencil skirt at a time. Until our paths cross again, stay fabulous, darlings!
Comments