This post may contain affiliate links, please see our privacy policy for
Hey there, fashion adventurers!
So, you've got a pair of Crocs sitting in your shoe rack and you're wondering how to take them beyond the backyard or a quick trip to the grocery store, right? Well, you've clicked on the right blog post! We're here to change the game and redefine comfort and style with a nifty pair of Crocs.
We know what you're thinking - "Crocs... really?" YES, really! We're about to take you on a fashion journey where we'll show you how those ultra-comfy shoes can be your next favorite fashion statement. Spoiler alert: they're not just for gardeners or chefs anymore!
In this blog post, we're diving deep into the exciting world of Crocs. We'll start off by explaining exactly what Crocs are, what they're made of, and how to wear them in ways you've probably never imagined. We've also got a stellar line-up of 10 (yes, TEN!) innovative Crocs outfit ideas, each complete with handy fashion tips. Plus, we'll share the secrets on how to style Crocs, take care of them, and where to buy the trendiest pairs.
Not only that, but we'll show you how Crocs can be an integral part of your resort wear and beachwear, pool outfits, and even your day-to-day errand attire! Don't forget to check out our blog posts on Resort Wear, Beach Wear, and Pool Outfits. There are lots of great ideas to give your Crocs the summery, sun-soaked style upgrade they deserve.
So, sit back, put your Crocs on, and get ready to stride into a new world of style. It's about to get really exciting! Trust us, by the end of this, you'll be rocking your Crocs with the confidence of a runway model! Let's dive right in, shall we?
What are Crocs
Before we jump into the fun part of fashioning those Crocs with your outfits, let's have a heart-to-heart about what Crocs really are. You've seen them, I've seen them, we've all seen them. Those vibrant, quirky clogs scream comfort. But what's up with them? Why has the fashion scene turned heads toward them? Let's solve this fashion puzzle, shall we?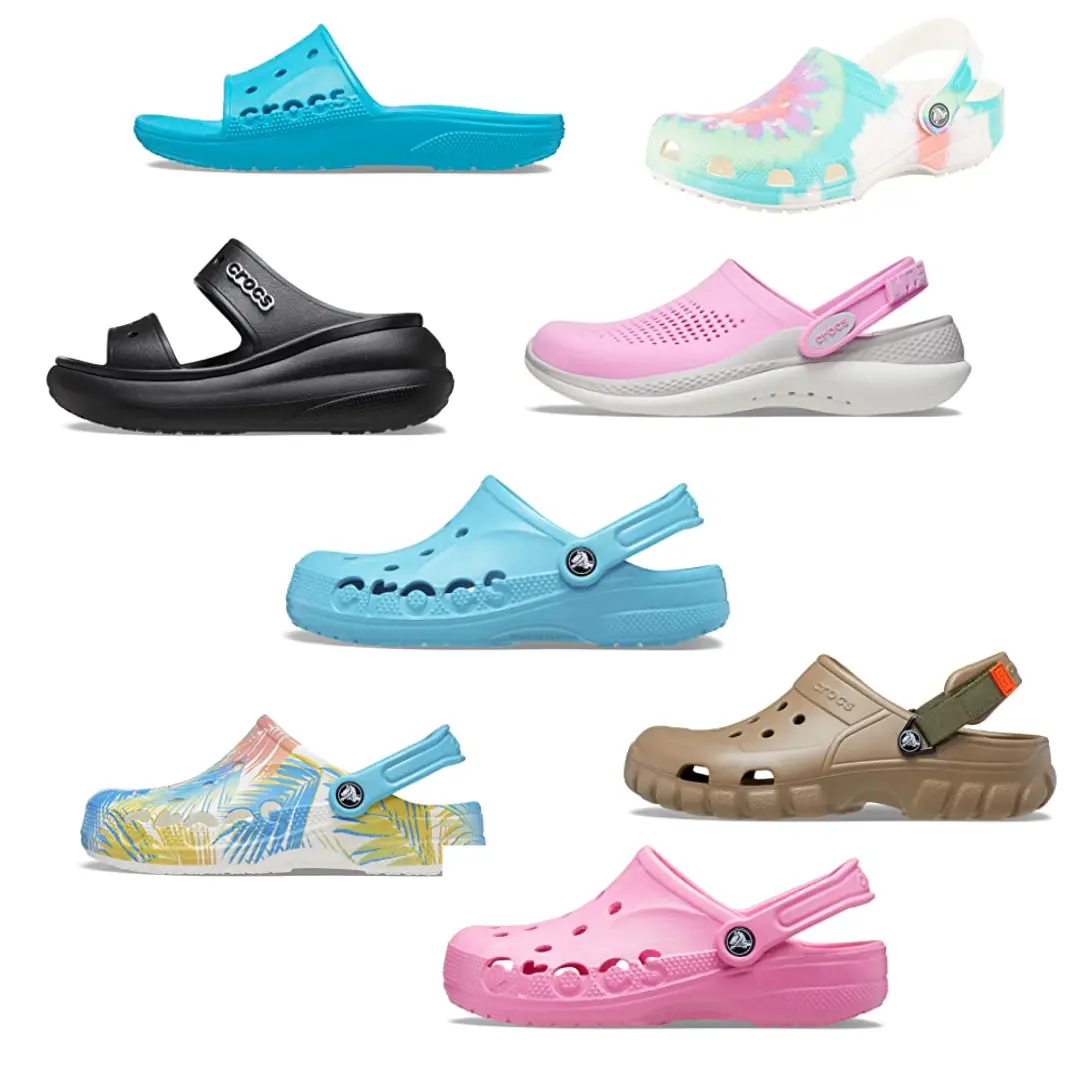 Crocs for Women
Get it at Amazon
Crocs aren't just your run-of-the-mill footwear - they're a worldwide trendsetter! These recognizable clogs made their debut in 2002, and ever since they've made a giant leap from being a comfy choice to a fashion trend that's stirring up the shoe scene. Much like that one pal in your circle who's a bit oddball but impossible to resist, Crocs have found a special place in our hearts with their comfort-meets-cool appeal.
What makes Crocs stand out in a crowd is their one-of-a-kind clog design. These shoes rock a distinctive shape that's kind of impossible to ignore. They're thoughtfully designed with air vents on the front and sides, keeping your feet airy and breezy all day long. These are not your everyday holes, buddy, think of them as an aircon system for your feet!
Now, let's chat about colors. The color game is strong with Crocs! Ranging from sweet bubblegum pink to calm sky blue, vibrant neon green to trusty black, Crocs brings to your feet a spectrum of shades to suit every mood or ensemble. It's like your personal foot color palette. And it's not just the range, but the vibrancy of these colors that adds to the allure. They are bright, and bold, and bring a playful pop to your outfit.
In a nutshell, Crocs have gracefully ascended the fashion ladder, evolving from a practical choice for gardeners and healthcare professionals to a must-have accessory for fashion lovers and celebrities alike! So the next time someone gives a puzzled look at your Crocs, you can smirk and say, "Hey, they're more than just cozy clogs!" Ready to learn how to pair these iconic shoes with style? Let's roll forward!
Outfit Ideas with Crocs
Let's talk about the shoe that's walked its way into everyone's wardrobe - the iconic, undeniable, and sometimes controversial Crocs. Some folks consider them a fashion faux pas, but hey, we're not about that negativity here, are we? We're going to dive right into the sea of style and pull out some looks that'll make your Crocs the star of your outfit! Are you excited? Let's dive in!
White Crocks  with Jeans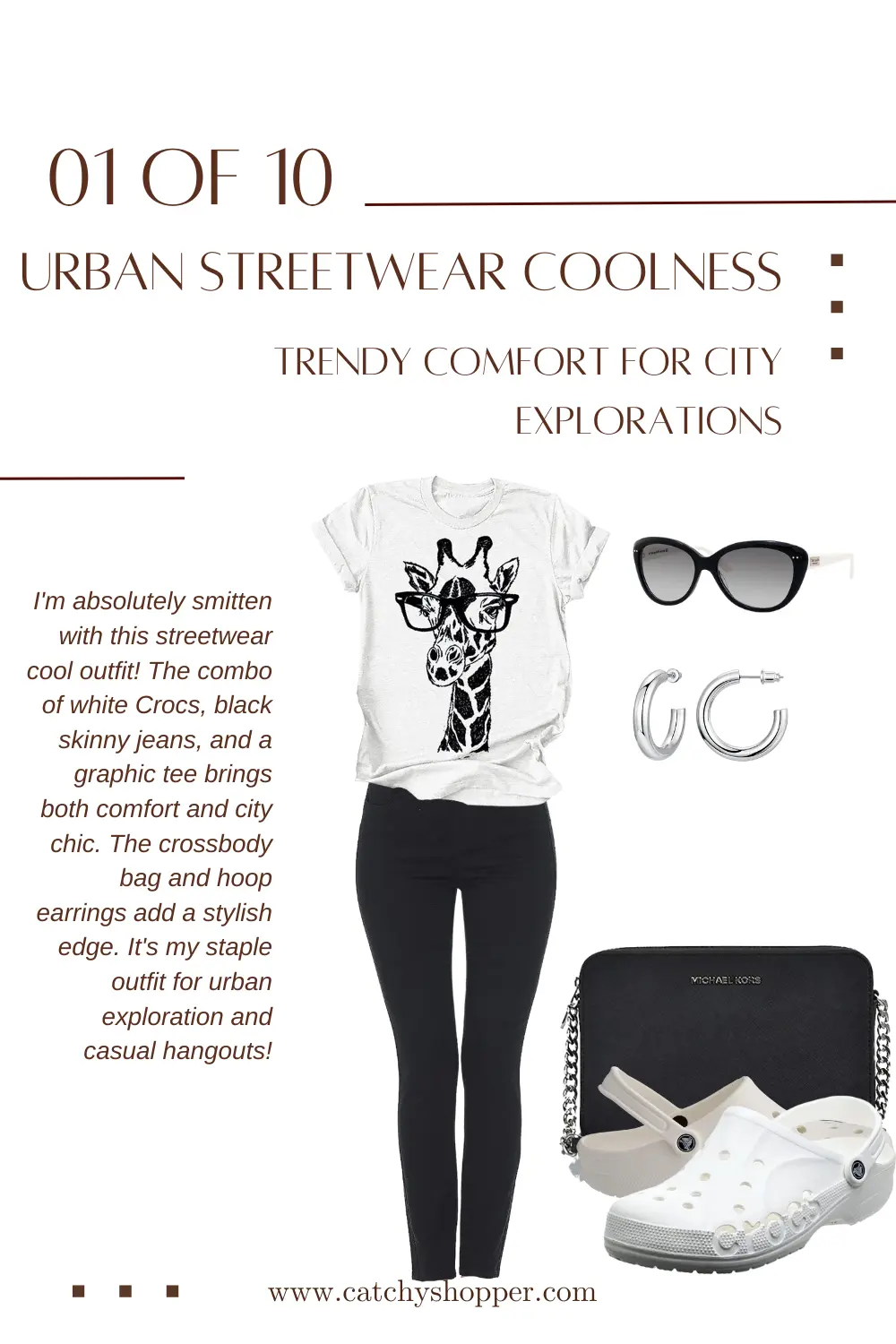 Get your pair of white Crocs and team them up with black skinny jeans. Throw on a quirky graphic tee to keep it fun. Accessorize with a black leather crossbody bag, and silver hoop earrings for a dash of sparkle. Don't forget your favorite pair of shades for that ultra-cool look.
Platform Crocs with Midi Dress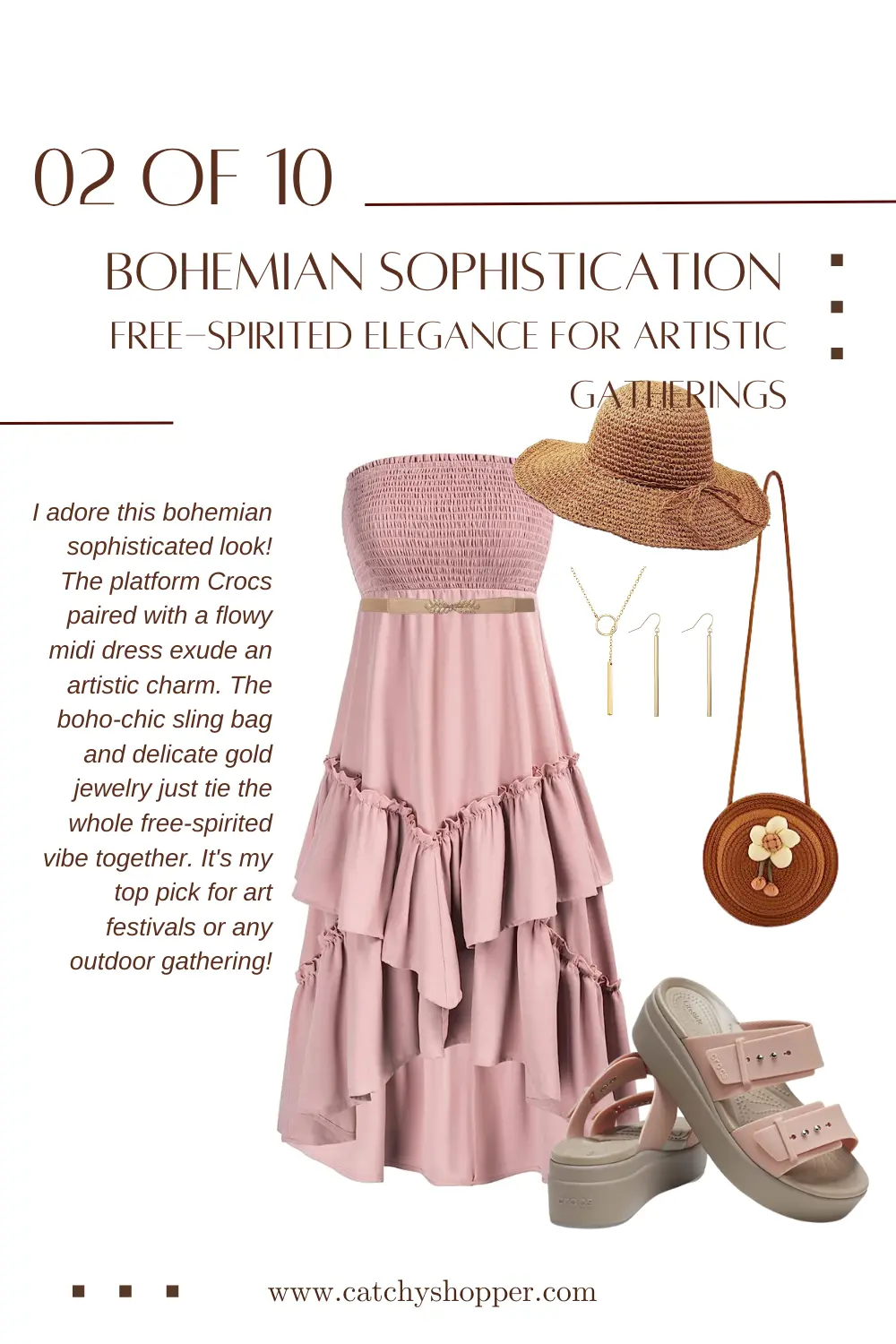 Rock your platform Crocs with a flowy midi dress in a pastel shade. Add a thin belt for that perfect silhouette. Accessorize with a boho-chic bag, minimalist gold jewelry, and a straw hat for those summery vibes.
Chunky Crocks with Wide Leg Pants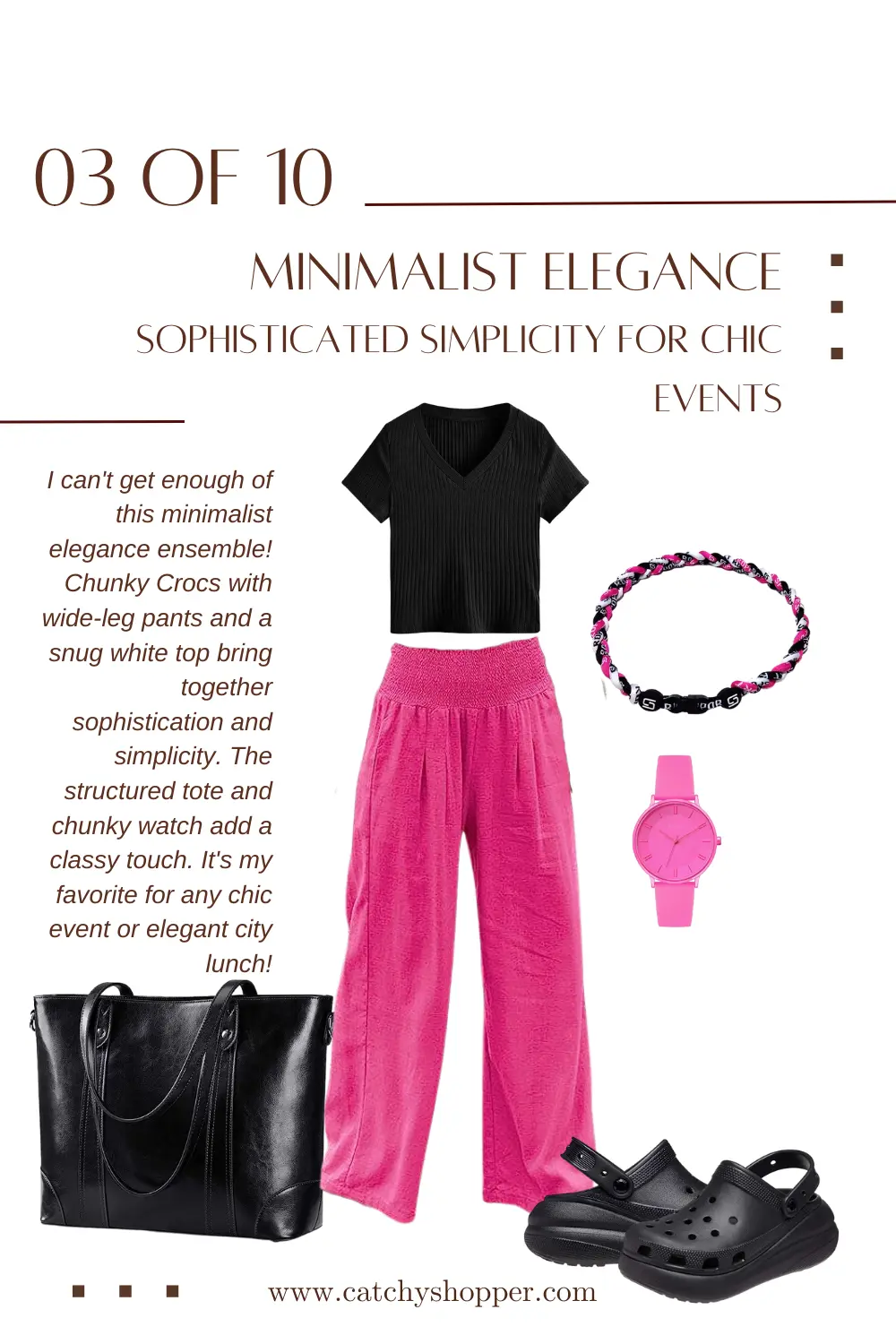 Pair your chunky Crocs with wide-leg pants and a fitted black top. Keep it simple, yet stylish. Complete the look with a statement necklace, a structured tote bag, and a chunky watch to keep it classy.
Bright White Crocs  with Denim Shorts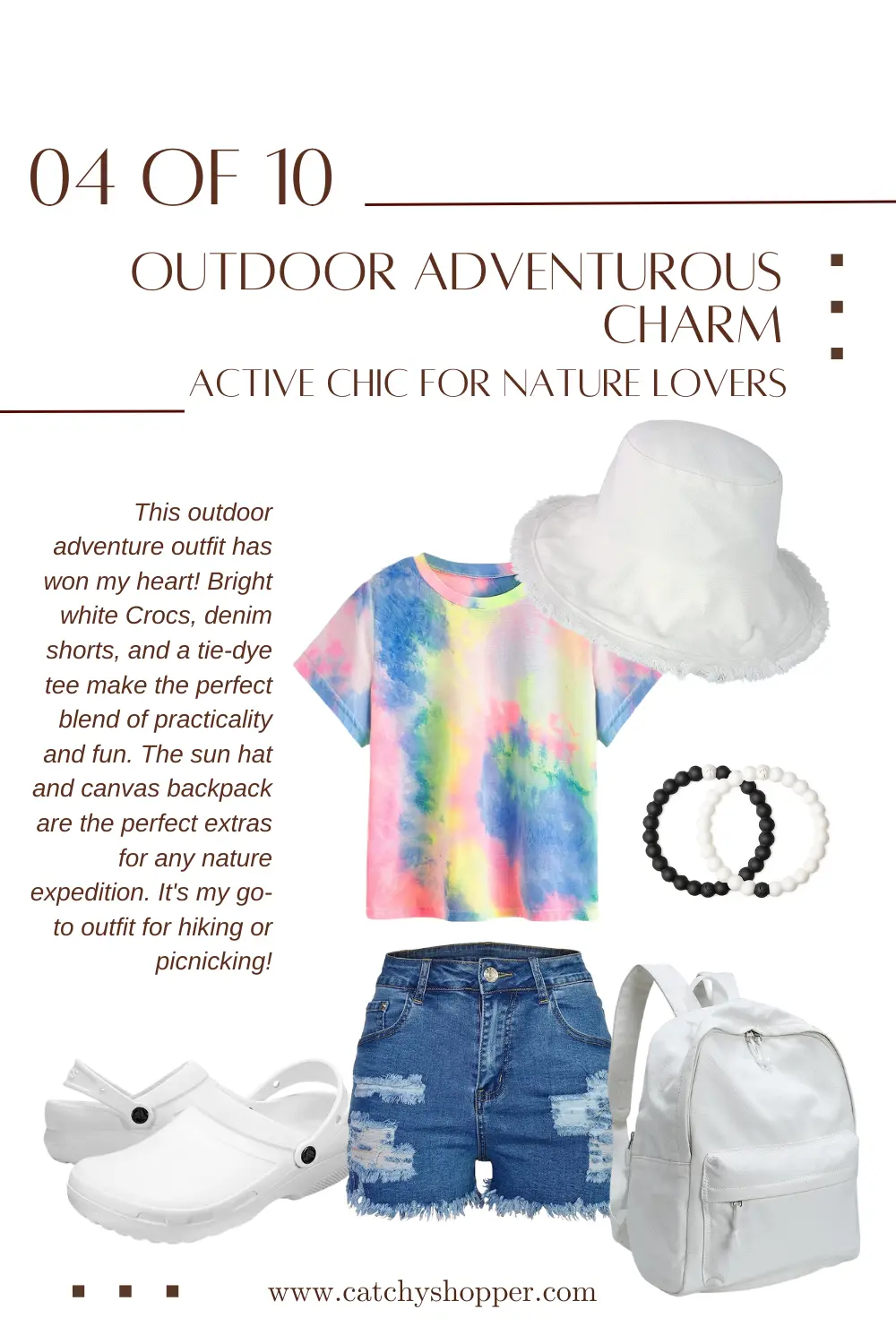 Bright white Crocs paired with denim shorts create the perfect outfit for your outdoor adventures. Add a vibrant tie-dye tee to capture the fun. Don't forget a sun hat, funky beaded bracelets, and a canvas backpack to carry all your essentials.
Stylish Crocs with Ripped Jeans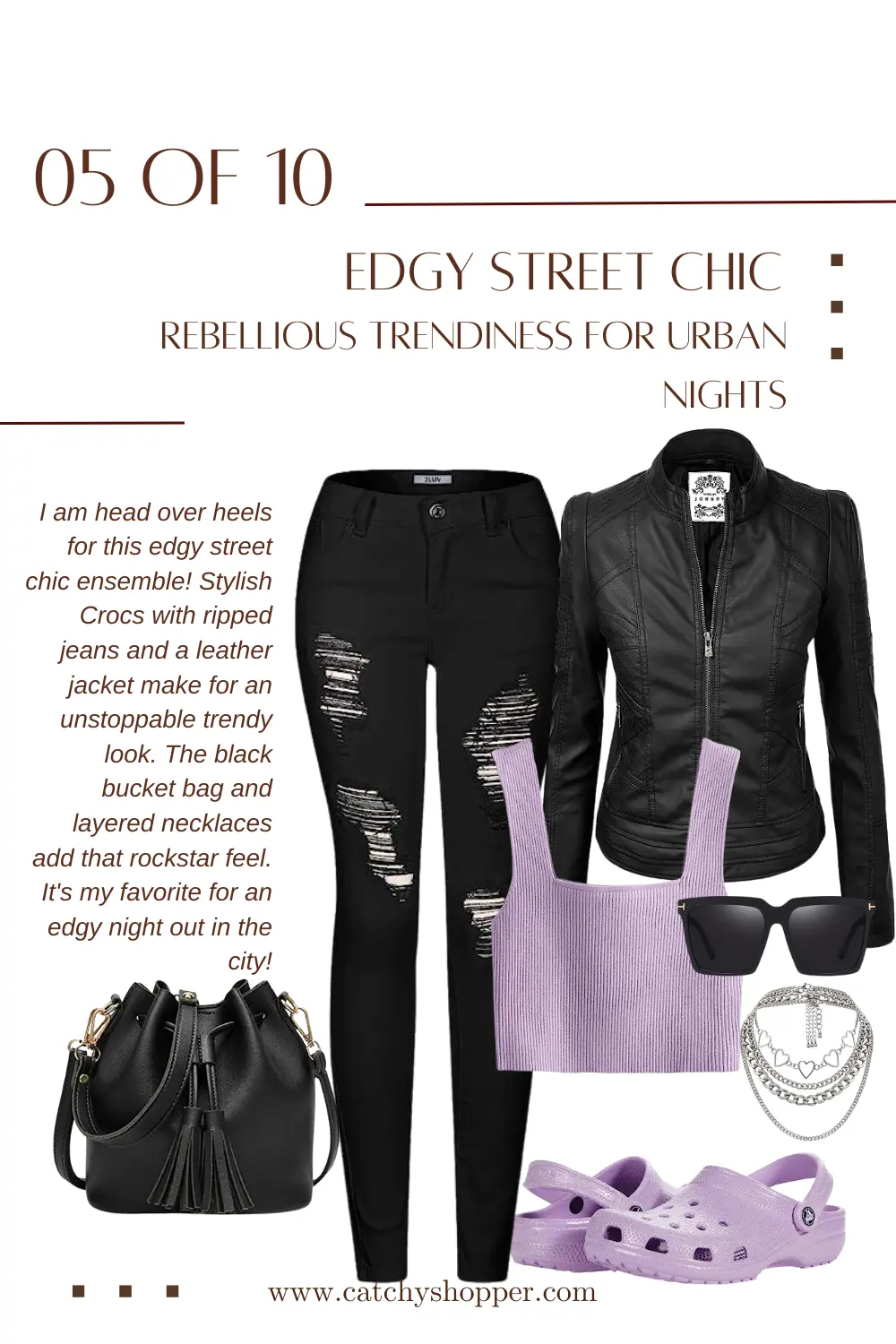 Grab your stylish Crocs, pair them with ripped jeans, and top it off with a crop top and a badass leather jacket. Keep it edgy with a black bucket bag, dark shades, and layered chain necklaces for that rockstar feel.
Tie-Dye Crocs with Leggings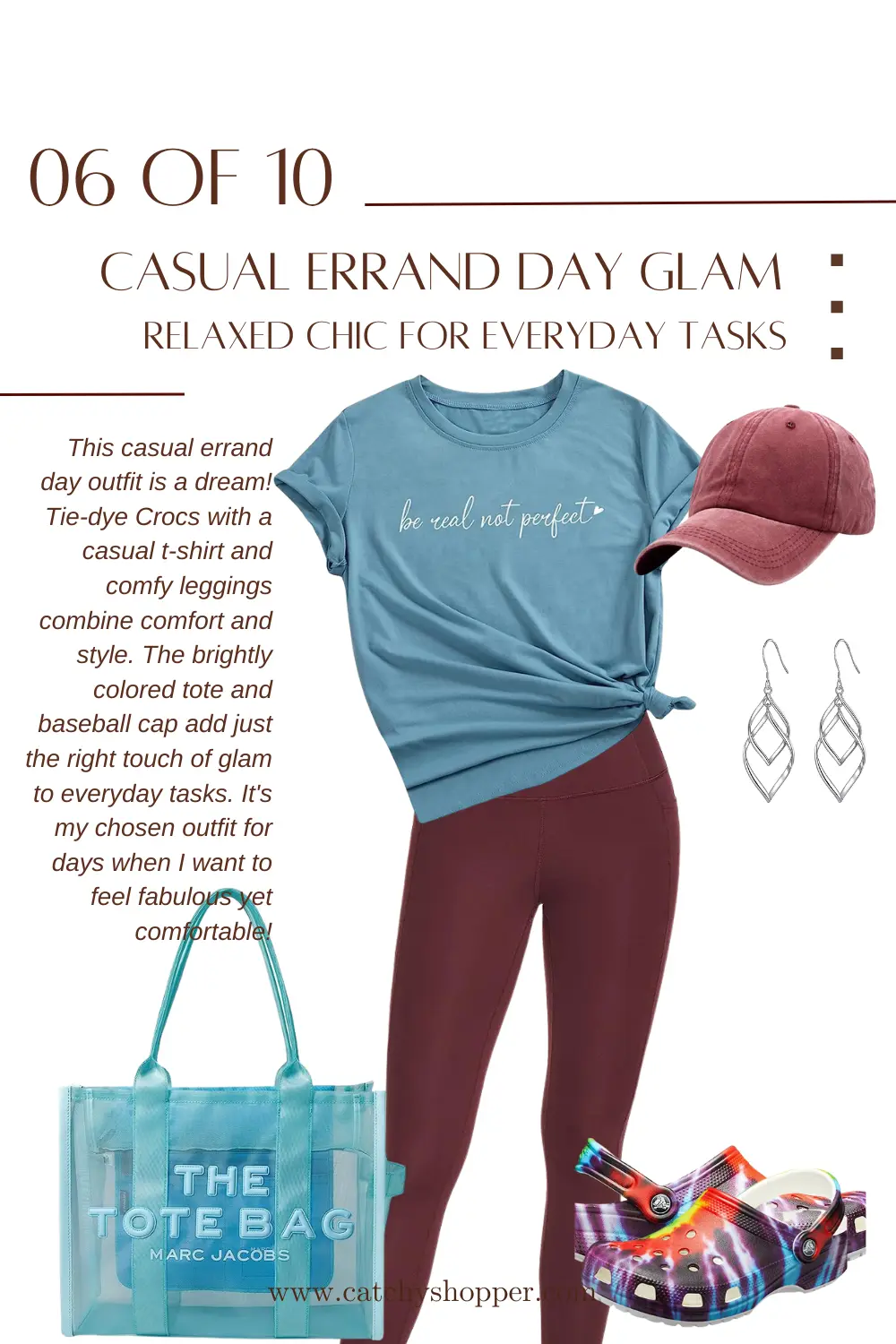 Slip into your comfy tie-dye Crocs, pull on a casual vibe t-shirt and your favorite leggings for running errands in style. Add a pop of color with a bright tote bag, statement earrings, and a cool baseball cap.
Pink Crocs with Biker Shorts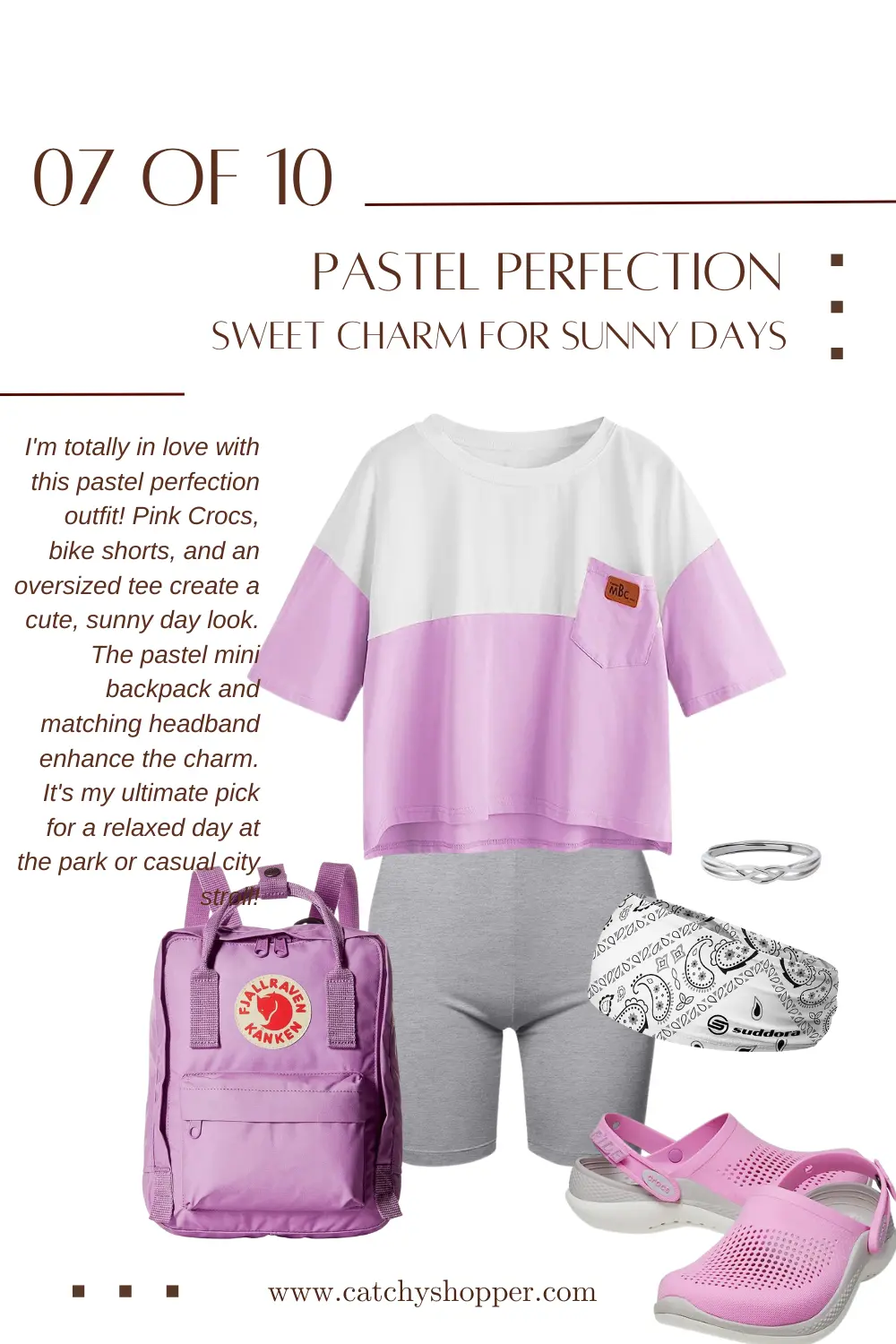 Pair cute pink Crocs with bike shorts and a matching pink oversized tee for a matchy-matchy look. Keep it cute with a pastel mini backpack, dainty rings, and a matching headband.
Black Crocs with Coat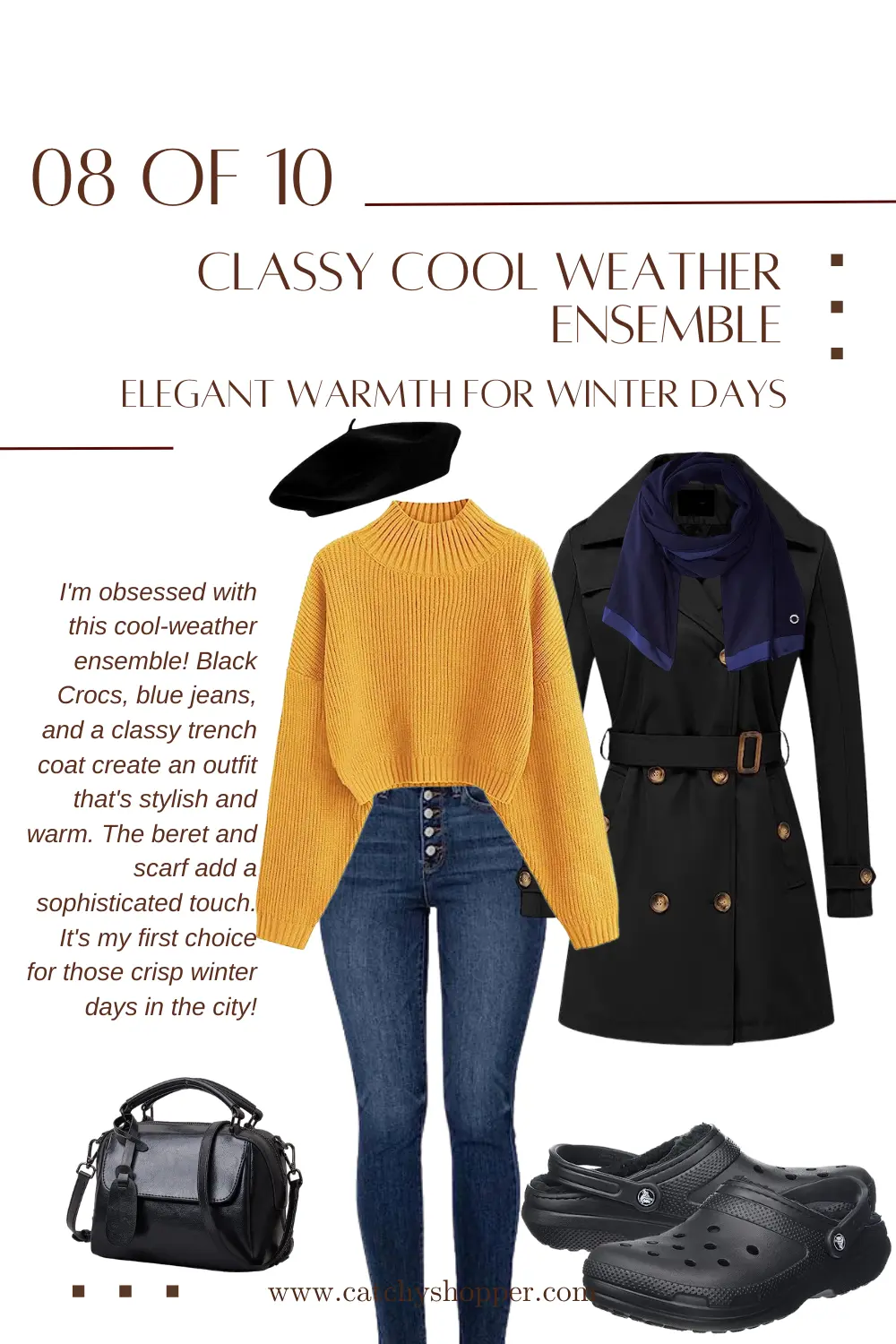 Black Crocs paired with blue jeans, a chunky sweater, and a classy trench coat make a stylish cool-weather outfit. Complete your look with a black beret, statement scarf, and a sleek black handbag.
Two Shades Crocs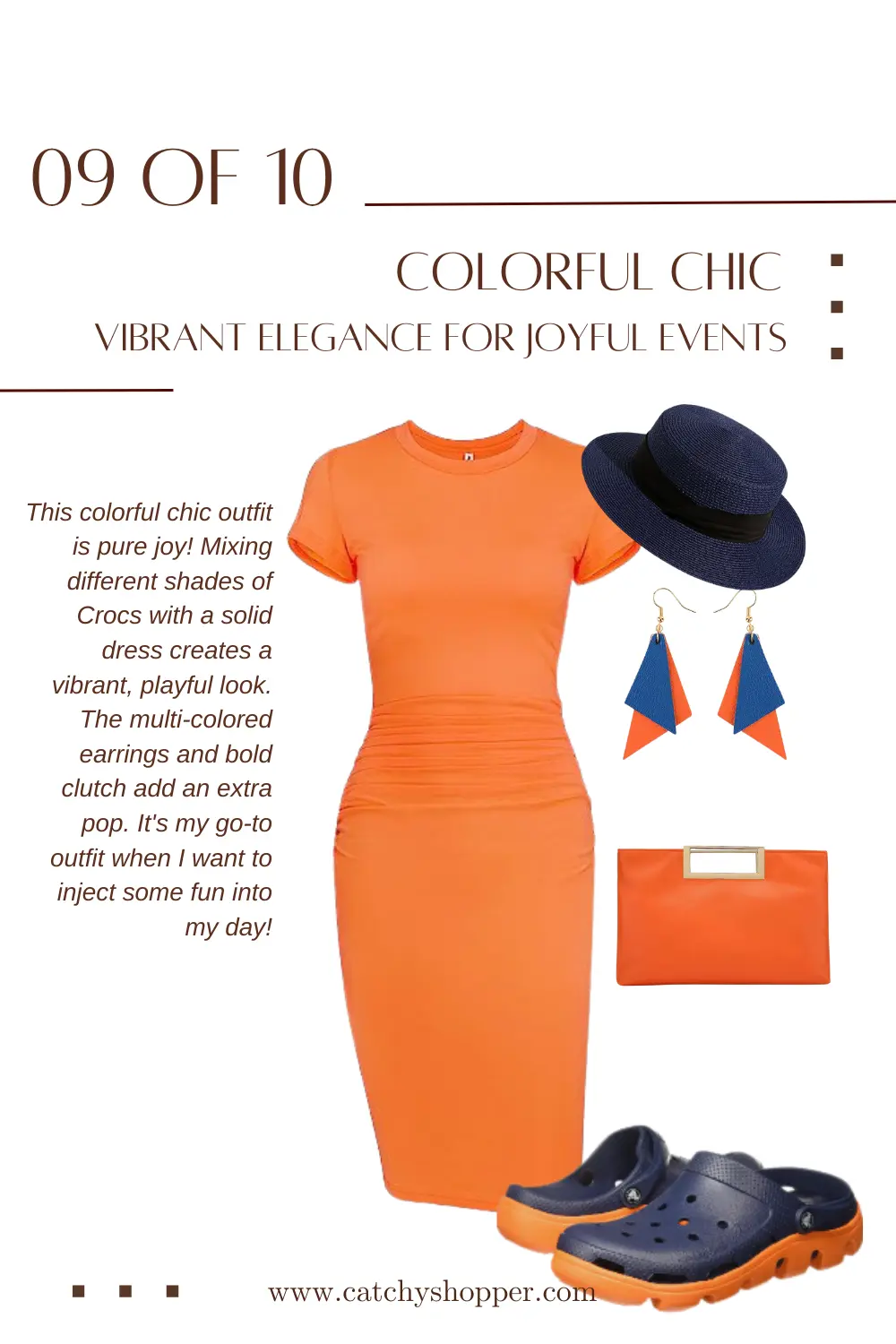 Mix and match two different shades of Crocs with a solid color dress for a fun, chic look. Accessorize with multicolored statement earrings, a fun clutch, and a wide-brimmed hat for an extra splash of style.
Red Crocs with Suit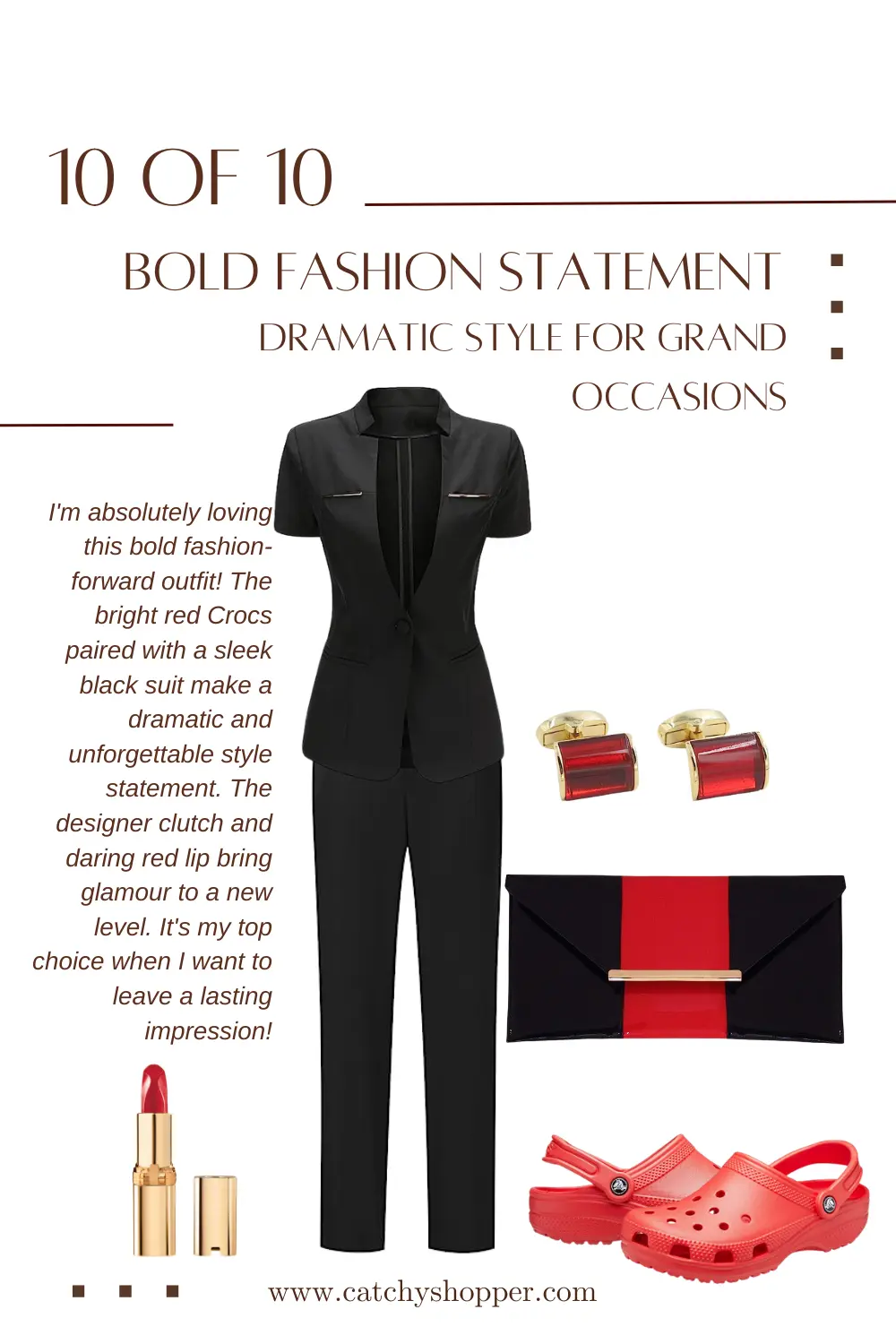 Who says you can't pair red Crocs with a suit? Make a fashion-forward statement by teaming your bright red Crocs with a sleek black suit. Add a dash of glamour with a designer clutch, statement cufflinks, and a bold red lip to match your Crocs.
💡
Fashion Tips
Don't shy away from wearing Crocs with socks for a funky, retro look. Play around with bright colors, mix and match your Crocs for a bold style statement. Remember, balancing casual and stylish elements is key to pulling off the Crocs trend. Happy styling!
FAQs
What are Crocs made of?
Crocs are made from a patented material called Croslite™, which is a super soft, lightweight, and durable foam resin. This unique material is what makes Crocs so comfortable. It provides excellent cushioning and support, making you feel like you're walking on clouds.
How to wear Crocs?
To wear Crocs fashionably, pair them with jeans, shorts, or even dresses for a casual, chic look. Celebrities like Bad Bunny have even rocked Crocs on the red carpet, proving they can be a fashion-forward choice when styled right.
How to take care of Crocs?
Maintaining the quality of your Crocs is quite simple. Clean them with mild soap and water to keep them looking fresh. Also, don't forget about the air vents - they're not only for your feet's comfort, but also to preserve the shape and condition of the shoes by allowing any moisture to escape.
What are the best places to buy Crocs?
Crocs can be bought from a number of retail stores and online platforms including the official Crocs website, Amazon, and Zappos. For exclusive editions like the Bad Bunny or Christopher Kane collaborations, keep an eye on the Crocs official website and select fashion retail websites.
Final Thoughts
Well, we've reached the end of the road, my friends! And what an absolute blast ofc crocs outfits style journey it's been, huh?
We've had a good chinwag about the endless ways you can pump up your Crocs game. We've discovered that these funky shoes can pair well with anything you can pull out of your wardrobe – jeans, skirts, dresses, shorts, and yep, even that dapper black suit! Surprising, right? Crocs are like the Swiss Army Knife of footwear. A smidge of creativity, and boom! Your style game is on fire.
I really hope our gab session got those fashion wheels in your brain spinning. Maybe you're even overflowing with inspiration for your next killer Crocs ensemble. And hey, don't hold back when it comes to experimenting with your Crocs. Switch up those colors, mess around with your accessories, and above all, let your true colors burst forth!
The golden rule of fashion isn't about trailing behind trends or squeezing into some kind of stereotype. It's about being unapologetically you, letting your personality spill over, and, of course, feeling super fab. And let's keep it real – what's better than stepping out in the super cushy, oh-so-stylish comfort of your Crocs?
So, next time you're standing in front of your closet, scratching your head about what to throw on, remember this: Crocs are your buddies. These cozy clogs have carved out their own little niche in the fashion universe, and they're here to stay. And why wouldn't they be? They're living proof that you can be as snug as a bug in a rug and fashion-forward at the same time.
At the end of the day, fashion should always be a thrilling ride. So, nab your Crocs, let your imagination take the wheel, and step out with your head held high. Because remember, the world is your catwalk, and you're the main event!
That's all from me, my friend. I can't wait to see all the awesome ways you strut your stuff in your Crocs. Until our next fashion powwow, remember to stay comfy, stay stylish, and most importantly, stay true to you!
Other Posts You May Like
Comments