This post may contain affiliate links, please see our privacy policy for details.
Valentine's Day is a time to show your love and appreciation to those closest to you, and what better way than with food? Whether it's sweet, savory, or just plain fun, these awesome Valentine's Day gifts are sure to bring a smile to your sweetheart's face. From fancy chocolates to a pizza cutter & heart-shaped mini waffle maker machine, there are plenty of delicious options that will help add some spice to your love life.
1. Give your toast-loving friends and family the absolute best with Bonne Maman's Assorted Preserves! These delicious spreads come in a variety of delightful flavors, from Strawberry to Apricot, Raspberry to Orange, and Cherry to Honey. Not only are they perfect for livening up the breakfast table but also for adding some zing to other dishes - sandwiches, steak, pizza - you name it!
One person said they love Bonne Maman's Assorted Preserves because they come in smaller jars, offering variety and choice. This way, you don't have to stick with one flavor for a while - you can switch it up depending on your mood! It's nice to have choices, and Bonne Maman is known for its superb jams and preserves that are sure to tantalize your taste buds.
2. Check out the Jerky Gift Basket for your next date night! This kit includes 10 individually wrapped meat sticks, 3 meat & cheese snack bundles (6 total sticks), and 2 bulk snack stick packs (10 total sticks). Perfect for any Valentine's Day food gifts, this jerky gift basket will be sure to show your valentine how much you care. With a variety of flavors and textures that are sure to tantalize the taste buds, you'll be earning brownie points with your sweetheart all night long.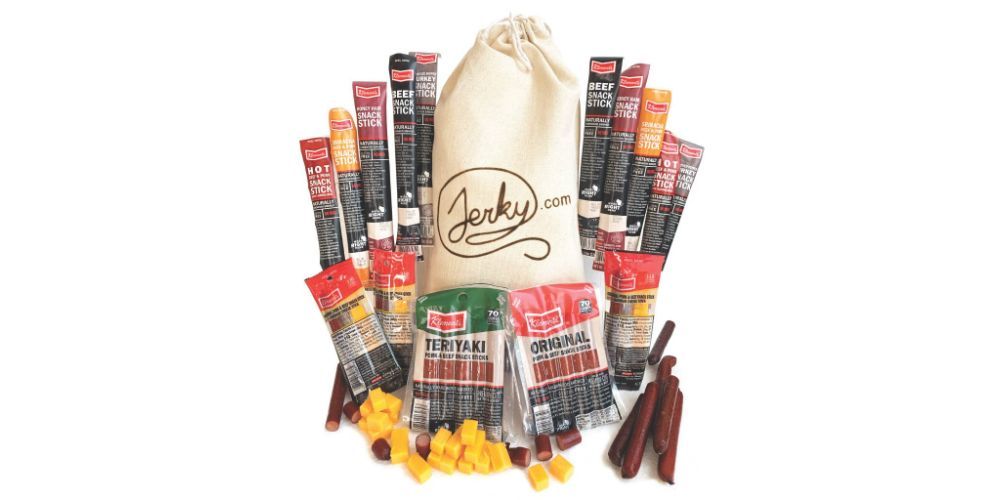 One customer who purchased this Jerky Gift Basket raved about its bold and delicious flavors and variety. They also noted that the meat sticks don't leave a yucky oily film in your mouth - something they really appreciated. All in all, they gave it a resounding "well done!"
3. Celebrate in style with Sugarfina's Champagne Gummy Bears Celebration Bottle! This sweet and unique blend of champagne-infused gummy bears candy is perfect for a V-day celebration. With each bite, you'll taste the subtle flavor of real champagne, balanced perfectly with a sweet gummy bear flavor. Not only that, but this bottle of sweets makes for a stunning presentation that your loved one will adore!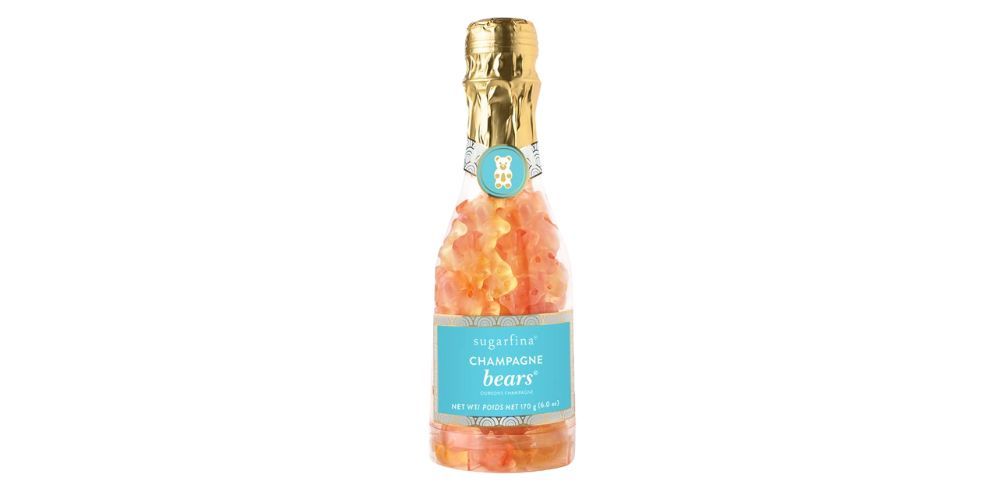 4. Make your romantic dinners even more special with the Gourmet Italian Olive Oil Tasting Set! With naturally infused oils like Garlic, Basil, Rosemary, and Chili Pepper, this set is sure to tantalize the taste buds. Spice up your favorite dishes or use them as dressings - the possibilities are endless! The best part? They're made with locally grown Italian spices, making them a great way to give back to local producers. Put some flavor into your life with the Gourmet Italian Oil Tasting Set - a must-have for any home cook!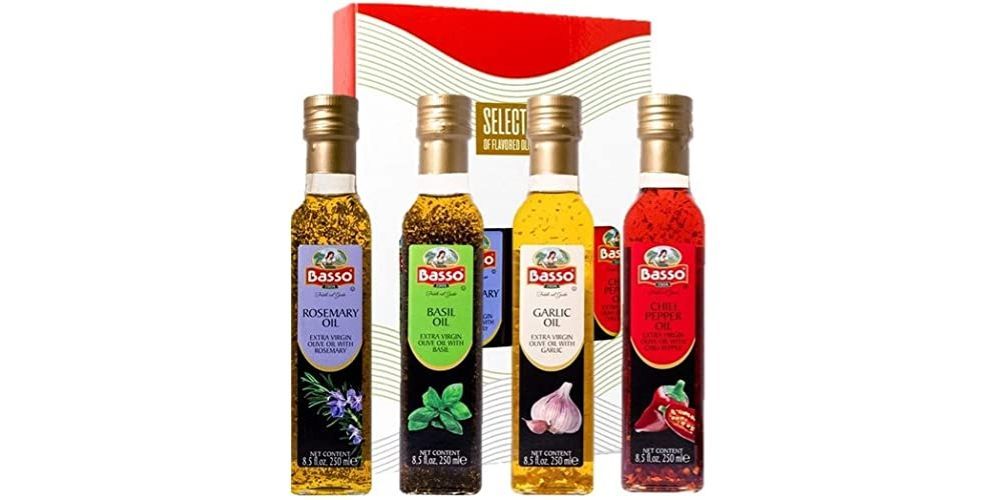 One reviewer called the Gourmet Italian Oil Tasting Set a "secret cooking weapon" - and for good reason! These oils add that extra zest to your cooking game, but remain subtle and not overpowering. Whether you are sautéing or searing, these oils will enhance any dish. Plus, it makes a perfect gift for anyone who loves cooking. All in all, this set is one of a kind and highly recommended!
5. Get ready to take your sweet tooth game to the next level with the Complete Magnolia Bakery Cookbook! This cookbook from Allysa Torey gives you access to an amazing array of recipes for home-style cupcakes, layer cakes, banana pudding, and more. Whether you're cooking solo or with a special someone, this cookbook is guaranteed to satisfy your cravings. Plus, it makes a great gift for bakers of all skill levels - no one will ever be disappointed with this book!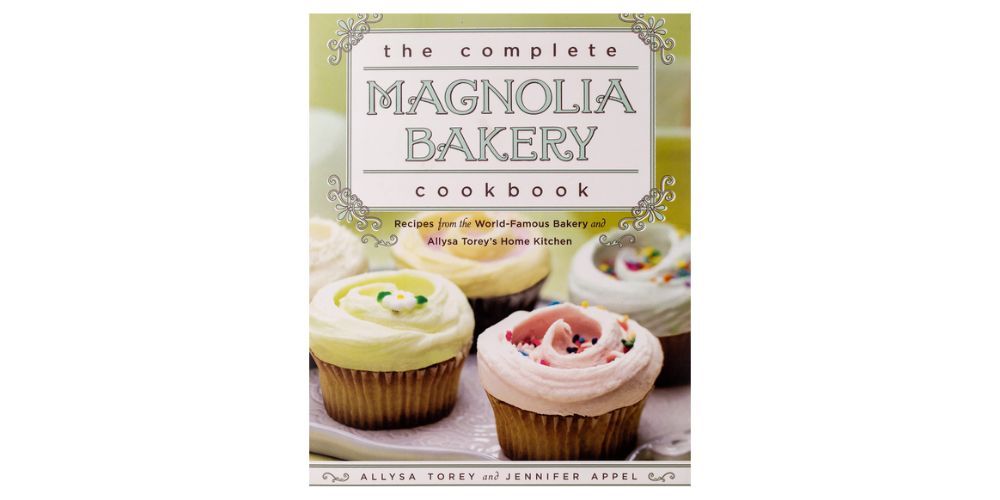 The Complete Magnolia Bakery Cookbook is a must-have. With over 1,200 verified five-star ratings, it's one of the most popular recipe books out there for any sweet treat. One reviewer raved that the recipes are "really good" and have "easy-to-follow instructions and good photos". If you follow the instructions, you'll be able to create delicious treats just like from the bakery!
6. This Set of Five Non-Alcoholic Wines (Ariel Chardonnay, Lussory Airen, Cardio Zero White, Bianco Dry, and Tautila Blanco) come in 750ml each, making them the ideal gift for any wine lover. Each bottle has a unique flavor that captured all the complexity of great wines without any alcohol. Not only is this sampler excellent for someone looking to limit their drinking or just take a night off it; but it's also perfect for those who are trying to explore new flavors and discover different types of wines. It's a great way to show your appreciation for their taste and preferences on Valentine's Day. Highly recommend it to anyone looking for an enjoyable yet sophisticated gift.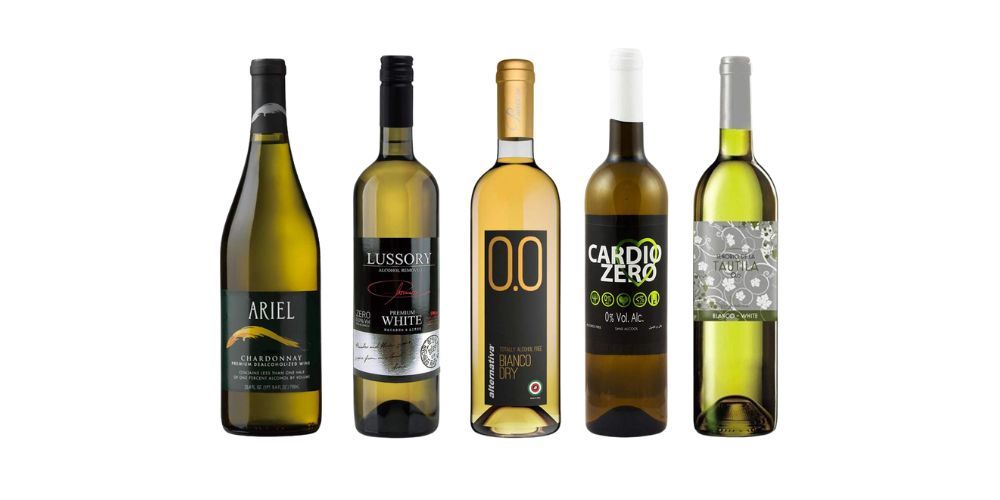 One five-star reviewer called this wine set "Delicious!!!" and said "I served it at a baby shower party and everyone loved it. Great products!!"
7. Take your pizza-loving Valentine's Day to the next level with this Pizza Cutter. The white, protective plastic grip features "A Slice of Love" just above a saucy, red heart with the letters L-O-V-E appearing as openwork on the stainless-steel cutter. Plus, it comes packaged in a pizza box that's tied with a sheer white organza ribbon and bow and an extra special tag that says "Hot & Fresh For You." This pizza cutter is sure to make any occasion more memorable! Perfect for a romantic dinner or just adding some fun to your kitchen!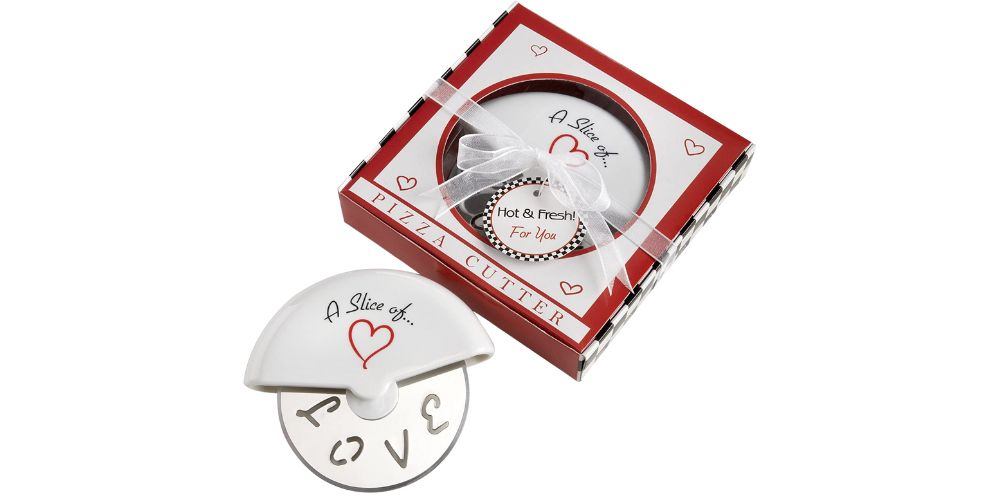 One reviewer said the Heart-Shaped Pizza Cutter was a "perfect gift" for their Valentine's Day party and they loved it so much that they almost kept it for themselves! The impressive combination of quality materials, ergonomic design, and fun, romantic style make this pizza cutter something special that will bring a lot of joy to someone special.
8. Treat your special someone to a deliciously luxurious gift—Chocolate Covered Strawberries! These 12 fresh strawberries are lavishly hand-dipped in premium dark, milk, and pink-tinted white chocolate and decorated with chocolate drizzle and heart sprinkles. Perfect for any occasion, this sweet treat is sure to bring a smile to anyone's face!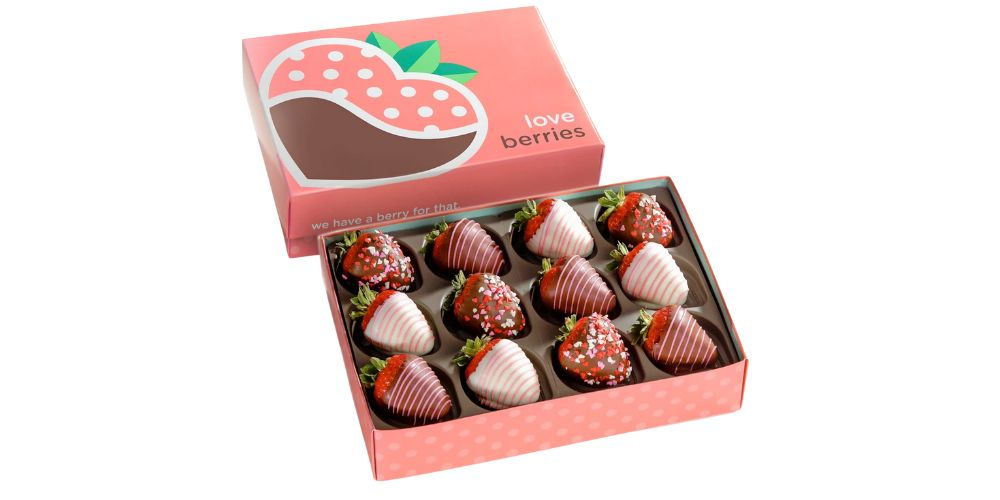 One reviewer called it an "impulsive purchase" but they ended up being delighted with the Chocolate Covered Strawberries. The packaging was top-notch, and they were amazed at the quality of the strawberries--tasty, firm, and sweet with just the right amount of chocolate. No doubt they'd buy it again or use it as a gift!
9. Take your breakfast game to the next level with this Heart Shaped Mini Waffle Maker Machine! No more boring round waffles, now you can make perfect heart-shaped ones for a special someone. This machine is easy to use and produces perfectly cooked mini-waffles. Whether it's an anniversary breakfast or romantic brunch, your sweetheart will be sure to love these delicious treats!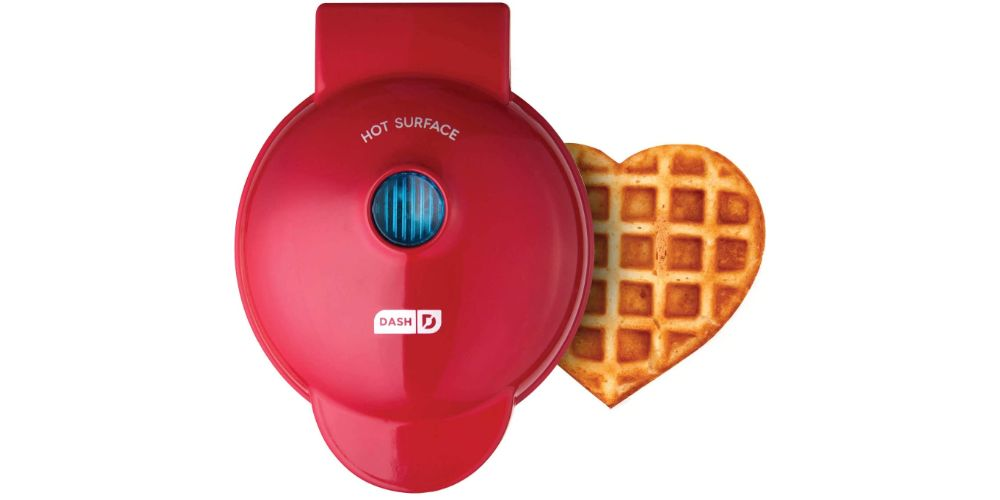 One reviewer absolutely raved about the Heart Shaped Mini Waffle Maker Machine: "I know it's silly to be this obsessed with a simple appliance, but I am in Love with my iron. I'm on Keto and this has been life-changing for helping me make simple and perfect Chaffles. Perfect heat, perfect size, and so easy to work with - love love love! Get this iron!" It's clear that this machine is the perfect solution for making breakfast extra special and adding a touch of romance to any meal!
10. If your significant other loves sushi, the Sushi Making Kit is a great way to show your special someone how much you care! The complete set includes all the essentials for making delicious rolls from home, including bamboo mats, chopsticks, an avocado slicer, and a DIY Sushi Roller Machine. Plus, everything comes neatly tucked away in a cute cotton bag for easy storage. So make this Valentine's Day one to remember and show your loved one some extra love with their very own Sushi Making Kit!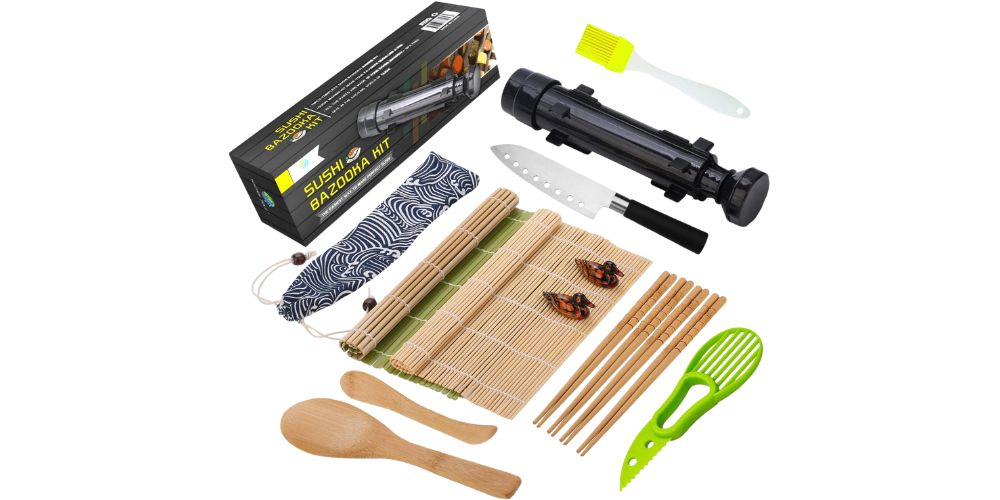 Over 4,000 shoppers have given the Sushi Making Kit a five-star rating and it's easy to see why! One shopper wrote that their partner was thrilled with their gift and they loved making spicy Cali rolls with the kit - which had everything they needed. Plus, it couldn't be easier to use! So if you're looking for a unique and special Valentine's Day gift, look no further than the Sushi Making Kit. You won't regret it!
11. Spice up your Valentine's Day with the Good Hurt Fuego Hot Sauces Set! This gift set includes 7 different kinds of hot sauce, inspired by exotic flavors and peppers from around the world. Perfect for those who love a bit of heat, these sauces are elegantly packaged and made from only high-quality ingredients. Gift this to someone special or even yourself, and make it an unforgettable day with the Good Hurt Fuego!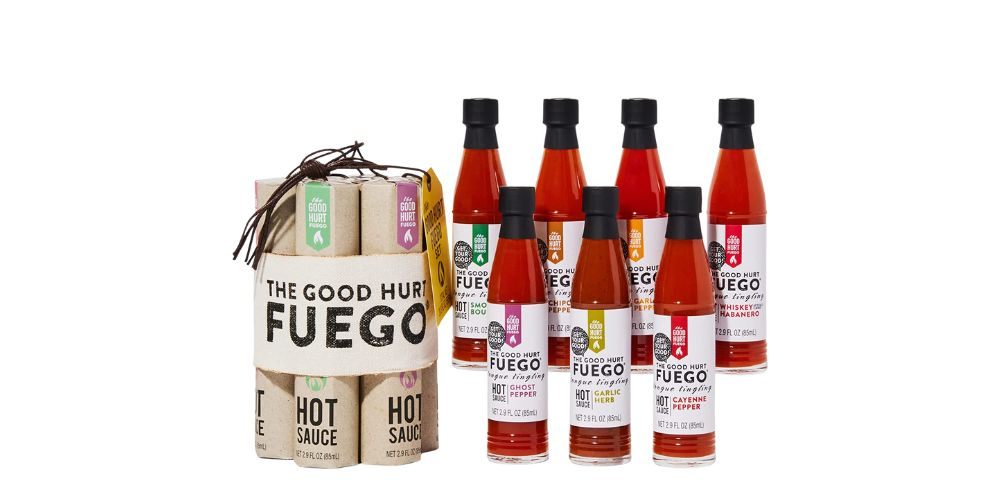 One five-star reviewer of the Good Hurt Fuego hot sauce gift set bought it for their spouse who loves hot sauces and was pleased to find that the flavors are very flavorful and have a good kick, without being too overpowering. They found the product to be worth the money, particularly because of the cute and unique packaging which makes it an ideal Valentine's Day gift. All in all, they are extremely happy with the product - a must-have for any fan of hot sauce!
12. Make sure your Valentine's Day dinner is extra special this year with the Cast Iron Figural Heart Cocotte. Not only does its lovely heart shape make for the perfect holiday or special occasion dish, but it also offers exceptional heat distribution and retention qualities that will help lock in flavor and keep dishes warm or cold at the table. Plus, its enameled surface minimizes sticking and staining, requires no pre-seasoning, and is easy-to-clean. Not to mention its colorful long-lasting exterior enamel that resists chipping and cracking. For a delicious Valentine's Day meal perfect for two (or more!), this Heart Cocotte is a must-have!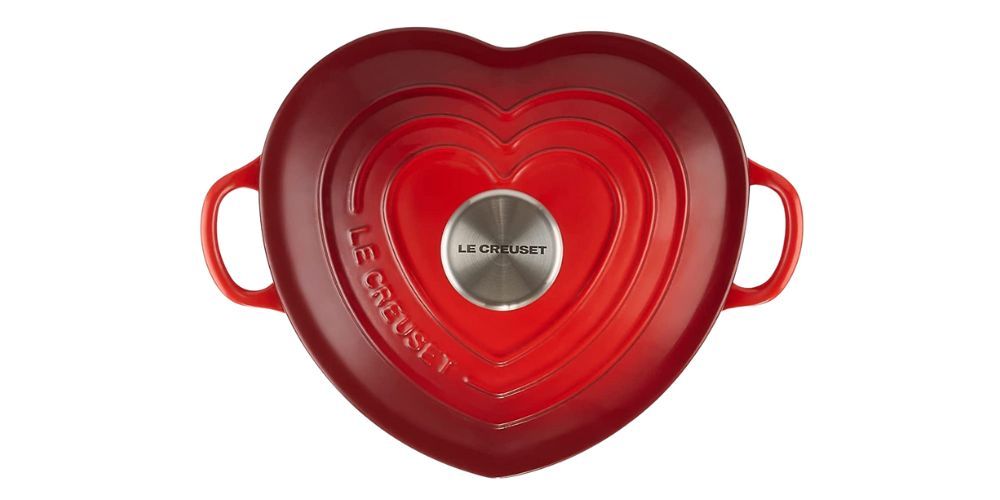 One five-star reviewer called this cast iron "Gorgeous pot!" and said, "Love anything by La Creuset! Cooks so well and looks fabulous." No wonder why this cast iron dish is a top pick for Valentine's Day cooking.
13. Show your special someone how much you care with a two-pack of Wooden Heart Shaped Serving Spoons. Durable dossier wood resists splitting, chipping, or cracking and is odorless, BPA-free, and non-toxic. These hand-selected hardwood spatulas are finished with a no-crack finish so they'll last for years! Perfect on Valentine's Day.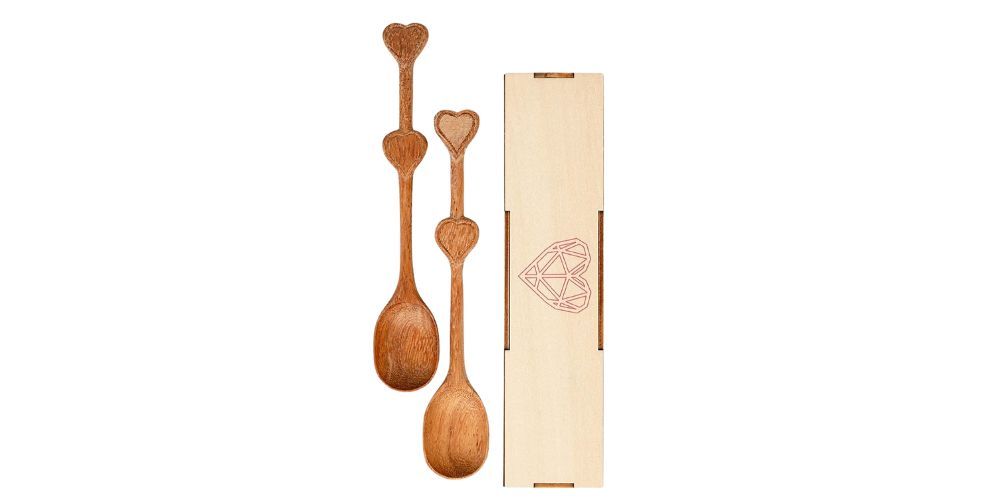 One five-star reviewer called them "cute, useful, and perfect to give as a gift".
Final Thoughts
No matter what your budget or preferences are, you can certainly find Valentine's Day Food Gifts that will show your special someone just how much they mean to you. From the Sushi Making Kit and Good Hurt Fuego hot sauce set for those who love to experiment in the kitchen, to the Le Creuset Signature Enameled Cast Iron Figural Heart Cocotte for an unforgettable dining experience, and even Wooden Heart Shaped Serving Spoons for everyday use - there is something out there perfect for anyone on this special day! So go ahead and make it extra memorable with these unique gift ideas today!
Reviews in this blog post have been edited for clarity and/or length.
Other Posts You May Like: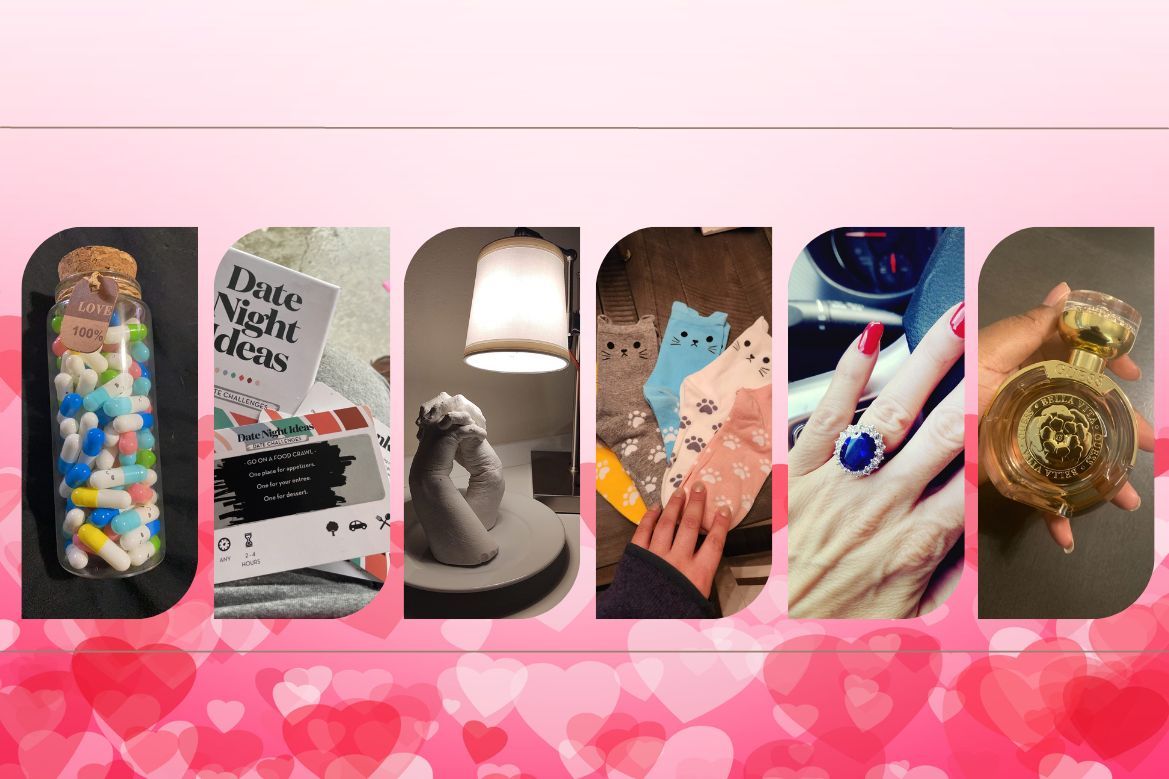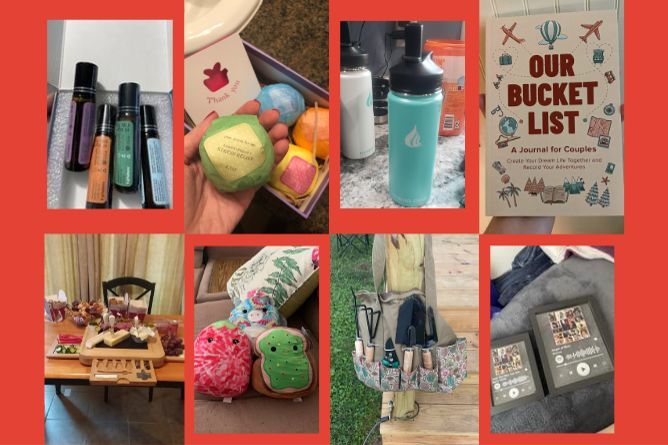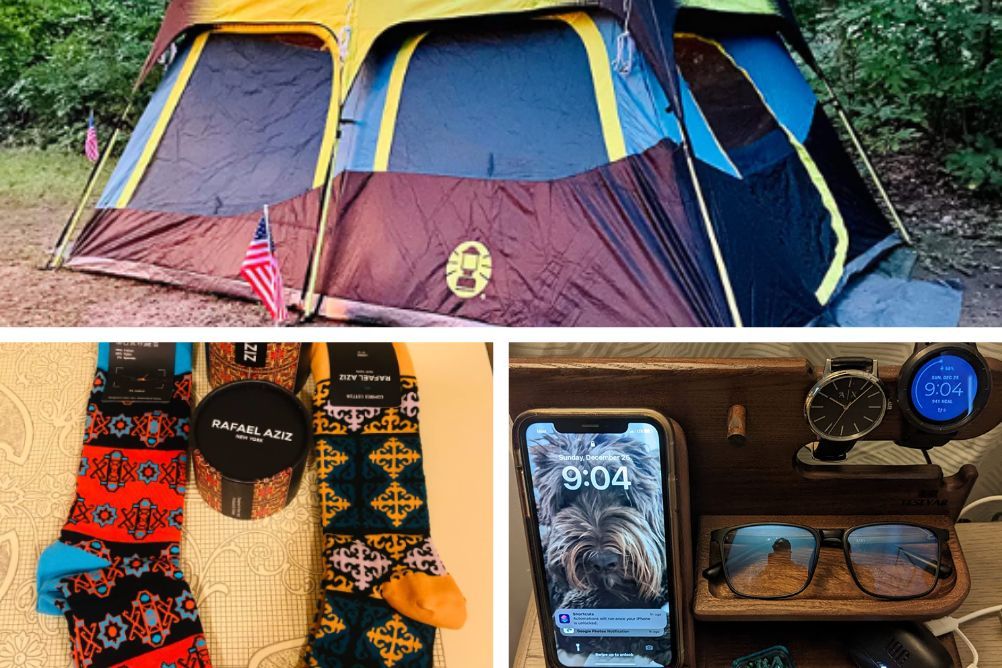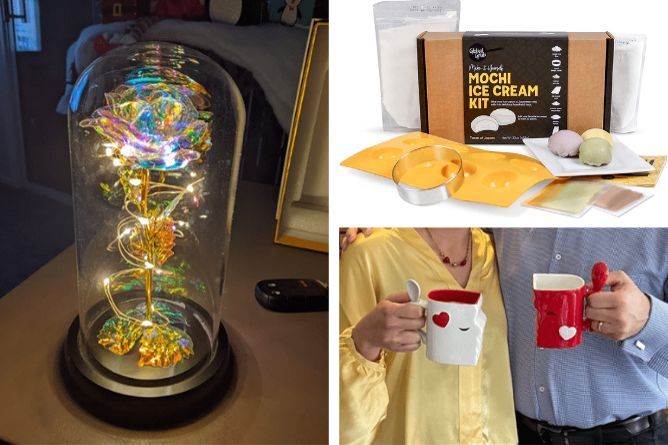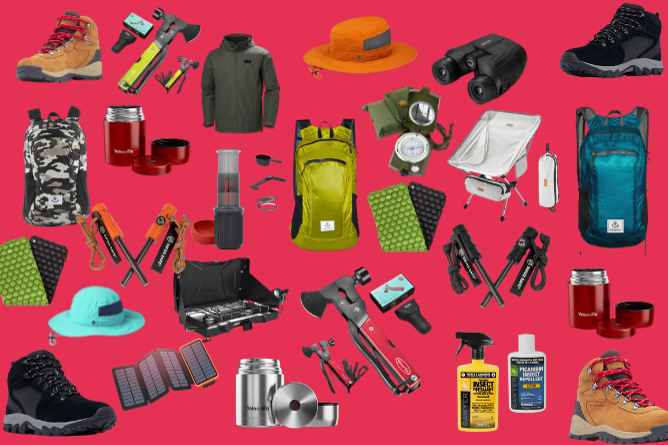 Comments