This post may contain affiliate links, please see our privacy policy for details.
Hey there,  it's pool party season! I know you've got one question on your mind, "What am I gonna wear to my next pool party?" Well, I've got your back with this ultimate guide. We're gonna dive into all the super cute pool party outfits, from laid-back splash day get-ups to glam evening looks - because whether you're a newbie or a seasoned party-goer, you deserve to feel fabulous.
Today's focus? Everything from that adorable crop top paired with a mini skirt for those casual afternoons, to something a little more glamorous for the classy moms who still want to bring their A-game. Trust me, cover-ups have never been so stylish. Whether it's that hotel bathrobe transformed into a poolside luxury or something a bit more straightforward, we got it all.
But wait, we're not stopping there. You know your best bet for looking fly is accessorizing. Think leather bags for a sleek touch, straw hats for that irresistible summer vibe, or even wool hats for chic, cool evenings. Each accessory is a chance to express your fabulous self, and we're here to make sure you do it right!
And just remember, this guide is only part of the fashion world. For more trendy and unique fashion ideas that will make you feel like a star, explore our sizzling posts on Summer Outfits with Hats, Vacation Outfits, Festival Outfits, and Resort Wear. Each one is designed to make you shine on the aforementioned occasions and much more.
Planning to go to Greece this year? For my favorite outfit ideas that are super cute and flattering, check out this post!
How to Look Good at the Pool
Alright, love, let's talk about looking fabulous at the pool, because you know it's not just about what you're wearing, but also how you're wearing it.
Confidence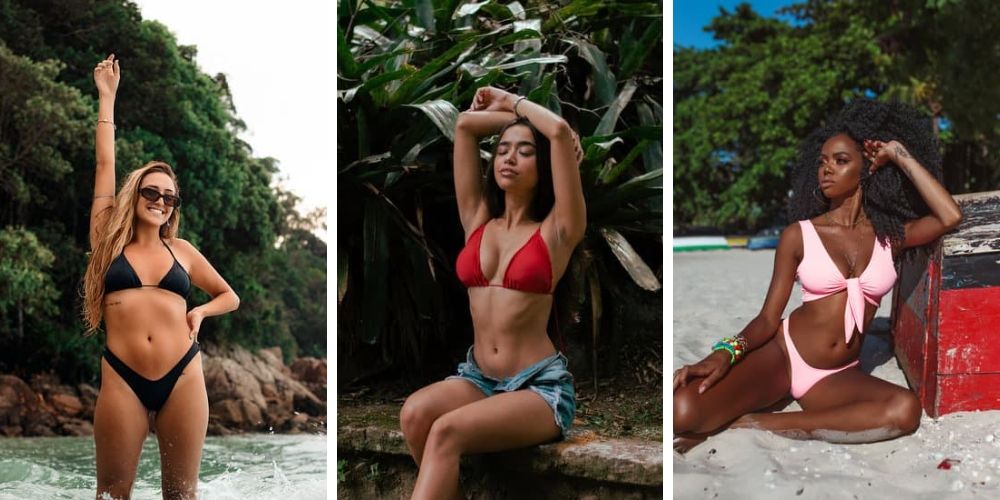 Start by feeling good in your own skin. You've got to own whatever you're rocking, whether it's that new two-piece, or a stylish cover-up. Confidence is key, and when you're feeling yourself, it shows. The right outfit can really boost that inner glow.
Skin Care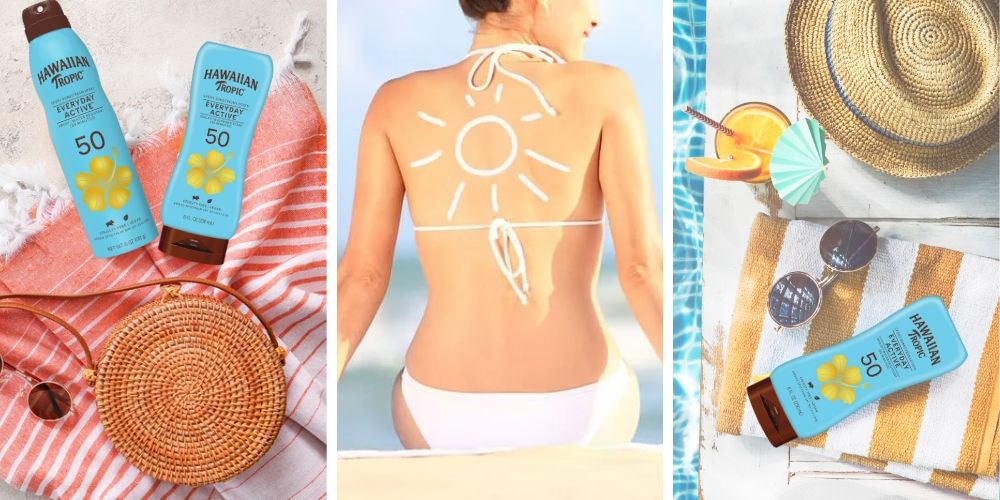 This is crucial, baby! Our skin is our largest organ, and it needs all the TLC we can give it. Always apply a good sunscreen to protect your skin from harmful UV rays. After you've had your fun in the sun, cool down with some soothing after-sun care. Think aloe vera gel or a hydrating lotion.
Makeup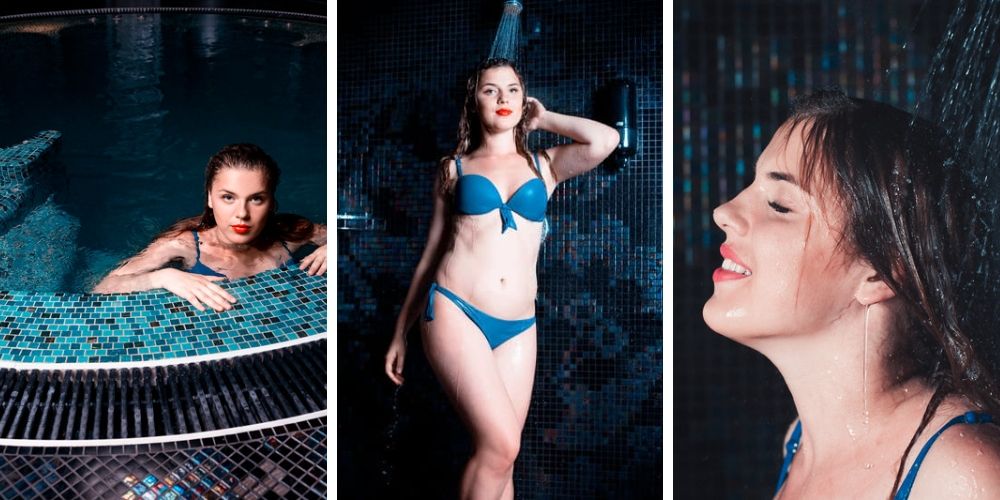 Just because you're at the pool doesn't mean you can't glam it up a little. Waterproof makeup is your friend. A little mascara, some tinted lip balm, and a touch of bronzer can go a long way. And always remember, less is more when you're by the pool.
Hairstyles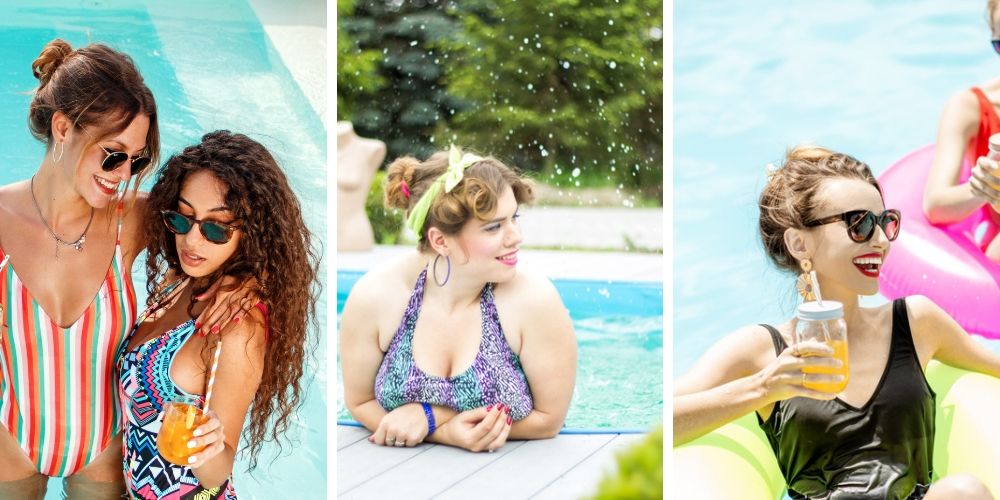 Last but not least, let's talk about those locks. You need a style that's going to hold up in the heat and stay cute in the water. Braids, buns, and beachy waves are your go-to looks. And for those with shorter hair, a cute headband or scarf can add that extra pop.
Looking good at the pool is all about feeling comfortable, protecting your skin, and adding a dash of glamour with a few well-chosen details. And remember, you're there to have fun. So, get out there, shine, and make a splash!
16 Outfit Ideas To Wear To A Pool Party
Nothing says summer like planning a day at the pool. Whether you're invited to a friend's pool party, taking the kids for an afternoon of fun in the sun, or just want to relax and soak up some rays yourself -- getting dressed to pool parties can sometimes feel like an afterthought. Whether you're a fan of the classics or ready to dive into the latest trends, you'll find tons of inspiration in our guide. So keep reading, the ultimate pool party-style inspo is on its way!
Formal Pool Party Outfit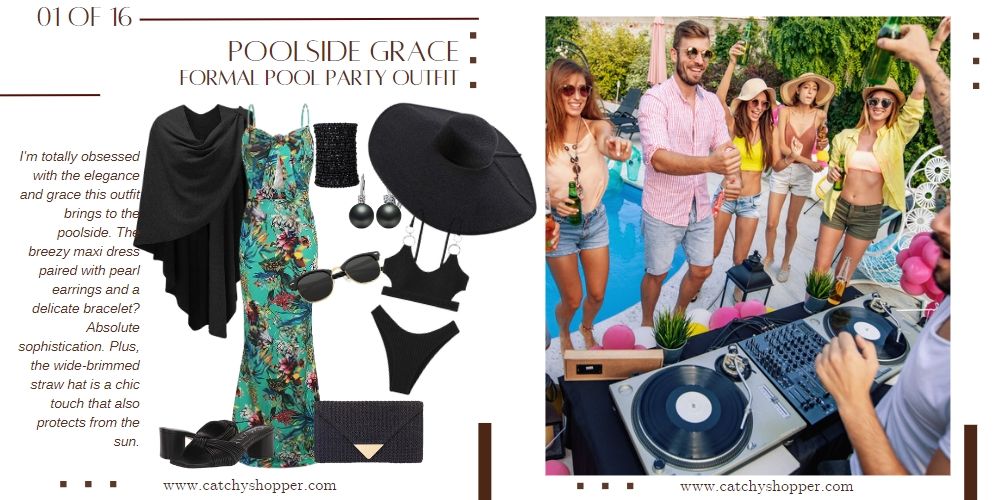 Don an elegant maxi dress in a light, breezy fabric for a sophisticated style at a formal pool party. Accentuate the look with heeled sandals, pearl earrings, and a delicate bracelet to exude an air of grace. Include a straw clutch bag for your essentials and a wide-brimmed straw hat to protect from the sun's rays. Pair it with sunglasses and a wrap for when the evening chill sets in. A chic two-piece swimsuit under your dress ensures you're ready for an impromptu swim, and don't forget your SPF for skin protection.
Casual Pool Party Outfit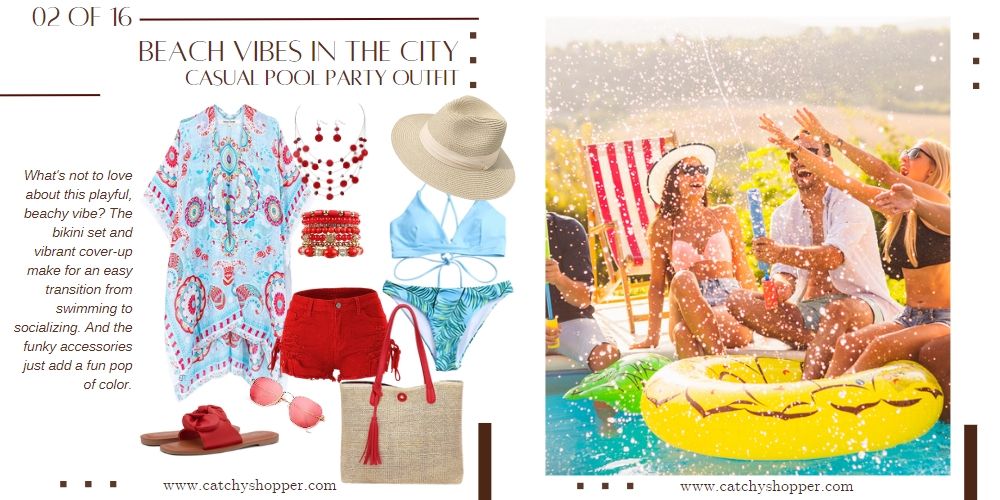 Bring the beach to the city with a playful bikini set teamed with a vibrant cover-up. Slide into comfortable flat sandals and throw on some denim shorts when you're out of the pool. A cute straw tote bag is perfect for your poolside essentials, including suncream. Top off your look with colorful beaded necklaces and bracelets, funky sunnies, and a lightweight wide-brim hat for that essential sun protection.
Maternity Pool Party Outfit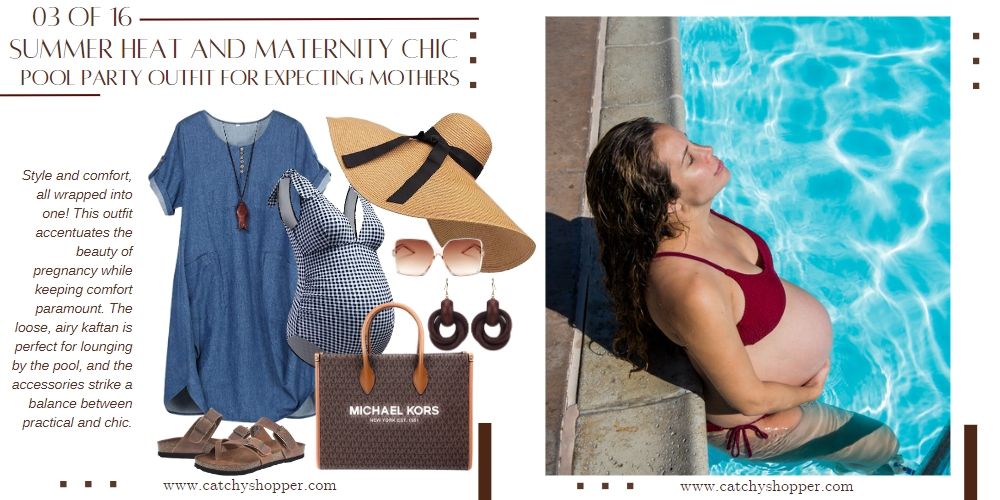 Celebrate your pregnancy in style with a flattering one-piece swimsuit that accentuates your body shape. Layer a loose, airy kaftan on top for comfort and elegance. Choose flat, comfy sandals and a large tote bag for all your essentials. Accessorize with a wide-brimmed sun hat, oversized sunglasses, and chunky earrings for a classy look perfect for sophisticated moms-to-be.
Fitness Pool Party Outfit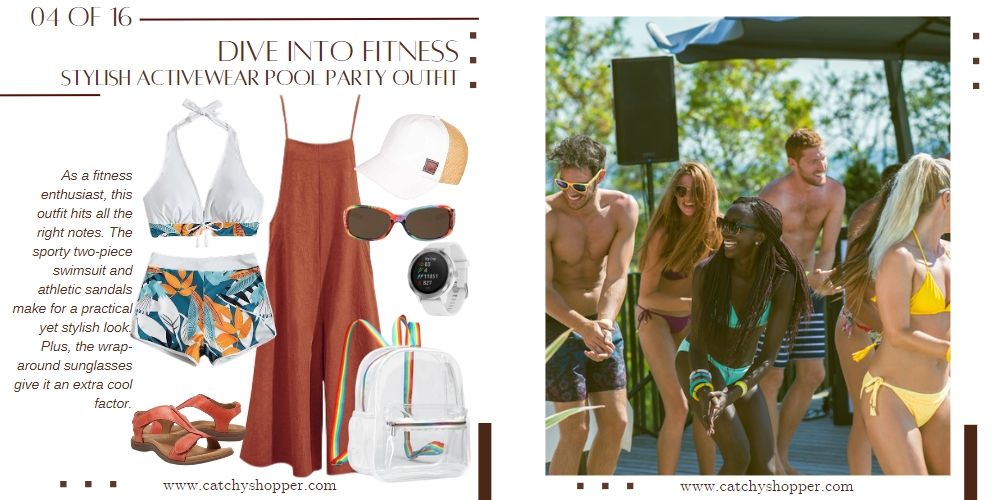 Arrive in a sporty two-piece swimsuit, ready for action, and keep a lightweight jumpsuit handy for post-swim lounging poolside. Pair with athletic sandals for practicality, and store your belongings in a waterproof backpack. Add a sporty cap, a functional watch, and sunglasses for that active look. Always remember to apply water-resistant sun cream before taking the plunge!
Hot Weather Pool Party Outfit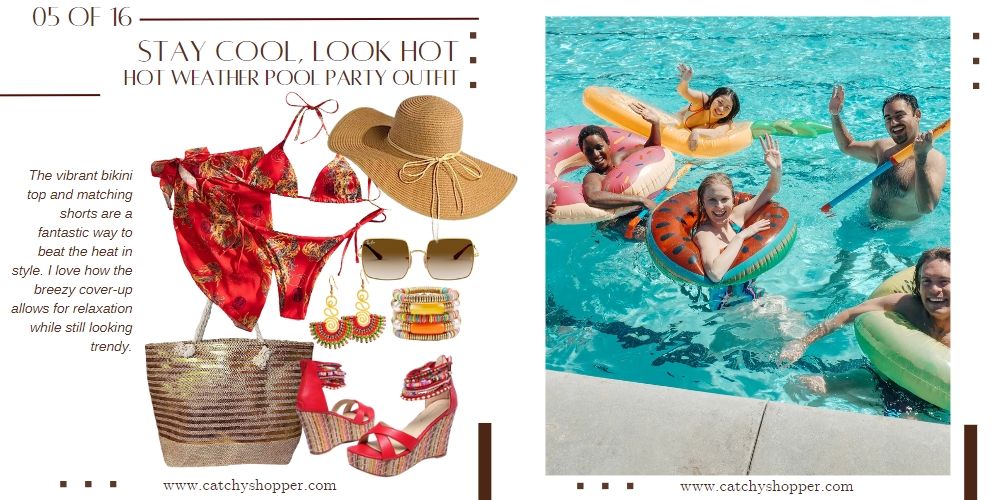 Stay cool yet sizzling in a vibrant bikini top and matching mini skirt. Add a breezy, lightweight cover-up for when you're lounging poolside. Slip into stylish sandals and protect your eyes with trendy sunglasses. A wide-brimmed hat will shield you from the sun's heat, while a beach tote is perfect for stashing your sunblock and other essentials. Complete your pool party look with some colorful bracelets and dangle earrings for that extra flair.
Cool Weather Pool Party Outfit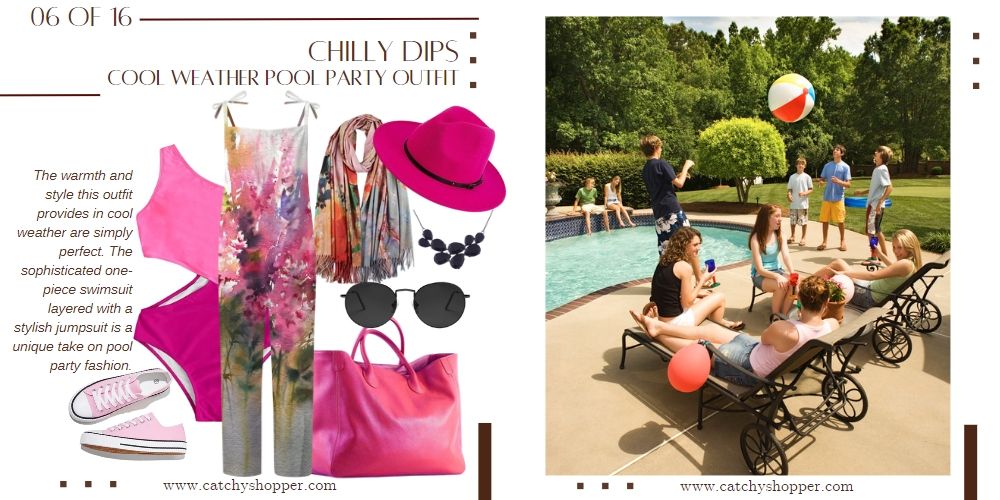 Opt for a sophisticated one-piece swimsuit and layer it with a warm, stylish ensemble like a jumpsuit. Leather sneakers can add a chic touch to your cute outfit and keep your feet warm. A leather tote bag will hold your must-haves, including a thick wrap for the cool weather. Finish your look with a wool hat, a statement necklace, and a pair of round sunglasses.
Non-Revealing Pool Party Outfit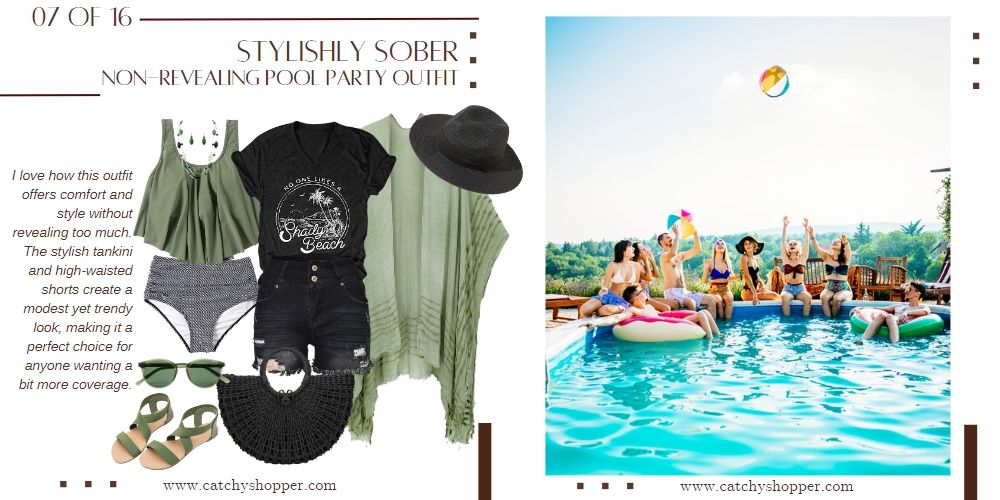 Opt for a stylish tankini paired with high-waisted shorts, and layer a lightweight wrap over it. Comfy flat sandals and a roomy tote bag are practical yet stylish. Accessorize with oversized tees, a wide-brimmed hat, round sunglasses, and your SPF of course! Add a subtle hint of glamour with a simple necklace and matching earrings.
Evening Pool Party Outfit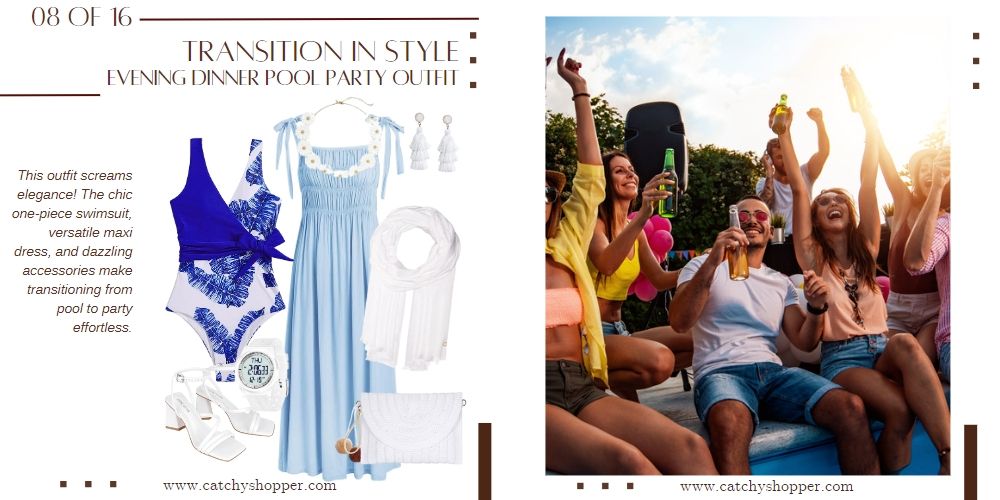 Start with a chic one-piece swimsuit for the pool party, paired with a versatile maxi dress that's perfect for an evening dinner. Strappy heeled sandals can elevate the look, while a stylish clutch can carry your nighttime essentials. Don a pair of dazzling earrings, a statement necklace, and a sleek watch to transition effortlessly from day to night. Don't forget a lightweight wrap for the evening breeze!
Daytime Pool Party Outfit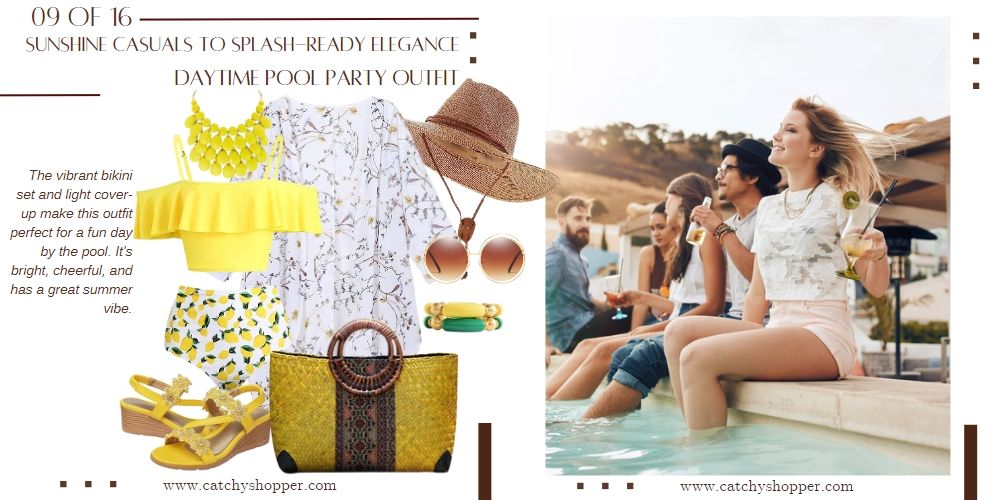 Dive into the summer season with a vibrant bikini set paired with a light, flowy cover-up. Slide into a pair of comfortable sandals, perfect for the poolside, and carry a trendy tote bag for your suncream, towels, and other poolside essentials. Shield your eyes from the sun's rays with oversized round sunglasses and a wide-brimmed straw hat. Adorn your wrists with colorful bracelets and add a dash of sparkle with a simple pendant necklace.
Backyard Night Pool Party Outfit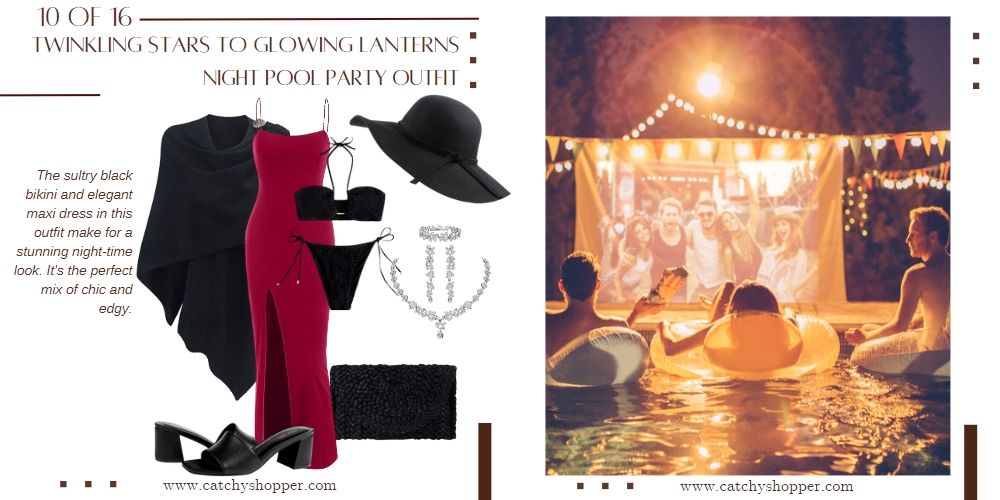 Glow under the night sky in a sultry black bikini layered with an elegant, side-slit maxi dress. Heeled sandals will add a touch of glam to your look, and a clutch bag is perfect for your night-time essentials. Accessorize with a statement necklace, chandelier earrings, and a sleek cuff bracelet. Round off the look with a chic wool hat and don't forget a stylish, warm shawl for the cooler night temperatures.
Splash-Free Pool Party Outfit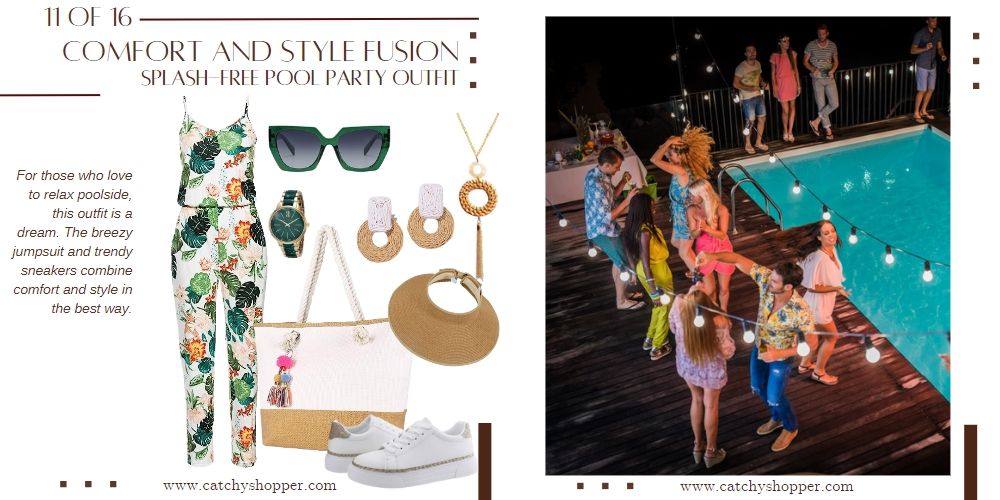 If you're wondering what to wear to a pool party if not swimming, consider opting for a breezy jumpsuit paired with trendy sneakers. This comfortable yet stylish outfit is perfect for lounging poolside. A casual tote bag can be used to carry your essentials while a pair of stylish sunnies and a wide-brimmed visor hat offer sun protection. Accessorize with a chic watch, dangle earrings, and a layered necklace to complete the perfect look. And don't forget to add a statement belt to cinch the jumpsuit at the waist for a flattering silhouette.
Swimming Pool Party Outfit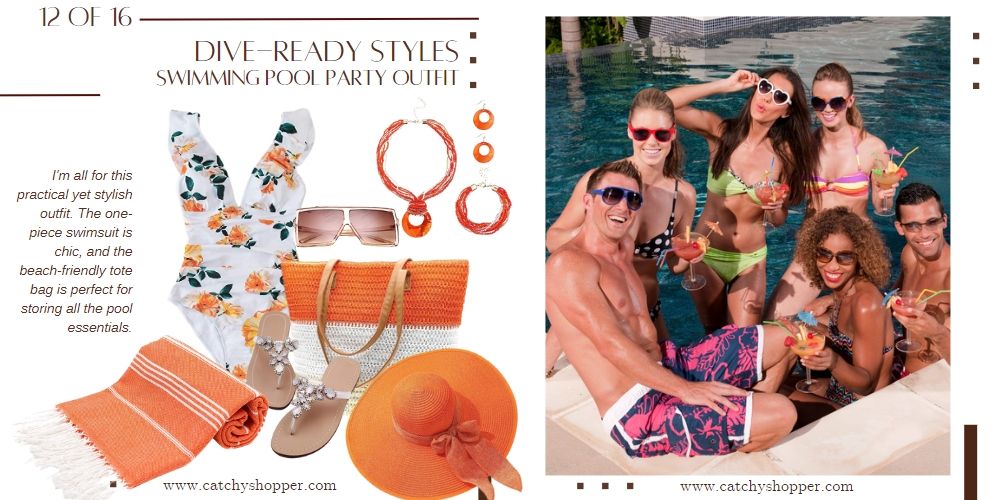 Splash into the pool in a chic one-piece swimsuit. Slip on a pair of flip-flops and bring along a large, beach-friendly tote bag for your sunscreen, towel, and a change of clothes. Add a dash of style with a pair of chic sunnies and a wide-brimmed straw hat. Round out the look with bracelets and earrings, ensuring you're ready to dive in at any moment.
Stylish Pool Party Outfit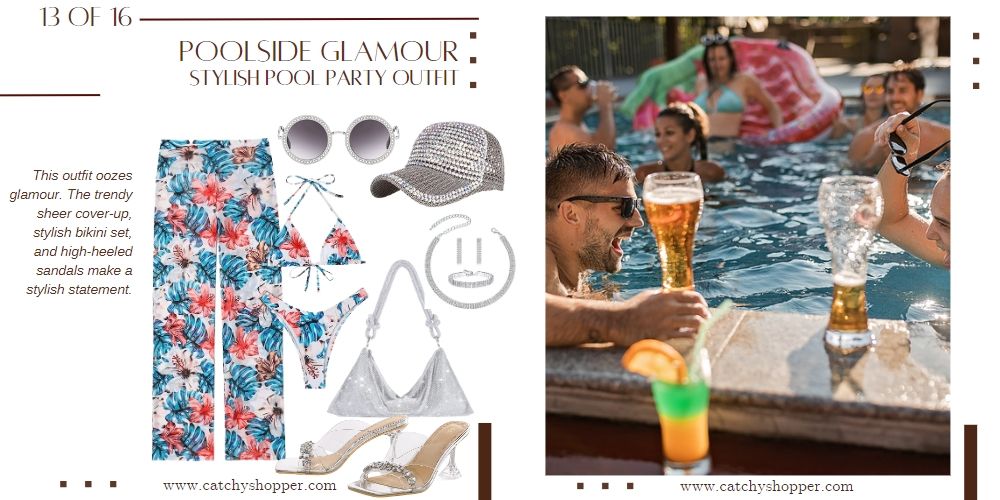 Exude poolside glamour in a stylish bikini set paired with a trendy pants cover-up. High-heeled sandals can elevate your look, and a fancy clutch is perfect for your essential items. Glam up with a pair of cool rhinestones sunnies, a chic hat, and a delicate necklace. Finally, add a bit of sparkle with a pair of chandelier earrings and a set of stacked bracelets.
BBQ Pool Party Outfit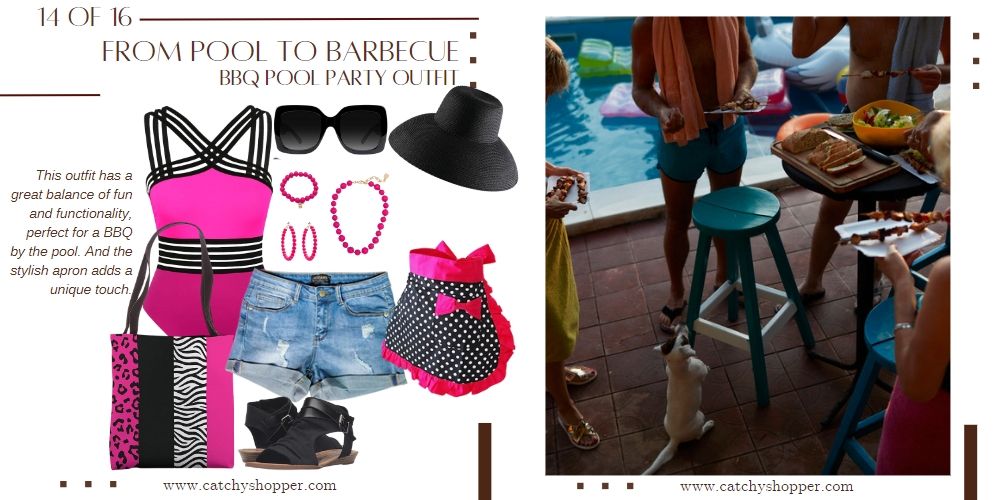 Balance fun and functionality in a one-piece swimsuit paired with high-waisted denim shorts. Slip on a pair of comfy sandals for easy movement and carry a tote bag for your pool and BBQ essentials. A wide-brimmed straw hat and a pair of round sunglasses offer sun protection while you grill and chill. Accessorize with a pair of hoop earrings, a charm bracelet, and a necklace. And don't forget a stylish apron when you're by the grill!
Beach Pool Party Outfit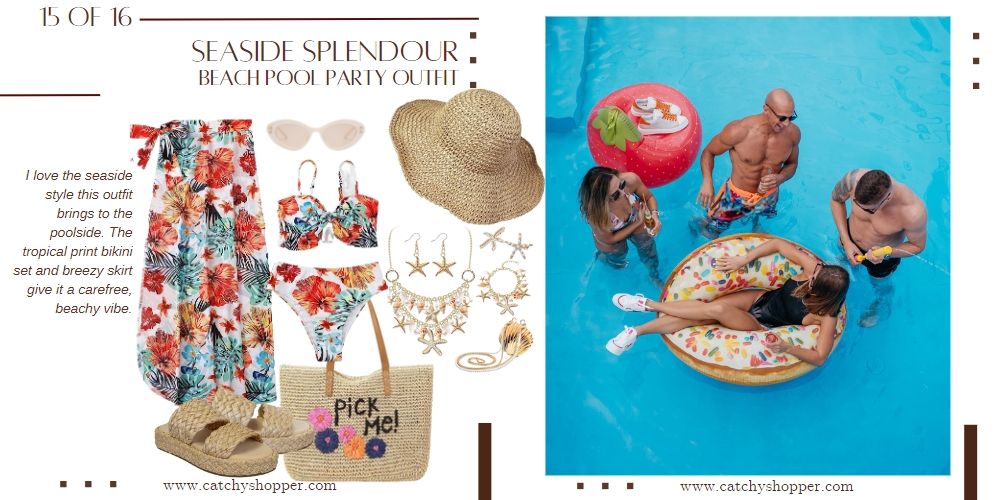 Show off your seaside style in a tropical print bikini set, layered with a breezy skirt. Sand-friendly espadrilles and a straw tote bag are beach essentials, while a pair of stylish cat-eye sunnies and a floppy straw hat shield you from the sun. Decorate your neckline with a shell necklace and add a pop of color with starfish bracelets. Round out your look with a pair of earrings for a true beachy vibe.
Cocktail Pool Party Outfit
Steal the show at a cocktail pool party in an elegant one-piece swimsuit paired with a glamorous wrap. Match your look with a pair of heeled sandals and a sophisticated clutch for all your cocktail party essentials. Protect your eyes with oversized sunnies and add a bit of bling with crystal-studded earrings, a statement bracelet, and a sleek pendant necklace.
Final Thoughts
Alright, my loves, that's a wrap on our ultimate guide to pool party outfit ideas. Let's take a minute to revisit the hot points we've covered.
We kicked off with identifying the kind of pool party you're heading to - because, as we know, a casual splash day ensemble differs from an outfit for a glamorous evening poolside event. We then dove into specific outfit ideas, right from rocking that cute crop top and mini skirt, to channeling your inner glam with chic cover-ups. For my classy moms, we've covered everything from casual to elegant, ensuring you make a splash at any pool party.
Of course, we didn't forget about the extras that really take an outfit from hot to sizzling. Think straw hats for the perfect summer vibe, leather bags for a sleek touch, and even your best hotel bathrobe transformed into a luxurious poolside accessory.
But what's a stunning outfit without glowing skin and the confidence to match? Remember to always protect your skin with sunscreen, jazz it up a little with waterproof makeup, and choose a pool-friendly hairstyle that makes you feel fabulous.
Now, here's my last tip, and this one's golden, my loves: Stay true to your personal style and enjoy the party. The real magic happens when you're feeling comfortable, confident, and having fun!
I'd absolutely love to hear from all of you. What's your go-to pool party outfit? Do you have a favorite poolside memory? Share it with us. And if you've tried any of the tips from this guide, let us know how they worked for you. We're all here to learn from each other and continue to shine, right?
Keep slaying, darlings, and remember - life is a party, dress like it!
Other Posts You May Like
💡
Dive Into Fashion Outfits
Explore our exclusive articles featuring
Boho Outfit Ideas
,
Vacation Outfits
,
Festival Outfits
,
and
Summer Outfits with Hats
.
Delve into our
Denim Shorts Outfits
,
Black and White Outfits
, Bodysuits Outfits,
and
Pink Outfit Ideas
. Experience the charm of our
Tube Top Outfits
, Crop Top Outfits,
Sundress Outfit Ideas
,
Resort Wear
,
Beach Wear
,
and
Jury Duty Outfits.
Comments