This post may contain affiliate links, please see our privacy policy for details.
Looking for some stylish yet comfortable yoga pants? Whether you're a seasoned yogi or just starting out on your fitness journey, having the right pair of bottoms can make all the difference. We've rounded up the 16 best yoga pants for women that will make you look like a fashionable yogi while providing maximum comfort and support as you move through your practice. Read on to find out more!
Criteria for selecting the best yoga pants
Choosing the right pair of yoga pants can make all the difference in your practice. Whether you're looking for a lightweight, breathable feel or something more supportive and durable, you'll want to keep an eye out for comfort, style, durability, and functionality. After all, it's these factors that can help elevate your yoga practice to new heights - so don't take any shortcuts!
Comfort
Comfort is key when it comes to yoga pants. You want to choose a pair that feels soft and comfortable against your skin, with a fit that allows for ease of movement. Look for pants made from soft, breathable fabrics like cotton or bamboo, and features like a high waistband or stretchy material that won't dig into your skin during poses.
Style
While comfort is important, you also want to choose a pair of yoga pants that make you feel confident and stylish. There are plenty of options out there, from classic black workout leggings to fun prints and bright colors. Consider your personal style and choose a pair that you feel good wearing.
Durability
Yoga pants can take a beating, so it's important to choose a pair that can stand up to the wear and tear of regular use. Look for pants made from high-quality materials that are designed to last, with reinforced seams and durable fabric that won't fade or pill over time.
Functionality
Finally, consider the functionality of your yoga pants. Do you need pockets to store your phone or keys during class? Do you prefer a high-waisted or low-rise fit? Do you need a pair that's moisture-wicking or quick-drying? Consider your specific needs and choose a pair of pants that will meet them.
When selecting the best yoga pants, it's important to consider comfort, style, durability, and functionality. By keeping these criteria in mind, you can find a pair of pants that will make your yoga practice more comfortable, enjoyable, and stylish.
Top 16 Best Yoga Pants for Women
Women everywhere have made yoga pants a staple in their wardrobes. Not only are they comfortable and versatile but they give you the perfect look for any occasion - whether in your yoga practice or out and about. But with so many choices, it can be overwhelming to decide which pair to pick. That's why we've put together a list of the top 17 best yoga pants for women to make sure that you look and feel incredible during your happy practice and all day long!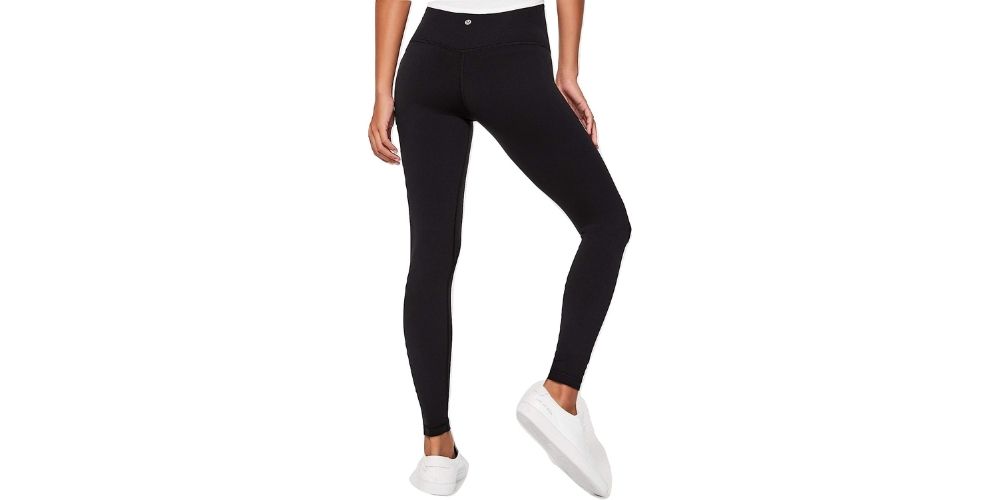 Step into luxurious comfort and elevate your yoga experience with the Lululemon Align Pant! Crafted from their signature Nulu fabric, these full-length pants provide superior softness, lightness, and sweat-wicking capabilities. The 28" inseam creates a relaxing fit that offers both coverage and flexibility to ensure you feel completely confident and supported.
Plus, the four-way stretch fabric ensures you remain comfortable and focused during every practice. Though they may come at a premium, the quality and unmatched comfort of these remarkable pants means they are an investment worth making. Allow yourself to fall deeper into your practice without worrying about distraction or discomfort - choose the Lululemon Align Pant for each and every session!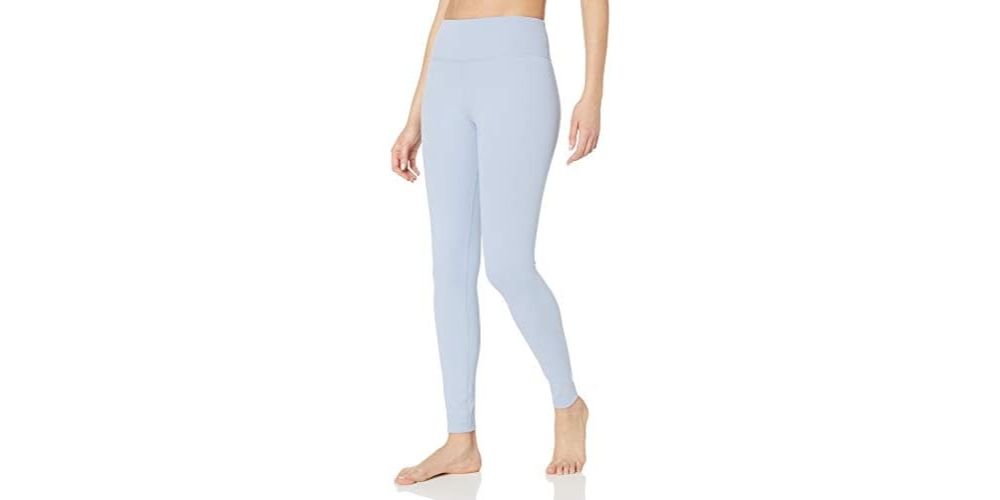 Elevate your yoga practice with these leggings that prioritize both style and functionality. With a high-rise waistband and moisture-wicking fabric, you'll feel extremely comfortable, cool, and dry no matter how hot the studio gets. Designed to help you push through the toughest of sessions, it features an interlock-knit to ensure it's squat-proof. With a 28" inseam and a drop-in pocket at the center back waistband and its unique melange-stripe fabric combines a mini-stripe and subtle heather effect for a stylish and modern look, these leggings are perfect for hot yoga, intense workouts, or even just running errands.
Core 10 offers a wide range of sizes, ensuring there's a fit for every woman, from XS-XL to plus sizes 1X-3X. While the fit may be tighter than other options, it ensures that the leggings will stay in place and provide the support you need to fully immerse yourself in your practice. Don't settle for mediocrity; choose these leggings that will elevate your practice and leave you feeling empowered and confident.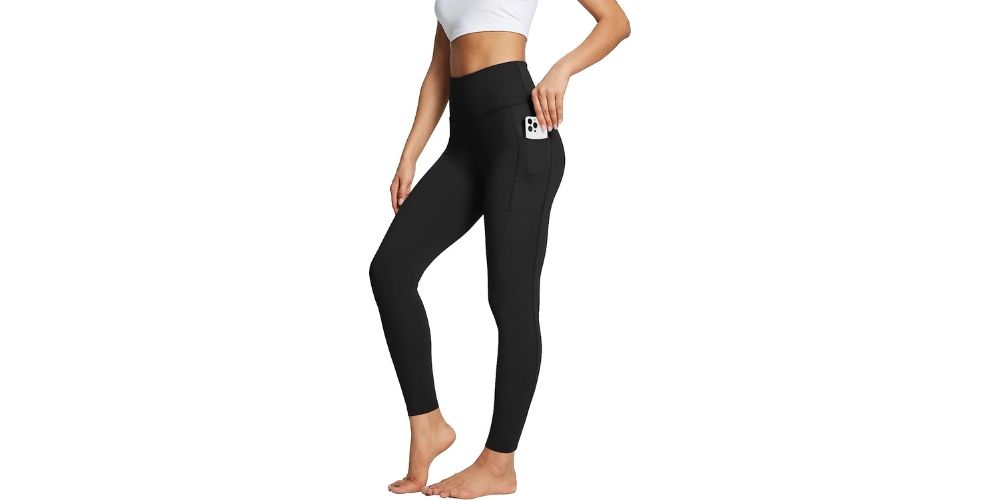 Unleash your full potential during every yoga practice with Baleaf yoga pants. Made from a soft and stretchy fabric blend, these pants prioritize both comfort and functionality. These high-waisted yoga pants feature a no-dig waistband ensuring that you won't feel any discomfort around your belly area, making them perfect for all-day wear. Its four-way stretch fabric allows for unrestricted movement and flexibility and the hidden pocket is perfect for stashing your phone or keys, giving you one less thing to worry about during your practice.
With its affordable price point, these pants are accessible to all, without sacrificing quality or comfort. These versatile pants are perfect for any activity. While they may pill after multiple washes, the quality and value they offer make them a must-have addition to your workout wardrobe. Don't settle for anything less than the best for your yoga practice. Choose these pants that will make you feel confident, supported, and empowered with every move.
If you're shopping for new yoga pants, then IUGA High Waist Yoga Pants might just be for you! The IUGA yoga pants feature a high-rise waistband with tummy control, which offers both compression, support, and a flattering fit. With a 4.6-star rating from over 56,000 Amazon shoppers, these yoga pants have proven that their fabric is one of the best out there compared to the other brands. One reviewer said, "These leggings look and feel great! They're soft, thicker material so you don't have to worry while working out and they stay in place. They smooth over your tummy and love handles too. I did "Try Before You Buy" in XL and liked them so much, I brought more in other colors."
It also includes a hidden pocket for storing your essentials, such as keys, phones, or money. The super-soft material and four-way stretch technology make these leggings ultra-comfy and supportive, while the gusset crotch ensures maximum freedom of movement. The interlock seams also minimize rubbing and chafing, making these leggings perfect for any yoga pose. The ultra-stretch fit slims conform to any body shape and they are thick enough to prevent any see-through mishaps, so you can focus on your workout without any worries. You'll look and feel great in these stylish and affordable pants that are perfect for any active woman. Please note, that these pants may run a bit long for short women, but don't let that discourage you from trying them out!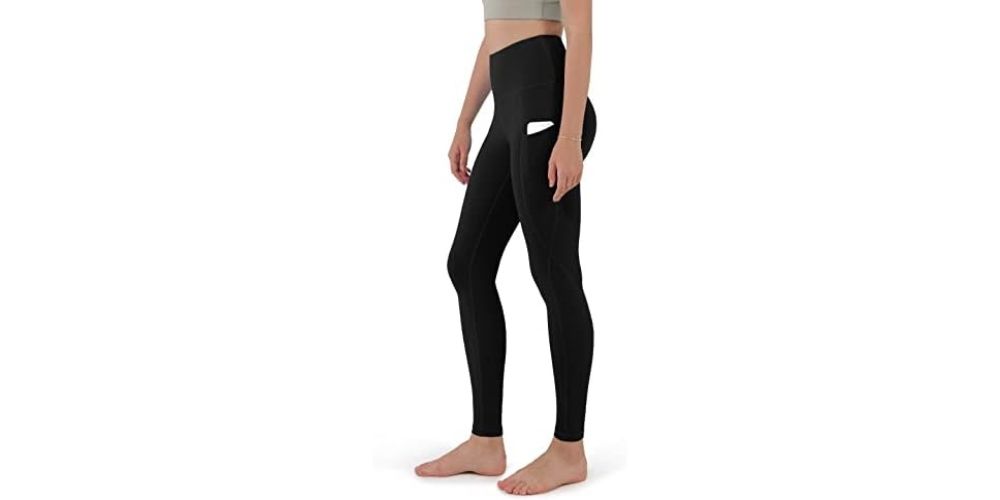 Ladies, if you're looking for the perfect pair of pants that will hug your curves in all the right places, look no further than the ODODOS High Waist Yoga Pants! These high quality yoga pants have it all: a flattering high waistband and a four-way stretch fabric that moves with you, ensuring maximum comfort and flexibility. But that's not all – these pants also come equipped with a hidden pocket that's perfect for storing your phone, keys, or any other small essentials you may need during your workout. And the best part? These pants won't break the bank. They're affordable, comfortable, and versatile, making them a great investment for any fitness enthusiast. Whether you're hitting the gym, going for a run, or just lounging around the house, these pants are sure to become a staple in your wardrobe. Of course, no product is perfect, and some people may find that these pants are a bit too tight for their liking. But for those who love a snug fit that accentuates their curves, these pants are a dream come true.
With a 4.5-star average and over 26, 400 verified five-star ratings, reviewers note its versatility saying, "This is my 4th pair of these! I love them for working out, and for wearing to run errands, they really hold up their compression. I lift weights in these and walk in them. They are great. Added bonus is the pockets on the sides." Another reviewer said, "These are the most comfortable amazing pants I own. Soft. Flattering. Stays in place. Pockets. Not see through. Feels high quality."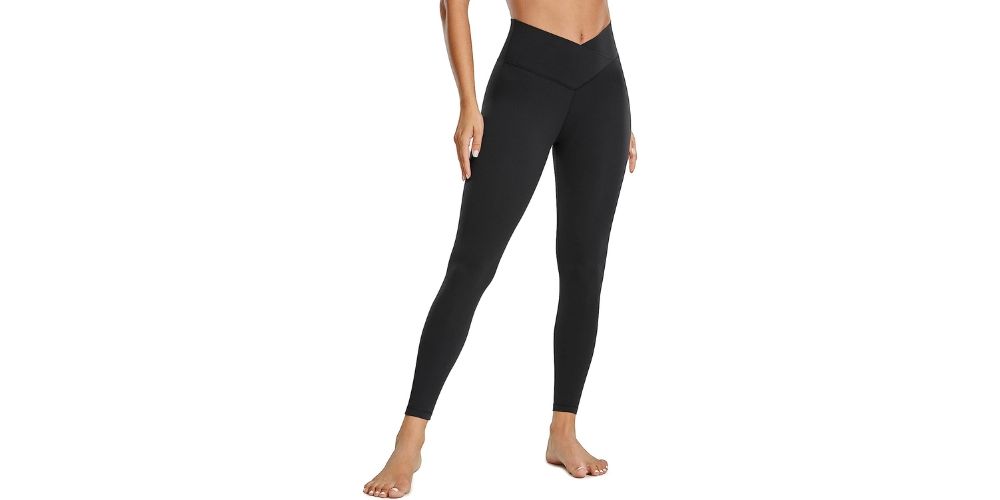 Attention all yogis and loungers out there! These CRZ women's yoga pants are made with butterluxe fabric making it incredibly soft and ultra-stretchy and with the added Lycra black fabric that provides high recovery power and long-lasting fit and shape retention, ensuring that these leggings will maintain their form even after countless washes and wears. When I first slipped into these leggings, I couldn't believe how comfortable they felt. The gentle compression provides just the right amount of support without feeling too tight in your legs and butt, and the fabric is squat proof so you can bend and move without any worries.
And at 25'' inseam with a 7/8 length, they're designed to sit above the ankle, making them perfect for any type of activity. The criss-cross high-waisted style is not only trendy but also incredibly flattering. It doesn't dig in at the waist like some other leggings I've worn, and it gives you that extra bit of coverage and support where you need it most. The v-seam design on the front and back is a nice touch that highlights your curves in all the right places. The only downside is that they may be too thin for some, but don't let that deter you from experiencing the ultimate in workout gear.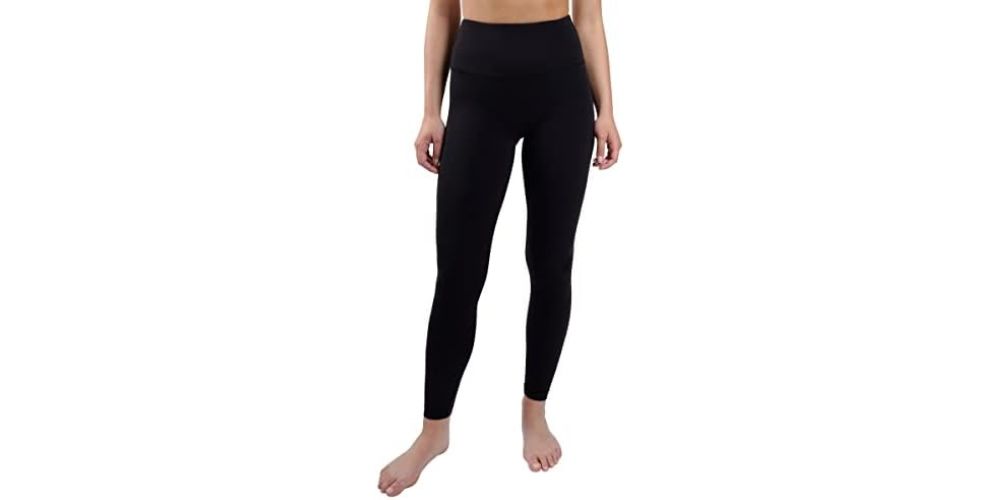 The Yogalicious leggings are a must-have fashion item! With their luxuriously soft fabric that feels like you're wearing nothing at all and 8,000+ verified five-star customer reviews, these leggings have everything you need for any activity. Featuring a peached-finish and lightweight fabric, these leggings are comfortable yet fashionable and provide an alternative to typical sweatpants.
Their high waist and gentle compression provide added support, while interlock seams minimize rubbing and chafing. Plus, the four-way stretch fabric is squat-proof with a maximum range of movement - and they last too! Don't just take our word for it - try out these cozy yet affordable leggings today, as one reviewer said: "I love these leggings. They are super soft, stay in place, are not see-through, and feel great. They are my go-to leggings."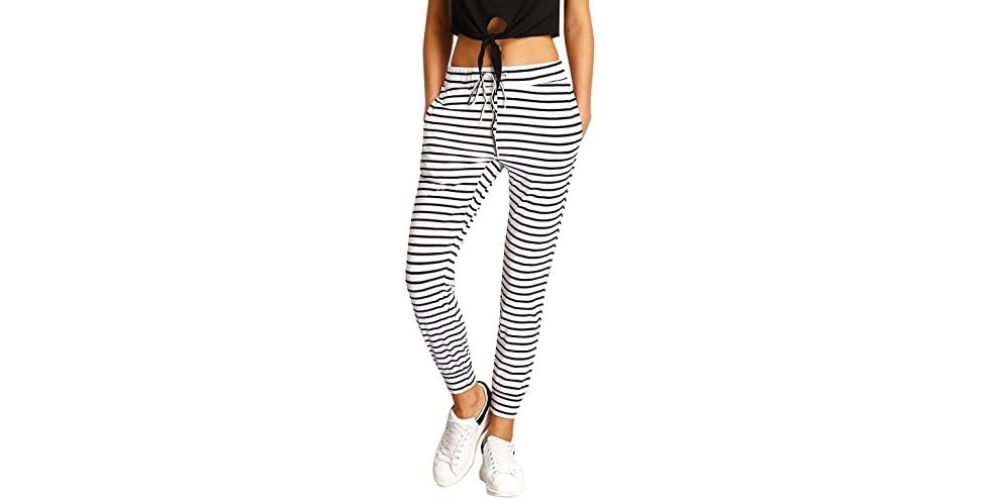 Upgrade your wardrobe with the perfect pants for any occasion! These pants are designed to move with you, no matter what activity you're doing. With a high waistband for support and stretchy fabric for ease of movement, you'll never feel restricted again. Plus, the drawstring closure allows for adjustability and unbeatable comfort no matter the season – heavy enough to keep you warm in winter, but light enough to keep from overheating in summer.
And there's also a variety of styles so you can express yourself without breaking the bank! These pants offer unbeatable comfort and style that will make you feel like a million bucks - plus they're affordable too! The only drawback is that they may be too thin for some people, but the comfort and style they provide are unmatched. Try them out today and feel the difference!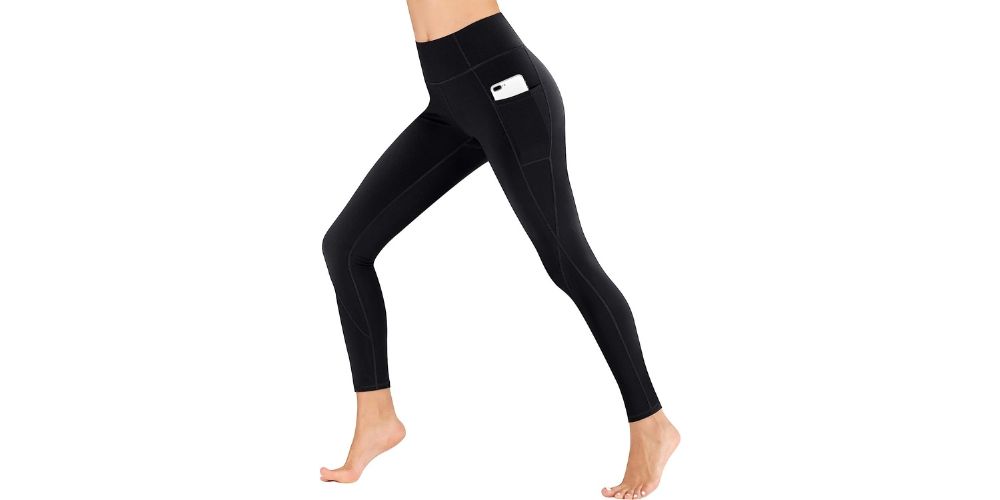 Feel free to move and dance in any way you please in our high quality yoga pants. We understand that feeling restricted is the last thing you want when working out and sweating, so we designed our pants with a 4-way stretch technology and moisture-wicking fabric that feels like a second layer of skin. This provides maximum comfort, support, and coverage - no matter how long your yoga session or dance class is.
Plus, two side pockets and an inner pocket make it easy to go wallet-free so you can focus on your practice. Our slimming high waist design gives you tummy control for a flattering fit every time. So free yourself from tightness and embrace comfort with our yoga studio approved pants!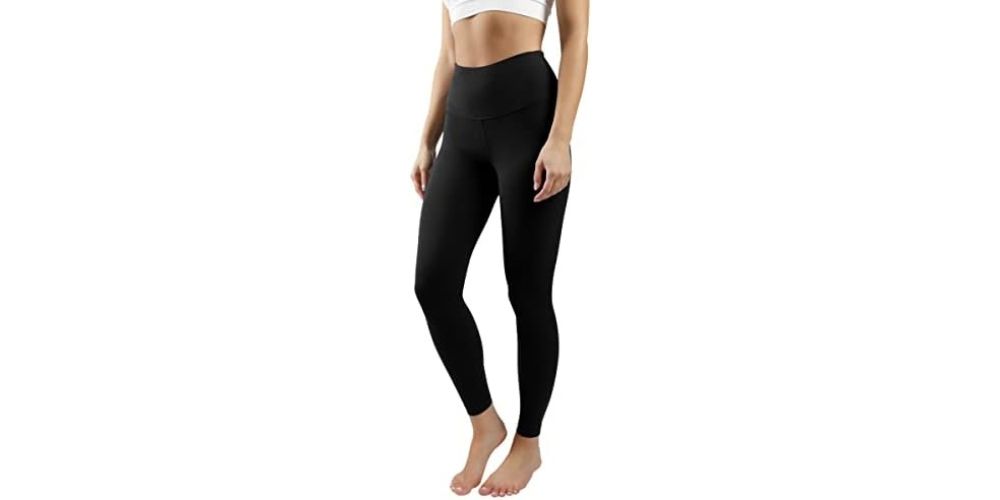 These leggings are made from a nylon and spandex blend, the Power Flex fabric is designed to endure everyday wear and tear as well as machine washings without losing its shape or quality. One of the standout features of these leggings is the high waistband. Not only does it provide better tummy control, but it also helps to smooth out any muffin top for a more streamlined look.
The gentle compression provided by these leggings will give you a toned and trim appearance but the benefits don't stop there, they are designed for premier durability and support. And if you're someone who likes to carry their essentials with them, you'll love the hidden pocket in the waistband. It's the perfect spot to stash your keys, phone, or other small items, allowing you to go wallet-free and enjoy your workout or activity without worrying about losing anything.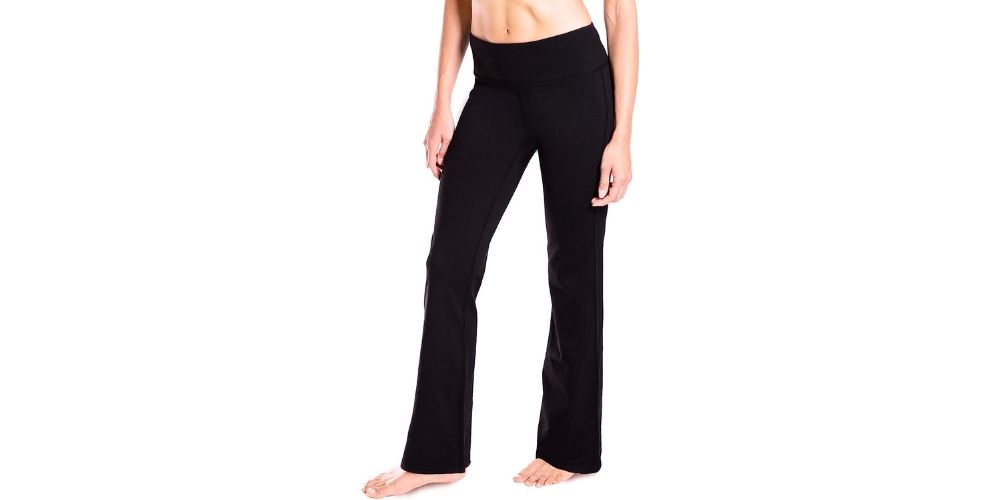 With the Yogipace High Waist Yoga Pants, you can get all the benefits of a supportive and comfortable yoga pants without sacrificing style. Made from nylon and spandex, these pants are designed for maximum performance - offering a no-see-through, four-way stretch fabric that's moisture-wicking and won't bind or dig into your waist.
The slight flare at the cuffs design creates a leg-lengthening silhouette for an extra fashionable boost! Going beyond yoga, these versatile pants are ideal for running errands as well as more formal environments when paired with the appropriate top and shoes. At such an affordable price point, you won't believe how amazing these pants truly are but some may find them too long especially for shorter women.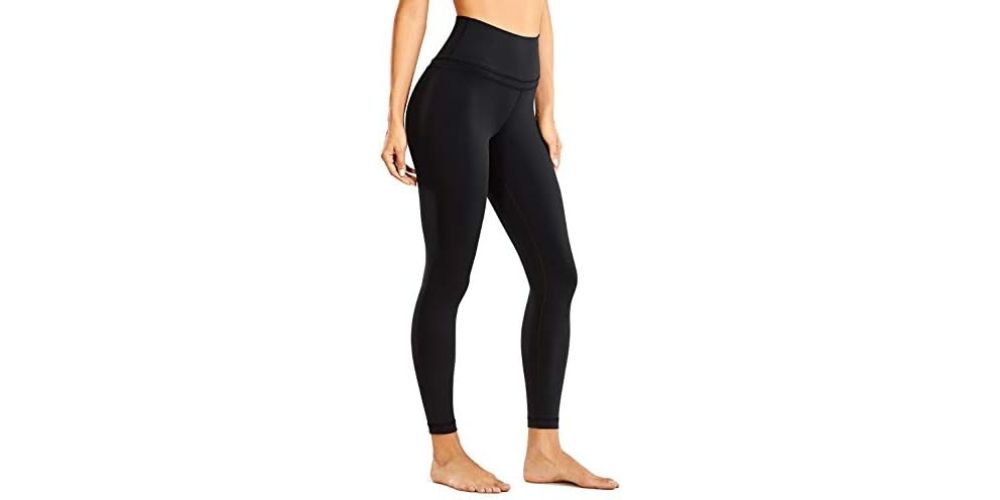 Experience gym-quality performance with the Naked Feeling collection of leggings. Crafted for unbeatable freedom of motion, they fit like a second skin to keep you covered and comfortable during even your most intense workouts. With their high waist design, seamless waistband, and no dig-in tummy control, nothing will hold you back from pushing yourself further than ever before.
And with a hidden pocket for storage, you can take your essentials with you everywhere you go without any distraction or hassle. Feel supported and confident as you move freely and confidently with the buttery-soft fabric that promises total squat-proof coverage - so say goodbye to camel toe and start your workout!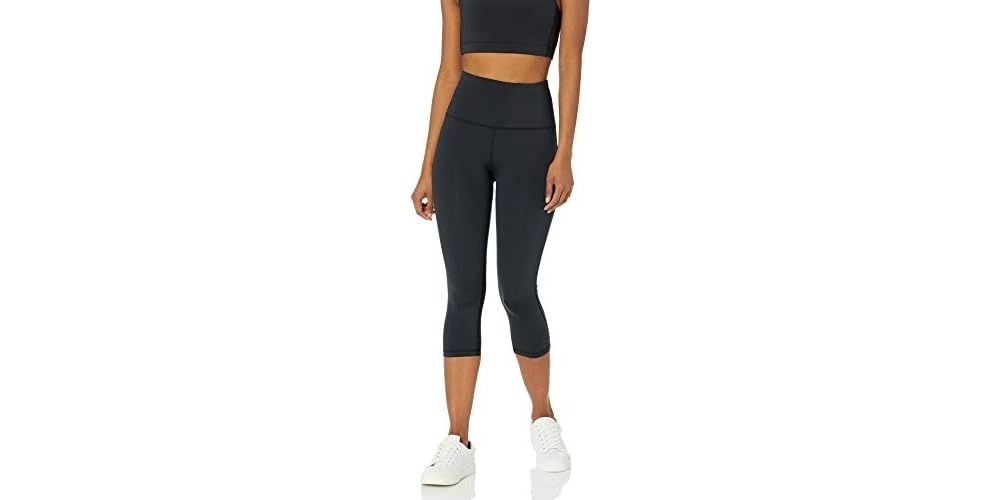 Get ready to take your training to the next level with this amazing pair of high-waisted capris! Crafted from ultra-stretch fabric and an incredibly comfortable waistband, these high-rise capri leggings are a must-have addition to any workout wardrobe. With a slim flat front style and no back pockets, they'll give you a sleek silhouette that's fashionable and functional.
But don't be fooled by the affordable price tag—these leggings are snugly fitted through the hip, thigh, and leg for maximum support and won't move during even the most intense workouts - so you can go ahead with confidence knowing you've got nothing slip or slide!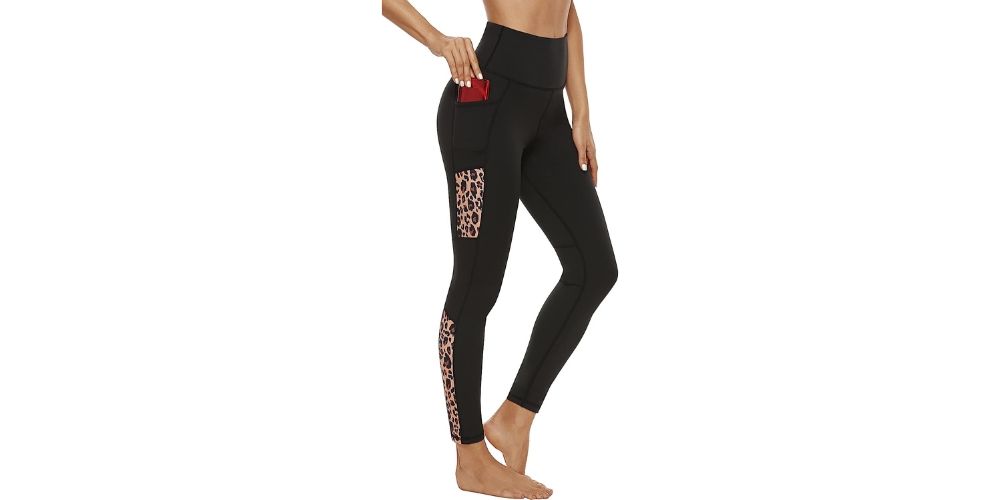 Get ready to add some flair to your workout apparel with Persit Yoga Pants! Crafted from a blend of polyester and spandex, these pants are stretchy and comfortable enough for all your pilates and hiking needs. Their high waist design offers excellent support, tummy control, and a fun side leopard pattern which adds a playful touch to the classic black leggings.
Lightweight yet non-see-through fabric keeps you cool and dry throughout your exercise routine. For extra convenience, two pockets allow you to store small items like phones, keys, cards and cash while you move. Enjoy improved performance and style with Persit Yoga Pants!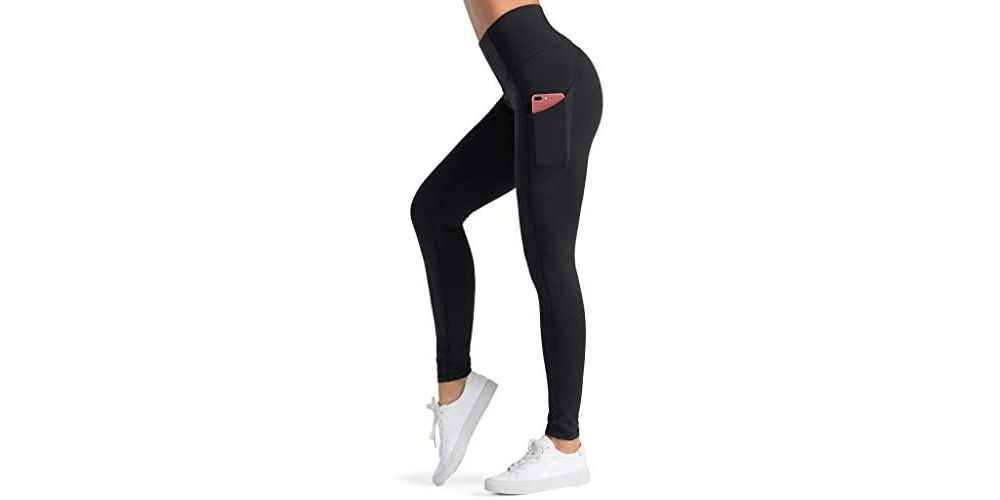 Have you tried the Dragon Fit High Waist Yoga Leggings? If so, you know that they're an amazing dupe of a famous brand. Comfort and style merge in this pair of leggings - the wide, high waistband is designed to keep your navel covered, provide tummy control, and stay in place throughout your practice.
With the ultimate stretch fit, these leggings are not see-through, giving you maximum confidence. Plus, two side pockets and a hidden inner pocket make it easy to bring along your essentials during your workout or yoga session.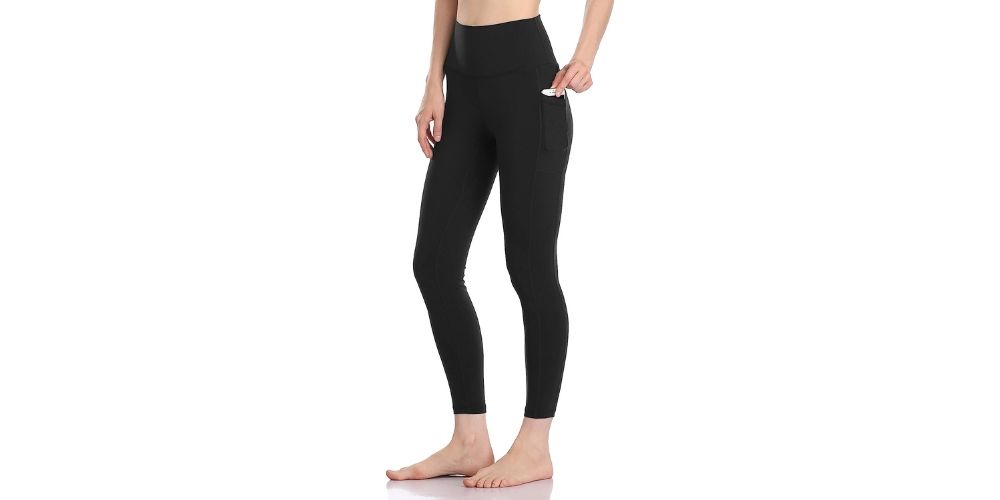 Looking for pants that feel like a dream? The Colorfulkaola pants are designed with a buttery-soft and four-way stretch fabric that's not only soft to the touch but also allows for unrestricted movement during workouts or daily wear.
One five-star customer says, "These are the perfect combination of soft and comfy while still having a little compression for support. Fit true to size, do not stretch out with wear." And with a high waistband and side pockets for all your essentials, you'll always feel prepared. With their sleek design and flattering fit, you'll look and feel amazing no matter where your day takes you.
Yoga Pants For Women FAQs
What size should I get for yoga pants?
When it comes to choosing the right size for your yoga pants, it's important to take into account your height and weight as well as any other body measurements you may have.
Generally, a good rule of thumb is to go up one size from what you'd normally wear in jeans or trousers. This will ensure that you have the right amount of space and flexibility when practicing yoga, but be sure to double-check the exact sizing details provided by each brand before you commit to a purchase.
Additionally, if you're shopping online, remember that every product has its own individual fit so be sure to read customer reviews and look at pictures of people wearing the item to get a better idea of how it might fit your body type.
Can I wear yoga pants outside of yoga practice?
Absolutely! Yoga pants have become a fashion staple in recent years due to their comfortable yet stylish design. With the right combination of tops and shoes, you can easily elevate your look and wear yoga pants to any casual or even formal event. When putting together an outfit with yoga pants, balance is key - pair it with something snug on top to create a more balanced silhouette and accessorize for an extra fashionable touch.
How do I care for my yoga pants?
Taking care of your yoga pants is an important step in maintaining their shape and quality. When machine-washing them, make sure to use a gentle cycle with cold water, as hot water can cause the fabric to shrink or become misshapen. It's also best to hang dry your yoga pants or lay them flat in order to keep their fit intact for longer.
Additionally, take care when applying deodorant or other body products as these can cause damage to the fabric over time. With regular maintenance and cleaning, you'll be able to enjoy using your yoga pants for years to come!
What is the difference between yoga pants and leggings?
Yoga pants are looser and generally have a wider leg opening for more freedom of movement and comfort. Leggings on the other hand, tend to be more fitted with a tapered leg opening for a sleek, body-hugging look. Both can be worn for exercise or leisure activities, but yoga pants are usually preferred when participating in activities that require more flexibility or range of motion.
What should I look for in a good pair of yoga pants?
Look for fabrics that are lightweight and breathable yet still offer support and mobility. Many performance fabrics also have wicking technology to help keep moisture away from your skin, allowing you to stay cool and dry during your workout.
Additionally, look for fabric that has stretch and recovery capabilities, meaning it will retain its shape even after multiple uses. Choosing the right performance fabric can make all the difference in ensuring your yoga pants last longer and provide an optimal level of comfort and flexibility during movement.
How much should I spend on yoga pants?
If you're looking for yoga pants, the amount you should spend depends on the type of activity and how often you plan to use them. For casual and light activities, a budget-friendly pair will suit your needs just fine. But if you'll be taking part in intense activities like hot yoga or working out regularly, it's worth investing in higher quality materials that provide better comfort and support - no matter the cost. In the end, it's all up to you - choose what suits your individual style, needs, and preferences best!
Final Thoughts
When it comes to finding the best yoga pants for women, there's no one-size-fits-all answer. There are a variety of styles, materials and price points that can provide you with comfortable and supportive options. Consider factors such as your body type, activity level, lifestyle and budget when selecting yoga pants that will make you look stylish while providing the comfort and support needed for optimal performance. With these 17 options in mind, we hope you've been able to find the perfect pair of yoga pants for your needs!
Other Posts You May Like
Comments