This post may contain affiliate links, please see our privacy policy for details.
Hey there, style savants!
If you're a fan of our previous posts like Boho Outfit Ideas, Vacation Outfits, Festival Outfits, and Summer Outfits with Hats, then buckle up because we're about to embark on another fashion adventure! Have you ever dived into our Denim Shorts Outfits, Black and White Outfits., Bodysuits Outfits, Black Dress Outfits, or Pink Outfit Ideas.? Well, if you did, I bet you loved them just as much as we did creating them. Now, how about we add some one-shoulder drama to your wardrobe, too?
The one-shoulder dress, ladies, is one seriously underrated style star. It's got that unique balance of showing off a bit of skin while still leaving plenty to the imagination. It's classy, it's trendy, and it's versatile. Whether it's a fun day out or a high-profile cocktail event, this asymmetrical wonder can adapt to almost any situation.
But the real question is - how do you style it? Well, that's exactly what we're here for today. Whether it's a bold black number for that glam night out, a delicate white dress for a romantic date, or a flowy maxi for a beach day, we've got you covered. Just like our Tube Top Outfits, Crop Top Outfits, Sundress Outfit Ideas, Resort Wear, Beach Wear, and Pool Outfits, we're going to guide you through all the ways you can style a one-shoulder dress.
Ready to rock the one-shoulder look? Let's dive in!
Tips for Creating Perfect One-Shoulder Dress Outfit
Ready to master the art of how to style one-shoulder dresses? These versatile pieces can elevate your wardrobe, showcasing those gorgeous shoulders and offering an elegant and sophisticated look. Here are 5 top tips to help you wear one-shoulder dresses flawlessly:
Find the Perfect Dress for Your Body Shape and the Occasion: The first step to styling a one-shoulder dress perfectly is to pick the right dress that complements your body shape and fits the occasion.  
Select the Right Accessories: When accessorizing a one-shoulder dress, less is indeed more. Whether it's a blue dress, a patterned dress, or an off-the-shoulder dress, your accessories should enhance rather than overshadow the dress. A bold cuff bracelet or stunning drop earrings can be the ideal statement piece. Remember, with one-shoulder dresses, there should be absolutely no necklaces to distract from the stunning shoulder detail.
Choose the Perfect Footwear: The shoes you pair with your one-shoulder dress can make or break your look. For a more formal look, stilettos or heeled sandals can complement your dress. For a casual style, opt for flats or sandals.
Add the Perfect Bag: The right bag can complete your look without taking attention away from your dress. A cute clutch or a small handbag is often the perfect companion for a one-shoulder dress.
Consider the Weather and the Right Underwear Wear: If it's chilly, a stylish wrap or blazer that doesn't cover the unique shoulder of the dress works well. When it's warm, let the dress shine on its own. Also, remember, the right underwear, like a strapless bra, is essential to ensure a seamless look.
Last but not least, pick the right hairstyle that showcases the unique shoulder strap of the dress. There you have it, with these tips, you're well on your way to creating perfect one-shoulder dress outfits. Let's get styling!
Outfit Ideas for Different Occasions
One Shoulder Ruffle Dress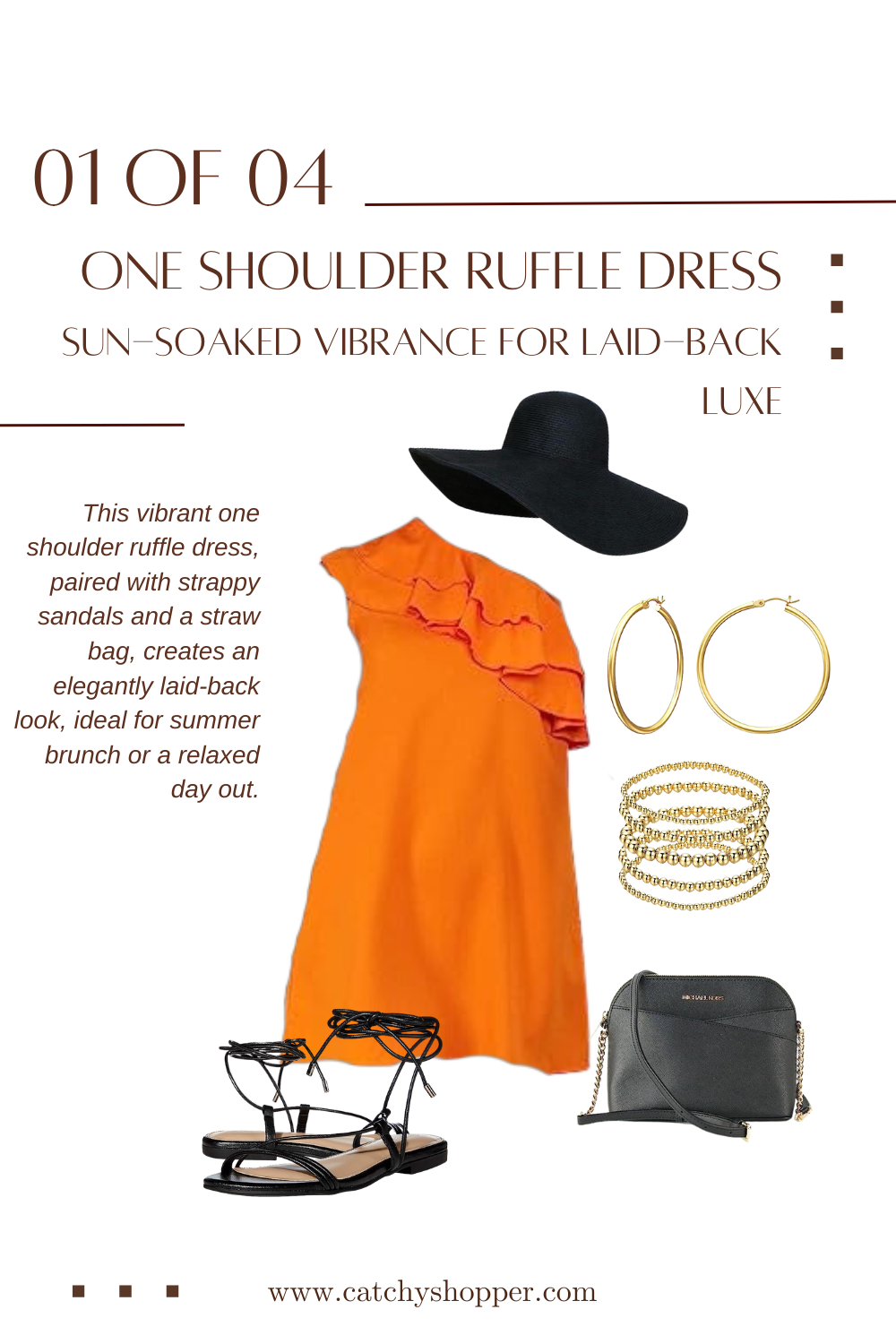 The bright and playful orange hue of this dress is perfect for creating a vibrant summer look. This versatile dress, available in a rainbow of 18 colors and pattern options, makes it an excellent choice for any style preference. For a perfect summer day out or casual brunch, pair this orange stunner with strappy sandals in a contrasting color like white or black to let the dress pop.
Complement the outfit with a cute bag, adding a natural touch to the vibrant color of the dress. Keep your jewelry minimalist, perhaps a pair of gold hoop earrings and a delicate bracelet. And of course, a chic sun hat is a must to protect from the sun and to complete the stylish summer look! Remember, these styles are guidelines, but don't be afraid to add your personal twist to them. After all, style is all about self-expression!
One Shoulder Midi Dress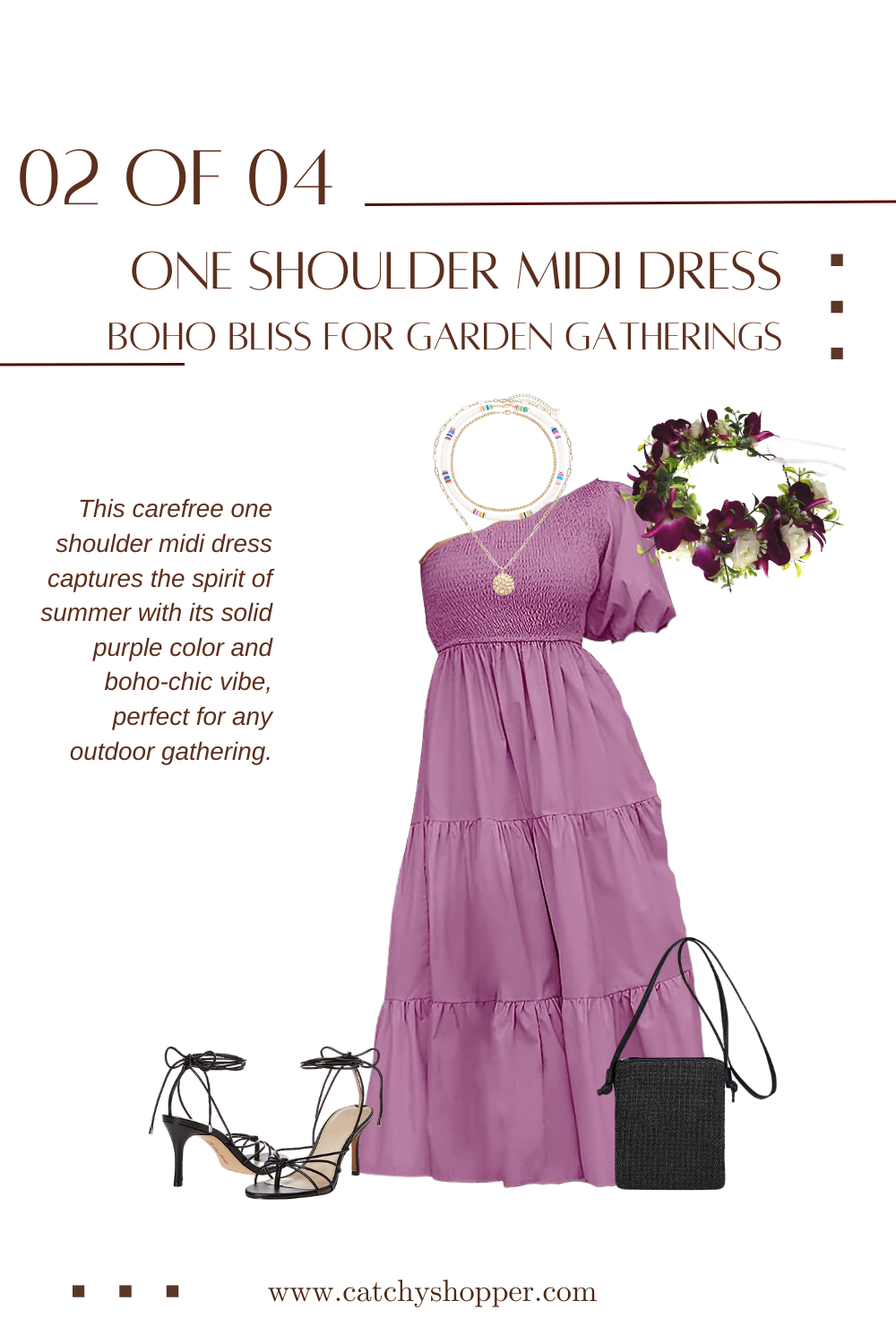 This beautiful, flowing dress is an embodiment of boho chic. The solid purple color and one-shoulder design make it a standout piece that's perfect for a laid-back summer gathering or even a garden party. Pair it with nude or black strappy sandals for a comfortable yet stylish look. Given the bohemian vibe of the dress, layering necklaces with varied lengths and designs will work wonders - think tiny charms, beads, or even a pendant.
A woven or rattan bag would be the perfect companion for this dress, adding to its boho charm. For your hair, consider loose waves or a messy bun, adorned with a few flowers or a headband. If it's sunny out, a wide-brimmed straw hat will not only protect you from the sun but also accentuate the outfit's bohemian aesthetics.
One-Shoulder Cocktail Dress
This stylish dress is perfect for a night out on the town. Highlight the ruched side and asymmetrical cut by keeping accessories to a minimum. A pair of high-heeled sandals, preferably in a metallic shade, will add length to your legs and bring a touch of glam. A small metallic clutch would complement this look. For jewelry, a pair of sparkling stud earrings would be sufficient.
Keep your hair styled in loose waves or a chic updo to draw attention to the one-shoulder design. For makeup, consider a smokey eye and nude lips to complete this edgy, sexy look.
One-Shoulder Party Dress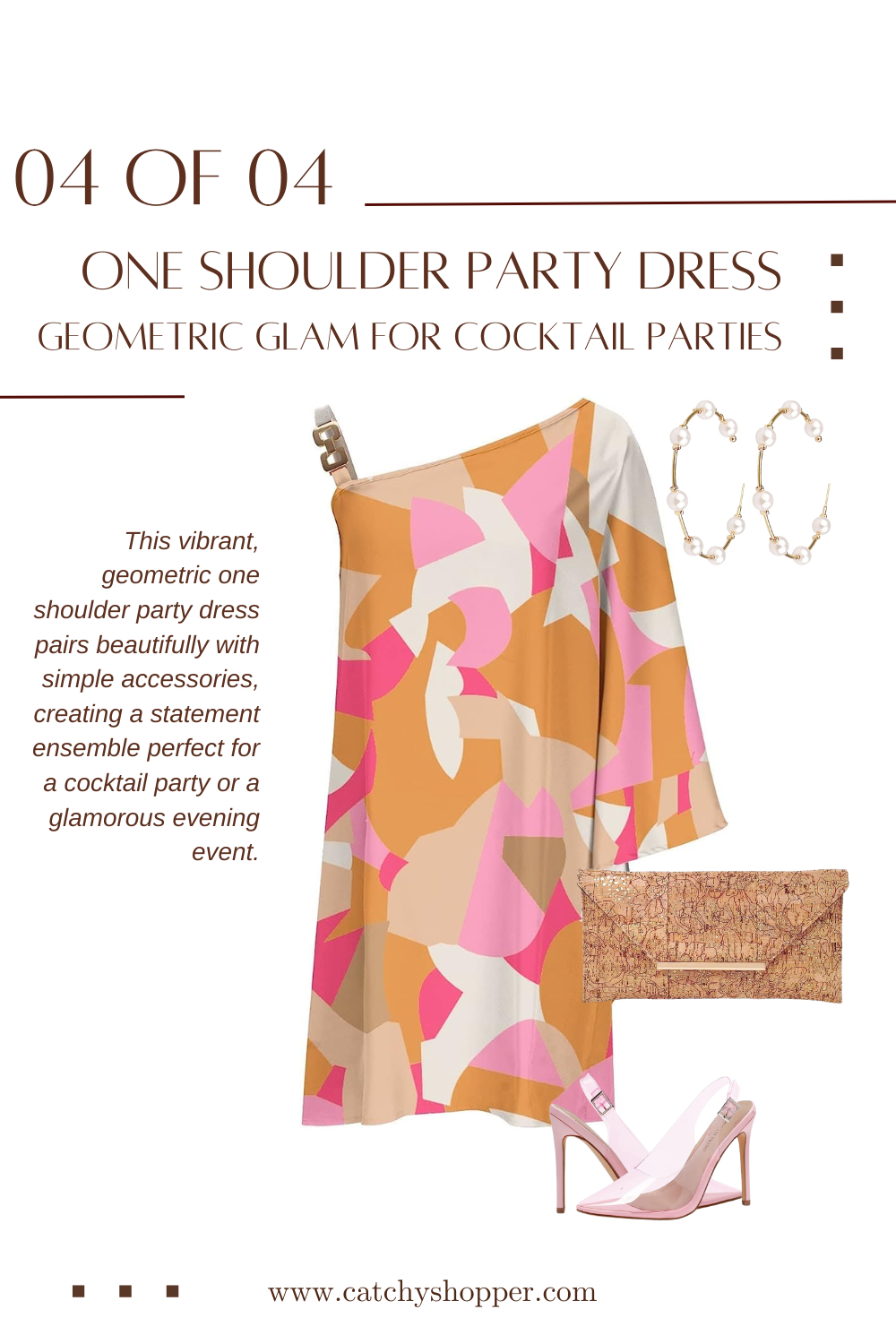 This vibrant dress is bound to turn heads with its striking geometric design. Given the statement nature of the dress, it's best to keep your accessories minimal and let the dress do the talking. Pair it with white pumps to add a touch of sophistication. A classic white clutch would complement this look, keeping it sleek and chic. Opt for simple stud earrings that won't compete with the design of the dress.
As for your makeup, consider adding a bold red lip for that perfect pop of color - it will both contrast and complement the orange tones of the dress beautifully. This outfit is perfect for a cocktail party or a glamorous evening event. The key here is confidence - wear it with a smile, and you're sure to be the life of the party!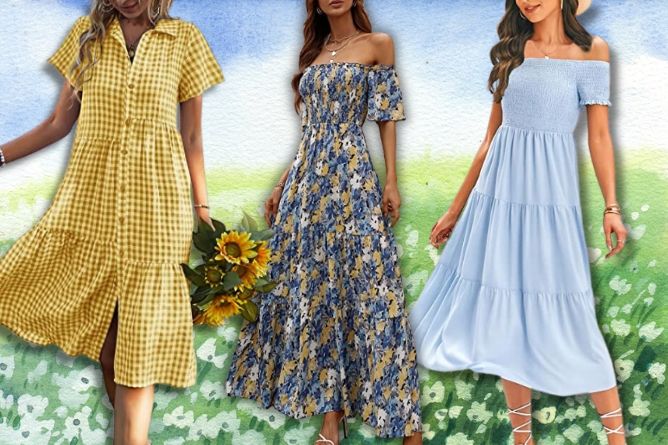 One Shoulder Dress FAQ
What do you wear inside a one-shoulder dress?
From my experience, I usually wear a strapless bra or adhesive cups inside a one-shoulder dress. This helps maintain the unique one-shoulder aesthetic and ensures a seamless look.
What hairstyle suits a one-shoulder dress?
When I wear a one-shoulder dress, I find that updos or side-swept hairstyles work best. These styles highlight the unique neckline and show off the single-shoulder detail.
How do you keep a one-shoulder dress up?
In my experience, making sure the one-shoulder dress fits snugly around my bust and waist is key to keeping it up. I've also found fashion tape incredibly useful in securing the dress in place.
Can I wear a necklace with a one-shoulder dress?
Typically, I avoid wearing a necklace with a one-shoulder dress to keep the focus on the unique neckline. However, if I do decide to wear one, I go for a simple, delicate piece that complements rather than distracts from the dress.
How do you wear one off-shoulder dress?
When wearing an off-shoulder dress, I usually position the strap to sit just below one shoulder, showing it off. I pair it with a strapless bra and choose accessories that complement rather than compete with the neckline.
How do you wear a bra with a one-off-shoulder dress?
From my experience, a strapless bra or adhesive cups are the best options for wearing a bra with a one-shoulder dress. This prevents the bra from being visible and maintains the unique design of the dress.
What do you wear to cover an off-shoulder dress?
If I need to cover up an off-shoulder dress, I prefer a light shawl or bolero that doesn't obscure the dress's unique neckline. Sometimes, I even layer a long-sleeve mesh or lace top underneath for a chic, layered look.
Final Thoughts
Thanks so much for joining me on this stylish adventure! I really hope you've found these tips on how to rock a one-shoulder dress helpful and that they inspire you to try this trend if you haven't already. From personal experience, I can tell you that one-shoulder dresses are not just versatile but also a fantastic way to make a fashion statement. Don't forget, the key is to make it your own – add your personal touch, and most importantly, have fun with it! Remember, fashion is all about expressing your personal style. I can't wait to see all the amazing ways you style your one-shoulder dresses. Keep shining and stay stylish, my friends!
Comments