This post may contain affiliate links, please see our privacy policy for details.
Unquestionably, in the world of fashion, one shade invariably stands the test of time, echoing timeless elegance: black. Emblematic of refinement and sophistication, black's allure is unquestionably why it's an integral part of every woman's wardrobe. But what encapsulates the essence of this color better than the iconic Little Black Dress (LBD)?
Renowned for its unparalleled versatility, the LBD, as rightfully termed by style icon Audrey Hepburn, assures not just a refined appearance but an assurance of effortless comfort. As Hepburn eloquently put it, "Forgive me if I'm a little bit dressy. I just wanted to be comfortable." Indeed, what could offer more comfort than a staple piece that can effortlessly transition from a formal event to a casual gathering?
Whether gracing a grand soirée or stepping out for a casual brunch with friends, the ever-versatile LBD never ceases to be the perfect fit. Its adaptability and enduring appeal make the little black dress a timeless piece that's as ready for a moment's notice as you are.
How to Style a Black Dress
There's an unwritten rule in the fashion world that every woman's closet must have a versatile piece that transitions effortlessly from day to night: the perfect little black dress. With an array of cuts and designs, from a plunging v-neck to a modest scoop neck, little black dresses are incredibly versatile, proving their worth at every turn.
How to Style a Black Dress for Winter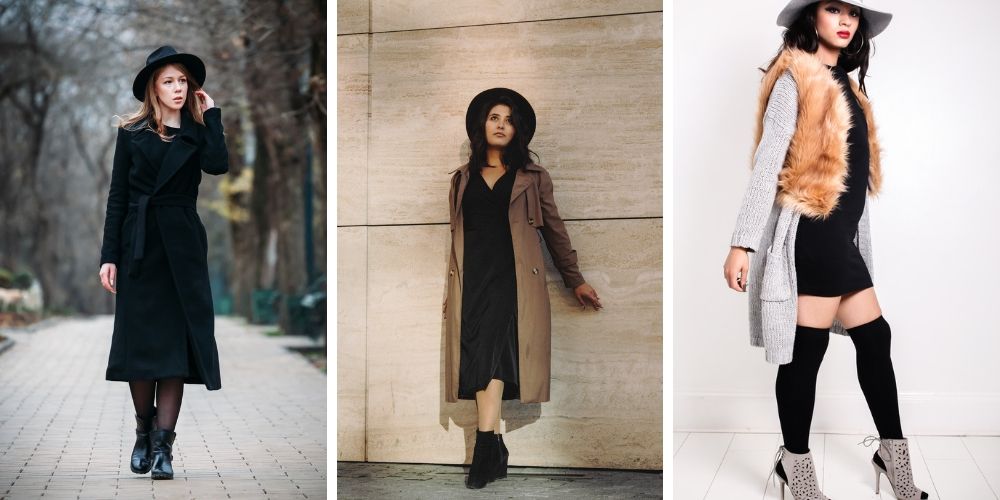 Winter styling doesn't mean wrapping yourself up and forgoing fashion. It's time to break out the long sleeve black dress. Opt for a midi-length cut that adds an extra layer of warmth. Pair it with statement tights and knee-high boots to keep the cold at bay while remaining stylish. Complete the look with a chunky knit cardigan or a sophisticated wool coat. A little sparkle with your jewelry can add just the right amount of festive flair for a date night or holiday party.
How to Style a Black Dress for Summer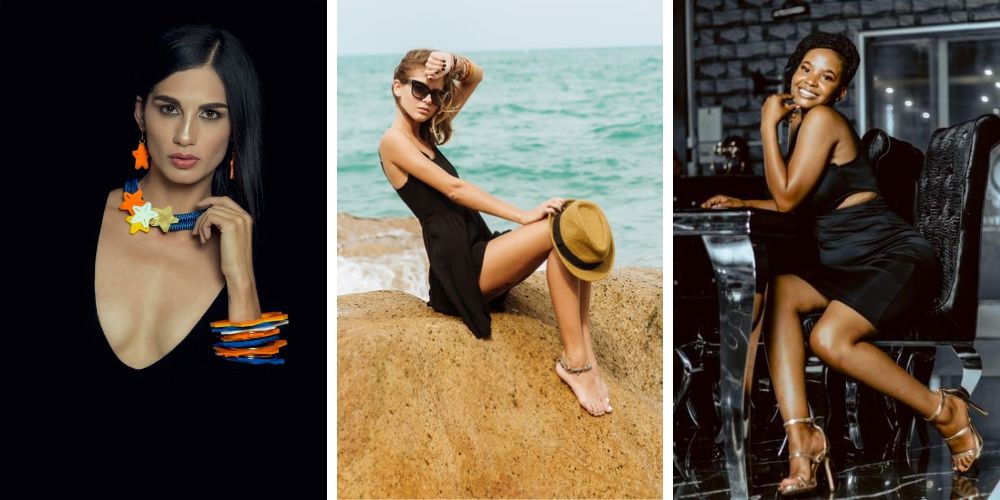 As temperatures rise, your little black dress can keep you cool and chic. A black dress with a flowy skirt and a scoop neck is ideal for summer. Pair it with colorful sandals and a statement straw hat for the daytime, and switch to wedges or strappy heels for a summer evening out. Remember, during hot weather, always hand wash cold to maintain the integrity of your dress.
How to Style a Plain Black Dress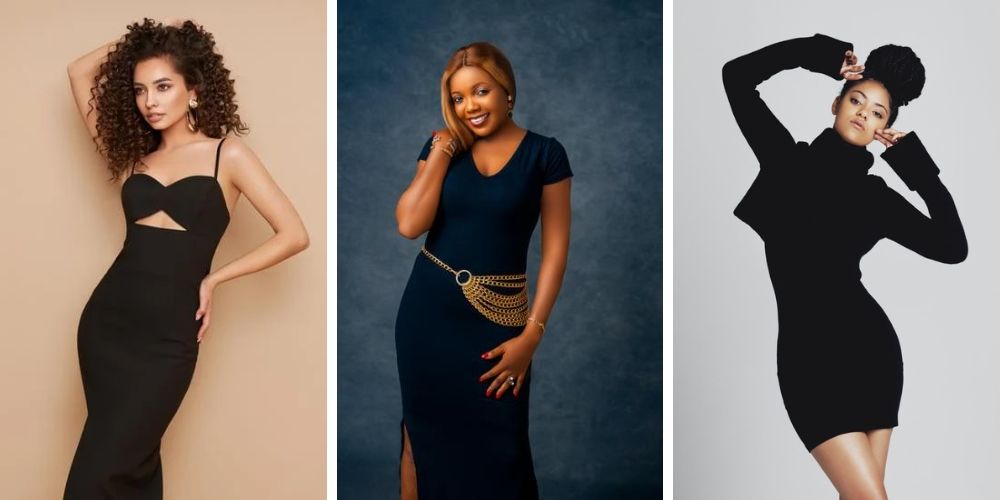 A plain black dress can be the best canvas for showing off your personal style. Accentuate your waistline with a belt, add color with bold accessories, or layer with a printed blazer or denim jacket. You can change the entire vibe of your dress with a quick switch of your accessories.
How to Style a Long Black Dress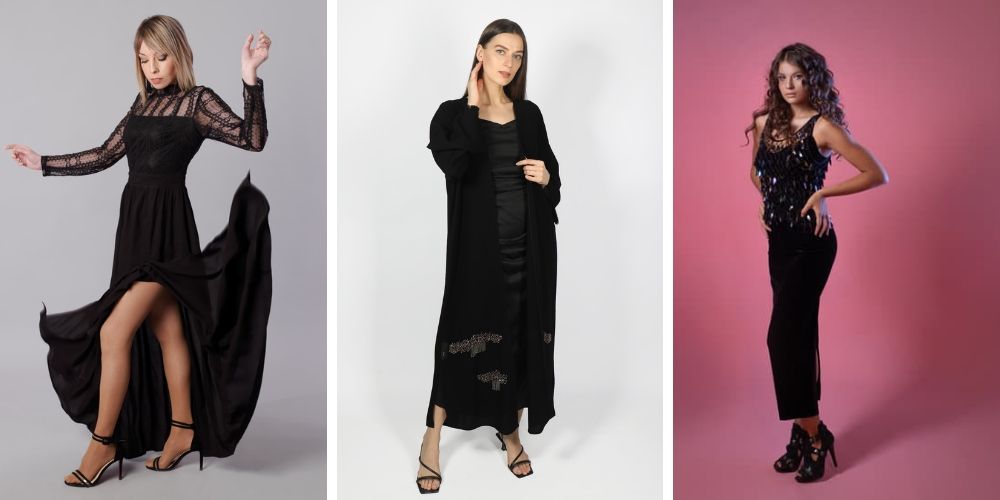 Long black dresses exude elegance and sophistication. To make this look more casual, consider a dress with an A-line silhouette or an empire waist. Pair with gladiator sandals and a boho-inspired bag for a day out, or go glam with high heels and a clutch for evening events.
How to Style a Little Black Dress
A picture of a little black dress styled casually with sneakers and a leather jacket.
An image showing the same dress dressed up with high heels and statement jewelry for an evening event.
A side-by-side comparison image showing the transformation from casual to formal look of the same little black dress.
The beauty of the little black dress is its transformative power. Pair your LBD with sneakers and a leather jacket for a casual, edgy look. Swap the sneakers for heels, add some statement jewelry, and you're ready for an evening event. Remember, the key to styling is balance.
With the right style choices, your black dress can be the most versatile item in your closet, always ready to be dressed up or down, no matter the occasion or season. So, embrace the charm of the best little black dresses and let them help you make a fashion statement.
How to Accessories a Black Dress
A black dress is a universal standard in every woman's wardrobe, a versatile canvas that can take you from running errands to a happy hour in no time. However, the true power of a simple black dress lies in the art of accessorizing. Different accessories can transform your look to match the occasion, your mood, or even the season. Let's explore how to revamp your black dress with a variety of accessories.
Black Dress with Gold Accessories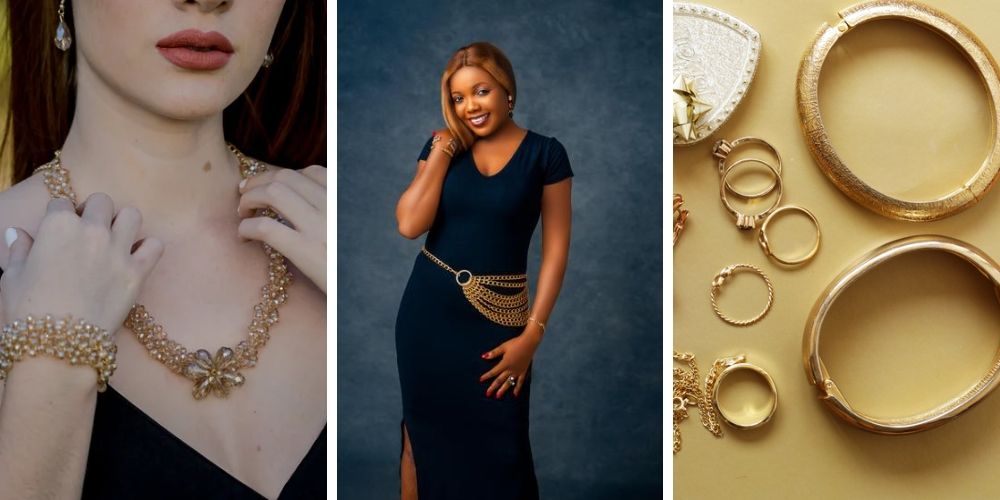 Nothing brings out the elegance of a black dress like gold accessories. Be it a shirt dress with long sleeves or an A-line mid-calf piece, gold accessories can lift your style instantly. Opt for a chunky gold necklace to contrast a high neckline or a delicate gold belt to cinch the waist and complement your body type. Gold hoop earrings or stacked bracelets can add an extra layer of sophistication. If the weather leans towards the cooler side, a gold brocade scarf can add warmth and glamour.
Black Dress with Red Accessories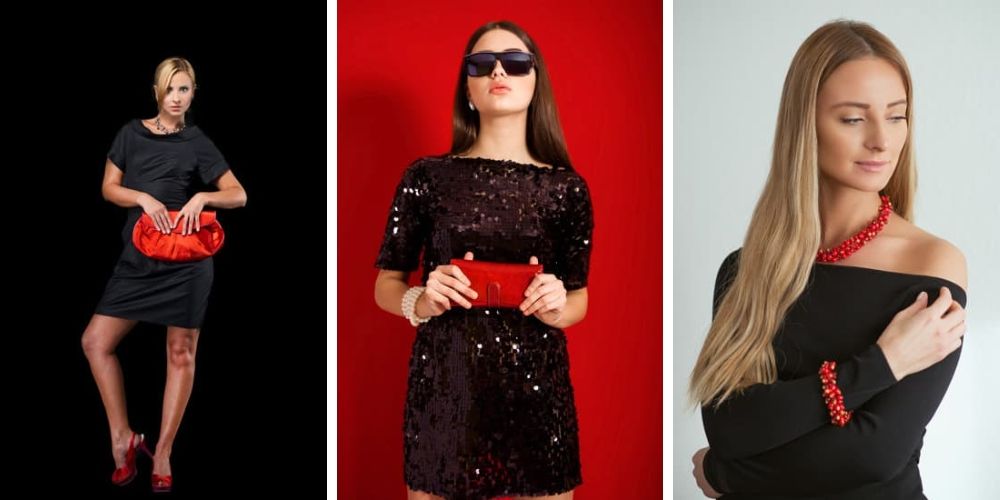 Red accessories against a black dress can make a bold and exciting statement. Consider a vibrant red clutch or handbag for your next happy hour. Red heels can add a pop of color and take your dress from low-key to stunning. If you prefer subtler touches, try a thin red belt or delicate red jewelry. A red beret or scarf can also add a dash of color, especially in cooler weather.
Black Dress with Pink Accessories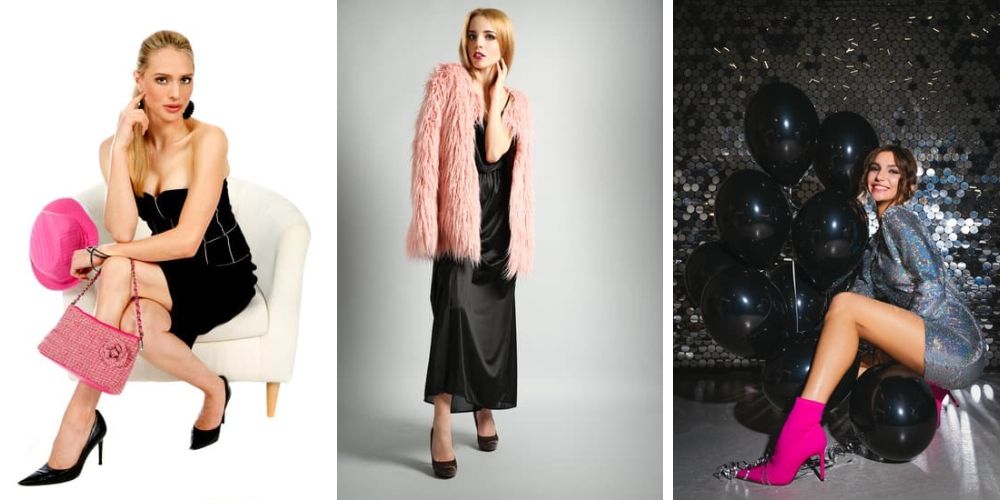 Pink accessories paired with a black dress can give you a feminine and chic look. For a daytime event or when you're out shopping, pair your black dress with a pink leather crossbody bag and matching ballet flats. In the evening, switch to a blush pink clutch and strappy heels. Pink jewelry, like rose gold pieces or pink gemstone earrings, can add a subtle glow. A pink pashmina or shawl can keep you warm and stylish during cooler weather.
Black Dress with Silver Accessories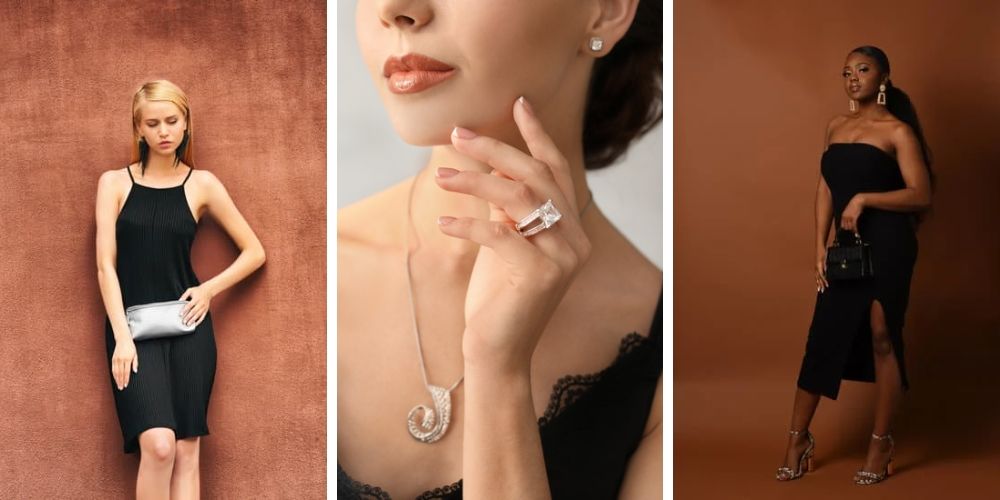 Silver accessories can give your black dress a sleek and modern edge. Pair your dress with silver ankle boots or pumps for a touch of glamour. Silver jewelry, like a statement necklace or layered bracelets, can create a chic look. A silver belt can highlight your waist and flatter your body type. For a more casual look, a silver backpack or tote can make running errands fashionable and practical.
No matter how you choose to style or accessorize your black dress, wear it with confidence and let your personality shine through. With these tips and tricks, your black dress will be ready for any occasion.
Black Dress Outfit Ideas
Get ready to revamp your favorite black dress with our collection of outfit ideas that are sure to inspire you. Let's dive right in!
Edgy Chic Redefined: Black Dress and Jean Jacket Combo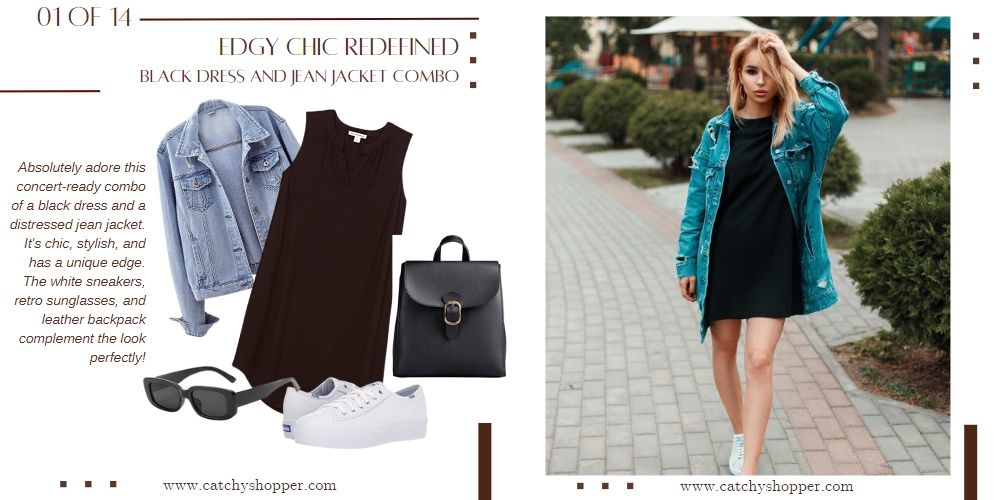 Reimagine the iconic classic black dress with a distressed jean jacket for a cool, casual twist. This combo, ideal for your next concert, perfectly blends style and comfort. Add a pair of white sneakers and retro sunglasses to enhance the edgy vibe. Carry a minimalist leather backpack for just the right amount of coolness, and don't forget the thigh-high slit for some added drama.
Elegantly Cozy: A Black Dress Paired with Cardigan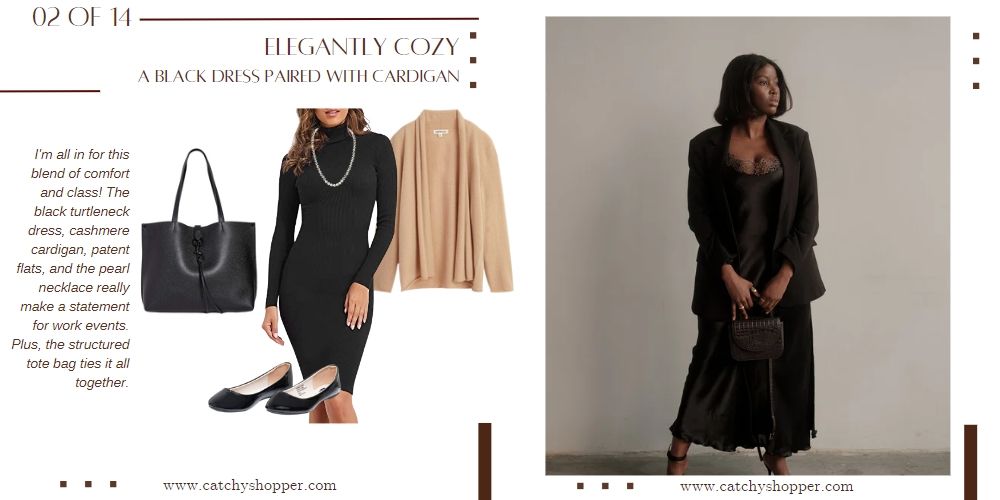 Blend comfort with class for work events by teaming a black turtleneck dress with a soft, cozy cashmere cardigan. Complete this look with patent leather flats, a structured tote bag, and an elegant pearl necklace to add a touch of a timeless silhouette.
Winter Elegance: Black Dress with Sweater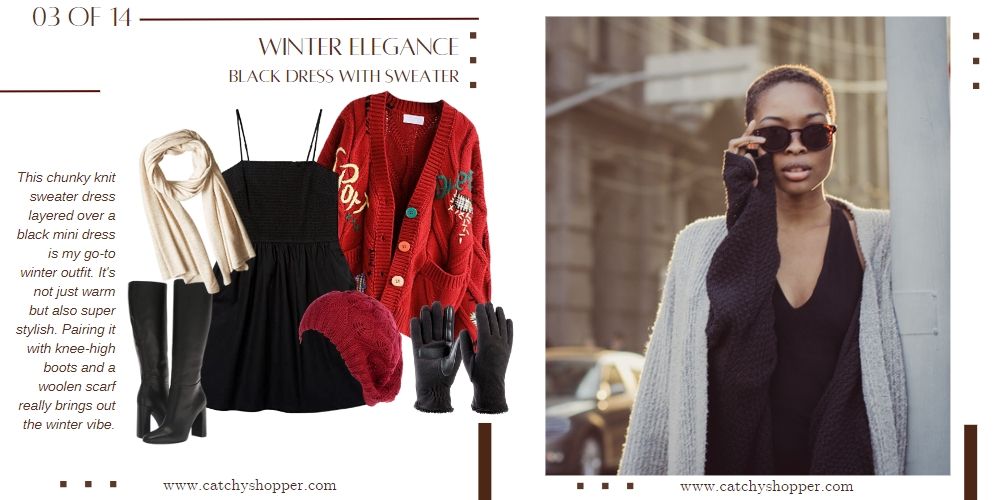 Stay warm yet stylish by layering a chunky knit sweater dress over your best black mini dress. Pair with knee-high boots and a woolen scarf for those chillier nights. Top off with a slouchy beanie and touchscreen gloves to keep your personal style intact even when the temperature drops.
Rebellious Glamour: Black Dress with Leather Jacket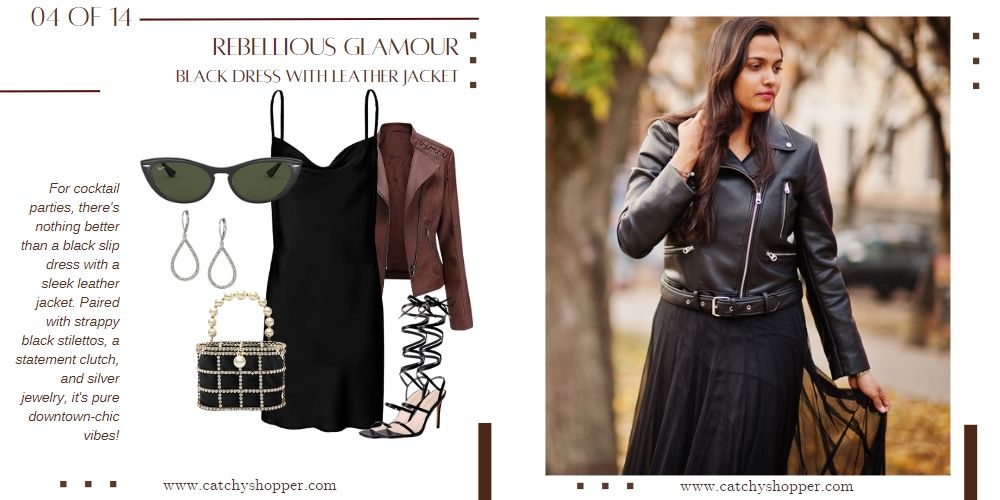 Unleash your edgy side with a black slip dress paired with a sleek leather jacket for a cocktail party. Strappy black stilettos and a statement clutch will seal the downtown-chic vibe. Amplify the boldness with silver statement jewelry and cat-eye sunglasses.
Versatile Sophistication: Black Dresses with Boots
Give your black cocktail dress a seasonal twist for a brunch date by teaming it up with suede knee-high boots. Add a crossbody bag and a printed silk scarf for a dash of sophistication. Finish with a stylish wide-brim hat and statement earrings.
Perfectly Pink: Black Dress with Statement Pink Heels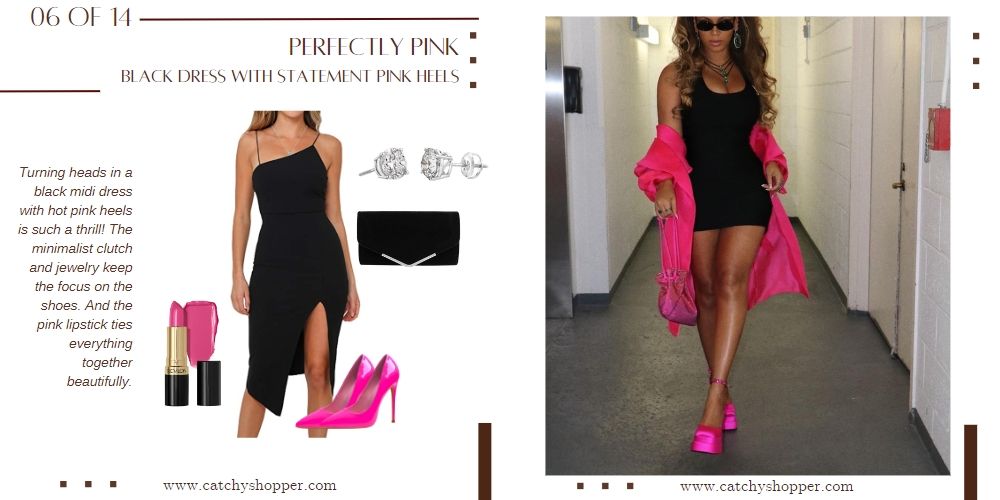 Turn heads with a pair of hot pink heels under your sultry black midi dress. Opt for a minimalist black clutch and simple, elegant jewelry to let the shoes do the talking. Add pink lipstick to tie in the theme and a pair of diamond stud earrings to complete this attention-grabbing ensemble.
Daringly Bold: Black Dress with Red Heels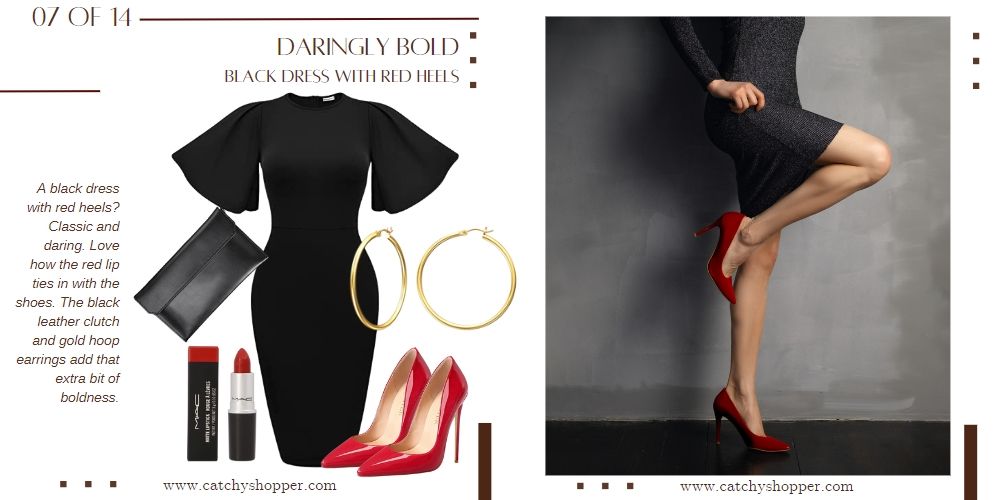 Embrace the timeless combination of a black dress with red heels for a look that's equal parts classic and daring. Choose a red lip to match your shoes, and accessorize with a black leather clutch and gold hoop earrings for an ensemble that exudes confidence.
Casually Elegant: The Black Dress and Sneakers Combo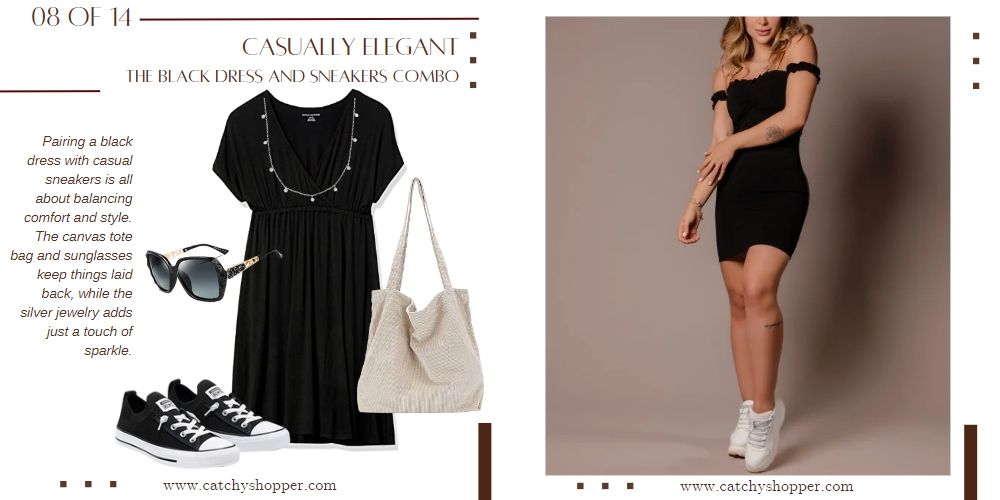 Experience the perfect balance of comfort and style by pairing your black dress with casual sneakers for a day of running errands. Accessorize with a handy canvas tote bag and your favorite sunglasses to stay low-key yet stylish. Don't forget to add a dash of sparkle with some delicate silver jewelry to complete your look.
Pop of Color: Black Dress with Colored Shoes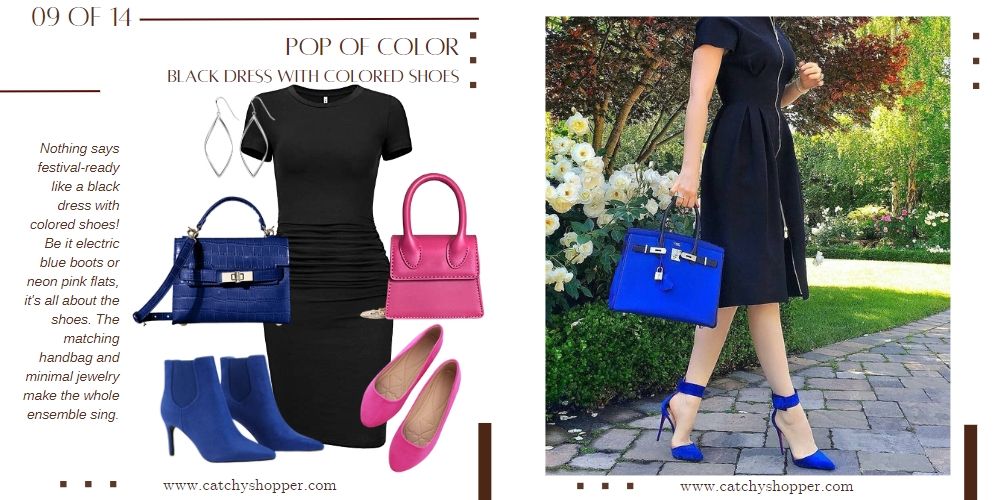 Revamp the classic black dress by adding a pair of colored shoes for a day at a music festival. Be it electric blue boots or neon pink flats, let your shoes be the focal point of your ensemble. Complement the shoes with a matching handbag and minimal jewelry for a quirky and vibrant style that matches the festive spirit of a music festival.
Effortlessly Chic: Black Dress with Nude Shoes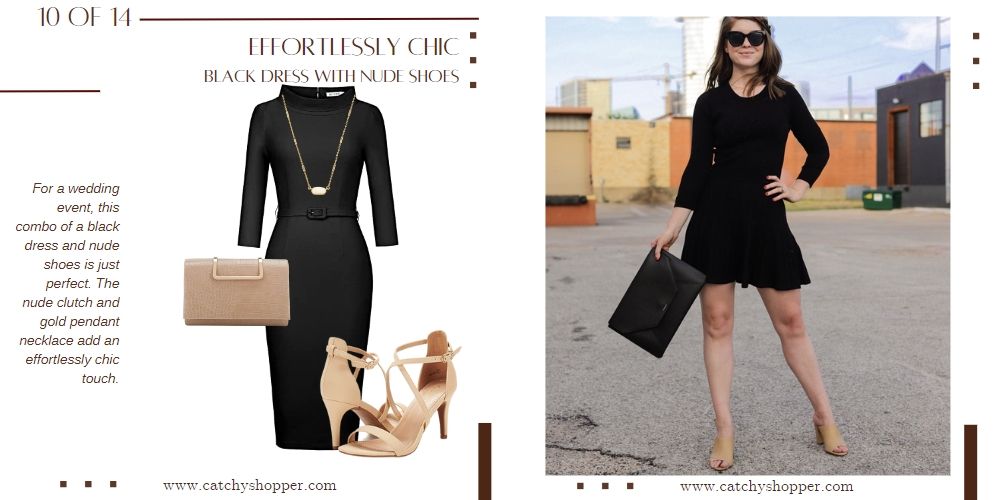 For a wedding event, master the art of understated elegance by pairing your black dress with nude shoes. Complement this with a nude clutch and delicate gold pendant necklace for a look that's effortlessly chic.
Classic Grace: Black Dress with Brown Heels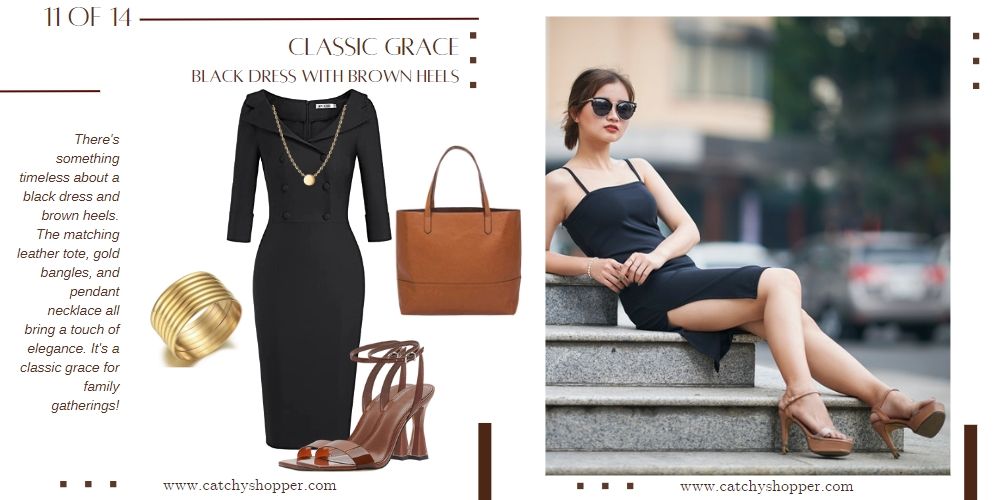 Exude an aura of classic grace at family gatherings with your black dress and brown heels ensemble. A matching brown leather tote and a set of gold bangles can bring a touch of elegance, while a simple gold pendant necklace finishes off the subtly chic look.
Bold and Fresh: Black Dress with Green Shoes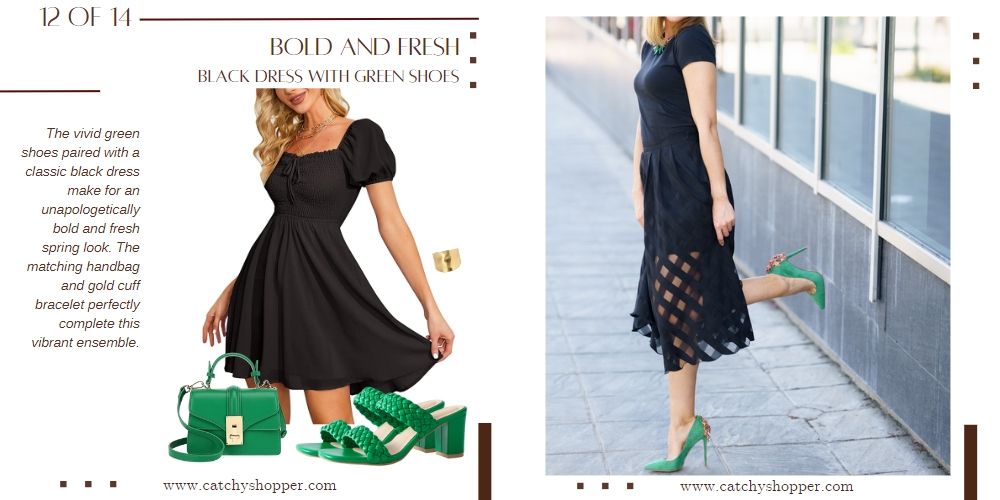 Elevate your classic black dress with a pair of vivid green shoes for a spring outing. Pair it with a matching green handbag and statement gold cuff bracelet for an unapologetically bold and fresh look.
Glittering Night Out: Black Dress with Silver Shoes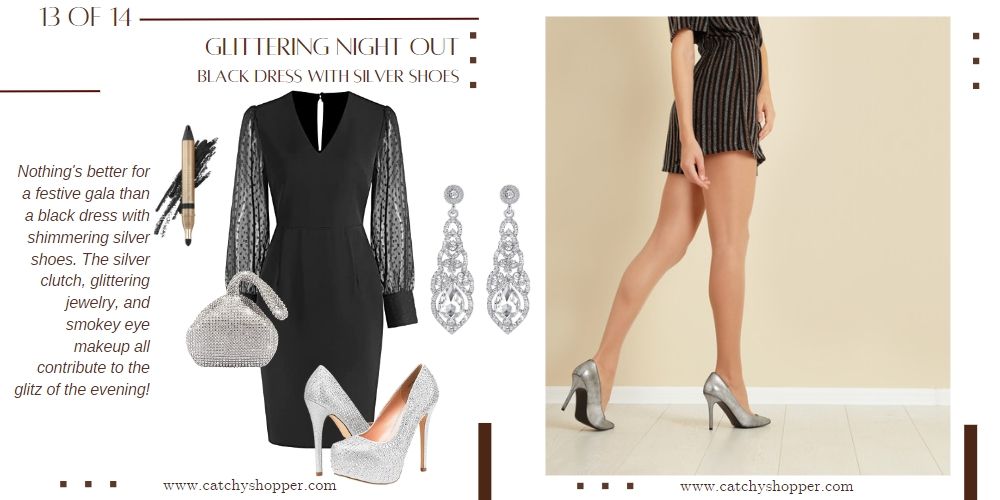 Light up the night with your black dress and shimmering silver shoes for a festive gala. Accessorize with a silver clutch and glittering jewelry for a look that screams glamour. Smokey eye makeup can enhance the glitz of your evening ensemble.
Subtle Harmony: Black Dress with Tan Shoes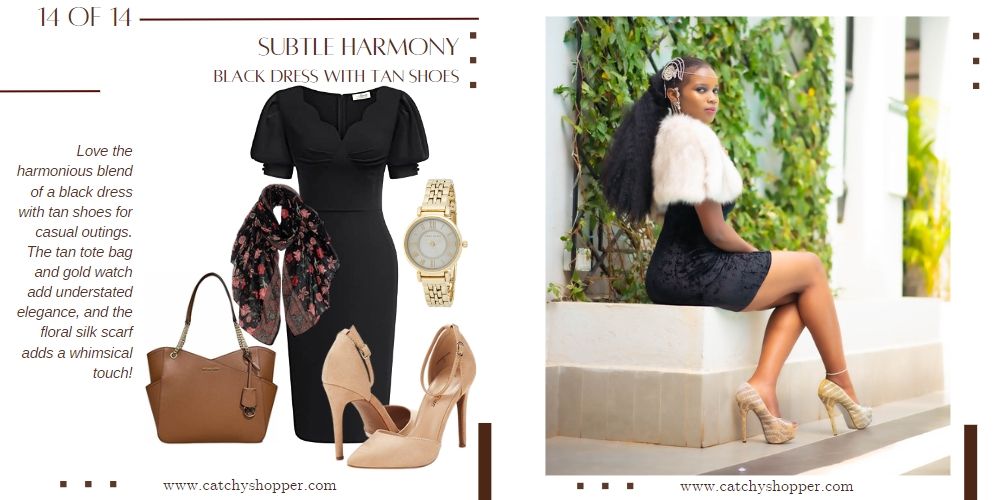 Craft a harmonious blend of colors with your black dress and tan shoes for casual outings. Add a tan tote bag and a simple gold watch to exude understated elegance. For a finishing touch, tie a floral silk scarf around your neck for a whimsical twist on this versatile outfit.
FAQ
How to style a long black dress?
Styling a long black dress can depend on the occasion. For a formal event, pair your dress with strappy heels, statement jewelry, and a sleek clutch. If you're aiming for a casual look, team the dress with a denim jacket and white sneakers. For a winter look, add a chunky knit scarf and ankle boots. The key is to let the dress be the centerpiece and accessorize to match your personal style and the event.
What shoes go well with a black dress?
Almost any shoe color can complement a black dress. Black heels or pumps offer a sleek, monochromatic look. Nude or tan shoes can elongate the leg line, while bold, bright shoes can serve as a statement piece. Metallic shoes, like silver or gold, add a glamorous touch, perfect for evening events. For casual outings, white sneakers can make the dress more laid-back and comfortable.
What accessories should I wear with a black dress?
Accessories can greatly enhance your black dress outfit and express your personal style. Statement jewelry, like a bold necklace or sparkling earrings, can bring attention to your face. Belts can accentuate your waist, while a colorful scarf can add a pop of color. Depending on the occasion, you might also consider a stylish hat, a chic handbag, or even an elegant brooch.
What varieties of black dresses are available?
Black dresses come in a myriad of styles, each exuding its unique charm. The LBD (Little Black Dress) is a timeless classic, adaptable to various events. The sheath dress offers a tailored look, ideal for office environments or formal gatherings. A wrap dress is universally flattering, accentuating curves and providing comfort. Other popular styles include the flowing maxi dress for a boho-chic vibe, the playful skater dress, and the sultry bodycon dress for an edgier look.
What should I consider before buying a black dress?
Before buying a black dress, reflect on its intended purpose. Are you searching for an adaptable piece to fit various occasions, or is it for a specific event? The style, silhouette, and cut are crucial as they should flatter your body type and resonate with your personal style. Pay attention to the fabric; materials like silk and satin lend a more formal look, while cotton and jersey are more casual. Finally, ensure the dress fits you well and makes you feel confident.
How do I maintain black clothes without fading?
Preventing your black clothes from fading requires careful washing. Firstly, turn your black garments inside out before washing to protect the outer side. Use cold water and a detergent designed for dark colors. Avoid using the dryer as it can fade the color; instead, let your clothes air dry. Also, storing them in a dark, dry place can help maintain their color longer.
What are some of the best black dresses for women?
Several types of black dresses flatter different body types and cater to diverse style preferences. The classic Little Black Dress (LBD) is versatile and timeless. For a formal affair, consider a black wrap dress or sheath dress. For an enticing look, opt for a black lace dress or a fitted bodycon. A black maxi dress provides comfort and style, while a black midi dress with adjustable straps offers a balance between sophistication and casualness. Remember, the "best" dress is the one in which you feel fabulous and confident.
Final Thoughts
Having delved into the world of black dresses, we now invite you to find the perfect style for yourself. Remember, choosing the best black dress entails knowing your body type and what silhouettes flatter you the most. Perhaps a fitted dress with a V-neckline will serve as your go-to for confidence and elegance. Or maybe you're drawn to the allure of a lace or sequined dress for an edgier appeal.
Through a bit of exploration and personalization, you're bound to discover a Little Black Dress that ensures you feel self-assured and stunning. Remember, the key to versatility lies in your choice of accessories - dress up or down, the choice is yours with a black dress in hand.
But why stop at the LBD? Our fashion reservoir has plenty more to offer. Dive into our assortment of articles featuring fashion outfits, stylish accessories, chic footwear, and many many more. Check them out below!
Other Posts You May Like
💡
Dive Into Fashion Outfits
Explore our exclusive articles featuring
Boho Outfit Ideas
,
Vacation Outfits
,
Festival Outfits
,
and
Summer Outfits with Hats
.
Delve into our
Denim Shorts Outfits
,
Black and White Outfits
, Bodysuits Outfits,
and
Pink Outfit Ideas
. Experience the charm of our
Tube Top Outfits
, Crop Top Outfits,
Sundress Outfit Ideas
,
Resort Wear
,
Beach Wear
,
and
Jury Duty Outfits.
Start your style journey now!
Comments