This post may contain affiliate links, please see our privacy policy for details.
Hey there, fashion aficionados! Today, we're taking a fashionable plunge into the dynamic world of denim skirts. Ever found yourself struck by the fashion conundrum, clutching your denim skirt, and wondering, "What to wear with a denim skirt?" Fear not, you're not alone, and you've landed just at the right spot.
In our heart-to-heart today, we'll navigate the multifaceted avenues of pairing this timeless garment, unfolding the myriad of style possibilities waiting in your closet. If you've missed our previous denim-drenched discussions, we've dished out some inspiring jean skirt outfits, covered everything from the classic denim mini skirt to denim midi skirts, and long denim skirts, and even ventured into high-waisted skirt territories. Do give them a glance if you're in the mood for some denim enlightenment!
What to Wear With a Denim Skirt
So, without further ado, let's dive into some top-notch pairings for your favorite denim skirt, transitioning smoothly from the casual to the semi-formal, and then to the super trendy.
Casual-Chic Jean Skirt Outfit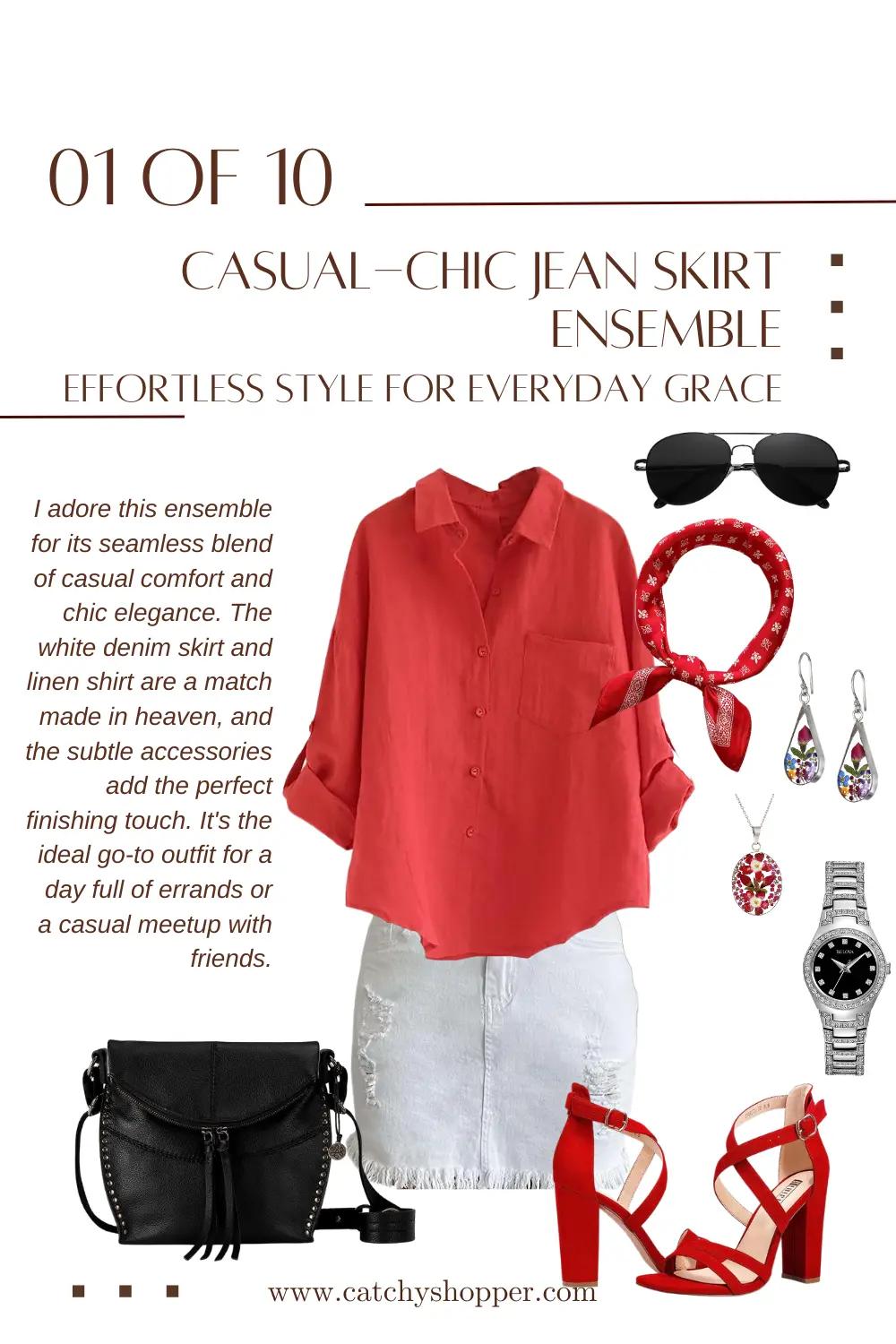 Breathe fresh life into your everyday style with a casual-chic jean skirt outfit. Team up your favorite high-waisted white denim skirt with a crisp linen shirt to strike a balance between relaxed and sophisticated. Step into a pair of comfortable block heels for a bit of height and toss on a leather crossbody bag for a hint of edge. Keep your jewelry understated with a minimalist pendant necklace and stud earrings, while a statement watch completes the look. Throw in a printed scarf and a pair of classic aviators for a stylish, ready-for-anything ensemble.
Sophisticated Semi-Formal Jean Skirt Outfit
Make an impression at your next semi-formal event with a sophisticated jean skirt outfit. Opt for a high-waisted denim pencil skirt and pair it with a flowing silk blouse, tucked in to accentuate your waistline. Layer a fitted blazer over the top for a professional touch, or choose a cardigan for a softer look. Slip into a pair of pointed-toe pumps or chic ballet flats to elevate the ensemble. A leather tote bag and a delicate pearl necklace add the final flourishes to this polished outfit.
Trendsetter Chic Jean Skirt Outfit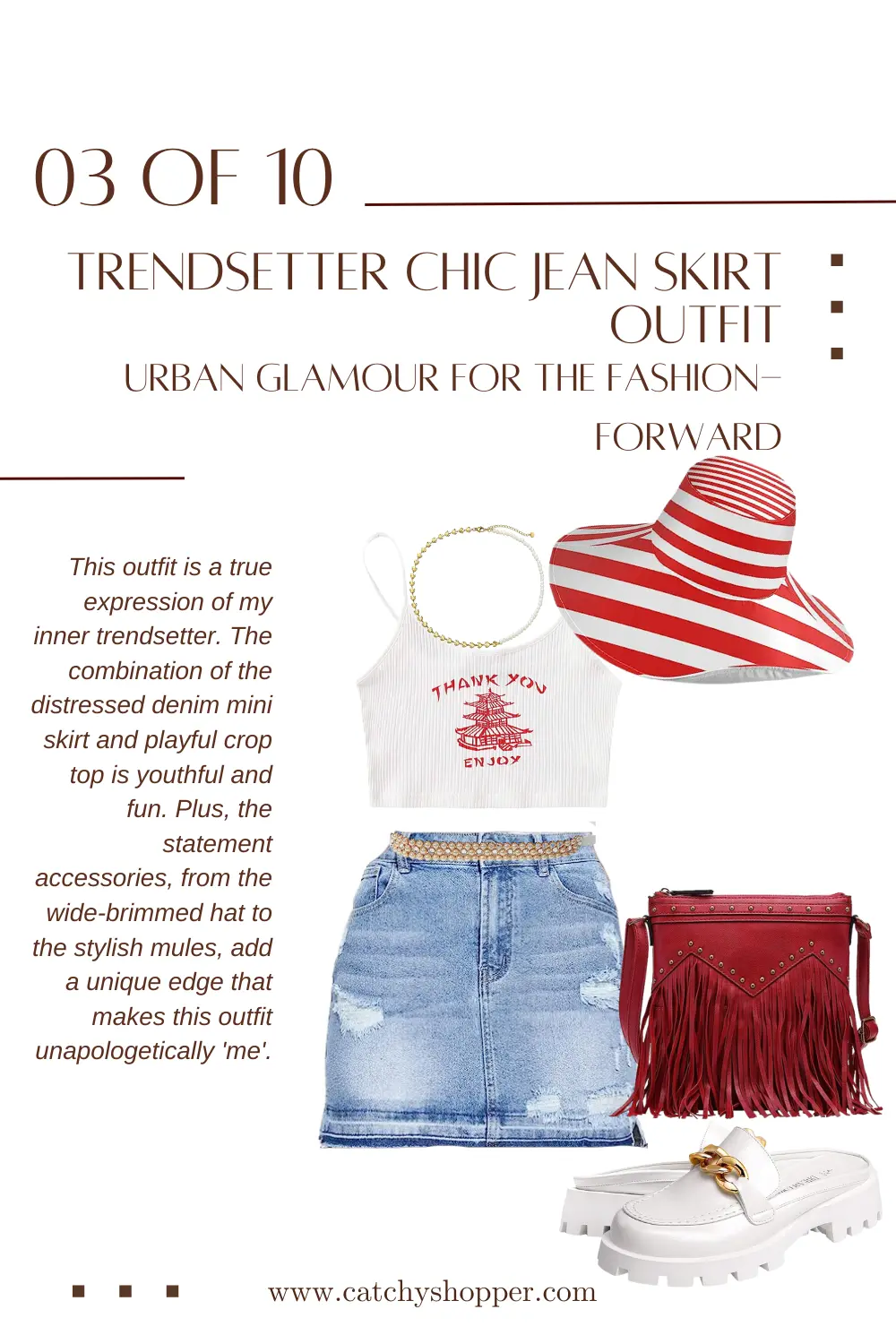 Dare to stand out with a trendsetter chic jean skirt outfit. Choose a distressed denim mini skirt and team it up with a playful crop top or an off-the-shoulder top for a trendy, youthful aesthetic. Accessorize to the nines with a wide-brimmed hat, a statement belt, and a chunky piece of jewelry. Opt for footwear that commands attention, such as knee-high cowboy boots, stylish mules, or wedge sandals. A fringe bag adds a touch of bohemian charm to round out this head-turning ensemble.
Seasonal Outfit Ideas
Now, while your denim midi skirt or denim maxi skirt can be a great wardrobe staple any time of the year, here are some seasonal ideas to keep your style fresh:
Summer Denim Skirt Outfit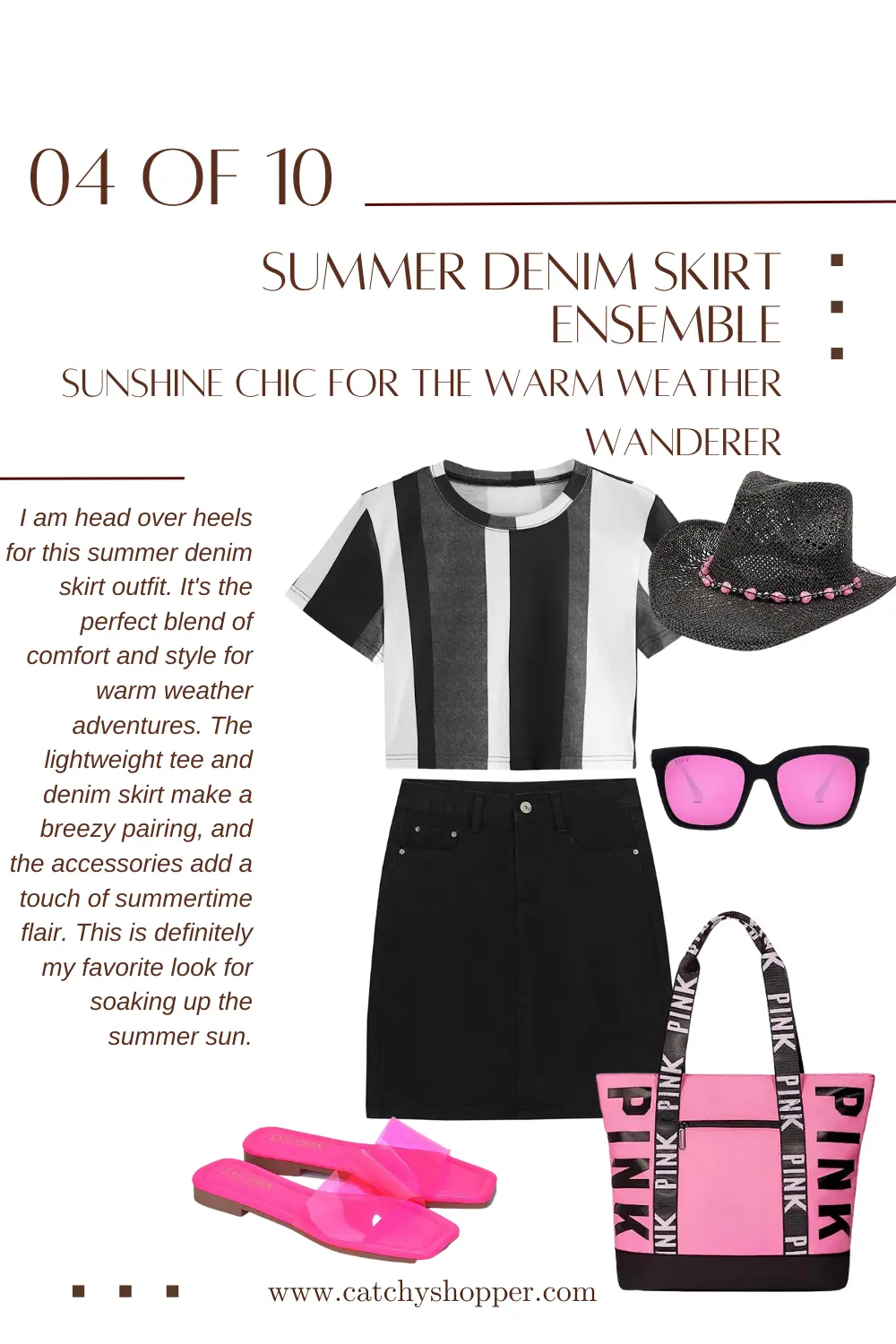 Brighten up your summer wardrobe with a lightweight denim skirt ensemble. Pair your skirt with a loose, breathable tee or striped shirt. Add a straw hat and a pair of sunglasses for sun protection and style. Complete the look with comfortable sandals, and carry a tote bag for a day out at the beach or shopping.
Fall/Winter Denim Skirt Outfit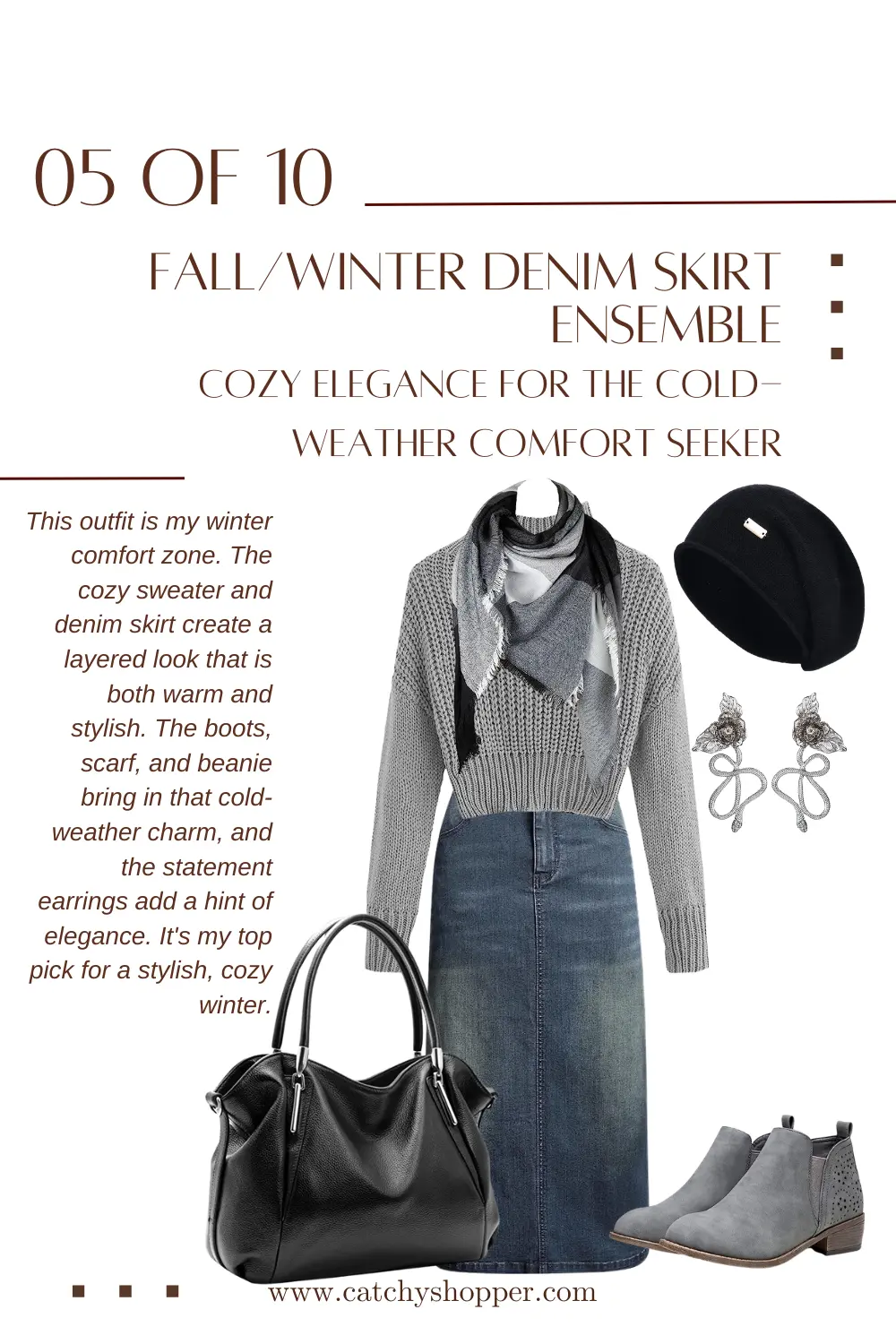 Get ready for cooler months with a denim skirt combined with snug sweaters and tights. Slip into a pair of stylish boots to complete the warm layered look. Accessorize with a chunky scarf and a beanie for added warmth. A leather handbag and statement earrings add a touch of elegance to your winter attire.
Styling Tips for Different Types of Denim Skirts
Styling different types of denim skirts, from the playful mini to the elegant midi and maxi, can seem like a challenge. But with a few pointers and a dash of personal style, you'll be turning heads in no time.
Mini Denim Skirt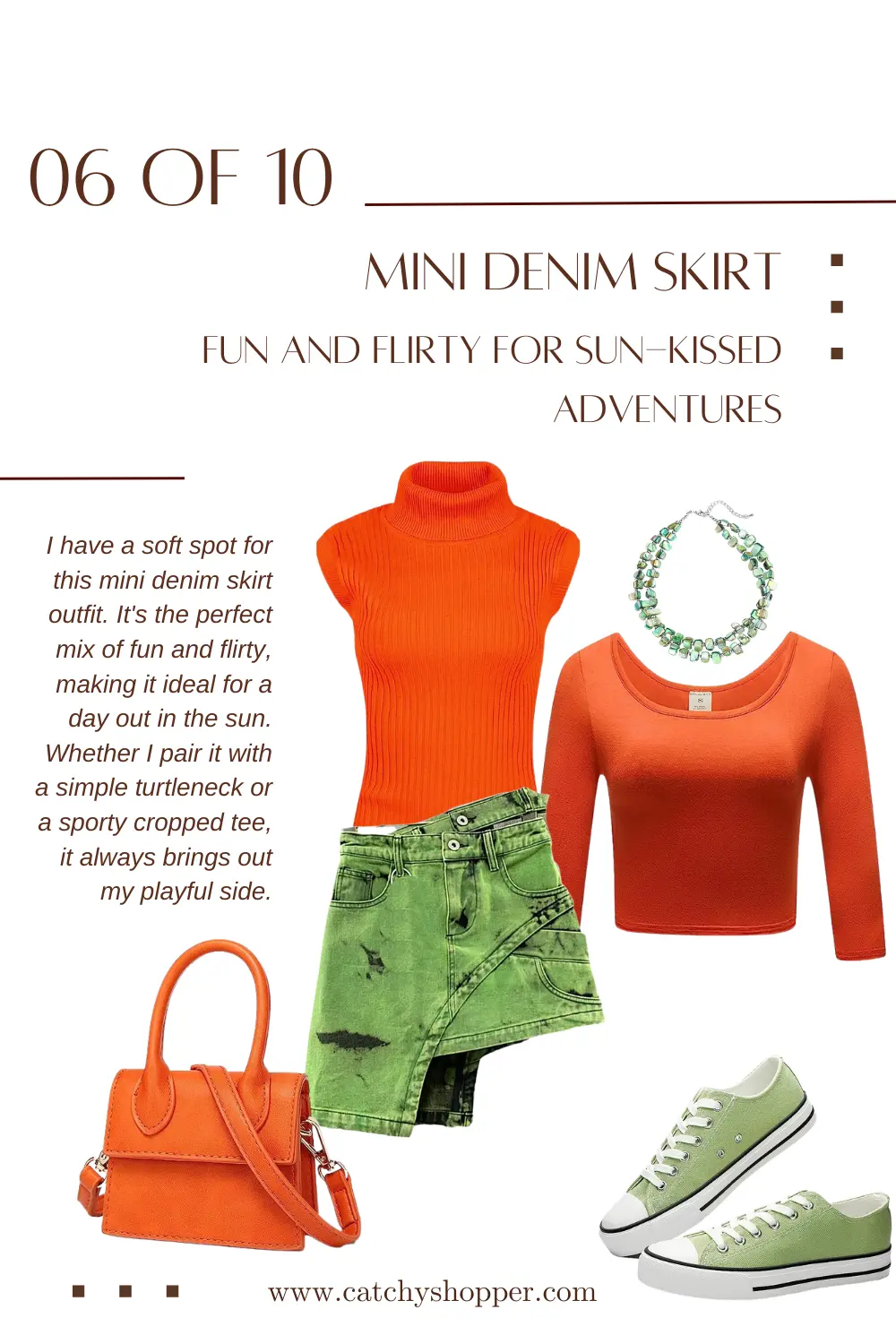 The denim mini skirt, an iconic fashion piece, is particularly popular in warm weather. Pair your skirt with a simple turtleneck or a long-sleeved blouse to offset the short length, or choose a cropped tee for a sportier feel. Accessorize with a crossbody bag and an array of layered necklaces for a trendy touch. Complete the look with a pair of sneakers or ankle boots for an effortlessly cool ensemble.
Midi Denim Skirt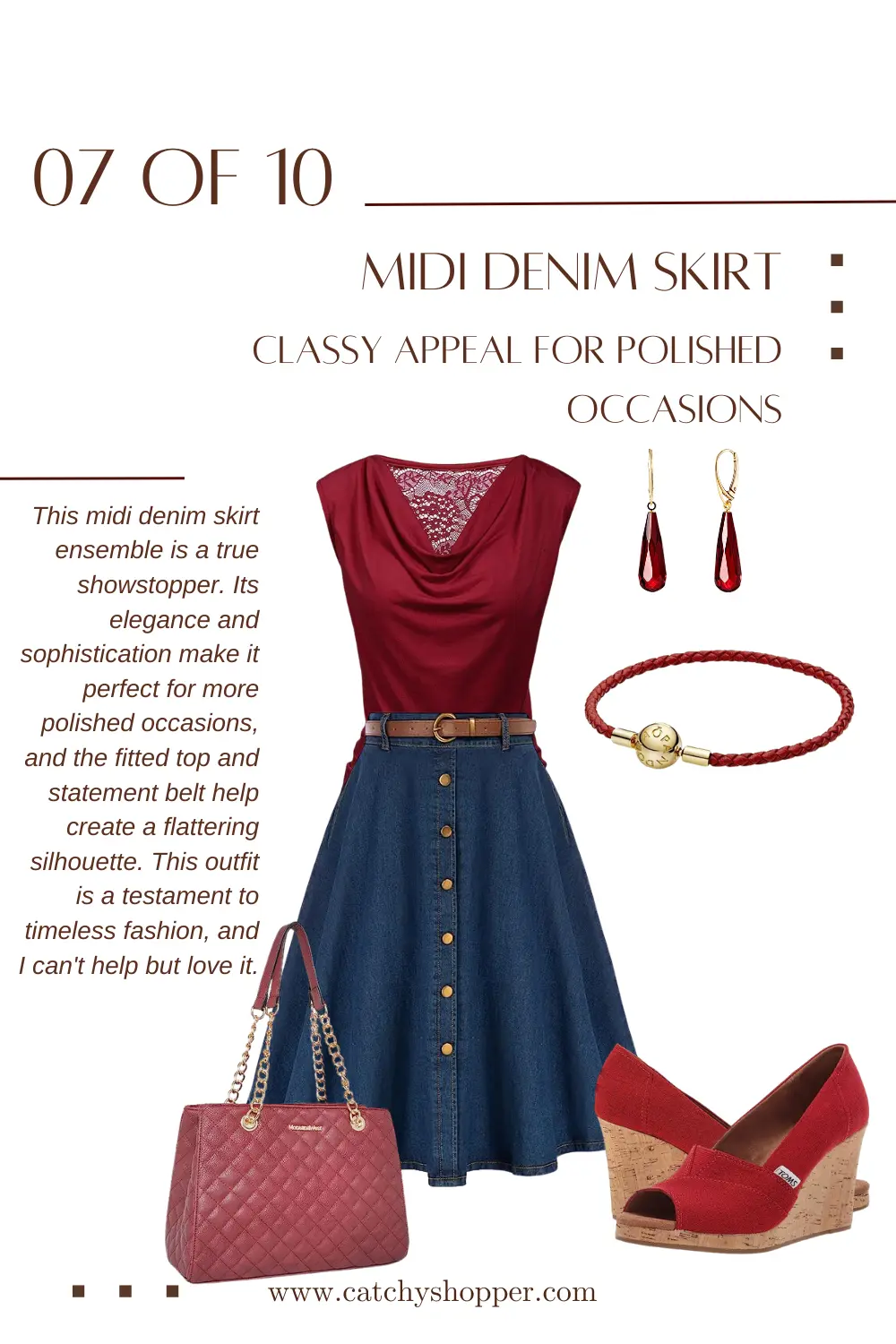 Midi denim skirts are the way to go if you're aiming for a classy, elegant vibe. They pair wonderfully with fitted tops or blouses and accessorize with a statement belt to highlight your waist. Add a touch of fun with a charm bracelet and a pair of drop earrings. To elongate your figure, choose a pair of stylish wedges or mules as your footwear of choice. Don't forget to add a structured leather handbag for a sleek finish to your outfit.
Maxi Denim Skirt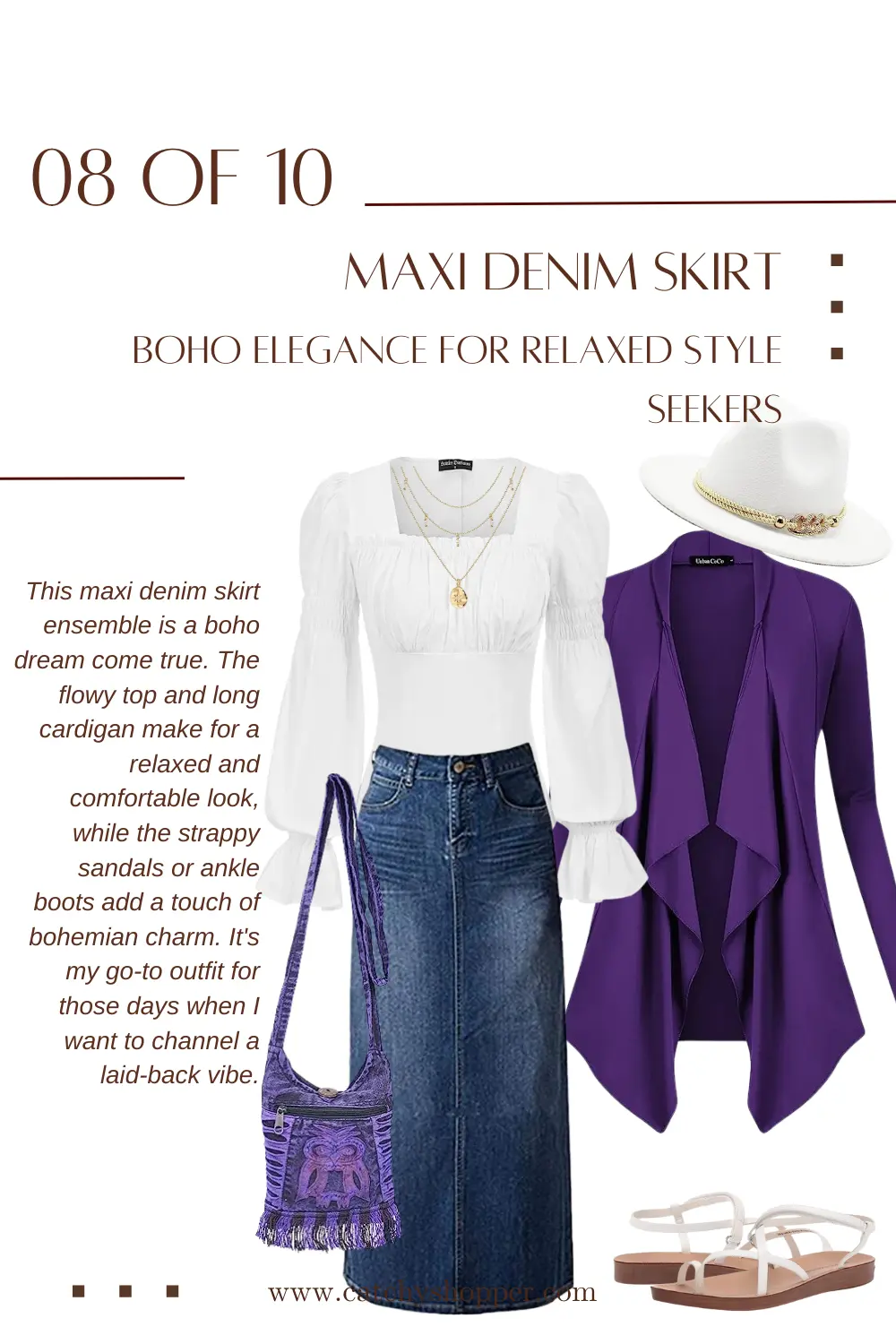 Maxi denim skirts are your go-to for channeling a boho or a '90s vibe. For a relaxed, bohemian look, pair your long denim skirt with a flowy top and a long cardigan for layering. Add strappy sandals for a bohemian touch, or opt for ankle boots for a '90s flair. Top off the look with a wide-brim hat, layered necklaces, and a boho shoulder bag for a fashion-forward finish.
High-Waisted Denim Skirt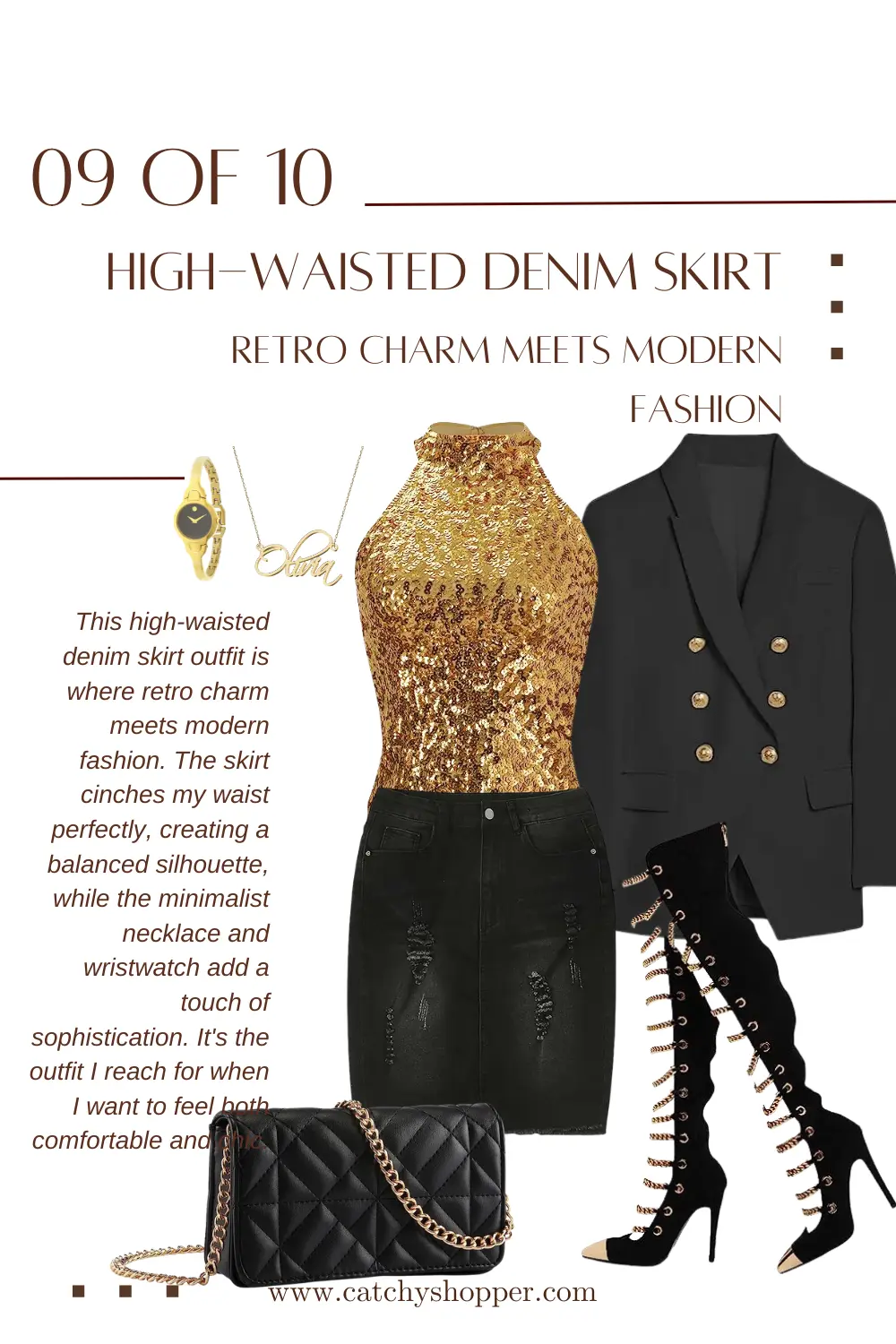 High-waisted denim skirts are incredibly versatile and flattering, as they cinch your waist and create a balanced silhouette. Tuck in your top—be it a blouse, tee, or even a lightweight jacket —to accentuate your waist. Complement with knee high boots and accessorize with a minimalist necklace, a wristwatch, and a classic clutch for a sophisticated touch. For more ideas on how to style high-waisted pieces, check out our 10 Best High-Waisted Jeans Outfit Ideas.
Distressed Denim Skirt
Distressed denim skirts add a dash of edginess to your outfit. As the skirt itself is already making a statement, keep the rest of your outfit simple with basic tees, plain hoodies, or simple sweaters. Complete the look with a leather watch and a chunky necklace. Choose between sneakers for a casual aesthetic or boots for a touch of grunge. Add a leather backpack to tie in the edgy theme.
Denim Skirt Styling Mistakes to Avoid
While denim skirts are incredibly versatile, there are a few styling missteps that can hinder you from achieving your best look. Here are a few common mistakes to avoid:
Overdoing Denim on Denim
A denim-on-denim look can be striking when executed correctly. But, too much of the same shade can make your outfit look monotonous. Aim for contrast—pair a light denim skirt with a dark denim jacket or vice versa. Also, breaking up the denim with a different material like a cotton tee or a leather belt, can create a more balanced look.
Ill-Fitting Skirts
Fit is crucial in any piece of clothing, and denim skirts are no exception. Skirts that are too tight might restrict your movement, while those that are too loose may not be flattering. Always try on a skirt before purchasing and consider alterations if it doesn't fit perfectly off the rack.
Inappropriate Footwear
The right footwear can enhance your denim skirt look, while the wrong choice can undermine it. Avoid overly formal shoes with a casual denim skirt outfit and vice versa. The formality level of your shoes should match the rest of your outfit.
Best Practices for Maintaining Your Denim Skirt
Your denim skirt can last for years and remain as fashionable as the day you bought it, provided you treat it well. Here are some care and maintenance tips to keep your denim skirt in top shape:
Washing and Drying Tips
Less is More: Denim doesn't require frequent washing. Overwashing can cause your skirt to lose its shape and fade. Instead, try to spot clean any stains or air them out between wears.
Cold Water Wash: When you do wash your skirt, opt for cold water to prevent shrinkage and color fading. Turn your skirt inside out before washing it to protect the color and finish.
Use Gentle Detergent: Harsh detergents can be tough on denim. Opt for a mild detergent, and avoid bleach which can damage the fabric and cause discoloration.
Skip the Dryer: The heat from the dryer can cause your denim skirt to shrink and warp over time. Instead, lay it flat or hang it to dry in a well-ventilated area away from direct sunlight.
Proper Storage Methods
Avoid Hangers: Hanging denim for long periods can cause it to stretch out. Instead, fold your denim skirt and store it in a drawer or on a shelf.
Store in a Cool, Dry Place: Keep your denim skirt in a cool, dry place to prevent mildew growth. Avoid places with direct sunlight which can cause fading.
Give It Space: Don't overcrowd your denim skirt with other clothes. Giving it some space allows the fabric to breathe and helps maintain its shape.
Remember, your denim skirt is more than a piece of clothing—it's an investment in your style. Proper care and maintenance will ensure that it remains a key piece in your wardrobe for years to come.
Final Thoughts
We've journeyed together through the fascinating world of denim skirt outfits, exploring a variety of outfit ideas, from casual tees and sneakers to chic blouses and heels. We've discovered the art of styling different types of denim skirts, from the playful mini to the elegant maxi. We've also delved into common mistakes to avoid when rocking your denim skirt and shared essential tips for maintaining its longevity.
Remember, the beauty of fashion lies in its ability to express your unique personality and style. So, don't be afraid to experiment with these ideas and add your own twists. Your denim skirt is a blank canvas waiting to be adorned with your creativity.
We hope this guide leaves you inspired and excited to revisit that denim skirt hanging in your closet. Better yet, we'd love to see how you wear a denim skirt and how you've styled it. Share your favorite denim skirt looks with us and join the conversation. Let's continue to learn from each other and celebrate the versatile, timeless charm of the denim skirt. Happy styling!
Comments