This post may contain affiliate links, please see our privacy policy for details.
Hello, my fashion-forward friends! I know you all loved our previous style post, where we rocked those denim skirts. Your overwhelming love for that post got me thinking about my own journey with denim, which, let's be real, has been a lifelong romance. I remember my tiny hometown, where denim wasn't just a trend, it was our everyday anthem. From the rugged charm of my childhood overalls to my 'never-giving-this-up' jean jacket from high school - a piece of clothing I probably wore more than Jennifer Lopez has had encores (and let's face it, that's a lot!).
But, out of all the denim darlings, there's one item that still makes my heart skip a beat - the denim skirt. It's like the chameleon of the fashion world, effortlessly morphing from a breezy summer brunch outfit to a cozy winter look, just by switching up a few pieces.
Feeling inspired by my love for our last post, and sprinkling in some of that JLo-level confidence, I decided it was time to dive head-first into the world of denim skirts again. So, here we are, ready to take on 9 fabulous ways to style our beloved jean skirts. We're talking minis, maxis, and everything in between! We're about to take the denim skirt from an underrated wardrobe staple to a show-stopping head-turner. Ready to get started? Let's do this!
What Can You Wear with Denim Skirt
Transforming a denim skirt into a head-turning ensemble is not rocket science, and trust me, it's pretty hard to go wrong! With the beauty of a denim skirt lying in its chameleon-like adaptability, let's delve into 11 stylishly simple ways to don your denim.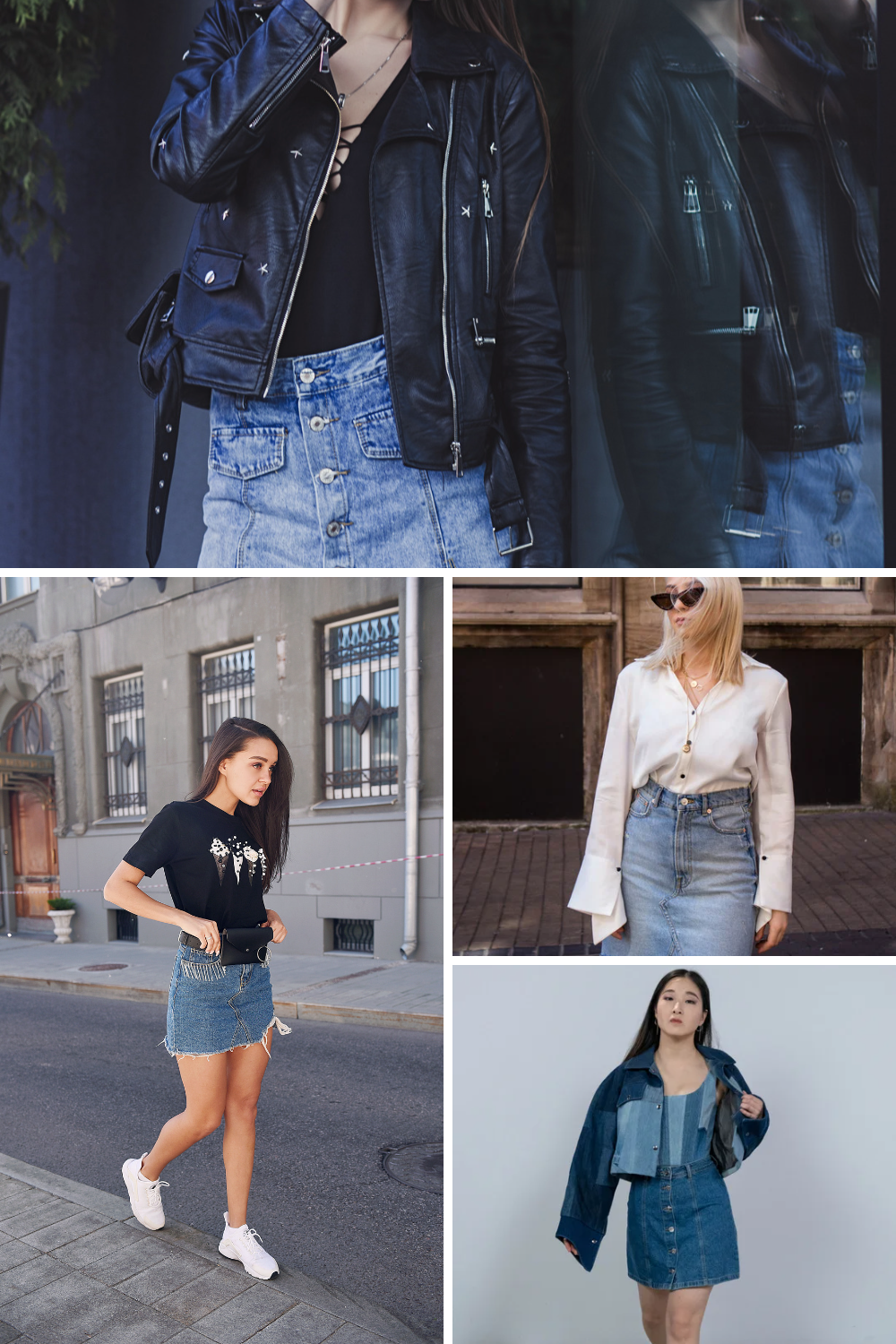 Graphic T-Shirt - Keep it casual yet trendy with a graphic tee paired with your denim skirt. Remember, for longer, fuller skirts, opt for a well-fitted tee to maintain balance. Complete the relaxed vibe with casual sneakers or strappy sandals.
The Dashing Blazer  - Add a dash of formality to your denim by pairing it with a vibrant blazer. The bright hues over a neutral tee will make your outfit a standout! Amp up the chic factor with ballet flats, pumps, or boots.
Neutral Tee - For an elegantly minimalist look, pair your denim skirt with a plain black or white tee. Tuck it in, and voila! This look harmonizes perfectly with sandals or casual sneakers.
Cardigan - Embrace all seasons by layering a cardigan over a tee. A vibrant cardigan brings a pop of color, while neutral shades bring a calm elegance. Depending on the weather, you can add leggings and boots or flaunt your bare legs with sneakers or ankle boots.
Button-Down Shirt - Striking a balance between casual and formal, a button-down shirt paired with your skirt works wonders. From sneakers to boots, the footwear can shift the look from casually chic to elegantly stylish.
Flannel Fantasy - A comfortable flannel plaid shirt pairs exceptionally well with a denim skirt. Whether you button it up, leave it open over a tee, or tie it around your waist, it's a look that's hard to beat!
Denim  - Don't shy away from denim on denim! A matching denim jacket and skirt ensemble creates an edgy 'Canadian Tuxedo'. Varying denim shades or even colored skirts can create striking contrasts.
Pullover - For winter, bundle up with a warm pullover and leggings under your skirt. Opt for boots or sneakers depending on the occasion.
Romantic Top - Planning a date night? Pair your denim skirt with a romantic statement top. Think silky textures, ruffles, and soft colors. Add some heels or boots to make it extra special.
Remember, styling a denim skirt isn't about getting it 'right.' It's about expressing your personal style and having fun while you're at it! So, unleash your creativity and let your denim skirt be your canvas.
9 Jean Skirt Outfits
Let's take a stylish plunge! From the everyday casual to the uniquely elegant, we're about to explore nine chic ways to style your jean skirt. Ready to upgrade your fashion game? Then buckle up, fashion enthusiasts, and let's dive into these incredible jean skirt outfits!
Mini Denim Skirt Outfit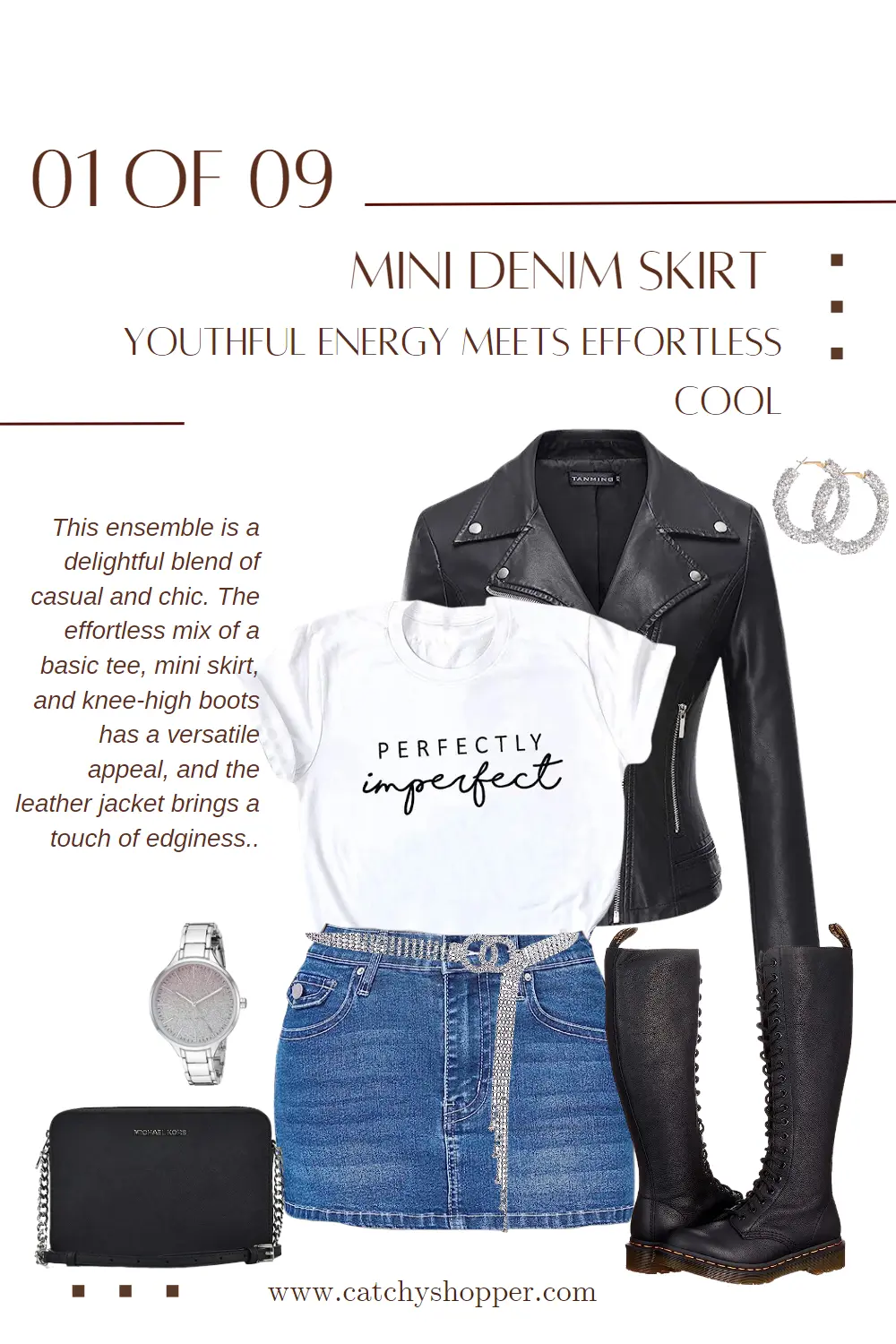 Embrace a casual vibe with a classic white t-shirt tucked into your denim mini skirt, a wardrobe staple. Pair it with knee-high boots for a timeless fashion statement. Layer with a leather jacket for chillier spring evenings. A chunky belt shapes the waistline while a leather crossbody bag creates a practical, wearable ensemble for running errands. Finish with statement earrings and a trendy wristwatch.
Midi Denim Skirt Outfit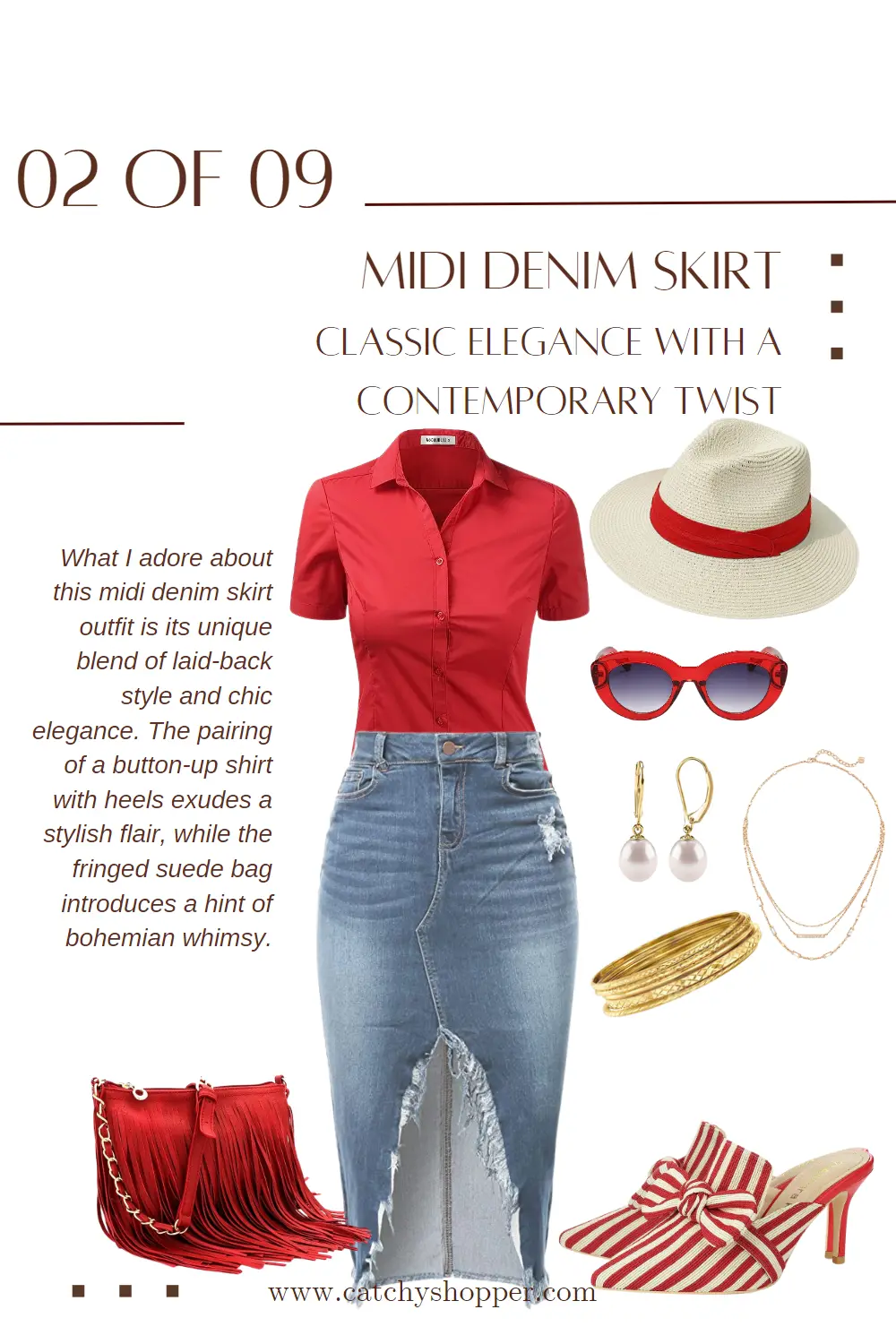 Update your wardrobe with a denim midi skirt outfit. Pair your knee-length jean skirt with a button-up shirt for a casual yet stylish look. Slip on a pair of heels and add a relaxed boho touch with a fringed suede bag. Keep accessories minimal with a delicate necklace, dainty earrings, and a couple of thin gold bangles. A sun hat and sunglasses create a timeless yet trend-conscious ensemble.
Maxi Denim Skirt Outfit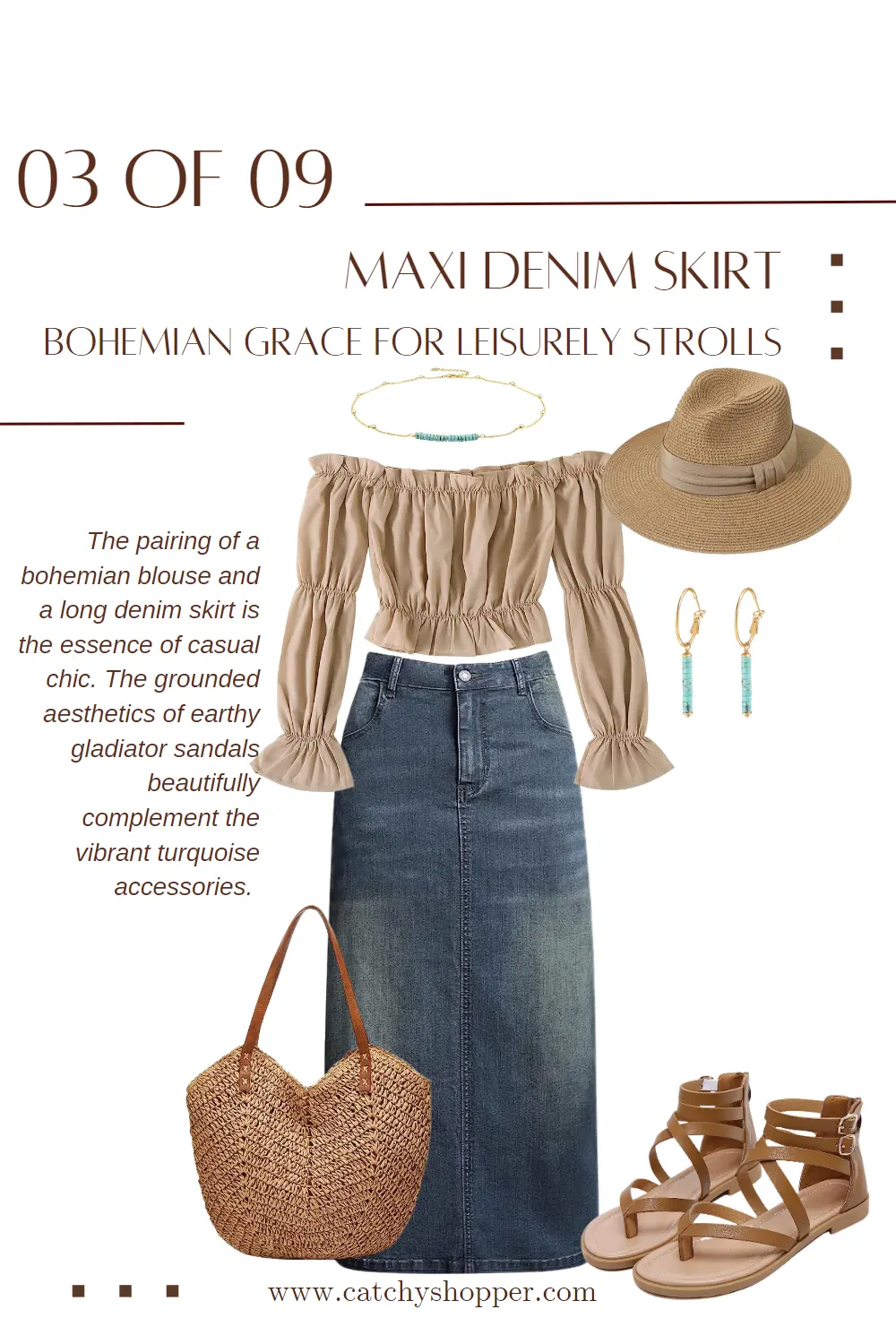 Nothing can go wrong when you pair a boho off-the-shoulder blouse with one of the long denim skirts, perfect for a casual day out. Ground the look with earthy brown gladiator sandals and accessorize with a statement turquoise necklace and matching earrings. A woven tote bag is perfect for carrying essentials while a wide-brimmed floppy hat throws shade during hot summer days.
Pleated Denim Skirt Outfit
Recreate vintage vibes with pleated denim skirts. Pair your pleated jean skirt with a pastel-colored knit sweater for a relaxed yet chic outfit. Step into rose gold heeled sandals and carry a matching mini tote for date night. Opt for minimalist jewelry like a pendant necklace, hoop earrings, and a sleek watch. A silk scarf can elevate the outfit for a more polished look.
High Waist Long Denim Skirt Outfit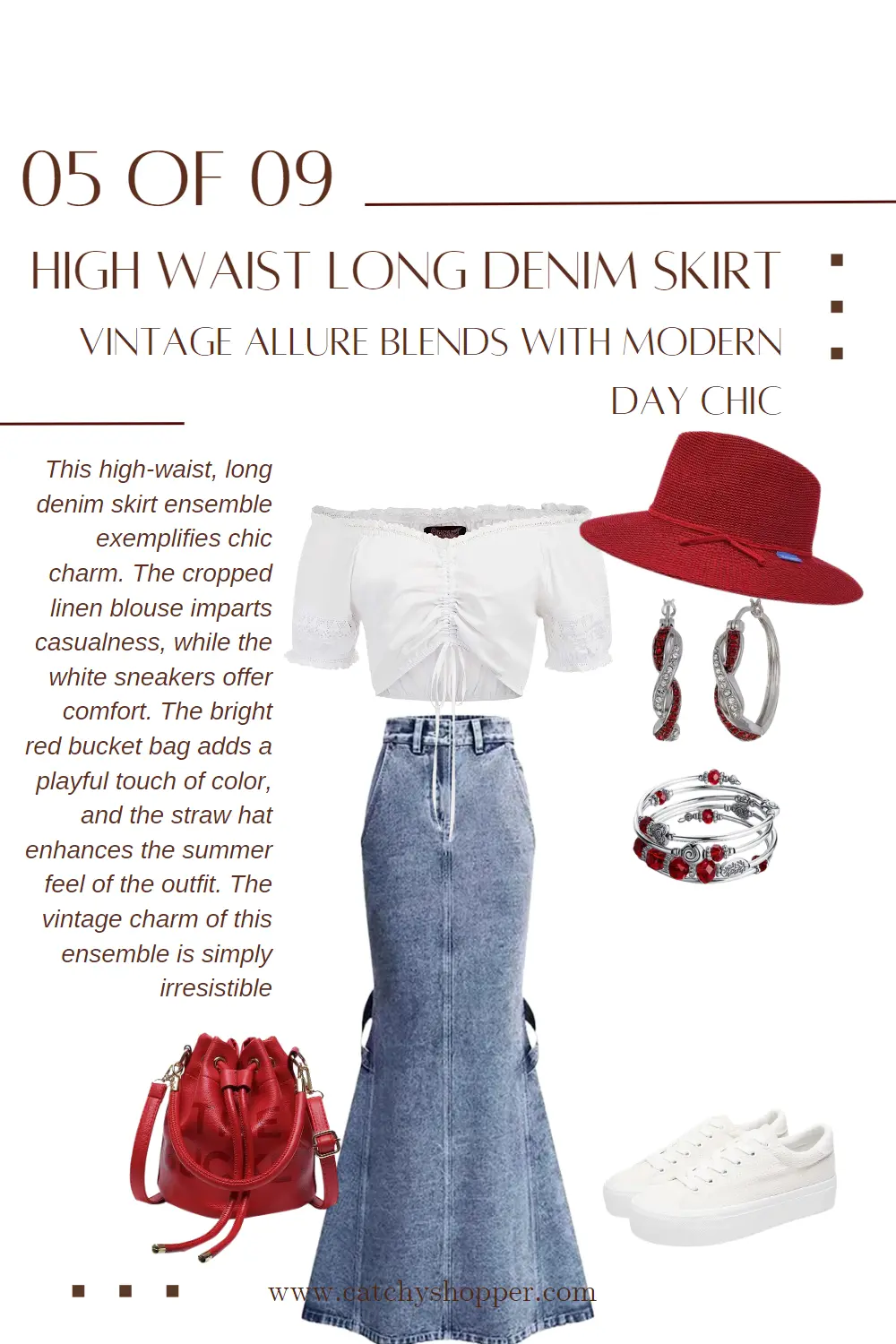 Immerse yourself in a vintage vibe with this high-waist long denim skirt ensemble. Pair your denim staple with a cropped white linen blouse to create an effortless and chic casual look. Slip into white low-top sneakers for a casual yet comfortable appeal. Infuse a pop of color with a red bucket bag, and accentuate your style with minimal accessories such as small hoop earrings and a stack of silver bangles. Cap off your vintage-inspired look with a wide-brimmed straw hat, perfect for embracing those summer vibes.
Black Denim Skirt Outfit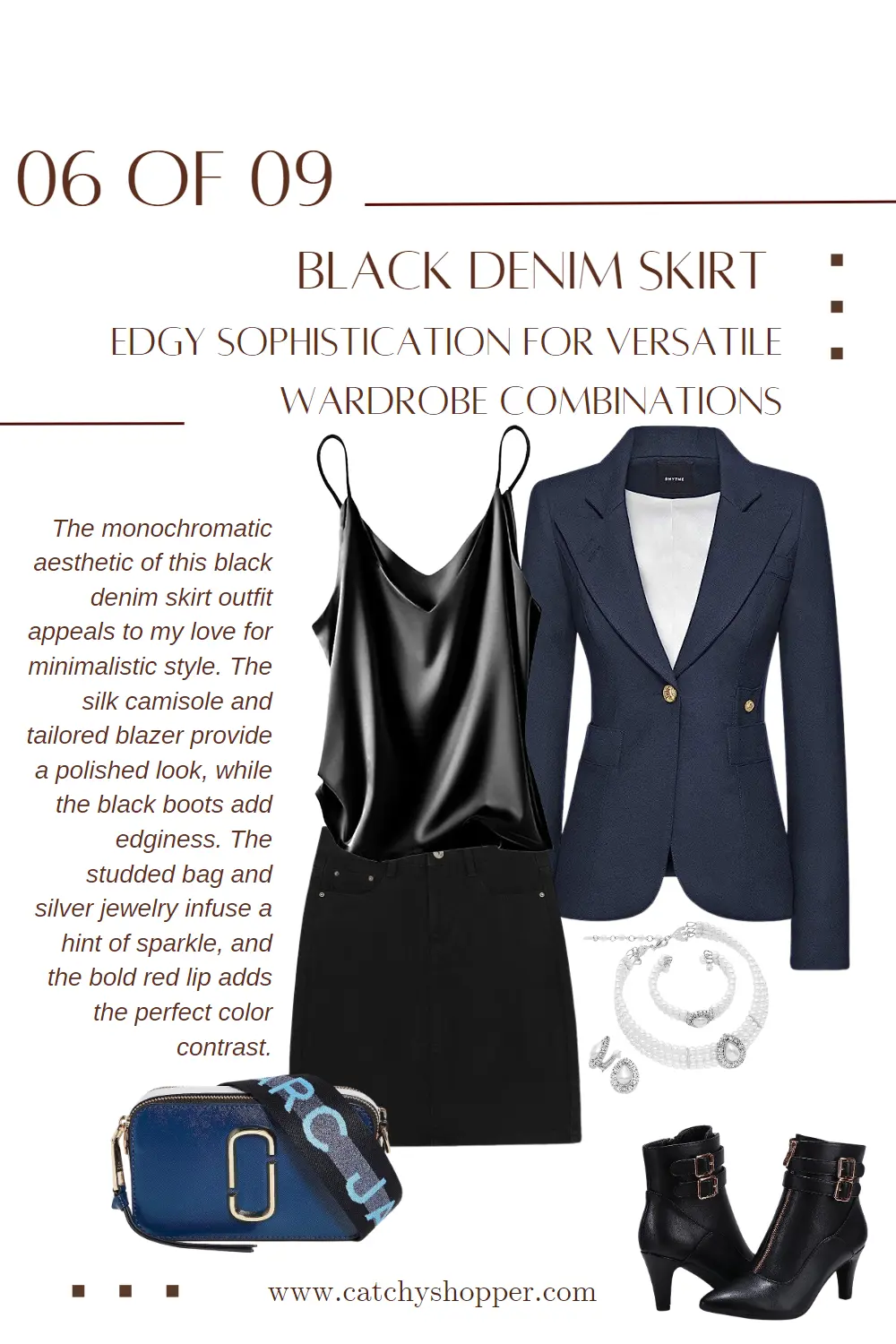 Channel a classic monochromatic look by pairing your black denim skirt with a black silk camisole. Layer on a tailored blazer for a polished finish and pair with black heeled boots. Add some edge with a studded leather bag and silver statement jewelry. A bold red lip will provide a pop of color.
Blue Denim Skirt Outfit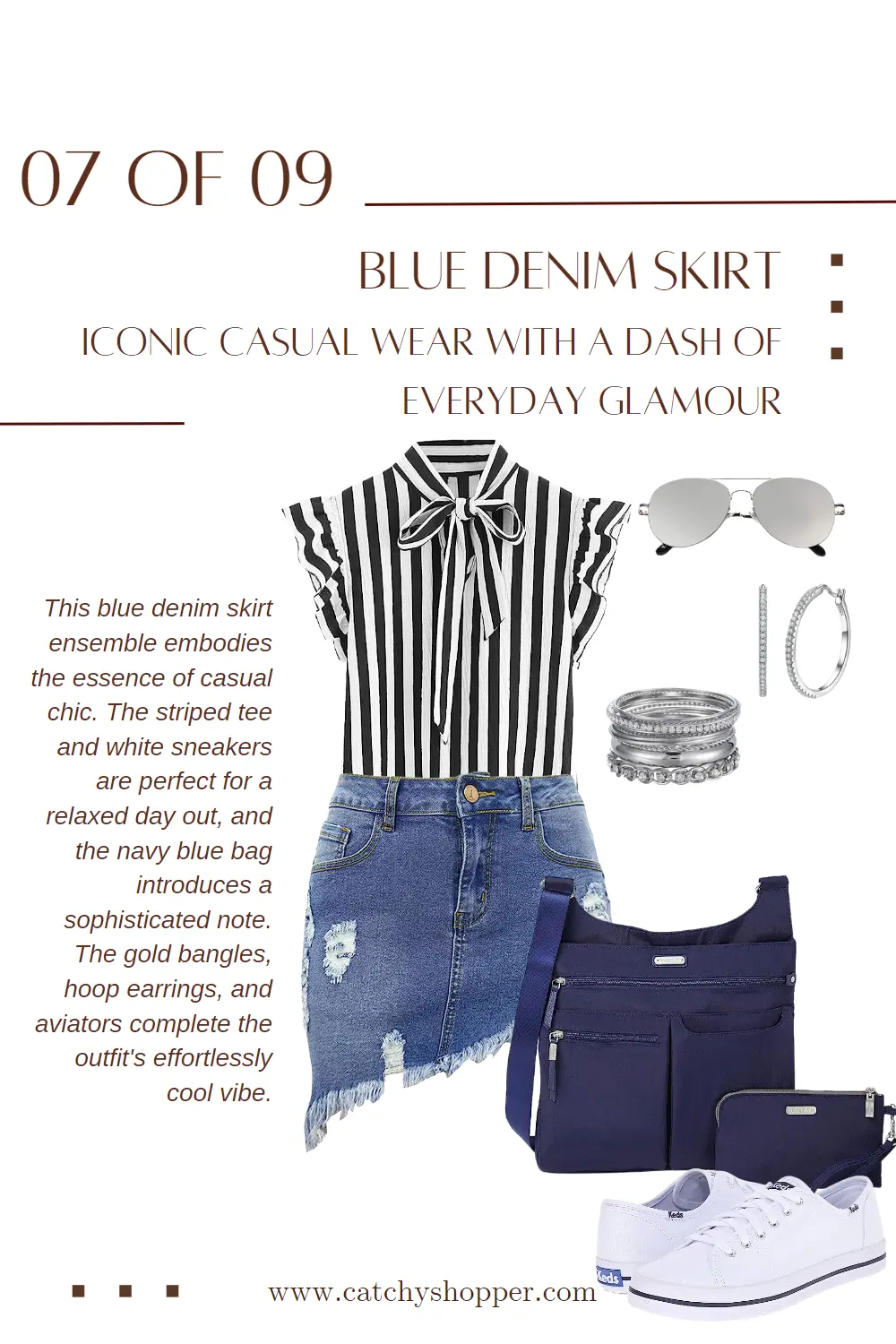 Team your blue denim skirt with a striped cotton tee for a fresh vibe. Opt for comfortable white sneakers and accessorize with a navy blue crossbody bag. Add a few silver bangles, a pair of silver hoop earrings, and a classic pair of aviator sunglasses for an effortlessly cool look.
White Denim Skirt Outfit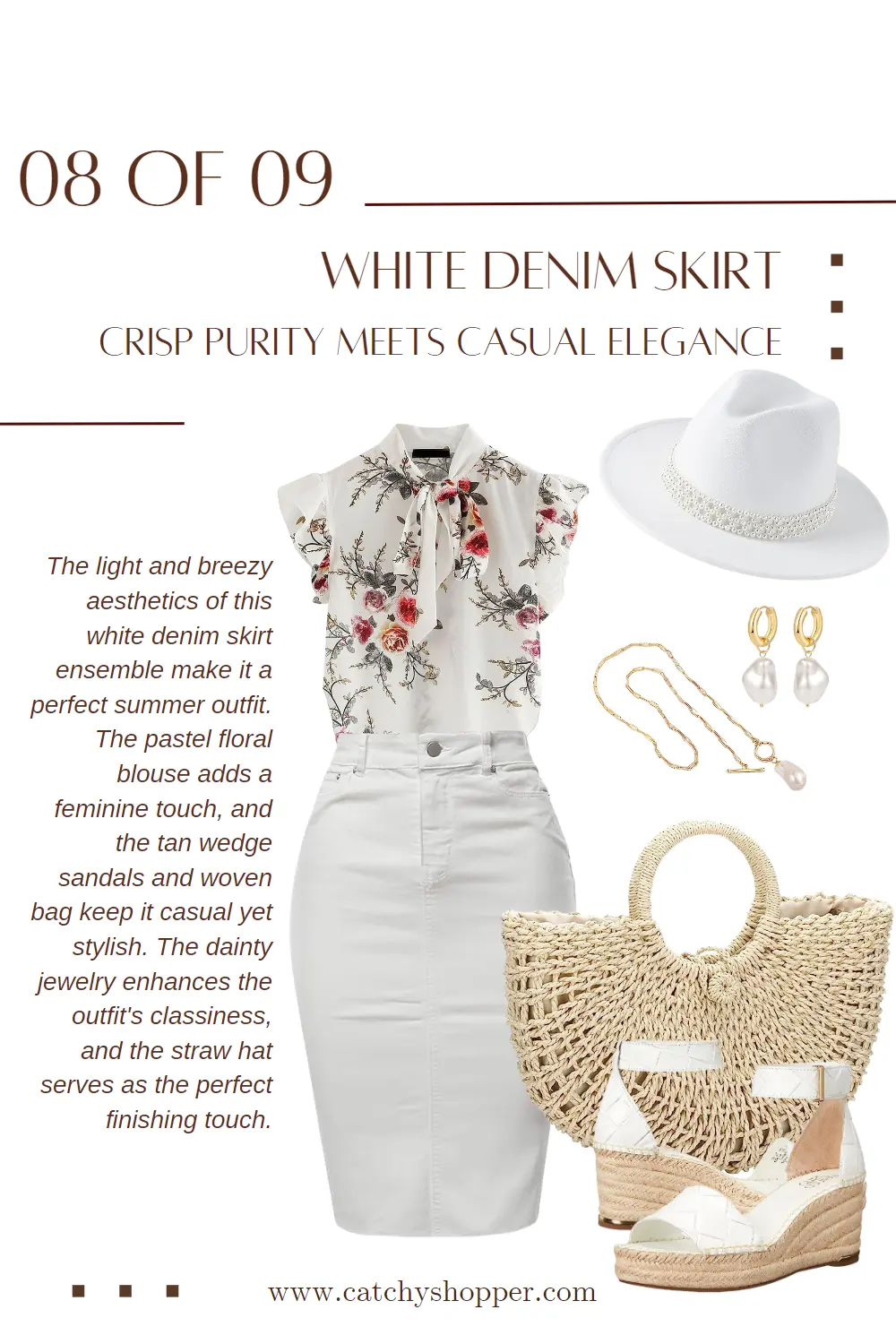 For a light and airy summer look, pair your white denim skirt with a pastel floral blouse. Complement it with tan wedge sandals and a matching woven bag. Dainty jewelry like a delicate pendant and pearl earrings will maintain the outfit's femininity. Round it all off with a fashionable straw hat.
Red Denim Skirt Outfit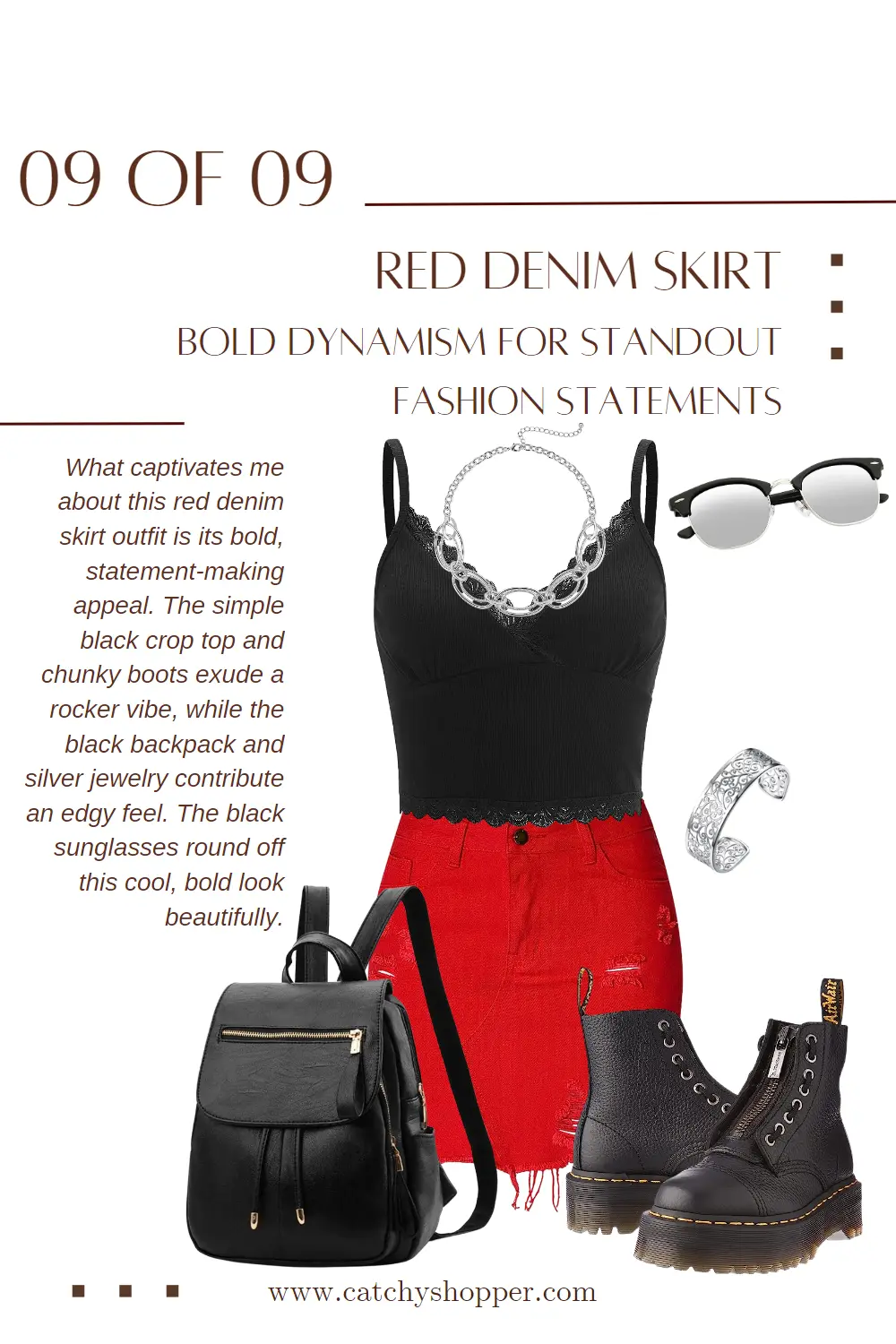 Make a statement with your red denim skirt by teaming it with a simple black crop top. Add a pair of chunky black boots for a rocker vibe. Accessorize with a black leather backpack and chunky silver jewelry. A pair of classic black sunglasses can add an extra touch of cool.
FAQs
The beauty of denim skirts is their versatility! Pair them with sneakers or sandals for a casual look, ankle boots for a touch of edge, or ballet flats or block heels for a more sophisticated vibe.
What to wear with a denim skirt in winter?
In winter, pair your denim skirt with cozy knitwear or a warm jacket. Don't forget to layer up with tights or leggings to keep your legs warm. Opt for ankle boots or knee-high boots to finish the look.
What to wear with a denim skirt in summer?
In the summertime, pair your denim skirt with a breezy tank top or a light t-shirt. You can add a thin cardigan or a denim jacket for cooler evenings. Finish the look with sandals, white sneakers, or espadrilles.
What to wear with a black denim skirt?
A black denim skirt is a blank canvas that allows for countless style choices. Pair it with a bright-colored top for a pop of color, a white blouse for a monochrome look, or a patterned shirt for added flair. As for shoes, anything from black ankle boots to white sneakers would work wonderfully.
Final Thoughts
We've now arrived at the end of our fashionable expedition, 'Revamp Your Look: 9 Chic Denim Skirt Outfits to Inspire You'. Together, we've plunged into the endless realm of denim skirt versatility, tracing our fingers along the seams of timeless minis, midis, and maxis, and even ventured into the avant-garde world of pleated and high-waisted styles. We've seen the transformative magic of eclectic accessories, vibrant hues, and pairing choices that can morph these denim classics into jaw-dropping, sidewalk-strutting outfits for any occasion.
Now, remember - a denim skirt is not just a garment, it's a blank slate that's yearning for your personal style. Whether you're teaming it with a basic tee, a bohemian blouse, or asserting your personality with bold color play, always recall - fashion is an extension of who you are. So, unleash your inner fashionista, let your creativity soar, and wear these denim skirt outfits with a dash of you!
And oh, we're all ears (or eyes, rather) for your fashion tales. Spill the deets in the comments below about your top denim skirt ensemble or any innovative styling experiments you've embarked on. Always remember, your style journey is as distinctively beautiful as you are. So, own it, love it, and most importantly, have a blast with it! Can't wait to see you turn heads and set new trends. Until next time, happy styling, fashionistas!
Other Posts You May Like
💡
Beach and Resort Wear
Prepare for your next holiday with our Resort Wear and Beach Wear suggestions. Also, make a splash with our Pool Outfits that are both stylish and comfortable.
💡
Dive Into Global Fashion Outfits
Begin your style journey with our succinct guides on global attire. From
Hawaii
's tropical allure,
Greece
's timeless beauty, and
Vegas
's vibrant nightlife, to
Mexico
's sunny beaches, we have fashion insights for every destination. Learn to blend with locals and immerse in each place's unique fashion culture.
Comments