This post may contain affiliate links, please see our privacy policy for details.
Hello, everyone! Justyna here. You know I'm all about finding new ways to level up my health and wellness game, right? And you know I love my coffee. But did you know that there's a way to make your morning cup even more beneficial to your health?
Let me share my journey. After diving into the fantastic book Fast Like a Girl by the phenomenal Dr. Mindy Pelz, I learned about the incredible benefits of using MCT oil in coffee. That's right, oil in coffee - it sounds unconventional, I know! But believe me, once I started, there was no turning back.
It's been an adventure, figuring out how to balance flavor and health benefits, and today, I'm here to spill the beans. We're going to chat about everything from what MCT oil is, how it benefits your body, and, most importantly, how to make it taste just as good, if not better than your regular cup of joe.
This isn't my first rodeo talking about MCT oil and coffee. If you haven't checked out my previous post on MCT Oil in Coffee, and another post on Best MCT Oil: 9 Premium Choices for a Healthier You, I highly recommend giving those a read. They're filled with lots of useful info that will enrich our discussion today.
Are you ready to elevate your morning ritual, boost your health, and enjoy a tasty cup of coffee all at the same time? Let's get into it. Vamos!
What is MCT Oil
Let's dive into a fascinating topic that could be a game-changer for your health: MCT oil. Don't worry if the term sounds a bit complicated, I'm here to break it down for you.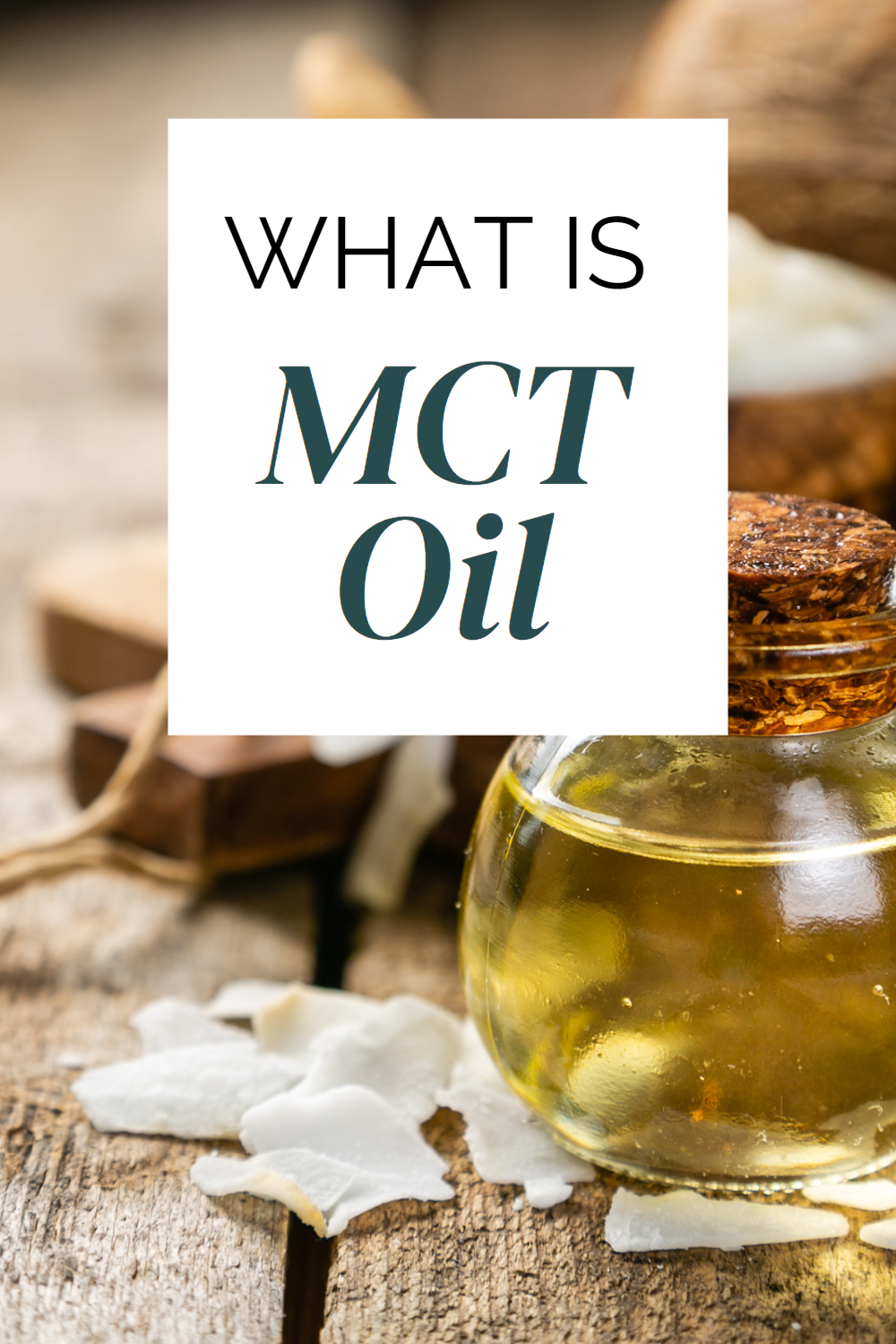 MCT oil, also known as Medium-Chain Triglycerides oil, is a special kind of fat. Unlike most fats, our bodies have a unique way of processing MCTs, making it a particularly efficient source of energy.
The beauty of MCT oil lies in its potential health benefits. Predominantly, it stands out for its positive impacts on weight management and cognitive function.
If you're pursuing a healthier lifestyle, MCT oil can lend a hand. It helps in speeding up your metabolism, supports burning fat, and keeps hunger pangs at bay. That means fewer temptations to snack on less nutritious options. Sounds pretty impressive, doesn't it?
But the benefits of MCT oil don't stop at the scale. It's also like premium gasoline for your brain. When MCTs are metabolized, they yield ketones - a high-grade fuel for your brain that can sharpen your cognitive performance. Certain research even hints at MCT oil potentially aiding conditions such as Alzheimer's disease.
Curious about the varieties of MCT oil? You'll find four primary types, labeled as "C6," "C8," "C10," and "C12". These labels denote the length of the carbon chains in the MCTs. You'll get the most bang for your buck with C8 and C10 MCT oils since our bodies absorb them and convert them into energy at lightning speed. So, keep an eye out for these when selecting your MCT oil.
To put it simply, MCT oil could be a mighty companion on your journey to wellness. Given its unique advantages for weight loss and brain health, it's certainly worth looking into. Why not give MCT oil a shot? You might be pleasantly surprised!
For a deeper understanding of MCT oil and its wonders, do check out the full article "MCT Oil 101: A Review of Medium-Chain Triglycerides" on Healthline.
Creative Ways to Incorporate MCT Oil
Let's get creative with MCT oil! Using it isn't just limited to your morning coffee; there are many other exciting and enjoyable ways to enhance your daily intake of this incredible oil. So let's explore how you can play around with MCT oil in your routine.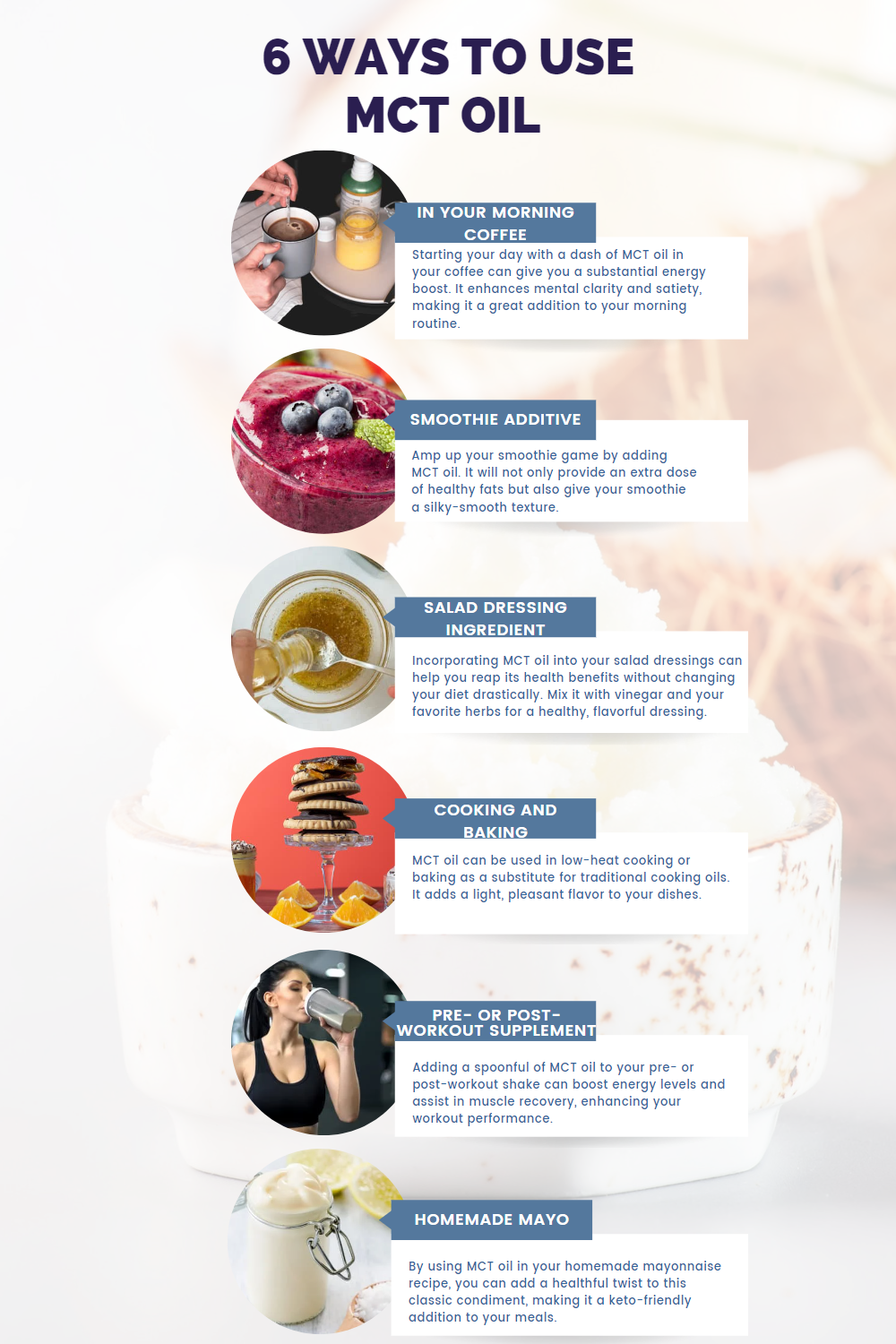 Sure, coffee and MCT oil are a match made in heaven, but why not think outside the box? Ever considered spiking your iced coffee with MCT oil? We've got an entire guide called "Low-Carb, High Taste: Your Ultimate Guide to Keto Iced Coffee" that gives you refreshing ideas on just how to do that. Feel free to check it out here.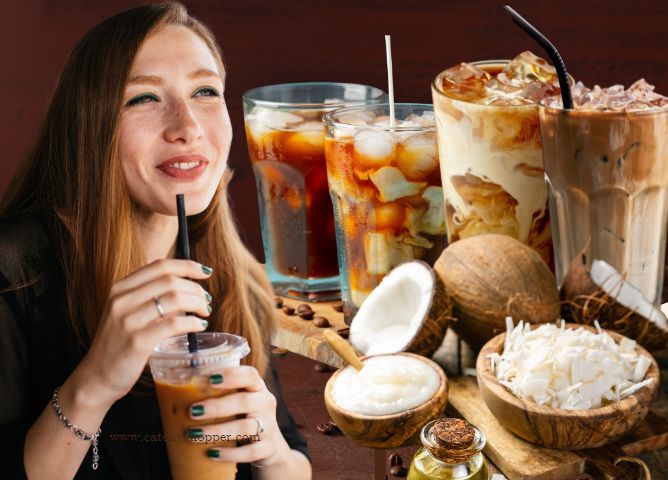 But hey, why stop at coffee? One of the easiest methods to infuse MCT oil into your meals is by making it a key ingredient in your salad dressings. Simply replace your regular olive oil with MCT oil to whip up a nutrient-packed, health-boosting salad dressing. Combine your MCT oil with some vinegar or lemon juice, toss in your preferred herbs and spices, and you've got a nutrient-rich salad dressing right there!
Just as you'd use olive oil, consider drizzling MCT oil over your cooked dishes. It's a straightforward approach to supercharge your meals with added nutritional value, without significantly changing the flavor.
What if you can't find MCT oil around? No need to fret; there are other alternatives to choose from. Coconut oil is a rich source of MCTs and can be an excellent substitute for MCT oil in your recipes. Palm oil and palm kernel oil also abound in MCTs and are decent alternatives.
Remember, it's all about maintaining a lifestyle that fosters wellness without compromising flavor. By innovating with MCT oil, you can reap its health advantages in countless ways. So why not try out these suggestions and find out your favorite method to use MCT oil?
How to Use MCT Oil in Coffee
It's time to take your morning coffee ritual to the next level! Adding MCT oil to your coffee can not only boost your energy levels but also help your body burn fat, support weight loss, and even enhance ketone production.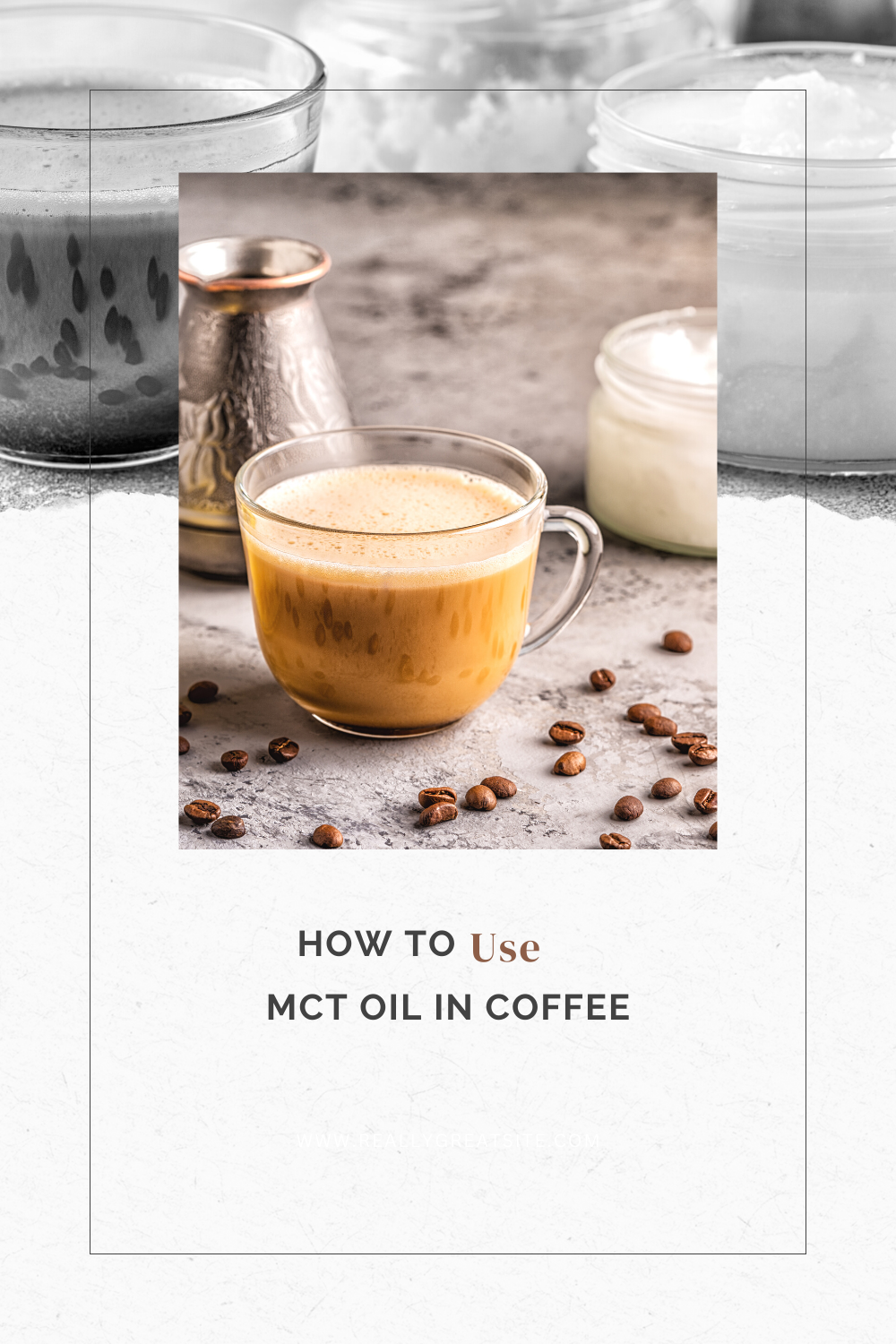 Here's how you can prepare this health-promoting drink:
Step 1: Start with your usual coffee-making process. Whether you prefer hot coffee or iced, cold brew, or a steaming espresso shot, all coffee beans are game. Remember, the quality of your coffee beans matters; choose your favorite for the best taste experience.
Step 2: Measure out the MCT oil. If you're new to this, start small. Try a teaspoon first, and gradually increase the amount to one or two tablespoons as your body gets used to it. Remember, consuming MCT oil in large quantities initially might lead to an upset stomach for some, so it's best to ease into it.
Step 3: It's time to combine your coffee and MCT oil. Just adding MCT oil to your coffee and stirring it is an option, but not the best one. The oil tends to float on top, and you might not get the smooth taste you desire.
Option A: Stirring - This might not evenly distribute the oil in your coffee.
Option B: Using a milk frother - This is a better option. It will mix the oil with your coffee, creating a more uniform texture.
Option C: Blending - If you're looking for a creamy, frothy texture, then blending is the way to go. Put your coffee and MCT oil in a blender for a few seconds, and voila! You've got yourself a frothy and creamy coffee. If you're in the market for a new blender, check out our blog post on "The Ultimate Guide to Buying the Best Blender for Protein Shakes" which can be used for this very purpose.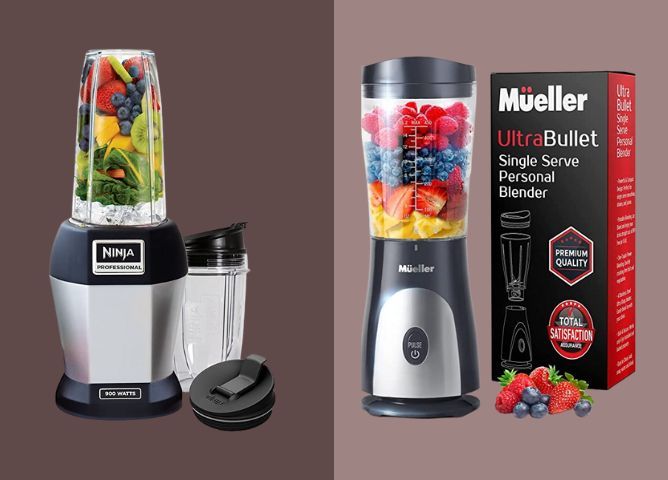 Step 4: Add in any extras you prefer. Here's where you can get creative. Some people like adding grass-fed butter or ghee, which not only provides additional healthy fats but also makes the coffee taste creamy and indulgent - hello, Bulletproof Coffee! Others might prefer adding unsweetened almond milk, heavy cream, or low-sugar almond milk.
To sweeten your coffee, consider stevia, erythritol, or monk fruit extract. Want some flavor? Try a dash of vanilla extract or a sprinkle of cinnamon. These optional additions can make your morning cup a little more exciting while keeping it keto-friendly if you're following a keto diet.
💡
Dive Into The World of Homemade Coffee Recipes
For more ideas on jazzing up your coffee, explore our exciting Homemade Coffee Drink Series featuring posts on
Easy Coffee Drinks to Make at Home
,
Protein Iced Coffee Recipes,
Coffee Ice Cream
,
Thai Iced Coffee
, Japanese Iced Coffee
, French Vanilla Iced Coffee,
Caramel Iced Coffee, Iced Cappuccino
,
Vietnamese Iced Coffee,
Pumpkin Spice Iced Coffee
, Keto Iced Coffee, Coffee Protein Shake
Step 5: Savor your MCT oil-infused coffee! Now, it's time to sit back, relax, and enjoy your morning coffee ritual. Feel the energy boost from your MCT oil coffee, knowing that it promotes lean muscle mass, supports weight loss, and contributes to your optimum health.
💡
Pro Tips
Listen to Your Body. Everyone's tolerance to MCT oil is different. Start slow and adjust the amount as your body becomes accustomed to it.
Quality Matters. From the coffee beans to the MCT oil, using high-quality ingredients will make a noticeable difference.
Balance is Key. While MCT oil in coffee can be beneficial, remember that it's high in calories. Include it as part of a balanced diet.
Experiment. Don't hesitate to play around with different combinations of ingredients until you find the one that best suits your taste buds and dietary needs.
Tips and Tricks to Balance Flavor
We all appreciate a good morning brew that captivates our senses. If you're worried that adding MCT oil to your coffee might tamper with its flavor, relax. We have some smart solutions to help you not only add MCT oil to your coffee but also guarantee an impeccable taste balance.
1. MCT Oil vs. MCT Powder: If you're not a fan of the slightly oily texture that MCT oil might bring, consider its powdered counterpart. MCT oil powder seamlessly integrates into your piping hot coffee or frosty cold brew, offering you all the perks of medium-chain triglycerides without leaving an oily residue. Just pop in a scoop to your coffee, stir it in, and you can savor your butter coffee with a velvety finish.
2. Satiate Your Chocolate Cravings: For those who have a soft spot for sweetness, particularly chocolate aficionados, we propose a delightful remedy - monk fruit extract. This natural sweetener comes with zero calories and carbs, which makes it an ideal pick for keto diet followers. Add a few drops to your drink coffee, and not only will it sweeten your brew, but it also offers a subtle hint of caramel and chocolatey goodness that can satisfy your chocolate cravings.
3. Perfecting Your Morning Coffee Ritual: There's something incredibly satisfying about savoring a delicious and healthful morning cup of coffee. When adding MCT oil to coffee, whether it's bulletproof or your regular brew, start small. This lets your body adapt to the upsurge in healthy fats. Once you're comfortable, you can progressively increase the MCT oil or powder quantity.
Remember, the final goal is to delight in both the health benefits and the flavor of your morning routine. Pick top-notch coffee beans, decide on your favorite brewing technique, and take a moment to appreciate the aromas and flavors. Your morning coffee is more than just a drink; it's a ritual.
With these suggestions, you can effectively integrate MCT oil into your coffee routine without sacrificing flavor. So go on, give it a go and savor the amplified taste and myriad health benefits that MCT oil brings to your coffee. Here's to a great brew!
FAQs
How much MCT oil in coffee?
If you're new to adding MCT oil to your coffee, it's best to start small with about a teaspoon. As your body gets used to it, you can gradually increase the amount to one or two tablespoons per day.
Is better to use MCT oil or MCT powder in coffee?
Both MCT oil and MCT powder offer the same benefits. Your choice depends on personal preference. MCT oil can leave an oily texture in coffee, while MCT powder tends to blend more seamlessly and might provide a smoother texture.
Can you put MCT oil in coffee without butter?
Yes, you can. While some people enjoy adding butter to make a version of "Bulletproof Coffee," it's not necessary. MCT oil alone can provide the benefits of increased energy and enhanced ketone production.
Can you use MCT oil in coffee during intermittent fasting?
Yes, MCT oil can be consumed during intermittent fasting. However, it does contain calories, so technically it will break your fast. If your goal is to remain in a fasted state, you might want to have your coffee black. However, if your aim is to maintain a state of ketosis for weight loss or other health benefits, adding MCT oil is beneficial.
Why do you put MCT oil in coffee?
Adding MCT oil to your coffee can provide several benefits. It can help increase your energy levels, enhance ketone production for those on a keto diet, and aid in weight loss by promoting feelings of fullness and increasing fat burning capabilities. It also mixes well with coffee, making it an easy and convenient way to incorporate these healthy fats into your diet.
Final Thoughts
So, there we have it, my fellow coffee connoisseurs! Embarking on the journey of adding MCT oil to your coffee can seem like a daunting task at first, but with a little knowledge and creativity, it becomes an exciting exploration of balancing health benefits with satisfying flavors. Remember, this is all about tailoring the experience to your tastes and dietary needs, so don't be afraid to experiment. Keep in mind the guiding principle of starting small and slowly increasing your MCT oil intake as your body adjusts. Lastly, don't forget that the quality of both your coffee and MCT oil matters greatly in your ultimate experience.
However, it's crucial to note that while I'm passionate about health and wellness, I am not a health professional. I encourage you to consult with your doctor or a registered dietitian before making any major changes to your diet, including incorporating MCT oil. Everyone's body and health needs are unique, and a healthcare professional can provide the best advice tailored to your specific circumstances.
I hope this guide inspires you to elevate your coffee routine and brings you one step closer to finding the perfect brew. Until next time, stay caffeinated, stay healthy, and enjoy your tasty cup of MCT-infused goodness!
Comments