This post may contain affiliate links, please see our privacy policy for details.
There's nothing quite like that first sip of a crisp, cool iced coffee on a sweltering summer day. It's the instant antidote to the oppressive heat, a liquid air conditioner if you will, rendering an invisible cooling cloak around you. Every summer, as the mercury soars, my thoughts inevitably stray toward this chilled elixir. It's a ritual of sorts, my small rebellion against the unforgiving sun. If you're anything like me, then this post is for you.
Together, we've adventured through our popular coffee series, exploring coffee machines, beans, and the art of espresso. We've brewed iced coffee recipes and savored cold brews. Today, we steer this journey toward an enticing encounter of chill and spice - the realm of Pumpkin Spice Iced Coffee.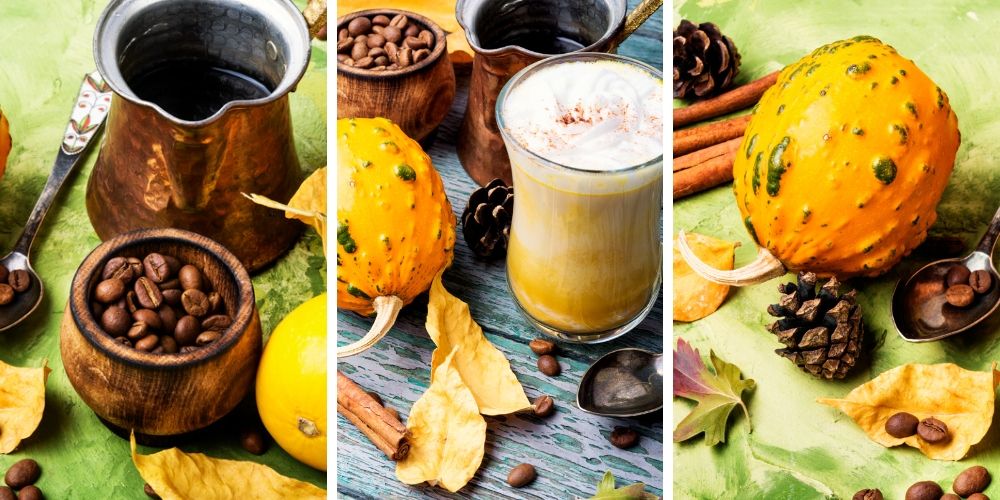 Picture this - the richness of iced coffee, the creaminess of milk, now kissed with a touch of fall - cinnamon, nutmeg, and ginger. That's our star, homemade pumpkin spice iced coffee. It's refreshingly cool, yet heartwarmingly spiced, the ideal sip transitioning from summer's warmth to fall's embrace.
This post isn't just about a recipe. It's your guide to mastering this autumn classic at home. From pro tips, and spice selection insights, to resolving your queries, we'll aim to elevate your iced coffee experience to a whole new level, welcoming fall in style.
So, get ready for a thrilling ride, a dance of cool iced coffee and warm autumn spices. It's not just about drinking coffee; it's about savoring the shift of seasons, one sip at a time.
Pumpkin Spice Iced Coffee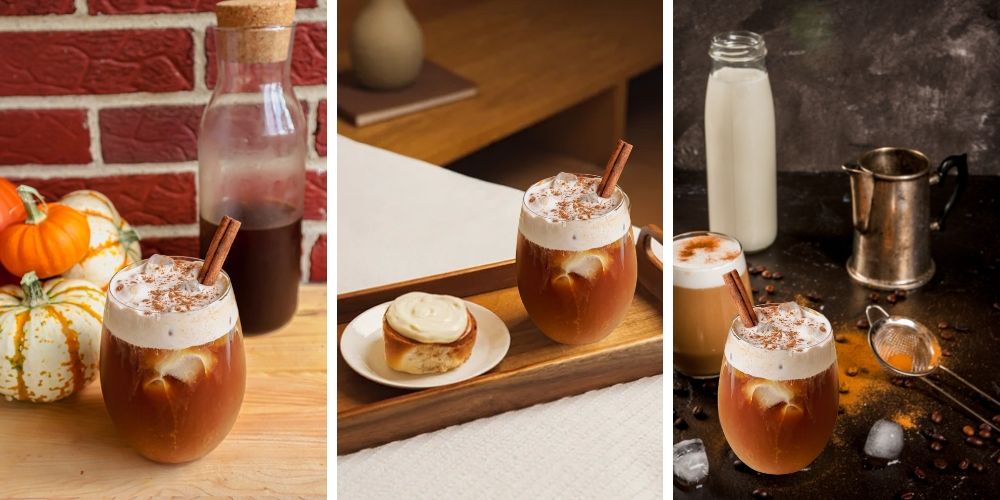 Pumpkin Spice Iced Coffee is a twist on the traditional pumpkin spice latte, usually associated with the autumn season. This delicious drink is ideal for coffee drinkers looking to savor a taste of fall flavors during the warm summer months. With hints of pumpkin, a rich flavor profile, and a refreshing chill, it's the perfect alternative to the hot drinks we crave in cooler months. It gives us a taste of fall flavor in a glass, without turning up the heat.
Ingredients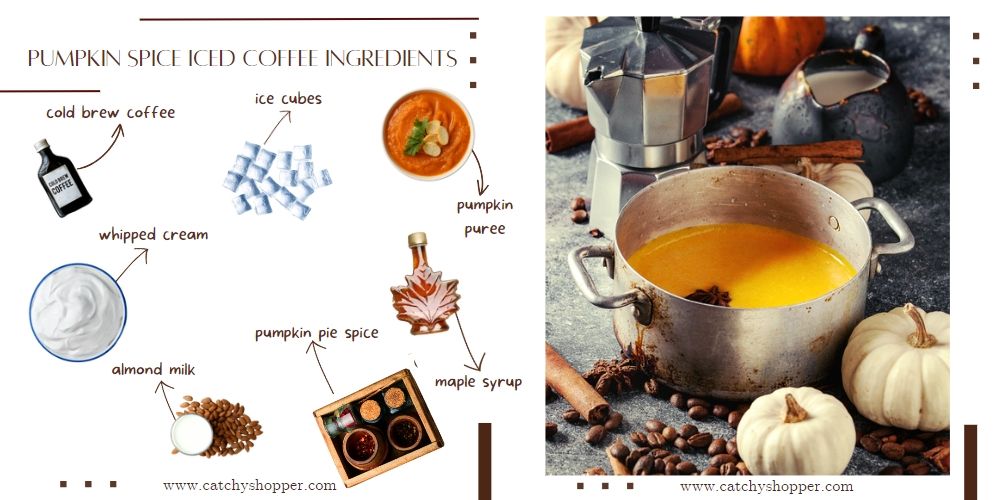 1 cup cold brew coffee
1 tablespoon pumpkin puree (real pumpkin puree is preferred)
1 tablespoon maple syrup (or adjust to your sweetness preference)
1/2 teaspoon homemade pumpkin pie spice
1/4 cup unsweetened almond milk (or any non-dairy milk like oat milk or coconut milk)
Whipped cream and additional pumpkin pie spice for topping
Ice cubes
Instruction
In a mason jar or measuring cup, combine the cold brew coffee, pumpkin puree, maple syrup, and pumpkin pie spice. Stir until well mixed.
Pour the almond milk into the mixture, and stir until well combined.
Pour this mixture over ice cubes into a glass.
Top with whipped cream, sprinkle a dash of pumpkin pie spice for garnish and serve immediately.
💡Presentation Tips
Use mason jars for a rustic, coffee shop version appeal.
You can use pumpkin syrup for drizzling over the whipped cream for an added pumpkin flavor punch.
If you have an espresso machine, consider using strong brewed coffee frozen in ice cube trays. This ensures your iced drink doesn't get diluted as the ice melts.
Remember, our Pumpkin Spice Iced Coffee recipes are easily adjustable to your taste preference. Want to mimic that Starbucks Pumpkin Spice Latte or your favorite coffee shop's iced pumpkin latte? Simply increase the pumpkin puree for a stronger pumpkin flavor, or add more maple syrup if you prefer a sweeter drink. Play around with different milks too, maybe a creamy oat milk or a light skim milk until you get your perfect iced pumpkin spice latte.
Enjoy this delightful iced drink during the pumpkin season or any time you need that comforting fall flavor fix. And remember, whether you're using leftover coffee or making a fresh cold brew, the best part about making it at home is getting to enjoy all the things pumpkin without stepping out of your comfort zone.
For homemade pumpkin spices check out this handy YouTube tutorial down below:
Iced Pumpkin Spice Latte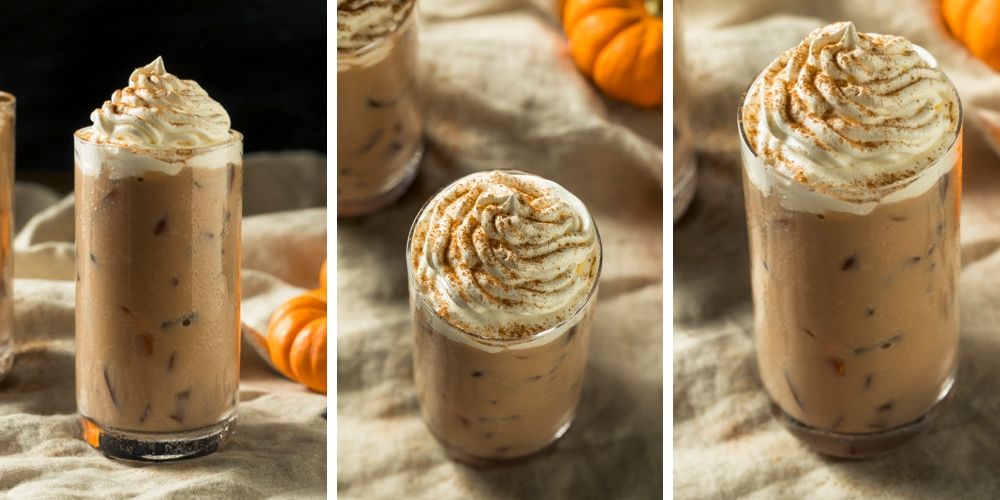 An Iced Pumpkin Spice Latte is a seasonal twist on a classic coffeehouse favorite. It's a perfect blend of the well-loved Pumpkin Spice Lattes from popular coffee shops, served chilled for summer refreshment. Its rich, creamy flavor and the quintessential pumpkin spice make it a much-loved drink in the drinks cuisine, especially during the pumpkin season. But why wait till fall when you can have this indulgent treat all year round?
Ingredients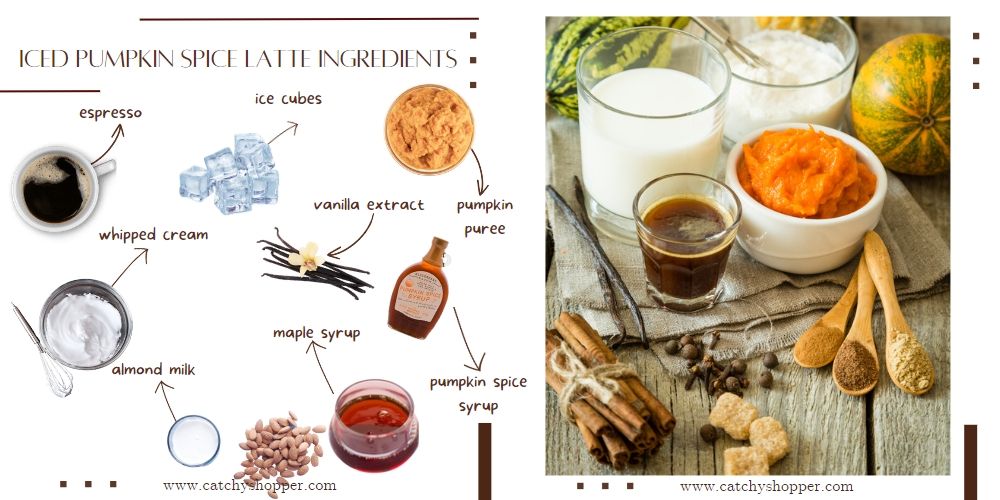 2 shots of espresso or 1/2 cup of strong brewed hot coffee
1 cup unsweetened almond milk or any other non-dairy milk
2 tablespoons pumpkin purée (not pumpkin pie filling)
1 tablespoon pumpkin spice syrup
1 tablespoon maple syrup or sweetener of choice
1/4 teaspoon pure vanilla extract
Whipped cream for topping (optional)
Ice cubes
Instruction
Brew your espresso or strong hot coffee and let it cool.
In a small saucepan over low heat, mix together almond milk, pumpkin purée, pumpkin spice syrup, and maple syrup.
Stir until well combined. Do not let it boil.
Remove from heat and stir in the vanilla extract.
Fill a glass with ice cubes and pour over the cooled coffee.
Pour the spiced pumpkin milk mixture over the coffee.
Top with whipped cream, if desired, and serve immediately.
💡Presentation Tips
Drizzle some additional pumpkin spice syrup over the whipped cream for an added flourish.
Use tall, clear glass to show off the beautiful layers of your homemade latte.
Add a cinnamon stick as a stirrer for extra spice and a touch of elegance.
Enjoy your homemade Iced Pumpkin Spice Latte and remember - every sip is a celebration of the richness of pumpkin, the warm spices, and the cool refreshment of iced coffee.
Essential Equipment for Preparing Iced Coffee Drinks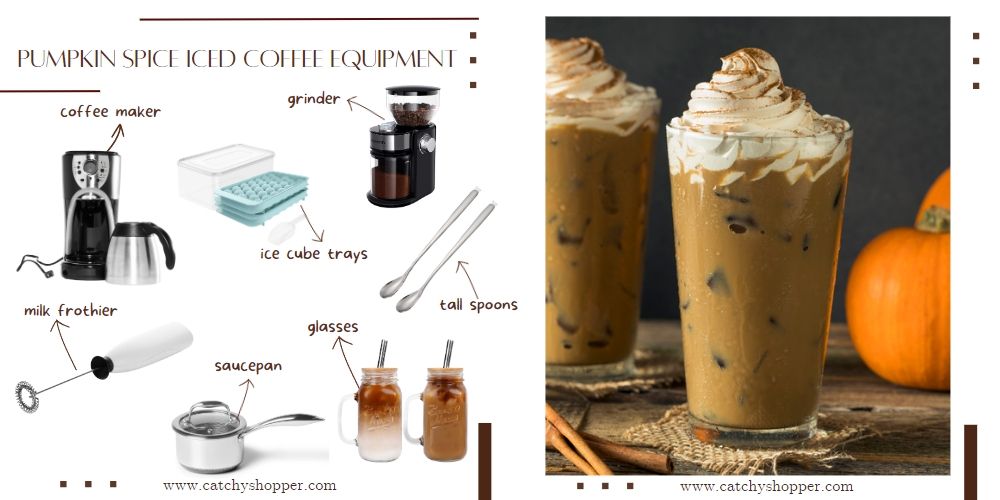 Coffee Maker: A good coffee maker is the first essential tool. We have covered several types in our previous blogs, including Coffee Makers with Grinder, Iced Coffee Makers, Small Coffee Makers, Coffee & Espresso Maker Combos, and Manual Coffee Makers Your choice depends on your preference for convenience and control over the brewing process. Look for models that are easy to clean and maintain, with high ratings for durability.
Grinder: If your coffee maker doesn't come with a built-in grinder, you'll need one to grind your beans just before brewing for the freshest flavor. Consider a burr grinder for consistent grind size.
Mason Jars or Measuring Cups: Mason jars or measuring cups are useful for mixing ingredients, especially for iced drinks where you don't want to dilute the coffee with melting ice.
Saucepan: A small saucepan is necessary for heating milk and other ingredients. A non-stick one makes cleanup easier.
Ice Cube Trays: Ice cube trays are very useful for freezing coffee or milk, which can then be used to cool your drink without diluting it.
Milk Frother: Milk frother can give your drink a luxurious, creamy texture, especially useful if you're making lattes. Handheld frothers are easy to use and clean.
Tall Glasses: You'll want clear tall glasses to show off the beautiful layers of your iced coffee creations.
Spoons or Stirrers: Spoons or stirrers are useful to mix your iced coffee drinks and ensure that all the flavors are well combined.
All of these items can be found in kitchenware stores or online marketplaces like Amazon. Always consider the product ratings and reviews before making a purchase. For coffee makers and grinders, remember to check out our Coffee Series blog posts for in-depth reviews and recommendations.
We also discussed manual coffee makers in a previous post for those who appreciate the ritual and want complete control over their brewing process. Choosing the right equipment can significantly enhance your coffee-making experience and the taste of your coffee. So, take the time to consider your options, and make your kitchen ready for some serious coffee brewing!
Pairing Suggestions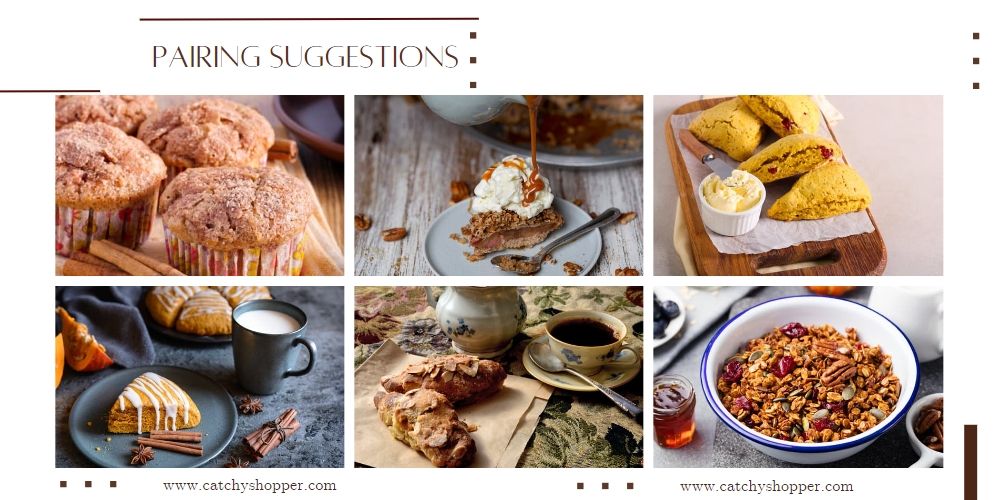 Apple Cinnamon Muffins: The natural sweetness of apples, coupled with the warm cinnamon, complements the pumpkin spice in the latte. It's like having an autumn flavor party right in your mouth.
Pumpkin Scones: What could be better than pairing a pumpkin spice latte with a pumpkin scone? The similar flavor profiles unite to create a harmonious and delicious snack.
Caramel Apple Pie: The caramel's richness in the apple pie pairs well with the spices in the latte. Each bite and sip is a delightful experience.
Almond Croissants: The buttery richness of the croissant pairs beautifully with the pumpkin spice latte. The nuttiness of almonds brings out the latte's earthy notes.
Maple Pecan Granola: Crunchy, sweet, and nutty, this granola makes a healthy pairing with your latte. The maple flavor further enhances the latte's warm autumn vibes.
When you're choosing out foods to pair with your pumpkin coffee latte, aim for options that amplify each other's flavors without dominating.
Consider the spices in a pumpkin spice latte, like cinnamon, nutmeg, and ginger. They pair splendidly with the flavors of autumnal fruits such as apples and pumpkins. It's for this reason that apple cinnamon muffins, pumpkin scones, and caramel apple pie are such excellent matches.
The mild and sweet taste of almonds harmonizes naturally with coffee. Their crunchy texture provides a pleasant contrast to the latte's smoothness, making almond croissants a delightful choice.
The subtly sweet and earthy notes of maple syrup in granola blend well with similar flavors in the latte, and the addition of pecans introduces a contrasting crunch to the latte's smooth texture.
By adhering to these food pairing tips, every gulp of your Iced Pumpkin Spice Latte can turn into a delightful gustatory adventure!
Final Thoughts
As we conclude this flavorful journey into the world of Pumpkin Spice Iced Coffee and Iced Pumpkin Spice Latte, I hope you're feeling inspired and excited to try these recipes at home. There's a unique sense of joy in savoring an iced coffee you've prepared yourself, from the intimate experience of blending the spices to the final swirl of whipped cream.
Making these coffee drinks at home allows you to customize each cup to your liking, ensuring that every sip is just the way you like it. Plus, the aroma of spices and coffee wafting through your home will instantly cozy up your space, setting the perfect mood for the season.
We'd love to hear about your home brewing adventures! Did you try these recipes? Any twist of your own you'd like to share? We welcome your experiences, feedback, and even your delightful coffee moments in the comments section below.
Also, if you haven't already, do subscribe to our blog for a regular serving of coffee-related content, recipes, tips, reviews, and more. Let's continue this coffee journey together!
Other Posts You May Like
If you've loved this dive into the spiced wonder of Pumpkin Spice Iced Coffee, we have a rich archive of coffee explorations you might enjoy:
Understand the basic concepts and types of iced coffee.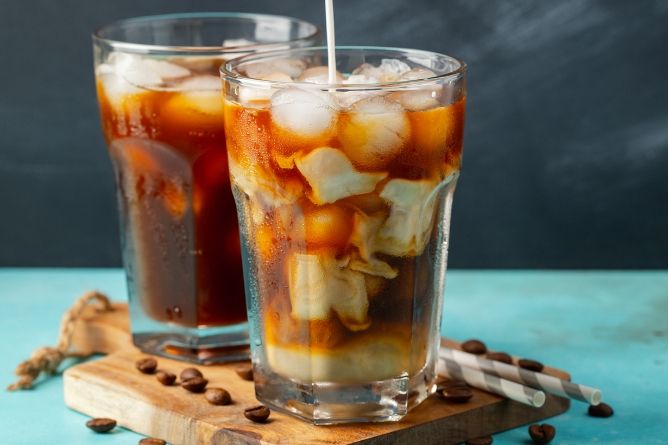 Learn the techniques of making the perfect iced coffee at home.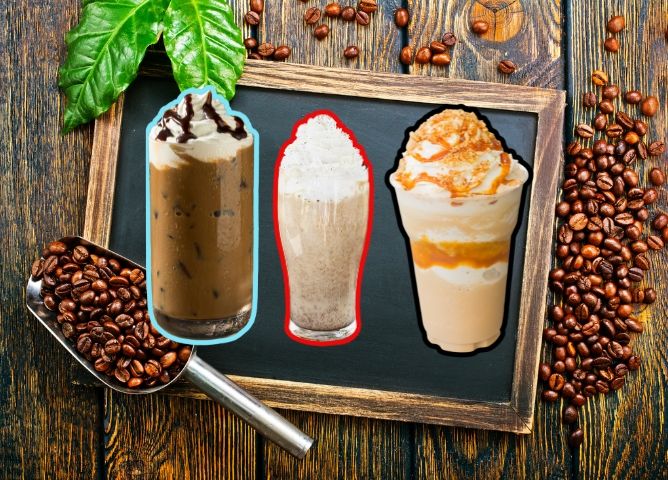 Reviews of the best tumblers to keep your iced coffee cool.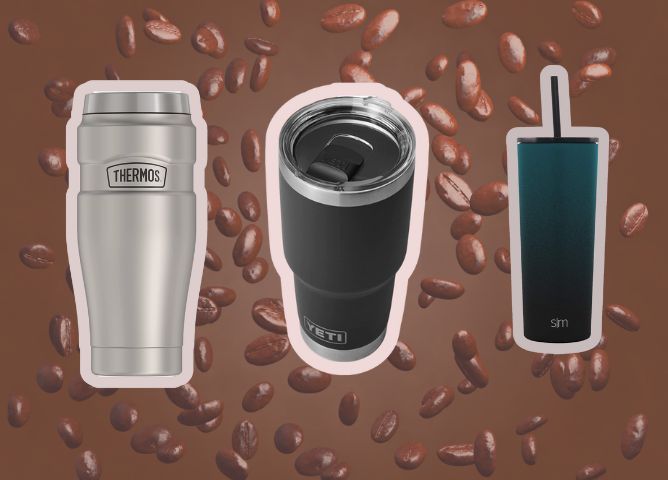 Recipes for those who want to add a protein punch to their iced coffee.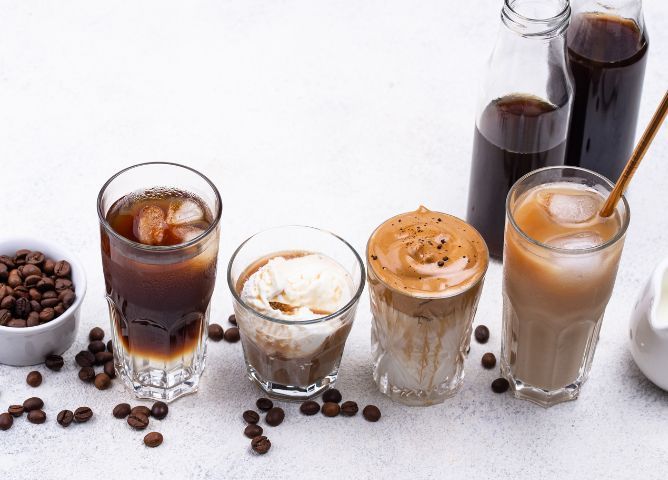 Explore these different flavorful coffee variations from around the world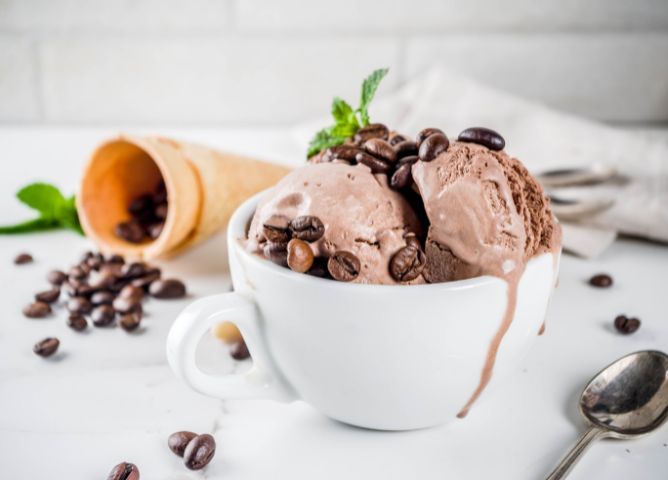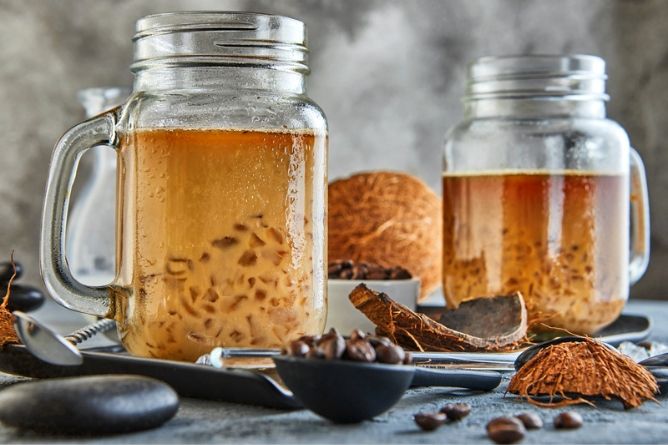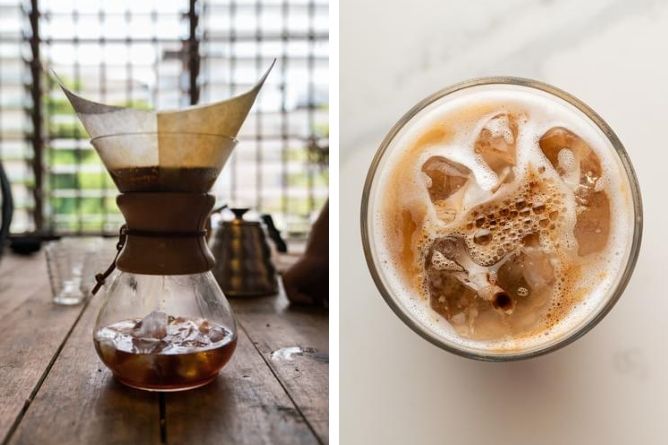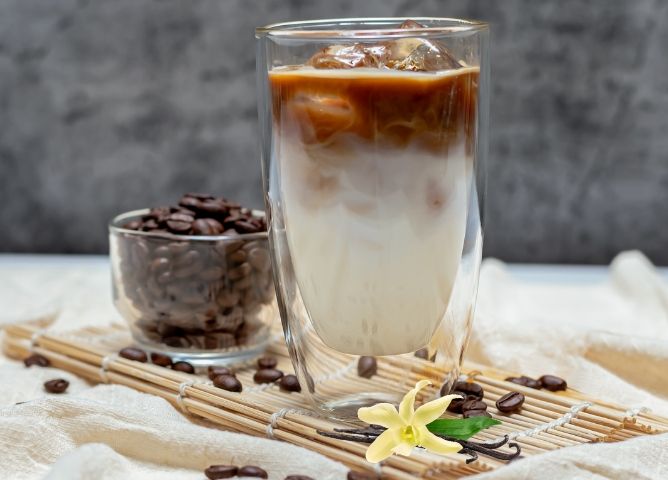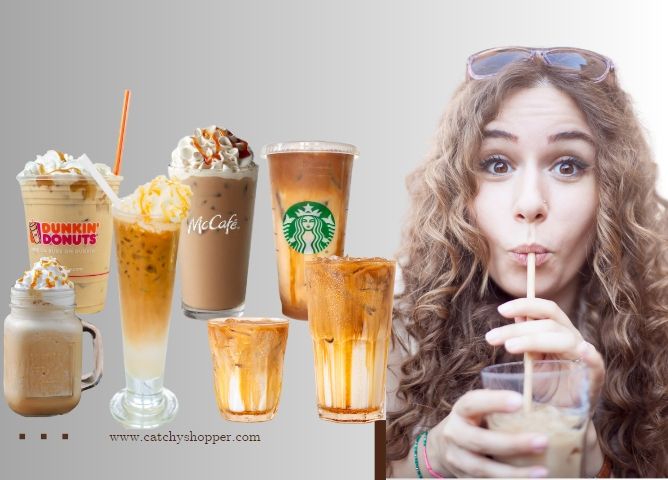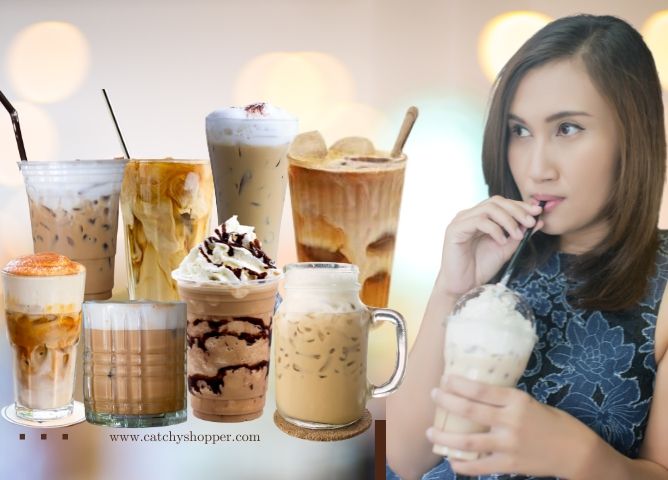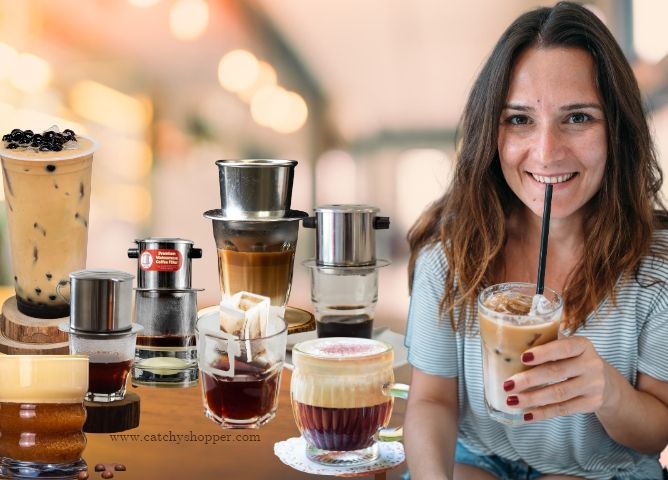 Comments