This post may contain affiliate links, please see our privacy policy for details.
Embarking on an outdoor adventure brings the promise of fresh air, breathtaking views, and the thrill of the trail underfoot. But your experience can be significantly enhanced or hindered by what you choose to wear hiking. As much as hiking is about embracing the raw beauty of nature, it's equally about wearing the right hiking clothes and gear. The best hiking outfits are not just about function and comfort, but also about fashion and personal expression.
Whether you're planning a casual fall hike in the Rocky Mountains or you're prepping for an extensive exploration in varying weather conditions, the choice between wearing pants or leggings, the need for wool socks or sports bras, can all impact your hiking experience. This comprehensive guide will take you through 19 hiking outfit ideas that perfectly blend functionality with style.
Fall Hiking Outfit: Cozy Charm and Rustic Radiance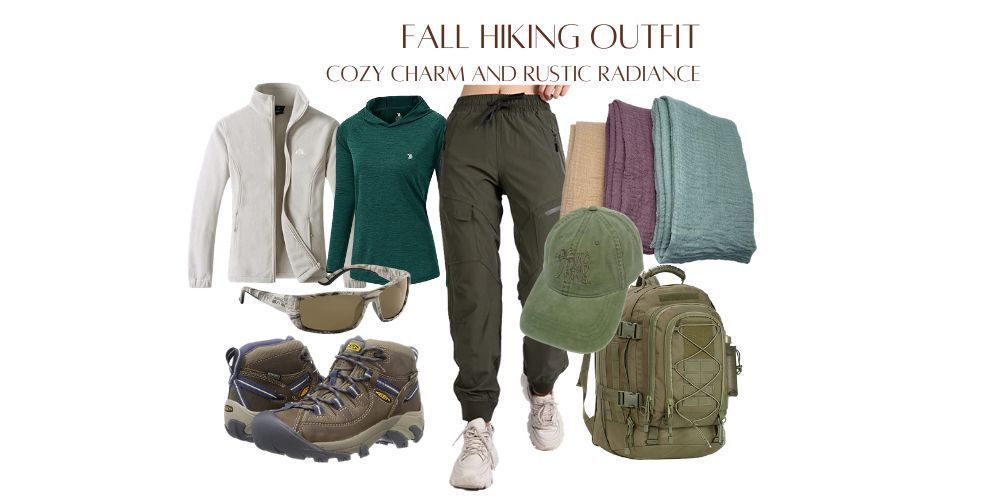 Stepping out into the crisp fall air, the essence of your cozy and cute hiking outfit comes alive. The day hike ahead calls for a moisture-wicking long-sleeve hiking shirt layered with your favorite fleece jacket, keeping you warm against the unpredictable weather conditions. Pair these with the best hiking pants, which are not just super durable but extremely comfortable.
And, don't forget the great pair of hiking boots that complete this outfit, providing both style and stability for your rocky mountain trails. Adding accessories such as a warm woolen scarf, a sturdy hiking backpack, and stylish hiking sunglasses amps up the charm and functionality of your outfit. Top it off with a baseball cap to shield your eyes from the low autumn sun, and you're all set to enjoy the great outdoors!
Leggings Hiking Outfit: Sporty, Stylish, and Ready for Adventure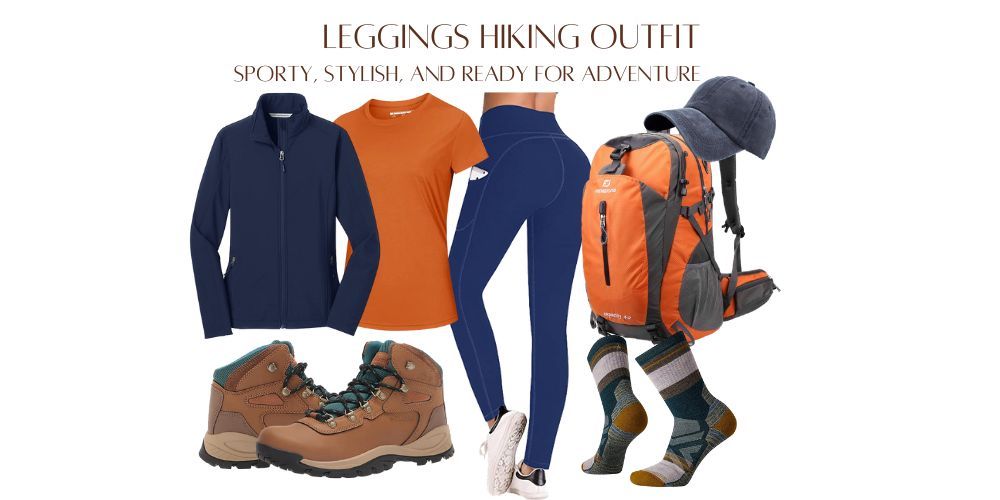 For those longer hikes, merge comfort with style using leggings as the centerpiece of your hiking outfit. The versatility of a good pair of moisture-wicking leggings combined with a sporty t-shirt keeps you fresh and dry even on the most challenging trails. Layer it with a shell jacket, an outer layer that is both wind and water-resistant, adding an extra level of protection.
Complete this outfit with a pair of sturdy hiking boots, a must-have for any outdoor adventure. Accessorize with a fashionable, heavy-duty hiking backpack for all your essentials, throw in a pair of hiking socks for extra comfort, and you're set for your time hiking. Don't forget to sport a baseball cap for sun protection, ensuring you're all set to conquer the trail!
Hiking Boots Outfit: Robust, Reliable, and Always Ready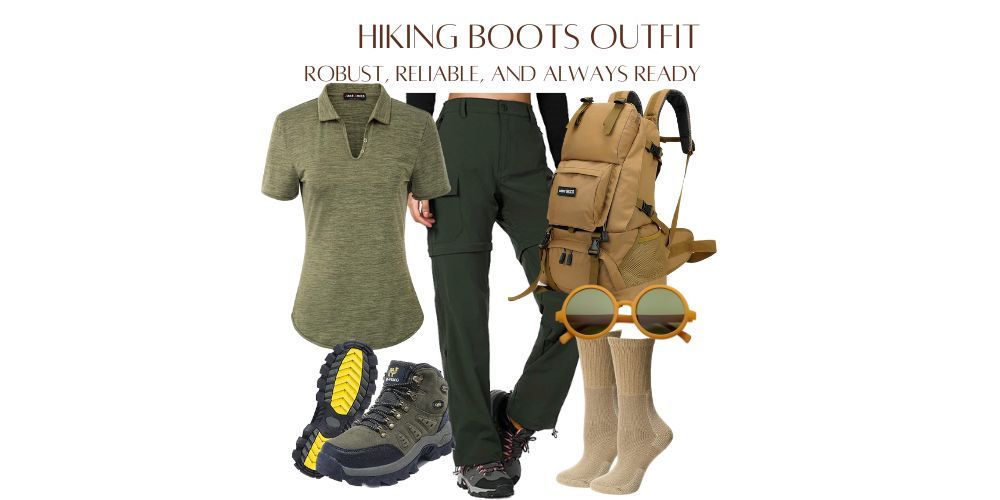 The cornerstone of any hiking outfit, a solid pair of hiking boots provides the necessary support and traction for a safe and enjoyable hiking trip. When paired with moisture-wicking hiking socks and best hiking pants, they form an unbeatable trio for a range of weather conditions and terrains.
Top it off with a short sleeves hiking shirt that ensures breathability and comfort. Finish the look with a trendy hiking backpack for practicality, and throw in a pair of hiking sunglasses for an added touch of cool. This outfit is not just about being extremely comfortable; it's also about showing off your personal style while soaking in the fresh air.
Summer Hiking Outfit: Sunny Spirit and Breezy Brilliance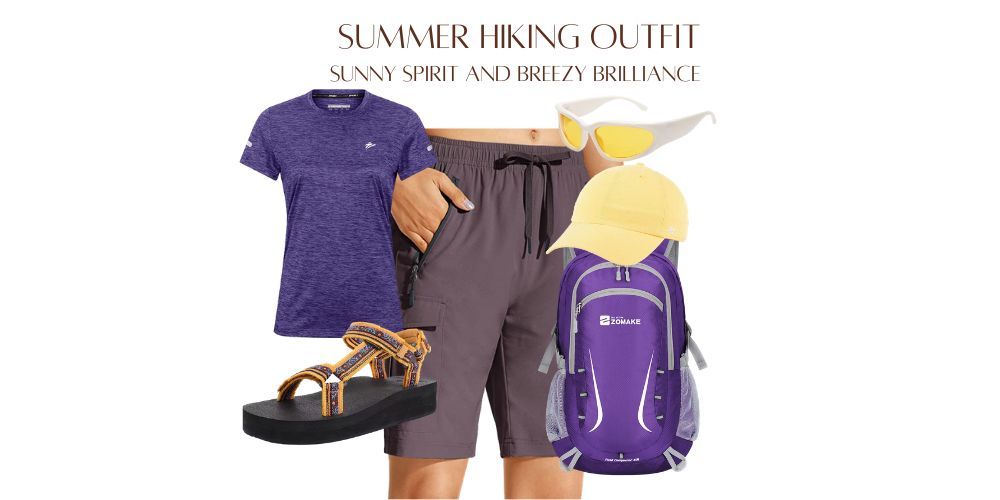 Nothing matches the joy of embracing the hot weather on a summer day hike in the right hiking outfit. Start with a breathable, short-sleeved hiking shirt paired with the best hiking shorts for a combination that's both cute and practical. When it comes to footwear, switch up your heavy-duty hiking boots for a great pair of hiking sandals, that provide you with the cool comfort you need.
Accessories are key to rounding out this look - a lightweight hiking backpack for your sun protection essentials, a baseball cap for shade, and a pair of trendy hiking sunglasses for that touch of chic. This casual hike look will ensure you're ready to hit the trail while keeping cool and stylish.
Winter Hiking Outfit: Frosty Elegance and Warm Wonders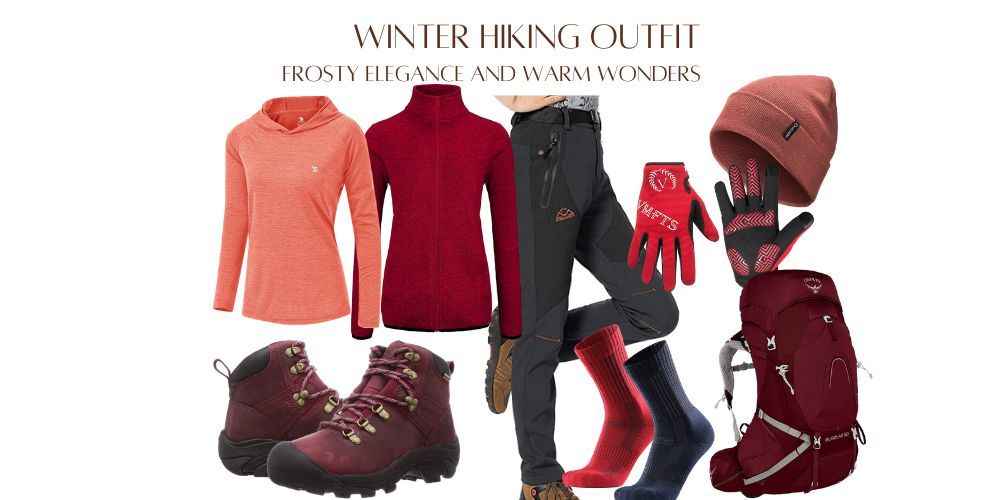 For colder weather hikes, layering is your best friend. Your winter hiking outfit can start with a warm base layer of merino wool, with moisture-wicking properties. Add a fleece jacket as your next layer, followed by a shell jacket as your outer layer for the best protection against wind and chill. Pair it with hiking pants that are insulated and water-resistant.
Round it out with a good pair of hiking boots and the best hiking socks for extra warmth. An essential accessory for this outfit is a warm beanie hat, gloves, and a heavy-duty hiking backpack to store your gear. This look is not only warm and practical but also exudes a frosty elegance that's hard to match.
Hiking Date Outfit: Romantic Rambles and Cute Combinations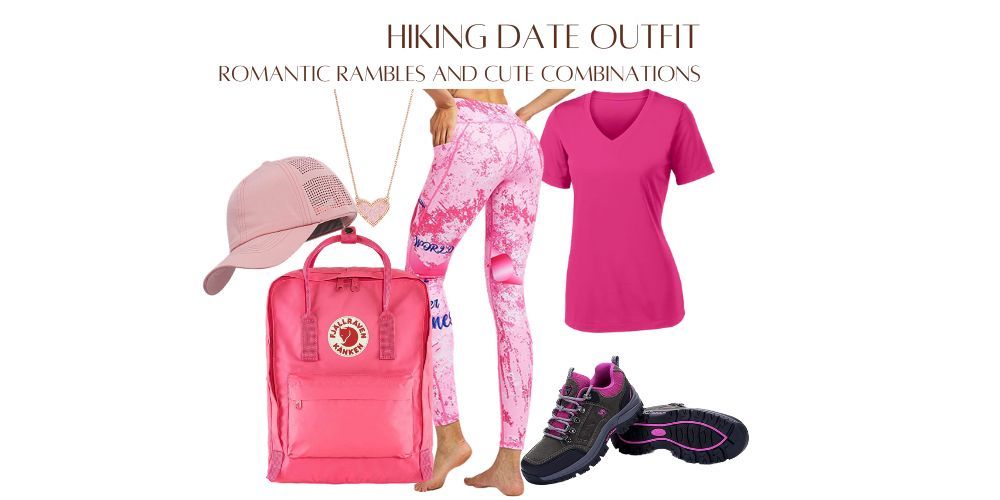 Planning an outdoor adventure with that special someone? A hiking date calls for an outfit that is functional yet stylish. Begin with a pretty, moisture-wicking blouse, teamed up with a matching set of hiking leggings for that cute, coordinated look. A pair of hiking shoes with good grip and cushioning is the perfect addition.
Accessorize with a small, fashionable hiking backpack for essentials, a delicate piece of jewelry for a feminine touch, and a cute baseball cap. This hiking outfit will not only keep you comfortable on the trail but also help you make a memorable impression.
Hawaii Hiking Outfit: Tropical Tranquility and Beachy Bliss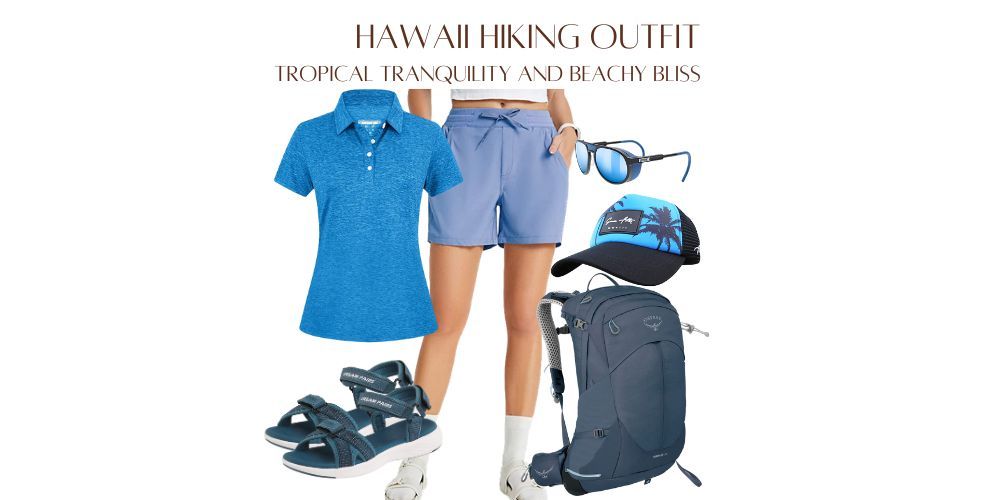 Hiking in Hawaii calls for an outfit that reflects its vibrant beauty and handles the humid climate. Start off with a light, breathable hiking shirt, which can be paired with quick-dry hiking shorts for optimal comfort. Opt for hiking sandals for your beachy trail, ensuring your feet stay cool and comfortable.
Keep a lightweight hiking backpack handy for your sun protection essentials and hydration needs. Finish off with a tropical-themed baseball cap and sporty sunglasses, adding a dash of local flavor to your cute hiking outfit.
Spring Hiking Outfit: Blossoming Beauty and Vivacious Vibes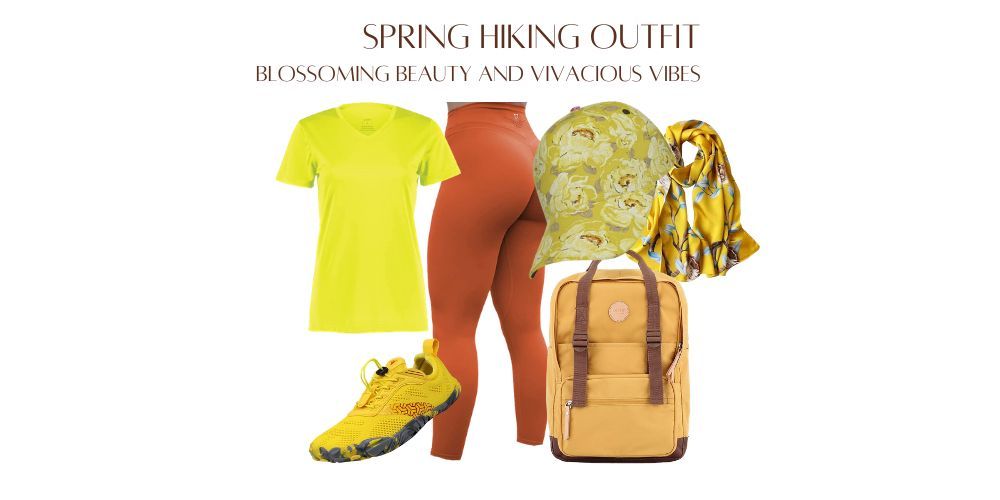 For a spring day hike, enjoy the fresh air in a hiking outfit that matches the season's vitality. A light, moisture-wicking t-shirt teamed with hiking leggings would be ideal for this mild weather.
Don't forget a good pair of hiking shoes that offers support and protection from those still-soggy trails. Accessorize with a trendy hiking backpack, a colorful scarf, and a floral baseball cap, adding a bit of bloom to your look. With this outfit, you're all set to welcome the season of new beginnings.
Casual Hiking Outfit: Effortless Elegance and Relaxed Radiance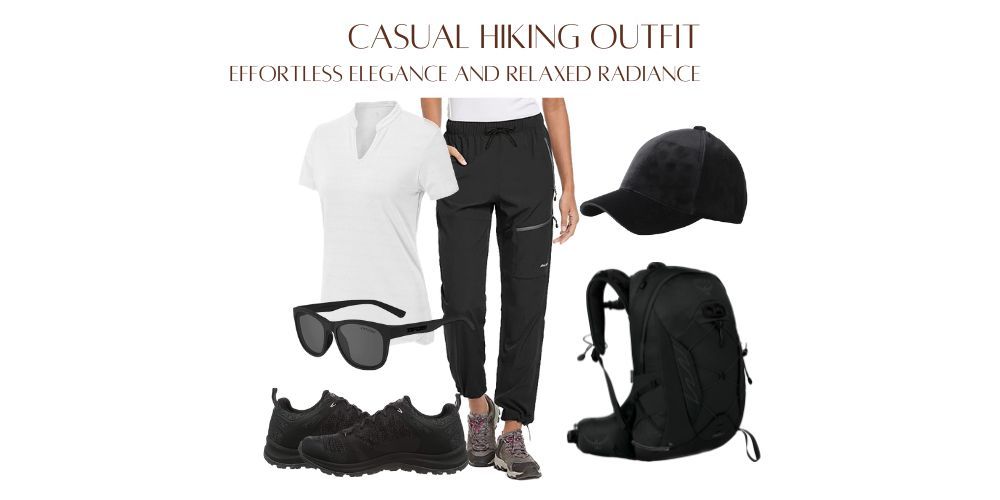 For a casual hike or an outdoor adventure, comfort and style should go hand in hand. A comfortable pair of hiking pants paired with a breathable t-shirt is the essence of this laid-back look. Slip into a pair of comfy hiking shoes for your casual hike. A minimalistic hiking backpack, a pair of hiking sunglasses, and a simple baseball cap are all you need to accessorize this outfit. This look is perfect for a relaxed day, enjoying the great outdoors in style.
Stylish Hiking Outfit: Contemporary Chic and Trail Trendsetter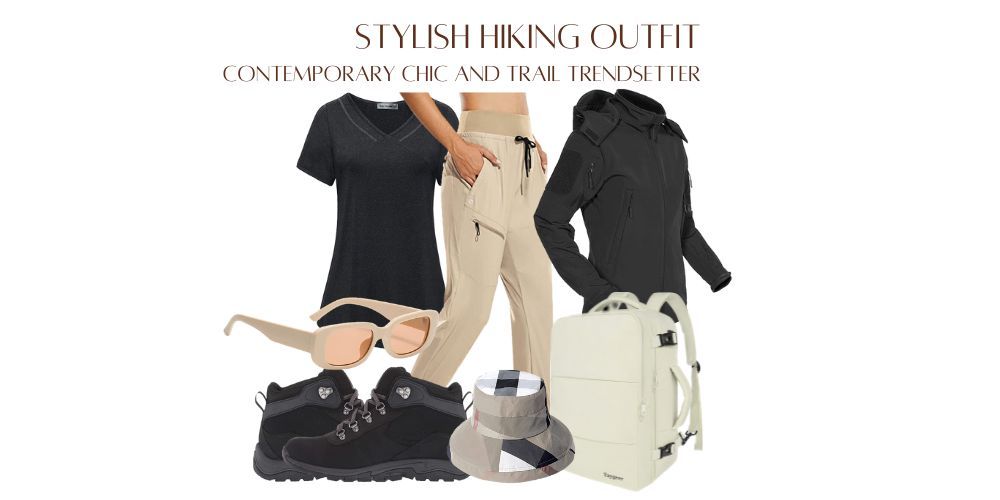 For those looking to make a fashion statement on the trails, a stylish hiking outfit is a must. Begin with a trendy, moisture-wicking blouse, pair it with fitted hiking leggings, and layer it with a chic shell jacket. A fashionable pair of hiking boots amps up the style quotient. Accessorize with a sleek hiking backpack, trendy sunglasses, and a stylish hat. This outfit is sure to turn heads, making you the trendsetter of the trail.
Cold Weather Hiking Outfit: Snowy Sophistication and Alpine Allure
For those cold-weather hikes, your outfit should combine warmth, comfort, and style. Start with a base layer of moisture-wicking long-sleeve hiking shirts and add a pair of insulated hiking pants. Layer it with your favorite jacket that's perfect for freezing temperatures. A sturdy pair of hiking boots, paired with the best hiking socks, will keep your feet cozy on snowy trails. Don't forget a warm beanie hat and gloves as essential accessories. Finally, a heavy-duty hiking backpack can store your gear and hot drinks, rounding out this snow-ready outfit.
Trendy Hiking Outfits: Trailblazing Style and Fashion Forward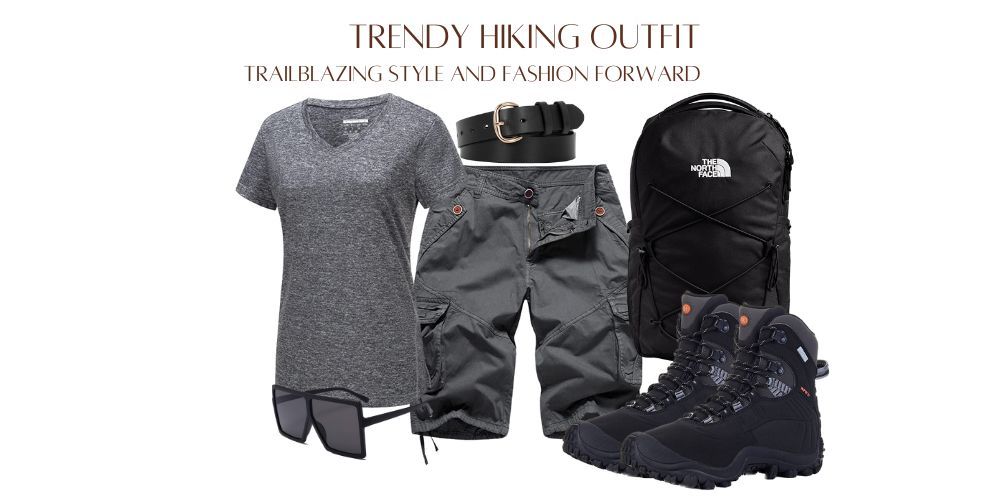 Set the trends on the trail with a cute hiking outfit that fuses the latest fashion with outdoor practicality. Begin with a cool, moisture-wicking t-shirt styled with a pair of the best hiking shorts. A pair of stylish hiking boots adds an edge to your look. Accessorize with a statement belt, a trendy hiking backpack, and a pair of oversized sunglasses to add that fashion-forward touch. This outfit ensures you lead the fashion pack, even while hiking!
Biker Shorts Hiking Outfit: Edgy Excursions and Dynamic Dashes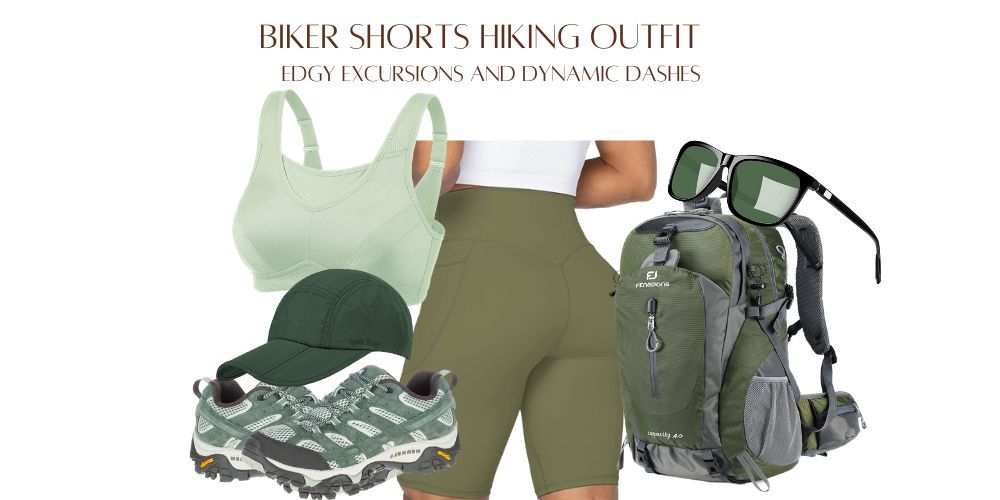 Embrace the athletic aesthetic on your next hike with biker shorts at the heart of your outfit. Pair them with a sporty tank top or a sports bra for a sleek, modern look. For footwear, opt for a pair of supportive hiking shoes, perfect for rougher terrain. Accessorize this look with a chic hiking backpack, a cap for sun protection, and sporty sunglasses. With this outfit, you're ready to hit the trails in dynamic style.
Bridal Hiking Outfit: Wedding Wandering and Matrimonial Magic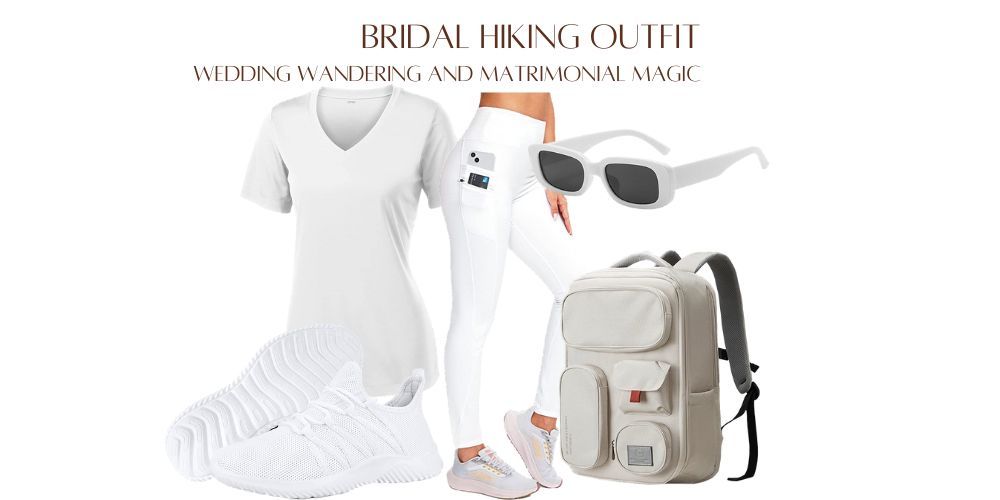 For the adventurous bride-to-be, a bridal hiking outfit can be both beautiful and practical. Begin with a white, moisture-wicking blouse paired with a set of stylish white hiking leggings for a bridal touch. Choose a comfortable pair of white hiking shoes that won't tire your feet. Accessorize this unique look with a small, elegant hiking backpack, delicate bridal hair accessories, and a pair of classy sunglasses. This outfit truly marries the spirit of adventure with matrimonial bliss.
Nike Hiking Outfit: Sporty Sophistication and Athletic Allure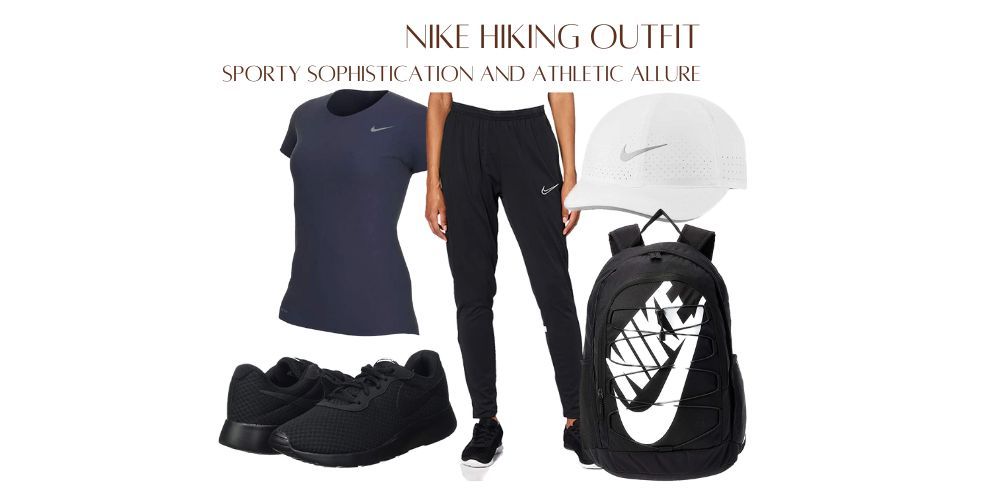 Elevate your hiking style with a Nike hiking outfit that screams sporty sophistication. Begin with a comfortable, moisture-wicking Nike t-shirt, paired with a durable pair of Nike hiking pants. A pair of iconic Nike hiking boots guarantees excellent traction and comfort on the trails.
A Nike hiking backpack provides ample room for essentials, while a Nike sports cap offers both sun protection and brand identity. This athletic yet chic outfit assures that you're ready to hit the trail while showing off your love for one of the most recognized sportswear brands.
90s Hiking Outfit: Vintage Vibes and Retro Reverie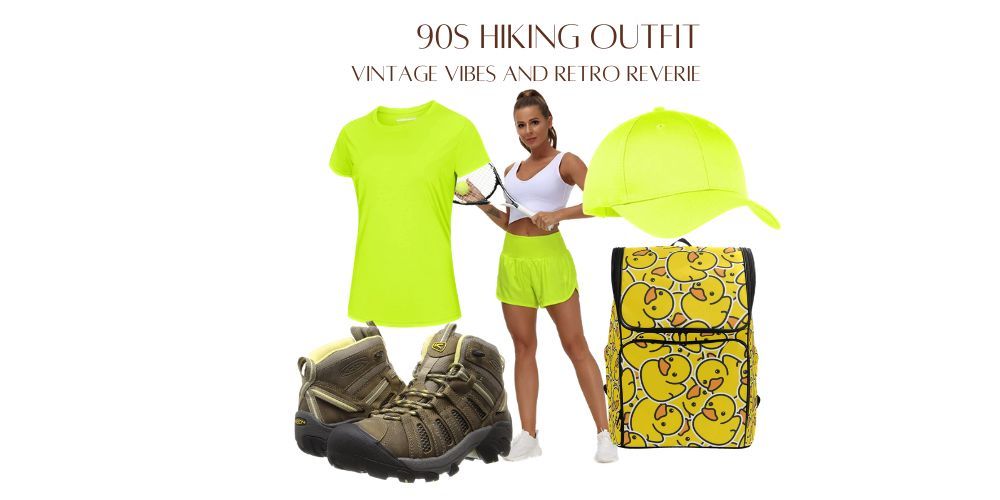 Take a nostalgic trip down the fashion lane with a 90s hiking outfit. Start with a vibrant, short-sleeved hiking shirt, matching it with a pair of bright hiking shorts that scream a 90s color palette. For footwear, hiking boots that are a throwback to this exciting decade complete the look.
Spice up your outfit with accessories like a retro-style hiking backpack, a neon baseball cap, and vintage sunglasses. With this outfit, you're not only prepared for your hiking adventure but also ready to relive the quirky charm of the 90s.
Desert Hiking Outfit: Sandy Style and Dune Dazzle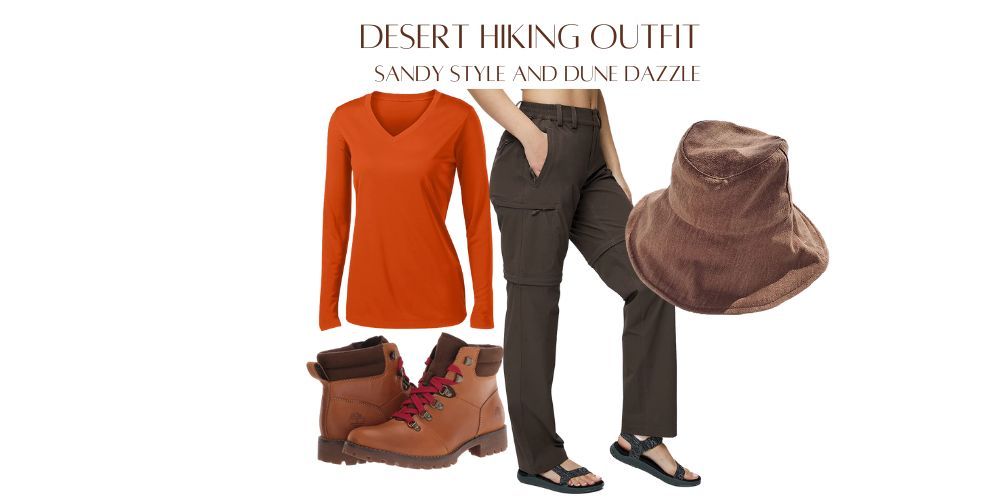 When hitting desert hiking trails, your outfit should offer protection and comfort under hot, sunny conditions. Opt for a long-sleeve, moisture-wicking hiking shirt and lightweight hiking pants to shield your skin from the sun. A sturdy pair of hiking boots is a must for the sandy terrain.
Accessorize with a wide-brimmed hat for maximum sun protection, polarized sunglasses, and a hydration backpack. With this outfit, you're ready to face the heat while looking cool as a desert breeze.
Hiking Pants Outfit: Trail-Ready Toughness and Casual Comfort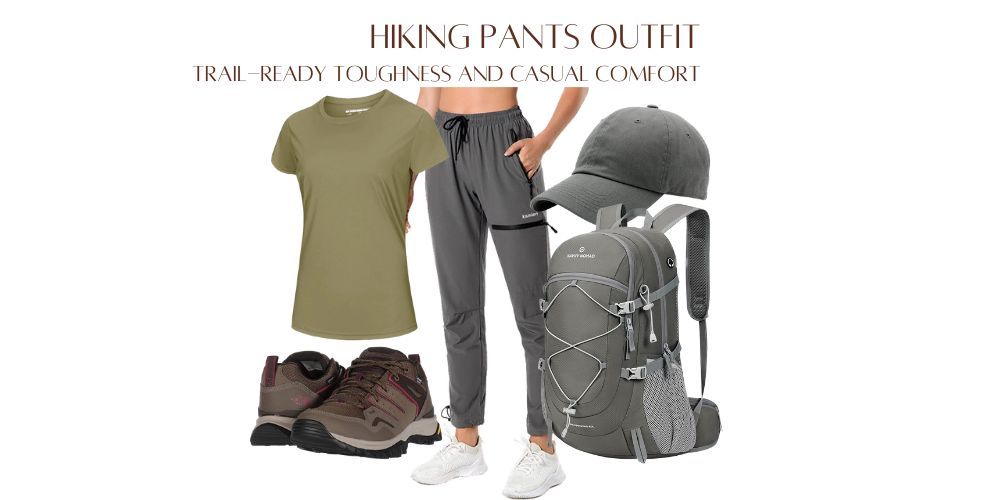 Hiking pants can be the comfortable and stylish core of your hiking outfit. Pair them with a moisture-wicking t-shirt for breathable comfort. For footwear, a pair of hiking shoes provide the right balance of support and flexibility.
A sporty hiking backpack for your essentials, a functional baseball cap, and a pair of cool sunglasses complete the look. With this outfit, you're prepared for a day of outdoor adventure, all while maintaining a casual yet functional style.
Arizona Hiking Outfit: Canyon Chic and Southwest Style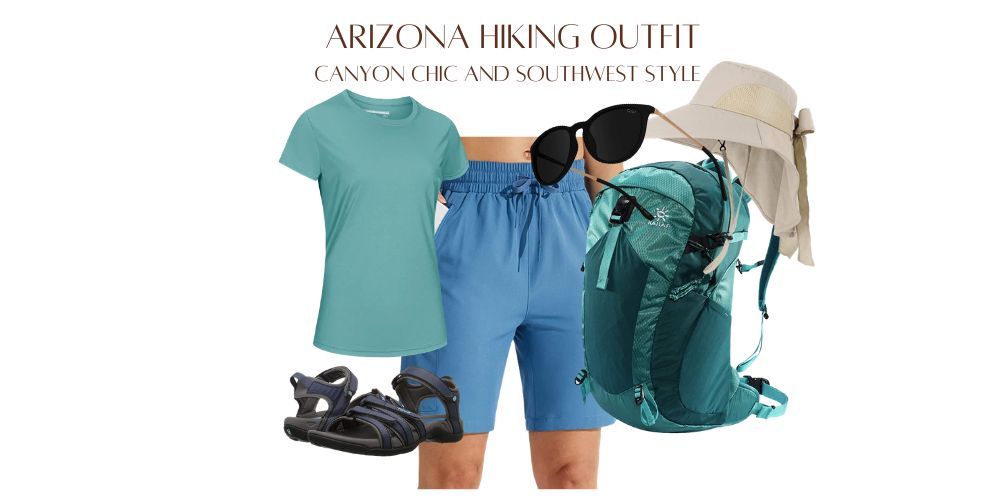 Planning to hike the breathtaking trails of Arizona? An Arizona hiking outfit should embody both the heat-resistant needs of the region and the colors of the desert. Choose a breathable, moisture-wicking hiking shirt, paired with the best hiking shorts for the warmer climate.
Hiking sandals are an apt choice of footwear for this sunny environment. Complete the look with a southwestern-style hiking backpack, a sun-protecting hat, and polarized sunglasses to shield your eyes. This outfit captures the spirit of Arizona, blending functionality with the region's unique style.
Final Thoughts
From embracing the crisp air of a fall hike in the Rocky Mountains to feeling the sun on your skin during a summer adventure, the key to enjoying your outdoor adventures lies in the best hiking outfits. Remember, hiking isn't a one-outfit-fits-all scenario; it's a blend of varying weather conditions, personal comfort, and individual style.
And though the functionality of the best hiking clothes is of prime importance, never underestimate the confidence boost a cute hiking outfit can give you on the trails. Whether you prefer to wear pants or leggings, don't forget the impact of accessories from wool socks to sports bras. So, pack your hiking gear, dress for the journey, and let the beauty of the great outdoors match the charm of your hiking style.
Other Posts You May Like
If you found this guide on hiking outfits interesting, you might enjoy exploring our other fashion articles.
Dive Into Fashion Outfits series offer an array of trendy attire for every occasion, while Start Your Journey with Stylish Accessories unveils the world of adornments that can transform your look.
💡
Dive Into Fashion Outfits
Explore our exclusive articles featuring
Boho Outfit Ideas
,
Vacation Outfits
,
Festival Outfits
,
and
Summer Outfits with Hats
.
Delve into our
Denim Shorts Outfits
,
Black and White Outfits
, Bodysuits Outfits,
and
Pink Outfit Ideas
. Experience the charm of our
Tube Top Outfits
, Crop Top Outfits,
Sundress Outfit Ideas
,
Resort Wear
,
and
Beach Wear
.
Start your style journey now!
For shoe aficionados, Step into the World of Chic Footwear is a must-read, providing insights into footwear trends and tips for pairing them with your outfits.
Fans of streamlined style should Discover the World of Bodysuits to learn about incorporating this versatile piece into their wardrobe.
Embark on a Seasonal Style Adventure covers the art of dressing for all climates, and Uncover the Art of Color and Style Pairing can help you master the complexities of color coordination. Finally,
Illuminate Your Wardrobe with Unique Outfit Pieces inspires you to step out of the ordinary and embrace unique styles that let your personality shine.
All these posts promise to enrich your fashion journey, blending knowledge with a dose of inspiration.
Comments