This post may contain affiliate links, please see our privacy policy for details.
Whether you are jet-setting across the world or just taking a short domestic flight, finding the right outfit for your long flight can make or break your trip. It's important to be comfortable while still looking stylish and put together. To help you out, here are 15 of the best travel outfits for long-distance or overnight flights that will make your trip so much easier!
Tips on How To Stay Comfortable During a Long-Haul Flight
Are you about to embark on a long-haul flight? Whether you're heading off on vacation or business, the last thing you want is to be uncomfortable during your journey. Below are some tips for what to wear on a long-haul flight so that you can arrive at your destination feeling great and refreshed.
The Basics
Choose comfortable clothing that won't restrict movement. For instance, leggings and a loose t-shirt or sweater will give you plenty of freedom while keeping you warm. Avoid anything too tight, as it will make it hard to move around and get comfortable. Also, make sure your clothing is breathable so that air can circulate around your body.
Footwear
When flying, it's important to wear shoes that won't pinch or rub against your feet as this can cause pain and discomfort during the flight. Ideally, choose slip-on shoes such as sneakers or flats that are easy to take on and off during security checks. Consider bringing an extra pair of socks in case your feet get cold during the flight.
Accessories
A light scarf or shawl is ideal for keeping warm during a long-haul flight without having to lug around a bulky coat or jacket. You may also want to bring an eye mask if you plan on sleeping - this will help block out any bright lights from nearby passengers and keep you more comfortable throughout the journey. Don't forget headphones if you want some peace and quiet!
Our Favorite Travel Outfit To Try
Whether you're hopping on a plane cross-country or jetting off to the other side of the world, these 15 easy and comfy travel outfits will make your journey an absolute breeze!
Travel Outfit #1: Jeans and a Tee
Your next long-haul flight will be a breeze with these stylish and comfy travel pants: jeans! A lightweight pair of stretch denim coupled with an ultra-cozy t-shirt is the perfect combination for looking chic while experiencing ultimate comfort. Plus, if it's cold outside you can easily layer up by adding a jacket — blissful airport style achieved!
So if you're looking for the Holy Grail of jeans and tee, look no further than these affordable pieces. These jeans have won over 18,000 five-star reviews! Not only are they a dream to wear according to customers ("Fit like a glove!") but also super flattering on any body shape. Shoppers also rave about this tee's ultra-soft fabric, perfect fit, and flattering shape. With its relaxed look that hugs curves without clinging to them, it has easily become wardrobe-long flight essentials!
Travel Outfit #2: Leggings and an Oversized Sweatshirt
Leggings are always great for long-haul flights as they provide maximum comfort without compromising on style. Wear leggings with an oversized sweatshirt, this outfit is perfect for napping on planes or just lounging around in the airport. Plus, you can dress it up with some cute accessories like statement earrings or fun sneakers.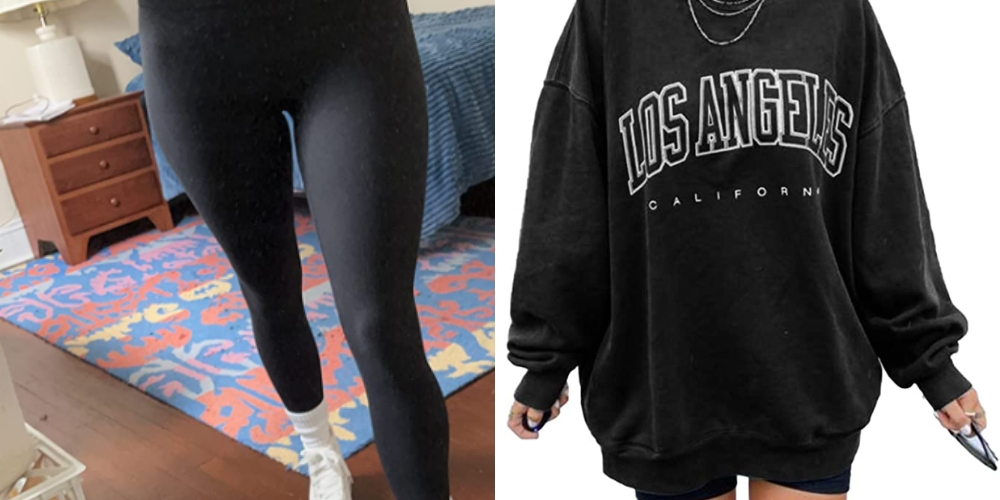 Nearly 8,500 verified Amazon shoppers have bestowed a perfect rating on these yoga pants. "The softness, the fit, and the length were perfect." one gushed. Another said, " They fit high-waisted, feature a more controlling element around the waist area, and are a good length for my 5'2" frame. I am in love. I ended up buying 5 more pairs in different colors, though black is my favorite."
Travel Outfit #3: A Maxi Dress
Maxi dresses offer all the comfort of wearing leggings but with more style and sophistication. If you want to look pulled together while also feeling cozy during your flight, a maxi dress is a way to go. You can even layer it over a tank top and add some cute comfortable shoes or sandals if needed.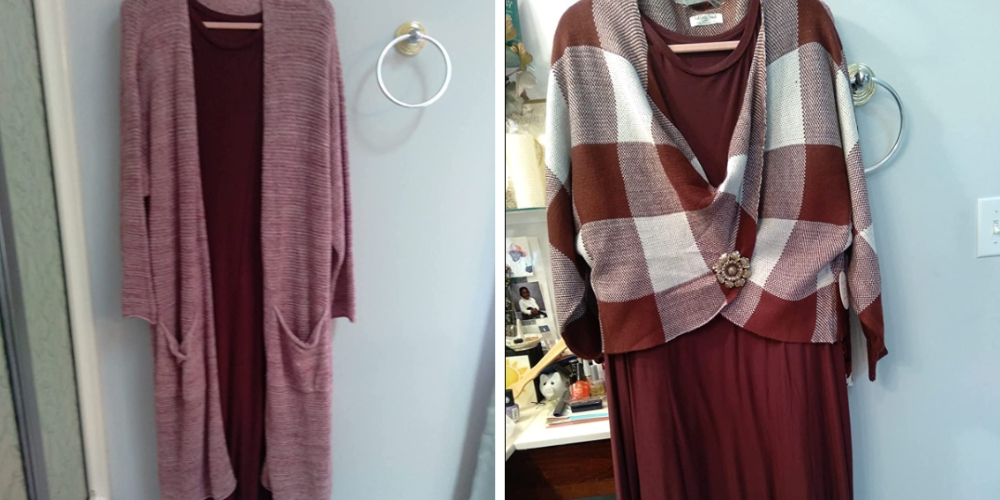 The dress has more than 3,000 verified five-star ratings and one shopper said, "Super comfy and cute. Looks great with a Jean jacket and sneakers!"
Travel Outfit #4: Joggers and a Sweater
Joggers have become increasingly popular over the last few years, making them an ideal choice for a long-flight outfit. They're comfortable yet stylish so you won't feel frumpy after sitting in one place for hours on end. Pair them with an oversized sweater or pullover to complete the look.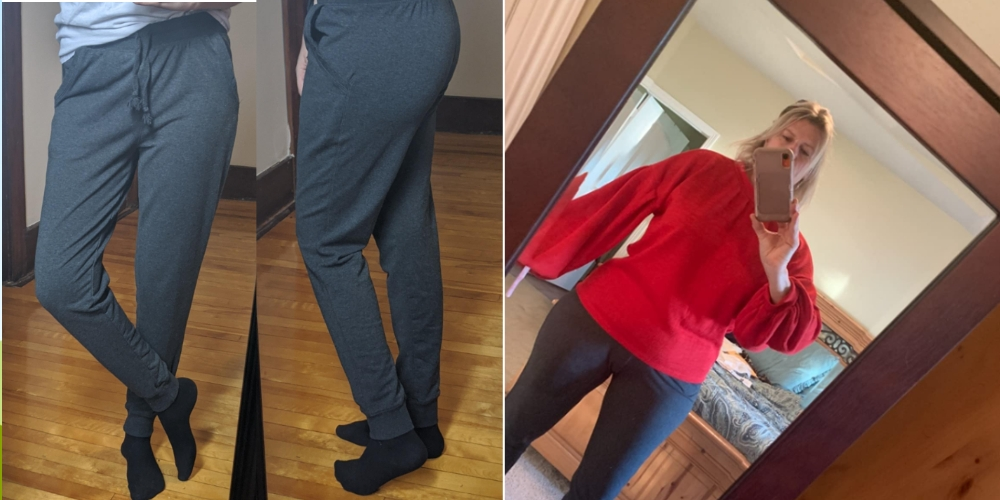 One five-star reviewer called these joggers"comfortable and cozy" and said, "I'm never taking these off!" Reviewers feel the same about the sweater, too — The style has almost 1,600 verified five-star ratings, and one reviewer summed it up as "Simple & fashionable".
Travel Outfit #5: An Oversized Cardigan
A lightweight cardigan is a great way to stay warm on this chilly long plane ride. They also look chic and stylish, so you won't feel like you're sacrificing fashion for comfort. Opt for an oversized one that has plenty of room to move around in.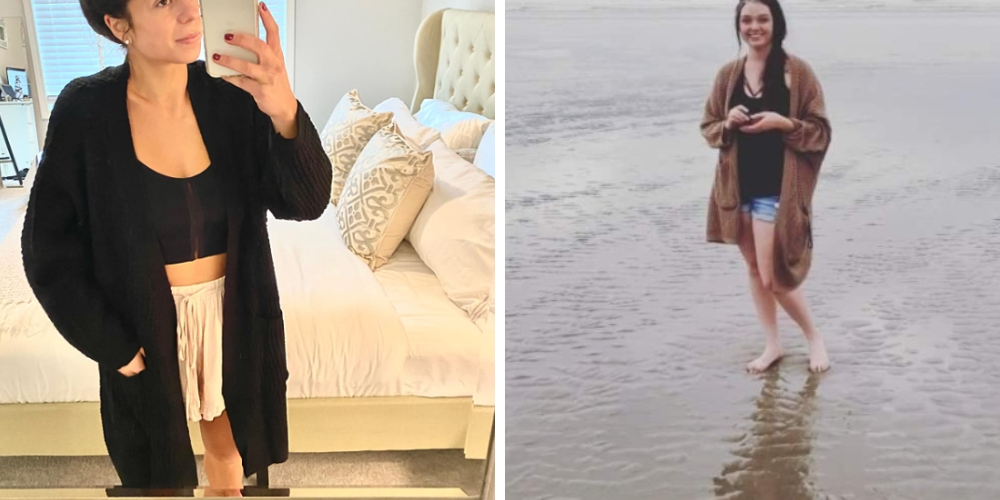 One five-star reviewer called this cozy cardigan "The most comfortable sweater ever." and said that "The fabric is soft and cozy, like a hug. Overall the sweater looks great with jeans, a dress, or your lounge around-the-house clothes. I will have to buy more because it's now my favorite."
Travel Outfit #6: A Blazer and Jeans
For a more professional look, opt for a blazer with your favorite jeans. This outfit is perfect for business trips or if you're traveling to an important meeting right after the flight. Add some statement earrings or a stylish scarf to give it some extra oomph.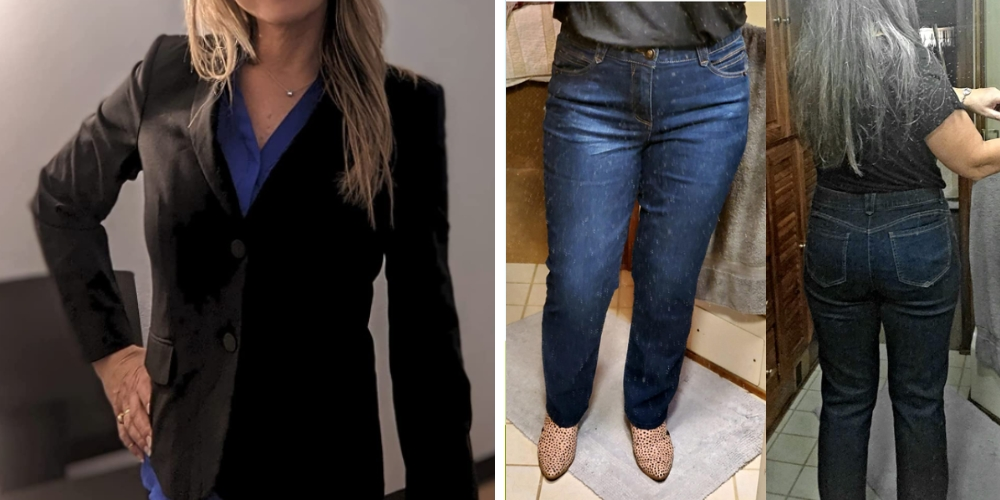 While this blazer is one of the pricier options on our list, a few reviewers said it's worth the money. One five-star reviewer called these jeans "a miracle JEAN" and said that they flatten their tummy with no muffin top, flattering and comfy to travel. out their complexion.
Travel Outfit #7: A Jumpsuit
Jumpsuits have been all the rage lately, and for good reason. They're a one-piece outfit that provides plenty of mobility and comfort flying long distances. Plus, they look pretty chic when paired with some stylish accessories. Choose a lightweight jumpsuit in a neutral hue for the best results.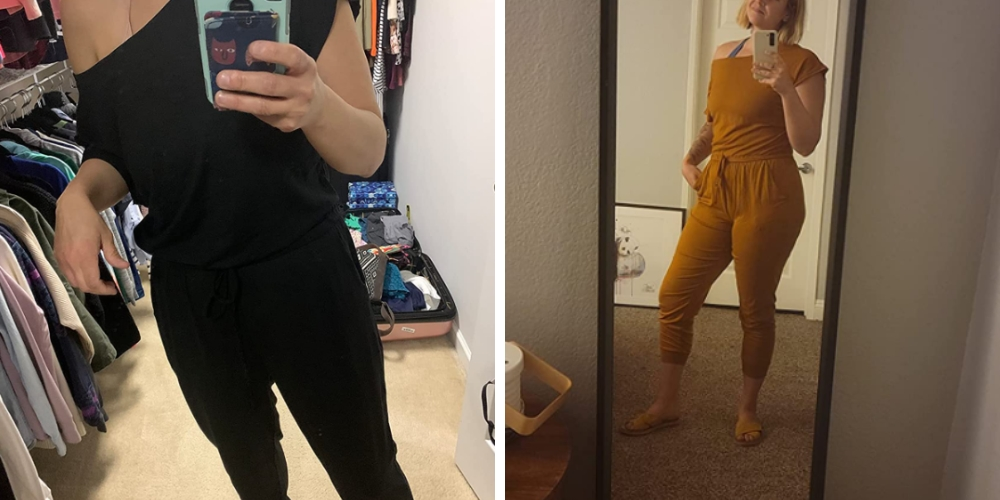 Over 33,600 shoppers who gave this jumpsuit a five-star rating loved it, and one even wrote, "Love this jumpsuit. It is so versatile. You can dress it up or down, so it is great for travel. It is good quality and runs true to size. I do wish it had a true drawstring at the waist, this is elastic, with a fake string attached."
Travel Outfit #8: A Sundress
Sundresses are perfect if you're headed somewhere sunny! They're lightweight, breezy and easy to pack. Plus, they can easily be dressed up or down depending on your destination. Just add some sandals and a sunhat for a complete look.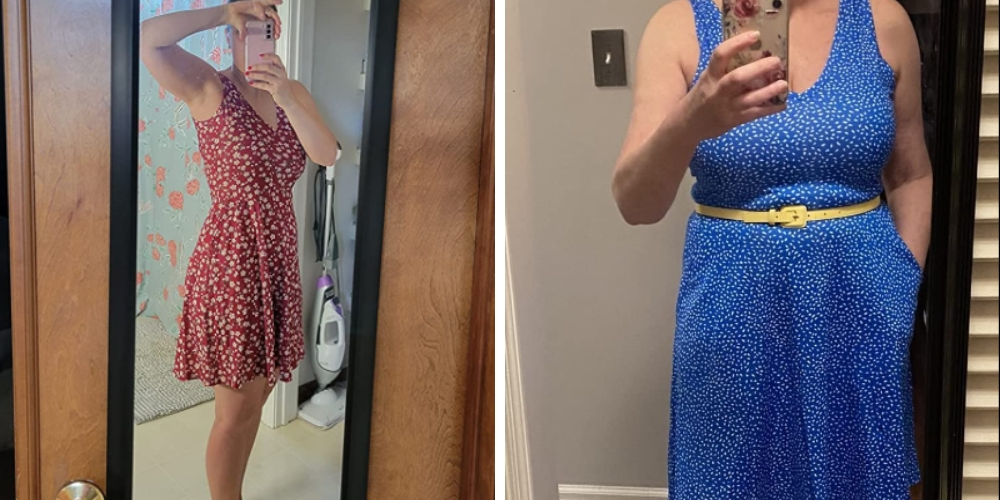 One five-star reviewer raved about their experience with this lightweight and stylish dress. Not only is it a perfect fit for anyone at 5'9" tall, but its fabric feels amazing to the touch! Plus, you don't have to worry if that dark color isn't see-through--just add in some extra comfort by wearing a slip underneath. This number's great for travel or outdoor summer concerts since it won't wrinkle after packing up; plus there are more colors available so go ahead and order away!
Travel Outfit #9: A Kimono and Shorts
This outfit combo is perfect if you're headed somewhere warm! The lightweight kimono will keep you comfortable while the shorts will allow you to move around easily. Add some cute sandals or sneakers to complete the look.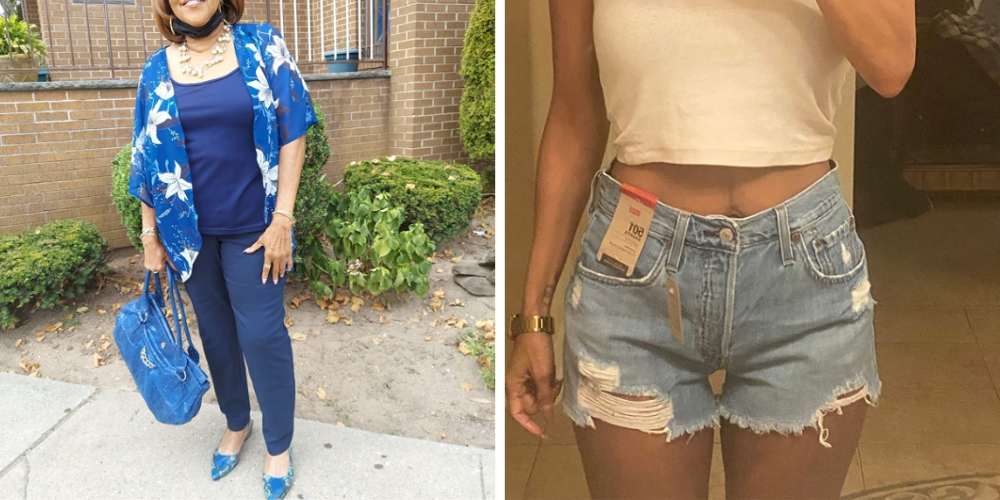 With a 4.4-star average and over 11,900 verified five-star ratings, reviewers love the way this kimono fits and how flattering is. One reviewer said, "What I love about this most is that it is a perfect travel accessory... takes up a tiny amount of room (with no added weight) in a suitcase and can convert day wear to evening wear in a matter of seconds. I now own 5 of these cover-ups and am very pleased with all of them."
Travel Outfit #10: A Travel Tunic
Travel tunics are specifically designed for a fly long haul. They're lightweight and loose-fitting, but also stylish enough to wear out and about when you arrive at your destination. Pair them with leggings or jeans for a comfortable yet put-together look.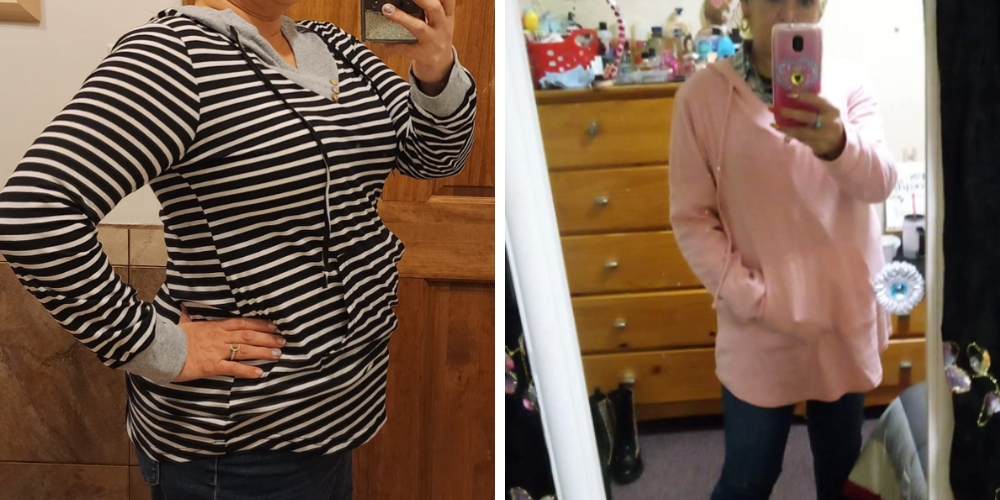 Not only does this travel tunic boast a 4.3-star average and over 2,400 five-star ratings, but it's also very comfy. One reviewer said "I bought it wear when traveling and I think it will be perfect. I like the length. It covers the bins with leggings. The hood is large as mentioned in other reviews, but not offensive. Might be nice for sleeping on the plane."
Travel Outfit #11: An Athleisure Outfit
No matter where you're headed, an athleisure look is perfect for long flights. The soft, stretchy fabrics will keep you comfortable while also looking stylish. Choose a matching set or mix-and-match pieces for a unique look.
One reviewer raved about how well it fits and how comfortable is: "The outfit is fitted where you want it and loose and drapey also where you want it :). Buying several more right now in other colors. If you're tall with a thicker body this is the set for you!!!"
Travel Outfit #12: A Flowy Midi Dress
Midi dresses are a great option if you're looking for something stylish. They're comfortable yet trendy and can easily be dressed up or down depending on your destination. For an added bonus, opt for one with pockets so you have somewhere to store your essentials during the flight.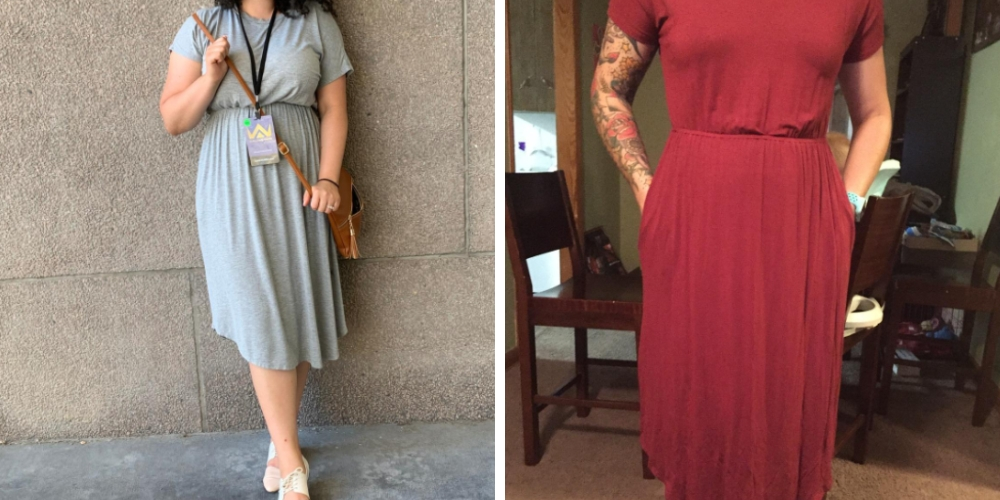 This dress is the perfect addition to any wardrobe! It's lightweight and comfortable, and it can be dressed up or down for a variety of occasions. One five-star reviewer even said it was the best purchase they ever made - order yours today and get ready to receive compliments!
Travel Outfit #13: Light Jacket and Scarf
For cooler climates, layer a light jacket over your favorite top and add some comfy leggings to your carry-on bag. Finish off the look with a stylish scarf for maximum warmth during the flight and an easy transition into any destination.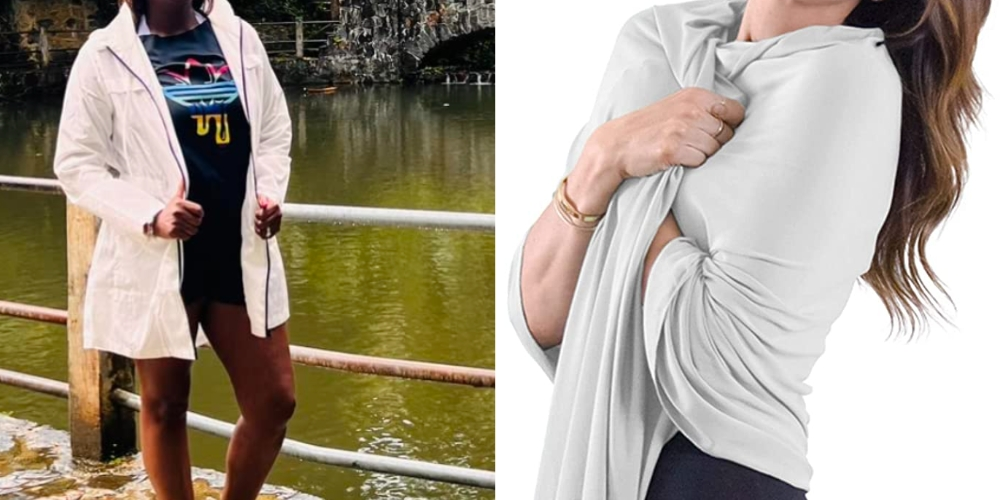 Shoppers say this jacket is perfect for traveling and they also describe it as "extremely lightweight and folds up to fit in the compact case provided."  Reviewers feel the same about the scarf, too. One said that is "obsessed with this wrap" and "I finally found one product for all uses! I am obsessed with this wrap. I can use it as a scarf to keep my neck warm, as a blanket on the plane, or a shawl over my shoulders for cold nights or restaurants".
Travel Outfit #14: Wide-Leg Pants
Wide-leg pants are a must-have on any carry-on packing list! Not only do they offer sophistication and style over traditional leggings, but they're also incredibly comfortable for those long flights. Tuck in a top, slip on some sandals or wear your favorite booties to complete the perfect travel look.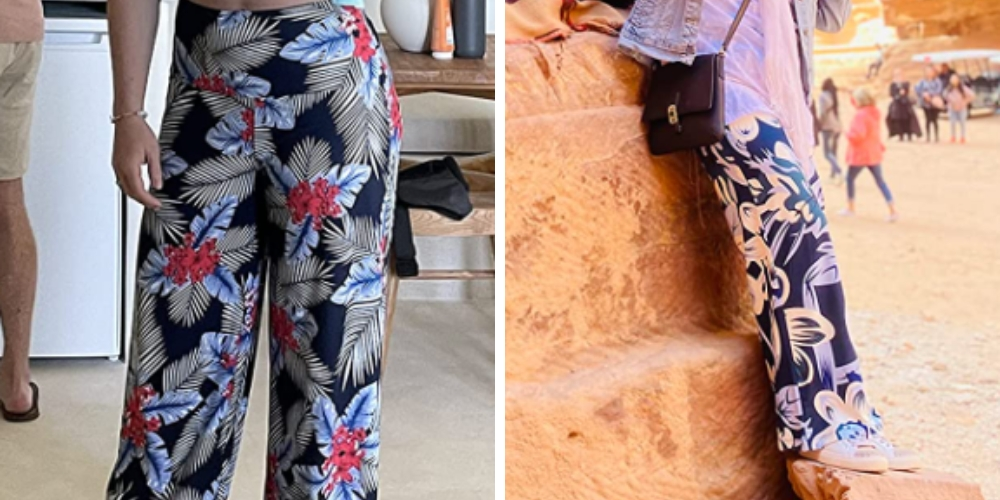 With an impressive 4.1-star rating and over 23,300 five-star ratings, you're sure to love these wide-leg pants! Whether you're looking for something comfortable to lounge around in or a dressier look for work or travel, this pair of pants will have you covered. One reviewer even said it was perfect in every way - slip into a pair today and see what all the fuss is about!
Travel Outfit #15: Compression Socks
Don't forget about compression socks! These are an absolute must for flying long distance. Not only do they help reduce swelling, but they also keep your legs feeling energized and looking fashionable. Choose a pair in a bold color or pattern for maximum style points.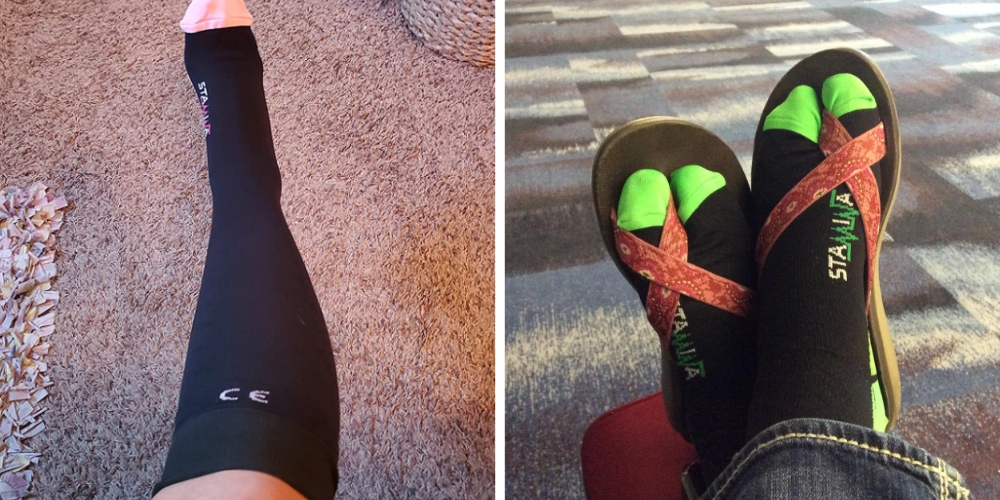 One satisfied customer raved about how well the product lived up to their expectations when they used it for international travel. Another said: "comfortable for > 24 hours of travel".
The Travel Outfit FAQs:
Flying can be a stressful experience, and dressing for the occasion doesn't have to add to that stress. If you're wondering what to wear on your next long flight, look no further! We're here to answer all of your most frequently asked questions about travel outfits for long flights.
Is There a "Right" Outfit?
The short answer is no. As long as you feel comfortable, there is no right or wrong outfit that you should wear while flying. That said, there are certain pieces of clothing that can make the entire experience more comfortable. For example, if you tend to get cold during flights, it might be worth considering wearing layers like a light jacket or cardigan so you don't freeze while in transit.
How Dressy Should I Be?
Again, it's up to personal preference — but less is generally more when it comes to dressiness. Opt for something casual and comfortable when picking out what to wear on your flight. That way, you'll be able to relax and enjoy the journey without feeling over-dressed or too stuffy in tight jeans or a button-down shirt. If you want to dress up a bit more than usual, consider pairing a plain t-shirt with an interesting piece of jewelry or scarf.
What Kind of Shoes Should I Wear?
Comfortable shoes are key for long flights — after all, no one wants their feet hurting throughout the whole trip! Look for slip-on styles like sneakers or loafers; these will be much easier (and faster) than laces when going through security checks at the airport and taking off/putting on your shoes in cramped airplane seats. However, if you do choose laced shoes make sure they have elastic laces - this makes them much easier and quicker!
What Should I Not Wear When Traveling?
When traveling, the last thing you want to do is stand out in a bad way. That's why it's important to pay attention to what you wear when traveling! Here are some tips on what not to wear when traveling:
1. Avoid Wearing High Heels & Stilettos – While these may look great for your special occasion, they can be quite uncomfortable and impractical for walking long distances through airports or sightseeing in a new city.
2. Don't Wear Fragrances – I know you want to smell nice while traveling but strong fragrances like perfumes and body sprays should stay at home because their scents can trigger motion sickness or migraines in some people on planes and buses, making their travel experience unpleasant (for them).
3. Avoid Tight-Fitting Clothes – Not only are tight-fitting clothes uncomfortable while being cramped up inside vehicles like cars or trains, but they also appear unprofessional too! On top of that, they don't allow much breathing space either which isn't ideal if sitting against cold surfaces such as airplanes or transportation station benches!
4. Keep Away from Showy Accessories & Valuables - You should always keep your valuables close; however flashy jewelry could draw unnecessary attention which could lead to security issues. So save accessorizing for after the trip instead! Similarly, logos on clothing pieces can make it easier for someone with ill intentions to target tourists easily so try replacing those with discreet items instead if possible.
Final Thoughts
No matter what your travel plans are, having the right outfit is essential for getting through airport security and arriving in style. We've provided fifteen different looks to choose from so you can find something that works for you. From midi dresses with pockets to light jackets and scarves, there's an option here for every destination. Personally, I always carry on a bag of compression socks - but that's just me! With these outfits at your disposal, you'll be ready to take off wherever life takes you.
Comments