This post may contain affiliate links, please see our privacy policy for details.
Whether you are jet-setting across the world or just taking a short domestic flight, finding the right outfit for your long flight can make or break your trip. It's important to be comfortable while still looking stylish and put together. To help you out, here are 15 of the best travel outfits for long-distance or overnight flights that will make your trip so much easier!
What to Wear on a Long Flight
Are you about to embark on a long-haul flight? Whether you're heading off on vacation or business, the last thing you want is to be uncomfortable during your journey. Below are some tips for what to wear on a long-haul flight so that you can arrive at your destination feeling great and refreshed.
Travel Clothes
Choose comfortable clothing that won't restrict movement. For instance, leggings and a loose t-shirt or sweater will give you plenty of freedom while keeping you warm. Avoid anything too tight, as it will make it hard to move around and get comfortable. Also, make sure your clothing is breathable so that air can circulate around your body.
Travel Footwear
When flying, it's important to wear shoes that won't pinch or rub against your feet as this can cause pain and discomfort during the flight. Ideally, wearing sneakers or flats that are easy to take on and off during security checks. Consider bringing an extra pair of socks in case your feet get cold during the flight.
Travel Accessories
A light scarf or shawl is ideal for keeping warm during a long-haul flight without having to lug around a bulky coat or jacket. You may also want to bring an eye mask if you plan on sleeping - this will help block out any bright lights from nearby passengers and keep you more comfortable throughout the journey. Don't forget headphones if you want some peace and quiet!
Best Travel Outfits for Long Flights
Whether you're hopping on a plane cross-country or jetting off to the other side of the world, these 15 easy and comfy travel outfits will make your journey an absolute breeze!
Graphic Tees and Jeans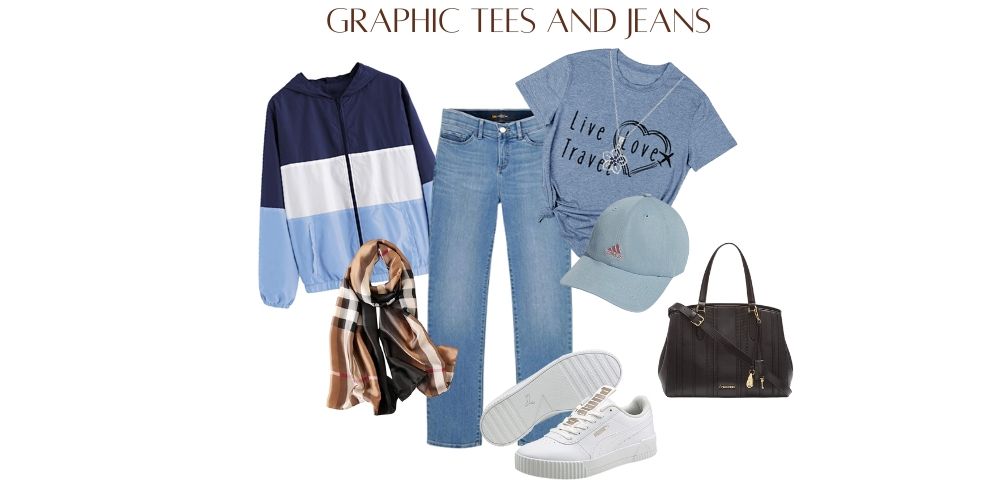 Prepare for a comfortable and stylish journey during warm weather with these graphic tees and stretch denim pants, ideal for long haul flights. Don't forget to layer up with a trendy jacket to combat chilly airport terminals. Enhance your ensemble with fashionable sneakers and accessorize with a statement bag, jewelry, and a chic scarf or hat. Remember to pack all your essentials in a convenient carry-on bag.
Sweatshirt and Leggings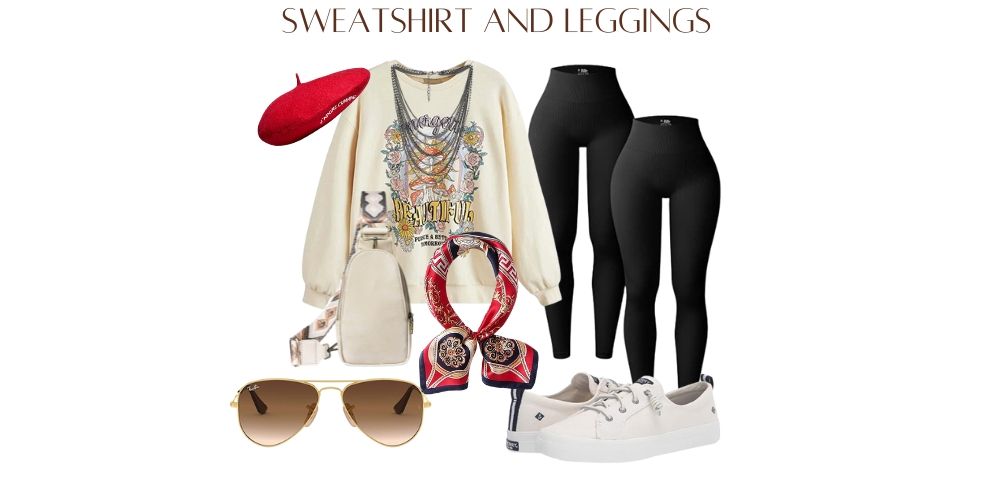 Stay warm during cool flights by wearing a sweatshirt and leggings with comfortable shoes like slip-on sneakers that add convenience and a touch of trendiness. Don't forget to accessorize with a crossbody bag to keep your essentials organized. Complete the look with some statement jewelry, a chic hat or scarf, and stylish eyewear.
Jean Jacket and Maxi Dress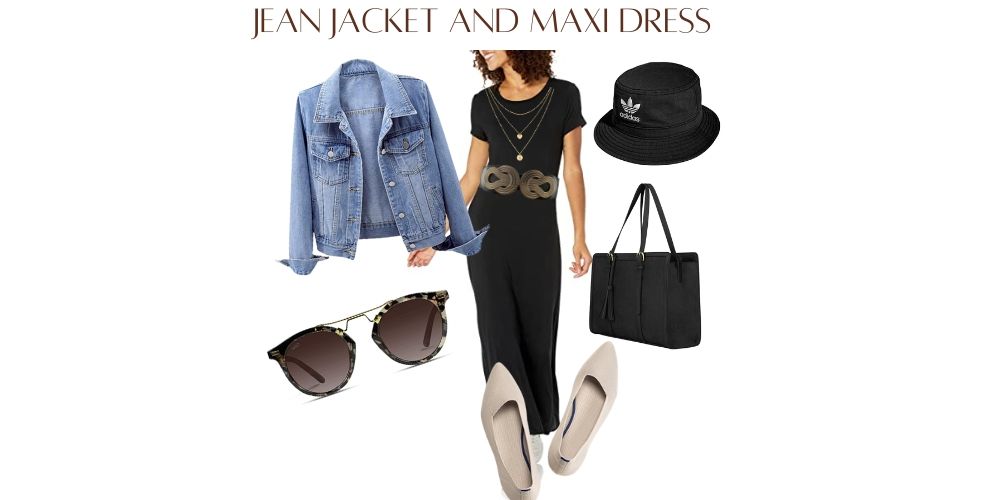 Rock the airport with style and comfort in a jean jacket layered over a flowy maxi dress to stay versatile and adapt to changing temperatures during your journey. Pair it with comfy flats to make security checks a breeze. Grab a spacious tote bag for your long-flight essentials. Complete your look with a statement belt, dainty jewelry, and fashionable accessories like a chic hat or stylish eyewear.
Sweater and Joggers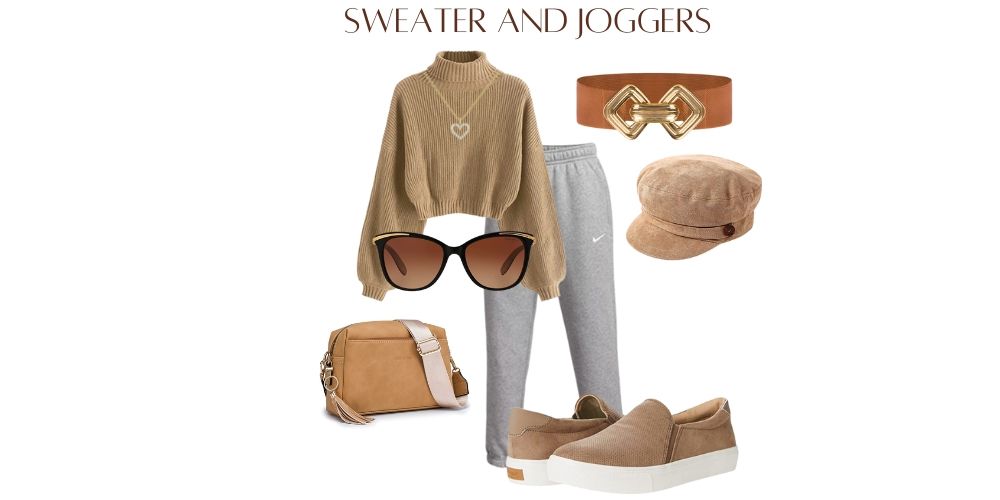 Prepare for your long haul flight in style and comfort with a chic ensemble that includes a cozy sweater and trendy joggers. To elevate your look, pair it with accessories such as a statement belt to cinch the waist, a dainty necklace for a touch of elegance, and a stylish hat or sunglasses for sun protection. Complete your outfit with a convenient crossbody bag to keep your essentials safe and within reach. Slip-on sneakers will ensure easy navigation through the airport, making your long haul flight outfit both fashionable and practical.
Dress and Cardigan Set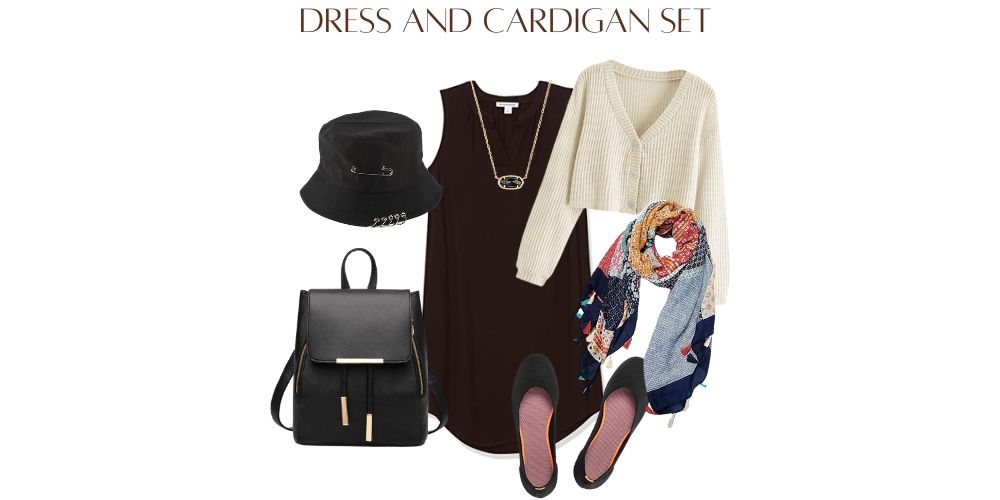 Elevate your travel style when you fly long haul flights with a dress and cardigan set that effortlessly combines polish and comfort. The flowing dress ensures easy movement, while the cozy cardigan provides an additional layer of warmth. Complete your ensemble with comfortable flats for all-day comfort and a stylish backpack to keep your essentials organized. Add a touch of sophistication with a statement necklace, a chic hat, and a colorful scarf to elevate your look.
Blazer and Jeans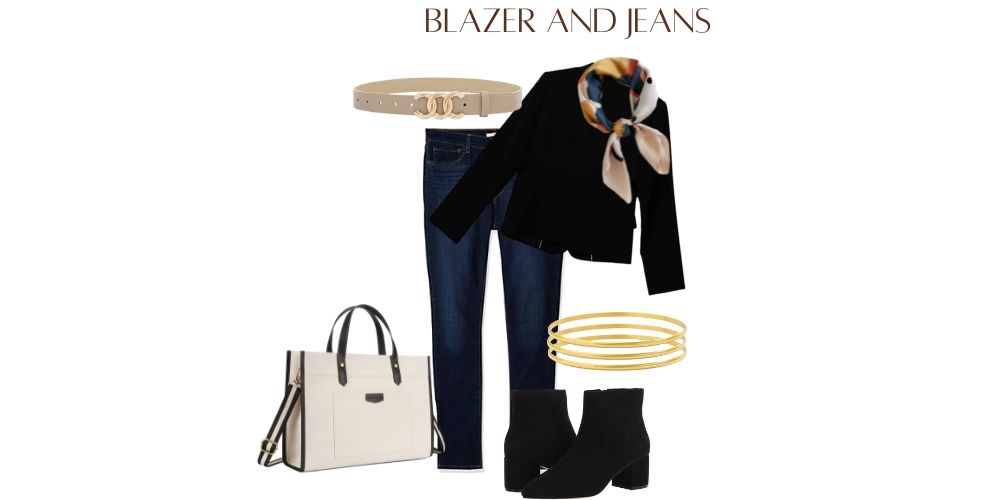 Elevate your travel style with a polished ensemble of a tailored blazer and comfortable jeans. Opt for stretchy jeans designed for long flights and pair them with stylish ankle boots. Keep your essentials organized in a structured tote bag and add statement jewelry for a touch of elegance. Enhance the outfit with a vibrant silk scarf or trendy belt for a pop of color and flair.
Jumpsuit and Blazer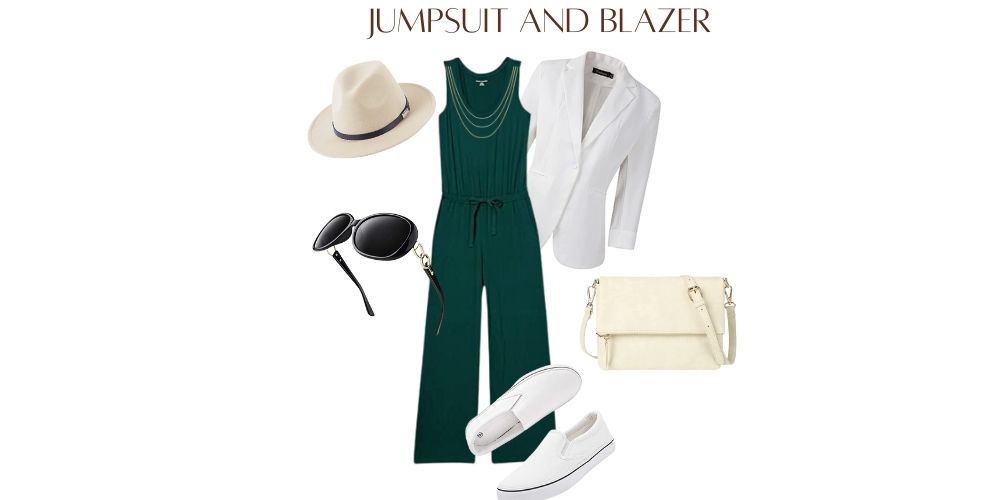 Elevate your travel style with a chic jumpsuit and tailored blazer combo. This effortless ensemble exudes fashion-forward sophistication, perfect for long flights. Slip-on shoes provide convenience while a crossbody bag keeps your essentials within reach. Complete the look with delicate jewelry and a stylish hat or sunglasses for a touch of flair. Travel in style with this versatile and statement-making outfit.
Sundress and Cowboy Boots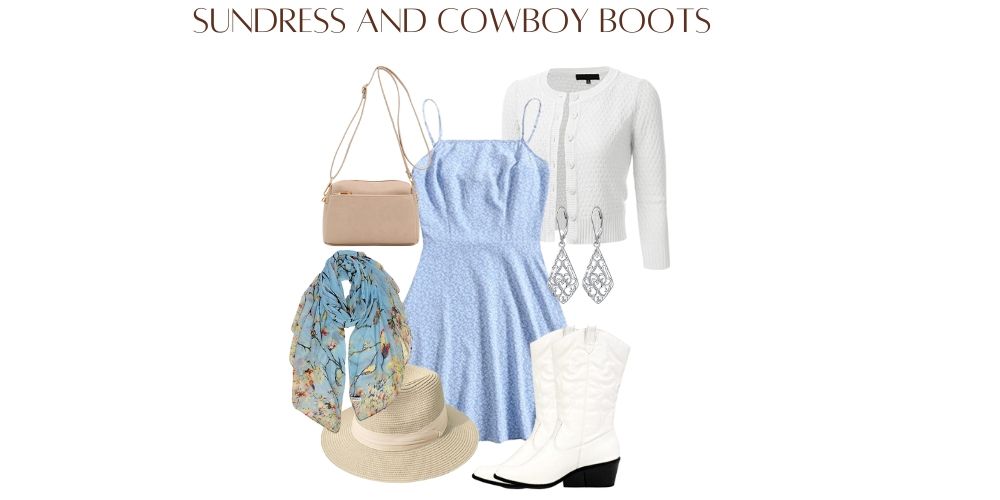 Embrace your boho spirit with a stylish travel ensemble featuring a breezy sundress and trendy cowboy boots. This outfit effortlessly combines style and comfort, ideal for your wanderlust adventures. Layer with a lightweight jacket or cardigan for warmth and added style.
Complete the bohemian look with a crossbody bag to keep your essentials organized and a wide-brimmed hat for sun protection. Accessorize with statement jewelry and a printed scarf for extra flair. Embrace your free-spirited style and pack this fashionable outfit on your carry-on packing list.
Kimono and Jeans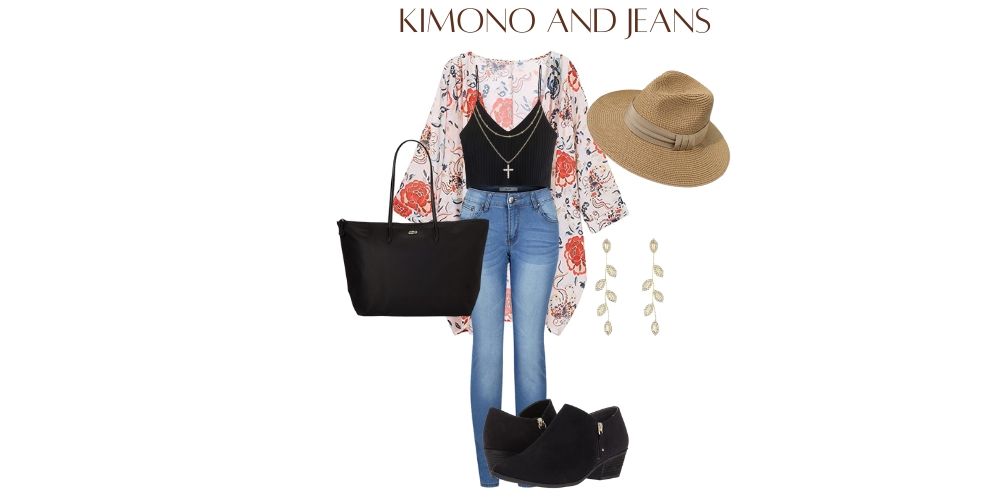 This fashion-forward ensemble featuring a trendy kimono paired with jeans effortlessly blends comfort and elegance, allowing you to make a statement wherever you go. Opt for ankle boots for practical and stylish footwear choices that ensure you're ready for any adventure. Enhance the outfit's sophistication with a spacious tote bag that adds a touch of chic to your look. Don't forget to accessorize with layered necklaces, statement earrings, and a wide-brimmed hat to elevate your style game.
Tunic and Pants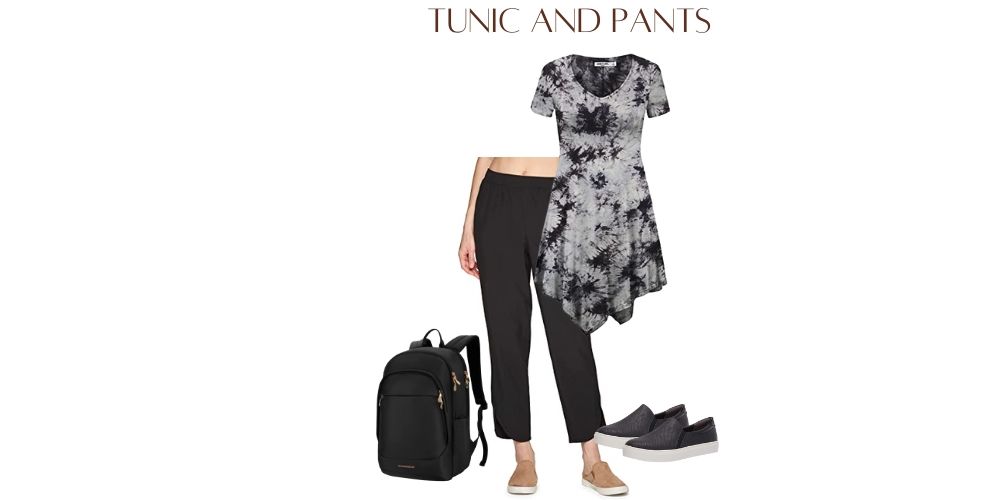 Create a relaxed and stylish overnight flight travel look by pairing a loose-fitting tunic with comfortable pants. Complete the outfit with practical slip-on shoes, like sneakers or loafers, to breeze through security checks. Don't forget to carry a chic backpack to keep your belongings organized and easily accessible.
Athleisure Outfit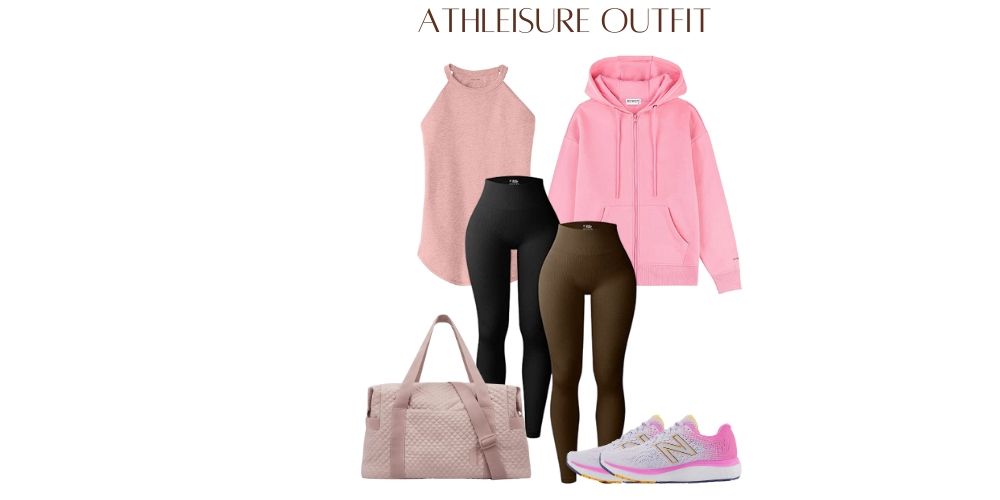 An athleisure outfit featuring leggings, a sporty top, and a zip-up hoodie combination not only provides maximum comfort and flexibility but also allows you to stay fashion-forward on your journey. Complete the look with sleek athletic shoes for effortless convenience. Don't forget to grab a trendy duffel bag or backpack to keep your travel essentials organized and easily accessible throughout your trip.
Midi Dress and Heels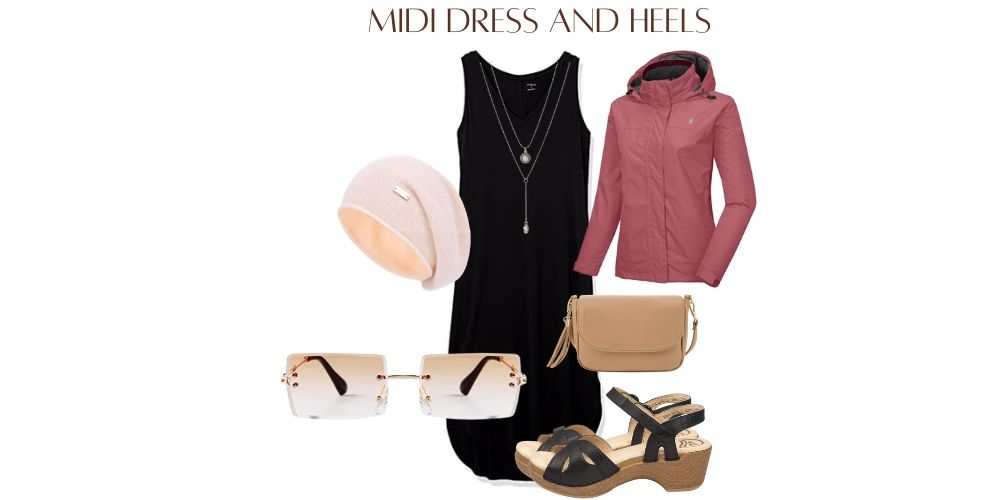 Combining style and sophistication with a chic midi dress and comfortable heels. Layer with a lightweight jacket to adapt to changing temperatures during your journey. Complete the look with a stylish crossbody bag, allowing you to keep your essentials organized and within reach. Don't forget to accessorize with delicate jewelry, a fashionable hat, and a pair of trendy sunglasses to add an extra touch of glamour to your ensemble.
Jacket and Scarf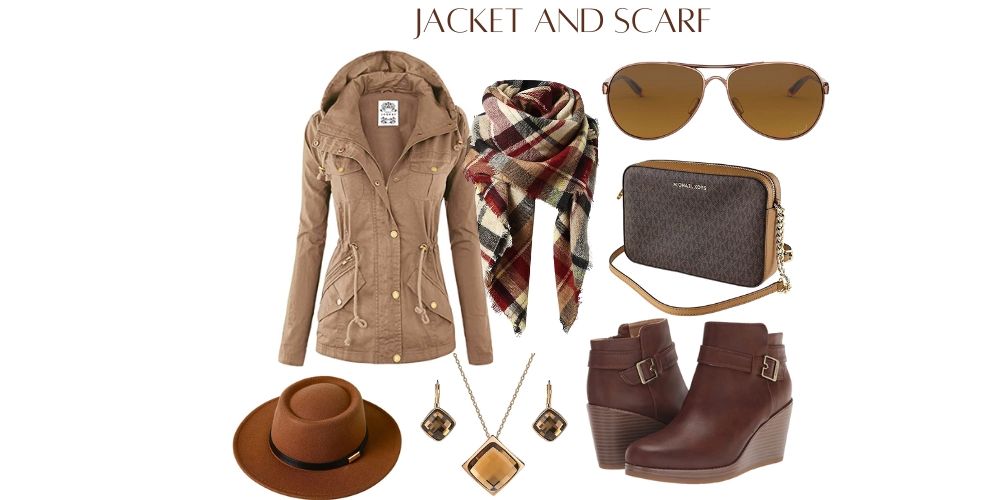 For a touch of sophistication try pairing a trendy jacket and accessorizing it with a stylish scarf. Complete the look with ankle boots for both comfort and convenience. Enhance your outfit with a fashionable crossbody bag to securely hold your valuables while adding a chic touch. Don't forget to add some statement jewelry, a wide-brimmed hat, and a pair of stylish sunglasses to elevate your overall look and make a fashionable statement during your journey.
Wide-Leg Pants and Sweater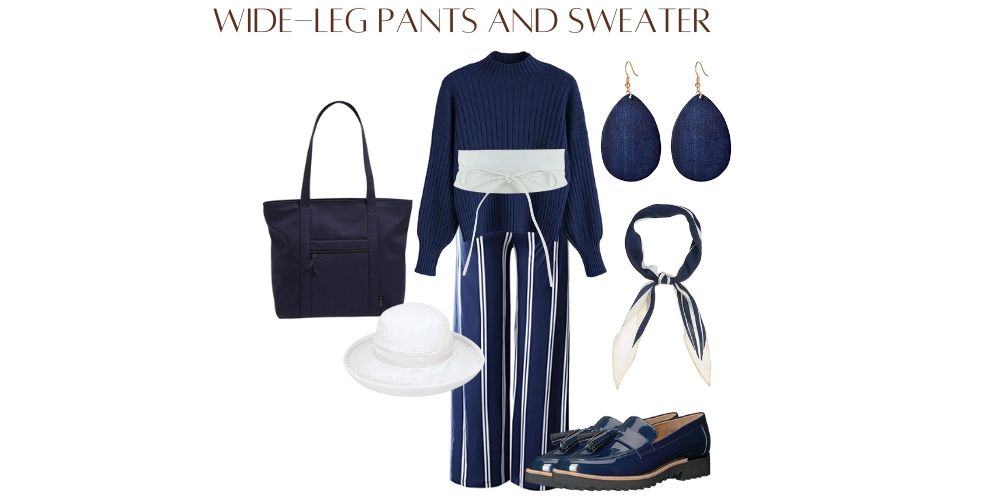 Achieve the perfect balance of style and comfort with wide-leg pants and a cozy sweater for your travel ensemble. The loose fit of the pants allows for ease of movement during long periods of flight, while the long sleeves sweater keeps you warm and snug. Add a statement belt to define your waist and add sophistication. Slip-on loafers provide both convenience and style, and a fashionable tote bag carries your travel essentials. Elevate your outfit with delicate jewelry and finish with a stylish hat or scarf for a touch of flair.
Compression Socks and Sandals
Elevate your travel comfort with a stylish ensemble featuring compression socks and sandals. Opt for moisture-wicking compression socks to keep your feet dry and comfortable during the journey. Pair them with a flowing maxi skirt for a relaxed look. Carry all your air travel essentials in a spacious tote bag and add a wide-brimmed hat for sun protection and a chic vibe. Complete the outfit with sunglasses to protect your eyes and elevate your style.
Tips for Long Flights
As you prepare to journey with style, don't forget to prioritize comfort and practicality, especially during long-haul flights. For some insightful tips on how to make those grueling hours of air travel a more enjoyable experience, be sure to check out these YouTube videos. They're packed with useful advice – from maintaining hydration and sleep schedules to choosing the most comfortable seating, to stretching routines and more. As you'll discover, combining style and comfort for air travel is indeed possible, and these resources can be your ultimate guide for your next travel adventure.
The Travel Outfit FAQs:
Flying can be a stressful experience, and dressing for the occasion doesn't have to add to that stress. If you're wondering what to wear on your next long flight, look no further! We're here to answer all of your most frequently asked questions about travel outfits for long flights.
How to dress when traveling?
When traveling, it's important to prioritize comfort and style. Here are some quick tips:
Wear layers to adjust to changing temperatures.
Keep your feet warm with insulated shoes and moisture-wicking socks.
Create a stylish outfit with versatile pieces and accessories.
Choose comfortable clothes made from soft, stretchy fabrics.
What to wear on a long haul flight?
When preparing for your long flight outfit, prioritize comfort and style by wearing black leggings and a long cardigan. Leggings provide flexibility and ease of movement, while a long cardigan adds warmth and a fashionable touch. Pair them with a comfortable top, slip-on shoes, and cozy socks. Consider bringing a lightweight scarf or shawl for added warmth and versatility. Keep your jewelry minimal and opt for breathable fabrics. Remember to prioritize comfort and choose pieces that allow you to move freely during the flight.
What's the best clothes to wear on a plane?
When it comes to the best clothes to wear on a plane, wear leggings or yoga pants for comfort and flexibility. Pair them with a breathable long sleeve top or sweater and layer with a light jacket or cardigan. Slip-on shoes or sneakers are practical, and don't forget comfortable socks. Choose wrinkle-resistant fabrics to have you look feeling fresh throughout your journey. Balance comfort and style to make your travel experience pleasant.
Is it OK to wear jeans for long flight?
Yes, it's generally fine to wear jeans for a long flight. Choose stretchy, breathable jeans and pair them with comfortable layers for adaptability. Consider the climate and duration of the flight for added comfort.
Why should you wear loose clothing on a long flight?
Wearing loose clothing on a long plane ride promotes better blood circulation during the journey, reducing the risk of discomfort, swelling, and potential health issues. Loose-fitting garments allow for greater freedom of movement and help prevent complications such as blood clots and deep vein thrombosis (DVT).
What not to wear to the airport?
When flying long distance, it's best to avoid wearing tight clothing like skinny jeans. Opt for comfortable and breathable clothing that allows for ease of movement. Avoid excessive accessories and choose practical footwear for security checks.
Final Thoughts
No matter what your travel plans are, having the right outfit is essential for getting through airport security and arriving in style. We've provided fifteen different looks to choose from so you can find something that works for you. From midi dresses with pockets to light jackets and scarves, there's an option here for every destination. Personally, I always carry on a bag of compression socks - but that's just me! With these outfits at your disposal, you'll be ready to take off wherever life takes you.
No matter what type of style you choose for your travel outfit, comfort should always come first! The best way to ensure a comfortable (and stylish!) flight experience is by selecting breathable materials like cotton and linen that won't make you feel overly hot while sitting in the plane cabin for hours on end. Remember that layering is key—you never know how warm (or cold!) it might get mid-flight—so bring along some additional items such as a light cardigan or scarf just in case! With these tips in mind, you'll be ready for any length flight with style and comfort intact!
Other Posts You May Like
Comments