This post may contain affiliate links, please see our privacy policy for details.
Hello, Lovelies! Justyna here, bringing you all the fabulous fashion details you need to pack for Cabo. If you're ready to visit Cabo, whether, for whale watching, snorkeling, or just lounging by the beach, I've got all the outfit inspo you need.
Packing the perfect suitcase is a bit of an art. You want to have enough options of Cabo clothing for every occasion, but you also don't want to lug around more than you need. I get it. Trust me, I've been there! That's where I step in to help.
We're talking about everything from the coolest bathing suits to the breeziest beach cover-ups. I've got recommendations for casual cute clothing for daytime adventures and stylish evening wear for those magical Cabo nights. In short, I'm here to help you create the perfect Cabo Mexico wardrobe.
Now, if you're a regular reader, you might remember our previous post on What to Wear in Mexico. That piece gave you a good grounding in general Mexican fashion dos and don'ts. But now we're zeroing in on one particular hotspot – the stunning resort city of Cabo San Lucas.
Stay tuned to find out exactly what to wear in Cabo for a stylish getaway you won't forget. Let's start this fashion-forward journey!
When to Visit Cabo
Cabo, with its permanent summer vibe, blue waters, and sandy stretches, is nothing short of a dream. But to make the most of your trip, picking the right time to go is crucial. Want to know the best time to head over to Cabo? Allow me to take you through my own experiences.
The year-round warmth of Cabo, thanks to its subtropical desert climate, splits into two main seasons. You've got the dry stretch from November to June, and then the rainy period from July through October. I've enjoyed Cabo during both the summer and winter, and I can vouch for the unique allure each season presents.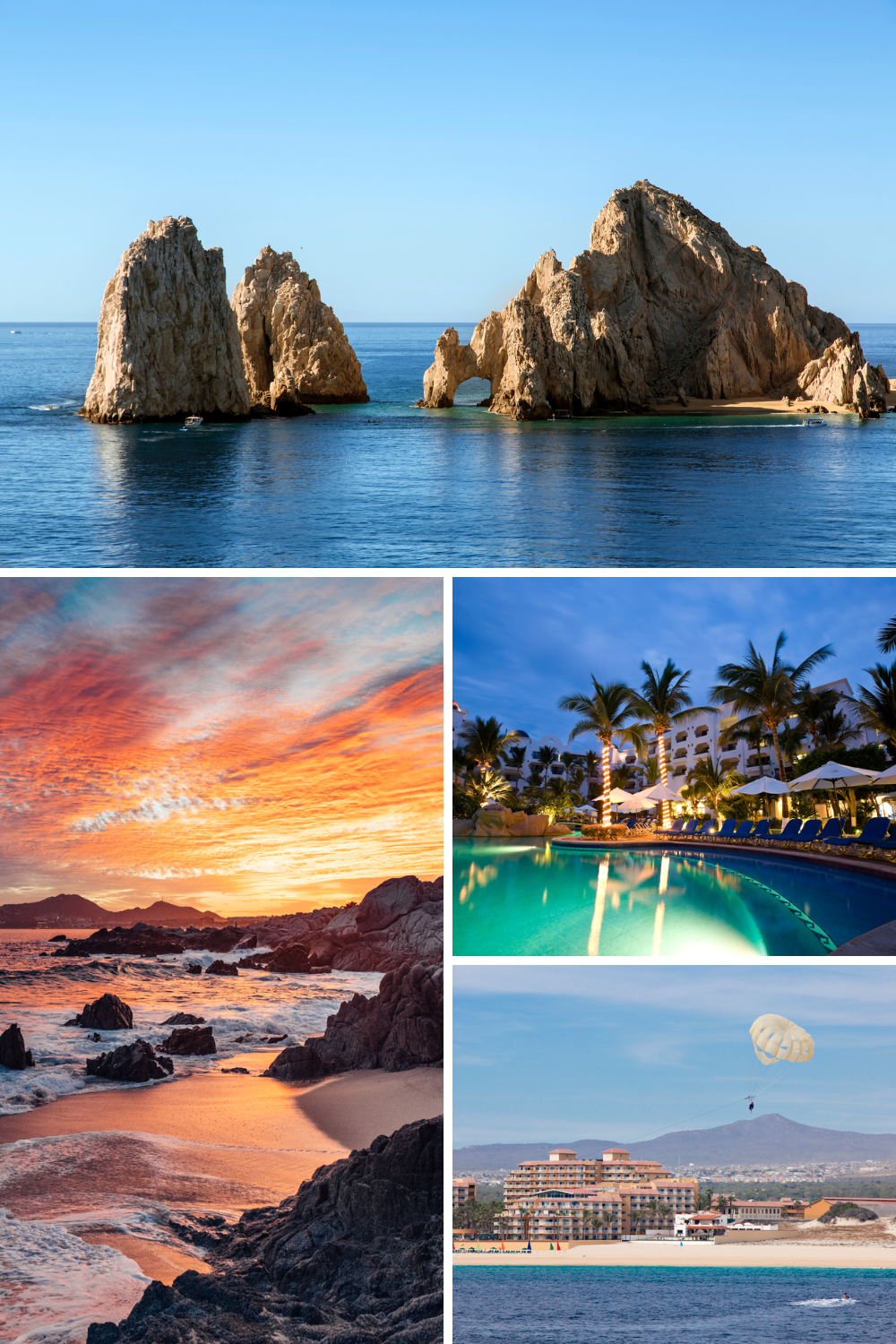 Let's kick off with my summer adventure. I stepped into Cabo in July, right as the wet season was beginning. Sure, it was hot, but the coastal breeze lent a refreshing touch. And let me tell you, Cabo in the summer is a sight to behold. The stark desert vistas against the rich blue of the Sea of Cortez were mesmerizing, and the greener post-rain landscapes were like a balm for the eyes.
The absolute best part of my summer visit was all the fun to be had in the water. The sea was delightfully warm, and great for swimming, snorkeling, and even diving. Summer's also the perfect time for some deep-sea fishing. And let's not forget the thrill of seeing sea turtles nesting on the beaches. If you're a fan of aquatic activities, and wildlife, and can handle some heat, summer in Cabo is an absolute delight.
Fast forward to my December winter visit. It was a stark contrast with balmy days and crisp evenings, cooler than the summer but still perfect for beach enjoyment. Just remember to carry a light jacket for the nighttime chill.
A standout feature of Cabo winters is the majestic whale-watching. I had the luck of spotting humpback and gray whales during their migration. What a humbling and memorable sight that was!
Winter is also when tourism hits its peak, especially around Christmas and New Year. The nightlife was buzzing, and the festive cheer was infectious. But, remember, this also means you'll need to secure your bookings well in advance to avoid disappointment.
Regardless of whether you're a fan of the summer heat or prefer the chillier winter weather, Cabo has plenty to offer. Pack appropriately and dive headfirst into the relaxing vibe, gorgeous landscapes, and exciting adventures that Cabo has in spades. Whatever season you opt for, one thing's for certain, Cabo will leave you with a plethora of unforgettable experiences and stories to share.
Packing for Cabo Tips
If you're scratching your head thinking about what to pack, don't worry - we're here to help! We've put together a bunch of super helpful articles that will make packing for Cabo a breeze.
Let's start with our guide to Travel Wear for Women. Think of it like your fashion playbook, mapping out all the key pieces you need for every type of travel situation. Hiking gear that's more cozy-chic than wilderness-rough, swanky dresses perfect for five-star dining, or beach glam that hollers, 'hello, summer,' - we've got you decked out.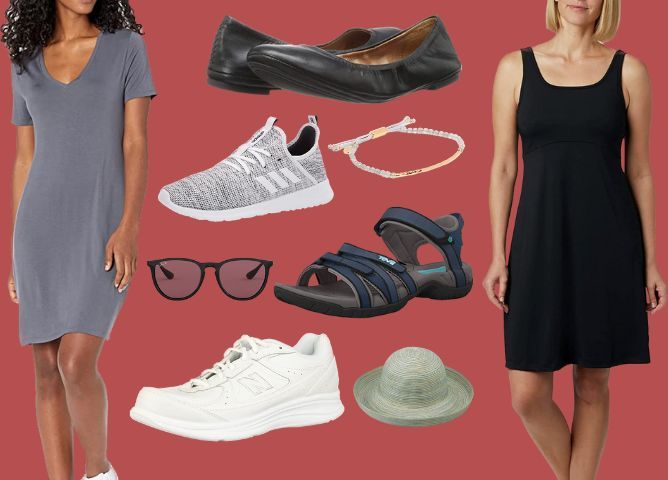 Then, you must peep at Travel Purses. A rockstar travel purse isn't just a fashion must-have, it's also a practical lifesaver. Our guide breaks down purses of all sizes and styles, each with its unique edge for every travel occasion. It'll lead you to pick just the right bag, thinking about safety, carrying capacity, and obviously, oomph!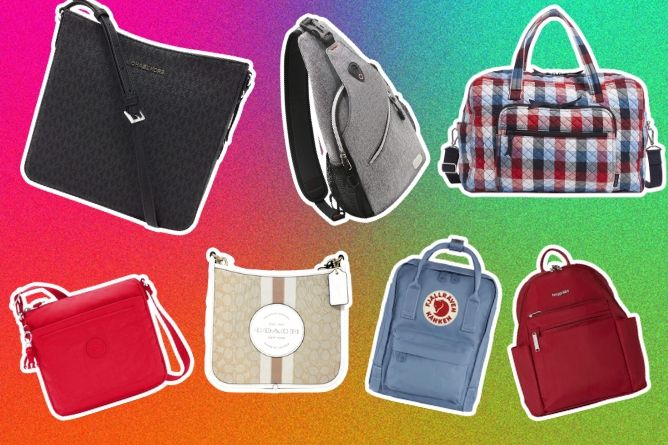 Make sure you take a minute for Travel Wear for Women. This one's beyond just outfits; it's about those high-fashion accessories that can up your travel game. Stylish yet sensible luggage tags, snazzy water bottles, multi-tasking scarves, comfy shoes that don't skimp on style - trust me, we've thought of it all.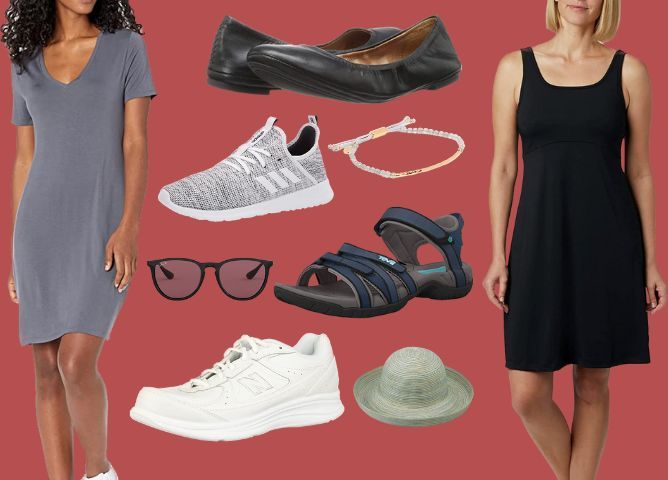 Next up, we're onto Vacation Clothes for Women, exploring the perfect clothes for your specific vacation. Each getaway demands a different closet, and we provide savvy tips on creating killer outfits whether you're jetting off to a tropical paradise, a chilly winter retreat, or a pulsating city adventure.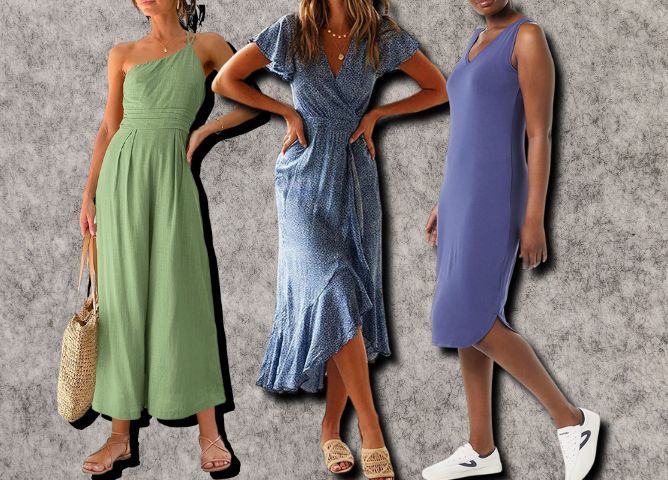 And let's not leave out those long-haul flights! Best Travel Outfits for Long Flights is all about that smart balance of cozy-meets-chic. It's packed with tips on layering, picking breathable materials, and choosing clothes that let you stretch out and stay fabulous, even when you're stuck in the sky for hours.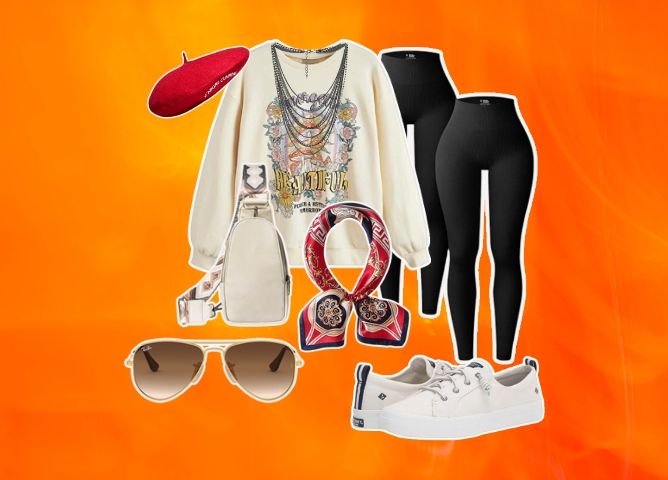 So, my travel-savvy friend, each of these guides offers a unique take on travel fashion and prep. By diving into them, you'll put together a packing list that's totally YOU and meets your needs for your Cabo journey. With this toolbox, you're all set to blend comfort with style, turning every travel moment into a stylish memory in Cabo. Now, let's get down to business - time to unveil those killers Cabo outfit ideas!
Cabo Outfit Ideas
Now that you've got the lowdown on Cabo's weather throughout the year and a rough idea about what to pack, it's time to add some style to your travel gear. After all, a fabulous vacation deserves equally fabulous outfits! From beach days to evening fiestas, let's dive into some outfit ideas that will have you looking chic and feeling comfortable during your Cabo adventure.
Beach Day in Santa Maria Beach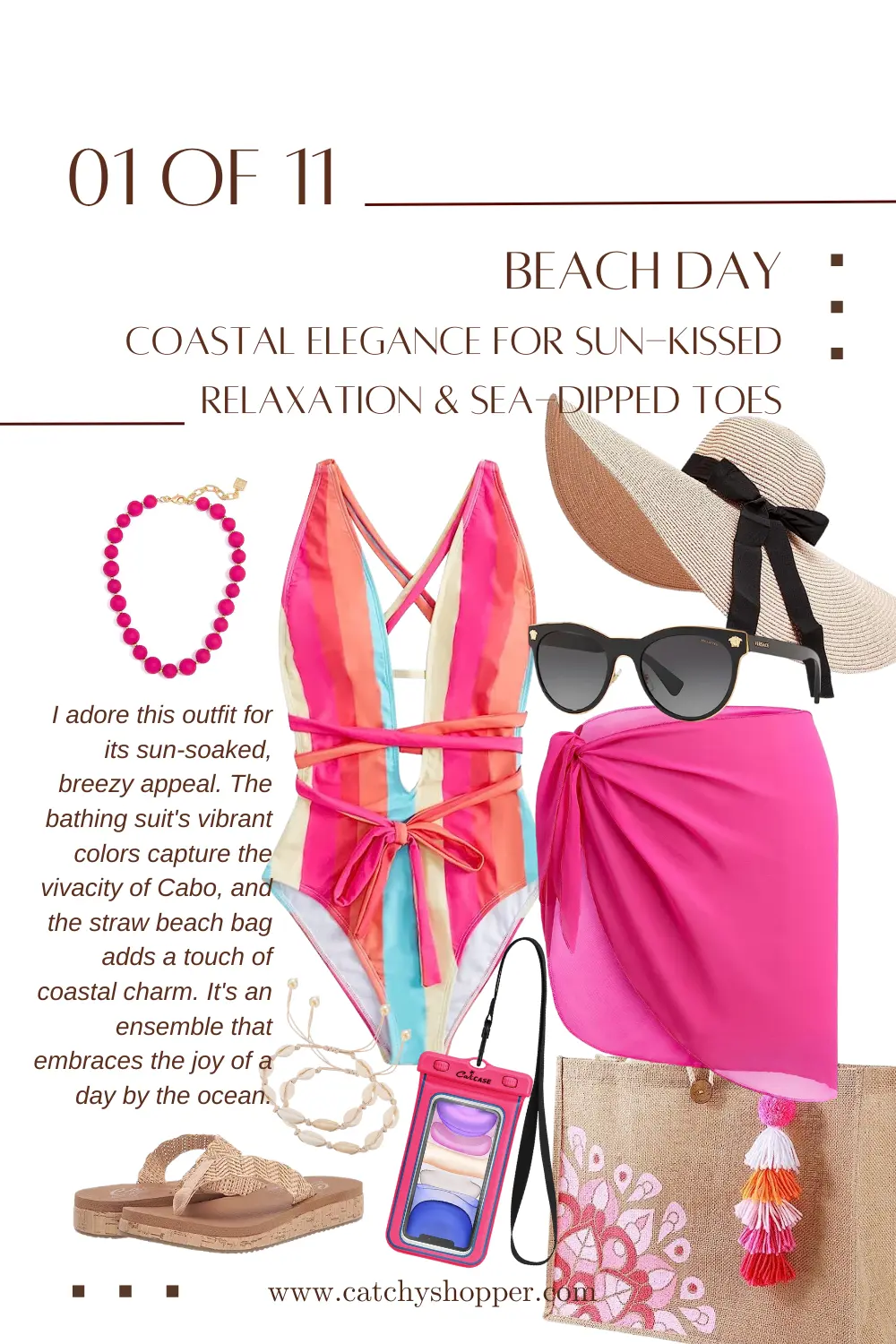 Embrace the vibrancy of Cabo with a bright-colored or patterned bathing suit for your day at the picturesque Santa Maria Beach. Layer it with a light, breezy beach cover-up from your Cabo packing list, making a transition from a swim to a beachside lunch effortless. A wide-brimmed straw hat and a pair of oversized sunglasses will not only keep you chic but also shield you from the sun.
Complete your look with a pair of flip-flops featuring a fun design or embellishments. As for accessories, go for waterproof pieces like a shell anklet or a beach-inspired charm bracelet. To carry your beach essentials, opt for a straw beach bag, big enough for your beach towel and sun protection. Don't forget your waterproof phone case for those underwater photo sessions.
Exploring Downtown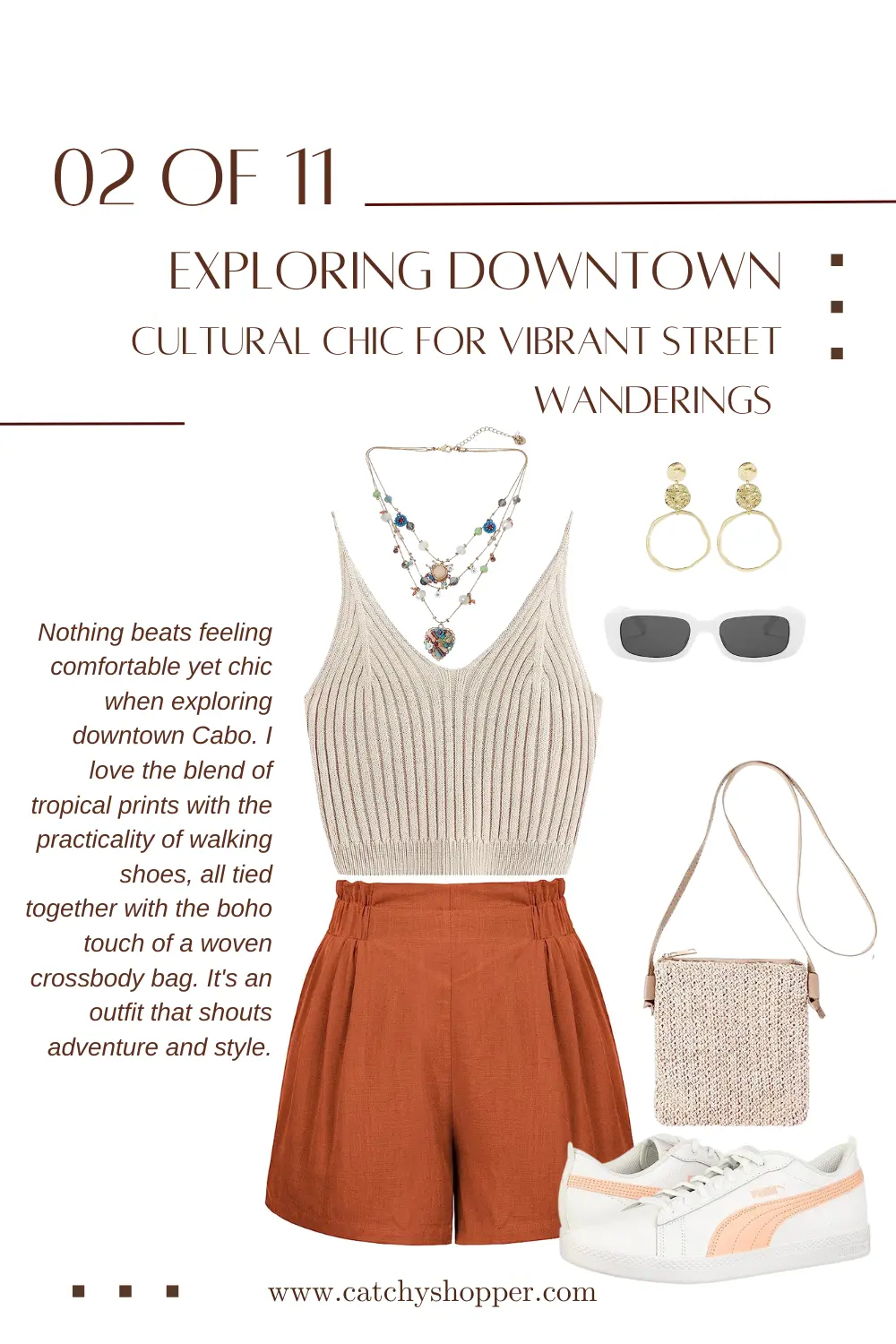 As you stroll through downtown Cabo San Lucas stay comfortable yet stylish with high-waisted linen shorts paired with a flowy tank top in a fun, tropical print. Pair it with comfortable walking shoes - a pair of trendy white sneakers would be a perfect choice.
Carry your essentials in a woven crossbody bag for that boho touch. Layer on a few delicate gold necklaces and add some earrings to elevate your casual look. If shopping is on the agenda, a reusable fabric tote bag would be a convenient and eco-friendly choice to carry your finds.
Hiking Adventure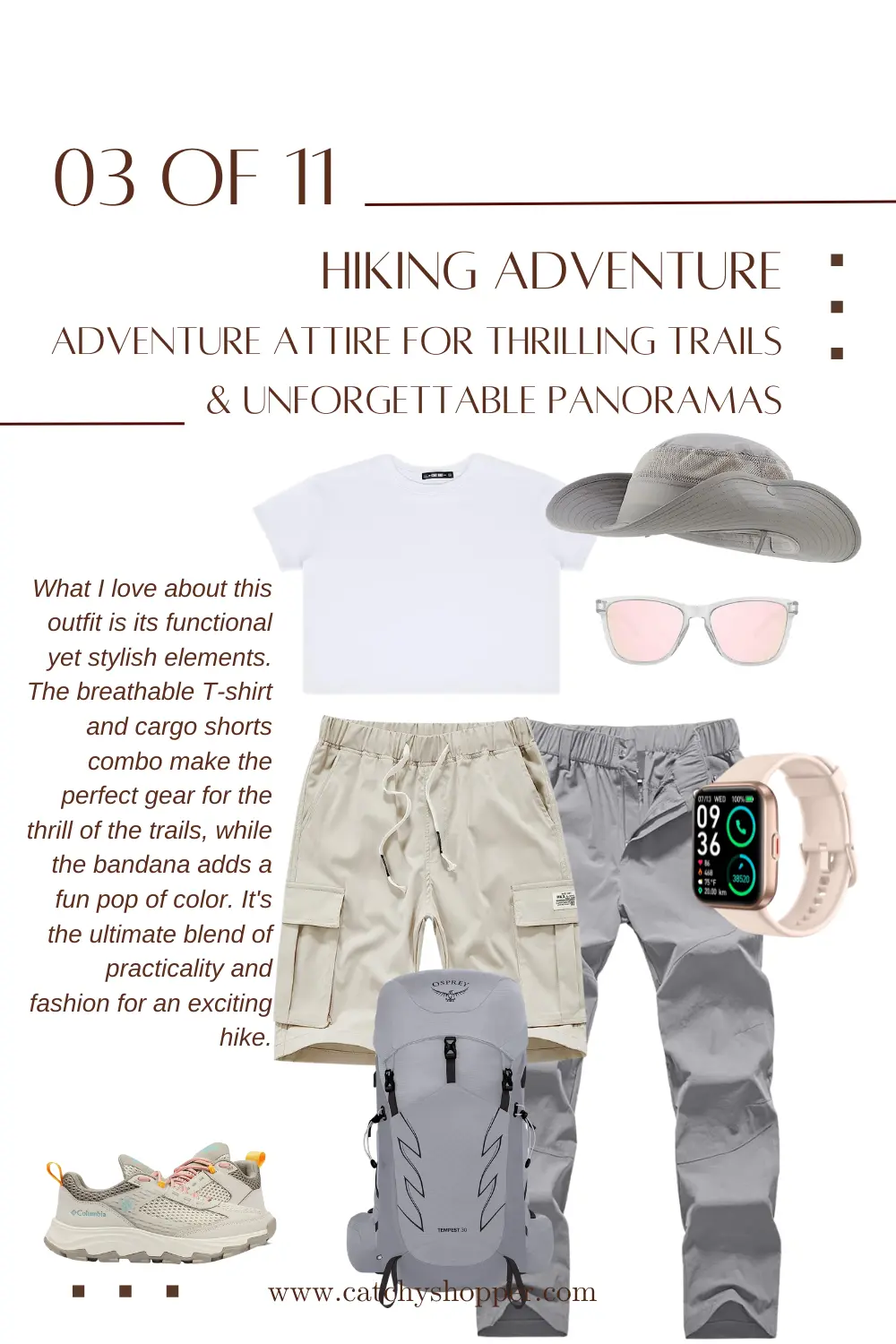 When you're ready to take on adventure activities in Cabo, like a hike in Fox Canyon, it's all about practicality. Opt for a breathable, quick-drying T-shirt, and sturdy cargo shorts or lightweight hiking pants. Ensure you wear hiking shoes with good grip. Accessorize with a sports watch, polarized sunglasses, and a hiking hat that can double up as a headband. A small but durable backpack is a must-to-carry water, snacks, a trail map, and a first aid kit.
Evening Dining in Los Cabos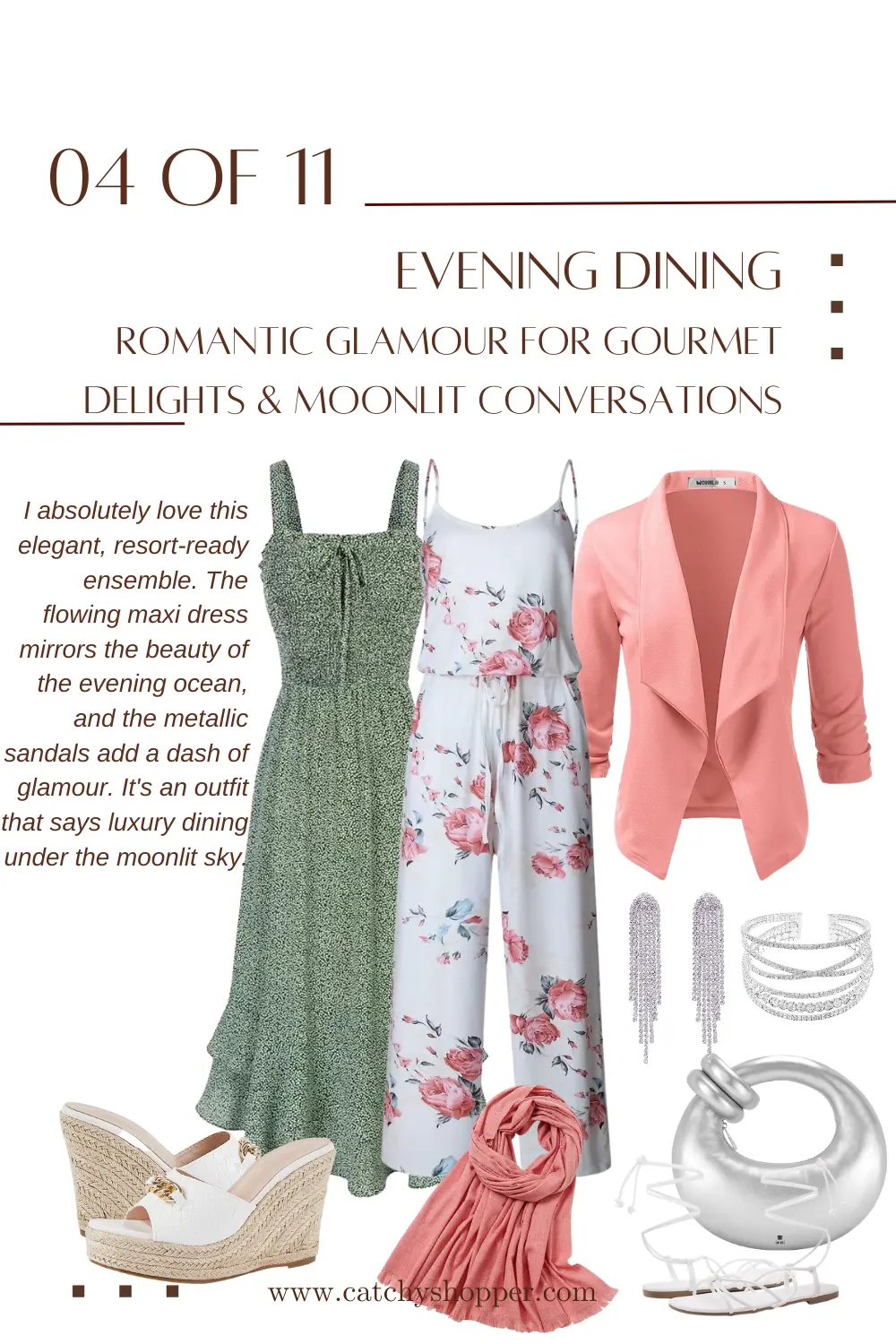 The dress code for resort restaurants in Los Cabos often leans towards the elegant. For those magical resort evenings in Los Cabos, turn heads with a flowing maxi dress or a chic jumpsuit. Opt for cool tones to reflect the evening ocean hues. Pair your outfit with strappy sandals or wedges in metallic or neutral shades.
Statement jewelry pieces like a pair of chandelier earrings or a cuff bracelet can add a glamorous touch to your outfit. Complete your look with an elegant clutch where you can keep your essentials for the night. Remember, a classy wrap or a light jacket could be a great addition, as evenings can sometimes be breezy.
Nightlife in Cabo San Lucas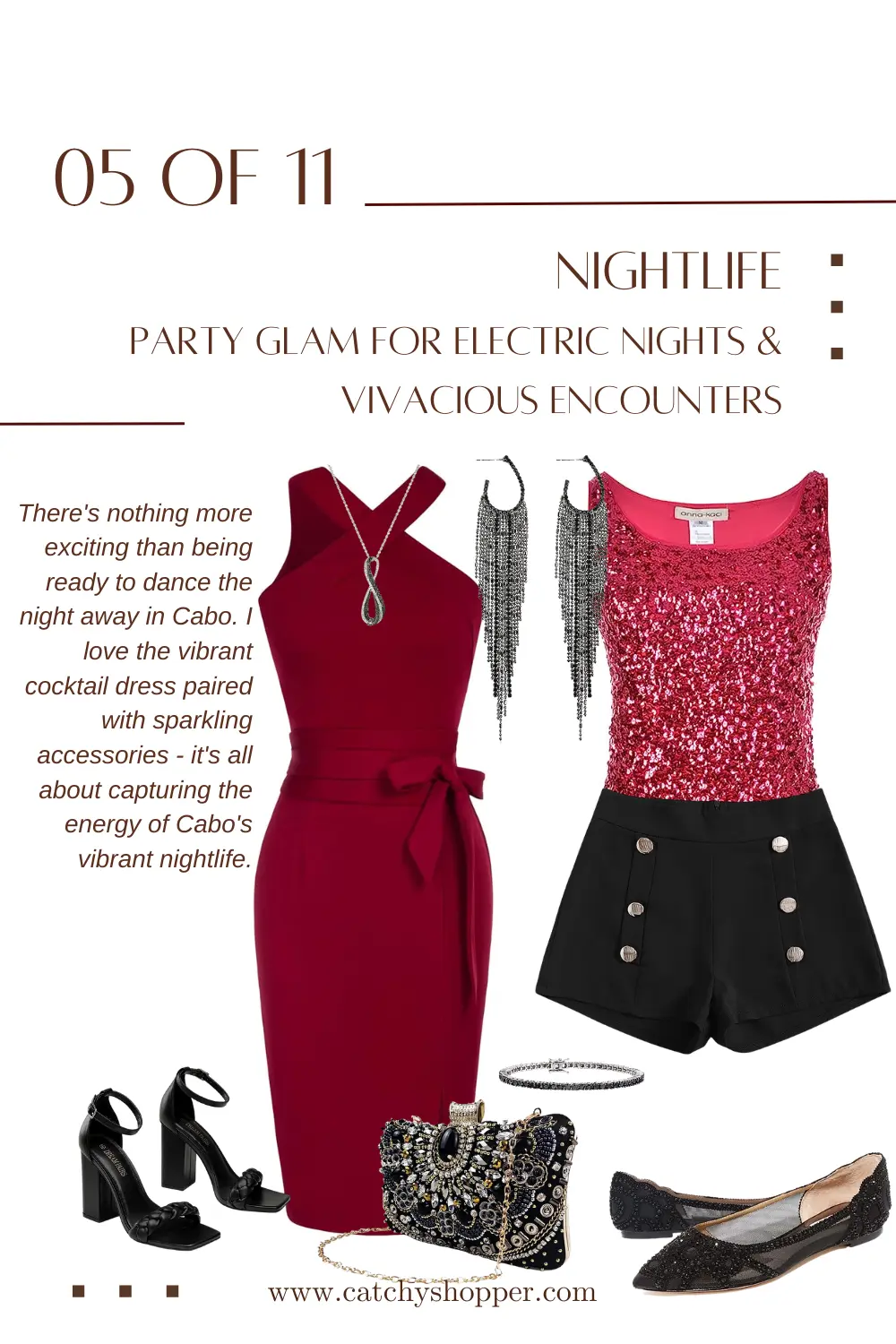 Ready to enjoy Cabo San Lucas nightlife? Make heads turn with a fitted cocktail dress in vibrant hues or pair a trendy sequined top with tailored shorts for a glamorous look. Add a pair of comfortable yet stylish block heels or embellished flats for that extra sparkle.
Carry a small, chic clutch to hold your essentials for the night. Accessorize with a statement cuff bracelet or chandelier earrings that sparkle under the Cabo night sky. You could also add a delicate layered necklace to enhance your outfit. Remember, in Cabo, your clothing should be as vibrant and exciting as your vacation itself!
Luxury Resort Wear
When it's time to lounge around your luxurious hotel room or explore the scenic resort corridor, slip into a silk or chiffon kaftan, boasting tropical prints or bright colors. Alternatively, consider pairing high-waisted linen shorts with a silk camisole for a chic yet comfortable outfit.
Enhance your resort city look with a wide-brimmed hat adorned with a colorful ribbon and fashionable sandals. Carry a tote bag to hold your essentials as you move around the resort. Add some designer sunglasses, and dainty gold jewelry like a minimalist necklace or hoop earrings for a touch of understated glamour.
Gear up for your next vacation with our stylish suggestions for Resort and Beach Wear. Dive into our Pool Outfit Ideas for looks that are both chic and comfy.
Yacht Day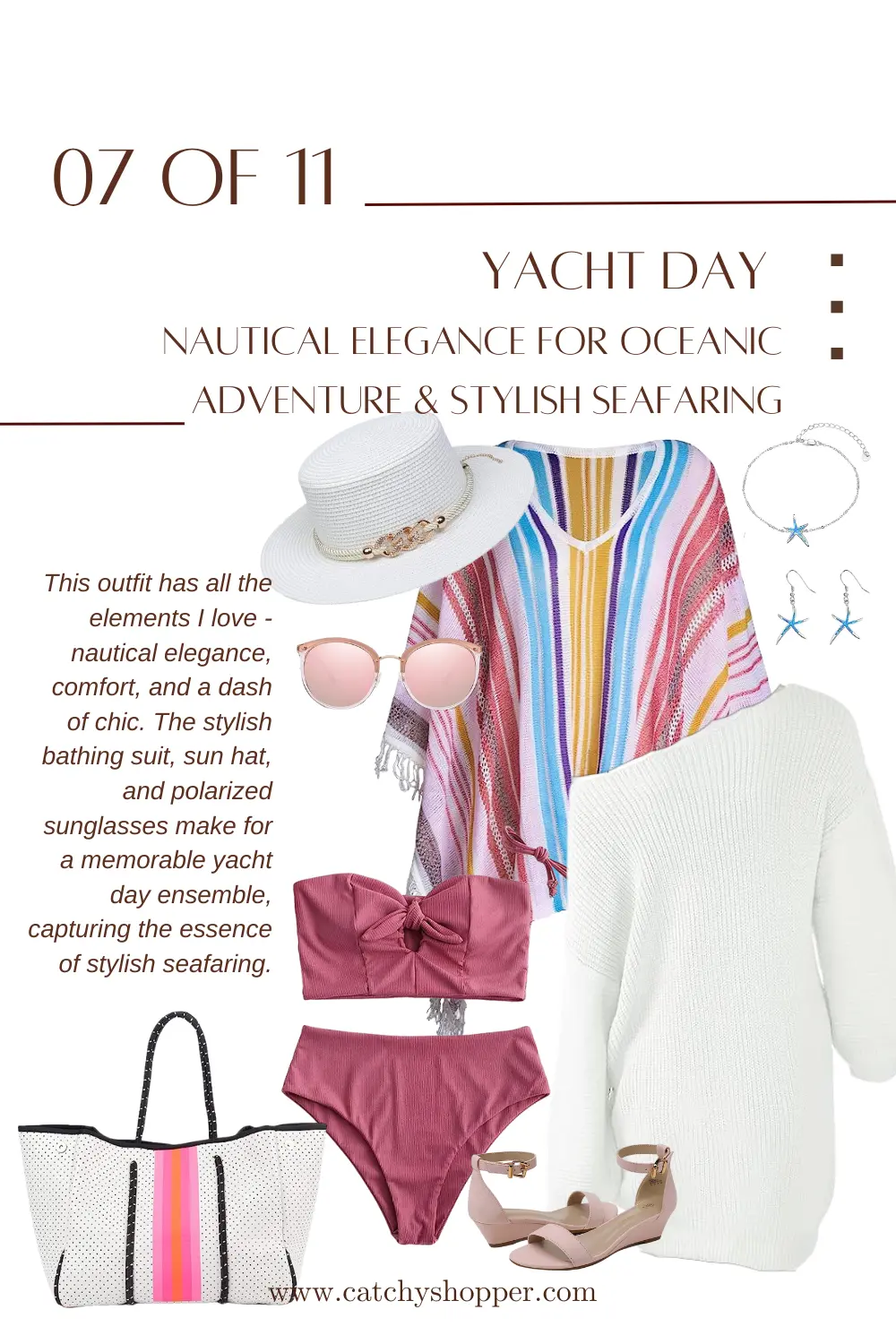 Set sail for a memorable yacht day with a stylish high-waisted bathing suit. Add a nautical-themed cover-up, perhaps in classic stripes. Protect yourself from the sun with a chic sun hat, preferably with a wide brim for added style. Slide into a pair of comfortable but stylish sandals that match your outfit.
Don't forget your polarized sunglasses, crucial when you're planning to watch the stunning whale sharks in the Baja California Sur area. Carry a water-resistant tote bag for your essentials, and accessorize with waterproof or sea-inspired jewelry, like a starfish pendant or shell earrings. Don't forget a light wrap or cardigan in case it gets breezy on the water.
Sport Fishing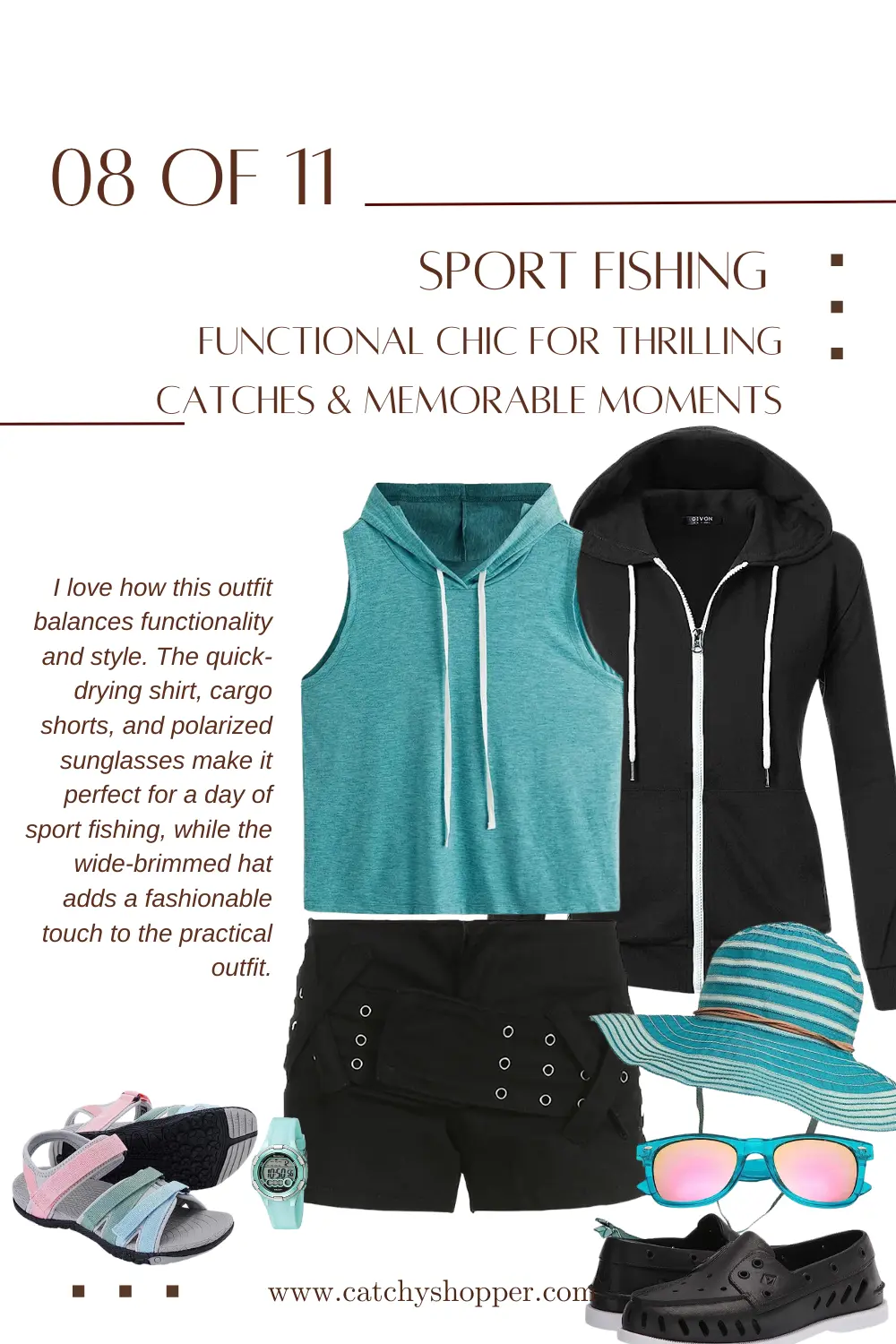 When you're ready for sport fishing off the southern tip of the Baja California Peninsula, choose a breathable, quick-drying shirt in light colors to reflect the sun's heat, paired with cargo shorts for practicality. Consider footwear like boat shoes or sturdy sandals for grip and comfort. Protect your head with a wide-brimmed hat, preferably one with a cord to prevent it from blowing away.
A pair of polarized sunglasses will help reduce glare from the water, and a waterproof wristwatch will keep you on time. Carry a water-resistant bag to protect your personal items and gadgets. And remember, a long-sleeved light jacket might come in handy in case the weather turns.
Sunset Cruise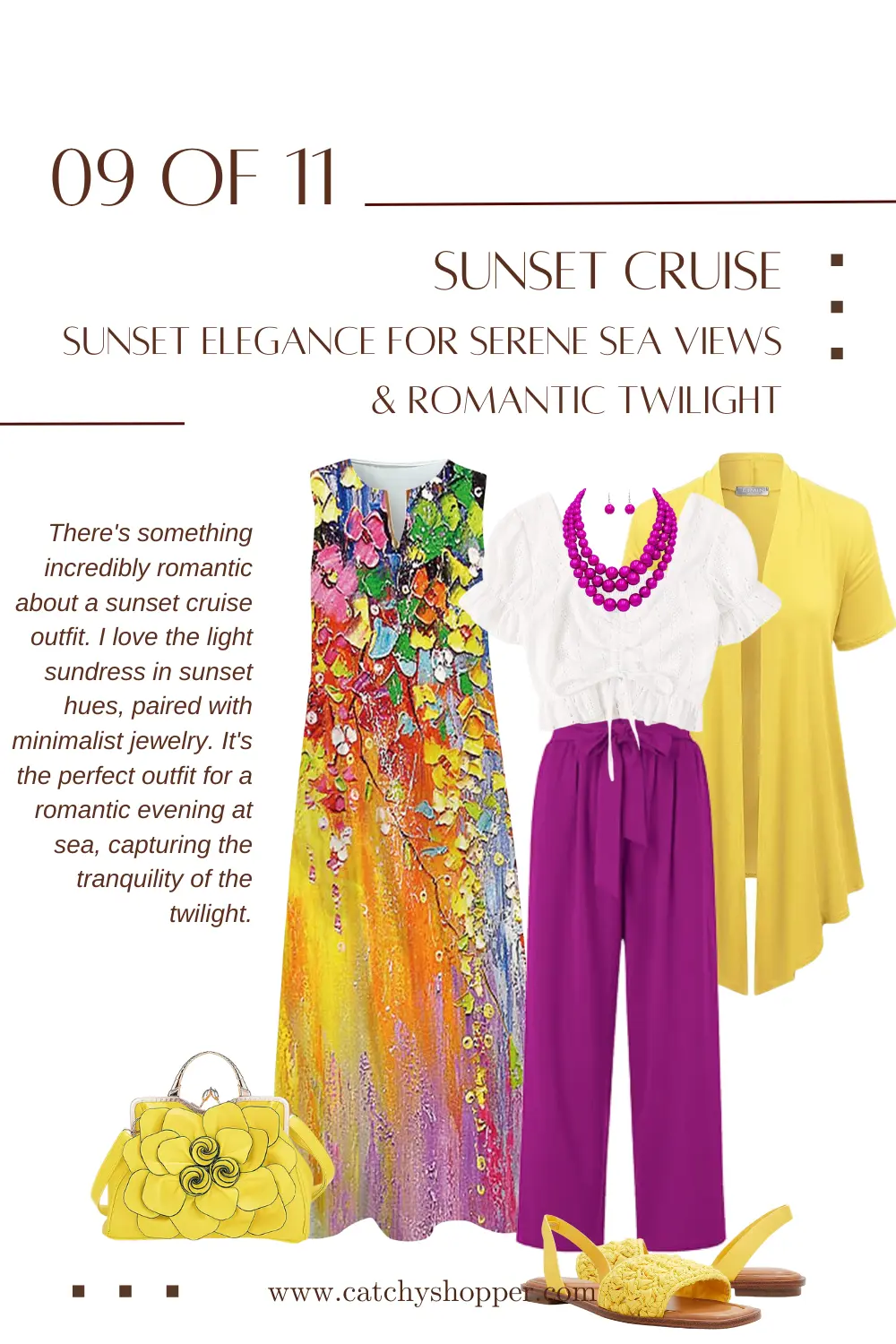 For your romantic sunset cruise, go for a light sundress in sunset hues like coral or blush. If you prefer pants, chinos paired with a crisp polo shirt will keep things smart-casual. Complement your outfit with a pair of stylish comfortable sandals in neutral colors and an evening clutch.
Bring a lightweight shawl or cardigan to stay cozy as the temperature drops in the evening. Don't forget your portable power bank to ensure you capture all those stunning sunset views without worrying about the battery. Consider accessorizing with minimalist jewelry pieces like a pendant necklace or hoop earrings to add a subtle glow.
Day at a Spa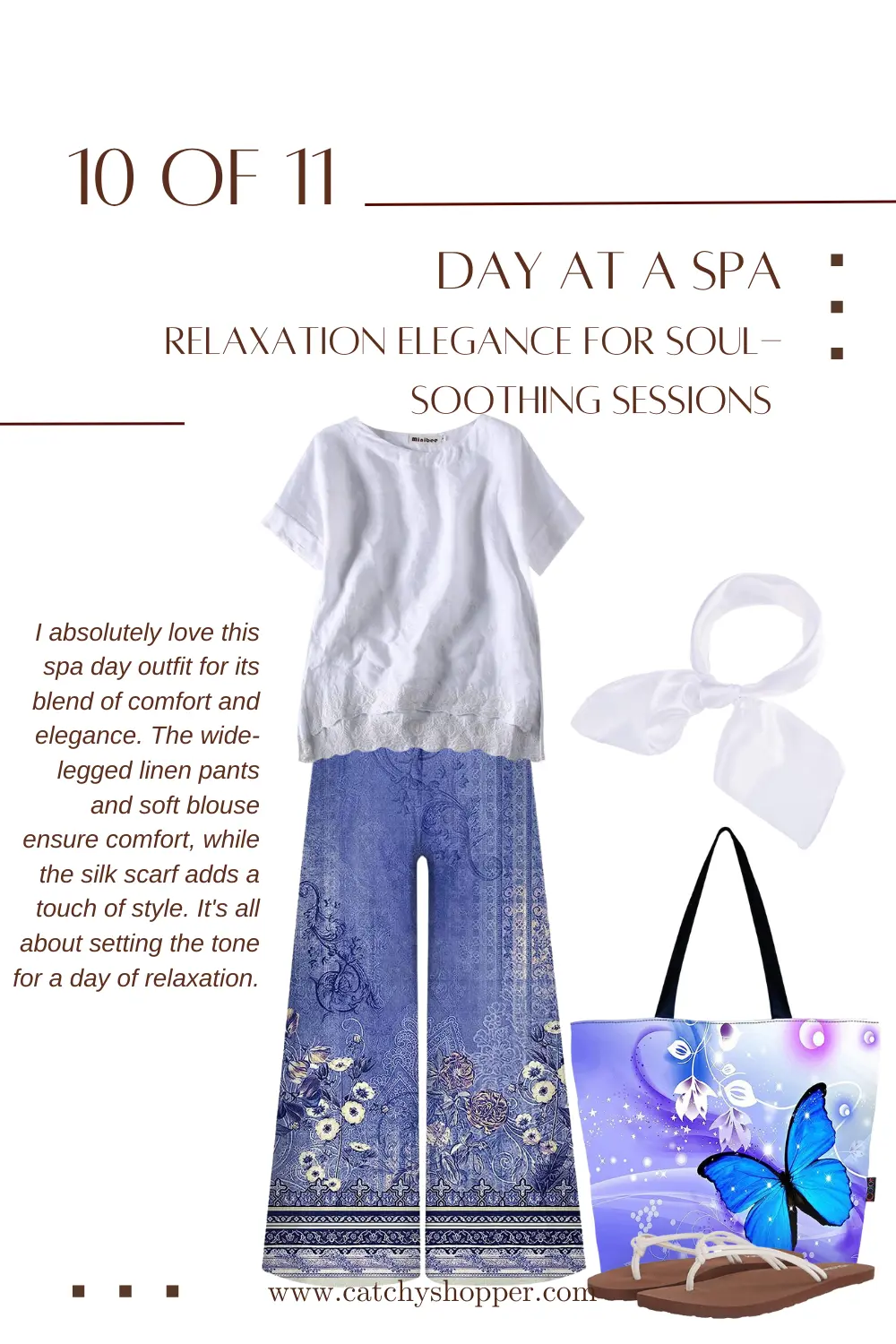 Prepare for a tranquil day at a spa in San Jose Del Cabo by choosing loose, comfortable clothing, such as wide-legged linen pants coupled with a lightweight cotton blouse. These can easily be slipped on and off before and after treatments. Most spas will provide a robe and slippers upon arrival, but you might want to carry your own flip-flops for the shower or pool area.
For a touch of personal style, consider a silk scarf or bandana that can also double as a headband. Carry a spacious tote bag with your essentials, like a good book, a reusable water bottle, and perhaps your favorite body lotion or oil for post-treatment skin hydration.
Horseback Riding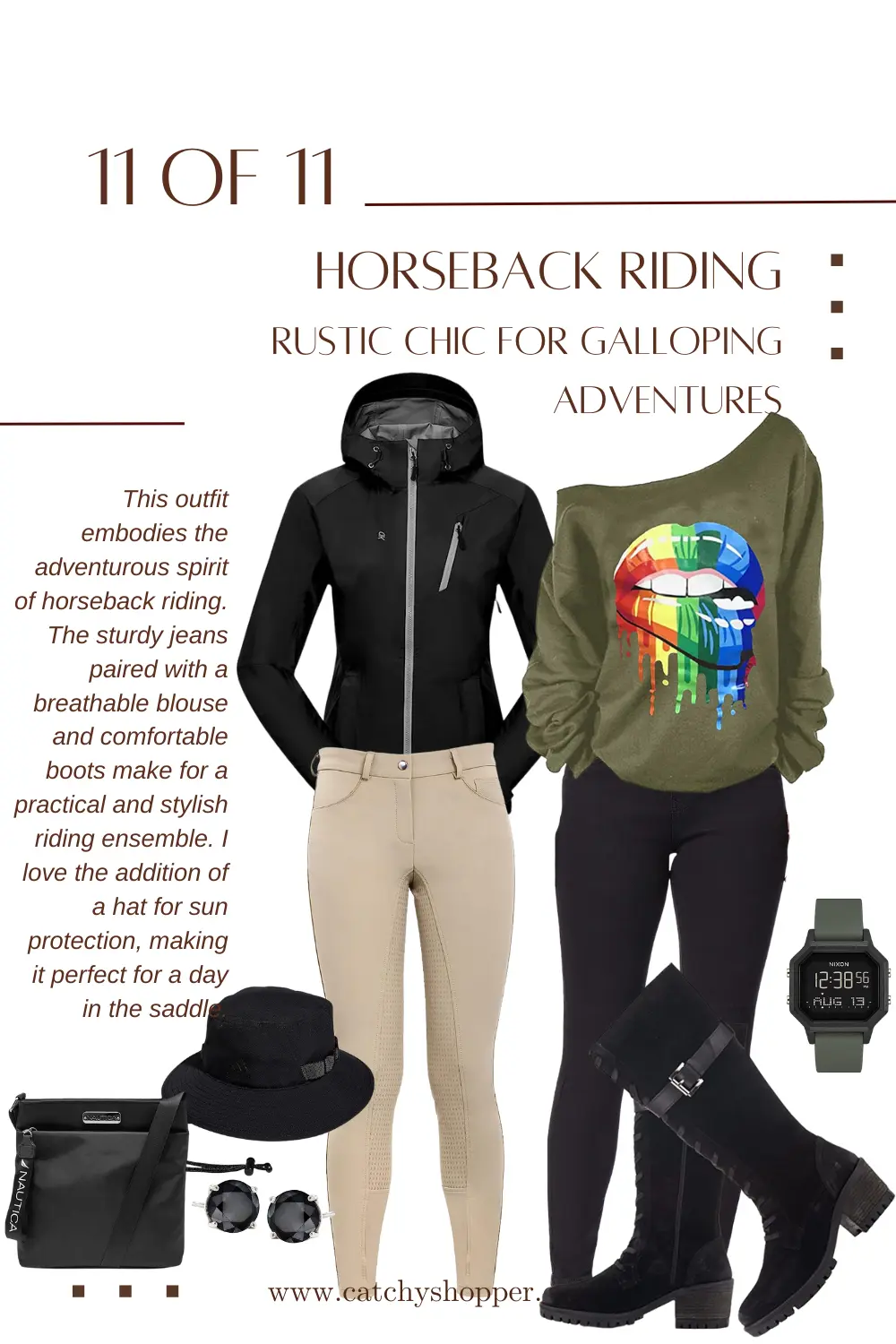 Horseback riding in Cabo is an unforgettable experience. Go for long, stretchable pants like riding breeches or even a pair of sturdy jeans that can stand up to the rigors of a day in the saddle. Pair these with a breathable, long-sleeved blouse in a light color to keep the sun off your arms. A pair of comfortable boots with a small heel is a must to keep your feet secure in the stirrups.
Carry a light jacket in your carry-on luggage, as it can get cooler in the evening. Don't forget a hat with a strap for sun protection. A crossbody bag would be ideal to carry essentials without interfering with your riding experience. Accessorize with simple, practical pieces like a waterproof wristwatch and small, stud earrings.
Don't forget to stay fresh on your trip, so take a peek at my posts about Travel-Sized Beauty Products and Travel-Sized Toiletries. These will keep you feeling great and looking stunning all day long.
Final Thoughts
Well, my loves, that's it – my ultimate guide to what to wear in Cabo. From long pants for horseback riding to the cutest beach cover-ups, we've covered it all. And trust me, dressing right will make your visit to Cabo even more memorable. Now you're ready to pack for Cabo like a pro, with your suitcase neatly organized with packing cubes and a wardrobe that's as versatile as it is stylish. Remember, fashion isn't just about looking good – it's about feeling good. So wear what makes you feel fabulous and enjoy every second of your Cabo vacation. After all, in Cabo Mexico, every moment is a moment to shine!
Other Posts You May Like
Here are some other articles you may find interesting:
Set off on a fashion journey with our concise guides on attire from around the world. Uncover the tropical charm of Hawaii, the eternal appeal of Greece, and the lively energy of Vegas. Learn how to blend with the locals and fully engage in the unique fashion culture of each destination.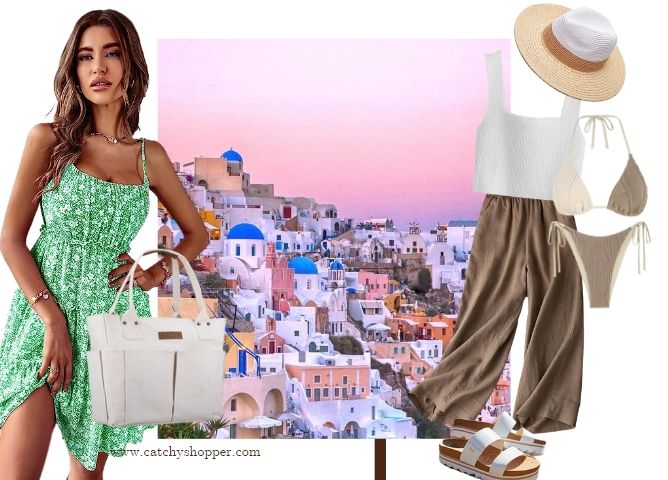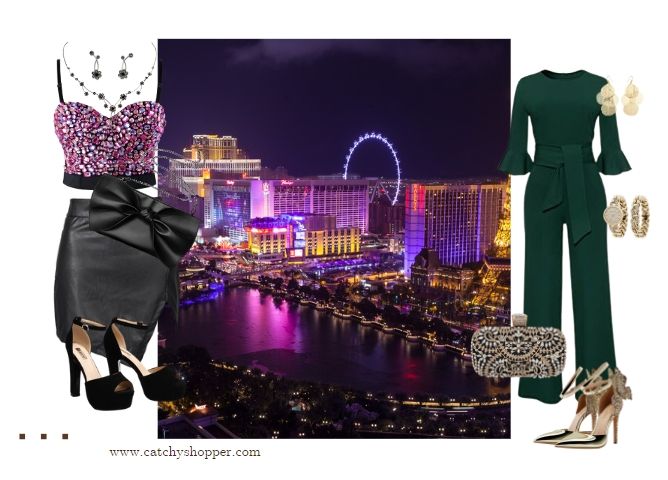 Unleash your adventurous spirit with our Boho and Vacation Outfit Ideas. Don't miss our Festival Outfits and Summer Outfits with Hats collections for an additional dash of fun!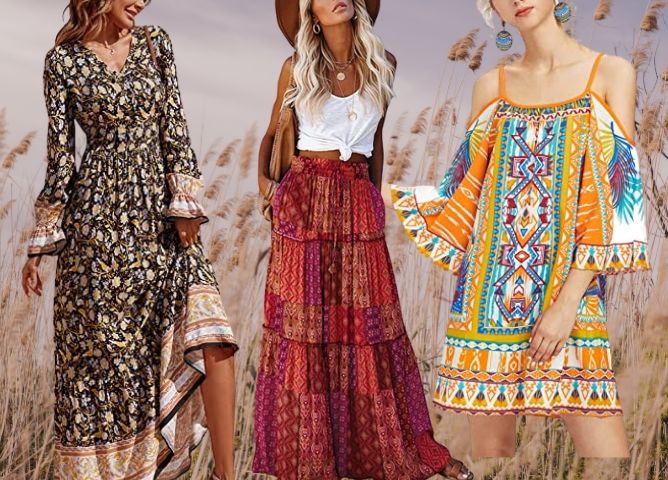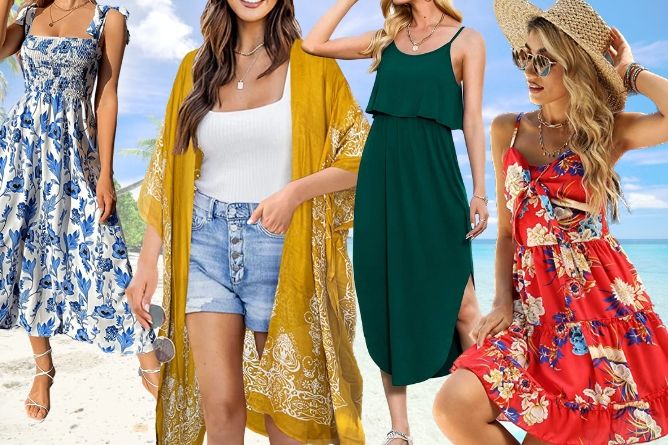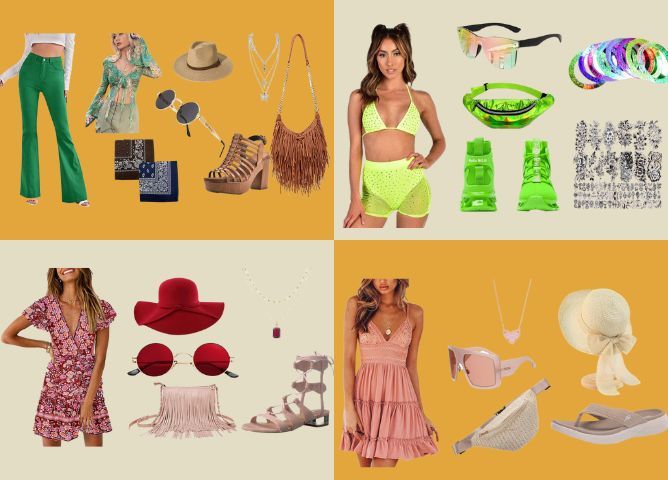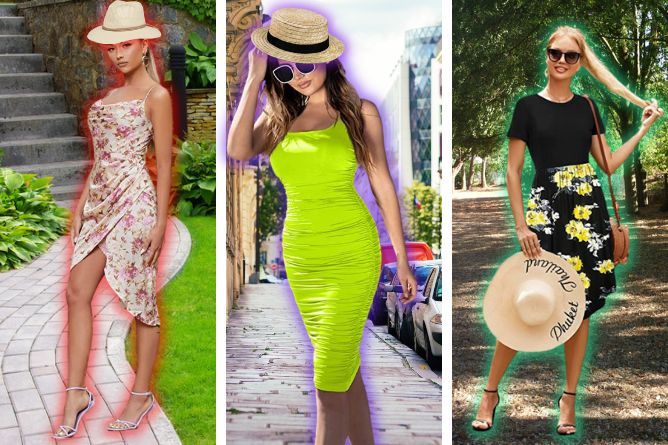 Keep up with the fashion front-runners with our Tube Top and Crop Top Outfit Ideas. If you're seeking a dash of femininity, our Sundress Outfit Ideas will not disappoint.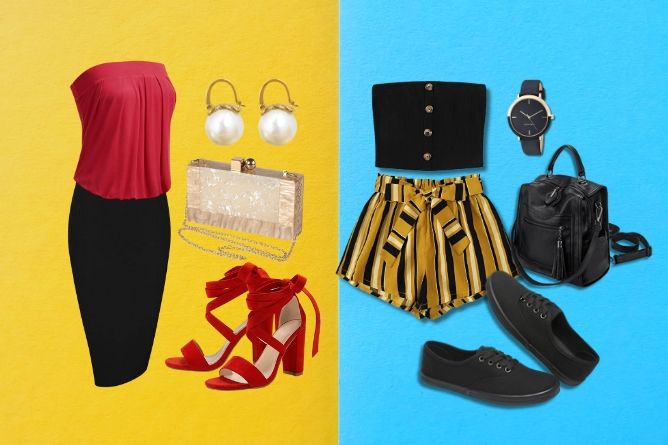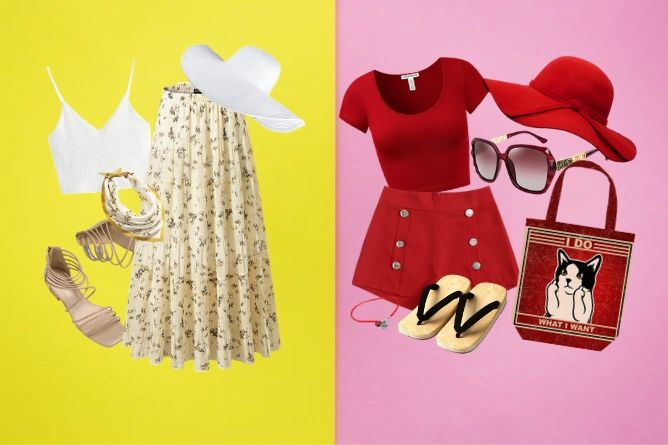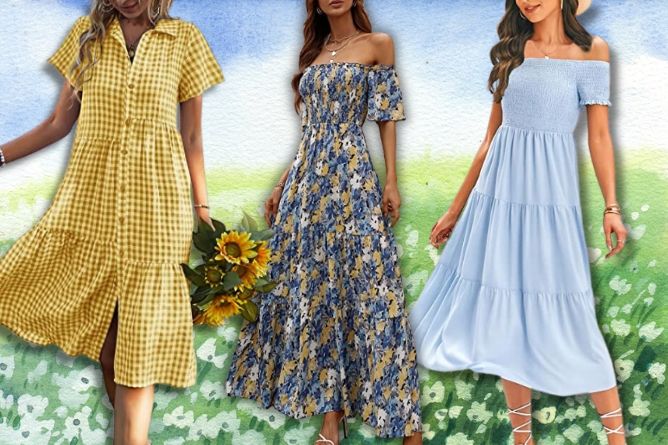 Comments