This post may contain affiliate links, please see our privacy policy for details.
Imagine the bright Mexican sun warming your skin as you step out onto cobblestone streets, vibrant colors splashed around you in the form of traditional markets, and street murals, the tantalizing scent of local cuisine wafting through the air. Mexico, a country rich in culture, tradition, and hospitality, invites you to an unforgettable experience. As you prepare for this vibrant adventure, one crucial aspect stands at the forefront of your preparations - your wardrobe.
In What to Wear in Mexico, we seek to guide you through this essential part of your journey, enabling you to embrace Mexico's vibrant spirit through your outfits. We believe that dressing right can significantly enhance your travel experience, reflecting your respect for local customs while ensuring your comfort throughout your trip. Our mission here is to equip you with the knowledge to confidently pack your bags, knowing your chosen outfits will not just blend seamlessly into the Mexican landscape, but also elevate your travel moments, transforming them into memories you'll cherish forever.
Mexico, with its diverse regional cultures and festive spirit, presents an excellent opportunity to experiment with your style. From the tranquil beaches of Cancun to the bustling cityscape of Mexico City, every location offers unique opportunities to don new looks and embrace bold styles.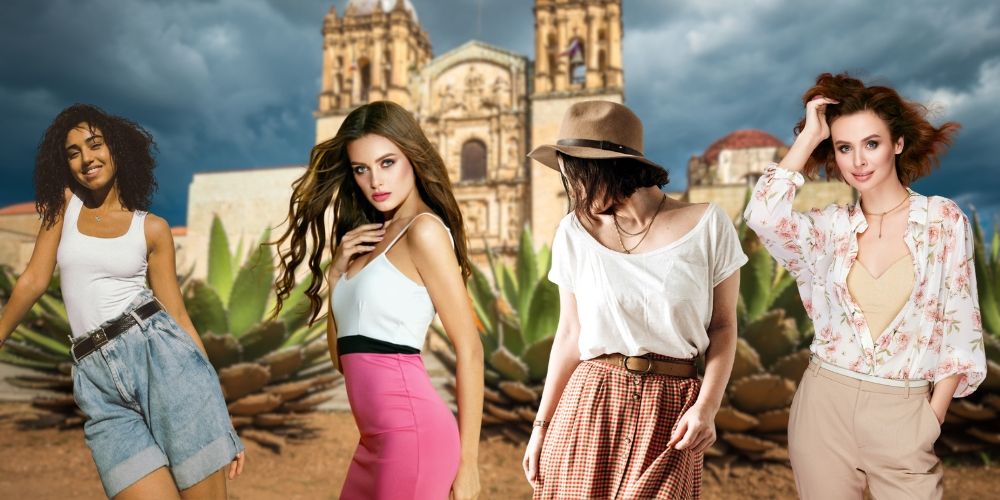 For those seeking more style inspiration, we invite you to explore our wide range of blog posts. Whether it's Boho Outfit Ideas, Vacation Outfits, or Summer Outfits with Hats. that interest you, we have it covered. Looking to make a fashion statement at a festival or need tips for your beach getaway? Our posts on Festival Outfits, Resort Wear, and Beach Wear are just what you need. From Denim Shorts Outfits to Pink Outfit Ideas and even Jury Duty Outfits, we've aimed to address your diverse fashion needs.
So, are you ready to embark on this exciting style journey with us? Let's pack those bags and dive into the brilliant world of Mexican fashion together. Your Mexican adventure is waiting, and it promises to be as bright, warm, and unforgettable as the country itself.
Understanding the Climate in Mexico
Mexico is a diverse country with varying climate zones, making it an excellent destination year-round. However, the climate greatly impacts the type of clothes you should pack, and understanding the weather conditions is crucial for a comfortable and enjoyable trip.
Generally, Mexico has two main seasons - the wet season and the dry season. The dry season, from November through May, is characterized by sunny days and cooler nights. This time of year is ideal for light, breathable clothing during the day and a light jacket or sweater for the cooler evenings.
The wet season, from June to October, is marked by afternoon showers, although mornings typically remain sunny. Light, quick-drying clothes are recommended during this period. An essential item to pack would be a lightweight rain jacket or a portable umbrella to shield you from sudden downpours.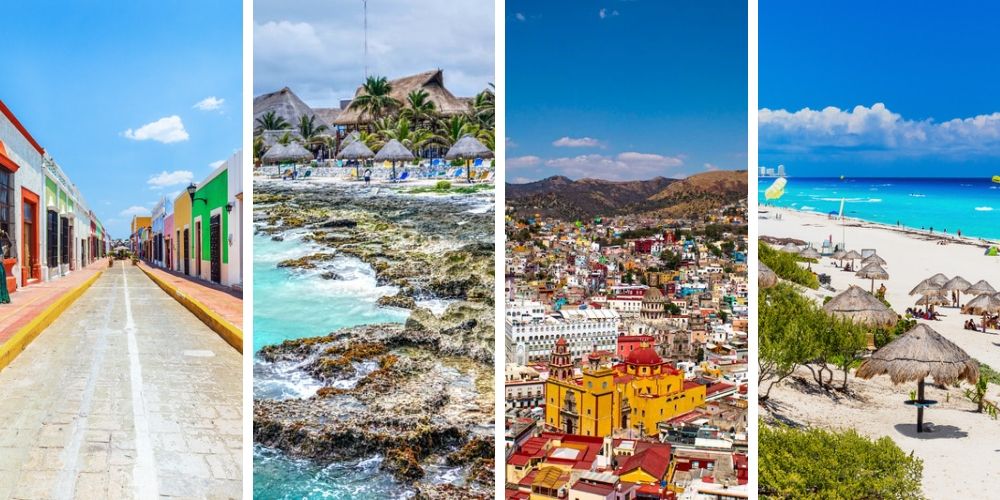 On the Pacific Coast, where popular destinations like Puerto Vallarta and Acapulco are located, temperatures remain warm throughout the year, with highs often exceeding 30°C (86°F). Beachwear, light clothing, and sun protection are necessary here, regardless of the month.
In contrast, Mexico City, located in the high-altitude central region, experiences cooler temperatures. The weather here can be unpredictable, with warm days and chilly evenings, particularly from November to February. Layered outfits and a good jacket are advised for these cooler temperatures.
Specific months have their considerations too. For instance, if you plan to travel to Mexico in September or October, remember that these months are at the heart of the hurricane season, particularly in coastal areas. Waterproof shoes and rain gear become essential items in your packing list.
In contrast, December in Mexico is typically mild with cooler nights. In addition to your light clothing, packing a couple of warmer layers is beneficial for when the temperatures drop in the evening.
Understanding Mexico's climate is the first step in packing the right clothes for your trip. Now that you're equipped with this knowledge, let's explore the various outfits suitable for this fascinating country!
What to Pack for Different Mexican Cities
Each city in Mexico possesses a unique charm and distinct weather patterns that require a tailored approach when packing your travel wardrobe. Having personally traveled across this beautiful country during different seasons, I've gained first-hand insights into what works best. Here's my guide on what to pack for various Mexican cities:
Mexico City: Urban Chic and Cultural Elegance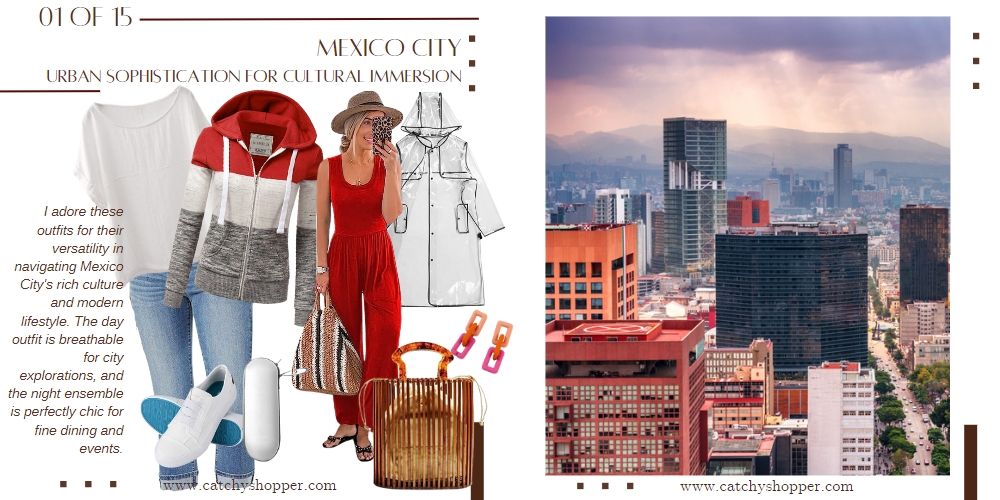 Mexico City, a fusion of ancient culture and modern sophistication, demands a versatile wardrobe. Whether exploring the rich historic sites or dining at a world-class restaurant, the outfits you choose should mirror this vibrant city's spirit.
Day: A breathable cotton blouse paired with comfy jeans offers the perfect outfit to navigate the city. Comfortable walking shoes are a must for the cobblestone streets. And given the city's high altitude, a light jacket is handy for when temperatures drop in the evening.
Night: Up the style quotient with a sleek jumpsuit or a chic dress for a night out at the opera or a fine dining experience. Pair it with statement earrings and a stylish clutch for added glamour.
Rainy Season: Don't forget to pack a compact, sturdy umbrella and maybe even a light raincoat for the rainy season.
Cancun: Tropical Paradise and City Sophistication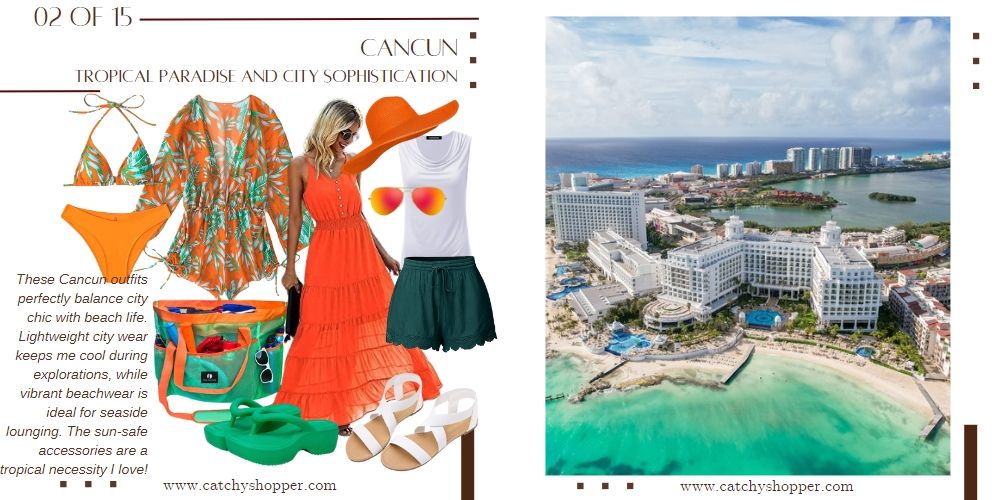 Embracing the beach culture is key in Cancun. However, there's more to this city than just its stunning coastline, so ensure you're prepared for city exploration as well.
Beach: The majority of your time in Cancun will likely be spent in bathing suits and beach cover-ups. A pair of flip flops and a beach bag for your seaside essentials are also a must.
City Exploration: Lightweight clothing like sundresses, shorts, and tank tops are perfect for venturing into the city. A cute pair of sandals can elevate your outfit while keeping comfort in check.
Sun Protection: Given Cancun's tropical climate, a wide-brimmed hat, sunglasses, and ample sunscreen are vital to protect yourself from the sun.
Cabo San Lucas: Seaside Glamour for Day and Night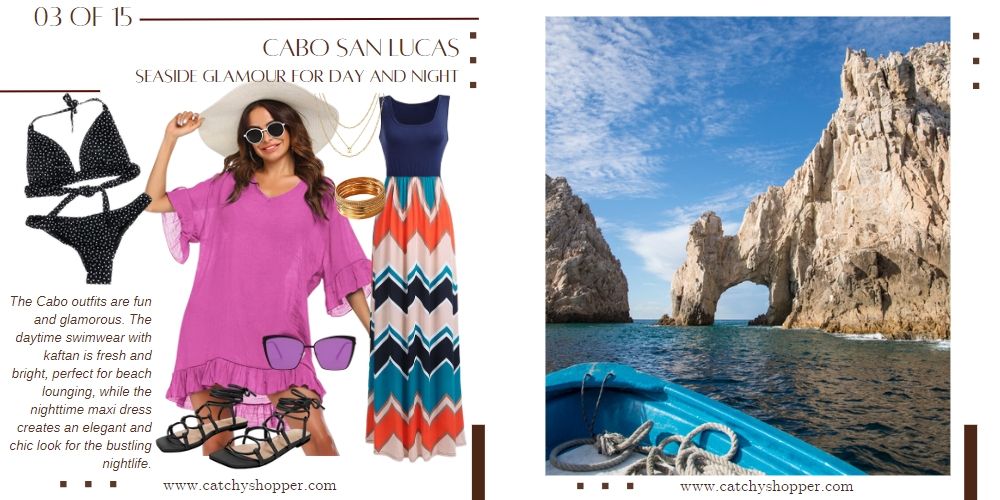 In Cabo San Lucas, where the desert meets the ocean, your outfit should be as diverse as the landscape. Breezy beachwear for daytime lounging transitions to chic, versatile pieces for night-time exploration. Here's a detailed outfit:
Day: A bright or pastel-colored bikini paired with a light, airy kaftan. Complete the look with strappy sandals, oversized sunglasses, and a straw hat for protection from the desert sun.
Night: A stunning maxi dress in bold, vibrant colors is perfect for dining out or dancing the night away. Pair it with gladiator sandals for an edgy look or wedges for added height. Layered gold necklaces and bangle bracelets add a touch of glamour to your outfit.
Other Cities: Navigating the Diversity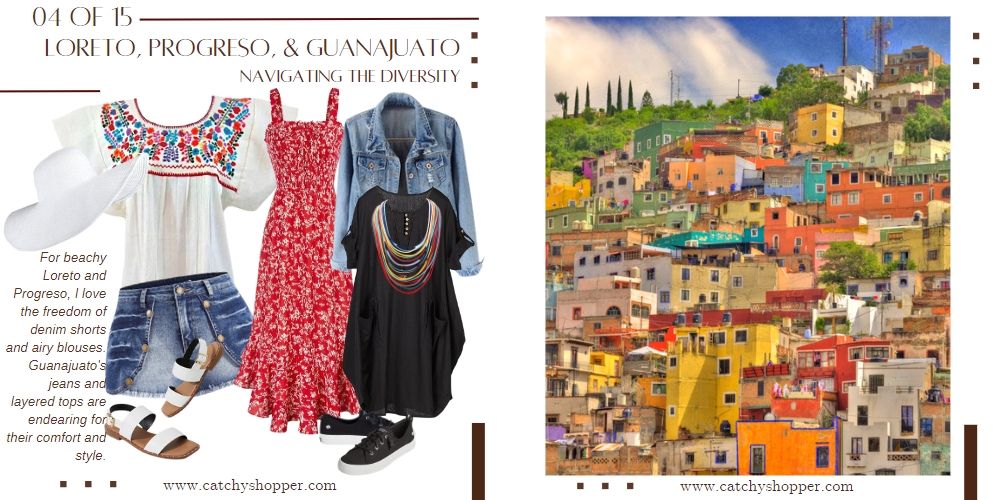 Loreto, Progreso, and Guanajuato each have their unique charm and climate, demanding a flexible wardrobe.
Loreto and Progreso: Coastal cities like Loreto and Progreso are perfect for beachwear similar to Cancun and Cabo. Think denim shorts and light, airy blouses for casual exploring, and stunning sundresses for evening outings. Don't forget comfortable sandals, a broad-brimmed hat, and your favorite pair of sunglasses.
Guanajuato: Guanajuato's mountain location calls for a warmer wardrobe. Comfortable walking shoes are essential for navigating the hilly terrain. Pack a versatile denim jacket or a cozy cardigan for the cooler evenings. Day outfits can include jeans paired with layered tops, while night-time demands a bit more sophistication - a sleek black dress paired with a statement necklace works wonders.
No matter which city in Mexico you decide to explore, I've always found it best to pack a mix of casual and formal wear, keeping in mind the local weather, planned activities, and local customs. Trust me, the joy of travel is not just seeing new places, but in blending in and experiencing life as locals do.
Mexican Vacation Clothes for Women
As a seasoned traveler who has traversed the vibrant landscapes of Mexico during different seasons, I've discovered that each city, each event, and each season brings with it distinct fashion demands. Here's a compilation of the complete outfits I've donned, keeping comfort and style at the forefront:
Resort Wear: Tropical Elegance for a Luxurious Getaway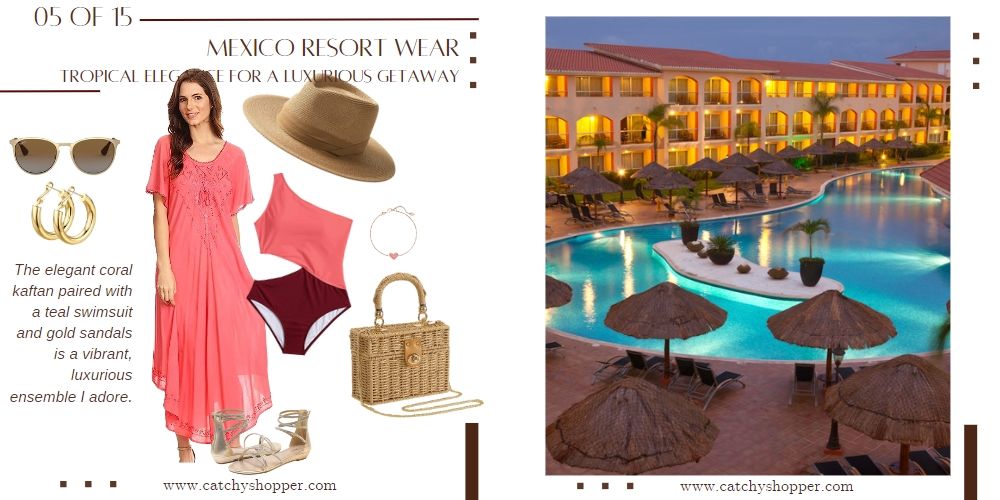 When visiting an all-inclusive Mexico resort in July, my ensemble of choice was a complete look that was both elegant and breezy. I slipped into a coral kaftan over a teal one-piece swimsuit, coupled with strappy gold sandals. A wide-brimmed straw hat was my shield against the sun, and a pair of round-framed sunglasses added a touch of glam. The accessories were kept minimal with gold hoop earrings and a couple of dainty bracelets, and a beige rattan crossbody bag served to carry my essentials.
Beach Outfits: Breezy Chic for Sun-Soaked Sand & Sea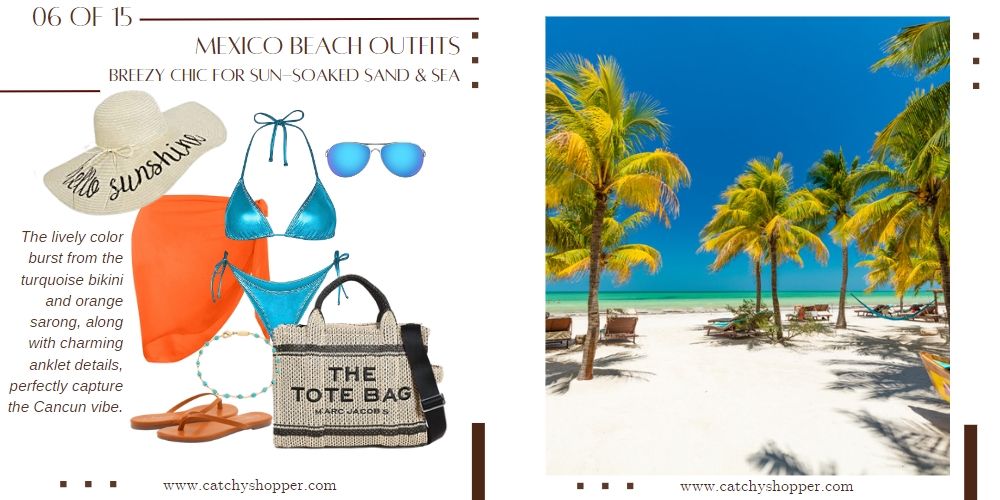 For beach vacations in Cancun in December, your Mexico vacation clothes should reflect the relaxed, sunny vibe in a tropical palette. I opted for a turquoise bikini, with a vibrant orange sarong serving as a striking contrast. Paired with matching flip flops, a floppy sun hat, and a beige canvas tote for beach necessities, I was all set for a day under the sun. A delicate anklet and mirrored aviator sunglasses were my chosen accessories.
City Tours: Urban Sophistication Meets Comfortable Exploration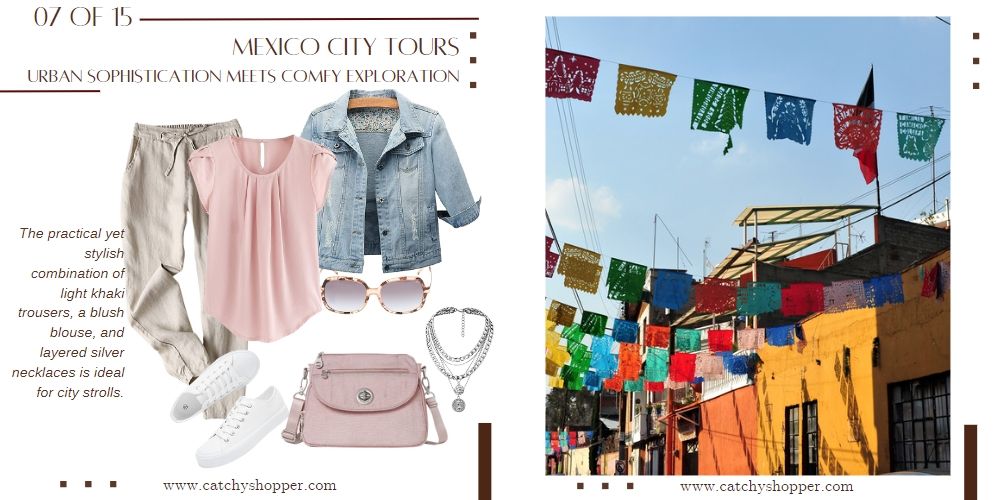 My April in Mexico City was an adventure that demanded comfort and chic appeal. I found my ideal mix in light khaki trousers paired with a breathable blush blouse, and comfortable white sneakers for all the city strolling. For those cooler 65-degree moments, I draped a medium-wash denim jacket. Classic tortoiseshell sunglasses, a compact blush crossbody bag, and silver layered necklaces added sophistication to the outfit.
Hotel Outfits: Refined Elegance for Relaxing Evenings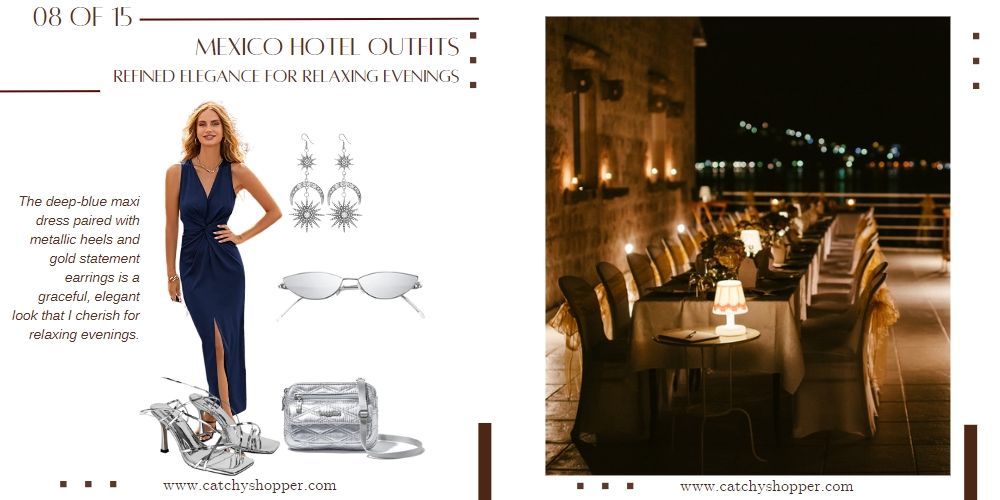 For leisurely hotel evenings, I aimed for casual yet sophisticated outfits. A deep-blue flowing maxi dress served as the perfect attire, paired with strappy metallic heels for an added touch of sophistication. I accessorized with a mini handbag, silver statement earrings, and a pair of sleek sunglasses.
Visiting Cultural and Historical Sites: Exploration in Comfort and Style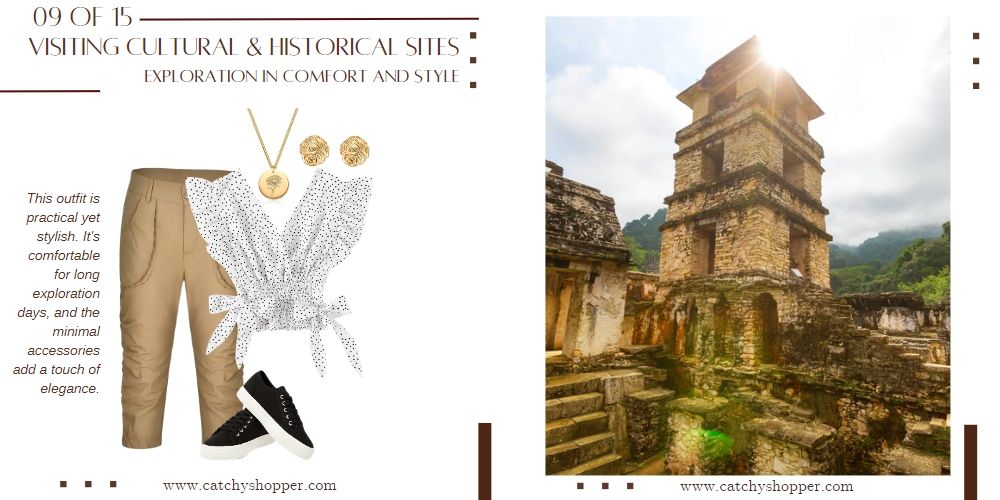 For visits to Mayan ruins or exploring central Mexico's cultural sites, I recommend practical yet stylish outfits. Think comfortable walking shoes, breathable clothing (think linen trousers and cotton tops), and a light jacket for cooler temperatures. A sturdy backpack, a brimmed hat, and UV-protective sunglasses are also essential. When I visited Chichen Itza, I wore khaki pants, a breathable white blouse, and sturdy sneakers. I accessorized with a simple pendant necklace and a pair of stud earrings.
Moving on to those memorable special occasions...
Mexican Concert Outfits: Bohemian Glamour for Vibrant Nights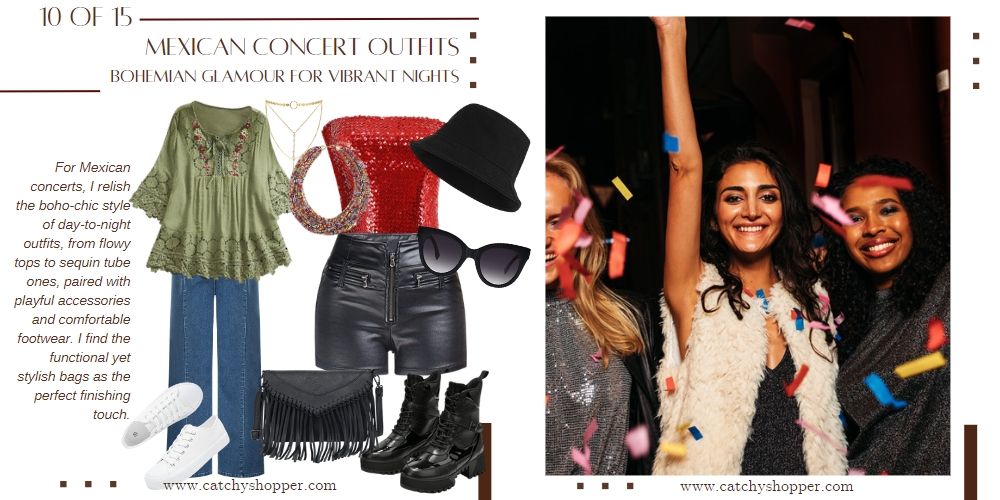 When it comes to attending concerts in Mexico, I've explored different styles to suit the occasion. Daytime events have seen me in my go-to outfit of high-waisted jeans and a flowy boho blouse, offering a chic yet comfortable look. For night concerts, I'd switch to a vibrant red sequin tube top for some sparkle, perfectly pairing with high-waisted leather shorts.
As for footwear, comfortable block-heel boots and white sneakers have been my trusty choices. In terms of accessories, a playful bucket hat and multi-color beaded necklace add a fun element to the ensemble. I've found that a compact crossbody bag or a festival-ready fringe bag are ideal for carrying my essentials. And to finish the look, a pair of cat-eye sunglasses during the day, or layered necklaces at night, lend the final touch of boho-chic glamour to my concert attire.
Mexican Wedding Attire: Ethereal Elegance for Beachfront Nuptials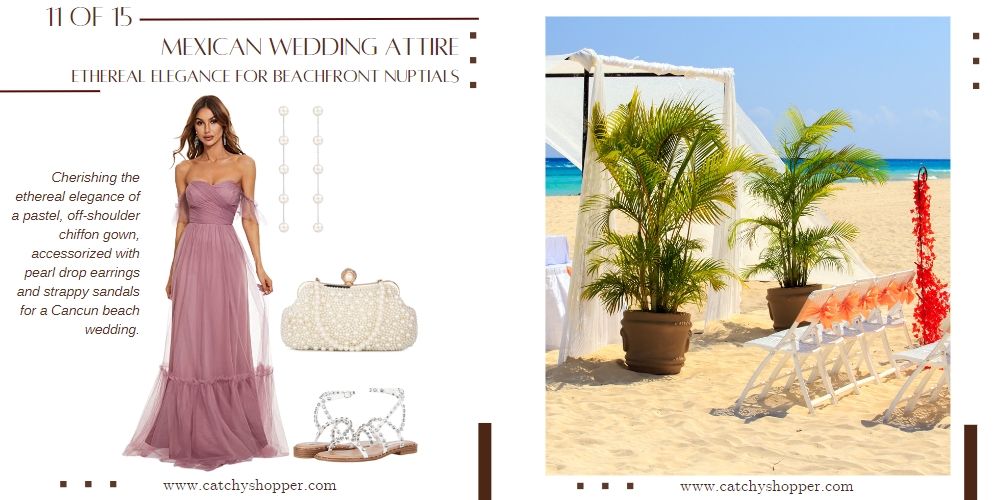 For weddings, particularly in beach destinations, I preferred light, airy fabrics like chiffon or silk. One particular favorite was a floor-length, off-shoulder chiffon gown in a soft pastel hue worn to a wedding in Cancun. This, paired with strappy sandals, pearl drop earrings, a delicate clutch, and a stylish updo, made for a picture-perfect beachside wedding look.
Mexican Parties: Vibrant Chic for Festive Celebrations
Whether it's a fancy dinner or a local fiesta, Mexican parties usually call for vibrant and comfortable attire. On one occasion, I opted for a brightly colored wrap dress, which not only stood out but was also incredibly comfortable for a night of dancing. I accessorized with statement earrings, a woven clutch, and comfy but stylish espadrille wedges.
Whether you're exploring Mexico's beautiful beach towns or enjoying the amenities of all-inclusive resorts, remember that your Mexico outfit ideas should harmonize comfort, suitability, and personal style. From Playa Del Carmen outfits to packing tips for central Mexico adventures, use this guide to help you pack efficiently for your Mexico vacation.
Outfits Based on Temperatures
65-Degree Weather Outfits: Layered Elegance for Cooler Climes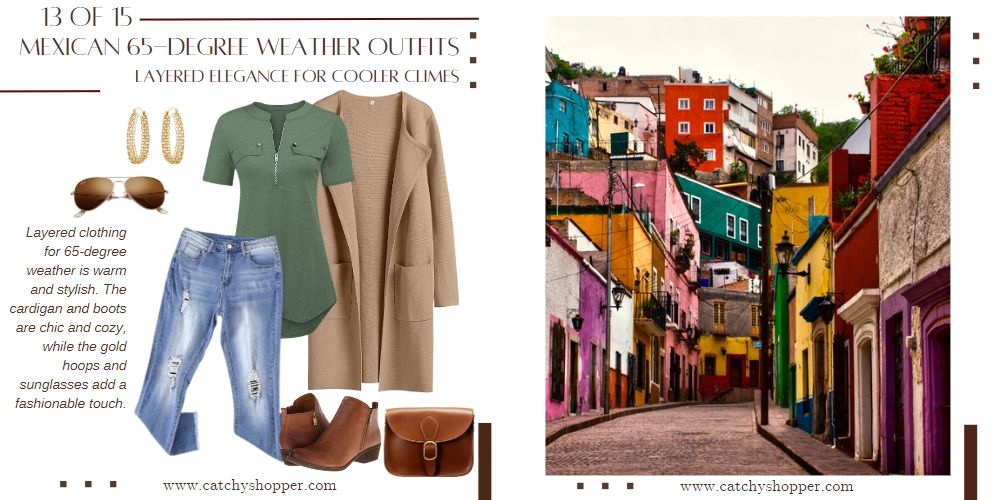 For cooler days in Guanajuato, I paired jeans with a comfortable olive-green blouse, a beige light cardigan, brown ankle boots, a matching leather satchel, and a chunky scarf. Accessorizing was simple with a pair of gold hoops and classic aviator sunglasses.
70-Degree Weather Outfits: Mid-Temperate Chic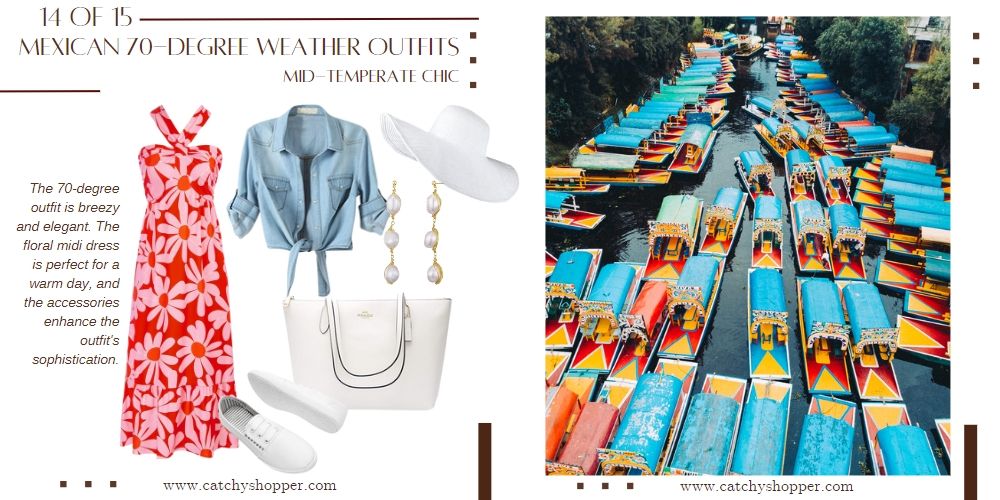 For a day in Mexico City in July or September, I wore a floral midi dress in pastel tones, a light denim jacket, white canvas sneakers, a white leather tote, and a matching sun hat. To elevate your Mexico vacation outfit ideas, I added a pair of pearl drop earrings and a coordinating gold watch.
80-Degree Weather Outfits: Tropical Elegance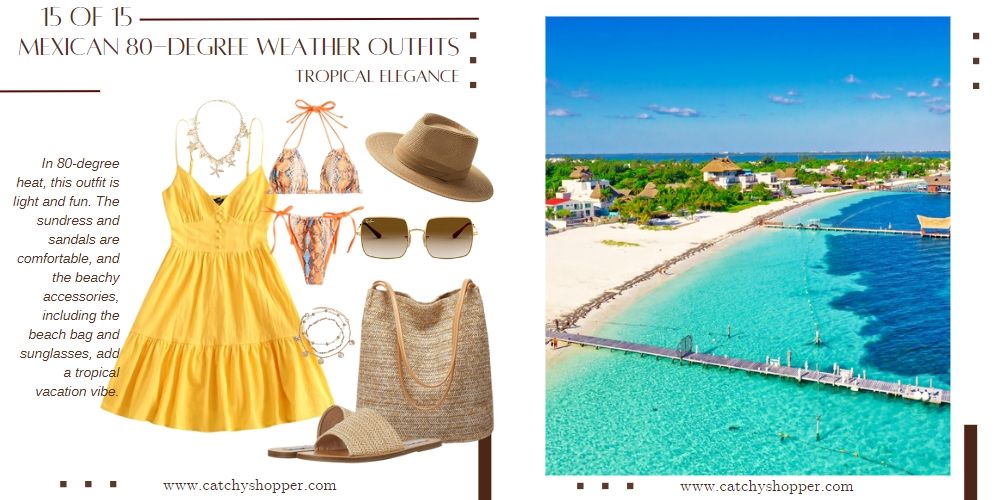 When it was time for August in Cancun, I kept cool in a yellow lightweight sundress, a bikini in a fun tropical print, comfortable sandals, and a wide-brimmed straw hat. I carried a straw beach bag and donned a pair of oversized square sunglasses. The look was complemented by a gold anklet and shell necklace for beachy vibes.
Whether you're visiting Cancun in November, Mexico City in February, or a resort in April, remember that your wardrobe should reflect the climate, your activities, and your personal style. Balancing comfort with style is key, and the right accessories can elevate any outfit. Happy travels!
Mexico Packing Tips
Packing for Mexico, whether it's for a vacation on the coast or city exploration, requires a thoughtful approach. As someone who has been through different Mexican locales in all seasons, I've gathered several handy packing tips to help ensure your travel to this charming country is as smooth as possible.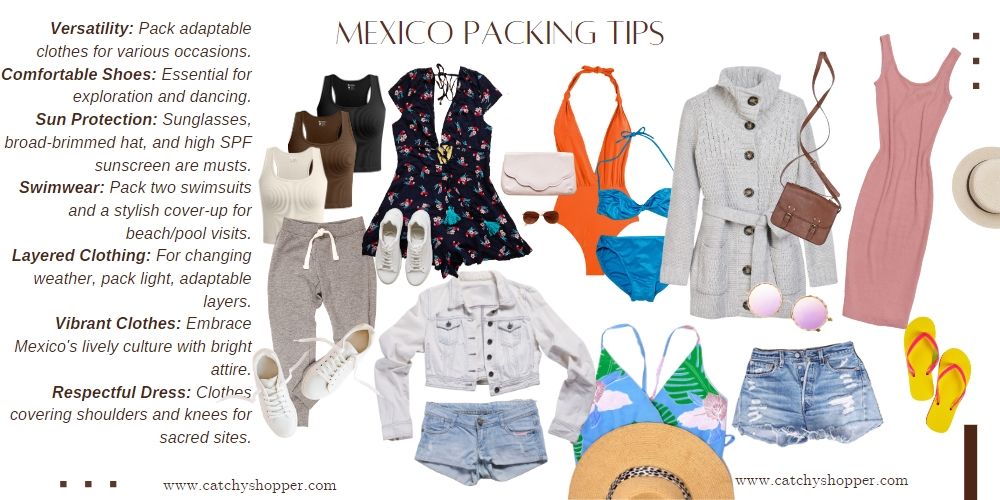 Packing Dresses for Travel
Dresses are the staple of a Mexico vacation wardrobe. When packing them, I've found that rolling them is the most space-saving and wrinkle-preventing method. Just fold your dress in half lengthwise, then roll from the hem upwards. For delicate fabrics, sandwich your dress between dry cleaner bags before rolling to reduce friction and prevent wrinkles.
Essential Travel Clothing Items for Mexico
Essential items to include in your Mexico packing list are breathable tops, light trousers or shorts, a swimsuit (or two), and a couple of versatile dresses. Also, pack a light jacket, long-sleeve shirts, or cardigan for cooler evenings. Footwear should include comfortable walking shoes for city tours, flip-flops for the beach, and a pair of dressier sandals for evening events. Don't forget sun protection items like a wide-brimmed hat, sunglasses, and a light scarf to cover your shoulders when needed.
Packing Jeans for Travel
If you plan to include jeans in your travel wardrobe, here's a tip - roll them too! Not only does rolling jeans save space, but it also helps to maintain their shape. Start by folding your jeans in half from the waistband to the hem, then roll them tightly from the bottom up.
Mexico Packing List - Vacation Must-Haves
Beyond clothing, some other must-haves for a Mexico vacation include travel-sized toiletries, packing cubes, sunscreen, a reusable water bottle, a good book for the beach, and a travel first aid kit. An umbrella can also come in handy for sudden showers or as a sunshade.
Remember to leave a little space for souvenirs and any additions to your wardrobe from local Mexican boutiques. Trust me, you'll be tempted!
Lastly, I cannot stress enough - pack a positive attitude and a spirit for adventure. Mexico is a vibrant, friendly, and diverse country, and every trip holds the promise of new discoveries and wonderful memories.
Things to Remember When Packing for Mexico
Preparing for a vacation in Mexico goes beyond picking the perfect beach outfits and resort wear. There are cultural considerations, practical elements, and safety aspects to think about too. Here are some important things to keep in mind:
Clothing to Avoid
Although Mexico is known for its beach destinations, it's crucial to remember that it's also a country rich in tradition and culture. So, while it's perfectly okay to rock your bathing suit on the beach, it's considered disrespectful to wear revealing clothing in cities, towns, and especially when visiting religious or historical sites.
Avoid packing items that are overly flashy or valuable; these can attract unwanted attention and could pose safety risks. Dress modestly, with comfort and practicality in mind. Choose fabrics that are light and breathable to handle Mexico's climate.
Safety Considerations
When it comes to choosing your Mexico outfits, safety should be a priority. Avoid wearing expensive jewelry and accessories in crowded areas or when exploring local markets to prevent attracting potential pickpockets. If you're going on a beach trip, consider a waterproof pouch to keep your phone, room keys, and some cash safe while you swim. Also, keep a photocopy of your passport in a separate location from the original for safety reasons.
Cultural Respect and Attire in Mexico
Mexicans take pride in their cultural heritage and have a deep respect for tradition. While Mexico is quite liberal when it comes to attire, wearing respectful clothing when visiting religious sites, like churches or shrines, is a must. This means covering shoulders and knees and avoiding excessive display of skin.
Final Thoughts
Navigating the sartorial demands of a country as diverse as Mexico can seem daunting, but the key is in understanding the climate, respecting the culture, and being true to your personal style. Each city, each occasion, and each season requires a thoughtful approach. Whether you're soaking up the sun in Cancun, exploring the bustling city life in Mexico City, or attending a vibrant local concert, your attire can both enhance your experience and reflect your personal aesthetic.
Remember, when in doubt, opt for comfort with a dash of style. It's crucial to consider factors like cultural appropriateness, practicality, and safety when choosing your outfits. But most importantly, your clothes should make you feel confident and comfortable, as you embark on a memorable journey through Mexico's rich landscapes, traditions, and lifestyle.
So go ahead and plan that trip. Mexico awaits you with its glorious beaches, historic cities, delicious food, and vibrant festivals. And with these fashion tips in hand, you're well-equipped to not only fit right in but also to stand out in the most stylish way possible. Enjoy your journey, and remember, fashion is about expression, so let your outfits tell your story!
Other Posts You May Like
Comments