This post may contain affiliate links, please see our privacy policy for details.
Welcome back, fellow adventurers! On the heels of our exploration into the vibrant culture and stunning vistas of Mexico in our last post, From City Streets to Sandy Beaches: What to Wear in Mexico, we now turn our gaze to the breathtaking landscapes and rich history of another compelling destination: Greece.
Greece is a country that boasts a rare blend of history and modernity, coupled with a diverse geography that encompasses bustling cities, tranquil islands, and ancient ruins. A land where the grandeur of Athens' historic architecture coexists with the serene beauty of Santorini's enchanting sunsets, Greece is a traveler's dream.
However, with such a variety of experiences on offer, one aspect of your travel planning becomes paramount – dressing right. Whether it's the time of year or the destination you're visiting within the country, what you wear in Greece can greatly affect your comfort and overall experience. This means taking into account the seasonal weather, the activities you'll be engaging in, and even the local customs.
In this blog post, we'll be your guide to dressing appropriately in Greece throughout the year. We'll break down what to wear each month, and discuss different Greece outfit ideas.
Join us on this sartorial journey and equip yourself with the knowledge to look and feel your best in Greece, regardless of the season or location. Your wardrobe for Greece awaits!
What to Wear in Greece in January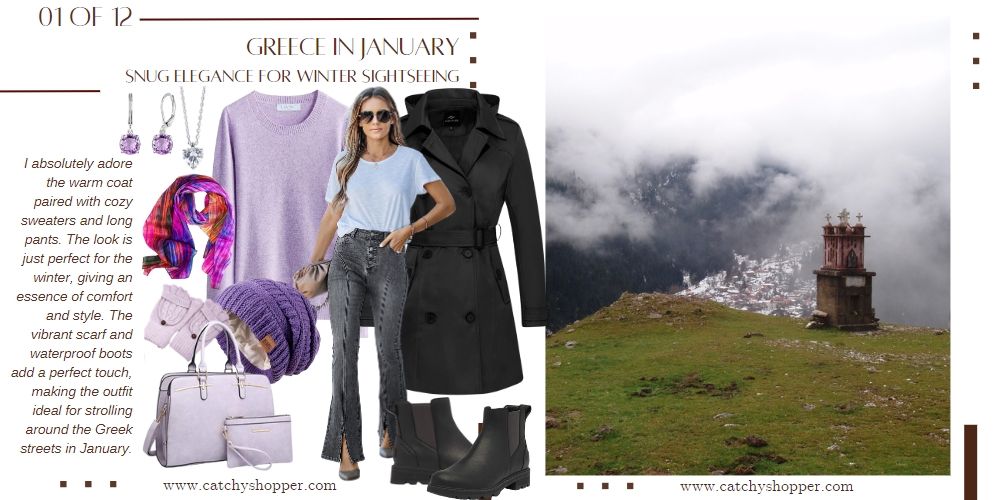 Planning your visit to Greece in January signifies embracing the heart of the Greek winter. With temperatures generally ranging between 5 and 15 degrees Celsius, it's imperative to pack for chilly weather. Additionally, the likelihood of rain during this month necessitates waterproof gear on your Greece packing list. Key items to include are a snug coat or jacket, warm sweaters, and long pants. Emphasize on layering when curating your outfits for January in Greece, as it offers the flexibility to adjust according to the fluctuating weather conditions.
When it comes to styling a complete outfit, imagine coupling a plush woolen sweater with a pair of classic jeans. Over this ensemble, a waterproof trench coat can provide reliable protection against frequent winter showers. Add a pop of color and additional warmth to your look with a vibrant scarf. Opt for waterproof boots to keep your feet dry and ensure comfortable walking in all conditions. Enhance your winter attire with crucial accessories such as a stylish beanie and gloves. And of course, a purse that matches your outfit can serve as a practical yet fashionable addition.
Don't forget to add some subtle jewelry to your look. A pair of elegant drop earrings and a delicate necklace can uplift your winter outfit, giving it a sophisticated touch.
January in Greece also extends the New Year's Day celebrations into the early part of the month. If you intend on joining any festivities, packing a festive outfit would be fitting. While choosing your attire, consider the seasonal weather and equip yourself to celebrate the New Year in both style and comfort during your stay in Greece.
What to Wear in Greece in February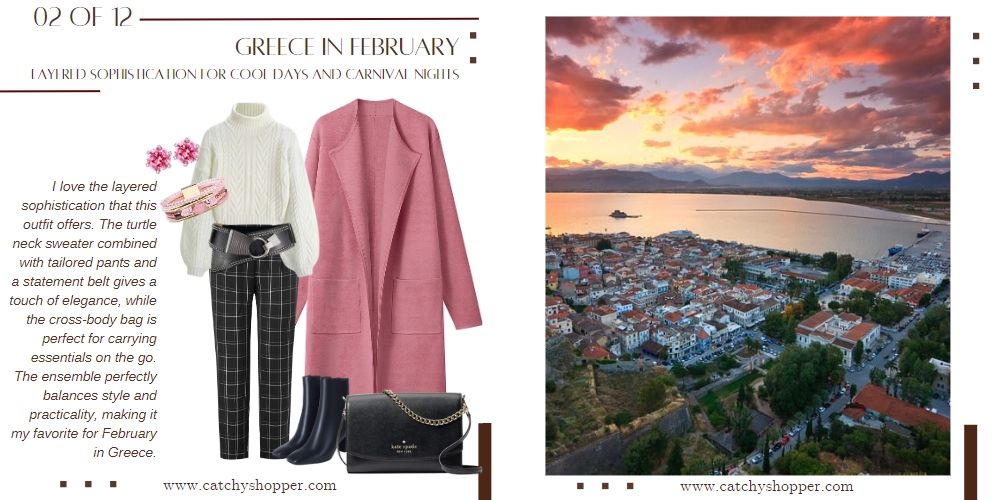 In February, Greece remains in the grip of winter, with temperatures typically oscillating between 6 and 15 degrees Celsius. Coupled with the chance of rainfall, it's crucial to ensure your visit to Greece in February is marked by warmth and comfort. Thus, your packing list should closely resemble that for January, consisting of warm, waterproof attire.
An exemplary outfit for the chilly February days in Greece might feature a cozy turtleneck sweater, ideally complemented by tailored pants for a refined touch. Layer a long, insulating coat over the top for essential warmth and defense against any unexpected rain. Don't forget a pair of sturdy ankle boots, a practical choice to keep your feet dry and comfortable during your adventures.
To give your outfit a fashionable twist, contemplate adding a bold statement belt. A crossbody bag also makes a chic and convenient accessory, perfect for storing your essentials as you explore. Don't shy away from adding some sparkle to your outfit with jewelry; consider a pair of stylish stud earrings and a minimalist bracelet to enhance your look.
However, February in Greece isn't solely about bracing against the winter weather; it's a vibrant time of festivity as well. This month is famous for hosting Apokries, Greece's Carnival season, an event characterized by colorful costumes and lively festivities. If you're up for the fun, pack a costume and join the joyful celebrations.
So, when you plan your upcoming trip to Greece in February, remember to consider both the weather conditions and local cultural events. This way, you can ensure that your packing list is practical, suitable for the season, and in line with the festive spirit of the Greek Carnival season.
What to Wear in Greece in March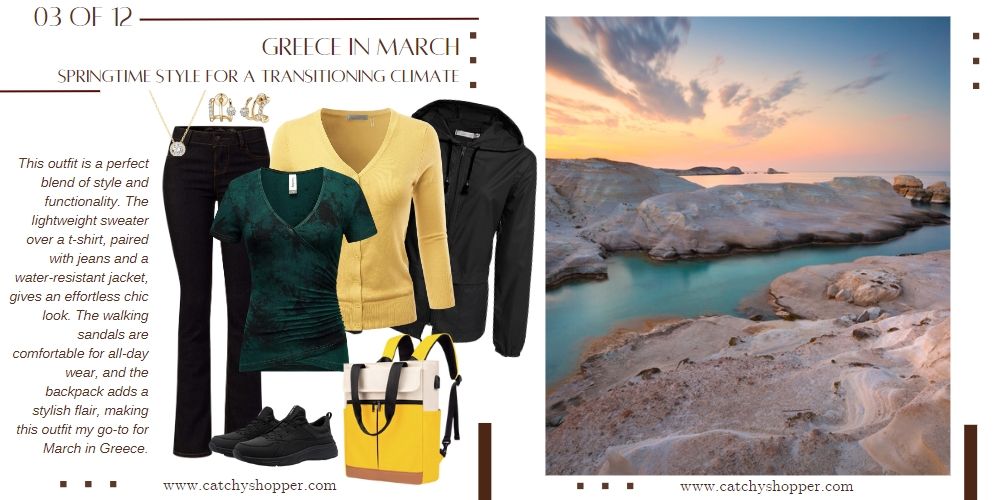 When planning your upcoming trip to Greece in March, you'll be at the tail end of the Greek winter. During this time, temperatures typically range from 8 to 17 degrees Celsius, and rainfall is still a common occurrence. With this in mind, it's essential to include a waterproof layer in your Greece packing list, as well as clothes suitable for cooler weather.
For exploring the historical sites on mainland Greece or taking in the beautiful scenery of the Greek Islands, we recommend a layered approach to your attire. Try a soft, lightweight sweater over a comfortable t-shirt, paired with stylish jeans. To top it off, a water-resistant jacket is not just practical in case of a downpour, but can also add a chic element to your outfit. When it comes to footwear, opt for walking sandals or sturdy shoes, which are ideal for navigating the cobbled streets or exploring ancient ruins.
To elevate your look, accessorize with some dainty jewelry pieces. A pair of hoop earrings or a pendant necklace can add a subtle touch of elegance to your outfit. Don't forget a fashionable backpack in matching colors to store your essentials while also serving as a stylish accessory.
On March 25th, Greece celebrates Independence Day, and you can embrace the local spirit by adding touches of national colors, blue and white, to your outfit. This could be a blue and white striped shirt, a scarf with a Greek-inspired pattern, or even a piece of jewelry in blue or white.
No matter what your plans are, being prepared for your visit to Greece in March means blending in with the locals while staying comfortable and dry. Enjoy the charm of Greece during this transition month from winter to spring, and let your wardrobe reflect the joy of the journey!
What to Wear in Greece in April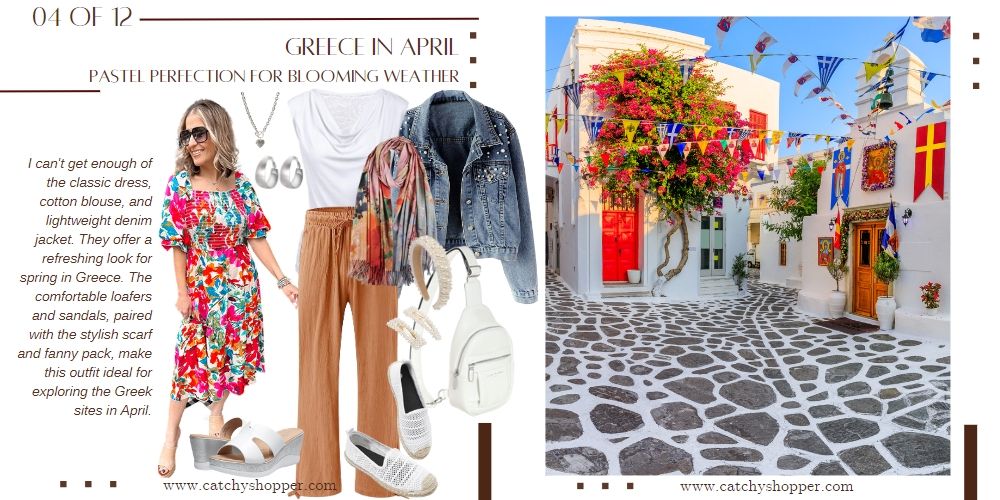 With the arrival of April, Greece is bathed in delightful spring weather. Temperatures typically fluctuate between 11 and 20 degrees Celsius, and your outfits should be a blend of comfort, warmth, and style. The layers of winter make way for lighter clothing, though keeping a layer or two for the cooler evenings is a wise move.
Think classic dresses in bright or pastel colors, mirroring the fresh blossoms of the season. Pair a cotton blouse with a lightweight denim jacket for those breezy afternoons. Casual pants matched with a chic top are also a good choice. To complete your look, add a scarf that can be both a style statement and a practical layer for when the temperature drops. A stylish fanny pack can be your go-to accessory for keeping essentials close, and comfortable loafers or sandals are ideal for those leisurely strolls or day trips.
Incorporate jewelry pieces into your outfits for a touch of elegance. A pair of small hoop earrings or a delicate charm necklace can enhance your classic dress. Consider adding hair accessories such as a headband or clips for a spring-inspired look.
Orthodox Easter is a significant event in this European country, taking place in April. When attending church services or local festivals, modest and respectful attire is the norm. Long skirts, dresses, or pants coupled with a covered top are typically appropriate. While curating your Europe packing list, remember that a visit to Greece in April is an opportunity to experience the vibrant culture and traditions in the balmy spring weather. So pack wisely, blending style with cultural respect.
What to Wear in Greece in May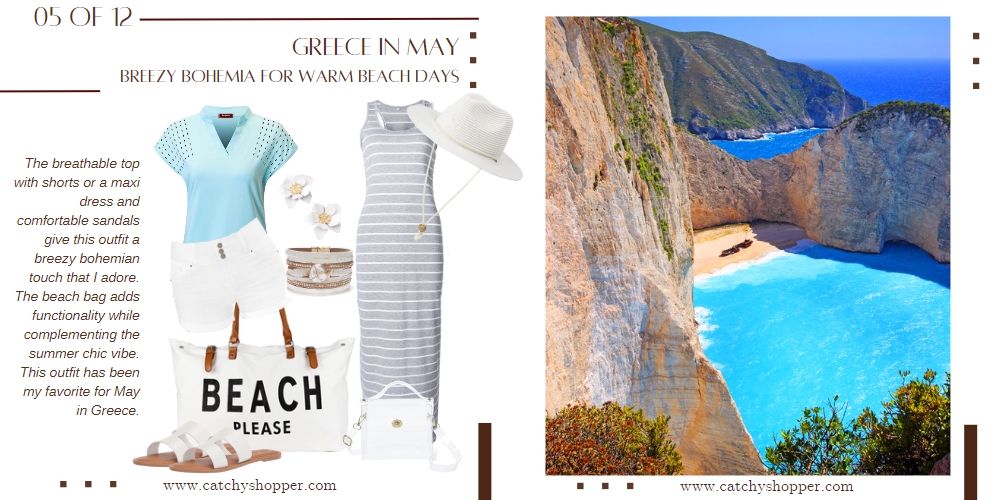 May in Greece is when the warm weather truly begins to settle in, with temperatures ranging comfortably between 15 to 24 degrees Celsius. As you pack for your Greece trip, it's time to delve into your summer clothes. Breathable tops and shorts are ideal for the daytime. Alternatively, a maxi dress offers a stylish yet comfortable option, perfect for exploring the cobbled streets or relaxing by the gorgeous beaches.
Pair these with comfortable sandals, suitable for both beach days and strolls around the city. A beach bag becomes increasingly necessary in May as the allure of the Greek beaches grows. Remember to pack a hat and sunscreen to protect yourself from the intensifying sun.
For a touch of elegance, consider adding some jewelry to your outfits. Simple, lightweight pieces like stud earrings or a dainty bracelet can add a little sparkle without being too heavy or uncomfortable in warm weather. A small, stylish crossbody bag could be a practical addition to keeping your essentials within easy reach.
Towards the end of May, the European Music Day event is often held. As you immerse yourself in the vibrant rhythms of music under the Greek sun, comfort should be your top priority. Opt for casual clothing that allows you to move freely. Enhance your favorite Greece outfits with a chic hat for added sun protection. Remember, a day well spent is one where comfort, style, and sun protection are in perfect harmony.
What to Wear in Greece in June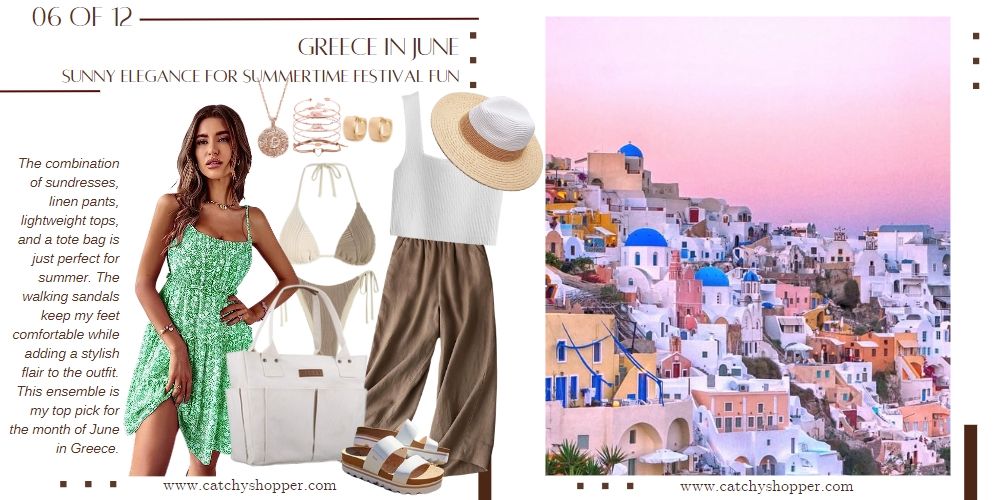 June in Greece heralds the onset of summer, with temperatures steadily climbing between 20 to 29 degrees Celsius. As you curate your Greece packing list for this month, think of breathable fabrics and chic, easy-to-wear pieces. Include sundresses, linen pants, and lightweight tops that will keep you comfortable as you explore this picturesque European country.
A tote bag is essential for carrying your summer essentials, such as a book or a beach towel. A comfortable pair of walking sandals is also a must-have for those leisurely strolls on the beach or exploring ancient ruins.
Accentuate your summer outfits with some tasteful jewelry. Think minimalist gold hoops or studs, a delicate pendant necklace, and perhaps a few stackable bracelets for a touch of glam. These accessories can elevate your casual beach look to a dinner-ready ensemble in no time.
June is also the month for the renowned Athens and Epidaurus Festivals, which feature theatre performances. This is a great opportunity to dress in smart-casual clothing, blending comfort with a touch of sophistication. And as always, regardless of the month or your destination, having travel insurance is always a wise decision when planning your upcoming trip. So, as you prepare for your Greek adventure in June, remember - comfort, style, and preparedness go hand in hand.
What to Wear in Greece in July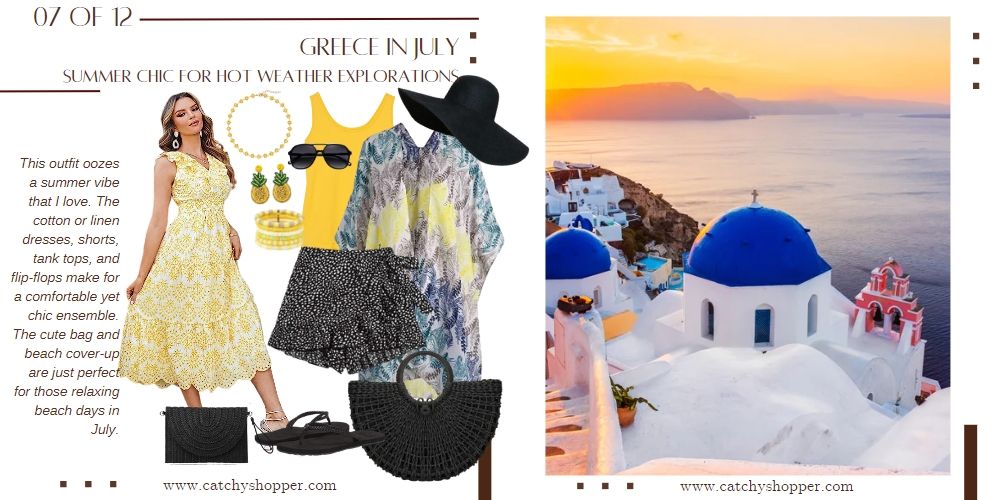 July in Greece is synonymous with scorching heat, with temperatures oscillating between 23 and 33 degrees Celsius. Your Greece packing list should reflect this climate, focusing on breathable, lightweight items. Consider packing cotton or linen dresses that are both stylish and comfortable. Pair these with shorts and tank tops for a breezy, effortless summer look.
A comfortable pair of flip-flops is essential for those walks along the gorgeous beaches. But, of course, your beach days won't be complete without some key accessories. Pack a wide-brimmed hat and a pair of chic sunglasses for protection against the radiant Greek sun. A beach cover-up is also a must, allowing you to transition smoothly from a swim to a seaside lunch.
To complement your summer clothes, include a set of versatile jewelry. Dainty gold or silver earrings, a couple of bracelets, and a pendant necklace can add that extra flair to your outfits. A cute crossbody bag or a beach tote will not only serve as a fashion statement but also keep your essentials handy.
The Santorini Jazz Festival happens in July, and while casual, comfortable clothing is the norm, you can certainly add your personal style twist to your outfits. Remember to pack good-quality sunscreen to shield your skin from the hot weather, and don't forget your adventurous spirit to fully embrace the festive mood of the summer months in Greece.
What to Wear in Greece in August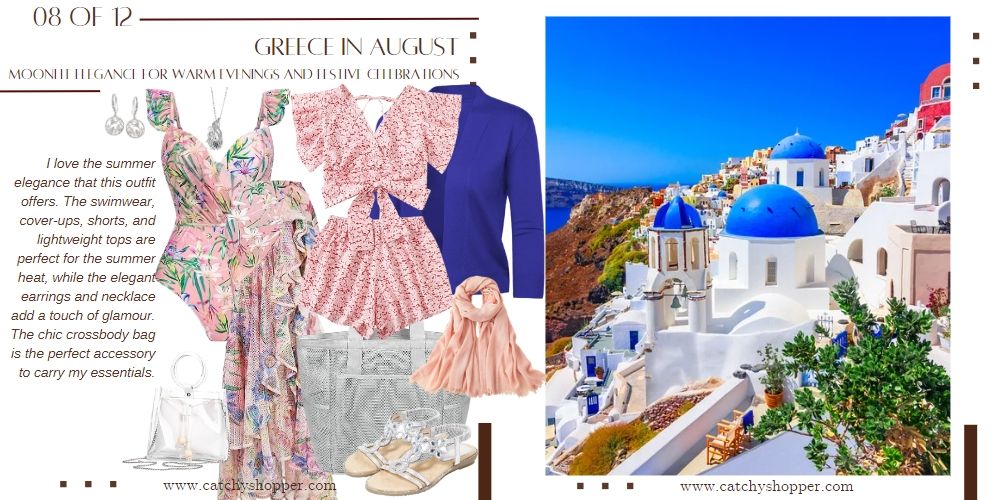 August in Greece continues the trend of summer heat, with temperatures soaring between 23 to 34 degrees Celsius. As you curate your Greece packing list, include breezy swimwear, chic cover-ups, comfortable shorts, lightweight tops, and stylish sandals. Don't forget to pack some versatile jewelry like a pair of elegant earrings and a simple yet classy necklace that can amplify any outfit effortlessly.
As for accessories, consider including a beach bag for those sun-soaked days by the Aegean Sea and a trendy crossbody bag for when you're exploring the local markets or taking an evening stroll.
The Full Moon Festival often happens in August, bringing with it a cool evening breeze. For such occasions, it's wise to have a light wrap or sweater on hand. This way, you can enjoy the celestial spectacle without the chill getting in the way. So, as you prepare for your Greek adventure in August, remember that the right blend of style, comfort, and practicality can enhance your experience significantly.
What to Wear in Greece in September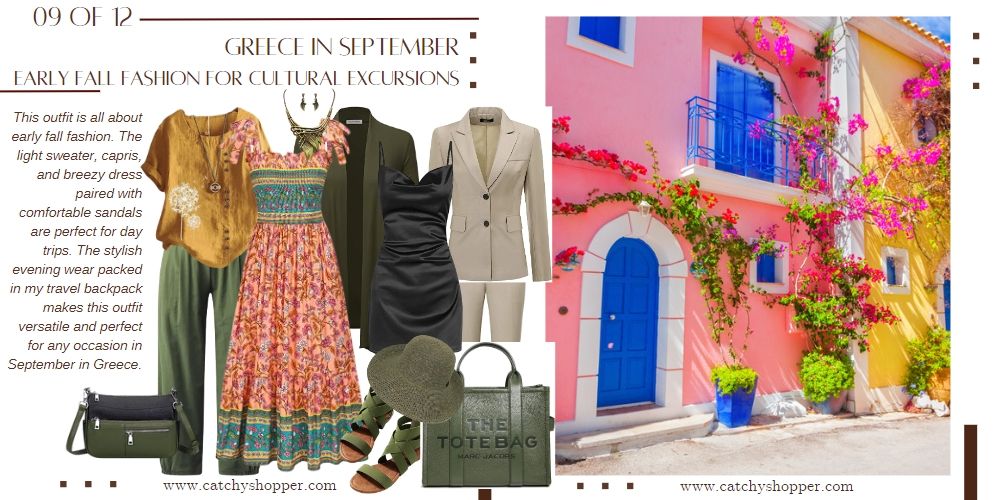 With September comes the gentle whisper of fall in Greece. The temperatures begin to cool slightly, hovering between a comfortable 19 to 29 degrees Celsius. Your packing list for Greece should still prominently feature light and breathable clothing suitable for day trips to archeological sites or for lounging by the beautiful Aegean Sea. However, as evenings can get a bit chilly, it would be smart to pack a light sweater or jacket.
In your outfit planning, consider a pair of capris paired with a breezy top. Alternatively, a light, flowy dress could be your go-to choice for daytime explorations. Complement these with a comfortable pair of sandals, perfect for navigating the cobbled streets or sandy beaches. To protect yourself from the sun, don't forget to pack a chic hat.
Accessories can make a big difference to your outfits. Consider packing some statement jewelry like a bold necklace or a pair of dangle earrings. These can instantly elevate your outfit, adding a touch of sophistication. In terms of bags, a crossbody bag is practical for day trips, while a stylish tote or backpack can be a great choice for beach days or larger excursions.
September in Greece is also the time for the International Film Festival in Thessaloniki. This gives you a wonderful opportunity to dress up and soak in the vibrant local culture. Alongside your casual clothing, pack some stylish evening wear. Remember, a little black dress or a classic suit can never go wrong.
Remember, the key to packing for Greece in September is balancing comfort with style. This is a time of the year when you can enjoy the warm sunshine and beautiful sights of Greece in all its splendor, while also enjoying some of the country's fantastic cultural events.
What to Wear in Greece in October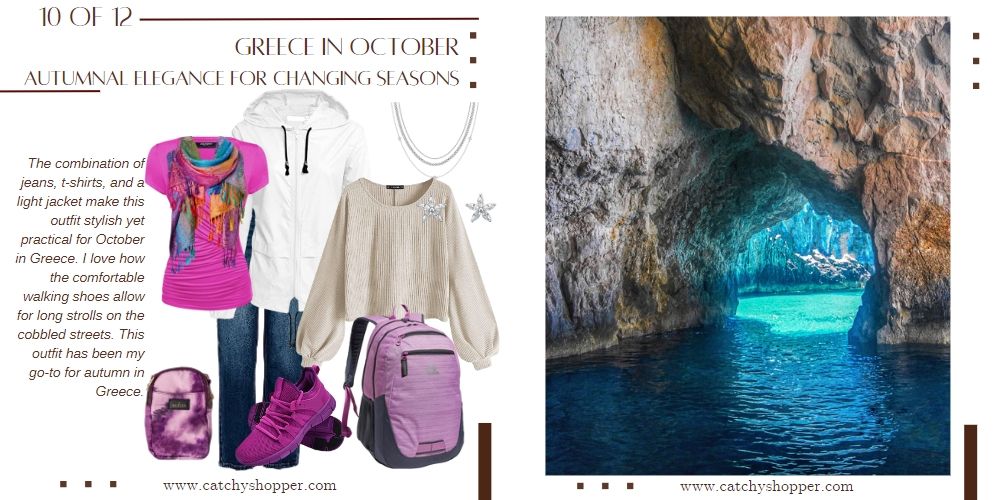 The picturesque beauty of Greece takes on a new charm in October as autumn fully sets in. With temperatures ranging comfortably between 15 to 24 degrees Celsius, your outfits will need to adapt to the transition of seasons. Layering is the key during this month as it allows you to comfortably navigate through cool mornings and slightly warmer afternoons.
Your packing list for your Greece trip should include versatile pieces such as jeans and t-shirts that can be easily layered. A light jacket or a cozy sweater is a perfect addition for the crisp mornings and evenings. Don't forget to pack comfortable walking shoes. Whether you are meandering through cobbled streets, exploring ancient ruins, or embarking on a hiking adventure, comfortable footwear will make all the difference.
Add an edge to your outfit with accessories. A scarf can double as a style statement and an extra layer of warmth. A chic crossbody bag or a trendy backpack can be both practical and fashionable. For a touch of glamour, include some minimalist jewelry pieces such as stud earrings or a dainty chain necklace in your luggage.
The month of October in Greece is marked by the celebration of Ochi Day, a national holiday. This is the perfect occasion to show your enthusiasm for Greek culture by wearing clothes in shades of blue and white, representing the Greek national colors.
Remember, traveling to a different country is not just about sightseeing, but also immersing yourself in the culture. Dressing in the national colors for the Ochi Day parade is just one of the many ways to enrich your travel experience. Greece in October offers the perfect blend of comfortable weather and cultural experiences, making it an ideal time for your visit.
What to Wear in Greece in November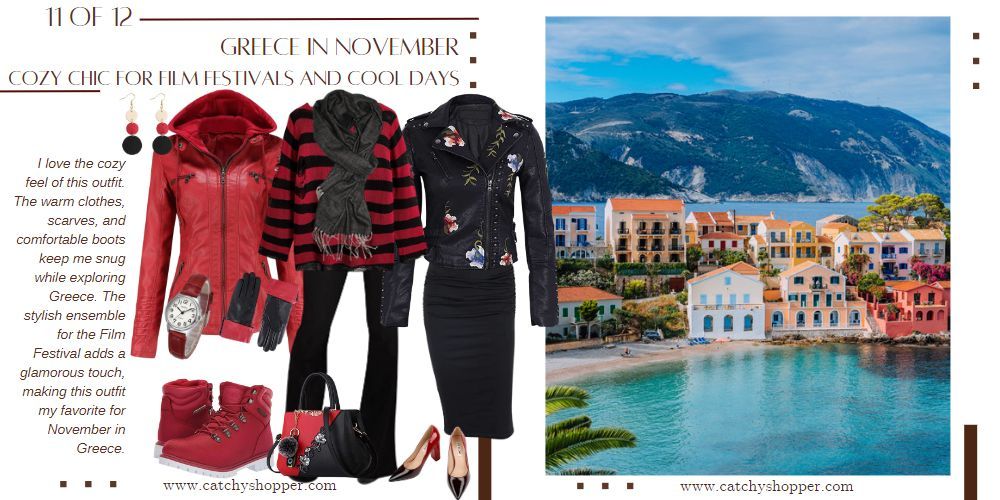 November ushers in the cooler weather in Greece, with temperatures delicately balancing between 12 to 19 degrees Celsius. Visiting Greece in November can be a tranquil and unique experience, as the summer months have passed, and you get to witness Greece in a different light.
Given the drop in temperature, your Greece packing list for November should consist of warm clothes. Think along the lines of cozy sweaters, comfortable jeans, and a snug jacket. Your wardrobe should allow you to explore Greece's rich history and breathtaking landscapes without worrying about the chill.
Accessories can add that extra warmth and style to your outfits. Consider packing a vibrant scarf to brighten up your ensemble while also serving as an extra layer of warmth. A pair of comfortable boots is another essential - not only will they keep your feet warm, but they're perfect for walking on those beautiful cobbled streets. Given the cooler temperatures, a pair of gloves can be a practical addition to your suitcase. Don't forget some tasteful jewelry such as statement earrings or a timeless wristwatch to elevate your look.
In November, the Thessaloniki International Film Festival often graces the country. This prestigious event is the perfect opportunity to showcase a more refined outfit. Consider packing a chic slip dress that can be dressed up with some heels or dressed down with a pair of hiking boots. a clutch purse and a leather jacket for a more edgy look.
Whether you're there for the cinematic delights of the film festival or to explore the country's cultural and historical richness, November is a unique time to visit Greece. So, pack your bags wisely and get ready for an unforgettable trip that's been over a decade in the making!
What to Wear in Greece in December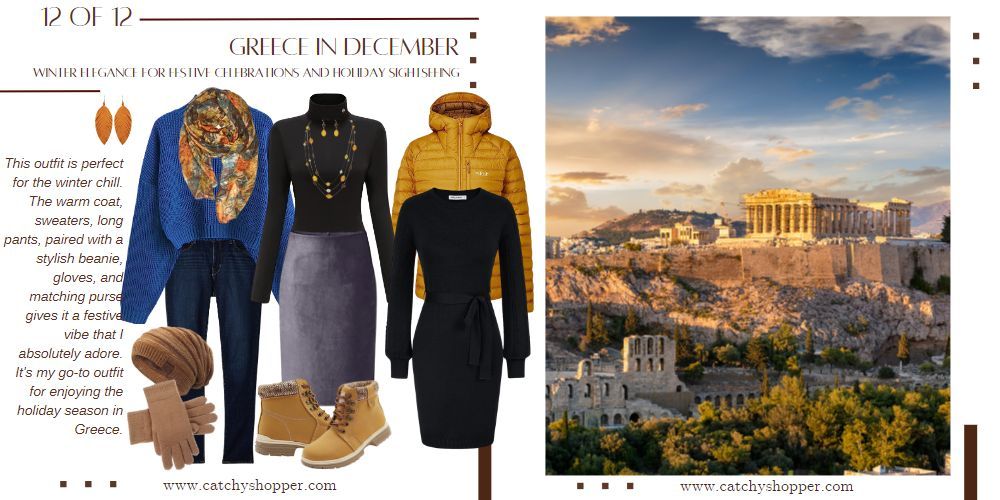 In the heart of winter, December in Greece is a time of celebration and serenity, with temperatures usually ranging between 9 and 16 degrees Celsius. This month is known for its festive spirit, and it also marks the onset of the rainy season. As such, your suitcase for a December trip to Greece should be filled with cozy, waterproof garments to keep you warm and dry as you explore the breathtaking vistas and ancient landmarks of this iconic Mediterranean country.
One possible outfit for your winter sojourn in Greece could feature a thermal turtleneck layered beneath a chunky knit sweater, stylishly coupled with durable jeans. Topping off this ensemble with a well-insulated coat or jacket can provide the ideal level of warmth for braving the December chill while offering a sophisticated aesthetic. Finish the outfit with a sturdy pair of waterproof boots to ensure comfort while navigating the Greek terrain, no matter the weather.
Adding a dash of flair to your attire, consider wearing a set of statement jewelry, such as a pair of earrings or a stylish necklace. These pieces will not only add a touch of glamour but also celebrate the festive spirit of the season. Remember to accessorize further with practical items like a warm hat, gloves, and a chic scarf, which can provide additional insulation while also contributing to your overall fashionable look.
In December, Greece bursts with yuletide joy and New Year's Eve celebrations, hosting a multitude of events across the country. Dressing in festive attire will enable you to blend in with the local population and participate in the holiday spirit wholeheartedly. If your itinerary includes visiting a church, remember to carry a modest dress or a stylish blouse paired with a midi skirt, showing respect for the religious customs of the country.
With the right wardrobe, your Greek adventure in December can be both enjoyable and comfortable. Embrace the festive atmosphere, marvel at the historical grandeur, and wrap up your year in style with a memorable journey through Greece.
Final Thoughts
As we've journeyed through the year, from the brisk beginnings of January to the chill of December, it's clear that dressing appropriately for your visit to Greece is essential to maximize comfort, function, and cultural respect. Each month presents its own unique set of weather conditions and events, demanding a versatile and well-thought-out packing list.
Greece is a land rich with history, stunning natural beauty, and vibrant cultural celebrations. Whether you're traversing the cobbled streets of Athens, exploring the ancient ruins scattered throughout mainland Greece, or soaking up the sun on the gorgeous beaches of the Greek islands, your attire can enhance your overall experience. Comfortable and suitable clothing ensures that you can fully immerse yourself in all the activities that this beautiful European country has to offer.
As you prepare for your upcoming trip, be mindful of your wardrobe choices. Keep in mind the expected weather conditions, planned activities, and local traditions. Packing light yet smartly is key to ensuring that you are well-equipped for your Greece adventure.
Lastly, beyond any packing list or attire advice, remember that the most important thing to bring along is an open mind and a sense of adventure. Greece, with its centuries-old history and fascinating culture, is ready to offer an unforgettable experience. Embrace it fully, knowing that you've packed thoughtfully and appropriately for your journey. Enjoy the sights, sounds, and flavors of Greece, and let your well-planned outfits enhance your comfort, confidence, and connection to this incredible destination. Happy traveling!
Other Posts You May Like
💡
Dive Into Fashion Outfits
Explore our exclusive articles featuring
Boho Outfit Ideas
,
Vacation Outfits
,
Festival Outfits
,
and
Summer Outfits with Hats
.
Delve into our
Denim Shorts Outfits
,
Black and White Outfits
, Bodysuits Outfits,
and
Pink Outfit Ideas
. Experience the charm of our
Tube Top Outfits
, Crop Top Outfits,
Sundress Outfit Ideas
,
Resort Wear
,
Beach Wear
,
and
Jury Duty Outfits.
Start your style journey now!
Comments