This post may contain affiliate links, please see our privacy policy for details.
As you recall, we've previously helped you pack the perfect suitcase for your sunny escapes with our curated posts on Resort Wear and Beach Wear. You've been dressed to impress on sandy beaches and underneath swaying palm trees, all the while mastering the fine line between casual chic and effortless elegance.
We've also dived into the world of poolside fashion with our dedicated post on Pool Outfits. We ensured that your style didn't take a backseat even when you were making a splash or simply lounging by the pool, armed with a cool drink and a great book.
Now, it's time to navigate a different kind of waterscape. So pack your adventure spirit along with your favorite sunnies, because we're about to embark on a stylish journey to the lakefront. In this post, we're offering up seven distinct and fashion-forward lake outfits that are as diverse as they are chic. This way, you'll be as well-dressed for your lakeside lounging as you have been for your beach getaways and pool parties. Your waterfront-style game is about to level up, one outfit at a time.
What to Wear to the Lake
Dressing for a day - or even a few - by the lakeside can indeed feel like a herculean task. But fear not, my fashion-savvy explorers, for I am here to help you navigate these waters with ease and style.
Think of your lake outfit as an extension of your day. What's the plan? Are you headed for a full day of sun-soaked relaxation by the shore, or are you going to dive into more vigorous activities like kayaking or hiking? Each activity warrants a different ensemble, just as a ballroom dance and a beach party would.
Consider the weather too. The early morning might be deceptively cool, but as the sun climbs, so does the mercury. And let's not forget the occasional unexpected showers! Here's where layering becomes your best friend. It allows you to add or remove clothing as needed without disrupting your outfit's overall look.
Lastly, but most importantly, don't forget your personal style. Even though practicality often takes precedence when packing for a lake trip, you should still feel confident and comfortable in your outfit. Don't be afraid to express your personality through your clothing choices. If you love bright, bold colors, incorporate them. If you lean towards minimalistic, let your outfit reflect that.
Remember, the key to mastering lake fashion is striking the perfect balance between comfort, suitability for the activities you have planned, and your personal style. Don't be afraid to mix it up and most importantly, enjoy the process. Because fashion, like your upcoming lake adventure, should always be fun!
Embarking on a lakeside getaway is like diving headfirst into a world of serene beauty and unmatched tranquility. But let's face it - the real magic happens when you've got the right wardrobe in your suitcase. This doesn't mean you need to pack up your entire closet, but rather, hand-pick versatile pieces that serve multiple purposes and bring your lake style to life.
Lake Clothing: Must-Have Items for Any Lakeside Getaway
So, what are the essential items that should make it into your lake wardrobe?
Versatile Swimwear: Look for a swimsuit that doubles as a trendy top when paired with a skirt or shorts. A one-piece with a stylish neckline or a bikini top with interesting details can effortlessly transition from beach to café.
Lightweight Cover-Up: Think beyond the standard sarong. Opt for a lightweight, flowy kaftan or a shirt-dress cover-up that you can throw on after a swim or wear while you're relaxing by the lake.
💡Find more inspo in our post: 39 Delightful Swimsuit Cover-Ups for Your Next Seaside Escape.
Comfortable Shorts and Tees: For those active days, you'll want breathable, comfortable clothing. Denim shorts, cotton tees, and tank tops are your best bet here.
💡Explore more in our blog posts: 28 Trendy Denim Shorts Outfit Ideas to Rock this Summer and 9 Must-Try Crop Top Outfit Trends!
Light Sweater or Jacket: Don't underestimate the chill that can sweep in with the evening breeze. A light sweater or jacket is perfect for those lakeside nights under the stars.
Stylish Hat: Not only does it protect you from the sun, but it also serves as a chic accessory. A wide-brimmed hat or a cool baseball cap can elevate your lake outfit and add a touch of personality.
💡Check out our blog post 15 Stylish Summer Outfits with Hats for more ideas.
Functional Footwear: Consider the activities you have planned. If you're going to be active, pack suitable sneakers. For relaxing days, flip-flops or sandals work perfectly.
💡Discover more in our blog post 16 Best Water Shoes for Beach Adventures.
Remember, the trick is to choose items that can be mixed and matched, creating an array of outfits from just a few pieces. Be bold and inventive with your combinations, and you'll have a suitcase that's not just practical, but also brimming with personal style. The lake is your fashion runway, my friends, so stride down it with confidence and flair!
Lake Outfit Ideas
Let's dive in and explore seven carefully curated lake outfits, designed to ensure you make a fashion splash, no matter the occasion.
Lake Day Outfit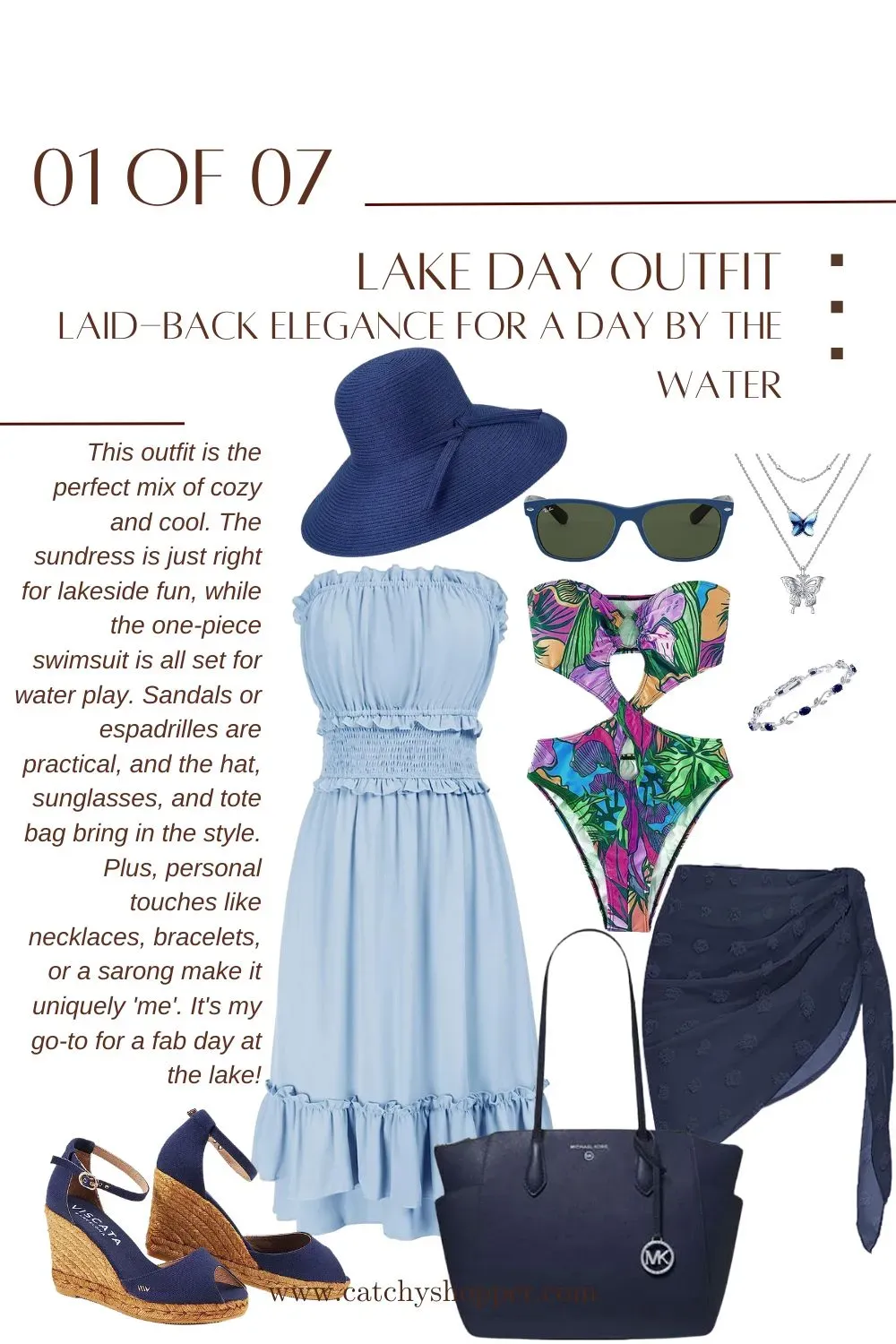 For a lake day outfit start with a light, airy sundress. Go for joyful colors like sunny yellow or peaceful blue, or fun prints if that's more your style. Don't forget your swimwear! A chic one-piece can double up under your sundress, ready for a quick dip in the lake.
For shoes, keep it practical and cute. Sandals or espadrilles are perfect - they're easy to slip on and off when you hit the sand or surf. Accessories? A must-have! A wide-brimmed hat and cool sunglasses keep you protected and looking fabulous. Add an elegant tote for your essentials, and you're almost done.
Finally, add a sprinkle of 'you'. Layered necklaces, bold bracelets, a quirky sarong - let your outfit show off your personality. Remember, your Lake Day Outfit is about blending comfort and style. So, suit up, enjoy the lake day vibes, and let the lakeside be your fashion stage.
The Casual Lake Outfit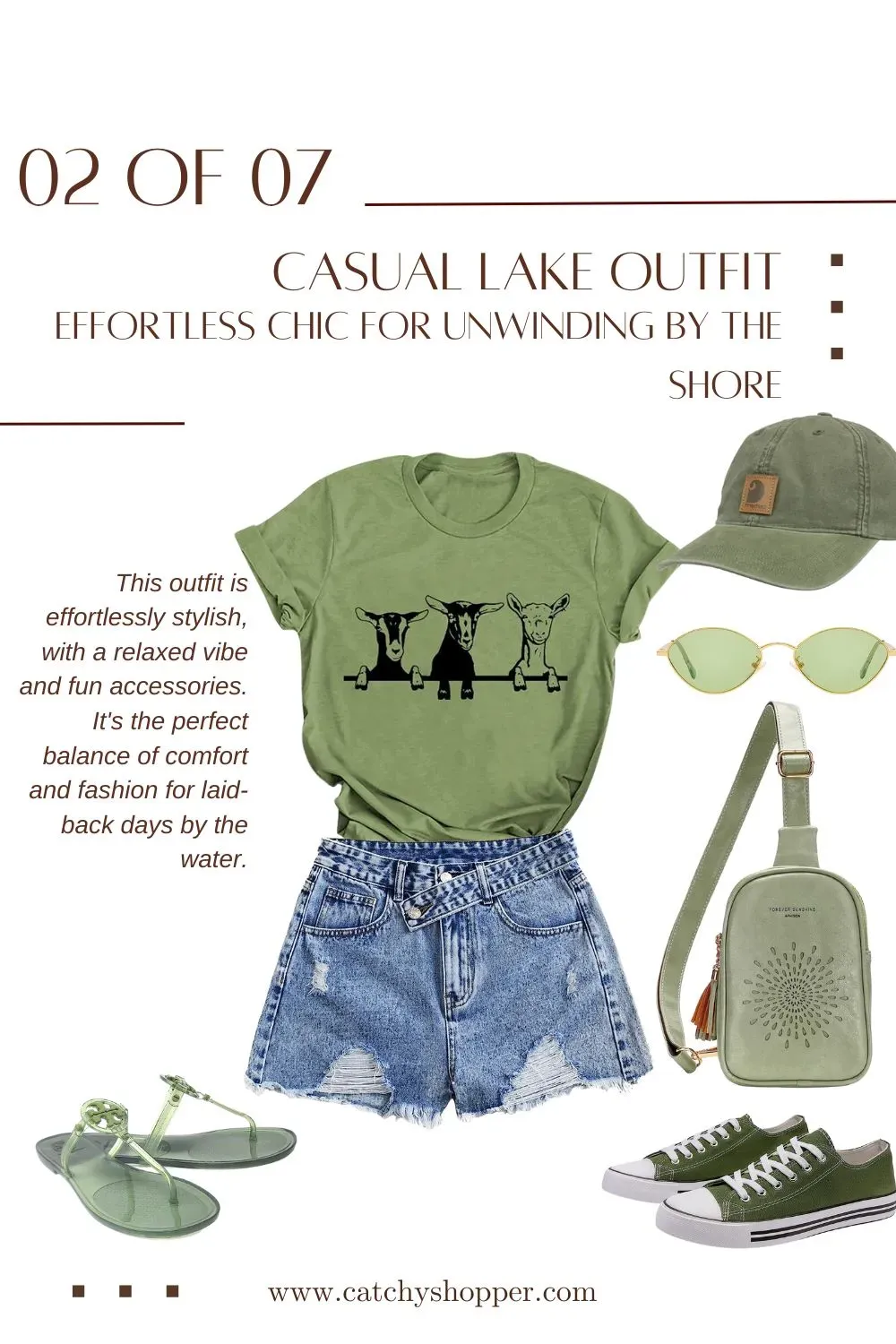 The core of this outfit is a relaxed fit, cotton tee, this outfit brings both comfort and style. Imagine wearing a soft tee with a fun print or bright color that makes you stand out - just like a vibrant summer yellow or a cool, unique design.
Next, pair your tee with classic denim shorts. They're not just trendy, they're practical for those spontaneous lake adventures. Add comfy sneakers for a sporty look, or cute flip-flops for that beachy feel.
As for accessories, sport a cool cap to shade from the sun and add a touch of flair. Carry your essentials in a handy cross-body bag. Lastly, amp up your chic quotient with quirky sunglasses that flatter your face.
Your Casual Lake Outfit: a stylish, comfy, and fun way to spend the day by the lake.
The Perfect Lake Party Outfit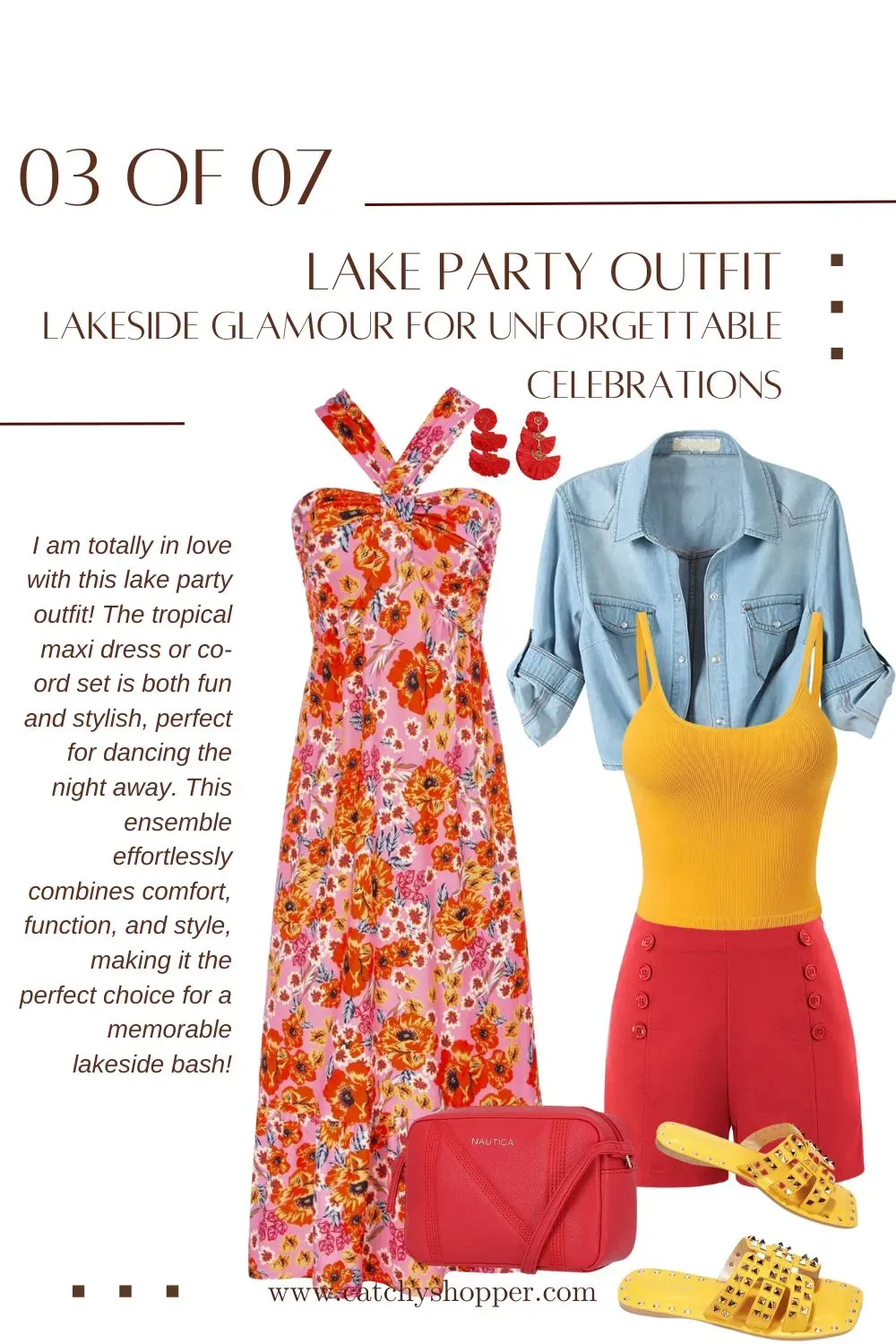 For a lake party outfit choose a standout piece like a light, flowy maxi dress with a tropical or floral print. It's not just eye-catching but also easy to dance in. If dresses aren't your jam, go for a trendy co-ord set like a cute crop top with matching pants or shorts.
Remember, accessories can make or break your party look. Add some statement earrings that sparkle like the party lights. For shoes, skip the heels and choose fancy flat sandals. They're not just comfy but also perfect for the lake terrain.
Evenings by the lake can get chilly, so carry a lightweight denim or leather jacket. It'll keep you warm and add an edge to your look. And don't forget a small, stylish crossbody bag for your essentials.
The Comfortable Lake House Outfit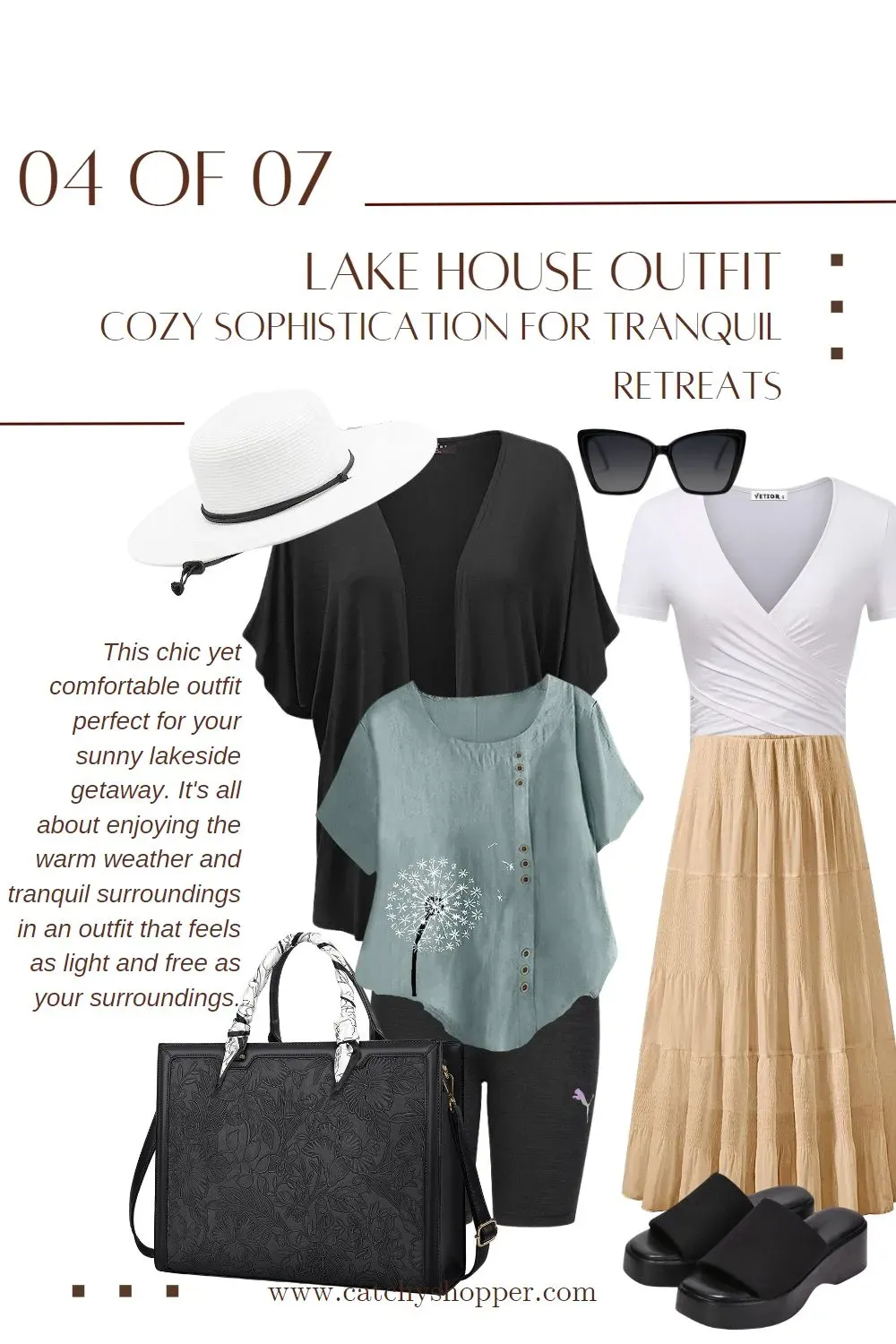 For this look start with a breathable, lightweight top or crop top- think linen or cotton. Pair it with your favorite comfortable shorts or a breezy maxi skirt for an effortless, relaxed look.
Layer a lightweight, open-front cardigan or a loose linen shirt for when you want a bit of shade from the sun. It's easy to put on and off as needed and adds a stylish touch to your outfit.
As for footwear, opt for comfortable yet trendy sandals. They're perfect for casual strolls along the lakeside, and give your outfit a touch of summer style.
Don't forget your sun essentials - a wide-brimmed sun hat and sunglasses. They protect you from the sun's rays while adding a chic touch to your outfit.
Lastly, a tote bag is a must for a lake house stay. Big enough to fit your sun cream, a book, or any other lakeside essentials, and stylish enough to complement your outfit.
The Lake Outfit for Active Adventures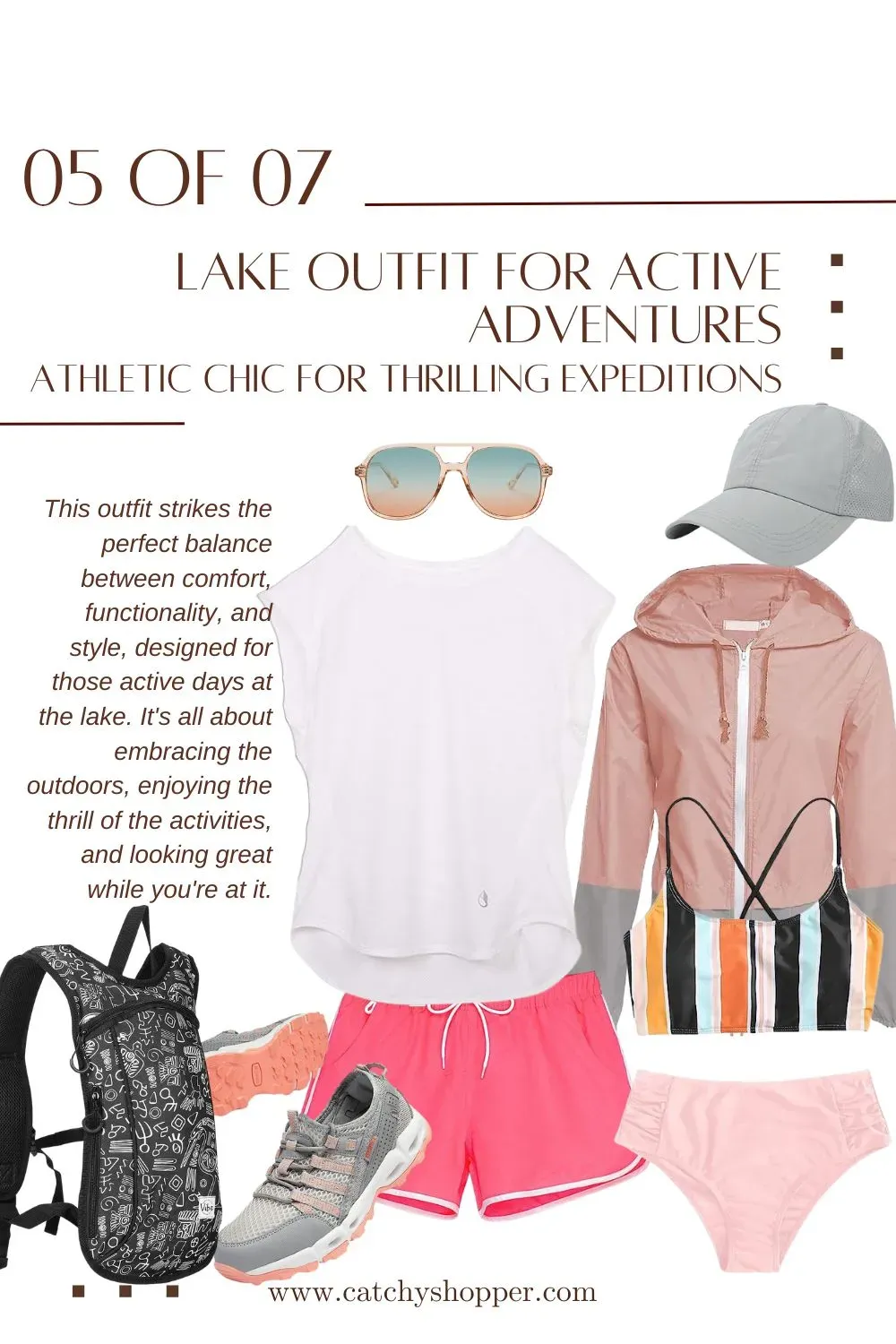 Begin with the basics. A moisture-wicking top and quick-dry shorts or leggings are a must. They'll keep you dry and comfortable throughout your activities. For those planning to dive into the water, swap the top and bottoms for a sporty swimsuit that offers both comfort and support.
Layer your outfit with a lightweight, waterproof jacket. It's ideal for unpredictable weather and easy to pack away when the sun shines.
On your feet, opt for water shoes or hiking boots, depending on your activity. Remember, the right footwear is crucial for comfort and safety during active adventures.
For sun protection, a sports cap or a bandana is a must. They're light, breathable, and offer much-needed shade. And don't forget a pair of polarized sunglasses to protect your eyes from the water's glare.
Finally, a durable, water-resistant backpack is essential for carrying your necessities - think water bottle, sunscreen, snacks, and maybe a camera to capture your adventures.
The Lake Outfit for Evening Get-Togethers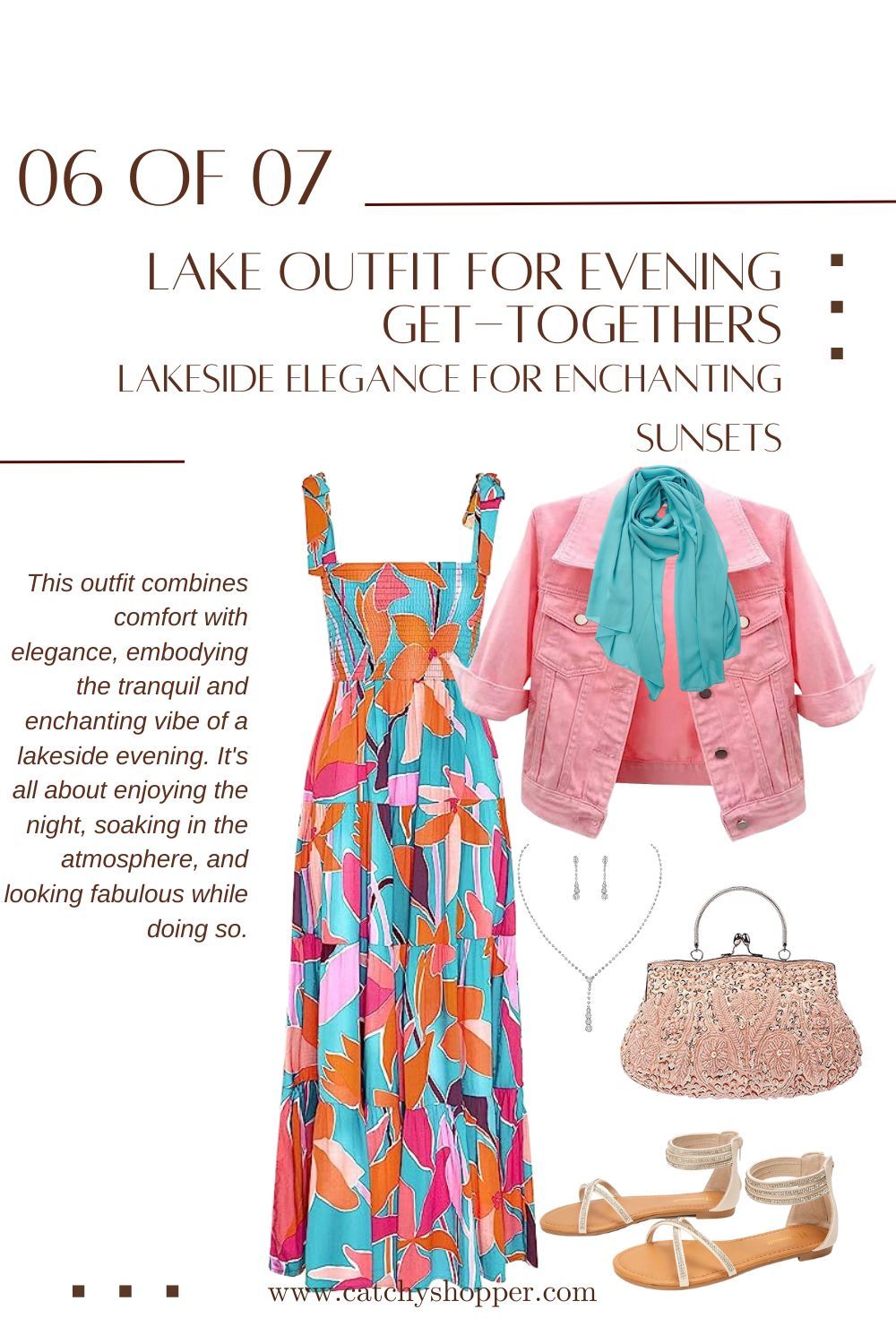 For this outfit start with a base of a casual-chic dress - a maxi or midi in soft, breathable fabrics. Think of earthy or pastel shades that complement the twilight sky or a pattern that resonates with the calmness of the lake.

Layer with a lightweight shawl or pashmina. It adds an element of elegance and is perfect for the slight chill of the lakeside evening. If you're going for a more casual look, a denim jacket can add a stylish edge to your outfit.

Shoes are a chance to add a touch of glamour. Embellished flats or wedges would maintain comfort while adding a dash of sparkle. Remember, you're by the lake, so stilettos might be a tad impractical.

Accessories are your best friends here. A statement necklace or a pair of chandelier earrings can elevate your outfit, capturing the glow of the evening lights.

And of course, a small, elegant clutch to carry your essentials. Something that matches your outfit and is easy to carry around.
The Unexpected Weather Lake Outfit
Begin with the fundamentals: a layer-friendly outfit. Opt for a comfortable tee or tank top, paired with flexible shorts or jeans depending on the temperature. These pieces are comfortable and versatile, ready to adapt to any change in weather.
On top, carry a light sweater or cardigan that can easily be thrown on if the wind picks up. It can add warmth without being too heavy or bulky.
Consider a lightweight, waterproof jacket or raincoat in case of an unexpected drizzle. It's not only functional but can also add a pop of color and style to your outfit.
For your feet, choose versatile footwear like waterproof boots or all-weather sandals. They're ready for anything, whether it's a sudden rain shower or a change in terrain.
Don't forget a hat or cap - it can provide shade on a sunny day and some cover on a drizzly one. A pair of versatile sunglasses is also a must - ones that protect your eyes from the sun but can still look stylish even if it gets a bit overcast.
Lastly, a waterproof bag or backpack to keep your belongings dry and safe is a must. You never know when a clear sky can turn into a rain shower.
Final Thoughts
Alright, my fashion-forward friends, that's the end of our lake outfit marathon - seven fabulous, head-turning ensembles designed to add some serious style to your lakeside shenanigans, from sunrise escapades to moonlit soirees. But remember, these aren't just outfits, they're your passport to living the chic, lakeside dream, a perfect marriage of laid-back comfort, runway-worthy style, and that magical lakeside allure.
Now here's a little secret from the fashion frontlines - make these ideas your own! This is your catwalk, your style story. Maybe you'll add a touch of bling with a statement accessory, bring a splash of unexpected color, or don those sunnies that make you feel on top of the world.
Lakeside dressing is not just about looking Insta-ready (though, yes, you'll totally be that too). It's about basking in tranquility, embodying the adventurous spirit, and feeling like the queen or king of the lake that you are. So, get innovative, let your creativity flow, and let your lakeside wardrobe be a mirror of your unique personality and stunning panorama.
So go on, seize the day, and take your lake-side style to the next level, where fashion does a graceful dance with comfort. Strut your stuff, make a splash, and remember - your lakeside escapade is your runway. Live it, love it, and embrace your very own brand of lakeside chic. Stay fabulous, my friends!
Other Posts You May Like
💡
Dive Into Global Fashion Outfits
Begin your style journey with our succinct guides on global attire. From
Hawaii
's tropical allure, Italy's chic sophistication, Dubai's luxury,
Greece
's timeless beauty, and
Vegas
's vibrant nightlife, to
Mexico
's sunny beaches, we have fashion insights for every destination. Learn to blend with locals and immerse in each place's unique fashion culture.
💡
Beach and Resort Wear
Prepare for your next holiday with our Resort Wear and Beach Wear suggestions. Also, make a splash with our Pool Outfits that are both stylish and comfortable.
💡
Special Occasion Outfit
Dress up for the special days with our 4th of July Outfit, or check out our Jury Duty Outfits for ideas on what to wear for civic duties. Start your style journey now!
Comments