This post may contain affiliate links, please see our privacy policy for details.
So, today, we're gonna amp up our iced coffee vibes with something real cool - an awesome mashup of two classics. Picture this: S'mores Iced Coffee topped off with homemade Marshmallow Fluff! It's not your run-of-the-mill cuppa hot coffee. It's like a flashback to those lazy summer camp days, all packed into a chill drink.
Remember all our previous blogs where we geeked out big time on iced coffee? We broke down everything there is to know about it, how to whip it up at home, and even the best tools to make it with. We've thrown in Protein-packed Recipes, made some crazy-good Coffee Ice Cream, and taken you on a flavor trip with Thai, Japanese, French Vanilla, Caramel, and Vietnamese Iced Coffee.
We've even catered to the health buffs with a Keto-friendly version, made a kickin' coffee Protein Shake, and created a too-good-to-be-true Iced Coffee Float. And, who can forget our super rich Iced Coffee Latte and that bold, punchy Cold Brew Iced Coffee?
But now, it's time for the next episode of our iced coffee journey, starring everyone's childhood fave – S'mores! This S'mores Iced Coffee recipe is more than just a tasty coffee drink. It's a whole experience, perfect for a hot summer day or a comfy evening by the fire, going down memory lane. So, ready to dive into the yummy world of S'mores Iced Coffee with me? Let's do this!
S'mores Iced Coffee Recipe
Okay, let's get down to business, shall we? You're going to need a few special things to whip up this delicious S'mores Iced Coffee with Homemade Marshmallow Fluff. But don't worry, I've got you covered with a complete list, so you're all set and ready to go.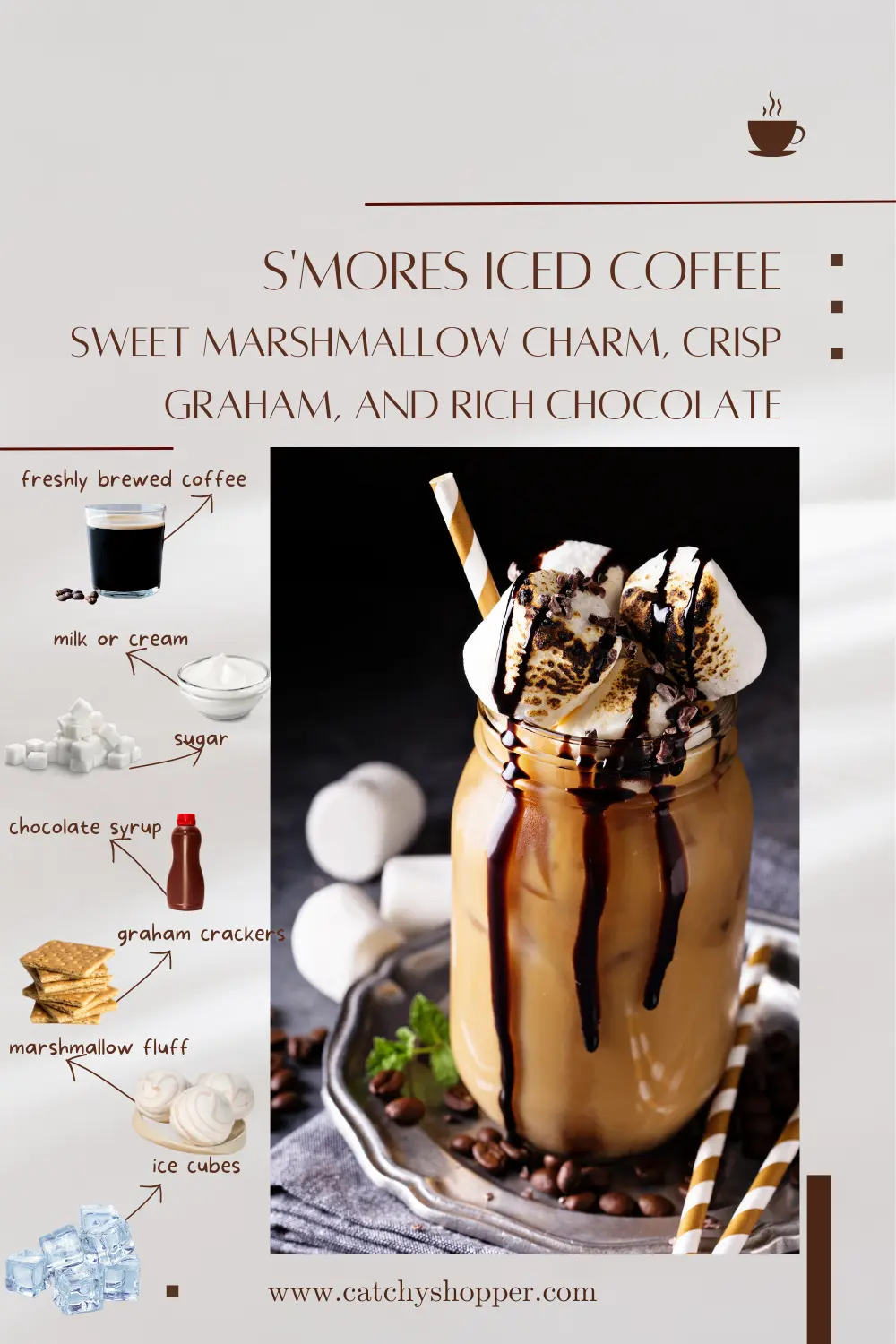 Ingredients
Freshly brewed coffee cooled - about 2 cups.
Ice cubes - as needed.
Milk or cream - about 1 cup, (feel free to adjust to your liking).
Sugar - to taste.
Chocolate syrup - 2 tablespoons.
Graham crackers - 2, crushed into crumbs.
Marshmallow fluff - for topping (we'll get to that in a bit!).
Instructions
Start by brewing your coffee. You could use any method you prefer: drip, French press, or even cold brew coffee for a smoother, less acidic taste. Remember to make it stronger than a regular cup as the ice and milk will dilute it. Let it cool down, you can speed up the process by putting it in the fridge.
While your coffee is cooling, prepare your glasses. Drizzle the inside of the glass with some chocolate syrup. Then, dip the rim of your glass into chocolate syrup, followed by crushed graham crackers.
Once your coffee is cooled, pour it into your glass, leaving room for the milk and the fluff. Stir in your sugar until it's well-dissolved.
Pour in your milk or whipped cream and give it a gentle stir.
Now comes the grand finale - dollop a generous spoonful of homemade marshmallow fluff on top of your iced coffee.
Garnish with a sprinkle of graham cracker crumbs or a drizzle of chocolate syrup on top of the fluff, and voila! Your very own S'mores Iced Coffee is ready to enjoy.
Homemade Marshmallow Fluff Recipe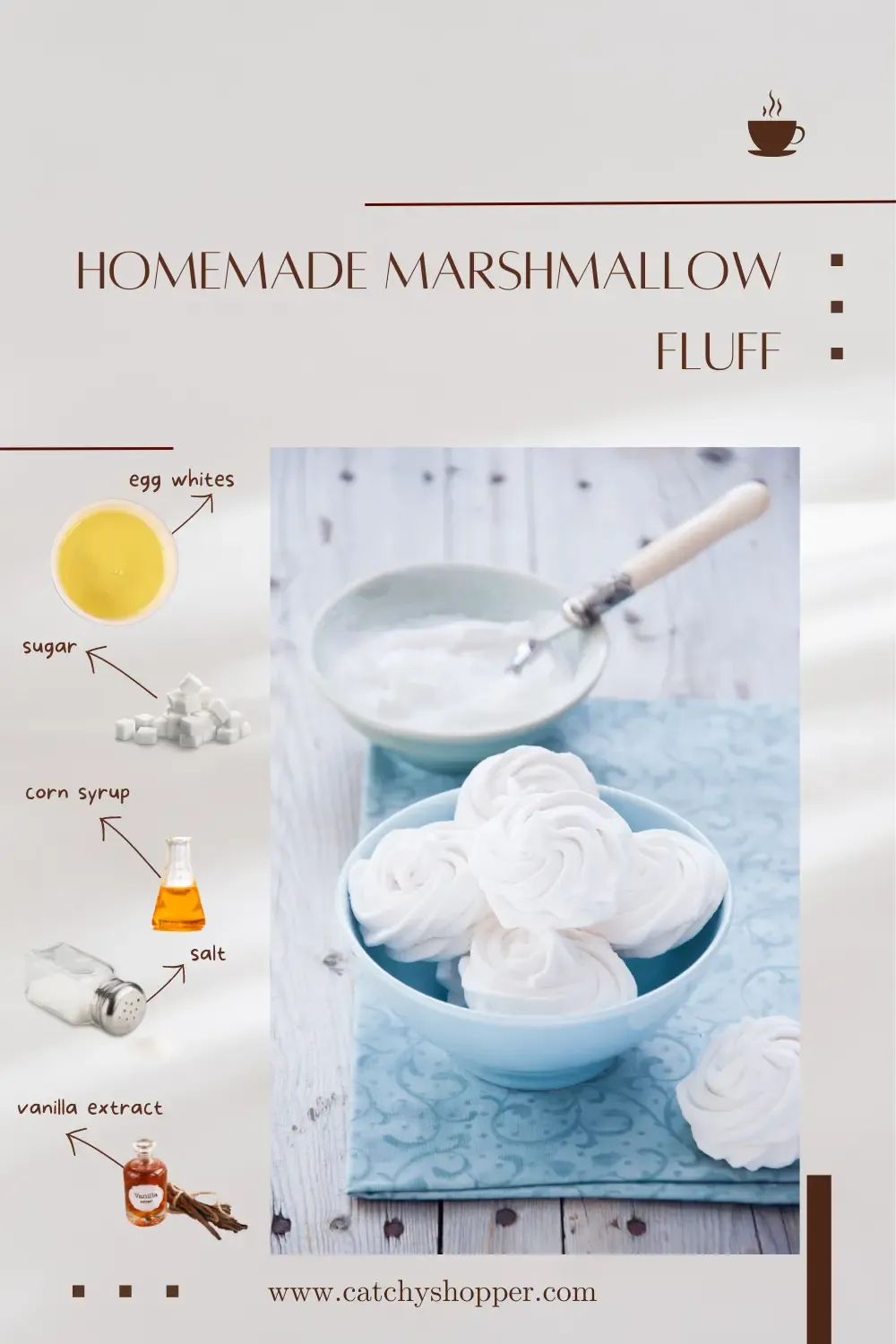 Ingredients
Egg whites - 2 large.
Sugar - 1 cup.
Corn syrup - 1/2 cup.
Salt - a pinch.
Vanilla extract - 1 teaspoon
Instructions
Separate your eggs - we only need egg whites for this recipe. Combine the egg whites, sugar, corn syrup, and a pinch of salt in a large heat-resistant bowl.
Set your bowl over a saucepan of simmering water, creating a double boiler effect. Make sure the bottom of your bowl isn't touching the water.
Using a whisk or a handheld mixer, start beating the mixture over the simmering water until the sugar is completely dissolved, and the mixture turns frothy.
Remove the bowl from the heat and continue beating. The mixture will start to thicken and turn glossy - this means your marshmallow fluff is coming together.
Once the fluff is thick and holds its shape, mix in the vanilla extract.
Your homemade marshmallow fluff is now ready to be used! It can be stored in an airtight container in the fridge for up to 2 weeks and re-whipped if it loses some loft over time.
Alright, we've got our ingredients. Now let's talk tools.
Essential Tools and Utensils
Coffee maker - Any method you prefer to brew your coffee.
Mixer - Handheld or stand mixer for the marshmallow fluff.
Heat-resistant bowl - For making the marshmallow fluff.
Saucepan - To create a double boiler for the fluff.
Whisk - For mixing.
Spatula - For scraping down the sides of the bowl.
Measuring cups and spoons - To measure your ingredients accurately.
Glasses - To serve your amazing S'mores iced coffee!
Food Pairing Suggestions
Alright, so we've prepared our delicious S'mores Iced Coffee with Homemade Marshmallow Fluff. Now the question is - what to pair it with? After all, every good beverage deserves an equally delightful dish to go with it. Let's talk about some lip-smacking food pairing suggestions.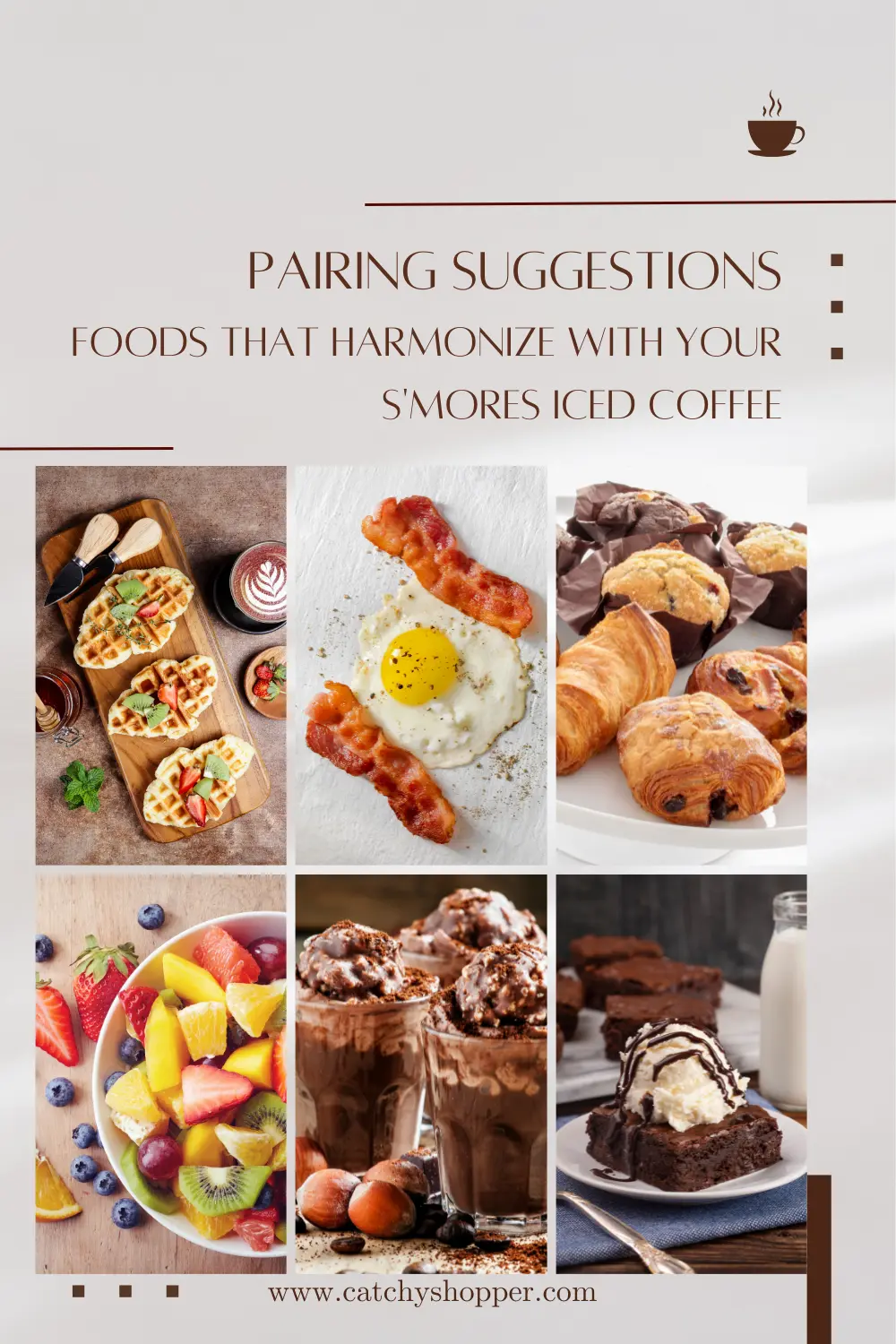 For Breakfast or Brunch
Pancakes or Waffles: These breakfast classics with a generous drizzle of maple syrup can perfectly complement the sweet and creamy S'mores Iced Coffee. Add some fresh berries on top for a burst of freshness.
Bacon and Eggs: Looking for a savory contrast to your sweet beverage? You can never go wrong with crispy bacon and eggs made to your liking.
For a Snack
Pastries: Think croissants, danishes, or sweet rolls. The buttery flavors and flaky textures pair wonderfully with your iced coffee.
Fruit Salad: For a lighter option, a refreshing fruit salad would be a great choice. Fresh and tangy fruits can balance the sweetness of your drink.
For Dessert
Chocolate Desserts: Double down on the decadence! Chocolate cakes, brownies, or cookies can amplify the chocolatey notes in your S'mores Iced Coffee.
Vanilla Ice Cream: This is a match made in heaven. The cool, creamy vanilla ice cream with the rich, frothy S'mores Iced Coffee is simply irresistible.
Remember, these are just suggestions. Feel free to experiment and find your favorite pairing! The most important thing is to savor each sip and bite, and enjoy the moment. Now, go forth and feast!
Final Thoughts
Phew, wasn't that a fun ride? We took a trip down memory lane with our childhood favorite S'mores and gave it a grown-up twist with iced coffee. The result? An absolutely delightful beverage that's sweet, rich, and oh-so-refreshing! We've combined the strong, bold flavors of coffee, the velvety smoothness of chocolate, the creamy sweetness of homemade marshmallow fluff, and the delightful crunch of graham crackers to create the ultimate S'mores Iced Coffee.
Now, it's your turn! We can't wait for you to try this recipe and experience the joy of sipping on this heavenly drink. So get your ingredients ready, bring out those whisks and glasses, and let's create some S'mores Iced Coffee magic in your kitchen.
And when you do make it, don't forget to share your experiences and photos with us! We'd love to hear how your drink turned out. Got another creative coffee combination in mind? Feel free to share that too! After all, the coffee world is an endless playground of flavors, and we're all here to explore it together.
Happy brewing and sipping!
Got any questions or doubts about the recipe? Want to share your own S'mores Iced Coffee experience? Or maybe you've got an idea for our next blog topic? This is your space, dear readers. Leave your comments below and let's keep the coffee conversation going!
Other Posts You May Like
💡
Basic Homemade Coffee Series
Welcome to the world of homemade coffee! Our basic homemade coffee series is designed to help you master the art of making coffee at home. With our Easy Coffee Drinks to Make at Home guide, you'll discover the simple pleasure of brewing your own cup, one sip at a time
💡
Coffee Inspired Delights
Dive into the delightful world of coffee-inspired desserts. Our
Coffee Ice Cream
,
Iced Coffee Float
, and Cold Brew Iced Coffee recipes are the perfect way to cool down on a hot day, while also satisfying your caffeine cravings. They're the ideal blend of sweet indulgence and coffee satisfaction.
💡
All About Iced Coffee
Dive into the refreshing world of Iced Coffee! Our guides cover the basics from What is Iced Coffee to How to Make Iced Coffee, helping you to understand and master the art of this chilled caffeinated delight. Enhance your iced coffee experience with our recommendations on
Iced Coffee Makers
, designed to make brewing a breeze. Looking for the perfect tumbler for your iced coffee on-the-go? Don't miss our guide on Iced Coffee Tumblers.
Comments