This post may contain affiliate links, please see our privacy policy for details.
Alright, if you recall our previous post where we unveiled the 10 Linen Pants Outfits, let me tell you, it was brimming with summer vibes that made linen pants the star of the show. Whether you were showcasing that sun-kissed beach glow or ruling the roost at a backyard barbeque, we ensured you had a medley of hot style tips and fashion-forward ideas to slay in those linen pants whatever your summer destination. But now, our style radar is zooming in on a summer wardrobe essential that's as flexible as it is comfortable – let's extend a warm welcome to white linen pants.
Drawing inspiration from the fashion world's catwalks, today's conversation will highlight 8 unique style ideas that elevate white linen trousers to the status of your summer style MVP. I'll guide you through each look, dishing out my secret ingredients on how you can recreate these high-fashion ensembles for any sun-drenched occasion – from glow-inducing weddings to power dressing at the office, or a relaxed brunch outing with your gang.
As we embark on this style exploration, you'll discover fashion sorcery that morphs plain white linen pants into a statement piece. We'll experiment with various techniques to add some zing to each outfit, from eye-catching bling to the perfect heel pairings, ensuring your white linen pants outfit never goes bland.
Also, as you chalk out your summer vacation plans this year, don't forget to browse through our other style guides. Each one has been crafted with care to help you decide what to pack for several popular travel destinations. Get insights on creating the perfect outfit for your travel itinerary with our guides:
👉 What to Wear in Greece: Decipher the fashion code for dressing like a local or a chic tourist in this quintessential Mediterranean country.
👉 What to Wear in Hawaii: Soak up the tropical vibes of Hawaii with our style recommendations for this idyllic island paradise.
👉 What to Wear in Vegas: Get into the spirit of the glitz and glamour that defines Las Vegas with our fashion guide for this electrifying city.
👉 What to Wear in Vegas: Master the art of creating a splash at your next poolside event with our tips on ideal pool party attire.
Each of these guides brims with outfit inspiration to help you style up for your next adventure!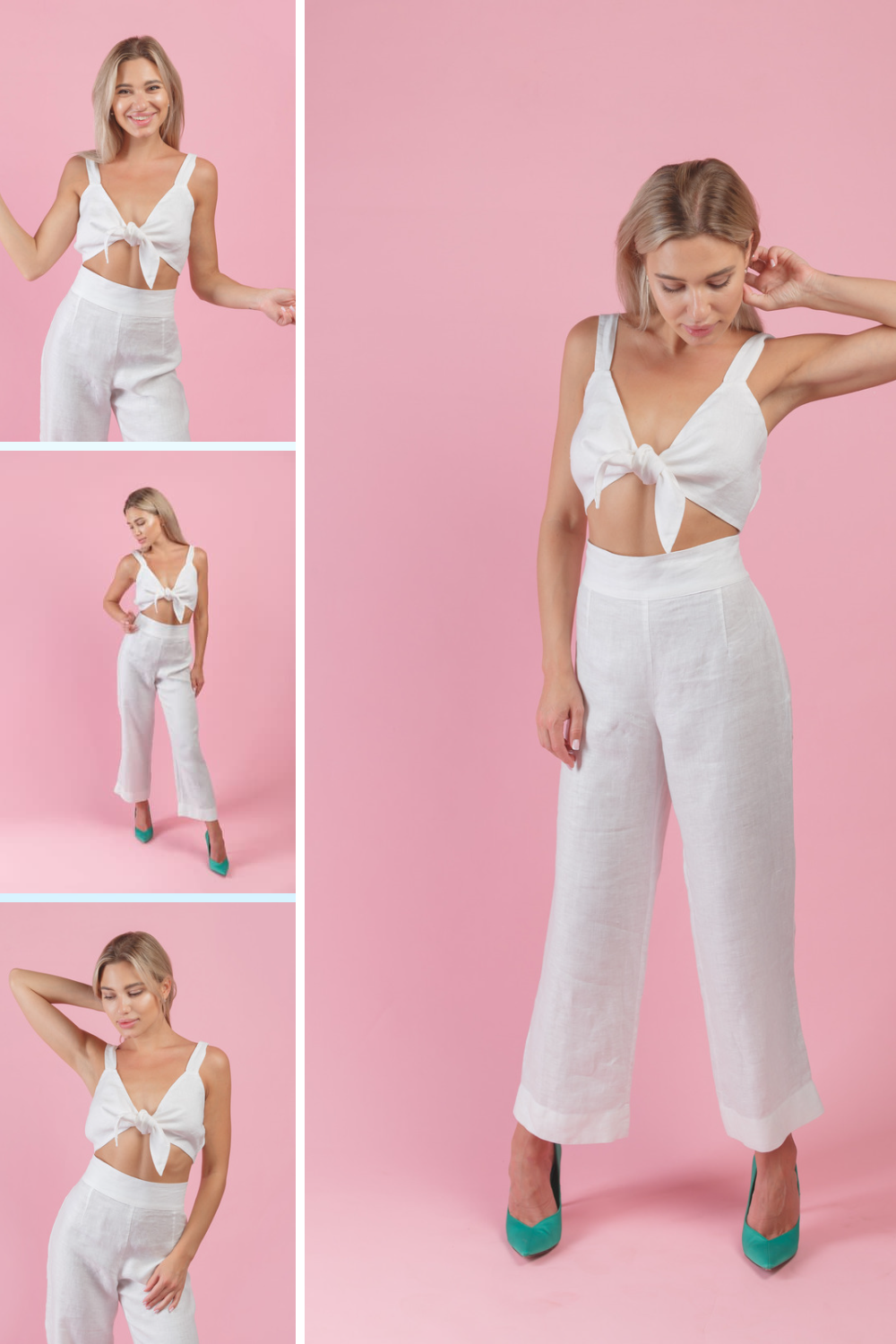 How to Wear White Linen Pants
Incorporate Varied Textures: To avoid a look that's too relaxed or potentially sleepwear-like, create contrast with your soft linen pants by introducing a piece with a harder texture. A hat, a bold piece of jewelry, or a laid-back denim jacket would perfectly serve this purpose.
Play with Different Tops: With linen pants as your base, feel free to experiment with the top part of your ensemble. For a casual yet stylish appearance, a simple top works. If you're aiming for a look that's more upscale, choose a top that's a bit more elaborate.
Choose Fitted Tops: No matter the cut of your linen pants, balance them with a well-fitted top. If you're going for high-waisted or belted linen pants, make sure these features are not hidden under a loose top. Instead, pair your pants with tops that hit just at the waist or use a loose-front tuck.
Pair with the Right Shoes: Shoes can make or break your linen pants outfit. For beach days, a pair of flip-flops can suffice. For a more upscale look suitable for various occasions, go for shoes crafted from leather, suede, or other high-quality materials. Coordinating the color or material of your shoes with your accessories can add polish to your overall look.
How to Style White Linen Pants
Make a Statement with Belts: Think of your white linen pants as a blank canvas, and a statement belt as the artistic touch. This accessory can infuse color or texture to your outfit, elevating it to a whole new level.
Embrace Crop Tops: Pair your linen pants with a crop top for an effortlessly chic summer look. A classic tank top or an off-the-shoulder blouse can create a stylish ensemble.
Layer Up with Denim: The combination of a denim jacket and linen pants is not only trendy but also functional, especially for cooler evenings. This layering strategy can add an edgy twist to your look.
Adorn with Bold Jewelry: White linen pants can serve as the perfect backdrop for your statement jewelry. Try incorporating bold earrings or a chunky necklace for a unique spin on your outfit.
Elevate with Wedges: Wedges can add height and elongate your silhouette, enhancing the charm of your linen pants. Opt for neutral wedge sandals or espadrilles for a comfortable yet fashionable option.
Different Occasions, Different Styles:
Chic and Sophisticated: For a chic look, pair your white linen pants with vibrant or bold tops. If you're not into bright colors, pastel shades can impart a subtle yet stylish vibe.
Work-ready Attire: For a professional look, pair your white linen pants with satin or linen shirts in neutral or bold colors. A professional jacket, pastel shoes, and understated jewelry can complete your work-ready ensemble.
Party Time: Add a pop of color to your white linen pants with a denim jacket and bright shoes. A classic denim jacket creates a timeless look, while vibrant chunky sandals or elegant heels can bring your casual outfit to life.
White Linen Pants Outfit Ideas
With summer around the corner, white linen pants are the perfect staple piece for every woman's wardrobe. Comfortable, breathable, and chic, these versatile trousers can be dressed up or down for any occasion. As we dive into the warmer months, one question that might be on your mind is "What to wear with white linen pants?"
Don't worry, we've got you covered! From breezy blouses and crop tops for a casual day out, to elegant blouses and statement accessories for a night on the town, the possibilities are endless.
In this section, we will walk you through eight inspiring outfit ideas to help you understand what to wear with white linen pants. These ideas range from casual daytime looks featuring cozy t-shirts or tank tops to glamorous night-out ensembles accessorized with bold jewelry or a chic clutch.
No matter what your summer plans are - be it brunch, a beach day, or an evening soiree - these outfits will ensure you look your best while enjoying the warm weather.
So, grab your favorite pair of white linen pants, and let's embark on a journey of fashionable exploration! Get ready to be inspired by these versatile and stylish outfit suggestions that will make you fall in love with your white linen pants all over again.
White Linen Beach Pants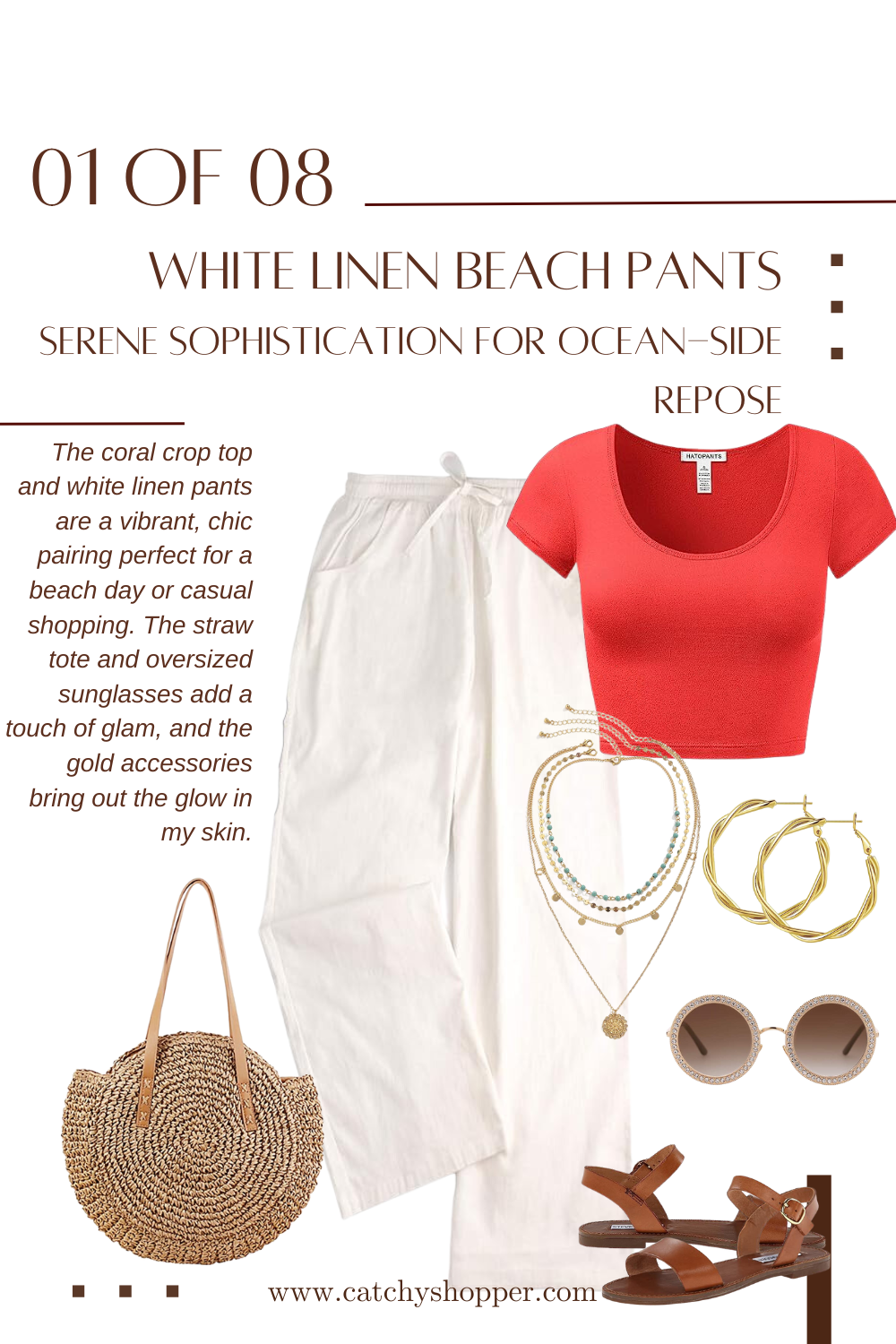 This stunning outfit idea is perfect for soaking up the sun or indulging in some quality shopping time. A vibrant coral crop top pairs perfectly with these white linen beach pants that are designed to love every curve with their relaxed straight fit. Plus, they have an elasticized drawstring waist for ultimate comfort and practical side pockets.
Elevate the look even further with some stylish tan leather sandals, a cute straw tote for your essentials, and oversized sunnies for a touch of glam. And because we're all about the sparkle, layer on some gold necklaces and hoop earrings, baby!
Try some relaxed beach waves that just scream carefree glam. And keep your makeup simple, sweethearts - a little tinted moisturizer with SPF, waterproof mascara, and a coral lip tint to bring it all together. Oh, and don't forget that sunscreen!
White Linen Crop Pants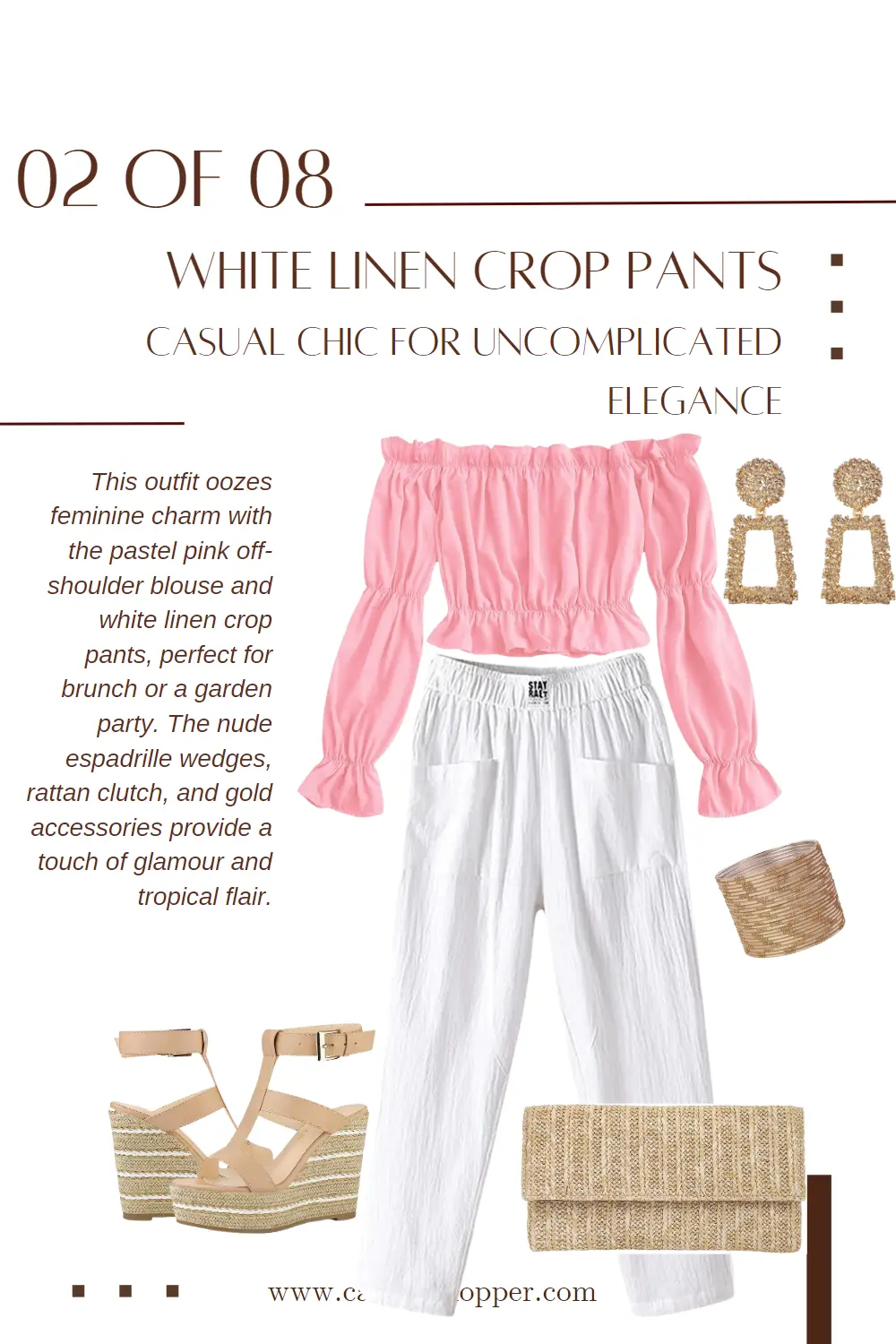 This sweet and elegant pastel pink off-shoulder blouse pairs perfectly with the newest staple in my closet - the white linen crop pants. These pants don't just look great, but they're perfect for petite frames too! With their ankle-length cut and breezy fit, they'll keep you comfortable and looking taller - a win-win for any summer occasion!
Want to add some height and extra style? Try some nude espadrille wedges and add a touch of sparkle with statement earrings and delicate gold bangles.  Add a tropical vibe with a cute rattan clutch, and don't forget your bling - some delicate gold bangles and statement earrings to sparkle in the summer sun.
White Linen Capri Pants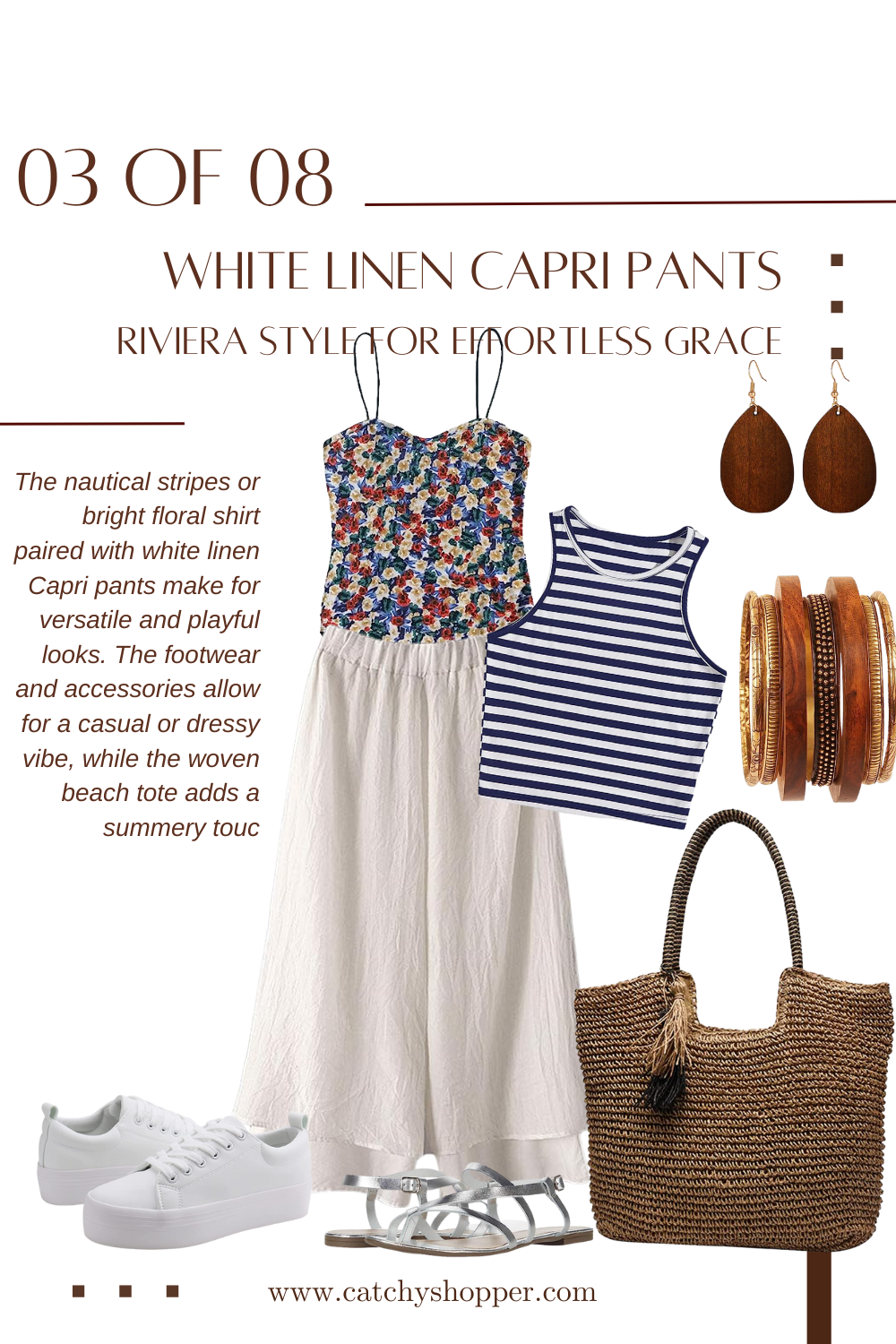 For an effortlessly stylish look, consider pairing these White Linen Capri Pants with a nautical stripe top. Opt for classic navy and white stripes for a true maritime feel, or mix it up with red and white stripes for a bolder look.
Alternatively, you could go for a bright floral bodysuit. Choose a shirt with a base color that complements white, like cobalt blue or emerald green, with a vibrant floral pattern to enhance the crisp whiteness of the Capri pants.
Footwear could be a pair of chic white leather sneakers for a casual, day-out look, or strappy flat sandals in a metallic hue for a more dressed-up occasion.
In terms of accessories, a statement belt would work well with the nautical stripe top, while chunky wooden bangles and earrings would beautifully complement the floral shirt. A woven beach tote would add a summery vibe to both looks.
With these outfit ideas, your white linen Capri pants will be a standout piece in your summer wardrobe. Always remember, the best accessory to any outfit is your confidence! Happy styling!
White Linen Cargo Pants
If you're aiming for a sporty yet chic look, pair these White Linen Cargo Pants with a fitted black tank top. Add a pair of chunky white sneakers to keep the look casual and comfortable, and a crossbody bag in a bright color for a pop of vibrancy. You could even toss on a baseball cap for a full sporty-chic vibe.
For a more fashionable juxtaposition, try teaming up the cargo pants with an oversized beige blazer. This look balances the relaxed fit of the cargo pants with the structured silhouette of the blazer. Underneath the blazer, wear a simple white crop top, and finish off the outfit with a pair of sleek black mules.
Don't forget to accessorize with some chunky gold jewelry, like a statement necklace or thick hoop earrings, to add some glamour to the overall outfit.
Whichever way you choose to style it, the White Linen Cargo Pants offer endless possibilities for fashion-forward looks.
Low Rise White Linen Pants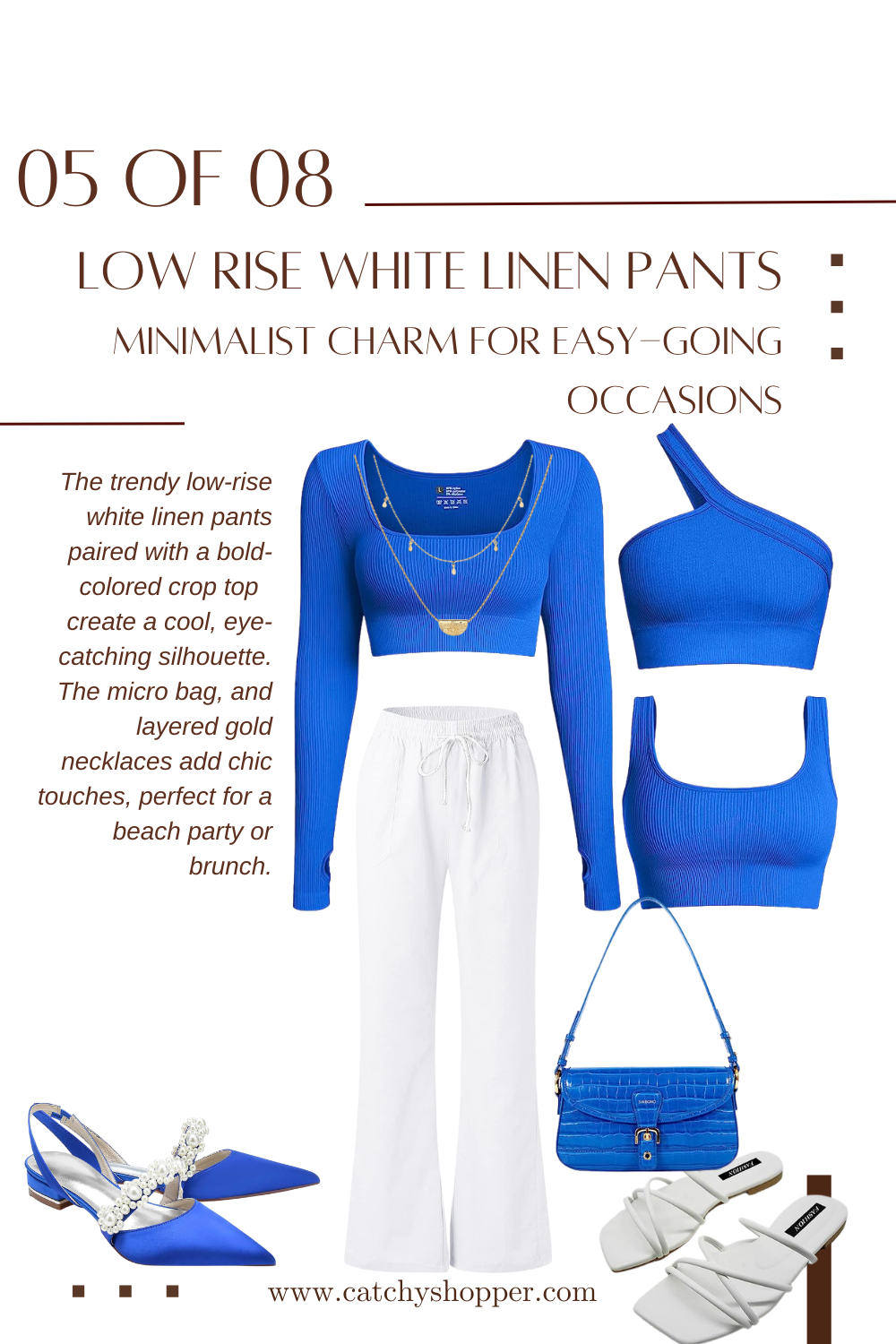 Channeling runway to real-life style, a cropped top is the perfect pairing for these low-rise white linen pants. Opt for a bold-colored, fitted crop top – think hot pink or electric blue – to create a striking contrast with the white pants. The cropped length of the top will emphasize the low-rise design of the pants, creating a balanced silhouette.
Footwear could range from minimalist slide sandals for a relaxed look to pointed-toe pumps for a more elevated ensemble. Finish the outfit with a trendy micro bag and some gold layered necklaces to add a chic touch.
Whether you're heading to brunch or a beach party, Low Rise White Linen Pants are a trendy and versatile choice that can be dressed up or down according to the occasion.
High-Waisted White Linen Pants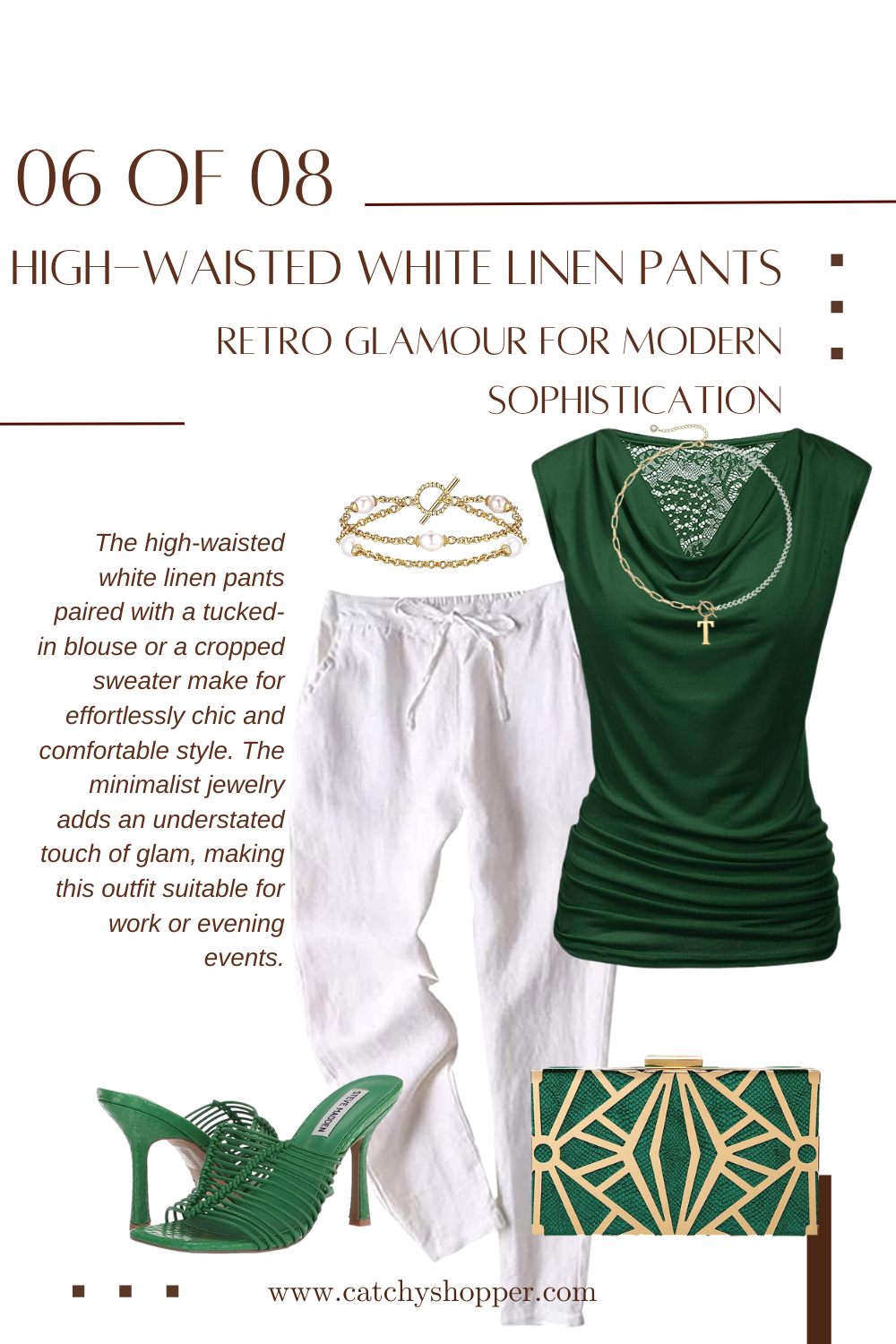 One of the best ways to highlight the flattering high-waisted design is by tucking in your top. Try pairing these pants with a blouse in a vibrant hue, like royal blue or deep emerald, tucked in to accentuate your waist. A pair of strappy heels in a neutral color and a clutch in a matching shade would elevate this outfit to a sophisticated evening look.
Accessorize with some minimalist jewelry - think a thin gold chain or a dainty bracelet - to add a touch of understated glam.
With High-Waisted White Linen Pants, you can create a myriad of outfits that are as stylish as they are comfortable.
White Flowy Linen Pants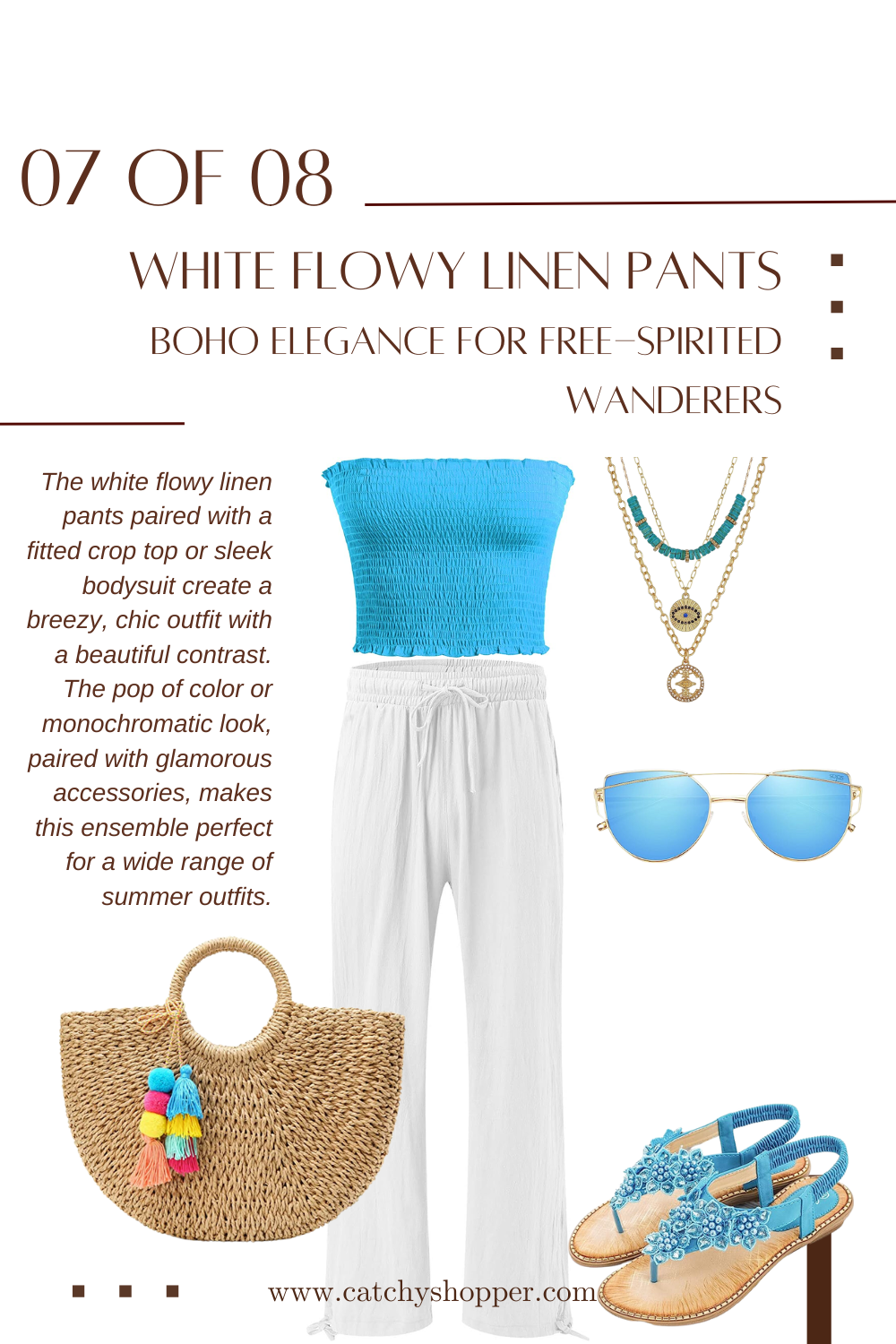 White Flowy Linen Pants are a breezy, chic choice for warm weather. With their loose, airy silhouette, they are perfect for adding a sense of movement and grace to your summer outfits.
Pair these flowy pants with a fitted crop top to balance out the volume. Choose a top in a vibrant shade like coral or turquoise to add a pop of color to the white pants. Finish off the look with a pair of embellished flat sandals and a straw tote for a perfect beach or resort outfit.
Don't forget to accessorize! A layered gold necklace and sunglasses would look stunning with the crop top.
The beauty of White Flowy Linen Pants lies in their versatility - they can be easily dressed up or down and paired with various styles to create a wide range of chic summer outfits.
White Linen Wide-Leg Pants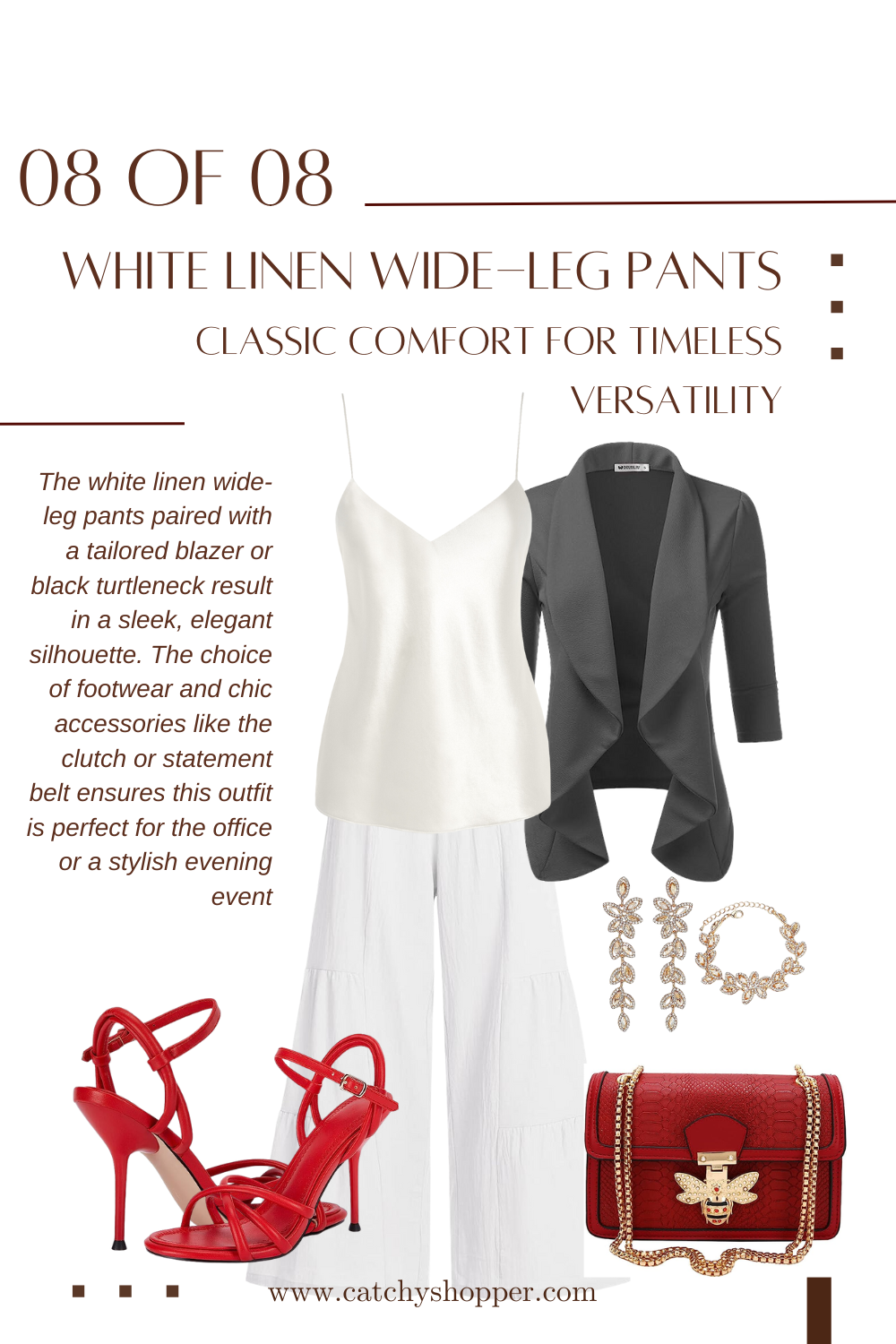 To mirror the chic, runway trends, consider pairing these pants with a tailored blazer. Opt for a blazer in a contrasting color, like charcoal grey or navy, to create a visually striking ensemble. Underneath the blazer, wear a simple white silk camisole to match the pants.
Complete this elegant look with a pair of high-heeled sandals and a minimalist clutch. Add a touch of glam with gold earrings and a matching cuff bracelet.
Whether you're headed to the office or a stylish evening event, wide leg linen pants offer endless outfit possibilities that never compromise on style or comfort.
Final Thoughts
From the runway to your closet, we've got you covered with eight stunning white linen pants outfit ideas. Whether you're sashaying down the streets of your city or hitting the beach, don't forget that fashion is all about expressing your unique personality.
Now, it's your turn. I can't wait to see how you rock these looks. Feel free to comment below with your outfit snaps and share your own styling linen pants tips – remember, your style might just be the inspiration someone else needs!
And if you loved this, be sure to check out our other blog posts listed below for even more style inspiration. We're all about empowering each other to look and feel our best, in every season and for every occasion. Keep shining and keep sharing darlings. After all, true beauty shines from the inside out. Let's keep that glow going together!
Stay fabulous, Justyna.
Other Posts You May Like
💡
Beach and Resort Wear
Prepare for your next holiday with our Resort Wear and Beach Wear suggestions. Also, make a splash with our Pool Outfits that are both stylish and comfortable.
💡
Special Occasion Outfit
Dress up for the special days with our 4th of July Outfit, or check out our Jury Duty Outfits for ideas on what to wear for civic duties. Start your style journey now!
Comments