This post may contain affiliate links, please see our privacy policy for details.
Hey, my loves! Welcome back to another fabulous style guide. I know you've been waiting for this one, just as much as I've been excited to share it with you! Summer is my favorite season because it's the time when music fills the air and we get to let our hair down at all these fantastic concerts. But wait, the big question pops up every single time: "What to wear to a summer concert?" Right?
Well, let me tell you, darlings, it's all about hitting that perfect balance between style and comfort. I mean, we want to look fabulous while we sway to the music, but we also need to feel comfortable dancing the night away! And if there's one thing I've learned from all my years in the spotlight, it's that fashion should never be at the expense of comfort. And honey, that's the gospel truth!
Now, you may remember our previous blog posts, 25 Festival Outfits to Look Your Best While Dancing the Night Away and 10 Cute Festival Outfits to Rock This Season. We're about to take things up a notch this time. So, get ready because I am going to guide you through 20 stylish and comfortable options to ensure you make a statement at your next summer concert. So let's get this party started, shall we? Buckle up, because you're in for a fabulous ride, honey!
Summer Concert Outfit Ideas
Get ready to slay at your summer concerts with these 20 outfit ideas! Dive in and discover the perfect look to rock the stage and steal the show.
Summer Beach Concert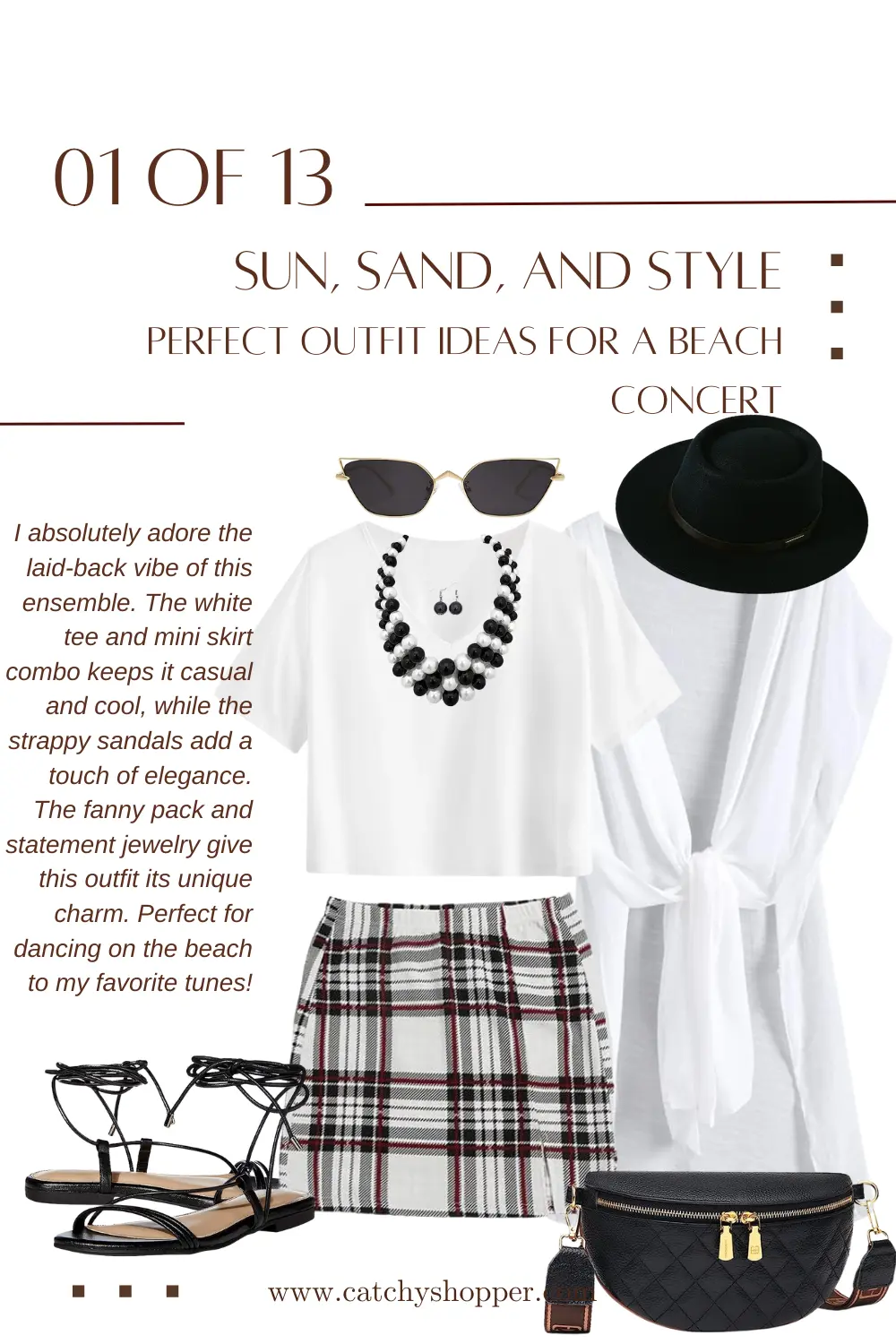 Ready for a beach concert? Think sun-kissed: a classic white tee, a flirty mini skirt, and cute strappy sandals - you'll be ready to dance to the beat all day. Shield your eyes in style with chic shades and a wide-brimmed hat, and add a lightweight kimono for when the sun sets.
And here's a tip: a fanny pack isn't just back in trend, it's also a handy way to keep your essentials close. And don't forget some statement jewelry for a bit of sparkle. Check out our latest post on Fanny Packs and Statement Jewelry Pieces for more inspiration.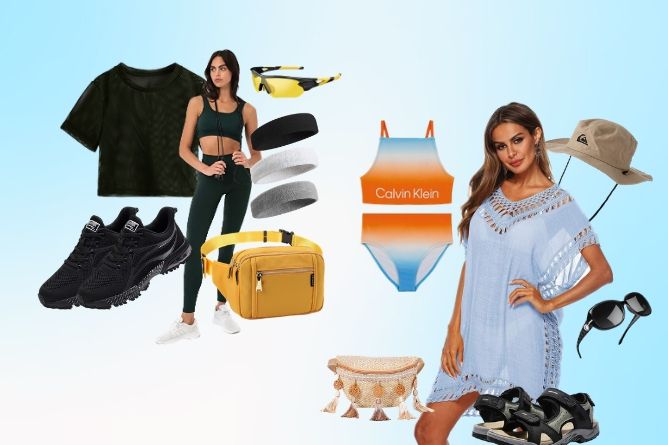 Outdoor Amphitheater Concert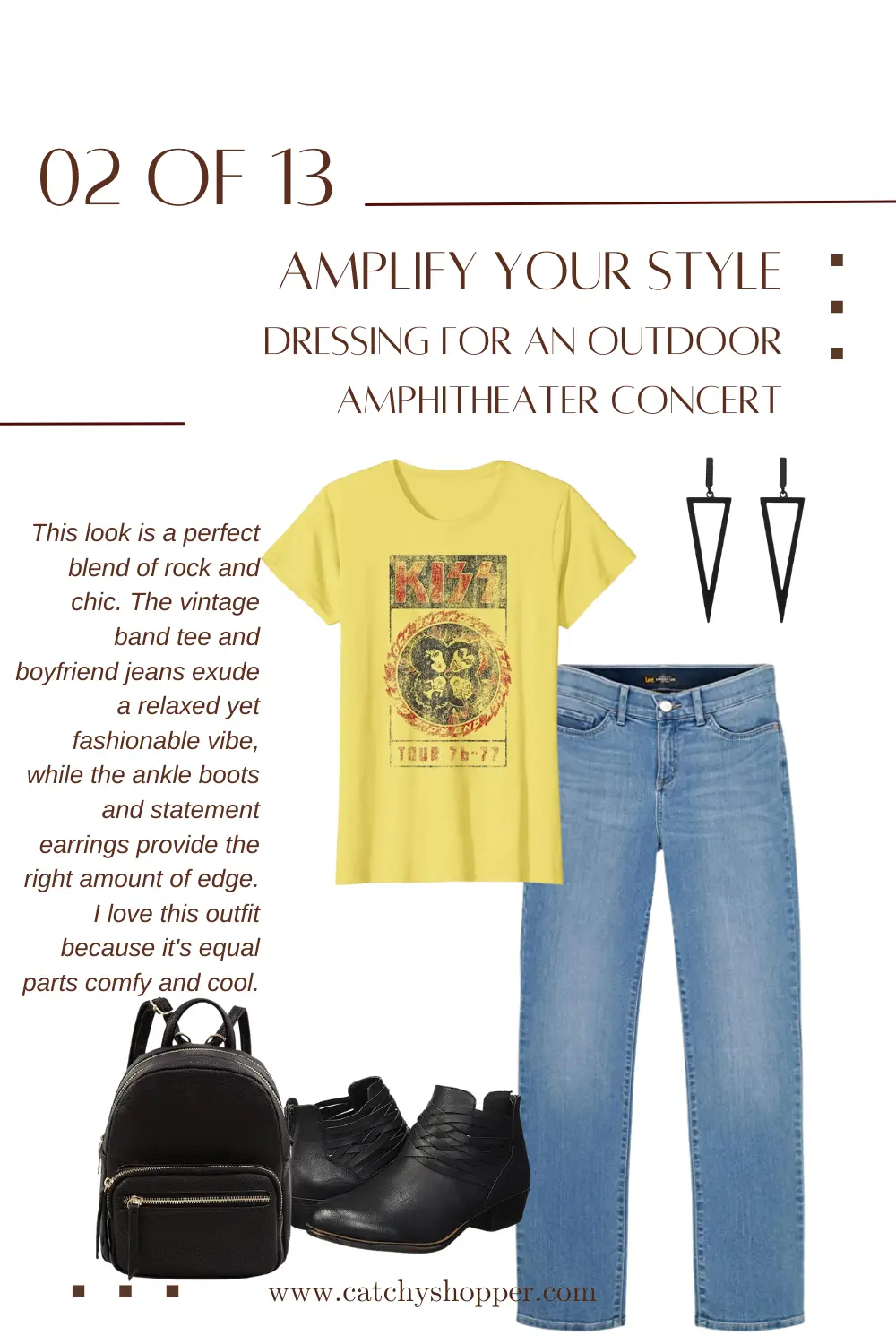 For an open-air amphitheater concert, it's all about feeling good and looking great. Picture yourself rocking a vintage band tee, paired with those boyfriend jeans you love. Slide into those chic ankle boots, and add some bling with statement earrings, and a small backpack. Your look? Totally rocking, yet perfectly comfortable.
Park Music Festival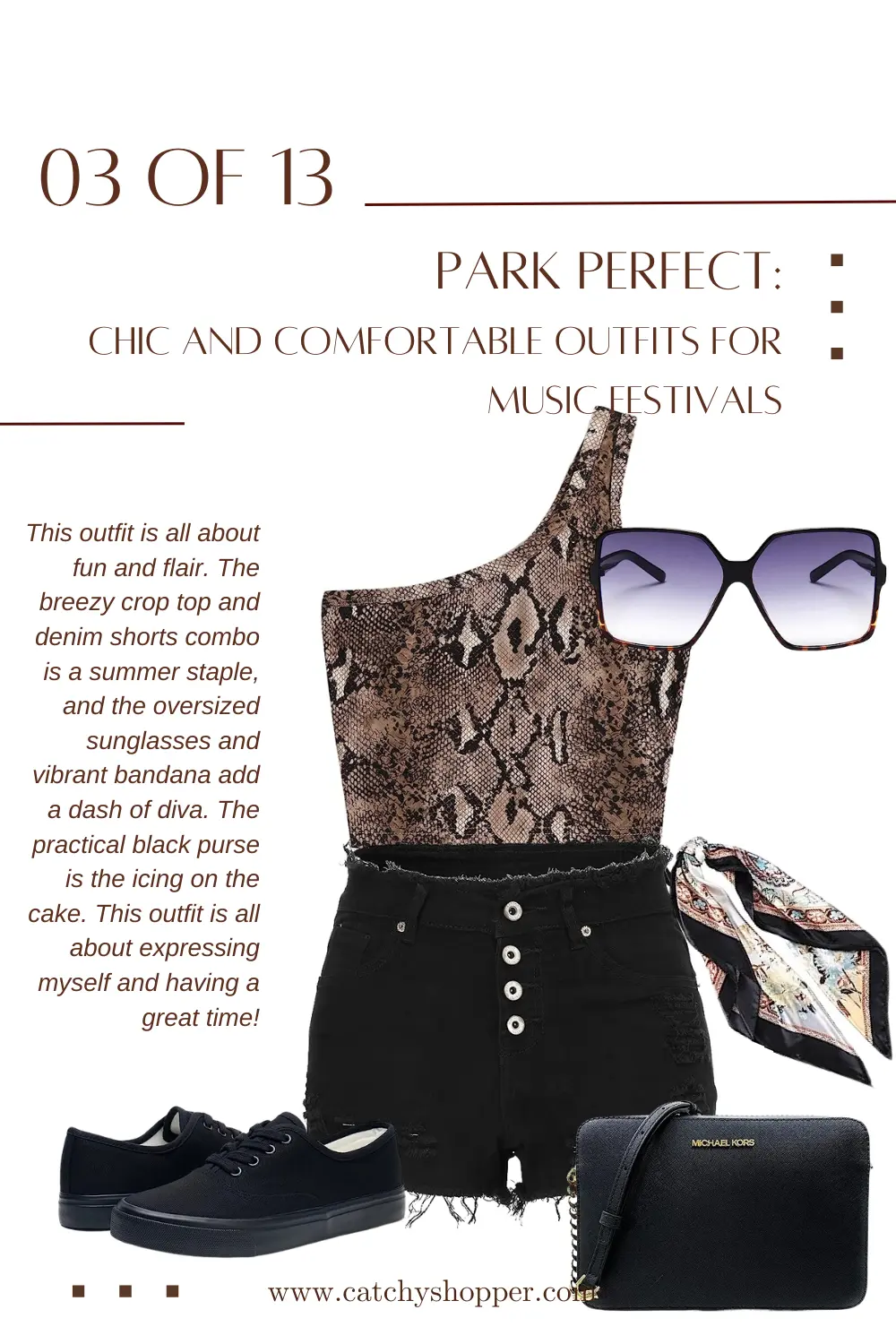 Outdoor festival all day? We've got this, ladies. Keep it cool and comfortable with a breezy crop top and denim shorts, paired with your favorite sneakers. And for that hint of a diva, throw on some oversized sunglasses and a vibrant bandana.
And, don't forget a purse to carry your essentials. You know what they say, "Luxury and functionality can coexist in style." Not sure what to go for? Check out our blog post about Black Purses for some fabulous options.
Want more inspo for your festival look? Visit our blog posts on 28 Trendy Denim Shorts Outfit Ideas and 9 Must-Try Crop Top Outfit Trends! Mix and match, create your personal style, and shine on, my loves!
Rooftop Concert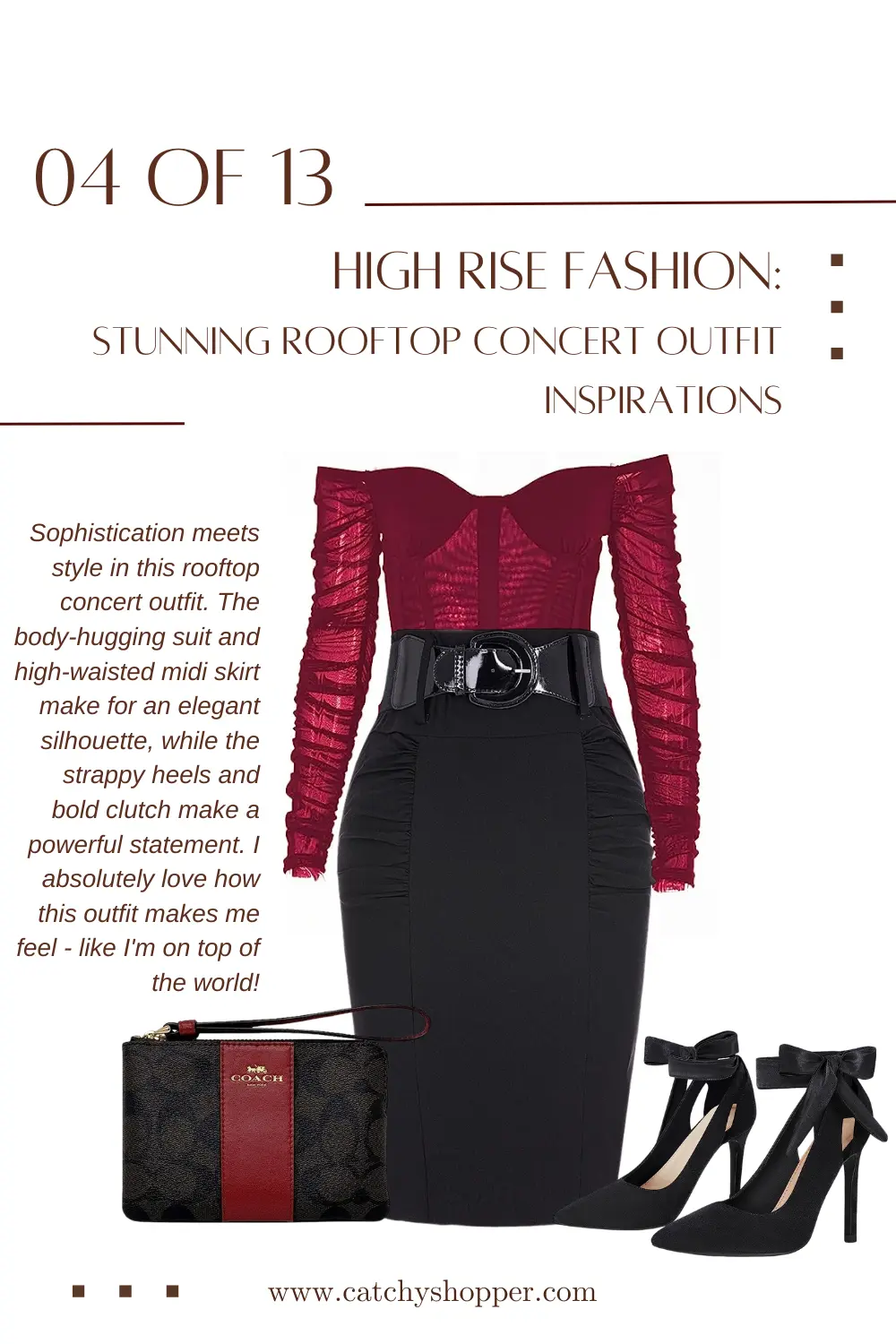 For a rooftop soirée, let's kick things up a notch. Picture a body-hugging suit paired with a high-waisted midi skirt that moves with you. Add some height with a pair of killer heels for that sophisticated concert look. Not sure which ones to choose? Check out our blog post, 14 Strappy Heels You'll Love for Summer, for some serious inspo.
And let's not forget that a bold clutch is your best friend for an evening look. Choose one that makes a statement and keeps your essentials close. Need help picking the perfect one? Visit our blog post, 36 Evening Bags to Sizzle at Any Soirée.
So get ready to rock that rooftop concert, darling. You're about to steal the show!
Pool Party Concert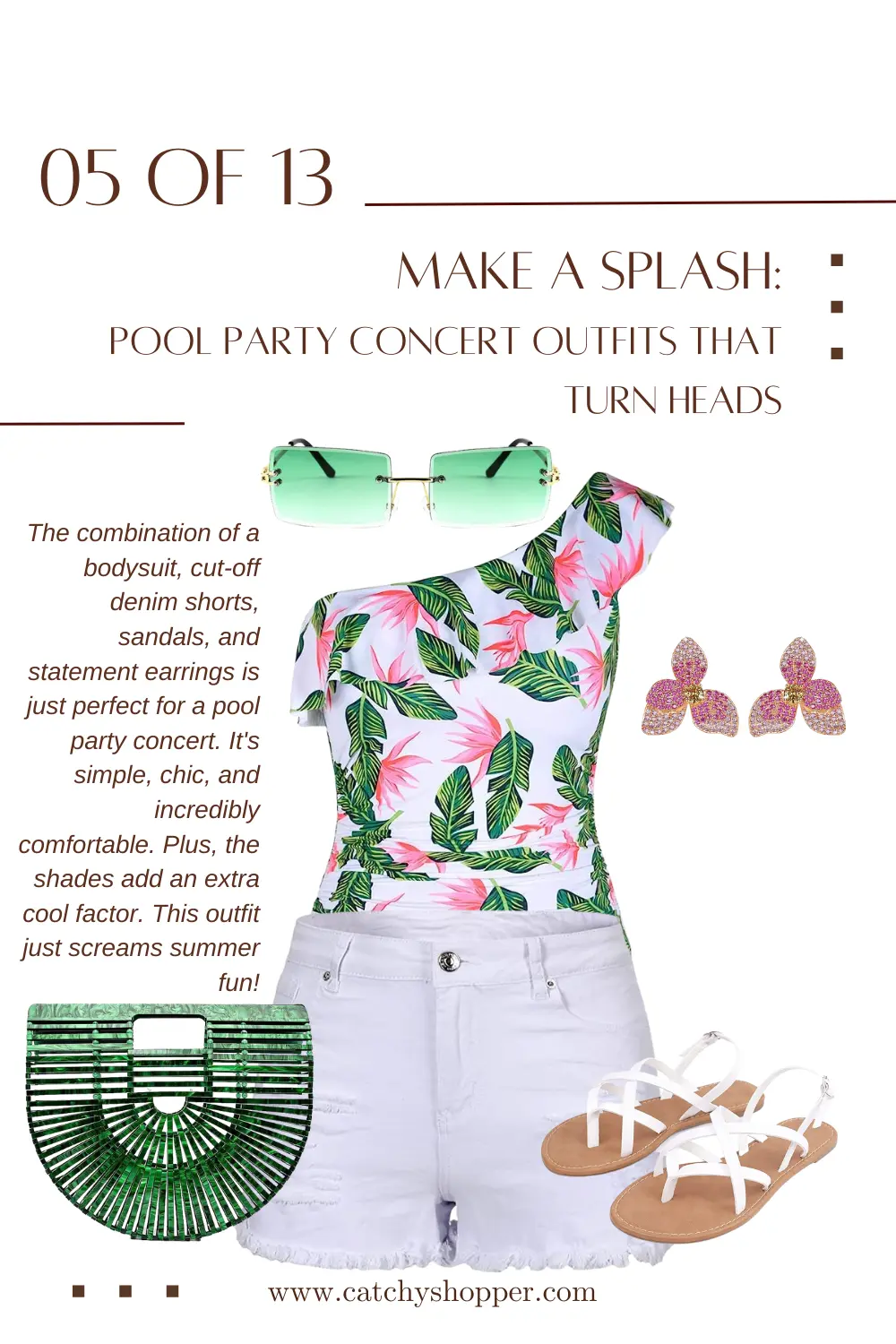 Pool party concert? Time to make a splash! Your favorite body suit doubles up as a swimsuit, and when paired with those sexy cut-off denim shorts, you've got the perfect balance of comfort and style. Slide on your favorite sandals, add some statement earrings, and don't forget your shades and a bag. Sun, music, style - we've got it all.
If you need more ideas on rocking a pool party concert or any poolside event, check out our blog posts: How to Wear a Bodysuit: 10 Fresh Outfit Ideas for Every Modern Woman and From Casual Splashes to Glamorous Dives: Your Ultimate Guide on What to Wear to a Pool Party.
Drive-in Concert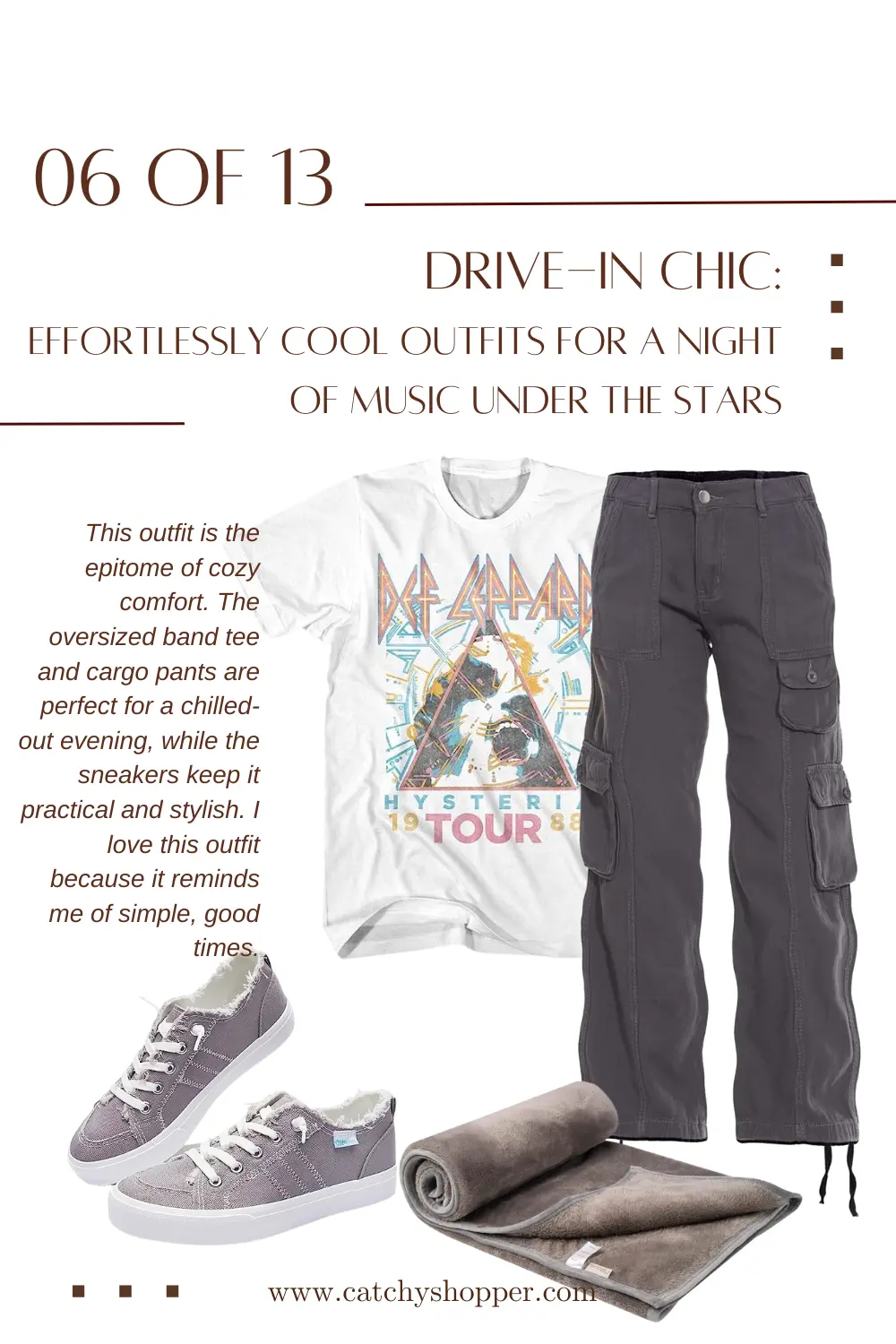 When you're planning to stay cozy in the car for a drive-in concert, an oversized band tee and cargo pants can keep you in perfect comfort. Not sure where to find the best ones? Check out our blog post on the Best Tactical Pants For Women.
Slide into your favorite comfy sneakers and you're set for a night of music under the stars. And since we're planning for an evening with a bit of a chill, don't forget to pack a snuggly blanket jacket. Wrap yourself up, sit back, and let the music take you away, darling!
Vineyard Concert Series
For the vineyard concerts, nothing beats a flowy maxi skirt and crisp white tee. Slide into those strappy sandals for a look that's chic yet relaxed. Not sure which maxi skirt to wear? Check out our blog post, 14 Stunning Long Skirts That'll Make You the Star of Every Party!
Now, let's talk accessories. A straw hat is your best friend for an outdoor adventure, providing you shade while keeping you in style. Find your perfect one in our 28 Summer Hats for Every Outdoor Adventure and Activity post. And of course, a wicker bag to carry your essentials. It's not just functional but adds that perfect touch of summer to your look.
Stadium Summer Concert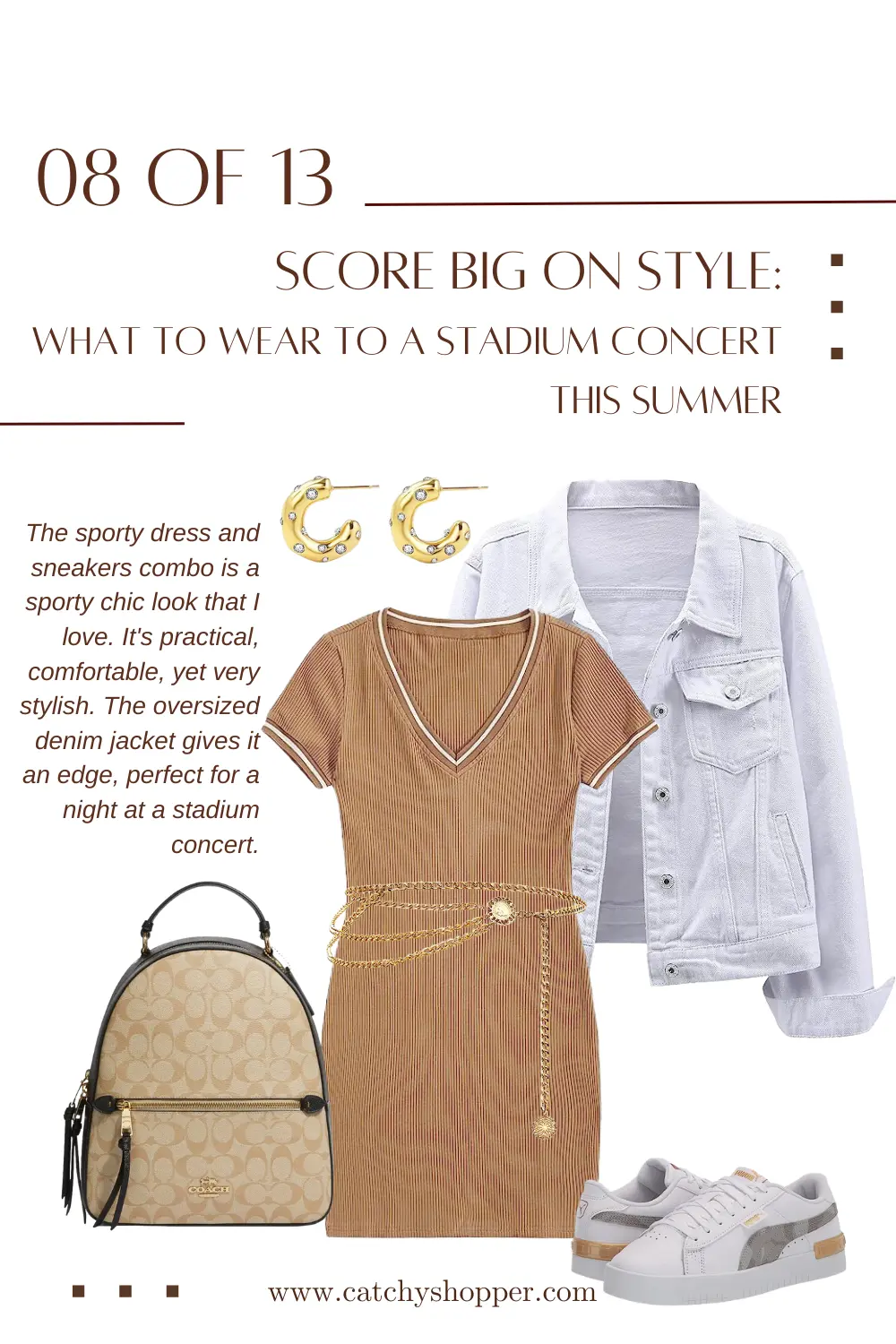 For a stadium concert, let's bring some sporty chic to the scene. How about a sporty dress paired with sneakers? Accessorize with chunky gold hoops to add some shine and a statement belt to cinch your waist, enhancing your silhouette.
When the sun sets, throw that oversized denim jacket over your shoulders for a layer of warmth and style. You can never go wrong with denim. It's stylish, versatile, and, most importantly, cozy for those cool evenings. And let's not forget about a bag. Choose a trendy leather backpack for a chic upgrade to your stadium concert outfit. It's not just trendy but also functional. It's perfect for carrying your essentials like your phone, keys, wallet, and maybe a few makeup touch-ups. Plus, it keeps your hands free to cheer and dance!
Boat and Yacht Concerts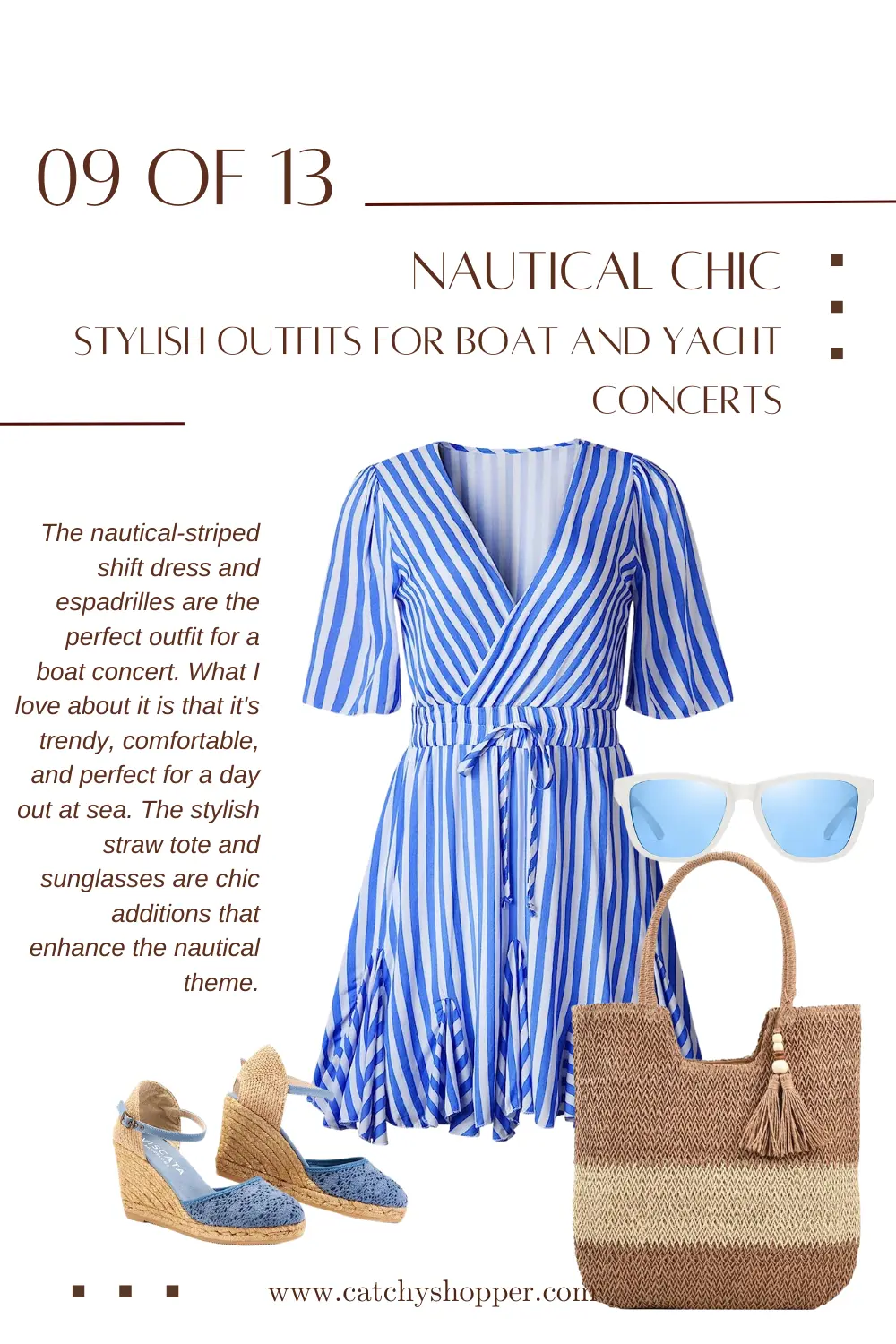 Boat concert on the cards? Dress to impress with a trendy nautical striped shift dress and comfy espadrilles. Don't forget your practical yet chic accessories like a stylish straw tote and your favorite pair of sunglasses. It's time to rock the boat and make a fashion statement!
Camping Music Festival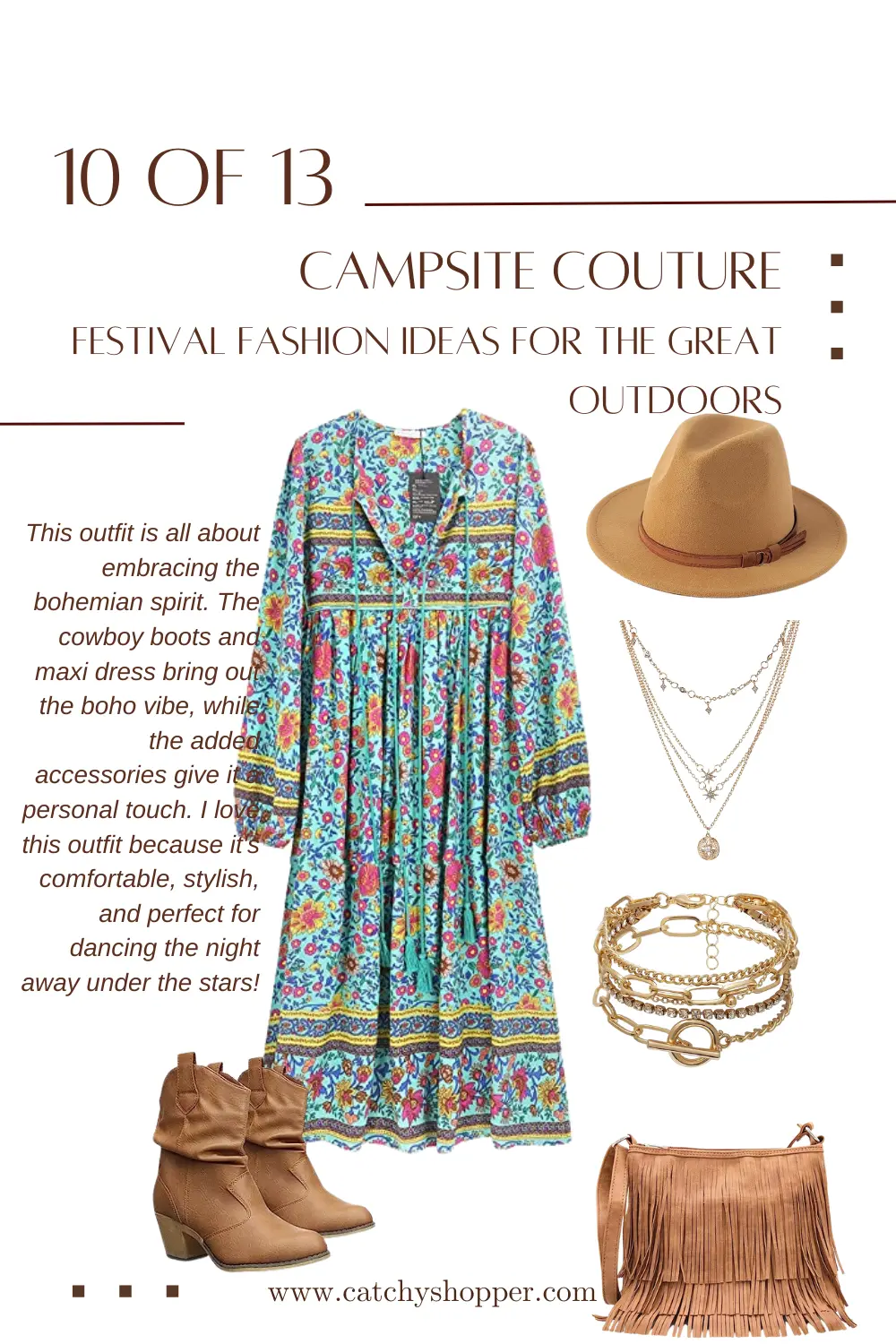 Embrace your inner boho goddess at the camping music festival with these festival essentials! Start with super comfy and durable cowboy boots, paired with a fabulous boho maxi dress. A fringe crossbody bag adds practicality and boho flair.
Add a wide-brimmed hat to protect yourself from the sun during the day, and don't forget some layered necklaces and stackable bracelets to complete your bohemian look.  Need some inspiration? Visit our blog post, 25 Boho Outfit Ideas, for more style tips. With this killer outfit, you'll be dancing the night away under the stars like a true star. Get ready to slay that outdoor concert outfit game!
Block Party Concert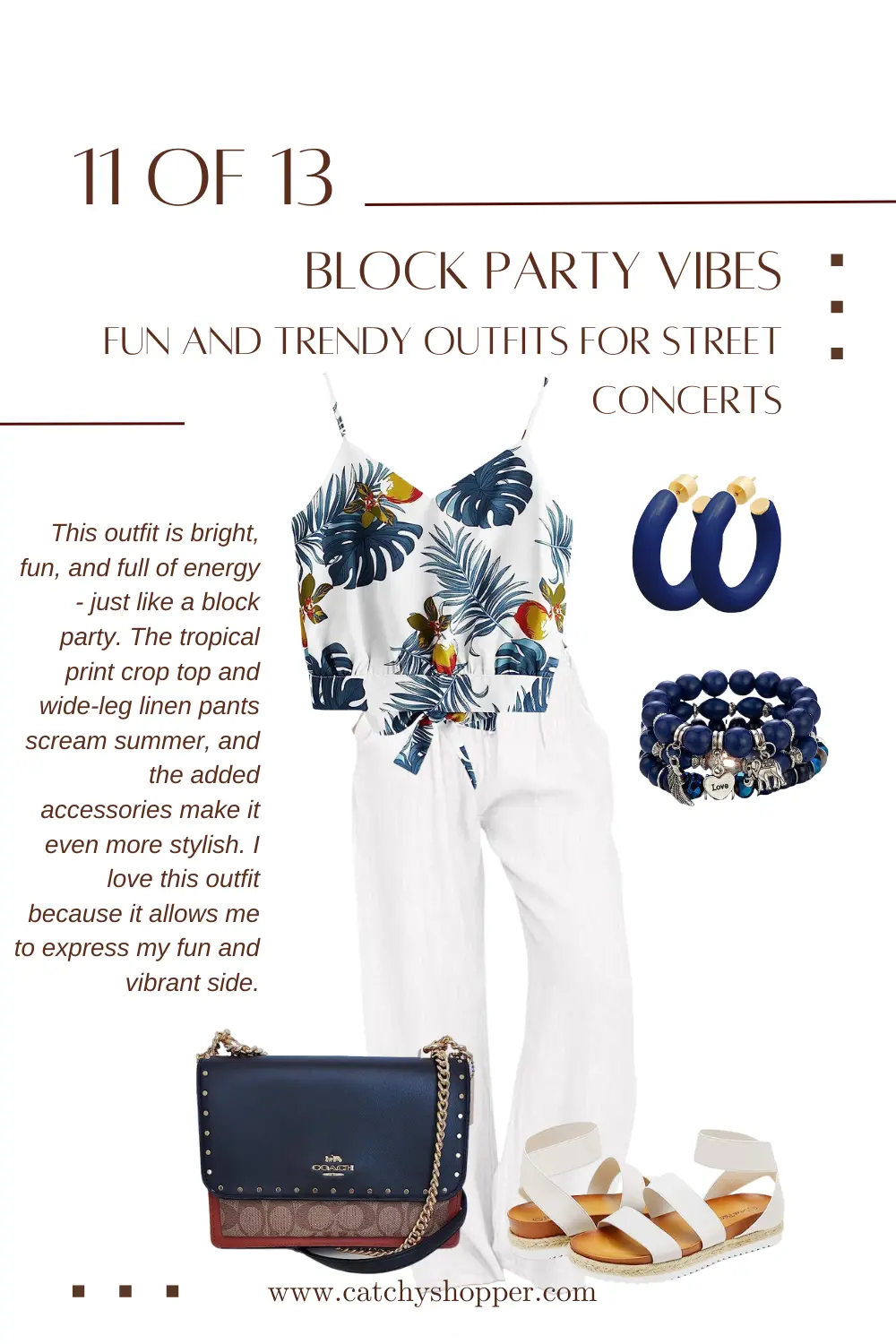 Here's an outfit idea that's perfect for the laid-back, fun atmosphere of a block party. Match a bright, tropical print crop top with wide-leg linen pants. Linen's breathability will keep you comfortable while you move to the music. Not sure how to style linen pants? Check out our blog posts, From Boardwalk to Barbecue: 10 Linen Pants Outfits That Scream Summer and From the Runway to Your Closet: 8 White Linen Pants Outfit Ideas.
Choose flat, strappy sandals to complement the outfit. Add oversized hoops and stackable bracelets to bring in some shine. And a crossbody bag is a must to keep your hands free while you rock out! Need some options? Check out our post, 45 Eye-Catching Crossbody Purses & Bags for Your Next Adventure!
Summer Concert Series in the Park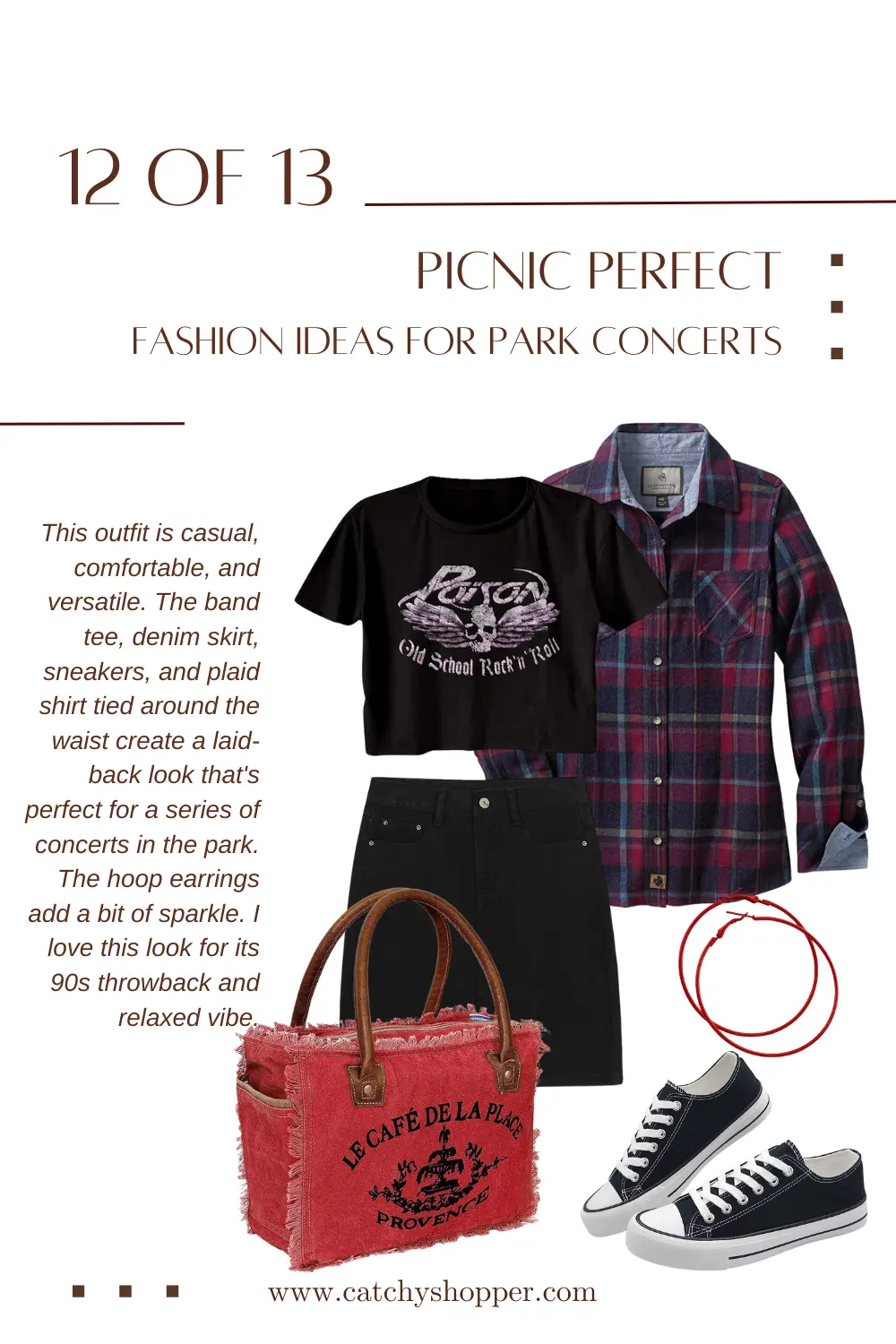 For a series of park concerts, a relaxed band tee, denim shorts, and comfy sneakers are the perfect combo. Tie a plaid shirt around your waist for a 90s throwback and add a touch of glitz with a pair of hoop earrings. Don't forget a canvas tote bag for your picnic blanket and snacks!
Sunset Concerts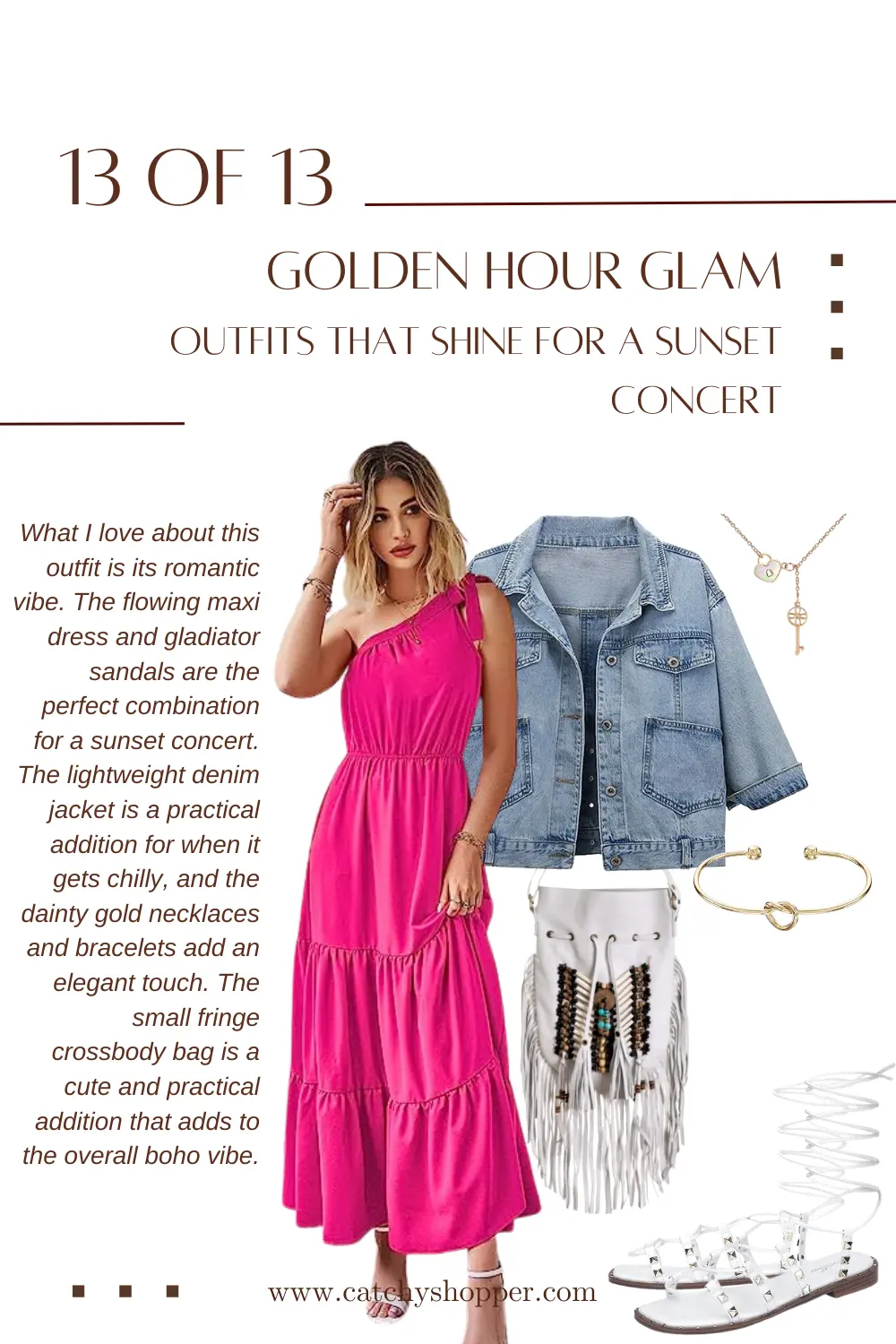 Finally, for a romantic sunset concert, a flowing maxi dress paired with gladiator sandals would be perfect. A lightweight denim jacket can be added when it gets chilly. Layer on some dainty gold necklaces and bracelets for a touch of elegance. A small, fringe crossbody bag will keep your essentials while adding to the boho vibe.
Tips and Tricks for the Perfect Summer Concert Outfit
Let's chat about one of our favorite summer topics: concert outfits. Because whether you're rockin' out at a country concert or dancing the night away at an outdoor festival, you gotta do it in style.
But remember, it's not just about looking fabulous, it's also about feeling fabulous. That means maximum comfort is key! Here are some tips and tricks for your next summer concert outfit:
Express Yourself: Always remember, your outfit is a reflection of your personal style. Don't be afraid to let your personality shine. Love band tees? Wear them with pride! More of a maxi dress diva? Flow free, my love!
Breathable Fabrics are Your Best Friend: Summer concerts often mean hot weather. Look for lightweight, breathable fabrics like cotton, linen, or mesh to stay cool and comfortable while you dance the night away.
Layer Like a Pro: Layering isn't just for winter! Bring a lightweight jacket or a chic shawl for when the sun sets. It's not just practical - it also gives your look a whole new dimension!
Accessorize Smart: Accessories can make or break your concert outfit. Opt for functional pieces like a stylish crossbody bag for your essentials, or a cute hat to shield you from the sun.
Footwear Matters: You might be standing, dancing, and walking for hours. So opt for comfort. Think cute sneakers, strappy flat sandals, or cowboy boots if you're hitting a country concert.
Play With Colors and Prints: Summer is the perfect time to experiment with bright colors and fun prints. Remember, you're there to have fun!
Keep these tips in mind when planning your summer concert outfits. Stay stylish, stay comfortable, and most importantly, have a blast!
Final Thoughts
And there you have it, my loves! The ultimate guide to outfits for concerts in summer. From beach parties to block parties, we've covered all bases to make sure you're stepping out in style at every outdoor event.
Remember, a concert is not just about the music, it's about expressing yourself and making unforgettable memories. So whether you're heading to an intimate country concert or an energetic outdoor festival, let your style reflect your unique personality.
Don't be afraid to try out these concert outfit ideas. Dance in your band tees, glow in your maxi dresses, rock your cowboy boots, and most importantly, have the time of your life! Your comfort and style should be your ultimate concert companions.
Can't wait to hear about your concert experiences, my beauties! Feel free to share your favorite concert outfits with us. I bet you've rocked some stunning ensembles!
As always, stay tuned for more fashion advice and tips to keep you looking and feeling your best. Because remember, every day is a fashion show and the world is your runway.
Until next time, keep slaying, my darlings!
Other Posts You May Like
💡
Dive Into Global Fashion Outfits
Begin your style journey with our succinct guides on global attire. From
Hawaii
's tropical allure, Italy's chic sophistication, Dubai's luxury,
Greece
's timeless beauty, and
Vegas
's vibrant nightlife, to
Mexico
's sunny beaches, we have fashion insights for every destination. Learn to blend with locals and immerse in each place's unique fashion culture.
💡
Beach and Resort Wear
Prepare for your next holiday with our Resort Wear and Beach Wear suggestions. Also, make a splash with our Pool Outfits that are both stylish and comfortable.
💡
Special Occasion Outfit
Dress up for the special days with our 4th of July Outfit, or check out our Jury Duty Outfits for ideas on what to wear for civic duties. Start your style journey now!
Comments